When it comes to finding the best dresses for all occasions, we're spoiled for choice. Mini, maxi or midi dresses are one piece of clothing we'll always have stocked and ready to go amongst classic blazers and everyday jeans. The tricky part? Finding the most versatile number.
From floral prints in vibrant colours to figure-shaping bodycon dresses or the simple LBD, there is no event that a dress can't do. Even if you're a power suit or jeans-and-a-top kind of girl, it's likely you'll have owned one dress in your lifetime. Not to mention weddings, birthdays and christenings, which seem to launch a neverending search for a dress that can cycle in and out of events effortlessly.
You don't need to look far for inspiration on what dresses are in at the moment. London Fashion Week showcased an eclectic mix of dress trends from street style and attending celebrities; Gen-Z popstar Griff adorned a vintage-inspired print princess dress with an organza skirt just peeking out, whilst British models Poppy Delevingne and Jourdan Dunn stuck to classic LBDs and mini slip dresses under oversized coats.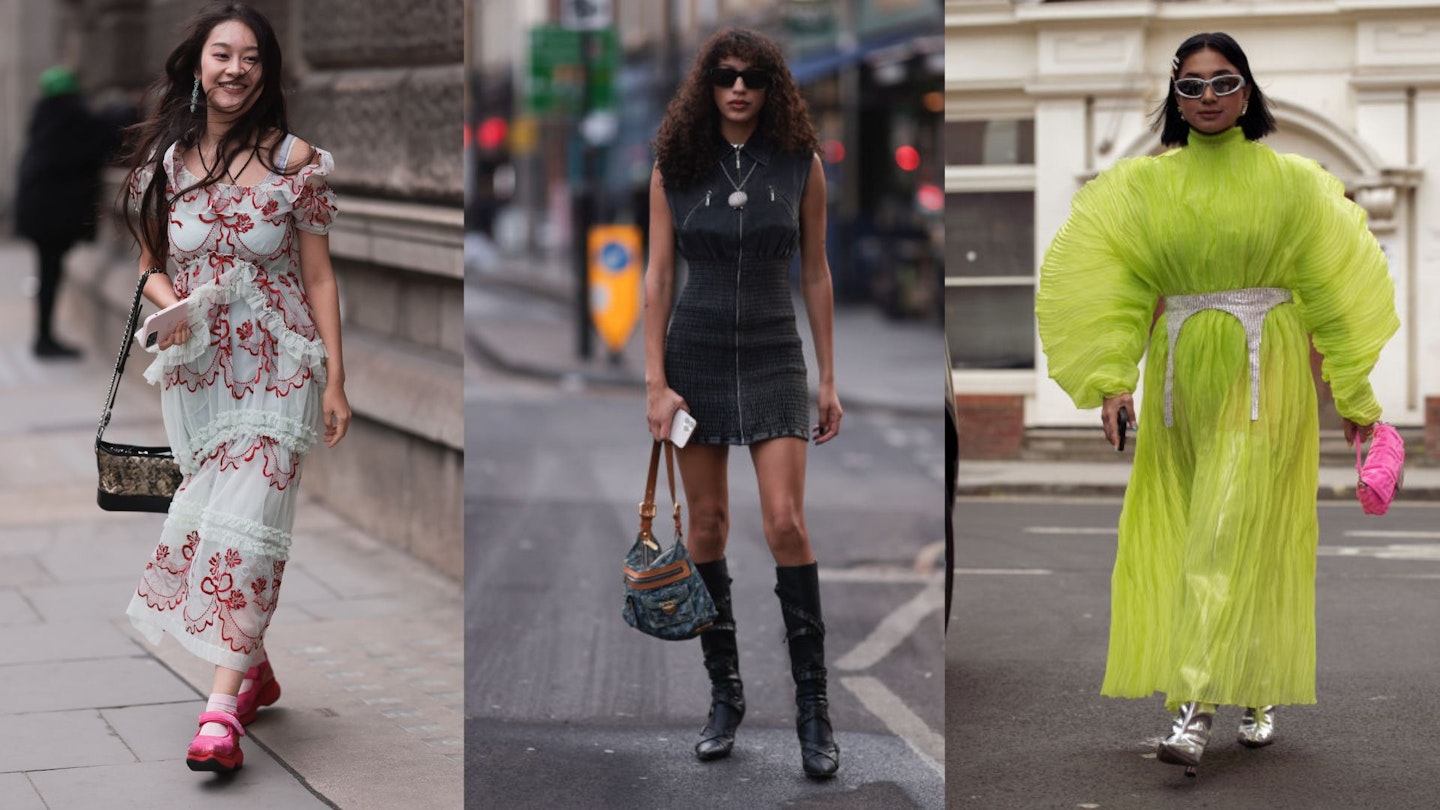 It comes as no surprise to see the same dress trends emerge year in and year out. Maxi dresses with floral prints inevitably sneak their way back into spring trends every year, while glitzy sequins and feathers show up on cocktail dresses during the party seasons around Christmas and New Year. And there's no sign of slowing in the midi dress front either, with longer versions of wrap dresses, tea dresses and off-the-shoulder dresses making a popular appearance as the sisters to their shorter counterparts.
So, whether you favour a floral maxi dress or keep things cool in black satin slip dresses, there are some of the dresses that you always need on your radar (and in your wardrobe). From mini to maxi, here are all the best dresses you should invest in to upgrade your collection.
SHOP: The Best Dresses To Wear 2023
Description
There may be nothing more classic than an LBD (that's little black dress, to you) that can be
Description
There may be no wardrobe finished without a classic Rixo dress, the brand known for its prints.
Description
Don't knock a mini dress. Easy to dress up and comfortable enough to float around in. We love the
Description
When you think of Diane Von Furstenberg, you may think of the most iconic wrap dress from the
Description
Looking for an affordable option from the high street? Zara's satin midi dress should be your
Description
The perfect holiday dress doesn't exi-... Say hello to the Dulcie midi from White Stuff, which is
Description
Trust a blazer dress to take you from work to cocktail evening drinks. The Whisper blazer dress is
Description
It's true, Kim Kardashian's Skims empire has become a staple dress piece in many women's
Description
Enter the tweed dress. Timeless and oh-so chic, we're especially loving the collar and zip on the
Description
Puff sleeves, vintage silhouettes and exclusive prints take the lead in Sister Jane's dress
Description
Looking for a suitable work dress that will last you for years to come? Karen Millen's your best
Description
For loungey, boho ladies who want to frolic in a flowy choice, look to Free People's Now And
Description
A knitted dress is the key to all your seasonal problems. From cosying up in winter to throwing on
Description
You can always trust & Other Stories for an effortless midi dress adorned with the freshest floral
What are the best dresses trends for 2023?
Every season, we'll see something new pop up. To mark the new season, there's a blend of the oh-so-feminine florals and frills with a kick of androgyny: fashion is in a state of flux, and we're totally on board with it. Pairing pretty spring dresses that have leg splits and frilly sleeves with tough lace-up leather boots or casual trainers and a leather jacket is what this season-blending, gender-bending style is about.
We're welcoming in old trends that come back to haunt us, nostalgically adjusted for the modern fashion sphere. You just need to look at supermodel Hailey Bieber's halterneck dress, an appropriate nod to the style of the noughties, which seems to appear in a new Y2K trend every season.
The trick is to go as bold as can be, take your most opposite items of clothing and pair them together for a match made in heaven. Think double prints, big and small or chunky arrogant accessories on top of sweet and pretty long summer dresses.
Plus, no limits exist when it comes to layering - whether it's layering frills of fabric on sleeves or t-shirts and roll-neck jumpers under a skimpy silver slip dress. This season is colourful, it's eclectic, it's bold, and it's brave. Anything goes.
Caitlin Casey is a Senior Beauty & Fashion Products Writer for heat, Closer, and Grazia. She covers shopping, women's lifestyle, popular culture as well as all things trending.