Over the years Made In Chelsea have filmed in a number of chic London locations. From private members clubs to rooftop bars - the cast know all the hotspots. So, if you want to visit all the Made In Chelsea locations or just want to be nosey - we have created a comprehensive guide so you can do just that.
Raffles Nightclub, Chelsea
Made In Chelsea's relationship with Raffles Nightclub goes all the way back to 2011. In the first episode the Kings Roaders all gathered there for an event - Caggie Dunloprocked up in a Rolls Royce whilst Ollie Lockewas stuck taking names on the door. Whilst there are a number of Raffles nightclubs dotted around London, the Chelsea location seems to be where all the drama truly goes down.
Raffles is one of the oldest nightclubs in London, squeezed inside a three-story Chelsea townhouse. The members' club has been attracting celebrities ever since it first opened in 1967 and currently membership fees sit at £500 per year with a £250 one off joining fee or lifetime membership for £2500. This location has single handedly been the downfall of many Made In Chelsea relationships; remember when James Taylorsnogged a girl behind Maeva D'Ascanio's back here? Or when Yasmine Zweegers and Miles Nazaire played an 'ice game' which led to an almighty Baliargument? Lily Ludovici Gray even claimed on a recent episode that 'everyone sees everything in there.'
Raffles has always been filled with the South West London elite, even royalty has walked through the door; from Princess Margaret, Princess Anne to Kate Middleton, Prince William and Prince Harry. In the last few years, though, actual royalty has been somewhat swapped for reality TV royalty or famous families as celebs who've been spotted at Raffle's now include: Gary Lineker's son George, Kate Moss' sister Lottie, TikTok's Olivia Neill and Megan Barton Hanson from Love Island.
If you're not a member, or you don't have a friend who's a member (and don't fancy the hefty fee,) the only way to get in is through contacting a promoter...
The Phene, Chelsea
The Made in Chelsea cast frequent this fashionable pub located in SW3 which features outdoor fireplaces and stunning gardens. If you want to spot the cast members of series gone by, this might be your best bet as former iconic cast members Lucy and Tiffany Watson'sdad owns the restaurant.
It is also perfect place to host an event (as Lucy Watson did many a time on the show,) and for those planning a wedding, it's just a few minutes' walk from Chelsea Town Hall. Sophie Habbooeven recently celebrated her London Hen Party there with Made In Chelsea cast members Verity Bowditch, Olivia Bentley, Ruby Adler and Melissa Tattum.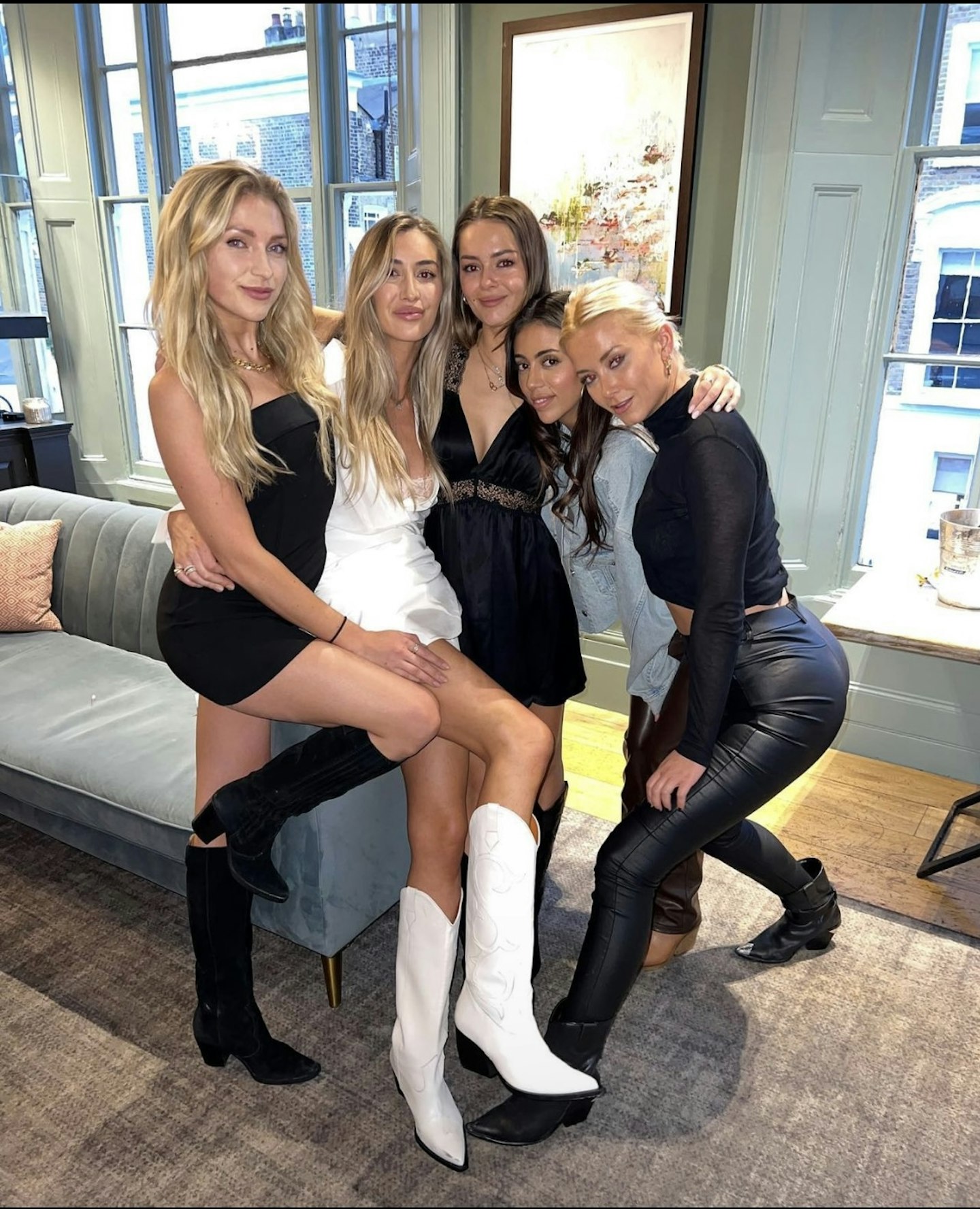 WYLD
WYLD club is designed for London's elite party-goers. Last series a night out there created a whole heap of tension between couple Maeva and James. During this wild night out Sam Prince tried everything to stop James from getting engaged (much to Maeva's dismay.) In the end this didn't quite work out as they are due tomarried this autumn!
Emma and Ollie Locke Locke also reunited here in an awkward scene last series ( viewers will remember the pair dated YEARS ago in 2015.) Emma went on kiss Spencer Matthews - which caused utter chaos.
Wyld Club is located near Green Park and next to a Hilton hotel, this famous hotspot was previously known as Drama Park Lane before being rebranded as Wyld Club. So, famous faces and royalty alike have visited this club. They also advertise themselves as a club with sustainability at it's core.
Beaufort House, King's Road
This luxurious private members club is no stranger to famous faces and MIC cast members. The likes of James Taylorand former cast member Eliza Batten are often spotted hanging out here. It has three floors to encapsulate an all-day restaurant, two bars, and a nightclub. As this is another private members club, a hefty fee is involved. For example, a membership which allows guests access to Albert's on Thursday, Friday and Saturday costs £250 per annum plus joining fee. So, partying and dining with the Chelsea gang could come at a price...
Bluebird Café, Chelsea
The Bluebird Café is a Chelsea landmark on the Kings Road and an all year round oasis. The venue has featured on the show more times than we can count - from the first series until the present day. You might remember Sam Prince andJamie Laingmade this place a permanent meet-up spot during their time on the show. Also, Hugo, Natalie, Rosie, Spencer and Jamie had a heated argument there during series 3. During Summer, the space is transformed into a garden in bloom & in the colder months, a cosy Winter terrace.
Boys 'n' Berry, Fulhum
Last series Maeva and Sam had an almighty argument in this bar. Maeva chucked a glass of red wine in his face and called him a 'little rat.' This encounter could not be more Maeva. If you want to visit the famous scene of the altercation visit Boys'n' Berry. By day grab a hearty breakfast and by night head downstairs for a glass of wine ( that hopefully stays in your glass.)
The Goat, Chelsea
This stylish gastropub in the heart of Chelsea is another favourite with cast members thanks to its Italian cuisine (with gluten-free, vegan & vegetarian options). They have thrown many party's and dinner parties here over the years. It even has a champagne terrace, private dining and an electric bar hosting live music with DJ's every weekend It's such a staple location for the cast members - Lily even features on the main page of their website.
The Botanist, Chelsea
The Botanist is an elegant restaurant and bar on Sloane Square. It's best known for its beautiful decor, amazing cocktails , weekend brunches and delicious afternoon teas. It's a favourite spot for the Made in Chelsea cast for a sophisticated meet-up.