The best foundations on the market are thankfully plentiful, but what we need from them changes seasonally – a little like our skincare. In the winter months, something hydrating and long-wearing that will kick dry skin to the curb without irritation is a must. Whereas for summer, a foundation that can withstand warm temperatures, humidity and sweat is essential. And if it's got added SPF, well then that's a bonus! Knowing what you require from a foundation is the first step in making the job of selecting the right one fairly easy.
As a rule of thumb, there are a few things to consider when selecting a new foundation: your skin type (are you dry, oily, combination or normal?); the coverage (do you like a barely-there base or a heavy-duty foundation?); the finish (are you penchant to a matte, dewy, or second-skin finish?); and then additional bells and whistles like how long the foundation lasts, the formula and ingredients.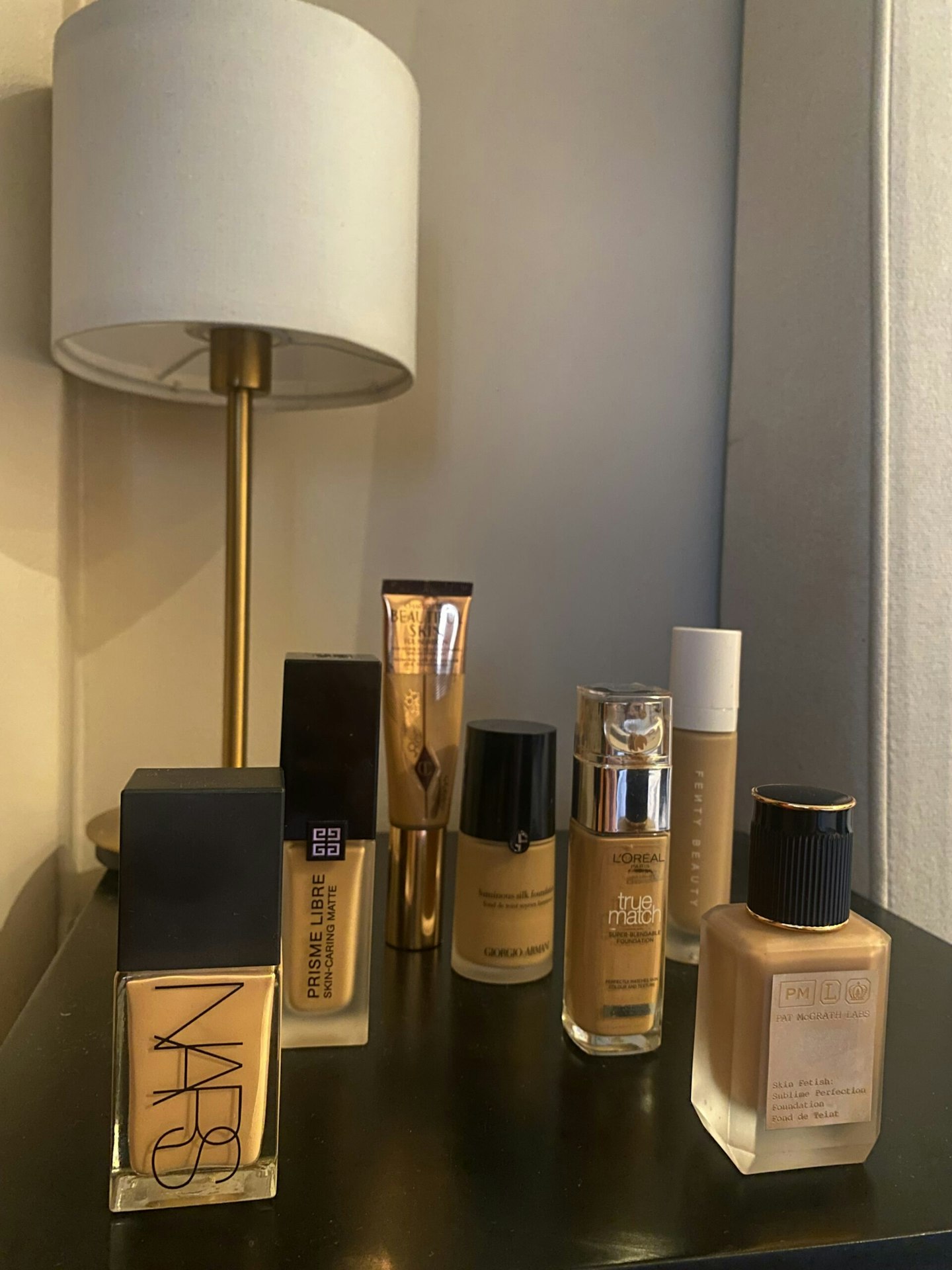 The Best Foundations At A Glance:
Best for all-day wear: Fenty Beauty PRO FILT'R Soft Matte Longwear Foundation
Best lightweight foundation: MAC Cosmetics Face and Body Foundation
Best glow-giver: NYX Professional Makeup Born To Glow Naturally Radiant Foundation
Best full-coverage: Estée Lauder Double Wear Stay-In-Place Makeup
Of course, things aren't always so clean-cut. Typically, in the past, we would have associated long-wearing foundations with high coverage, matte formulas. But that needn't be the case any more as so many skin-savvy foundations have hit the mainstream, all boasting a dewy finish that will last all day long. Not to mention foundations that will suit a multitude of skin types, tones and even budgets. So whether a natural-looking, lightweight foundation is your MO, you need a base to support your combination skin or you're on the hunt for a foundation suitable for acne-prone skin, the best foundation for you is within reach.
Many brands now offer an inclusive shade range, too, making most foundations available in an average of 40 shades. As well as this, some brands offer try-before-you-buy tools to ensure you get the right product for your skin tone.
From the likes of Fenty Beauty, Charlotte Tilbury and MAC Cosmetics – we've scored brands aplenty to bring you a curated edit of the very best foundations that get top marks for staying power and are available to buy now. You'll also find a foundation to suit every need – from full coverage and matte to natural and radiant in a mix of liquid and stick formulations. Which foundations actually last all day? Which won't have worn off by lunch? Read on to discover our top picks...
Shop: The Best Foundations 2023
Best for all-day wear
Description
Summary: Who needs a Valencia filter when you have Fenty Beauty's Pro Filt'r foundation? The
Pros
It has a range of shades to give you the perfect match
It's super long-lasting
Cons
If you have dry skin this may not work for you
Best full-coverage
Description
Summary: A firm favourite that is probably used by 85% of your friends at any given one time.
Pros
This is sweat, heat and humidity-resistant, as well as being waterproof. Consider it budge-proof.
Cons
You'll need to apply it in light layers to avoid a cake-y look.
Best lightweight foundation
Description
Summary: Not only does this foundation boast 8-hour wear, it's waterproof, hydrating, and
Pros
The glossy, skin-like finish is comfortable and perfect for summertime.
Cons
The sheer formula will not fare well for those who prefer high coverage.
Best Pore-Blurring Foundation
Description
Summary: This foundation ticks all of the boxes and then some. Charged with skin-loving
Pros
Flawless skin day-to-day while giving long-term benefits.
Cons
Those who prefer a dewy finish won't love its matte finish.
Best Foundation Overall
Description
Summary: A firm favourite with the A-List pack - this wonder product is a must-have in any
Pros
The silky formula helps impart glowy skin while being oil-free.
Cons
If a heavy-duty, full-coverage foundation is your MO, this may fall short ever so slightly.
Best Foundation For Radiance
Description
Summary: A skincare and make-up hybrid, a light layer of this will create an even, smooth,
Pros
The buildable texture boasts a breathable, natural-looking finish.
Cons
Oily skin types may not enjoy its skin-like, light-reflecting technology.
Best High Street Foundation
Description
Summary: A tried-and-tested classic that puts skin first. The formula includes hyaluronic
Pros
The built-in SPF will provide an extra layer of UV protection
Cons
If you like full coverage, you will have to build the layers of this.
Best Nourishing Foundation
Description
Summary: Perfect for achieving a natural finish, this foundation feels ultra-light on the skin
Pros
Ideal for dry skin as it is full of hydrating properties to keep skin moisturised, healthy and bright.
Cons
Combination to oily skin types may not love its luminous finish.
Best glow-giver
Description
Summary: If you prefer your finish to be glowing, not matte, try this NYX cosmetics
Pros
It's lightweight yet boasts a medium coverage
Cons
The glowy finish makes it unideal for oily skin
Best Skincare Foundation
Description
Summary: Here's a foundation that truly puts skin first. With a 97% natural-origin formula
Pros
Perfect for a glowy, smooth finish.
Cons
Combination to oily skin types will prefer the matte version.
Best Foundation For Buildable Coverage
Description
This editor-approved foundation begins serum-like and allows you to build from a skin tint finish
Best Every Day Foundation
Description
If it's natural-looking, radiant skin you're after, look to this. Its best quality is the way in
Pros
A perfect, everyday base for natural, glowing skin
Cons
Those who like a long-lasting matte finish may want to skip this
What's The Best Foundation For My Skin Type?
When choosing a foundation, consider your skin type and the finish you're after.
Best foundation for oily skin:
Oily skin? 'The most common complaint for oily skin is that makeup disappears,' says Cosmetic Dermatologist Dr Sam Bunting, 'so avoid overly dewy foundations, as invariably these formulas end up moving around as oil reaches the surface of the skin.' Something like Milk Makeup's Blur Liquid Matte Foundation, £36, is a great choice as it's blended with powder microspheres that create a soft focus finish. Or, try a foundation stick like MAC's Studio Fix Soft Matte Foundation Stick, £27, which can be swiped on and blended in until you get the coverage you so desire. And if you'd prefer something lightweight yet full coverage, Urban Decay Stay Naked Foundation, £31, will be right up your street with its second-skin feel and matte finish that will last all day. Plus, it comes in an impressive shade range of 50 shades.
Best foundation for combination skin:
Combination is the most common skin type, and is characterised by 'visible pores in the centre of the face where there is sheen due to oil production, but by contrast, pores on the cheeks are barely noticeable where skin is normal to dry', explains Dr Sam Bunting. The secret to perfecting this skin type is to treat each area differently. 'Apply face powder down the centre of the face only – where the skin creates oil and leave it free from the cheeks and outer edges, applying just a cream foundation and luminiser here to create shine and moisture' says Lynsey Alexander. Dr Bunting recommends Armani Luminous Silk foundation, £42, 'it's dewy and sheer giving just the right amount of coverage.'
Best foundation for dry skin:
If you're dry-skinned and after a foundation that hydrates, look out for key ingredients like hyaluronic acid. L'Oreal Paris Skin Paradise Tinted Water-Cream, £10.99, is water-based and feels like a tinted moisturiser - lending skin a veil of dewy coverage that will stay put for hours. Or there's Fenty Beauty PRO FILT'R Hydrating Foundation, £27, (available in 50 shades to suit every skin tone) that combines sodium hyaluronate (a derivative of hyaluronic acid) with grape seed oil to really nourish skin while providing great coverage. Steer away from powder and matte formulas, as Dr Bunting explains, 'matte finish products will make skin look cake-y or cracked as the day wears on.'
And finally, if you're in the market for a new foundation brush that will make application totally seamless, choose from our curated edit here. From stippling brushes to kabuki brushes, we've narrowed down the 10 best foundation brushes to achieve a blended, second-skin finish that will help your base stick around all day/night long. You can thank us later!
How to adapt your foundation
There are a few ways to adapt your foundation shade, the most simple way being to mix it with a lighter or darker foundation. If you don't have a choice of foundation shades at home, a good way to dilute the shade (if needed) is to combine with your moisturiser or a primer.
However, there are also specific products out there to adapt your shade which are super useful for the changing seasons (and hopefully upcoming holidays). For example The Body Shop Shade Adjusting Drops, £6 or Revolution PRO Foundation Mixer, £7. Simply add the drops to your foundation, mix in and apply as normal.