If like us you have your eyes peeled on everything in the Love Island villa from, the girls' bikinis to the villa decor, then you're in for a treat because you can get the Made.com sofa that the islanders sit on every night.
The comfy Avarna Garden Sofa corner set is the perfect place to lay it on factor 50 thick and will be sure to turn your garden into a stylish paradise.
Since Love Island started on June 6, the villa has been a hit with viewers, and shoppers in the UK have been flocking online to recreate this Majorcan paradise, as well as the lush fire pit where the dumpings happen. Sales of MADE.com's Avarna Garden Modular Corner Lounge Set have increased by 233% and page views of the Piggy Small Piggy Bag have increased by 1,329% since season 8 aired.
As well as the Avarna, MADE.com has got plenty of other products that will be 100% your type on paper, scroll down for our top picks.
No matter how big your outdoor space is, you can make it your own Love Island sanctuary by filling it with a few eye-catching details. Made.com garden furniture is the perfect place to start, allowing you to create a chic space with pieces such as plush sofas or bistro sets.
As we head into summer, your garden is a great spot to enjoy special moments, alone or with friends and family. Whether you have a patio, a city balcony or a garden, there is so much to work with when it comes to reimagining your outdoor space. All you need is some well-placed lighting, a pop of colour and somewhere to sit back and relax – and alfresco evenings will be calling your name.
This year's garden furniture details are all about curved cocoon shapes, slatted detailing, chunky furniture bases and neutral tones. If you have a garden, let your flowers and plants do the talking or if you have a patio or balcony, consider adding some delicate tea lights or lanterns to give it a cosy ambience.
How do you make an extension of your home from indoor to outdoor?
Colour consultant Emma Merry, from @homemilk, spoke on Made.com's Instagram about how to make your outdoor space anything-but-ordinary.
Merry said, 'In interior design, we often start with a hero colour palette, a few key colours and materials that help define what we choose from our outdoor space. So why not extend that out into your garden and use the same colour palette to choose your garden furniture and paint?'
Made.com has a gorgeous range of garden furniture and accessories ranging from bistro sets to sofas and statement fireplaces. We've done the research for you with our definitive guide to Made.com garden furniture. So get that vision board out as we take a look at some of these statement pieces.
Looking to revamp your interiors? Check out our bestMade.com sofa and chairsroundups, too.
SHOP: Made.com garden furniture to recreate your own Love Island villa
Best Made.com Garden Furniture Buys For 2022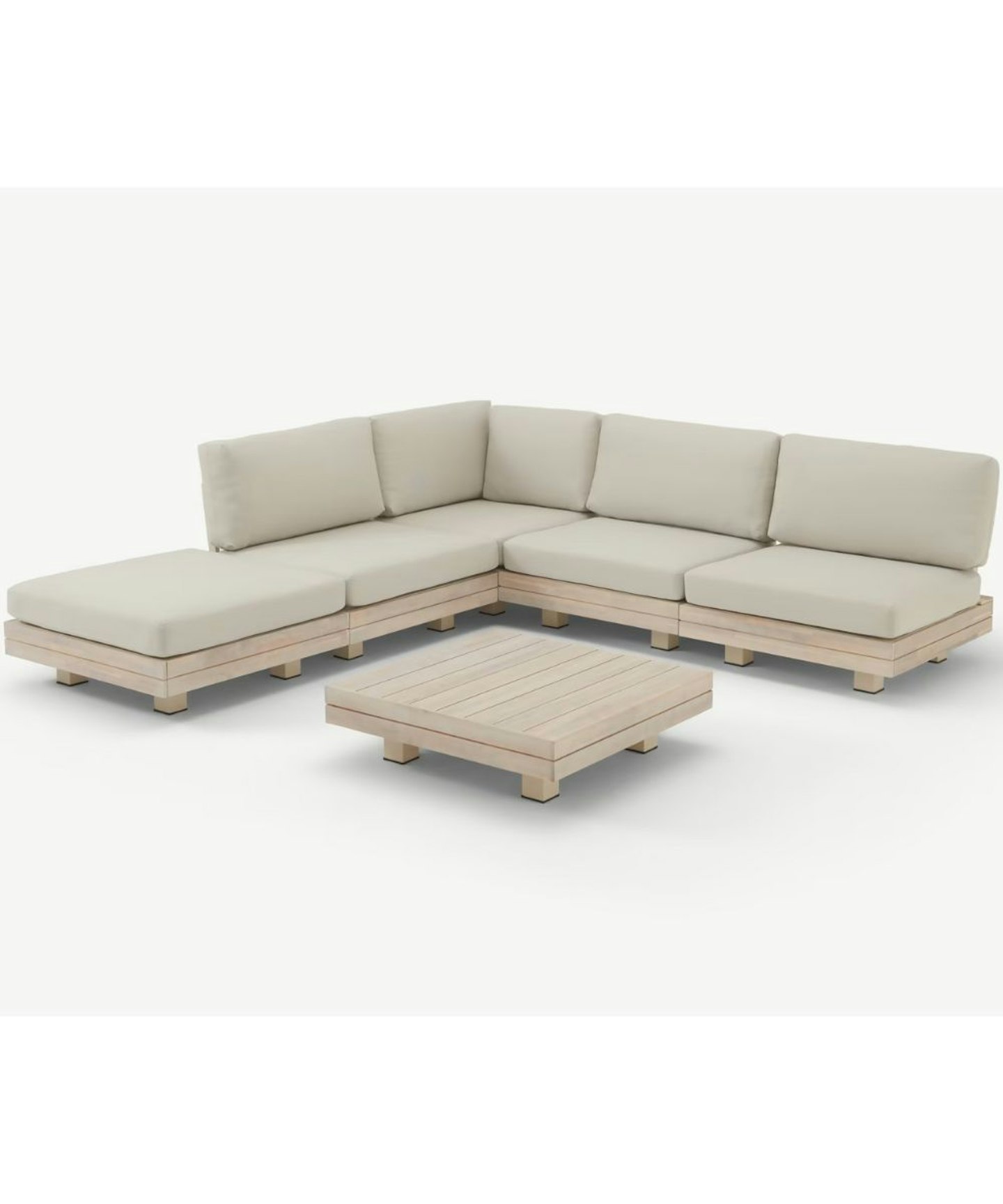 1 of 16
Avarna Garden Modular Corner Lounge Set, Whitewash Acacia Wood
Create your own cosy corner with this modular sofa in whitewash and stylish acacia wood. This will add a touch of Majorcan paradise to your outdoor space.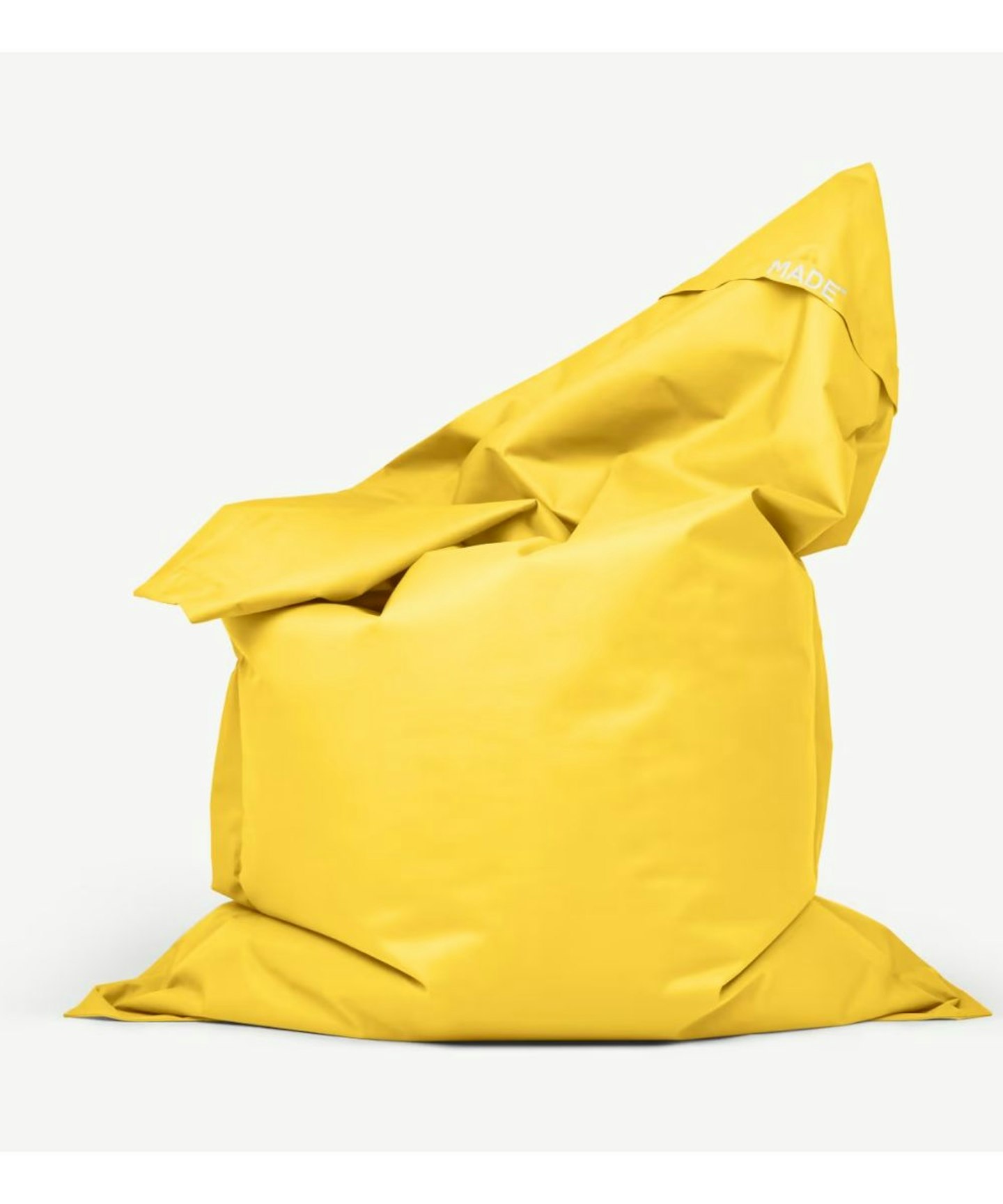 2 of 16
Made.com Small Piggy Bag Yellow
This is fast becoming a popular addition to the back garden thanks to the style of the Love Island villa with the oversized pillows. This piggy bag looks super comfy.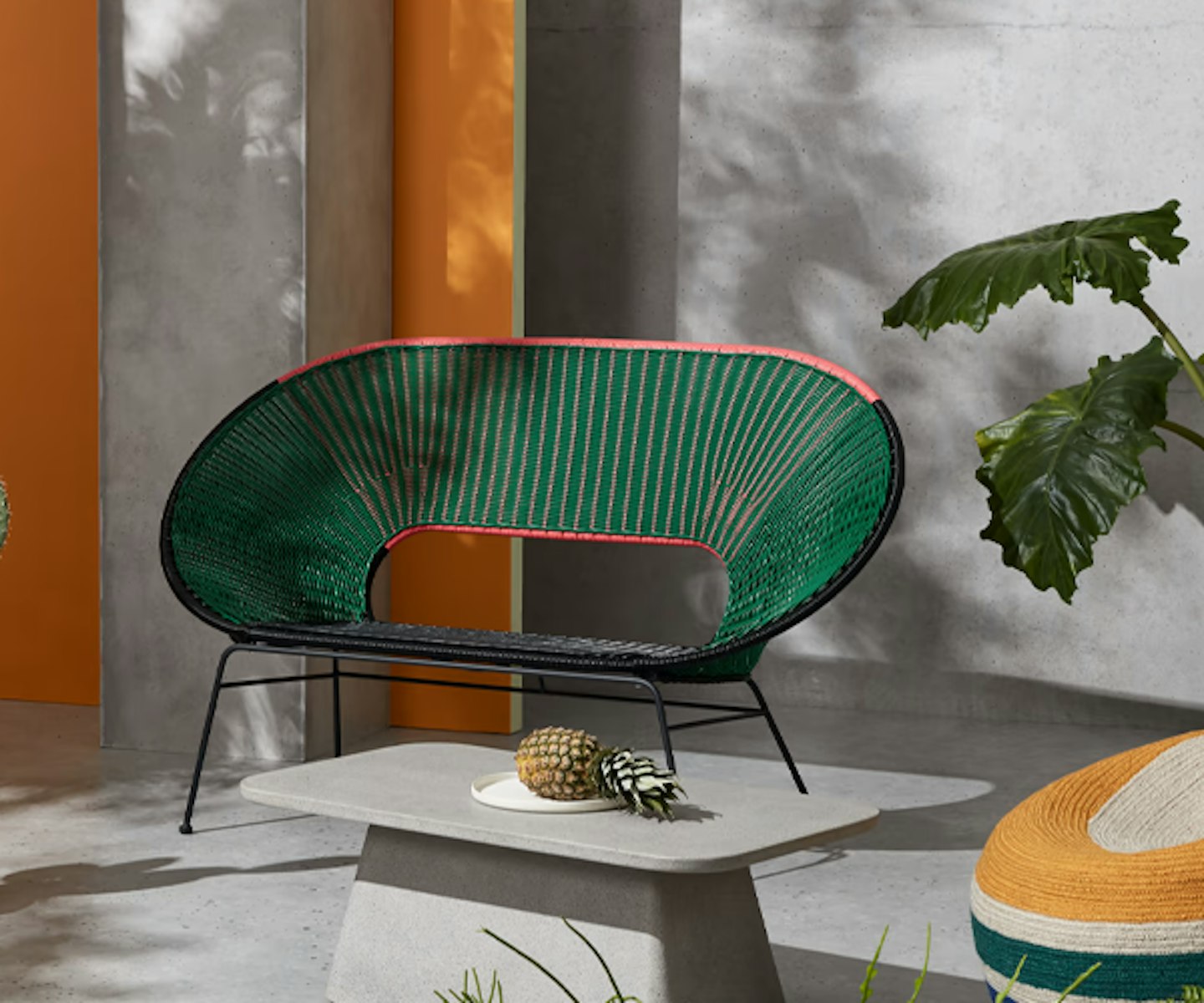 3 of 16
Yuri Garden Bench
Add an exotic touch to your outdoor space with this bright bench with a concentric pattern complemented with a dramatic curved shape and bold green colour. It also comes in teal and black.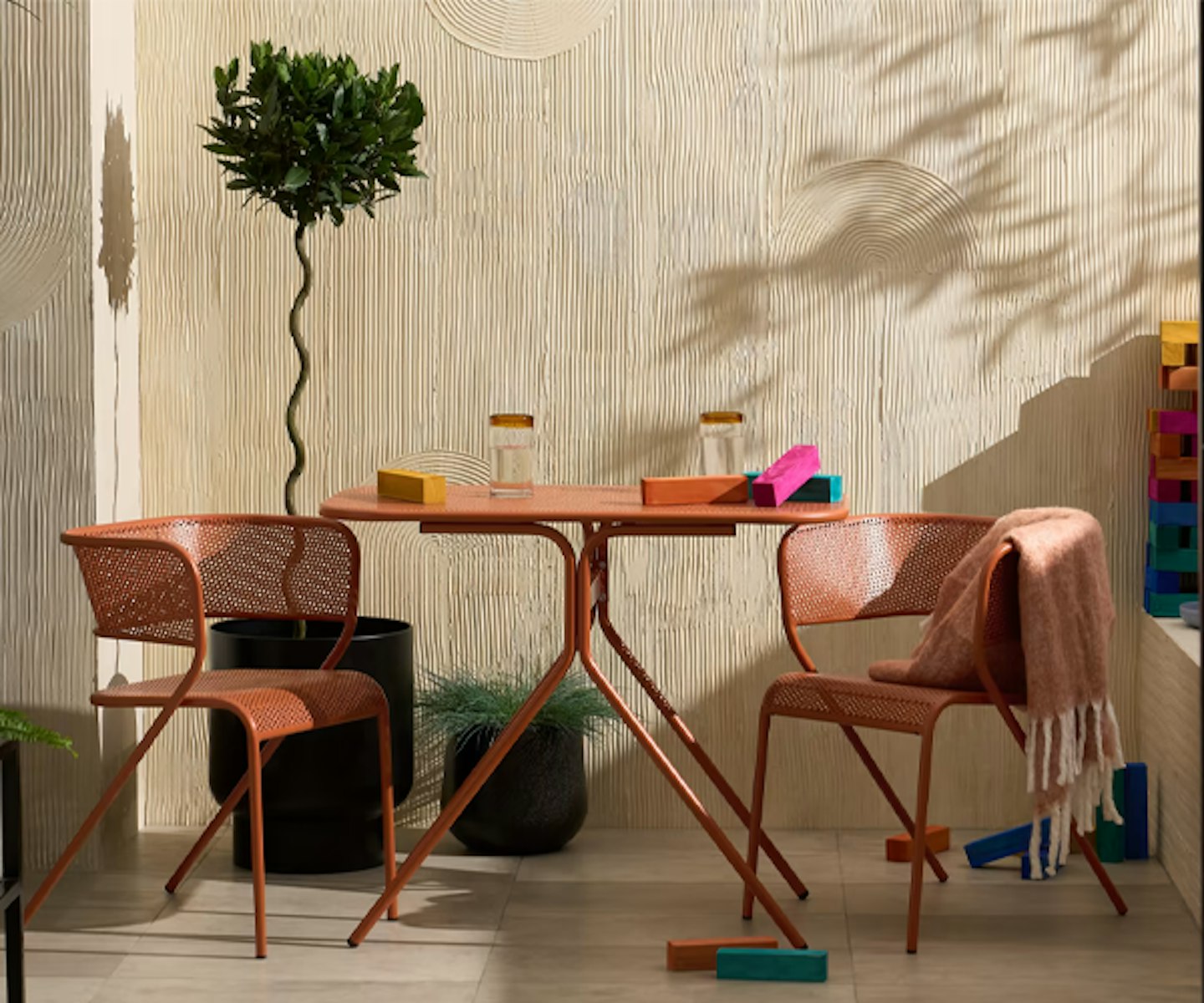 4 of 16
Soriano Compact Garden Bistro Set
Cool and understated, with minimal frames and a monochromatic terracotta, green, grey or yellow design, this compact set is perfect for small gardens and can easily pack away during the cooler months.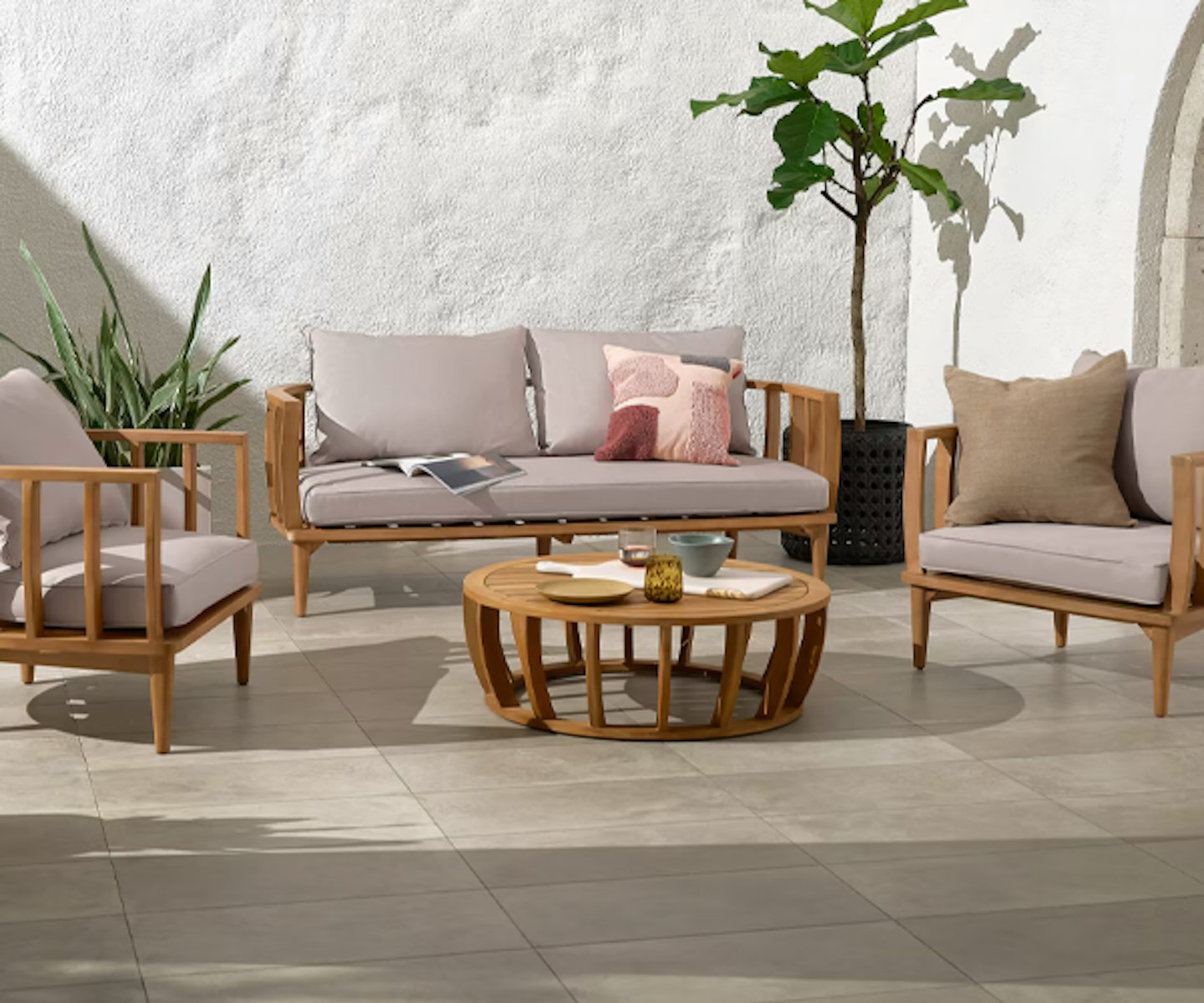 5 of 16
Aleksy Lounge Set
This sophisticated set will be the perfect addition to your outdoor area. It comes with two chairs and a matching sofa with a curved back, topped with plush cushions. Plus, a matching coffee table with slatted detailing to bring it all together.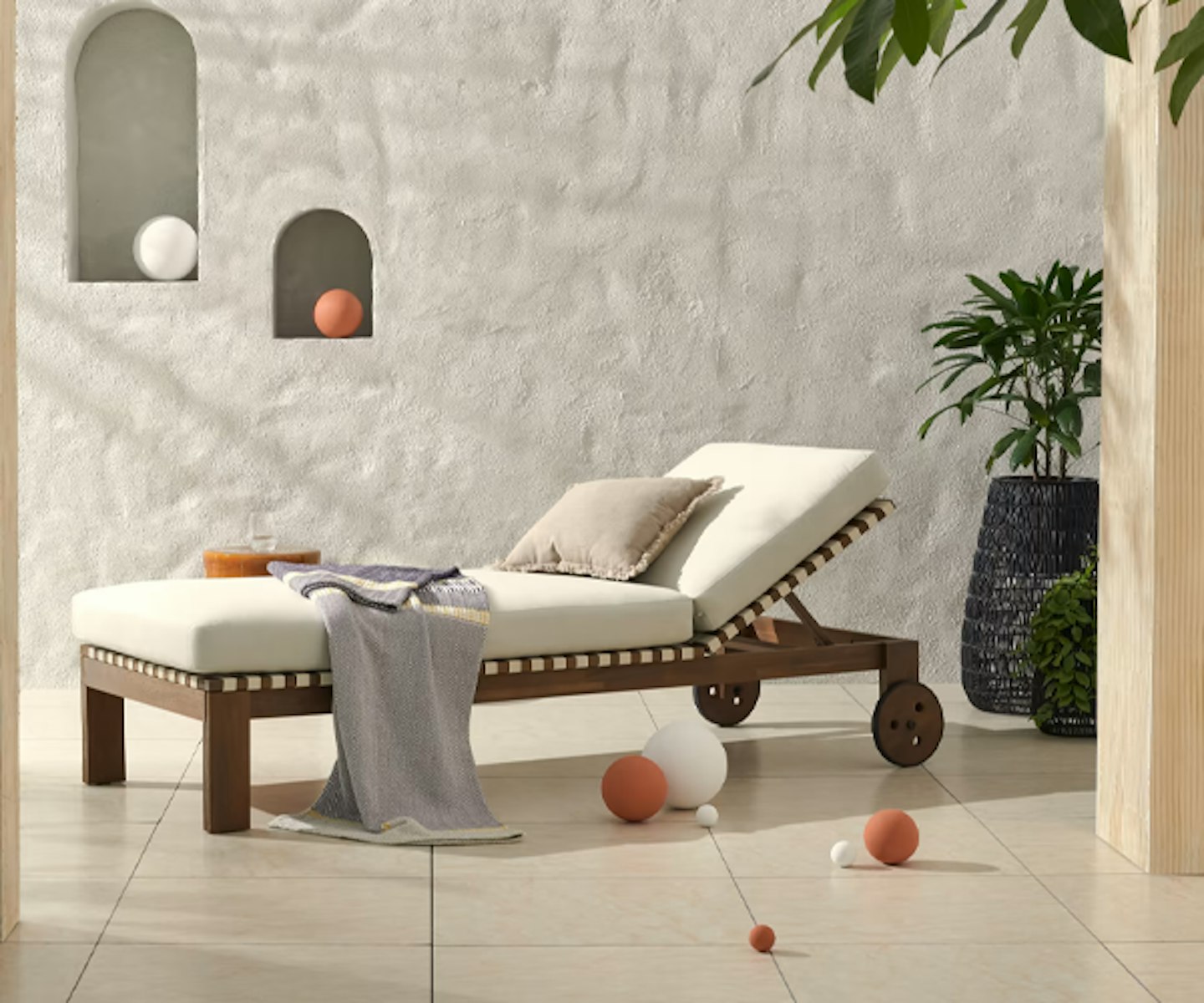 6 of 16
Zambra Sun Lounger
Bring Mediterranean vibes to your garden with this dark-stained acacia wood sun lounger. We love the white strapping detail and the matching padded cushions, which take it to the next level of comfort.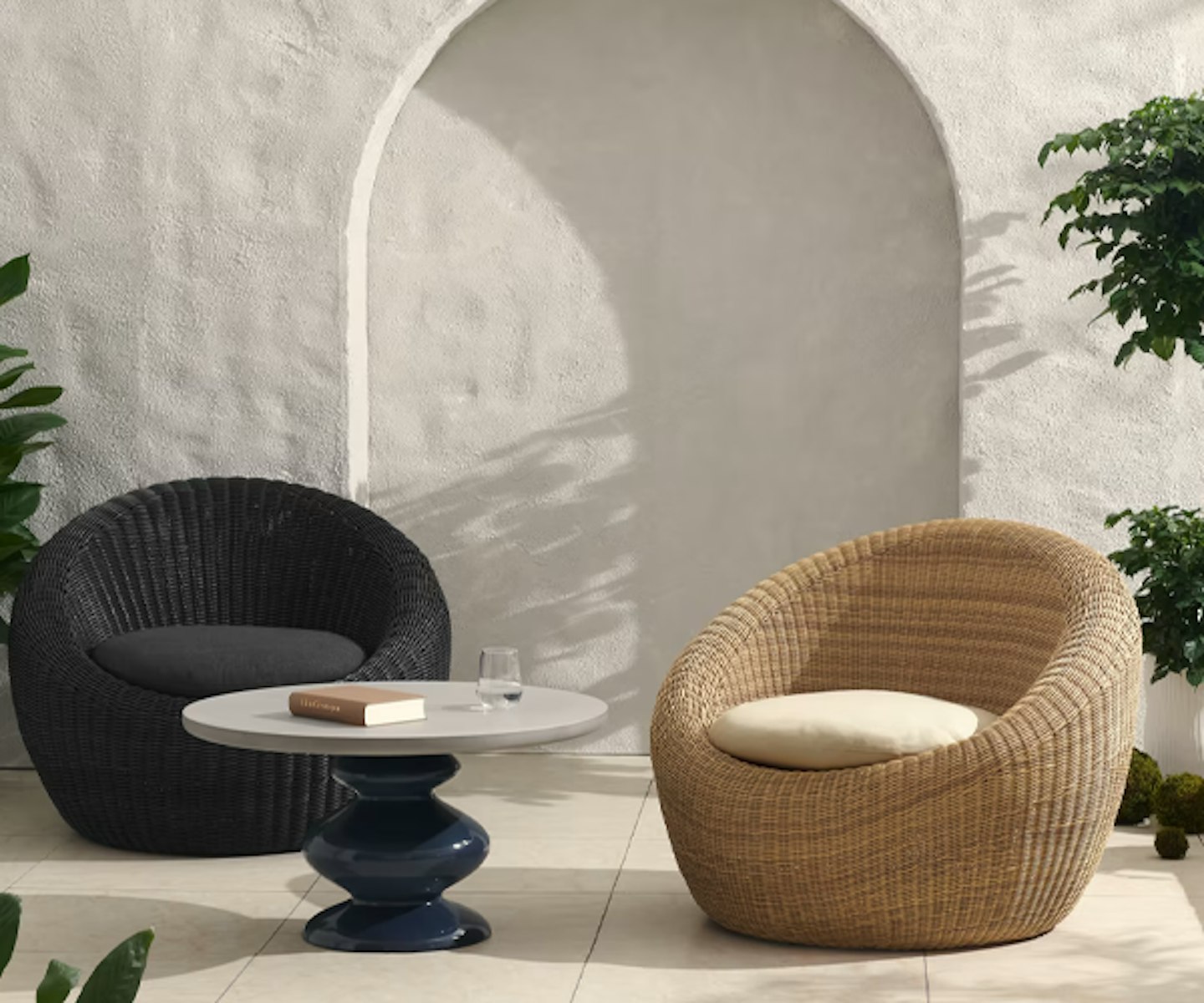 7 of 16
Isadora Garden Armchair
This armchair was designed by the Italian trio Busetti Garuti Redaelli (that's why it looks so good!). The curved cocoon shape will hug you and will be the practical statement piece everyone will be talking about in your home. It comes in a natural shade or black.
8 of 16
Ivyline Statement Tall Chiminea
Cosy up to this industrial-inspired fireplace that will turn your garden into an alpine retreat. Choose between rust or black to fit your decor.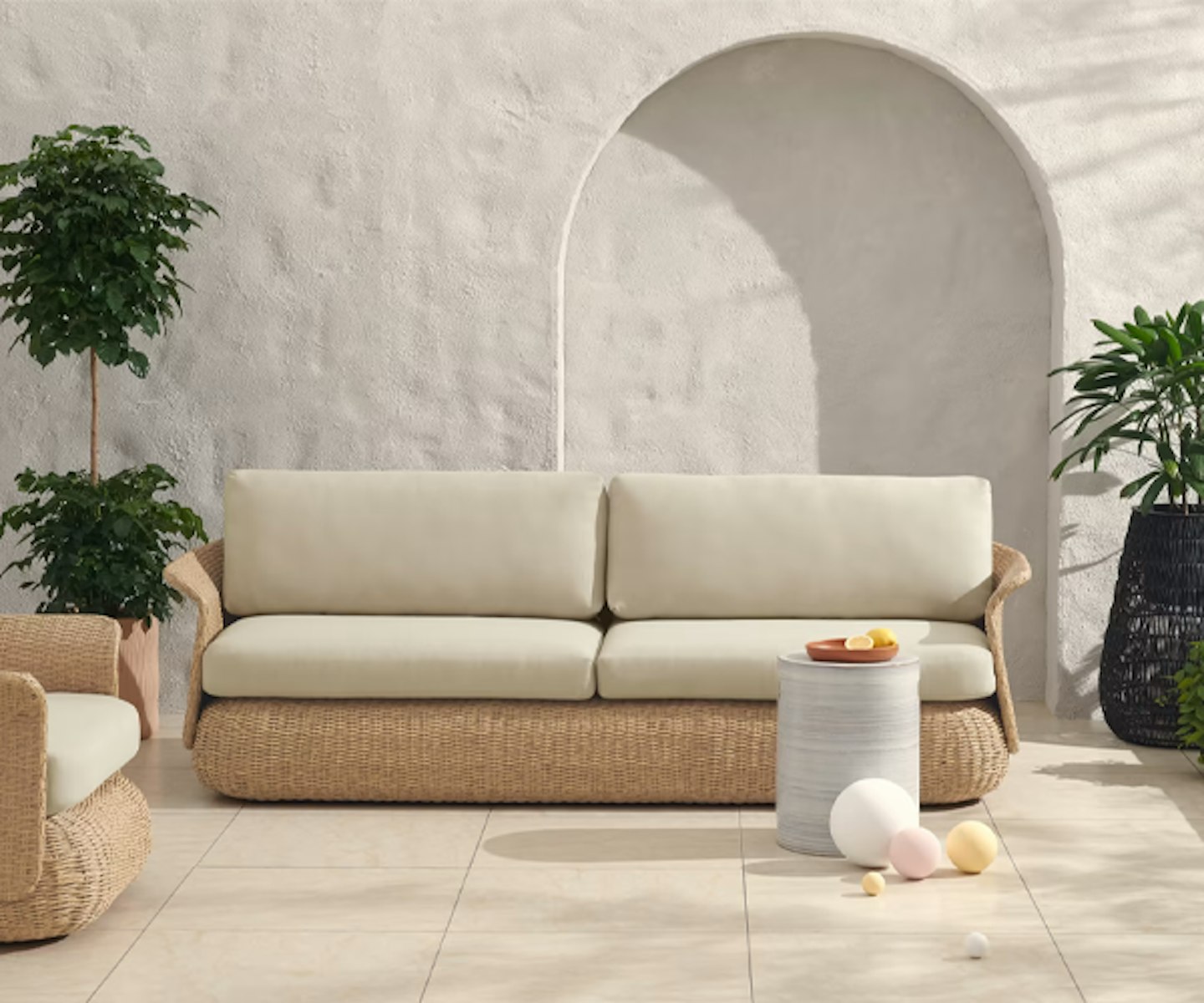 9 of 16
Fonda 3 Seater Garden Sofa
This three-seater sofa is a medley of soft neutral tones and statement shapes with a chunky base that will be super enticing on a sunny day.
10 of 16
Royalcraft 4 Seat Round Garden Dining Set
Stylish, comfortable and subtle. This monochrome dining set has retro and contemporary influences with a chunky frame, polyrattan weaved backs and padded cushions. The neutral colours mean the set can be adapted to any outdoor scenery.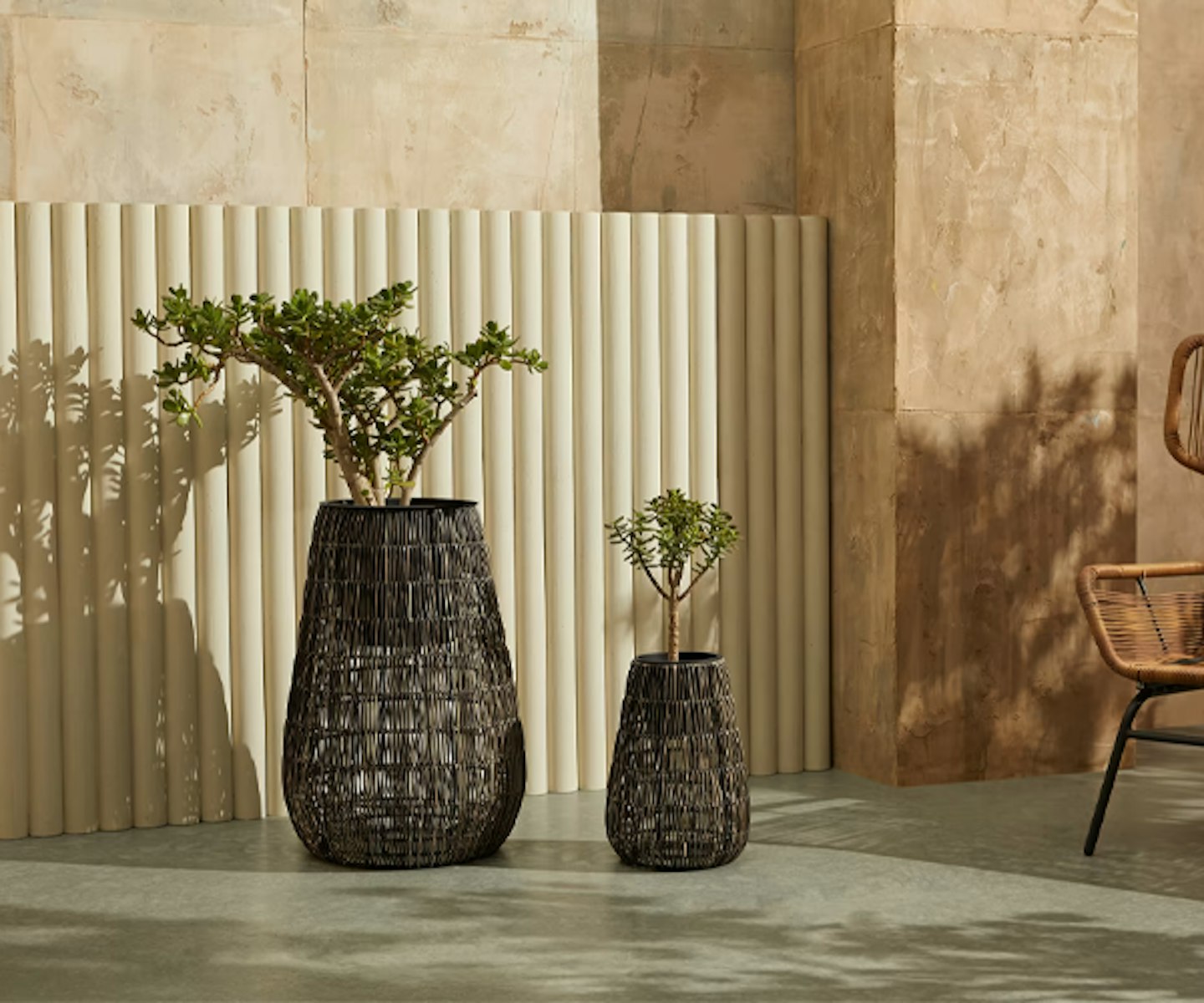 11 of 16
Nadda Set of 2 Tall Planters with Stands
This set of two tall woven plant stands come with an inner pot to plant into and will bring some zen to your outdoor space. The woven polyrattan is super durable to leave outside in the rain with no issues. It comes in hues of black, grey or stone colours.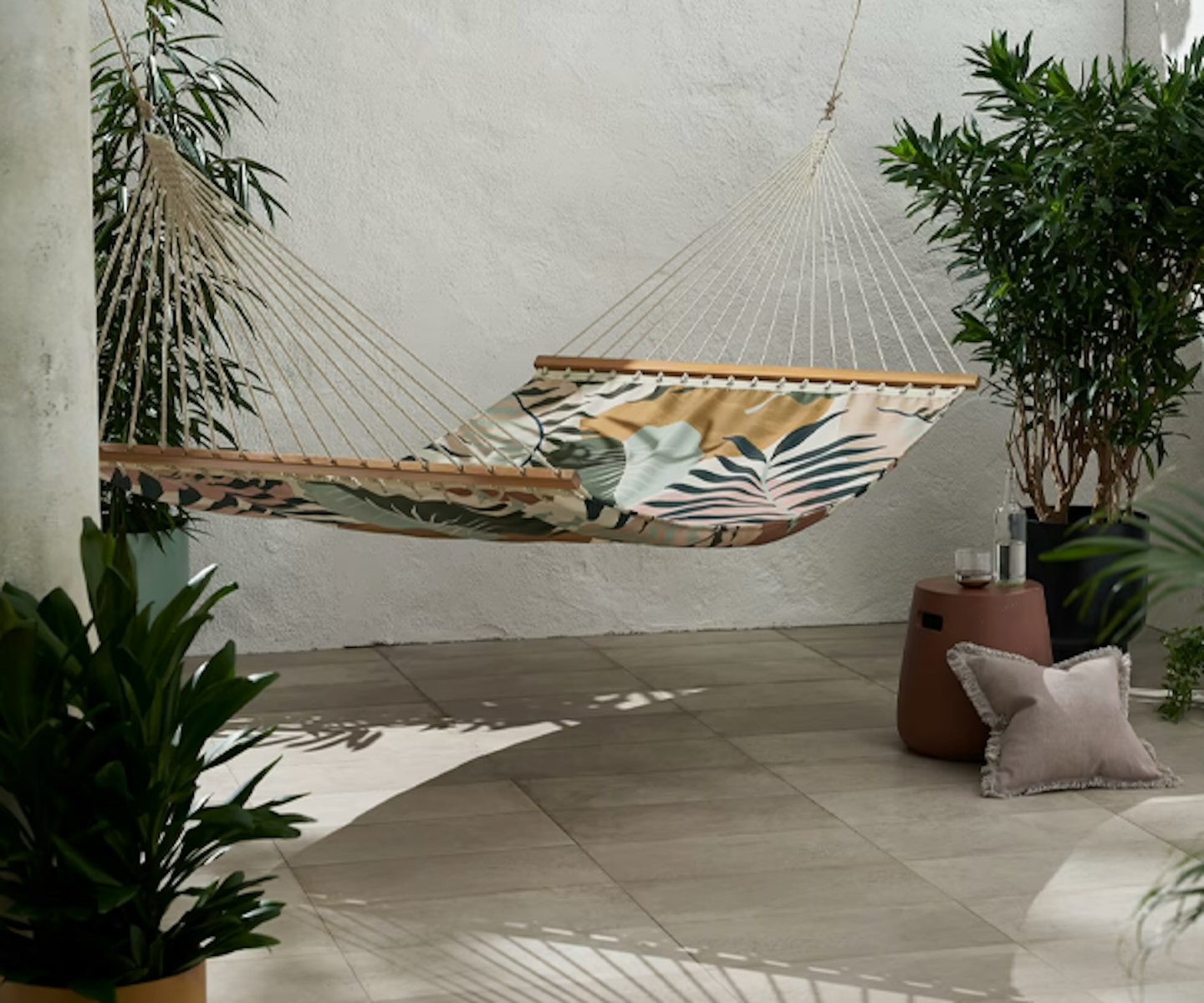 12 of 16
Rocoto Botanical Hammock
Bathe in the summer sun with this stunning botanical printed hammock. All you need is a good novel, and you're in for a relaxing afternoon.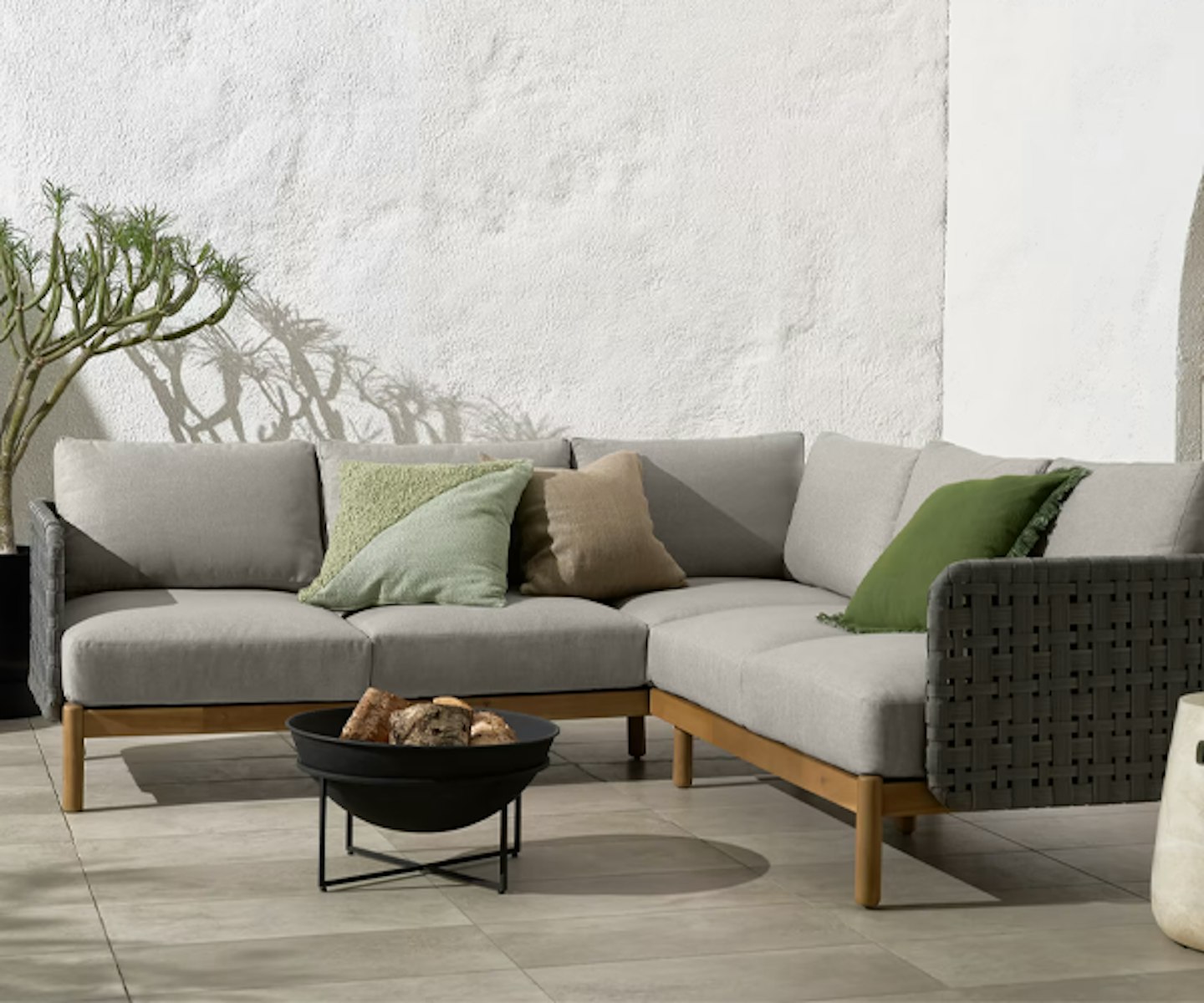 13 of 16
Kolbe Garden Corner Sofa
This corner sofa will add an elegant flair to your garden or patio. Designed by Andy Boyce, you can expect more style points with an acacia wood base, the woven back and chunky seat cushions, making day lounging a dream.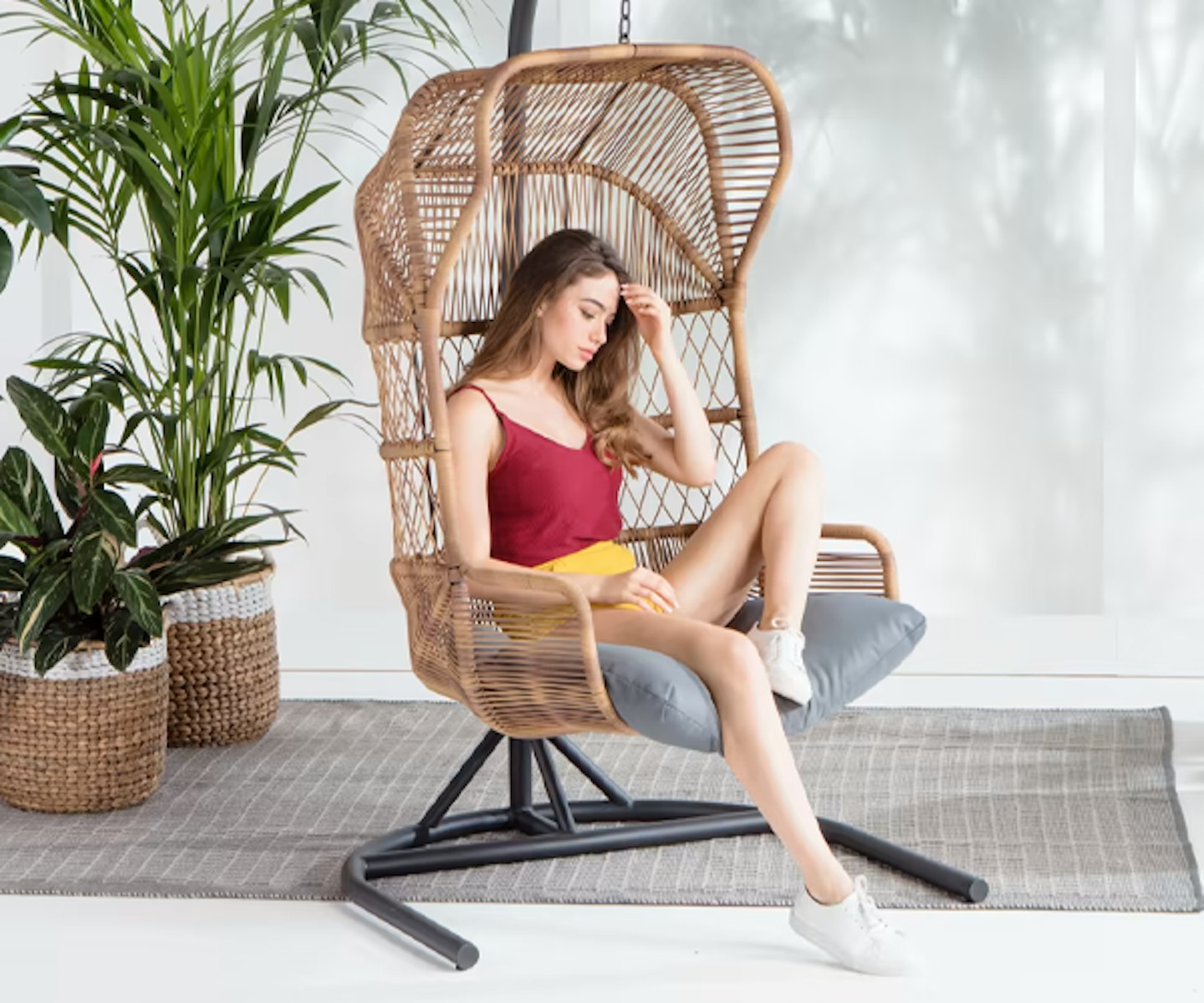 14 of 16
Lyra Garden Hanging Chair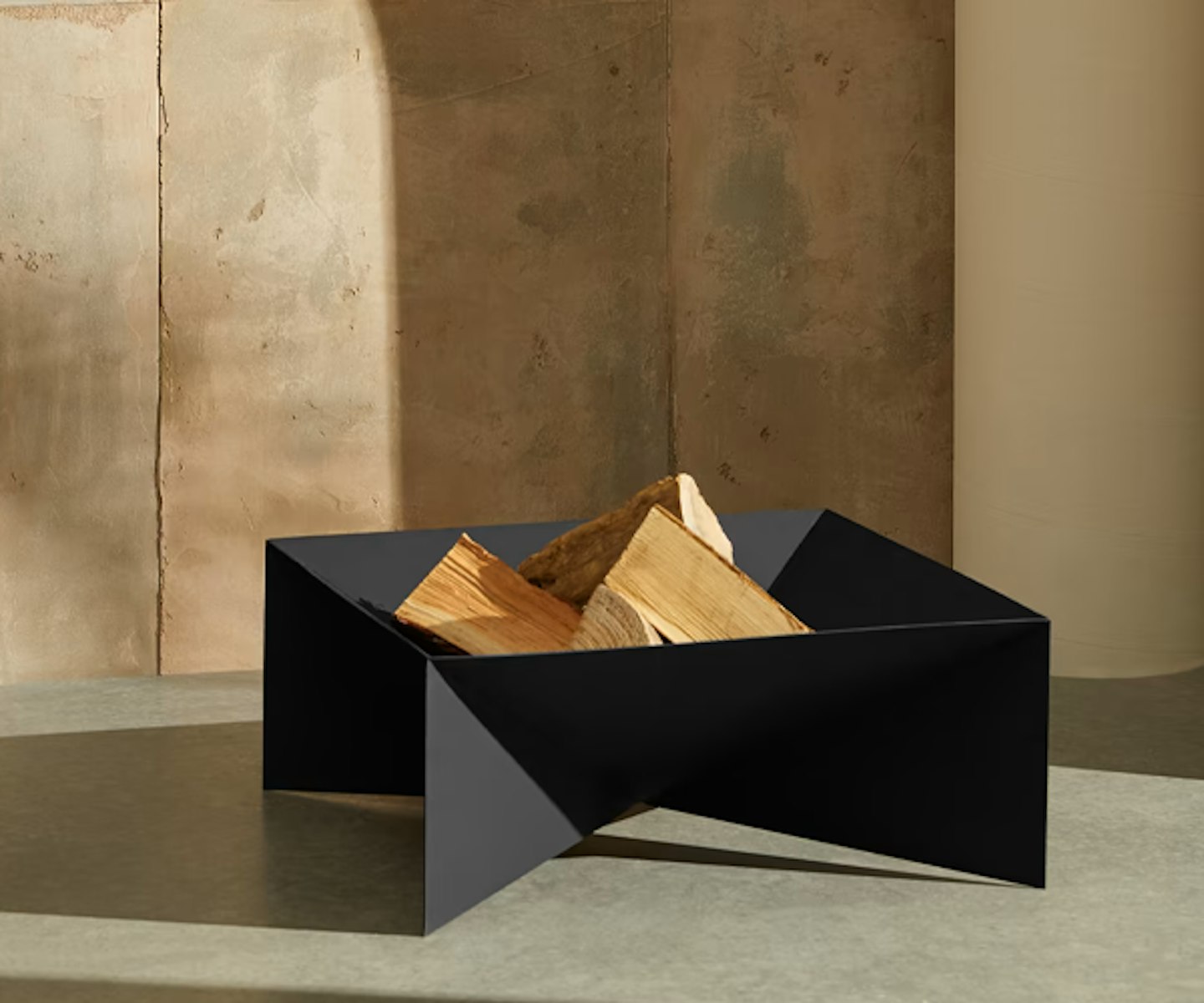 15 of 16
Argus Metal Structured Fire Pit
Made from black metal, this abstract fireplace is sculptural and structured. Nothing better than a functional statement piece. Just grab some logs and a cosy blanket, and your Friday evening is covered.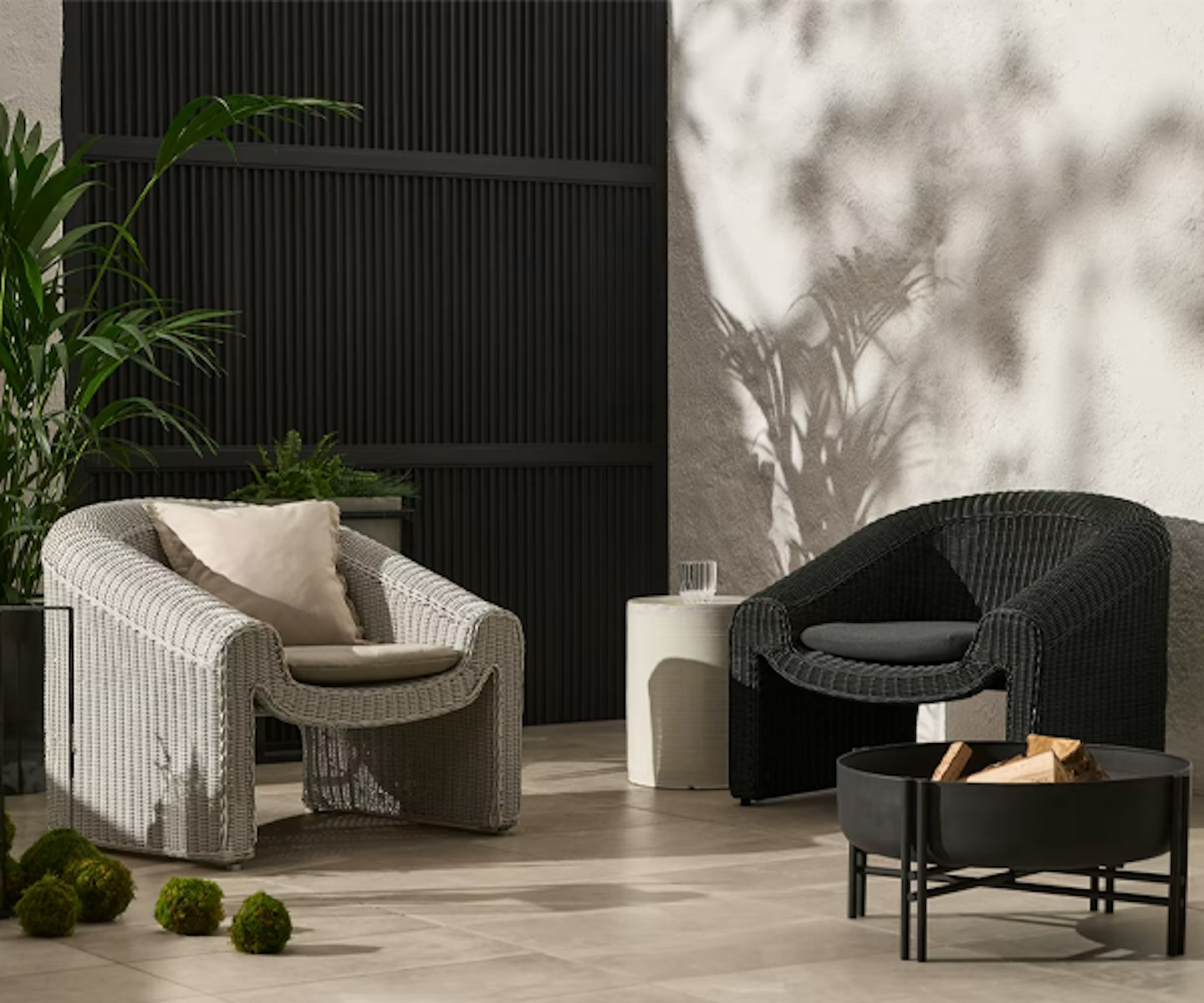 16 of 16
Shona Statement Garden Chair
Designed in collaboration with Charlotte Honcke, this statement curved garden chair is made from sturdy aluminium and polyrattan weave and comes in black or natural white.