There is something so comforting and therapeutic about sitting around a fire, just ask the Love Island cast. Watching the flames dance certainly puts the islanders into a sort of hypnotic trance and incites those deep and meaningful chats we love to watch. We can achieve that in our own gardens too, so whether it's reminiscing about old times, dancing to music together, or deciding who to couple up with until the next person gets booted from the villa - fire pits have a way of creating a little bit of drama.
According to interiors experts VonHaus the desire to get a Love Island style fire pit is high on the wishlist of ITV2 viewers. As series 8 kicked off on June 6, it wasn't just the brand new bombshells and surprise coupling up twist that was on everybody's lips, searches for the 'love island fire pit' rose by 450%, while searches for 'large fire pits uk' shot up by 190%.
Emily Cahoe, Senior Buyer at VonHaus said of the renewed interest, 'We always see a rise in interest for firepits as Love Island starts and we think it's great that people want to spruce up their gardens with one. Depending on what you go for, they can be a much more affordable addition to the garden than you might think! With cheaper and high-end options for both coal and gas pits available.
'They're a perfect addition to any garden, from keeping you warm on colder nights so you can stay out under the stars to some even doubling as a BBQ!'
Here we have picked out the best fire pits, outdoor fireplaces and chimineas so you can bring a touch of dramatic ambience to your garden when the summer nights get cold and Love Island nears its end. From rustic cast-iron fire pits to handcrafted clay chimineas there is something for every garden decor.
What is the difference between fire pits, fireplaces and chimineas?
Fire pits are not just something to look forward to when camping anymore. Fire pits have become an increasingly popular garden addition perfect for extending alfresco evenings. From rustic firepits to architectural features there are many types of fire pits, outdoor fireplaces and chimeneas to match every garden décor. Fire pits are the most classic option and are usually wood burning with some gel burners as an option too.
Outdoor fireplaces are more traditional and are often designed with a chimney, much like indoor fireplaces and can be crafted from materials such as wood or iron. If you want to keep smoke at bay or add some alpine style to your garden décor, then an outdoor fireplace would fit.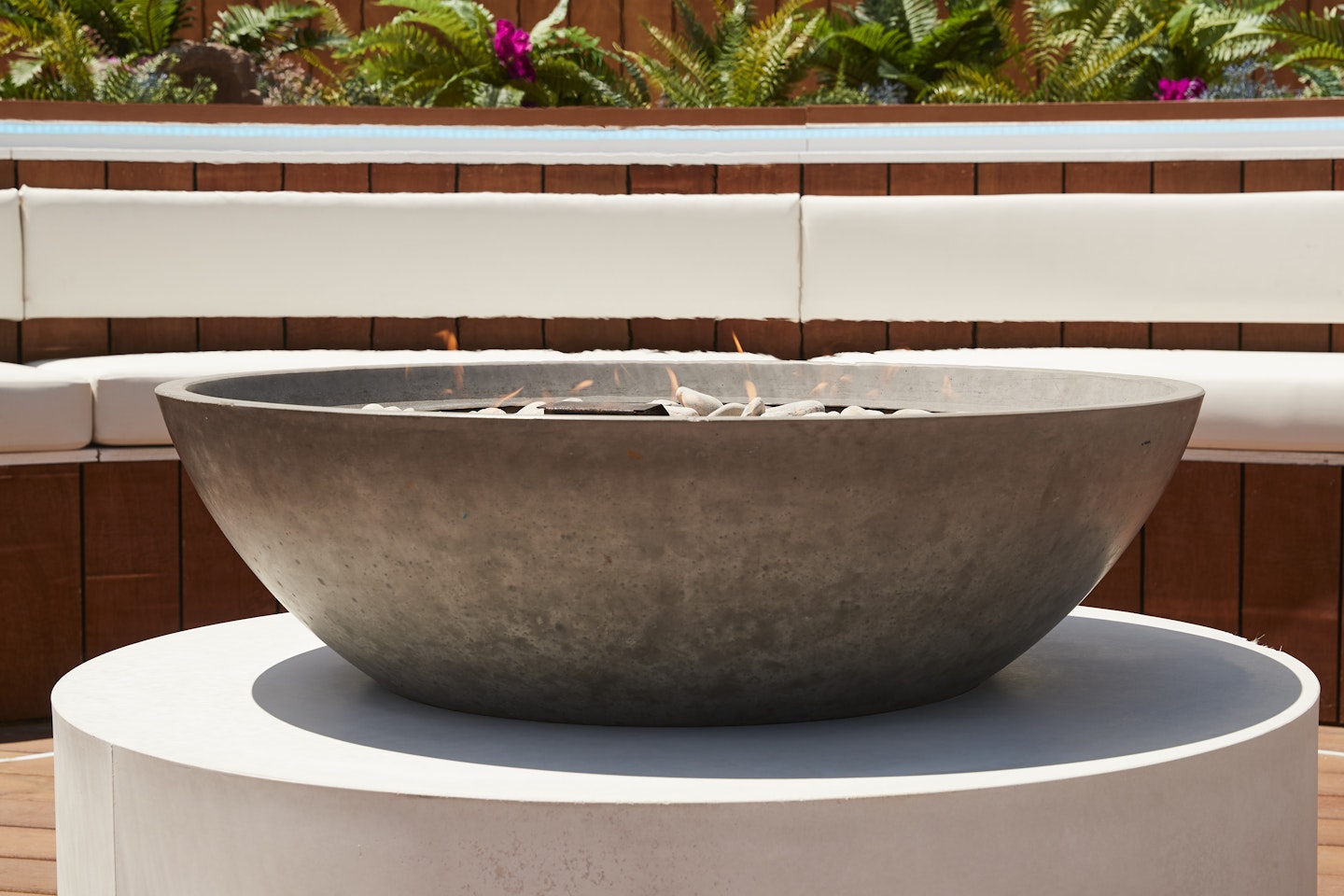 Chimineas on the other hand are typically hand-crafted fireplaces with a chimney made from clay, cast iron or sometimes wood. They are often produced in Mexico or the southwest of America. While many see chimineas as garden art or as an architectural feature they also produce a good amount of warmth and channel the smoke away from you with the chimney.
READ MORE: The Best Outdoor Heaters To Dress Up Your Garden, Patio Or Balcony
If you are looking for a garden accessory that not only is deeply restorative but will make your alfresco evenings last longer then what are you waiting for? Here are the 11 best fire pits, fireplaces and chimineas to cosy up to all year-round.
The Best Fire Pits, Fireplaces and Chimineas To Create An Alpine Retreat
SHOP: The Best Fire Pits and Chimineas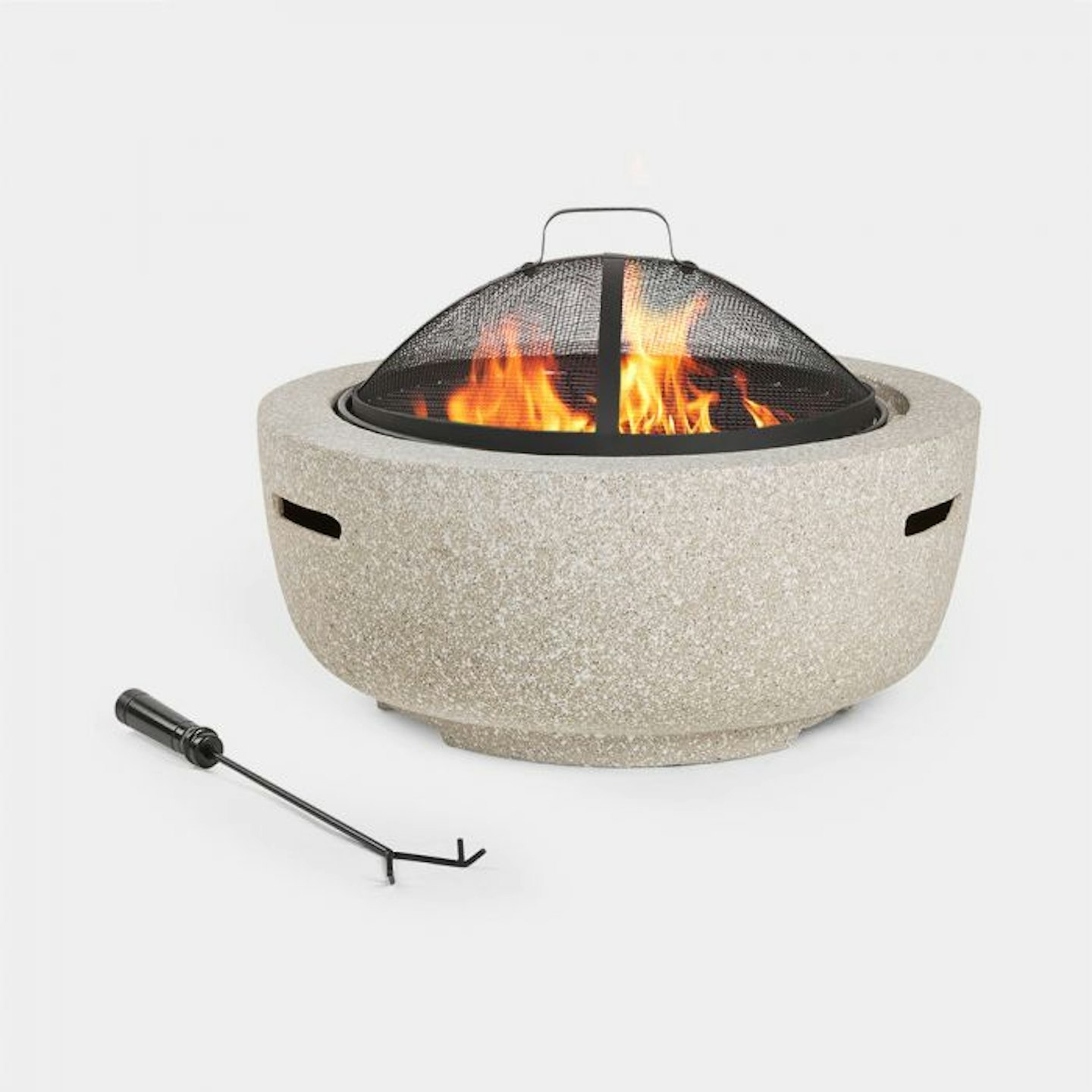 1 of 12
VonHaus Round MgO Fire Pit
Gather round this chic fire pit from VonHaus to hear who has coupled up with who. The type of fuel you use is up to you and depends on what you want to use it for, but logs will provide a beautiful flickering fire as a focal point. If you plan to cook supper, it's best to use charcoal to create the hot glowing embers you need for the best barbecued food.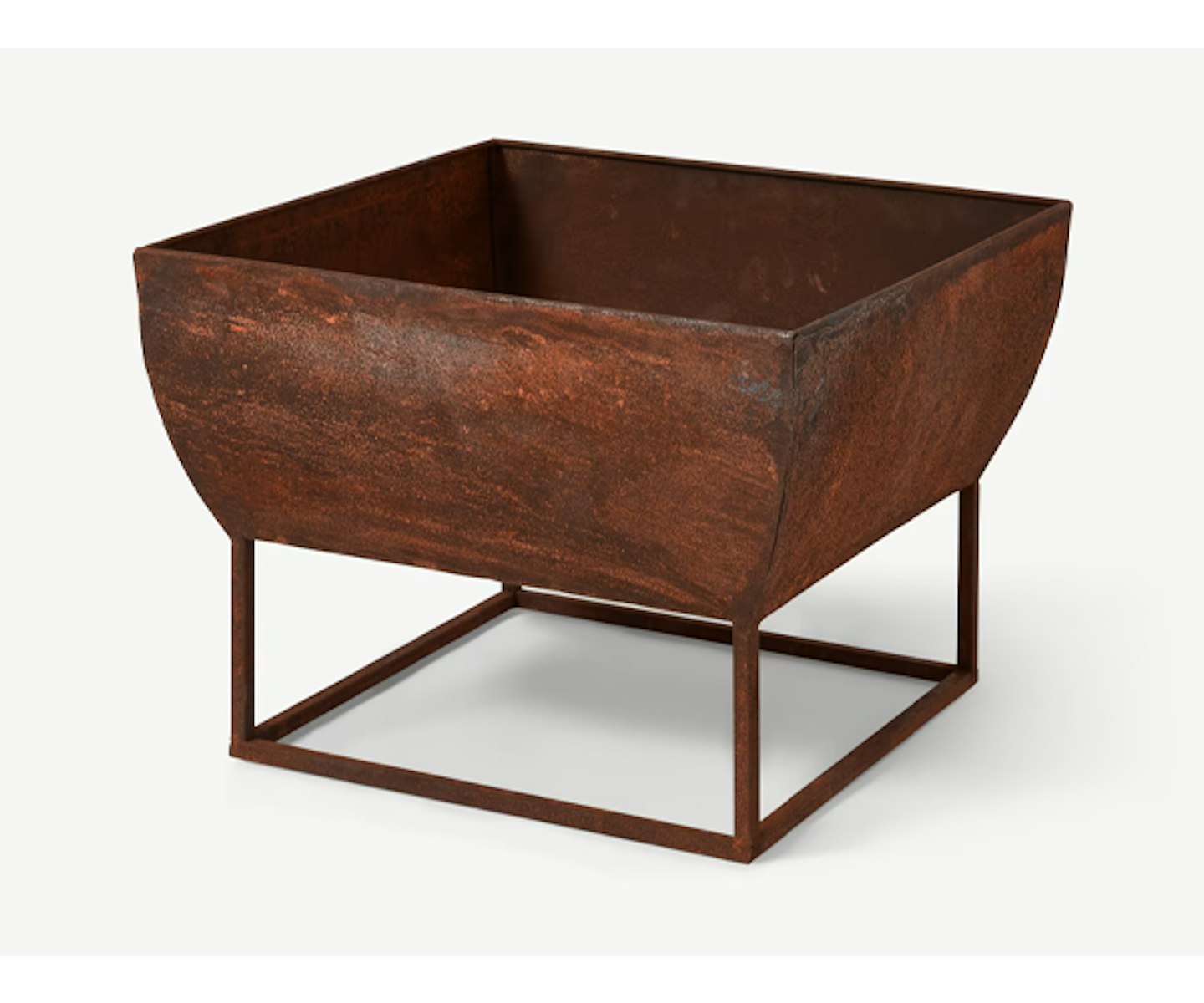 2 of 12
Ivyline Outdoor Iron Fire Pit, Rust, £130
Keep the party going and your guests warm with this industrial rust fire pit. The large and robust shape plus the sturdy geometric frame makes it the perfect fire pit for when the evening starts to wind down.Dimensions: 35 x 50 x 50cm Weight: 4.26kg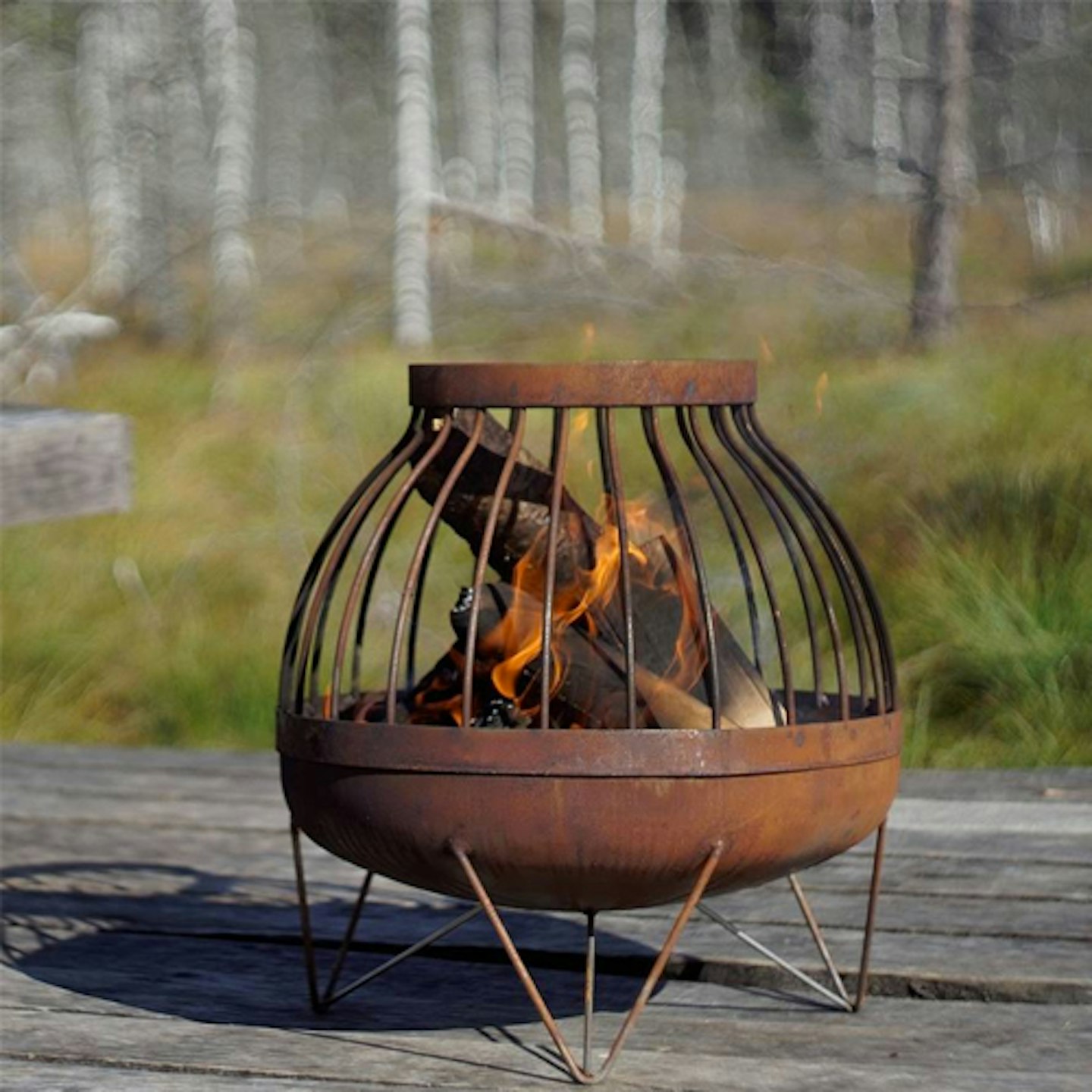 3 of 12
Somma Steel Fire Pit, £379
This gorgeous rustic fire pit with a stylish shape and solid steel is a garden accessory that is made to last. The rust coloured pitis high quality and made of hand-finished solid steel.Dimensions: 45 x 49cm Weight: 12kg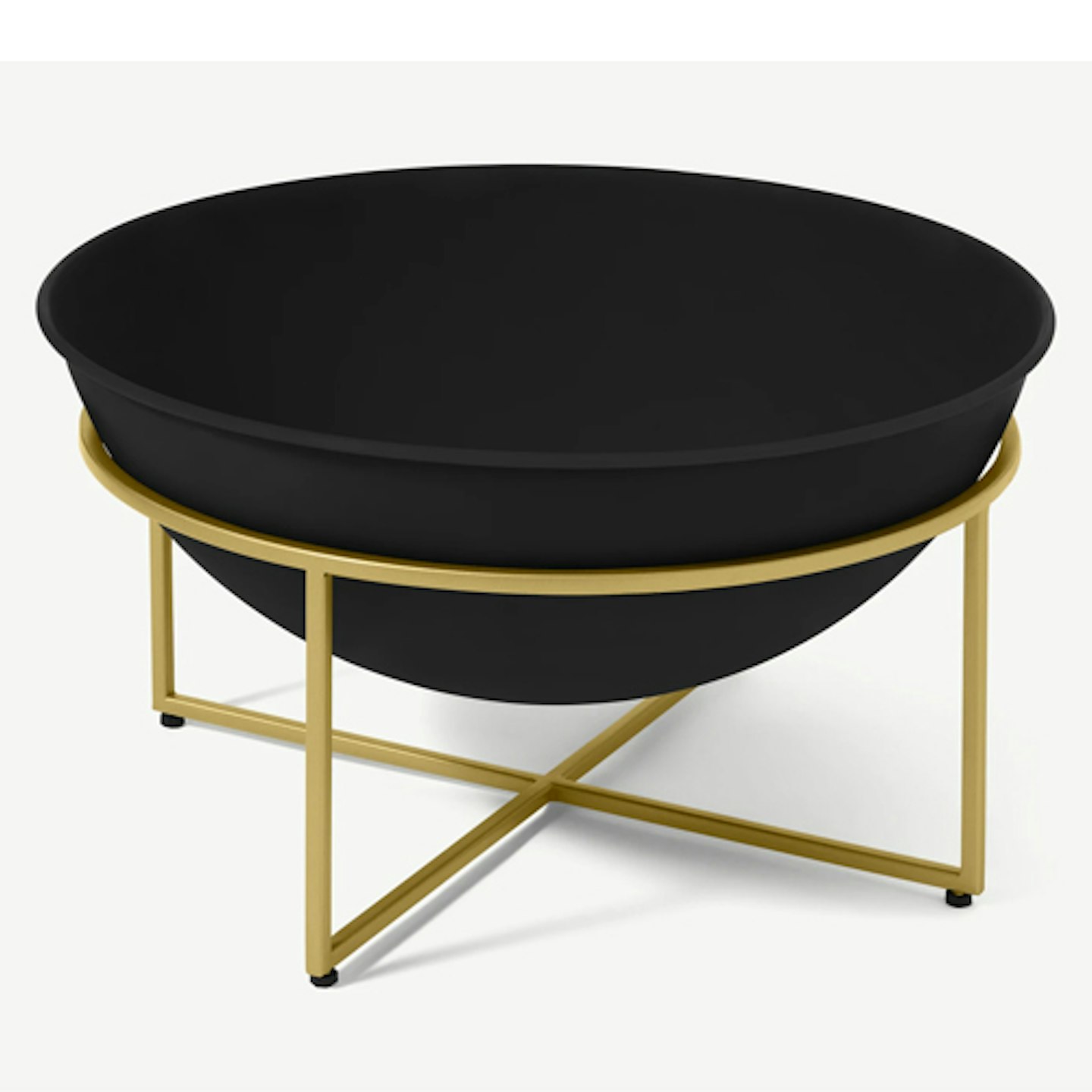 4 of 12
Josper Low Compact Metal Firepit, £165
This jet-black fire pit will blend effortlessly into your modern backyard setup. It is sleek, subtle and compact with a black design and brass frame, it pairs practicality and style together beautifully.Dimensions: 28 x 51cm Weight: 9.05kg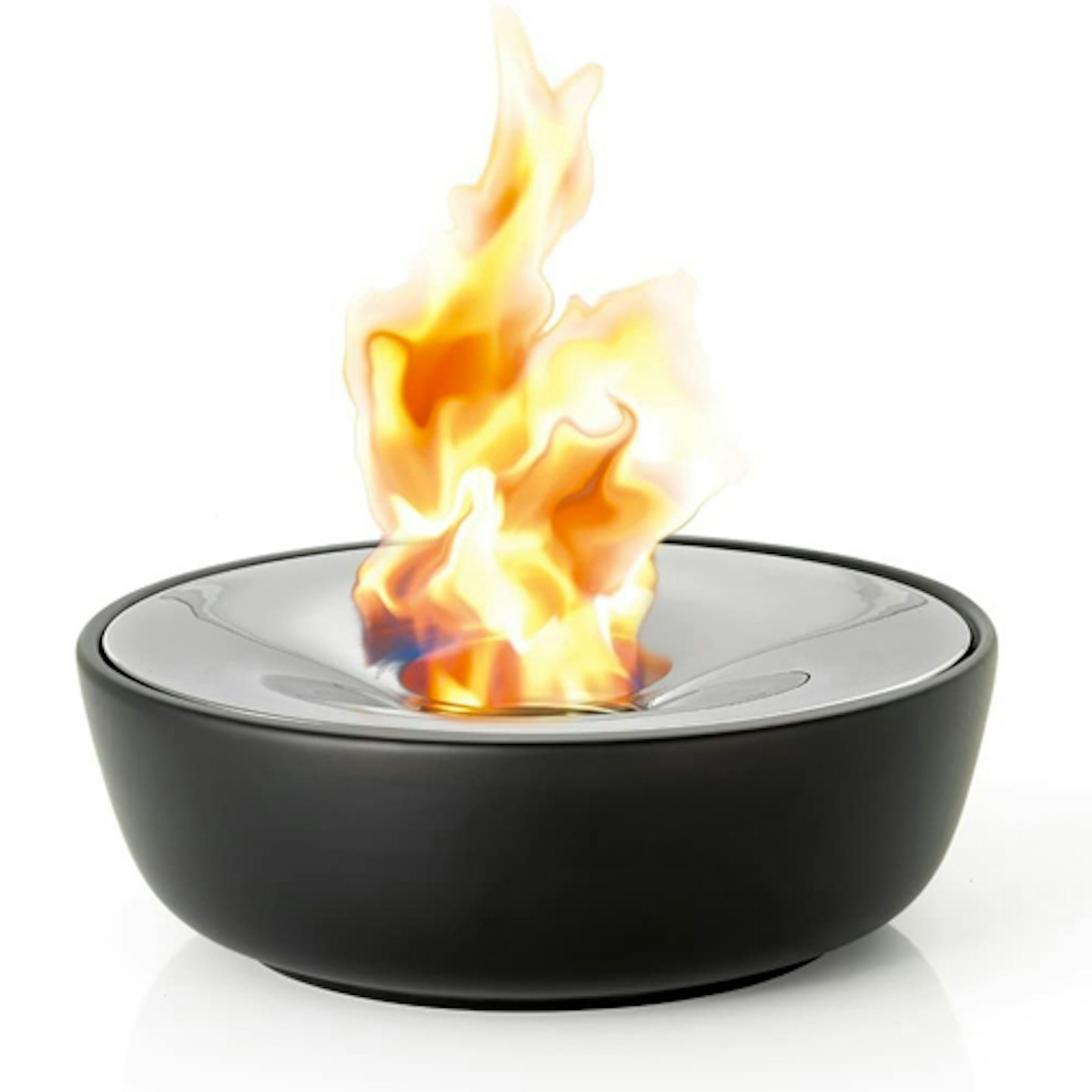 5 of 12
blomus FUOCO Gel Fire Pit, £114.11
If collecting firewood isn't really your thing, but you love to cosy around a fire then this small and practical tabletop gel burner will fit perfectly on your outdoor patio table. Naturally, it does not create as much heat as a wood or gas fire pit but is a great centrepiece for alfresco evenings in the summer. This tabletop fire uses standard burning gel and can burn for around two hours. Plus the gel burner is also easy to clean. Dimensions: 32.5 x 32.5 x 10cm Weight: 2.58 kg
6 of 12
The Forest & Co Tall Chimney Outdoor Fireplace, £625
Feel like you are in a Scandinavian retreat with this triangular-shaped fireplace with a chimney. Made from iron, this tall chimney has two compartments – the wood burner and an area for stowing logs. Now your alfresco nights can last even longer. Dimensions: 169 x 60cm x 40cm Weight: 19.98 kg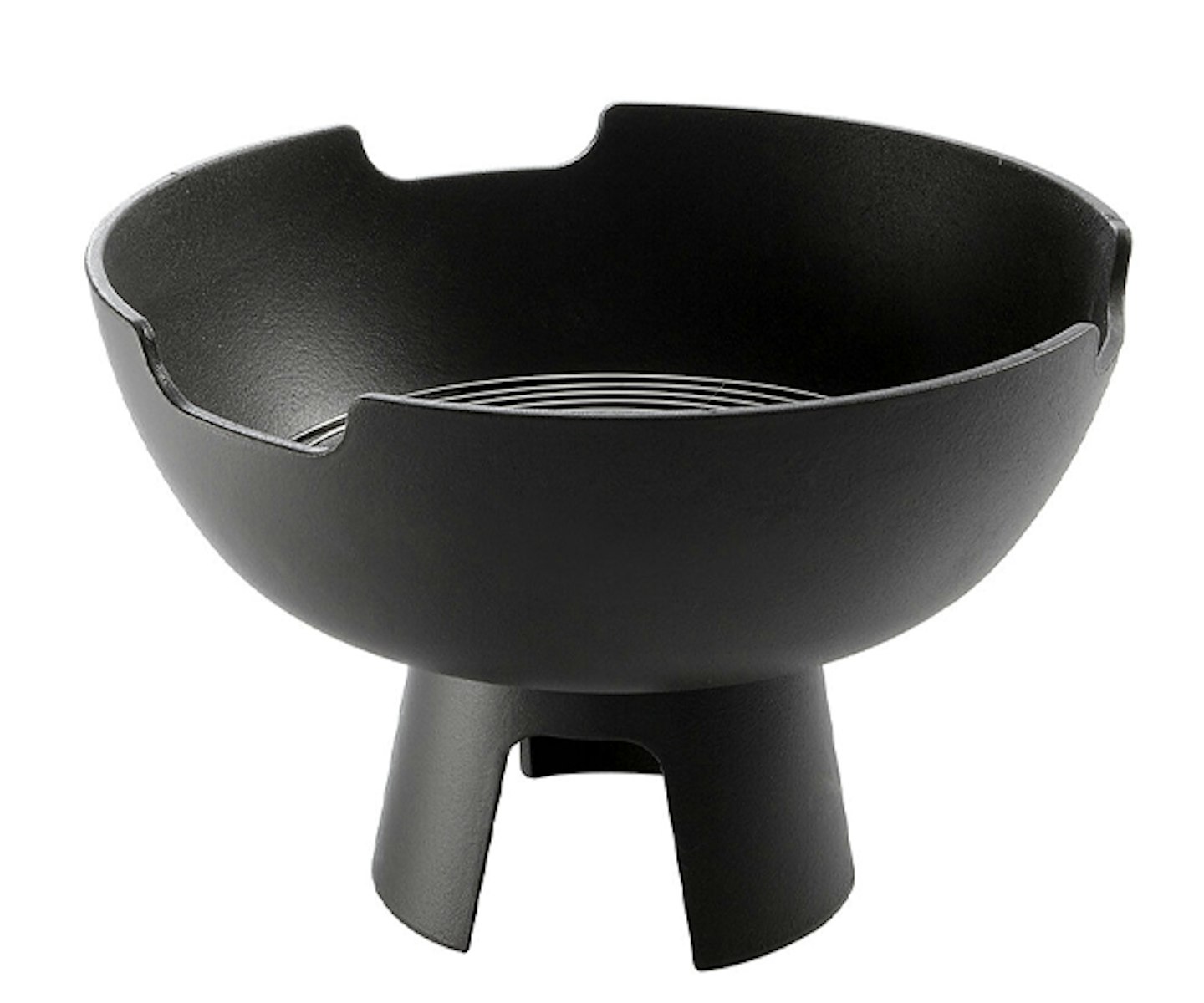 7 of 12
Morsø Ignis Fire Pit, £197
Complete your garden setup with this black Ignis firepit from Morsø. Crafted from cast iron, this fire pit will keep you warm for hours and can be used as a stylish BBQ when combined with the Ignis Grill Grate. The optional grill gate is not included, however, you can purchase it here.Dimensions: 45x32cm Weight: 18kg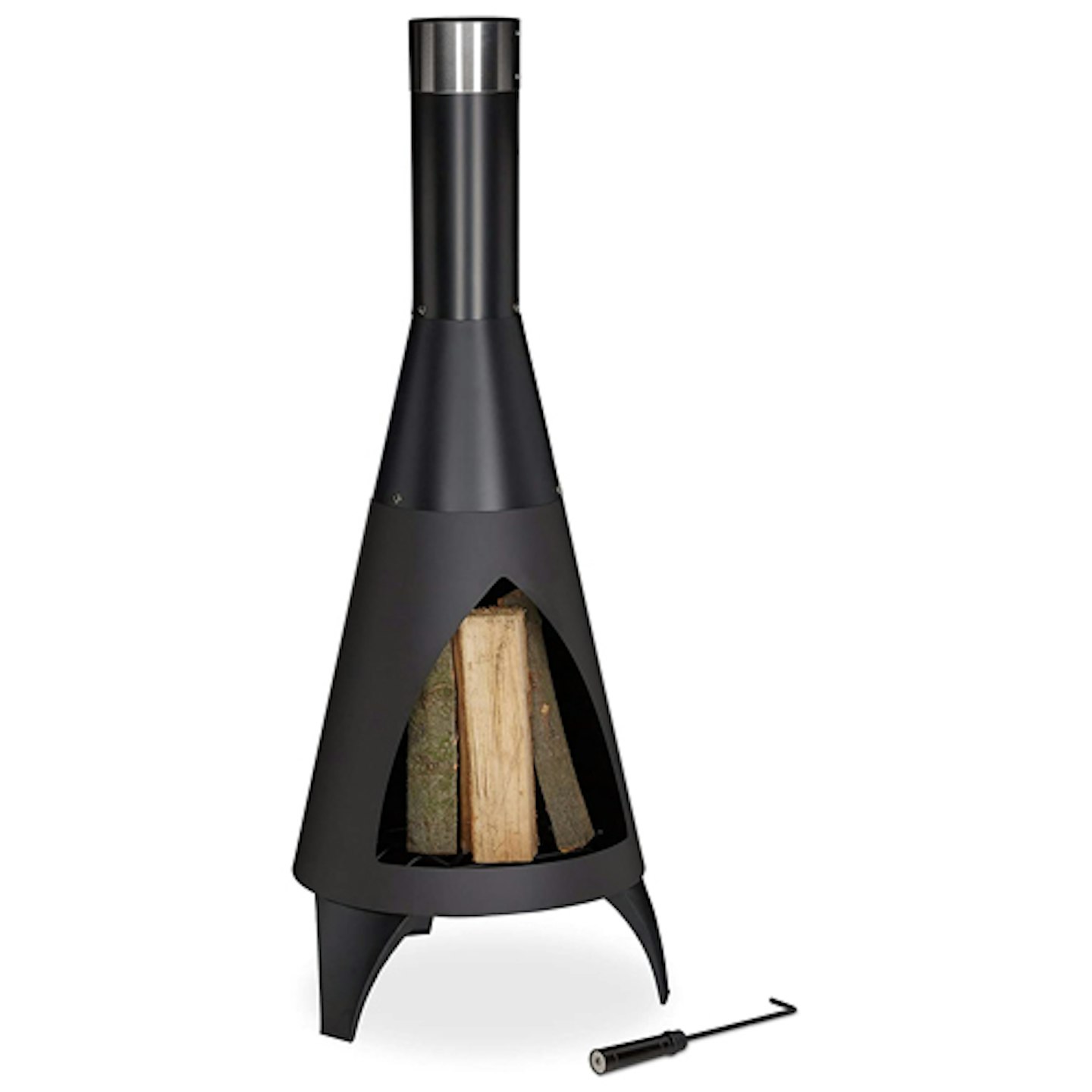 8 of 12
Relaxdays Patio Heater with Poker, £87.90
Create an alpine paradise with this outdoor fireplace. It has a classic rustic design that brings warmth and style. The conductive steel radiates heat - just add the wood to the fireplace, and you will have a crackling fire. So comforting. Plus the chimney feature ensures the smoke does not drift into your faces when circled around the fire. Dimensions: 120 x 45 cm Weight: 7.9 kg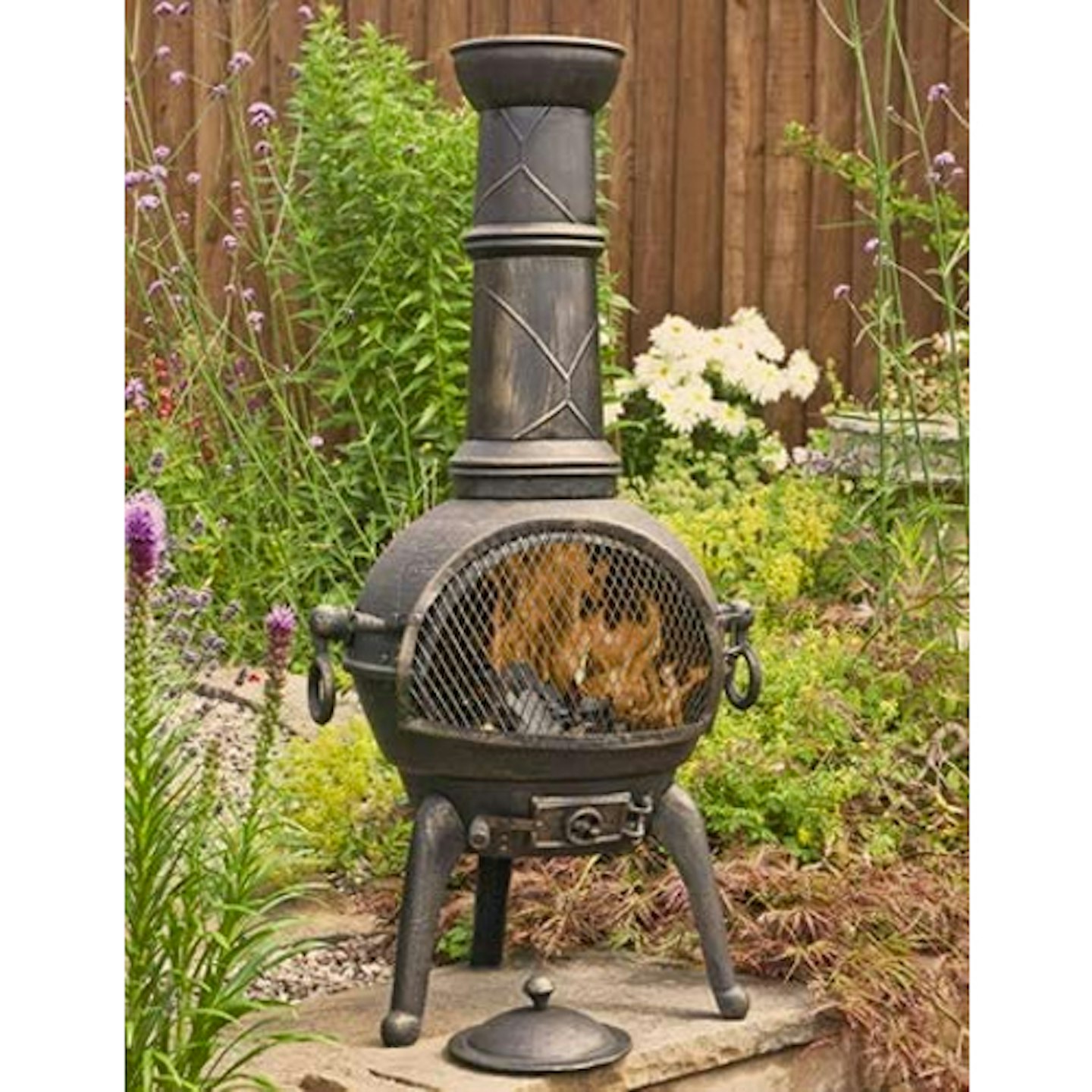 9 of 12
Cuba Large Steel La Hacienda Cast Iron Chiminea, £173.
If you are looking for a fireplace or chiminea that doubles as an architectural feature then La Hacienda make beautiful chimineas, and this cast iron one is no different. Crafted with a durable fire belly and a steel flute, the smoke from the fire will be channelled upwards and not towards your company. If you are looking to protect your cast iron chiminea, you can find the rain cover here.Dimensions: 48 x 46.5 x 38.5 cm Weight: 19.98 kg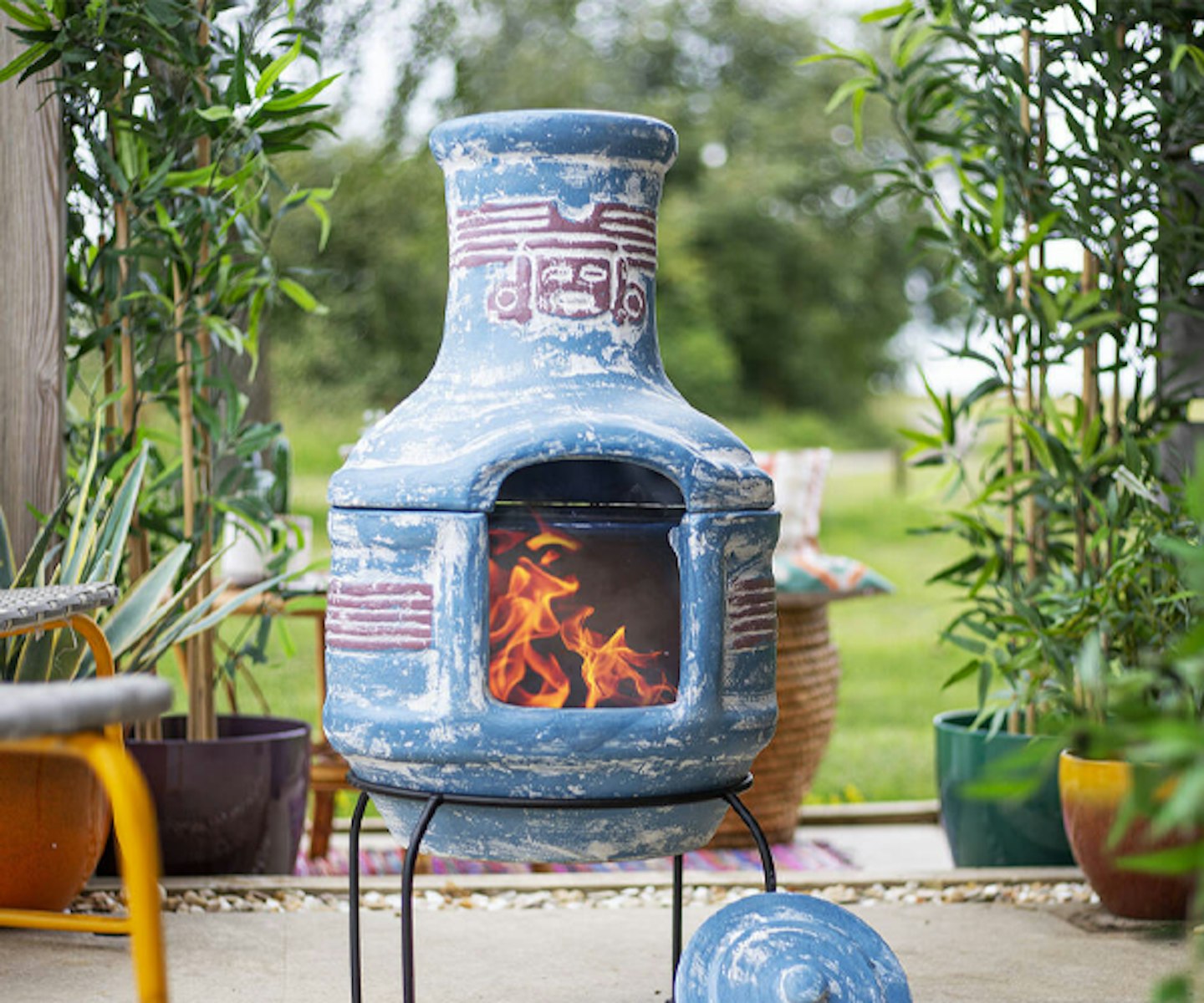 10 of 12
Yaku Two Piece Clay Chiminea And Grill, £129.99
We can't praise this fireplace enough - the powder baby blue, the handmade clay structure and the hand-painted red detail Inca design. This chiminea will certainly liven up your garden and warm up your evenings. Plus, this chimenea is excellent for some alfresco cooking using the grill.Dimensions: 84cm x 39cm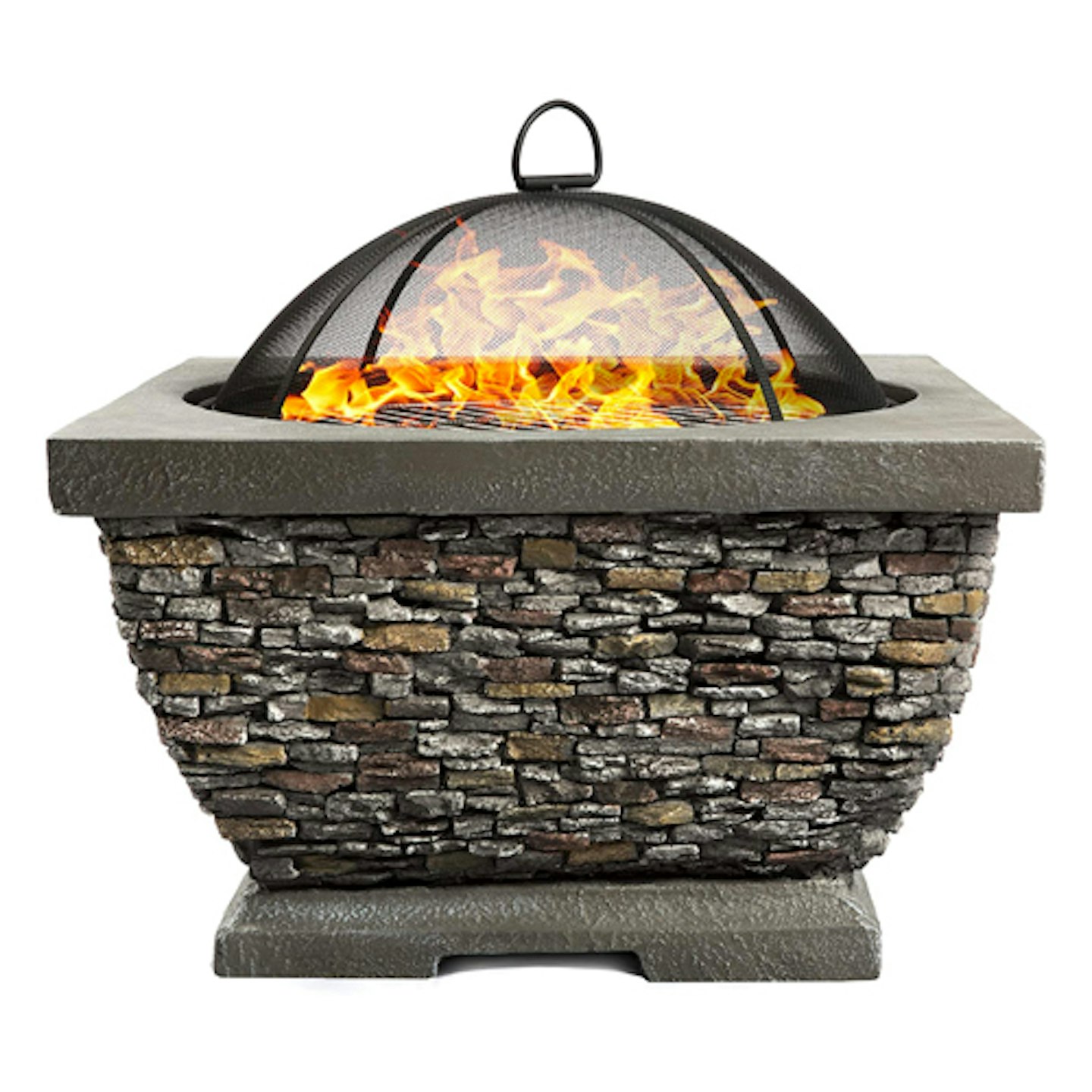 11 of 12
Centurion Patio Heater Fire Pit, £229.99
If it's a classic fire pit you are searching for, then look no further than this stone finish fireplace. Not only is it practical and convenient, but versatile too. You can burn charcoal, logs, coal and wood on this pit. This fire pit provides heat and class to your garden, terrace or patio. It also comes with fire accessories such as a poker, BBQ grill, safety mesh lid, charcoal rack, a manual for easy self-assembly and a waterproof protective cover to protect it from the elements.Dimensions: 56cm x 47cm Weight: 20.84 kg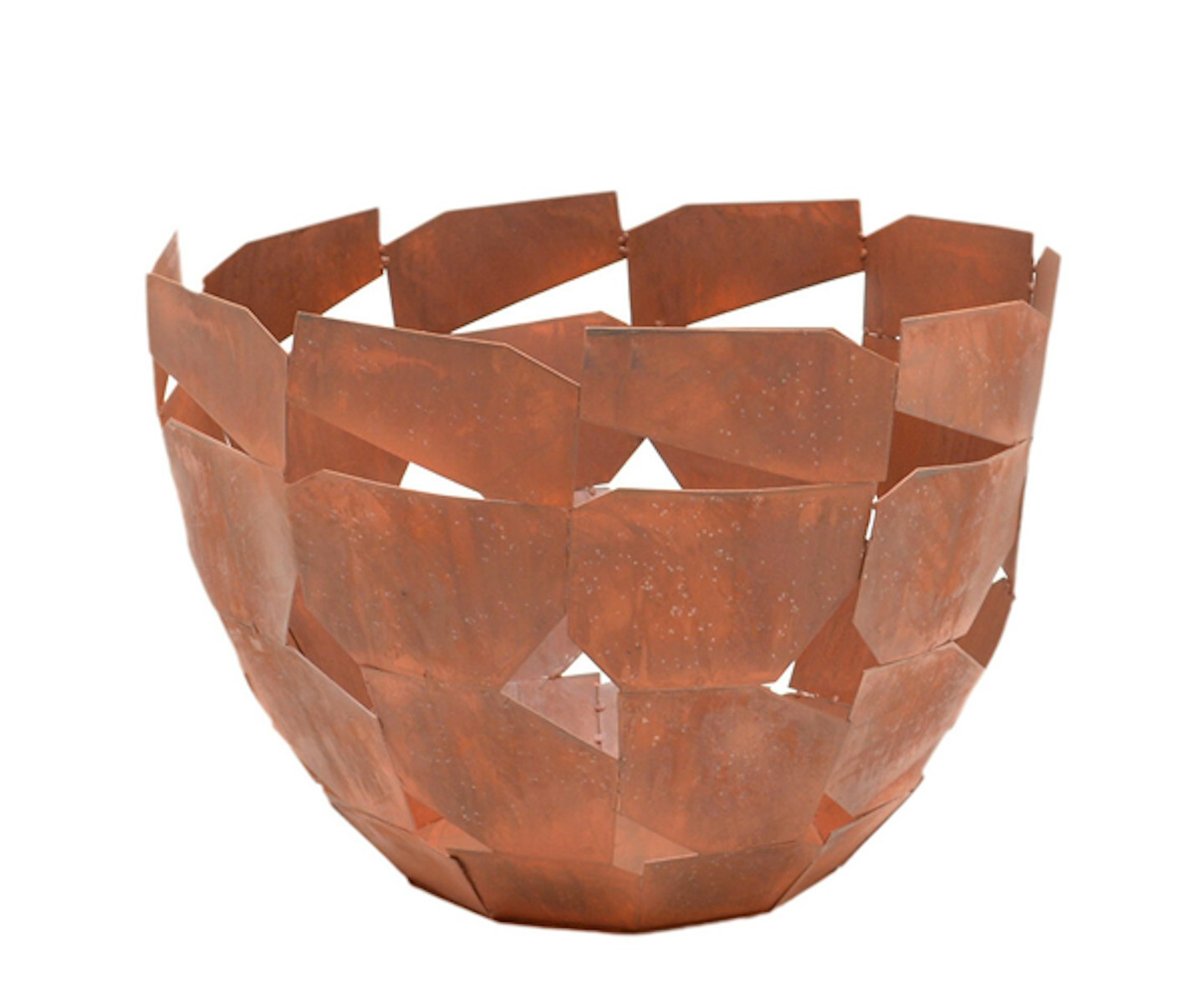 12 of 12
Ivyline Metal Industrial Fire Bowl, £254
If you are all about the industrial chic look, you will love this fire bowl for your outdoor space. The unique design and rust finish makes this a striking firepit - perfect for keeping cosy on a summer or autumn evening.Dimensions: 43 x 61.5cm
What types of fire pits are out there?
Wood burning fire pit: The most common fire pits are wood burners. They will provide you with a camping ambience and the bowls are typically made from steel. Charcoal is also compatible with most wood fire pits, so you can also consider using it as a BBQ.
Gas fire pit: Gas fires are fuelled by a propane tank, making them a convenient option - no firewood collecting necessary. However, you must follow the safety tips in the product manual and gas fire pits are for strictly outdoor use.
Gel fire pit: If you are looking for a scent and smoke-free product, then gel fire pits are a great option. They can be on the pricier side and will not produce as much heat as wood or gas burners. If you are looking for a more decorative fire, then a gel burner would be an excellent accessory for your garden or patio.