Make the most of your lazy afternoons with the addition of the effortlessly cool garden cocoon chair. A staple statement piece for any modern garden in 2022, these seriously stylish egg chairs are invading every garden in the UK this year.
On a sunny day, a cocoon chair is an ideal place to hang out. Read a book, listen to a podcast and simply relax, it appeals to our need to feel safe, supported and cocooned. With their distinctive curves, tactile open-weave and enveloping shapes, this comfy furniture piece adds serious style to your patio.
Our gardens and outdoor spaces, no matter how big or small, become the buzzing hub of our homes in the warmer seasons. The perfect place to cook, relax and host al fresco dinner parties, a hanging egg chair makes the perfect focal point in any garden space.
Why should I buy a garden cocoon chair?
Happy centre stage on your patio or tucked away in a quiet corner at the bottom of your plot, these hanging chairs are the only place you'll want to sit in your garden this year.
They're more than big enough to sink into, and their structure and design make for a calming, peaceful and supportive environment for you to relax. With the seating pod suspended from a sturdy stand, you can sit and sway gently in the breeze, adding to the feeling of pure escapism.
To make the most of your hanging egg chair you can bring it indoors in the colder months to create a relaxing space in your home. Be it a quiet reading nook, or an addition to your living room furniture, there's no need to only reap the benefits in the summer.
An extension of our homes, the décor style should flow as easily outdoors as it does inside. So, there's a cocoon chair to fit every boho, modern or minimalist style and we've found the best ones out there to match your home that you can buy right now.
Think everything from boho-chic to understated luxurious black, you can shop our selection of the best cocoon and egg chairs to elevate your outdoor space right here.
SHOP: The Best Hanging Cocoon And Egg Chairs For Your Outdoor Space
Best Hanging Cocoon And Egg Chairs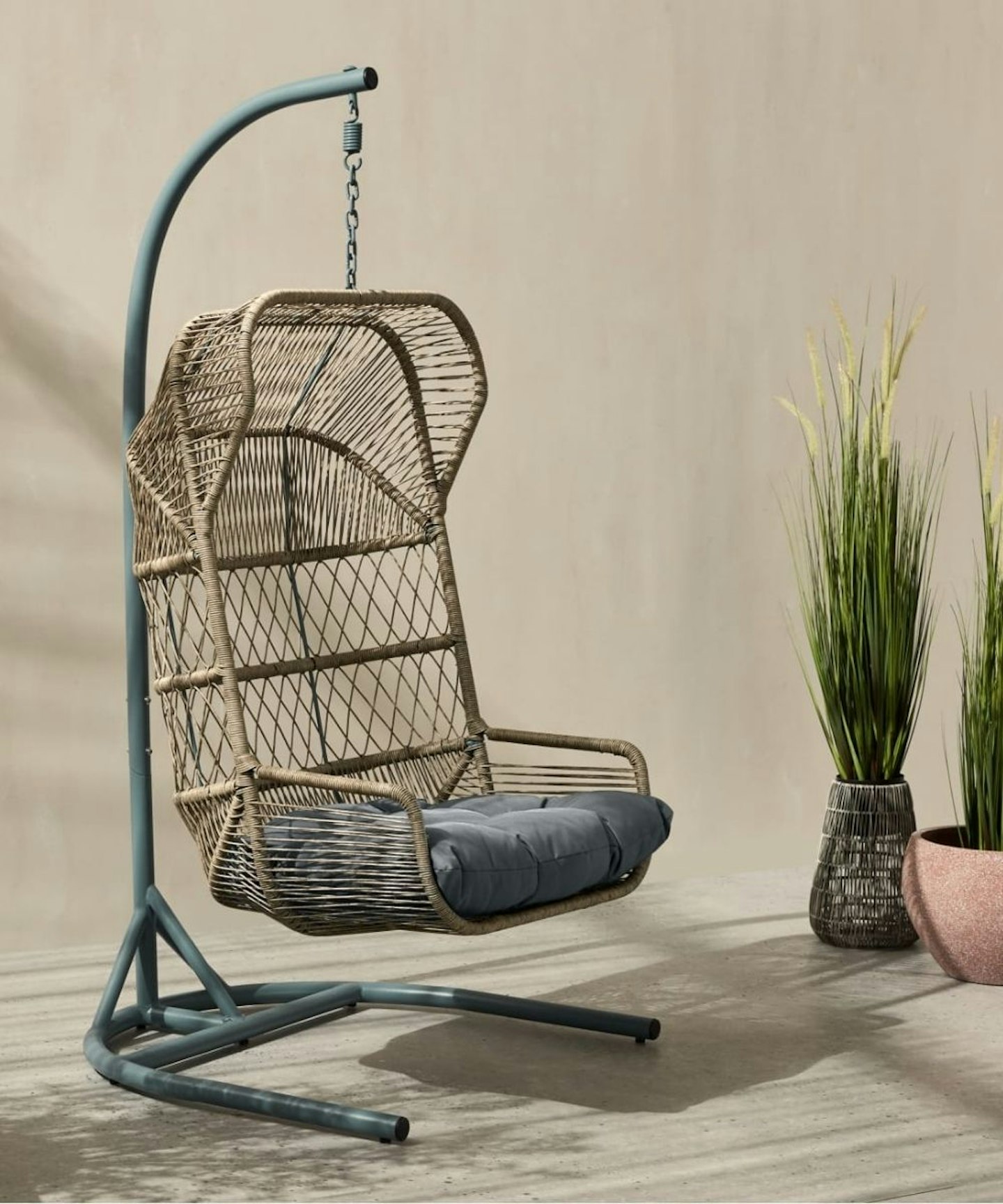 1 of 10
Lyra Garden Hanging Chair, £495
Swing in style with the Lyra Garden Hanging Chair from Made.com, built for relaxing it's a retro designer statement piece for your home. Crafted from woven poly rattan and a blue metal frame, with a comfy grey cushion, the Lyra is an ideal place to hang out. Its smart design means you don't have to worry about any tricky installation and simply store it away in wet weather to keep it in top condition. Dimensions: W 107 x H 183 cm Material: Poly rattan, steel.Assembly: Partial assembly required.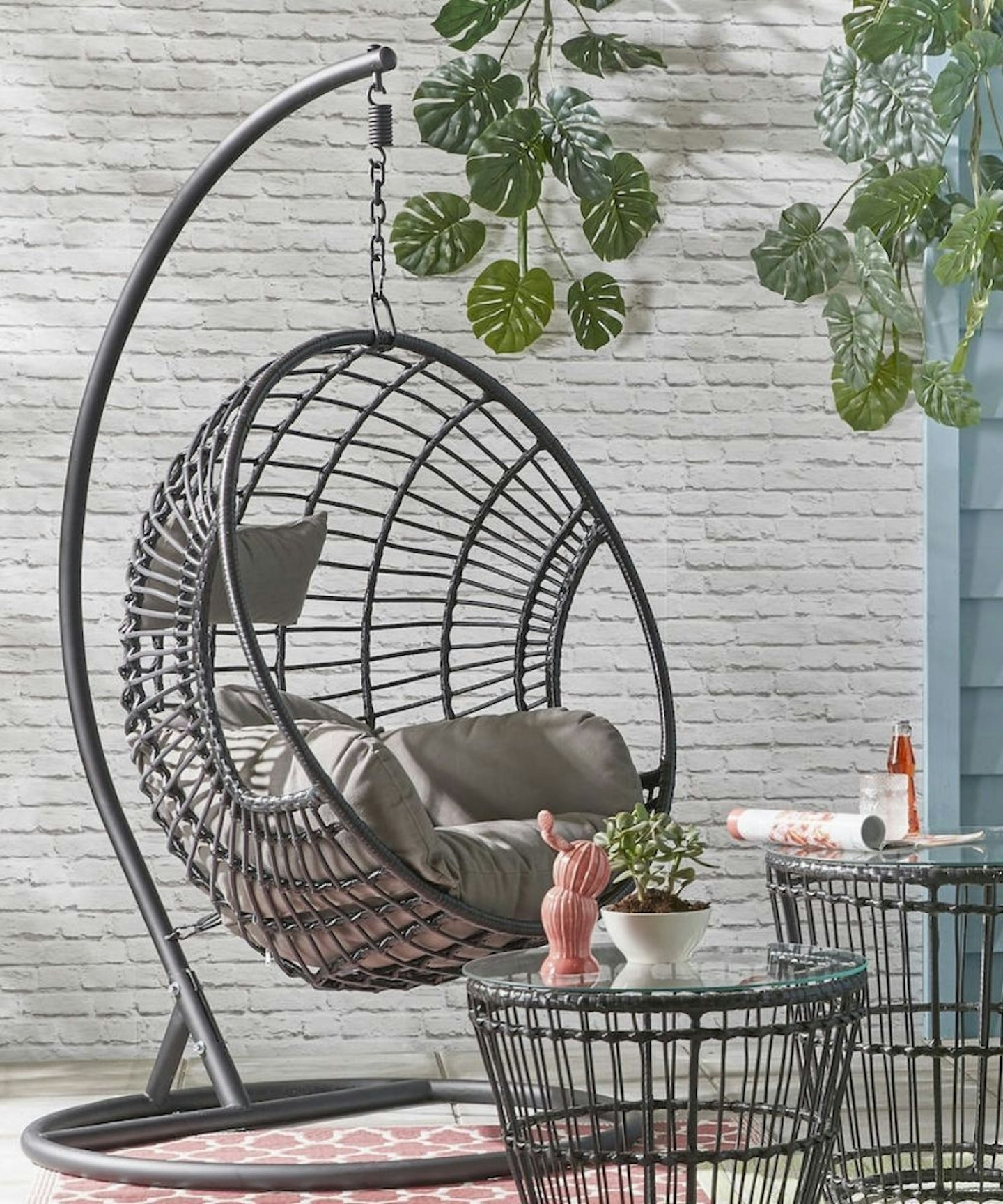 2 of 10
Ella James Indoor/Outdoor Hanging Egg Chair, £555
Smart, striking lines in dark grey with a circular shape and all-weather rattan give this hanging chair chic, urban credentials. The tall steel frame takes up little floor space, so it's great for smaller decks and patios, while the charcoal padded cushion makes it super comfy. Very versatile, it is suitable for both indoor and outdoor use and can either be hung from the stand or it will sit directly on the circular base and act as a freestanding chair.Dimensions: W 110 x H 185 cmMaterial: Rattan, metal (powder-coated iron).Assembly: Partial assembly required.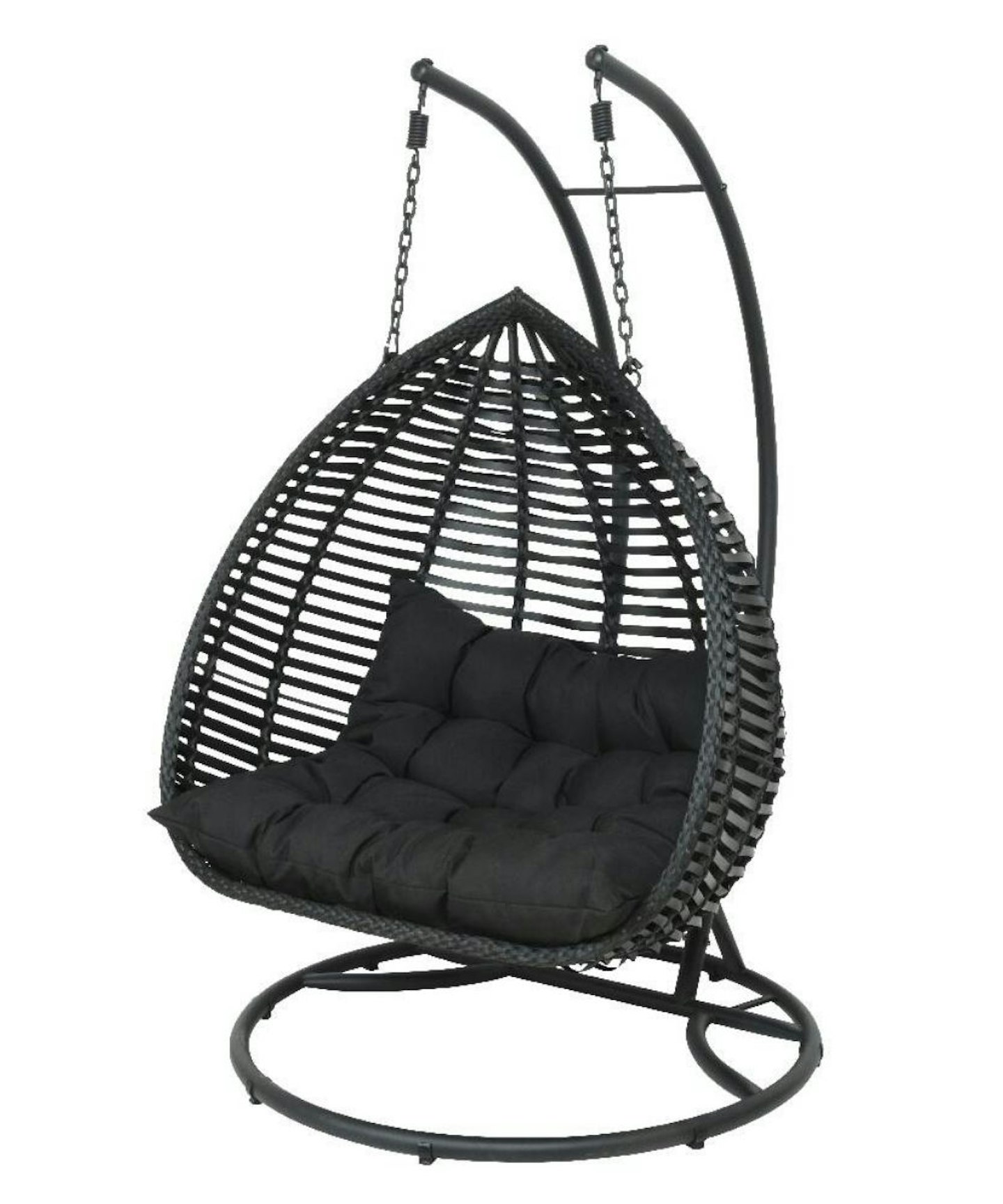 3 of 10
Ella James Black Turin Double Teardrop Egg Chair, £850
The gorgeous double Milano Egg chair is perfect for couples looking to snuggle up. The luxurious black colourway makes it perfect for a modern garden. The matching black quilted cushions make this hanging chair uber comfortable and a great cover from the sun when needed. This chair can be easily moved around and is suitable for indoor and outdoor use as it's both weatherproof and water-repellent.Dimensions: W 122.50 x H 196 cmMaterial: PE wicker, powder-coated iron frame, stand and pole.Assembly: Partial assembly required.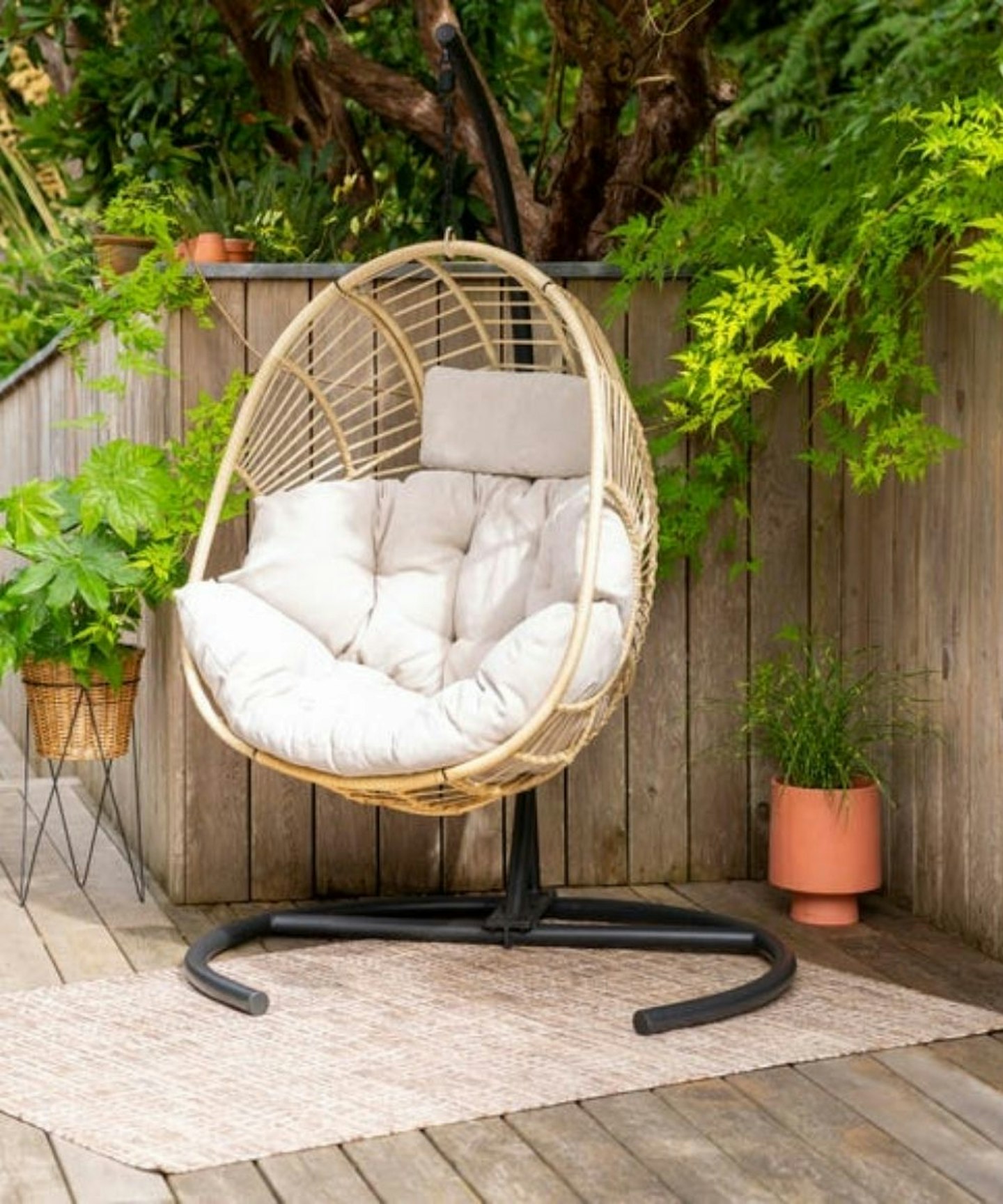 4 of 10
Singapore Hanging Egg Chair, £229
Add a fun and relaxing touch to your garden, with this beautiful Singapore Hanging Egg Chair. A great affordable option for your space, its timeless and natural design will complement any outdoor décor and style.Dimensions: W120 x H 184 cmMaterial: Metal, rattan, fabric.Assembly: Full assembly required.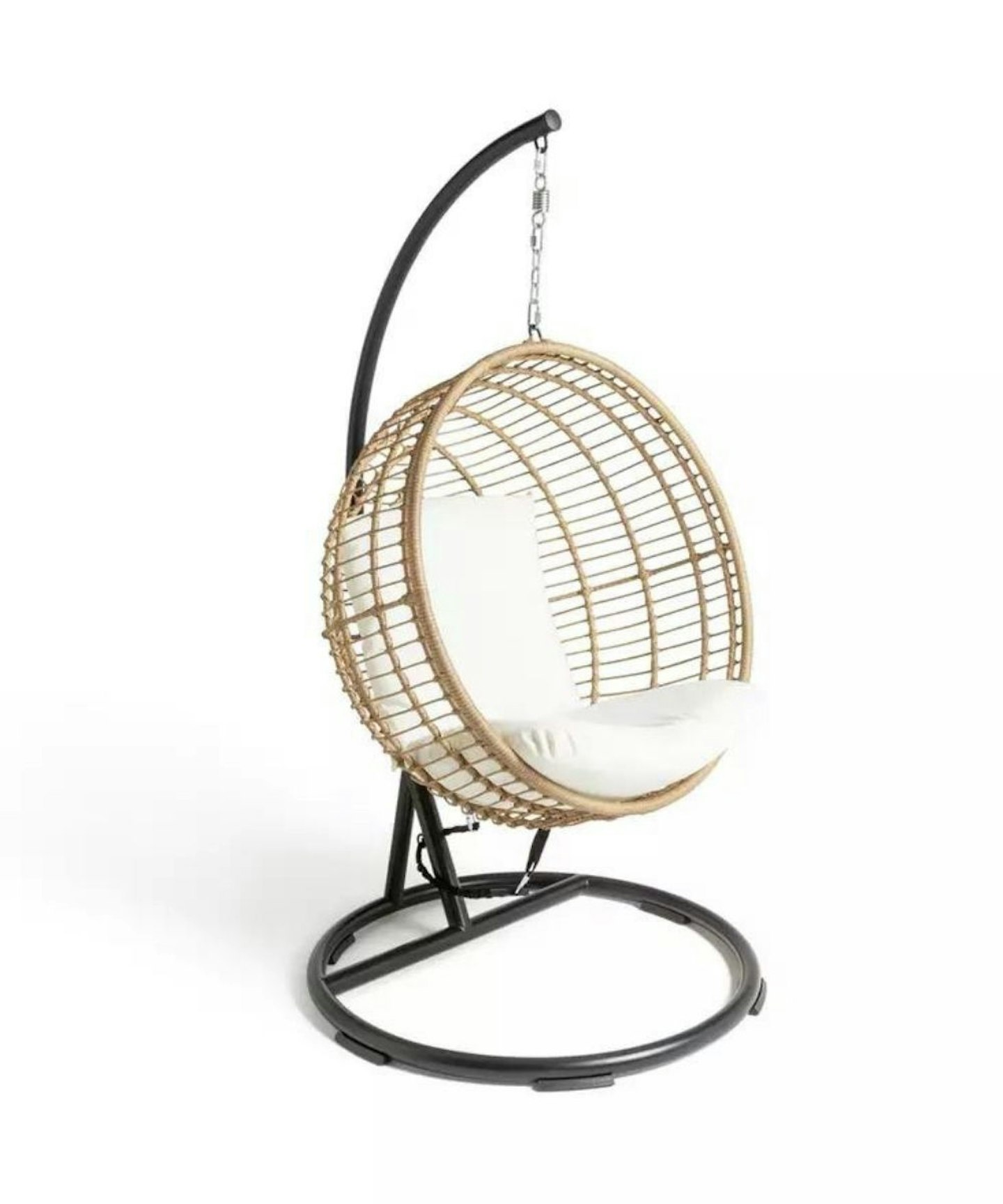 5 of 10
Habitat Dove One Seater Metal Hanging Egg Chair, £500
With this hanging egg-shaped swing chair from Habitat, lounging in the garden has never been easier. Featuring an airy open weave rattan design, this chair is supported by a sturdy contrasting black metal frame. Easy to assemble and seriously stylish, this rattan swing chair makes a focal point in any outdoor space.Dimensions: W 105 x H 196 cmMaterial: Metal frame, polyester fabric.Assembly: Self-assembly required.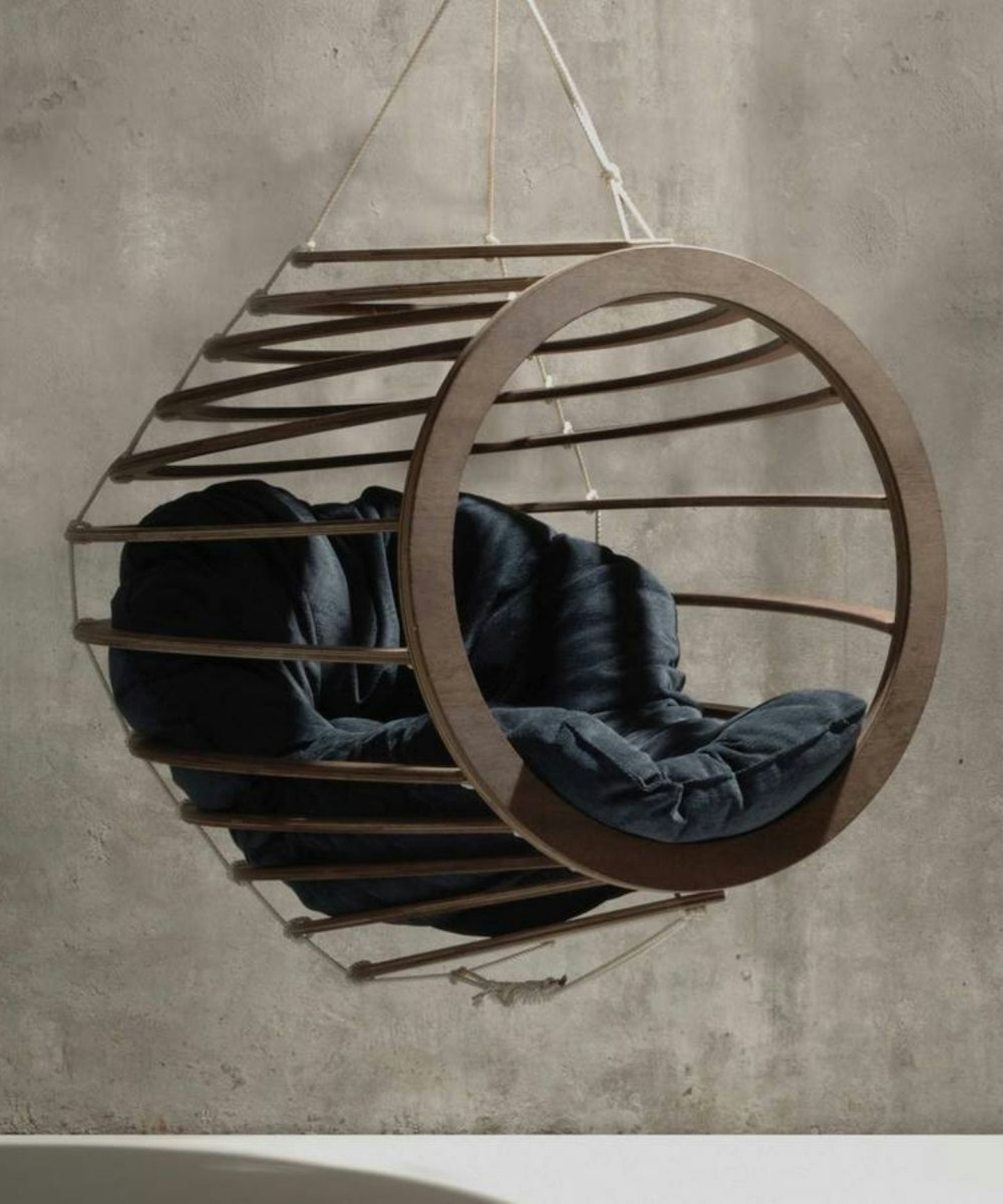 6 of 10
Raw Studio Hive Hanging Chair, £1,895
If you think your garden needs something new and you want to splash out on a contemporary piece, get your hands on this Hive Hanging Chair, which stands out as a luxurious design for your garden. Made from top-grade Birch and rope cord, this chair is for the big spenders. There is no construction required, it folds flat, and you can upkeep it by wiping it down every few months. Perfect for those looking to upgrade their contemporary garden.Dimensions: W 120 x H 120 cmMaterial: Top grade Birch laminate, faux suede cushion cover, fibre-filled cushion filler.Assembly: No construction is required of the chair itself. Hanging equipment is not supplied – rope or chain is recommended.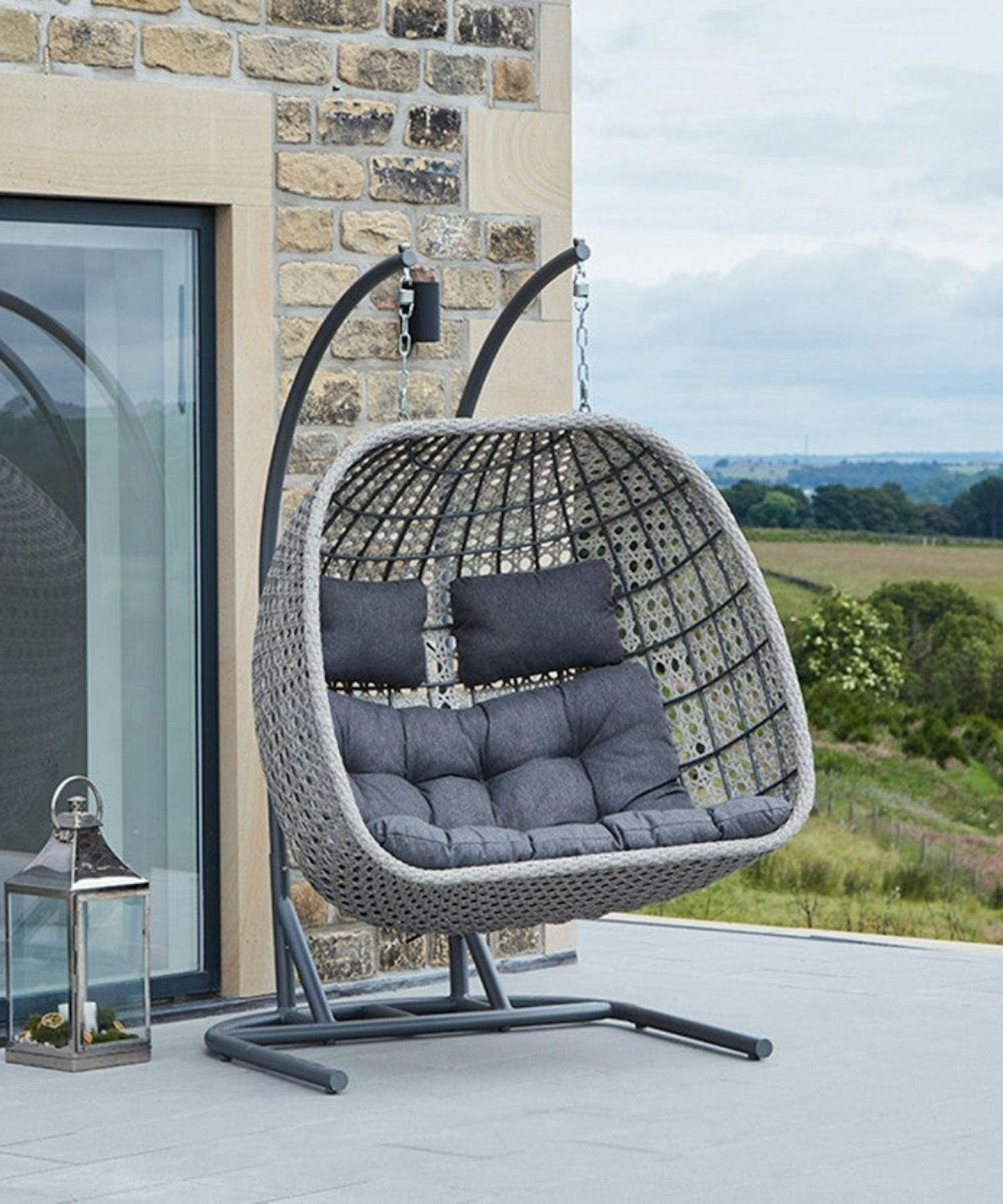 7 of 10
Pacific Lifestyle Double Hanging Chair, £1,249.99
Pale tones and rattan chair gives this double cocoon chair its cool and chic charm. An adjustable chain lets you choose your perfect swing height, while the super-padded cushion comes complete with arms for ultimate comfort. Coming in a stone grey, this hanging chair is durable, weatherproof and UV protected, all while being aesthetically pleasing – what more could you want? At a slightly higher price point, this cocoon chair is for those looking to splash out.Dimensions: W 133 x H 210 cmMaterial: Powder-coated aluminium frame, synthetic half round rattan weave.Assembly: Full assembly required.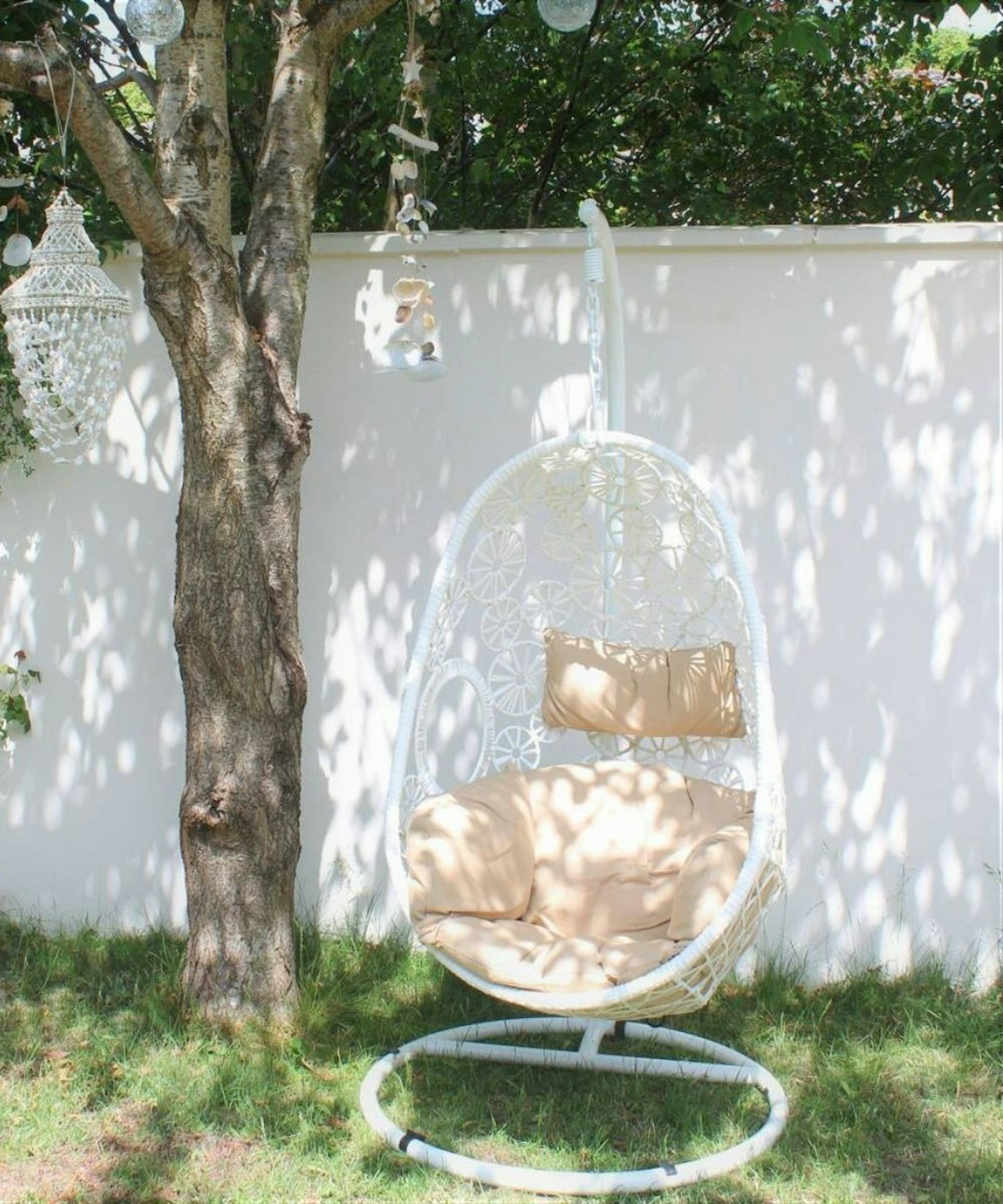 8 of 10
Ella James Bahia Hanging Garden Chair, £495
This hanging egg chair has a distinct boho feel with its intricate woven pattern and detailing. Perfect to enjoy a relaxing read in the garden or conservatory this summer and pile on cushions and throws in the evening to enjoy it after sunset. The decorative wicker and iron frame make it sturdy and ideal to stand in a conservatory, patio, terrace or garden.Dimensions: W 95 x H 195 cmMaterial: Powder-coated iron frame and stand, wicker.Assembly: Partial assembly required.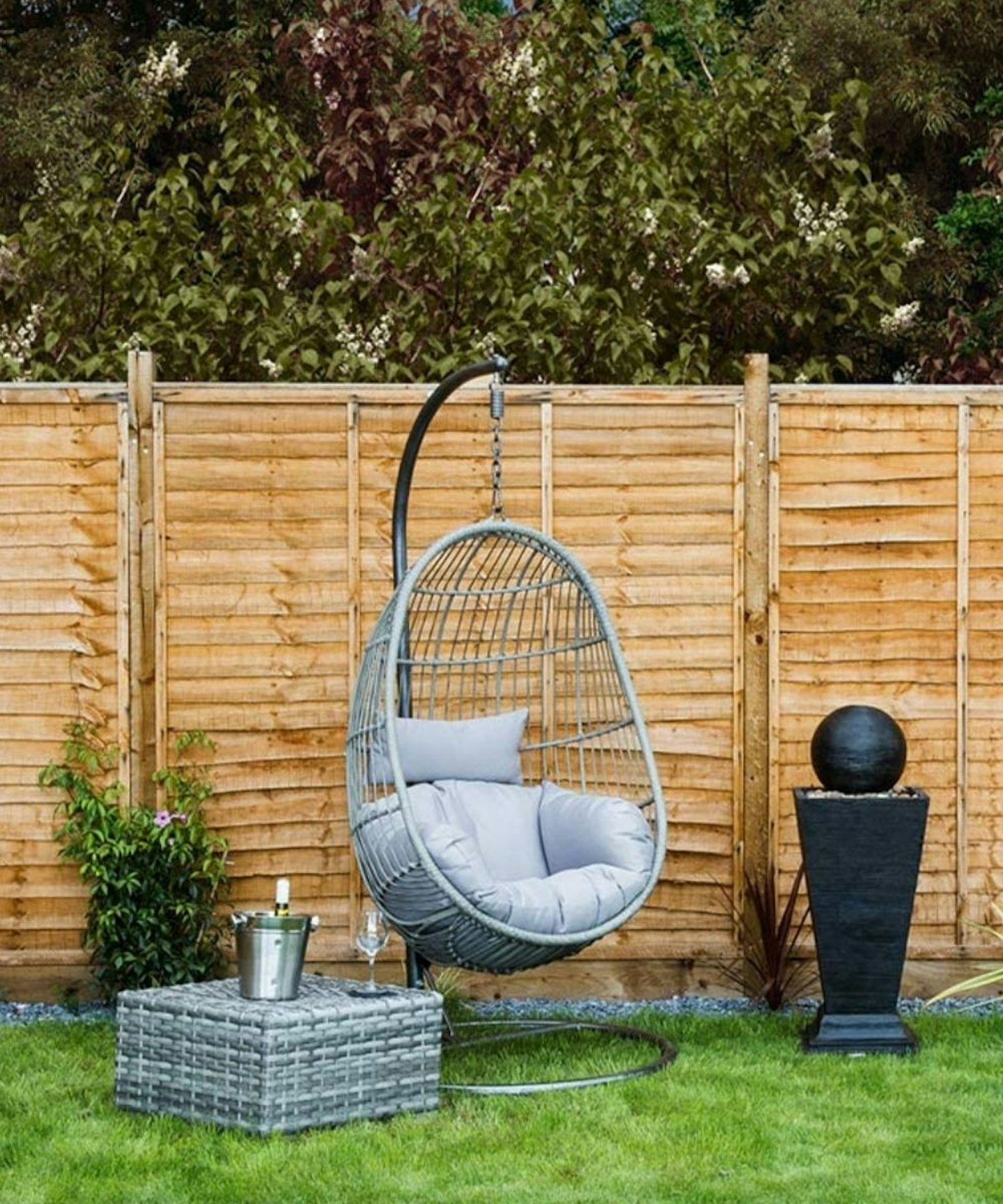 9 of 10
Charles Bentley Hanging Egg Shaped Rattan Swing Chair, £399.99
Make the most of lazy summer afternoons, lounging around in the garden on this hanging egg-shaped rattan swing chair. Featuring an airy open weave rattan design in a chic light grey shade, the chair is supported by a strong grey steel frame. For extra comfort and support, the chair is fitted with a thick, padded grey seat cushion. Easy to maintain, the chair is showerproof, so you don't have to worry about leaving it outside all year roundDimensions: W 95 x H 195 cmMaterial: Powder-coated steel frame, synthetic rattan.Assembly: Partial assembly required.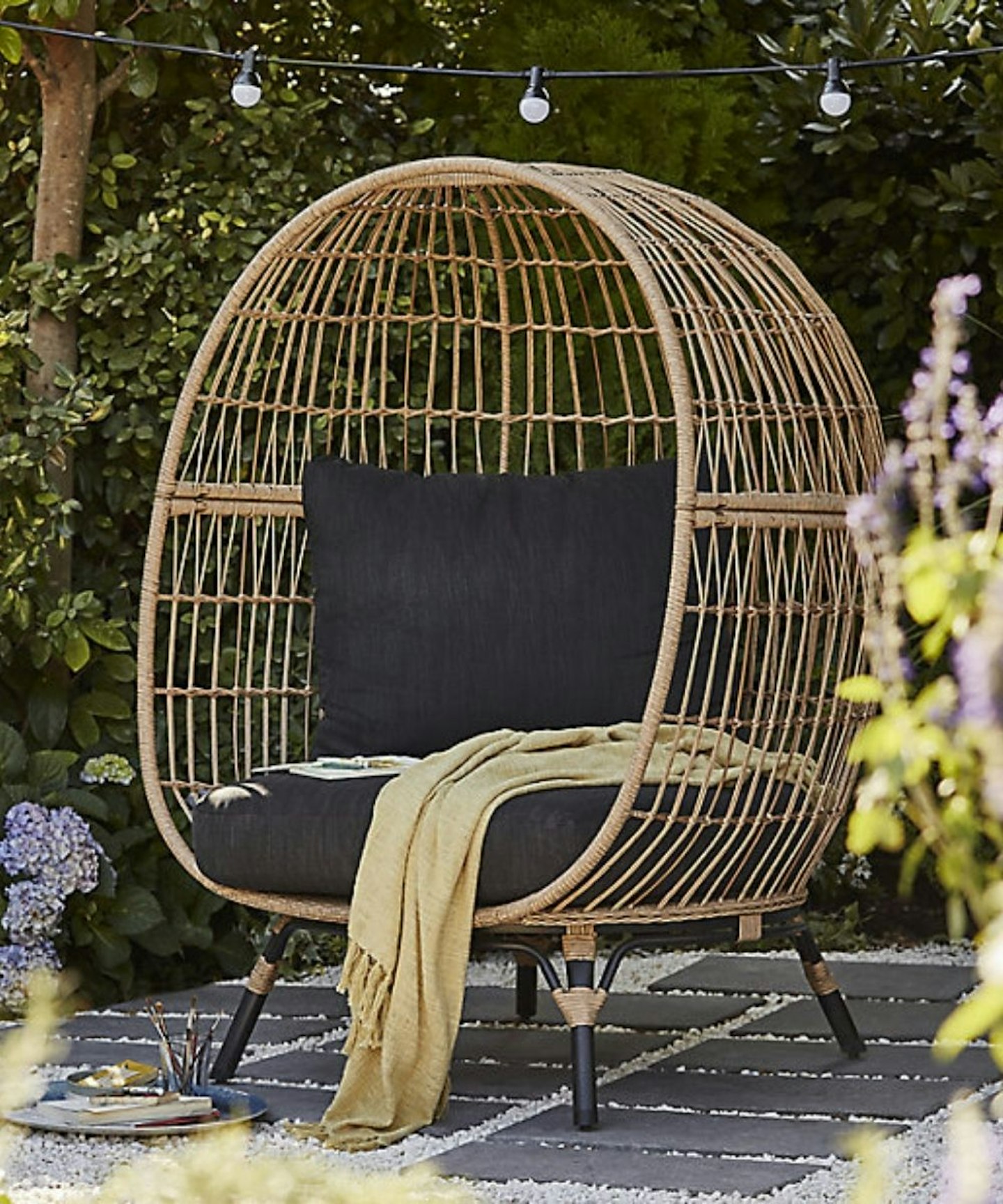 10 of 10
Goodhome Apolima Brown Rattan Effect Egg Chair, £455
If you're not one for hanging but still want the look and appeal of a cocoon chair, this offering from B&Q is perfect. The round lines and shape of this Apolima egg chair make it a cosy addition to any outdoor sanctuary, perfect for relaxing in the sunshine. Adds a contemporary, style to any outdoor space, with subtle shades to match a multitude of garden themes.Dimensions: W 114 x H 151 cmMaterial: Synthetic rattan, steel frame.Assembly: Full assembly required.
READ MORE: Best Plant Subscription Boxes To Grow Your Own Jungle
READ MORE: The Chicest Furniture For Your Garden, Terrace Or Balcony This Summer
READ MORE: The Prettiest Houseplant Pots To Brighten Up Your Home