Nothing beats dining alfresco on a warm evening, yet there is one thing that is disrupting the peace. Bugs. Whether it's wasps interrupting your BBQspecial or mosquitoes trying to dive-bomb into your glass of wine, these pesky insects seem to always want to ruin the fun.
Outdoor candles can do more than just turn your outdoor space into an ambient haven. Many outdoor candles are infused with a citronella scent that deters those pesky insects that seem to appear whenever it gets a little bit warmer. Place several on your patio or alfresco dining set-up, and you'll be sure to be left in peace to enjoy without the worry of bugs invading your retreat.
Look out for candles that contain ingredients such as citronella, eucalyptus, catnip, clove, patchouli, peppermint, and geranium oil if you want to repel insects. This scent will protect about three square feet around the flame, so you'll want several candles in your patio or seating area for the best coverage.
There are more than just essential oil candles to choose from as well, opt for traditional wax candles, battery-operated through or solar lanterns. There are a wide range of colours, patterns and models to consider that could transform your patio, balcony or garden into a tranquil sanctuary with the best outdoor candles.
SHOP: Garden candles for an ambient glow outdoors
The Best Garden Candles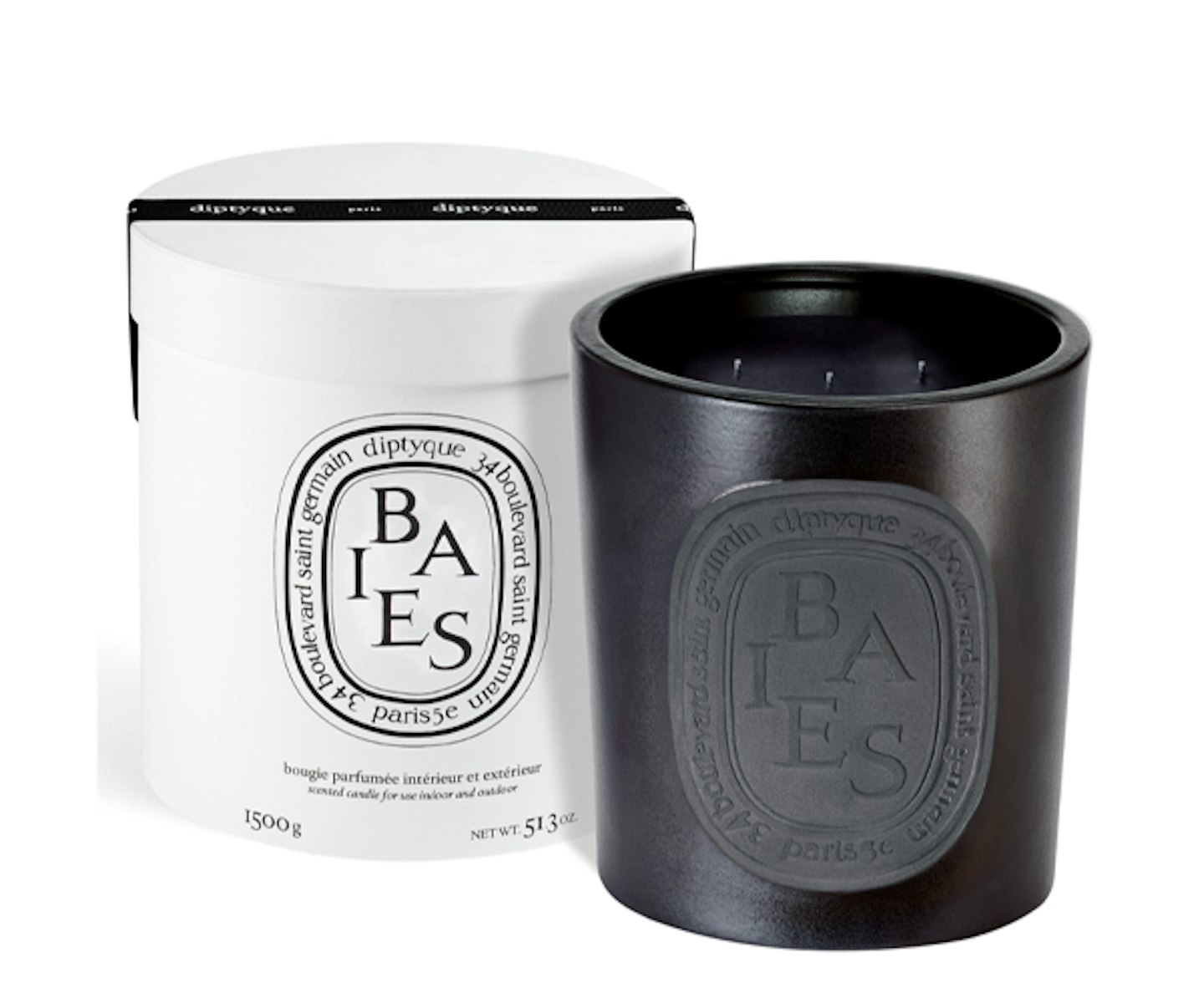 1 of 15
Diptyque Baies / Berries candle Indoor & Outdoor 1,5kg, £235
This indoor and outdoor scented candle from Diptyque was designed in partnership with Virebent, a renowned porcelain manufacturer, to create this beautiful earthenware rustic pot. This scented candle has five wicks that envoke a fragrance of freshness from roses and the sweetness of blackcurrant leaves. Perfect for setting an enchanting scene in your garden.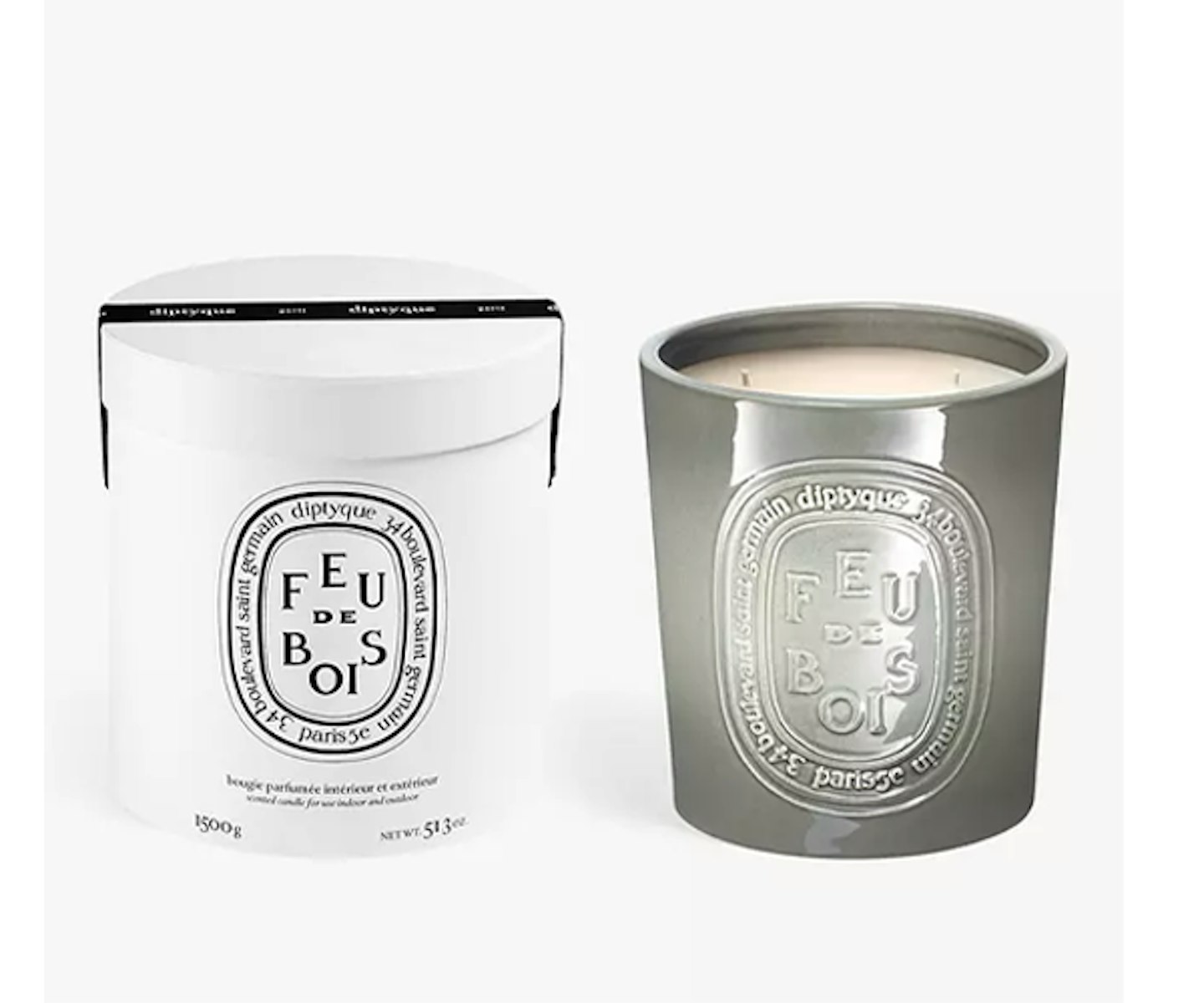 2 of 15
Diptyque Large Indoor & Outdoor Feu de Bois Scented Candle, 1500g, £235
This Diptyque scented candle arouses the atmosphere of a crackling open fire with a woody fragrance contained in an earthenware pot. It has a runtime of 120 minutes and five wicks and is perfect for indoor or outdoor use.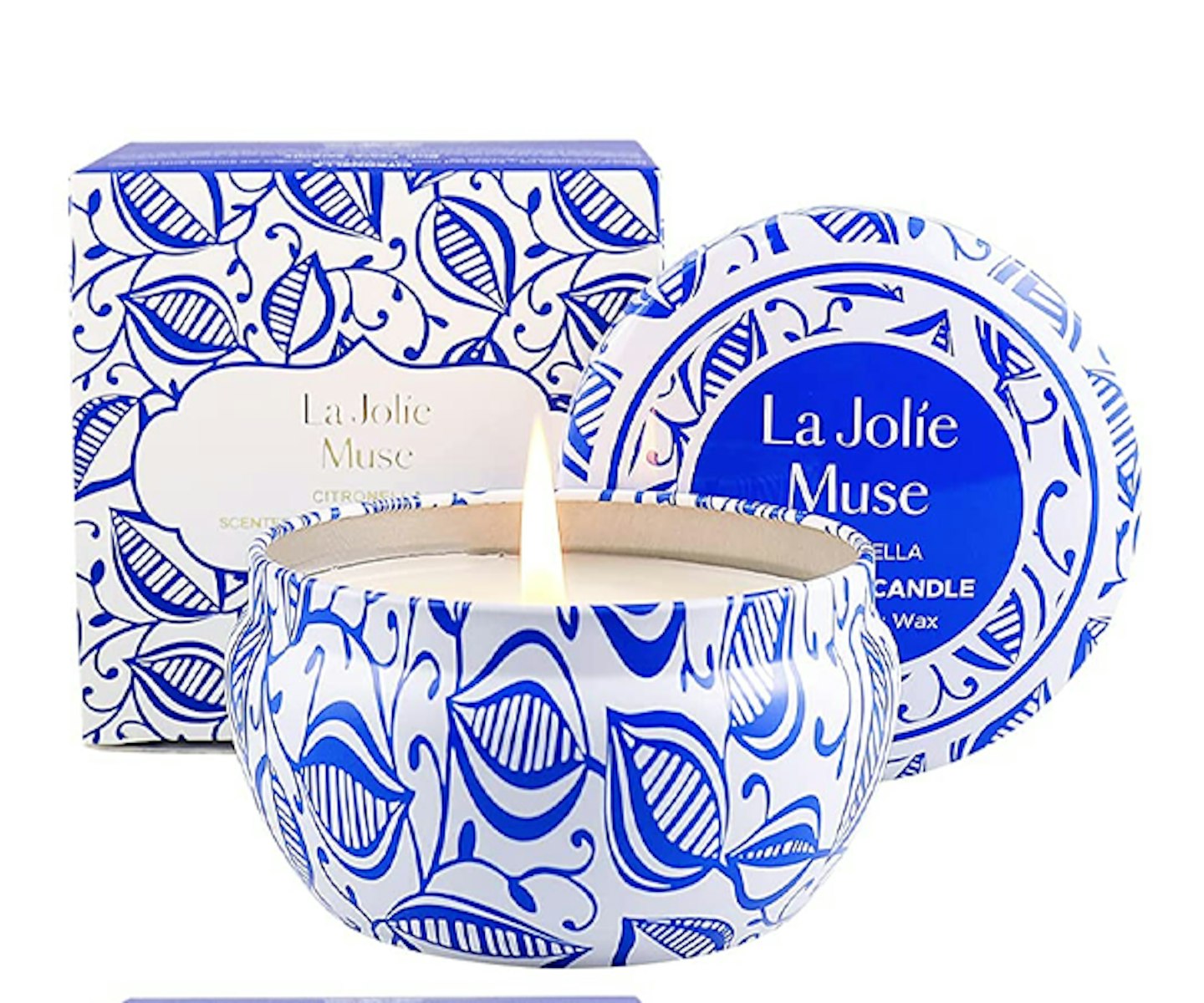 3 of 15
La Jolíe Muse Citronella Candles, £14.99
Turn your garden into an ambient space at nightfall with these soy wax candles that smell as good as they look. Infused with the oil of the citronella plant, this iconic scent combines notes of green citrus with a fresh, clean fragrance. Plus, it wards off the insects.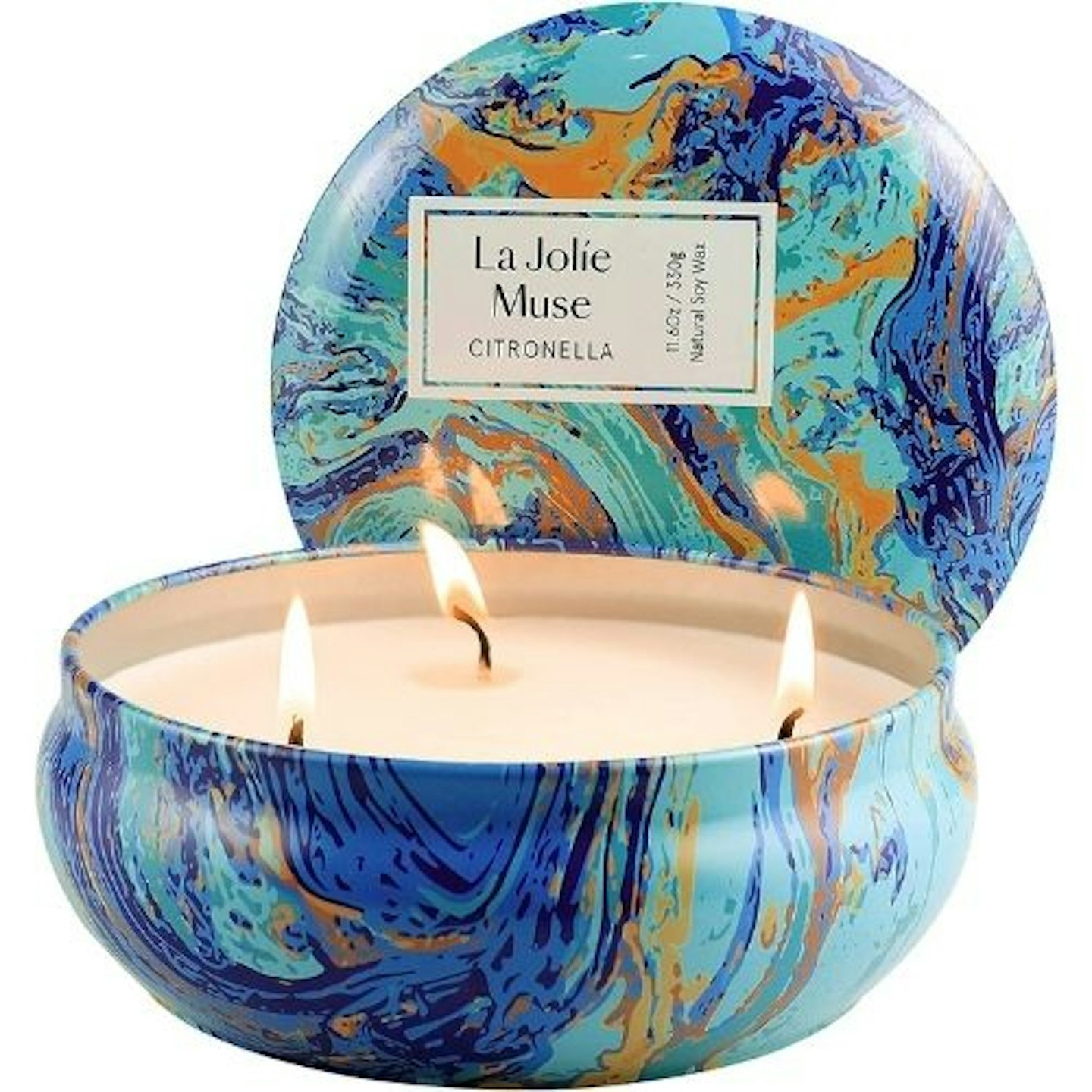 4 of 15
La Jolíe Muse Citronella Candle, £17.99
This stunning gold and blue abstract candle from La Jolíe Muse is also infused with citronella and green citrus and has approximately 70 hours of burning time, so you can create the idyllic summer atmosphere all season long.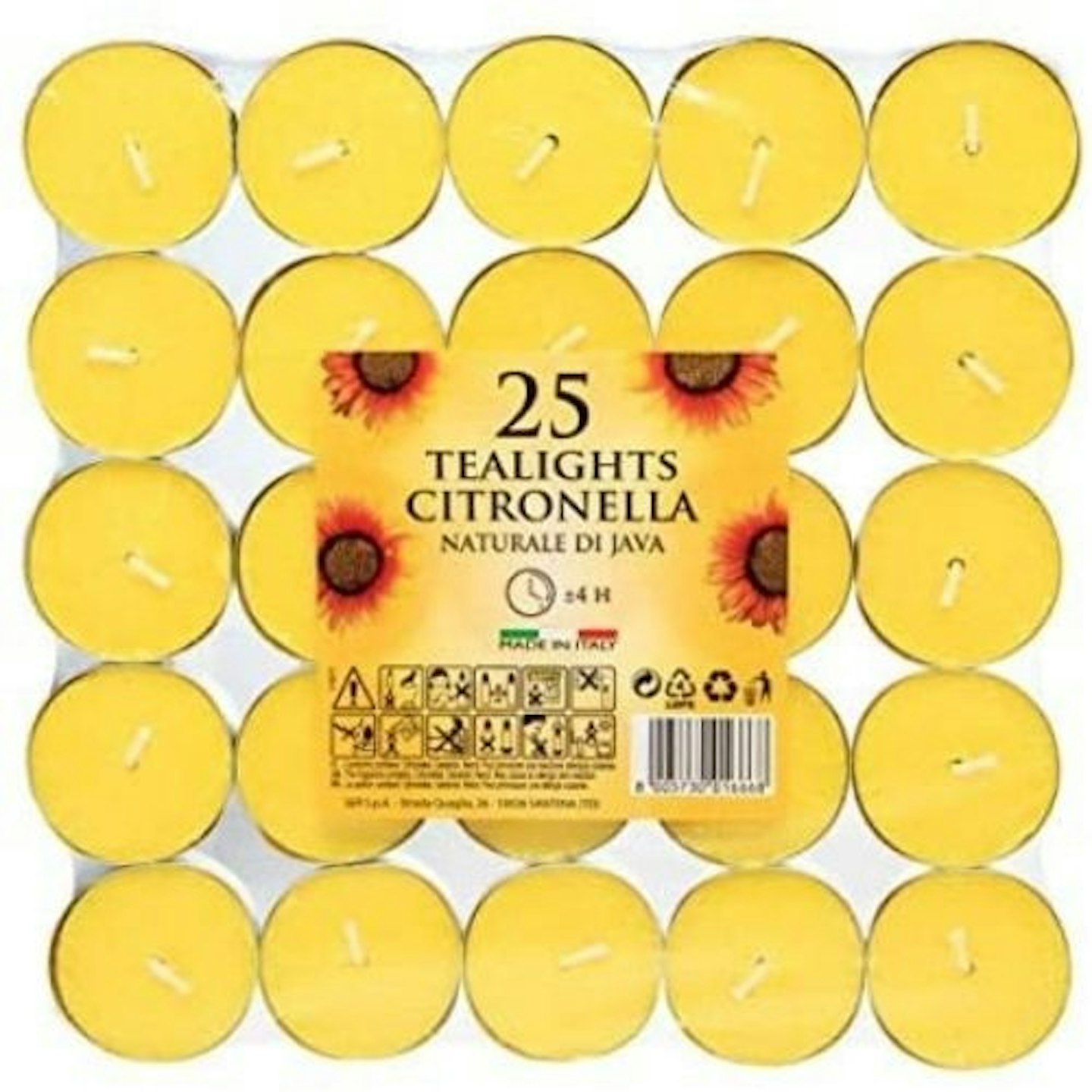 5 of 15
Price's Candles Citronella Tealights Pack of 25, £2.24
These citronella tea lights emit a delicate flame and are a perfect fit for your Morrocan candle holders or salt lamps. The subtle and pleasant scent will deter any flying invaders and will set the scene in the evening.
6 of 15
OUALIDIA Brown rattan tealight, £55
This woven rattan tealight with a glass cylinder will create a cosy atmosphere in your home or bring an exotic atmosphere to your outdoor decor.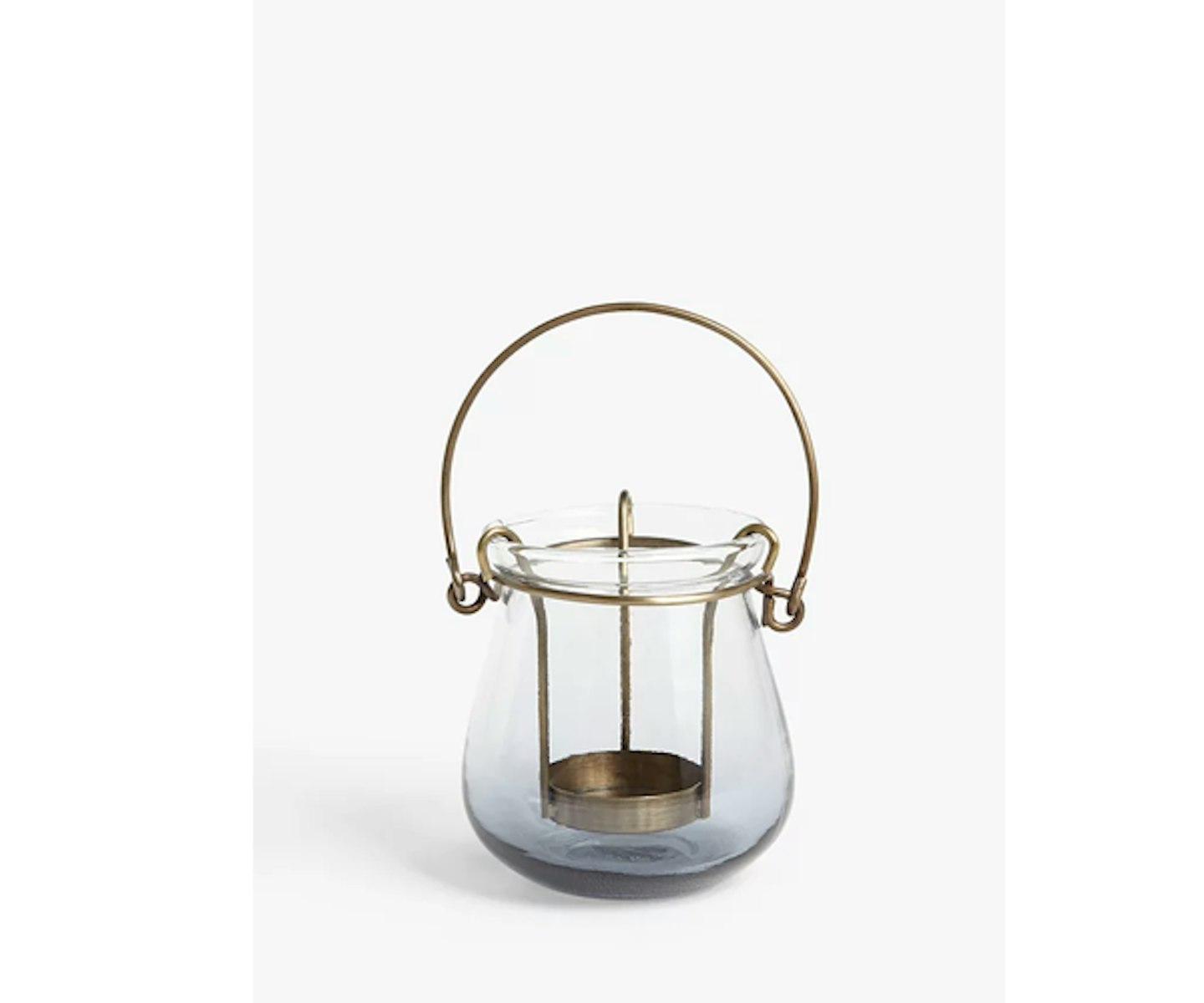 7 of 15
John Lewis & Partners Croft Outdoor Hurricane Tealight Candle Holder, H10 cm, £15
This simple but unique, this tealight candle holder features brass detailing of an elegant handle and the tealight holder will protect breezes making it a lovely addition to your alfresco dining setup.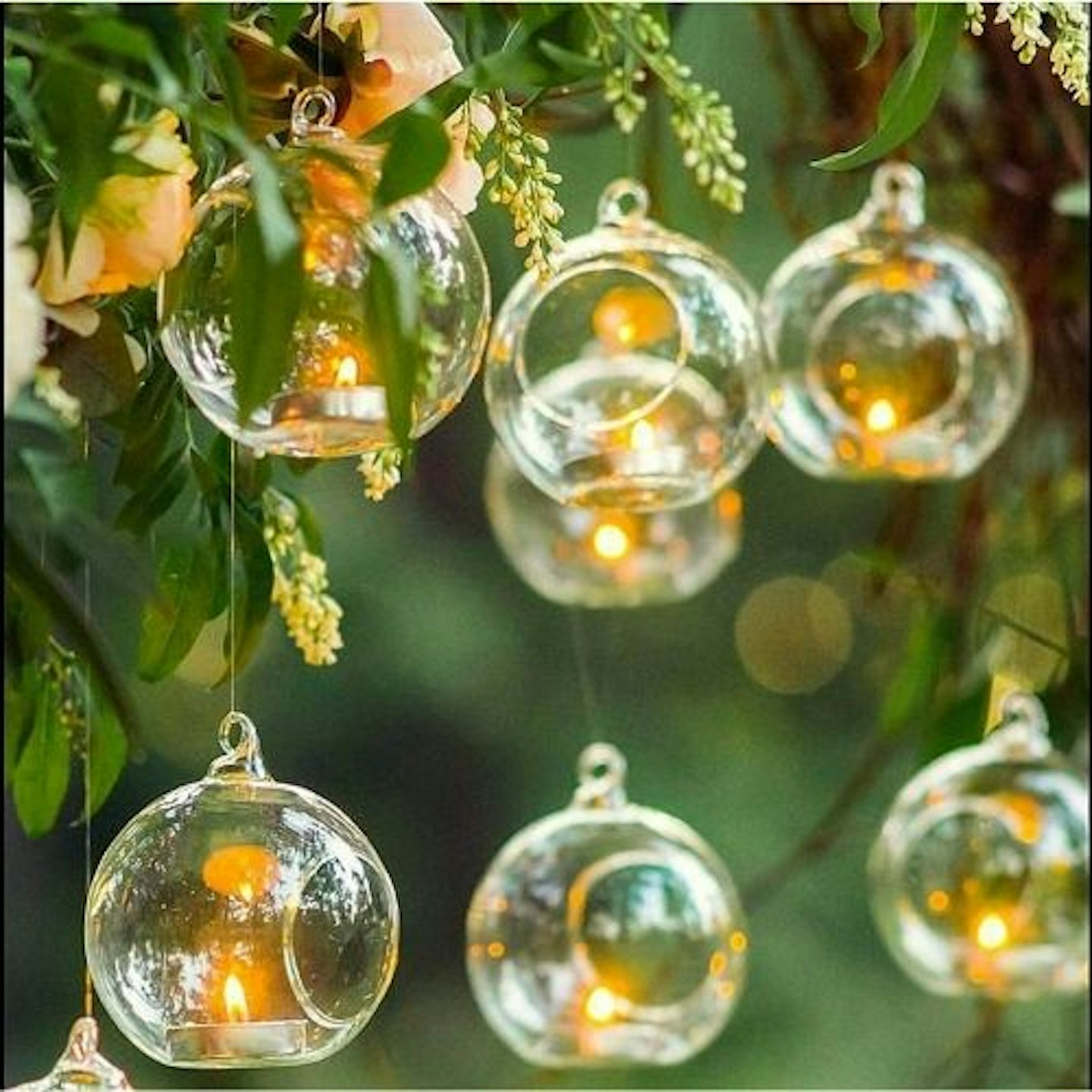 8 of 15
Ecosides Set of 6 Hanging Glass Globe Tealight Holders, £21.99
Hang your citronella tea light in these hanging globe tealight holders to create your twilight wonderland. We can envision it already, flickering lights dangling off a tree on a warm summer's evening. Talk about romanticising your life.
9 of 15
2 -Pack Solar Lantern, £22.88
Profit from the summer sun's rays with these solar-powered lanterns, which are both practical and chic. The two-pack of lanterns will create a warming ambience without any actual flame as the LED candles flicker and glow just like the real thing.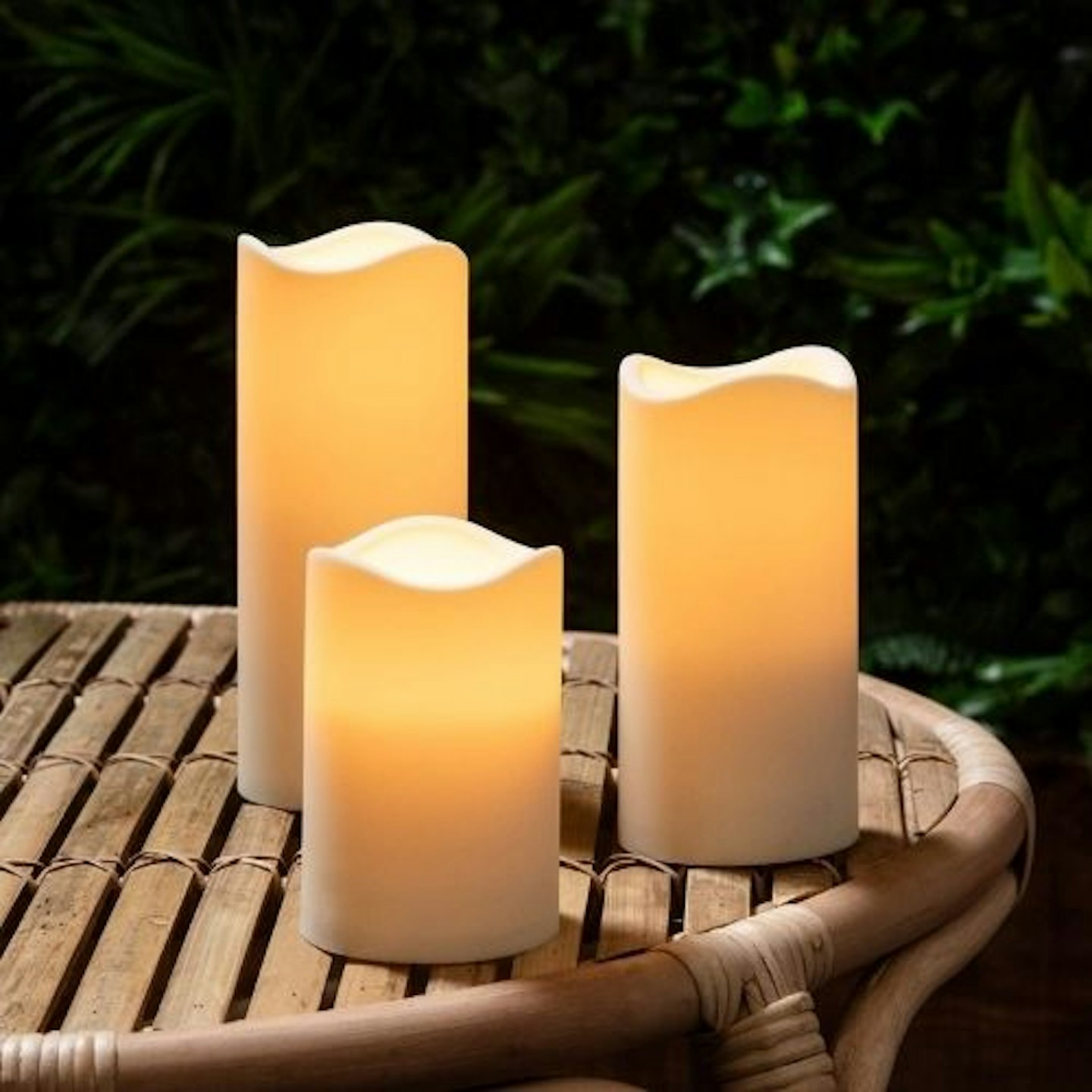 10 of 15
Lights4fun Set of 3 Outdoor LED Candles, £19.99
These LED powered candles look perfect as stand-alone decor or inside a lantern. Position them in the centre of your table for a candlelit dinner, or place them in your garden in lanterns to illuminate your lawn. Plus, they are fully weatherproof, so you can use these outdoors all year round.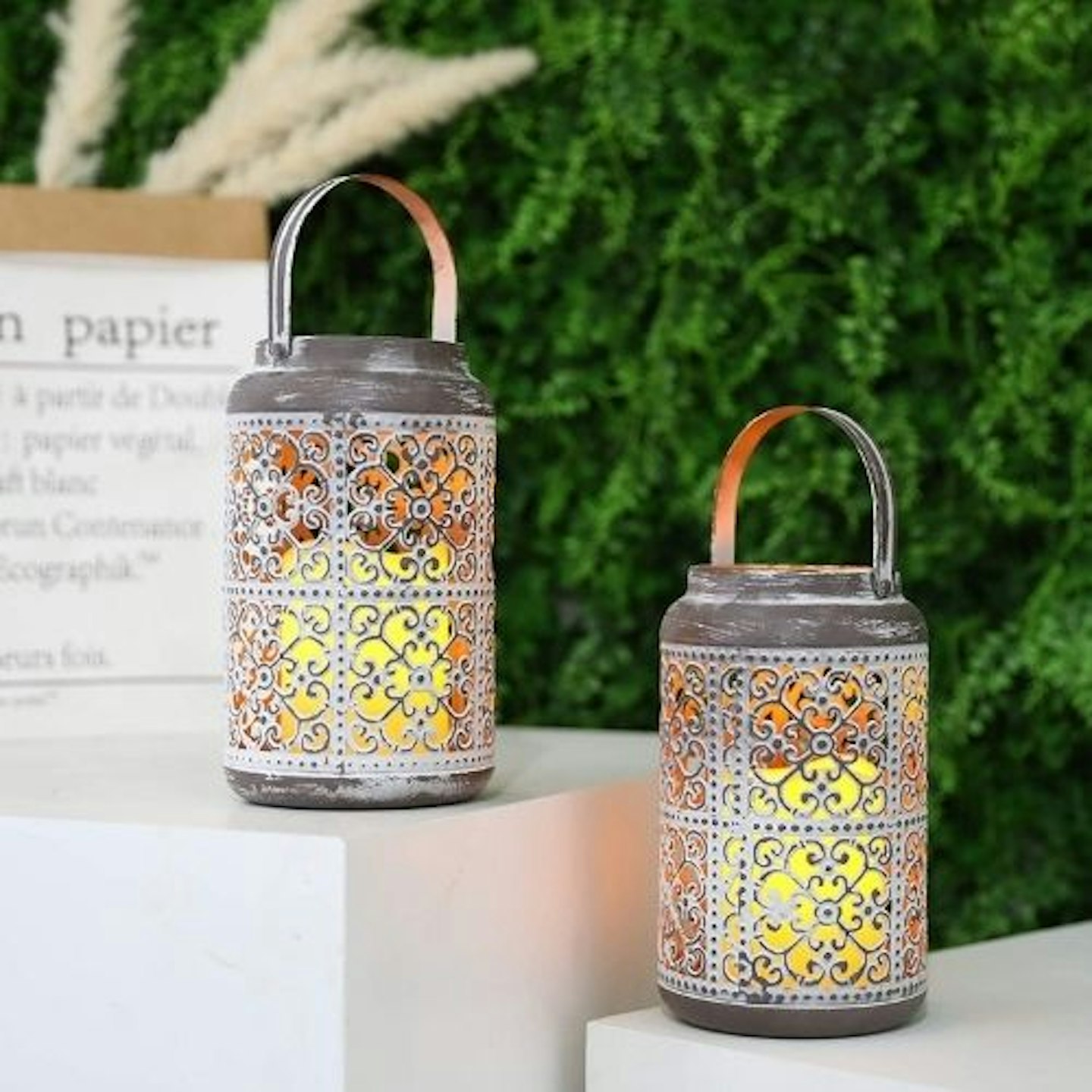 11 of 15
JHY DESIGN Set of 2 Metal Candle Holder with Flameless LED Candles, £23.99
These grey antique decorative LED candle lanterns look striking in the day and give an elegant ambience at night. The hanging lanterns are suitable for both indoor and outdoor use, so they're super versatile and great for all occasions.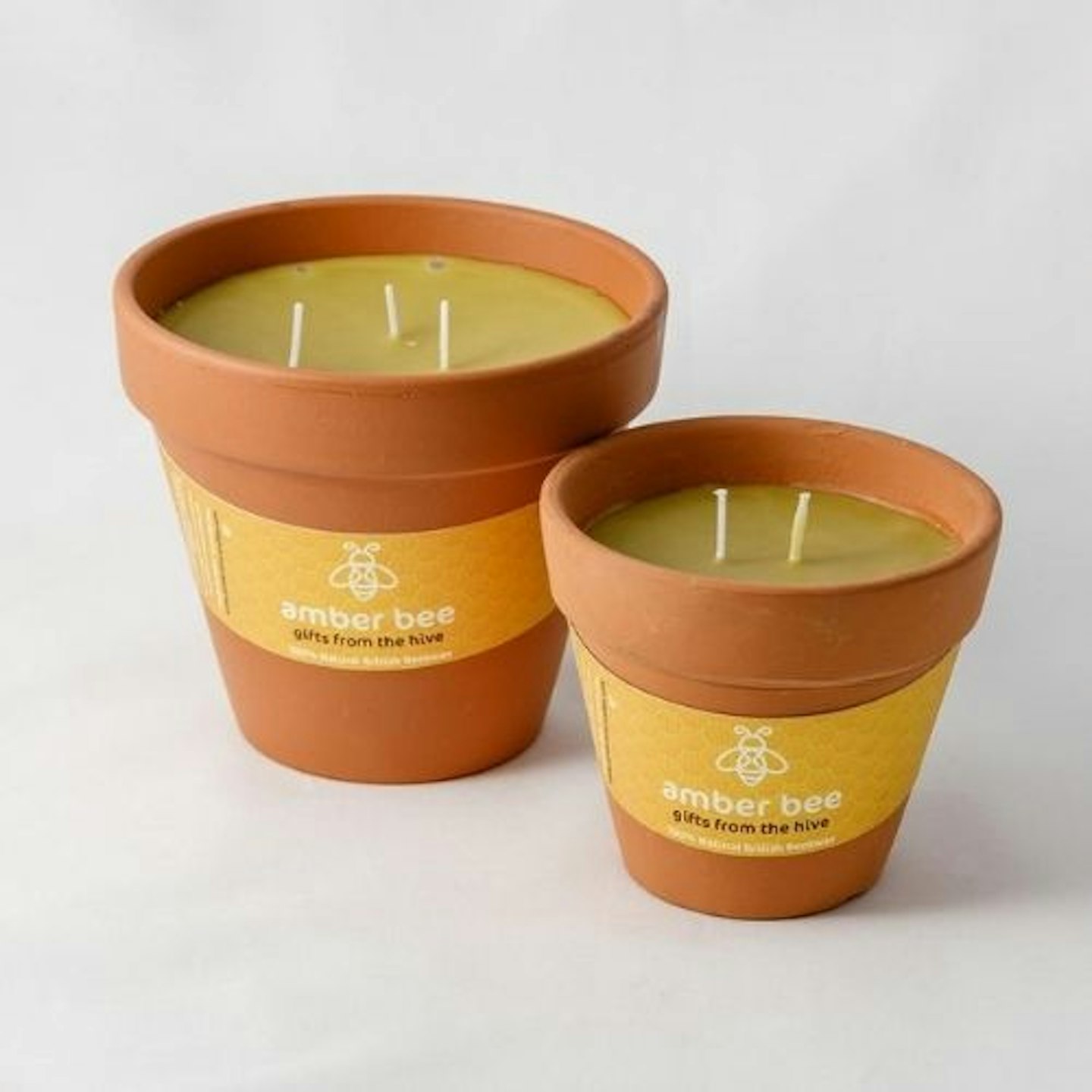 12 of 15
Amber Bee Citronella Garden Candle, £6.60+
It doesn't get more adorable than these beautiful, hand-poured honey pot Amber Bee candles. Crafted using natural ecologically sourced beeswax, recycled flowerpots and ecologically sourced cotton wicks, these candles not only smell divine but are a sustainable option too.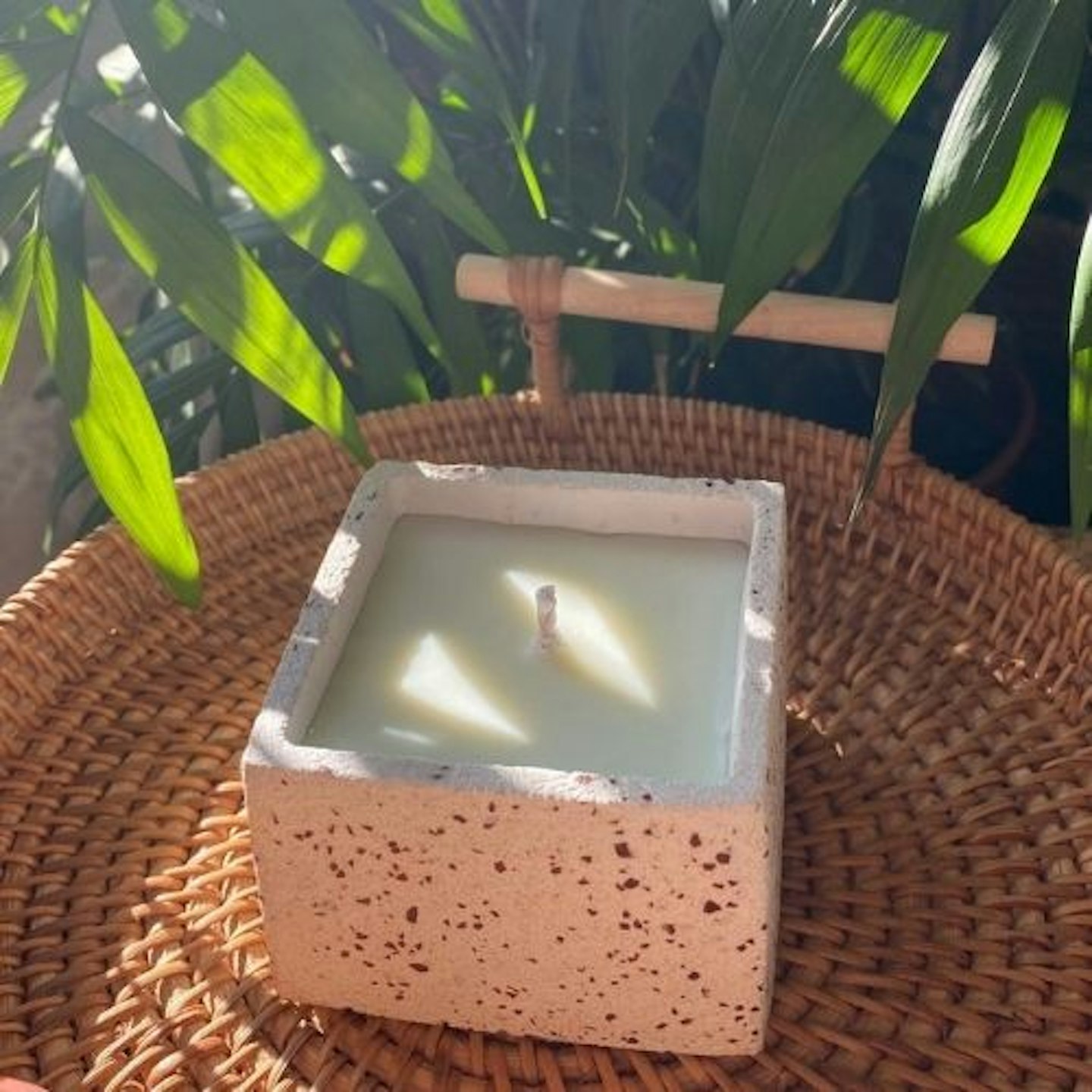 13 of 15
Outdoor Handcrafted Luxury Soy Candle, £24
Keep the bugs and midges at bay this summer with this Gold Moon Studios outdoor candle entirely fragranced with pure citronella oil. All candles are made from 100 per cent natural soy wax for a clean and longer burn.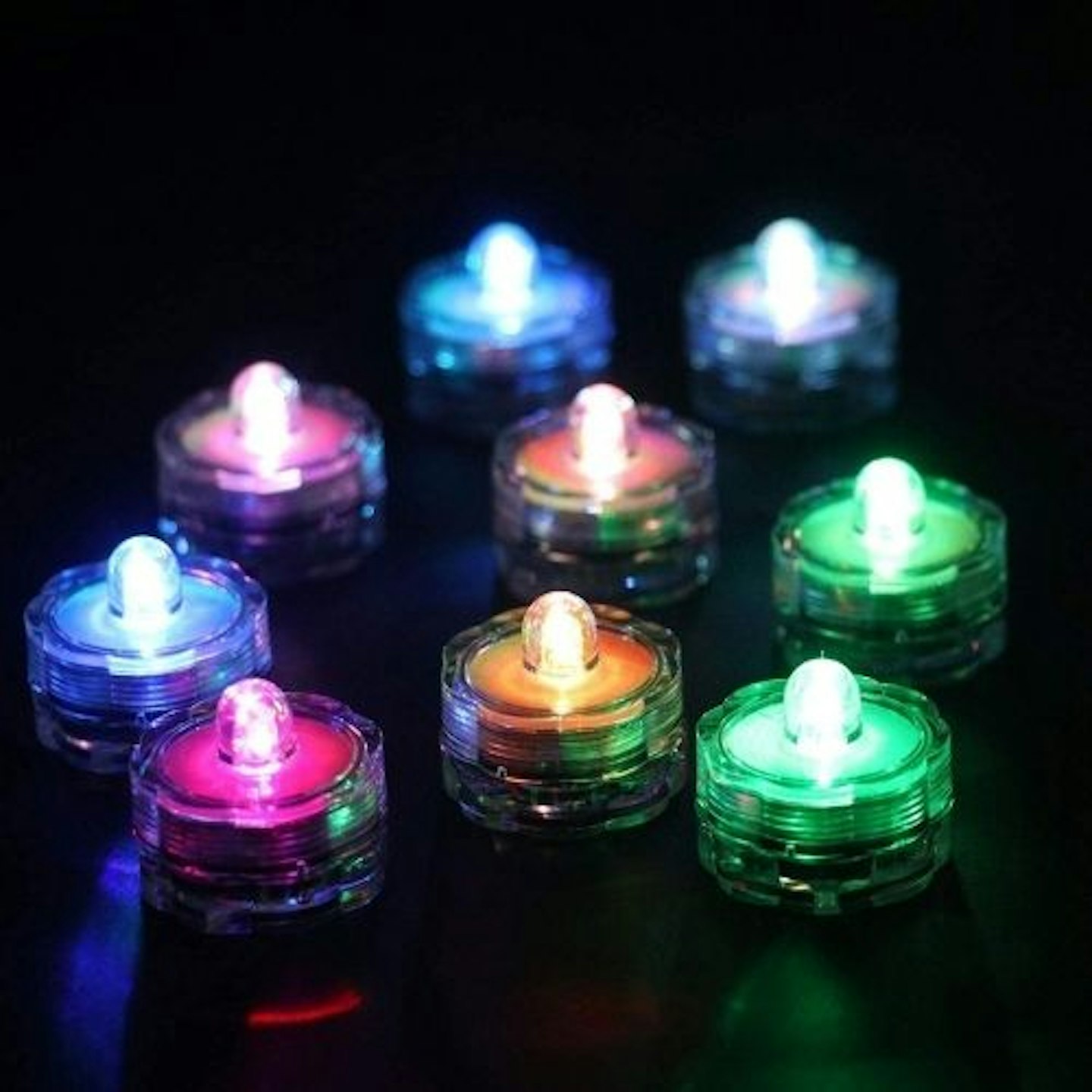 14 of 15
Set of 12 Submersible Led Tealights , £10.99
If you want to add a pop of colour to your garden decor, these waterproof LED lights will do just that. These battery-powered tealights are perfect for any outdoor (or indoor) gathering and have impressive battery life. Another great thing is that they are submersible, which means you can light pop them into water fountains, water features, fish tanks or table centrepieces.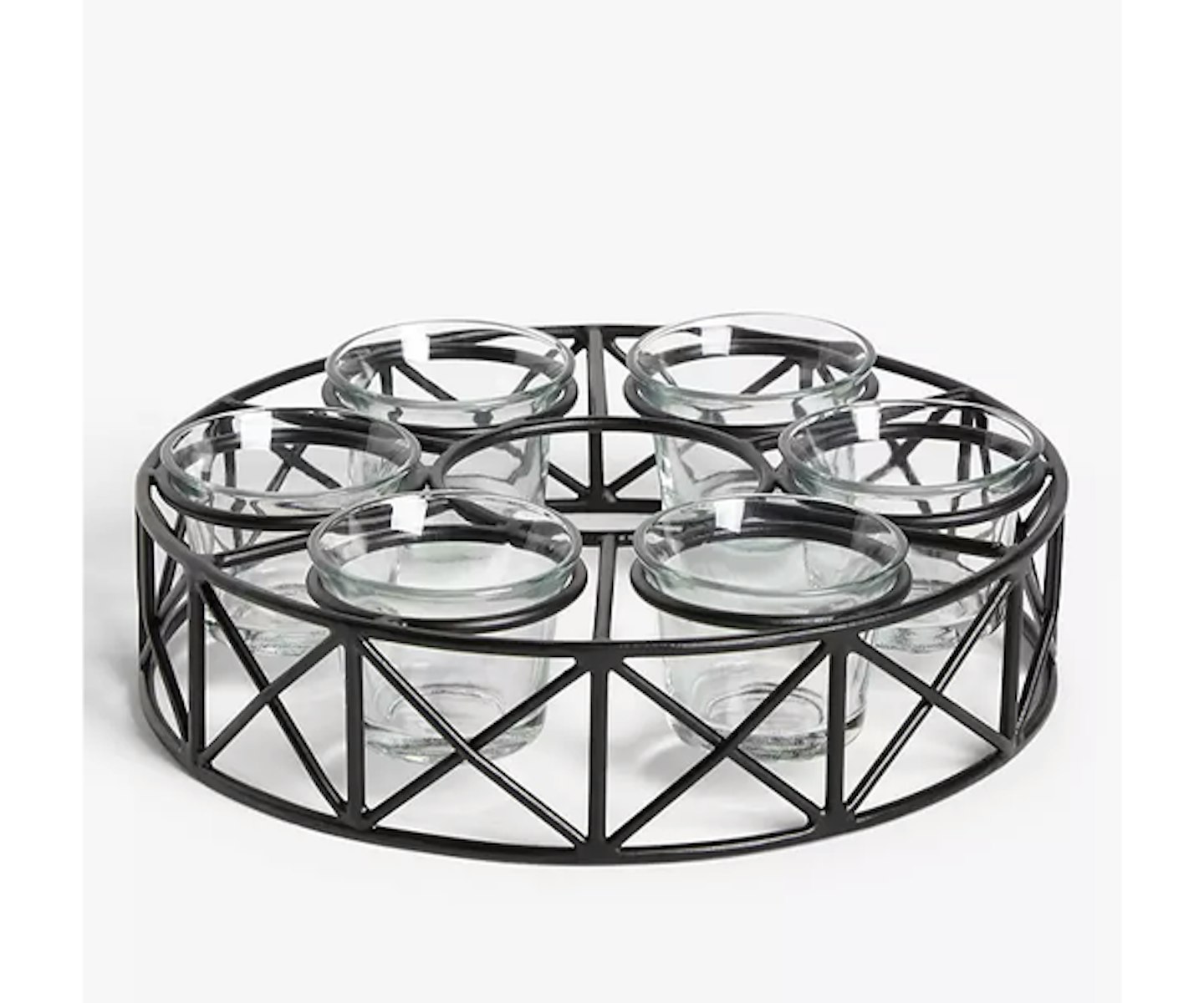 15 of 15
John Lewis & Partners Parasol Tealight Candle Holder, £15
This black tealight holder is the perfect garden accessory for entertaining on long summer evenings.
READ MORE: The Best Outdoor Heaters To Dress Up Your Garden, Patio Or Balcony