The gardens of our homes can be a haven for peaceful sitting, social events and enjoying the nature of British spring and summer. Where we like to enjoy a moment of self-care and relaxation, garden love seats can become a perfect place to sit back and chill out.
Traditionally made out of rattan, metal or wood, love seats generally come fully attached as two-person chairs with a table in the middle. Nowadays, you can find love seats in all sorts of modern and contemporary designs - including the infamous egg chairs.
When it comes to our gardens, quality and style are key. That's why Grazia's been on the hunt for the best garden love seats that you can get your hands on. Including choices from MADE, John Lewis and Wayfair, you'll want these garden chairs to relax on ASAP, especially with spring jumping into full action.
What is the best garden love seat?
Well, that really depends on what you're looking for and how you want to decorate your exterior. Love seats are generally made to sit two people (hence the name), so you'll want to make sure you have enough space to fit this in a place in your garden. Where you may already have a social seating area, love seats are a great option for more mellow, solitary spaces that allow you to have some peace.
There are a variety of types of love seats to choose from. We've found options best for your style and aesthetic - whether you want a sleek, modern choice or something that focuses on comfort and cushion.
SHOP: Upgrade Your Garden With The Best Garden Two-Person Chairs
The Best Garden Love Seats For Two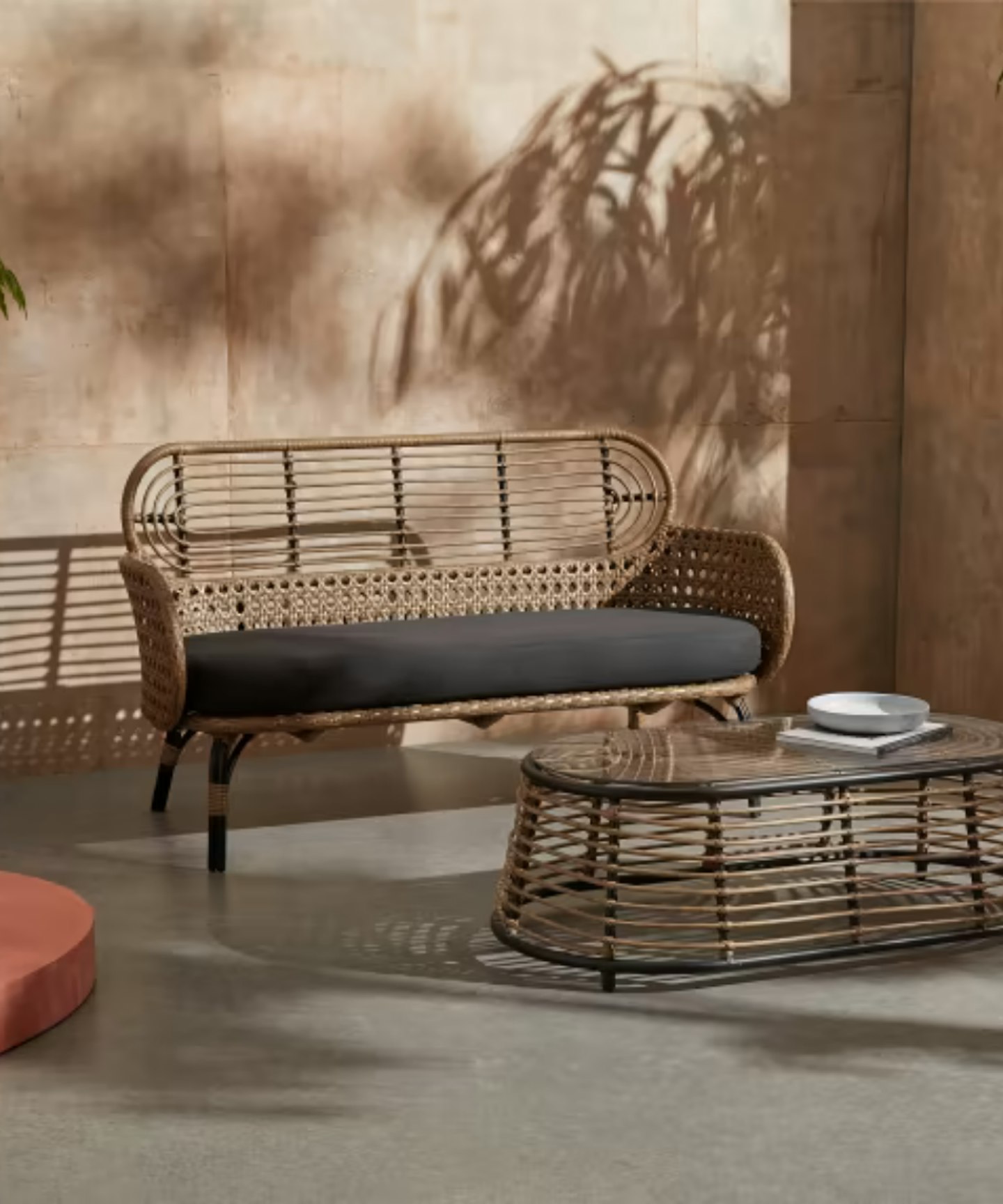 1 of 11
CREDIT: MADE
MADE Garden 2 Seater Sofa, £385
We're in love with MADE's collection - especially this rattan two-seater garden love seat. With a black cushion and brown rattan, it will fit smoothly in any modern garden and you can recline in style. Dimensions: H80cm x W141cm x D64cmMaterial: Aluminium, Poly wicker, PolyesterWeatherproof: Cover or store away when not in useReview: "Delighted with my two new sofas Easy to assemble Look fabulous on my new patio…roll on spring/summer when they can be unveiled as they arrived as the clocks went back."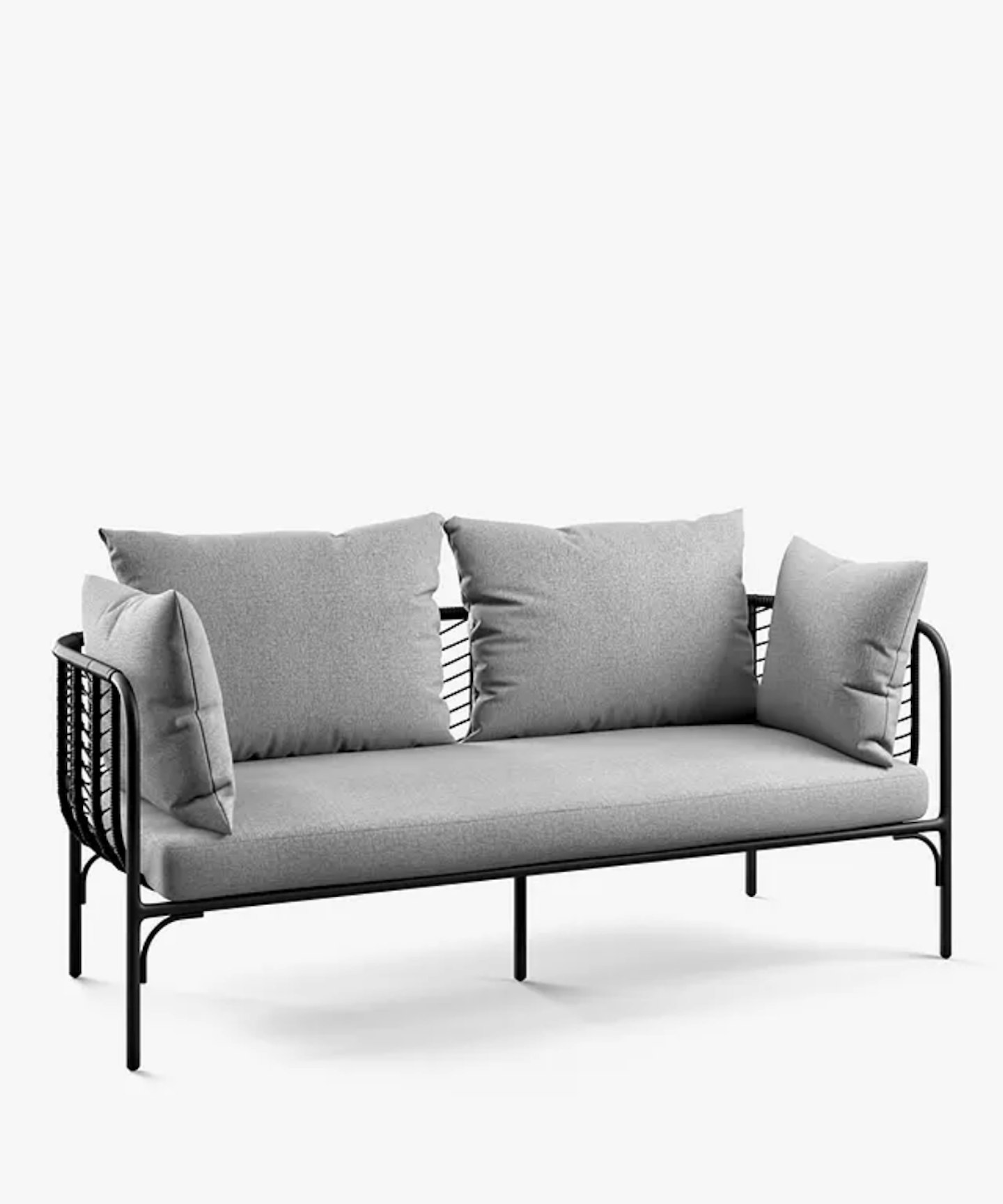 2 of 11
CREDIT: John Lewis
John Lewis & Partners Chevron 2-Seat Garden Sofa, Black/Grey, £499
This cosy garden sofa from John Lewis will fit in a space that has a contemporary exterior. Those cushions are extremely inviting and the grey tone will match any outdoor decor. Dimensions: H69.5 x W175 x D74cmMaterial: Aluminium frame, Synthetic rattan, Polyester cushioningWeatherproof: Shower-proof cushioning and weather-resistant frame Review: "Very comfortable item. Well-made and a lovely addition to the rest of our patio furniture. Delivery teams were very helpful."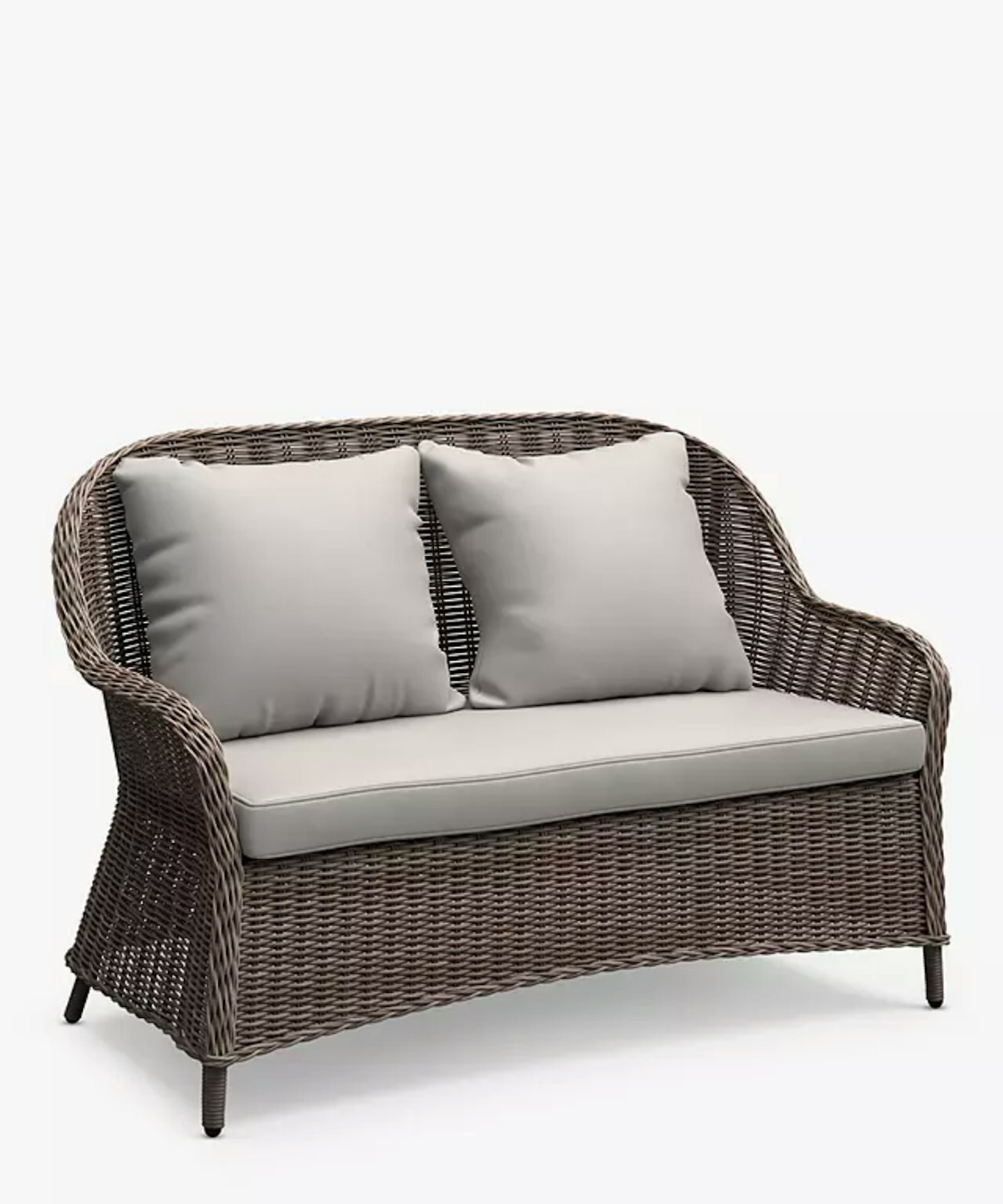 3 of 11
CREDIT: John Lewis
John Lewis & Partners Rye 2-Seat Garden Sofa, Natural, £475
Another John Lewis option, these colours are softer and more natural, for a homey exterior. The sturdy frame is sure to last years in any garden. Dimensions: H94 x W140 x D73cmMaterial: Aluminium frame, synthetic wickerWeatherproof: Durable frames, UV protection and wipe-clean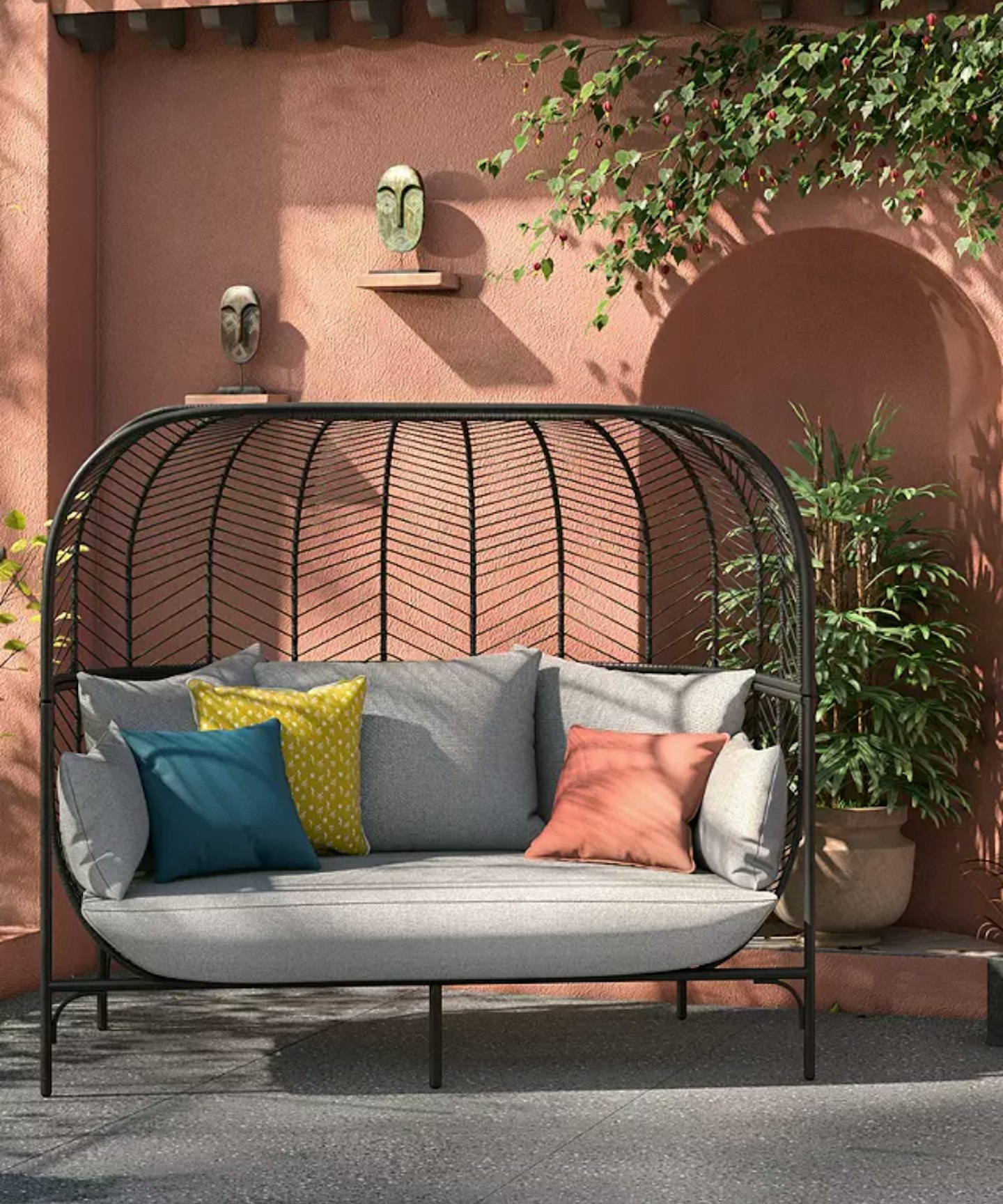 4 of 11
CREDIT: John Lewis
John Lewis & Partners Chevron 2-Seat Double Garden Sofa Pod, Black/Grey, £899
If you want to feel comfortably lost in your garden, this snug pod love seat will cocoon you in no time. Dressed up with cushions to match your exterior, you can relax in style. Dimensions: H153 x W172.4 x D112.5cmMaterial: Synthetic weave, aluminium frame, polyester cushioningWeatherproof: Durable frames, shower-resistant cushioningReview: " Very comfortable and fits perfectly in our garden. The cushions are quite large so I would recommend the cover, which is quite tricky to fit but good quality."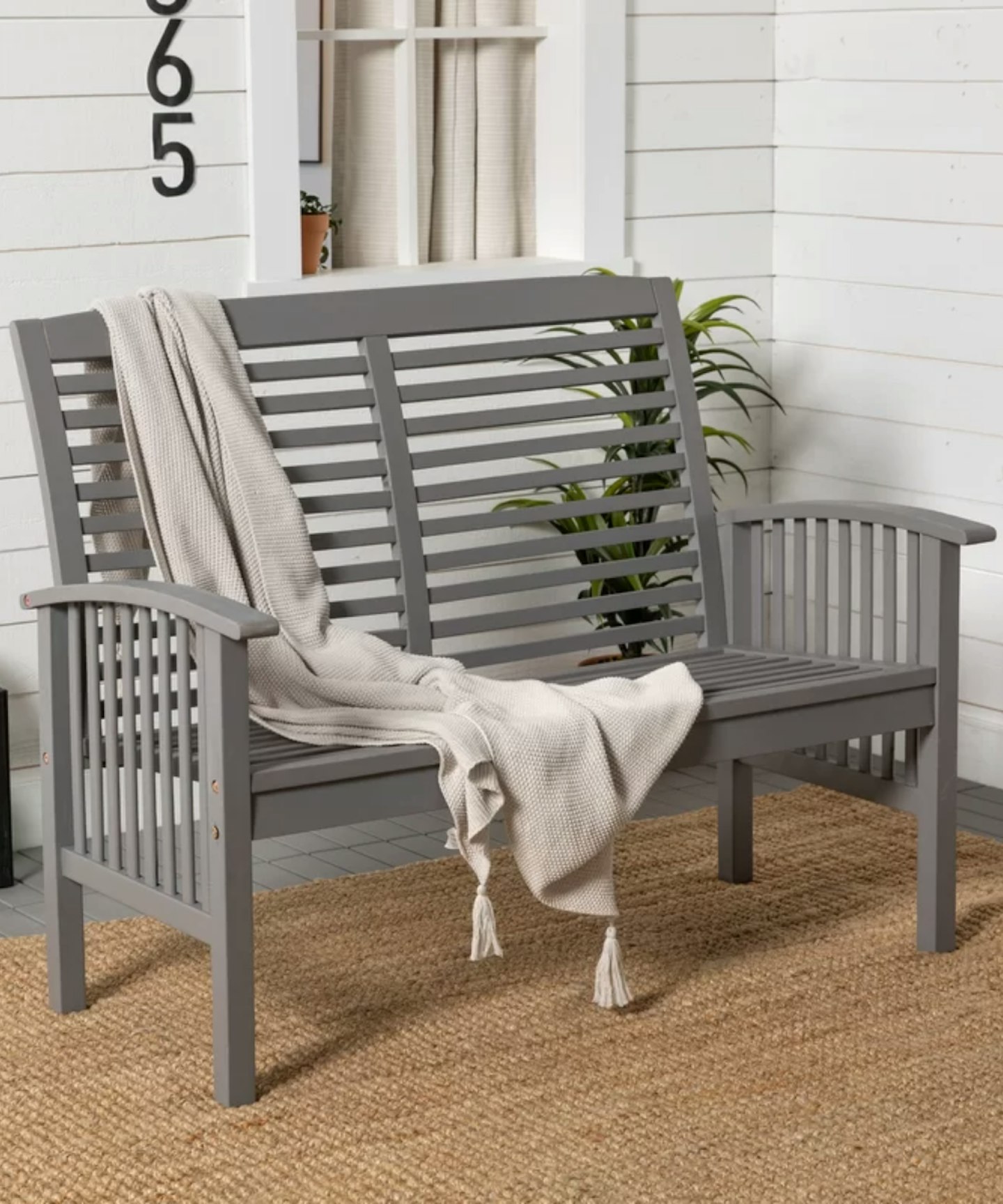 5 of 11
CREDIT: Wayfair
Breakwater Bay 122Cm Wide Outdoor Garden Loveseat, £295.99
For a more traditional garden furniture look, this wide love seat is made out of wood and comes in grey or brown. Pop next to any large plants to feel really immersed in your garden. Dimensions: 94cm H x 122cm W x 61cm DMaterial: Solid woodWeatherproof: Exposure to extreme temperatures not recommendedReview: "The bench was just what we needed for our front garden. Delivery was super speedy."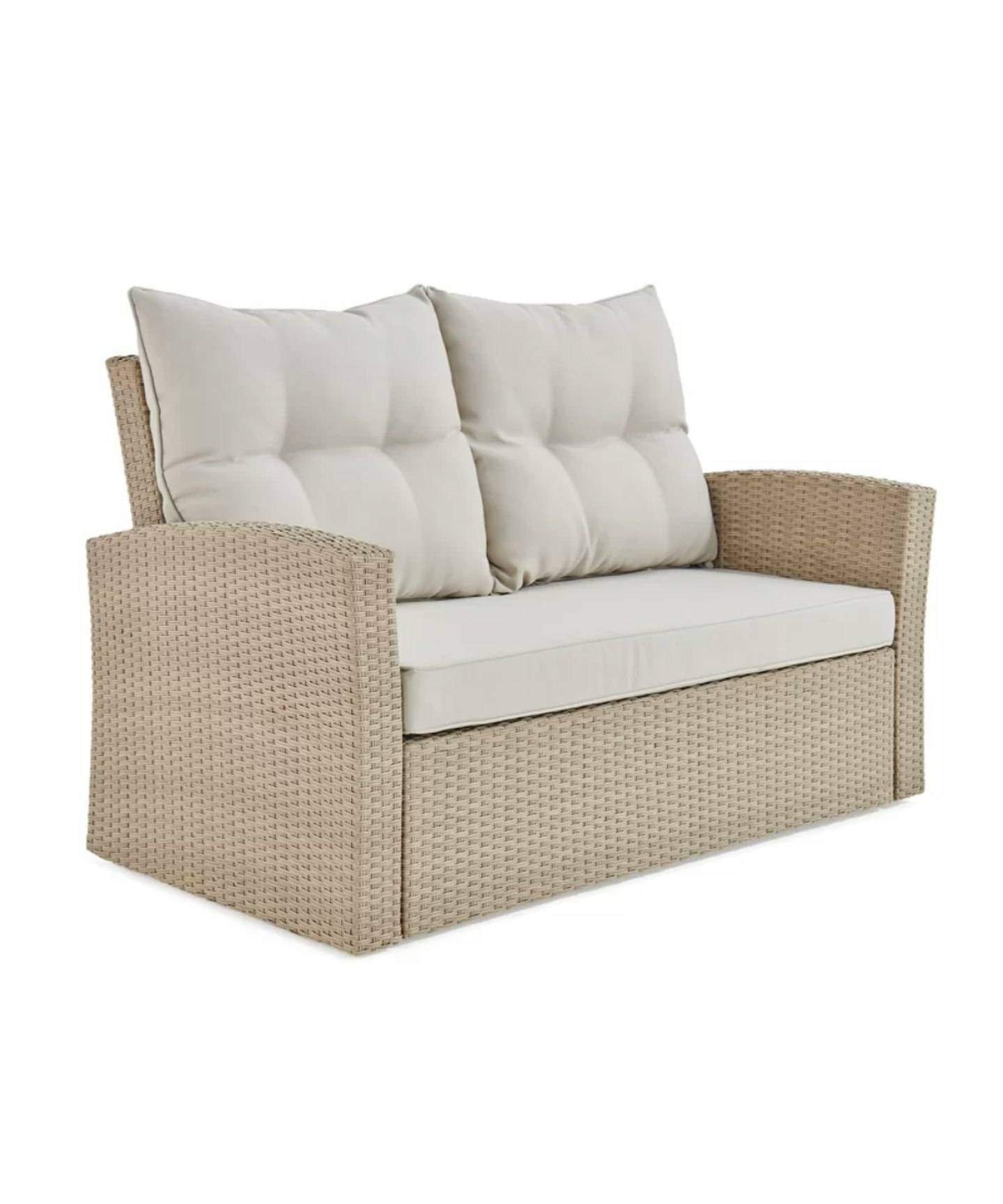 6 of 11
CREDIT: Wayfair
121.92Cm Wide Outdoor Garden Loveseat with Cushions, £779.99
If you want more of a cosy love seat to cuddle up on, this Blue Elephant option on Wayfair will have you relaxed in no time. The cushions are weather-resistant too so will last a long time. Dimensions: 81.28cm H x 121.92cm W x 78.74cm DMaterial: Resin wicker, aluminium frame, polyester cushionsWeatherproof: Rust-proof, All-weather wicker and weather-resistant polyesterReview: " This is the "Ah" love seat!!! Honestly, buy two or purchase the other pieces to complete the set. Everyone will rush to this piece for the amazing comfort. … I can honestly say this is the most comfortable piece of outdoor furniture that I have ever sat in."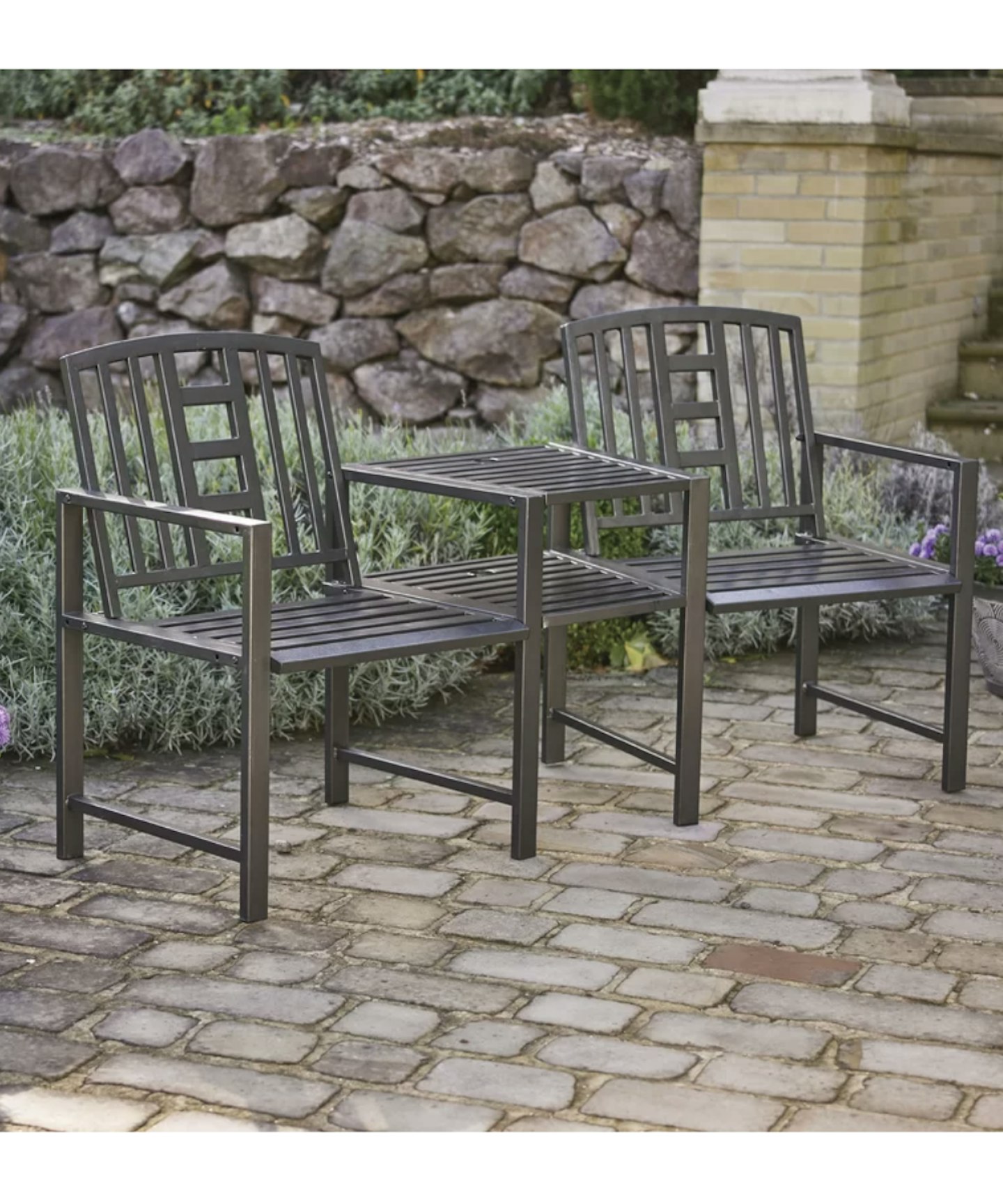 7 of 11
CREDIT: Wayfair
Clerkin Garden Metal Love Seat, £239.99
A more classic love seat option, these metal chairs have enough space for you and a partner as well as a table in the centre to spread out on. The black painted metal looks sleek and sophisticated, too. Dimensions: 84.5cm H x 164.5cm W x 56cm DMaterial: SteelWeatherproof: YesReview: "Sturdy and well made. Looks lovely in the garden. Fairly easy to put together."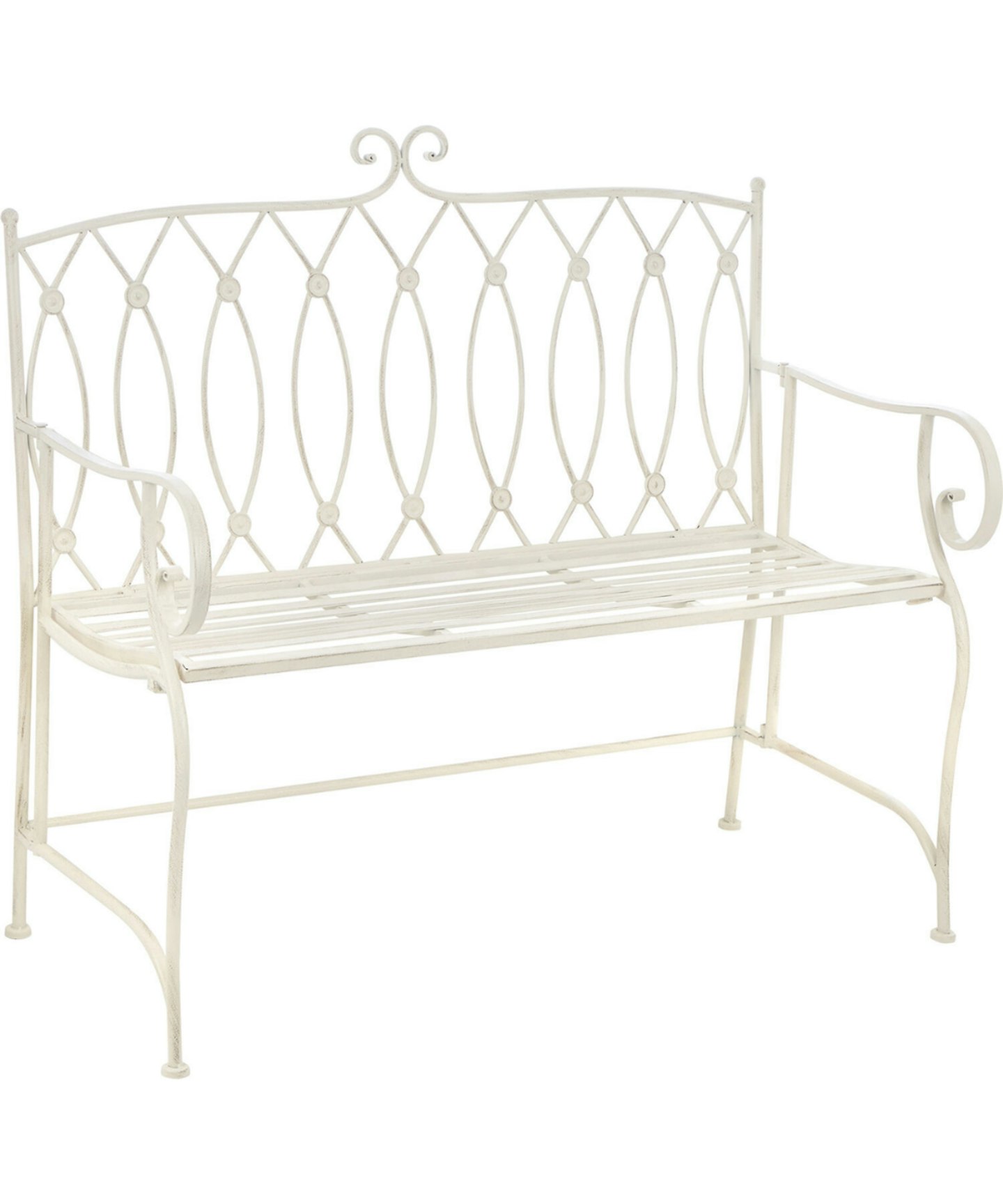 8 of 11
CREDIT: TK Maxx
Pour La Maison White Rosette Bench 97x107cm, £79.99
A love seat that's lovely, this Pour La Maison bench is giving total Parisian vibes. It's also foldable making it extra easy to store if you want to keep it inside in harsher months.Dimensions: H: 97cm. W: 107cm. D: 12cmMaterial: MetalWeatherproof: Yes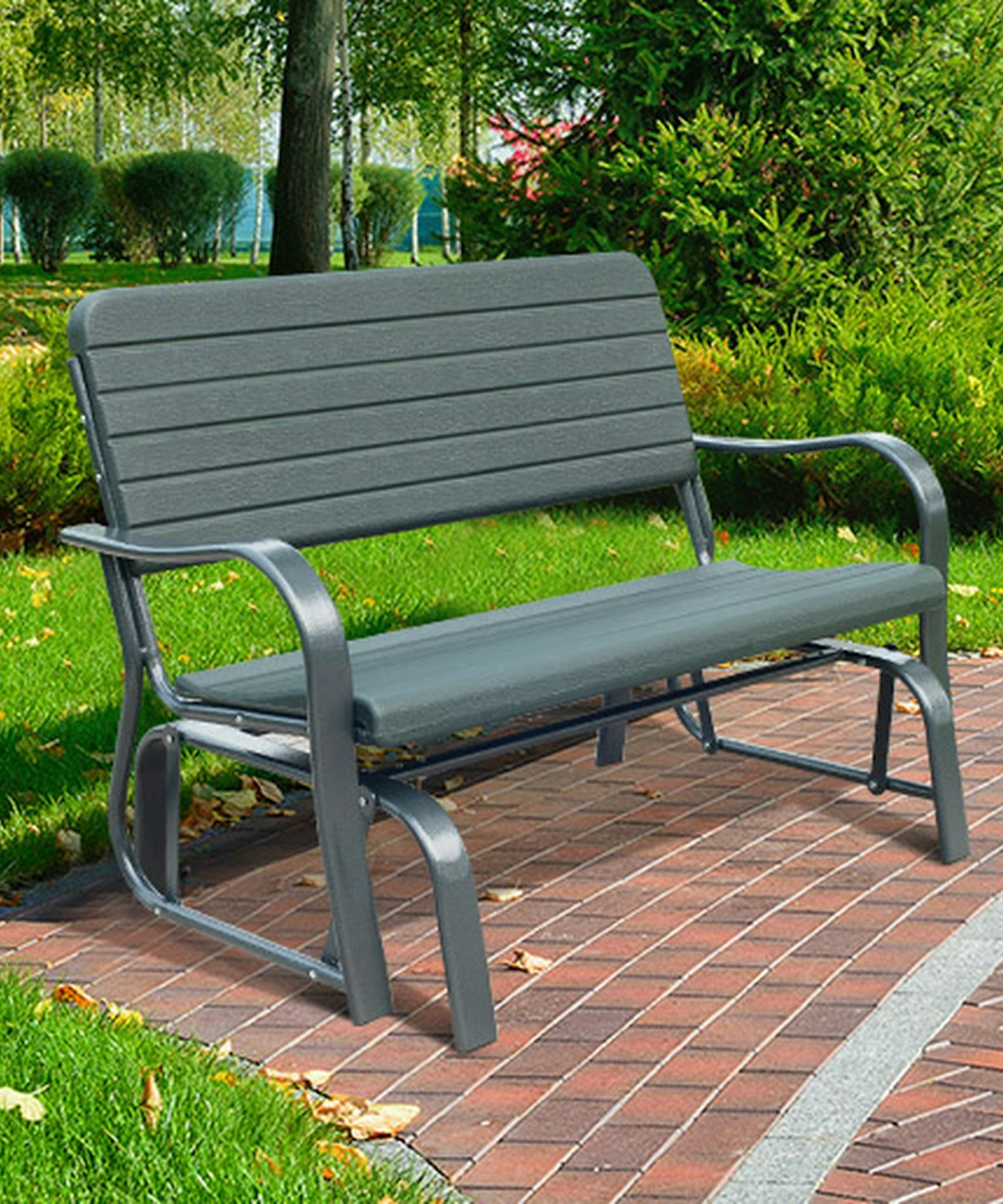 9 of 11
CREDIT: The Range
The Range Swinging Two Seater Garden Bench Loveseat - Deep Green, Black, £109.99
If you want a slightly different love seat for your garden, you can also invest in these swinging benches that will help you relax. A family favourite. Dimensions: 104W x 47D x 42.5HMaterial: Metal and plasticWeatherproof: Weather-resistant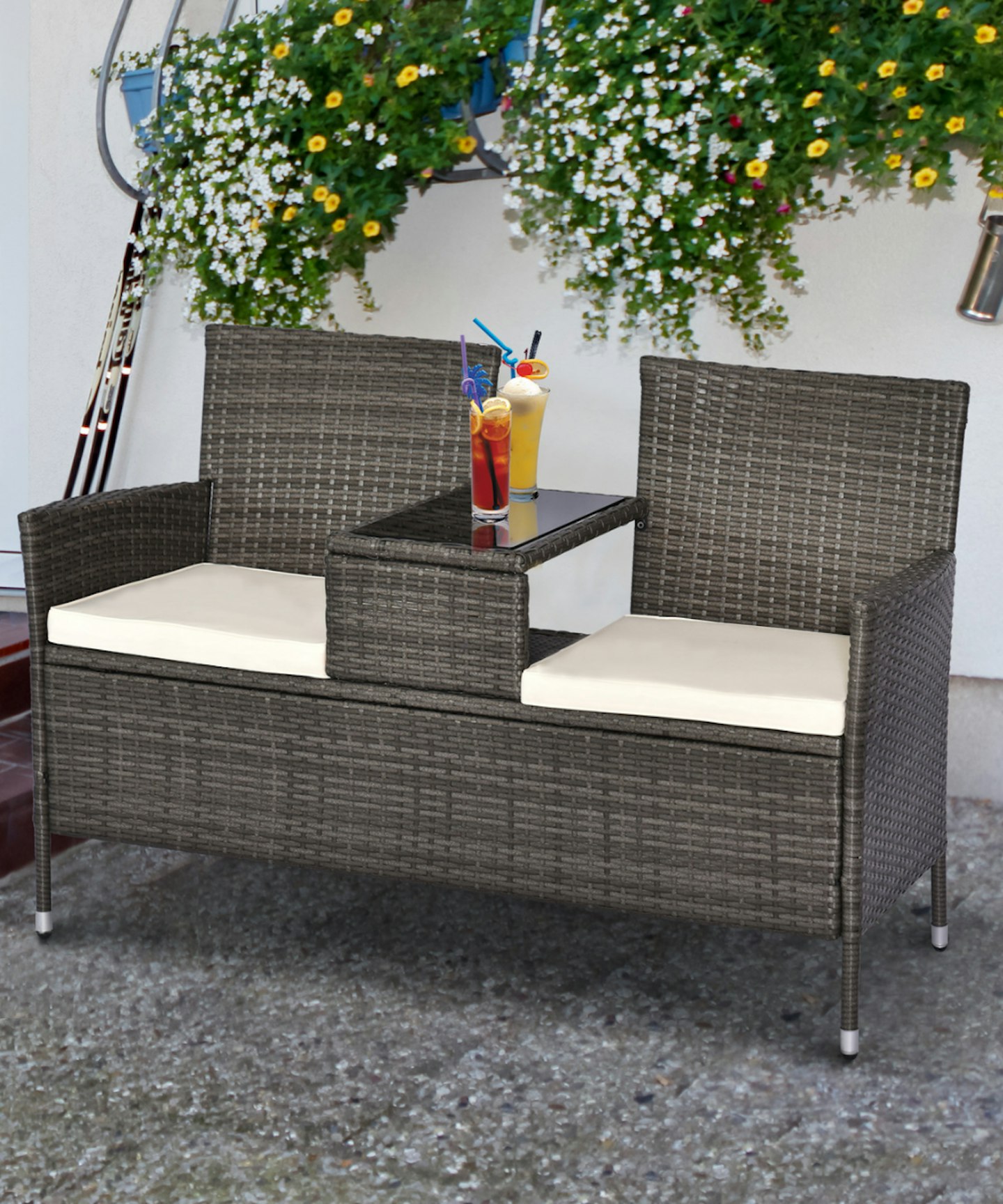 10 of 11
CREDIT: The Range
Outsunny 2 Seater Loveseat Garden Tea Table - Grey, £159.99
Modern love seats generally come made out of rattan - and we love this garden chair that has a 'tea table' in the middle, to allow for more space. Comfy, spacious and easy to clean.Dimensions: L133cm x W63cm x H84cmMaterial: Rattan, steel, tempered glass, cottonWeatherproof: Weather-resistant
11 of 11
CREDIT: Amazon
Kingfisher FSLOVE Hardwood Love Seat, £129.45
Wooden benches are a staple to any traditional garden and this love seat will fit in easily. Made out of hardwood and has a large table to use, this is simple but fitting. Dimensions: 164.5D x 63W x 88.5H cmMaterial: WoodWeatherproof: Weather-resistantReview: "Well packed. Easy to assemble (requires two people) and looks superb after applying two coats of teak oil … Excellent value for money."
READ MORE: The Best Outdoor Heaters To Dress Up Your Garden, Patio Or Balcony
READ MORE: Lounge Outdoors In Style With The Best Garden Cocoon Chairs
READ MORE: Best Plant Subscription Boxes To Grow Your Own Jungle