Anything to keep the festivities going outdoors we'll take it. Our gardens, patios and balconies, no matter how small or large are always the hub of our homes. Come the transitional seasons and chillier months, we're still reminiscing about the lazy afternoons spent in our outdoor spaces. That's why we're forever grateful that outdoor heaters exist.
To elongate this period of relaxing, hosting and dining al fresco when the sun isn't shining quite so bright anymore, the addition of a patio heater is perfect. Replicating your favourite restaurant's outdoor seating arrangements in your own home with gleaming orange lights or decorative (and practical!) flames sounds ideal to us.
If you're deep in the winter blues and craving that outdoor retreat, minus the freezing temperatures, a patio heater will help you brave the outdoors once again.
There's an influx of options out there for outdoor heating, from gas heaters to electric- even log burners. Something for every home décor style, to suit every budget.
So, with that in mind, we've scoured the internet for the best outdoor, patio and garden heaters on any budget. For example, fancy ones that will make your garden look straight out of a Soho house catalogue. Or how about affordable ones that get the job done? Here are the best outdoor heaters you should be shopping for this year…
SHOP: Best Black Friday Deals On Patio Heaters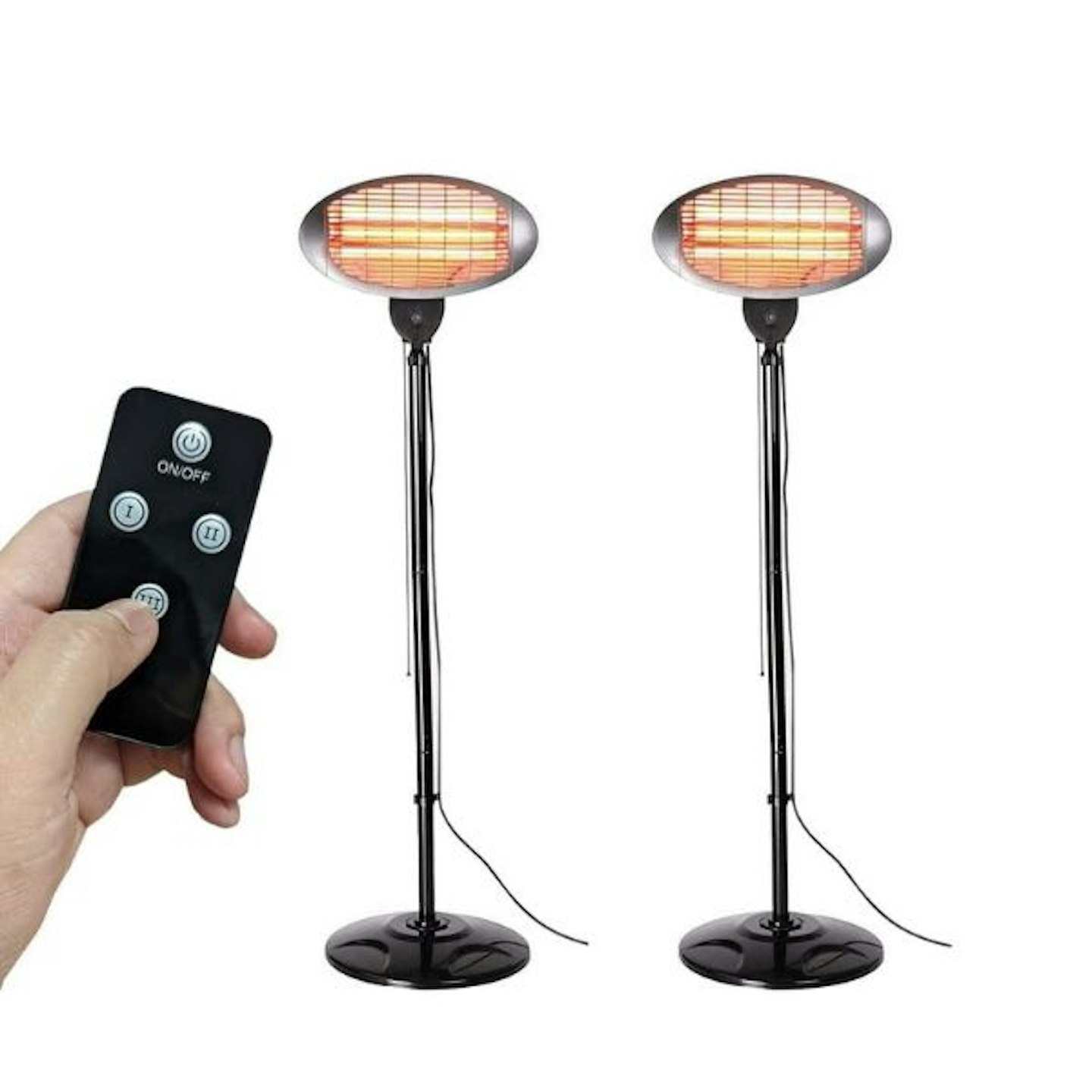 1 of 3
Heatlab Outdoor Freestanding Garden Patio Heaters
A source of both heat and light, this set of two outdoor heaters will help you enjoy your patio whatever the weather.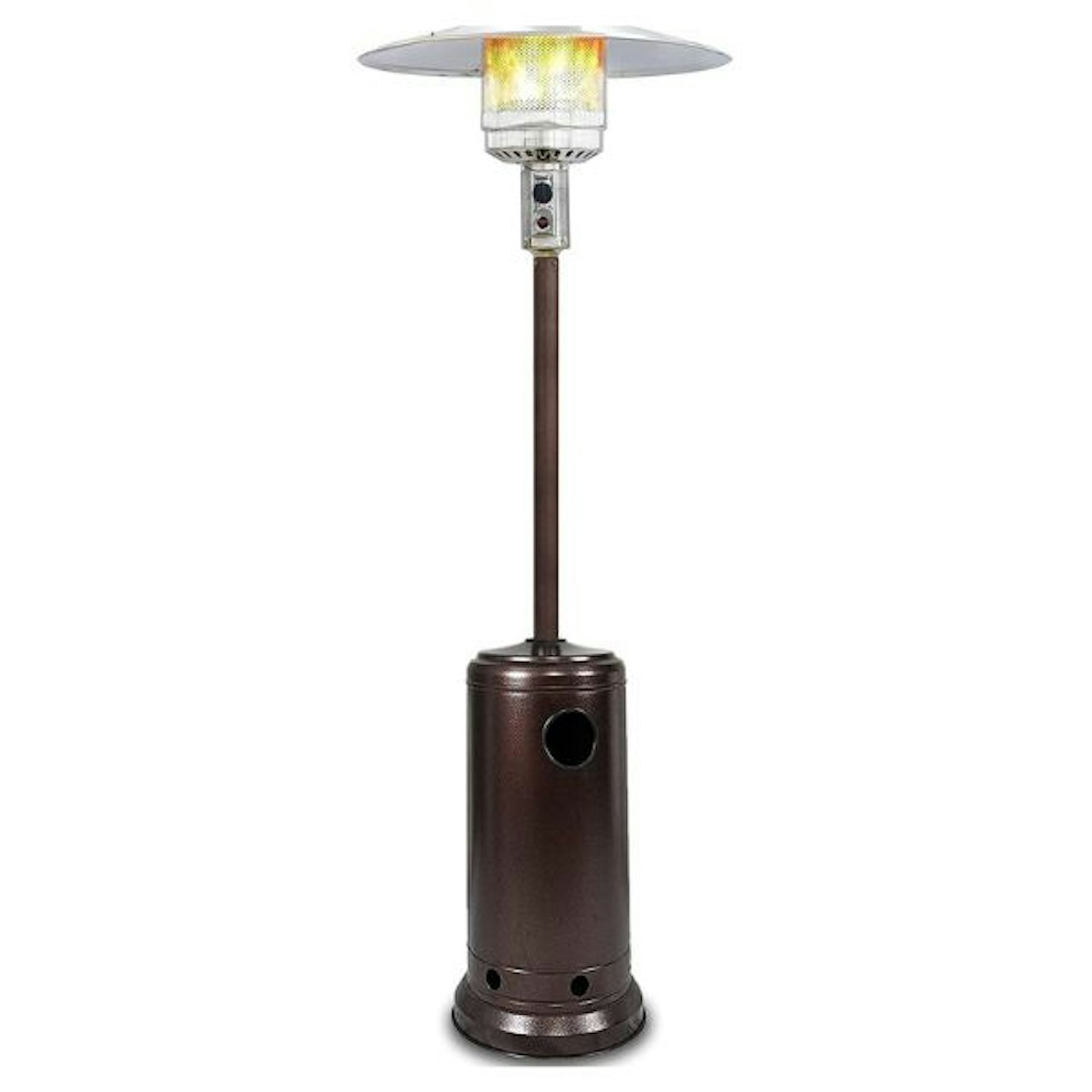 2 of 3
KEPLIN Patio Gas Heater
A versatile, hard-wearing outdoor heater that is now 15% off.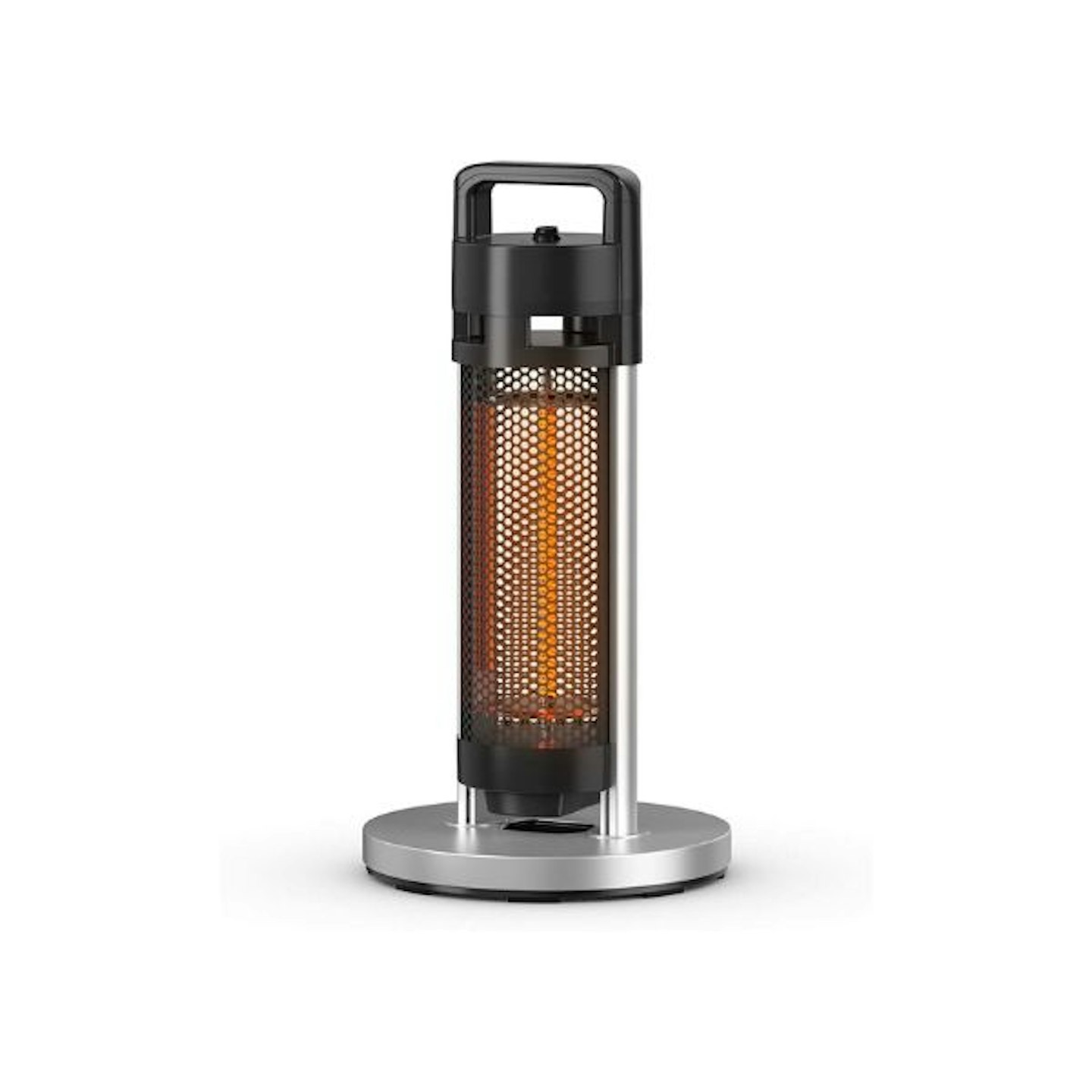 3 of 3
Swan Al Fresco Portable Electric Stand Patio Heater
Level up your al fresco experience with the Swan Portable Stand Patio Heater.
The Best Outdoor Patio Heaters for 2022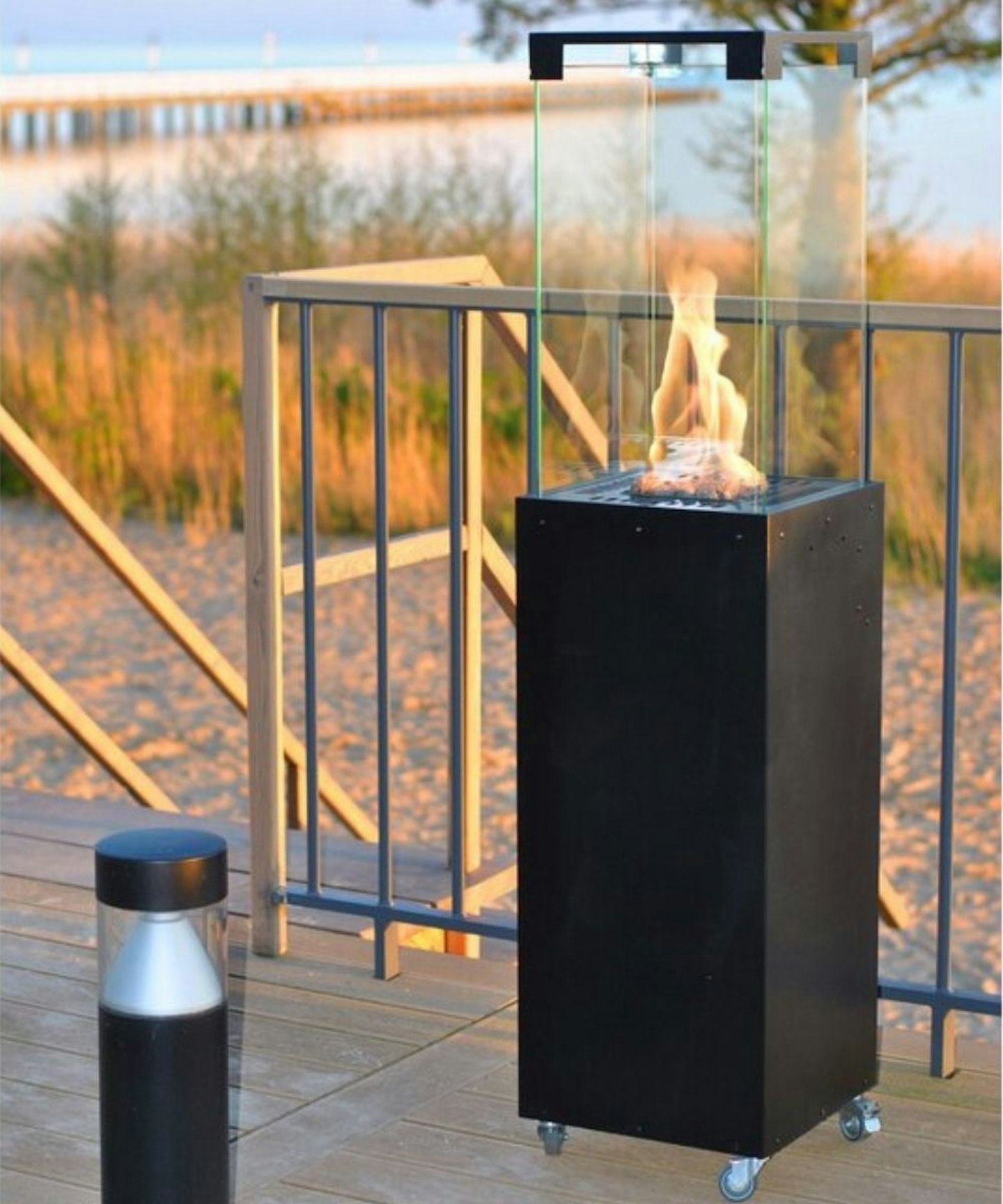 1 of 8
CREDIT: wayfair
Planika Patio Heater
Boasting a luxurious and uber-stylish look, this patio heater is the Dyson of vacuum cleaners for outdoor heating. You'll be surprised how differently your environment will look, highlighted by its golden aura and mysterious twilights. Featuring remote control settings and durable wheels for easy transportation, this patio heater offers up to 40 hours of burning time per gas bottle.
Fuel type: Propane gas
Dimensions: W 36 x H 150 cm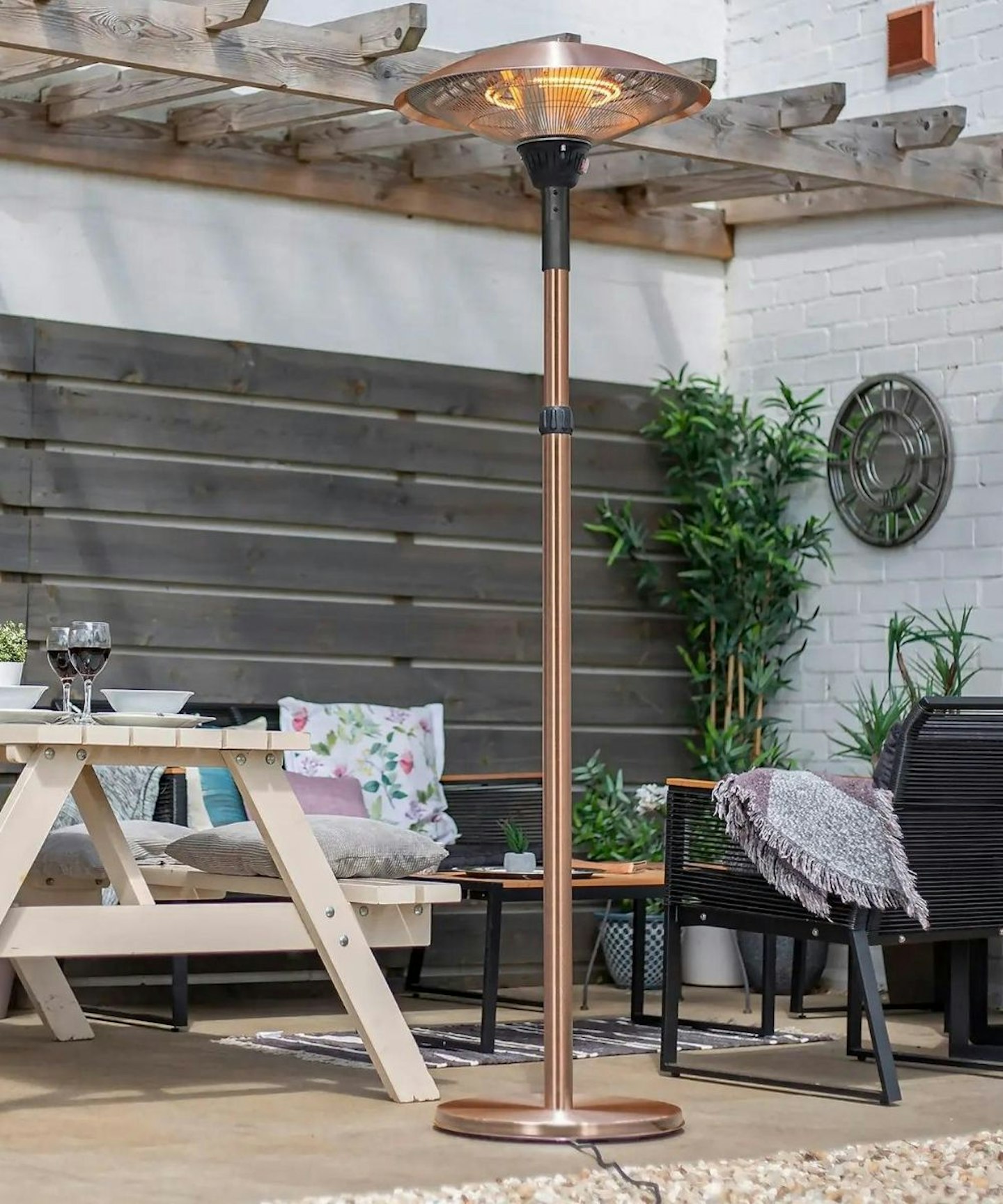 2 of 8
CREDIT: homebase
Copper Electric Freestanding Adjustable Patio Heater
With its sleek design, this heater is both stylish and energy-efficient. With three heat settings, you can control the amount of warmth that is emitted by this powerful but environmentally friendly heater. With its adjustable height and tilting head mechanism, this heater can be adjusted to suit any space and requirement. Guaranteed to enhance any outdoor area with its contemporary style and welcoming warmth. The exceptionally long-life lamp provides more than 5000 hours of heat as well as bright light.
Fuel type: Electric
Dimensions: H 175-207 x D 59 cm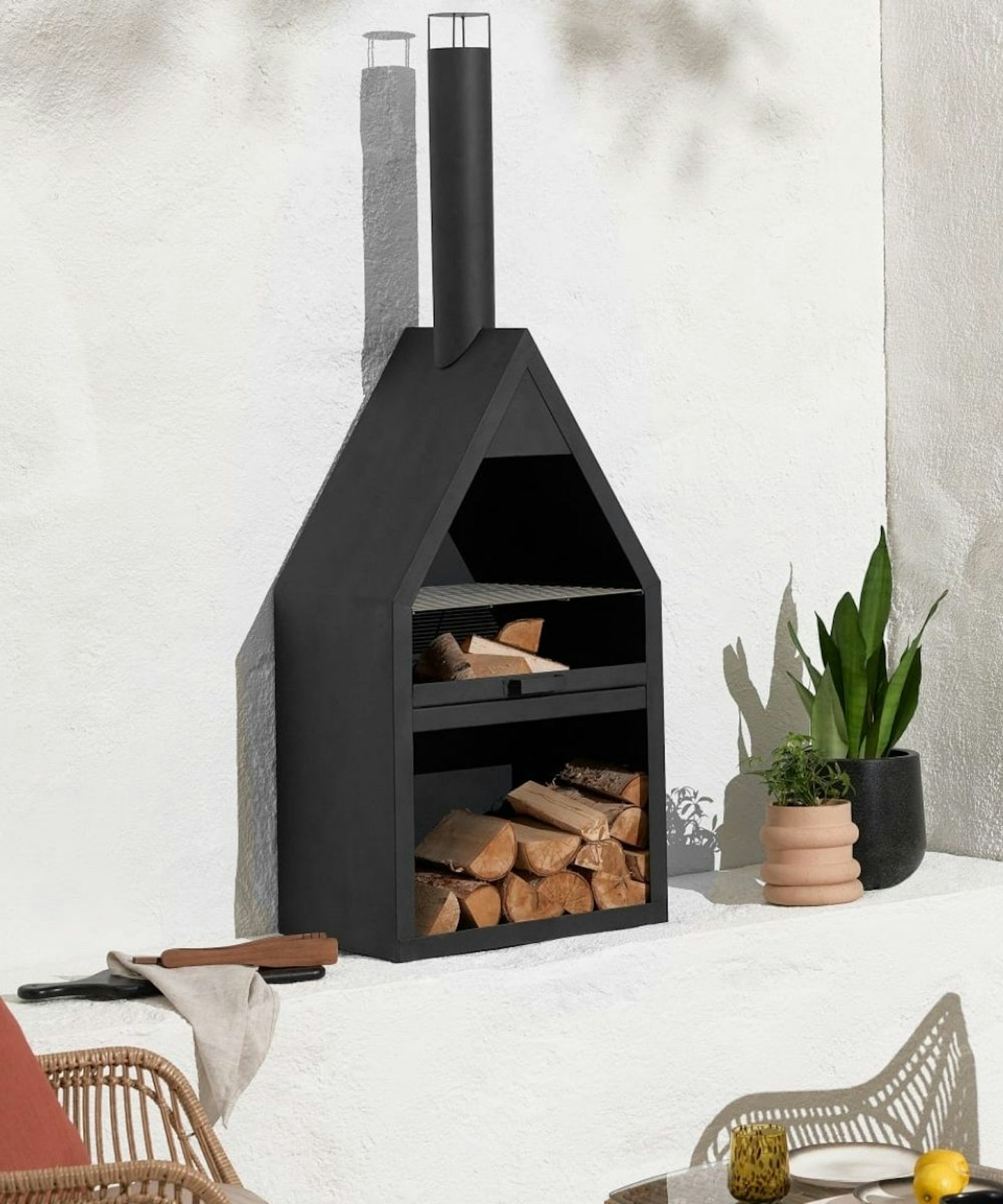 3 of 8
CREDIT: made.com
Ivy Line Outdoor Iron Fireplace with Grill
Keeping you warm while also grilling your food? Look no further. This two-in-one fireplace has a handy grill nestled near the top. It'll be the talk of all your gatherings.
Fuel type: Logs
Dimensions: W 61 x H 168 cm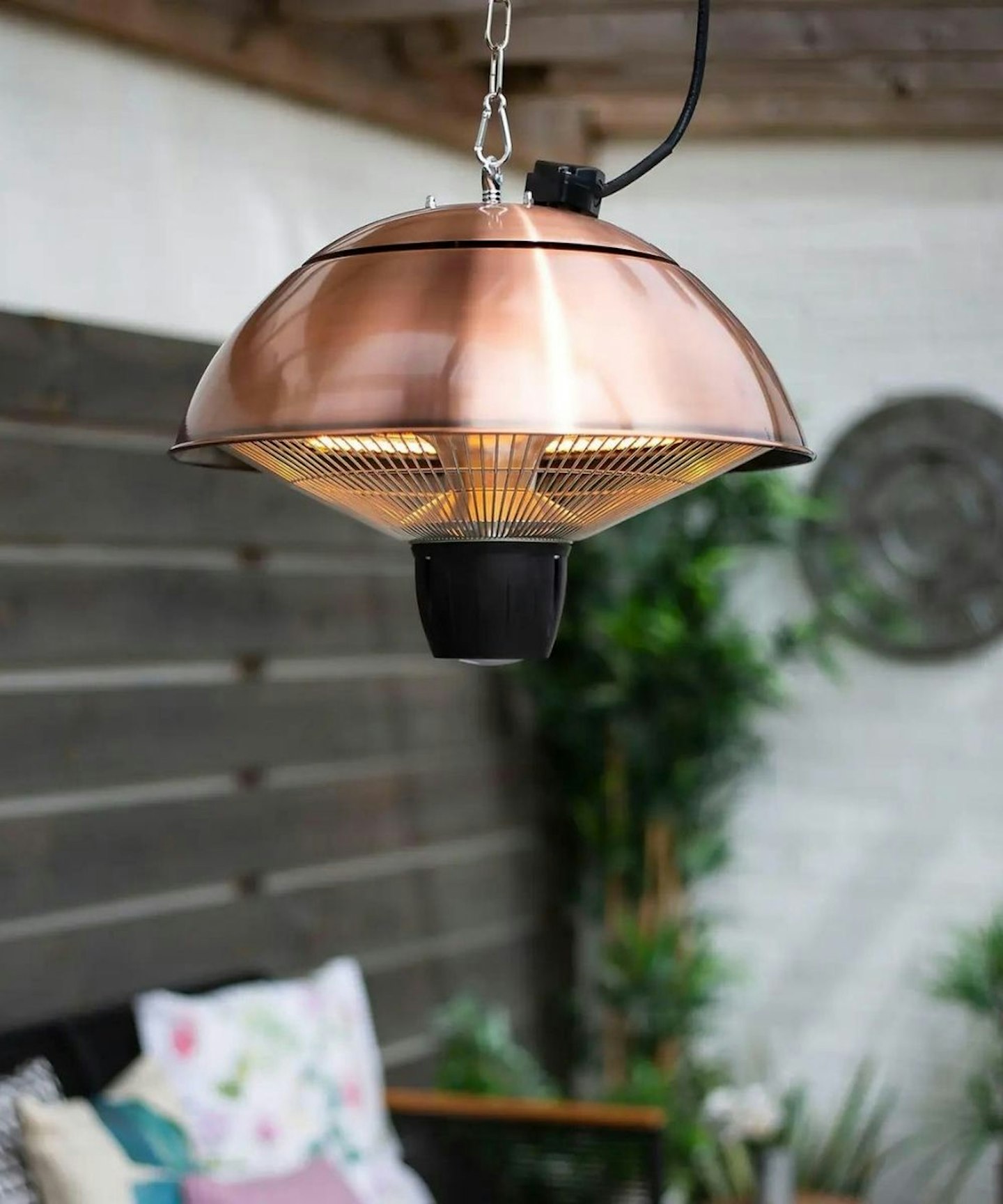 4 of 8
CREDIT: home base
Copper Electric Hanging Mushroom Heater
Spreading its warmth over a large area, the infrared technology is guaranteed to keep friends and family warm on those cool evenings. It is environmentally friendly with no emissions and is efficient as well as fashionable. Ideal for attaching to an outdoor structure such as a pergola.
Fuel type: Electric
Dimensions: H 33 x D 41 cm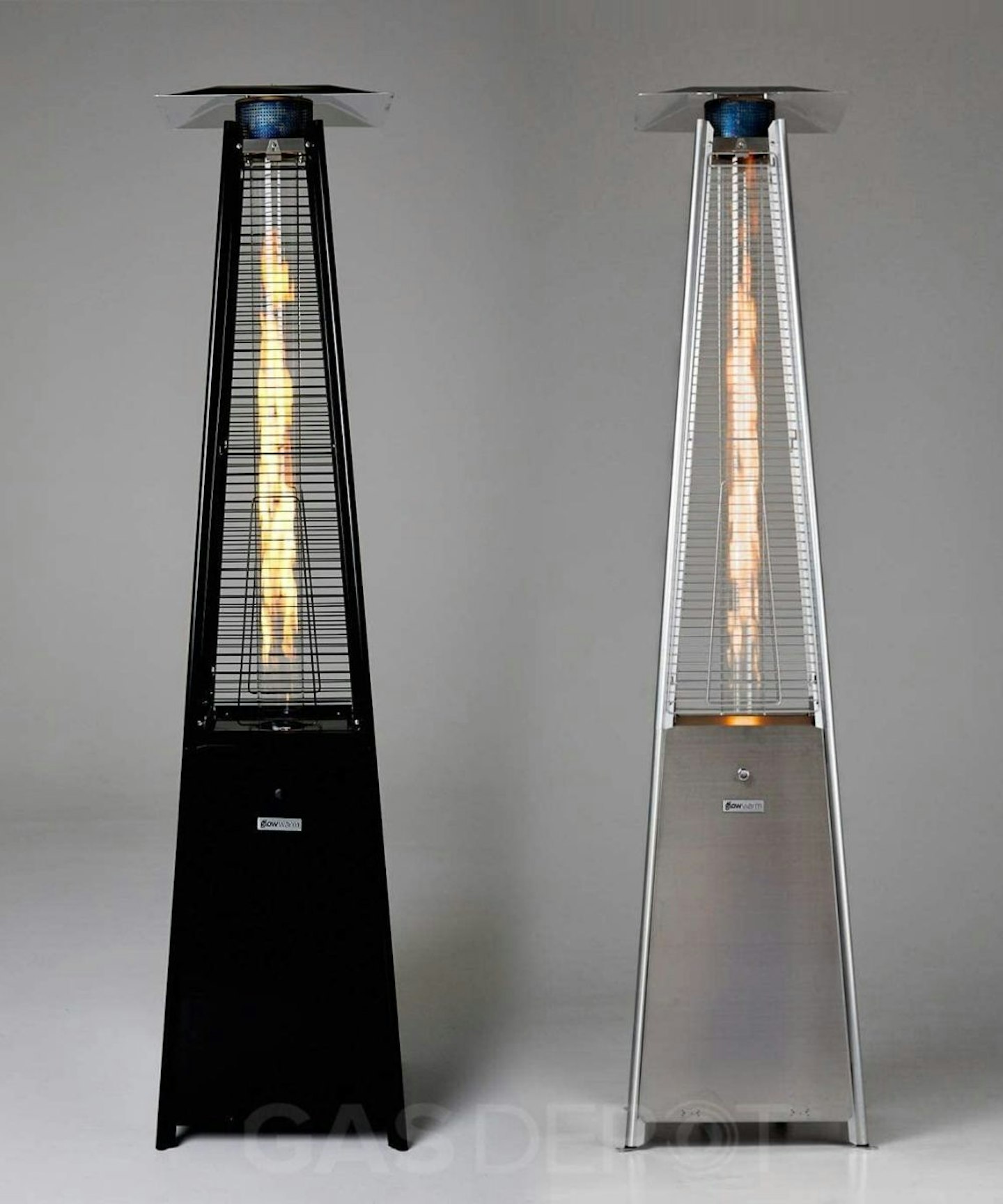 5 of 8
CREDIT: amazon
Gasdepot Real Flame Outdoor Pyramid Patio Heater
This outdoor heater is just like the ones we most typically see used for outdoor dining. Perfect for use all year round, for warmth in the cooler months or as an ambient gas flare for the summer. The patio heater will light up in all weather conditions, without the hassles and dangers of firing it up with matches or lighters.
Fuel type: Propane gas
Dimensions: D 49 x W 49 x H 225 cm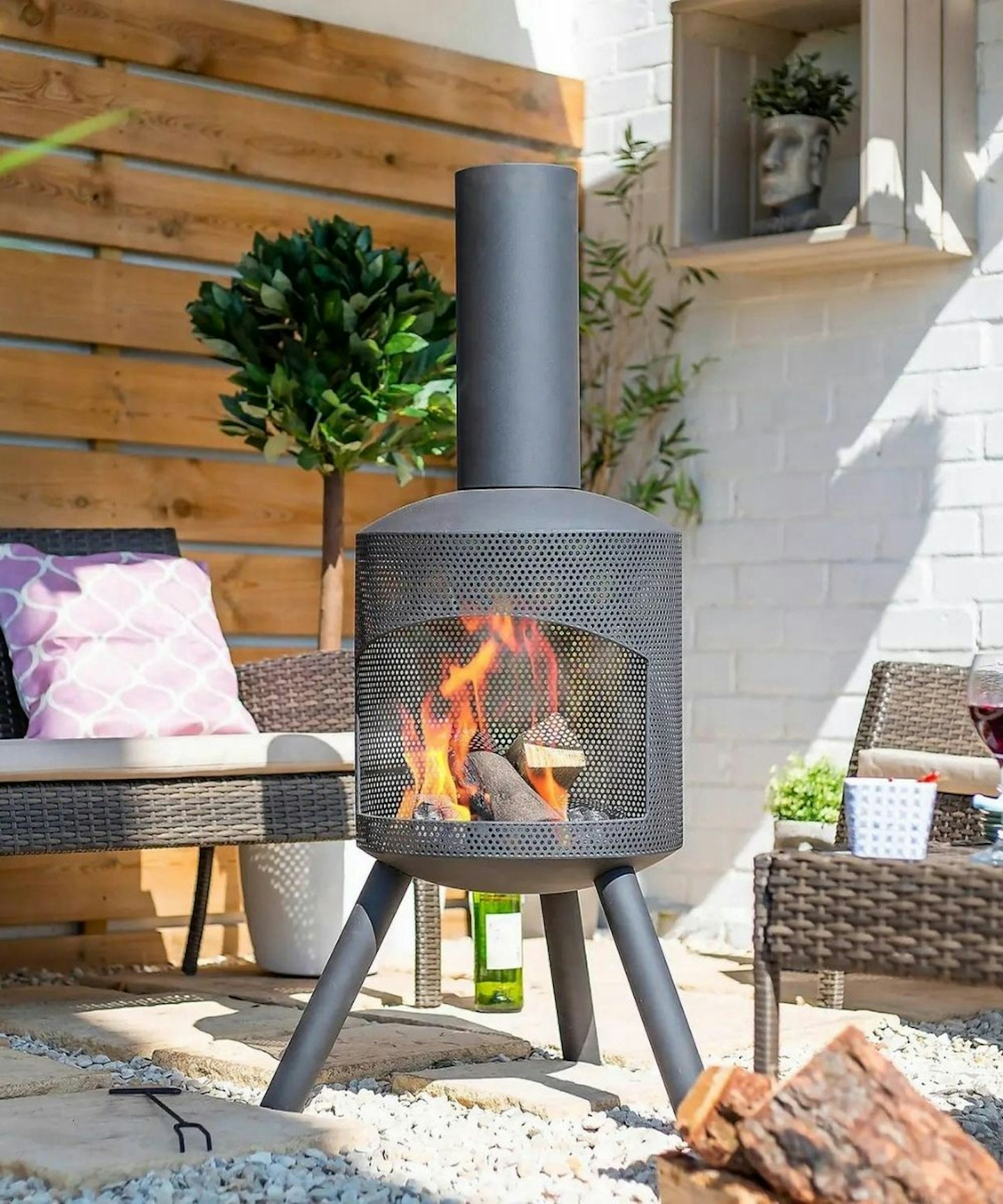 6 of 8
CREDIT: robert dyas
Santana Perforated Fireplace
The Santana Fireplace will very quickly become popular with your family and friends as a welcoming outdoor focal point. The perforated fireplace gives a 360-degree view of the flickering, flaming logs contained within. With its distinctive sleek design & tall smoke stack, the Santana is ideal to gather around on those cool evenings.
Fuel type: Logs
Dimensions: W 58 x H 115 cm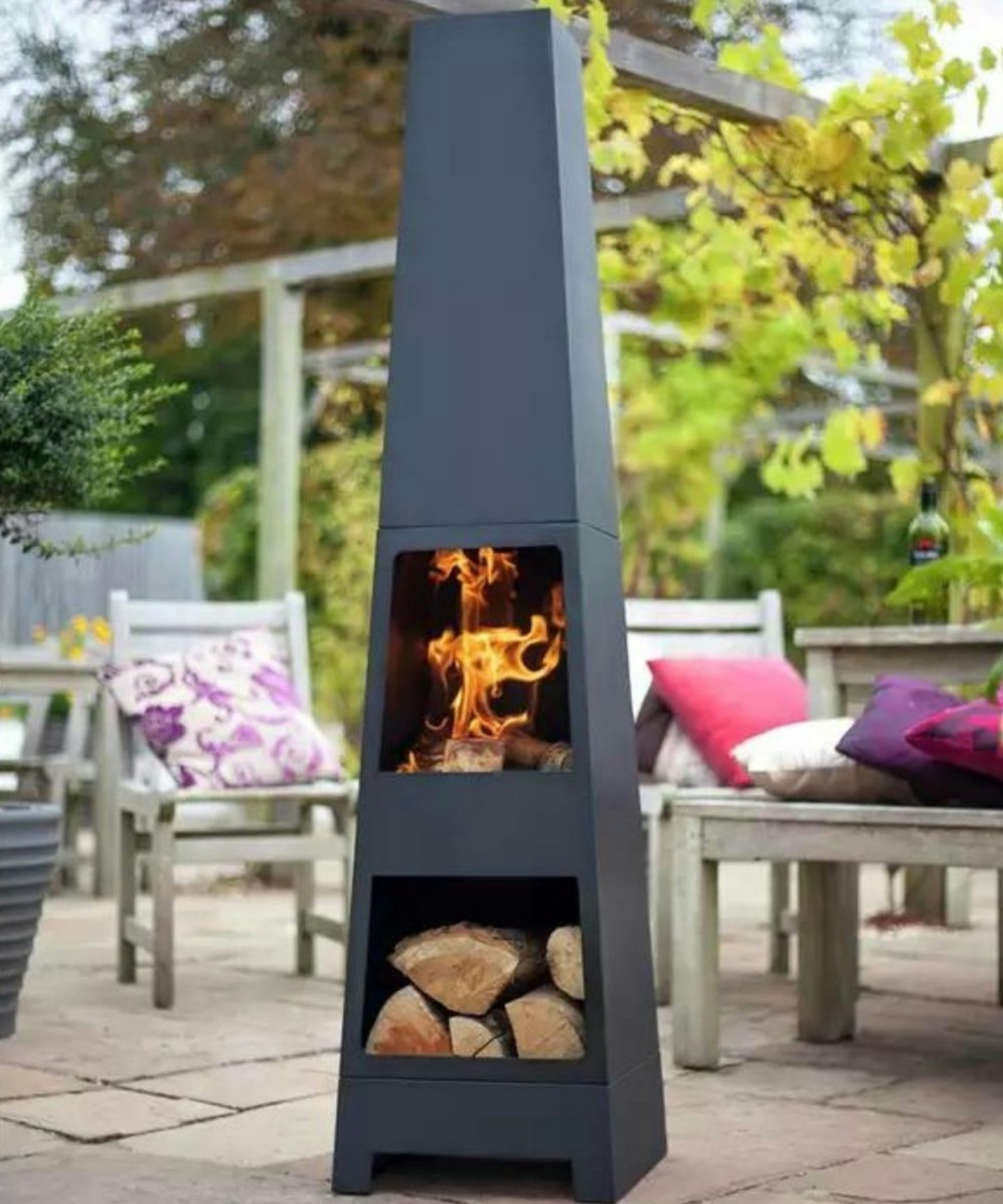 7 of 8
CREDIT: argos
La Hacienda Malmo Steel Chiminea
Perfect for relaxing outdoors, this modern chimenea is a striking focal point for your garden even when it is not lit. Constructed from durable steel with a black high-temperature paint finish, the Malmo is elegant and sleek it includes a log store that allows you to store your logs neatly.
Fuel type: Logs
Dimensions: W 36 x H 150 cm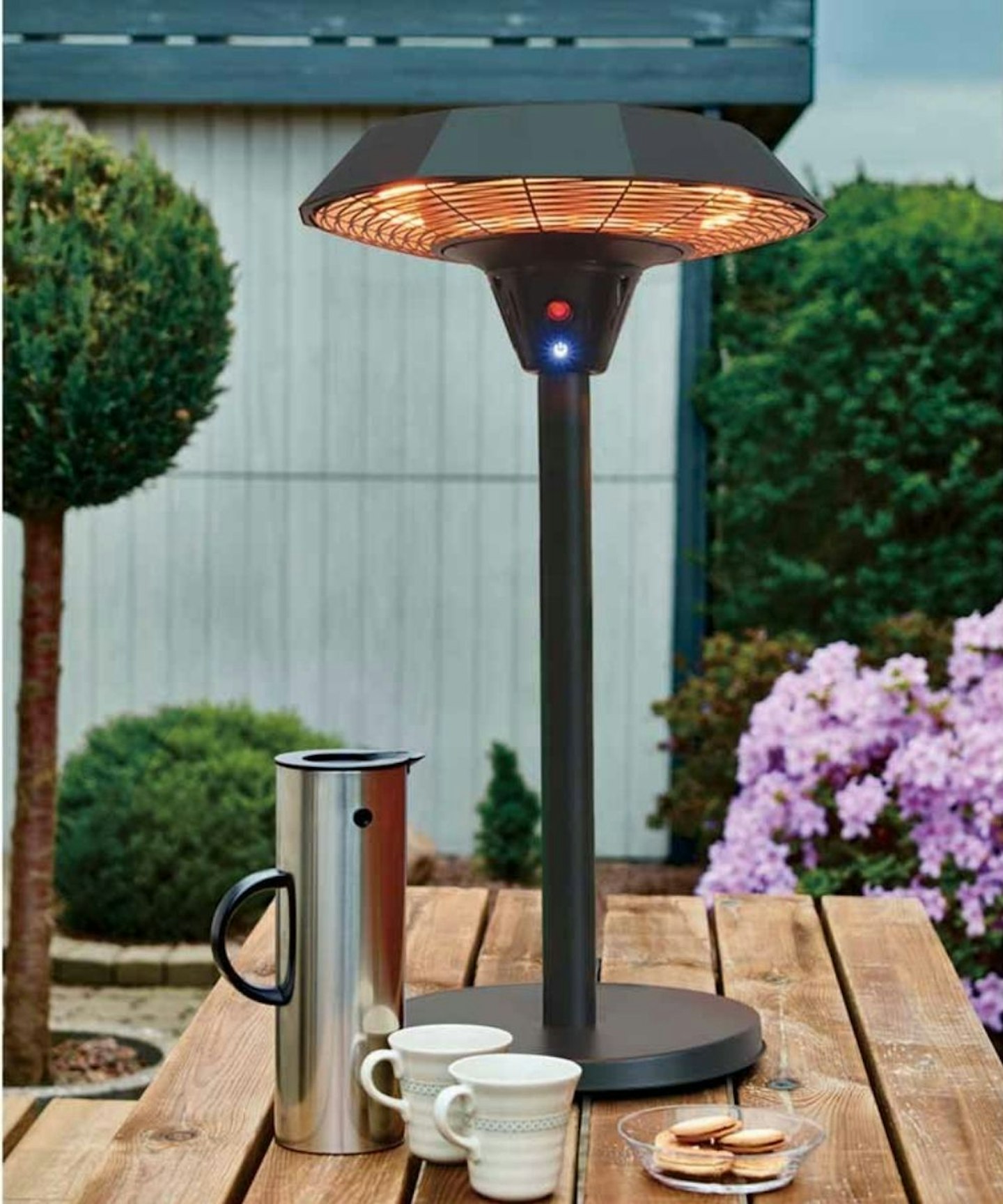 8 of 8
CREDIT: wilko
Charles Bentley Electric Table Top Patio Heater
This handy tabletop electric infrared halogen patio heater is ideal for evenings in the garden and keeps you warm on chilly nights. This remote-controlled electric heater disperses heat over a nine-square-metre area. It has two heating lamps which will keep you warm all around the table and three heat settings depending on your needs.
Fuel type: Electric
Dimensions: W 45 x H 80.5 cm