The UK is finally set to have another heatwave this weekend and everyone has been scrambling to get their gardens ready for the start of the sunny season.
Your new garden furniture has been perfectly assembled, you finally got hold of that hanging egg chair you wanted, you've ordered in the food, heck, you might have even invested in a hot tub – what's left for the ultimate summer garden party? A bar of course!
We've come up with 7 tips, recommendations and things to think about when creating your very own pop-up bar this summer – hassle-free. The only thing you'll need is a sturdy table.
Mixology
Will you be serving cocktails? This all depends on how much time you have and how much effort you're willing to put into your bar. If you know you're not great at making drinks (we can't all be as good as Stanley Tucci) there's no need to put added pressure on yourself. Get a classic array of beverages instead: prosecco, wine, beer, maybe an assortment of gin? And, don't forget about non-alcoholic options too.
Theme
Most garden parties don't have a theme, as the sunshine and floral setting is usually enough. However, if you're not like most people and feel like a theme would liven things up, especially after the bore of lockdown, then might we suggest you tailor your bar to the theme of the party. For example, for something along the lines of a 1920's Gatsby party, serve your fizz in a champagne coupe, or decide on a classic cocktail like a Bee's Knees.
Table Decor
Do you need a table cloth? Serviettes? Straws? (These bamboo ones are great.) Will you have a centrepiece or flowers perhaps? So much to think about, but don't worry about it too much. Your guests are more interested in the booze, not the aesthetic of your bar.
Self-service
Unless your garden party is very fancy, where a bartender is essential, we recommend your bar have a self-service set up. It's much easier for you as the host and your guests, granted they don't get too merry, or you could have your hands full. Plus, it's a great social area for anyone that's flying solo.
Layout
If you've position your bar against a wall make sure all the necessary means are easily reachable. If your bar is accessible from both sides, it'll be easier to replenish. Separate the drinks into categories, so your guests know what they're looking for. Also, if you're using anything that holds a lot of weight, like a glass drinks dispenser or jugs, make sure they're situated near the middle of your table, to prevent any accidents.
Glassware
If you're a host that likes to keep busy, then by all means keep an eye-out for used glassware that you can whack in the dishwasher. But remember to keep putting fresh glasses out too. If you don't like to be so hands-on, here's a little trick. Buy some whiteboard pens for your bar, and get your guests to write their name on their glass. Saves on excessive washing up, especially if you don't have many glasses to begin with.
Essential Equipment
Given our current situation ice tongs are essential, not just for the ice but for anything else you decide to put out, maybe slices of lemon for example. Another must-have is hand sanitiser. OK, they're not the prettiest of things, but having a hand sanitiser dispenser at the bar might actually be the best places to have it. Think about it, your guests will probably go to the bar more than they go anywhere else at your party.
But if all of that sounds like too much effort, or maybe you're looking for something more permanent, these actual outdoor bars below, might be a better idea.
SHOP: The Best Outdoor Bars & Gazebos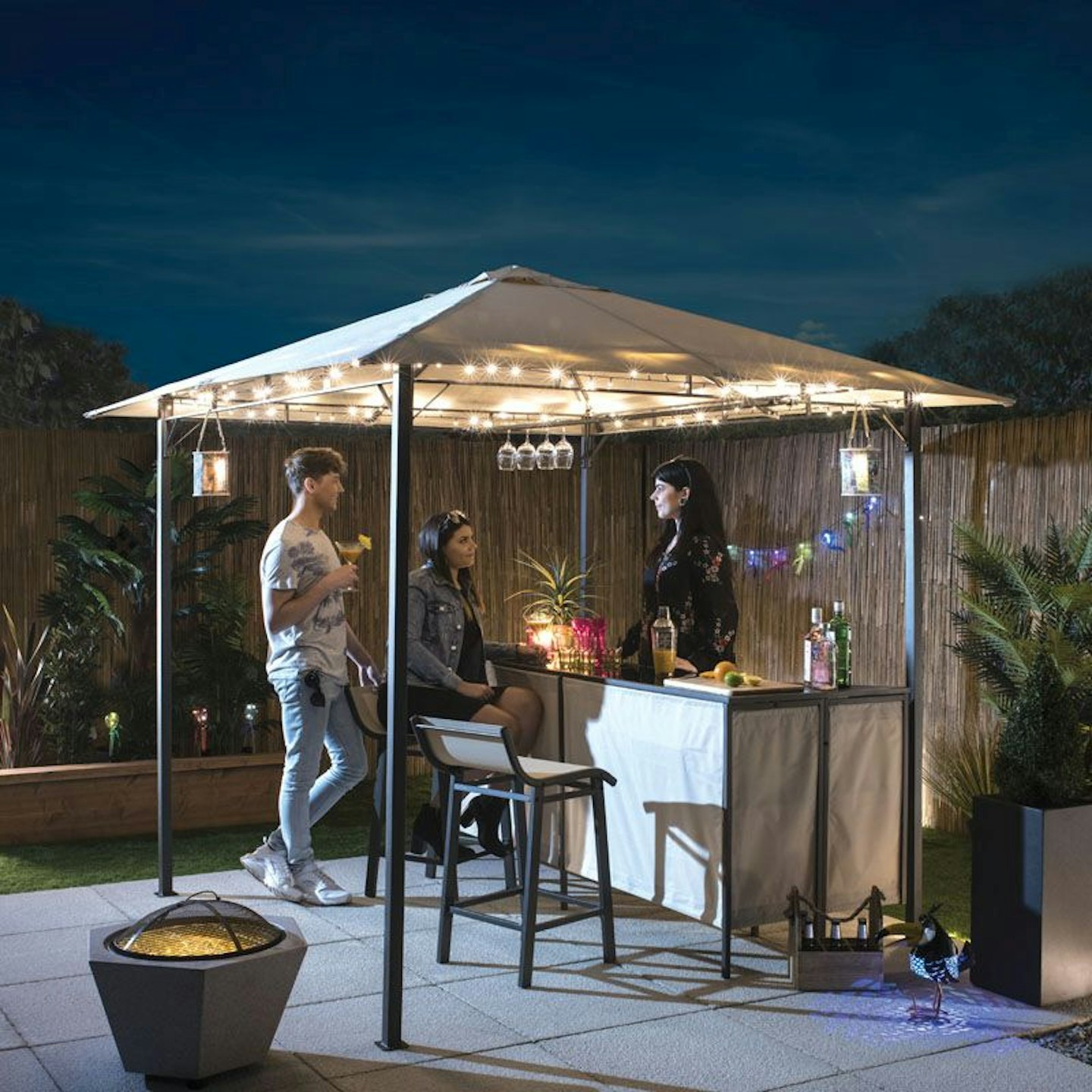 1 of 7
Croft Newmarket, 8 X 8 Foot Beige Barzebo With Two Stools, £349
If this isn't the ultimate garden gazebo for your next summer get together we don't know what is. It comes with two bar stools and a tempered glass bar top. Perfect for entertaining family or friends on a beautiful summer's day or warm evening.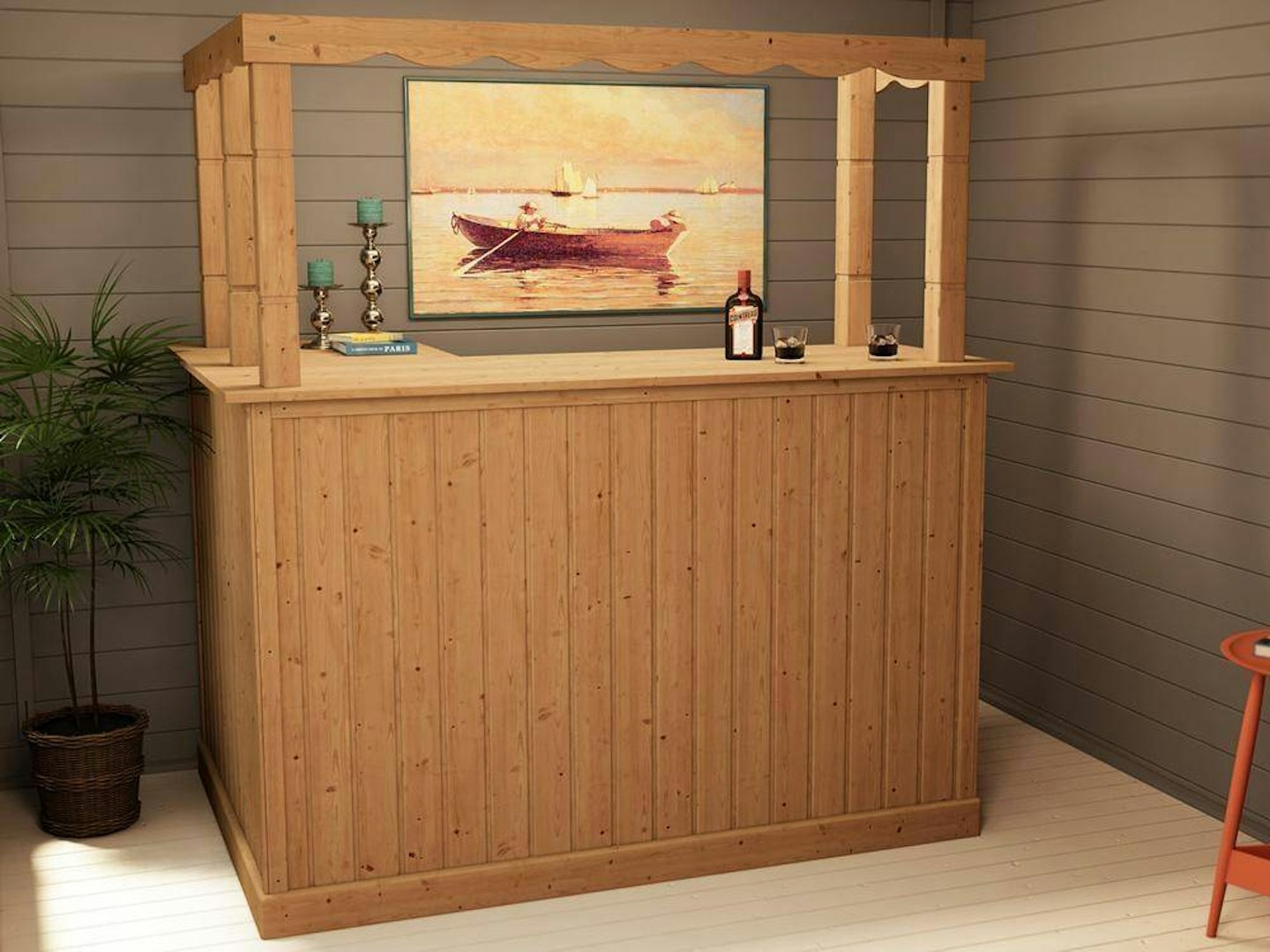 2 of 7
Dunster House, Cabin Corner Bar, £489.99
You will for sure be the best host for your family and friends with this beautiful wooden bar. Only things missing are the cool drinks and snacks.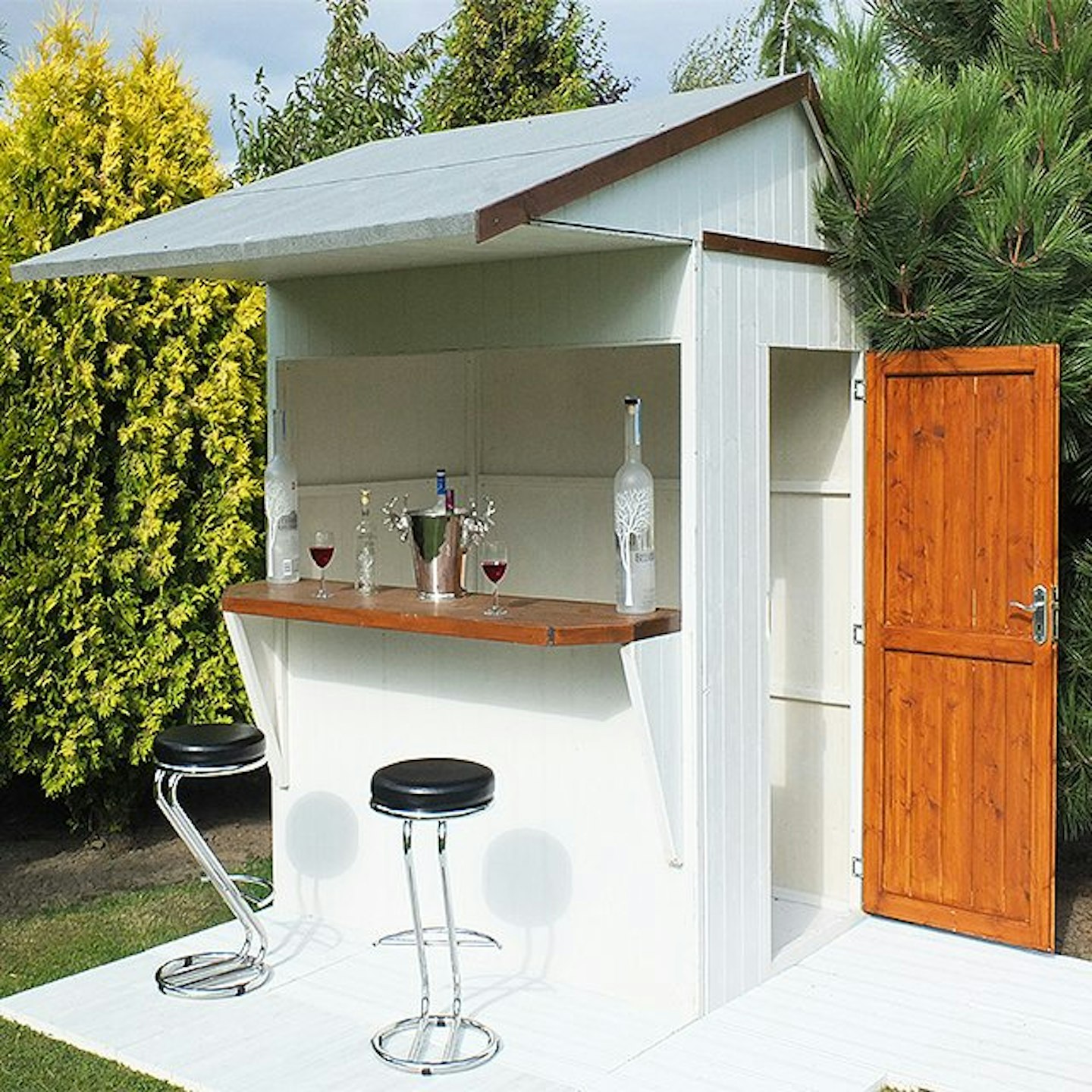 3 of 7
Elbec Garden Buildings, Shire Garden Bar and Store, £929
Looking for a way to bring your garden to life this summer? This outdoor bar is everything you will need for those memorable summer evenings with friends. It simple yet unique with durable construction and good weather resistance.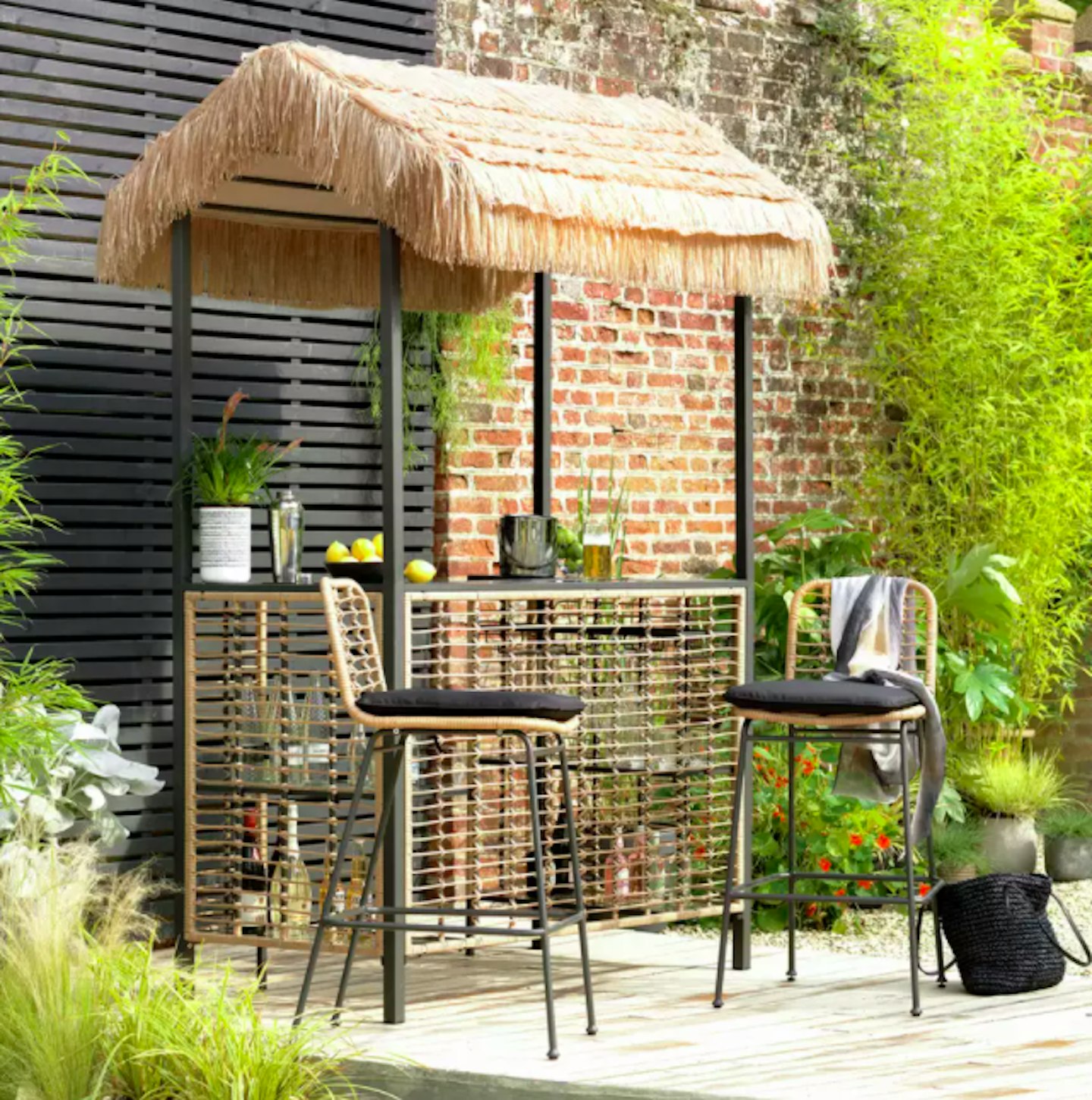 4 of 7
Argos Habitat Beach Bar Gazebo with Stools, £500
This outdoor bar gives us all the tropical vibes. It brings a dose of stylish summer fun right to your outdoor space. Two cushioned rattan bar stools sit at a glass bar built into a sturdy steel frame with bamboo detailing and a grass-style roof. Simply perfect.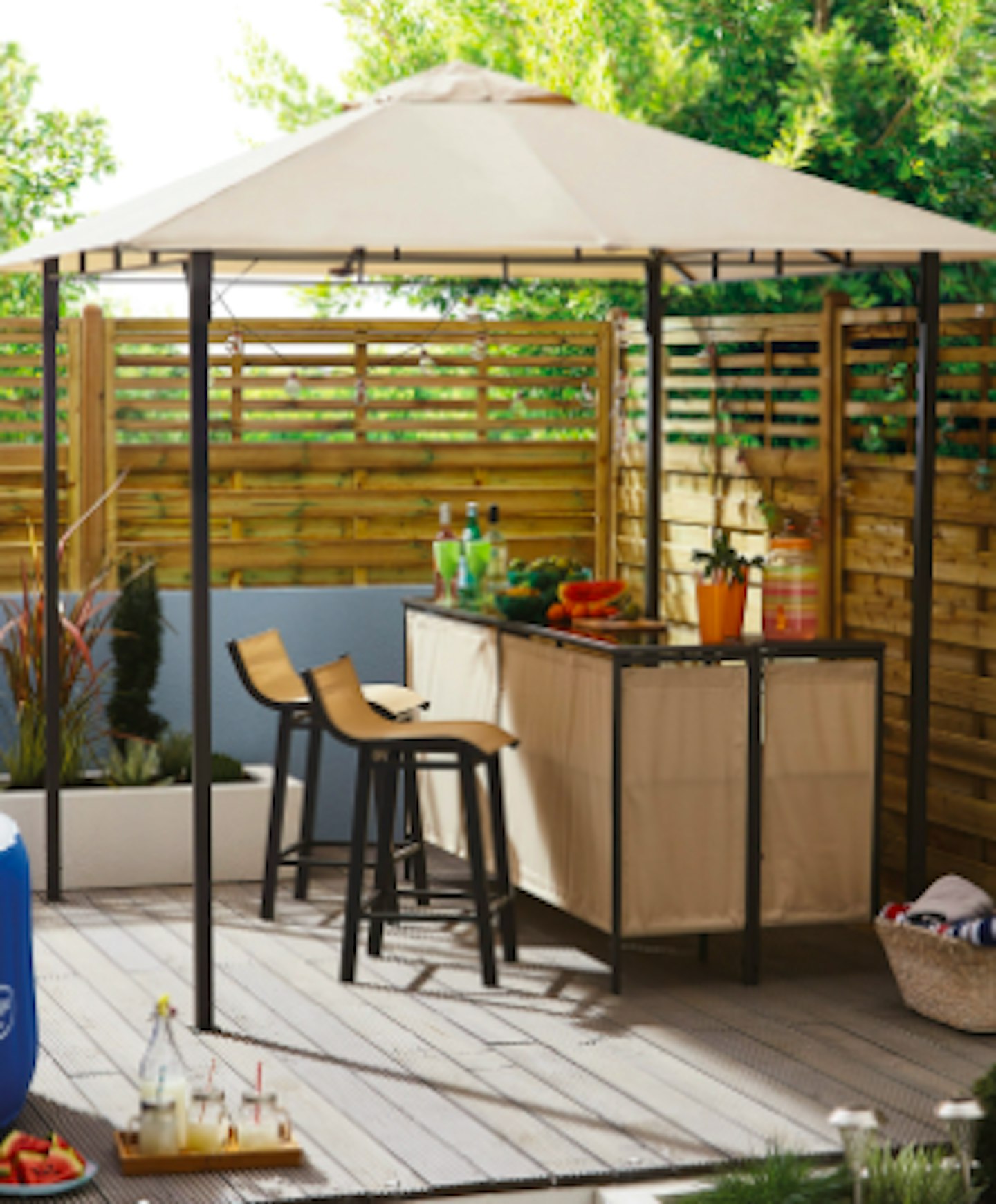 5 of 7
The Range Malaga Bar Gazebo, £399.99
What a Bar Gazebo. This one is an eye-catcher whether your hosting a chic garden party or simply want to enjoy a slow summer afternoon with your loved one. This set is complete with two sturdy yet comfortable bar stools.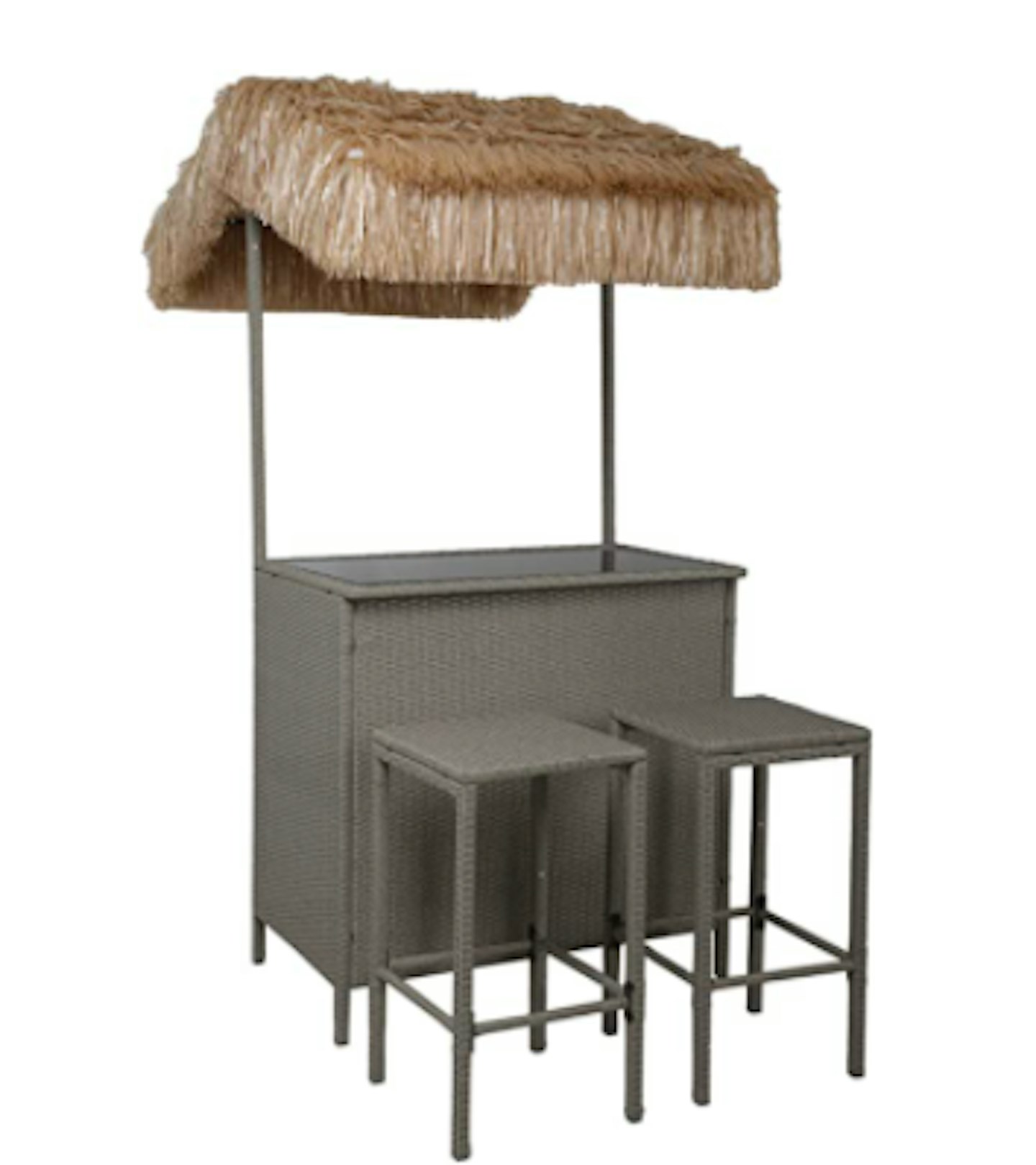 6 of 7
SunTime Rattan Tiki Bar – Grey, £349.95
How cute is this little tropical rattan tikki bar? Only things missing are some summer tunes, your best friends and cold drinks. And voila... the perfect summer evening with some tropical vibes. We love it.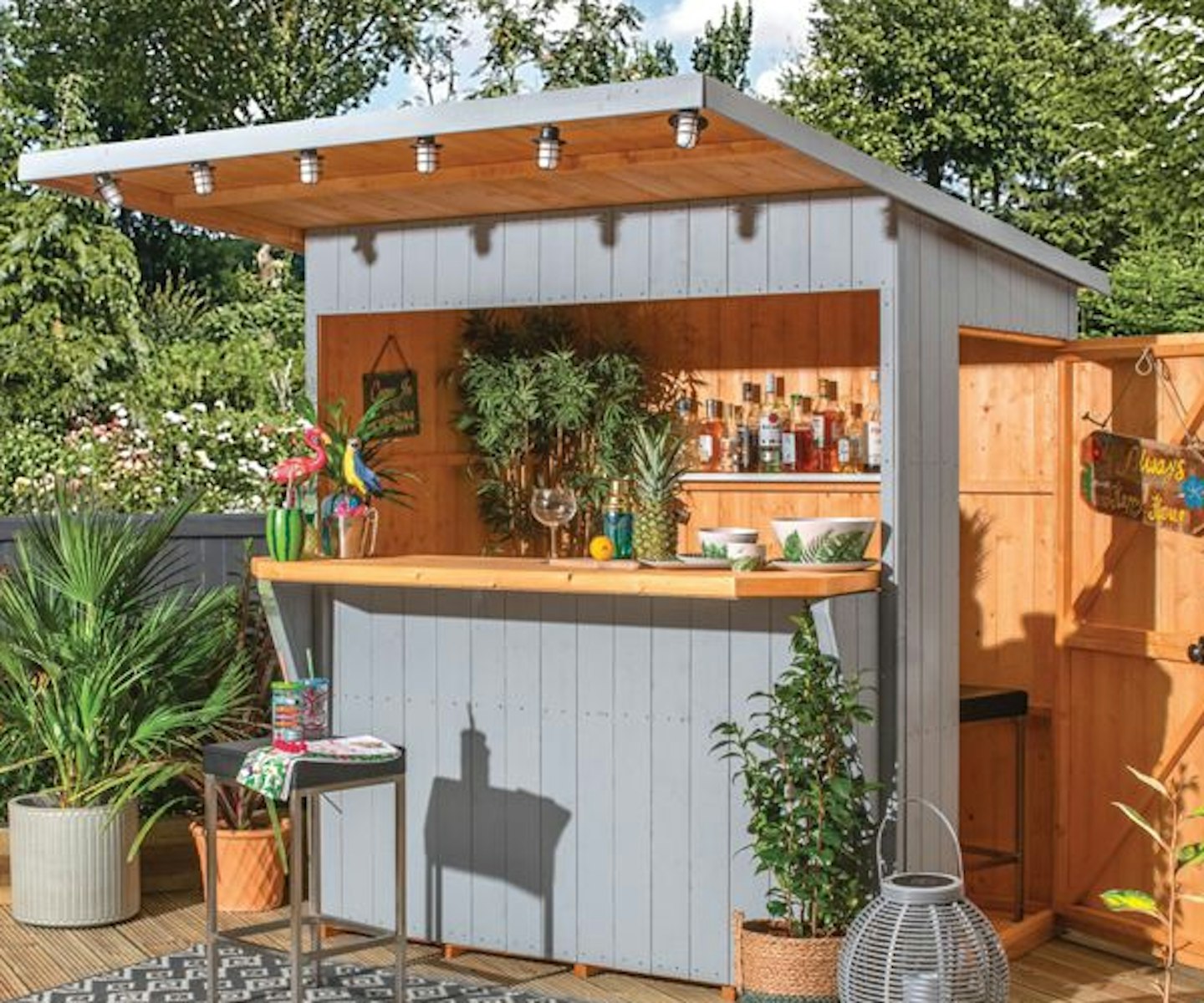 7 of 7
Shire Shiplap Paradise Bar & Storage Shed 6' X 4', £769
If this isn't an epic luxurious pavilion then we don't know what is. Honestly how stunning? It's the perfect set-up for a chic summer dinner in your garden. We can just picture some colourful long summer dresses and fresh cocktails.
READ MORE: The Best Outdoor Heaters To Dress Up Your Garden, Patio Or Balcony
READ MORE: Our Favourite Gifts For The Gardener In Your Life