'I love shopping for jeans', said no one ever. Now imagine trying to find a pair of jeans while pregnant. Evident from the fact that the average person owns eight pairs of jeans - one for every day of the week and a spare for good luck - denim is a wardrobe staple, but when you're pregnant your old faithfuls are usually the first things to go as they're not very forgiving. Fear not though, as there doesn't have to be a denim-shaped hole in your wardrobe – the best maternity jeans have evolved and the choice of styles is a lot wider than it used to be.
Whether you're a fan of the best straight-leg or boyfriend jeans, you can be sure there's a pair of jeans that will suit all mums-to-be – from black maternity jeans to skinny maternity jeans, you can be sure your maternity styling doesn't have to feel at odds with your usual personal style.
From bump styles to secret fit, here are a few things you'll need to know before you start…
Do You Really Need To Buy Maternity Jeans?
During the first trimester, it's tempting to believe you can get away with wearing low-slung hipster styles forever, but this happy delusion will soon leave – the fact is, your body is changing and there's not a lot you can do about it. Once you're out of the low-slung stage, a proper pair of the best maternity denim will be required – but the good news is that you've got an excuse to go shopping.
What Is A Bump Band?
In those early days of pregnancy tests and keeping the news to yourself while you wait for your scan, you might notice a slight swelling that stops you from doing up your jeans, but you're probably not in 'new jeans' territory just yet. You can get still get away with wearing your usual jeans as long as you keep the buttons undone, but if you don't want everyone to think you've forgotten to do up your flies, there's a marvellous invention called a 'bump band', which you can wear over your jeans and under your top to keep everything in place. It's kind of like shapewear, but for pregnant people and without all the toilet drama.
Where To Buy Maternity Jeans?
Scroll down for all of the best maternity jeans on the market, from M&S to Isabella Oliver, H&M, ASOS, Next, J Brand and Seraphine. You can find maternity jeans on the high street as well as from designer brands.
SHOP: The Best Maternity Jeans On The High Street
SHOP: Best Maternity Jeans For Over And Under Bump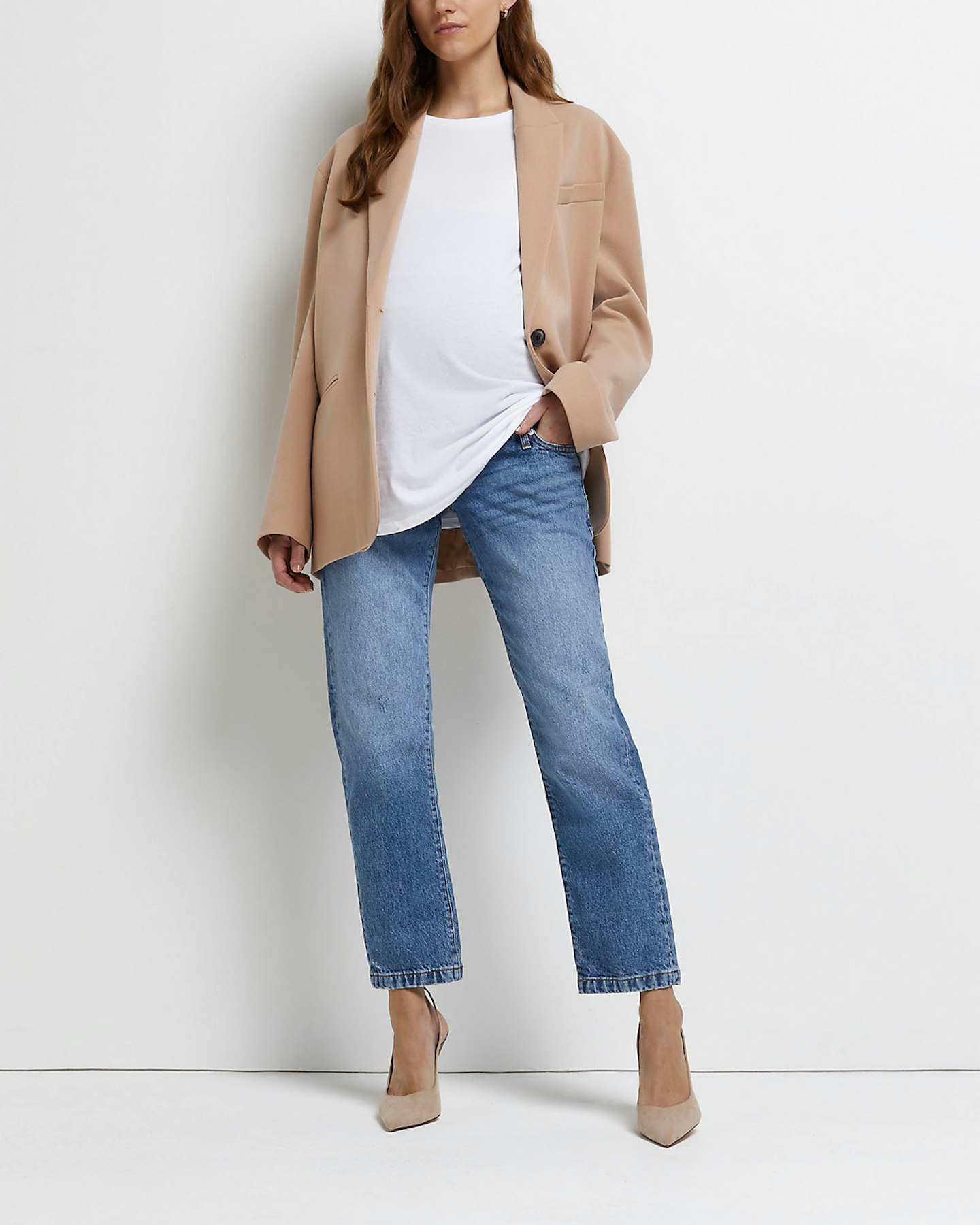 1 of 12
CREDIT: river island
River Island, Blue Mid Rise Maternity Jeans
Go slouchy and relaxed with these mid-rise maternity jeans from River Island - everyone knows comfort is key when it comes to jeans and pregnancy.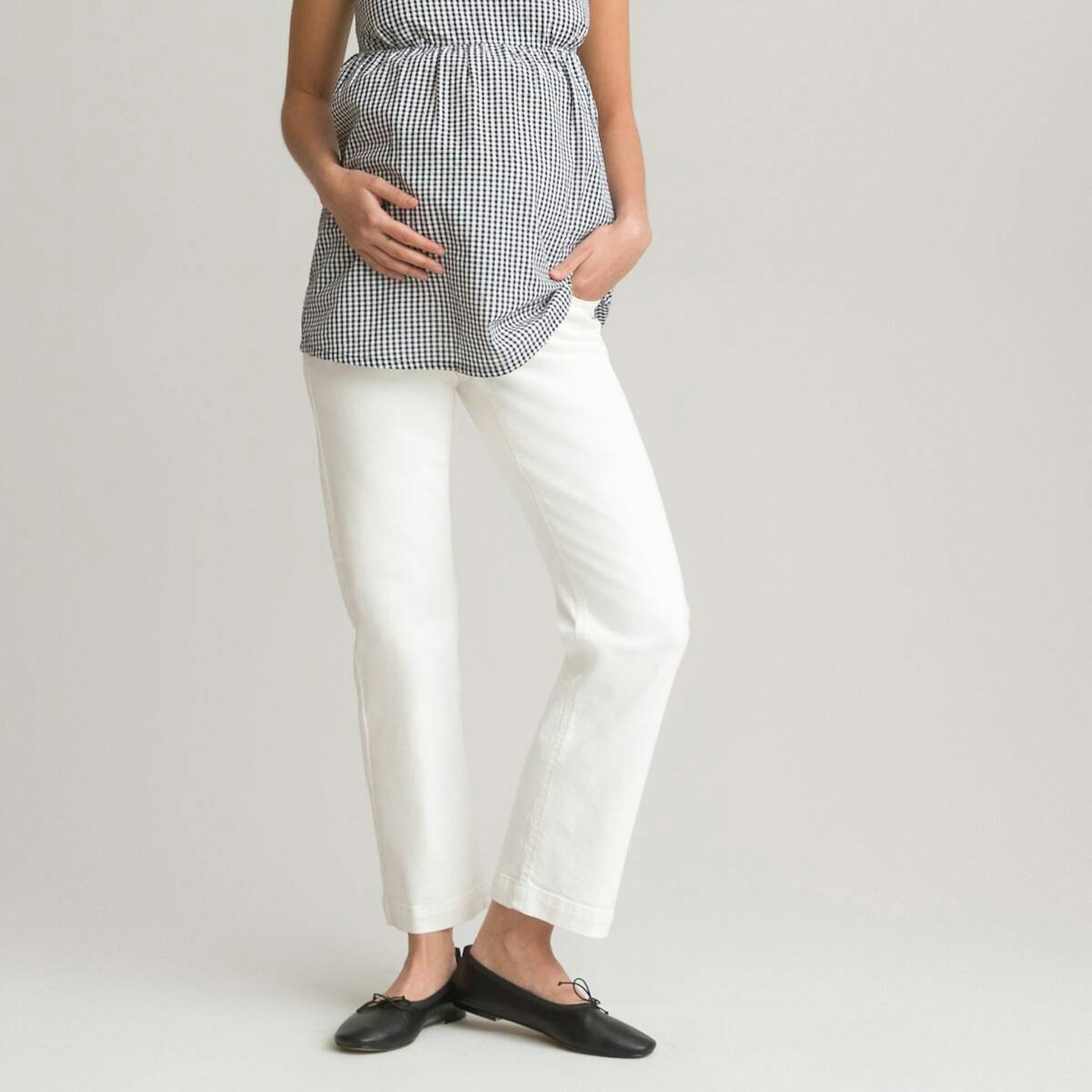 2 of 12
CREDIT: la redoute
La Redoute, Organic Cotton Maternity Jeans, Mid Rise Length 27"
Everybody needs a pair of white jeans in their wardrobe - even when they're pregnant. These organic cotton mid-rise jeans are a staple.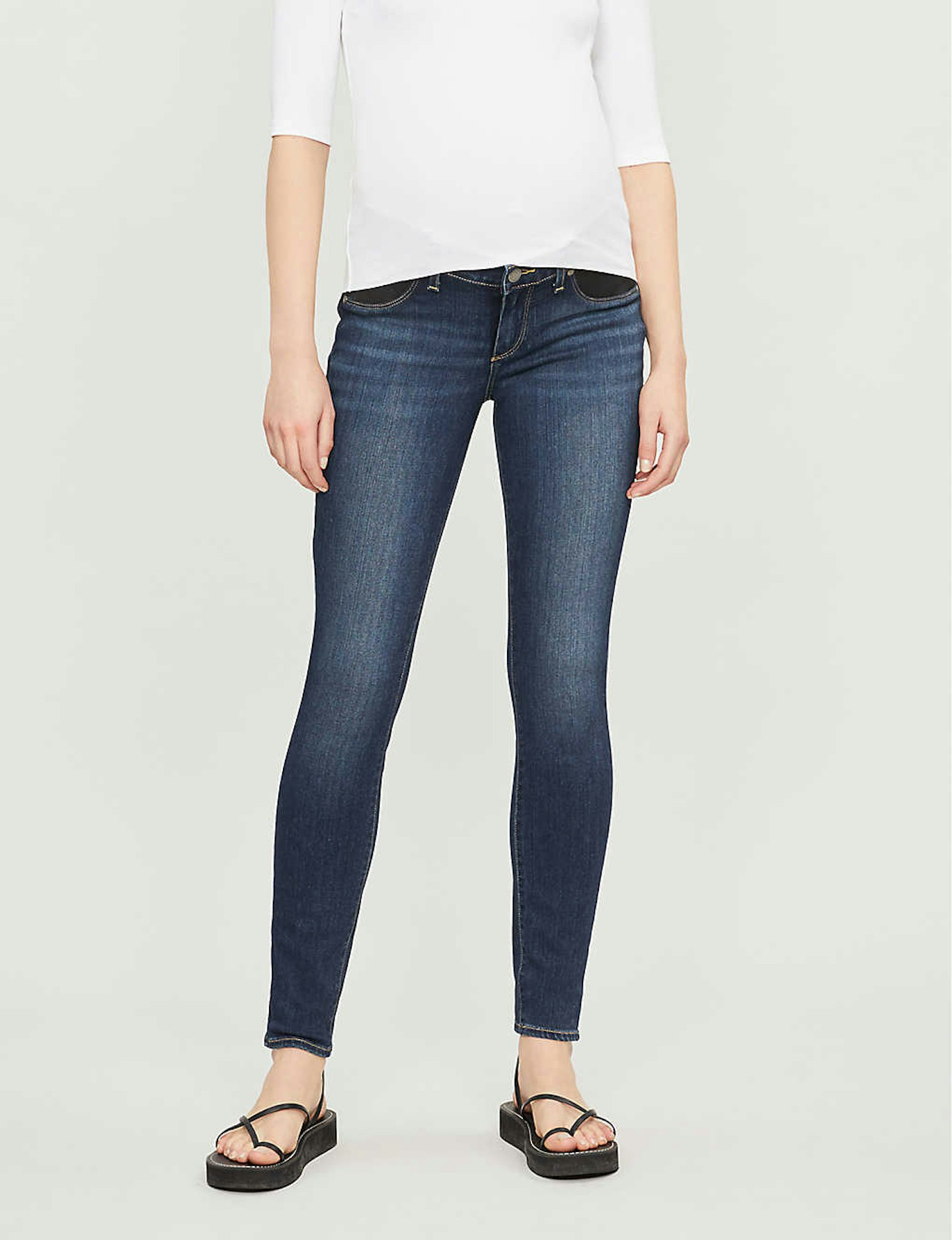 3 of 12
CREDIT: selfridges
Paige, Verdugo Maternity Skinny Mid-Rise Jeans
Just because you're pregnant doesn't mean you can't pull off skinny jeans - and with these Paige Verdugo blue fade jeans, you can have a classic look for everyday wear.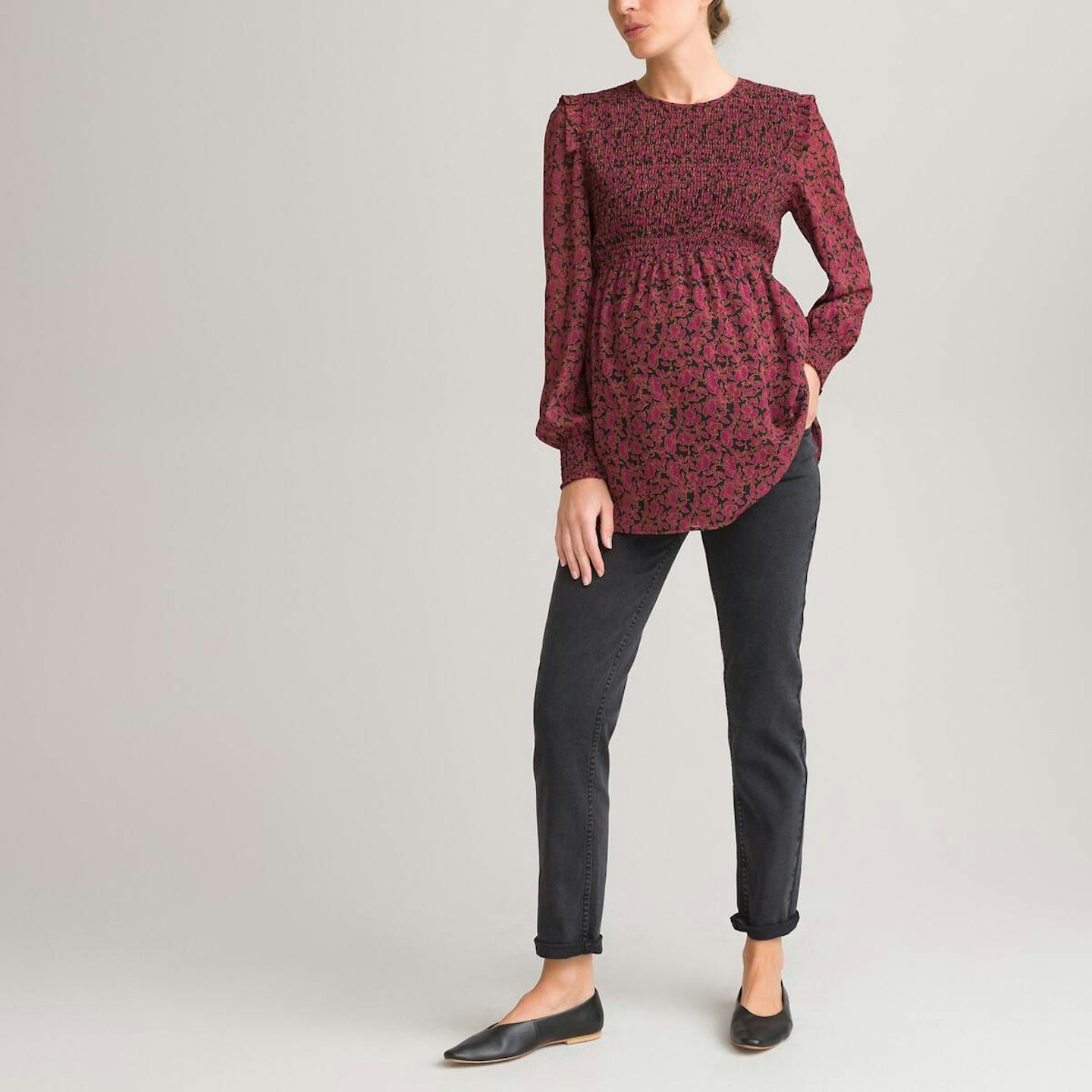 4 of 12
CREDIT: la redoute
La Redoute, Maternity Boyfriend Jeans in Organic Cotton and Mid Rise
Boyfriend jeans are some of the most comfortable choices in (and out of) pregnancy, so snap up a pair for those days when you want to throw on some jeans effortlessly.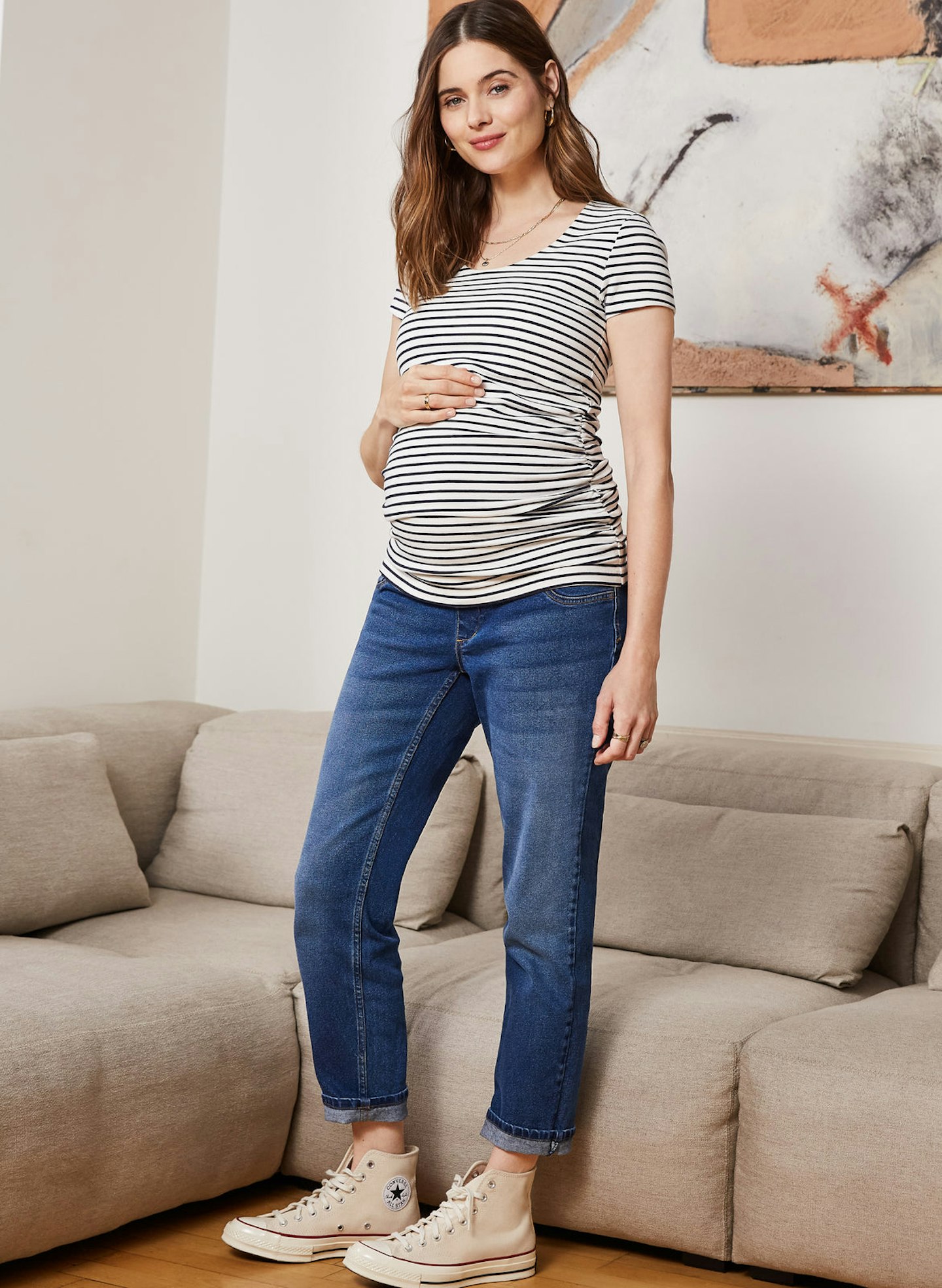 5 of 12
CREDIT: isabella oliver
Isabella Oliver, Over the bump Organic Maternity Boyfriend Jean
Not all maternity jeans cover the whole bump, so these Isabella Oliver boyfriend jeans make for a good choice no matter which trimester you're in.
6 of 12
CREDIT: m&s
M&S, Maternity Mom Tapered Jeans
These extreme-high waist jeans from M&S will keep your bump cosy on casual days, with a slouchy tapered leg.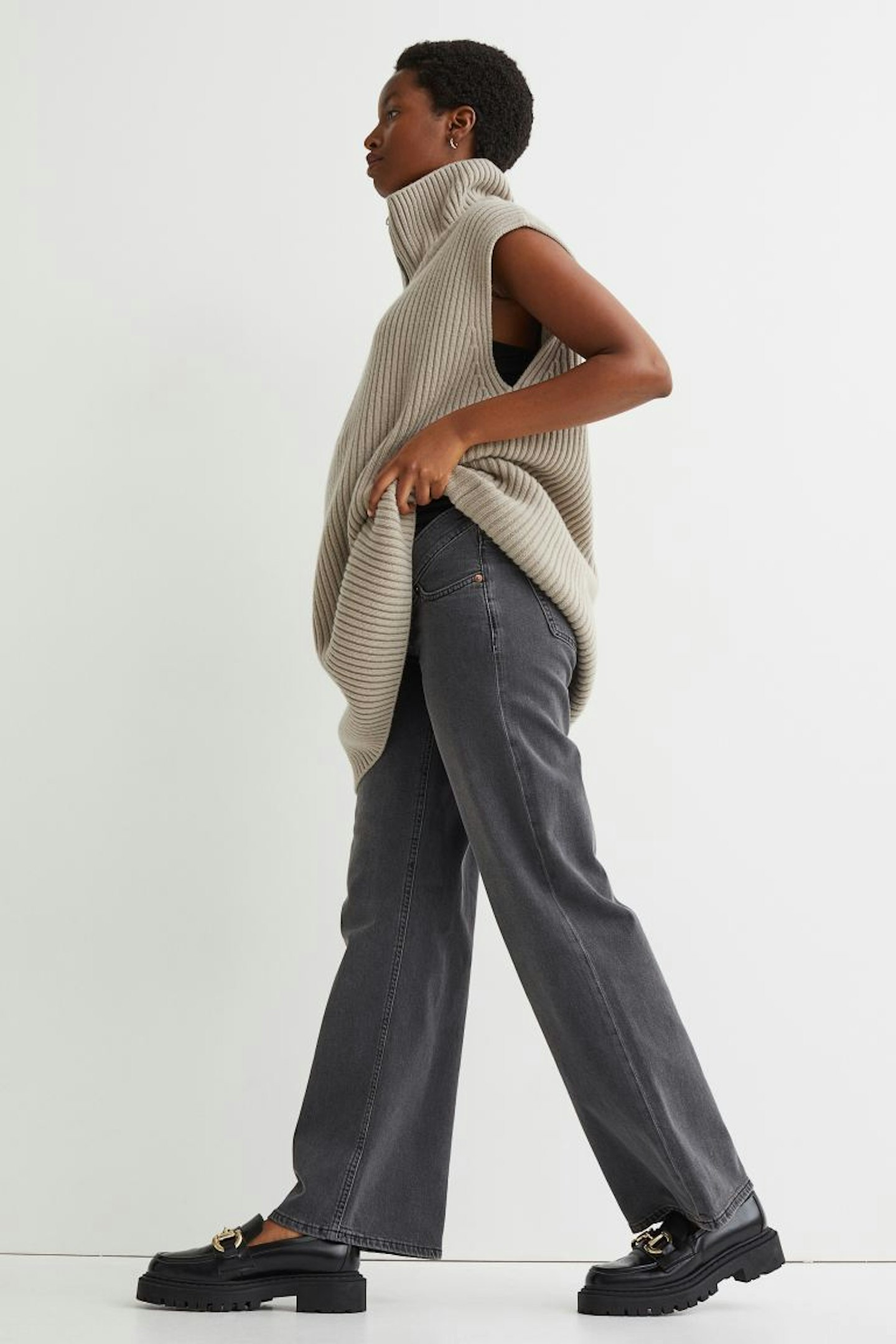 7 of 12
CREDIT: h&m
H&M, MAMA Wide High Jeans
Wide-leg jeans have been a huge trend throughout this year, so there's no reason you can't keep the style going when you're going through your pregnancy. H&M has a selection of wide jeans whether you want a washed grey choice or classic blue ripped.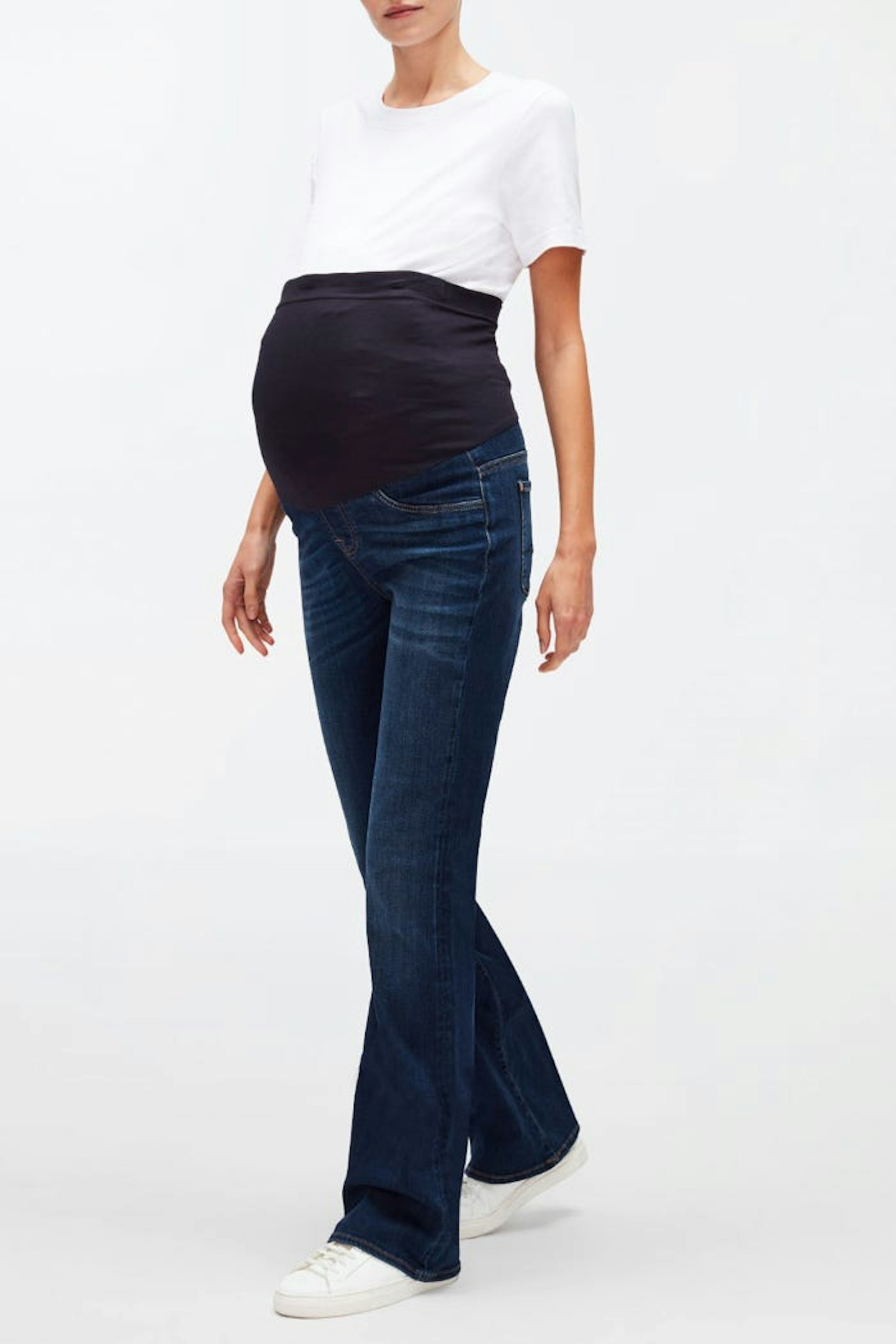 8 of 12
CREDIT: selfridges
7 For All Mankind, Maternity Slim Illusion Luxe Starlight Jeans
Bootcut jeans come in as a relaxed choice with a long leg and laidback fit. These 7 For All Mankind are an investment to choose from if you want high-quality jeans that will last.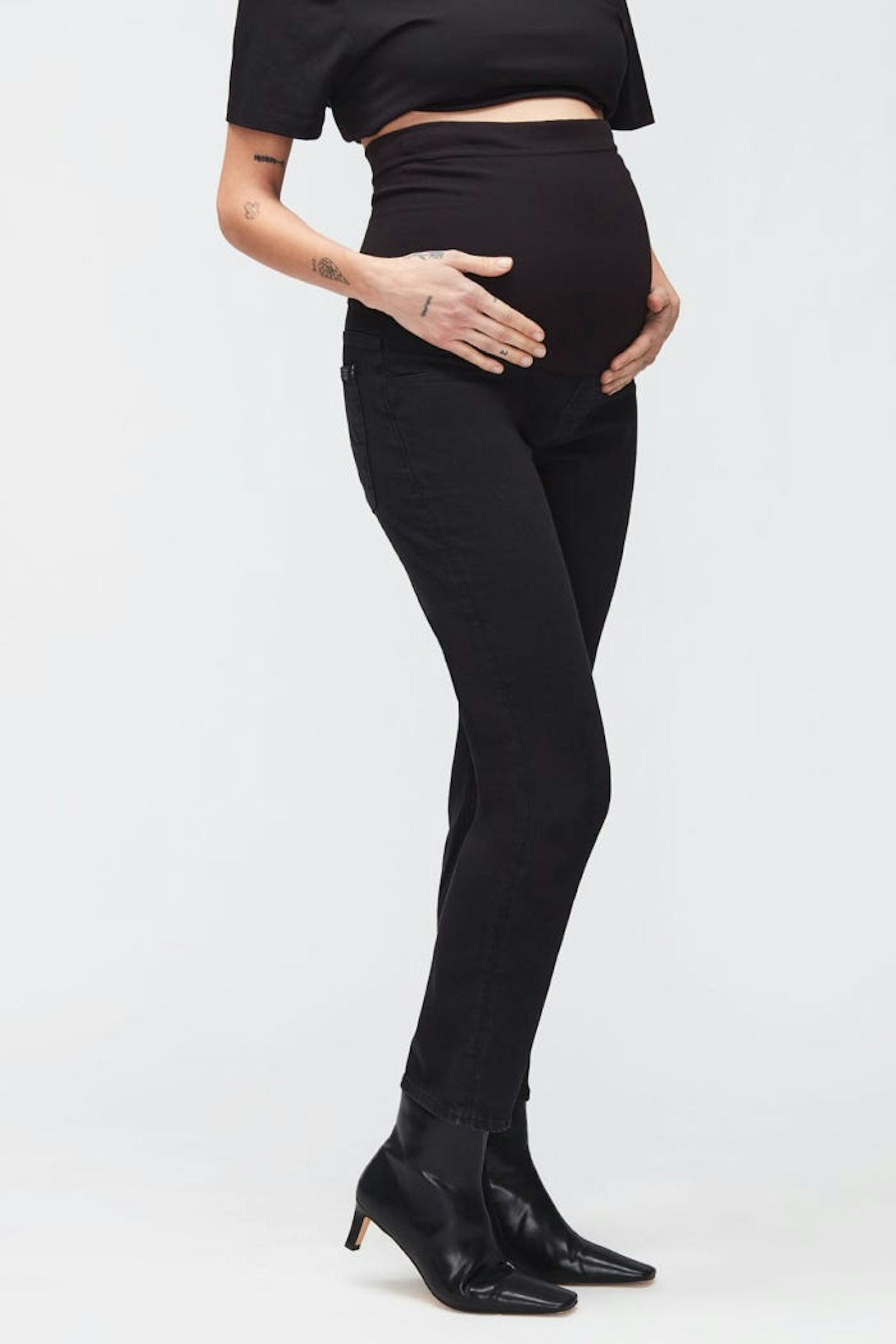 9 of 12
CREDIT: selfridges
7 For All Mankind, Slim Illusion Luxe Maternity Jeans Black
Your figure changes throughout your whole pregnancy, but you can keep up a slim figure with these illusion maternity jeans that enhance your shape in all the right places.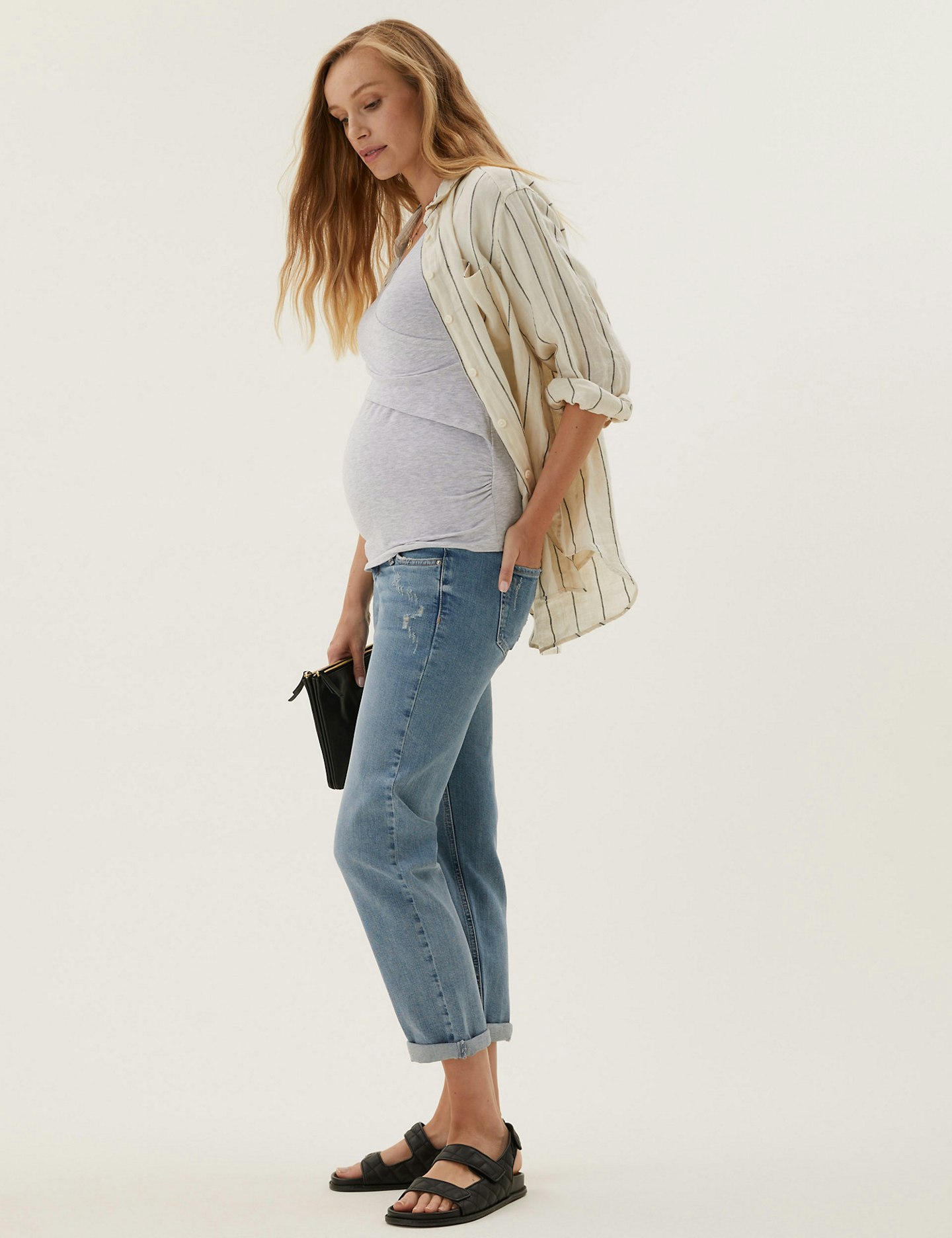 10 of 12
CREDIT: m&s
M&S, Maternity Boyfriend Jeans
Coming in short, regular and long sizes up to a UK 24, M&S has really hit the inclusive brief for their maternity jeans. And, they're a classic choice too.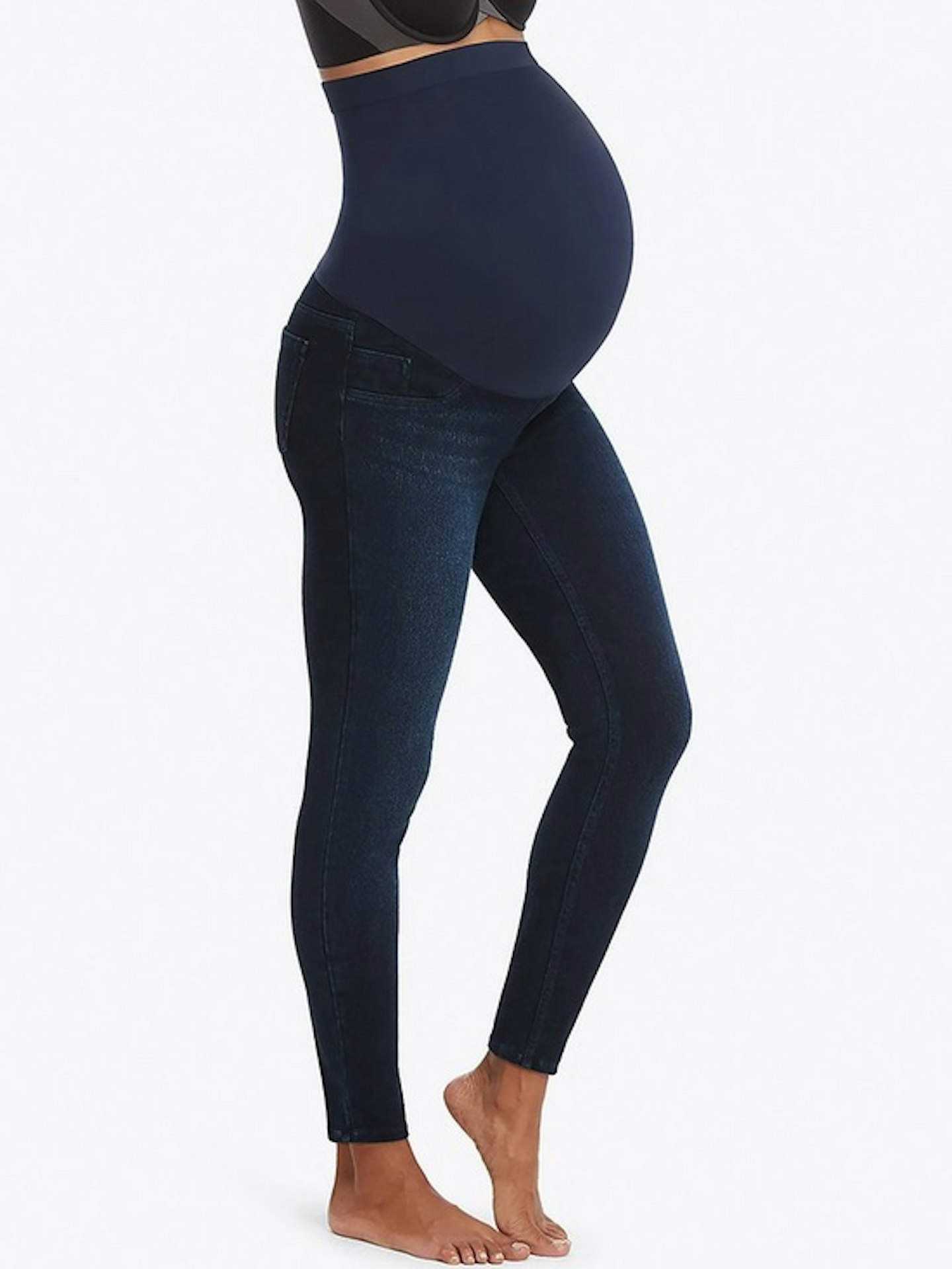 11 of 12
CREDIT: very
SPANX, Spanx Medium Control Mama Jean-ish Legging
Our favourite shapewear brand SPANX also has its hand in the maternity jeans pile, with some medium-control jeggings that will make you feel supported but still able to move around.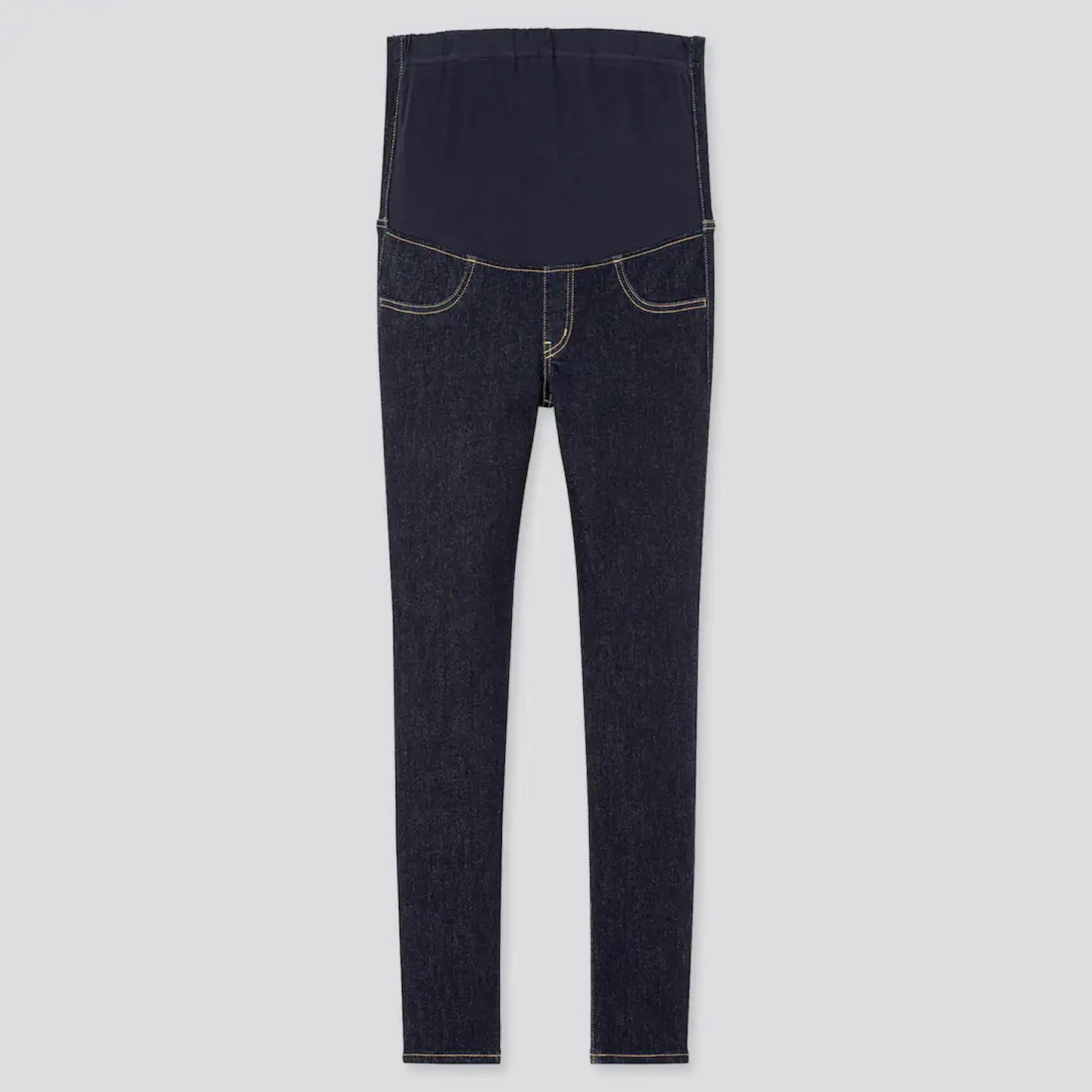 12 of 12
CREDIT: uniqlo
Uniqlo, Ultra Stretch Skinny Fit Long Maternity Jeans
Want your jeans to feel skin-tight? Uniqlo has an ultra-stretch skinny jean choice that is a popular choice for maternity ankle jeans.
Should You Wear Jeans That Go Over Or Under Your Bump?
If you've just started shopping for maternity jeans, two new phrases you'll pick up pretty quickly are 'over-the-bump' and 'under-the-bump'. 'Over-the-bump' means the jeans come with an elasticated band that goes over your belly and sits under your boobs. This is designed to support the bump and give you a more streamlined silhouette. 'Under-the-bump' means it's low-waisted and stops beneath your stomach.
This season's loose-fitting, off-the-shoulder tops work well with under-the-bump denim – you can let your belly swing low without revealing too much. With more fitted tops, over-the-bump jean is wiser as it holds everything in slightly better. Ideally, invest in both if you can – you won't regret it.
Buy One Pair At A Time
Once you've found the perfect pair, it might be tempting to buy them in every colour, but hold off if you can and try to only buy one pair at a time. Styles will fit differently at various stages of your pregnancy, so wait and see how your bump develops before you decide which fit to buy.
Which Are The Best Maternity Jeans To Buy?
High-street denim is fantastically priced and comes in a variety of styles, so you don't have to spend big to get the look and fit you want. Jeans are a key wardrobe staple though, so if you do want to spend big, this is the item to do it on as the cost-per-wear makes it worthwhile. Pricier denim tends to wash better as well, which is a bonus.
Don't Worry About Which Size You Might Need
Even if you've been a size 10 all your life, maternity jeans fit differently so don't be afraid to go up or down a size as needed. In the later stages of pregnancy all sorts of changes can happen to your body, such as swollen ankles and water retention, which can seriously mess with your sizing, so just ignore the label and pick a pair you can actually sit and eat in – you'll want to do a lot more of that as you get further along.
When To Wear Maternity Jeans?
This completely depends on your own comfort. On average, most women tend to switch to larger clothes or maternity styles when they're around four or five months pregnant. But every woman is different – if you feel like your pre-pregnancy jeans are feeling uncomfortable at any point, then definitely start looking for your new maternity jeans.
How To Make Maternity Jeans Stay Up?
The best way to ensure your pregnancy jeans stay where they are is to invest in an over-the-bump pair. Alternatively, you can buy separate cotton bands that you put around your waistband to help keep your clothes in place while also hiding the elasticated waist.
Can Maternity Jeans Be Reused?
Of course! If you really like the style of jeans, take them to a tailor and ask for them to be fitted to your post-pregnancy size. If this isn't possible, you could always make the most of them in the first few months after giving birth or, if you don't think you'll need them again in the future, donate them to your local charity shop.
How should maternity jeans fit?
They should feel secure but not in any way like they're putting pressure on you. Whether you opt for an over- or under-bump, you should feel that your maternity jeans aren't going to fall down but that they also have a fair amount of stretch. You'll hopefully find them to be much more comfortable than regular jeans.