This guide took me to 34 weeks pregnant, no problem. Then, a heatwave struck and all bets were off. Sparing you the details of that, however, for other, non-heatwave times, this is everything I've learned about getting dressed over the last eight months....
Waistbands are Satan's work
I was eight weeks pregnant the first time I had to undo the waistband of some fairly smart black trousers just to sit down on the sofa. By the time I was 14 weeks pregnant, only one pair of my jeans fit with the aid of an elastic hair bobble and the thought of anything tight around my middle made me want to rip off my own skin. So, scope out maternity jeans, leggings, dungarees or jumpsuits with a generous waist. Chances are, your tops and dresses will see you through quite a lot of your pregnancy, but accept that your favorite jeans might well be getting zipped up into that big white zippy IKEA clothes storage thing on the top of your wardrobe for the time being.
Another note on jeans…
A wise (short) pregnant woman once told me that skinny jeans were the only thing she could wear when pregnant, because they balanced out how big her normally tiny top half had become with a bump. But I decided to ignore that sage piece of advice and buy some cropped kick flare maternity jeans from Toppers, and reader I couldn't have been happier. They look fine with trainers and flat sandals, and fashion-y enough that you can put low heels and a nice top on with them for something dressier, without feeling like a pregnant Atomic Kitten on a night out circa 2002. Admittedly they did get a bit tight towards the end – I tried to practice birthing positions in them in my NCT class and nearly passed out , so a pair of skinnies might have had a bit more stretch at this crucial juncture.
But my point is, don't eschew a slightly more fashion-forward jean shape just because you feel like this is the time to be practical. If they fit well and are flattering (take an honest mate along to check) then go for it. You'll probably wear these jeans more then anything else in the next nine months you might as well like them.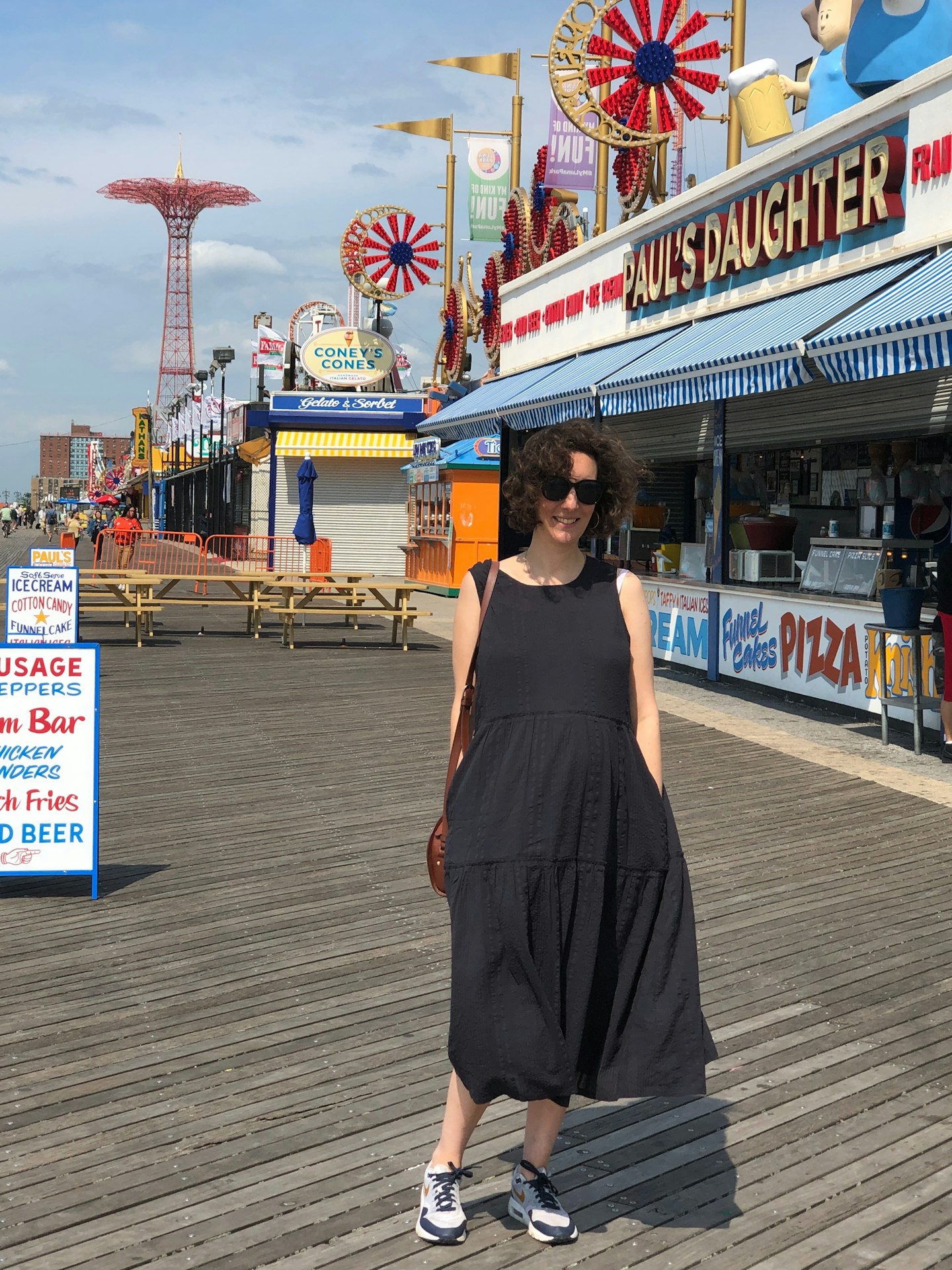 & Other Stories dresses will see you through most things
I was lucky insofar as I already had quite a dangerous & Other Stories habit before I fell pregnant, and most of the generously cut, long-sleeved floral dresses I bought last year still fit me when I was heavily pregnant. Admittedly, I looked quite a lot like Margot from The Good Life (look it up, kids), but when your belly button looks like the result of a terrible science experiment, you don't really care.
Your holiday wardrobe will suddenly come into its own
All those oversized kaftans, floating 70s style tops and chic beach coverups you thought would make you look like a Chloé girl? They were wasted on that girls' trip to Mykonos, mate. Not only are they now acceptable in the city, they're acceptable in the office (ok, my office is Grazia, but still). Chuck 'em on with your maternity jeans and a pair of Birkenstocks (you'll really care about shoes you don't have to lace up once you're past 30 weeks) and you're good to go. Actually, when it comes to tops, anything you've got that's relatively long on your torso (i.e. below your hips) should see you through most of the pregnancy. I just switched out a couple of my medium-sized Uniqlo jumpers for a couple of sizes up and they didn't strain too much.
But you do need maternity pajamas
There's nothing quite like the panic you feel when you wake up in the night at 16 weeks pregnant and have to rip your pyjama bottoms off because you can't breathe. ASOS do some nice, inexpensive maternity pajama sets that I'll definitely keep wearing afterwards.
The Topshop website filters are your friend
I hadn't actually been to Topshop for about three years before becoming pregnant, but it's one of the only places where I bought IRL pregnancy clothes - including a midi-length leopard print maternity pencil skirt that sounds wildly impractical but has became one of the most-worn items in my wardrobe. It also has some big markdowns in maternity clothes in the sale, including a couple of £8 blouses I bought on a whim and wore loads. Just filter by maternity, sort by price, and browse away, safe in the knowledge that nothing you're looking at will accidentally cut the blood off to your calves.
'Invest' in something really nice that you'll wear all the time
Lots of people told me that when they were pregnant they only bought the cheapest possible clothes, as they'd only be using them for a few months. I can understand the temptation but actually, there's something to be said for spending a bit of money on something you love at the start of your pregnancy that you know you'll be able to wear throughout (and after). For my birthday, I asked my friends to club together and buy me a chunky knitted cardigan from Maje that I'd been eyeing up for six months, and had finally made it into the sale.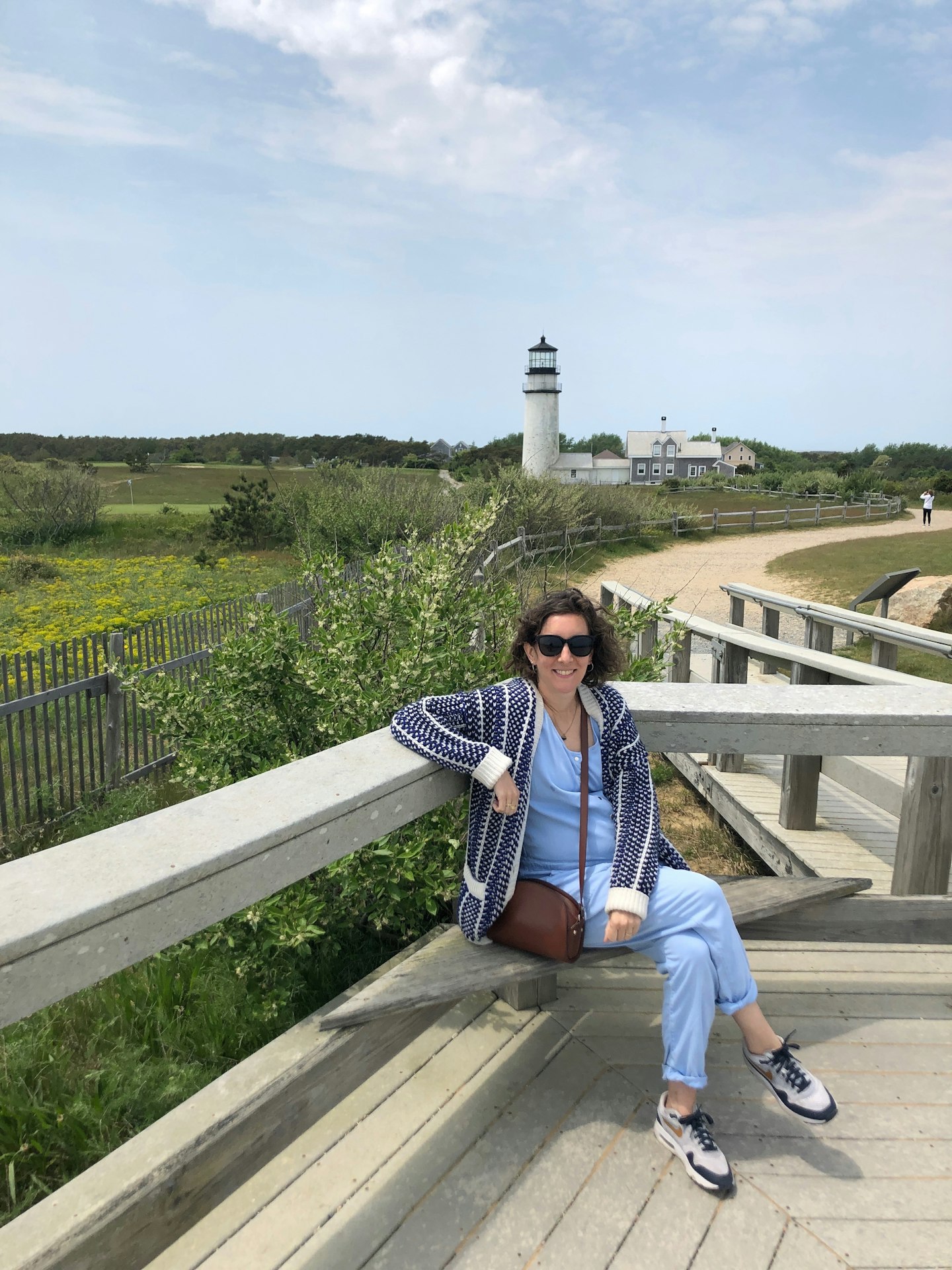 I hadn't told anyone I was pregnant at that point, so had to convince them that the brand definitely came up small so they should get me a size up. I wore said cardigan as a coat, used it as a blanket to snooze under on the train during a badly timed bout of commuter morning sickness; it's been on planes and long car journeys with me and it was the only thing I could chuck on over my dungarees, a big dress, jeans, or a jumpsuit and make all of them instantly look better. It's also insanely comfortable, even when I'm feeling at my most out of sorts and irritable. Equally, people frequently comment on how much they like it, which is exactly when you want to hear when your boobs are leaking and your ankles are twice the size of your thighs.
You can dress like a parodic version of a pregnant woman and people will be really nice about it
I wore a lot of pie-crust collar blouses with my dungarees, which made me look like an insane, nightmarish kids TV presenter from the 1980s. However, the whole look made me feel really jolly (an adjective I had to use to describe myself while I was roughly the same shape and size as Santa) and other people kept being really nice about it. What i'm saying is, if you've got a secret alter-ego you've always fancied exploring with what can only be described as quite half-hearted cosplay, now's your time.
SHOP: The Maternity Clothes That Will See You Through 9 Months (And Beyond)
The Maternity Clothes That Will See You Through 9 Months (And Beyond)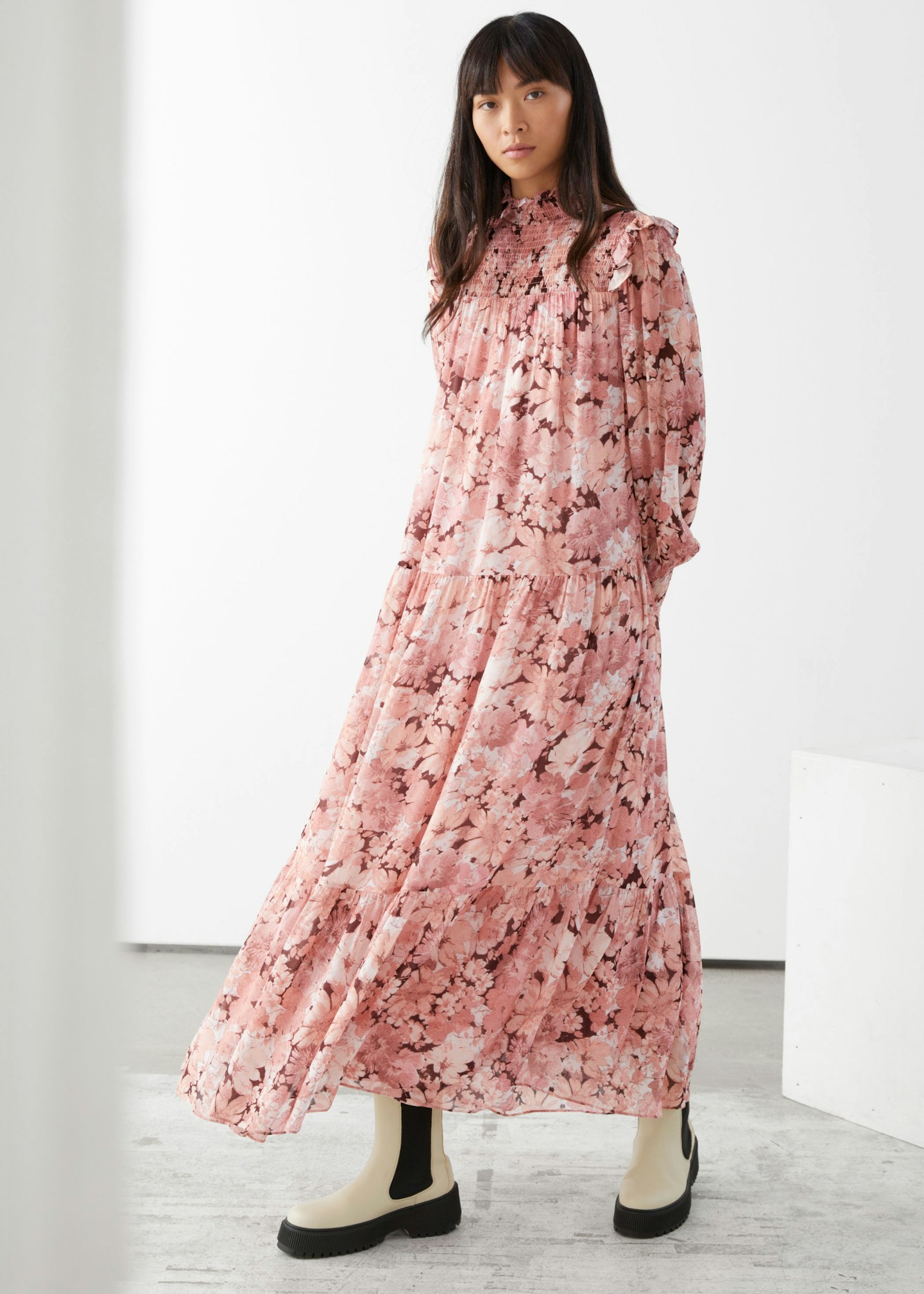 1 of 12
& Other Stories, Smocked Maxi Dress, £120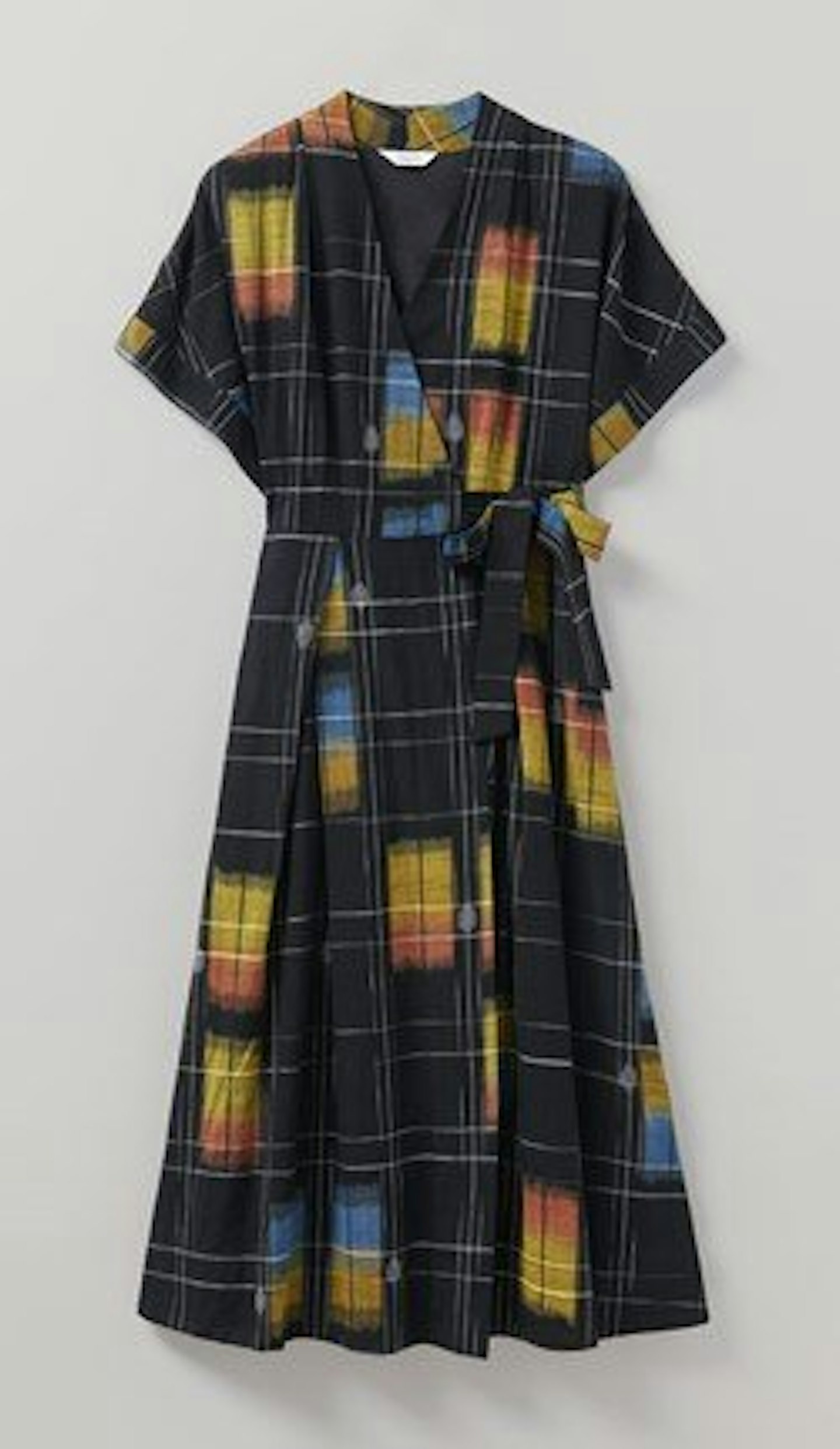 2 of 12
Toast, Forte Ikat Wrap Dress, £345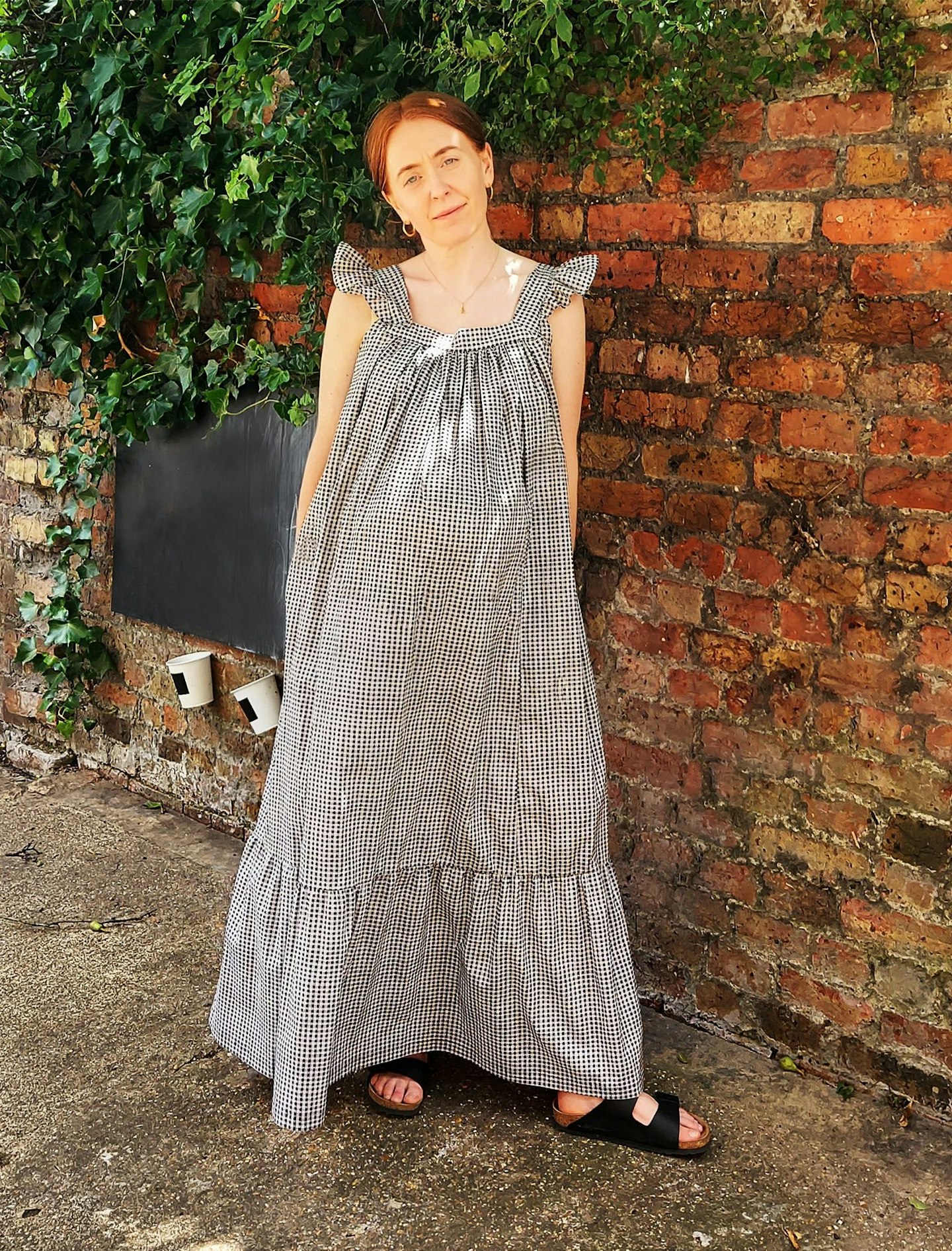 3 of 12
Breast Dressed, Airi Dress - Gingham, £100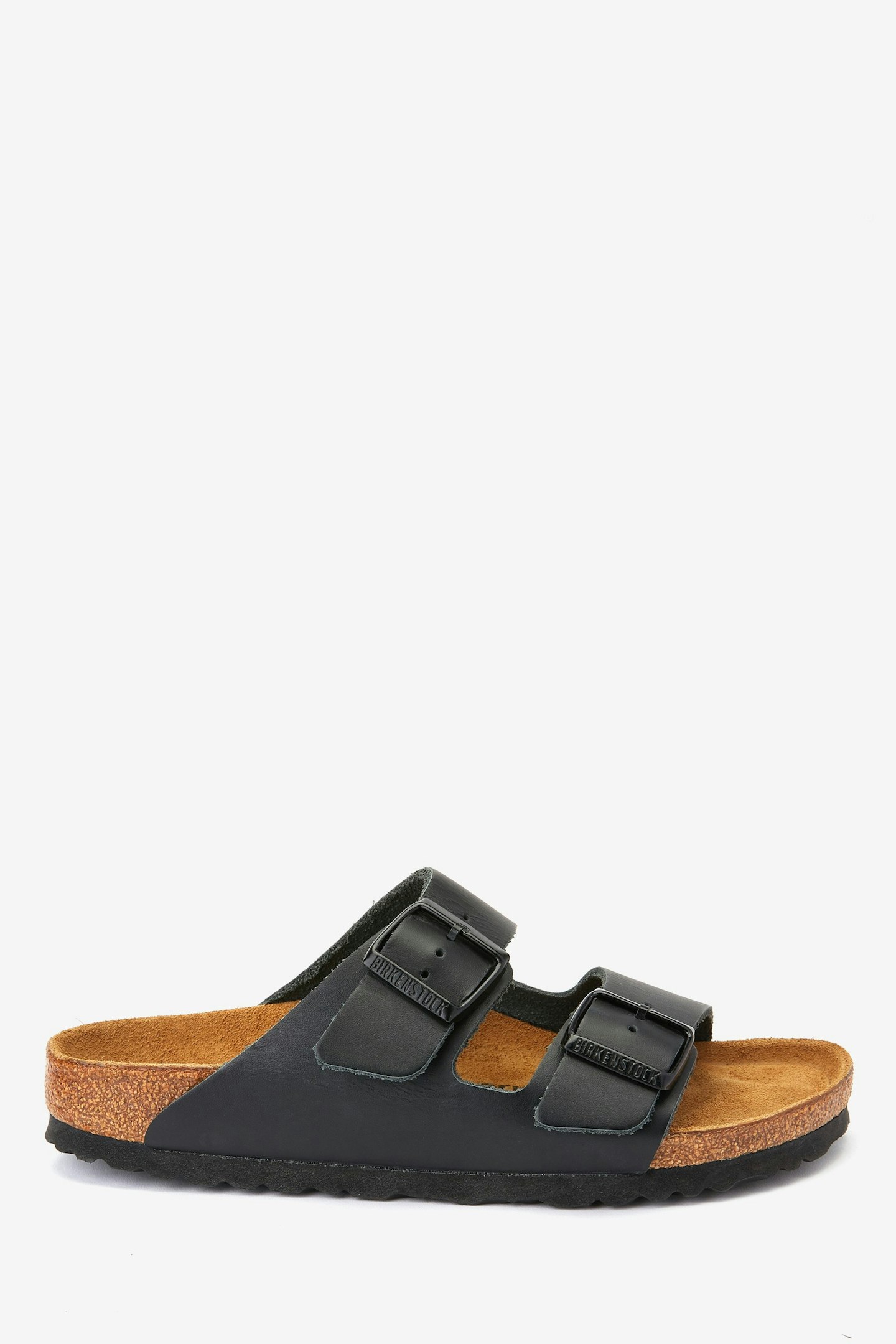 4 of 12
Birkenstock, Black Arizona Sandals, £60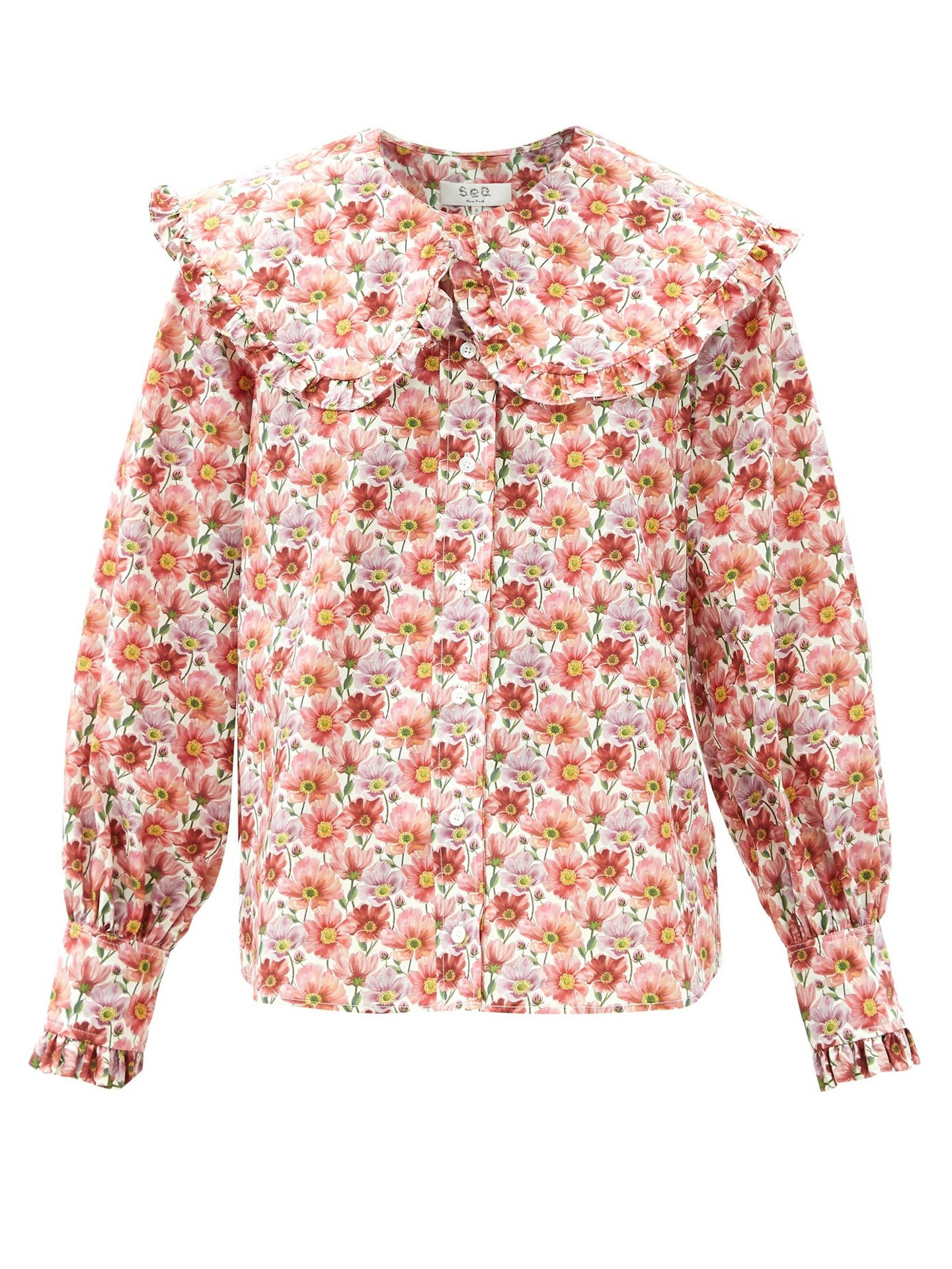 5 of 12
SEA, Leslie Peter Pan-collar cotton-poplin blouse, £425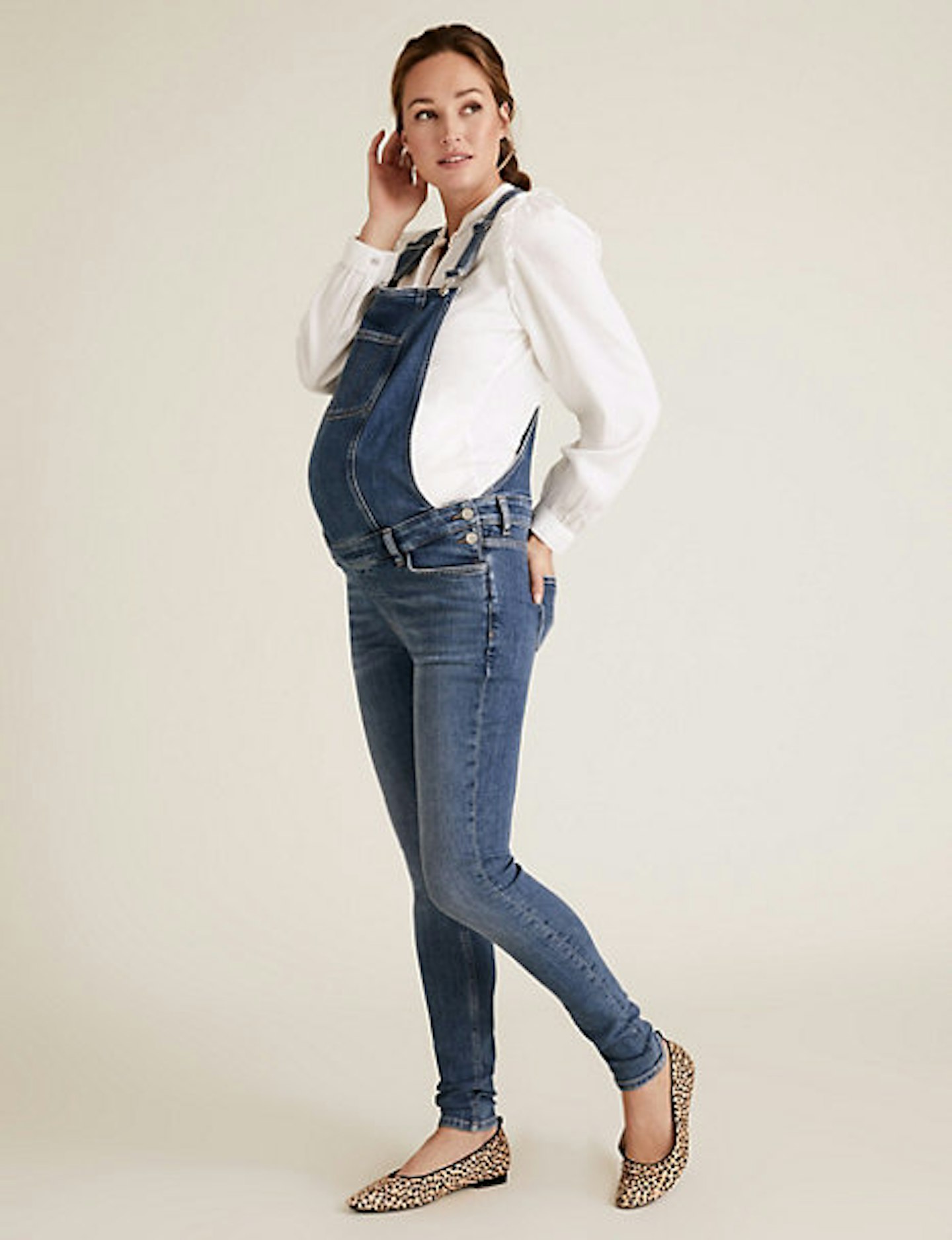 6 of 12
M&S, Maternity Slim Fit Dungarees, £45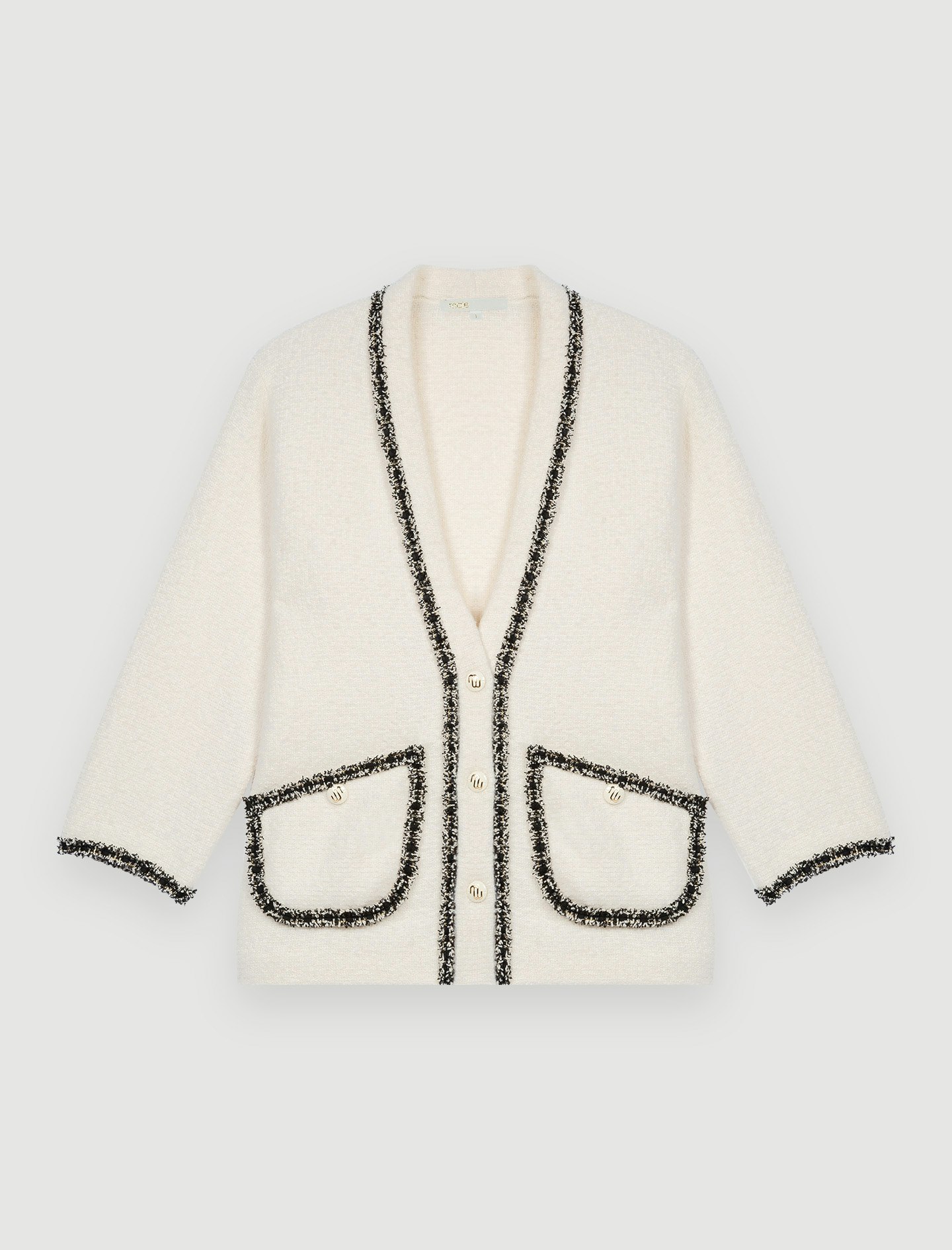 7 of 12
Maje, Contrast Tweed Cardigan, £349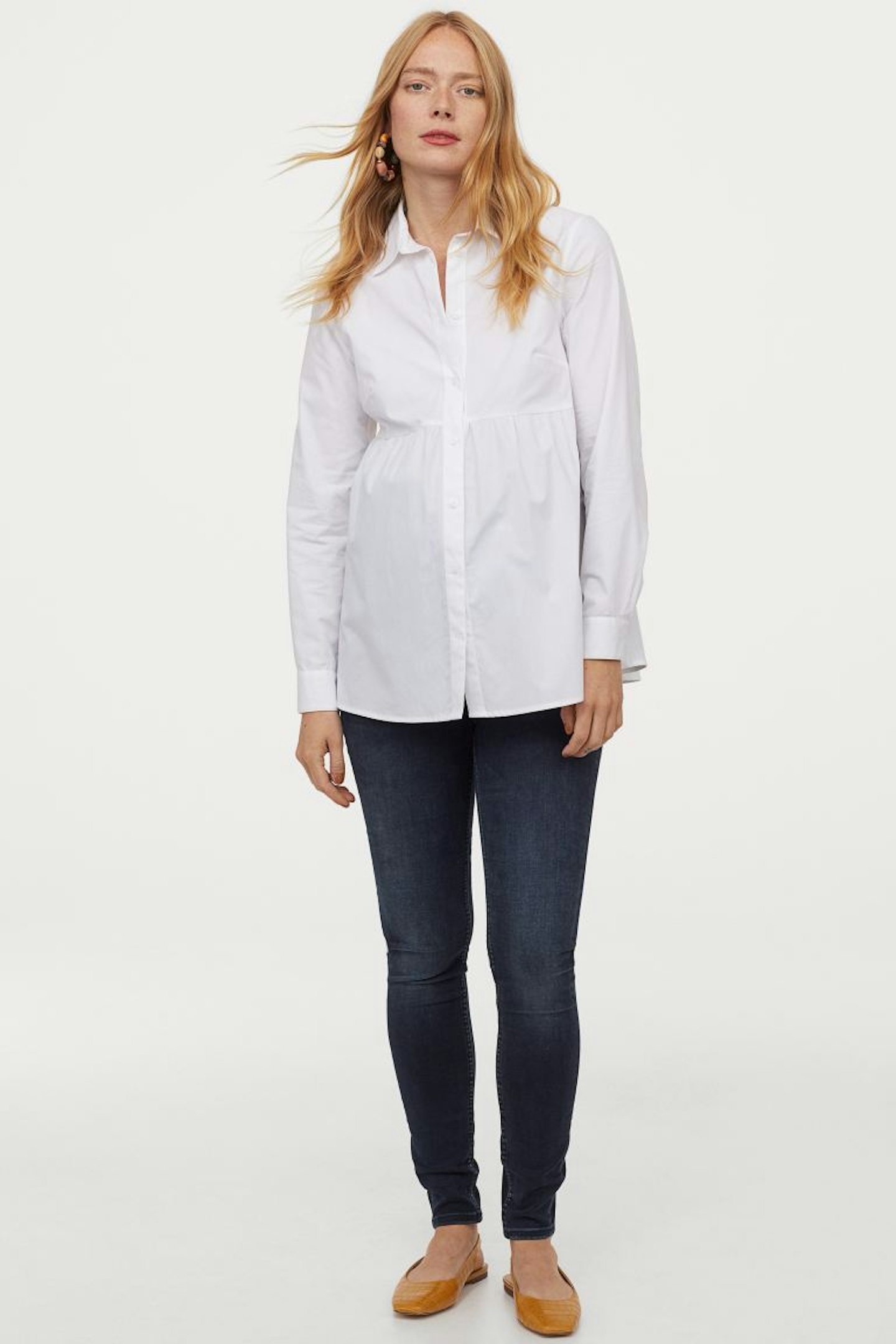 8 of 12
H&M, MAMA Super Skinny Jeans, £24.99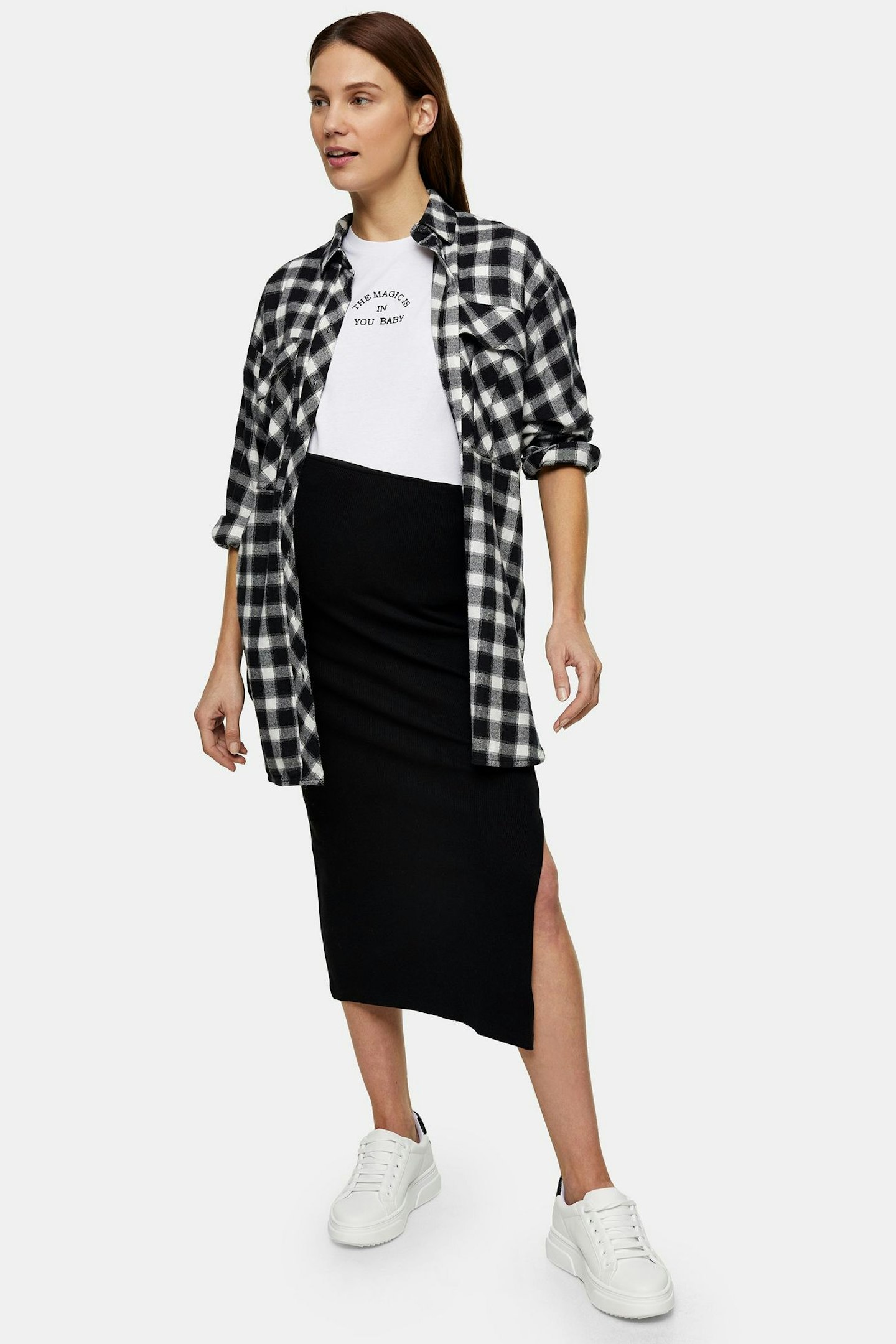 9 of 12
Topshop, MATERNITY Black Ribbed Midi Skirt, £13.99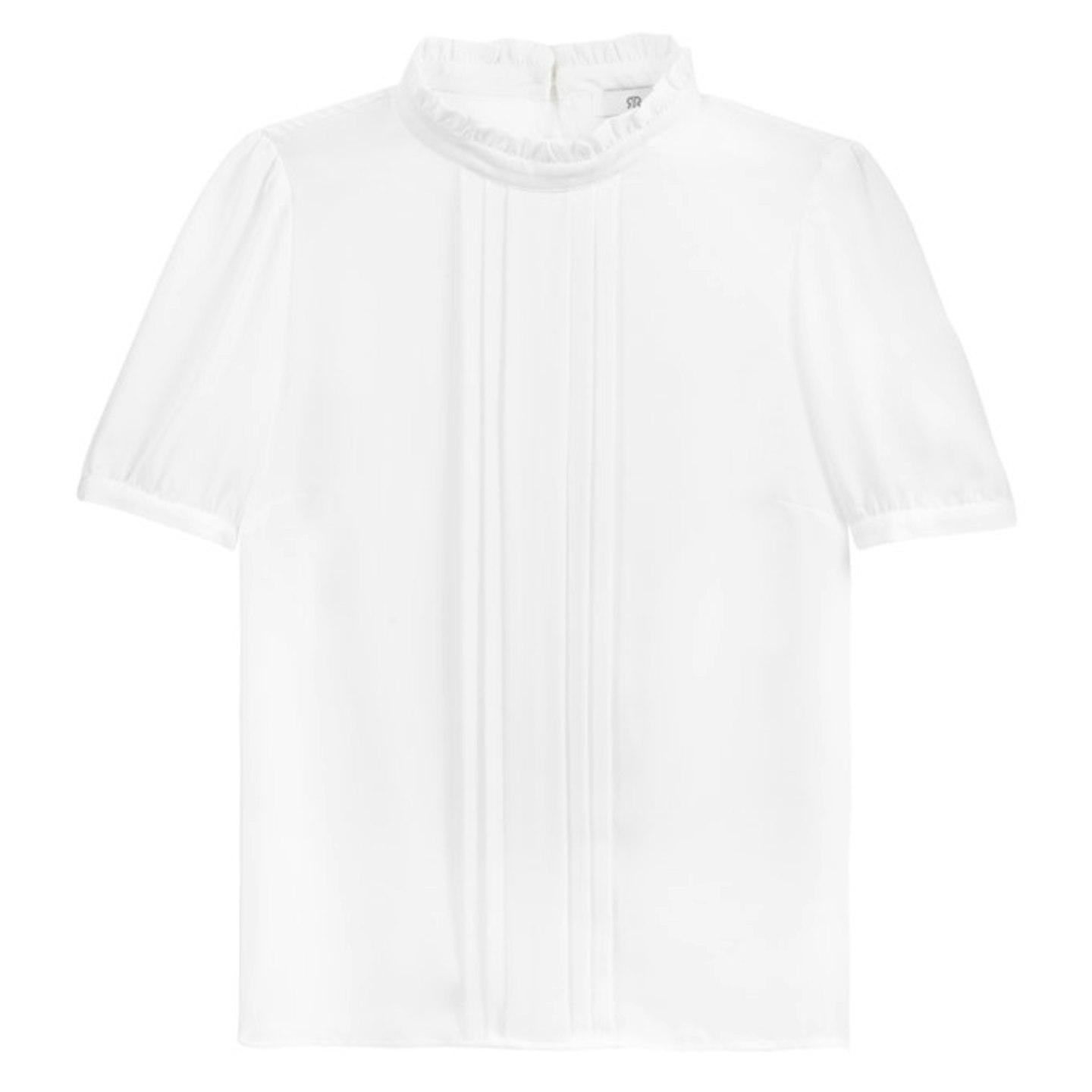 10 of 12
La Redoute, High Neck Pleated Blouse with Short Puff Sleeves, WAS £20 NOW £12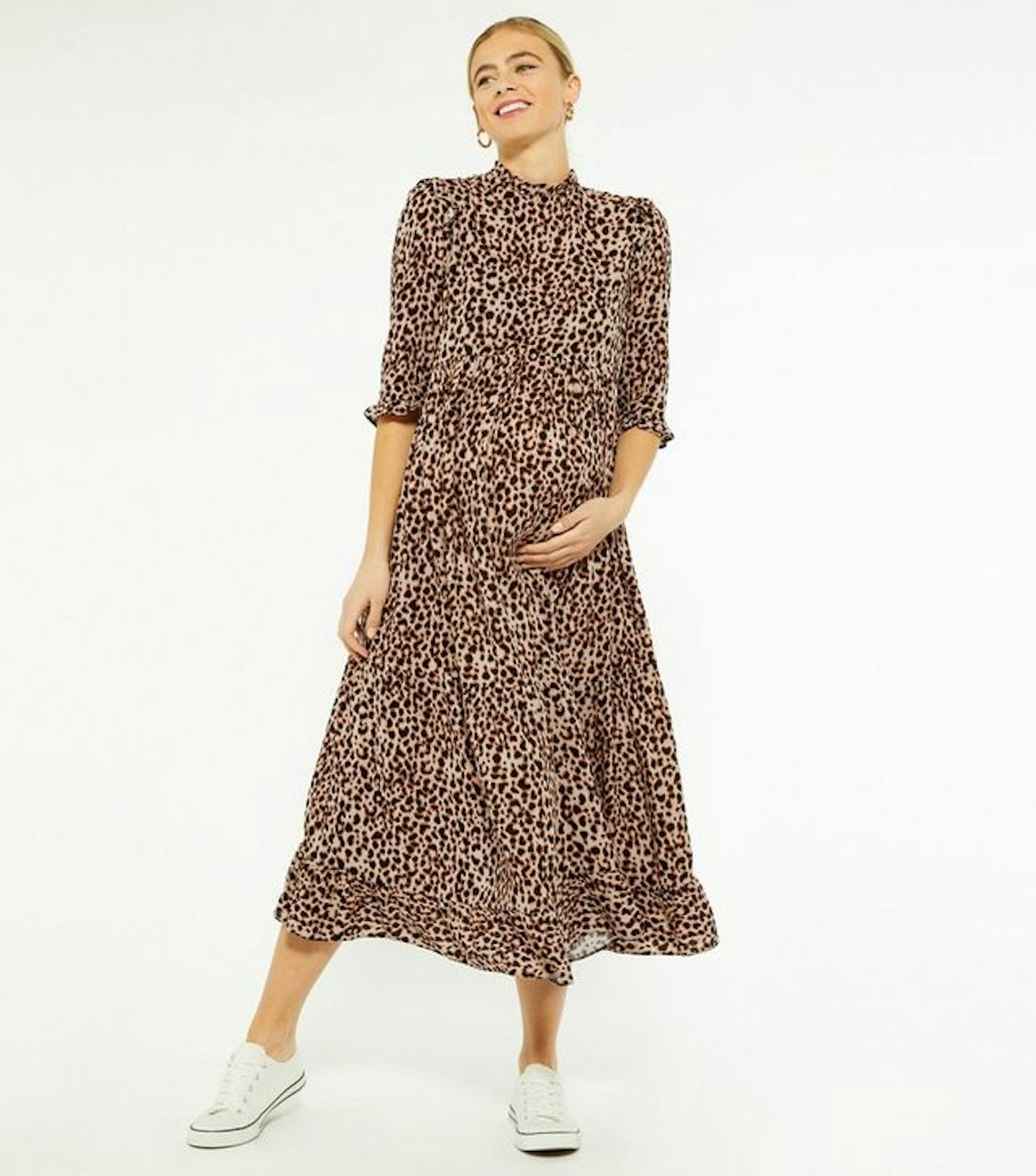 11 of 12
New Look, Maternity Brown Leopard Print Tiered Hem Midi Dress, WAS £27.99 NOW £16.79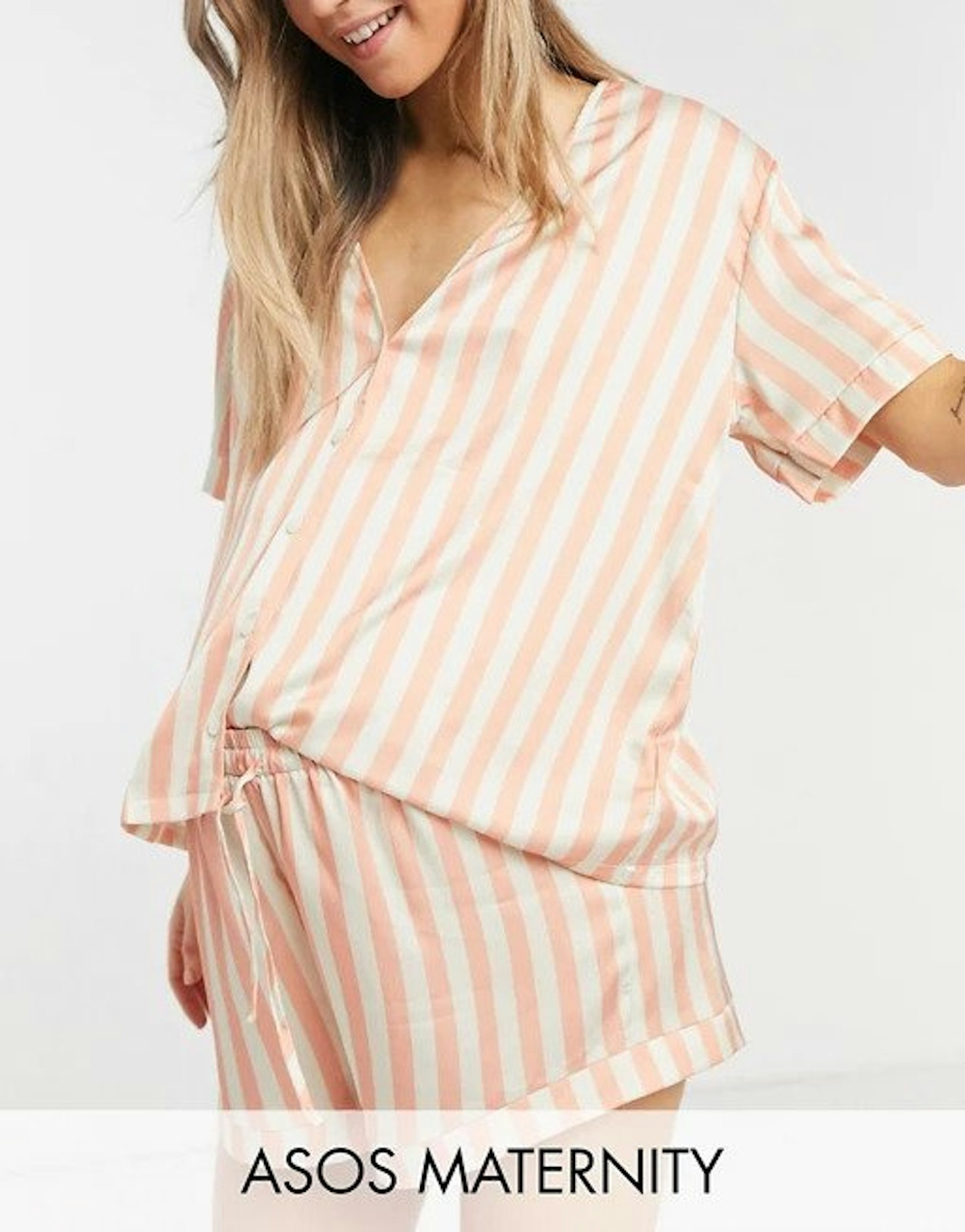 12 of 12
ASOS, Maternity stripe satin shirt & short pyjama set in peach, £26