God, no. That's my initial reaction to the question: can you wear white to a wedding? Not only is it the ultimate faux-pas, but, in my mind at least, borders on an extreme display of thunder-stealing that is never a good look.
I once wore a white dress that was somewhat bridal to a friend's 30th and that was enough to make me feel uncomfortable (I arrived bearing a bouquet of flowers that, in retrospect, might have to contributed to the problem.)
Anyway, the age-old argument has erupted once more because of a video that's doing the rounds on TikTok. It shows a woman standing outside what looks like a barn, who is confounded by the fact that not one, not two, but four people have turned up to the wedding she's also attending wearing white. Imagine!
But this the modern age, I hear you cry! No one has to take anyone's name if they don't want to (or you can amalgamate your names and both change them.) Both parents can walk you down the aisle (or neither). The bride can wear whatever shade they like. And also, from the wedding photos of a certain couple called Bennifer, it looks like the entire guest list wore white!
READ MORE: These Are The Wedding Guest Dresses You'll Want To Wear Again And Again
Isn't it projecting a kind of bridezilla-style mania onto the happy couple (but really just the bride) to assume that they'd spontaneously combust if one of their guests arrived in white? Or would they, in fact, be pretty annoyed - and rightly so? If you only get one wedding day and you want to wear white, surely it's ok to want to stand out? So, can you wear white to a wedding?
Grazia's head of fashion commerce, Hannah Banks-Walker, walked down the aisle in 2021. As a recent bride, what does she think about the 'wedding guest wearing white' debate?
'I know some people who are militant about this, refusing to wear even a soft pastel colour lest it be mistaken for white in certain lights or photographs. I don't feel that way – one of the most joyful things about my own wedding was seeing all of my favourite people in the most fabulous array of outfits. It's lovely to think that they'd dressed up for us, had selected something that made them feel good and expressed a certain thing about themselves.' No one did turn up in the white dress at her wedding but if they had done, she doesn't think she would have cared. 'A veil might have tipped it, though.'
Tansy Aspinall, co-founder of jewellery brand Tada & Toy, also tied the knot last year and takes a pragmatic approach to the question. 'It completely depends on who the bride is and whether they are traditional or not.' For her, wearing white to a church wedding is no no, but acceptable at a more unconventional venue. 'I wouldn't have minded if a guest had worn white to my wedding and wouldn't have read anything into it, although I personally haven't worn white to other people's weddings just because I haven't wanted to offend anyone.' Her parting advice is to just ask if you're worried. 'The best bet is just to ask the bride beforehand if you're not sure. You can probably gauge what the answer will be based on the person's taste and sense of tradition.'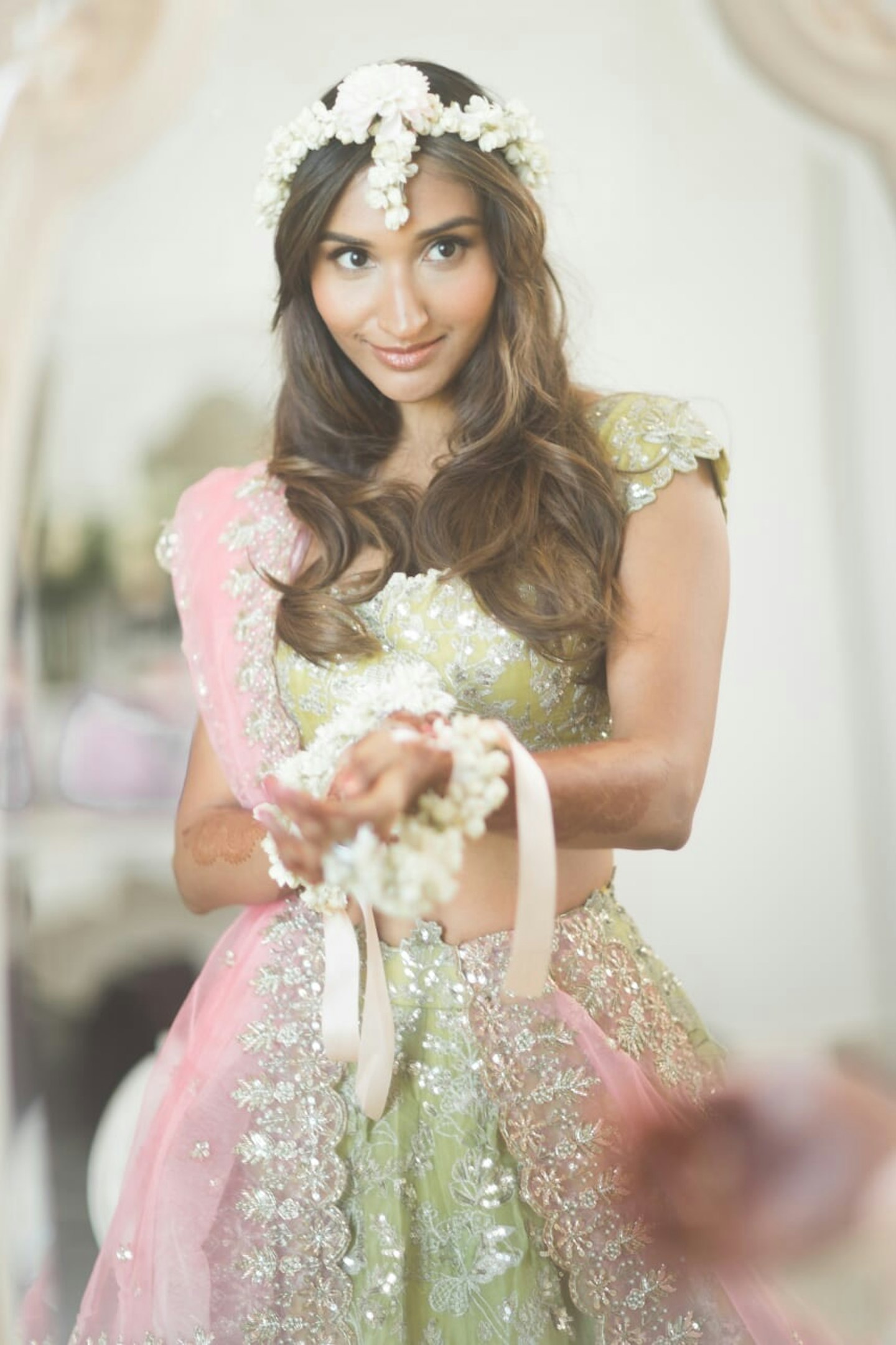 Eshita Kabra-Davies, founder of rental app By Rotation, has never worn white or any pale shade to someone else's nuptials - 'I wouldn't want to be the talk of the wedding for the wrong reason! - but at her own, it wouldn't have been considered a total faux-pas. 'Indian brides usually dress in red/burgundy according to tradition so it wouldn't be the oddest thing if a guest came dressed in white.'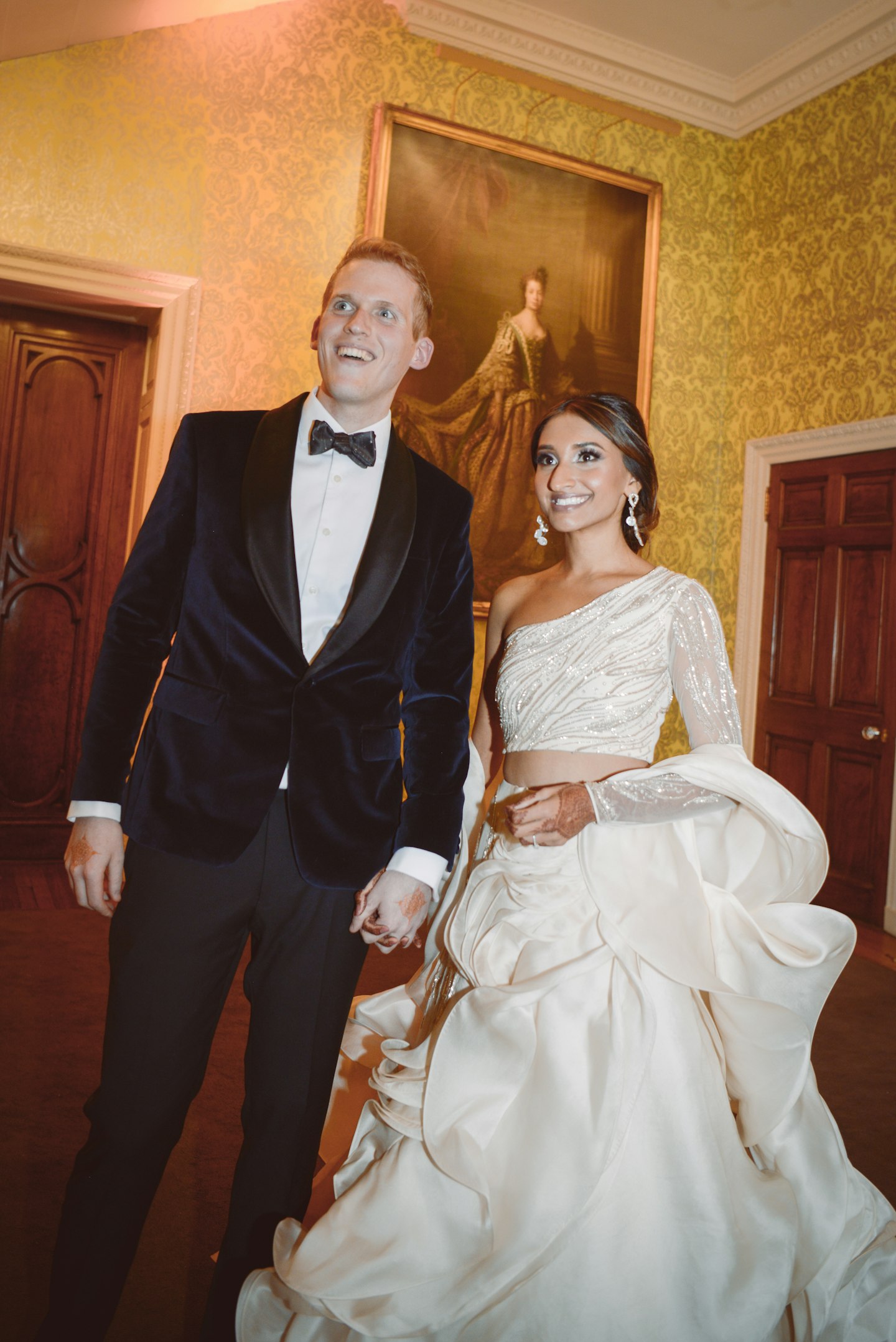 If you're undecided, it's probably wise, following advice from Aspinall, to just ask the couple getting married if they mind you wearing white. Having said that, if you have to ask, you've probably already got your answer (no, please and thank you). And of course, if the couple (like Bennifer) asks everyone to wear white then it's obviously advisable to follow their instructions. For anyone brave enough to give it whirl outside those circumstances, remember: white is one thing, a veil is non-negotiable.
SEE: The Best Celebrity Wedding Dresses Of All Time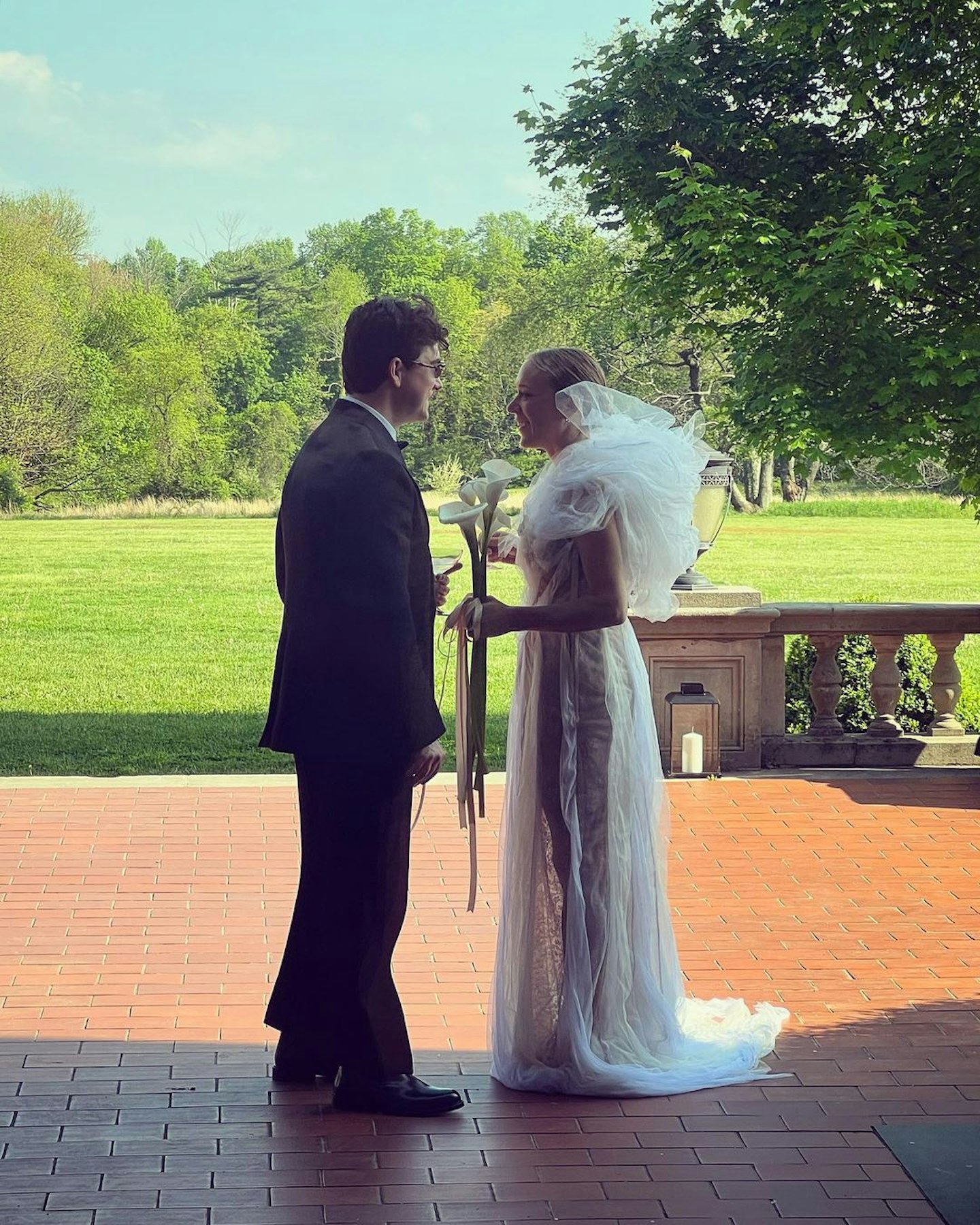 1 of 38
CREDIT: @derekblasberg
Chloë Sevigny
Chloë Sevigny said 'I do' in an ethereal white Jean Paul Gaultier haute couture gown designed by Glenn Martens as she wed husband Siniša Mačković (for the second time).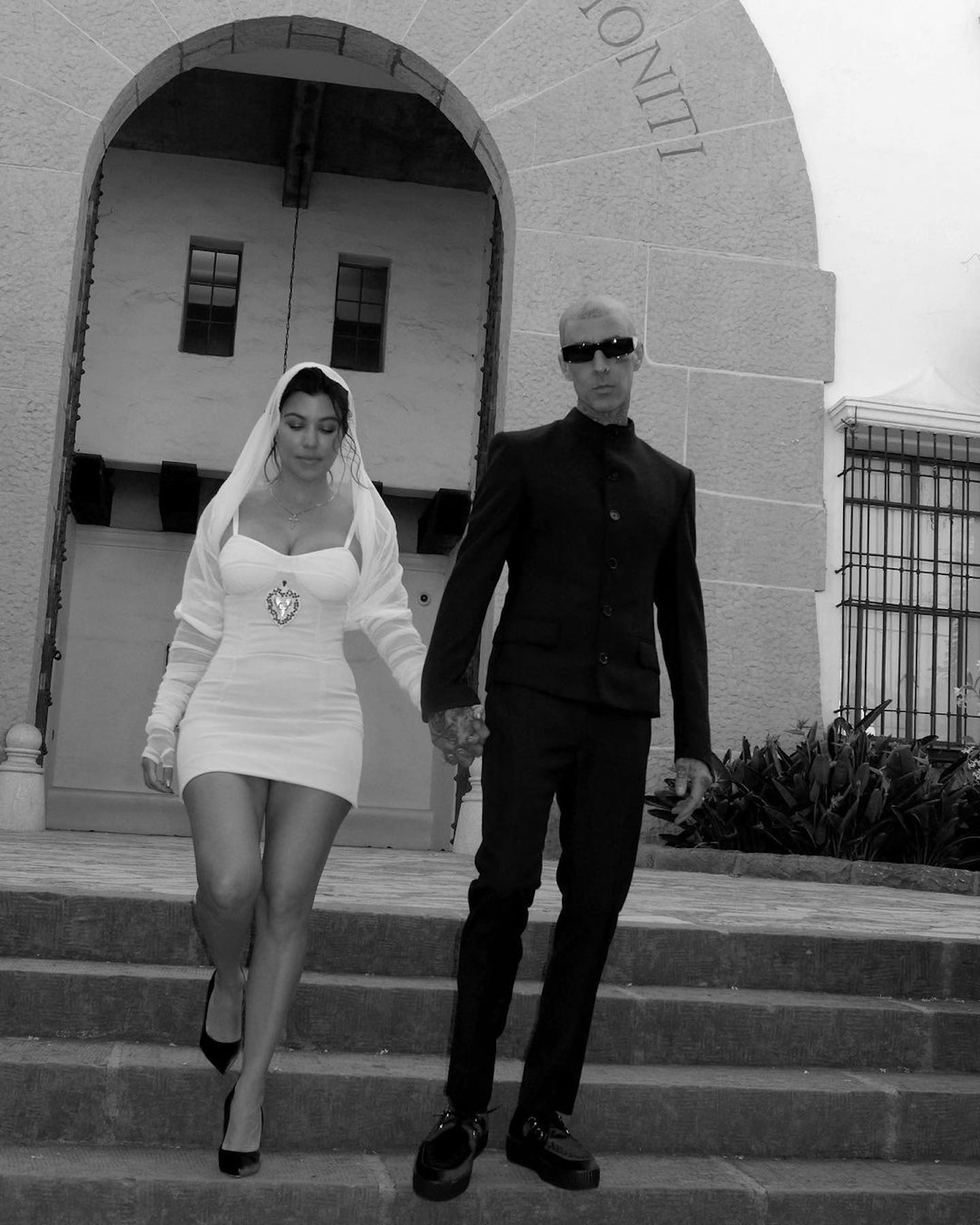 2 of 38
CREDIT: @kourtneykardash
Santa Barbara
For their low-key ceremony in Santa Barbara, which was attended by just two witnesses (his father and her maternal grandmother), Kardashian side-stepped a frou-frou frock for something infinitely more fun: a spaghetti-strapped minidress from Dolce & Gabbana. The mini's corset was embellished - rather appropriately - with a heart and she accessorised the look with a demure veil that was attached to a pair of sheer sleeves. Genius.
3 of 38
CREDIT: @dolceandgabbana
Lady Kitty Spencer
Lady Kitty Spencer wowed on her wedding weekend in not one but five dresses from Dolce & Gabbana. For the ceremony, it was high-necked, full-skirted and puff-sleeved affair that was inspired by two particular wedding dresses: her mother's and Grace Kelly's.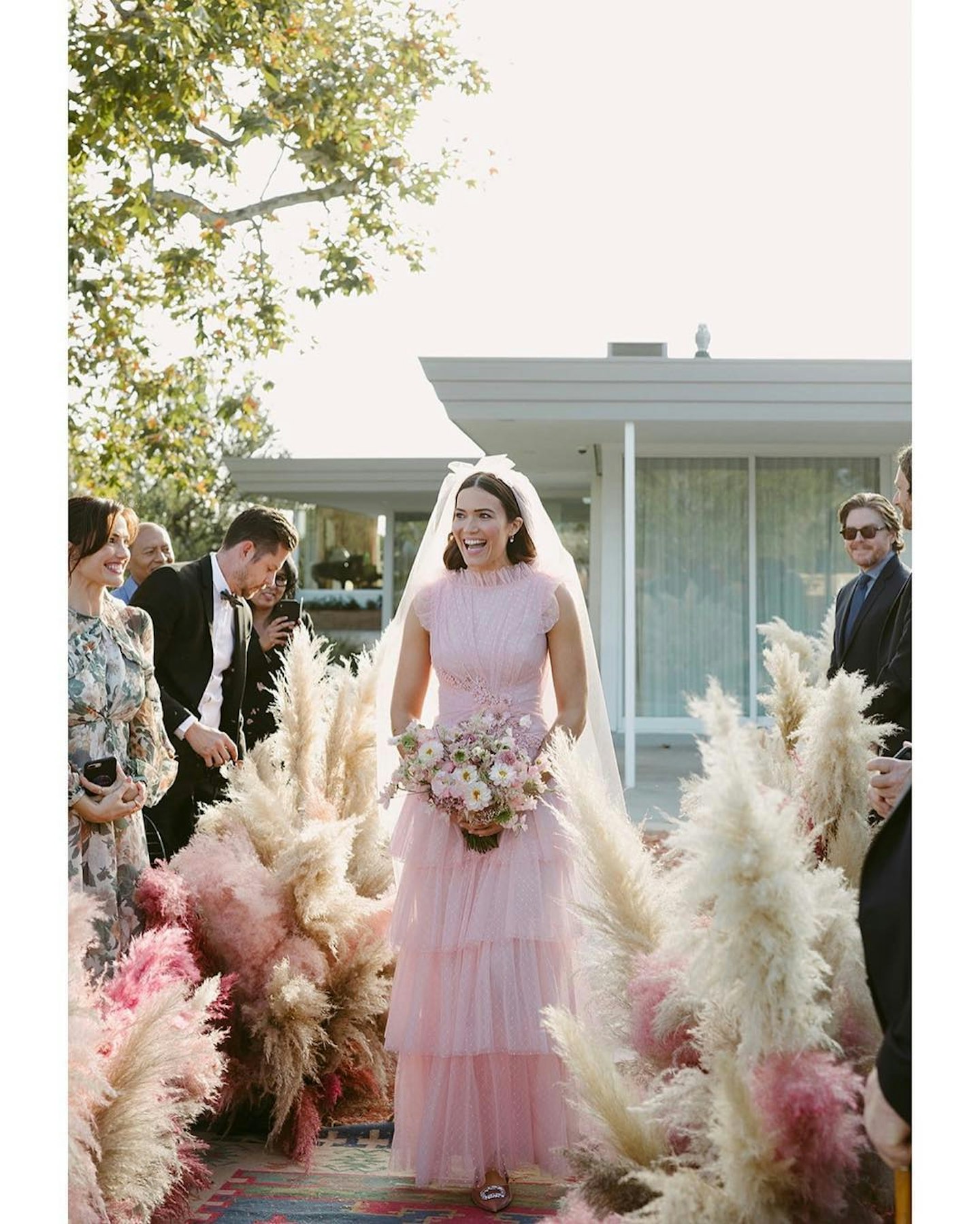 4 of 38
CREDIT: @mandymooremm
Mandy Moore
Mandy Moore wed musician Taylor Goldsmith in a stylish non-traditional extravaganza. The This Is Us star and the lead singer of folk-rock band Dawes exchanged vows in their backyard in a custom pink Rodarte gown.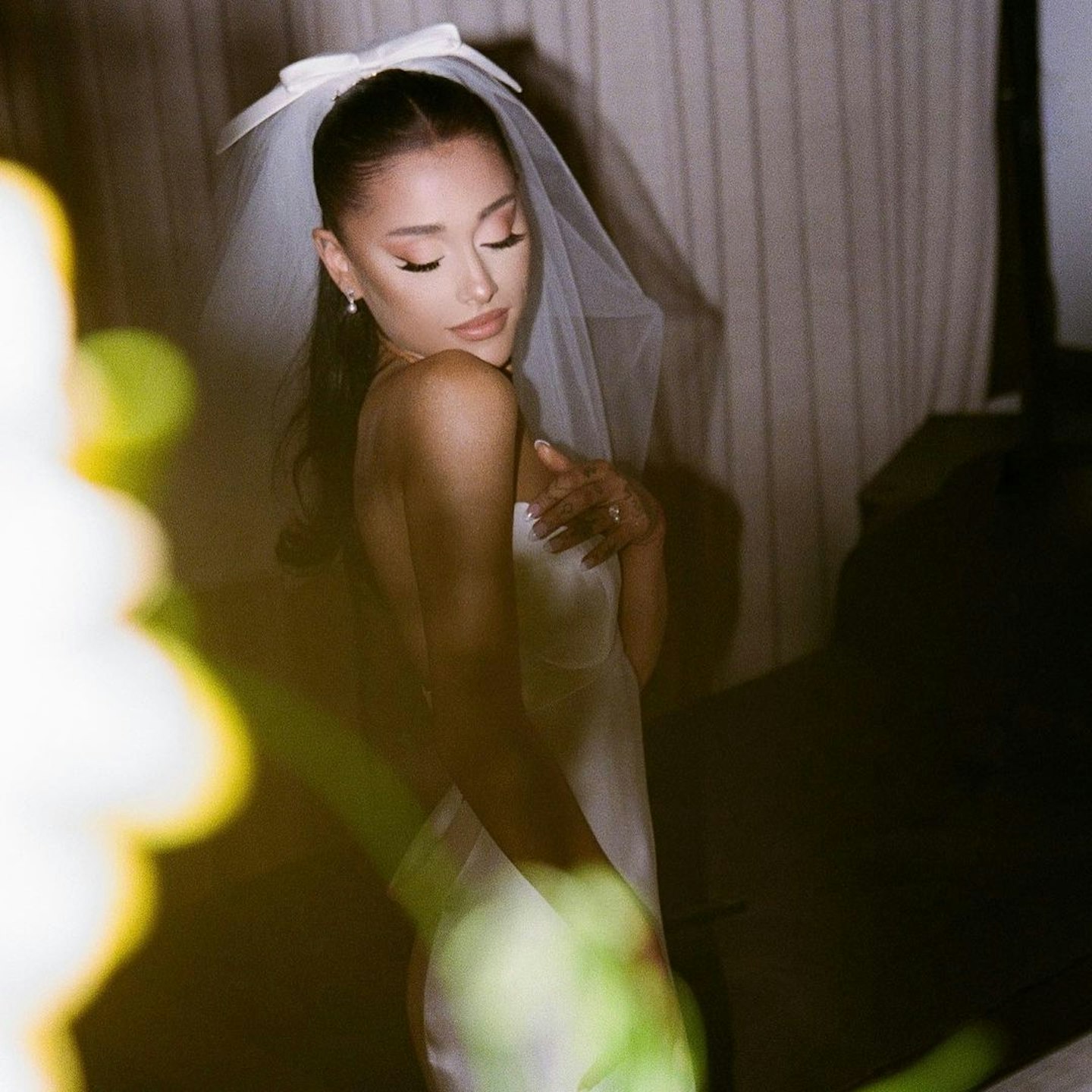 5 of 38
CREDIT: @arianagrande
Ariana Grande
Ariana Grande wore a custom Vera Wang dress when she married Dalton Gomez at her home in Montecito in an intimaten affair, with fewer than 20 guests in attendance. The singer wore a shoulder-length veil topped with a satin bow and her signature winged eyeliner to walk down the aisle.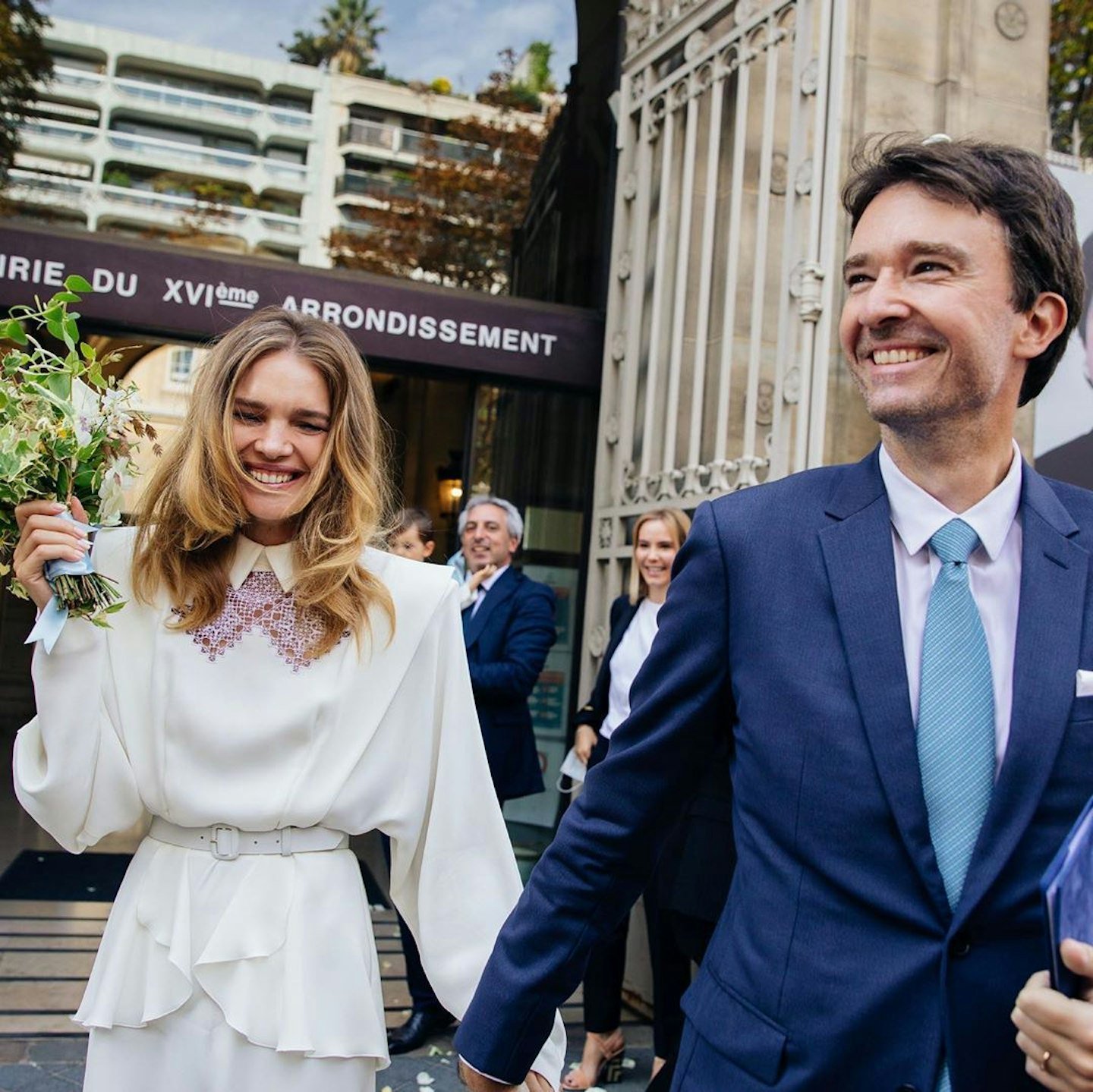 6 of 38
CREDIT: @natasupernova
Natalia Vodianova
Supermodel Natalia Vodianova tied the knot in Paris, wearing a super chic dress, with a nipped-in waist and pointed collar, by her friend Ulyana Seergenko.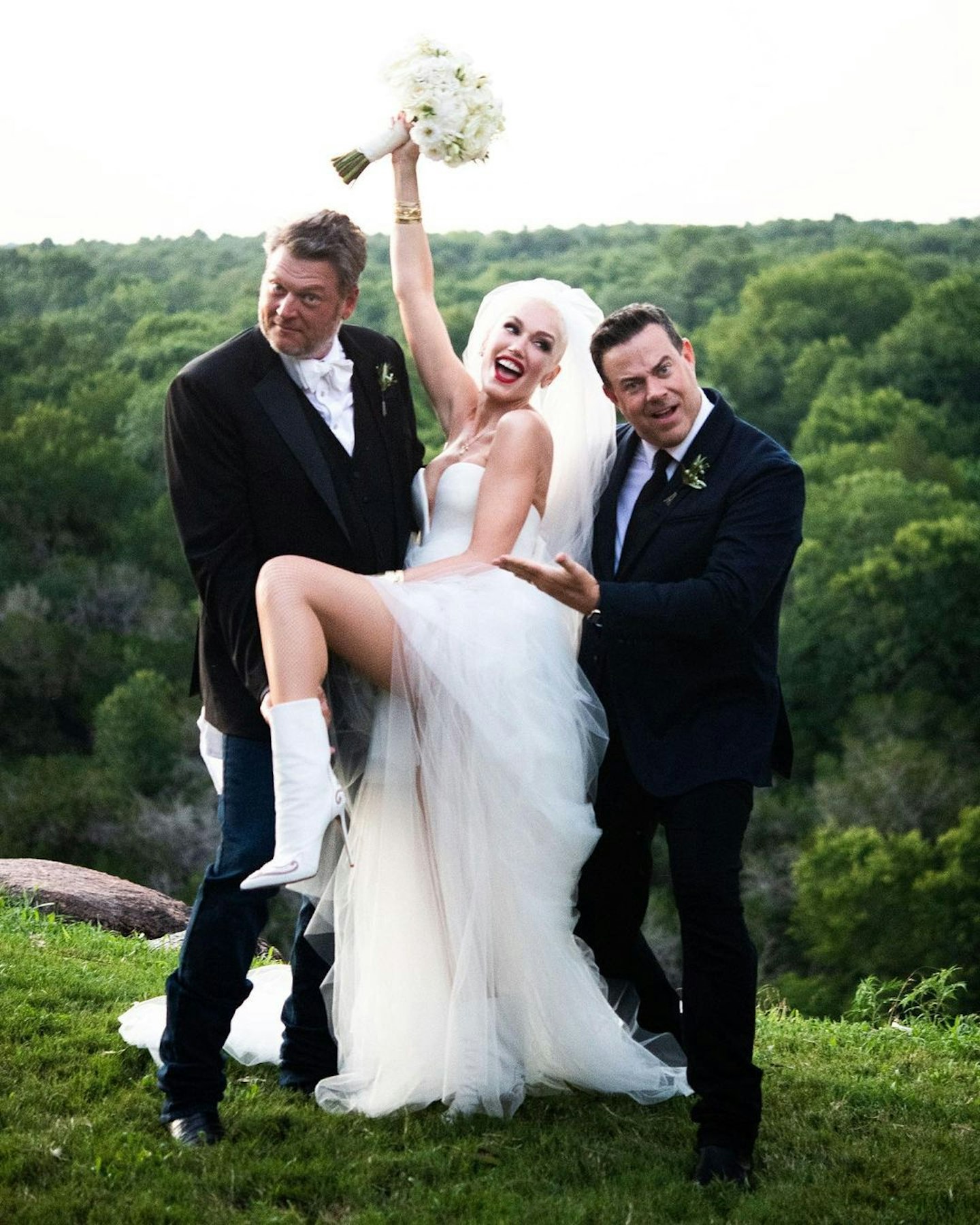 7 of 38
CREDIT: @gwenstefani
Gwen Stefani
Gwen Stefani and Blake Shelton tied the knot in July 2021, in an intimate ceremony on Shelton's ranch in Oklahoma. Gwen wore a custom Vera Wang Haute silk georgette gown with a sweetheart plunging neckline.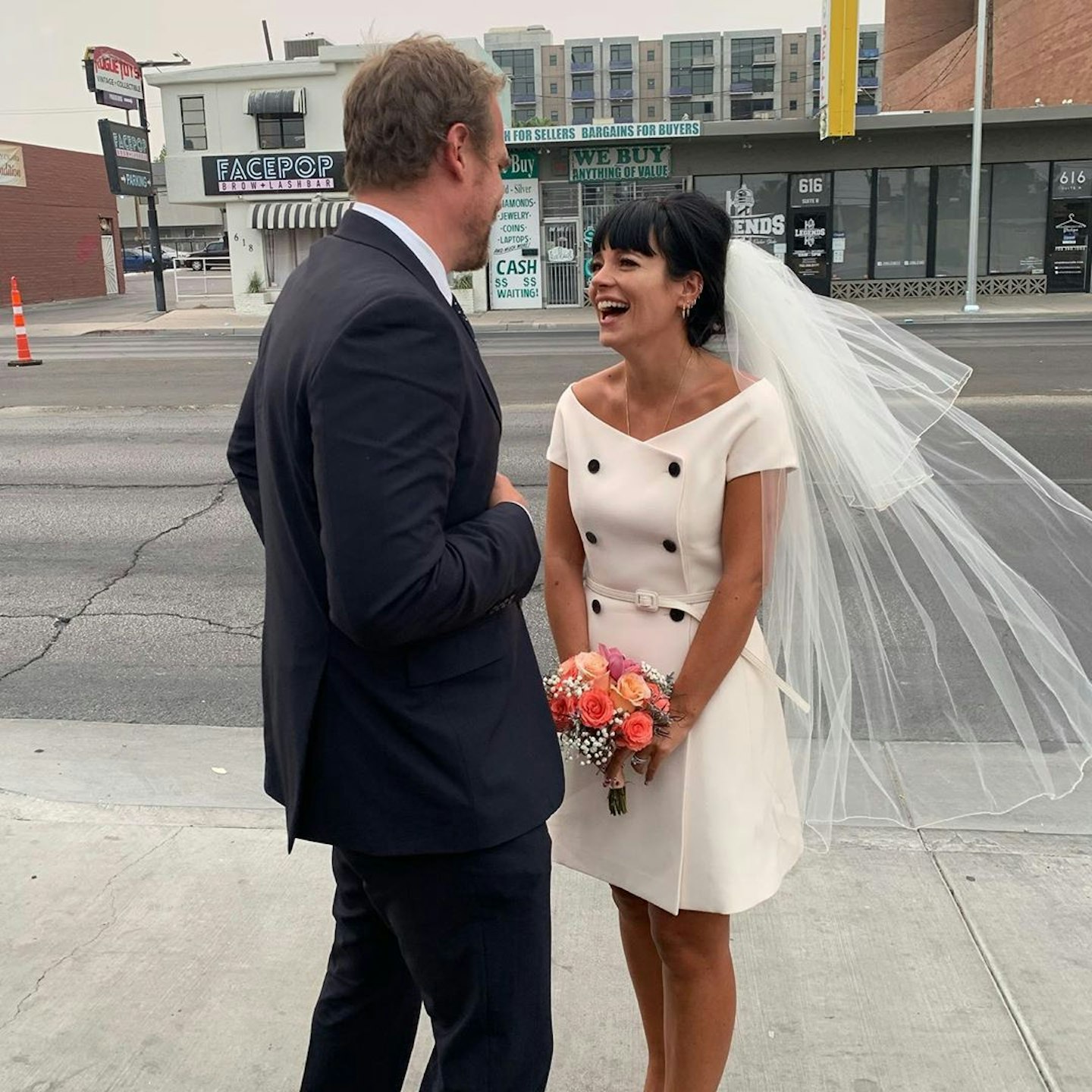 8 of 38
CREDIT: @lilyallen
Lily Allen
From the choice of wedding breakfast (In-And-Out Burger) to her '60s-inspired minidress (Dior), Lily Allen's Las Vegas wedding was a highlight of 2020.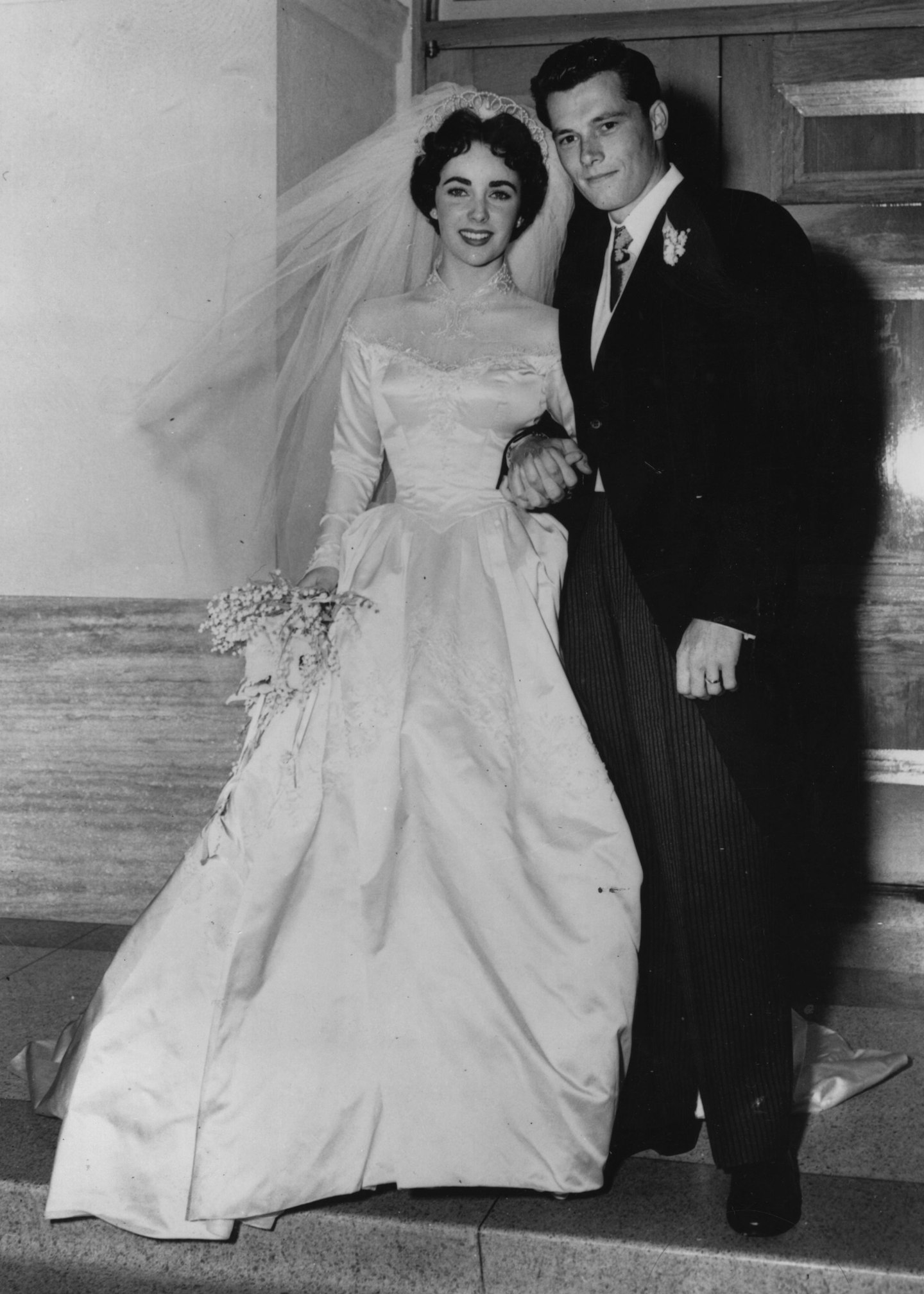 9 of 38
CREDIT: Getty Images
Elizabeth Taylor
For her first wedding to Conrad Hilton, Elizabeth Taylor wore a traditional off-the-shoulder gown designed by MGM costumier Helen Rose, the designer also responsible for Grace Kelly's wedding dress.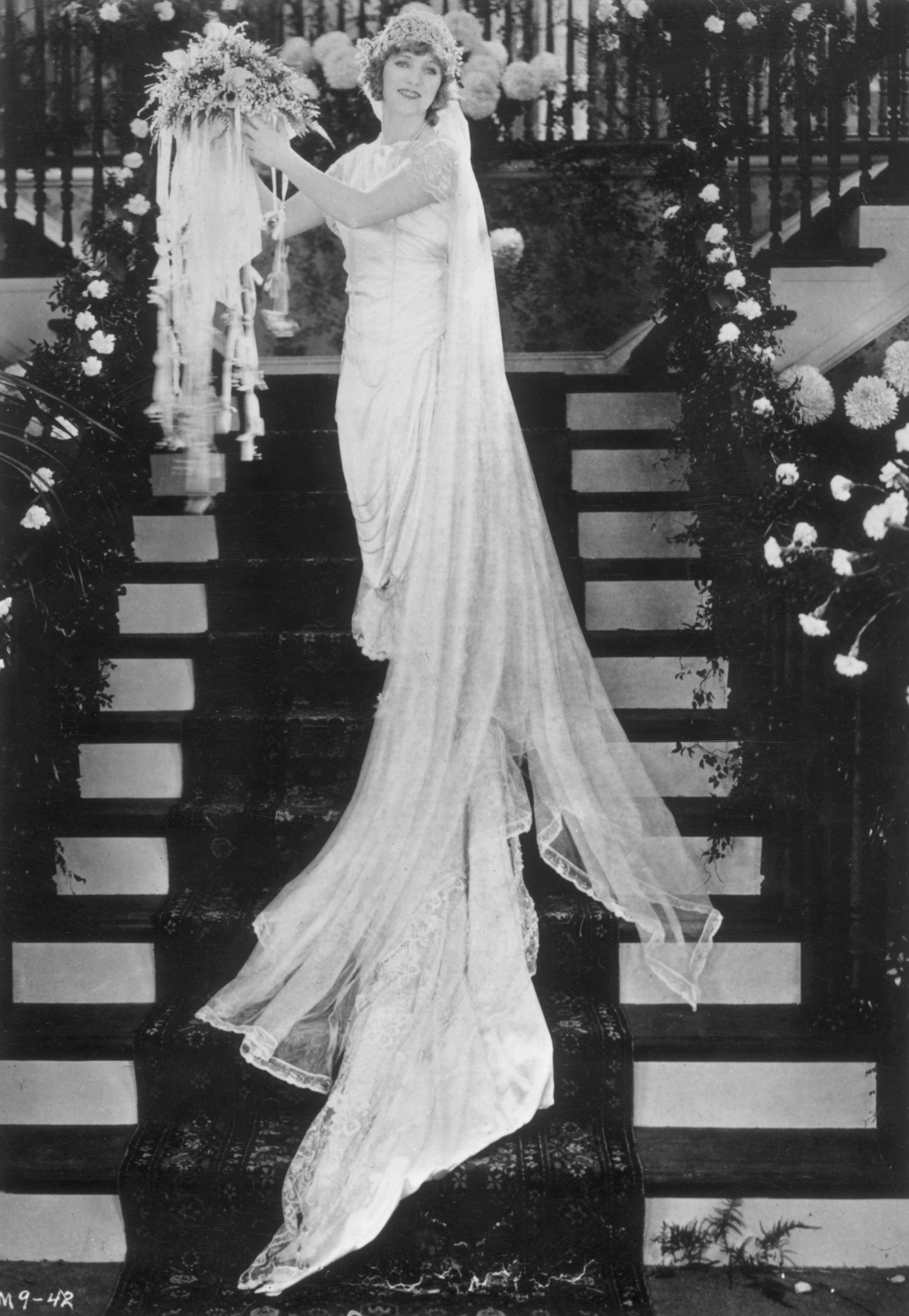 10 of 38
CREDIT: Getty Images
Mary Pickford
Silver screen star Mary Pickford gives a lesson in 1920s bridal glamour.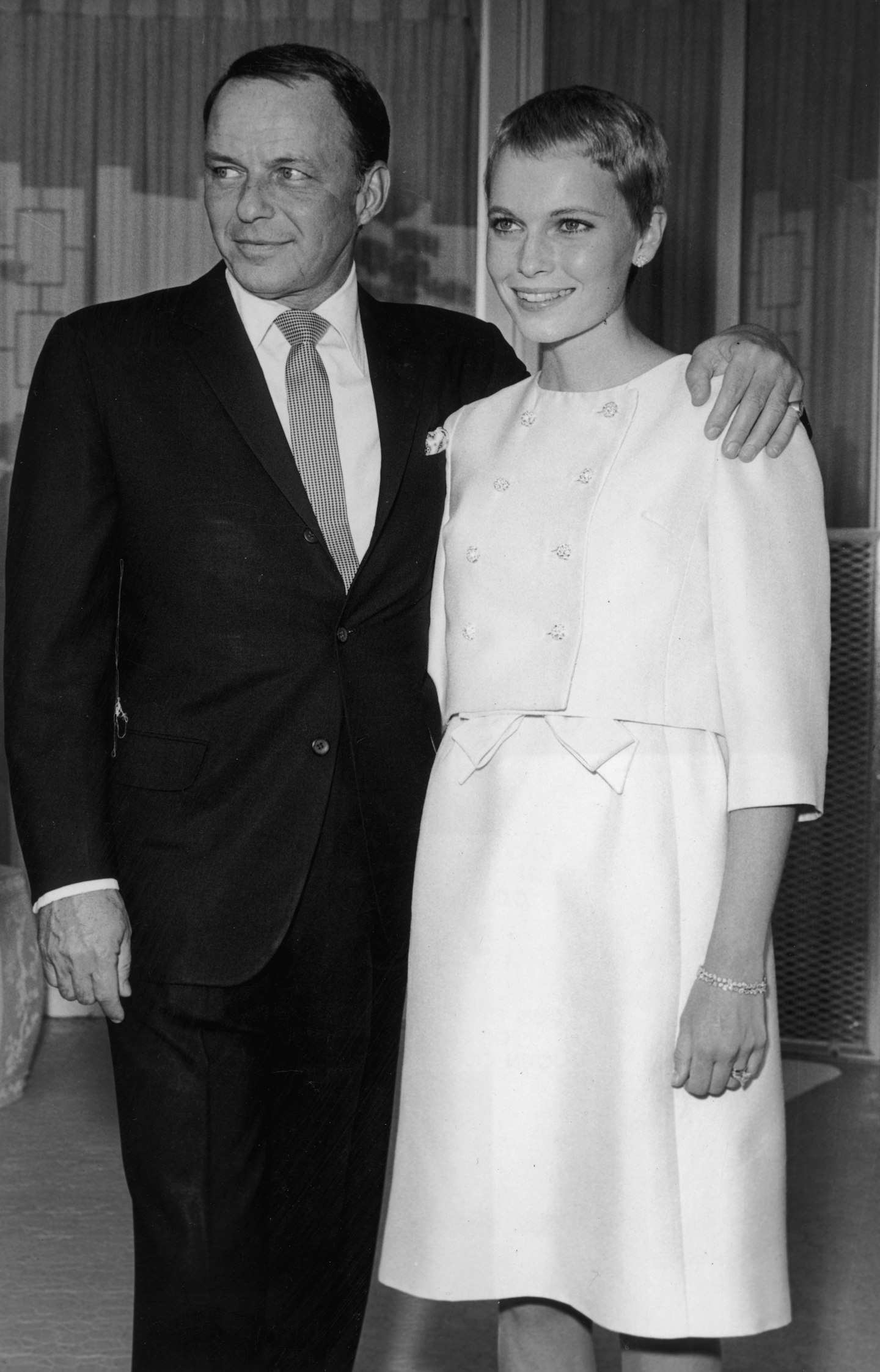 11 of 38
CREDIT: Getty Images
Mia Farrow
Mia Farrow opted for the clean lines and simple silhouette of a skirt suit for her 1966 wedding to Frank Sinatra, perfectly complimenting her iconic pixie cut.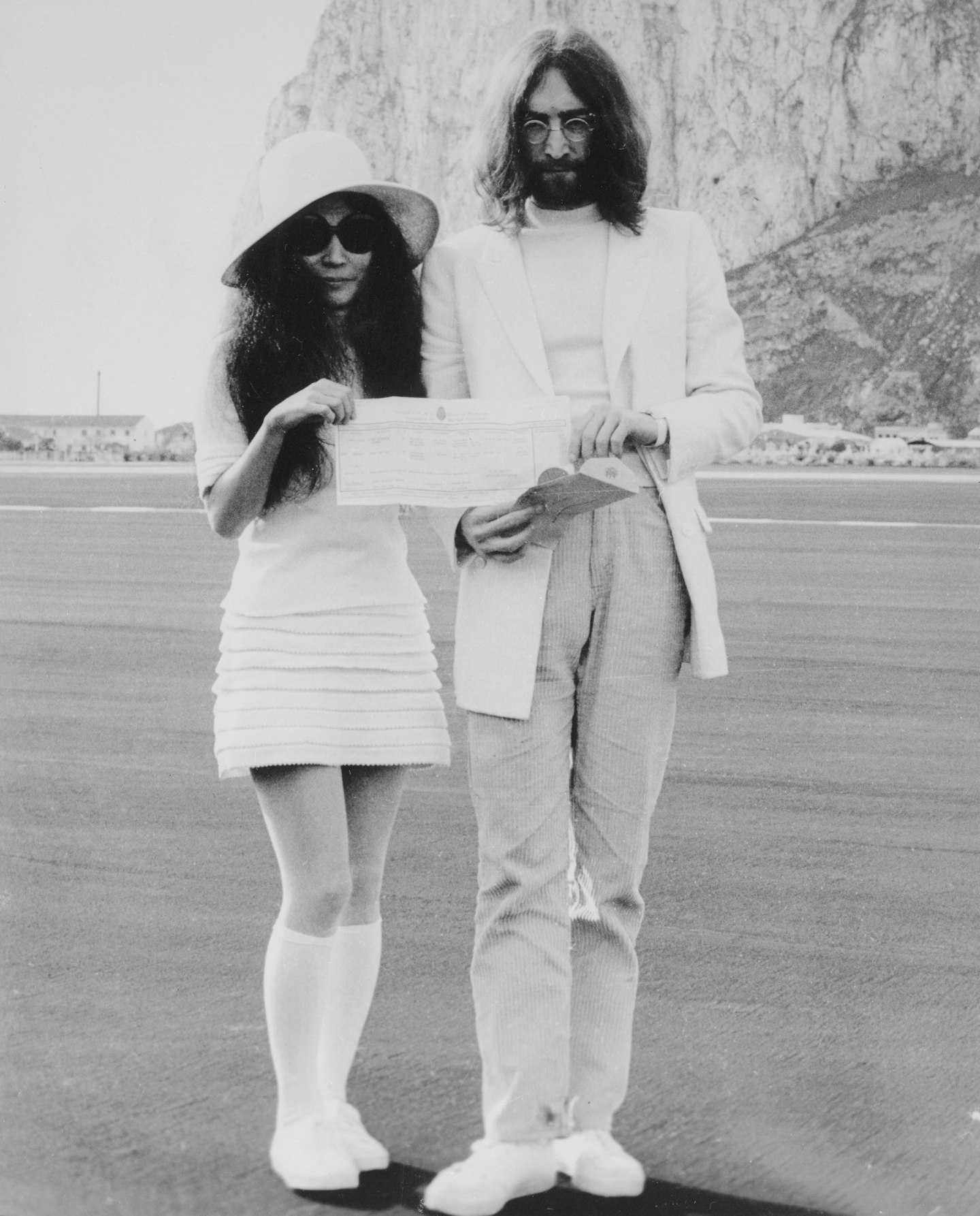 12 of 38
CREDIT: Getty Images
Yoko Ono
Yoko Ono chose a simple tiered mini dress, a wide-brimmed hat and white pumps for her wedding to John Lennon. Oh, and massive sunglasses.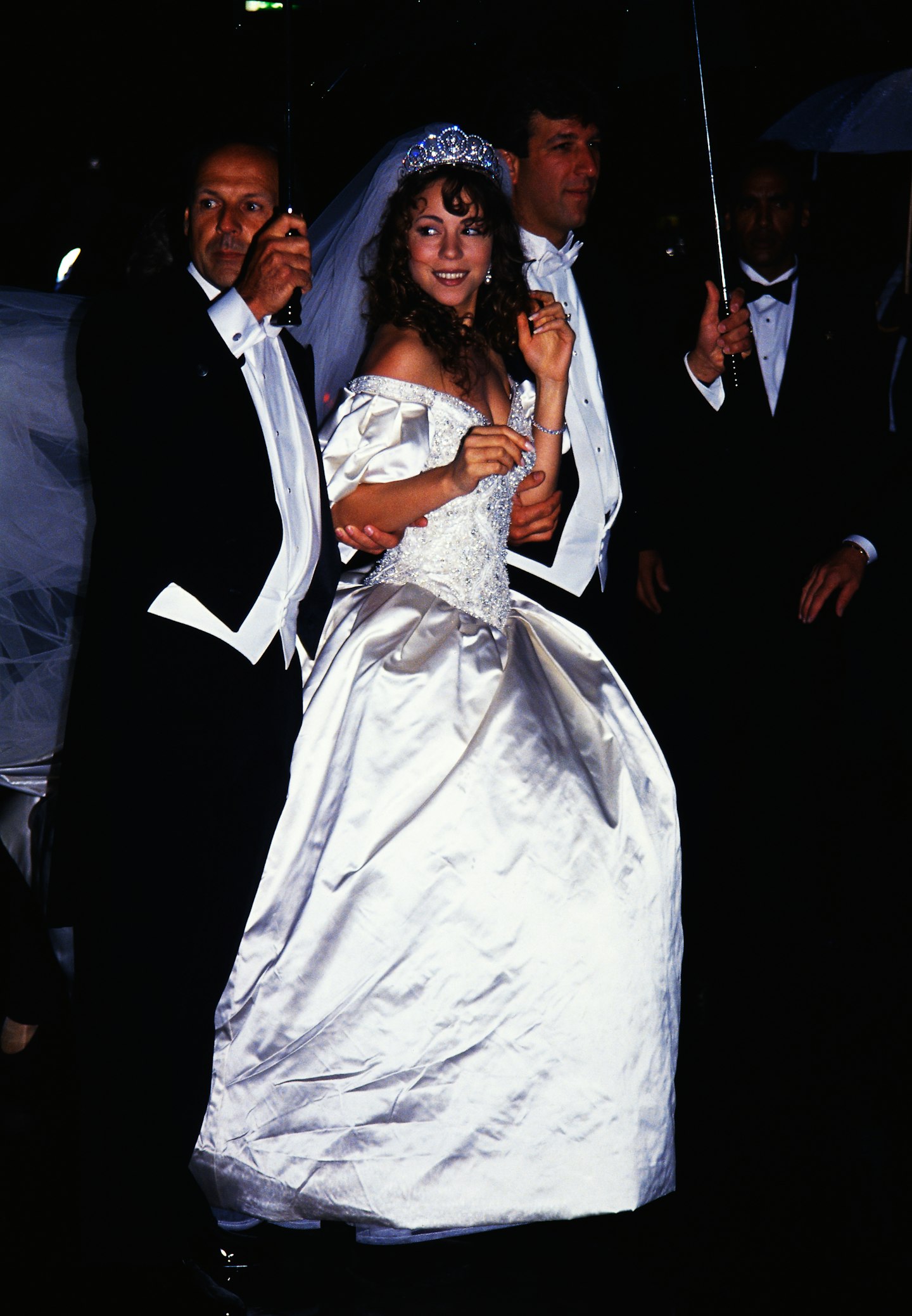 13 of 38
CREDIT: Getty Images
Mariah Carey
We couldn't not include Mariah's characteristically dramatic bridal gown (complete with tiara), worn for her first wedding in 1993. Designed by Vera Wang, the $25,00 style was reportedly inspired by Princess Diana's wedding dress.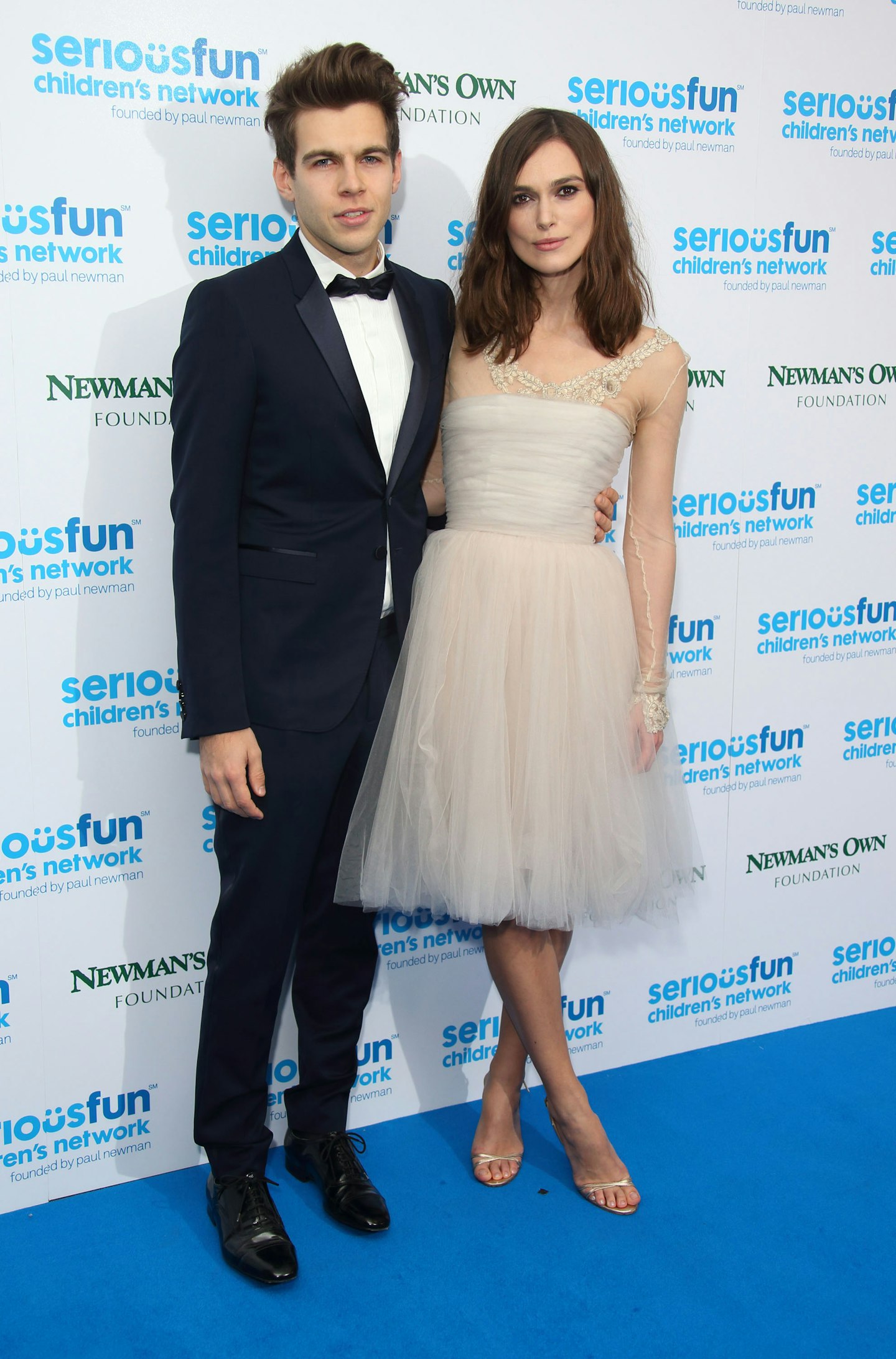 14 of 38
CREDIT: Getty Images
Keira Knightley
Keira Knightley chose a knee-skimming tulle dress by Chanel Couture for her low-key wedding to musician James Righton in 2013, a dress she already owned and one that she has subsequently reworn.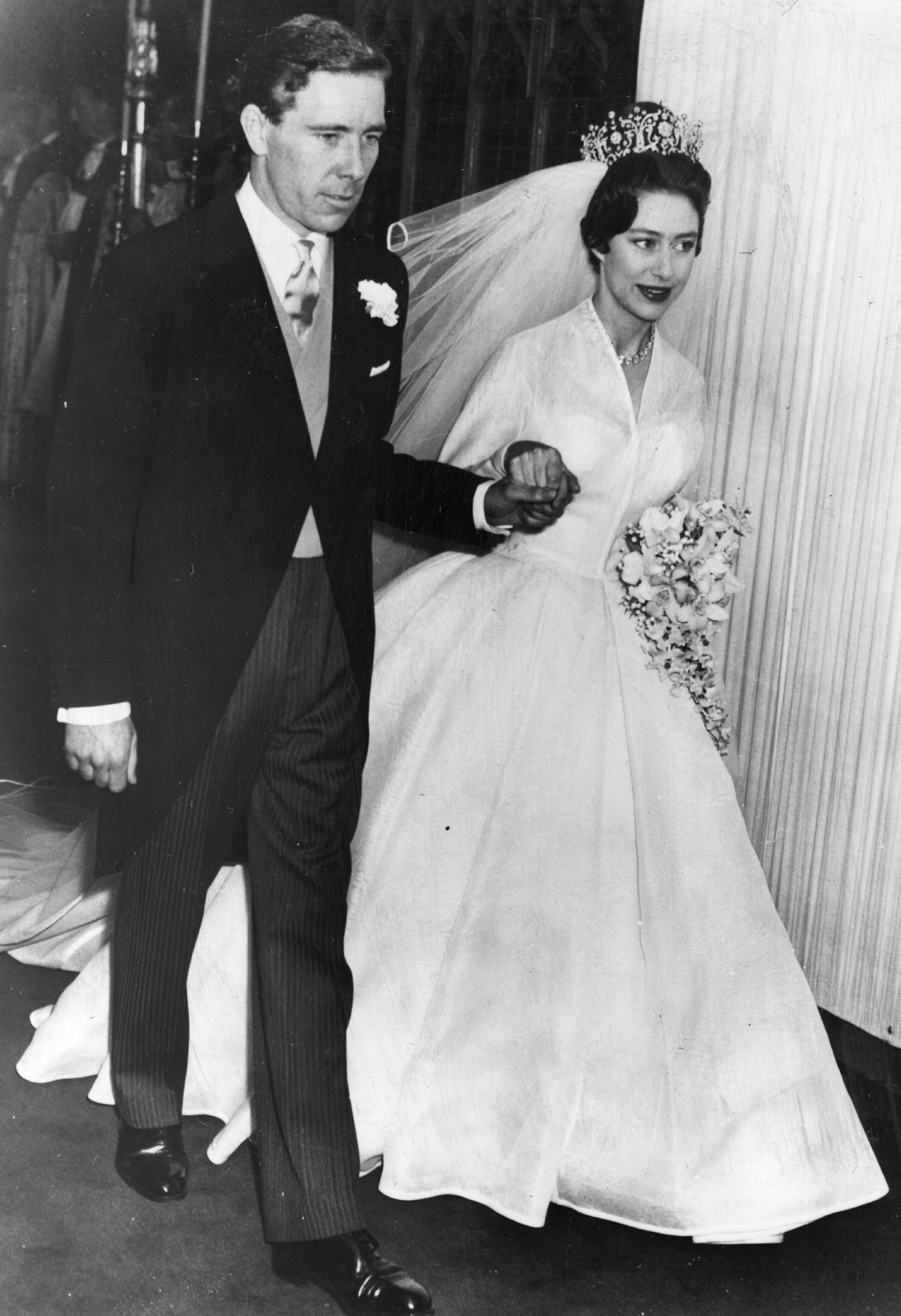 15 of 38
CREDIT: Getty Images
Princess Margaret
Princess Margaret chose a silk organza gown by Norman Hartnell - the designer behind the wedding and coronation dresses of her sister, Queen Elizabeth II - for her wedding in 1960. The tailored shape and lack of embellishment (a striking departure from previous royal wedding styles) lead Life magazine to crown it 'the simplest royal wedding gown in history.'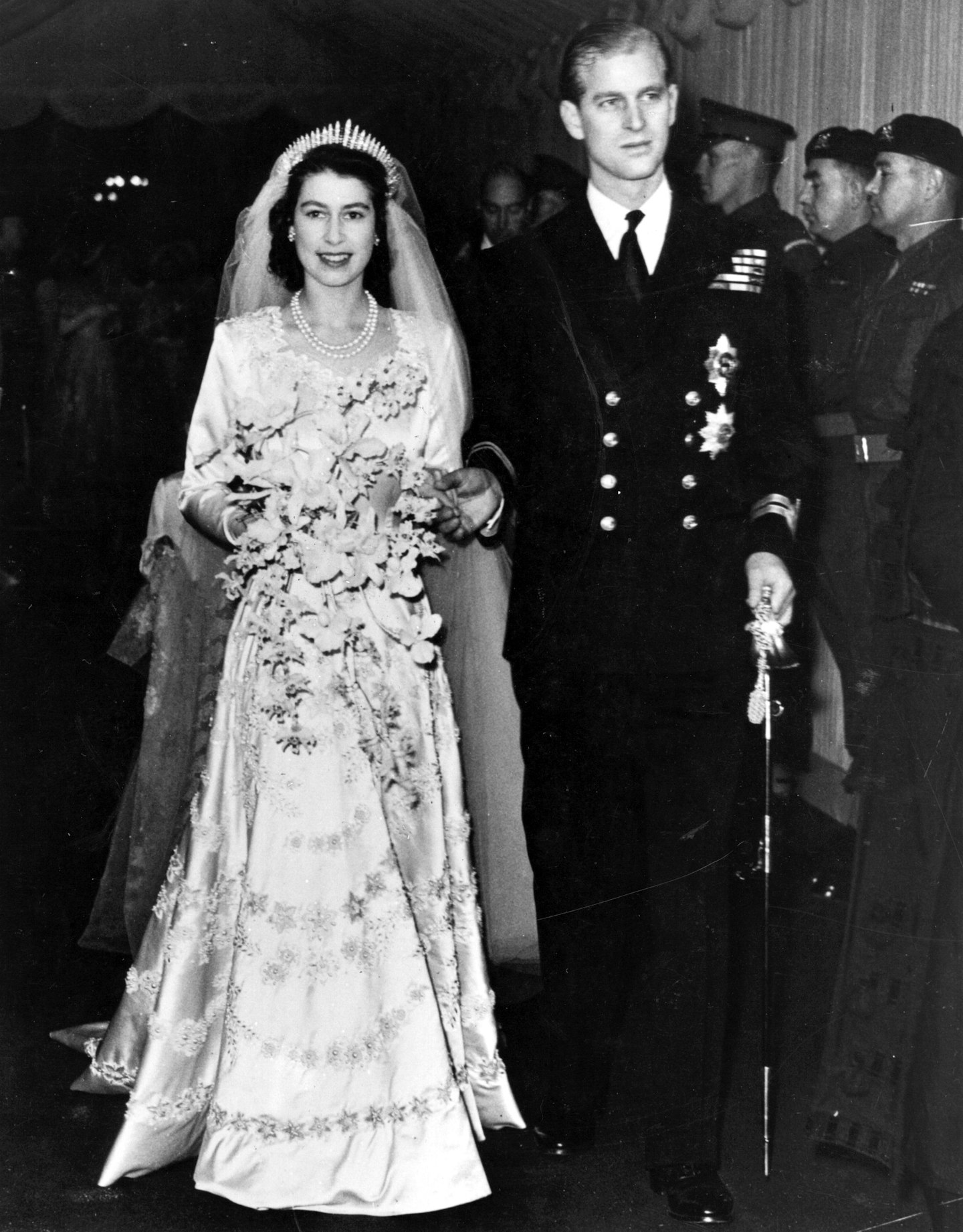 16 of 38
CREDIT: Getty Images
Queen Elizabeth II
Queen Elizabeth II had to save up ration coupons to exchange for the duchesse satin used in her wedding dress, which was designed by Norman Hartnell and decorated with 10,000 imported pearls.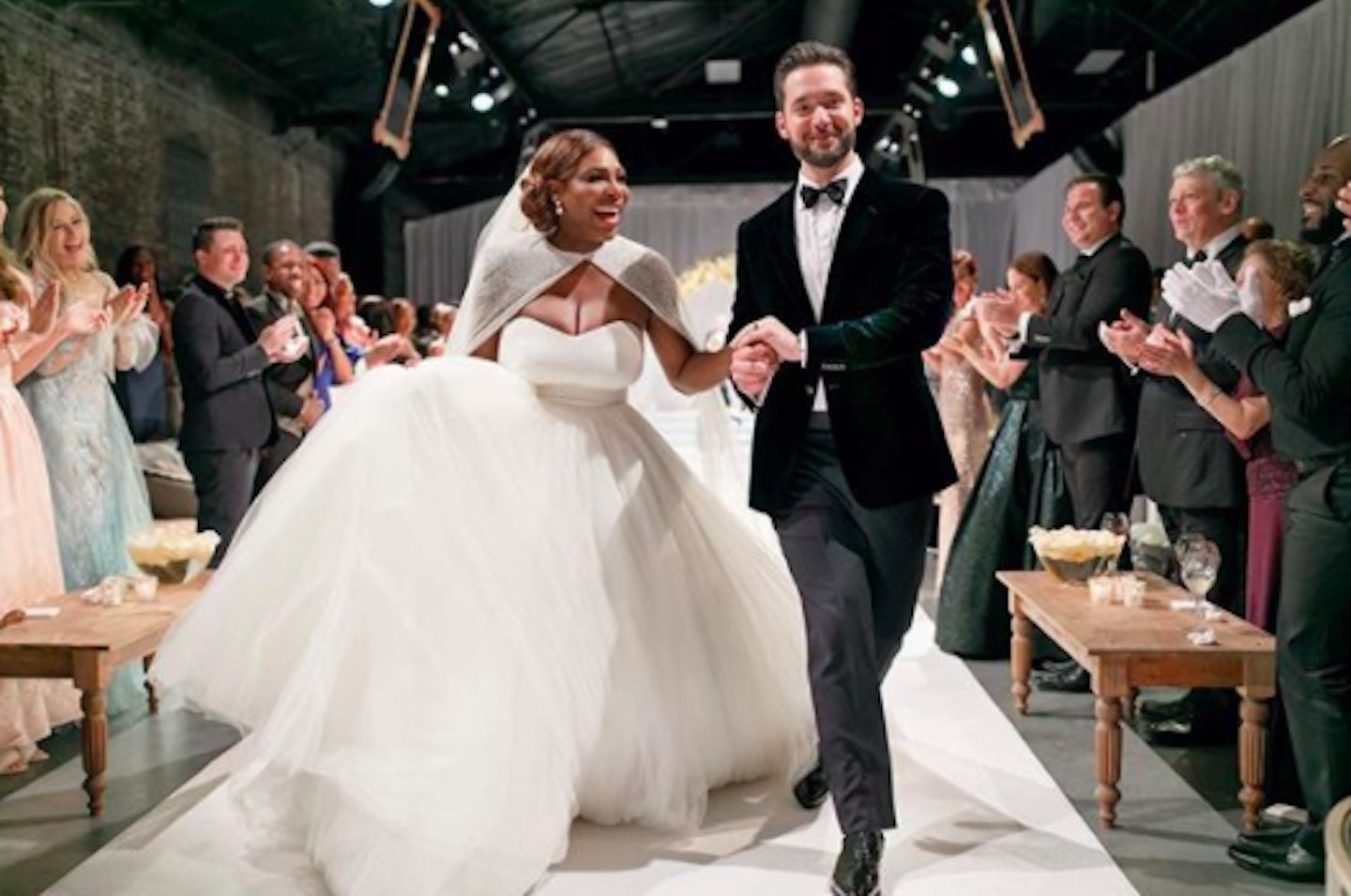 17 of 38
CREDIT: @melbarlowandco
Serena Williams
For their New Orleans ceremony, Serena Williams wore a custom-made dress designed by Alexander McQueen's Sarah Burton before changing into a feathered cape by Versace.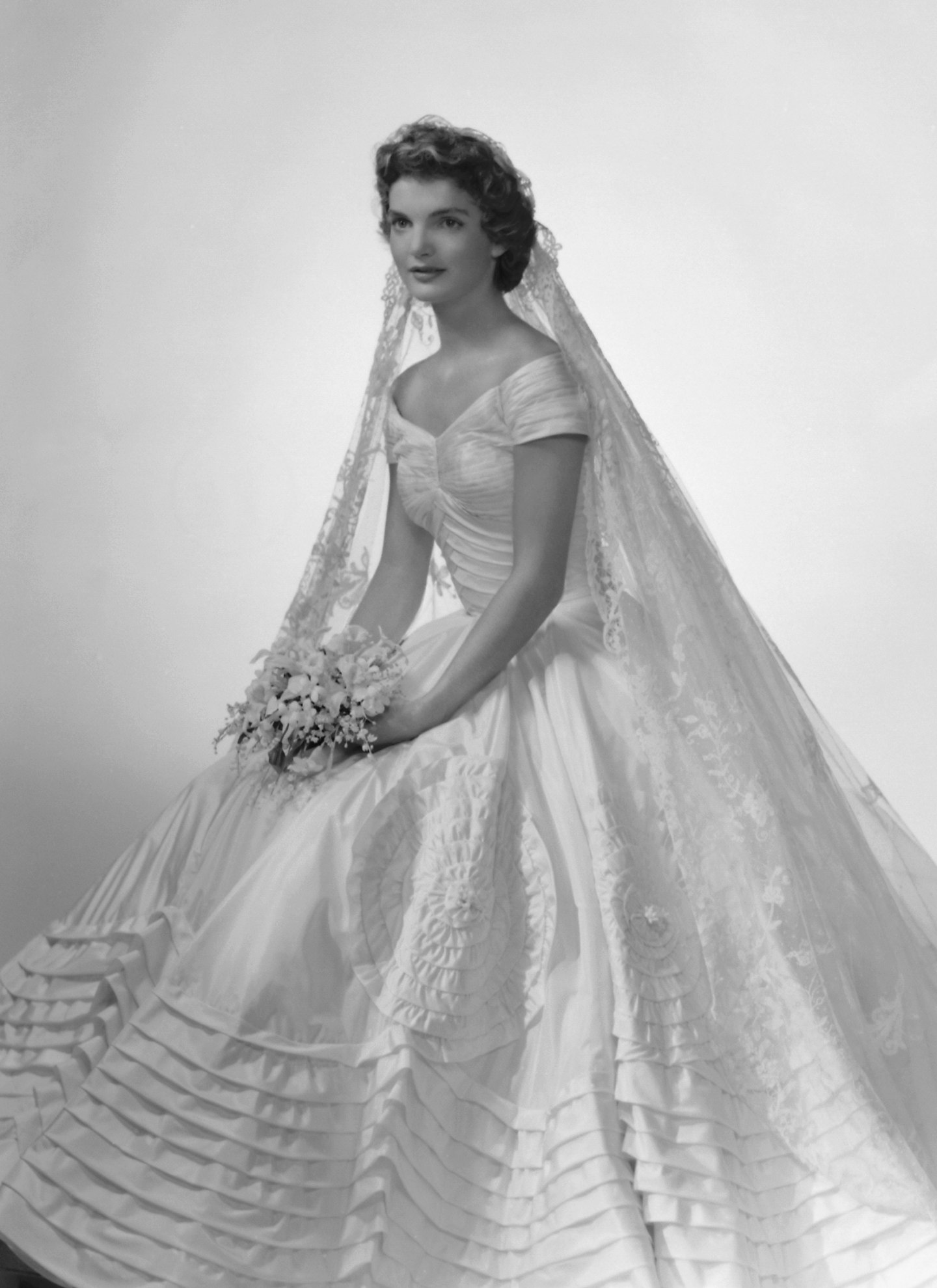 18 of 38
CREDIT: Getty Images
Jackie Kennedy
Jackie Kennedy's traditional wedding dress was designed by Ann Lowe, a designer favoured by American high society, and was made from nearly 50ft of ivory silk-taffeta.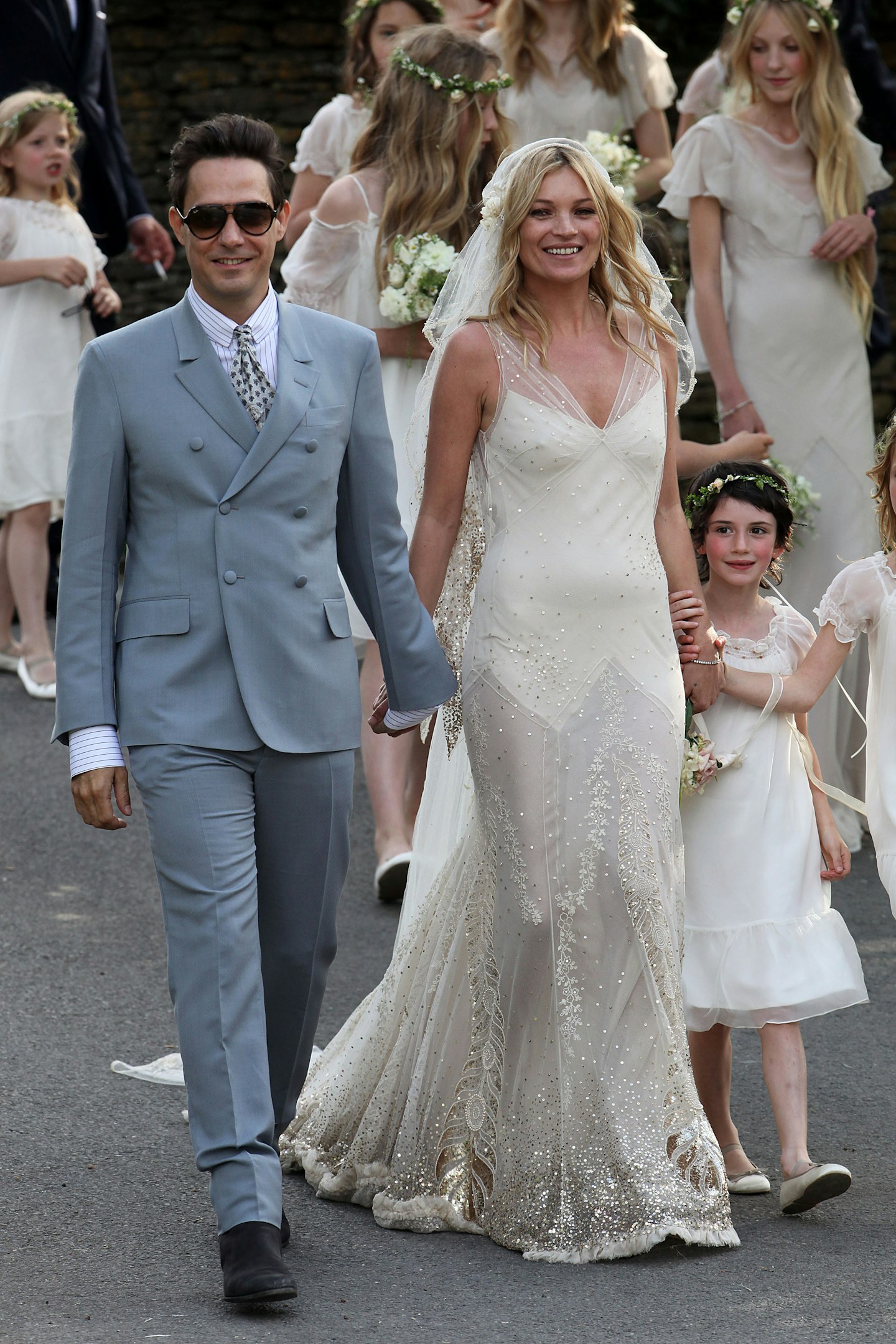 19 of 38
CREDIT: Getty Images
Kate Moss
Was there ever a cooler wedding dress than Kate Moss's bias-cut, Thirties-inspired slip of a gown, custom-made by her friend John Galliano? The designer later described the process of making Kate's dress as his 'creative rehab.'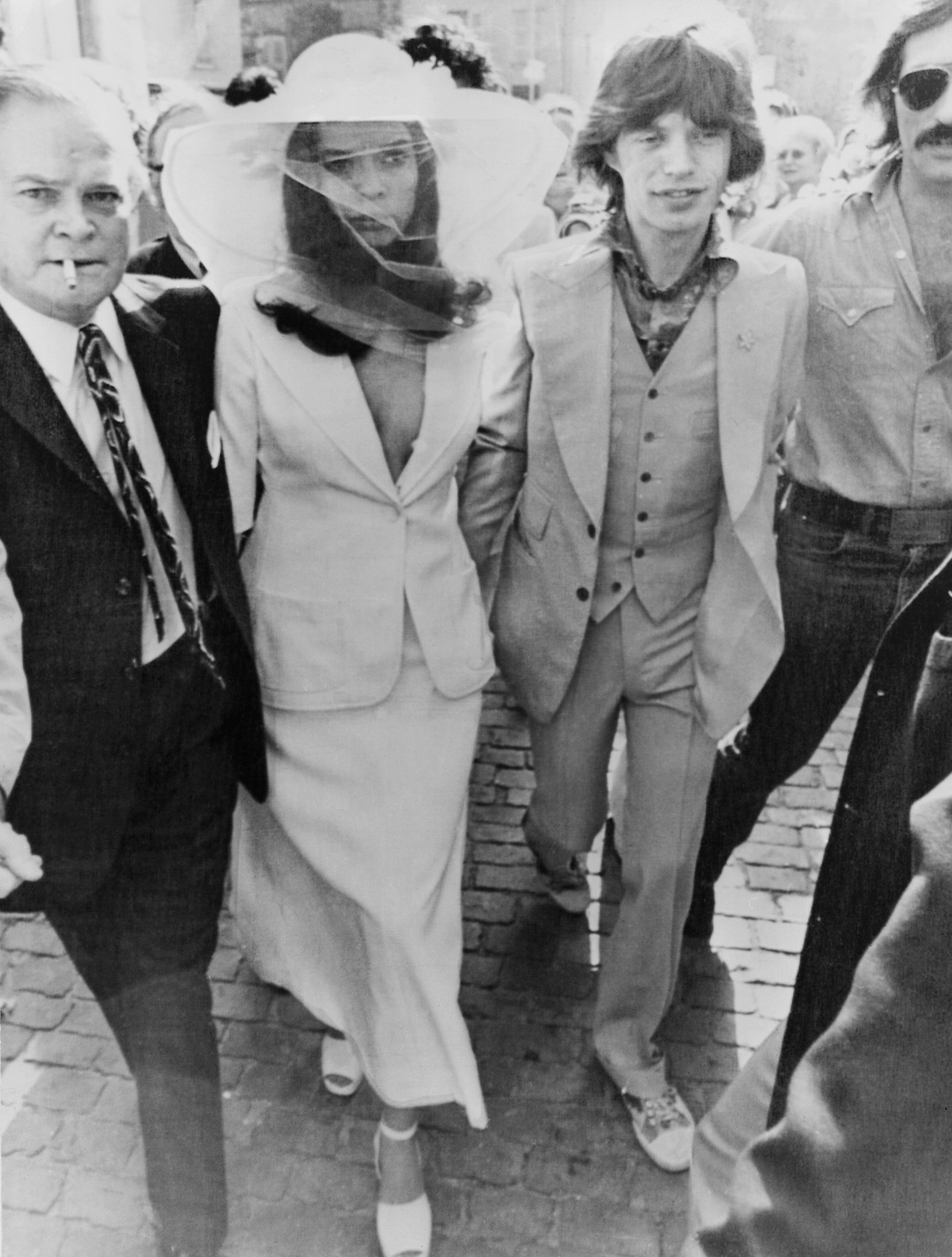 20 of 38
CREDIT: Getty Images
Bianca Jagger
The original It girl Bianca Jagger broke the rules for her 1971 wedding to Mick Jagger, choosing a slim-fitting skirt suit designed by Yves Saint Laurent.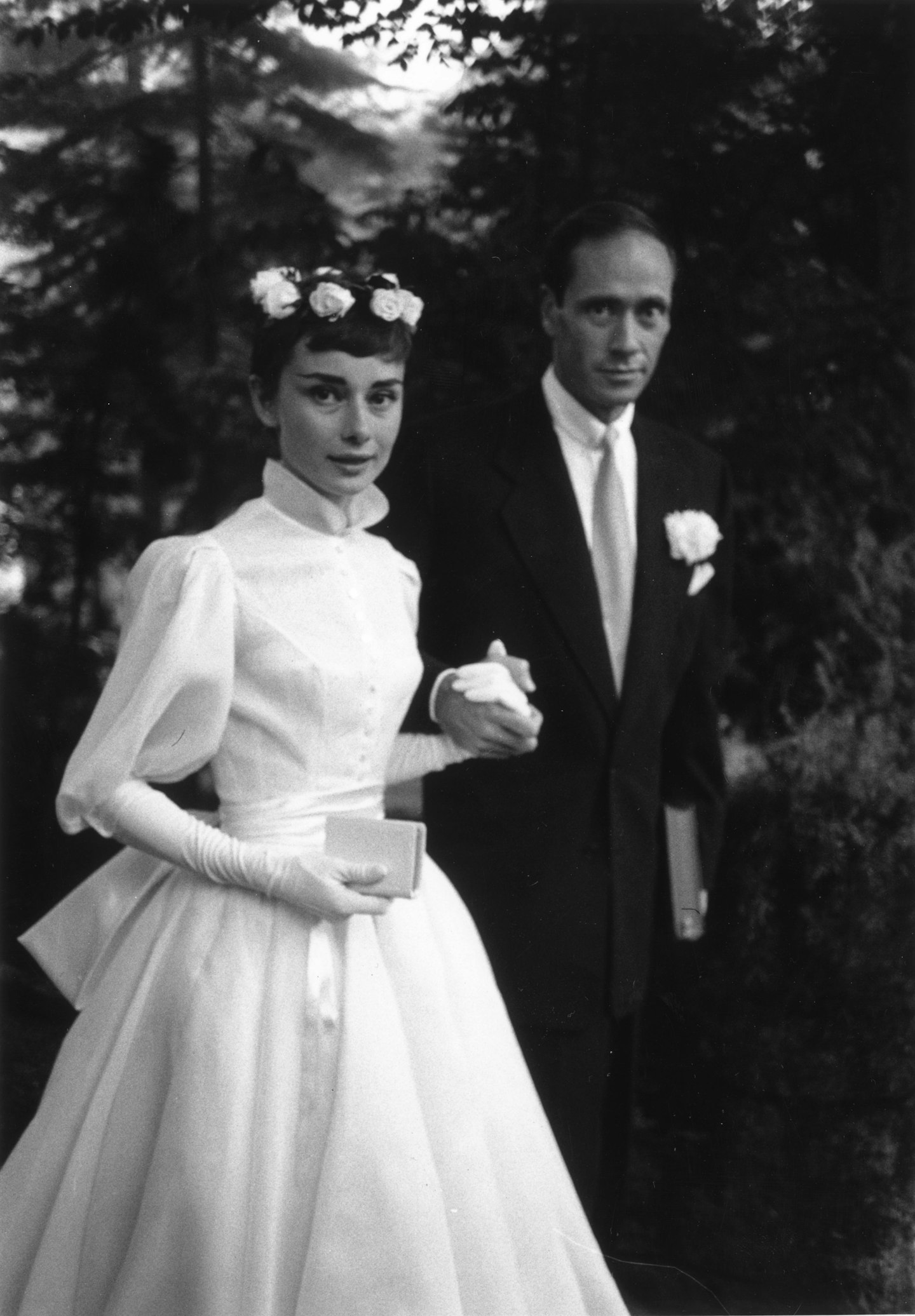 21 of 38
CREDIT: Getty Images
Audrey Hepburn
For her first wedding to Mel Ferrer in 1954, Audrey Hepburn wore a high-necked, puff-sleeved gown designed by Pierre Balmain (whose fashion house is now best known for the high-octane glamour associated with clients like the Kardashians.)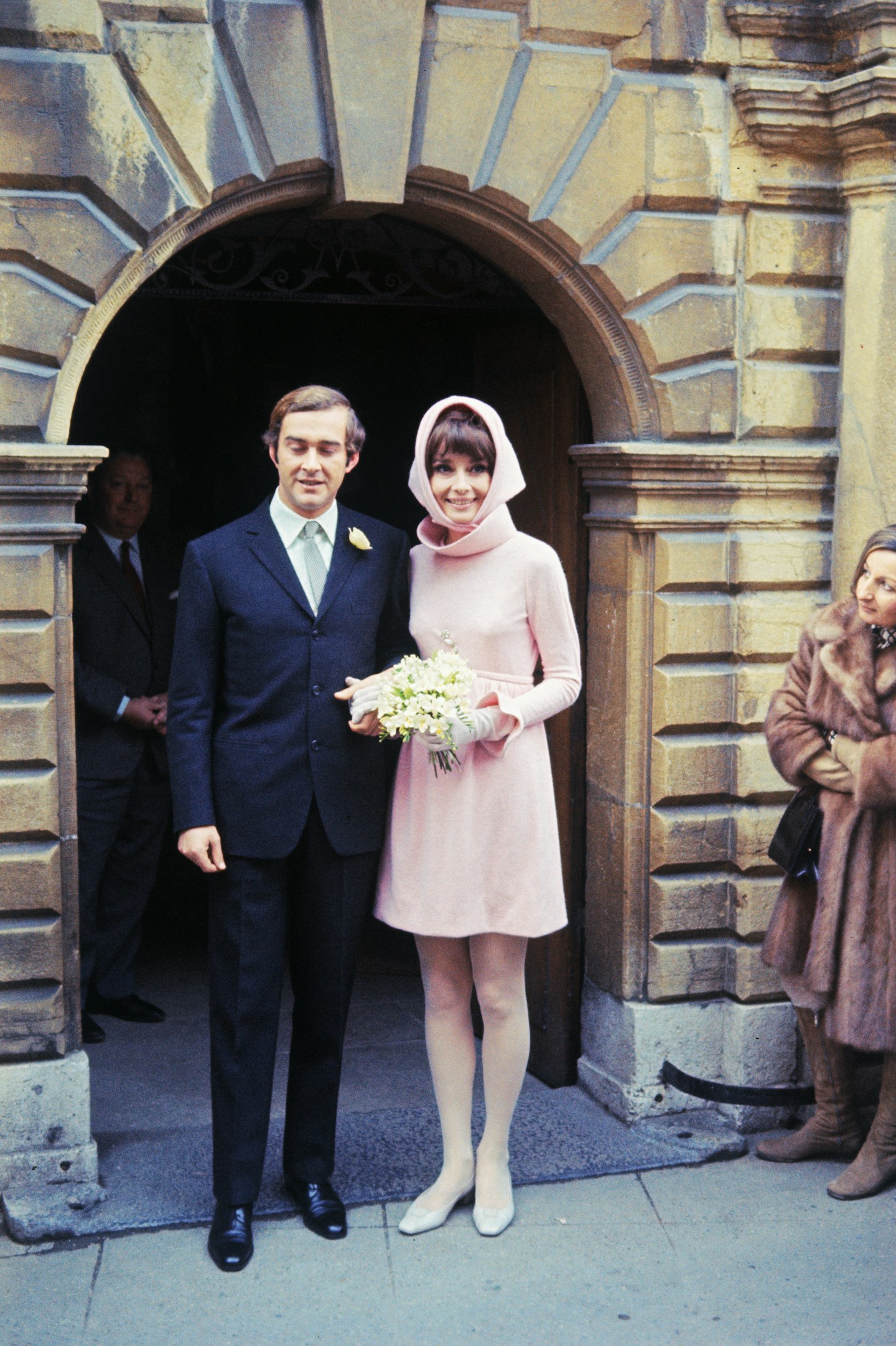 22 of 38
CREDIT: Getty Images
Audrey Hepburn
Hepburn chose a pale pink mini dress and matching headscarf, designed by her lifelong friend Hubert de Givenchy, for her second wedding to Andrea Dotti in 1969.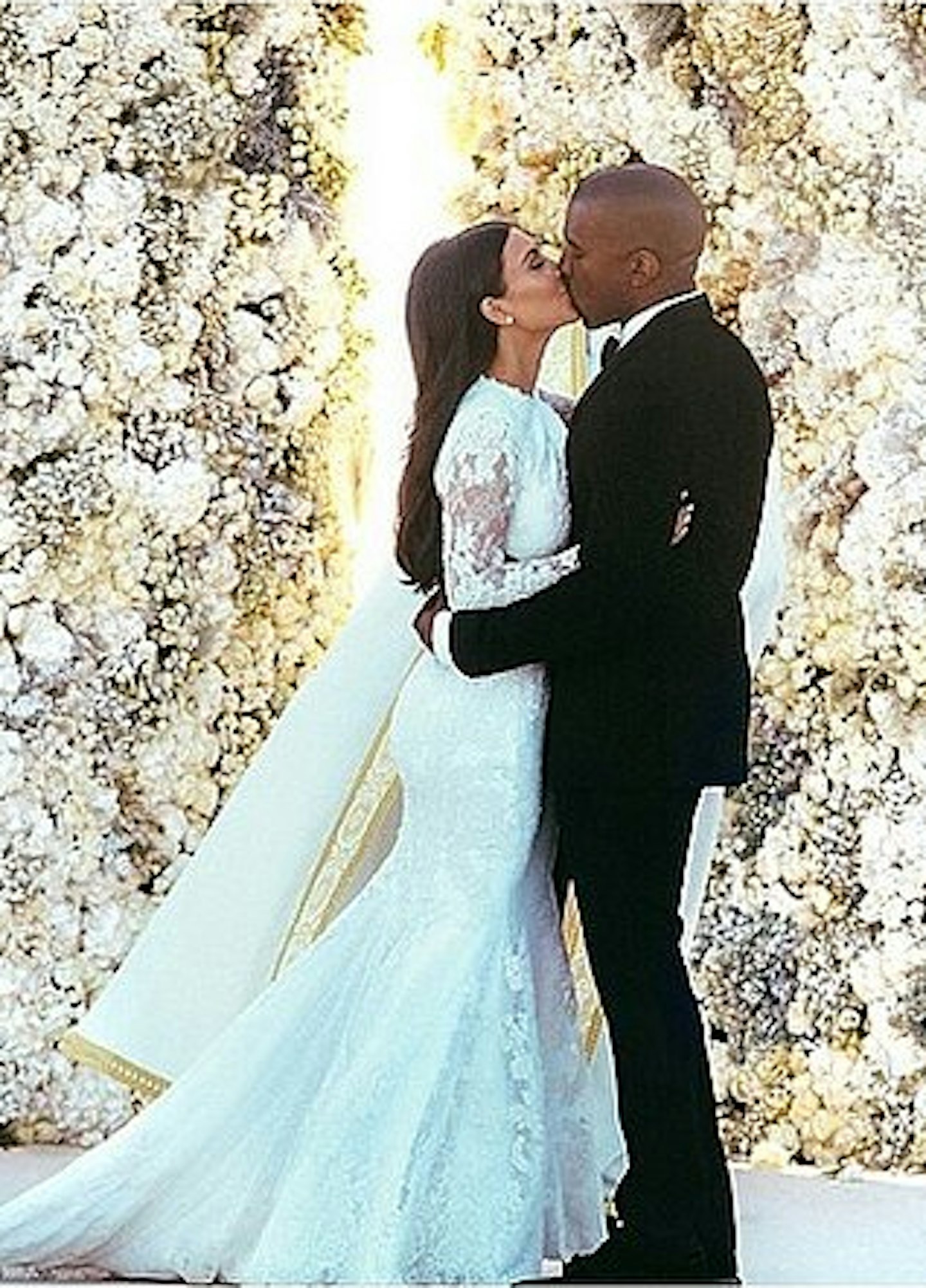 23 of 38
CREDIT: Instagram @kimkardashian
Kim Kardashian
Kim Kardashian called on close friend Riccardo Tisci, Givenchy's creative director at the time, to design a dress for her wedding to Kanye West. The result was an Instagram-breaking creation, featuring cut-out panels and long lace sleeves.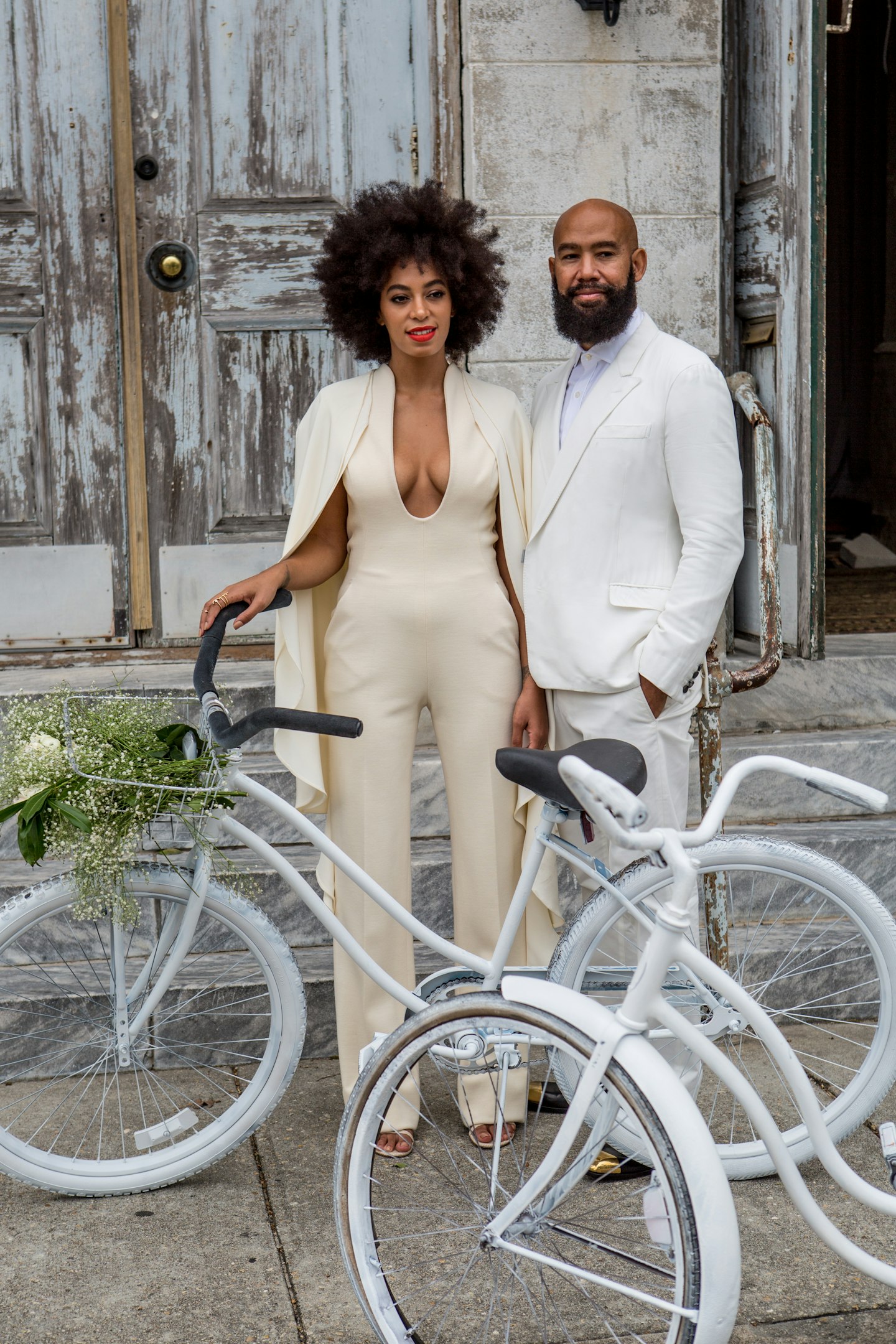 24 of 38
CREDIT: Getty Images
Solange Knowles
For her wedding to Alan Ferguson in 2014, Solange Knowles side-stepped bridal traditions by opting for a structured cream jumpsuit by Stéphane Rolland.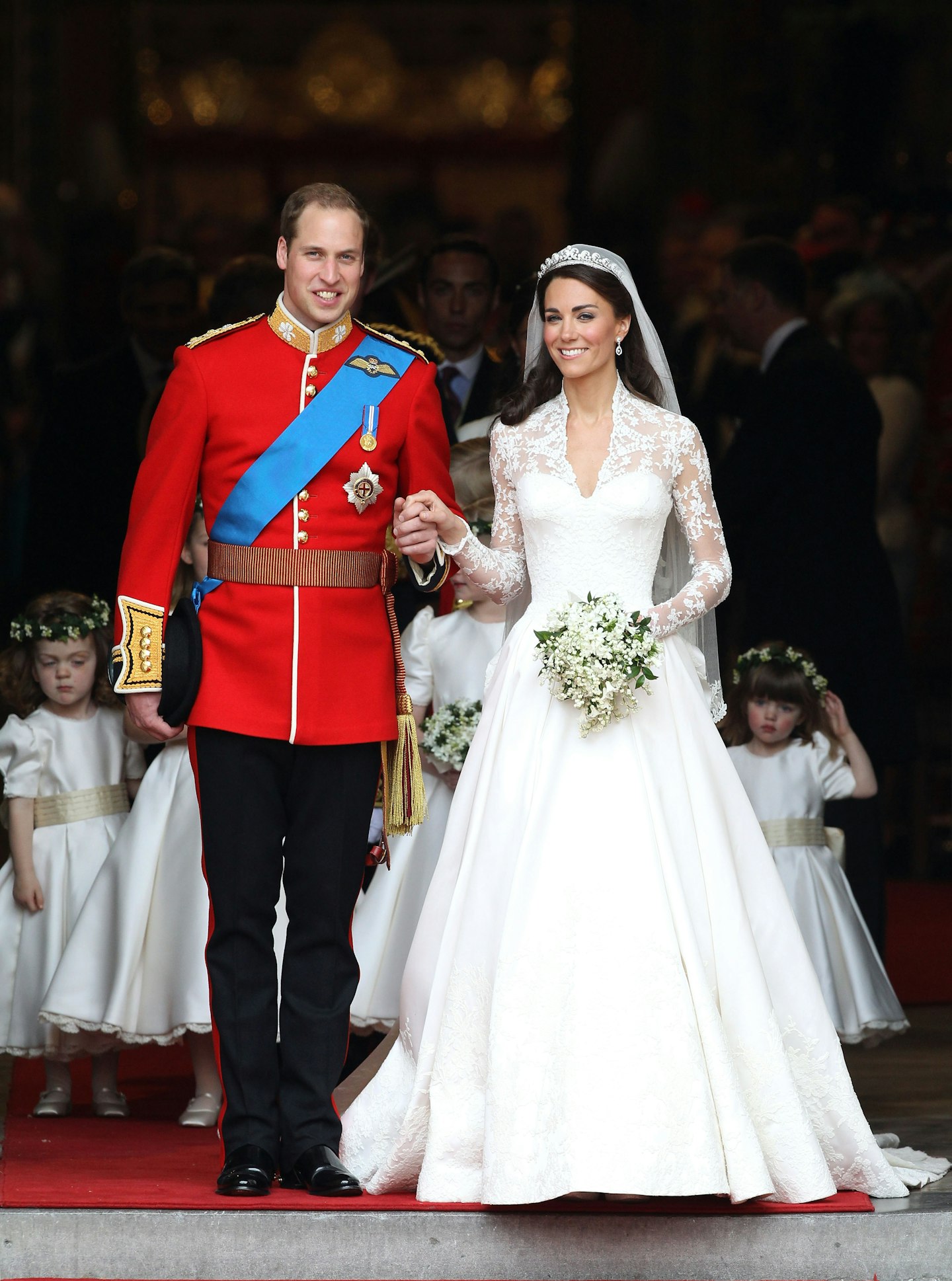 25 of 38
CREDIT: Getty Images
Kate Middleton
For the most talked about wedding of the century, Kate Middleton wore a long-sleeved Alexander McQueen gown, designed by creative director Sarah Burton, for her wedding to Prince William in 2011.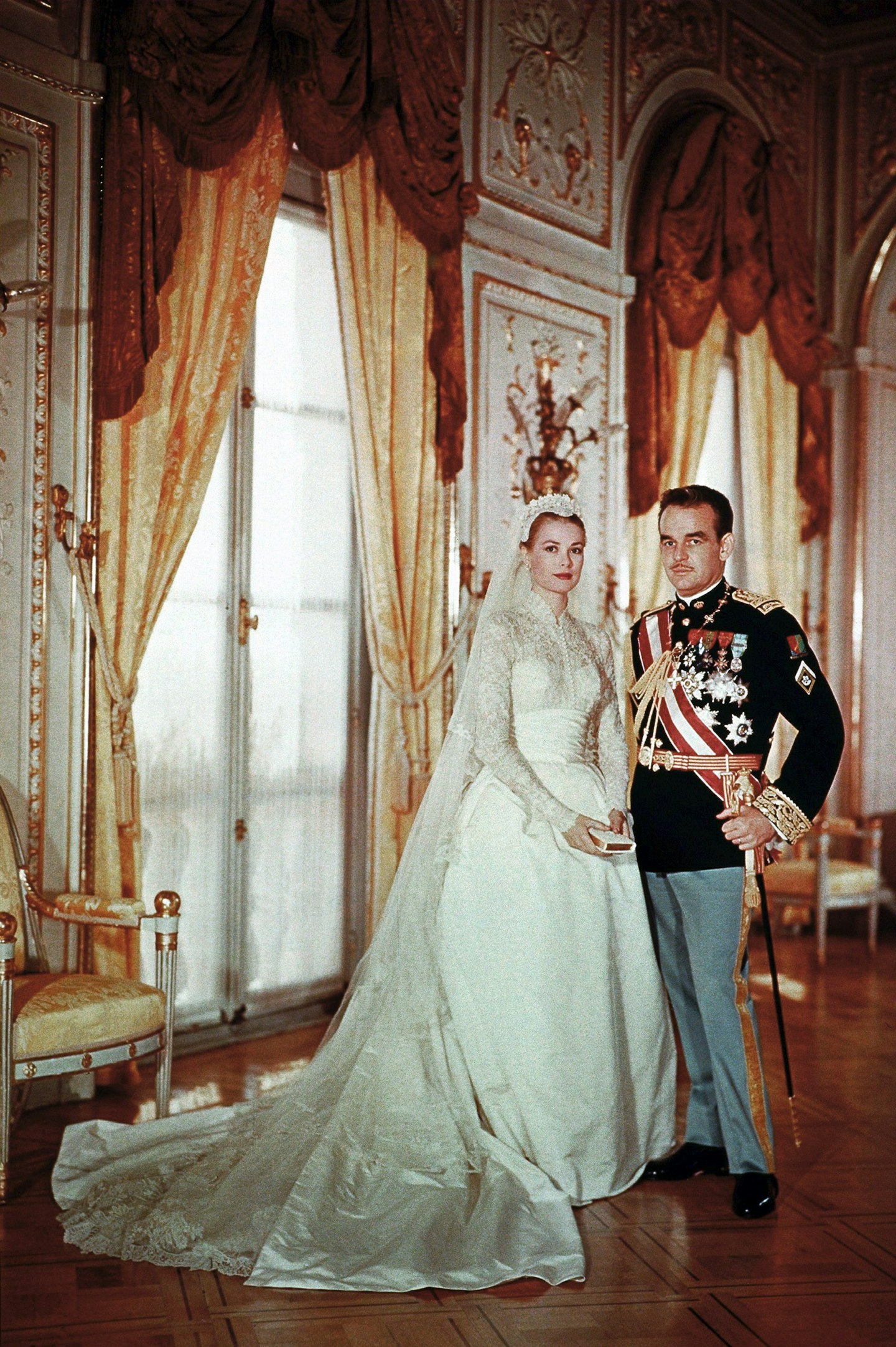 26 of 38
CREDIT: Getty Images
Grace Kelly
Designed by MGM costume designer Helen Rose, Grace Kelly's high-necked, long-sleeved gown was a clear inspiration for Kate Middleton's wedding dress. Worn for her 1956 wedding to Prince Rainer of Monaco, it was fashioned from 25 yards of silk-taffeta, one hundred yards of silk net, and Brussels rose point lace.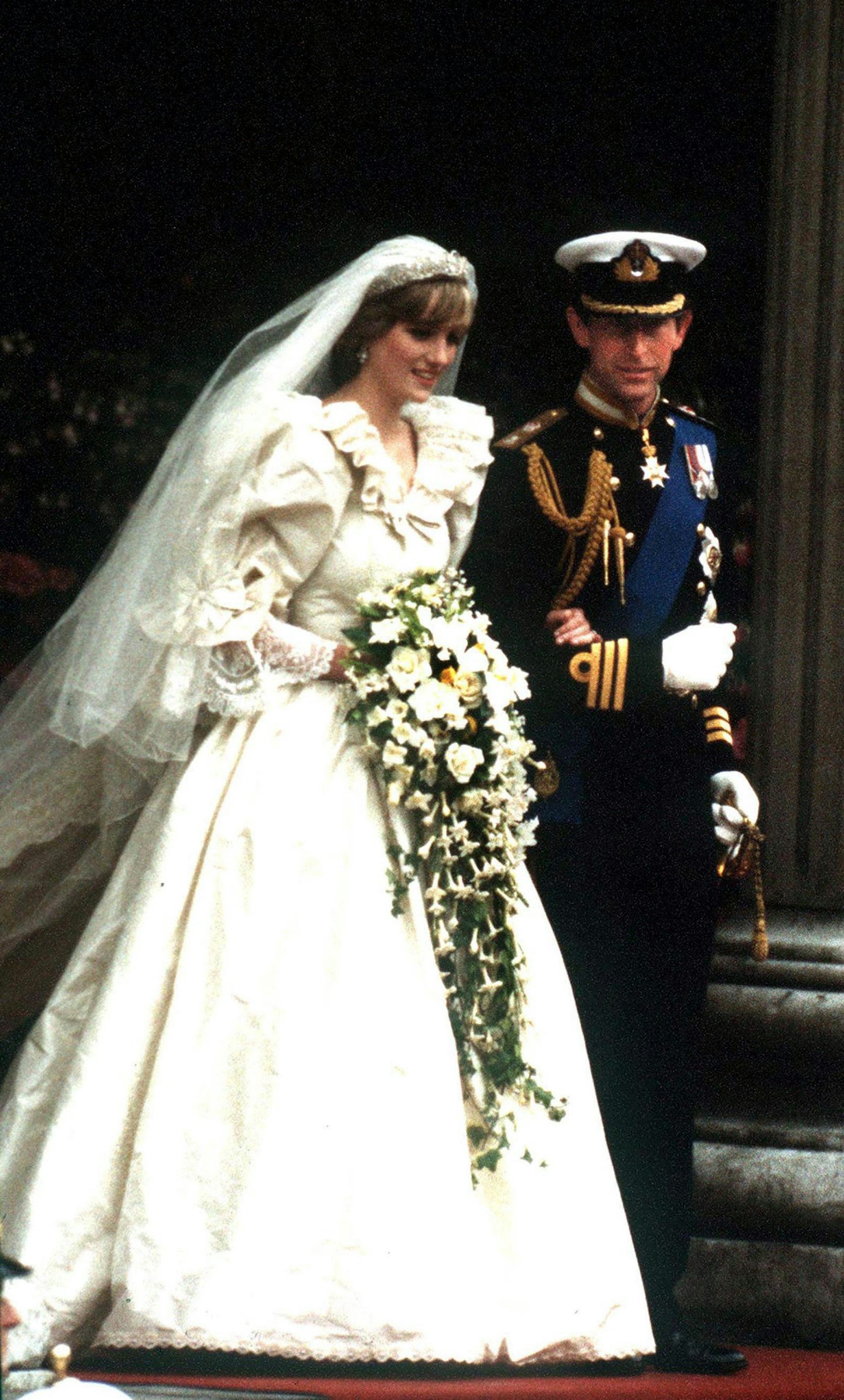 27 of 38
CREDIT: Getty Images
Princess Diana
Princess Diana's 1981 wedding dress is still one of the most famous bridal styles of all time. The fairytale gown, designed by David and Elizabeth Emanuel, was fashioned from ivory silk-taffeta and antique lace, which had belonged to Queen Mary. The 25 foot train posed something of a problem, however, barely fitting into Diana's wedding carriage.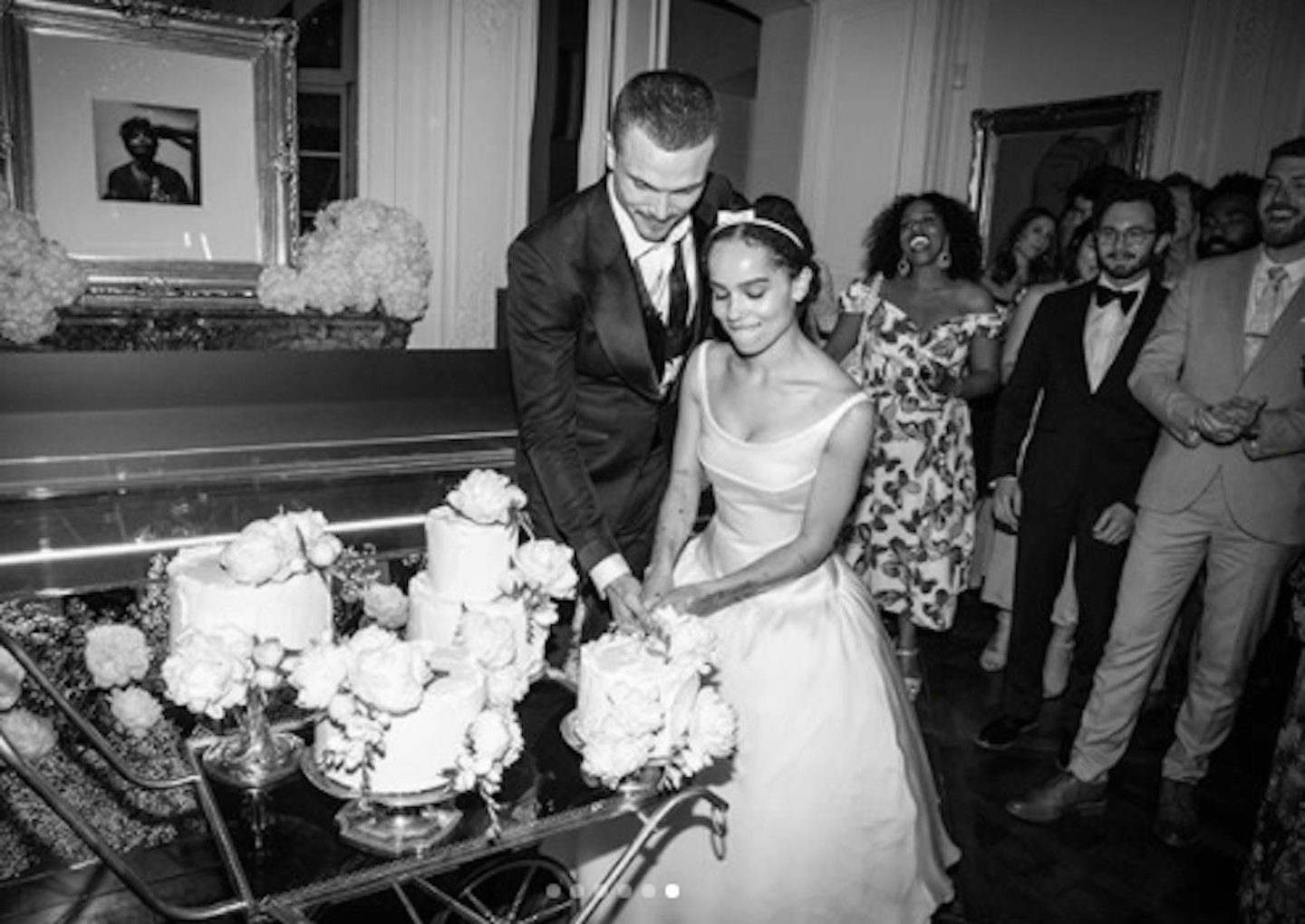 28 of 38
CREDIT: @ zoeisabellakravitz
Zoe Kravitz
Zoë Kravitz chose a butter-wouldn't-melt dress by Alexander Wang (the drop-waist and ankle-length silhouette drew comparisons to Audrey Hepburn).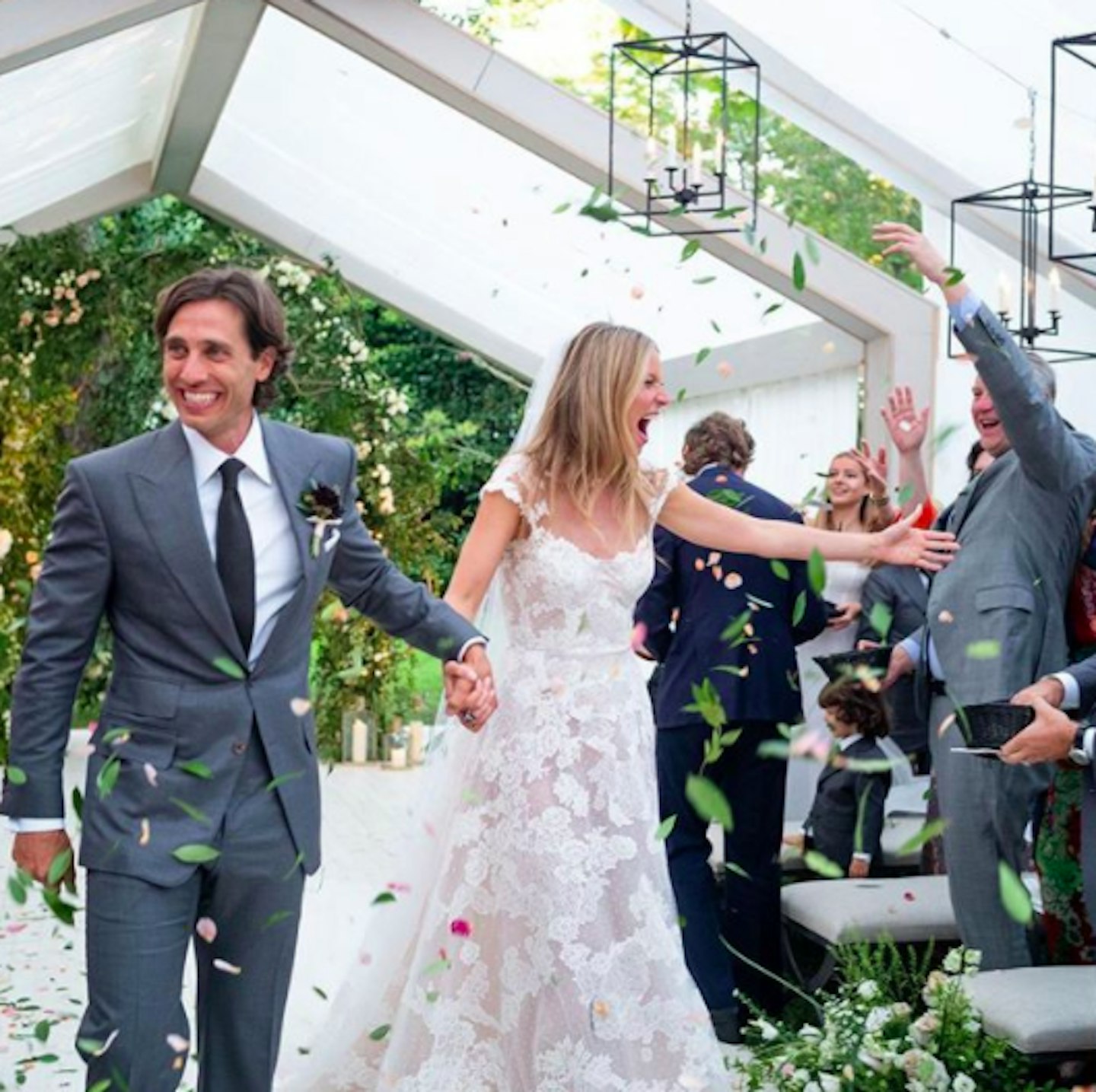 29 of 38
CREDIT: @gwynethpaltrow
Gwyneth Paltrow
Gwyneth Paltrow wore undone waves with Valentino Haute Couture for her Hamptons wedding to Brad Falchuk.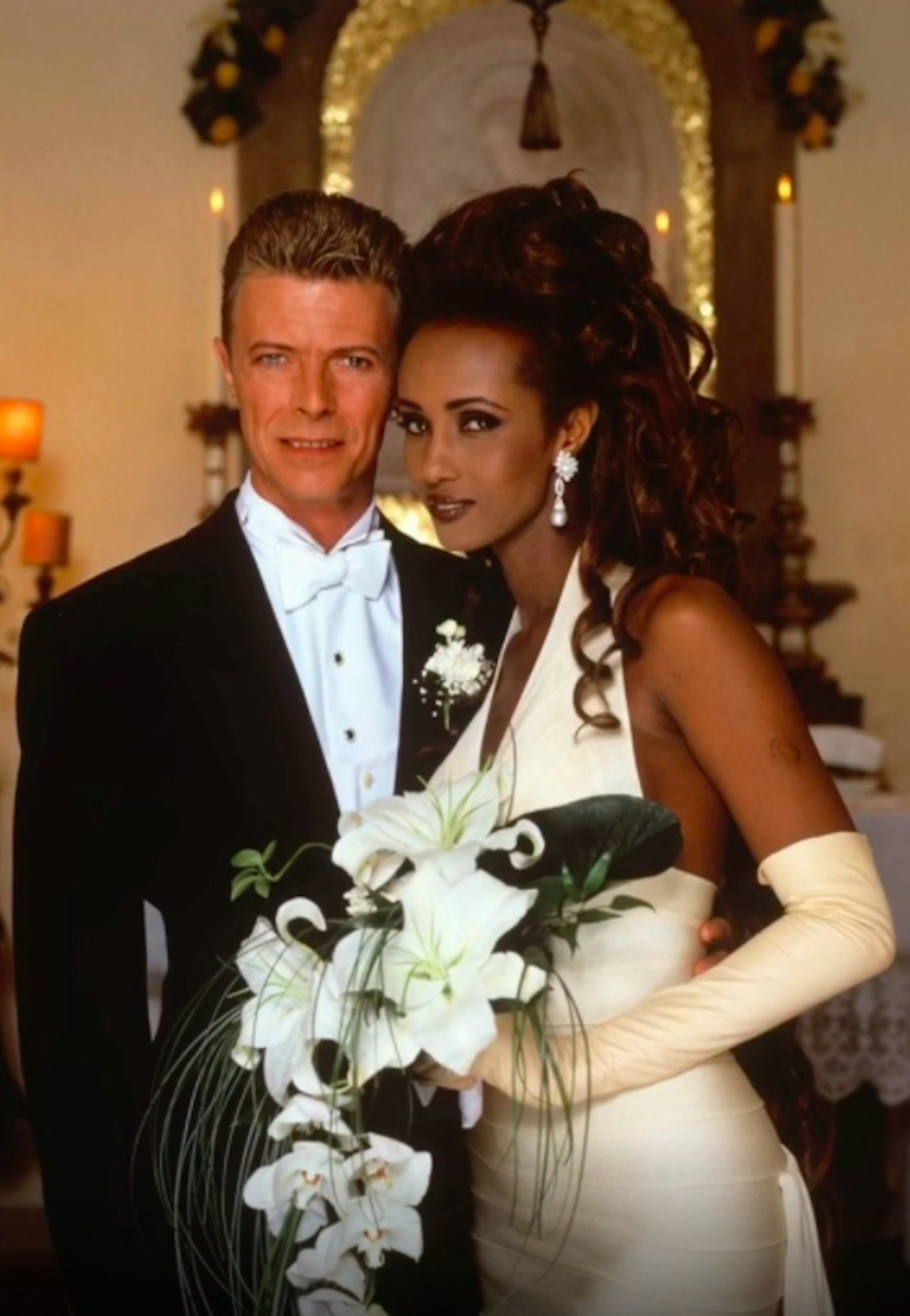 30 of 38
CREDIT: @the_real_iman
Iman
For the ultimate meeting of the rock and modelling worlds, in what must surely be the most glamorous union of all time, Iman married David Bowie wearing a Hervé Léger gown with elbow-length gloves.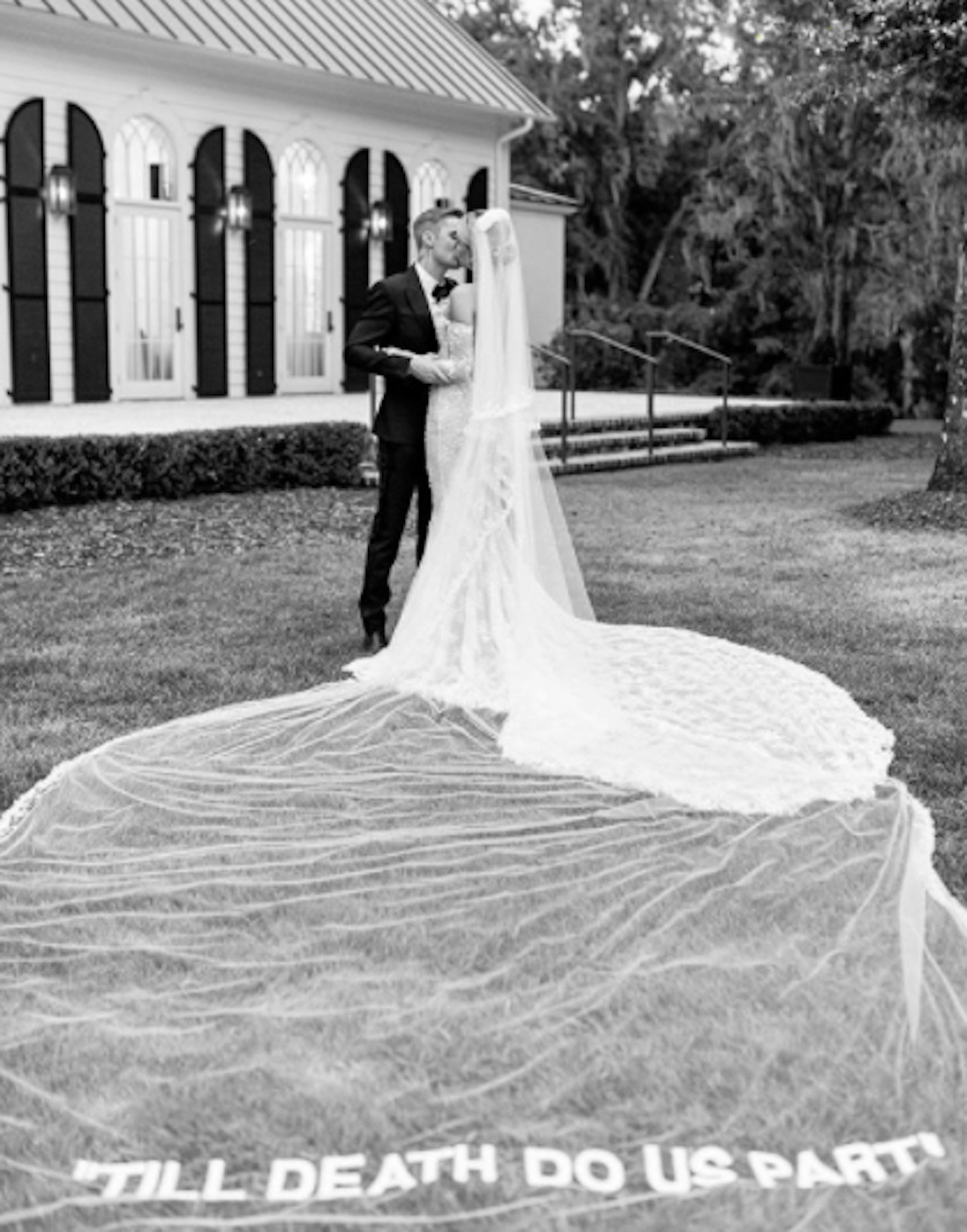 31 of 38
CREDIT: @haileybieber
Hailey Bieber
Hailey Bieber's wedding wardrobe included four white dresses, but this lace Off-White number, with 'Till Death Do Us Part' embroidered on the veil, was a scene-stealer.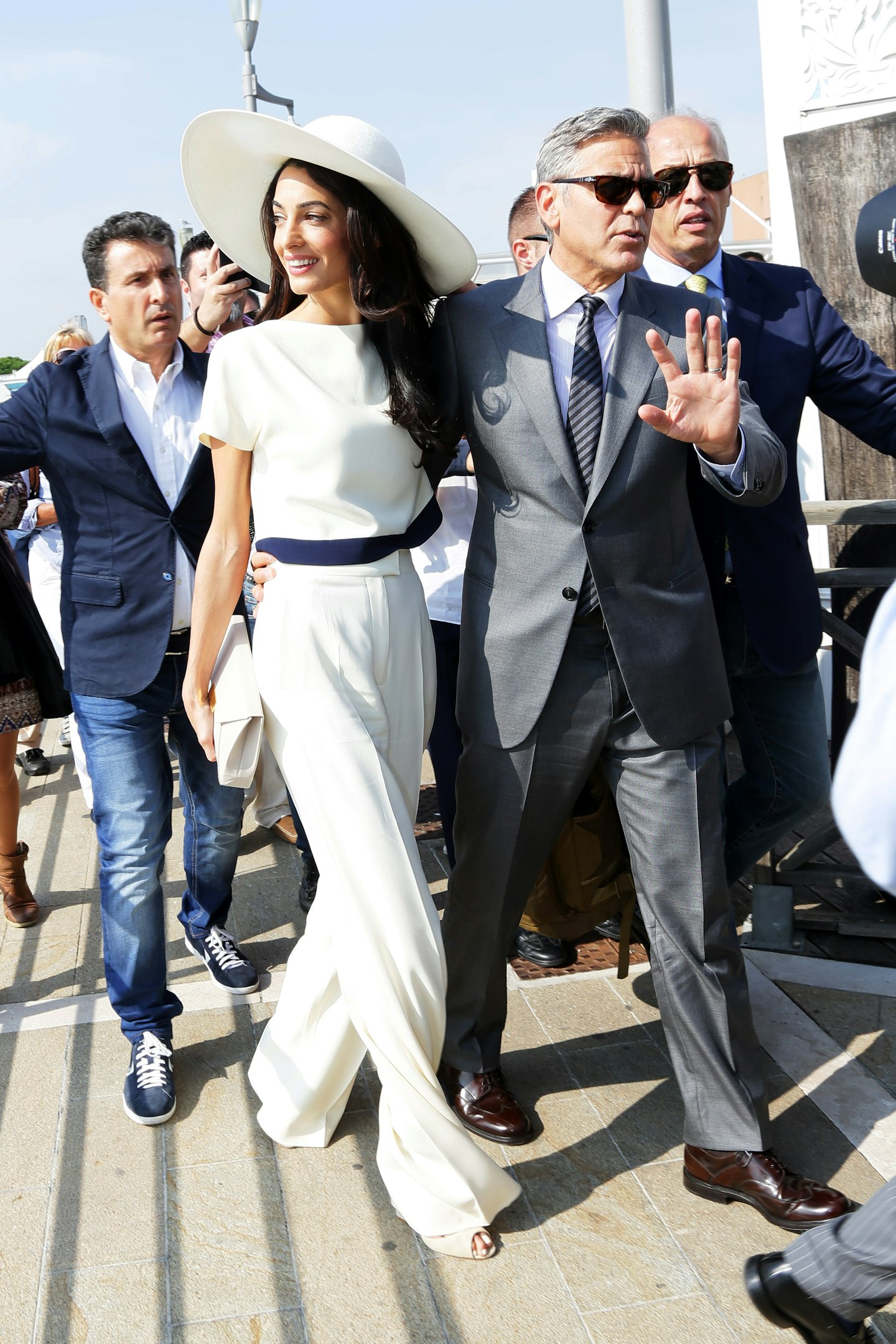 32 of 38
CREDIT: Getty Images
Amal Clooney
For her civil wedding in Venice, Amal delivered note-perfect polish in a cream jumpsuit by Stella McCartney.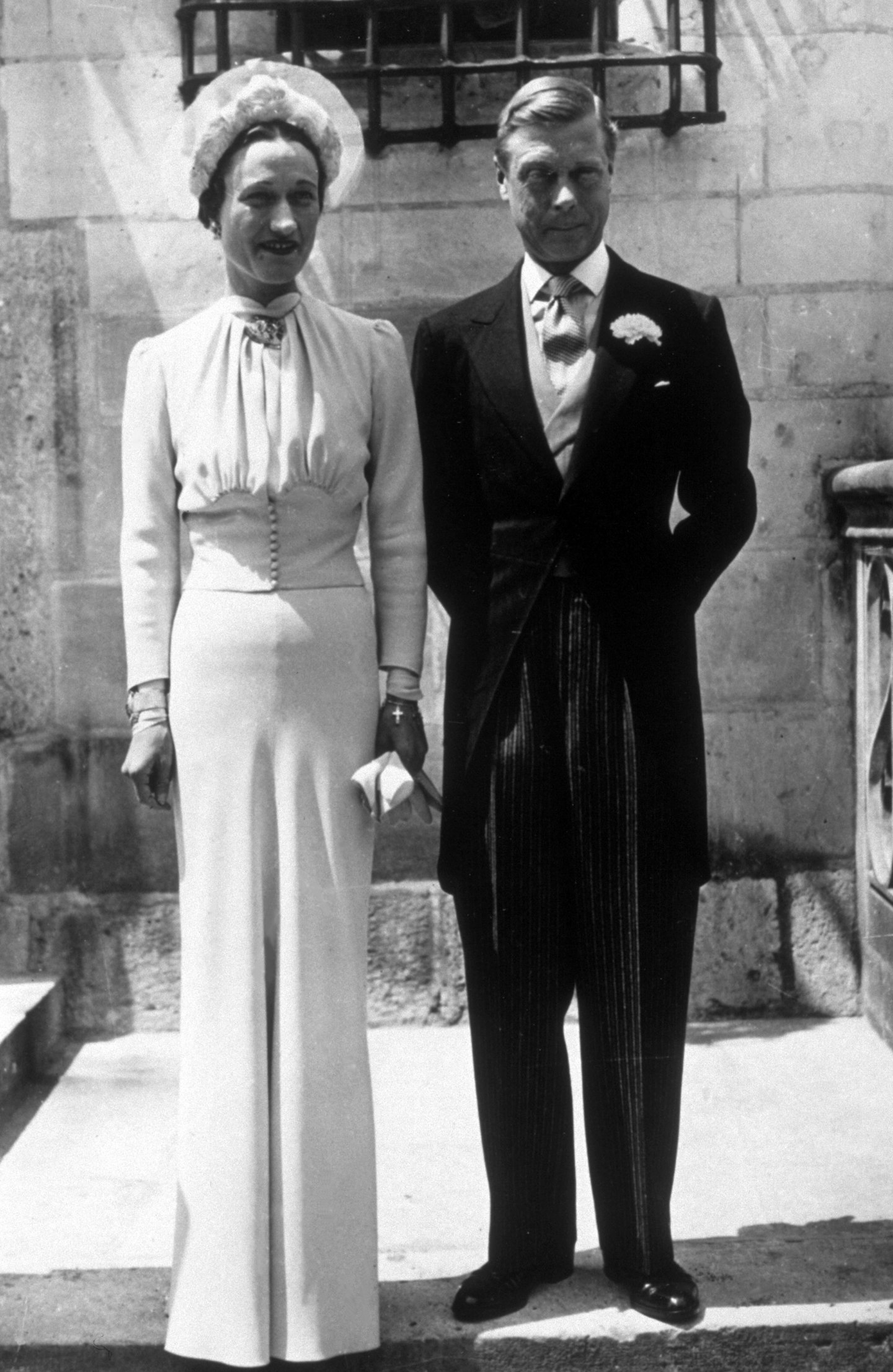 33 of 38
CREDIT: Getty Images
Wallis Simpson
The wedding of Wallis Simpson and Edward VIII, at Chateau De Cande in 1937, was perhaps the most controversial in Britain's history. As Time reported from the event: 'She wore a dress that most U. S. department stores were soon to feature: soft blue crepe with a tight, buttoned bodice, a halo-shaped hat of the same color, shoes and gloves to match. At her throat was a tremendous diamond-&-sapphire brooch.'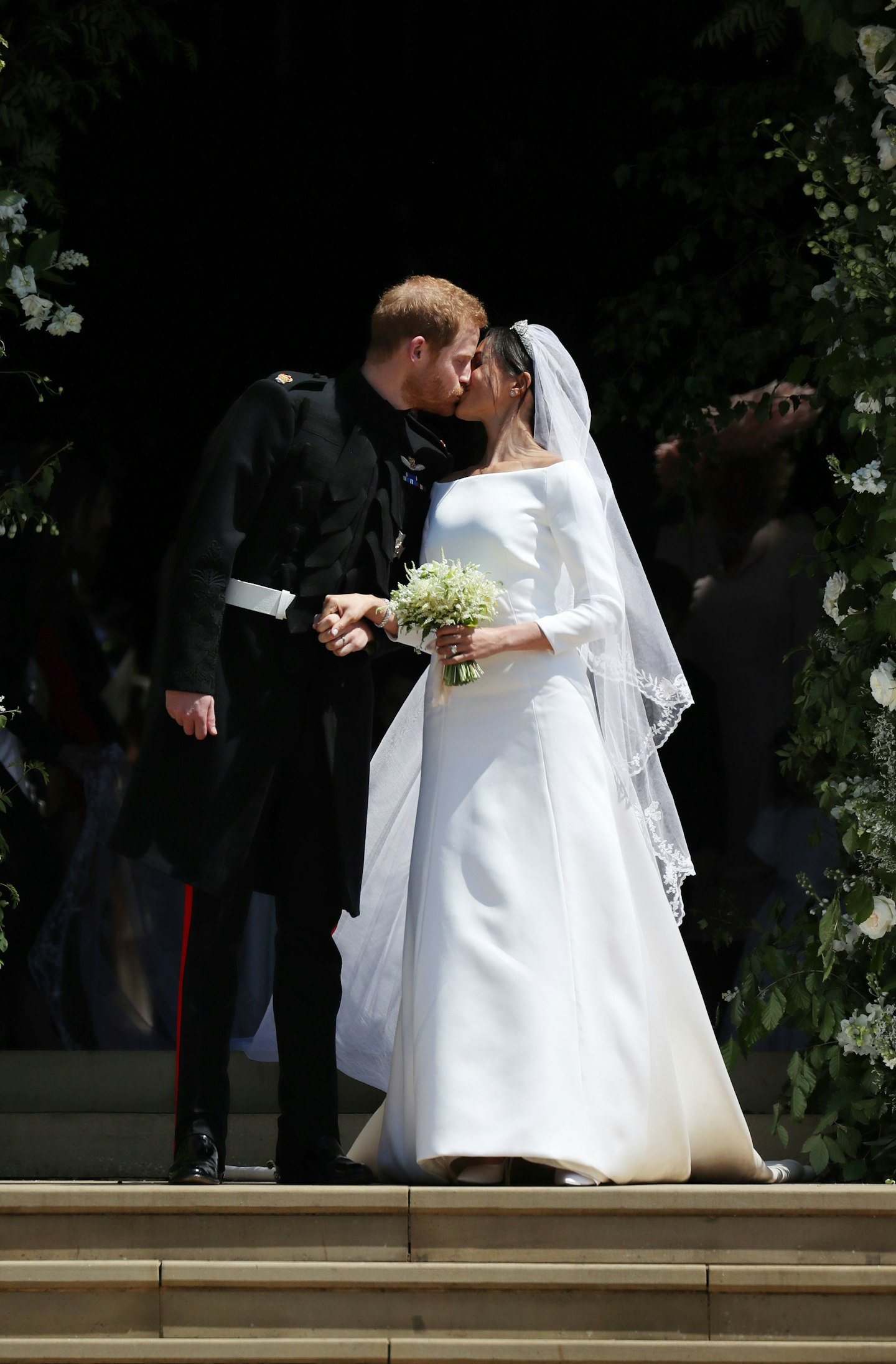 34 of 38
CREDIT: Getty Images
Meghan Markle
In the most-anticipated wedding dress designer announcement of all time, Meghan Markle surprised on-lookers by choosing Clare Waight Keller, artistic director at Givenchy at the time, to create her wedding dress.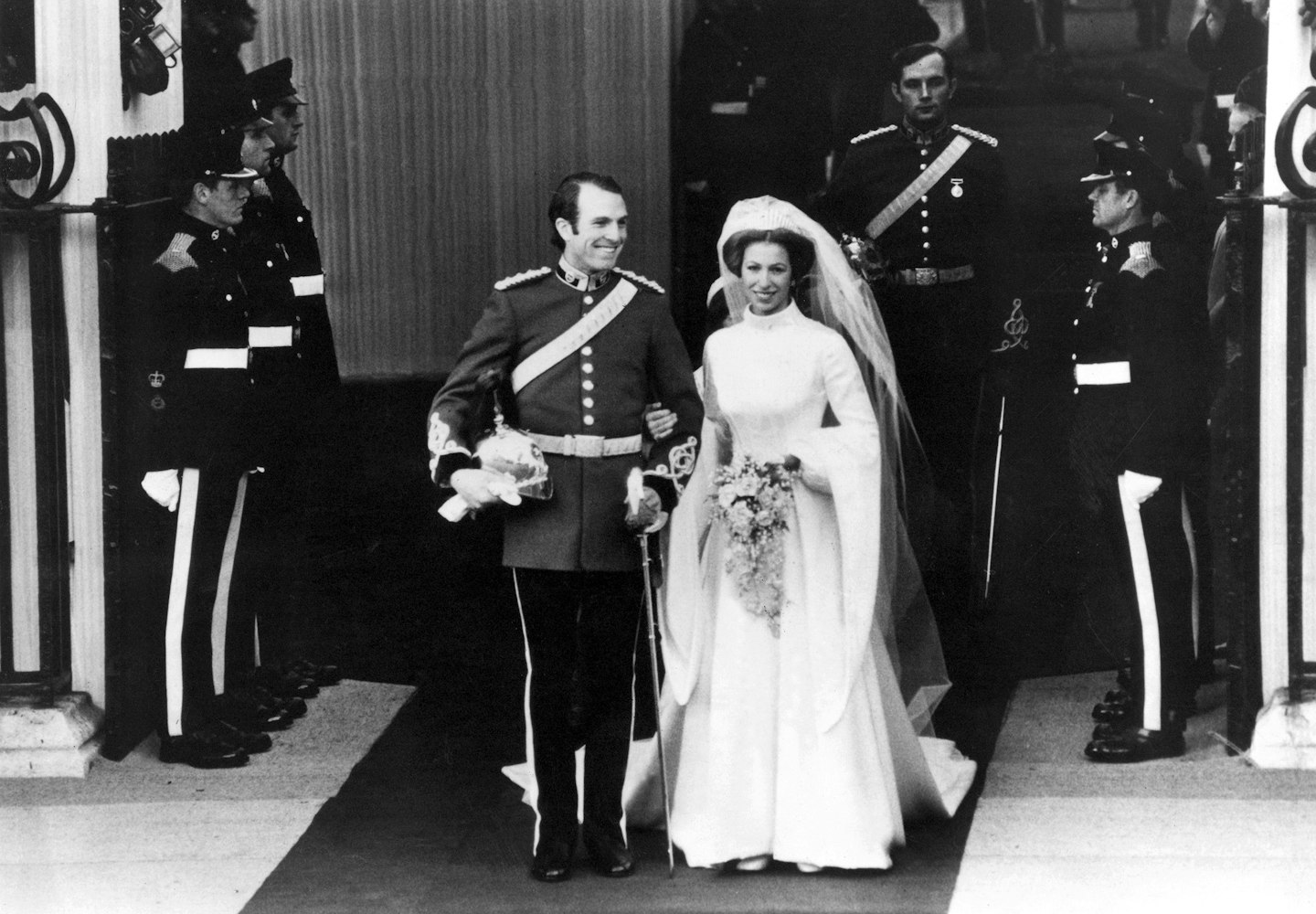 35 of 38
CREDIT: Getty Images
Princess Anne
For her marriage to Captain Mark Phillips in 1973, Princess Anne chose a high-necked, puff-sleeved gown by Maureen Baker.
36 of 38
CREDIT: Getty Images
Princess Eugenie
Princess Eugenie's open-backed dress, from London-based Peter Pilotto, was specially designed to showcase her scar from scoliosis surgery. The Greville Emerald Kokoshnik Tiara, gifted to the Queen Mother, was her crowning glory.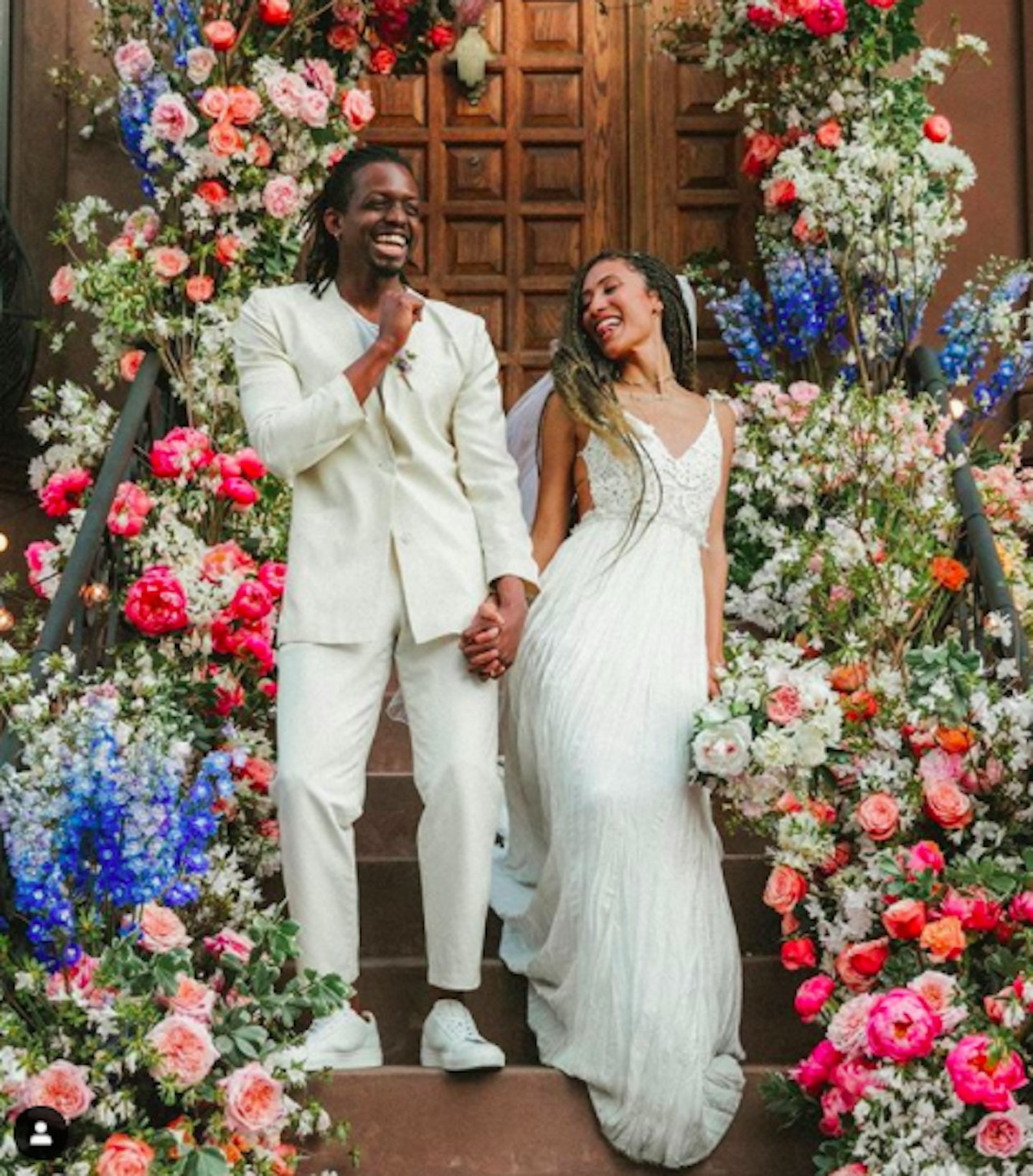 37 of 38
CREDIT: @elainewelteroth
Elaine Welteroth
Author, and former editor-in-chief of Teen Vogue, Elaine Welteroth didn't let Covid-19 stop her tying the knot on the 15th May 2020. She, and husband Jonathan Singletary got married on their Brooklyn stoop, with 200 friends watching on Zoom, well-wishing neighbours and a small group of socially-distanced friends. While her shoes were custom-made Brother Vellies, her dress, according to Vogue, was something she pulled out of her wardrobe, having not worn it for three years, and her veil was her mother's. 'Since the mantra we set for our stoop wedding was, 'Do the best you can with what you have,' I decided to not overthink my dress,' she told Vogue.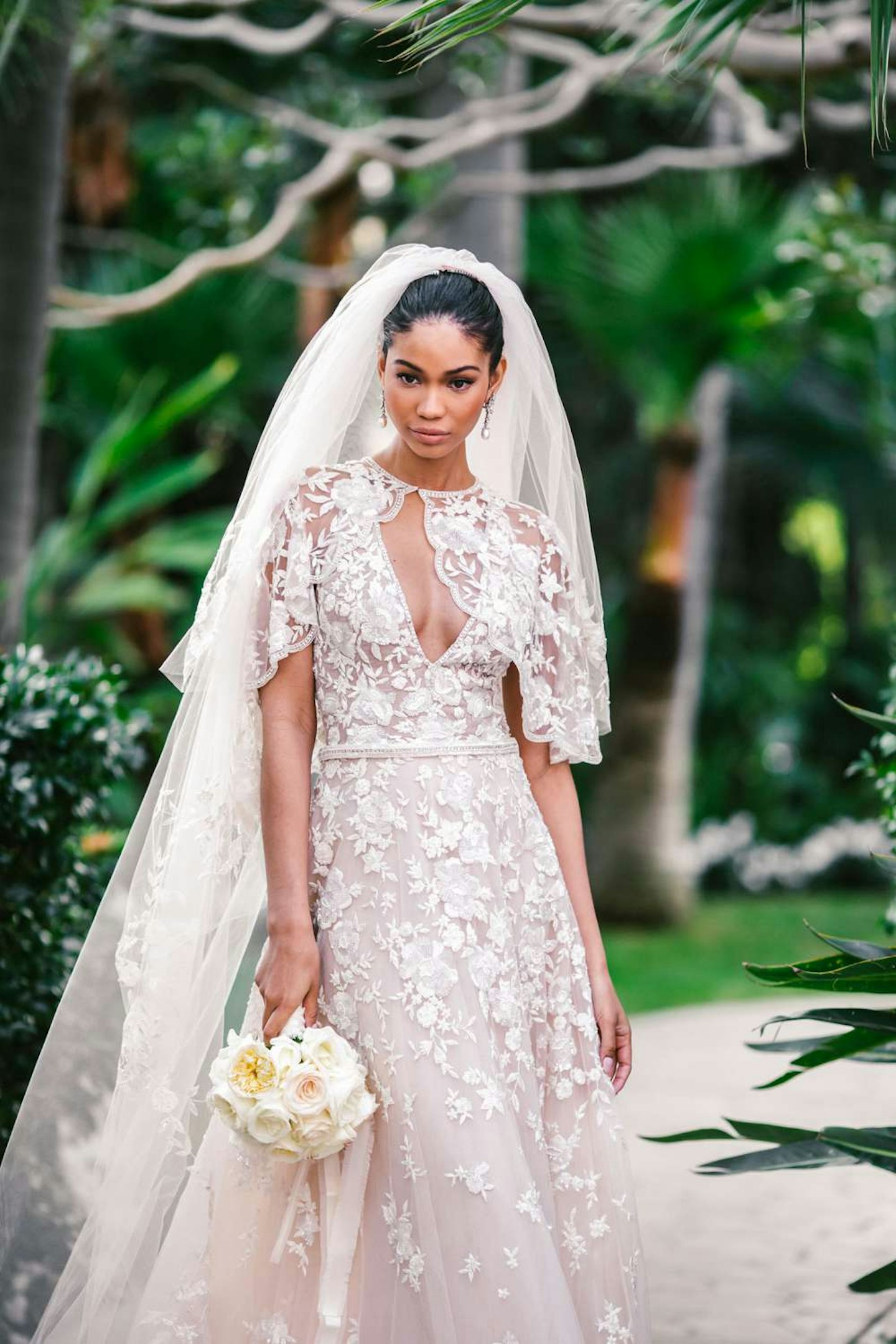 38 of 38
Chanel Iman
Model Chanel Iman walked down the aisle with New York Giants wide receiver Sterling Shepard in Beverly Hills while wearing a stunning lace gown by Zuhair Murad.