Jane McFarland, associate editor, Grazia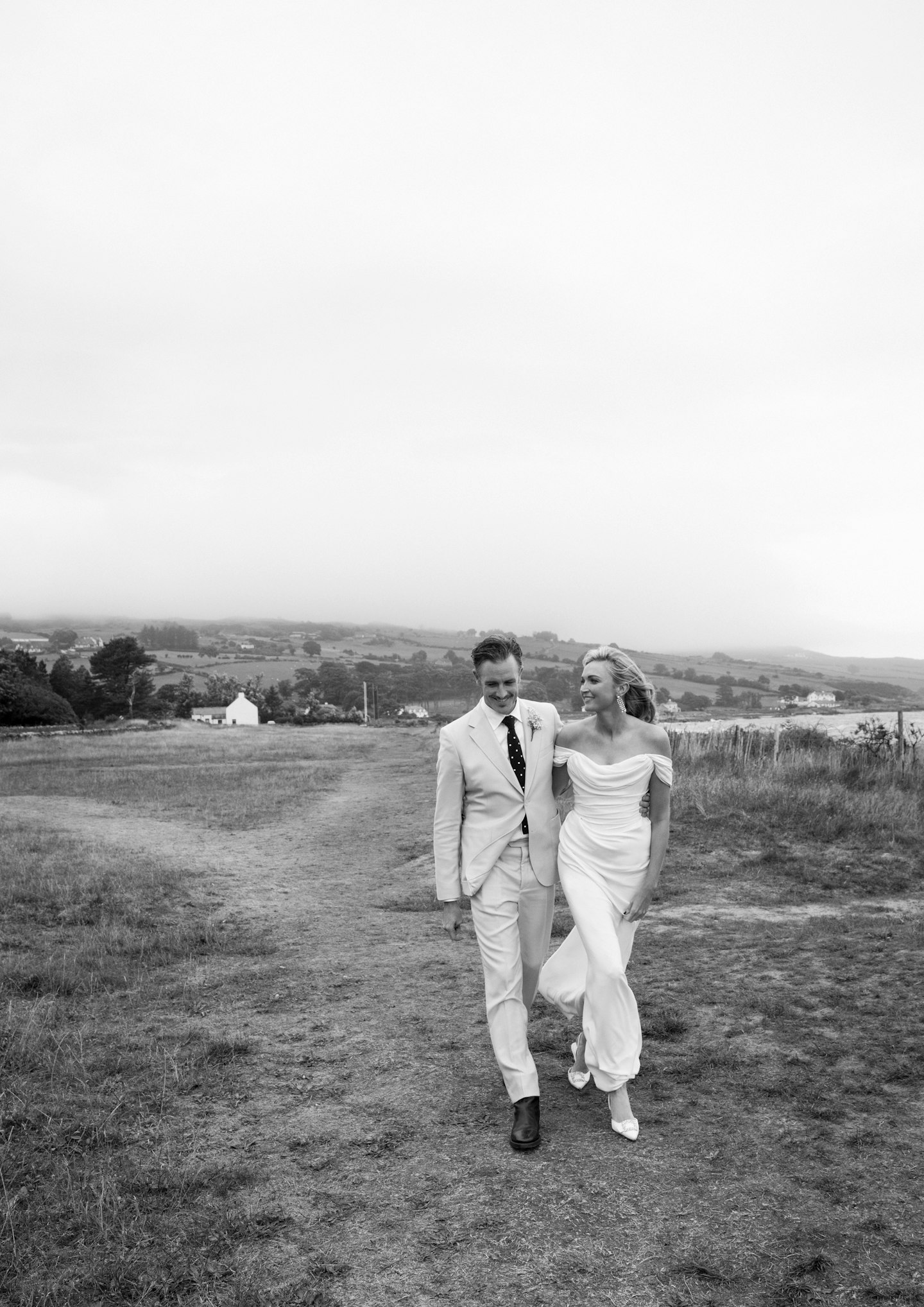 My husband and I met 11 years ago, the old-fashioned way – in a slightly sweaty pub on a nondescript Wednesday night. We got engaged on our 10th anniversary. It wasn't the endless 'Will they, won't they' questioning regarding our potential marriage that bothered me, but rather, what wedding dress would i wear?
It's an occupational hazard: working in fashion means people expect you to have the industry's A-Z on speed dial. No one talks about the pressure. Trotting to international fashion shows, salivating over a new designer or item and subsequently needing to buy it right now; the idea of a fashion obsessive settling on just one dress that you'll love for the rest of your life is almost as farcical as settling on one person. Shoes were less problematic – within 72 hours of the proposal, I ordered a pair of bespoke Manolo Blahnik heels to accommodate my off-the-peg size 10 feet.
Having never fantasised about a wedding dress, I failed to get interested in all things meringue-y. I was positively set on a trouser suit – the perfect outfit for our low-key 'minimony' of 25 adults. My options ran the gamut from Paul Smith to old-season Alexander McQueen – admittedly, I did have a personal shopper at Bicester Village to help with that one. Then came the volte-face: an email notifying me of a one-off Vivienne Westwood sample sale.
I have had eBay alerts and Vestiaire Collective wish lists dedicated to Dame Vivienne Westwood since forever – an original dress was out of the question, but an invite promising a convincing discount? The quickest yes I ever said.
So it was on a Tuesday morning that I was cinched into a classic Westwood bridal number by Lydia, the in-house bridal expert. I'll never be able to do justice to the way it feels to be embraced by a boned Westwood corset, but it's like Spanx on steroids. Timeless but modern. Classy but cool. Genuinely the most comfortable thing I've ever worn. There were no group tears or other clichés – other than I did not choose the dress, the dress chose me. And now I'm dyeing it black to give it new life.
Eshita Kabra-Davies, CEO and founder of rental marketplace By Rotation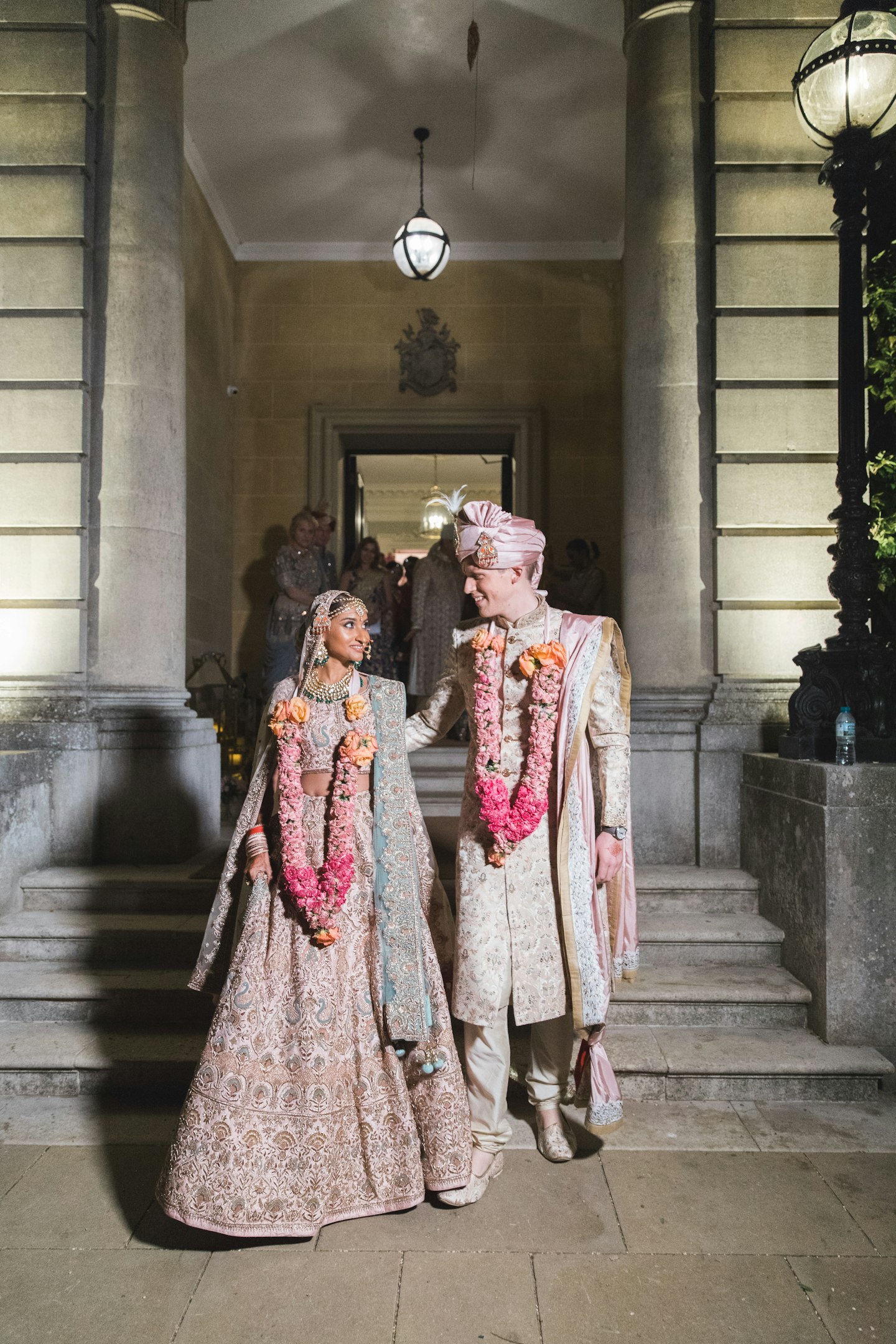 When I went to Delhi for my wedding shopping, I was overwhelmed. There's too much choice! I had four different outfits, which is a crazy amount of changes looking back on it, and they were all by Indian couture designers. We call them the lehenga – a crop top and a skirt with a tutu underneath.
For the first event – the mehndi, when you put henna on your hands – I wore pink and green. The theme for that night was a celestial ball, which is why we chose Gaurav Gupta; he does really intricate, sparkly clothing. The sangeet is when you have dance performances from the boy's side and the girl's side. It's your family members and friends celebrating you and your future together. For the third event, we had a purification ceremony for the bride, and we wanted everyone to wear yellows, oranges, reds – the colours of the sunset. The fourth event is called the phere, when you get married. You go around the fire seven times in a circle and every circle is a life. So, in Hinduism, when you marry someone, you're married to them for seven lifetimes.
I married my husband because he's an amazing person, regardless of his ethnicity and religion. But I definitely identify as Hindu. So even though we had a civil ceremony and were already legally married, I wanted to get married the Hindu way. And my husband and his family respected it. My outfits are available to rent on the app. I would love to share them with someone else.
Candice Brathwaite, writer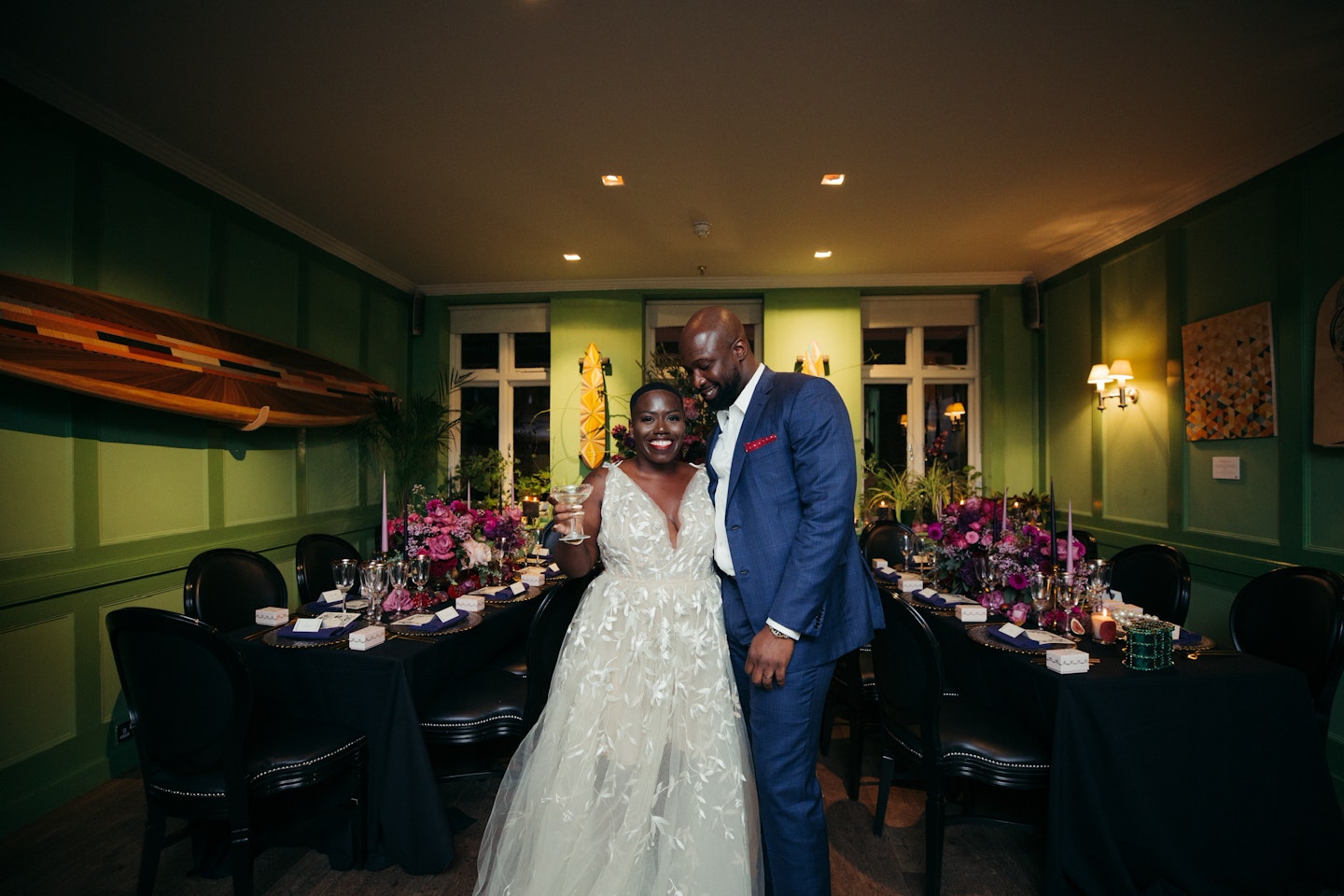 I thought more about a wedding rather than getting married in my mid-twenties. The vibe then was fly out to Greece, have a see-through dance floor over a pool and wear three Vera Wang dresses. Unrealistic.
We planned our wedding in seven weeks. I would never encourage the stress of trying to find wedding looks in that time. On top of that, I had the harsh reality of being a mid-size girl trying to shop really high-end. I found a dress that I loved by Alexander McQueen. I needed a size 16. They only had a size 8 and it became so frustrating. I decided I was going to wear something I've already got. My husband-to-be wasn't happy with that and said, 'I know how much you loved getting dressed up.' But I was getting so disheartened.
One day, he said let's go back to Bicester Village. We went into Oscar de la Renta and, by the luck of the gods, the stock room door was open. Right there was the dress of my dreams in a size 16. I tried it on and it fitted like a glove. £700 for an Oscar de la Renta gown. I'd spent a month berating my body. You, as the woman, you're not the problem, sizing is the problem. As my daughter said, 'You look like a princess.'
Olivia Jordan Cornelius, writer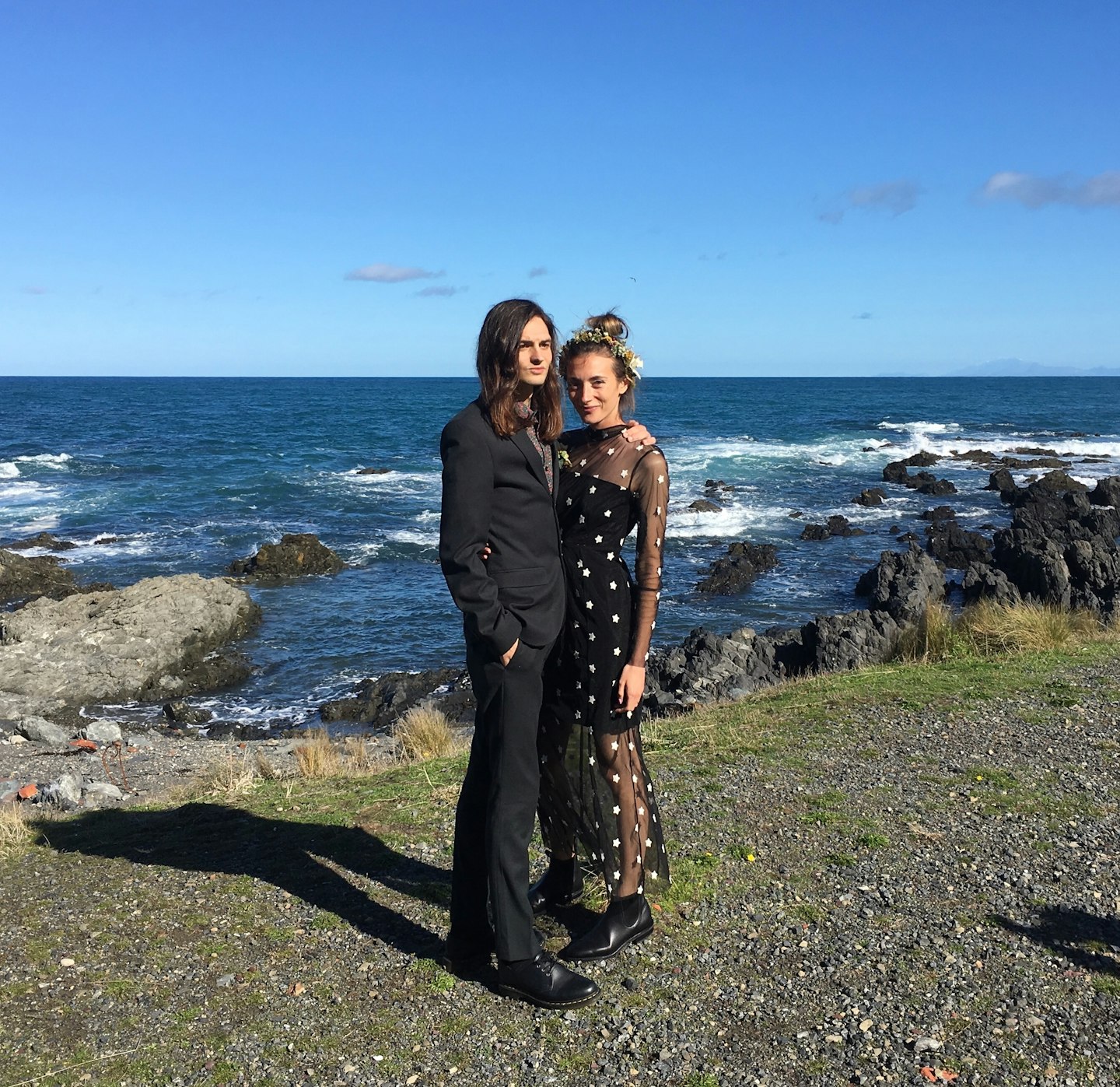 We never really felt the rush to get married. You think you've got all the time in the world and, one day, it will just feel right and everything will go perfectly. But then Cam was diagnosed with cancer and you're thrown into this time vortex. There is no tomorrow. I just said to him, 'Shall we get married?' in his hospital room. Because the timeframe was super-short – he was diagnosed with stage four cancer and pretty sick straight off the bat – there was no guarantee that we could get married in six months and he would be there for it.
I had this dress in my wardrobe. I wore it to one of my best friend's weddings, then put it away and forgot about it. A wedding is a celebration of love between two people, but also your friends, your community, your family. I found that it was infused with love. It had been worn on a happy occasion; a time pre-cancer, when we were just young and free. That was everything I wanted to remember on that day. I'm a strong believer in sustainability. Cam wore a suit that was a hand-me-down from one of his friends. I wore a headband of local flora. We turned a rushed situation into something purposeful.
I've never felt constrained by tradition. The dress just felt right. I wore it to Cam's funeral. We did a big memorial party when he died and went to see Star Wars. I have so many beautiful memories in this dress and such painful memories, but it's part of everything I've been through. I went for a walk on our wedding day and it got muddy. I've never washed it; it's just becoming layered with more experiences. I hope it's filthy and torn and worn out by the time I'm done.
Charlie Porter, founder of online emporium Tat London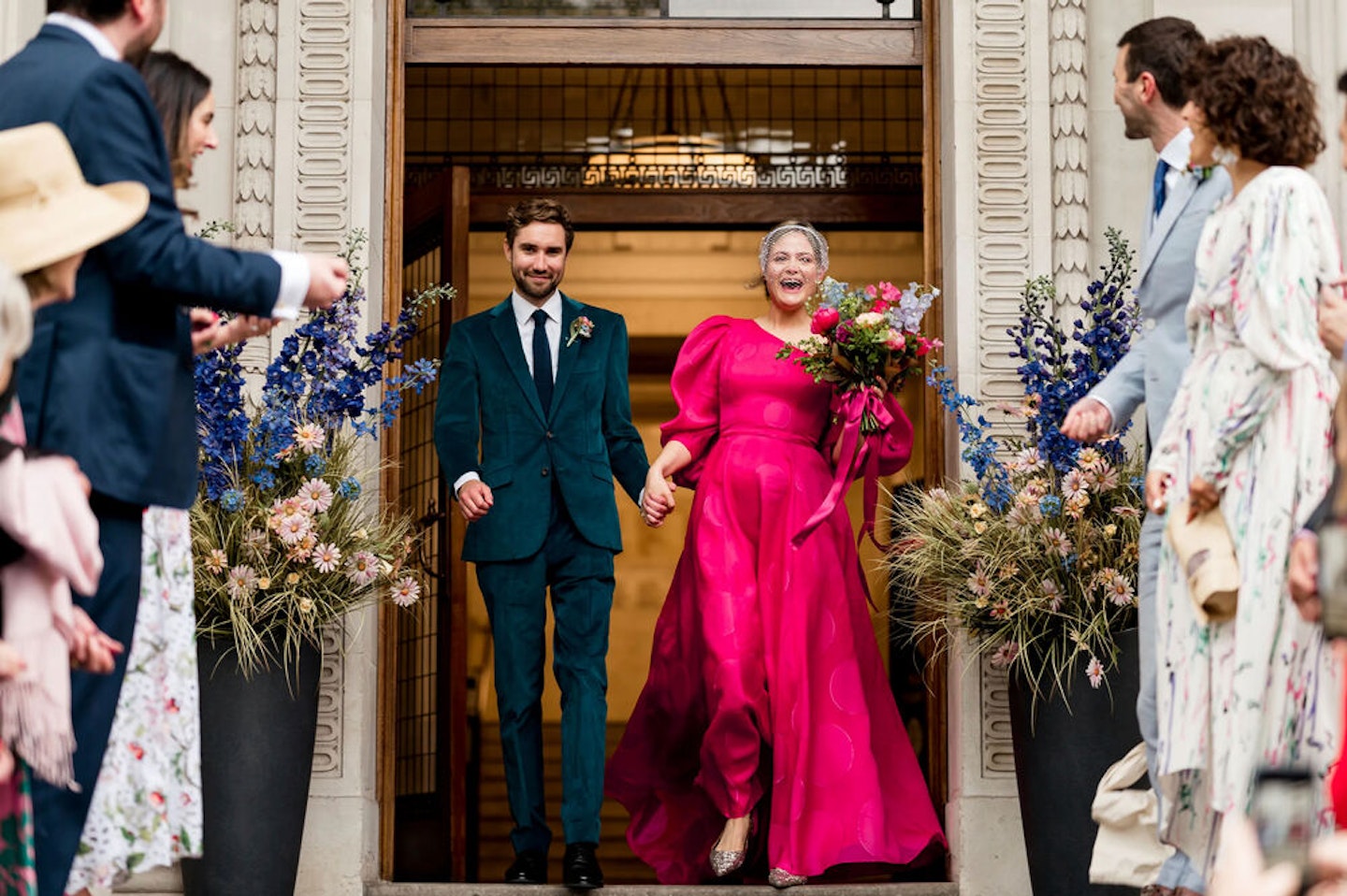 By the time I got engaged, my husband and I had been going out for 10 years. In the summer of 2019, I had just left my job to work on Tat, we went on holiday, and he asked me to marry him. It was a very exciting week, and just a little anxiety making. Thankfully, I always knew what sort of wedding I wanted: a boozy summer fête with raffles, funfair rides and multiple fast-food vendors. I set about planning. I did not want a long engagement, so we opted for May 2020.
One of my top priorities was the dress. I knew I didn't want a traditional wedding dress. They don't do it for me. I am a very pasty girl, and white is not my colour. So, after a trip to Harrods where I cried in the changing rooms, I decided to take the search online. A flurry of MatchesFashion and Net-A-Porter boxes arrived. I tried on dresses I thought would be chic on me – and ended up looking either like a toy doll or a drag queen, and not in a good way. The dress I finally chose had been on my shortlist for some time before I finally pulled the trigger and bought it (as a bonus it had been heavily reduced). As soon as I tried on the Carolina Herrera fuchsia pink organza gown – kaboom! – I was in love. I wore it around my flat, swished the skirt, and felt that everything was right. Except, all was not right, as Covid was on its way.
By March 2020, we had postponed the wedding. By April 2021, after three postponements, we pulled the plug. We knew we didn't want to wait any longer. We had a simple wedding in May. Thirty friends and family in a pub. The dress was the remaining piece from the original plan. The morning of the wedding, it felt like seeing an old friend again. I put it on and felt the same excitement I had two years before.
Holly Scott Lidgett, talent and brand partnerships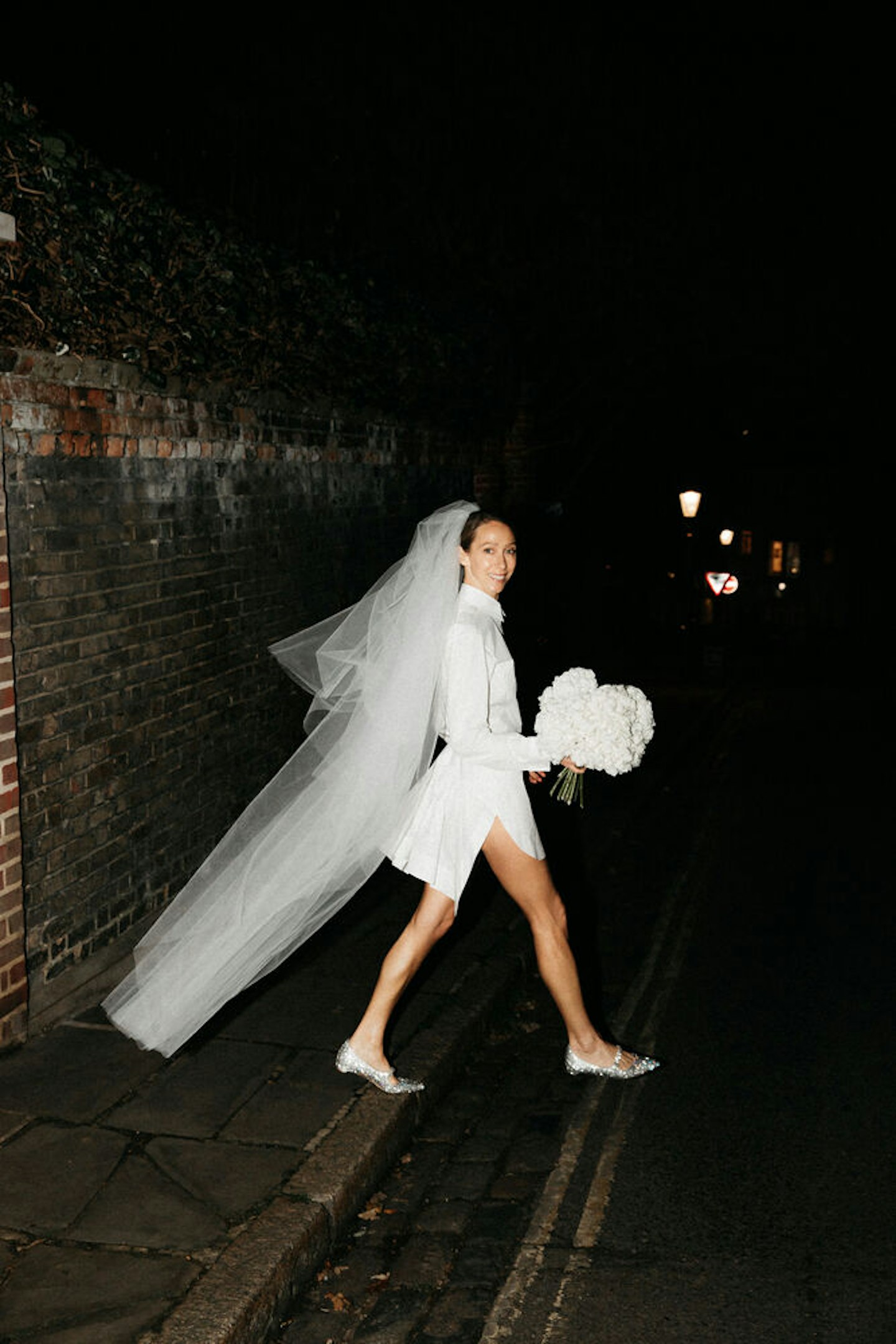 I think falling in love in your forties is so divorced from the fantasy that you create in your twenties. You're so present in your love. My husband and I are together purely out of choice so creating this wedding together felt easy and nurturing. We got married at Burgh House in Hampstead the week before Christmas. It was very intimate because we're blending a family and therefore wanted to make sure that all six children were the focus. We wanted it to be like the most wonderful Sunday lunch-slash-dinner party you could imagine.
I know my style – I kind of dress like a boy – and I wanted to feel like the best version of me. From the off, I wanted to wear a white shirt, flats and a full-length veil. I made the mistake of telling friends and the consensus was that perhaps it wasn't appropriate! For a moment I let myself be derailed and went to a bridal appointment, which was so much fun but I knew I wasn't going to wear a bridal gown. After getting stressed about it, I woke up one morning in September and called the Alaïa store on Bond Street. I'd seen this 1996 re-edition of a shirt I loved and they had one in my size. I headed down there on my own. As soon as I put it on I grinned and felt how I guess you're supposed to feel when you put on The Dress. I was beside myself.
I already had a pair of Rupert Sanderson shoes that my sister-in-law embellished with Swarovski crystals for the wedding. And the veil was £79 from Etsy. It's the ultimate accessory – I didn't want to take it off !
Monikh Dale, stylist and writer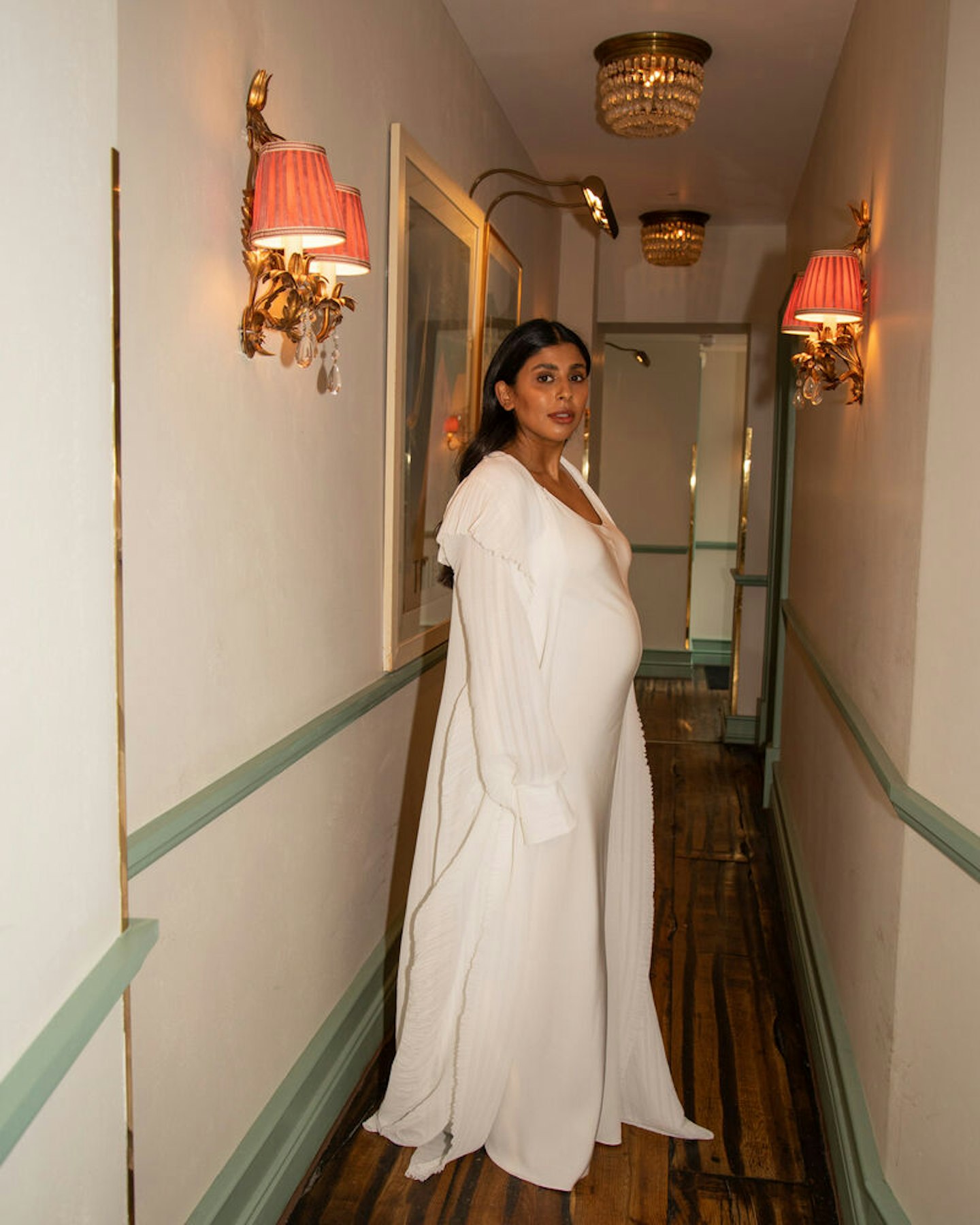 We got married last May. We planned to have the wedding the year before but it kept getting delayed. We just got to a stage where we couldn't trust that we would be able to have this big wedding in Spain. We decided to try for a baby and were lucky to get pregnant so we cancelled it all, bought our house and had an intimate wedding with 28 of our closest friends and family.
We got ready together in the morning and went to Chelsea Town Hall. My favourite part of the day was when we were both dressed and it was just me and him in our flat. We sat down at our kitchen table and were both like, 'This is so surreal.' For the original wedding, I had a few dresses. When I got married, I was five-and-a-half months pregnant so they didn't work any more. One of them was a two-piece set from The Row. It had a little slip dress that was semi-transparent and then a pleated chiffon jacket. It was meant to be the outfit for dinner. It would have looked really cool gliding between tables. It's not so chic walking down King's Road, five months pregnant! My friend, Pippa from Bon Bride, made me a new slip and it was stunning.
Shoe-wise, I wore Gianvito Rossi, those heeled flip-flop style ones in white. My feet were so swollen that none of my shoes fit! I'm a huge believer in buying pieces to wear over and over again. I'm thinking about having it cut shorter but another part of me is thinking my daughter may want to wear it for her wedding day. I want to keep it for her.
SHOP: Best Wedding Guest Dresses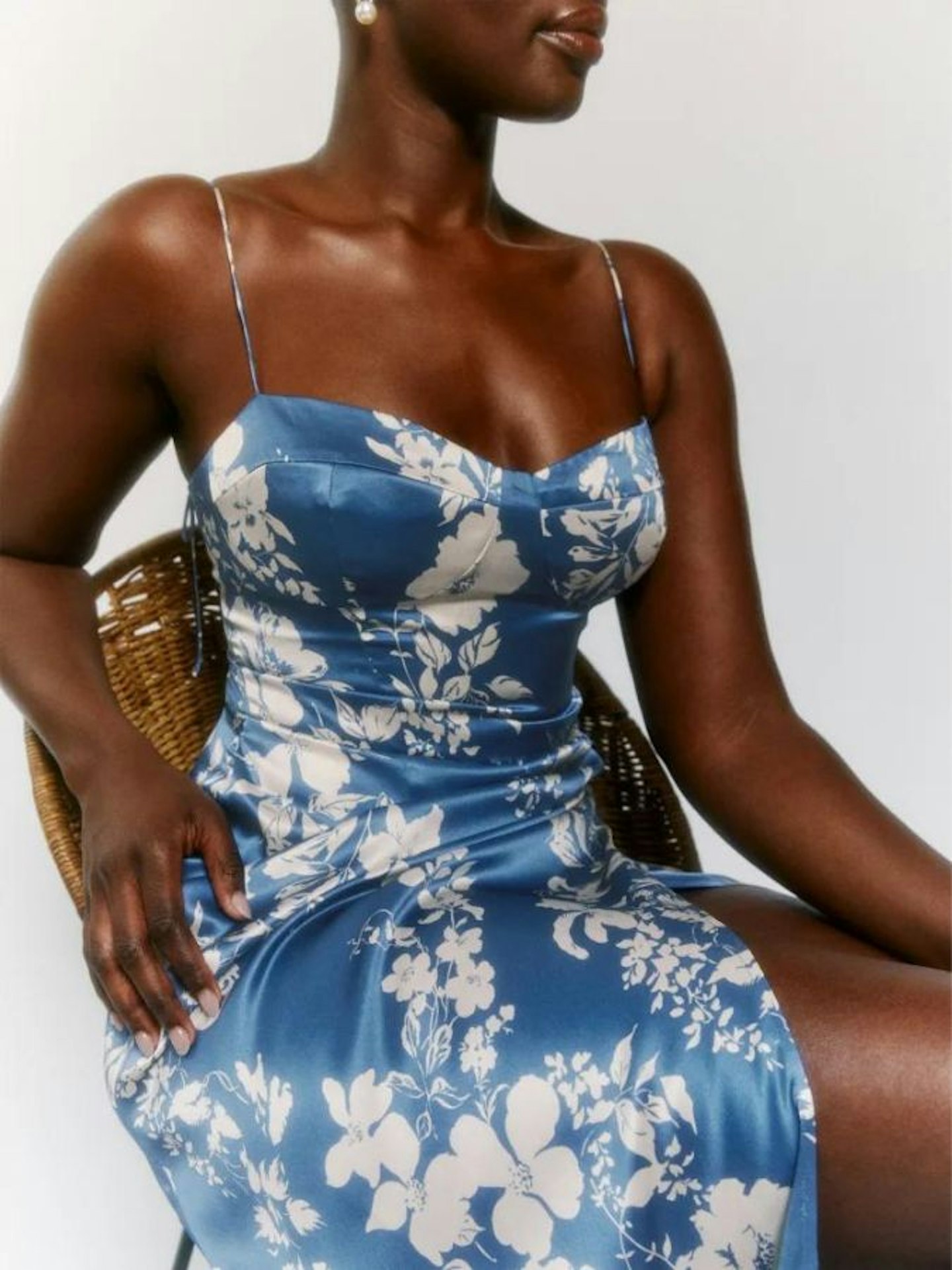 1 of 20
Marguerite Silk Dress, £300
Silky and floral, the Marguerite silk dress is your perfect wedding day companion. The wrap skirt means you'll be showing a little leg and we love the fitted bodice with tie straps.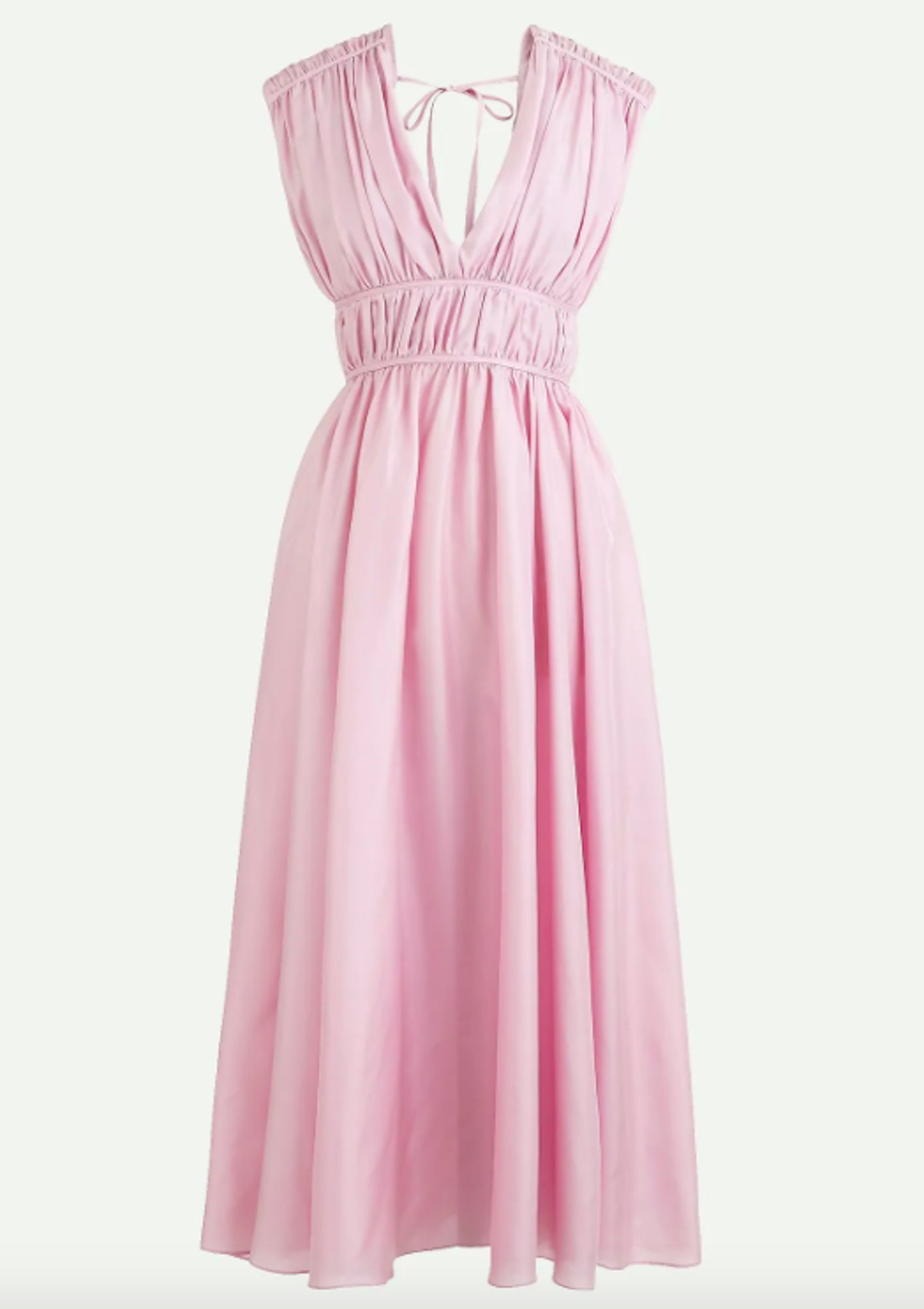 2 of 20
J.Crew, Gathered Silk Midi Dress, NOW £367 NOW £257
This dress won't just work for weddings – layer over fine knits during colder seasons to make it work all year round.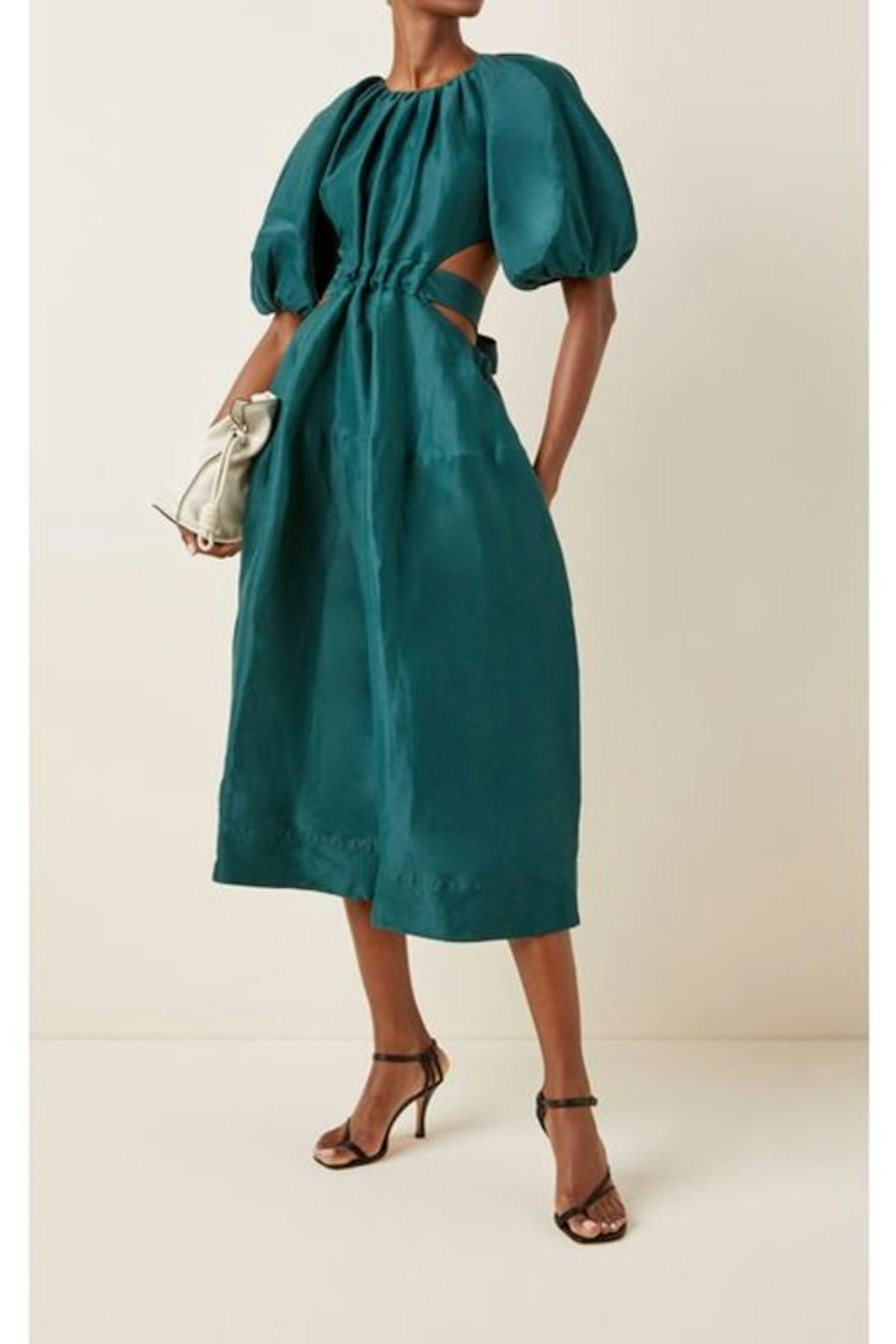 3 of 20
Aje available to rent at Hurr, Mimosa Puff Sleeve Midi Dress, £107
With this dress, the devil's in the details. The bow around the middle ties at the back and there are pretty buttons which fasten at the top of the dress. The material is beautiful, too, as it's linen blended with silk.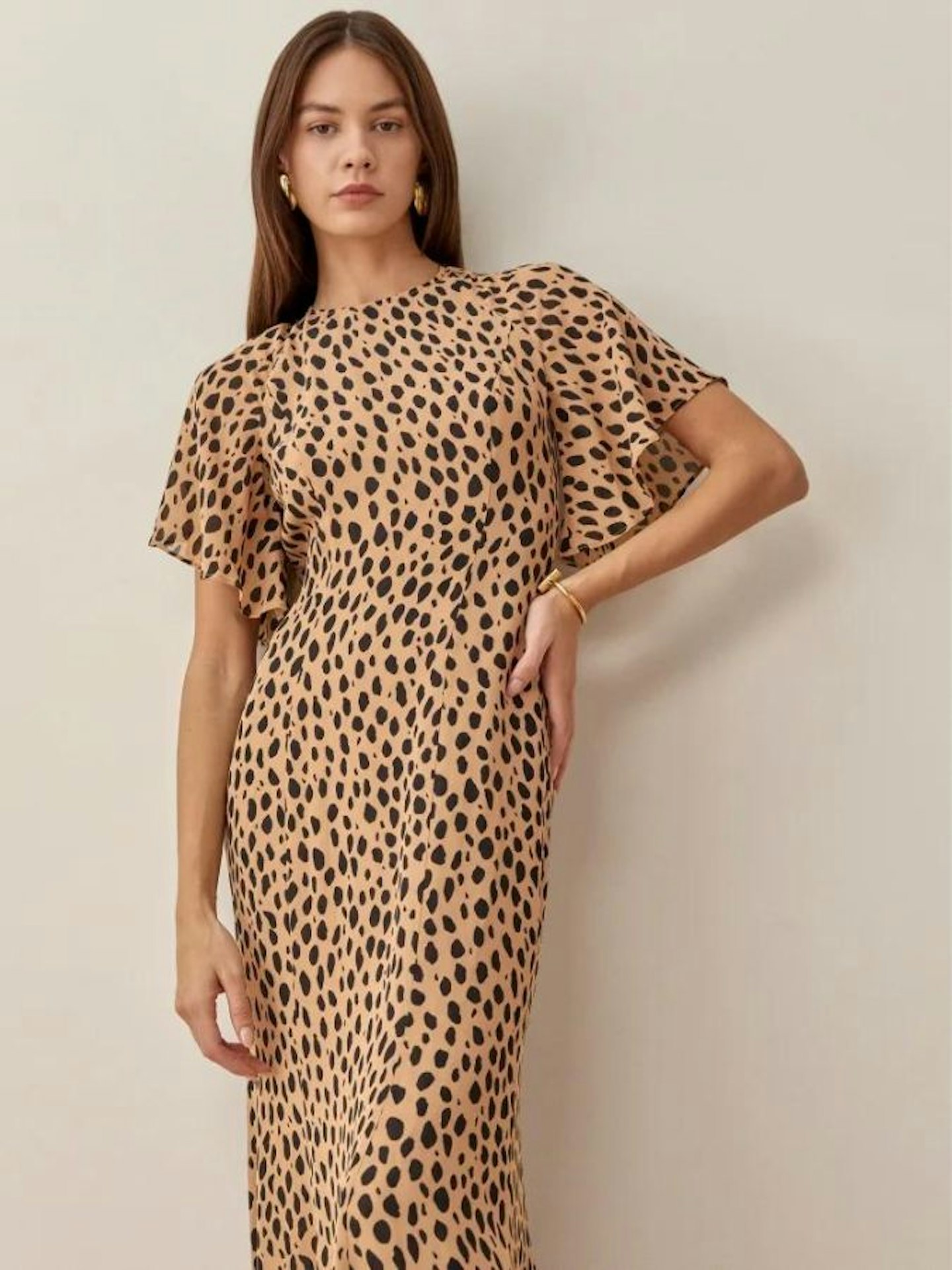 4 of 20
Carletta Dress, £300
The Carletta from Reformation is the perfect midi and with a relaxed fitting skirt, you get structure and comfort all in one.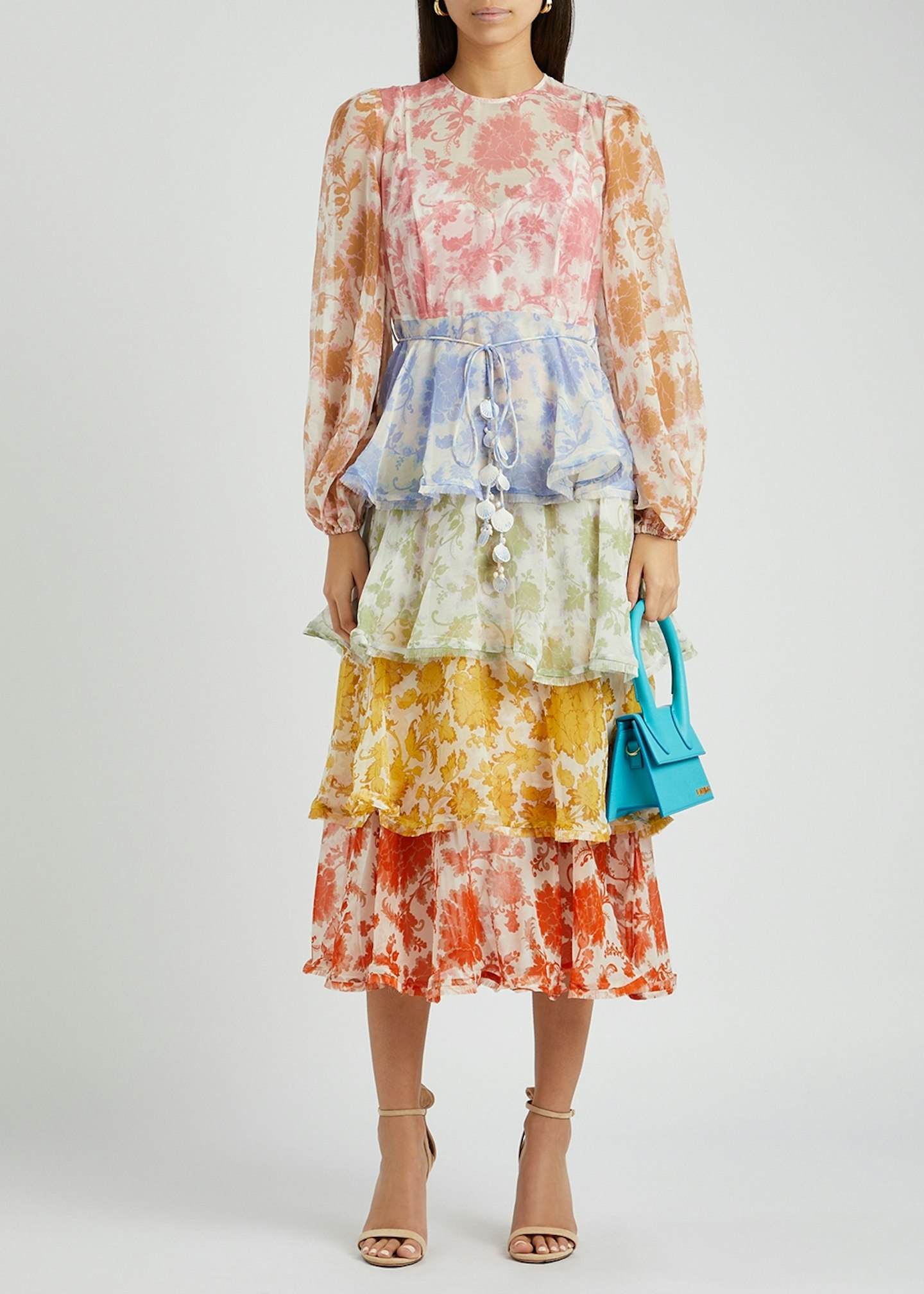 5 of 20
Zimmermann, Postcard floral-print chiffon midi dress, £995
From the floral pattern to the flouncy tiers, Zimmermann's designer dresses are one of the prettiest wedding guest options on the market.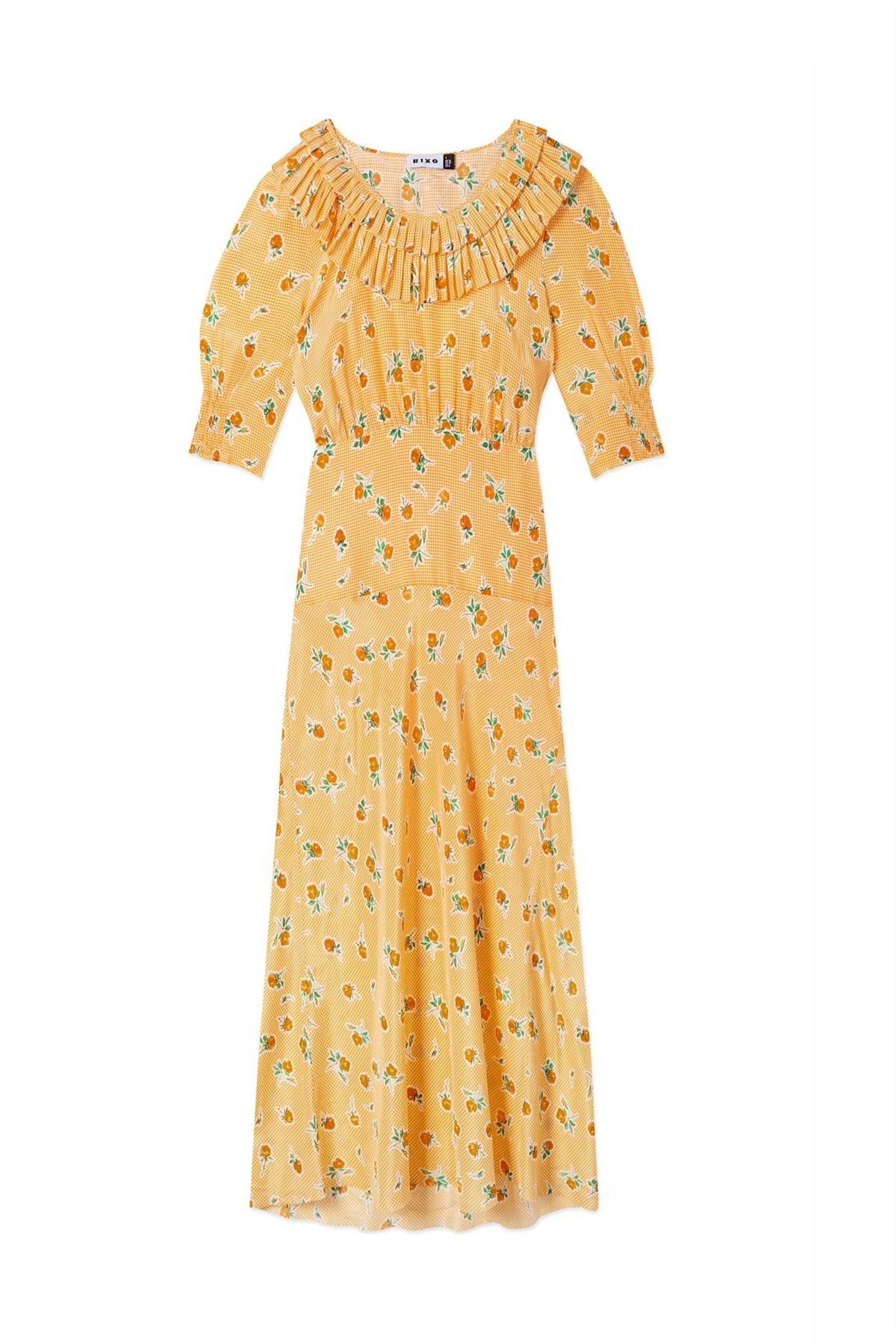 6 of 20
Rixo, Belle Midaxi Dress, £285
Rixo is full of excellent, stylish options for weddings but this midaxi dress could be dressed up or down, depending on the occasion.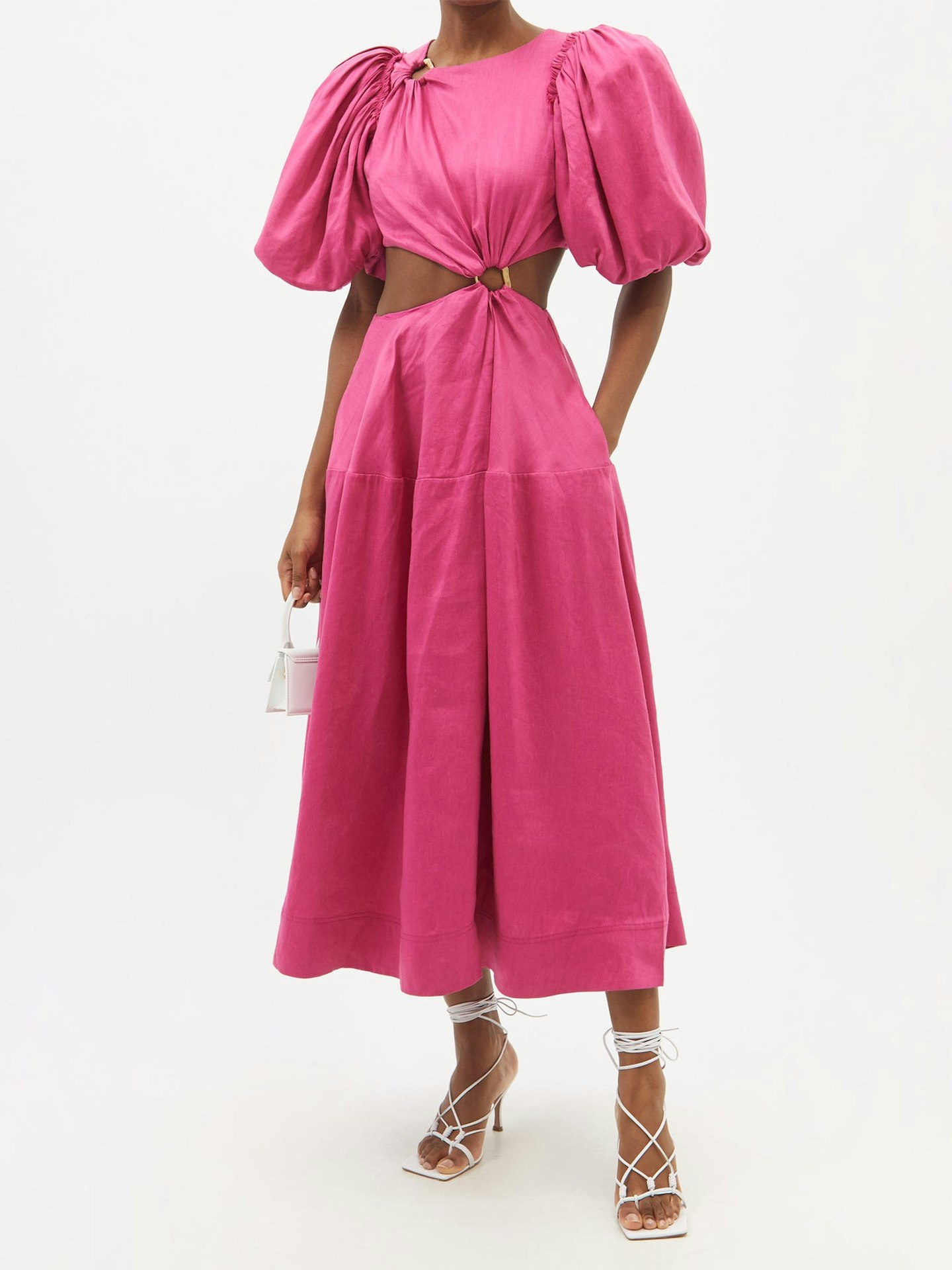 7 of 20
Aje, Vanades ring-embellished linen-blend dress, £425
If you're looking for a puff-sleeve wedding guest dress, this is your answer. It's loose and flowy, so you'll be happy to wear it all day and then onto the dancefloor.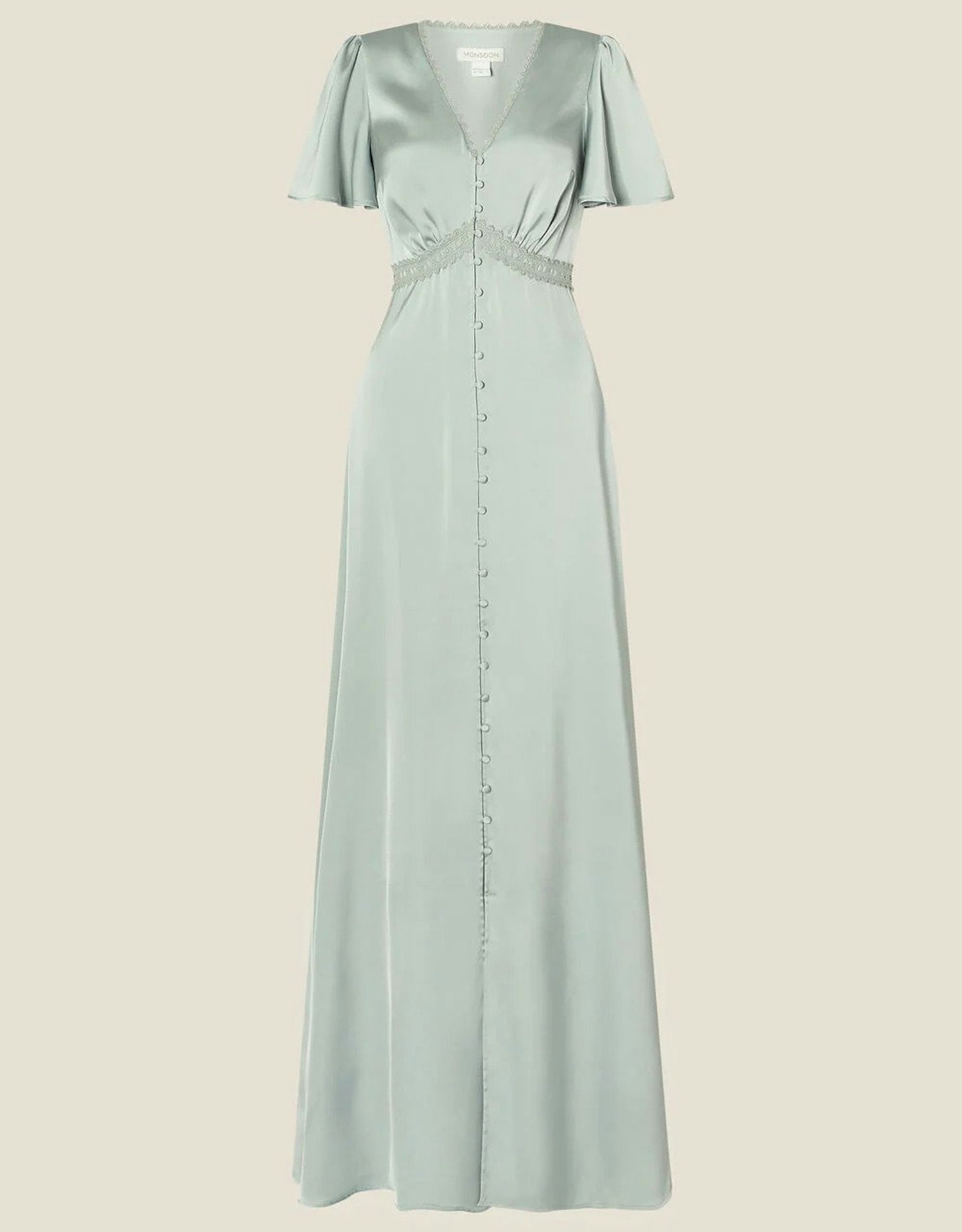 8 of 20
Monsoon, Ivy Satin Lace Maxi Dress green, £110.00
This intricately detailed Monsoon dress goes up to a size 24 to cater to every body type, and will make you feel every bit as beautiful as the bride.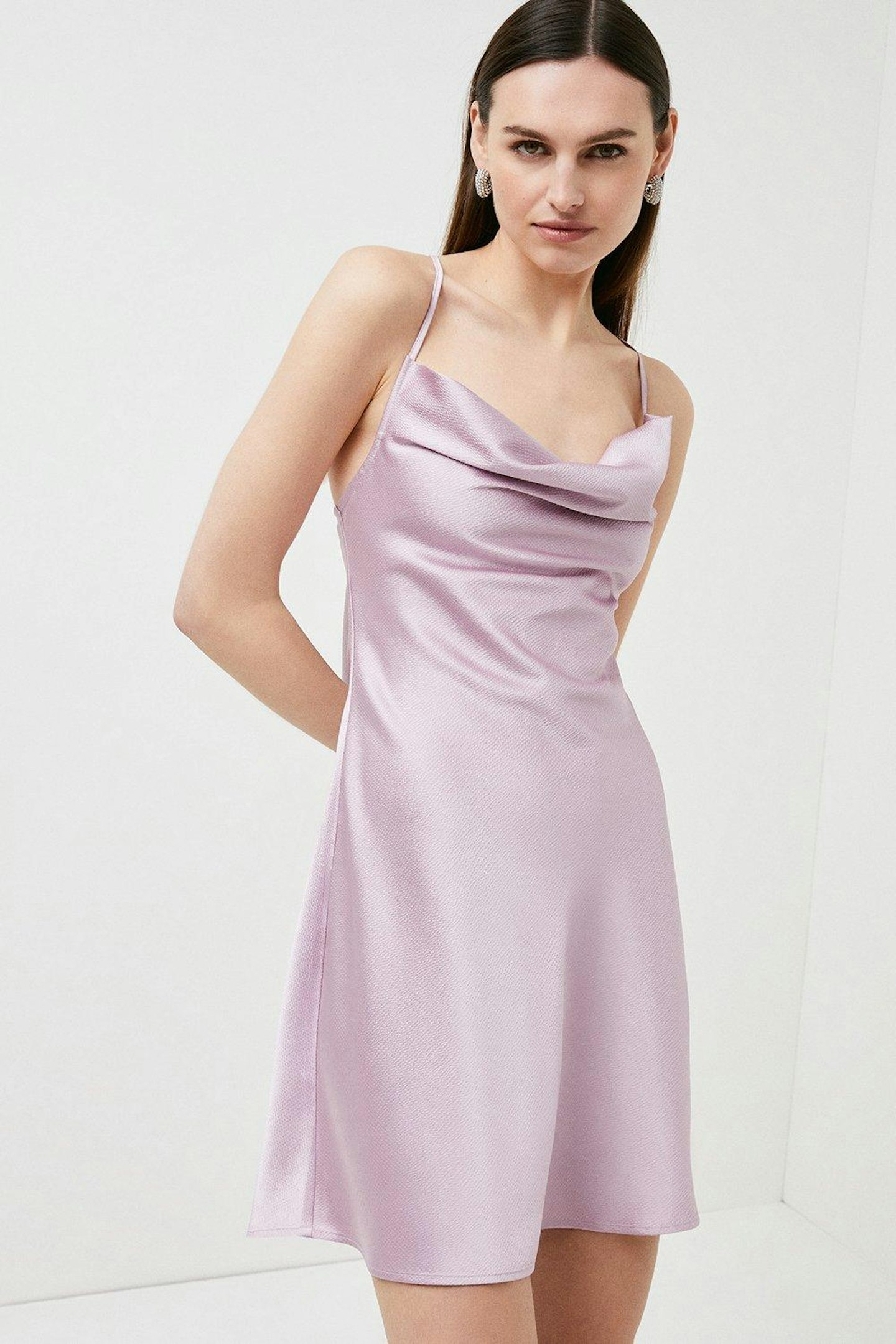 9 of 20
Karen Millen, Hammered Satin Cowl Mini, £79.20
For uncharacteristically warm UK weather, a silk mini like Karen Millen's is a pretty and practical option.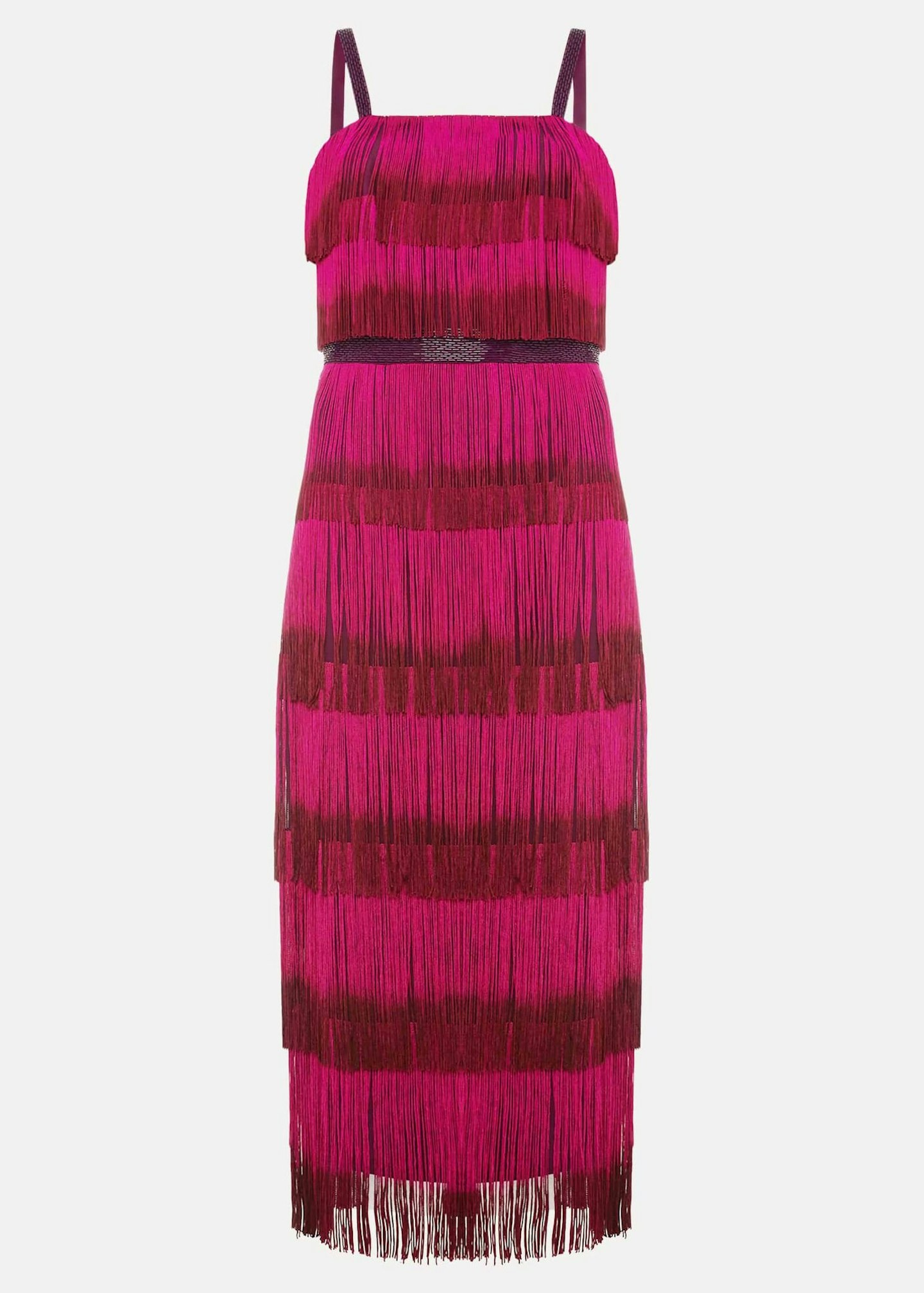 10 of 20
Phase Eight, Catalina Dip-Dye Fringe Dress, £225
This is the perfect evening look for a party dress that will make you look fabulous on the dancefloor.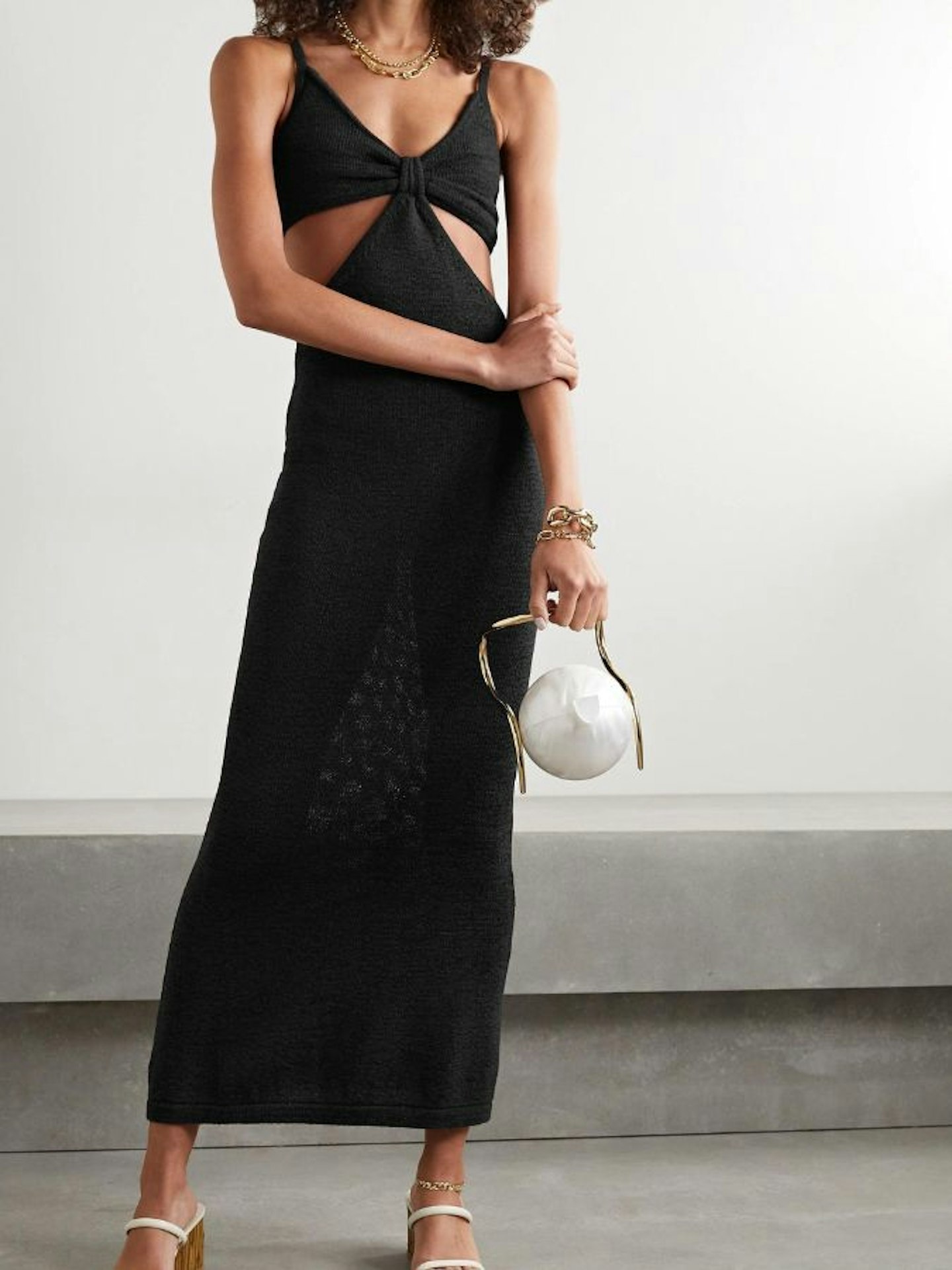 11 of 20
Cult Gaia Serita cutout cotton-blend maxi dress, £439
If you can't bear the thought of a colourful dress, this black cutout maxi dress by Cult Gaia is unique, flattering, and perfect for a summer bash.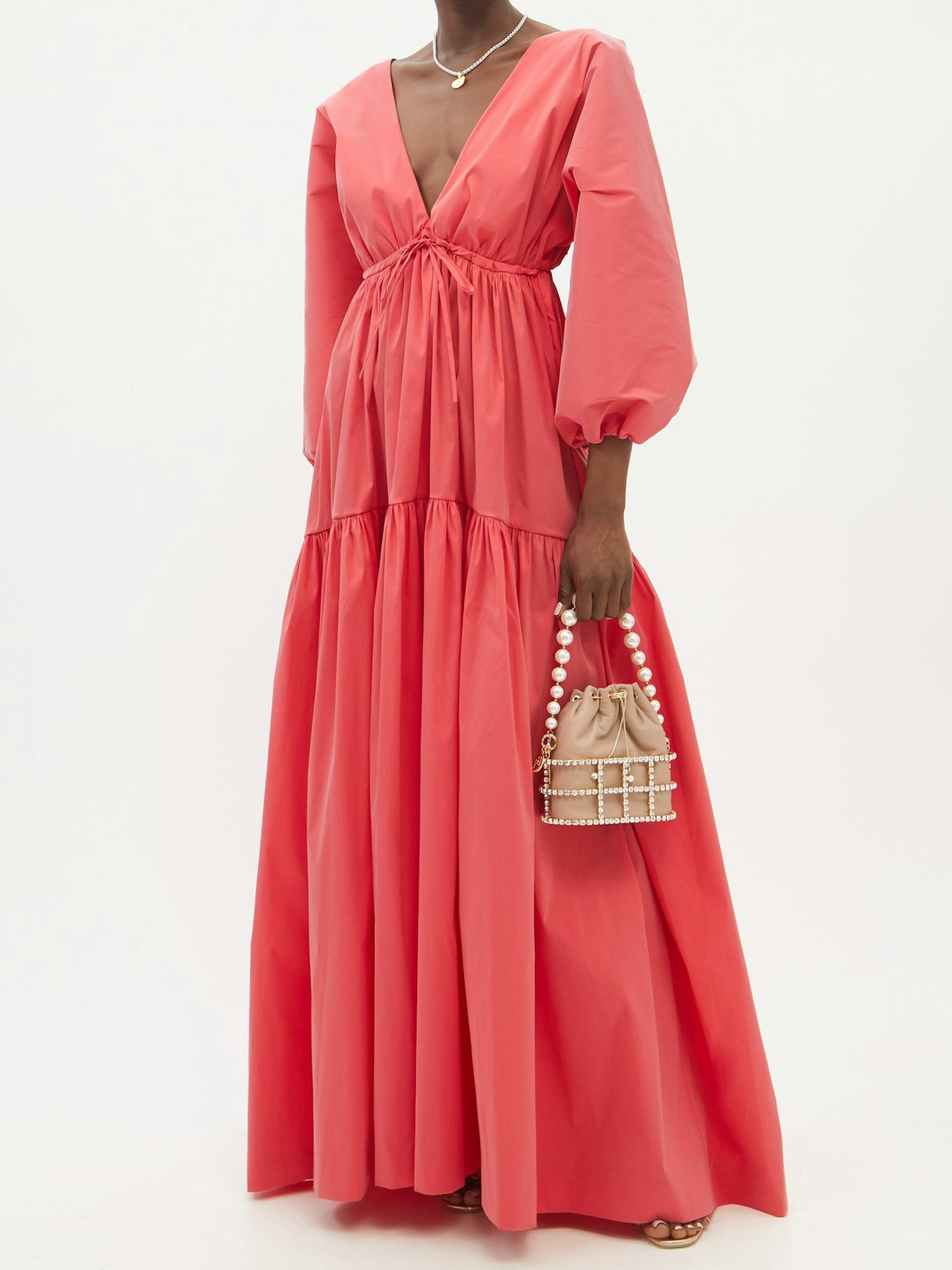 12 of 20
Bernadette, Marlow puff-sleeve taffeta gown, £765
This elegant pink maxi dress will ensure you're the best dressed guest at any wedding.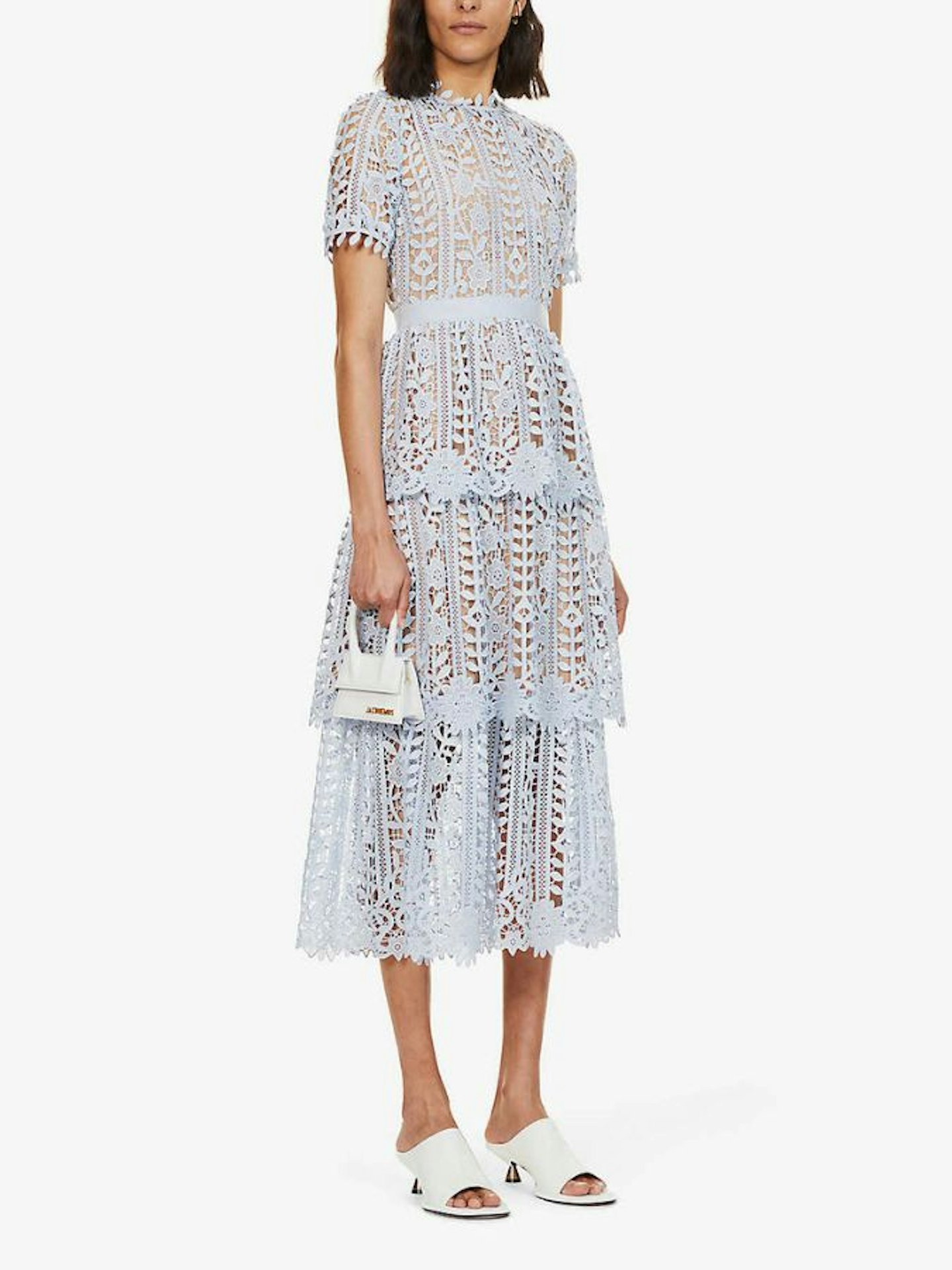 13 of 20
Floral-embroidered round-neck lace midi dress, £420
With an a-line silhouette, round neck and all-over embroidery, this dress is ideal for a spring wedding set in the English countryside.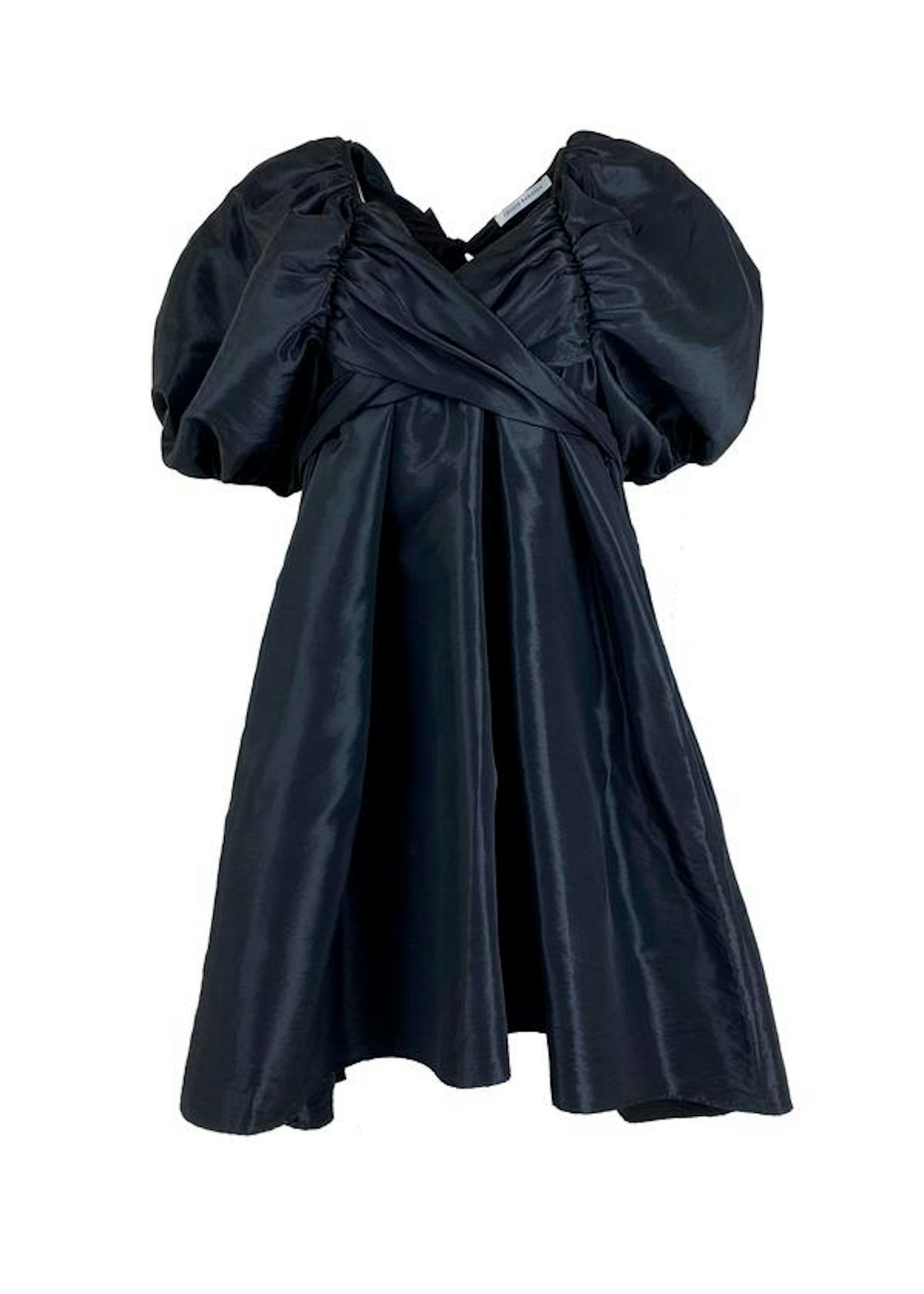 14 of 20
Cecilie Bahsen available to rent at Rotaro, Black Open Back Tie Midi Dress, £49
You can't go wrong with Cecilie Bahnsen – this navy dress would be lovely for a summer or autumn wedding.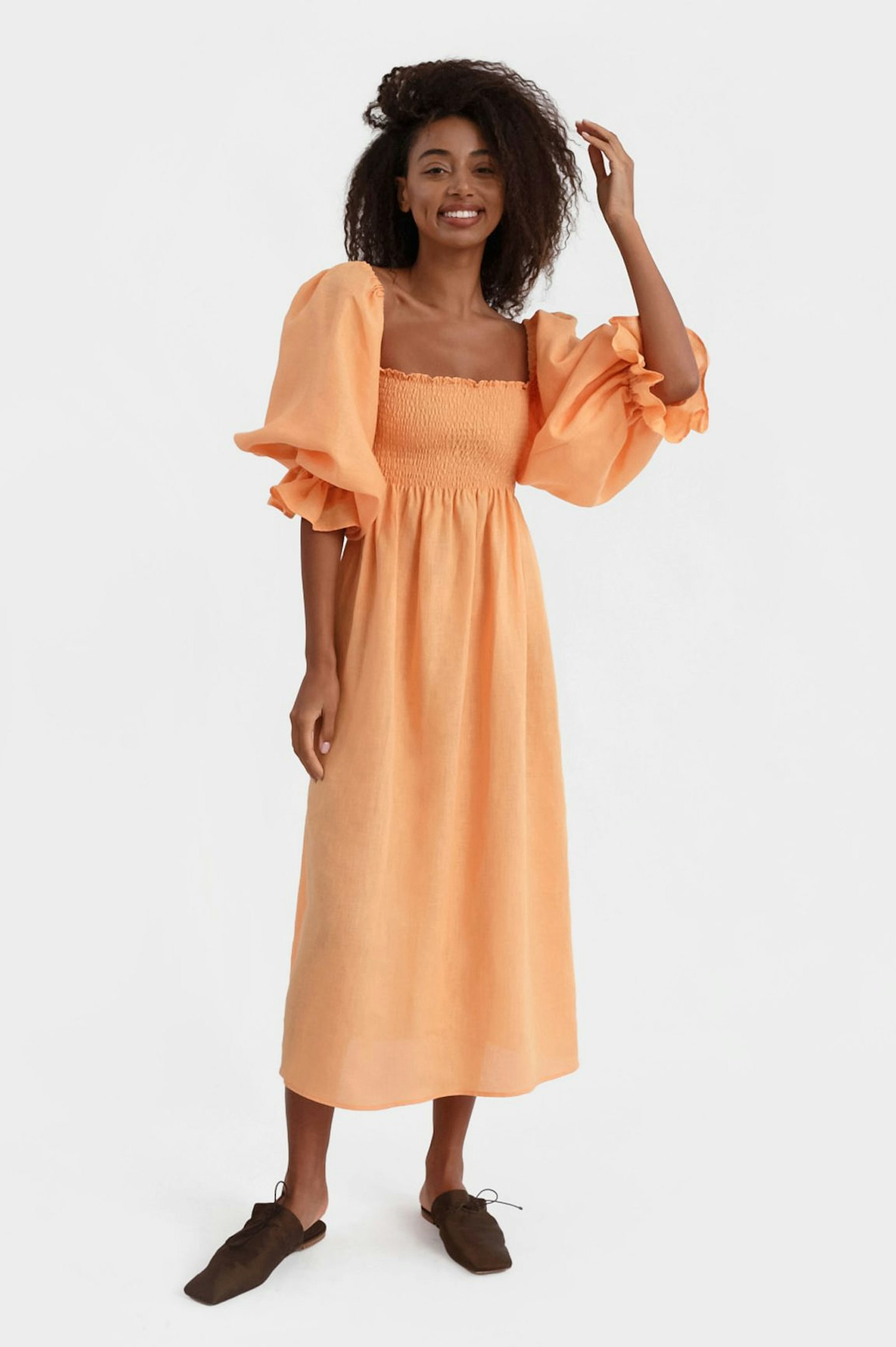 15 of 20
Sleeper, Atlanta Linen Dress In Coral, £230
Sleeper's Atlanta dresses come in a variety of colours and prints and look lovely on everyone. They're an especially good option for any summer weddings or overseas nuptials that will see you facing high temperatures.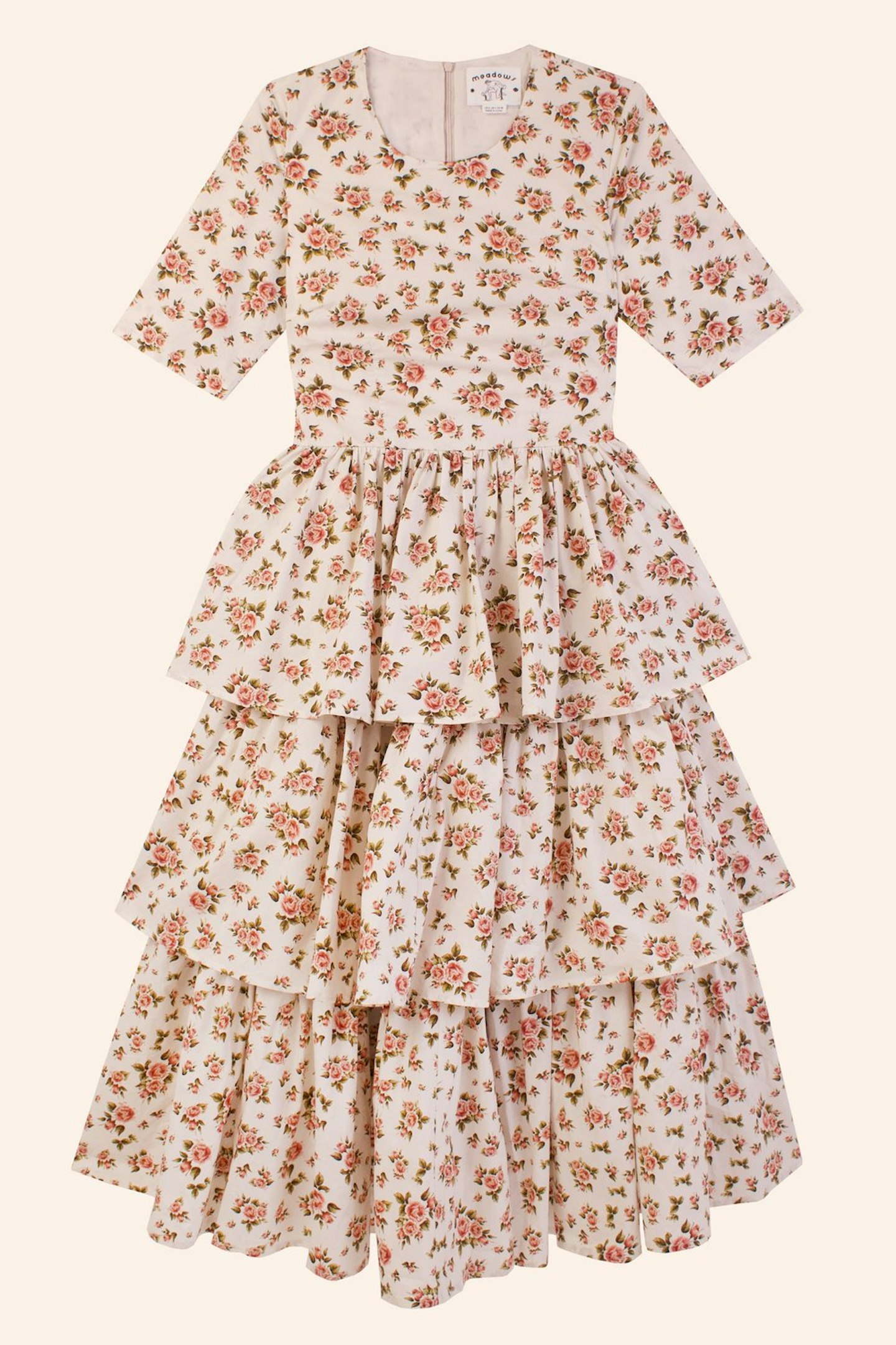 16 of 20
Meadows, Bella Dress Roses, WAS £245 NOW £145
You'll want to wear this dress for every wedding you're ever invited to – it's that good. The fabric feels lovely and it's enough of a statement without threatening to upstage the bride. Plus, the print ensures it doesn't look white.
17 of 20
Coast, Cross Front Jacquard Midi Dress, £77
Take notes from Coast's styling and make a halterneck dress unforgettable with opera gloves.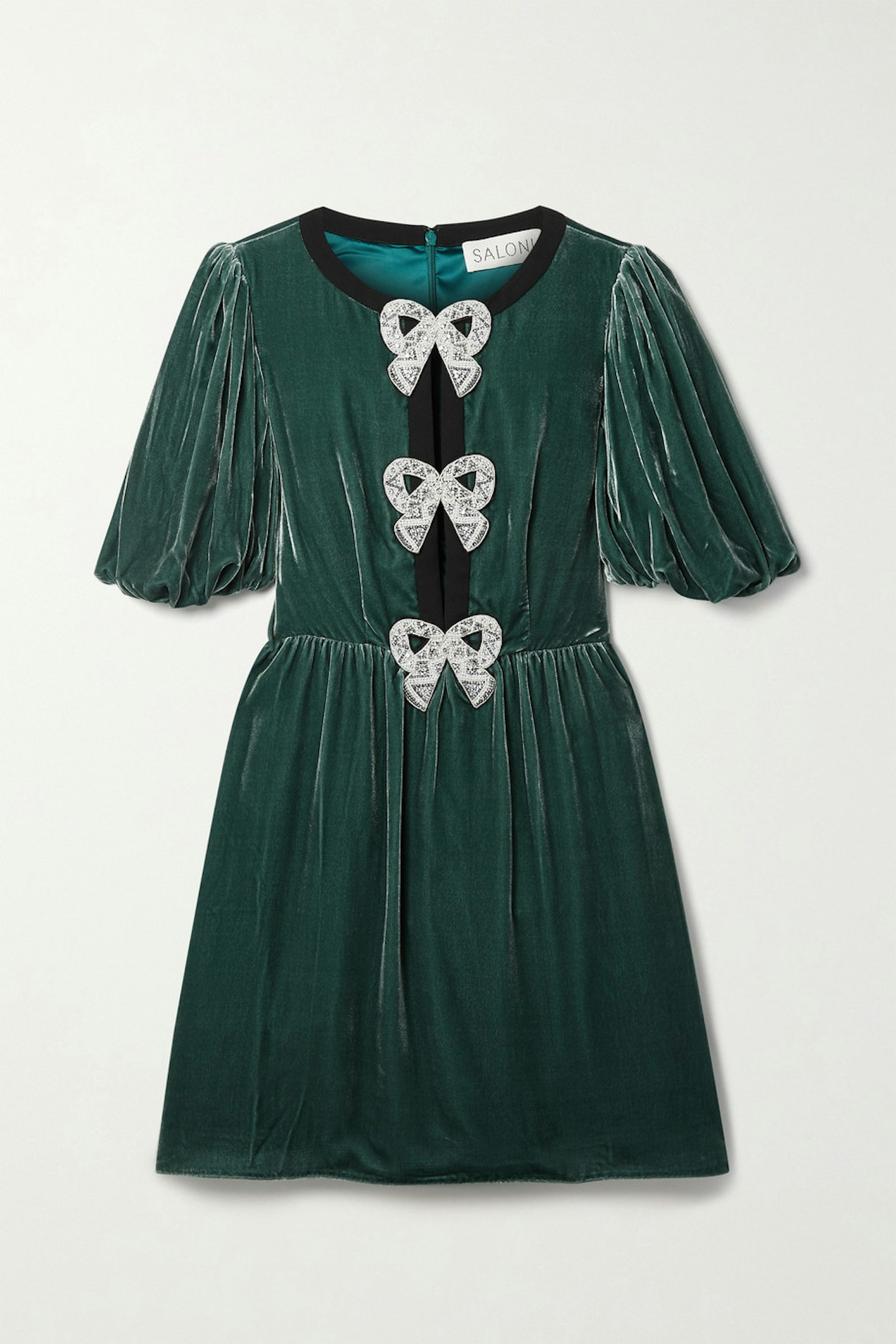 18 of 20
Saloni, Camille bow-embellished crepe-trimmed velvet mini dress, £625
We love this for a winter wedding. Inspired by vintage styles, Saloni's Camille dress has a split neckline held together by three decorative bows embellished with faux pearls and crystals.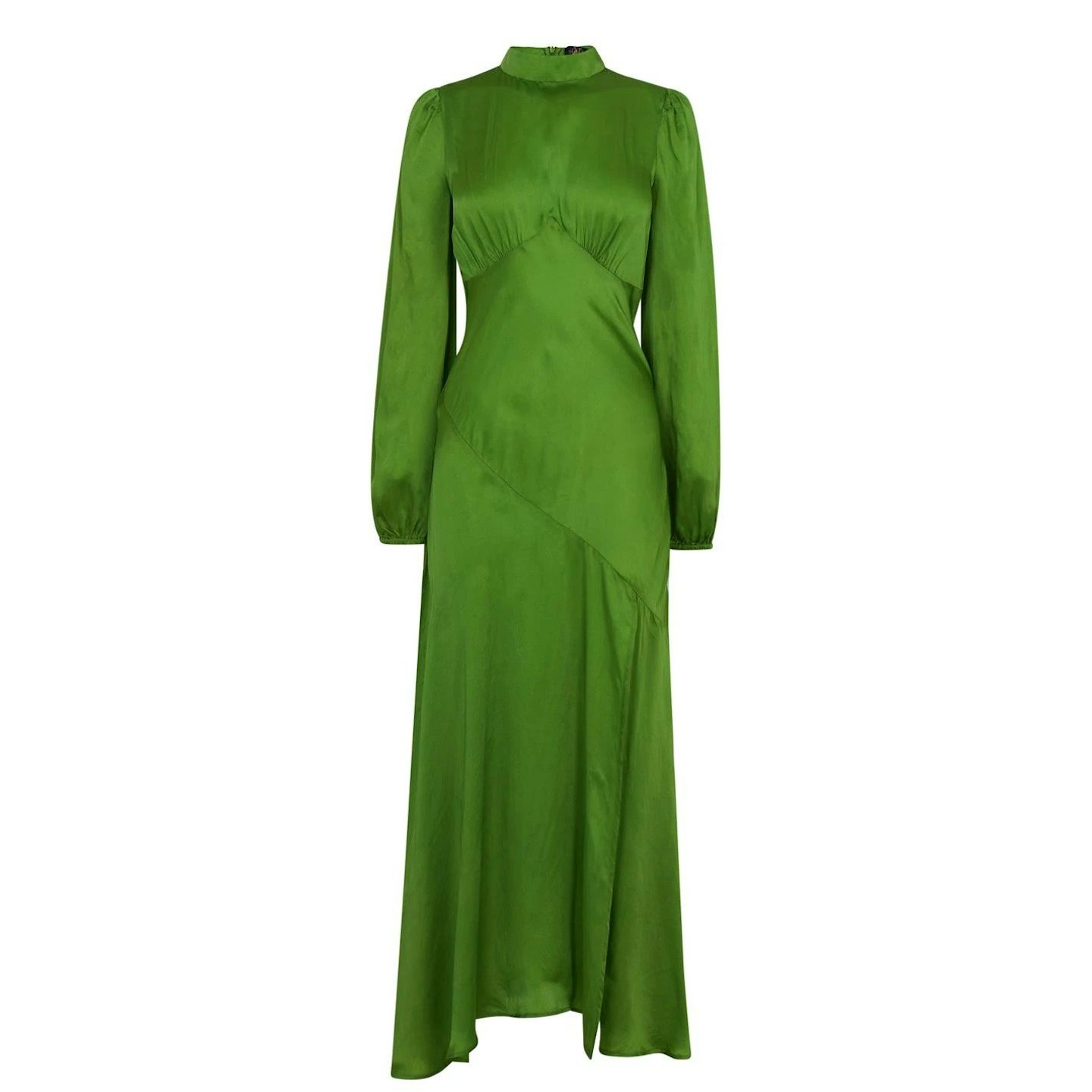 19 of 20
De La Vali, Clara Midi Dress, £535
De La Vali's signature Clara dress could easily be mistaken for a well-sourced vintage find. The stunning emerald green shade is flattering on all skin tones and the underbust seam and asymmetric hem create a beautiful, feminine silhouette.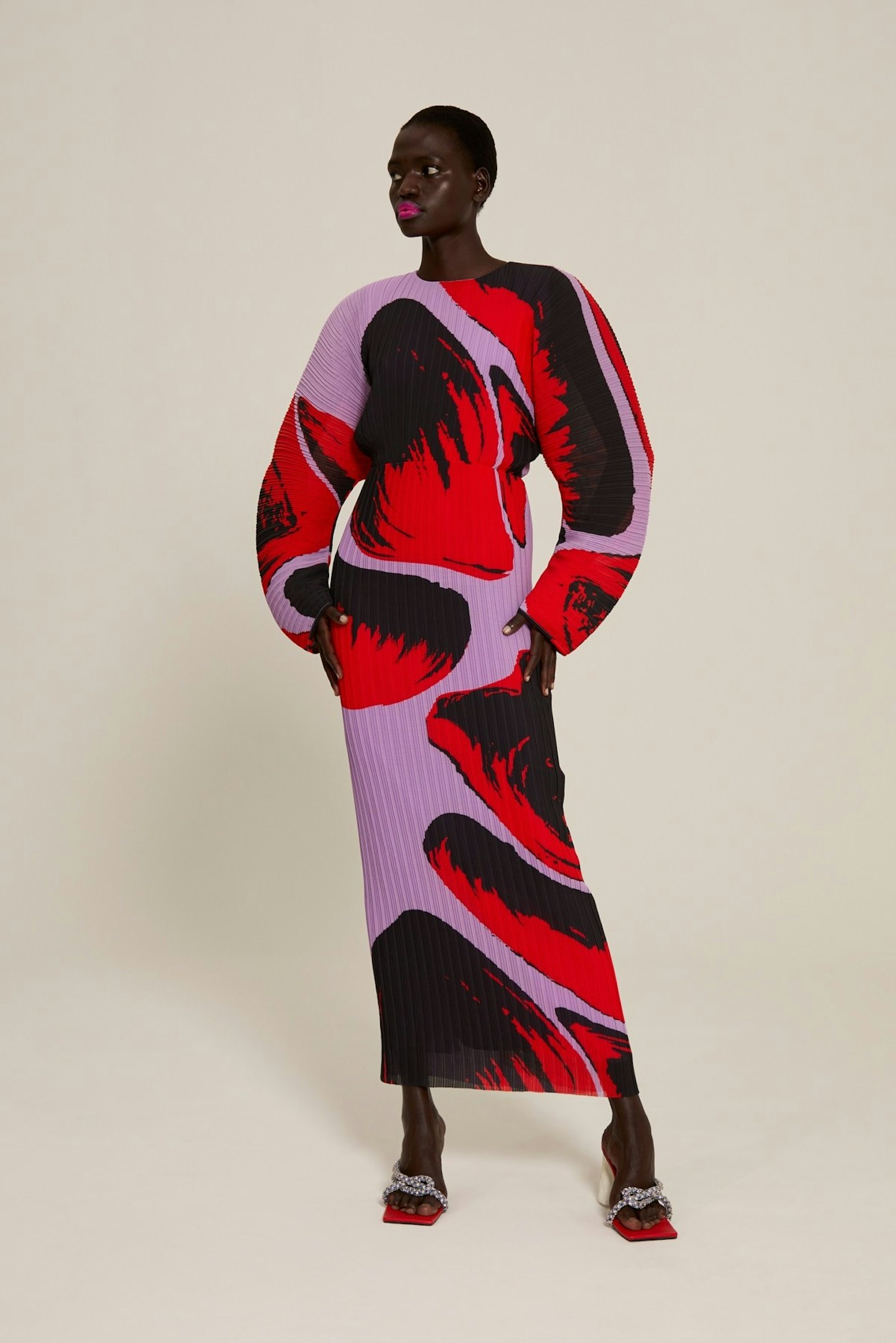 20 of 20
Solace London, Mirabelle Dress Newton Lilac, £420
Looking for a statement wedding guest dress? The print, the shape, the sleeves... this dress is guaranteed to make you the most-wanted wedding guest in all the photographs.