Seeking the latest in beauty trends and DIY at-home-hacks? Then look no further than TikTok, the video sharing app with the power to make under-the-radar tips go instantly viral. 2020 may have been the year of the TikTok dance challenge, but in 2021 the surge in inventive 'how to' tips during lockdown spawned a wave of experimenting with colour and skin care, boosting the sales of now cult favourites, CeraVe Renewing SA Cleanser, Maybelline Lash Sensational Sky High Mascara, Dr.Jart+ Cicapair™ Tiger Grass Color Correcting Treatment. and Glow Recipe's Watermelon Glow Dew Drops. So, with the return to socialising steadily approaching, we put to the test some of TikTok's viral beauty trends to see which are worth the hype and which you should scroll past.
The Q-Tip Lipstick Trick
We all know that applying lipstick without a brush can give less than pristine results, particularly in the corners of the mouth, but Huda Kattan's cheap and easy trick aims to keep lines neat with one easy tool. A Q-tip. That's a cotton bud to you and I. You hold the cotton bud horizontally between your lips as you apply your lipstick. The aim is to avoid the smudges at the outer corners of your lips and to make application both cleaner and easier especially on-the-go.
The Results? Applying lipstick over the Q-tip is a little fiddly, and although there's no doubt the corners are kept tidy, there are a few easier ways to clean up your lipstick application. Use a lip liner for perfect edges and a staying power boost, or apply your lipstick in thin layers with a lip brush. You can even dab your favourite shade on with your fingertips for a pretty stained effect that won't smudge or smear.
The 'Instant Facelift' Concealer
After sharing his tips for concealing and contouring on his famous client Kim Kardashian, Mario Dedivanovi changed the way we used concealer to shape and brighten the face, most notably erasing dark circles by fanning out across the under eye. But according to TikToker Megha Singh we've been doing it all wrong, and the easiest way to achieve definition is the clever placement of directed lines that draw the eye upward.
Start by taking concealer roughly two shades lighter than your skin tone, and drawing outwards, highlight the natural contours of the face – the inner and outer corner of the eye, under the cheekbone, and the outer corner of the mouth, to emphasise the natural shadow in the face for an 'instant facelift'. Rather than creating cakey triangles under the eye, the benefit of this technique is the small amount of product used to achieve a noticeable effect.
The Results? Any hack that uses less product but gets the same effect is highly rated by us. Although the results we achieved weren't quite as dramatic as the videos show, it was a refreshing change to strip back on concealer for a fresher faced look.
The Contouring Lipstick Blusher
This is decidedly, one of the scarier looking hacks. A generous sweep of bold red lipstick across the bridge of the nose, over the cheeks, and across the forehead in a bid to combine contouring and blush in one bold move. Gently buff out, and finish by topping with your preferred light coverage foundation for the enviable rosy glow of TikTok superstar Lenkalul, whose lipstick blush video has now racked up over 770,000 likes. Use a bright, warm toned shade not too much darker than your skin tone for a surprisingly subtle, gentle flush. By layering under foundation, the effect is a natural glow rather than a bold hit of colour on the apple of the cheeks and, using alongside the 'instant face lift' concealer trick results in a radiant, sculpted base.
The Results? Ok. WOW. We weren't expecting this to work but it really does.. Although the thought of this much lipstick on your face is a little daunting, the effect is a really romantic blush, especially across the bridge of the nose. However, the same results can be achieved by using a cream or powder blush in the same places, and probably to less pore clogging effect.
The 80s Eyeshadow
If soft blusher is a little too subtle, amp up the impact with a smoky eye in high voltage electric blue, think Debbie Harry with a modern Dua Lipa update. After the success of the BBC's Pose, RuPaul's Drag Race UK, and Channel 4's It's a Sin, the vibrancy of club kid culture is a bold reminder to rediscover the joy in dressing up.
For Finlea Ryan's aqua eye, begin by prepping the eyelid with an eyeshadow primer for a smoother and longer lasting finish, and apply shadow in a wing, blending out at the crease. Add a little black shadow in the outer corners for depth, or simply draw on with a bold crayon shadow like SHISEIDO's Kajal InkArtist Shadow, Liner and Brow in 'Sumi Sky', smudge with a finger and finish with mascara for a post lockdown party look. An easy to execute but difficult to forget look that only uses three products. It's safe to say for blue hues this season, the future looks bright.
SHOP 80s Eyeshadows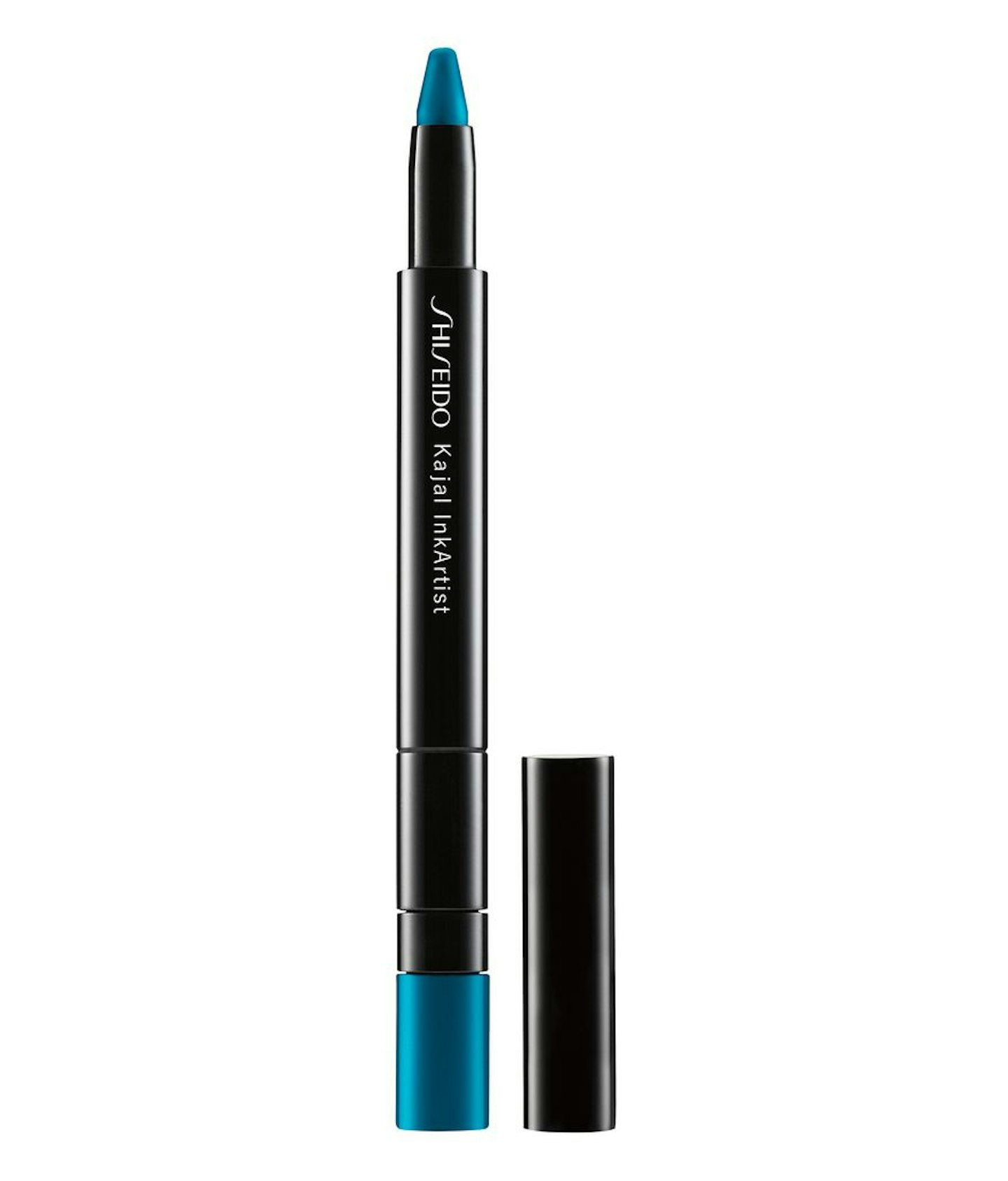 1 of 4
SHISEIDO KAJAL INK ARTIST SHADOW, LINER, BROW IN SUMI SKY, £24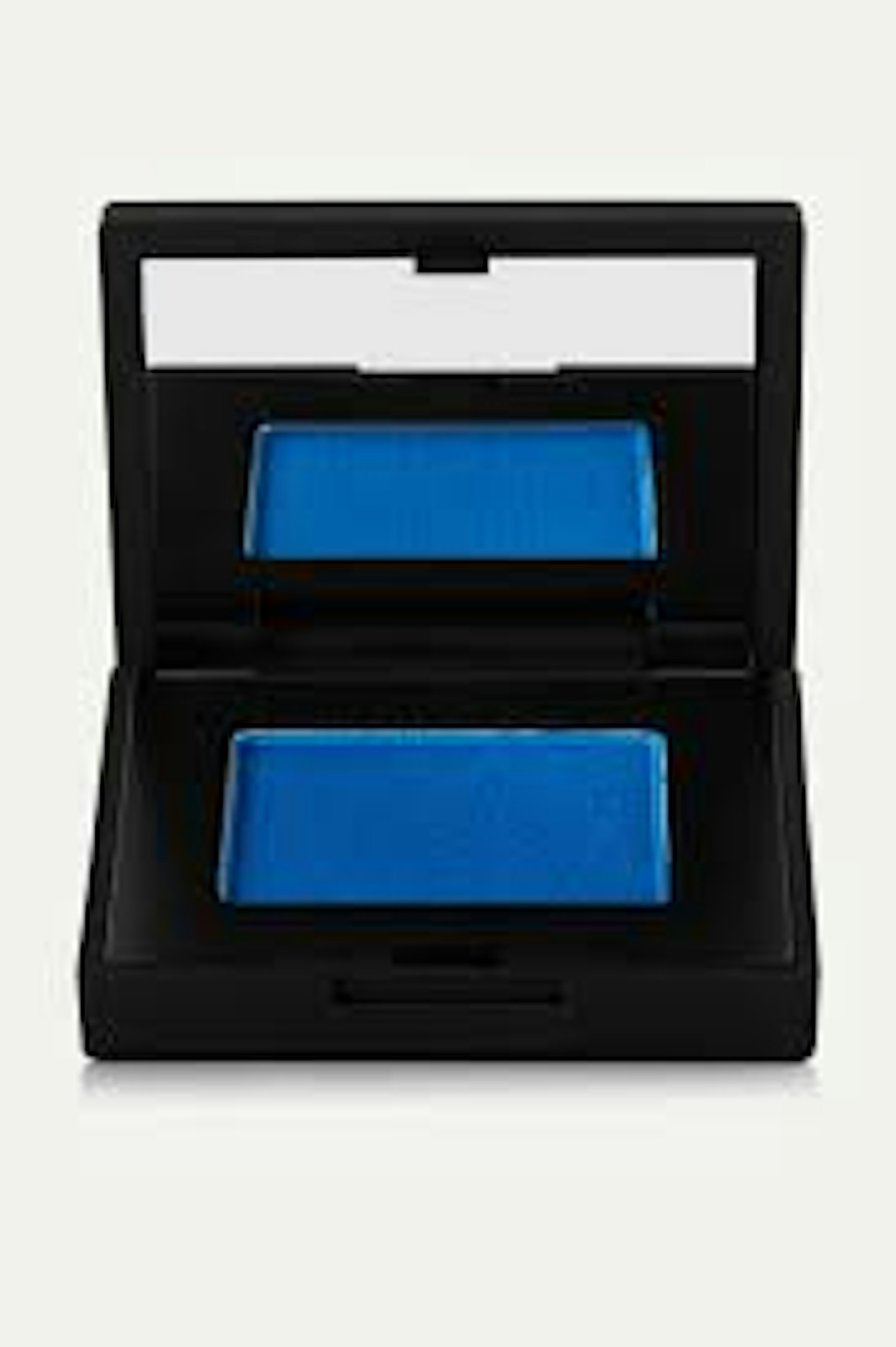 2 of 4
NARS SINGLE EYESHADOW IN SHOWGIRL, £17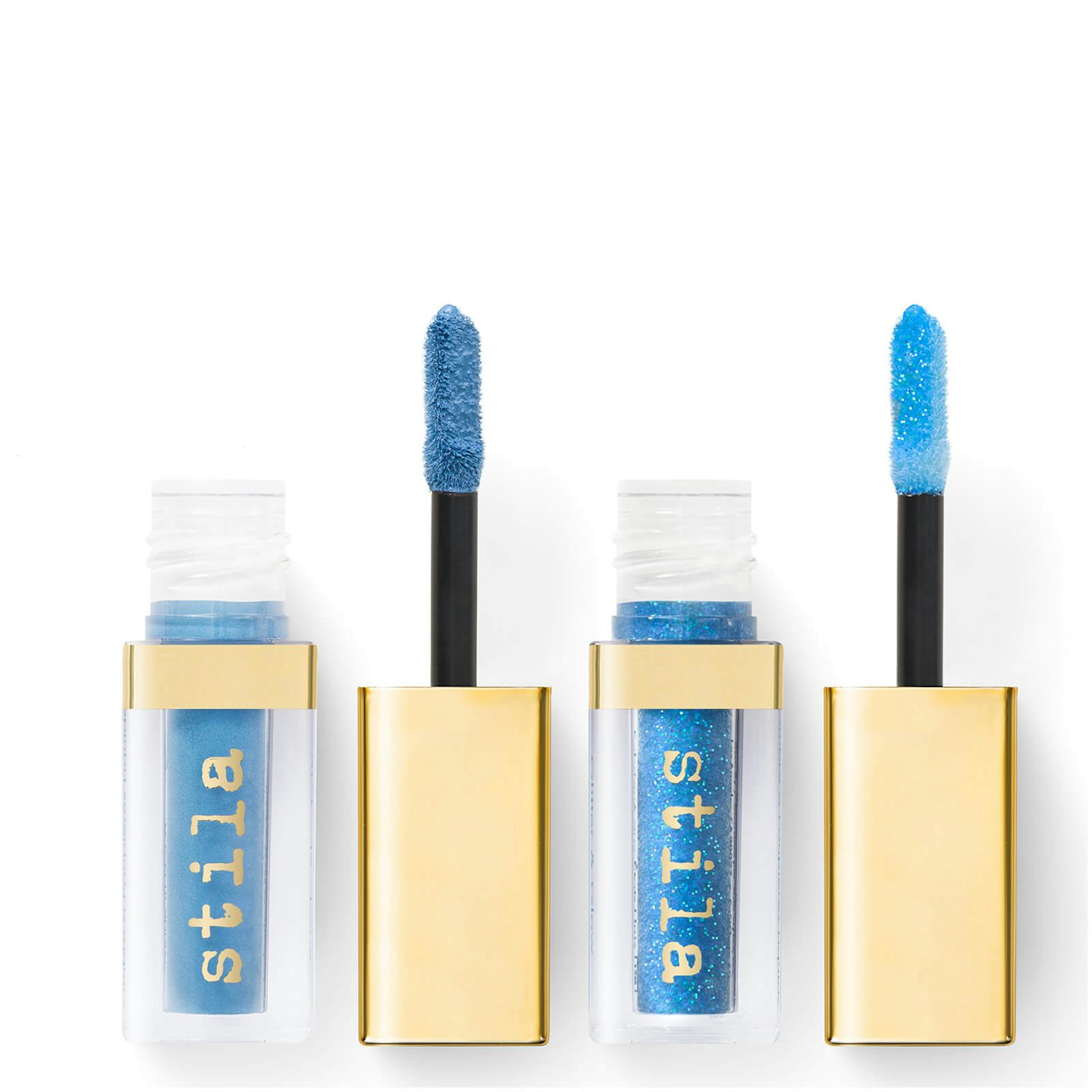 3 of 4
STILA DOUBLE DIP DUO LIQUID EYE SHADOWS IN BLUE JEAN, £24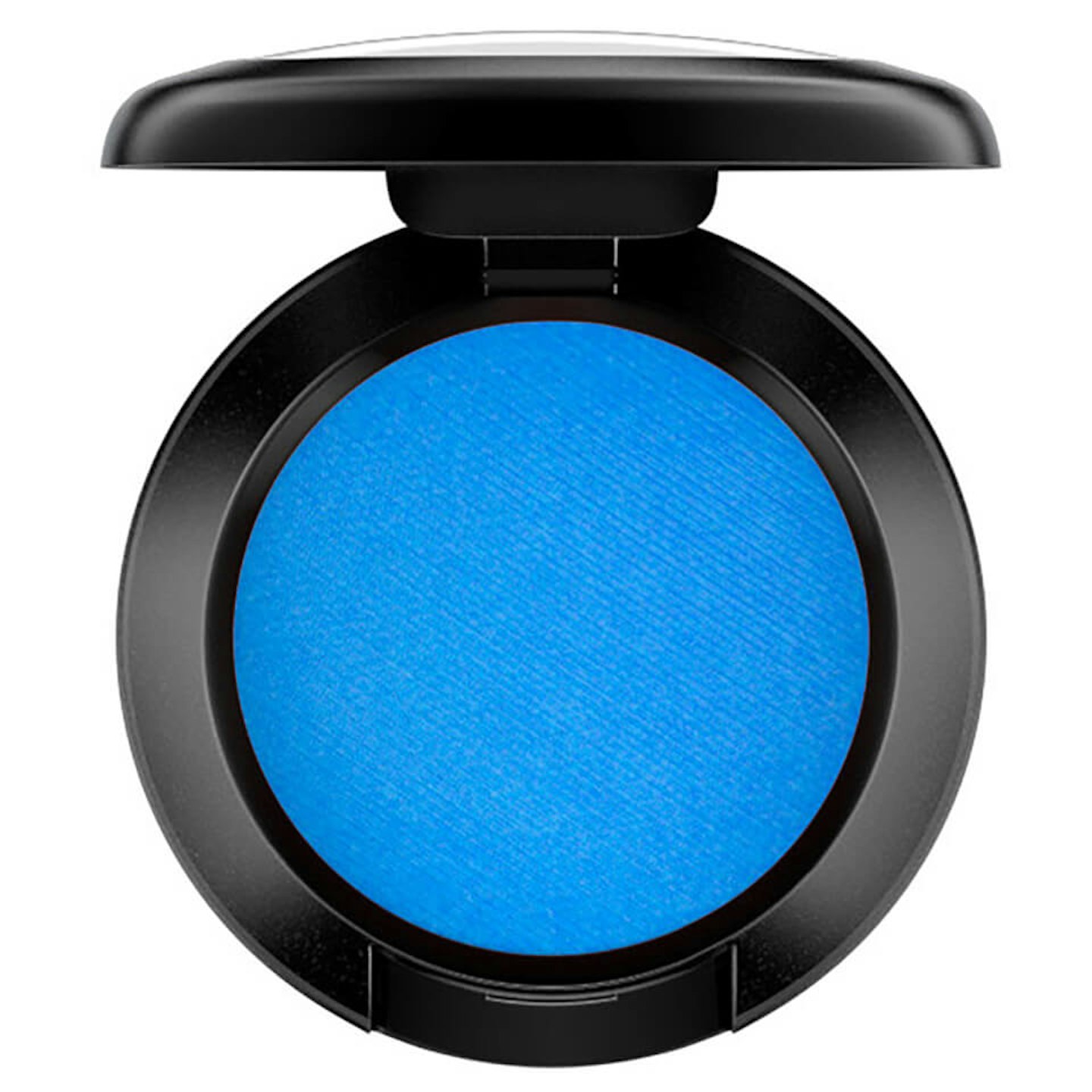 4 of 4
MAC EYESHADOW IN ELECTRIC EEL, £16
The Results? Easy to apply and maximum impact. There is also a blue hue for every skin tone, making this one of the more wearable trends resurrected by the TikTok community.
The Glass Skin Cheat
The quickest way to impossibly clear, dewy skin? Faking it. The best kept Korean beauty secret to skin that shines and looks lit from within can be achieved, not with a complicated regimen of vitamins and state of the art tools, but the clever mixing of four products already in your make up bag. According to Tik Tok a couple of drops of moisturiser, primer, foundation and highlighter are the formula to the ultimate dewy base, mixing together before applying with a foundation brush.
On camera the results are super hydrated and high shine, but there are a couple of downsides to this one-size-fits-all approach. Taking into consideration your own skin type is key, for those of us with oily skin this high shine finish can look a little greasy, and for those of us with larger pores or acne-prone skin, layering up too many products won't allow your skin to breathe and isn't best for daily use. A pro tip from L'Oreal is to mix 'a tiny bit of a liquid highlighter with your liquid foundation, and apply it with a make-up blender to take away any excess product.'
The Results? Less is definitely more here, so mix in a little highlighter sparingly to avoid a molten metal looking face!
The Pastel Liner
Pastels for Spring may not be groundbreaking, but adding this season's feel good colours to your look might just brighten your day. Echo the sugary shades championed by Chanel, Hugo Boss and Isabel Marant on the Spring Summer 21 runway, by trying a graphic pop of colour in mint green, rosy pink, soft violet or sky blue along your lash line in a cats eye flick and finishing with mascara. Liquid liners and shadows have a smoother application than a pencil, creating a clean, sharp line or delicate tint like Glossier Sky Wash or Milk Make Up's new Colour Chalkhave a soft, matte finish. The result is a super sweet hint of Spring, just keep the rest of your make up minimal to avoid looking too busy, and let your eyes do the talking.
Pastel Liners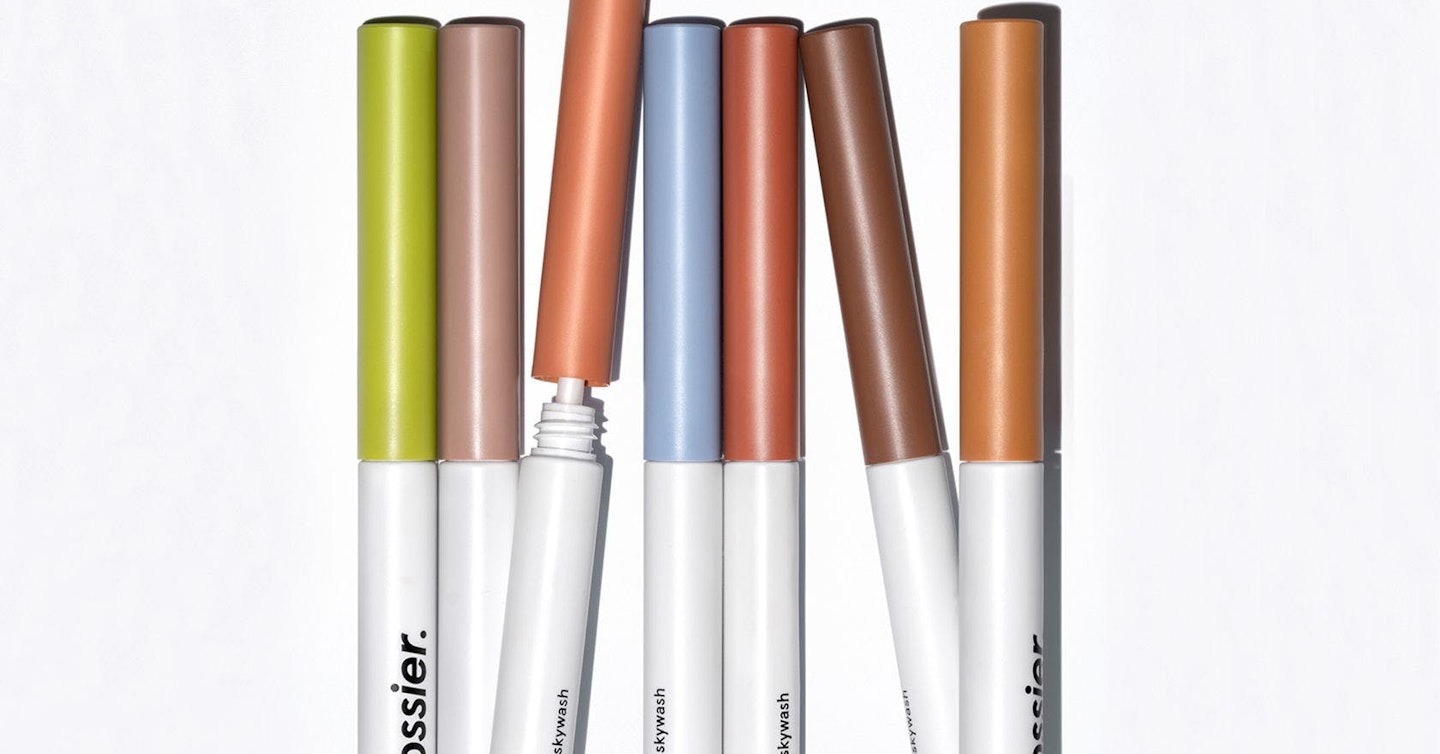 1 of 4
Skywash Sheer Matte Lid Tint, £15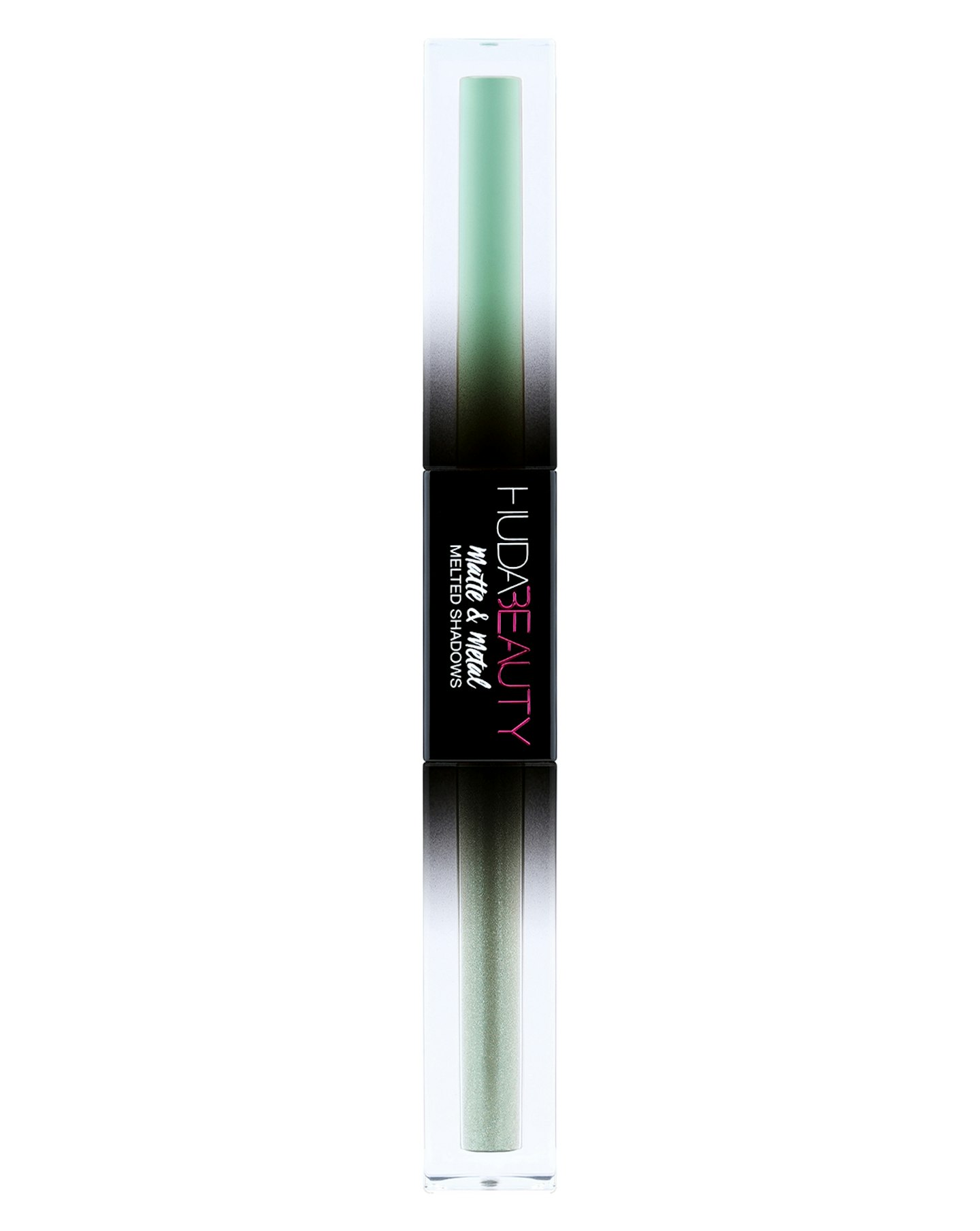 2 of 4
Huda Beauty Matte & Metal Melted Eyeshadow, £22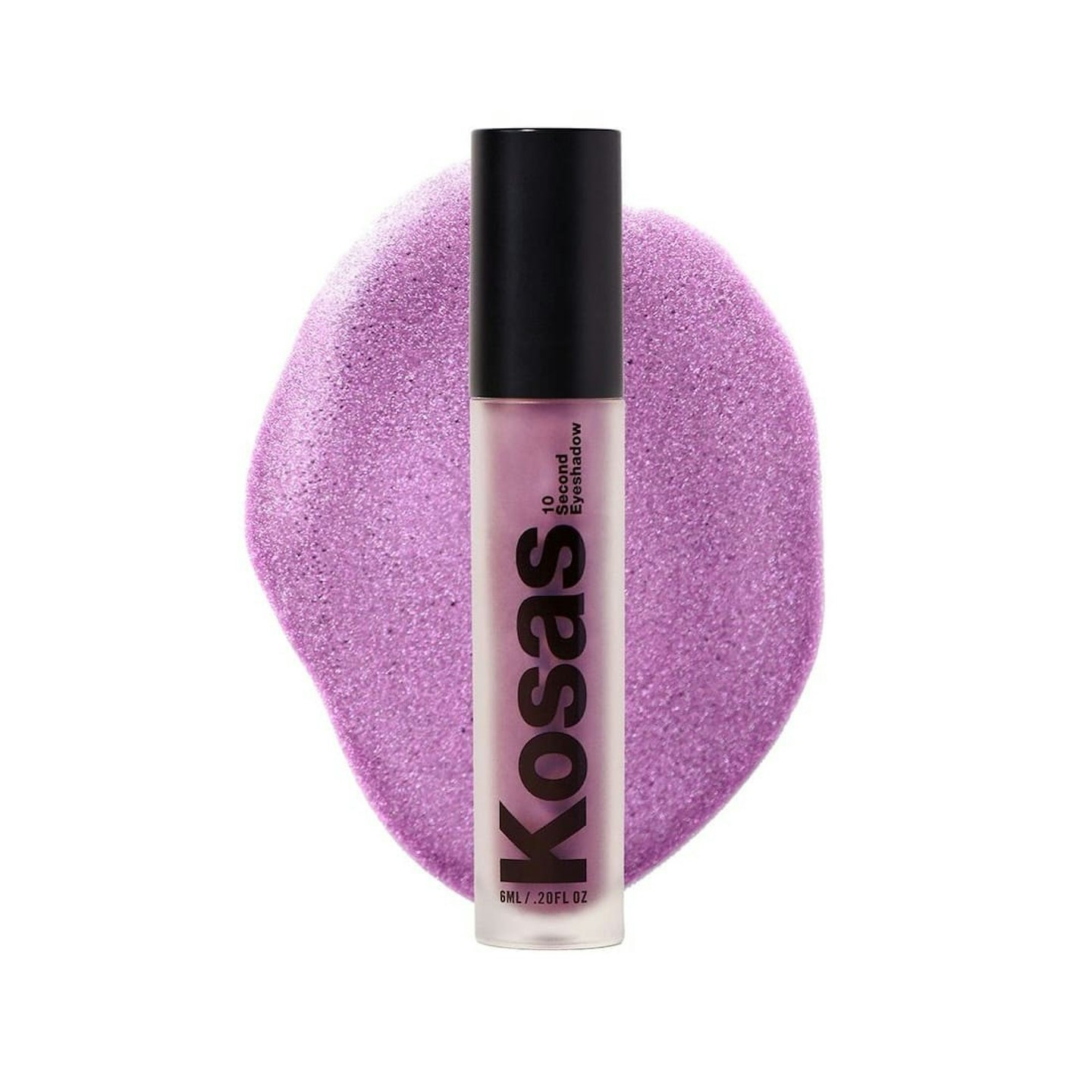 3 of 4
KOSAS 10-Second Liquid Eyeshadow in 333, £26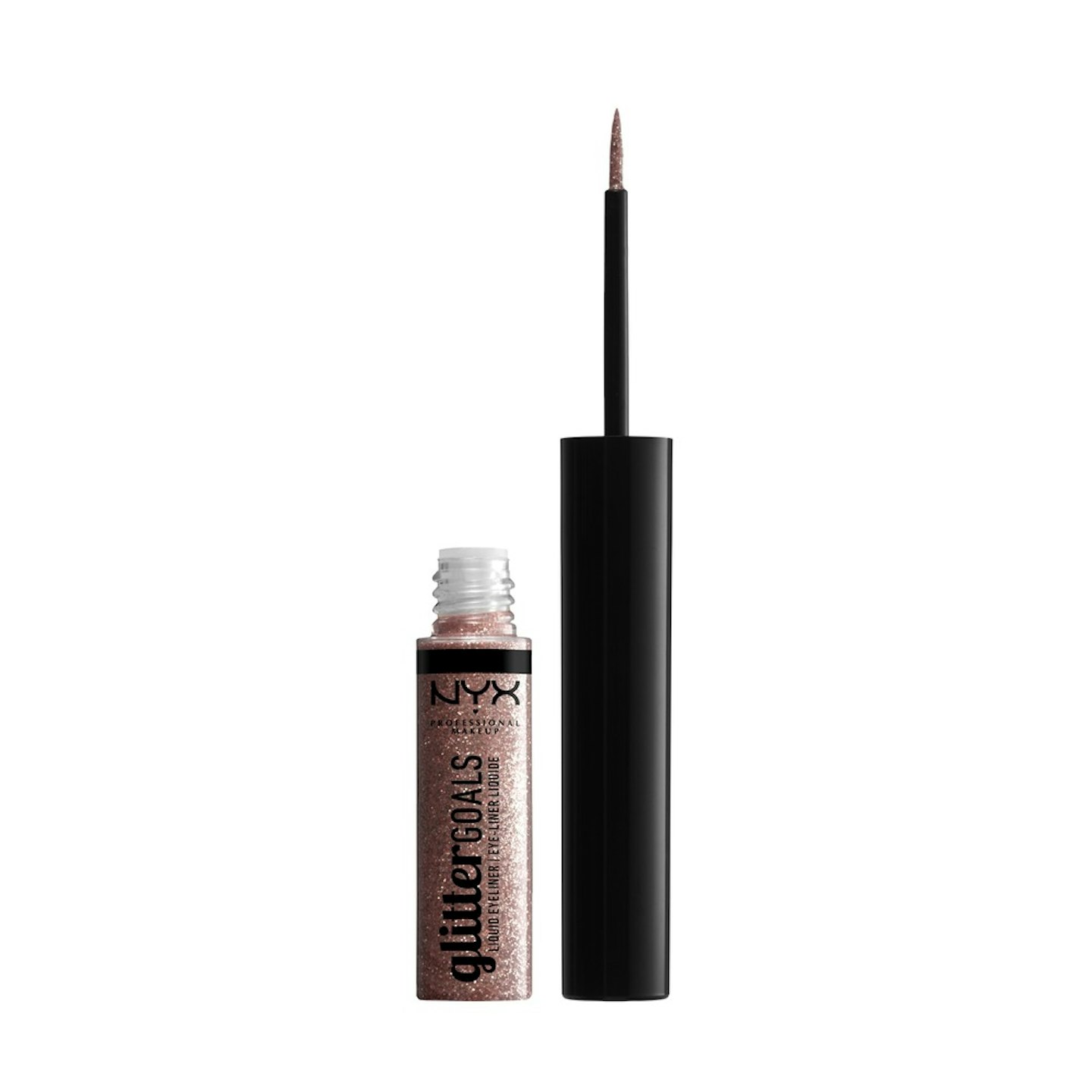 4 of 4
NYX Professional Make Up Glitter Goals Liquid Liner in Glitterball, £8
The Results? We love, love, LOVE the soft pastel eye, just be sure to use an eyeshadow primer under even the most translucent wash to boost the pigment and longevity. The perfect alternative for those who aren't quite ready for the cobalt eyeshadow.
The Nyx Shine Loud Lipgloss
Smudgeproof, waterproof and even maskproof, theNYX Shine Loud Lipgloss has gone viral for its sheer staying power. With 7 million views on the hashtag alone, amazed TikTokers have put the highly pigmented formula to the test through a series of challenges, and the 16 hour no transfer promise certainly delivers. In the two-step application, the base colour dries down to a soft, matte liquid lipstick which is then topped with the clear gloss that locks everything in place.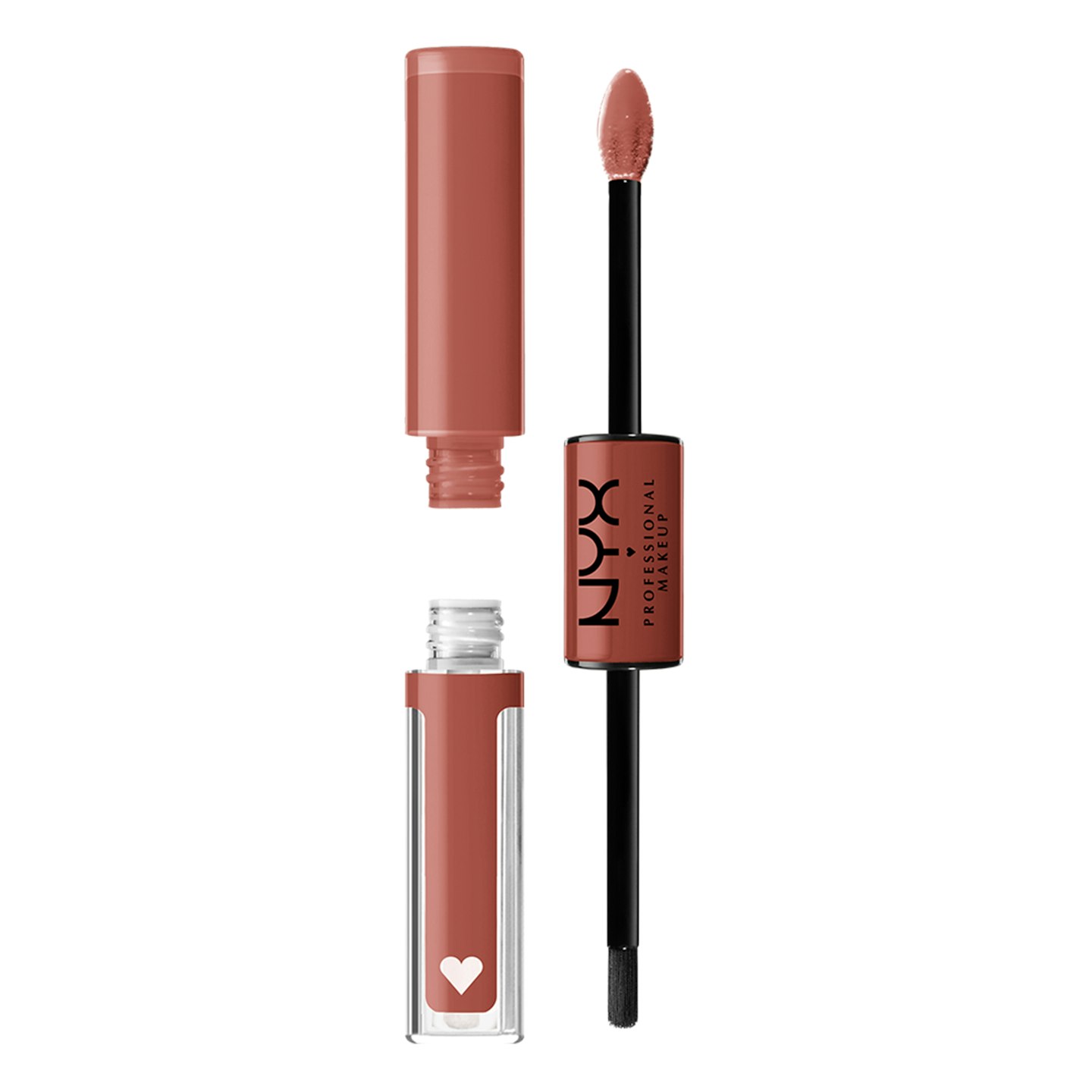 The Results? I've now ordered 3 different colours. You can honestly sweat, drink, and eat in this lipstick and it really. Does. Not. Move. Available in an impressive 23 shades, this super tough and super affordable TikTok fave deserves a place in your make up bag.
Return Of The Claw Clip
The Nineties called, and claw clips are back. You may have just mastered the supermodel blow dry, but how to keep all of that volume in check? The hardest working hair accessory of the nineties of course, revived with a modern update and the option of a multitude of practical and refined styles. Take tips from Bella Hadid's on the go up'do, or a simple half up half down style for in between washes a la Taylor Pfeffer. Prepare to see this chic yet low maintenance accessory again everywhere this Summer.
The Results? Less of a beauty hack, but a definite trend we're ready to embrace with open arms. It's practical AND looks good, what's not to love?
READ MORE: A TikToker's Princess Diana Hair How-To Has Gone Viral And You Won't Believe How Much Of A Royal Lookalike They Are
The 5 Most Dangerous Skincare Trends Doing The Rounds On TikTok