Watch this, breathe like that, work out here, you must go there – modern life can feel like a barrage of people telling you what to do. But where do you turn for advice you can really trust?
The Grazia Life Advice podcast asks the smartest women around to pass on the six pieces of advice that have served them best – plus the worst piece of advice they've ever received. As well as learning from their hard-fought wisdom, we hear the intimate and often hilarious stories that have brought them where they are today.
We release an episode every other Friday, so subscribe now for weekly good advice from women worth listening to.
Norwegian pop star and songwriter Sigrid released her debut EP Don't Kill My Vibe in 2017, and shot to fame shortly after as BBC Music's Sound of 2018. With a debut album in the works, she is fast becoming the musician of the moment.
Author and screenwriter Candice Carty-Williams became the first Black woman to win 'Book of the Year' at the 2020 British Book Awards, with her novel Queenie. Her new book Empress and Aniya is aimed at young adults, and has been called 'South London's answer to Freaky Friday'.
Model and trans activist Munroe Bergdorf has walked catwalks at both London and NYC Fashion Weeks for brands including Gypsy Sport. She's been a Labour party advisor on LGBT rights, she currently sits on the UK diversity and inclusion advisory board for L'Oreal and has recently launched her first podcast, The Way We Are on Spotify.
Prolific author and former Children's Laureate Malorie Blackman OBE is best known for her award-winning Noughts and Crosses series of young adult fiction books. The series was recently televised with rapper Stormzy in a lead role. With Rhiannon away on parental leave, we welcome Lotte Jeffs as stand-in Life Advice host.
[object Object]
The singer-songwriter behind so many recent pop hits, Anne-Marie's second album, Therapy, went number 2 in the UK charts. Now she's turned her hand to writing, releasing mental health self-help guide You Deserve Better.
[object Object]
As creator and star of breakout BBC show Back To Life, Daisy Haggard's recent work has been a huge hit with audiences and critics in the UK and America. She tells Rhiannon the new series – about a woman returning to her small Kent community after a long prison sentence - is even "bolder, darker, and sillier" than season 1.
https://planetradio.co.uk/podcasts/grazia-life-advice/
YouTube Originals presenter and influencer Patricia Bright tells Rhiannon why failure is good, and how we all need to treat sleep more seriously. Her show If I Could Tell You Just One Thing is made by Hilary Clinton's production company HiddenLight.
YouTube Originals series IF I COULD TELL YOU JUST ONE THING premieres Thursday 9th September on Patricia Bright's YouTube channel
Whether it's singing, dancing, or judging on Britain's Got Talent, you'll have seen Alesha Dixon do a lot of different things over the last few decades. She's also a children's author, and her latest book, Girls Rule, is inspired by the election of Kamala Harris as US Vice-President.
A behavioural and data scientist, and author of books including Motherhood and Wish We Knew What To Say: Talking With Children About Race, Dr Pragya Agarwal is a passionate campaigner for women's rights. Her latest book, Sway: Unravelling Unconscious Bias is recently out in paperback, and has gained rave reviews.
She played Lavender Brown in the Harry Potter films, but now Jessie Cave is also a comedian, illustrator, and author. Her first novel Sunrise, out now, is about grief and sisterhood. It draws on her own experience of sibling loss.
At just 17, Isa Guha became the first woman of South Asian origin to represent England in any sport, when she made her international cricket debut in 2002. She has won the Ashes and the Cricket World Cup, and is now lead presenter for BBC Sport's coverage of cricket's exciting new format, The Hundred.
She was the queen of Geordie Shore before taking the I'm a Celebrity jungle crown. These days, Vicky Pattison is a podcaster, with her series 'Vicky Pattison: The Secret To…' There is some great advice in this episode, but be warned: it also includes some strong language.
Vicky Pattison: The Secret To is available to listen to on Acast and all major podcast platforms. New episodes are released every Thursday.
Former Love Islander Malin Anderson has been through a lot – losing both her mum and newborn baby daughter while trapped in an abusive relationship. She's also spoken about her eating disorder and how she's been affected by online trolling. Not to be beaten, she's channelled it all into a new life as a motivational speaker, including taking part in LookFantastic's Fearess Campaign and docu-series.
TRIGGER WARNING: This episode includes discussion of suicide, eating disorders, bereavement, domestic violence, and contains some disturbing images. Here are links to organisations who can help if you are affected by issues discussed in this episode: Samaritans https://www.samaritans.org/ Refuge https://www.refuge.org.uk/ Tommy's https://www.tommys.org/ Beat https://www.beateatingdisorders.org.uk/
Whether it's Strictly Come Dancing, her Radio 2 show, or just that trademark fringe and eyeliner, Claudia Winkleman needs no introduction. Her book, a collection of essays called Quite, is out now in paperback. Her advice to Rhiannon includes getting plenty of naps, the correct amount of time to dunk a Hob Nob, and who you should, and shouldn't, allow to lick your neck.
Whether you know Anita Rani from Countryfile, Radio 4's Woman's Hour, or shows on Radio 2, she's fast becoming one of the UK's most well known presenters. Her memoir The Right Sort of Girl is out now. Her advice includes never going to the pub unless you can afford a round. Contains some strong language.
Ivor Novello award-winning Laura Mvula is back with a new album, the '80s-inspired Pink Noise. Her tips include being kinder to yourself and moving on when things stop being fun. She also explains why it's important, sometimes, to just sit and stare at a dog…
Head of her luxury bags and accessories line, Lulu Guinness has been a huge name in British fashion for decades. Her advice for Rhiannon is drawn from over 30 years running a fashion brand, whilst raising a family and facing mental health issues. She is just as much of an icon as the handbags she is famous for designing.
Following her previous books Prep and American Wife, Curtis Sittenfeld's novel Rodham imagines the life of Hillary Clinton (and the US as a whole) if she had never married Bill. The reowned US author's life tips include advice for aspiring writers, and how to handle social media trolls.
Journalist, editor and podcaster Lorraine Candy's book 'Mum, What's Wrong With You?' charts '101 things only mothers of girls can know'. Lorraine is an encyclopaedia of parenting advice, and has great tips for finding your way in the working world. She is co-host, with Trish Halpin, of the podcast Postcards From Midlife.
British-Indian poet Nikita Gill counts celebrities like Jameela Jamil and Matt Haig among her superfans, and regularly shares her work with over 600,000 followers on Instagram. Her latest collection, Where Hope Comes From, was written through the pandemic, and weaves words that explore our collective trauma.
Comic, writer, and actor Katherine Ryan is the star of Netflix's The Duchess and host of BBC 2's All That Glitters, about the world of specialist jewellery-making. Her advice includes 'don't get a fringe' and 'don't hang around in parking lots'.
Entrepreneur Grace Beverley founded two successful fitness businesses before the age of 23. She's a Forbes '30 under 30' member, a social media star and influencer, heralded as one of the most innovative young business people in the UK.
One half of Mel and Sue, Mel Giedroyc is most well known for bringing seven series of The Great British Bake Off to our screens. Her novel The Best Things is about how a woman responds to overnight financial disaster. She tells Rhiannon how it is partly inspired by events in Mel's own life.
She found fame on Made In Chelsea, became queen of the I'm A Celebrity jungle, and is now a staple of shows like ITV's This Morning, Celebs Go Dating, and even Celebrity Hunted with Boris Johnson's dad Stanley. Georgia Toffolo has also published two Mills and Boon romance novels. She tells Rhiannon how to cook eggs for Instagram, and to steer clear of potential partners who don't share your music tastes.
The youngest ever editor of Smash Hits magazine at 22, Kate Thornton went on to be the first ever host of ITV's X Factor, and now hosts her own podcast, White Wine Question Time. A single mum to Ben, her advice includes knowing what to do when what's best for your career isn't necessarily best for your life.
As Annie Mac, she is the globetrotting DJ who's been shaping our music tastes since 2006, as part of Radio 1's evening line-up. Going by her full name, she is also host of the 'Changes' podcast. Her first novel is called 'Mother Mother'.
Presenter, DJ, and creator of the Soundtracking podcast Edith Bowman has been part of our lives since she first became an MTV newsreader. She tells Rhiannon about tackling social media trolls, losing an entire festival day to over-drinking, and explaining to the kids why she has so many photos of long-time Radio 1 partner Colin Murray.
TEDx speaker, author, marathon runner and 'Power Hour' creator Adrienne Herbert knows how to get things done. She tells Rhiannon how to achieve more, by taking the first hour of each day for yourself.
Ashley's debut novel The Push is one of 2021's most hotly anticipated books. Its gripping plot explores motherhood's darkest places. Her advice includes making time to do what you love, and learning how to cut guilt from your life.
Cassandra is almost certainly a key part of your Friday nights in, as co-founder of the UK's biggest independent snack company. She tells Rhiannon how even the toughest life lessons can be useful, and how not to worry about what other people think of you.
Straight-talking feminist comedian Grace co-hosts the podcast Football, Feminism and Everything In Between with her dad, political advisor Alistair Campbell. She's written her new book Amazing Disgrace to help women handle feelings of shame. Her life tips include never sleeping with co-workers, and dressing fabulously to boost your confidence.
Singer, songwriter and rapper Fleur East won the I'm A Celebrity jungle in 2018, having already blown people away with her performance of Uptown Funk on The X Factor. Now host of The Reality of Reality TV podcast, and presenter of the Hits Radio Breakfast Show, she tells Rhiannon hard work beats talent, and actions speak louder than words.
Multi-Hyphen Method queen Emma Gannon is a blogger, speaker, and best-selling author of 'Olive' and 'Sabotage'. She also hosts the UK's number one careers podcast Ctrl Alt Delete. She talks about the joy of the side hustle, the perils of imposter syndrome, and why comparison is futile.
An American in London, Kenya Hunt is Grazia's fashion director, and has written for some of the biggest publications on both sides of the Atlantic. Her book - a collection of essays on Black womanhood called Girl - is out in November, and available to pre-ordernow.
Actor, model, and Save The Children ambassador Poppy Delevingne kicks off our new series. The Kingsman star, who also plays glamorous Daphne in Sky's Riviera, offers advice that is, as you would expect, really rather fabulous...
Stephanie Yeboah is a plus-size blogger and fat acceptance advocate. Her amazing fashion tips and straight-talking self-love have taken her Instagram following to over 150 thousand. Her book Fattily Ever After is coming soon…
In 2015, Charli Howard was dropped by her modelling agency, allegedly for being 'too big'. An open letter she posted on Facebook became nationwide news and saw her signed to an agency in New York where her career flew - working for huge brands like Agent Provocateur and Pat McGrath.
Amy Hart is the Love Islander who broke our hearts when she left The Villa following her split from fellow contestant, Curtis Pritchard. Fast forward 12 months, and the former air hostess and Pageant Queen is still in the spotlight. She's also wading into politics, tweeting the Chancellor of the Exchequer, Rishi Sunak about jobs and taxes.
Clara Amfo is a presenter, DJ and recent Grazia cover star. Here she shares the six best pieces of advice she's been given, especially when it comes to family, friends and relationships.
Journalist and Empire Editor-in-Chief Terri White's job in New York appeared an incredible dream. But it triggered a mental breakdown that left her locked in a New York psychiatric ward. Her new memoir, Coming Undone, charts the troubled times that led to that moment, and her episode of Grazia Life Advice is as honest as her book.
Candice Brathwaite is our first guest on this new series of Grazia Life Advice. Candice is a self-described 'mummy blogger' and influencer, who says she first took to Instagram to show young Black families weren't just surviving, but thriving. To that end, she launched her online initiative, Make Motherhood Diverse, works with loads of high-profile brands, and has amassed more than 180,000 followers on Instagram.
Her success recently hit new heights when her book, I Am Not Your Baby Mother – the first to address parenting from a Black British perspective - became a Sunday Times Bestseller. In this inspiring chat, she tells us why money matters, the importance of the men in her life and talks about the aftermath of being trolled by Clemmie Hooper, aka Mother Of Daughters.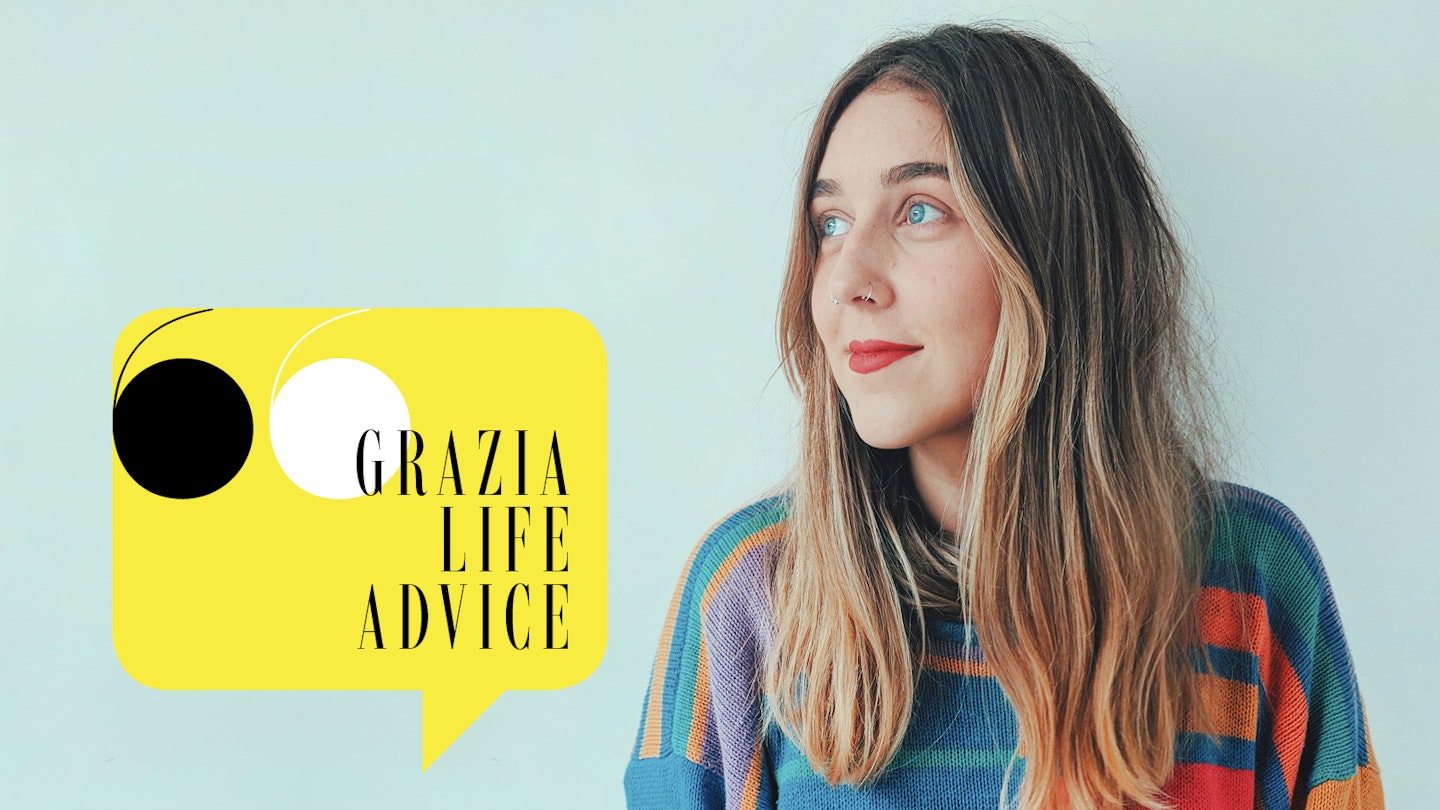 We're closing the first season with a brilliant episode featuring the smart and very funny Gina Martin, who earlier this year successfully campaigned to make upskirting a sexual offence. Gina's new book Be The Change is an activism how-to guide for anyone who wants to change the world and doesn't know where to start (isn't that all of us?).
While we're taking a break, use the hashtag #grazialifeadvice to let us know what you think of Gina's episode and the other 53 available on iTunes, Spotify or wherever you get your podcasts - from Dolly Alderton to the Queer Eye boys to Bella Mackie. See you soon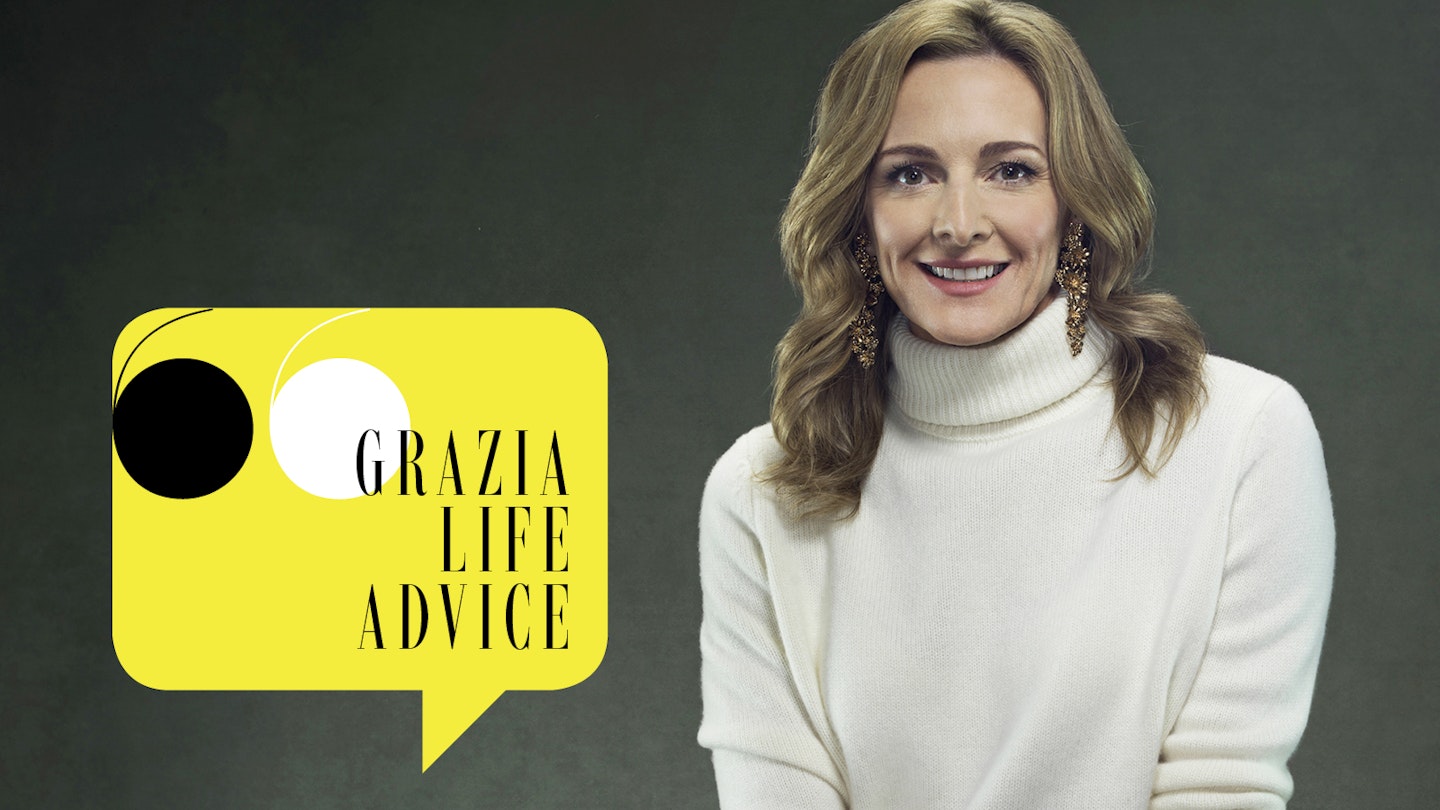 This weekend, the FIFA Women's World Cup kicks off - with Scotland qualifying for the first time ever, England in with a good chance of taking the trophy, and the BBC broadcasting it all at times you're actually available (a perk of it being held in France). To mark this very exciting summer for women's sport, Hattie sat down with legendary presenter Gabby Logan, who shared the wisdom she's learnt over a career spanning 23 years. Gabby was chatty, smart and inspiring, and spilled the beans on how she tunes out social-media criticism, goes running with Alex Scott, and maintains her startling breakfast habits.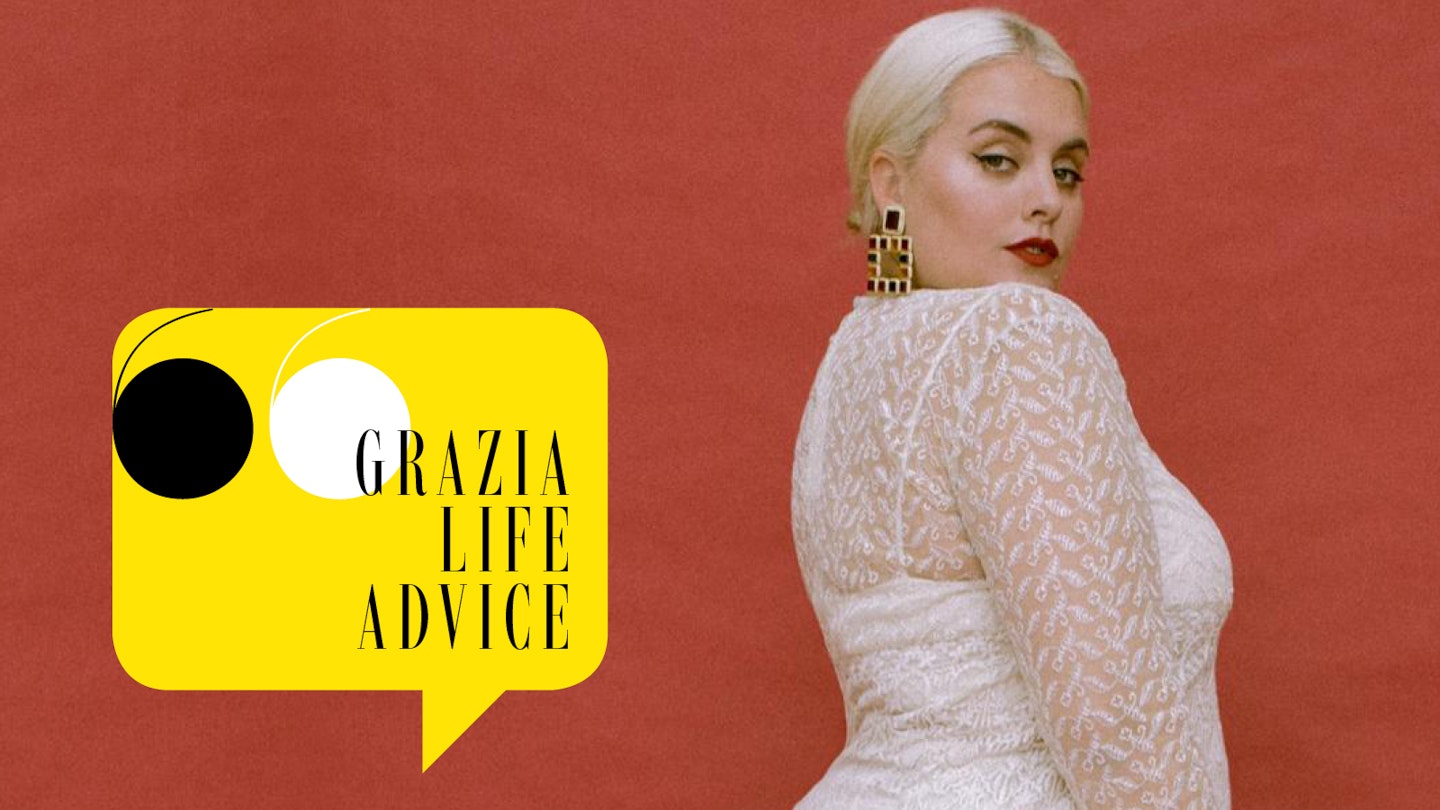 You travel a lot darling - you should have a sailor in every port.' These are the wise words of Felicity Hayward's nan, one of the key inspirations behind her advice this week. Felicity is the model and presenter who embraced body paint for Channel 4's Naked Beach and has worked for the likes of Boohoo, ASOS and L'Oreal. She's also the founder of the #selflovebringsbeauty movement, which you can check out at selflovebringsbeauty.com. This week, she's here with Hattie to talk lipstick, body confidence and why she believes modelling should never be your Plan A.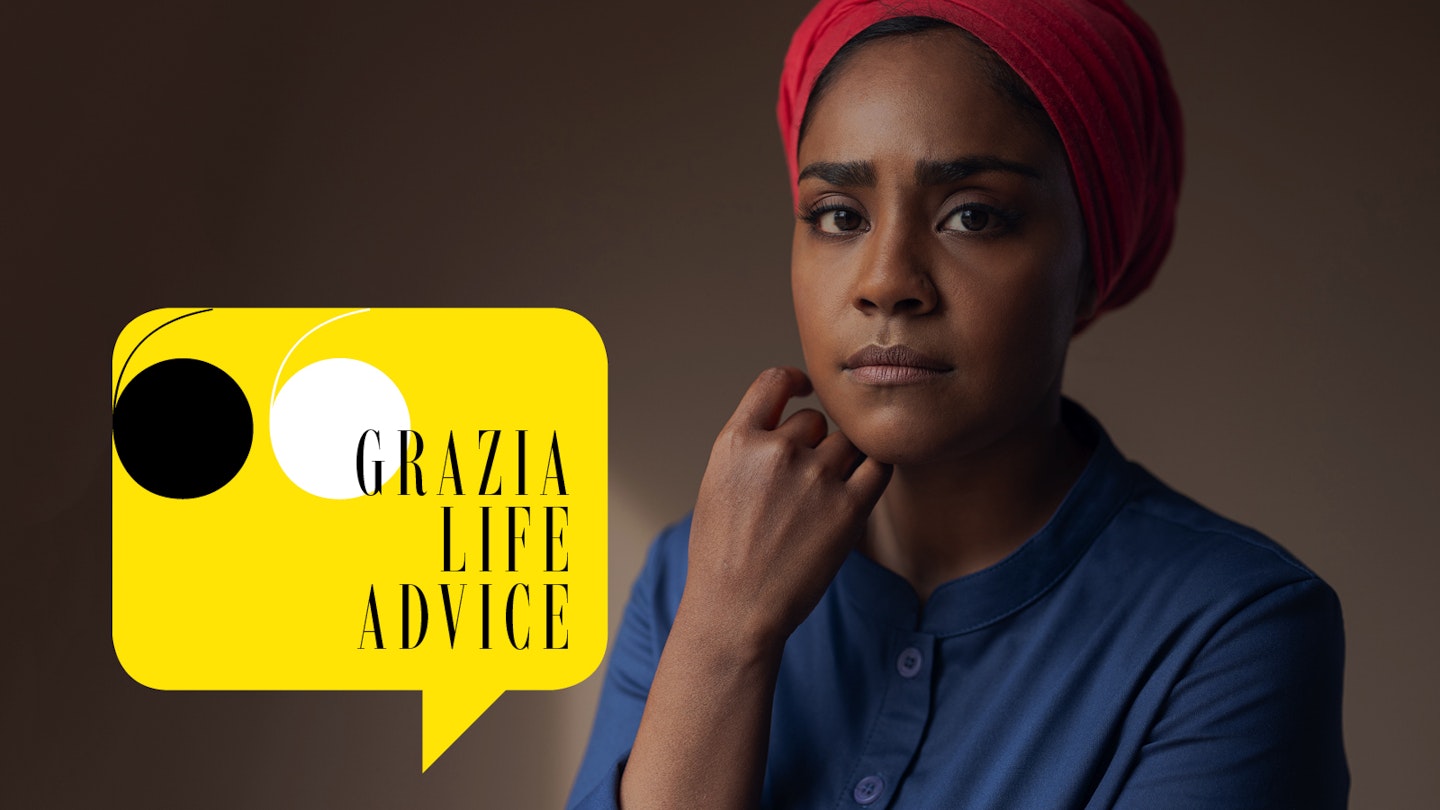 We all know Nadiya Hussain as Bake-Off winner, recipe writer and national treasure - but what few people knew until recently is that panic attacks have dogged her since childhood. Nadiya sat down with Hattie to mark her BBC documentary 'Nadiya: Anxiety and Me', and opened up about her disorder, what her faith means to her, and how she's managed 14 years of marriage without a single argument.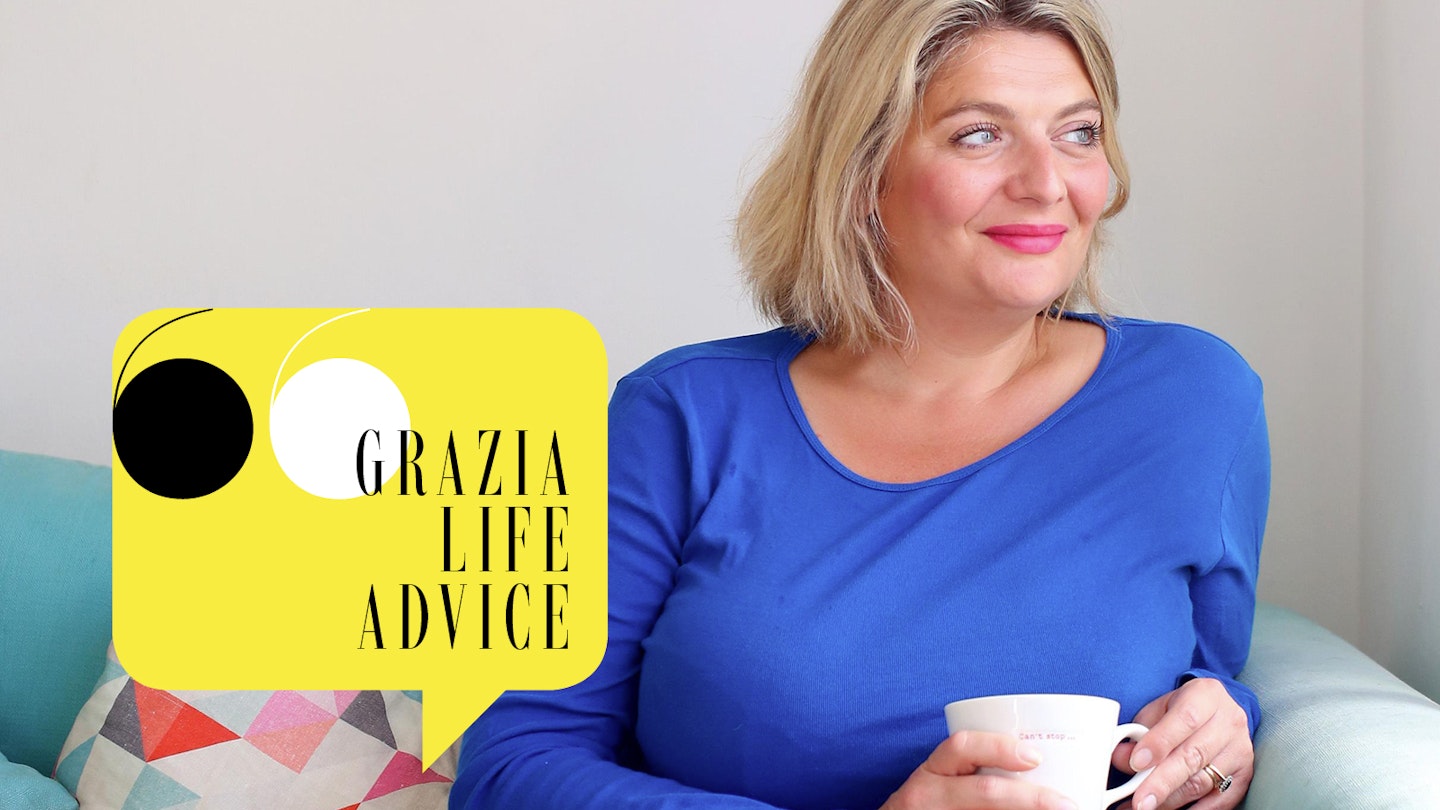 A journalist, mental-health writer, body-confidence champion and force to be reckoned with, Bryony Gordon has published four books including You Got This, a new life manual for teenagers. Her bullsh*t-free, empathetic approach to mental health is exactly what encouraged Prince Harry himself to open up to her in an award-winning episode of her own podcast. She's here at Grazia to talk about loving yourself as you are (even if that means embracing open pores and/or a few regrettable life choices), plus the heart-warming magic of guinea pigs.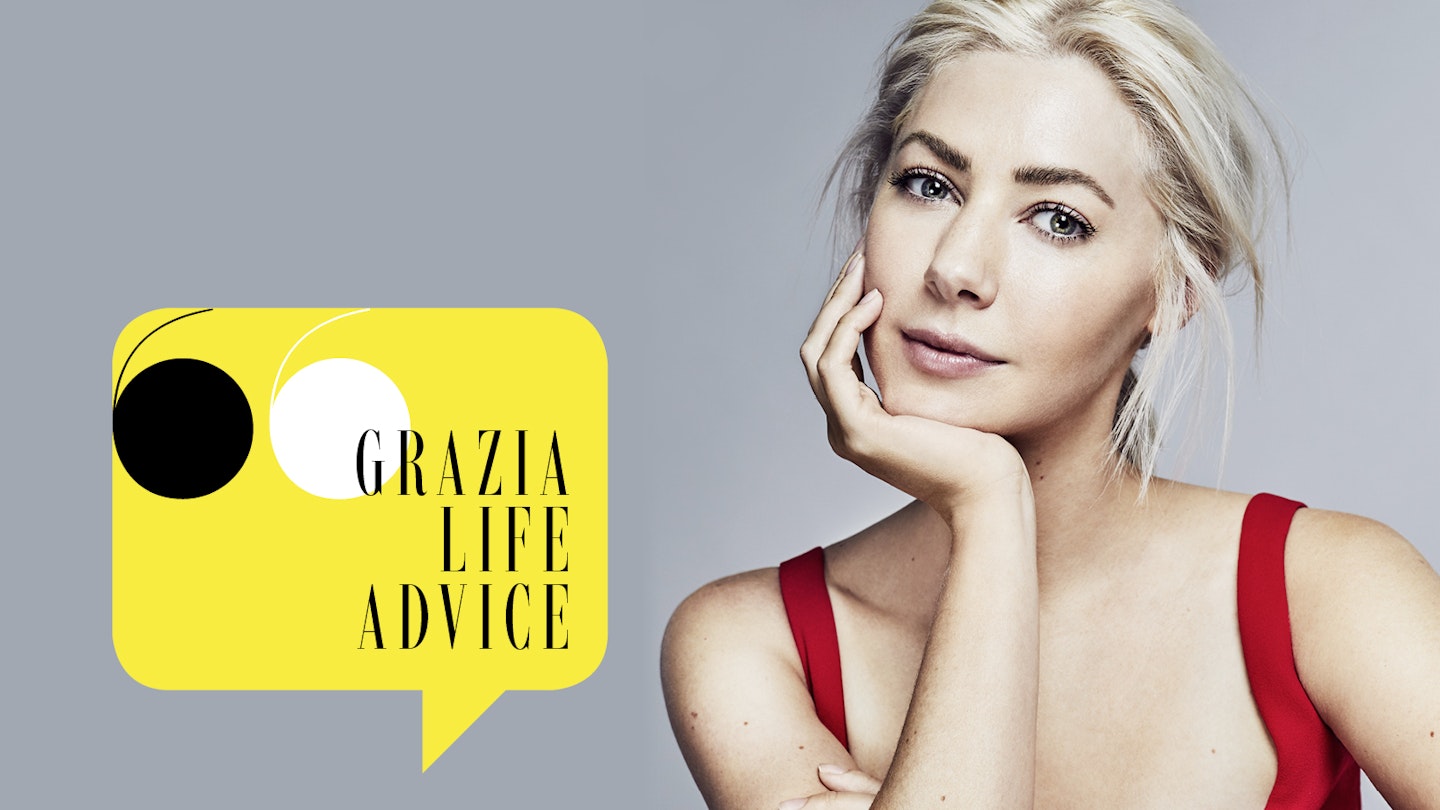 When a debut novel is picked up by Reese Witherspoon for her book club, and optioned by 20th Century Fox with Reese attached to produce, you know it's worth a look. That's what happened to Something In The Water, a can't-put-it-down thriller written by this week's guest, Catherine Steadman (you need this for your beach holiday). Not only is Catherine now a bestselling novelist, but she's an actress too - you may remember her as Mabel Lane Fox in Downton Abbey, and she's also in the forthcoming supernatural drama The Rook. She's a great positive thinker, and she's here to share the wisdom she lives by.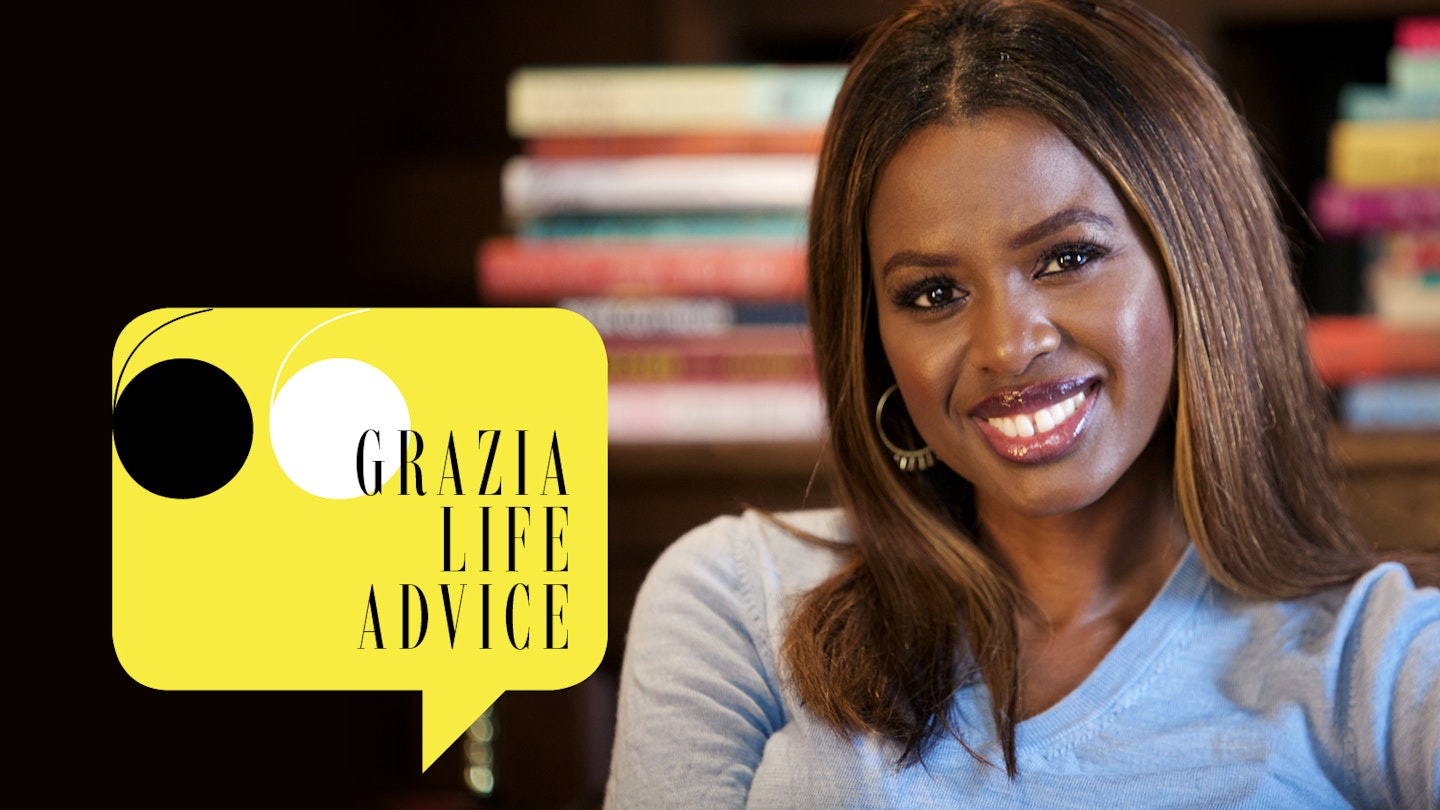 The lovely and super-smart June Sarpong - broadcaster, campaigner and author - joins Hattie this week to share insight and advice from her book Diversify, now out in paperback. June draws on powerful research to highlight the challenges that so many people face - whether because of skin colour, social class, gender, disability or sexuality - and gives practical tips on how we can all unpick our own prejudices and step outside our social comfort zones.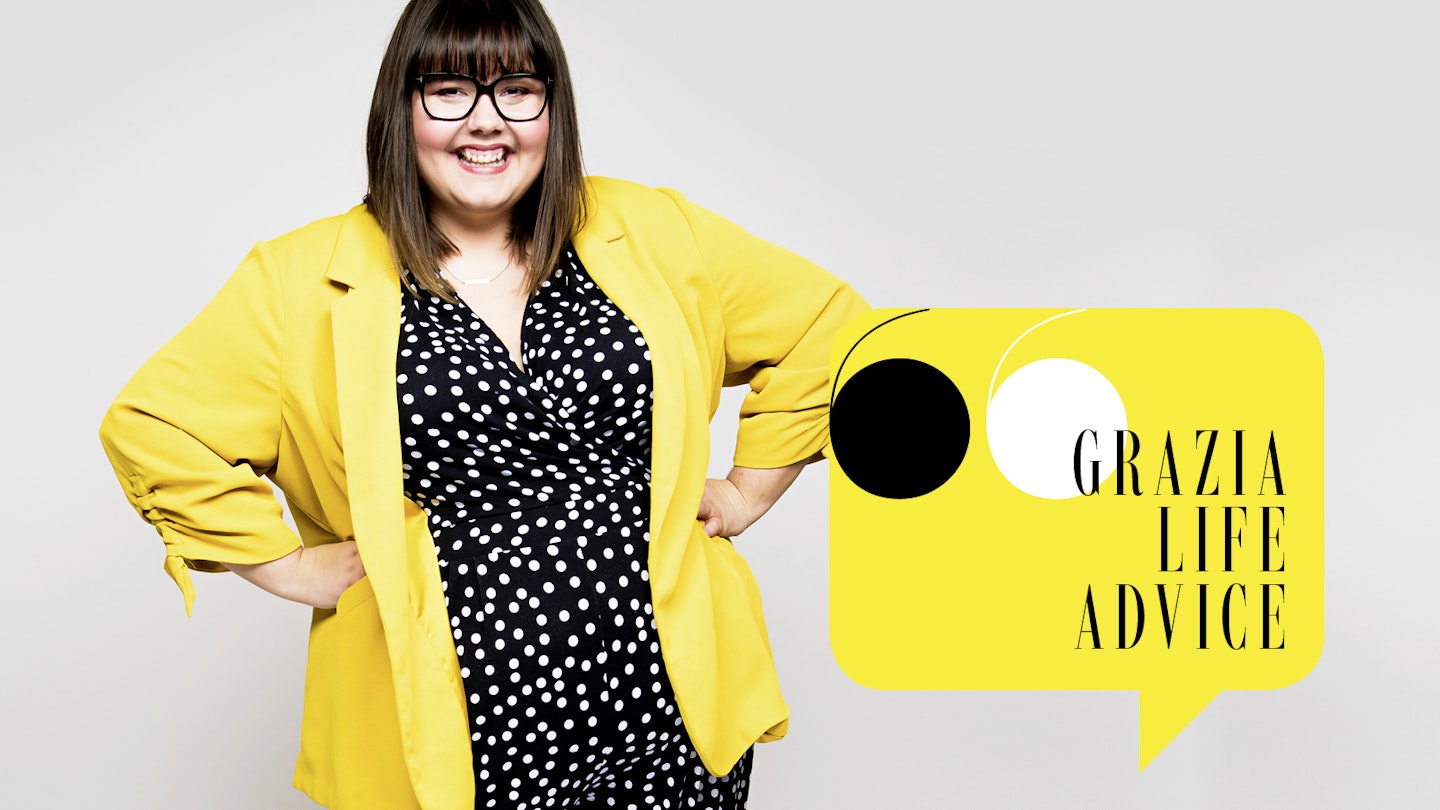 Meet Sofie Hagen: comedian, fat activist and author of the new book, Happy Fat. She's here to tell us that many of our negative beliefs about fatness come from advertisers with an ulterior motive: to make money out of our desire to change ourselves. She speaks passionately about how she came to accept her own body (and how we can all do the same) and shares her heartfelt, bull***t-free advice on self-care.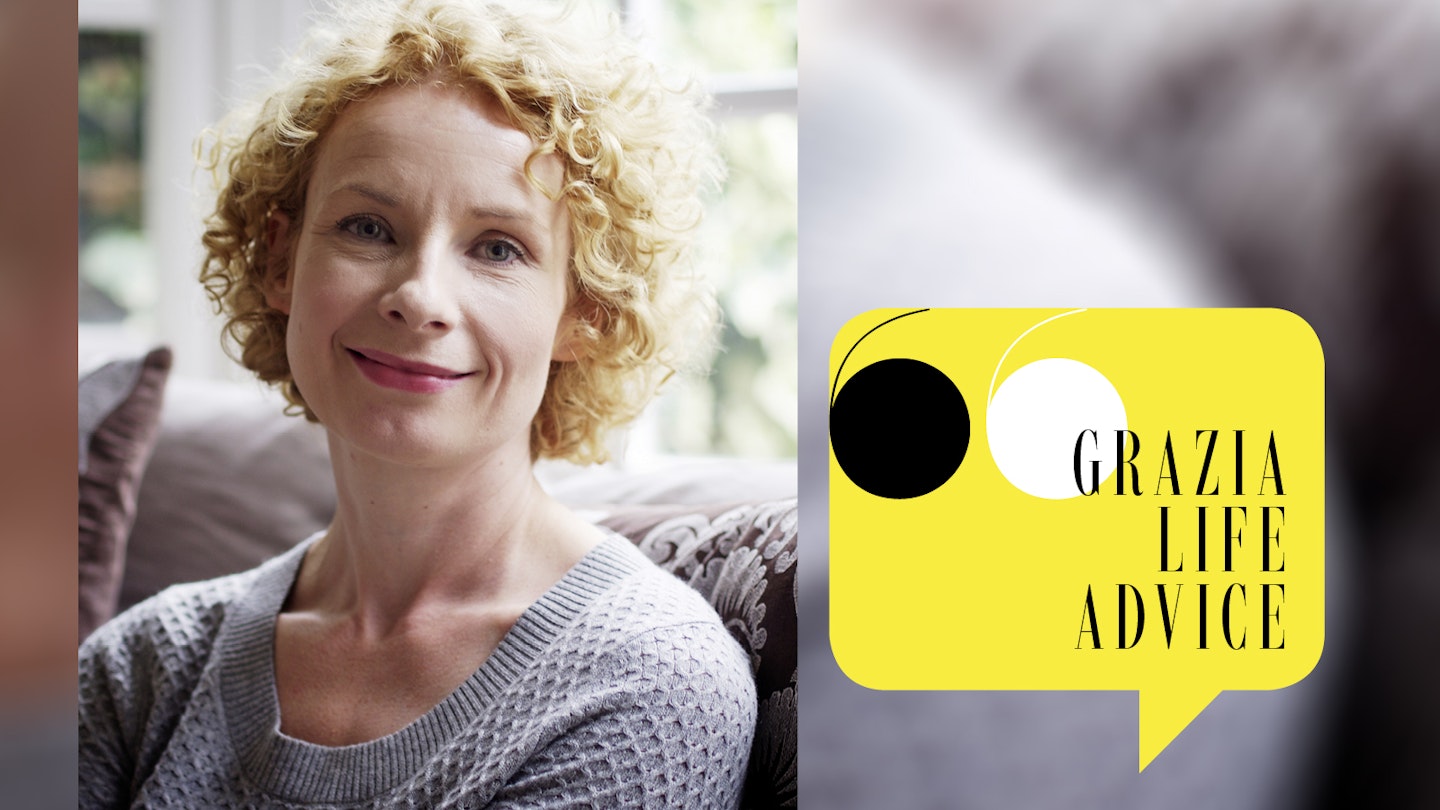 Bee Wilson, food writer and author of new book The Way We Eat Now, joins us on this week's episode with advice on tweaking your eating habits to make them more varied, more satisfying and more nourishing. Bee has a smart, empathetic approach to food, delving into what eating really means to us and how dramatically it's changed in just a few decades - from the days when our grandparents would sit down for meat and two veg, to our current system of snacking, 'eating clean' and 'being naughty'. We're in a whole new world of food and the advertising that goes with it, and Bee is here to help us make sense of it.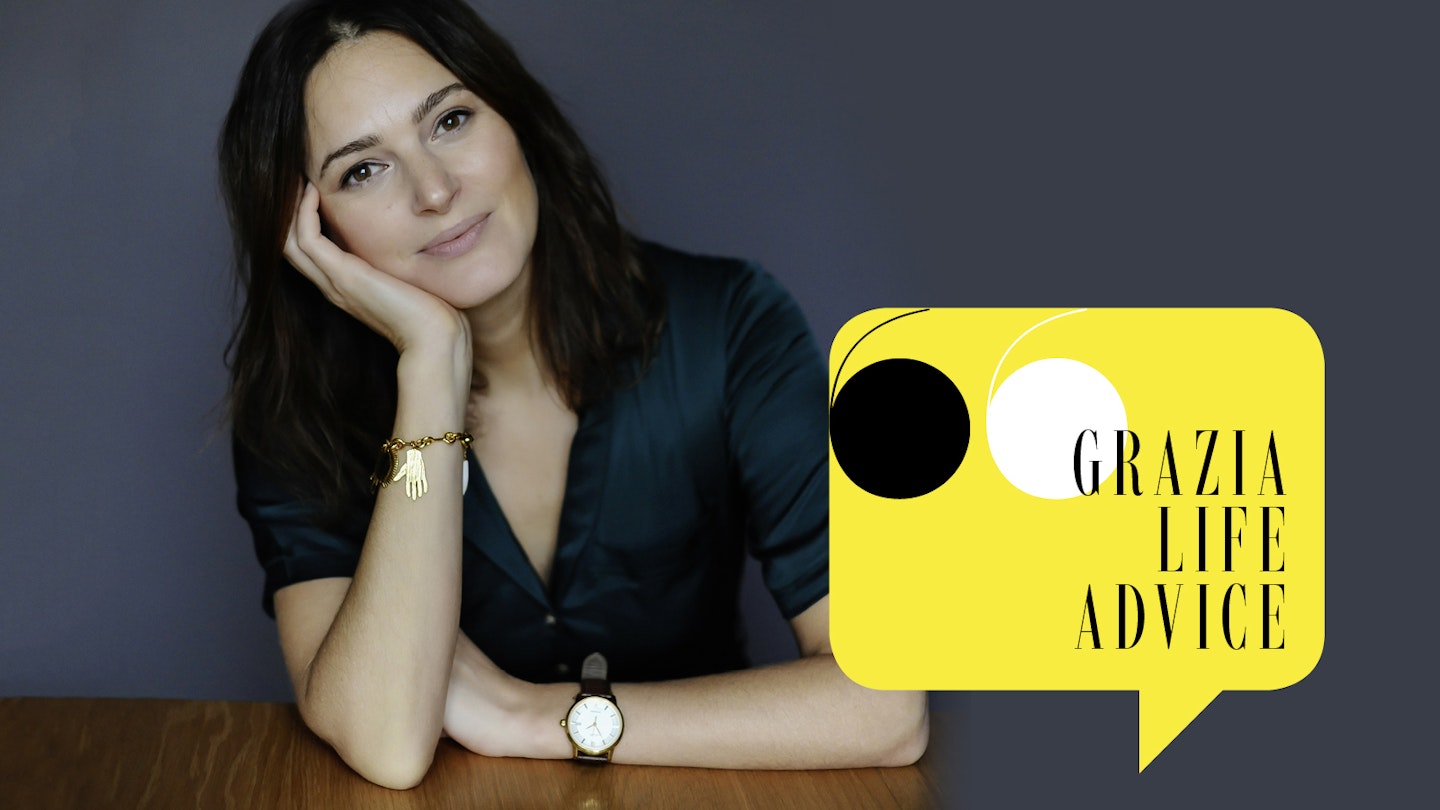 The utterly charming Elizabeth Day, presenter of the How to Fail podcast and author of a new book by the same name, joins Hattie on Grazia Life Advice this week. We tend to hear a lot of talk about achievements and #goals these days, but what Elizabeth thinks are important are the things we mess up along the way - and how much those failures can teach us about who we are. She shared some very honest tales of her own 'mistakes', plus advice on how to turn your weaknesses into strengths.
[Episode Forty-Four: Dani Dyer](http://Grazia national advertising revenue)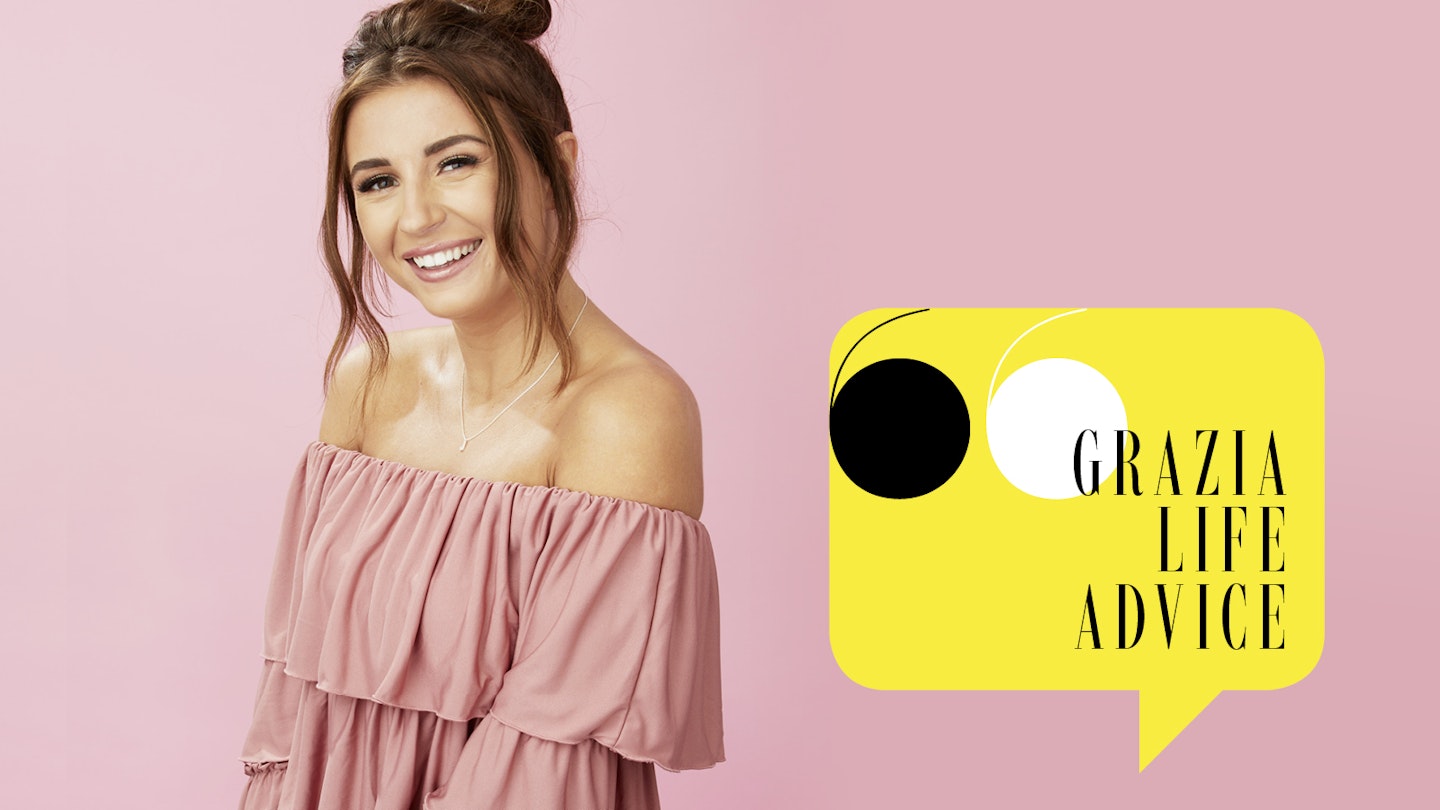 This week, we're joined by Love Island 2018's breakout star Dani Dyer. She was famous on the show for being a wise-beyond-her-years agony aunt – doling out comforting hugs and tough love (depending on what was deserved...) to all the islanders. There's plenty of this wisdom in her new book, What Would Dani Do?, and unsurprisingly she's the perfect guest for Grazia Life Advice too.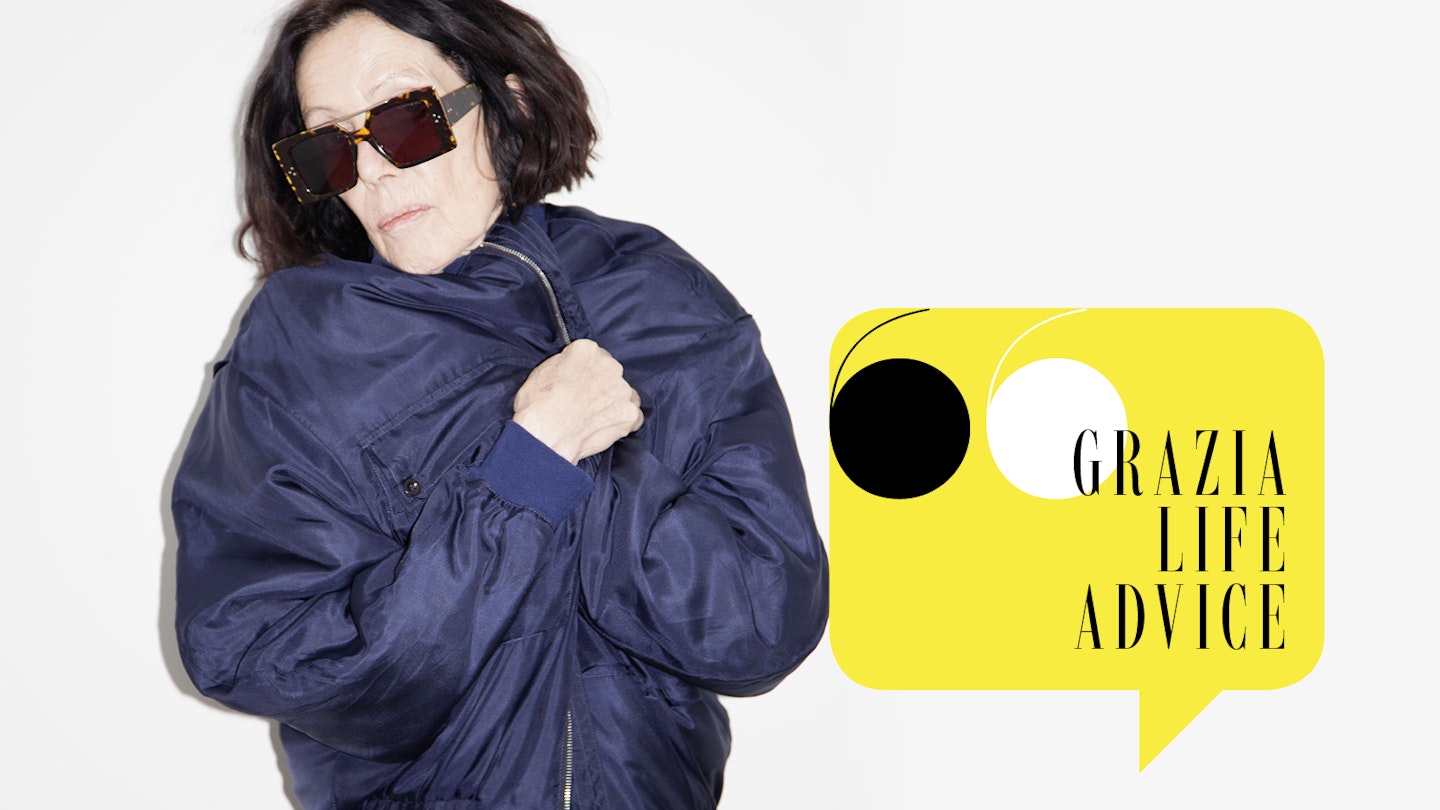 Katharine Hamnett, fashion designer and queen of the slogan T-shirts (she coined the legendary 'Choose Life'), joins us on the podcast this week. An activist at heart, Katharine is passionate about politics, the environment and much more - she was the first designer to prioritise sustainability, way back in the 1980s. She's also a funny, sweary, self-deprecating guest with ingenious advice on keeping zen, being true to yourself and making a killer apple crumble.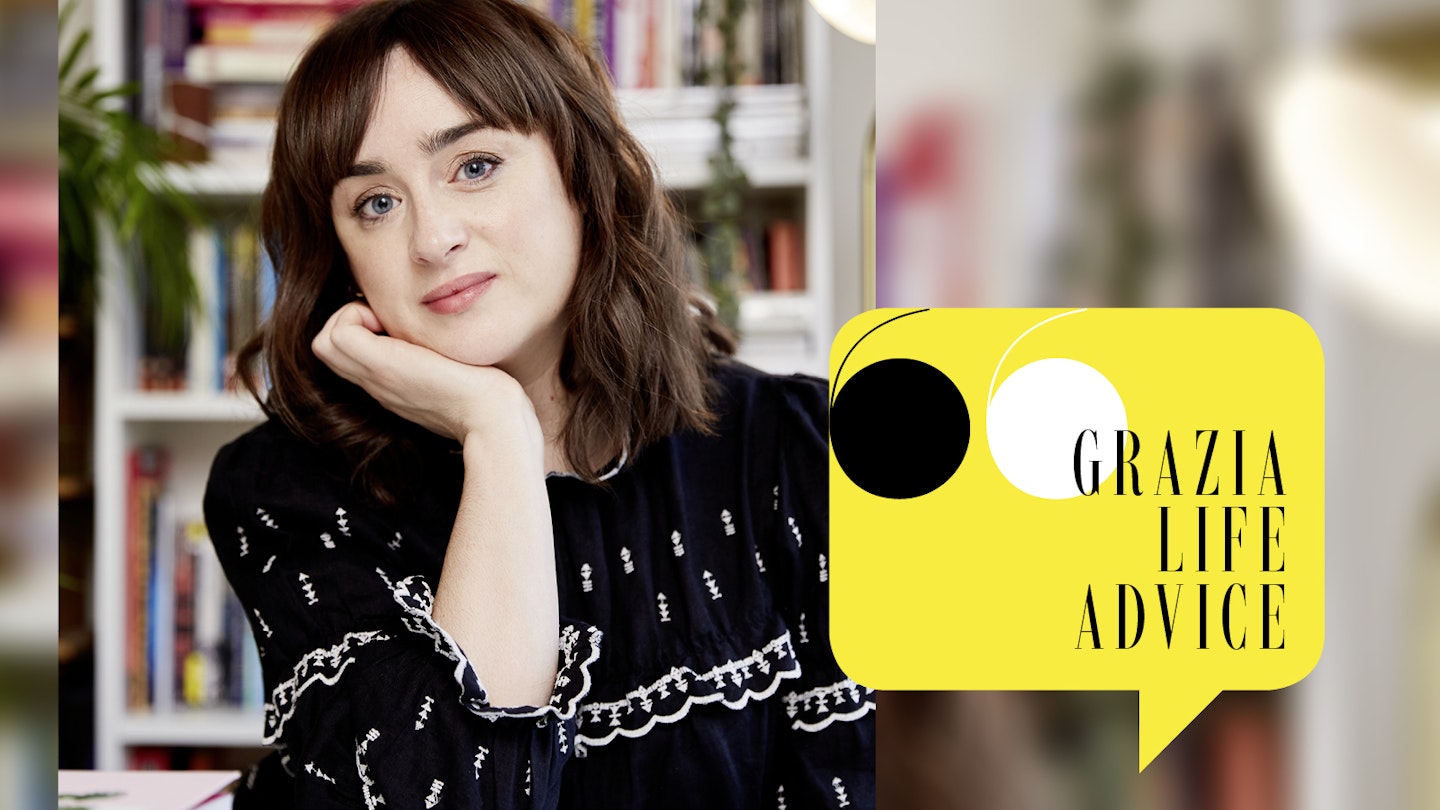 Lynn Enright, author of Vagina: A Reeducation, joins us on Grazia Life Advice this week - so expect plenty of revelations about women's health, plus some fascinating discussion of the clitoris thrown in for good measure. Lynn is a journalist whose book brings together research not only into women's bodies, but also into how our pain, pleasure and safety has been neglected by sex education and healthcare. She's also a very funny guest, whose advice spans everything from tackling awkward conversations with your GP to preparing yourself for a carefree and happy old age.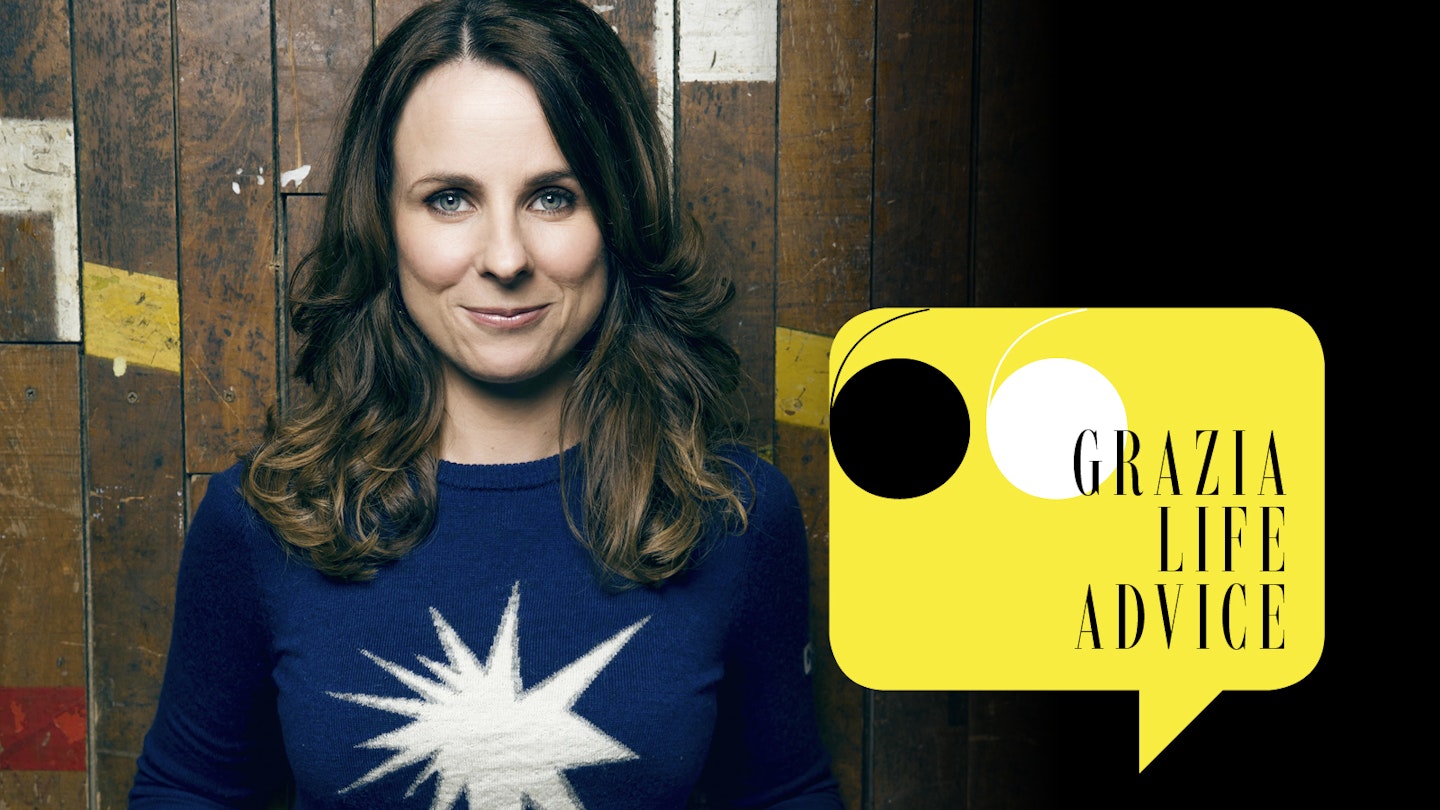 Cariad Lloyd, host of the award-winning Griefcast, joins us this week. Cariad is not only a very successful podcaster but an actress (most recently seen on This Time with Alan Partridge) and improv comedy performer – you can catch her in Austentatious, an improvised comedy inspired by Jane Austen (it's hilarious) at London's Fortune Theatre. She popped by to share advice on everything from bereavement to pyjamas, and was thoughtful, warm and very very funny.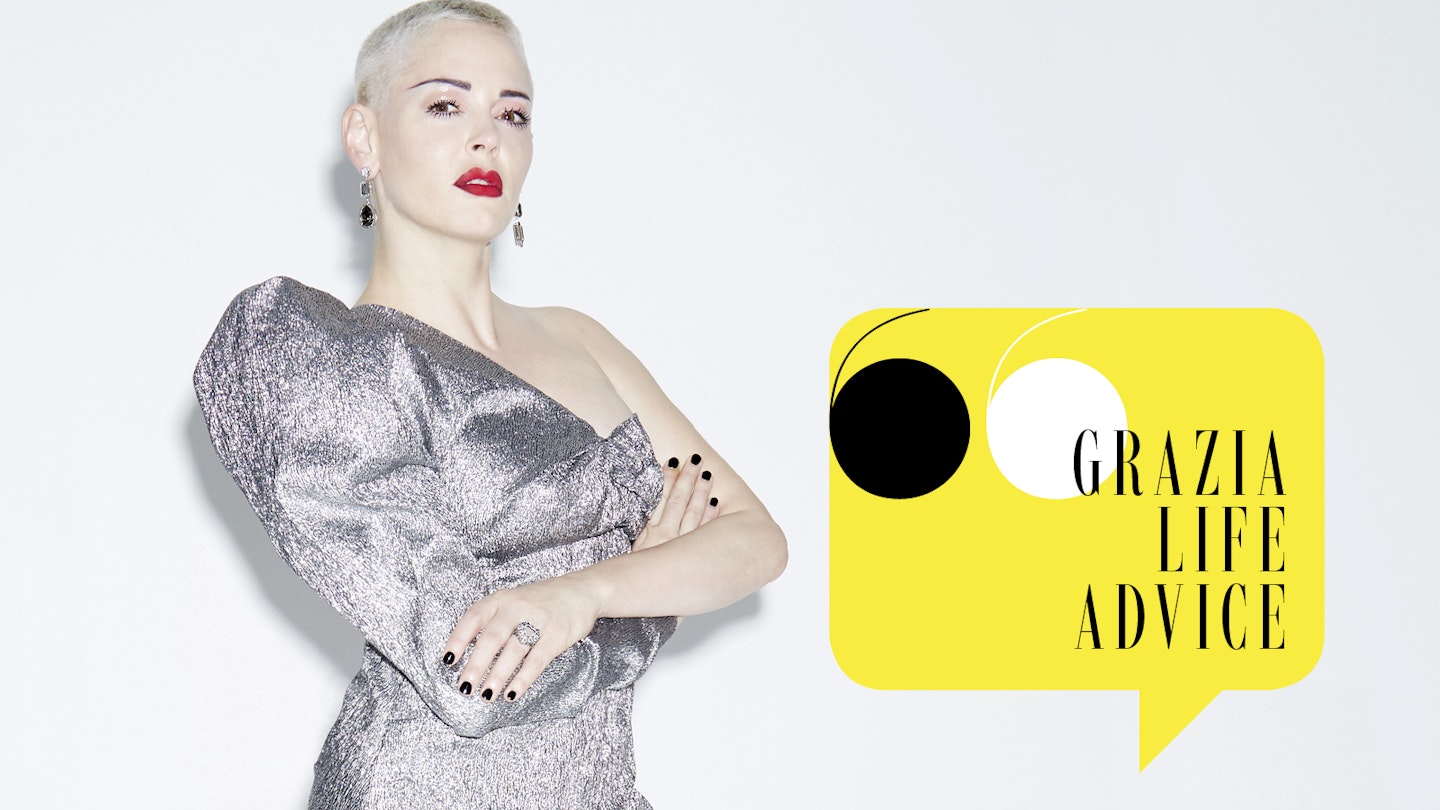 She was a Hollywood actress, and the punk starlet who dated Marilyn Manson and wore a fishnet dress to the MTV Video Music Awards; then Rose McGowan became one of the first and most prominent voices against Harvey Weinstein in 2017. Now she's an activist and a woman on a mission. Rose's memoir and motivational book Brave is out in paperback and she joined Grazia Life Advice to talk about why she's fighting back against 'the cult of Hollywood', and share her advice on how we can all be braver.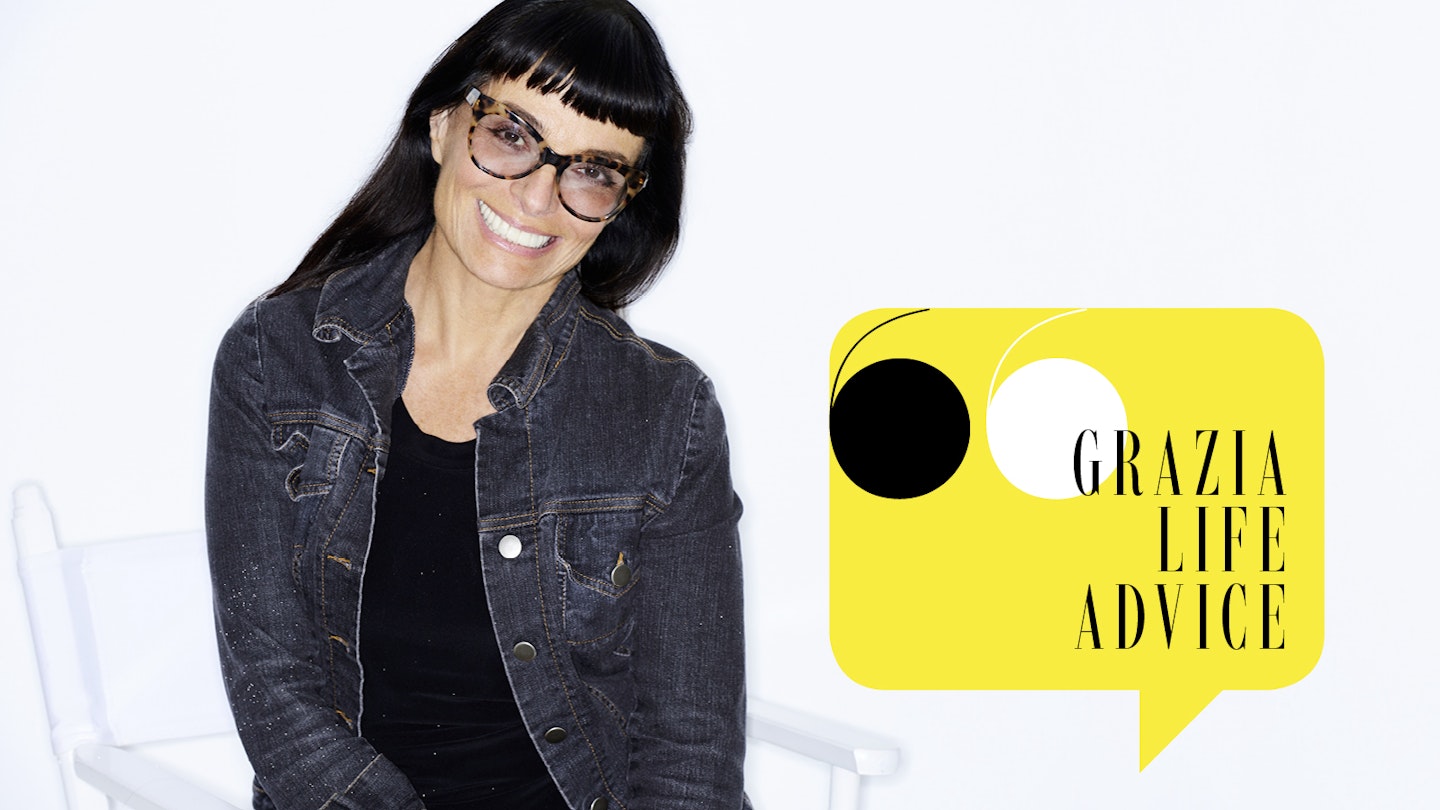 From designing coats for the bouncers at Studio 54 to revolutionising women's swimwear, Norma Kamali is the legendary fashion designer who shook up 1970s New York and is still going strong today. On a recent visit to London, Norma sat down with Grazia to share her advice on fitness, meditation and how to handle sexism in business.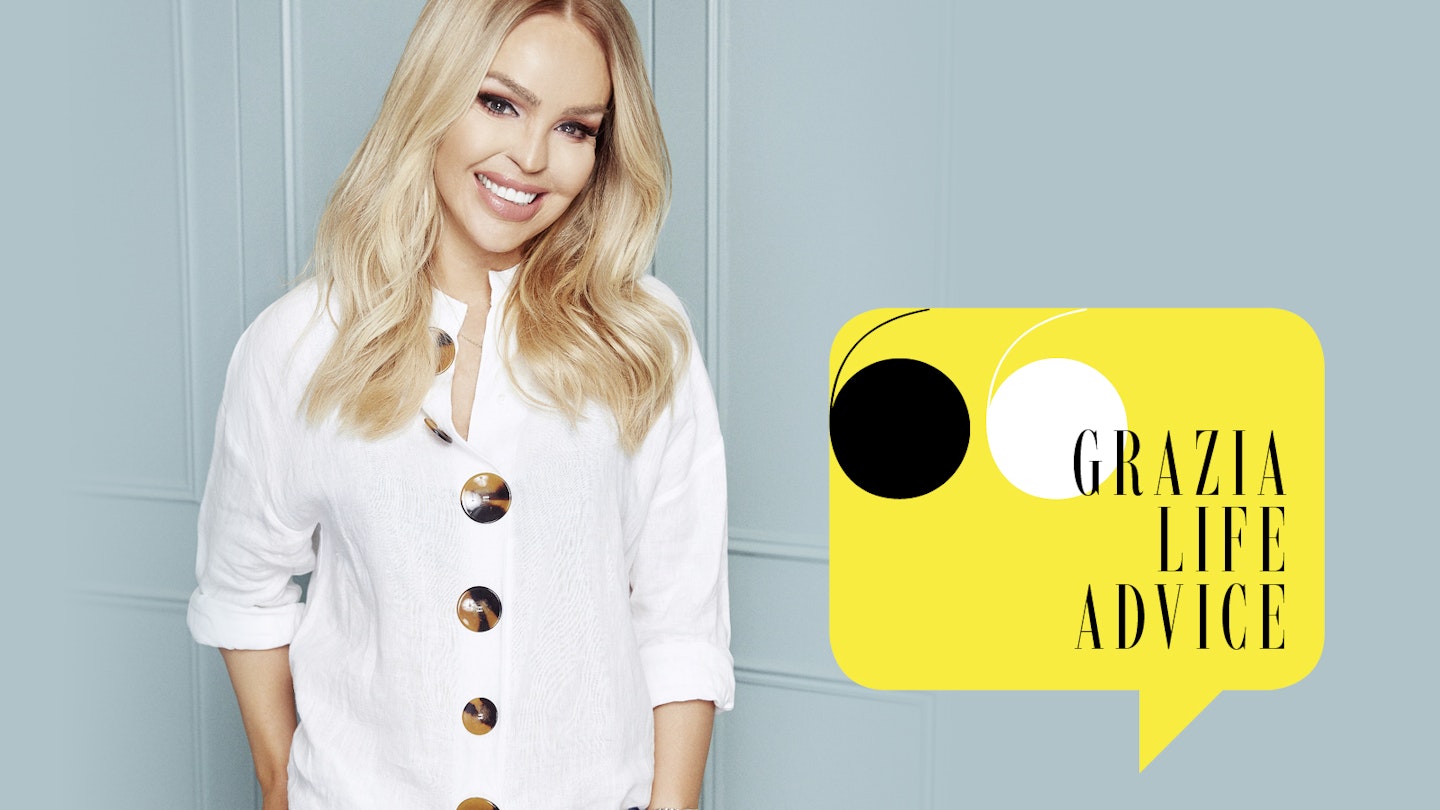 We are thrilled to welcome the presenter and philanthropist Katie Piper to the podcast this week. She's no stranger to podcasting - her own show, Katie Piper's Extraordinary People, is one of Grazia's favourites. Katie's quite extraordinary herself, and has done a huge amount in the UK to destigmatise and raise awareness of scarring and burns. She shared her advice on defining success, managing failure and standing up for yourself.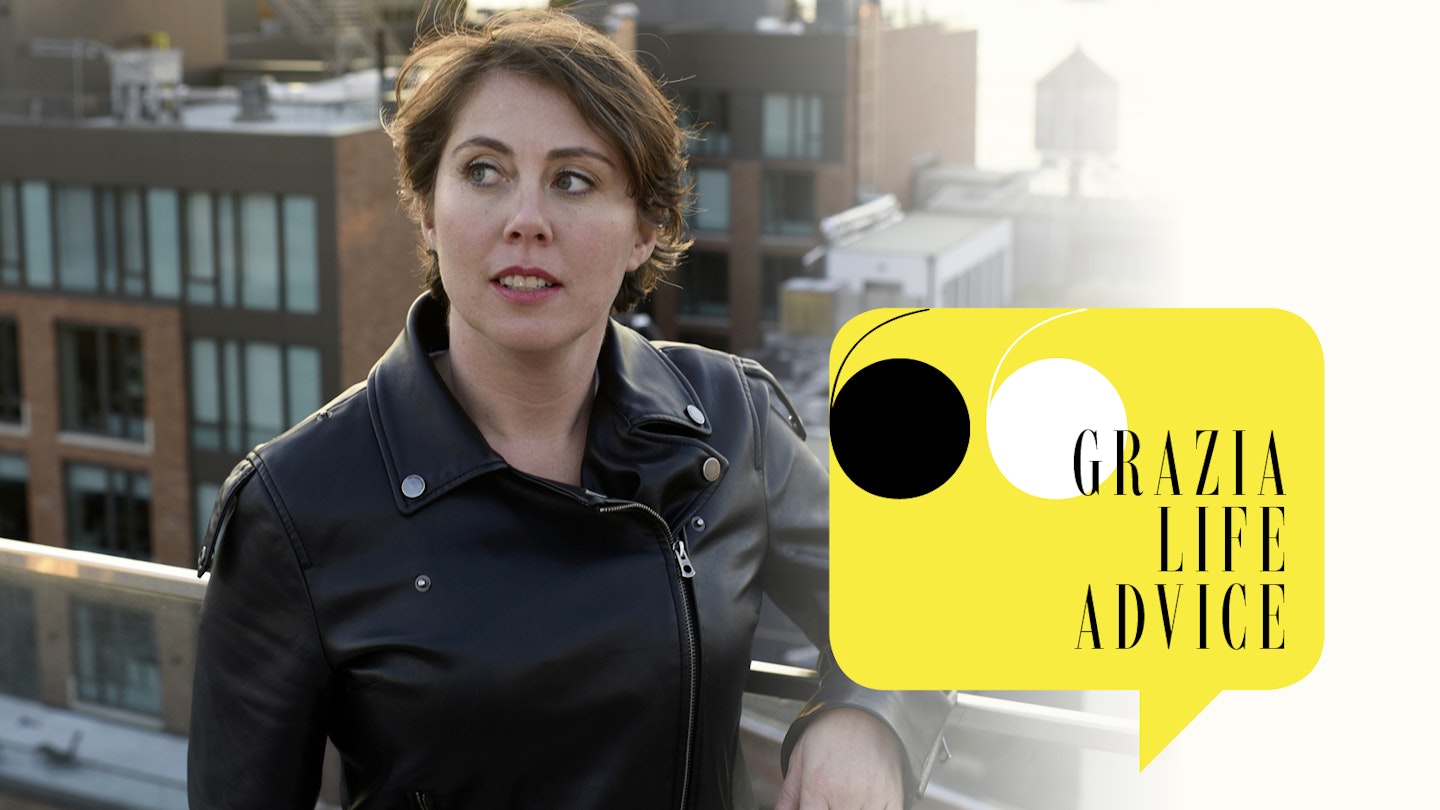 In December 2017, Kristen Roupenian published the story Cat Person in the New Yorker - and quickly became a viral sensation. Her story chimed with the #MeToo movement exploding at the time, and it's now become part of her new book of short fiction, You Know You Want This. Kristen stopped by Grazia to talk about the experience of writing something that provoked such a strong global reaction, and share with us her great advice on knowing what you can control, and tuning out of what you can't. Follow Kristen Roupenian on Twitter and Instagram @kroupenian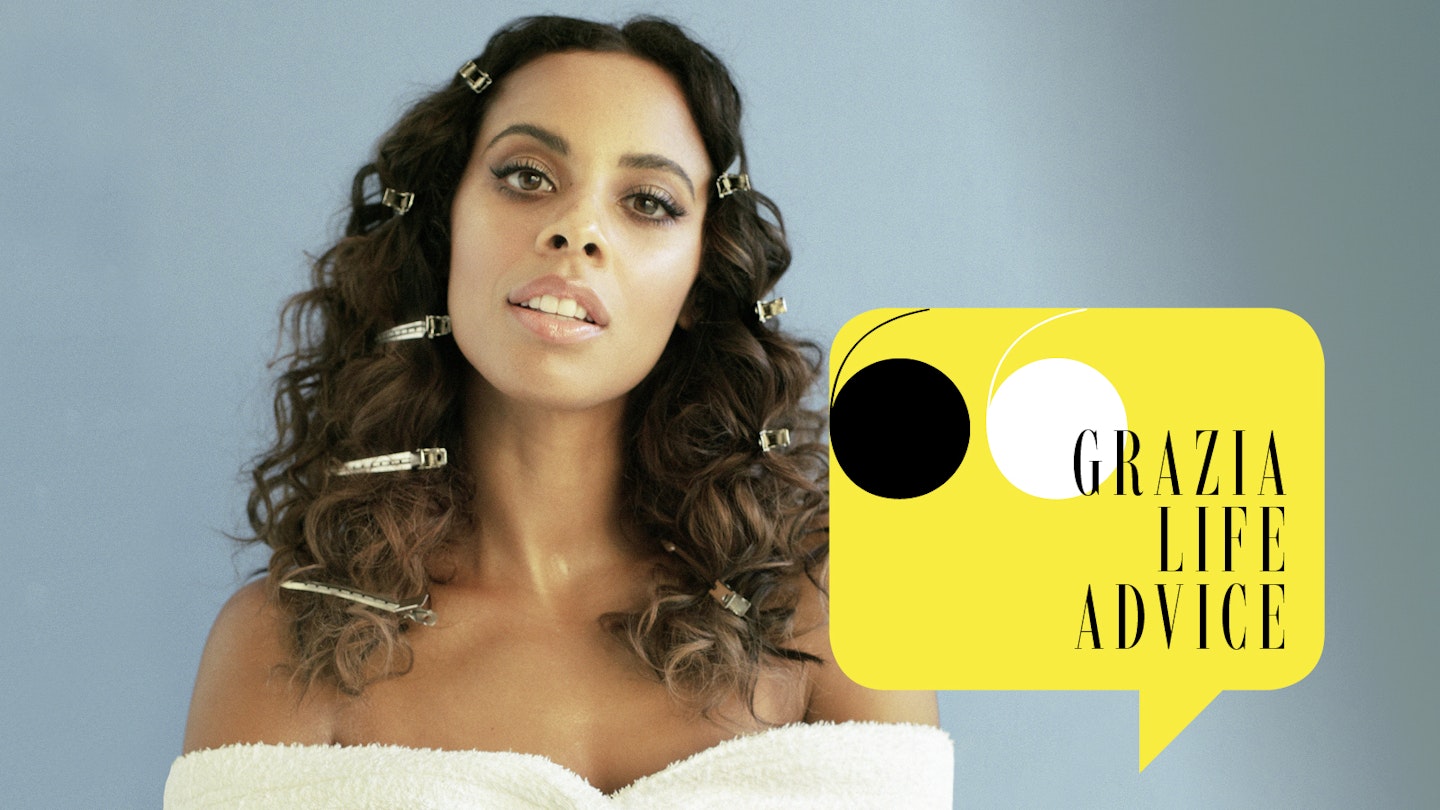 Rochelle Humes joins us at Grazia Towers as she publishes her first children's book, The Mega Magic Hair Swap. Inspired by her own daughters, the story sets out to help children, especially children of colour, to love their natural hair. It's the latest in a series of triumphs for Rochelle, who had a recent success sitting in for Holly Willoughby on the This Morning couch. She shares some of her wisdom on parenting, compartmentalising and learning to say no. Follow Rochelle on Twitter and Instagram @rochellehumes
Bella Mackie joins us this week to talk about her new book, the Sunday Times bestseller Jog On, which tells the story of how running helped her address mental health issues during the most challenging time of her life. As well as being thoughtful and empathetic, Bella is also irreverent and self-deprecating. Her advice includes tips on being a supportive friend, and finding hope during bleak times - plus the invaluable: 'Always be jazzy.'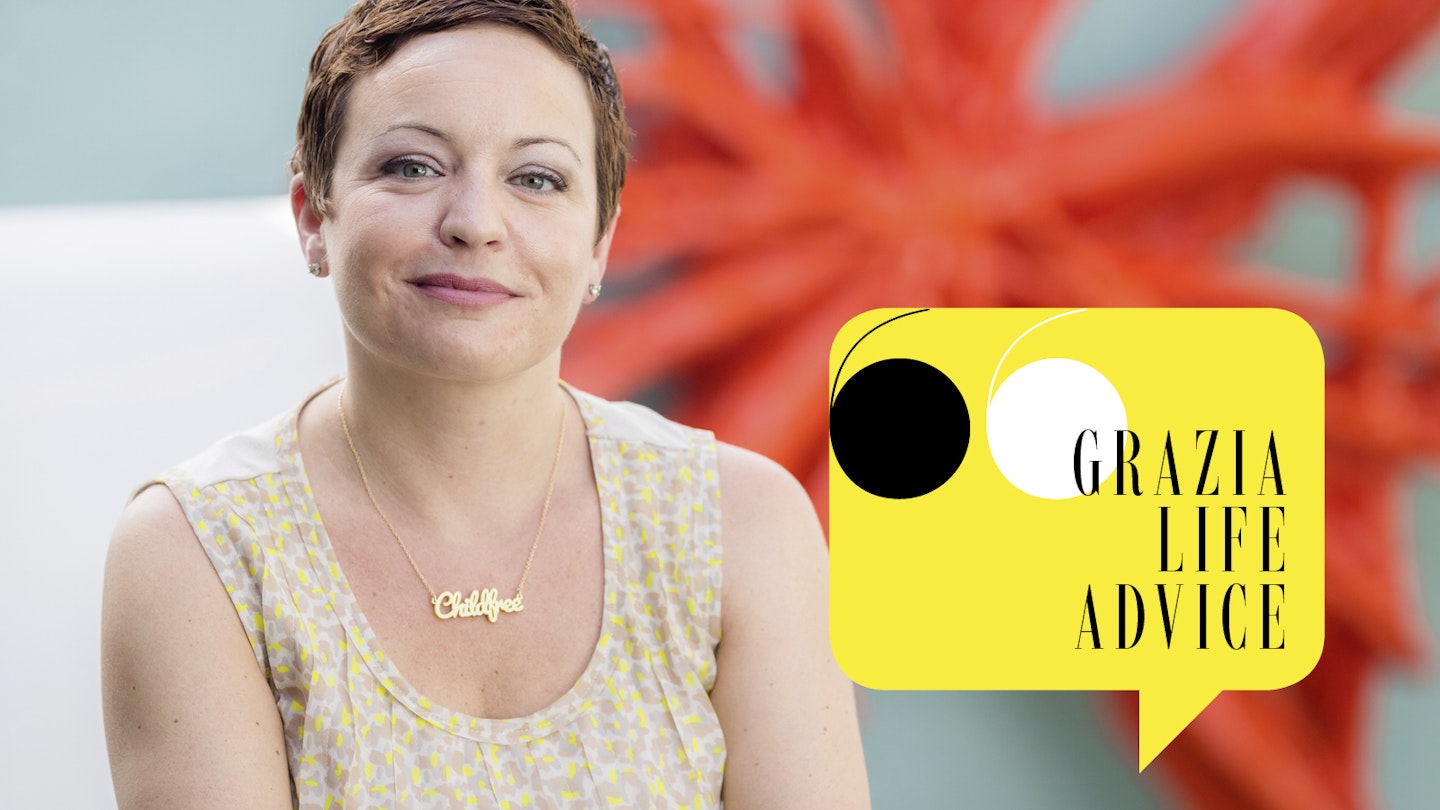 This week's guest is the no-f**s-giving Sarah Knight, author of the bestselling The Life-Changing Magic Of Not Giving A F. Her new book, Calm the F* Down, is a guide to defeating your worries and anxiety - or at least channelling them in a more constructive way. On a recent trip to London she shared some of her most valuable and witty advice with Grazia.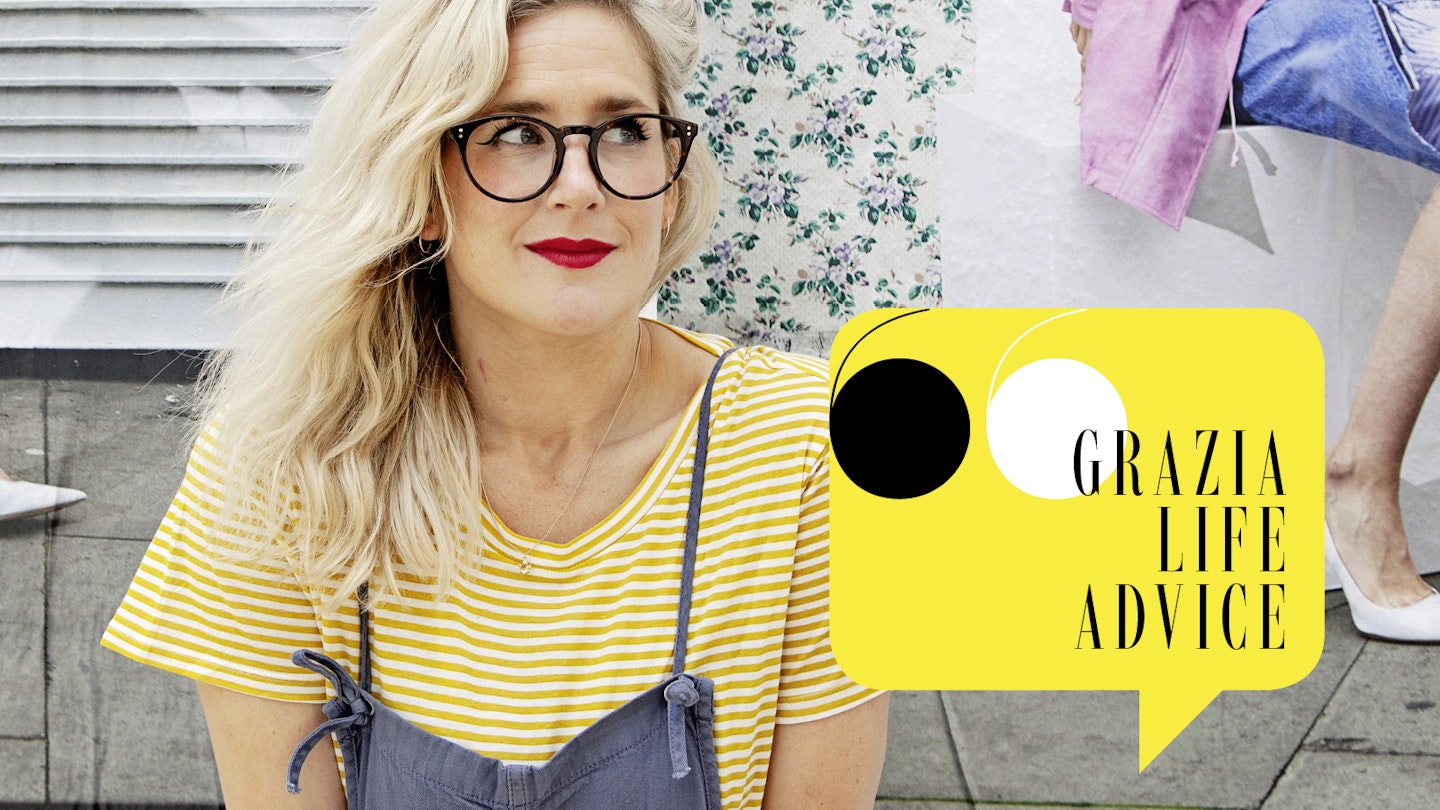 This week we welcome the Mother Pukka herself, Anna Whitehouse. A successful blogger and journalist, Anna is known for her frank and funny take on parenting - you can get more of that on her own podcast, Dirty Mother Pukka. She talked marriage, friendship and what it's like to find yourself at the heart of a public relations disaster, and shared lots of wise advice too.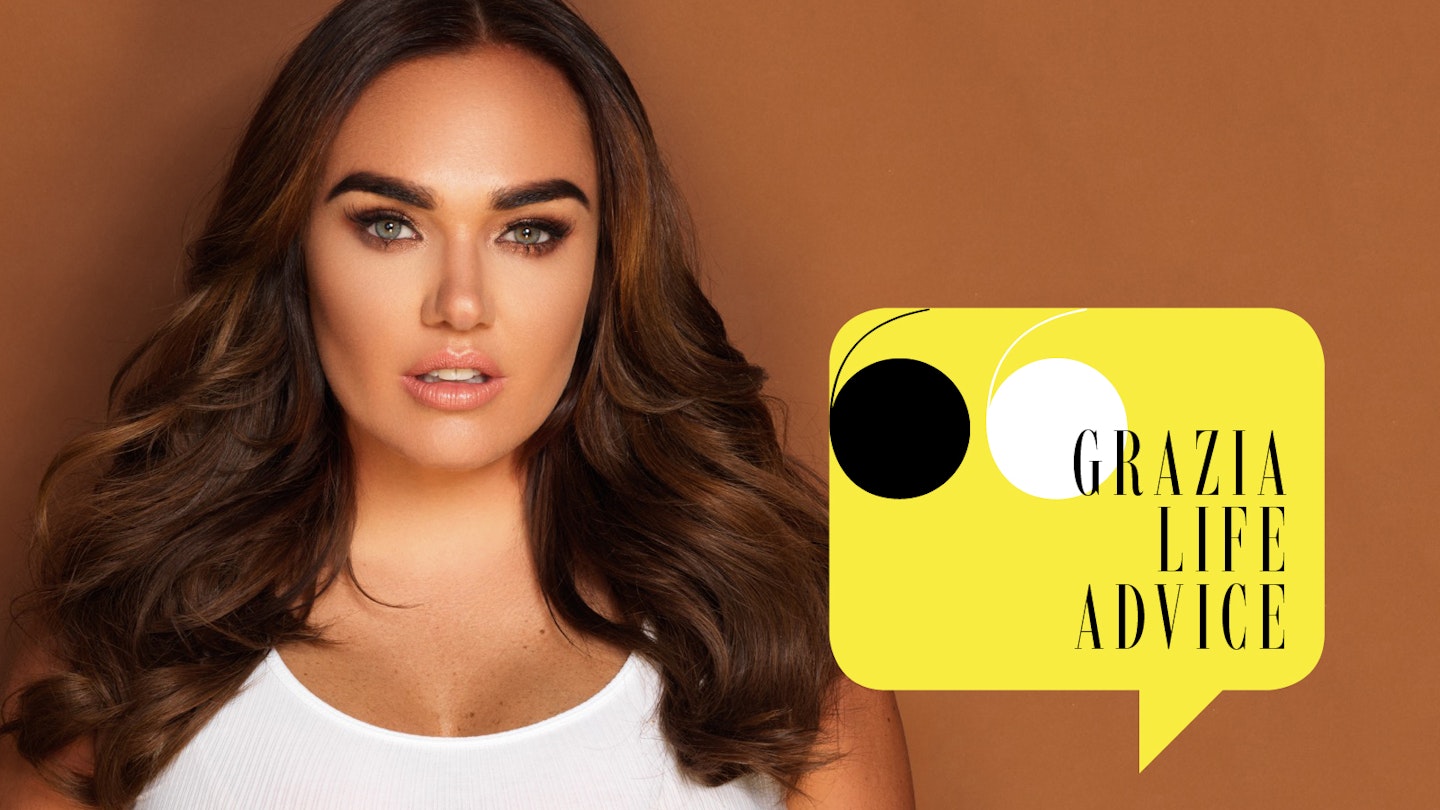 Meet Tamara Ecclestone, TV personality and founder of the babyskin-care brand Fifi & Friends. Tamara welcomed us into her home for this episode to share wise advice on love, cool-headed decision making, and trusting your own judgement even when others disagree.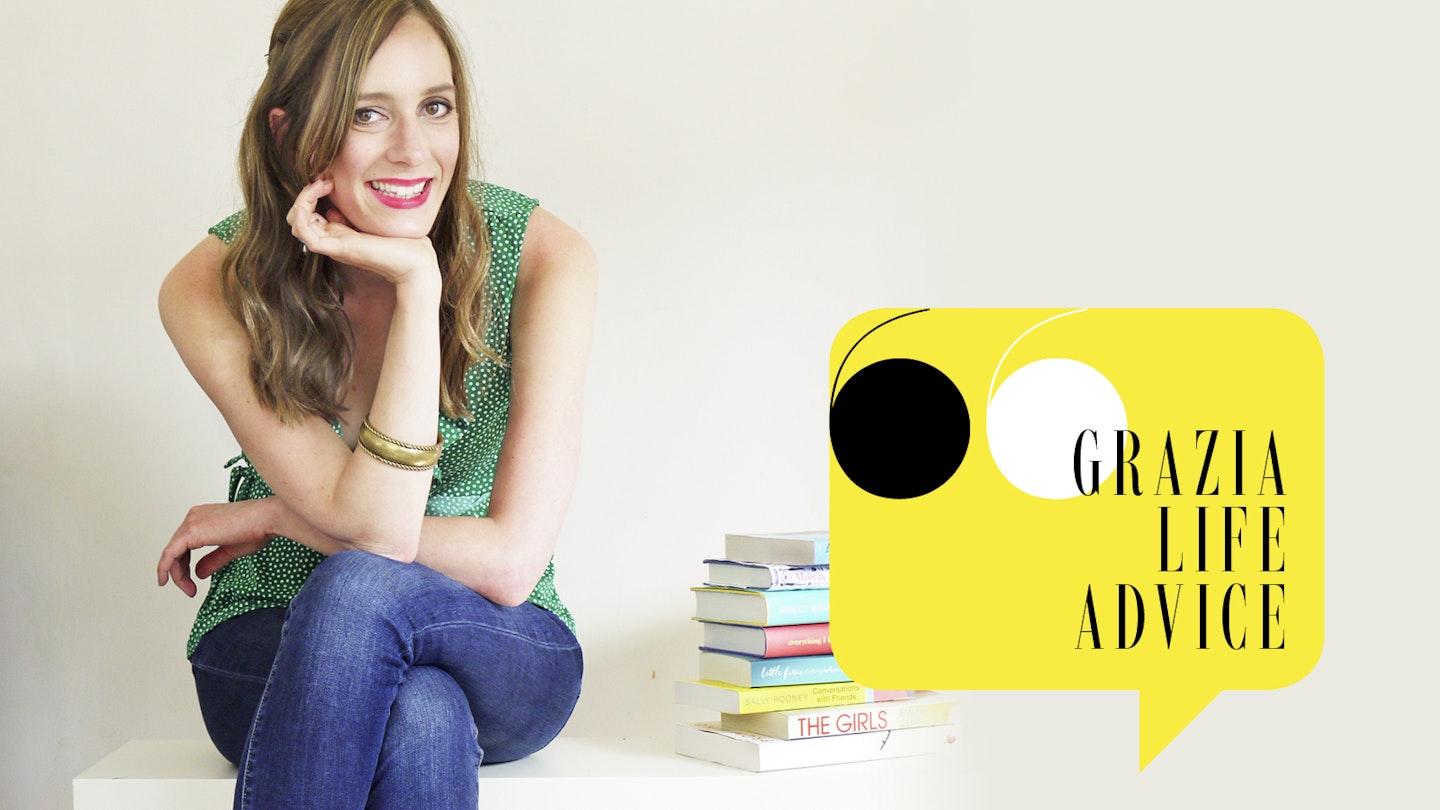 This week we welcome the author Holly Bourne. Last year Holly published her first novel for grown-ups, the brilliant How Do You Like Me Now? - a Times bestseller that explored a relationship in meltdown in the age of social media. She's also a successful author of young adult fiction, most recently including Are We All Lemmings and Snowflakes? She was a brilliant guest on Grazia Life Advice with tons of kind and insightful advice on maintaining your health and happiness.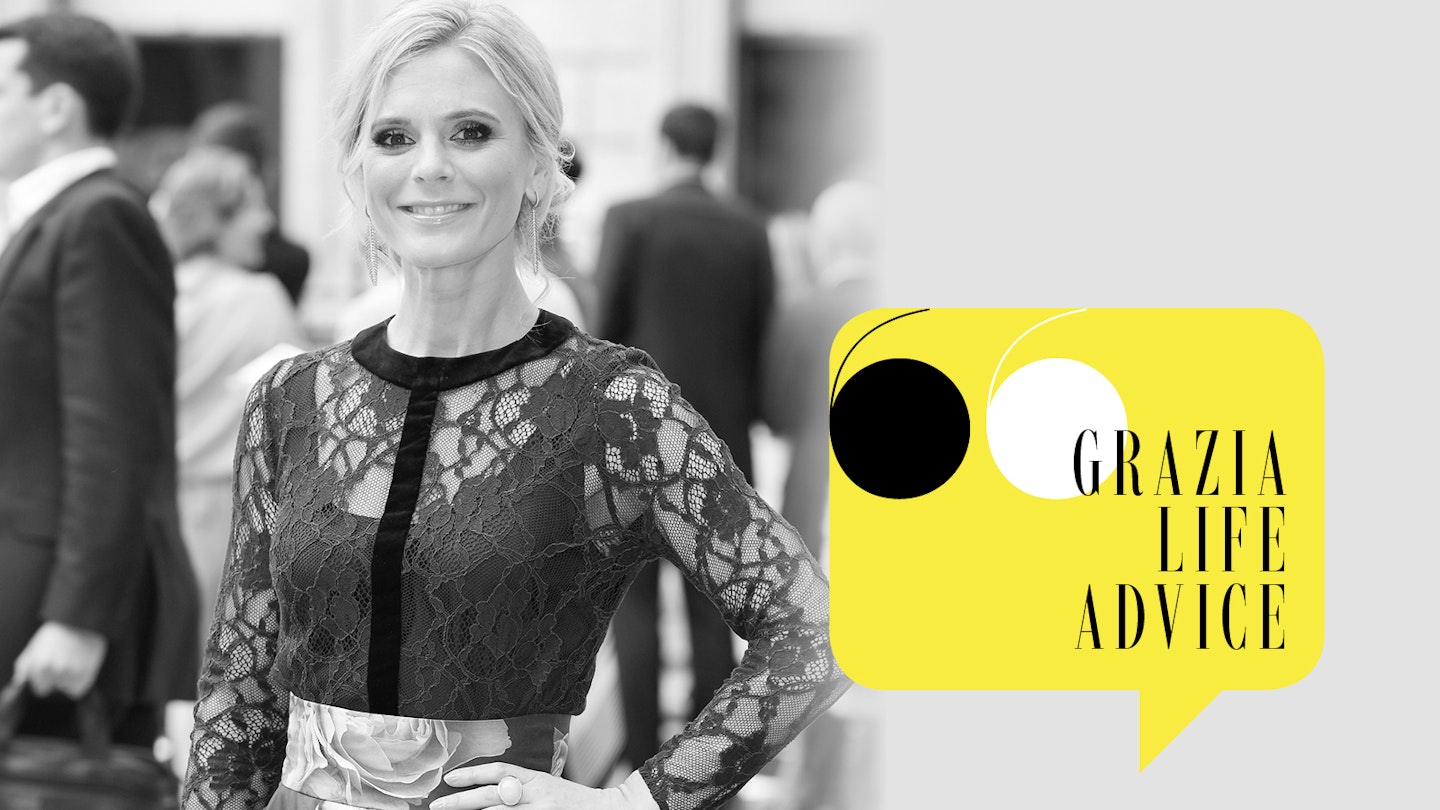 Our guest this week is the actress Emilia Fox, who joined us just before launching a new series of Sky One's Delicious with Dawn French. Emilia spilled the beans on what to expect from the show, but also shared thoughtful advice on finding yourself, nurturing your friendships and seeking out the brighter side of life.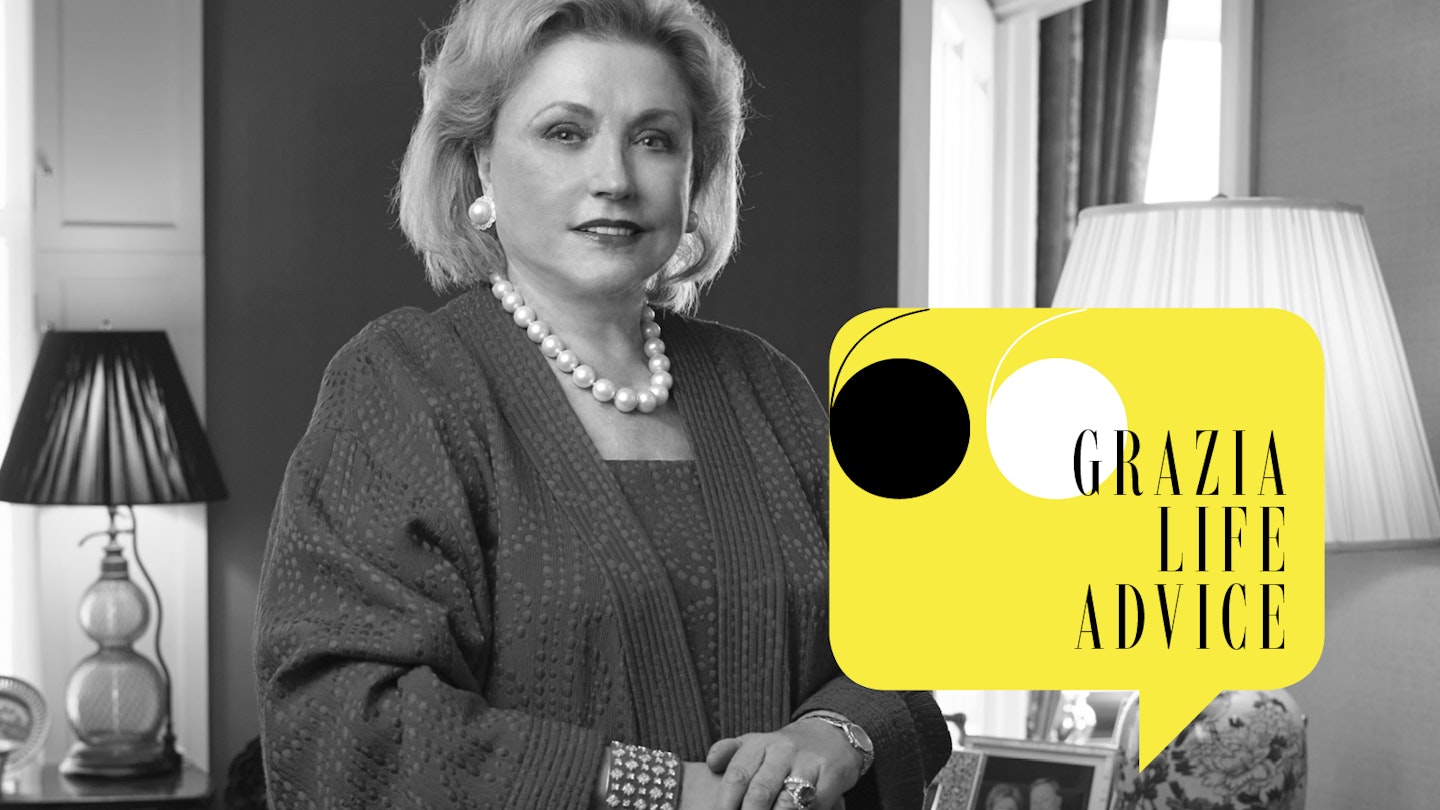 This week we're joined by the legendary Barbara Taylor Bradford. Born in 1933 in Yorkshire, Barbara had a career as a journalist before publishing her debut novel, A Woman of Substance, in 1979. It went on to sell more than 32 million copies worldwide, and 40 years later she's still going strong as an author: her latest novel, Master of His Fate, is out now. Barbara shared what she's learnt about manners, self-belief and how to tell a story. This week also marks Grazia Life Advice moving to Fridays - so from now on we'll be providing you with a brilliant listen just in time for every weekend.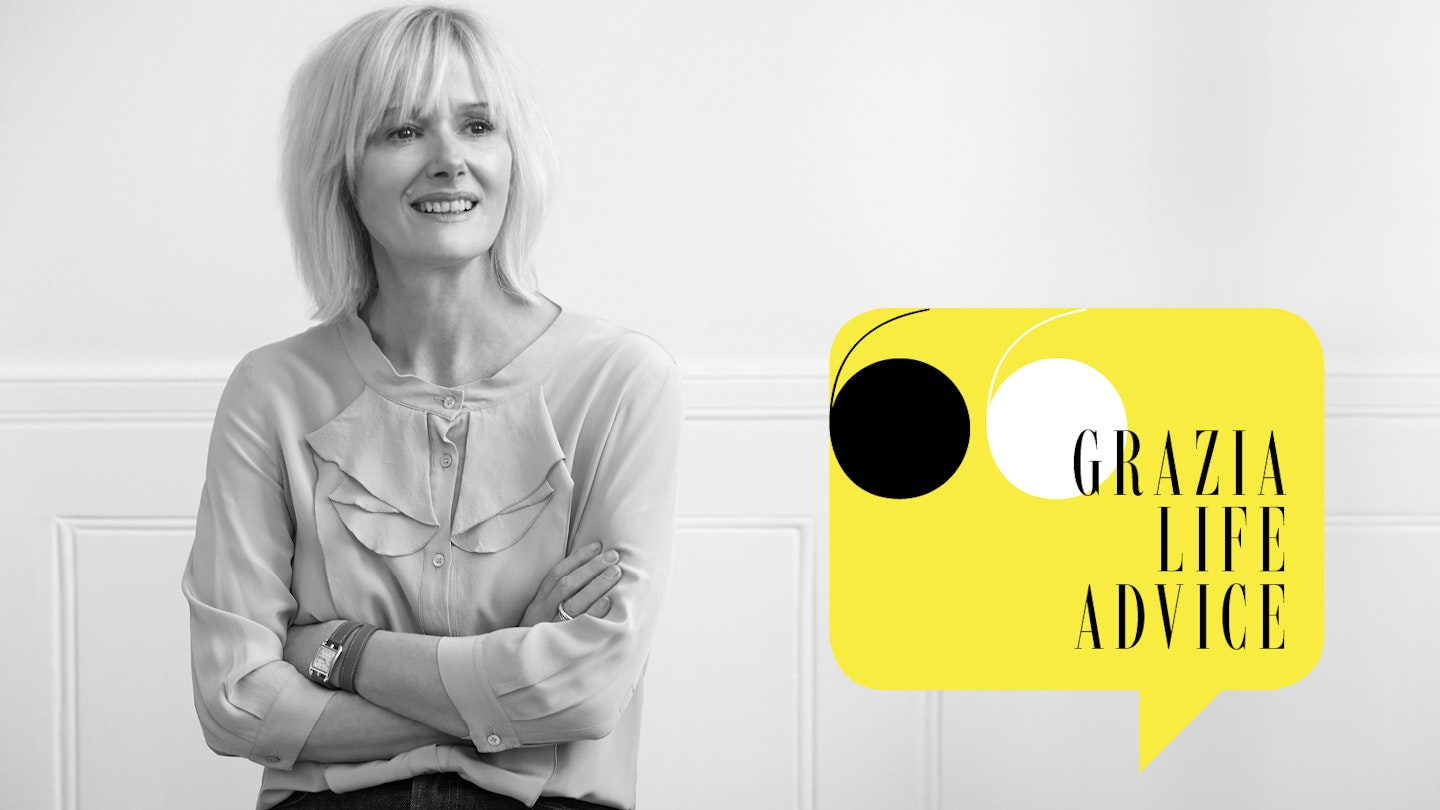 This week we welcome Jane Shepherdson. As the former brand director of Topshop, Jane was one of the driving forces who transformed the shop into a high street hit; then she became co-owner of Whistles and worked the same magic there. Jane left Whistles in 2016 to travel, and is now back in the UK with her own brilliant podcast, Out Of Fashion. She talked inspiringly about the importance of bravery – and knowing when it's time to move on and change things up.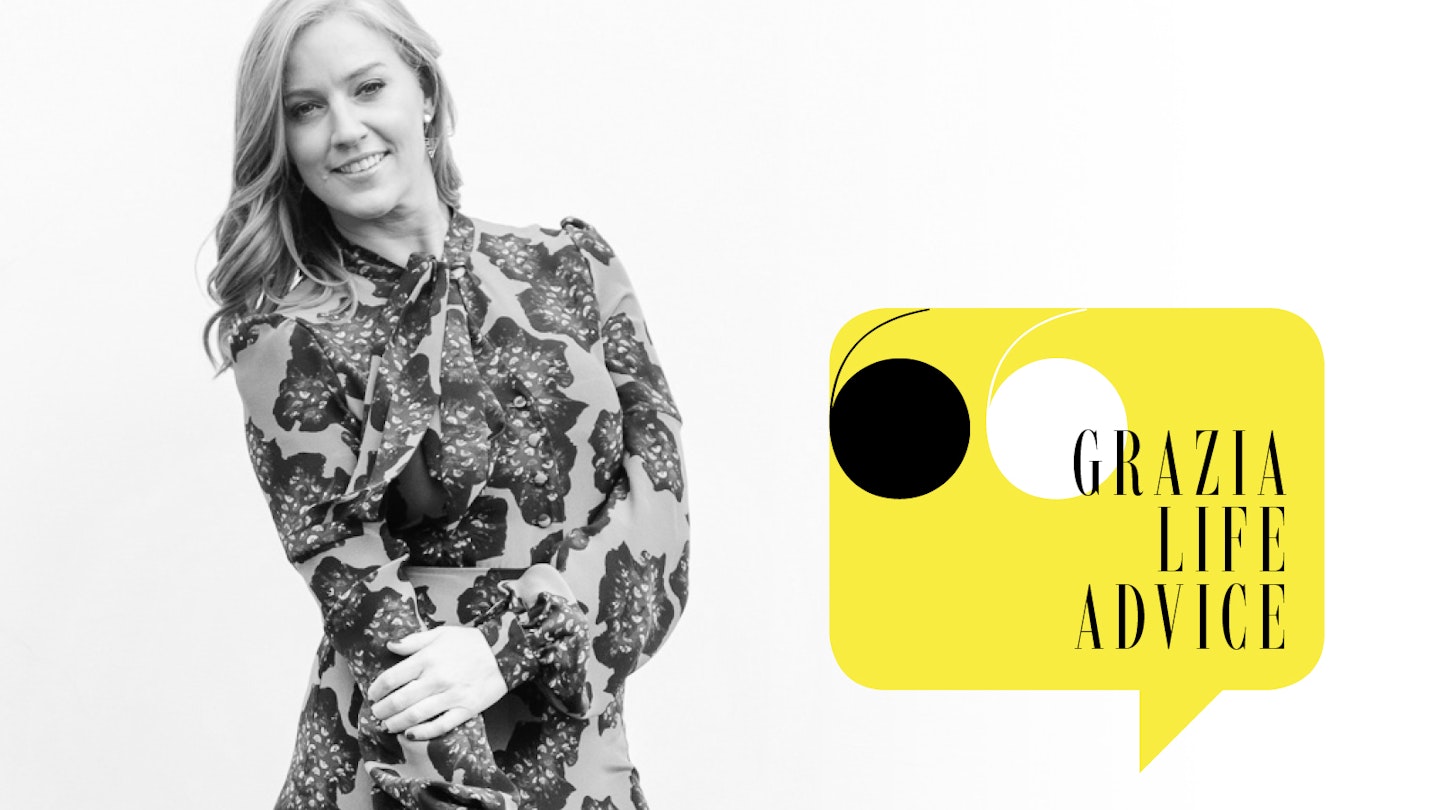 This week's guest is Sarah-Jane Mee, who you'll know from Sky News's Sunrise (6am to 10am, Monday to Thursday). It's the highest-rated show on the channel, and Sarah-Jane became its first female anchor when she took over from Eamonn Holmes in 2017. Despite having been up since 3am, she was very welcoming when Grazia popped by her flat on a rainy day in November, and had great advice to share on the importance of self-belief, kindness in the workplace, and… safety pins.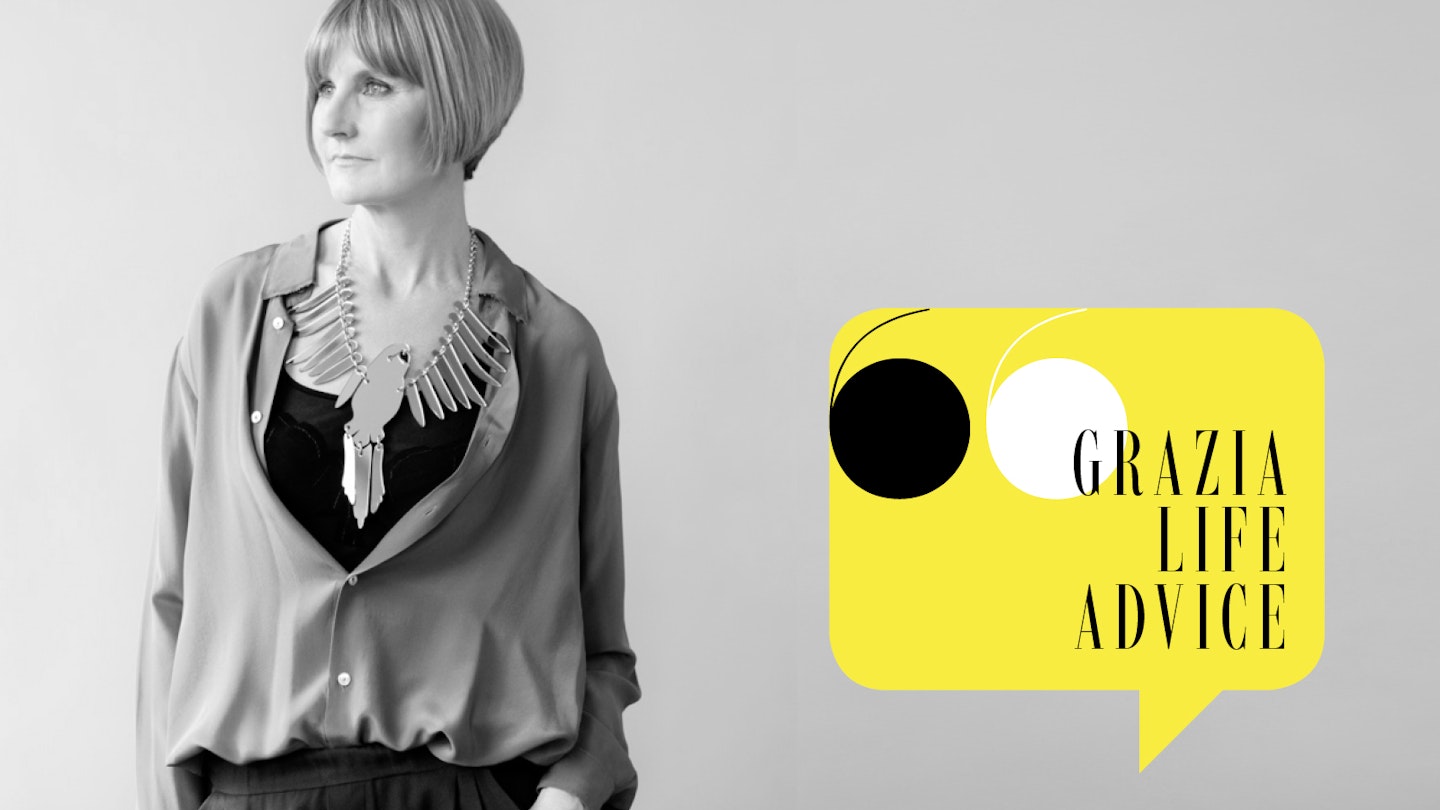 Our guest this week is the one and only Mary Portas, founder of Portas Agency – you may know her as Mary Queen of Shops. Mary's just published her latest book, Work Like A Woman, which sets out her manifesto on how we can be better, happier and more productive in our workplaces by breaking out of alpha culture. As well as sharing brilliant tips on being your best career self, Mary talked about life in the public eye, picking yourself up again after a failure, and why there's no shame in admitting you can't do it all.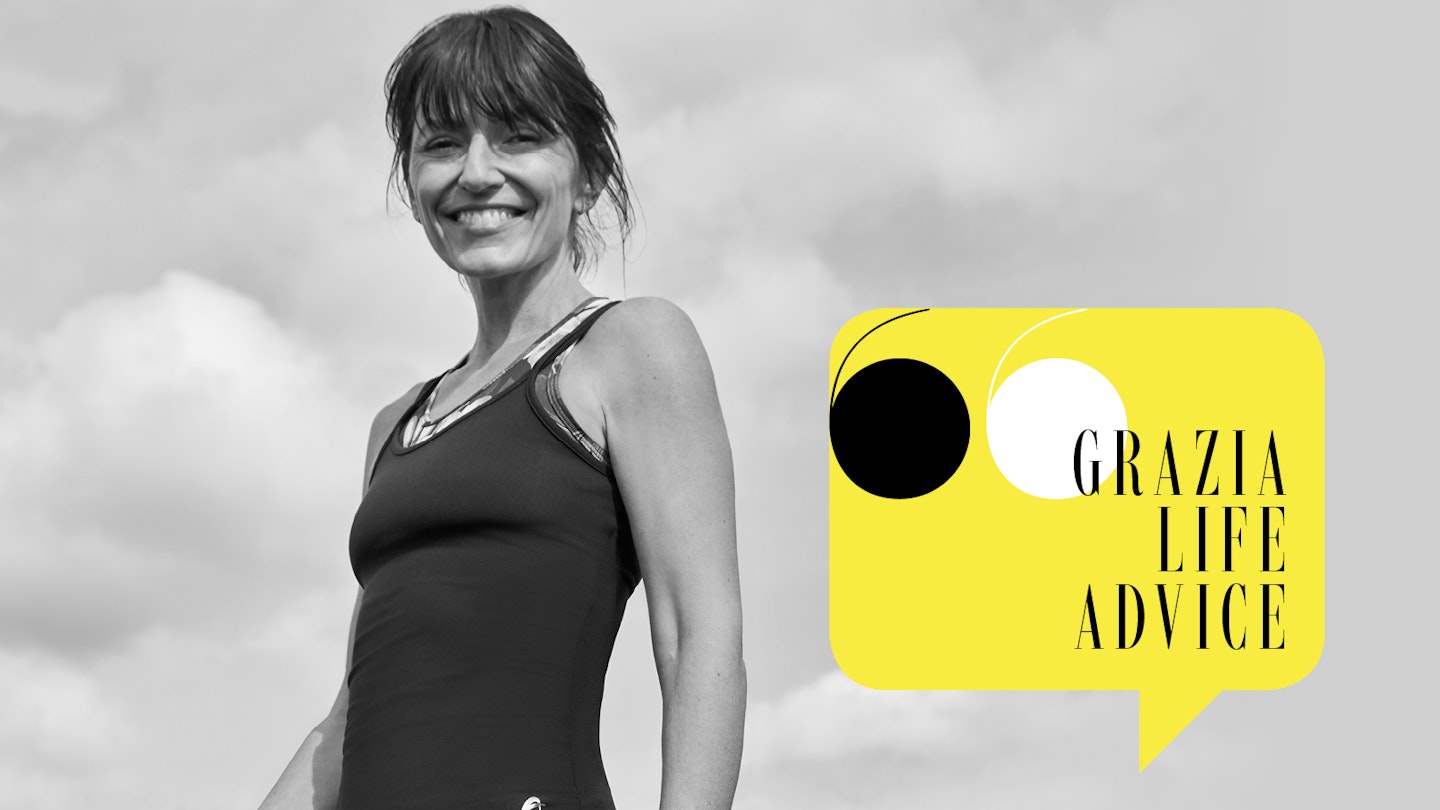 Our guest this week is the wonderful Davina McCall – over her decades in the public eye, we've known Davina in many guises - as MTV presenter, Big Brother queen and now fitness expert.
We met her in a rather echoey north London gym where she was working with F&F to launch the new Activewear collection, which is available in select Tesco stores from January 1.
As well as giving advice on fitness though, Davina talked brilliantly about ageing, putting in the effort and mothering teenagers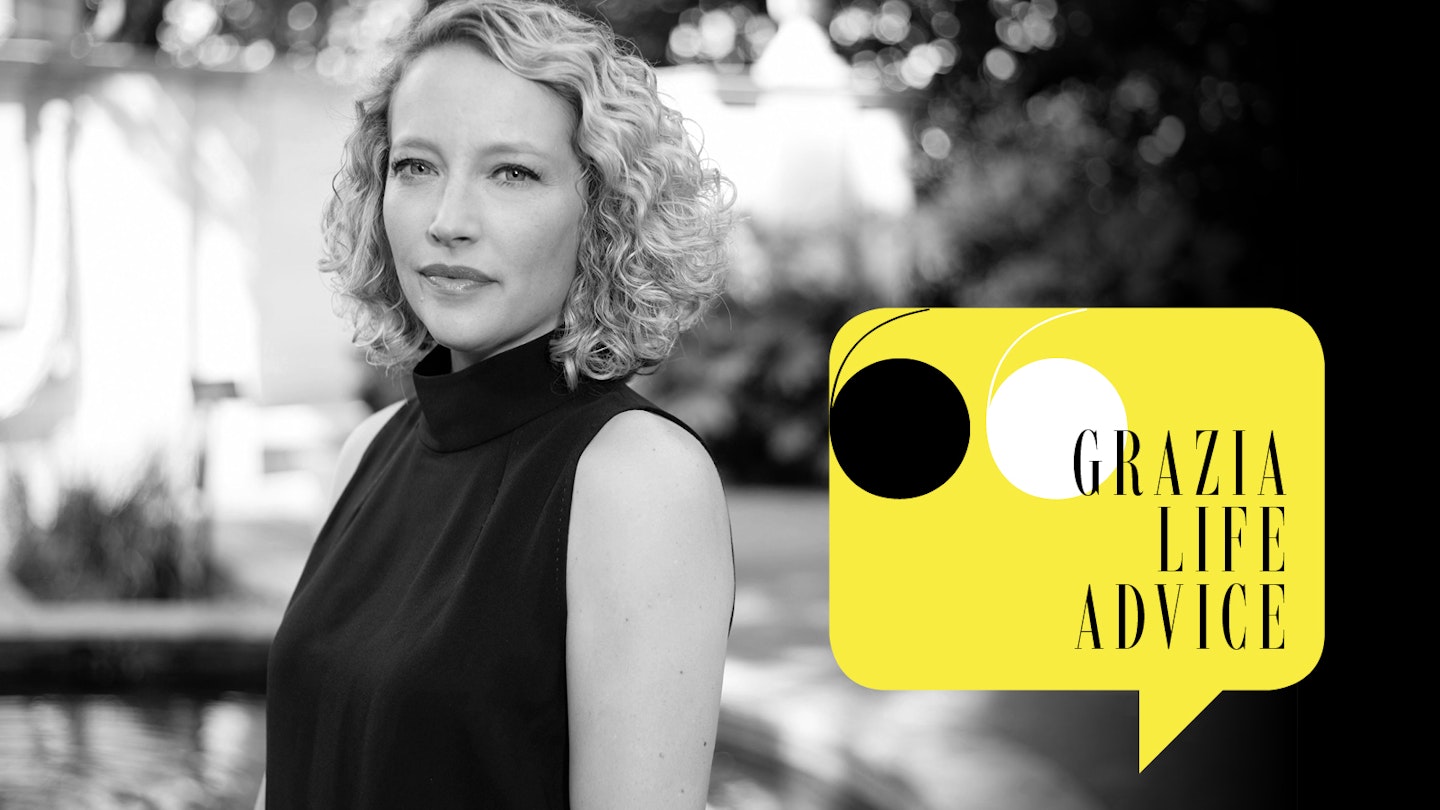 Our guest this week is journalist and Channel 4 news presenter, Cathy Newman. After a decade on Fleet Street, Cathy moved to Channel 4 news in 2006, where she has become well known for her investigative scoops and interviewing expertise.
Cathy has just released a book – Bloody Brilliant Women, which tells the stories of pioneering women who we may not know as much about as we should.
We talked about her book – and everything from combatting worries to curly hair at her home in London, last month.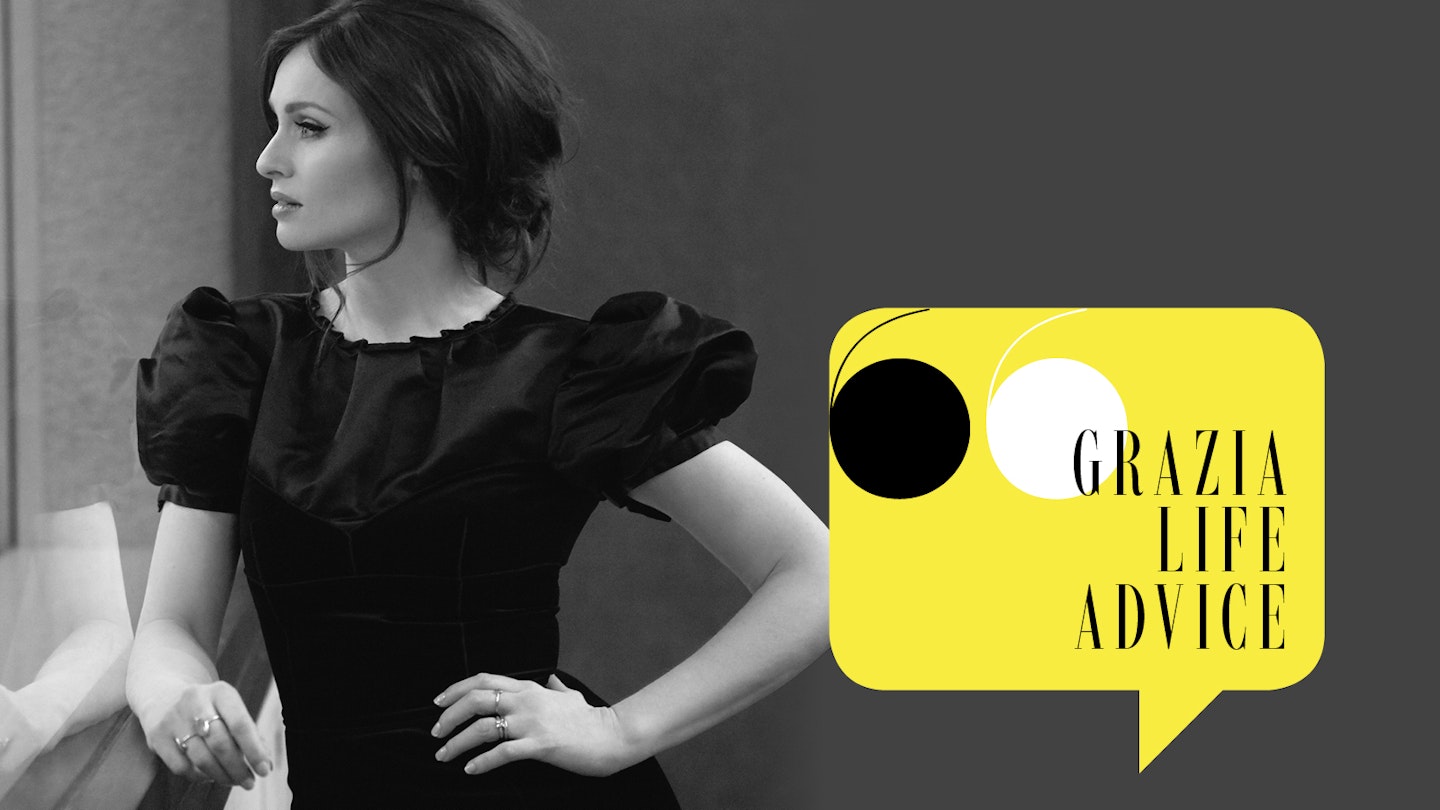 Our guest this week is singer Sophie Ellis Bextor, who after 21 years in the music industry is about to release a Greatest Hits with a twist – the album, The Song Diaries, out next year, will feature her biggest hits, like Murder on the Dancefloor, but reworked with grand orchestral arrangements. She also recently announced the album is also set to coincide with the birth of her fifth child, but she'll still be taking the music out on the road next summer
Sophie has recently released a new single, Love Is You, and we met her at her absolutely gorgeous London home where she talked about everything from the terrifying prospect of being on Strictly Come Dancing to how best to cook fish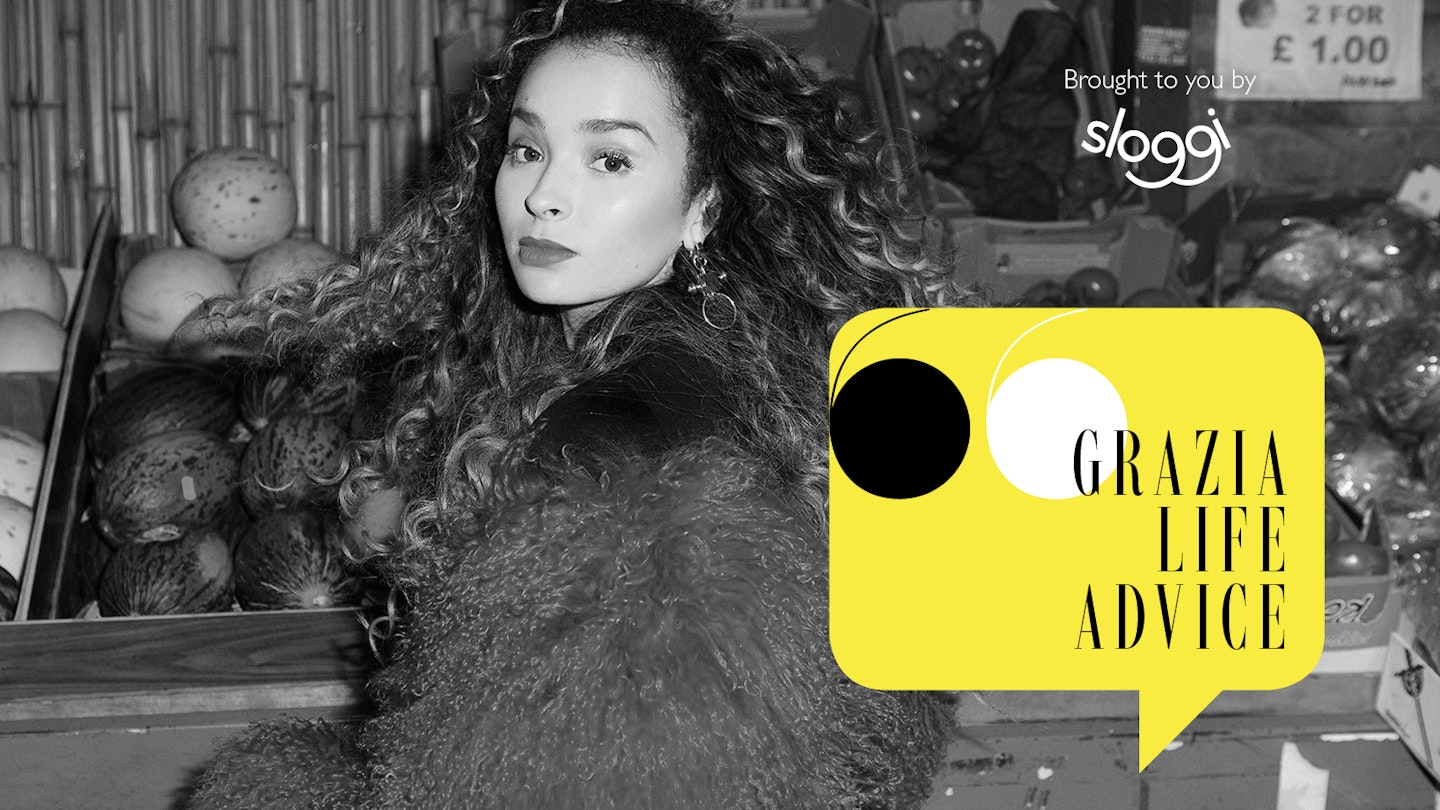 In partnership with Sloggi, our guest this week is singer, Ella Eyre – we met up with Ella at John Lewis' White City store in their style studio. Ella is currently in the studio, writing new music, and was a brilliant guest, telling us about everything from her art gallery visits and switching off from social media, to balance and workouts at Barry's Bootcamp.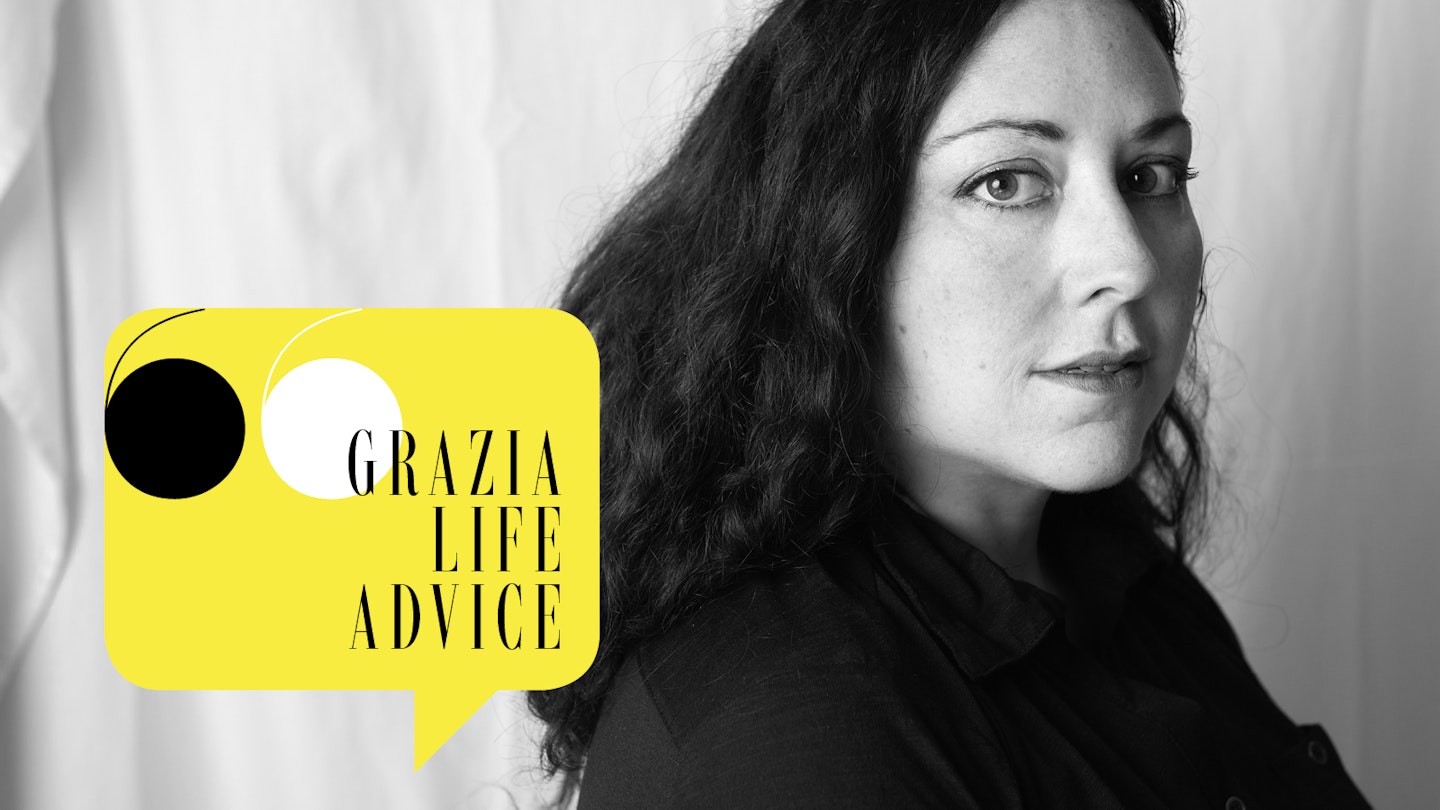 Our guest this week is author Leni Zumas. We spoke to US writer Leni when she was visiting London last month about everything from reproductive rights to writing inspiration. We featured her books, The Red Clocks, on our Shelf Life page when it was released earlier this year – telling the story of a group of women in an American where abortion has been outlawed, the novel seems scarily prescient in today's political climate across the pond. Even if you're not familiar with Leni's novels, she speaks beautifully on a whole host of relatable issues in this episode.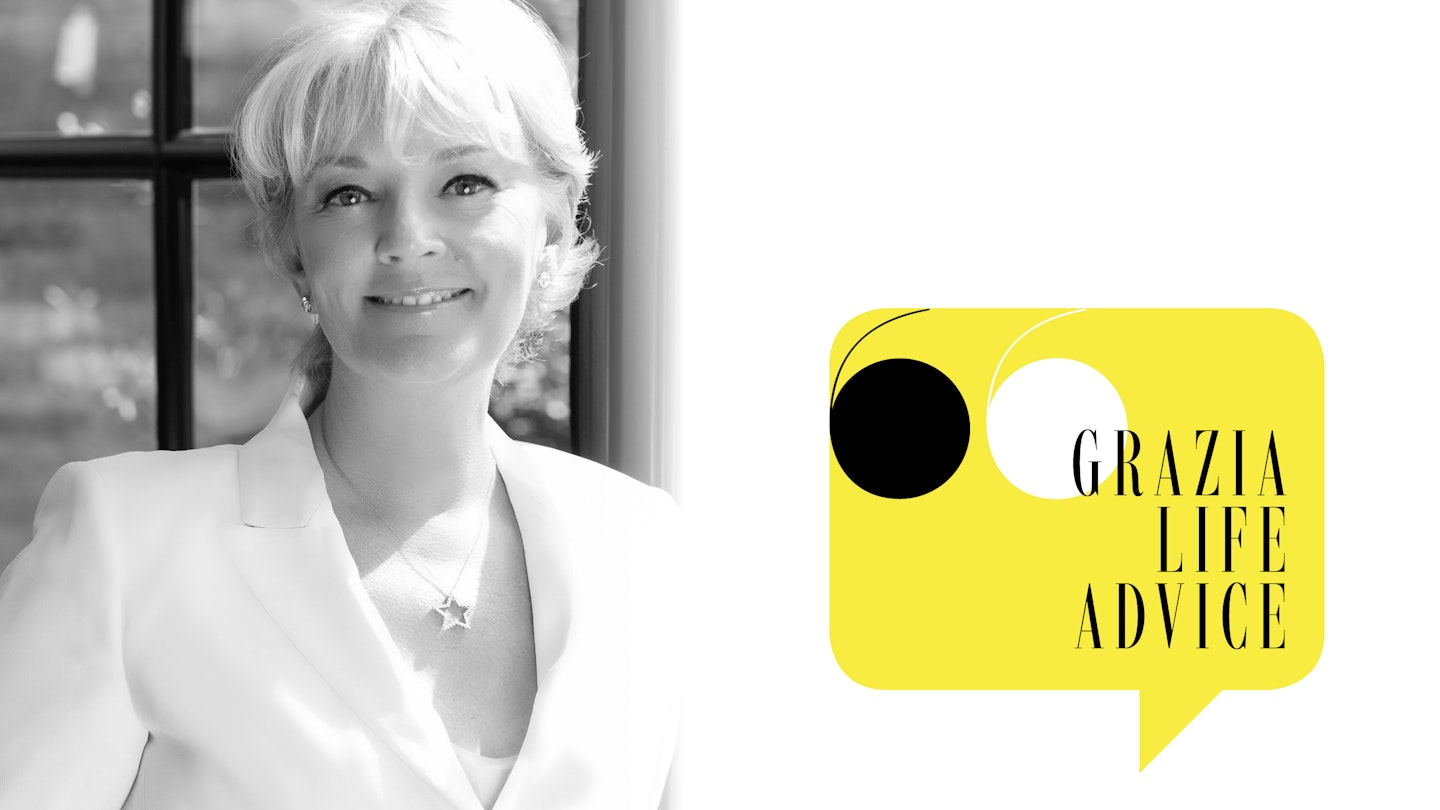 Our guest this week is businesswoman Jo Malone. During her decades in the industry, she has created two worldwide brands – firstly Jo Malone London, which she sold to Estee Lauder and eventually departed from in 2006, now Jo Loves, which she launched in 2011.
We met Jo in the her Jo Loves Belgravia store and she was a truly inspiring guest – she shared advice given to her by none other than Oprah, waded in on the problems facing the British high street and talked about why her dyslexia has made her who she is today. She was so great, that we actually allowed her to give us seven pieces of advice.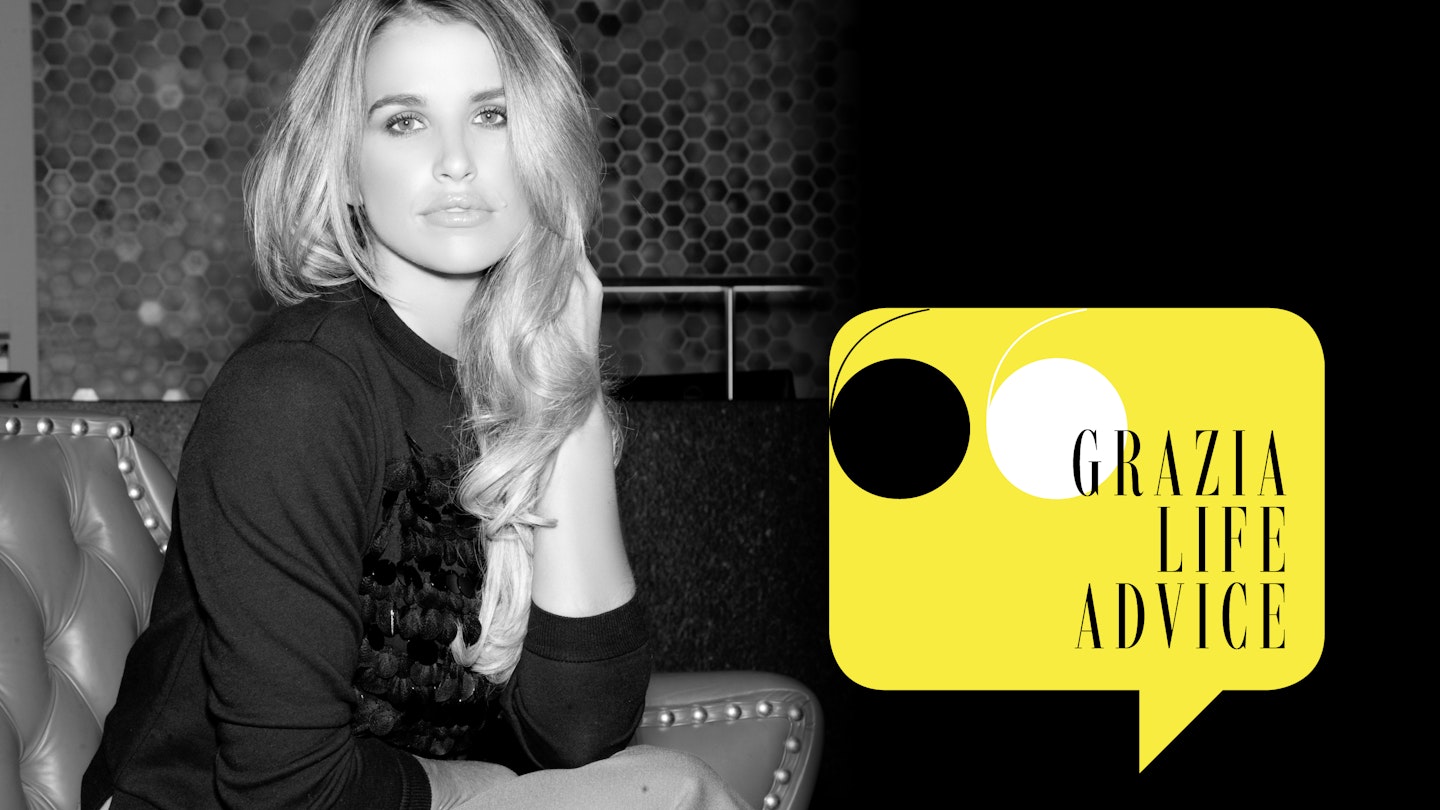 Our guest this week is model and presenter, Vogue Williams. Last month, Vogue gave birth to her first child with reality TV star Spencer Matthews – Theodore. But we spoke to Vogue earlier last month, just before she was due to give birth. She was in amazing spirits, and was a really good laugh, full of brilliant advice and really candid about loads of different areas of her life.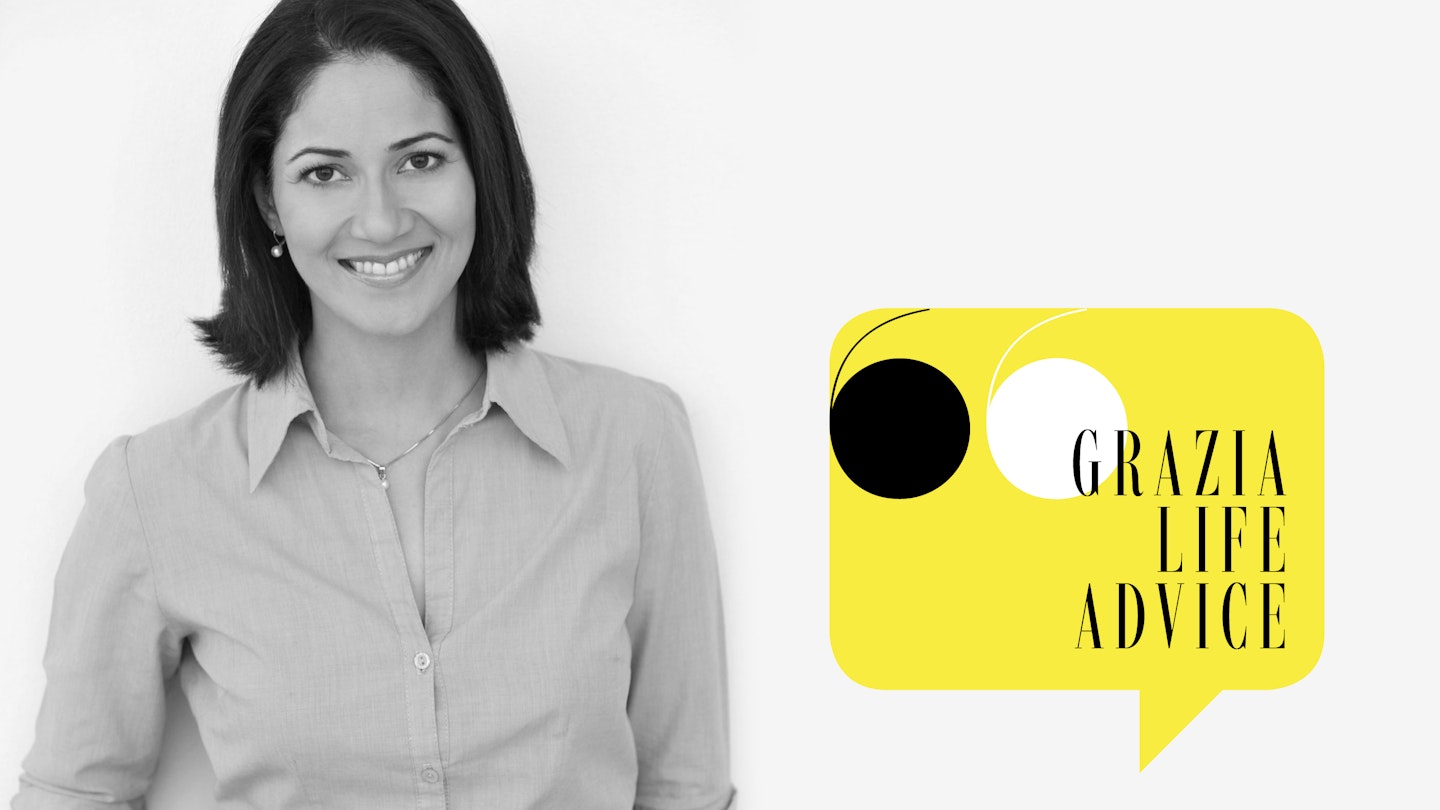 Our guest this week is award-winning broadcaster Mishal Husain, who you'll know from a range of BBC news shows, from Today to BBC News at Six.
Mishal has just released a book called The Skills, from first job to dream job, what every woman needs to know. It's a great mix of practical career advice, Mishal's own experiences and interviews with experts – and so when we met her at New Broadcasting House, she had loads of brilliant advice to share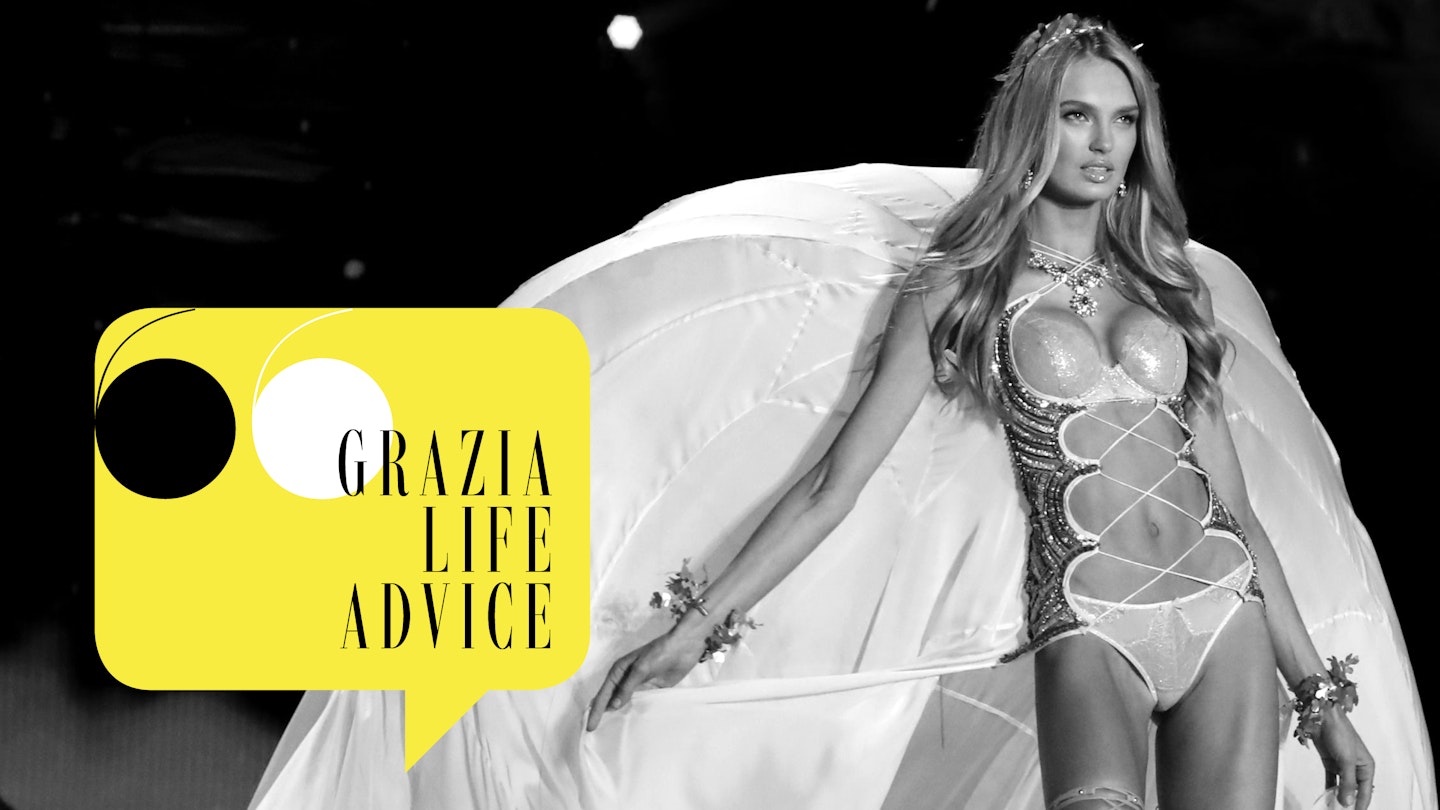 Our guest this week is Dutch model and Victoria's Secret Angel Romee Strijd. Romee has been an angel since 2015, but has also modelled for everyone from Alexander McQueen to Prada. Romee was in London last month for just a day, promoting Victoria's Secret's Secret Bra Fit Experts service, aimed at helping women find their best fitting bra – and we had a very short amount of her time. We talked about exercise, staying grounded and, of course, bras.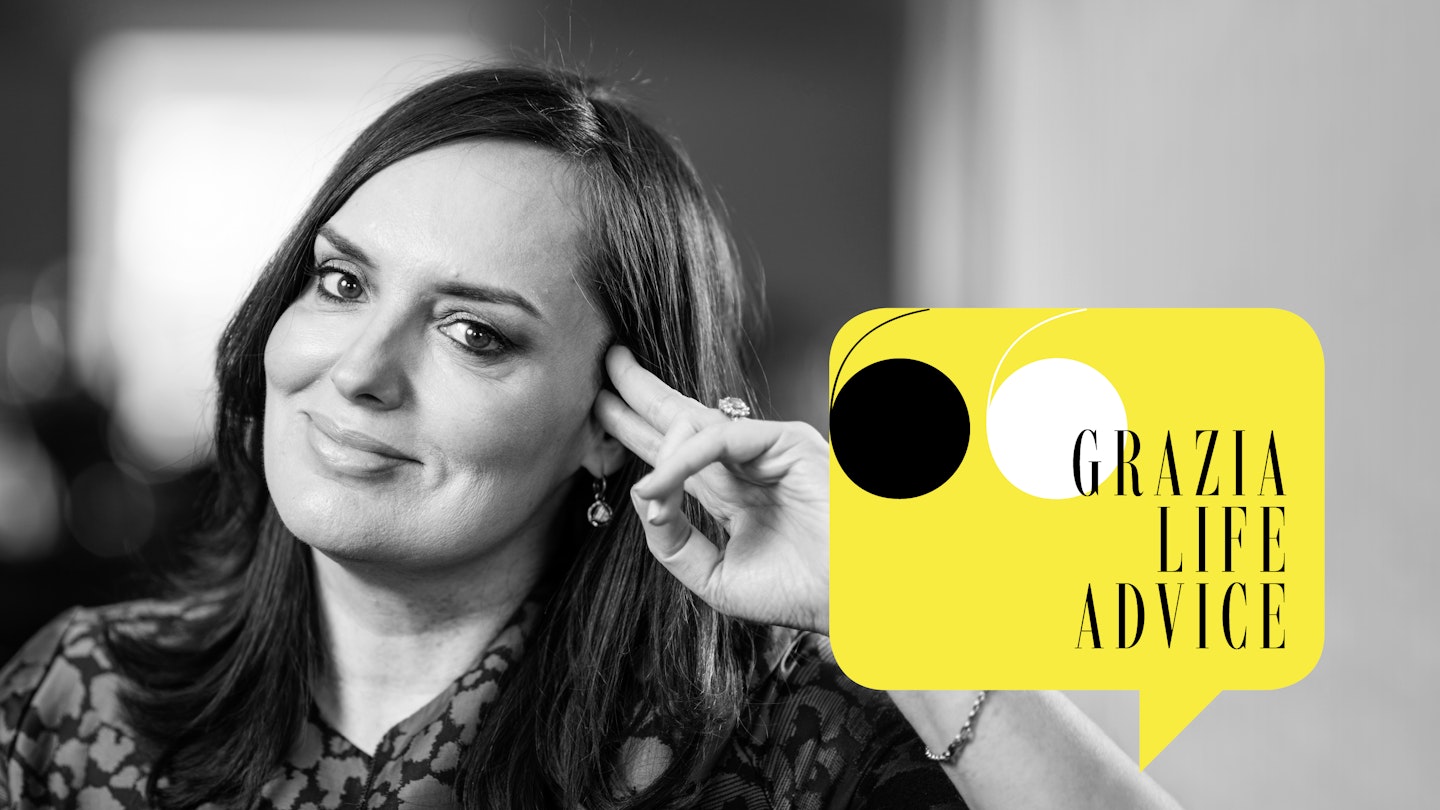 Our guest this week is comedian and podcast star, Deborah Frances-White. Many of you will know Deborah thanks to her incredible podcast, The Guilty Feminist and now she has written a book with the same title. A book, like the podcast, about embracing both feminism and our imperfections, it also features appearances from performers, activists and thinkers – not to mention an incredibly supportive quote on the front from none other than Emma Thompson, who calls it 'essential reading for the planet'.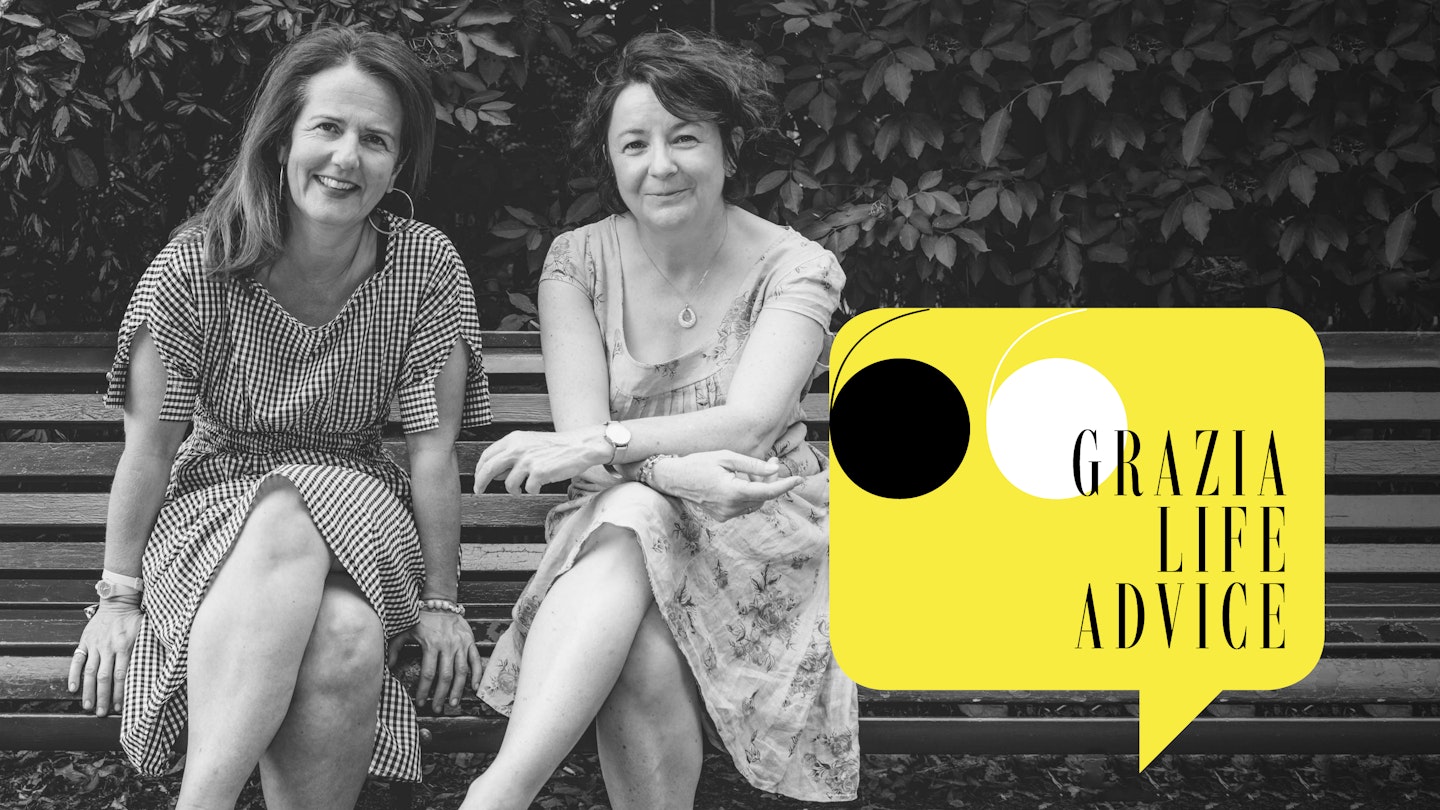 This week we've teamed up with No 7 to bring you an interview with broadcasting legends Fi Glover and Jane Garvey.
Fi and Jane have been broadcasting for the BBC for years and are now both hugely popular members of Radio 4's line-up – you may have heard Fi presenting The Listening Project, or Jane Woman's Hour. But in recent times they've teamed up to present the podcast, Fortunately, where no subject is out of bounds and they interview stars of Radio, TV and podcasting, getting them to share stories that they probably shouldn't.
A new series starts this Friday, September 7 – but we caught up with them before their summer break to talk about motherhood, diversity, trolls – and other stuff like berets and cheese scones.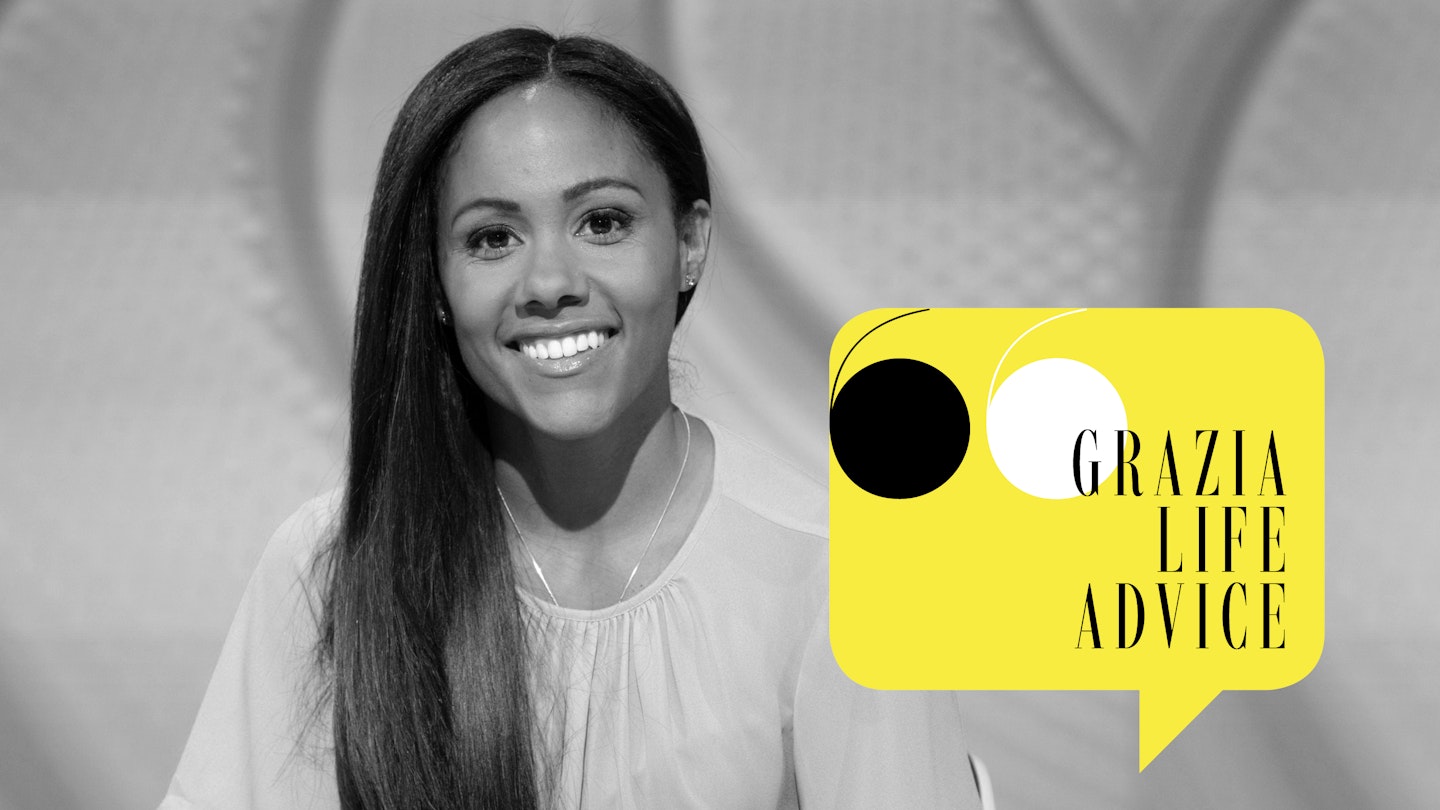 Our guest this week is Arsenal and England football captain, Alex Scott. One of our finest female footballers, Alex recently retired to become one of the BBC's key pundits on both the men and women's game.
Having been at the top of her game, and spearheading its rise and rise, Alex is a really inspirational character and you can practically hear her positivity beaming through the mic – we talked about loads of things, from tackling trolls, being a mentor and Notting Hill carnival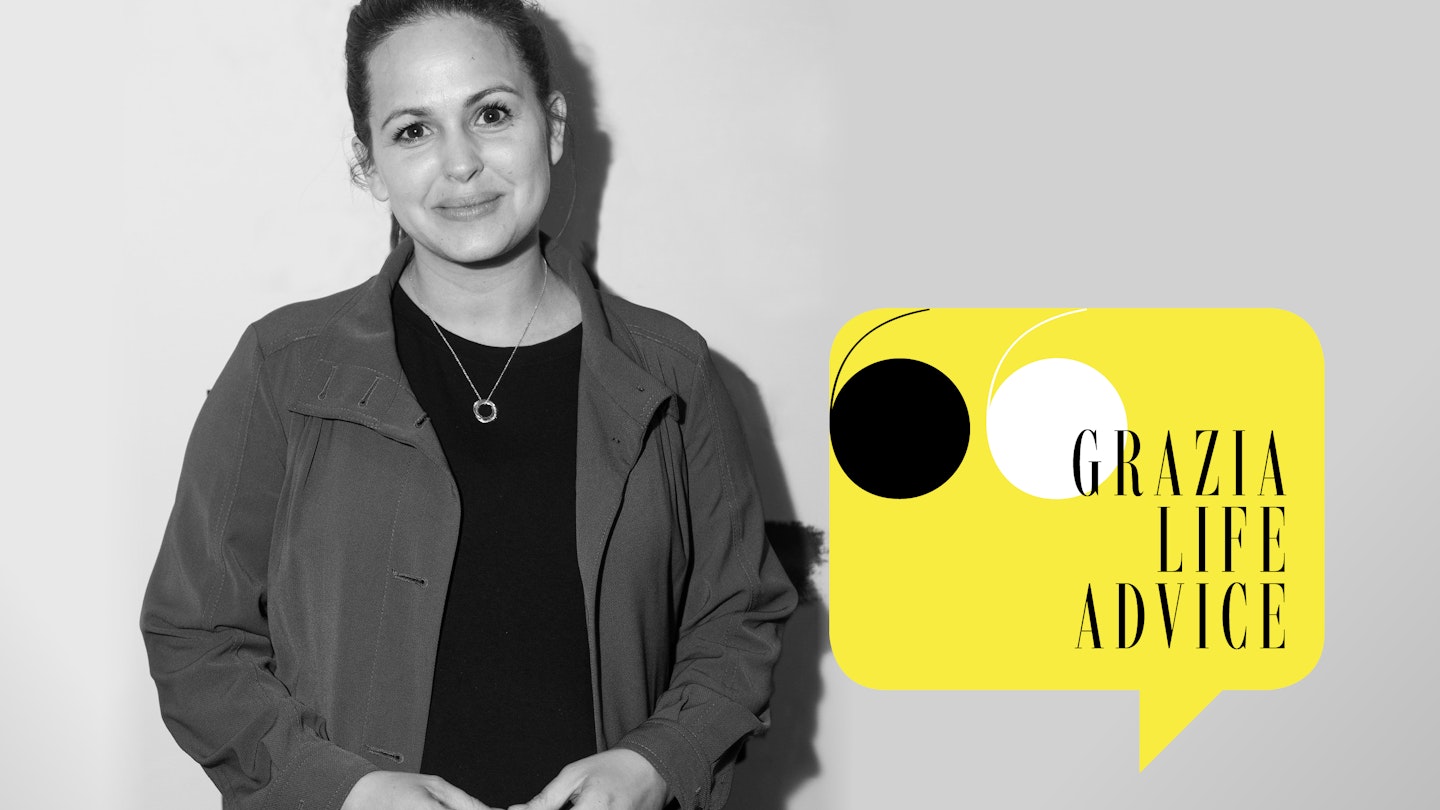 Our guest this week is Giovanna Fletcher, who is the epitome of multi-hyphening your career. Her Instagram bio lists her as a Sunday Times bestselling author, actress, blogger, vlogger, presenter, podcast host, mum and wife. You may have read her book Happy Mum, Happy Baby, listened to the hugely successful podcast of the same name, or be one of her million Instagram followers. The main thing is she's got plenty of really varied advice to give – and we ended up chatting about everything from books to boobs....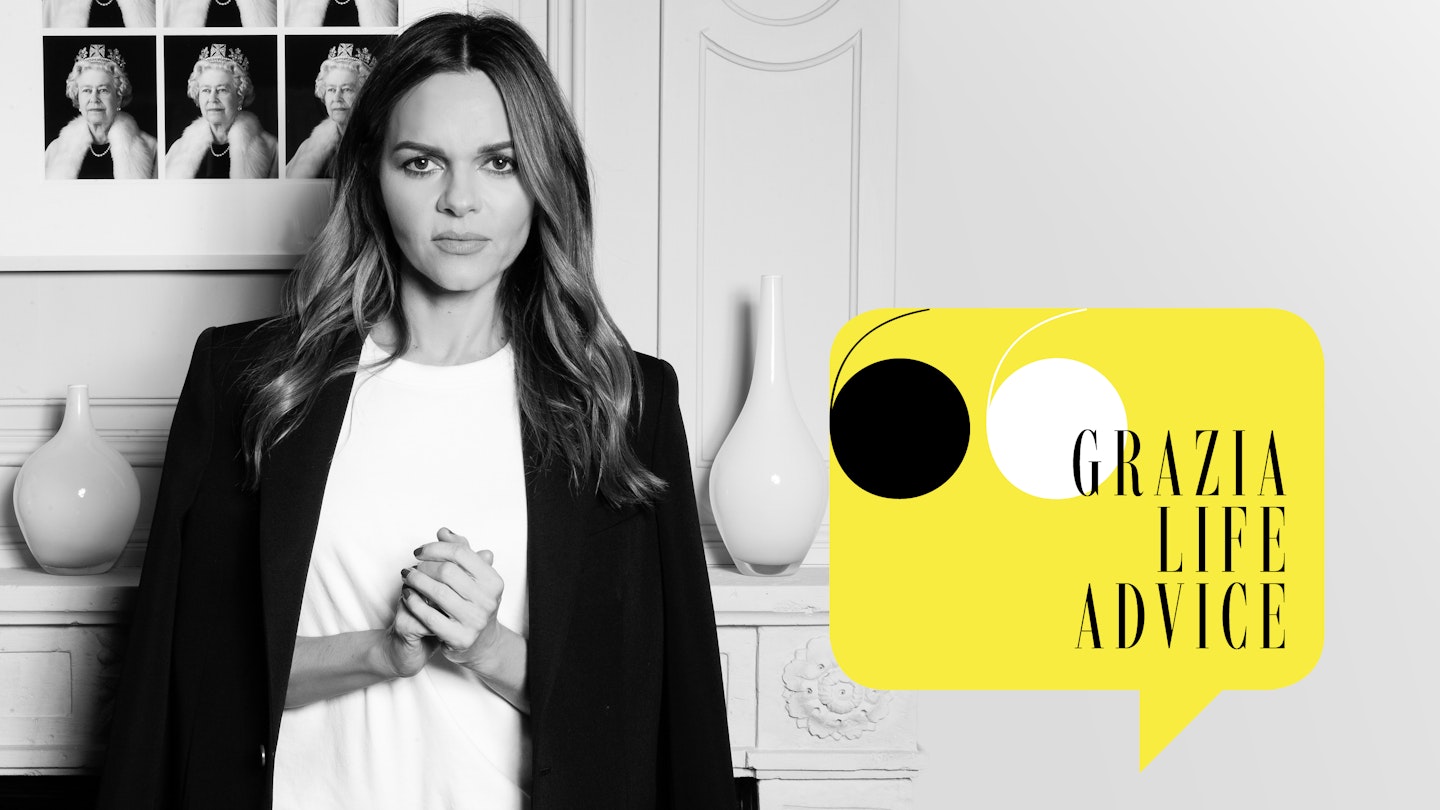 This week's guest is Maria Hatzistefanis, beauty entrepreneur and founder of Rodial.
Building up her business from nothing, after being fired from a job in finance, 19 years later, her skincare companies, Rodial, Nip and Fab and Nip and Man are worldwide brands, backed by the likes of Kylie Jenner.
Basically, if you've got your own business – or are considering taking the plunge – you could do a lot worse than turn to Maria for advice.
She gives advice on everything from 'having it all' to taking risks – and if, after listening, you want more advice, she has a book out, called How To Be an Overnight Success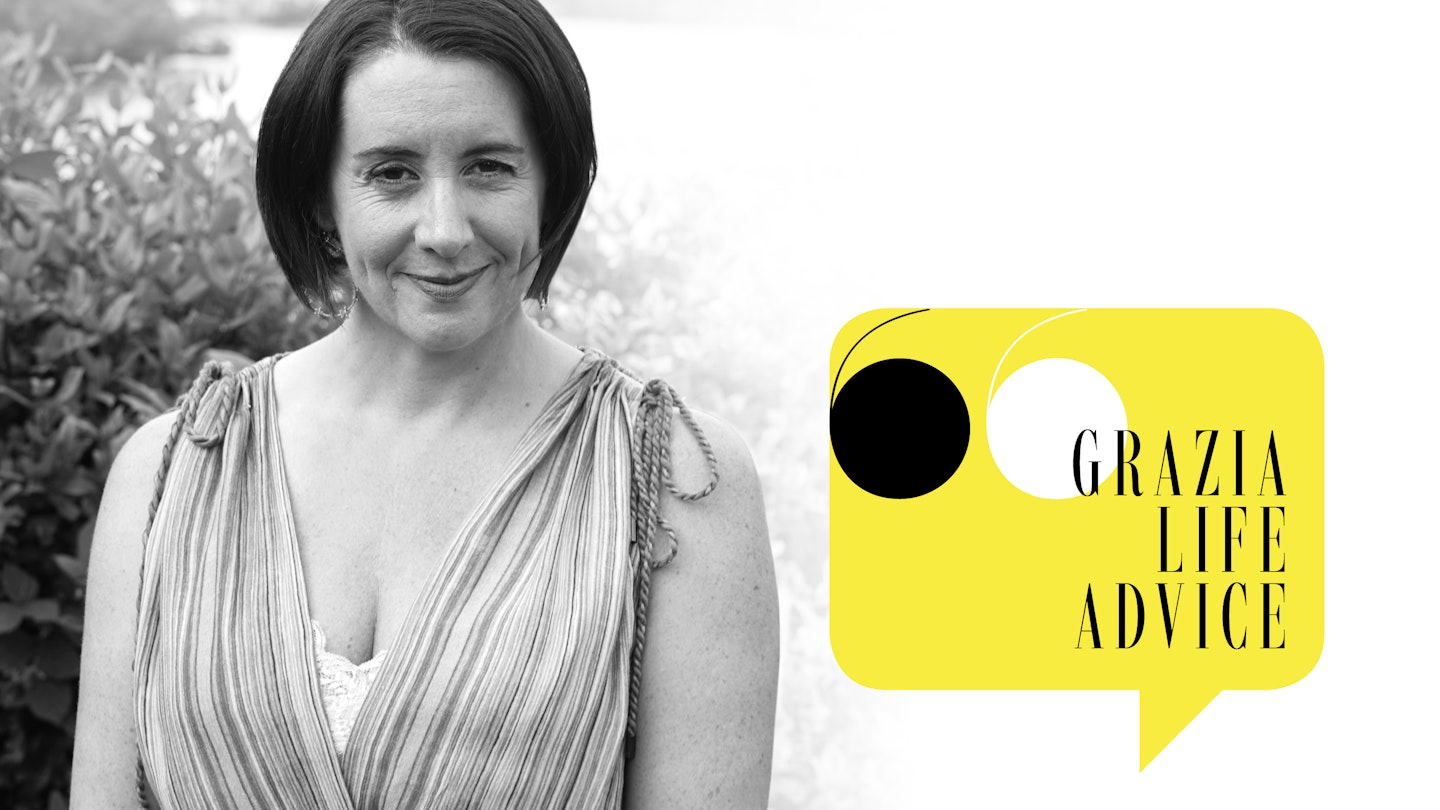 Our guest this week is journalist, broadcaster and eco lifestyle expert Lucy Siegle. Lucy has recently published her new book, Turning the Tide on Plastic, described as an accessible and practical book that not only serves as a much-needed call to arms to end the plastic pandemic, but gives useful tools on how to make meaningful change in our everyday lives.
It can be hard, wanting to make those environmental changes – whether that be in plastic or fashion – and knowing how to do it, so this podcast contains lots of great, practical advice from Lucy. But we also had a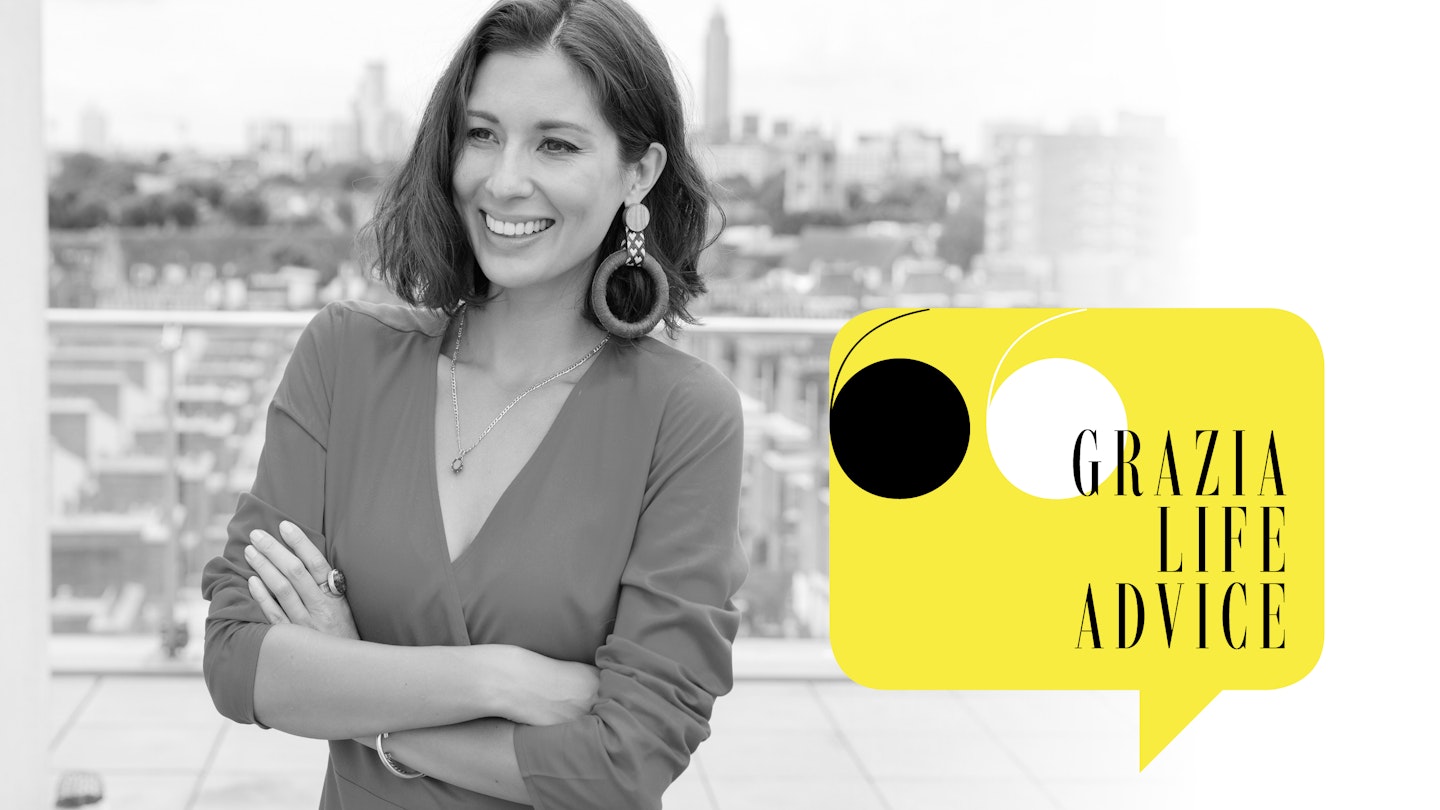 This week's guest is Jasmine Hemsley. Wellness expert Jasmine first came to fame through her business with her sister Melissa, and the pair published books on healthy eating and even hosted their own TV show as Hemsley + Hemsley.
In recent years, solo, Jasmine's interest in the Ayurvedic tradition has taken her into new arenas. Her recent book East by West is inspired by her travels in Sri Lanka and India and she also runs a sound bathing company, Sound Sebastien.
Calming and thoughtful, Jasmine offered loads of practical advice on things that can help you navigate modern life - from meditation to tongue scraping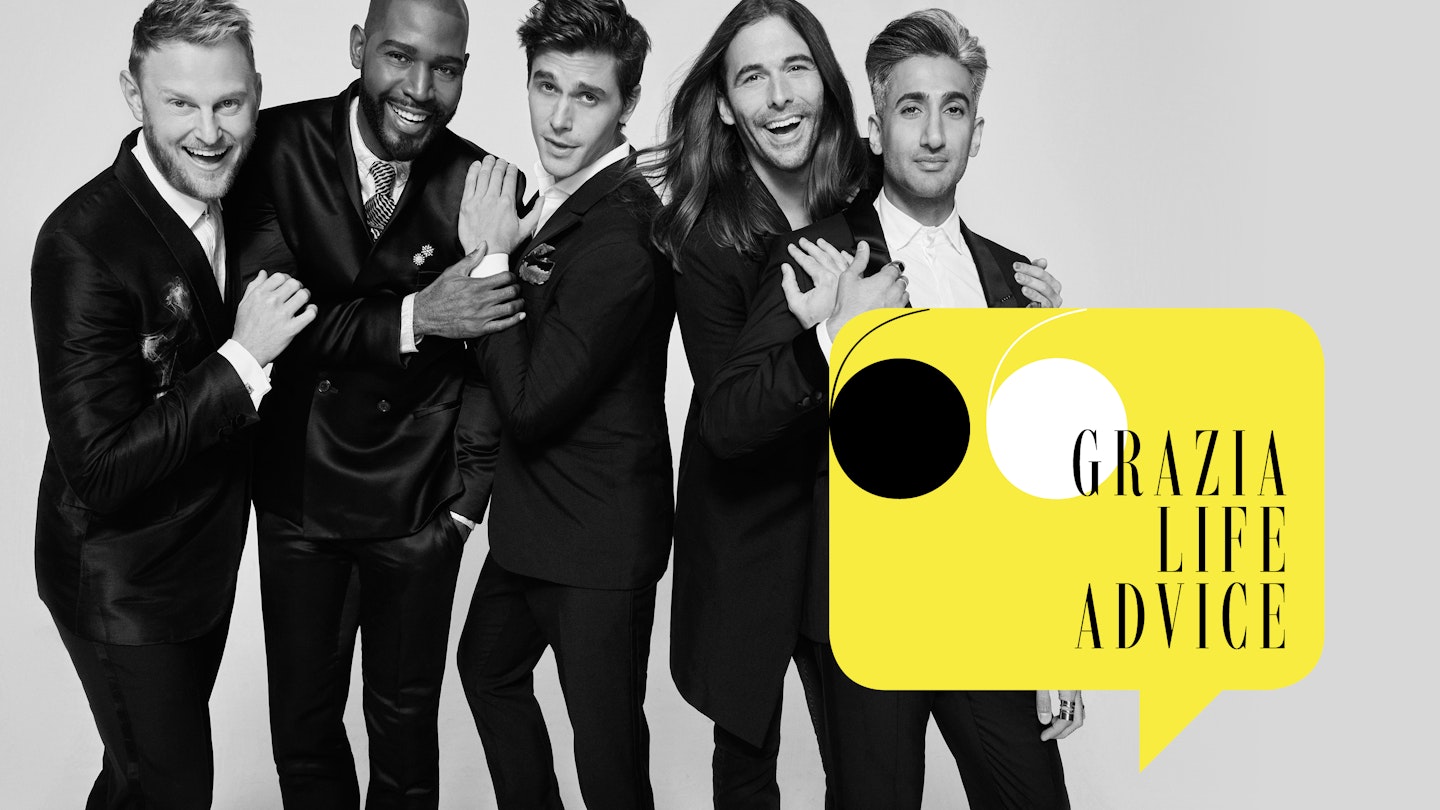 This week we have our first ever male guests, the cast of Queer Eye.
Since they burst into our lives at the beginning of 2018 on Netflix, the guys have won fans and awards worldwide with their kindness and warmth, rebooting the noughties makeover show and helping people by each transforming a different aspect of their lives each.
For this special episode, we recorded each guy – Tan France, Karamo Brown, Bobby Berk, Antoni Porowski and Jonathan van Ness - separately, getting them to share the best and worst piece of advice they'd ever been given.
Queer Eye is available on Netflix
This week's guest is broadcaster, author and columnist Gemma Cairney. Gemma's used to giving good advice - she's presented The Surgery Show on Radio 1 and in 2017 released her first book, 'Open, a toolkit for how magic and messed up life can be'.
She came to the Grazia offices a few weeks ago to share the advice
This week's guest is Meg Mathews. The original Britpop queen, Meg first entered the nations' consciousness in the 90s as the wife of Oasis' Noel Gallagher – they later had a daughter, Anais, together. Part of the Primrose Hill set, including the likes of Kate Moss and Sadie Frost, we were used to seeing pap shots of her partying days.
When we met Meg in her North London home recently though, it was a different story, now a menopause campaigner, her website, Meg's Menopause is now her passion, trying to bring better awareness to the topic which many women face silently.
As well as talking about that, Meg gave us advice on everything from addiction to feminism, via drinking enough water.
This week's guest is the brilliant journalist and broadcaster Emma Barnett.
From tech journalist to women's section editor, Emma is now better known as a broadcaster. A BBC Five Live presenter, her work regularly hits headlines – notably that Theresa May interview where she admitted to shedding a tear on election night and or the Woman's Hour interview where Labour Leader Jeremy Corbyn messed up his sums.
Desperate to chat to Emma, we spoke to Emma on her first day of maternity leave, before the birth of her child a few months back. She brilliantly gave us way more than six pieces of advice, which you can put into practice no matter who you're working with… even the Prime Minister
This week Alice Liveng is our guest on Grazia Life Advice - the podcast where we ask our guests to tell us the six best pieces of advice they've ever been given… and the one worst.
A personal trainer, bestselling author and fitness Instagrammer, she hit the scene as Clean Eating Alice and amassed thousands of followers, before being hit during the clean-eating backlash. But now, a qualified personal trainer and ditching the 'clean eating' moniker, she's still going strong and has even recently launched a workout collection with Primark.
I loved meeting Alice, who – despite a cold – was a lovely ball of energy, brimming with positivity. She had a real range of advice for life and business embracing what she calls 'healthy selfishness' – and there's even some advice from her grandad in there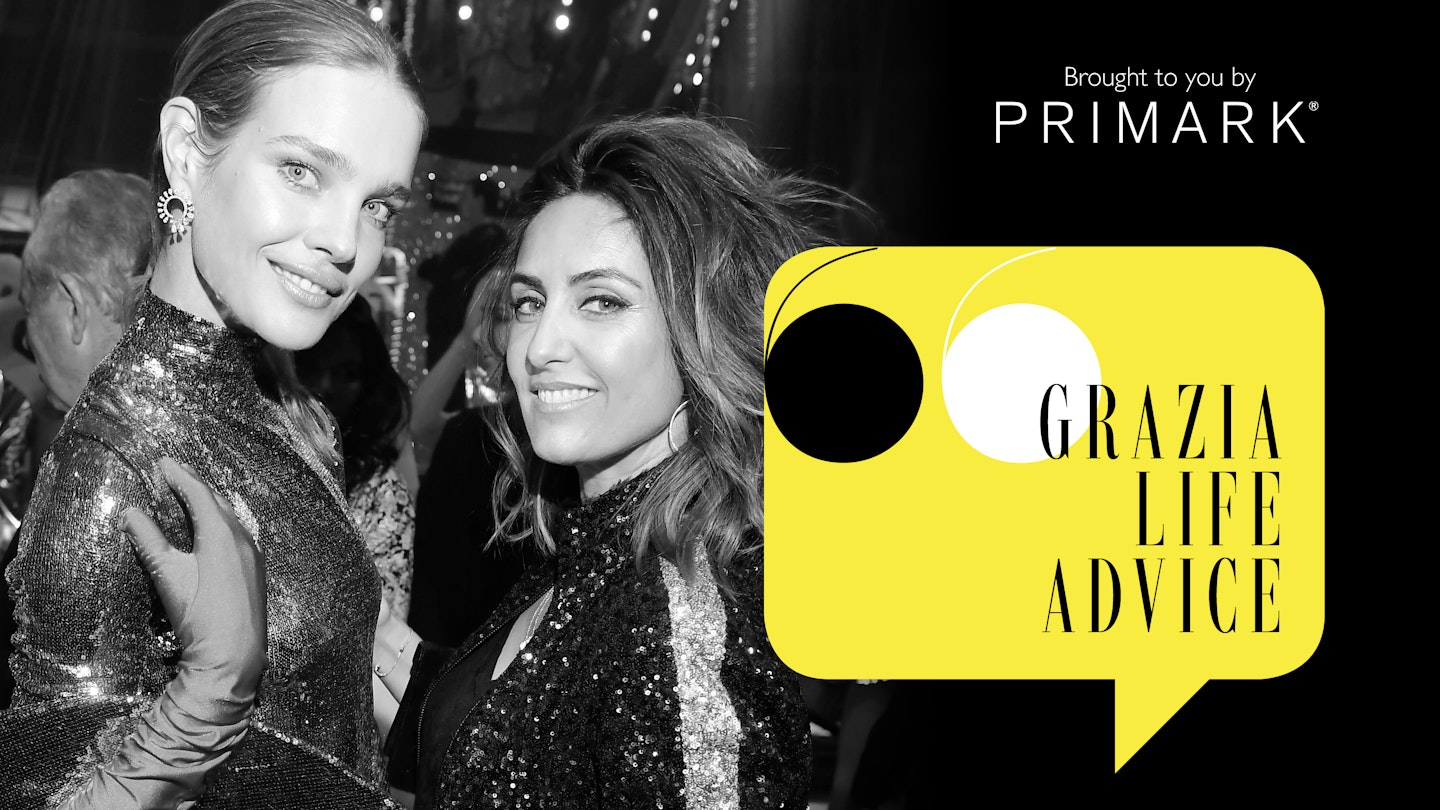 For the first time, we've got two guests joining us this week – supermodel Natalia Vodianova and Valerie Messika, CEO and Creative director of diamond house, Messika.
For the last three years, Messika have been part of Natalia's Fabulous Fund Fair – an annual event during fashion week which raises loads of money for Natalia's charity, Naked Heart Foundation. However, during this time, the pair have developed a really lovely friendship, bonding over the charity, business and lots more, as you'll hear.
We met the pair on the morning of most recent Fabulous Fund Fair in a West London hotel (so you may here a bit of hoovering and tea cups clinking), where they talking about everything from smiling to sexuality. It's a really interesting chat with two switched on, intelligent women at the top of their games and there's plenty of advice in there for everyone.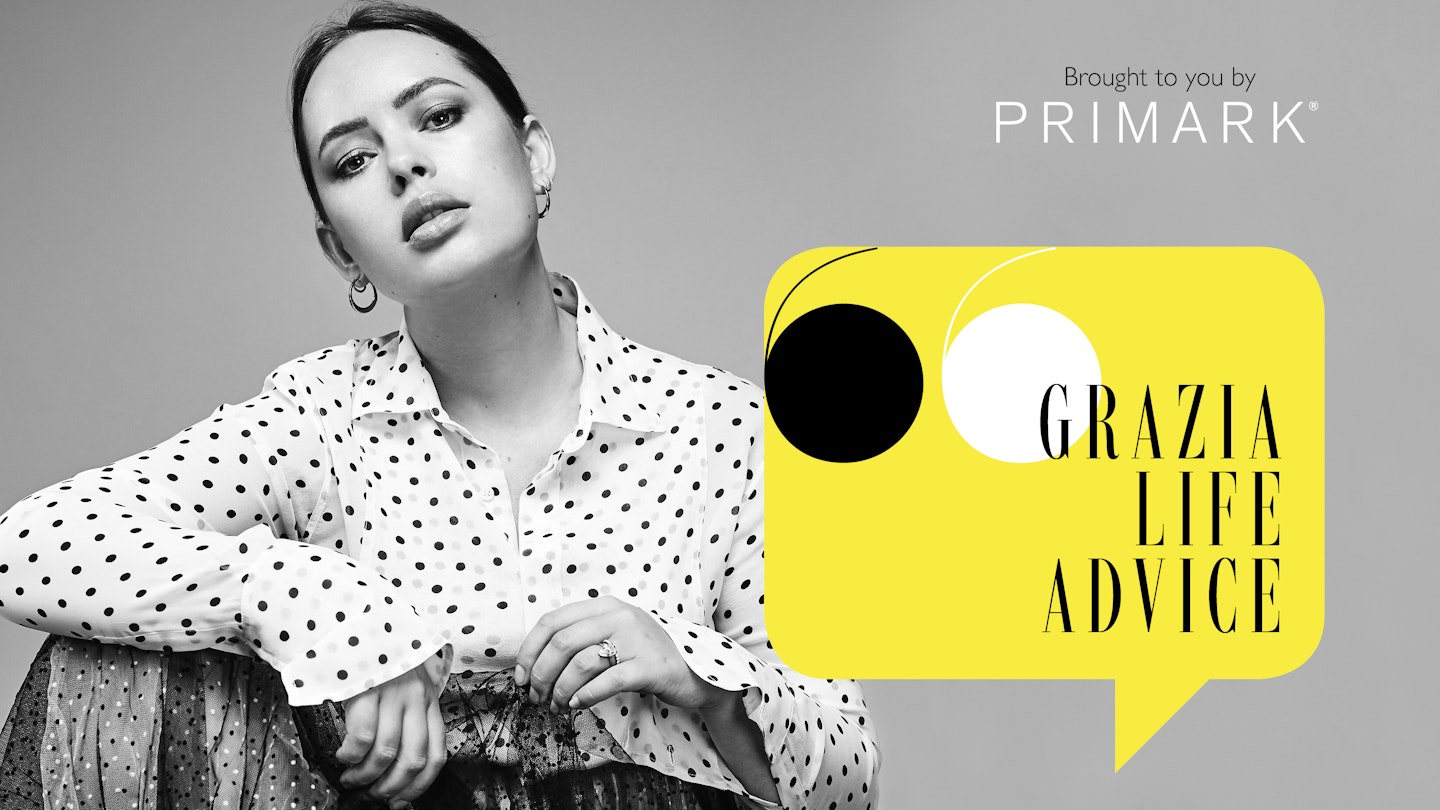 This week's guest is Tanya Burr. Tanya is an influencer and actress and when we caught up with her she told us more about this career path. For years Tanya has been training, and she is currently starring in the play Confidence at Southwark Playhouse – a run that ends this week. Growing up with that first YouTube generation, Tanya is used to giving out advice and she didn't let us down – passing on advice about everything from list-making and visualization to which pub will let you bring your dog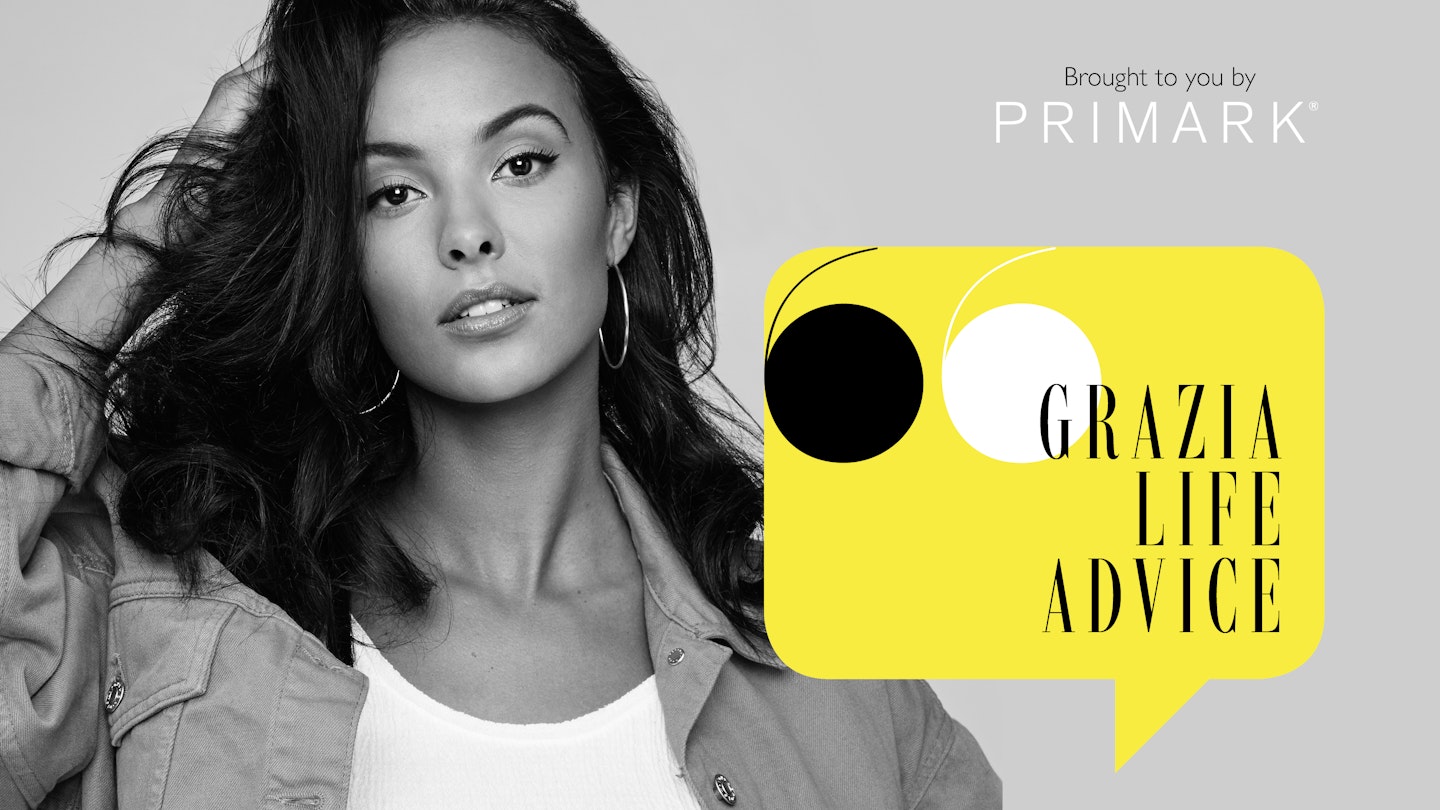 This week Maya Jama is our guest on Grazia Life Advice - the podcast where we ask our guests to tell us the six best pieces of advice they've ever been given… and the one worst.
Presenter, model and DJ, Maya is an absolute force to be reckoned with. We met Maya her at her work, Radio 1, and she was speaking to us as part of an O2 campaign to get the nation to share their Unforgettable Gig stories, so she has some good, practical advice around that subject as well as lots of relatable, down-to-earth stuff too. Just listen up, because she talks VERY quickly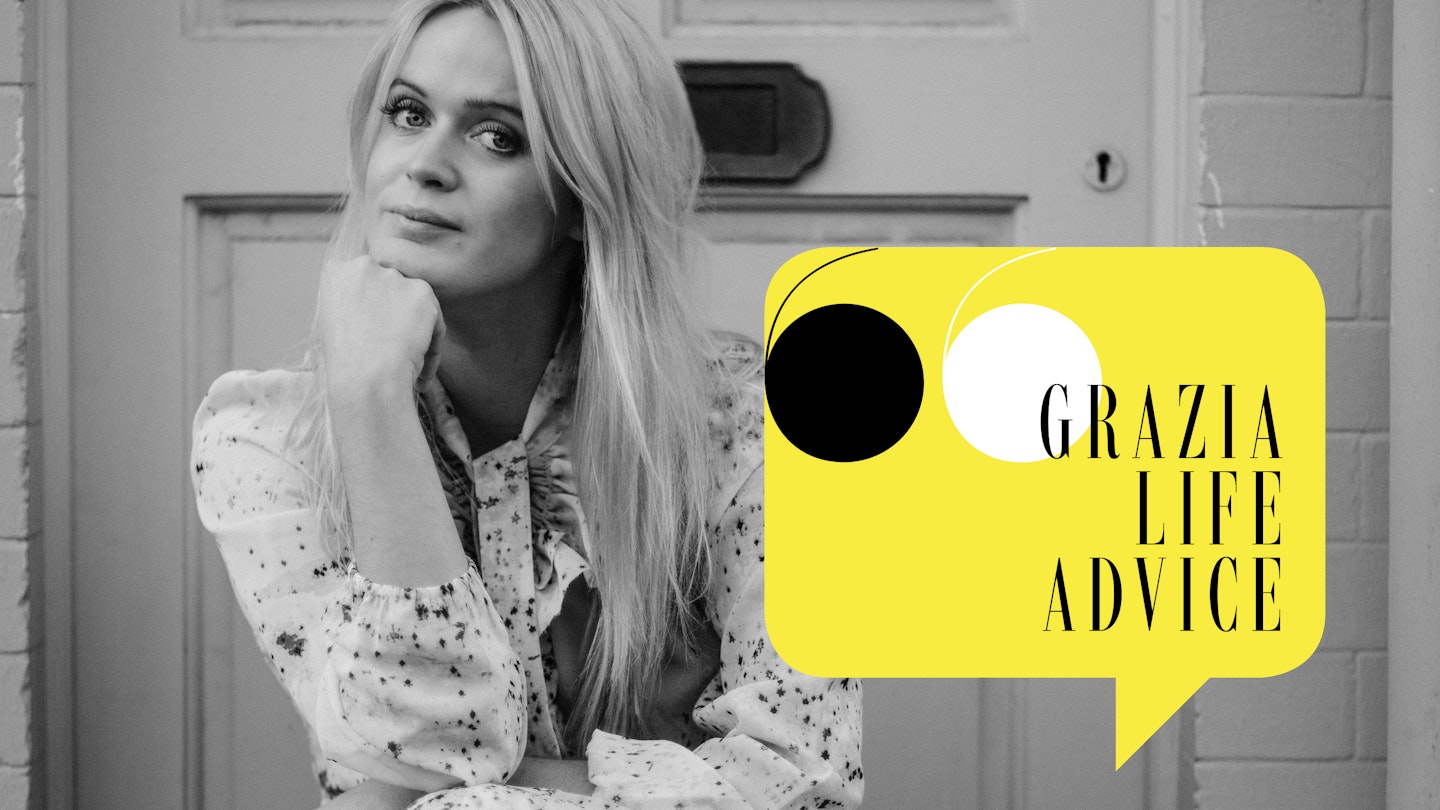 This week Dolly Alderton is our guest on Grazia Life Advice.
Journalist, author and podcaster Dolly has had a phenomenal year so far, following the release of her memoir, Everything I Know About Love. You've probably also heard one of her podcasts – The High Low Show and Love Stories.
We met Dolly in her London home and talked friends, love, life and career, as Dolly gave us what she described as the 'rose wine and box sets… basic b*tch of advice'. And we loved it all.