If we could keep our babies close and cuddle them all night long to help them sleep, we would. And while choosing to co-sleep with your little one is a very personal choice that thousands of parents across the UK do, opting for a bedside crib for your baby to sleep in will give you all the benefits of keeping them close to you, without the safety risks. Here is Grazia's guide to the best bedside cribs to shop.
A bedside crib is literally how it sounds; a bassinet-style cot that attaches to your bed with one side that can be removed or dropped down so you can easily reach your baby without any obstacles or the need to get out of bed. Ideal, if you ask us, and celeb mums including Stacey Solomon, Binky Felsted, and Lucy Mecklenburgh agree.
It's like a mini-bed extension for your child so they can sleep safely by your side and you can lift them into your arms, night feed and soothe them back to sleep, all within arm's reach. If you have restricted movement, after a C-section for example, a bedside cot will prove invaluable.
We've found a few of the best bedside cribs for you to choose from to help you co-sleep safely with your little one. Keep scrolling for some useful FAQs and expert advice.
SHOP: The Best Bedside Cribs And Cots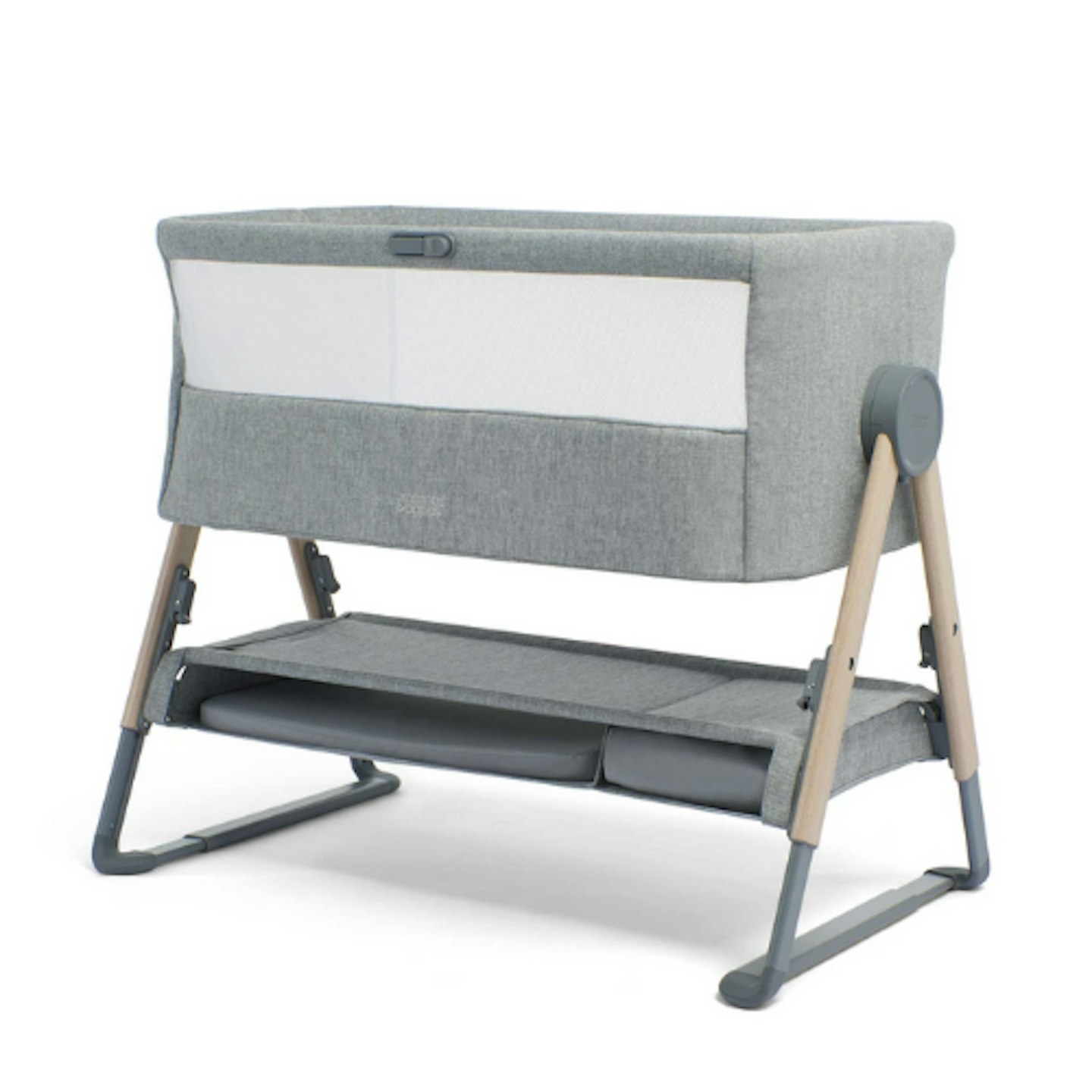 1 of 10
Mamas & Papas Lua Bedside Crib
The Lua Bedside Crib makes it super easy to keep your baby safely at your side, wherever that may be. Designed to make parenting easier, it includes storage and even a changer with the built-in changing mat and shelf, and you can take it travelling with the removable bassinet, collapsible compact design and storage bag. As well as being highly practical, the contemporary, minimal design looks extra-comfy and breathable with a mesh, adjustable side for you to watch your baby sleep soundly next to you.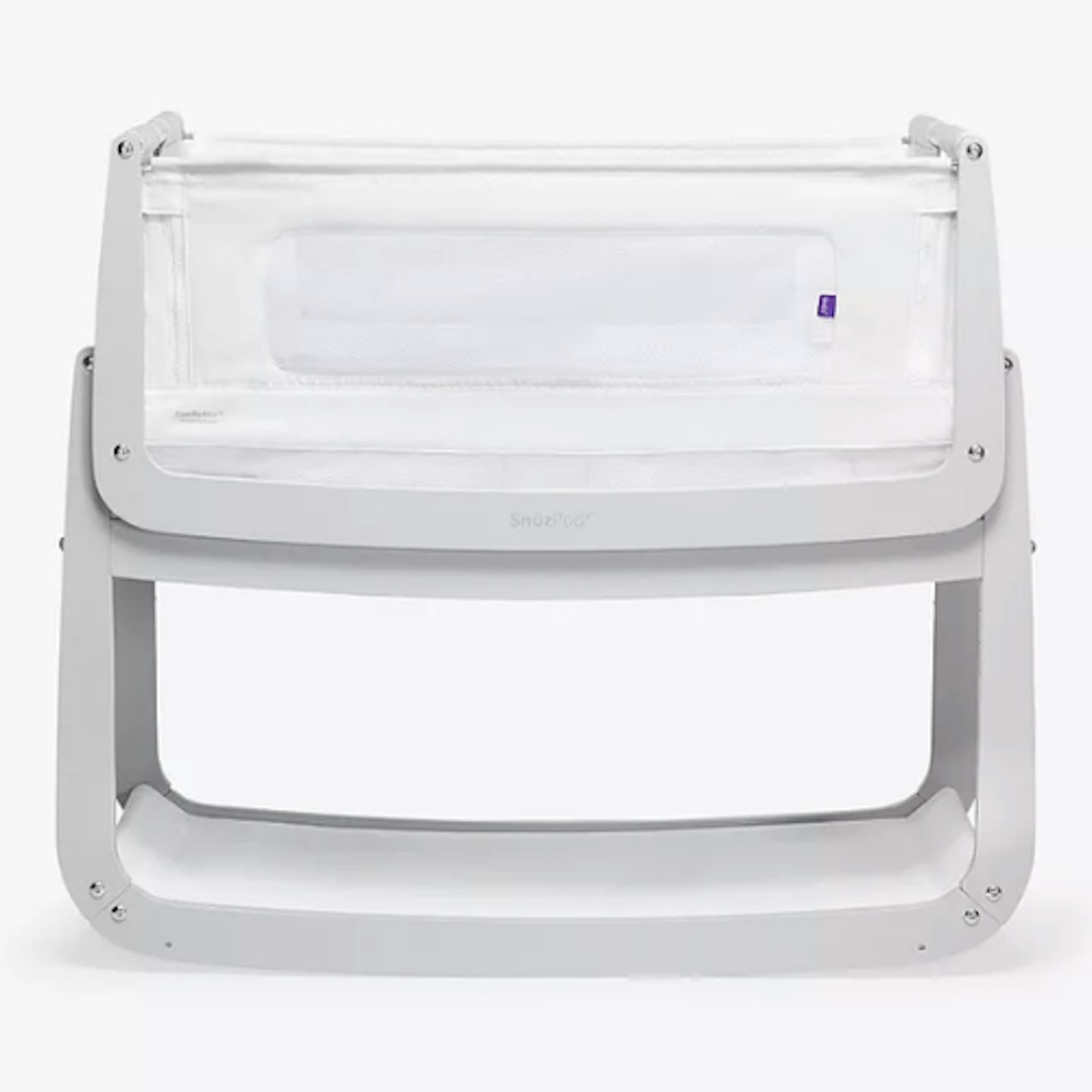 2 of 10
Snüz SnüzPod 4 Bedside Crib
The SnüzPod 4 is the epitome of versatility and gives us chic Scandi vibes with the smooth curvature in the crib's design. The SnuzPod can be used as a bedside crib, stand-alone crib, or even a detachable Moses basket that's lightweight and easy to use in and out of the home. It has nine different height settings as well as an optional reflux incline function. We also love that it has a rockable stand that'll help soothe your little one to sleep.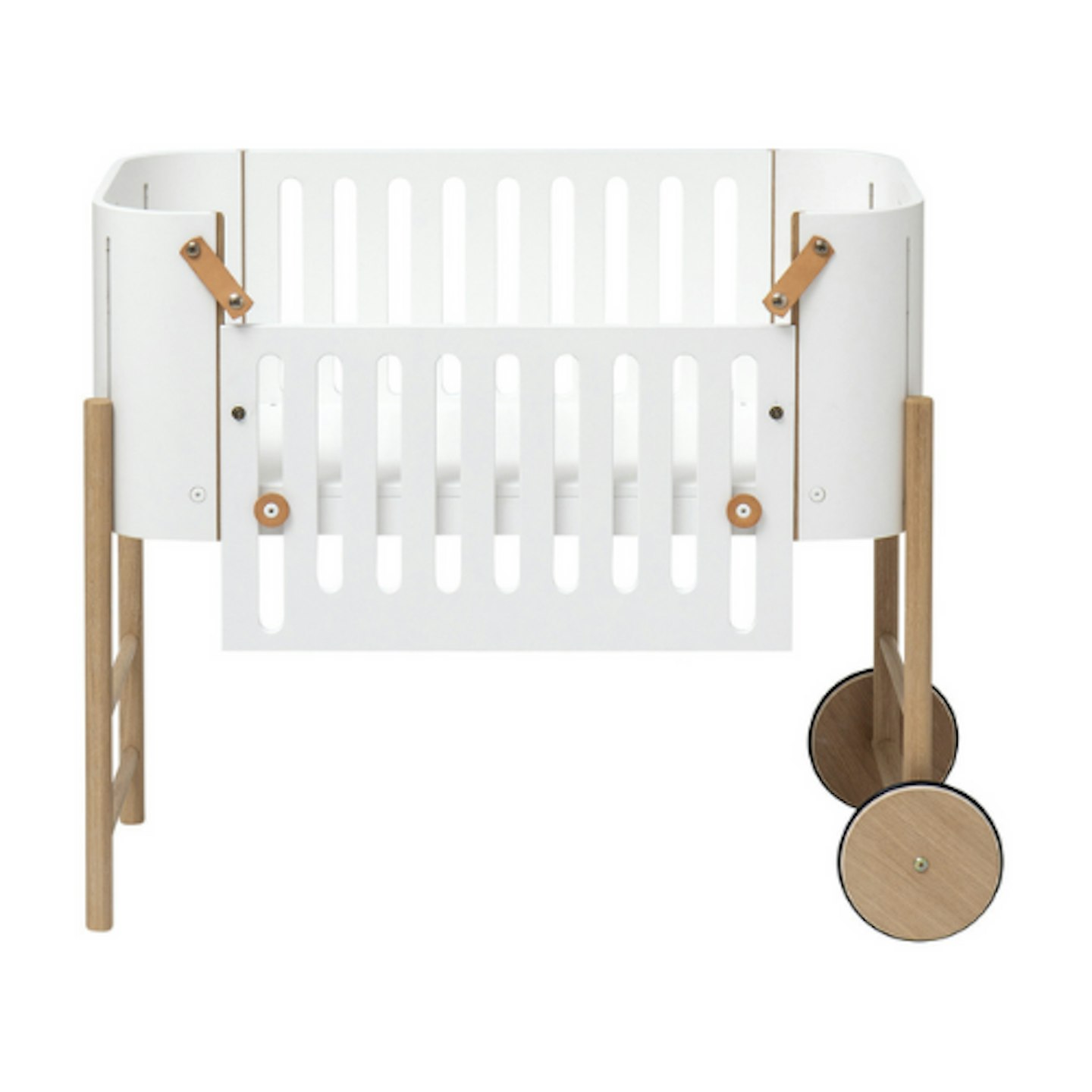 3 of 10
Oliver Furniture Cododo Extendible Wooden Bed With Kit
Danish brand Oliver Furniture has created its bedside crib to carry the proud Scandinavian tradition of woodworking and design focusing on clean lines, delicate details and durability. Ethically and sustainably sourced, the oak and birch wood crib can be placed next to your own with a drop-down side for co-sleeping, and can go on to be used as a cradle in your baby's first room with the conversion kit included.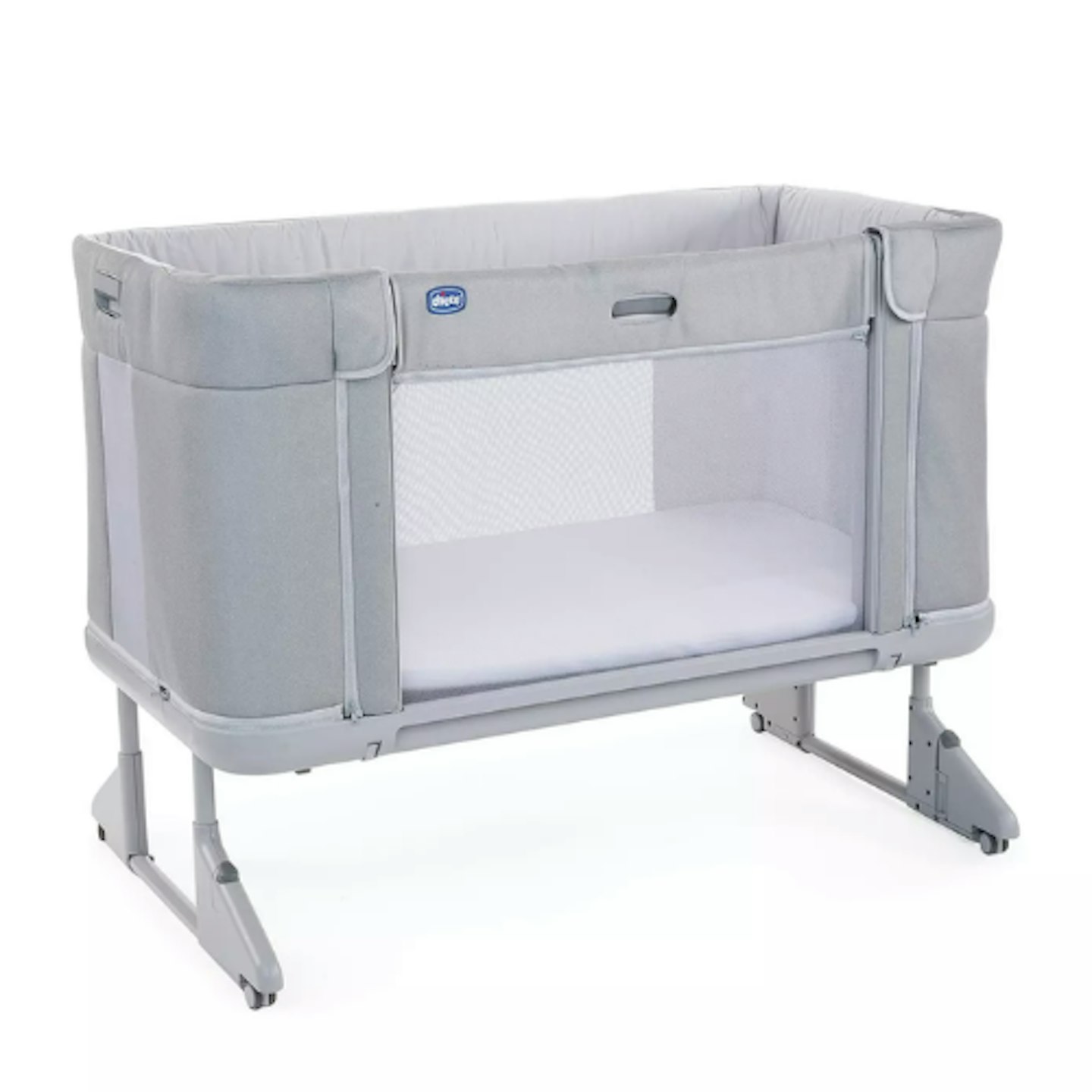 4 of 10
Chicco Next 2 Me Forever Bedside Crib
The Chicco converts easily from a co-sleeper to a stand-alone crib and a floor bed for toddlers – ideal if you want a bedside crib that'll be useful for longer for both nighttime and naps. It's height-adjustable, quick to assemble, and easy to attach to your bed. The patented anti-misuse barrier system ensures total safety and the wheels make it easy to move the crib around to wherever it needs to be.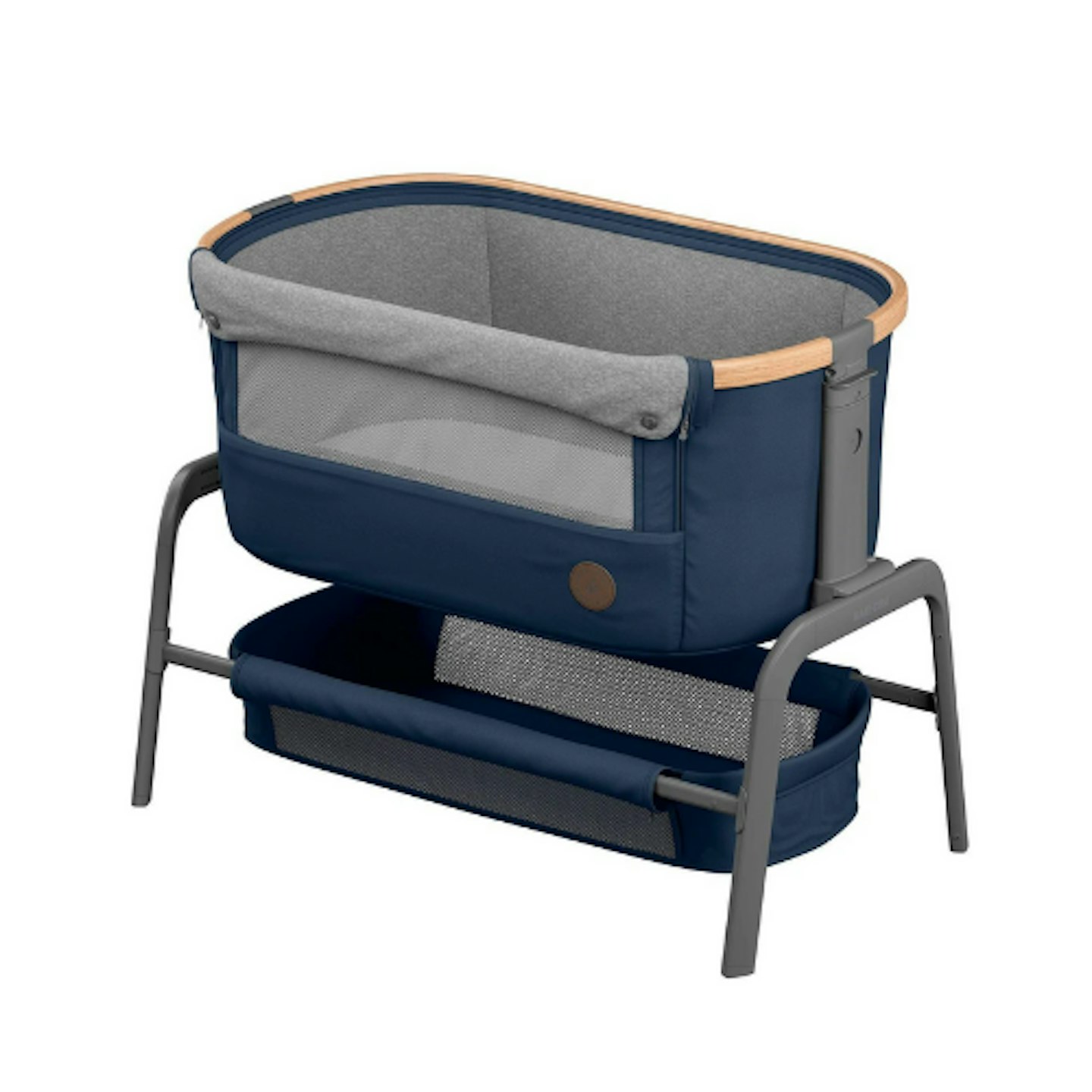 5 of 10
Maxi Cosi Iora Bedside Crib
A favourite with celebs including Lucy Mecklenburgh, the Iora gives parents peace of mind knowing that their baby is sleeping in the utmost luxury, only an arm's reach away. It is sophisticated, adjustable and comes with a mattress. There are five different height positions to choose from, ideal for matching to your bed height and a co-sleeping slide function.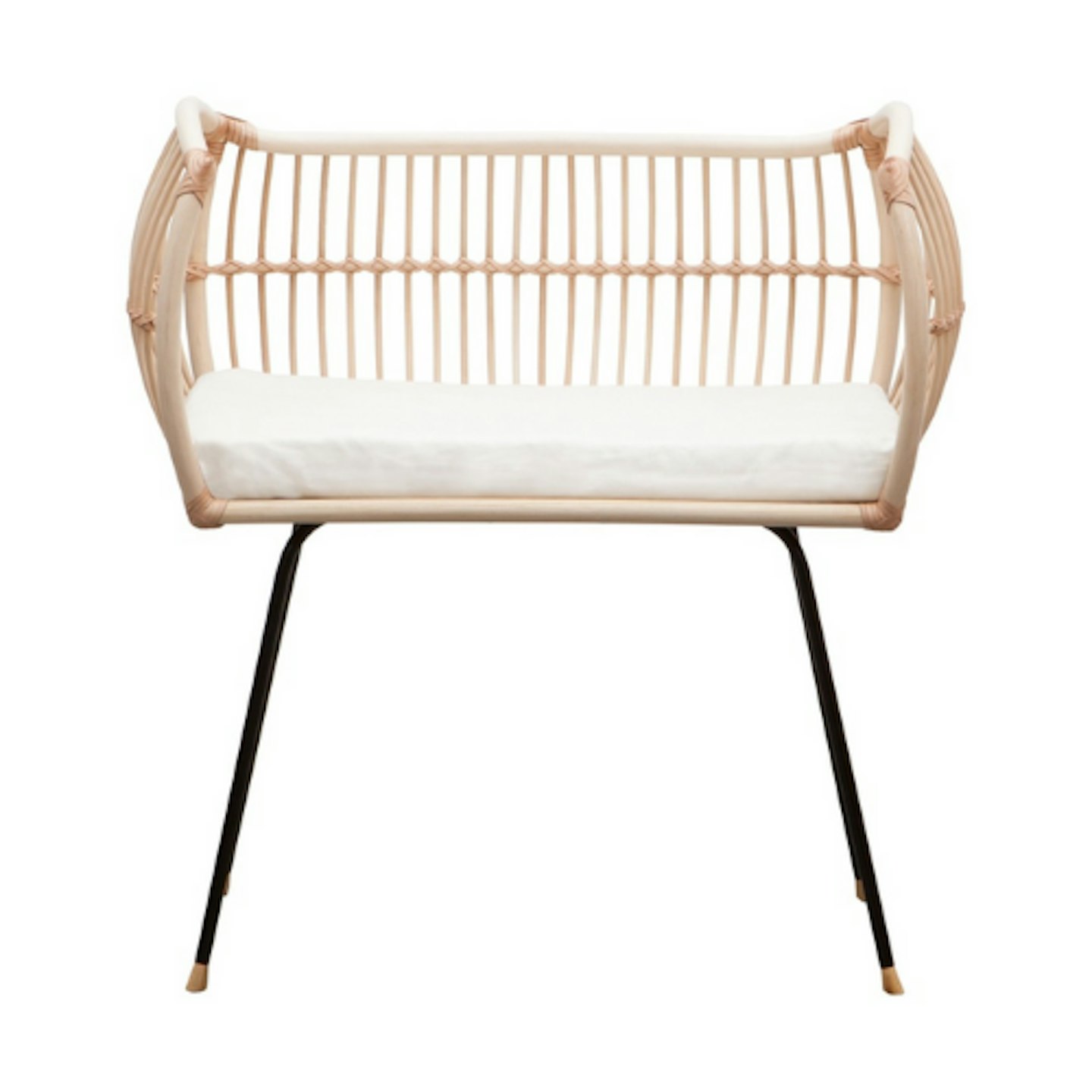 6 of 10
Bermbach Handcrafted Handmade Rattan MARTHA Co Sleeping Crib
We're obsessed with rattan and so we love this luxe, co-sleeping crib from Bermbach Handcrafted. Forerunners in contemporary sustainable design, the brand has created a high-quality, naturally resilient crib that's amazingly breathable to keep your baby cool at night. With a timeless, slightly vintage aesthetic, this crib will fit beautifully amongst your existing bedroom decor and will keep your little one close by your side.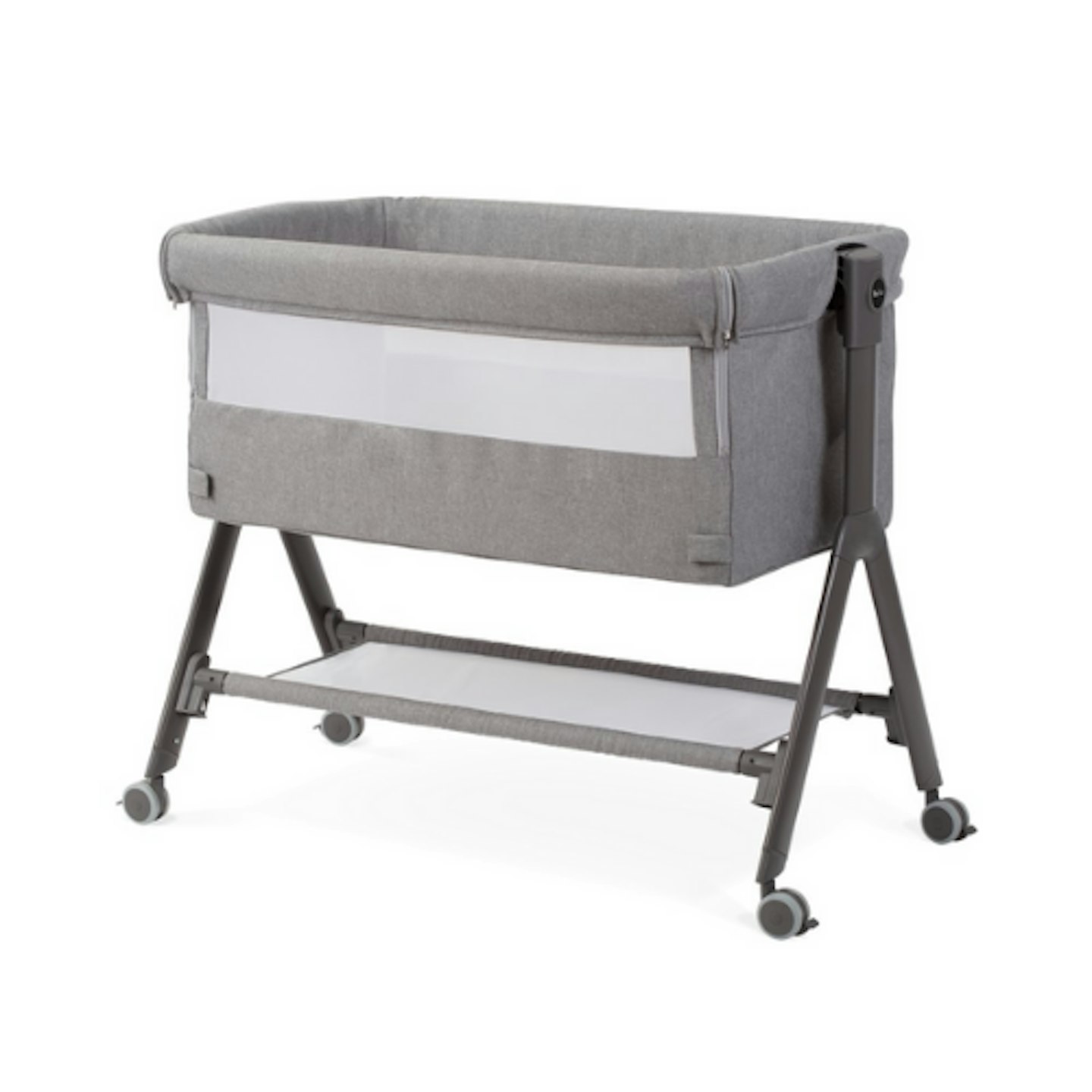 7 of 10
Silver Cross Voyager Co-Sleeper
The Voyager Co-Sleeper has a quick-and-easy, compact fold making this bedside crib ideal for holidays, nights away from home, or even storing away when your little one outgrows it. The deep foam mattress, mesh air-flow panels and optional incline setting offer the best comfort for your baby and we really liked that the removable fabric can easily be washed when those nighttime nappy accidents and sickness occur.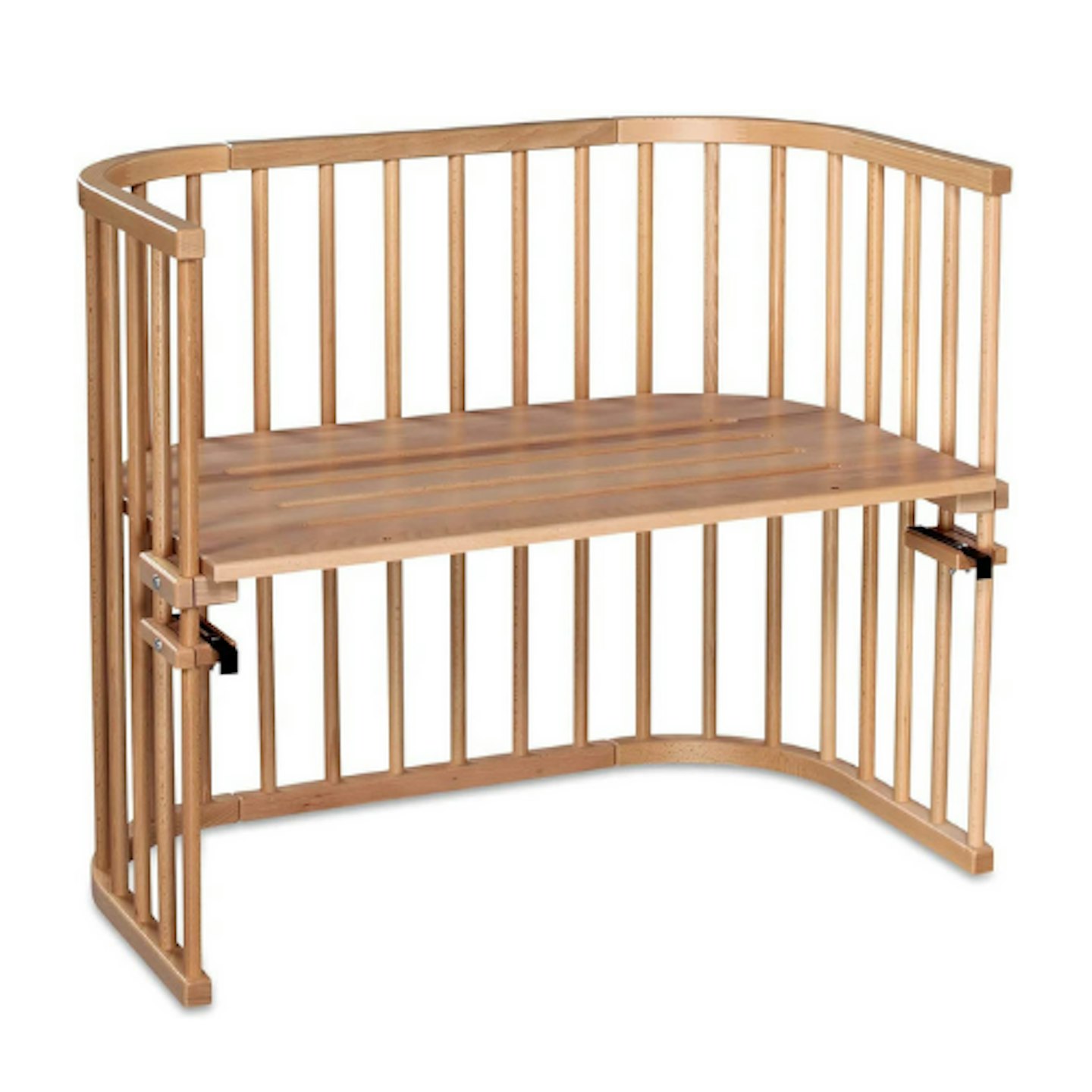 8 of 10
Babybay Maxi Bedside Sleeper
Beautifully carved and made from natural, sustainable, antibacterial beech wood, this crib is designed to grow with your baby. It's infinitely height-adjustable, has a generous lying surface for your little one and can be securely fixed to your bed without the need for additional tools. Once the co-sleeping days are over, this crib can be turned into a bench, a play table, and with optional accessories and conversion kits, even into a bassinet, high chair or children's bed.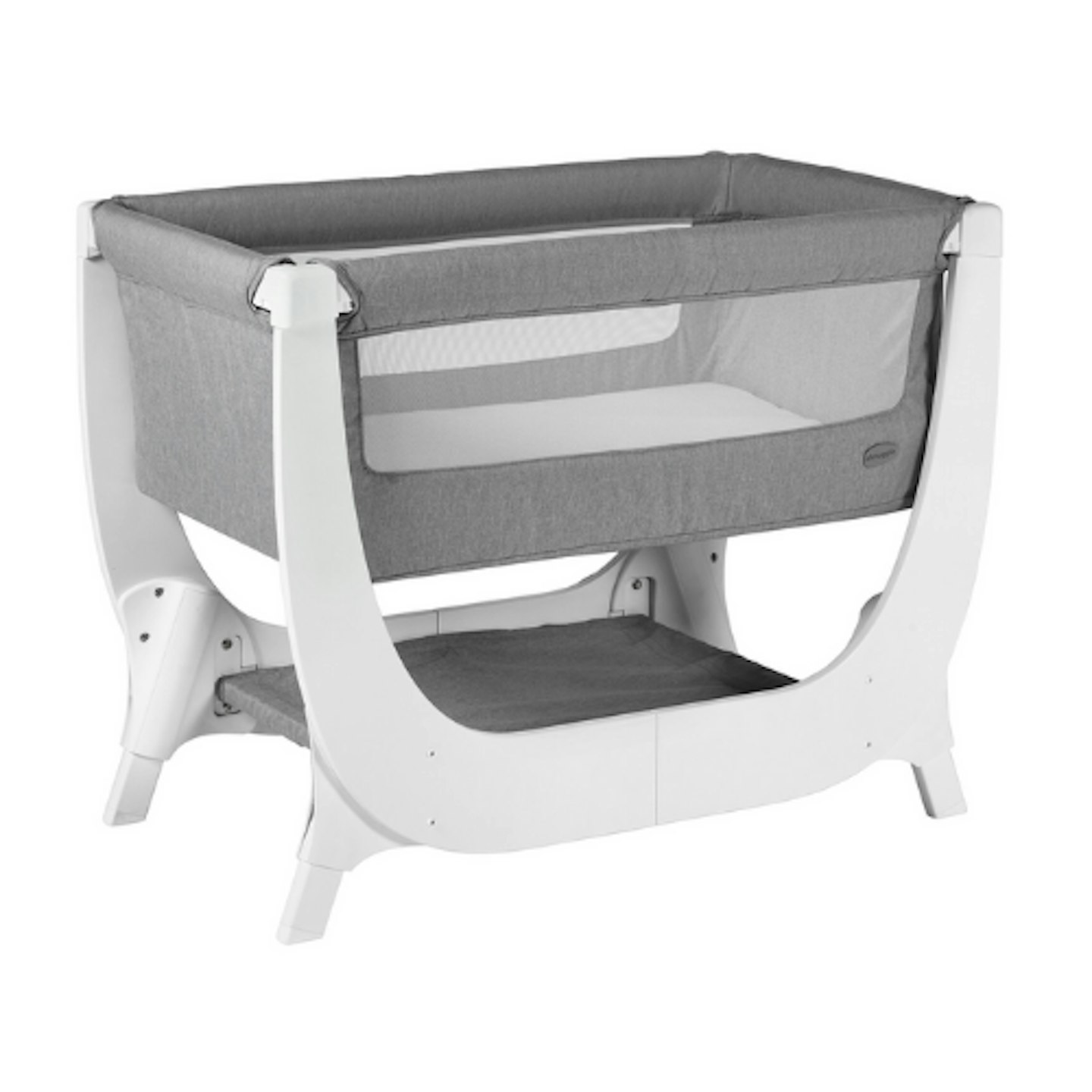 9 of 10
Shnuggle Air Bedside Crib
Designed to maximize airflow and make it easy to see your baby via the mesh sides, this crib comes with a hypo-allergenic fibre mattress that's 50 per cent more breathable than standard foam mattresses to reduce the risk of overheating. Stacey Solomon used this with her youngest son Rex and said, 'I chose the @shnuggle Air Bedside Crib and I love it. Not just because I can be close to him all through the night but it also has an incline option which keeps him comfy when he has a little wind. I love that I can see through it too because I find myself constantly wanting to check on him when he's sleeping. It also extends into a larger cot so he can grow with it when he's ready to go into his own room - sob'. It converts to a standalone cot for use up to two years with the conversion kit sold separately.
10 of 10
Tutti Bambini CoZee Bedside Crib
Develop that special nighttime bond with your baby with the beautiful Tutti Bambini CoZee Bedside Crib that packs style and substance. There's a handy storage shelf for stashing nappies and the breathable mesh window makes it easy to keep an eye on your baby. We love the incline setting to help ease reflux and that you can use this crib as a co-sleeper or as a standalone crib. It even comes with a travel bag so you take this crib with you wherever you go as a truly travel-friendly option.
Are bedside cribs a good idea?
Half of the babies in the UK will have slept in their parents' bed by the time they're three months old, whether that's through the parents' choice to co-sleep or from accidentally nodding off after a feed. It's so easily done. However, it's worth bearing in mind that this does increase the chances of Sudden Infant Death Syndrome (SIDS), suffocating and overheating due to the risk of bedding accidentally covering your baby as you sleep.
The chance of SIDS is lowered when your little one sleeps in a separate cot and so a bedside crib offers you the benefits of co-sleeping, but with the added safety of them having their own space.
These benefits include:
Easier for breastfeeding mums to nurse through the night with more sleep
Spending more time with your baby if you're a working parent
Quicker response to your baby if something is wrong
Building an emotional and physical bond which can be comforting for parent and baby
Official safe sleeping guidance from both The Lullaby Trust and the NHS also advises that your newborn should sleep in the same room as you for the first six months. A bedside crib is a super handy way to create that space for your baby in your room, without taking as much space as a full-size cot might.
What to look for when buying a bedside crib
You can scroll down for our favourites, but if you want to be 'in the know' and clued up on exactly what you should be looking for, here's a quick guide to take you through.
Side panel: If you want to achieve that co-sleeping closeness, make sure that one side of the crib can be lowered. If your baby is likely to nap or sleep without you there, you should make sure this side panel can be easily raised and/or reattached to keep them safe.
Fabric: It goes without saying but accidents happen in the night and so you'll want the crib fabric to be easy to clean. It should be easy to remove and re-attach and machine-washable to oust the mess.
Bedding and mattress: Most bedside cribs come with the mattress supplied, but check that it's suitably substantial to provide a comfortable sleep for your baby. A baby mattress should be firm and flat.
You'll also want to make sure that standard crib sheets will fit before buying. Your baby's bedding must fit the crib securely with no excess fabric so, if you need to buy specialist bedding, you'll need to consider its availability and added cost.
Design: Safety and comfort are the most important features in your bedside crib but, let's be honest, you'll want to pick the one you can happily live within your bedroom for the next six months too. And while it might seem way too far ahead right now, you might want to think about where you'll put it when your baby outgrows it.
Added features: Some bedside cribs come with extra features designed to help your baby sleep better and make your life as a parent easier – yes, please! Some bedside cribs rock to settle your baby or have an incline feature so you can elevate the mattress to soothe symptoms of reflux. Some have pockets or shelves for storing nappy-changing essentials, and some have a detachable bassinet, which you can use in another room for naps.
It's worth keeping an eye out for these as they'll only make your crib more valuable to you, but with each feature, consider if it's necessary to you and your home and how it could help your little one.
Bedside crib buyer's checklist
Is it suitable for your bed? A bedside crib must be compatible with your bed, as the baby's mattress must be level with your own. If your bed is lower or higher than most, opt for a crib that's height-adjustable. Triple-check compatibility as some cribs are designed to clip on to bedstead frames and therefore won't work with a divan.
Is the bedside crib mattress a standard size? If it isn't, you might be limited to buying bedding from the crib manufacturer. Check, too, whether the mattress is included or has to be bought separately.
How easy is it to assemble? Some bedside cribs are easy to assemble without the use of power tools, while others will test your DIY skills and, most likely, your patience.
Do you want to co-sleep? Some bedside cribs let you keep the panel down at night so you get the closeness and convenience of co-sleeping without the risks of bed-sharing. Others are designed so that the side panel pops back up after you lift your baby out – these are a good option if you have concerns about the risks of co-sleeping.
Can you use it as a standalone crib? If you think you'll convert the crib back and forth from a co-sleeper to a standalone crib regularly, choose one which is robust and doesn't need to be attached to your bed.
How much space have you got? Bedside cribs vary in size so consider your space and how long you intend to use it. A smaller crib will be outgrown quicker.
For more parenting stories, (non judgmental) advice, tips and memes, check out Grazia's new parenting community on Instagram, @TheJuggleUK