Sex Education may be over – but that doesn't mean you have to wave goodbye to the iconic dramedy just yet. Recreating the iconic Otis Milburn house may be just the thing to keep the magic of the Netflix show alive. Luckily, we spoke to Rhiannon Johns, interior designer and head of brand at Piglet in Bed, who shared some tips on how to style your home like the Milburn House without breaking the bank.
Ever since it first popped onto the streaming service all the way back in 2019 (can you believe that?), everyone has been dying to know where Sex Education is filmed. And, more importantly, where is that picturesque house owned by sex therapist and icon, Jean Milburn, played by Gillian Anderson?
Much of the show's filming took place in Wales and the English-Welsh border. And – the house itself is located in the village of Symonds Yat in Wales – but the iconic, quirky but cosy Wes-Anderson-style interior is, in fact, a set.
Sex Education's final season has been as enchanting as the previous three. Last season, we were left with so many questions. What was going to happen? Aside from the usual progressive sex therapy from Otis and tonnes of teenage hormones bubbling away, there were a few curveballs thrown at us last minute: Joy Milburn's shocking arrival, Maeve's America dream and Moordale High's demise.
Throughout all of this change, we hoped that Gillian Anderson's wallpaper would remain.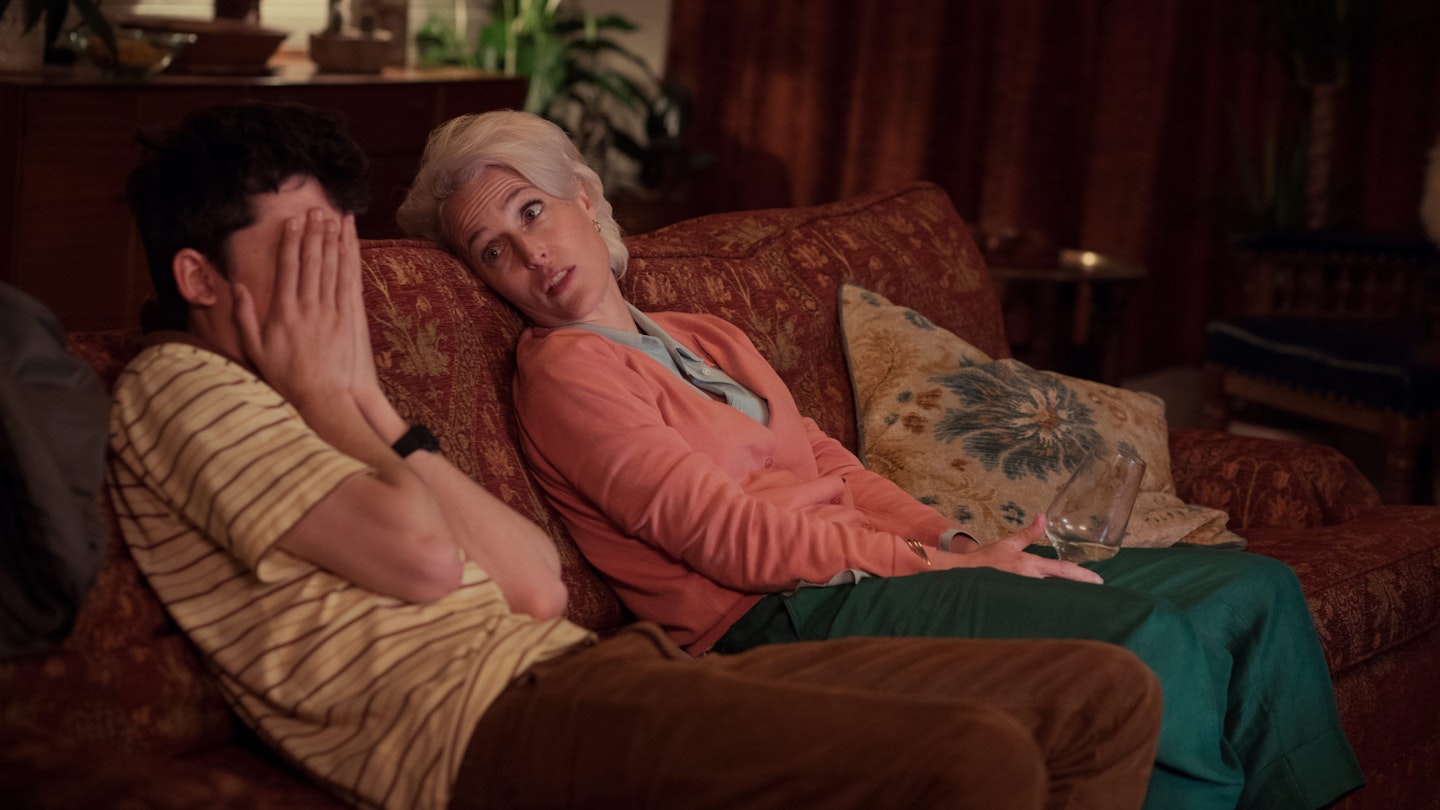 And – we're not the only ones pausing to get a proper look at the décor. Google Trends data reports that the Milburn House is a breakout star of the season, not Bella Maclean.
With soft natural colours, cosy throws and wallpaper that you'd find at your nan's, this mountaintop villa has been inspired by the 70s, with a gentle splash of "cottage-core cosy," says Rhiannon, much like Lily Allen's country kitchen, we think. The Otis Milburn house "captures nature's essence," she adds.
Aside from the sex-positive candour and the casually inclusive casting, we praise the show on its confusing timeless (and placeless) setting. What decade is this?
Much of the cast is using iPhones and making space for important and progressive conversations, whereas Gillian Anderson is seen answering a landline phone with a cord. But, she looks fabulous while doing so, of course.
If you're turned on by kitsch crockery, low-maintenance houseplants, warm wood and leather swivel chairs, here's how to get the Otis Milburn house look. Scandi, cottage-core cosy and 70s vibes.
Recreate The Otis Milburn House On A Budget
Best Milburn house-inspired bedspread
Description
To keep things fresh in the bedroom, this Sage Green Bedtime Bundle is an inspired choice. To keep
Best Milburn house-inspired lampshade
Description
Designed by Ellen Merchant for Pooky's competition for young, emerging designers, this Empire
Best Milburn house-inspired coffee table
Description
Vintage-style furniture is back. What more Milburn can you get than this Quilda Two-Tier Vintage
Best Milburn house-inspired cushion
Description
Piped with beige cotton, this handsewn Liberty Lanthe Art Noveau Throw Cushion is made with an
Best Milburn house-inspired rug
Description
Fall in love with this whimsical Morris + Co. Blackthorn Forest Green Rug from Ruggable. Inspired
Best Milburn house-inspired plant
Description
Perfect for those new to plant parenthood, this tropical, fanning Kentia Palm House Plant is often
Best Milburn house-inspired cabinet
Description
Lacquereed, ruch and adjustable, this cabinet could be the new addition to your home. To get the
Best Milburn house-inspired tableware
Description
Whether hosting guests or wanting to add a little luxury to your dining table, consider this
Best Milburn house-inspired vase
Description
Sculptural in form, the Earl Green Glass Vase has a diagonally ribbed surface creating a textured
Best Milburn house-inspired accent chair
Description
With a classic frame and clean, simple lines, the John Lewis Harp Armchair in Honey Velvet is
Best Milburn house-inspired stool
Description
With a woven seat, this Rattan Stool could work as breakfast bar seating just fine or as a plant
Best Milburn house-inspired trinket
Description
This Livia Sage Green Glass Stacking Storage Pot gives us major Art Deco vibes. We're sure Jean's
Best Milburn house-inspired blanket
Description
Handmade in Yorkshire from 100% merino sheep's wool, this blanket is a super cosy addition to your
Best Milburn house-inspired mirror
Description
Inspired by Italian design, this Judarn Floral Wood Overmantle Mirror from Anthropologie instantly
FAQs
Is the Sex Education house for sale?
Owning this piece of TV history doesn't come cheap, as it's been priced at a whopping £1.5 million. So, if you're prepared to dig deep, you could buy it for yourself. Complete with three floors, this property dates back to the 18th century and was originally used as a fishing lodge. However, we wouldn't recommend doing that yourself.
You caught a glimpse of the breathtaking views from this house during the show's run, right? We're very jealous.
Chalet Symonds Yat is for sale and is listed with Knight Frank Properties - if you're feeling up for it.
How do we emulate the Otis Milburn house style?
However, if you'd prefer to emulate the iconic and kitsch interiors, Rhiannon Johns, interior designer and head of brand at Piglet in Bed has three tips for you. Use her advice and our picks to reimagine the iconic Otis Milburn house.
Use Colours That Emulate Nature's Hues
As mentioned above, the Milburn House uses "muted hues like sage green and cove blue throughout its interiors" for that natural look. Rhiannon recommends using this as inspiration when styling your own home.
She adds: "One of the simplest ways to inject colour into your home without having a complete makeover is through your furnishings." Actually - we've done the hard work for you and found some suitable picks above to incorporate.
Think Cosy - Everywhere
Next, consider something cosy as the winter months draw in, making it perfect to "invest in cosy furnishings, something this charming chalet house has done perfectly," says Rhiannon. Much to our delight, the Milburn residence is snug, with rugs and throws galore, effortlessly reflecting "'cottage-core cosy' throughout".
Incorporate Greenery Into Your Spaces
Lastly, what would a 70s-inspired quirky interior be without plants? Bring the outdoors in with an Urban Jungle.
After all, the Milburns use plants in "almost every room, bringing a natural, organic feel to their interior and emulating the environment in which their home is situated." So, why not follow in the stead? Choose plants that can take the cold.
Piper Huxley is a Homes, Gardens and Wellness Product Writer, specialising in homeware. When she's not obsessing over the latest home decor trends, she's doomscrolling somewhere.