It's officially summertime, which means we're getting ready to get our tan on while lying about in the sun and doing the absolute bare minimum. While we'd ideally be doing this by Lake Como or in Santorini, some of us will have to make do with our back garden - and a great sun lounger.
At first glance, sun loungers might seem like a futile purchase for UK residents, but that couldn't be further from the truth. Yes, the sun might not come out every day, but, during those few months of blissful sunshine, there's no better way to unwind than by laying on your sun lounger - wine in hand - while reading your favourite book.
READ MORE: Recreate the Love Island look with Aldi's Sell-Out Garden Furniture
The best sun loungers come in many shapes and forms; there are rattan and hardwood options, foldable and non-foldable loungers, and even options that come fully assembled for less hassle. We've trawled through some of our favourite homeware brands, including La Redoute, Habitat and more, to find the best of the best.
Shop our picks of the best sun loungers below.
READ MORE: Lounge Outdoors In Style With The Best Garden Cocoon Chairs
The best sun loungers
1 of 8
Odia Sun Loungers (Set of 2)
A minimal, contemporary option that'll suit any outdoor space wonderfully. They're foldable, meaning you can store them away during wintertime, and they're also available in dark grey and navy blue. The durable aluminium frame is rust-resistant, and the fabric is super easy to clean.
Dimensions: 63 x 61 x 165cm
Material: Aluminium frame, Textoline fabric
Assembly required: Yes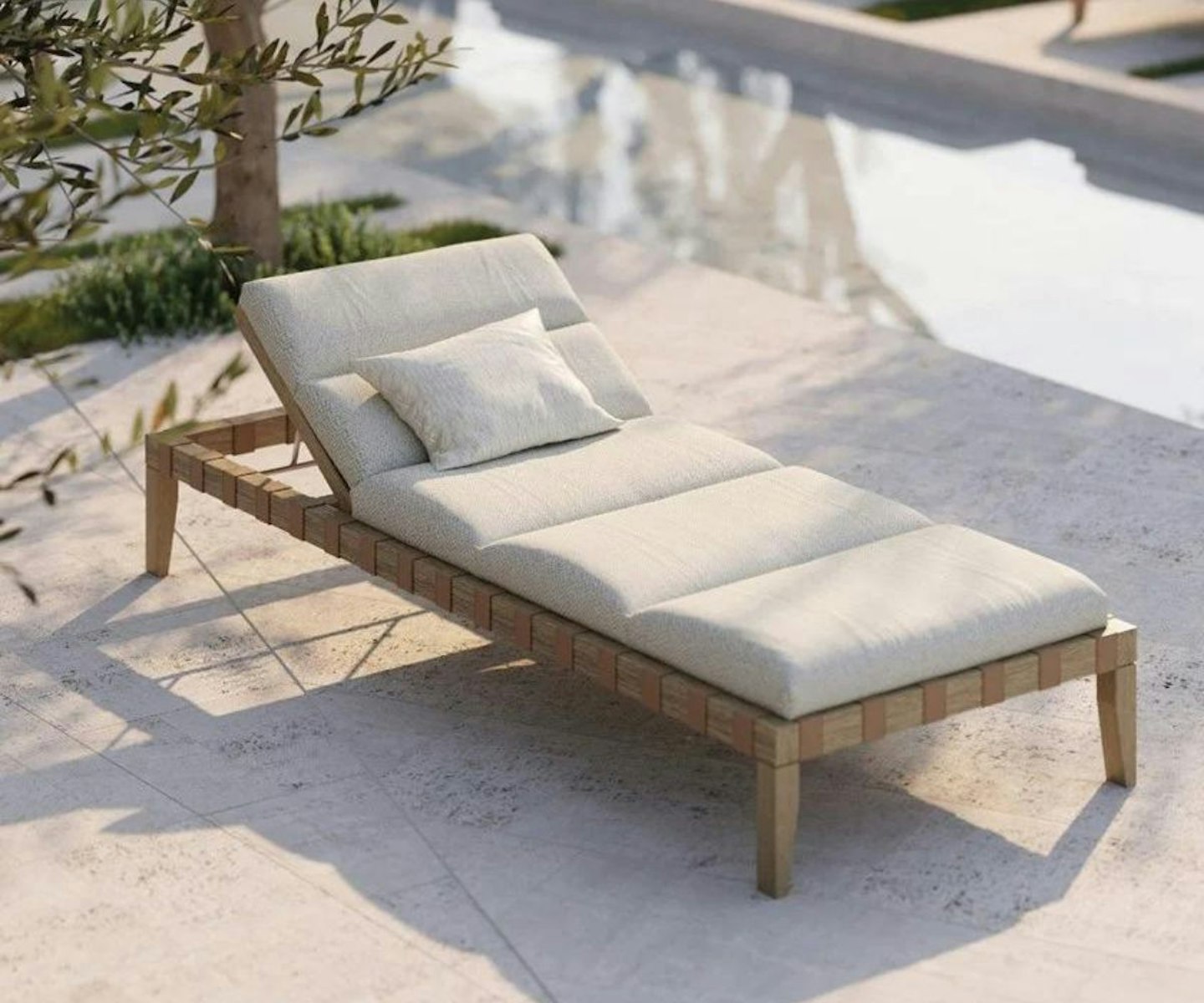 2 of 8
Braid Feeling Sun Lounger
We love the simplicity and modern aesthetic that this sun lounger so elegantly reflects. The lounger is synthesised from iroko wood and treated with natural finishes. Customers have the option to choose the upholstery of the seat, as well as the colour.
Dimensions: 36 x 76 x 200cm
Material: Iroko wood
Assembly required: Yes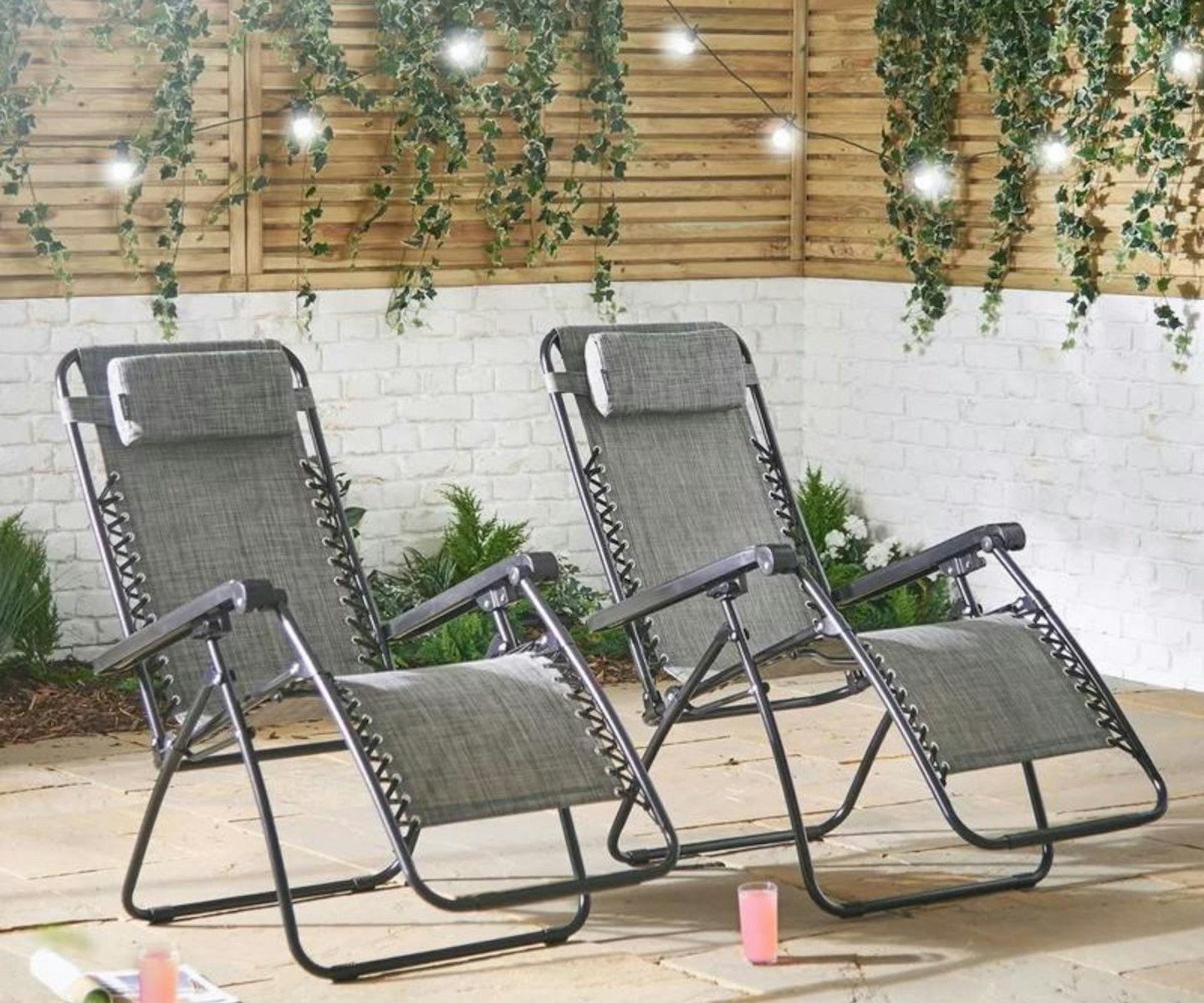 3 of 8
Nicodemus Reclining Single Sun Lounger
Sit back and relax all summer long in this set of two reclining zero gravity chairs. They're sturdy, foldable, and the added head pillow provides that extra bit of comfort. The dark grey is sure to blend in with most home aesthetics, and the powder-coated steel frames mean they'll last you for many summers to come.
Dimensions: 77 x 67.5 x 165cm
Material: Steel frames and Textoline fabric
Assembly required: No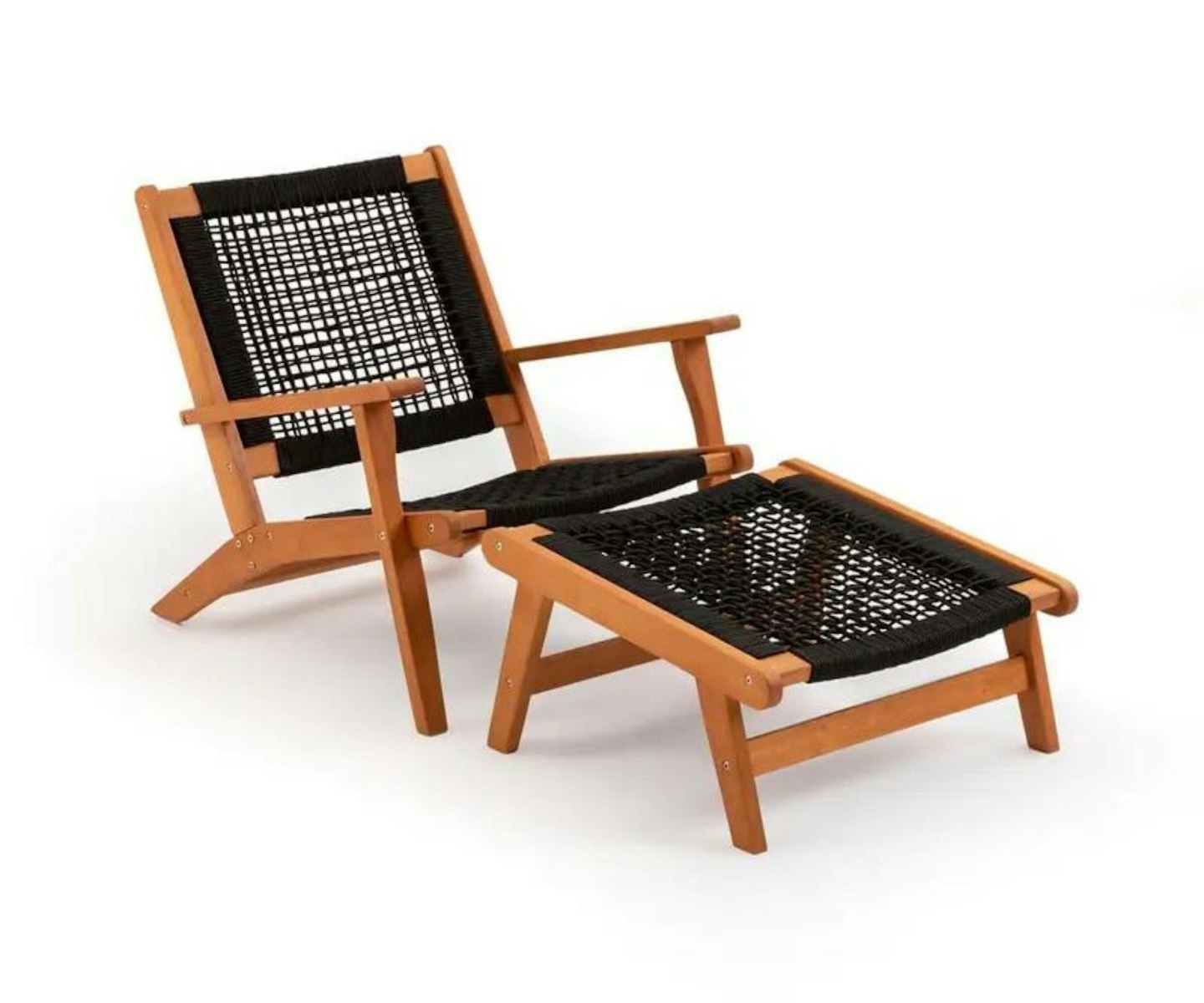 4 of 8
Ambel Eucalyptus Sun Lounger
What we love about this next option is that the armchair and footrest are separate, making it a more versatile choice. Made from high-quality eucalyptus wood with braiding for ultimate style and comfort, the Ambel sun lounger will be a fantastic addition to your garden.
Dimensions: 23 x 60 x 90cm
Material: Eucalyptus hardwood
Requires assembly: Yes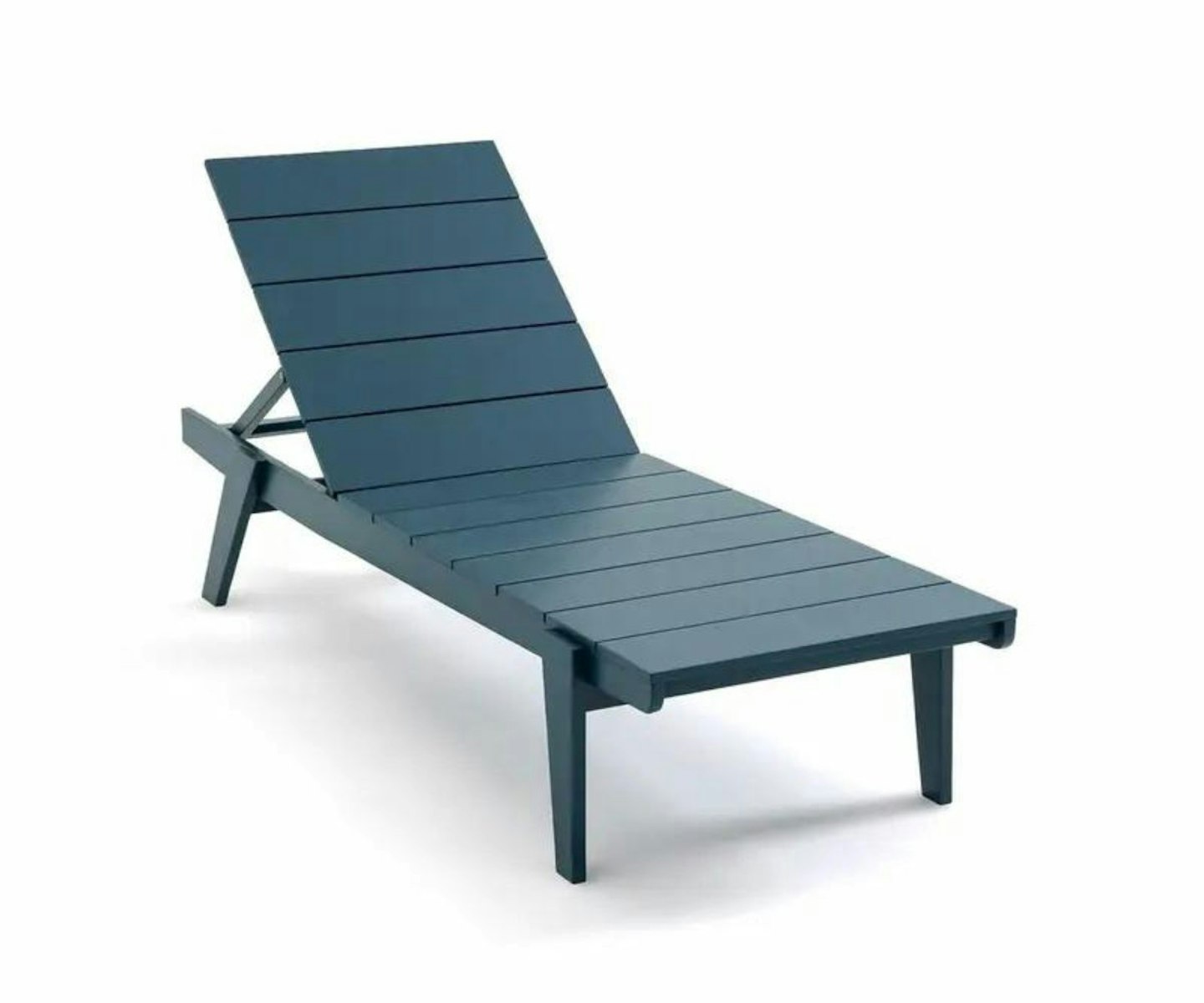 5 of 8
Réphir Acacia Garden Sun Lounger
A simple option that you simply can't go wrong with, the Rephir Acacia garden is practical and highly resilient. It's available in this gorgeous peacock blue, as well as a natural wood which you can paint over.
Dimensions: 35 x 62 x 190cm
Material: Solid acacia wood
Assembly required: Yes
6 of 8
Habitat Rolio Sun Lounger
With a curved design and slatted acacia wood design, this sun lounger is ticking all our boxes. It's hard-wearing and has a natural-meets-modern aesthetic that we love.
Dimensions: 62 x 72 x 189cm
Material: Wood
Assembly required: Partial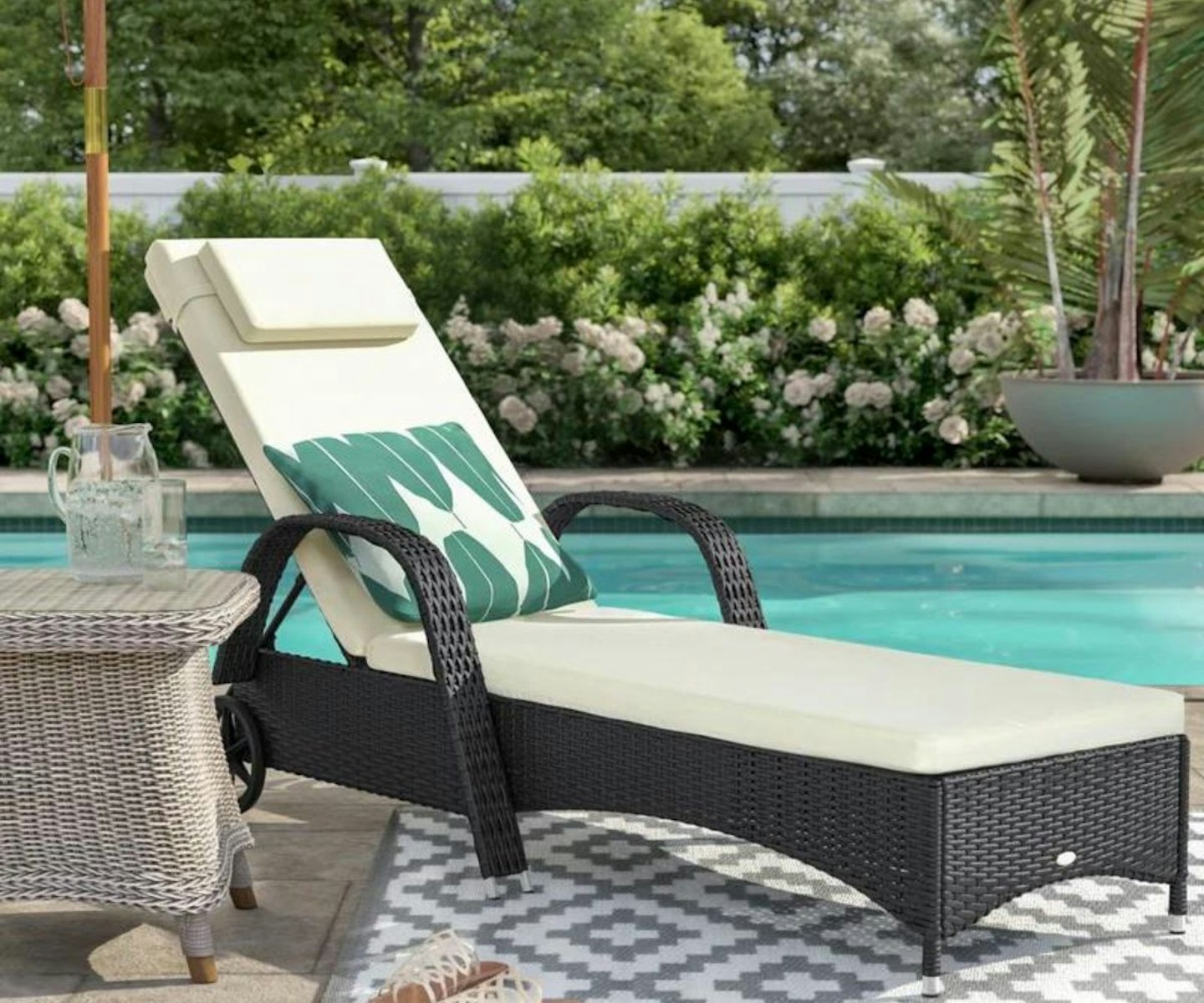 7 of 8
Ridgevale Reclining Single Sun Lounger with Cushions
A classic design that'll instantly add a sense of homeliness to your back garden. The rattan material is this summer's favourite homeware trend, and the five-level adjustable back will help you find the perfect position for optimal comfort. It's also weather-resistant, which is perfect for the UK's (highly) unpredictable forecast.
Dimensions: 56 x 50 x 200cm
Material: Rattan, metal
Assembly required: Yes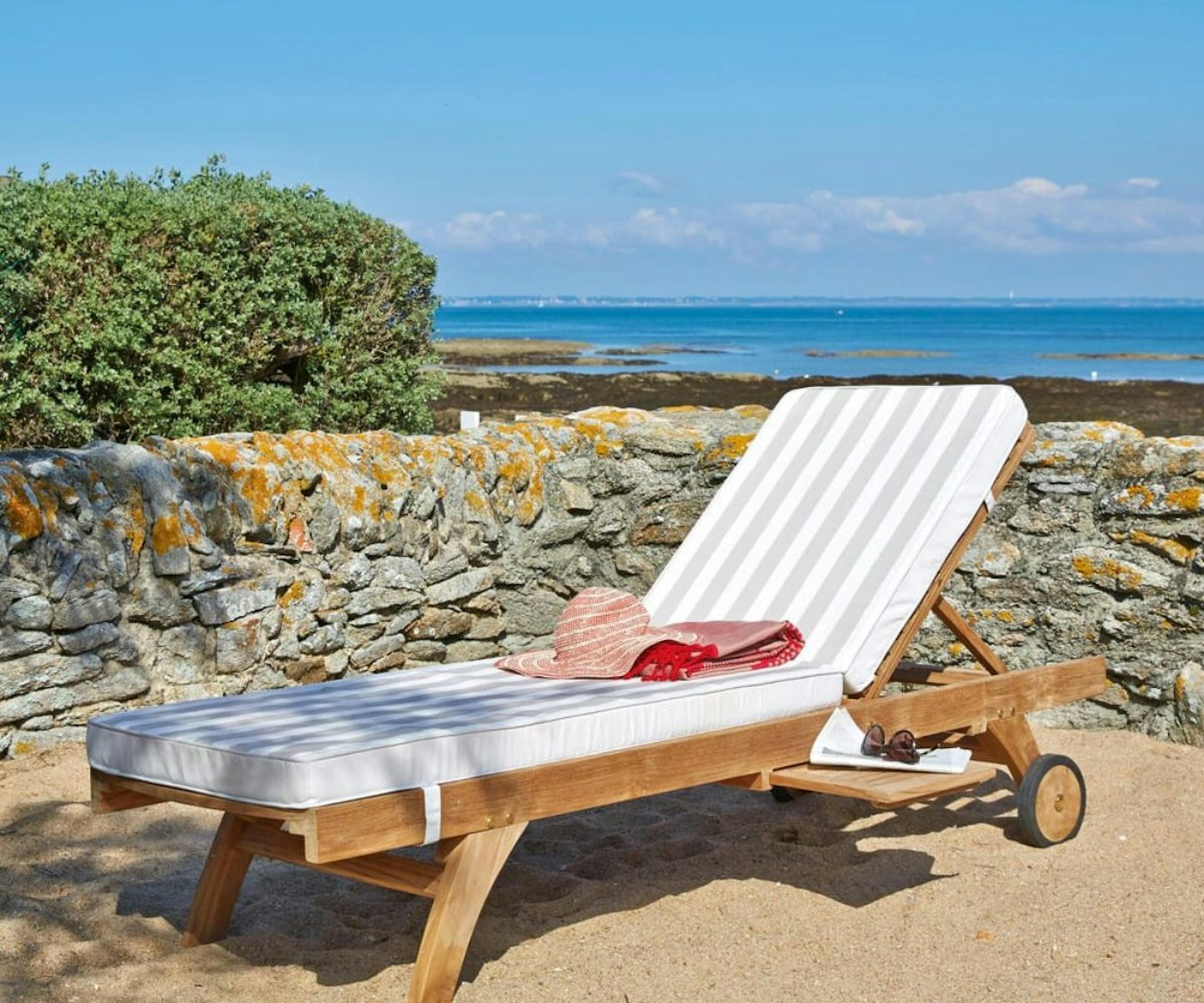 8 of 8
Solid Teak Garden Sun Lounger on Wheels
Get ready for some poolside relaxation with this ergonomically designed sun lounger. It's made from responsibly managed forest wood and features a hidden sliding shelf that you can rest your drink, book, of SPF on - pure genius.
Dimensions: 23 x 70 x 212cm
Material: Teak wood
Assembly required: Yes