If you're looking to give your garden, patio, conservatory or balcony a chic makeover for the summer, nothing beats a stylish set of rattan furniture. From hosting an al fresco dinner party to lounging in the sun, the best rattan garden furniture sets have you covered for the upcoming heatwave.
Durable, weatherproof, and with a cosy and natural-looking feel, rattan garden furniture guarantees comfort for all outdoor soirees. Rattan allows for an effortless flow of style and interiors to your garden space and is perfect for making a statement and extending the décor of your home outdoors.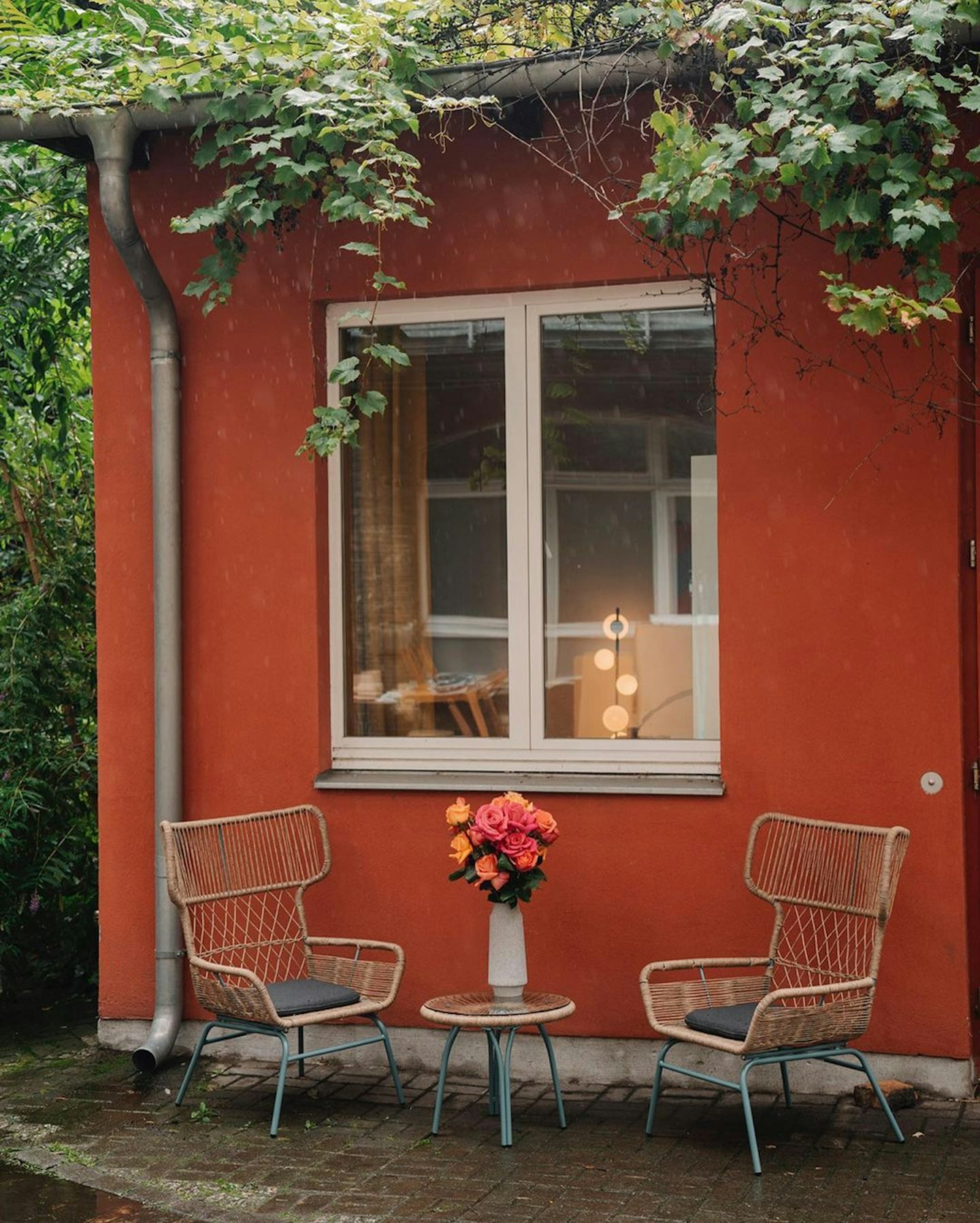 Think everything from boho-chic to understated luxurious monochromes, the versatility of rattan isn't something you want to hold out on to elevate your summer set-up.
Popular each year and likely to sell out as soon as the sun comes out of hiding, stock doesn't tend to stick around. No matter your space, budget and needs, we've found the best rattan furniture for all your summer outdoor desires.
What is rattan material?
Rattan furniture is made of woven natural or synthetic materials which means it's durable and will stand up against the weather. It also requires minimal upkeep, simply wipe it down with a cloth and your furniture will be ready to go.
Sometimes, you may need to cover your rattan furniture - but luckily, you can get some attractive solutions.
SHOP: The Best Rattan Garden Furniture
1 of 11
Habitat Five Seater Rattan Effect Corner Sofa Set £550
Sit back and relax on this corner sofa set, either lounging with friends or reclining back in luxury with the clever adjustable seat that leans up. This stylish number hits all the design trends with the gorgeous rattan and splayed legs. It also comes with handy storage under the table, great for keeping garden games, outdoor utensils or a backup blanket.
Set includes: Garden table, seven cushions, two side stools and corner sofa recliner.
Material: Rattan effect with glass tabletop and polyester cushions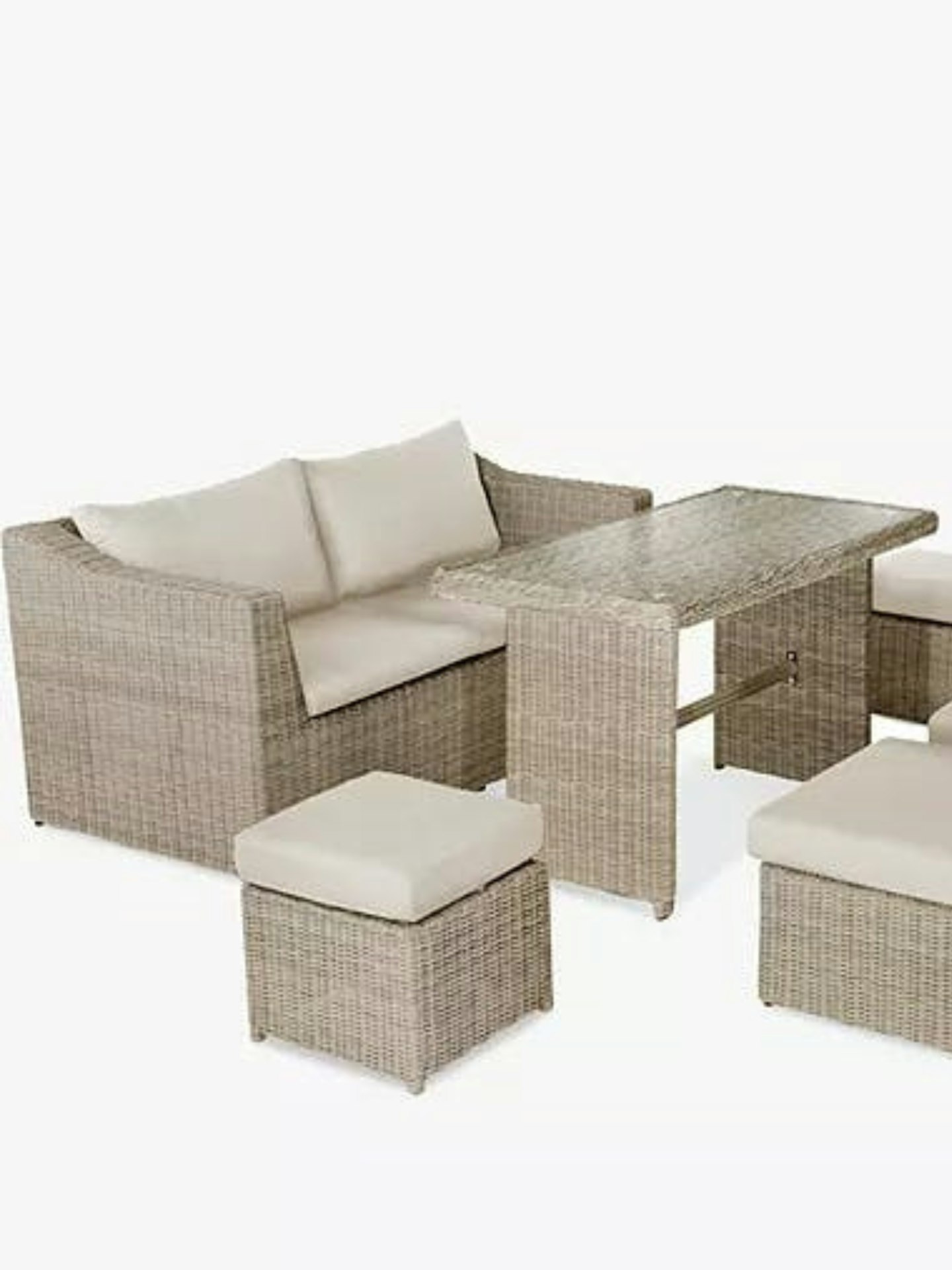 2 of 11
KETTLER Palma 6-Seat Compact Garden Dining Table & Chairs Set, Oyster/Stone
This six-seat table and chairs set by Kettler is a great option and the oyster stone colour will bring light to your outdoor space. A versatile set, it means you can move it around to suit your space especially if your garden is on the smaller side.
Set includes: Two-seater sofa, two individual chairs, two stools and table
Material: Powder-coated aluminium frames, synthetic weave, polyester cushions, glass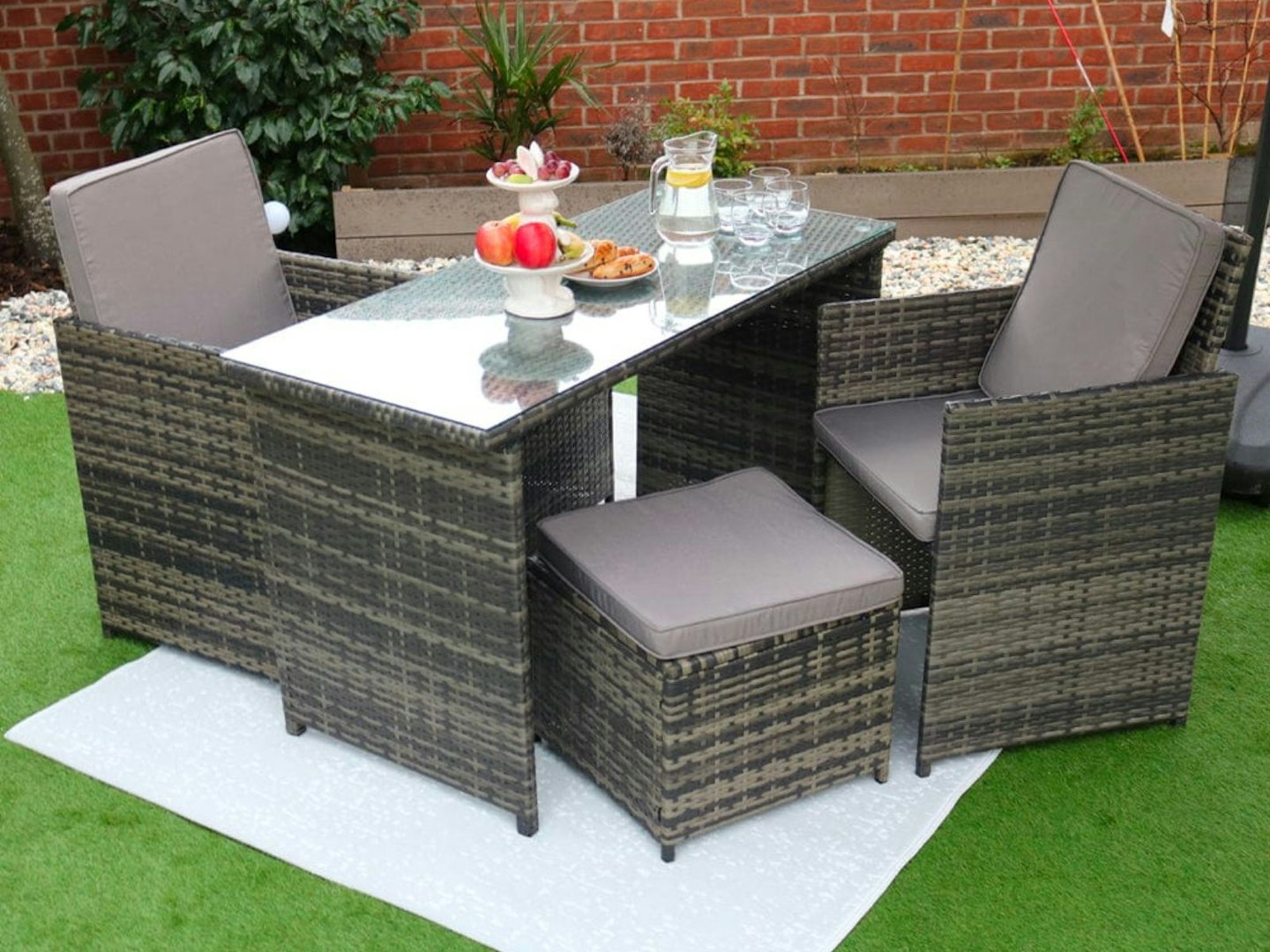 3 of 11
Furniture Maxi Eton 4 Seater Rattan Garden Cube Armchair with Bar Dining Table Set
Easily set up and compact with two stools that fit securely under the chairs, this Furniture Maxi rattan table set is one for smaller gardens but those who still want room to host.
Set includes: 2x armchairs, 2x footstools, dining table, seat cushions
Material: Polyester, tempered glass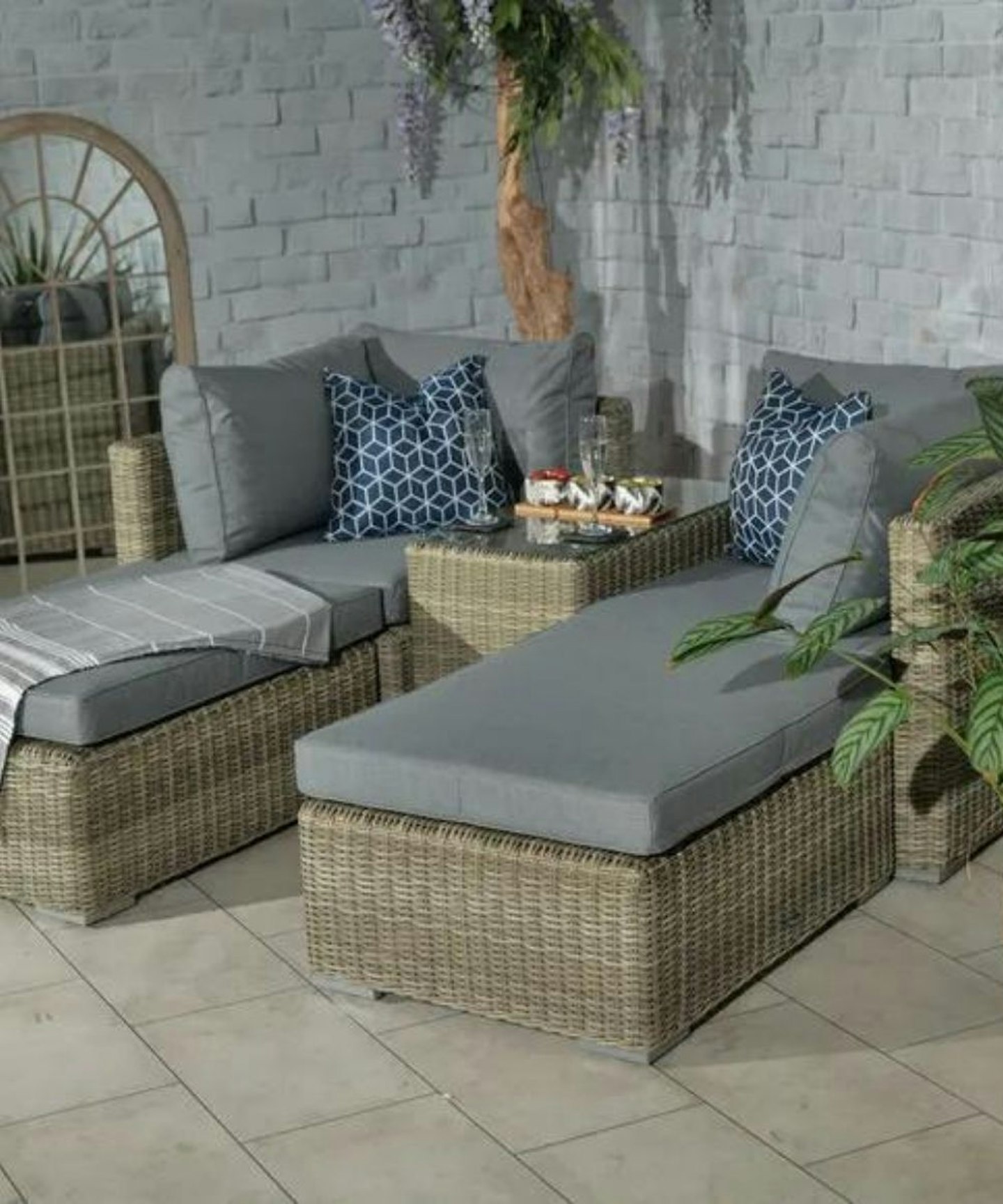 4 of 11
Wentworth Four Seater Multi Setting Relaxer Set
This Wentworth four-seater relaxer set is perfect for any garden. With a modern and contemporary design, you can arrange the set to your preference as there are multiple furniture combinations to choose from.
Set includes: Two corner chairs, two footstools and one side/coffee table.
Material: Aluminium, rattan.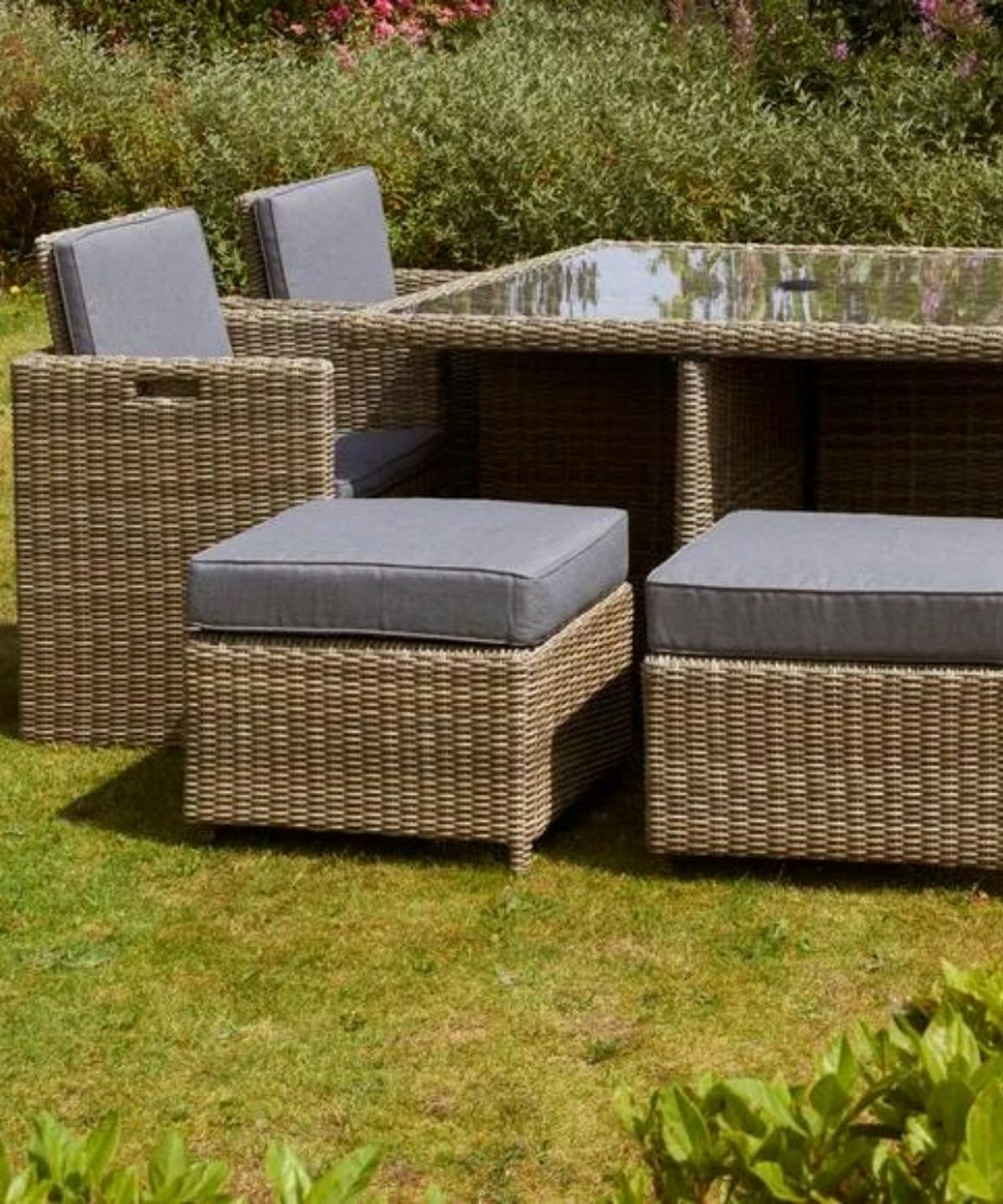 5 of 11
Wentworth Eight Seater Cube Set
Perfect for garden parties and events, this dining set with a modern and contemporary design is perfect for your garden. Featuring tempered safety glass, the chairs and footstools in this cube set can be stored away compactly under the table.
Set includes: One table, four chairs with footstools.
Material: Rattan, glass and weather shield removable cushions.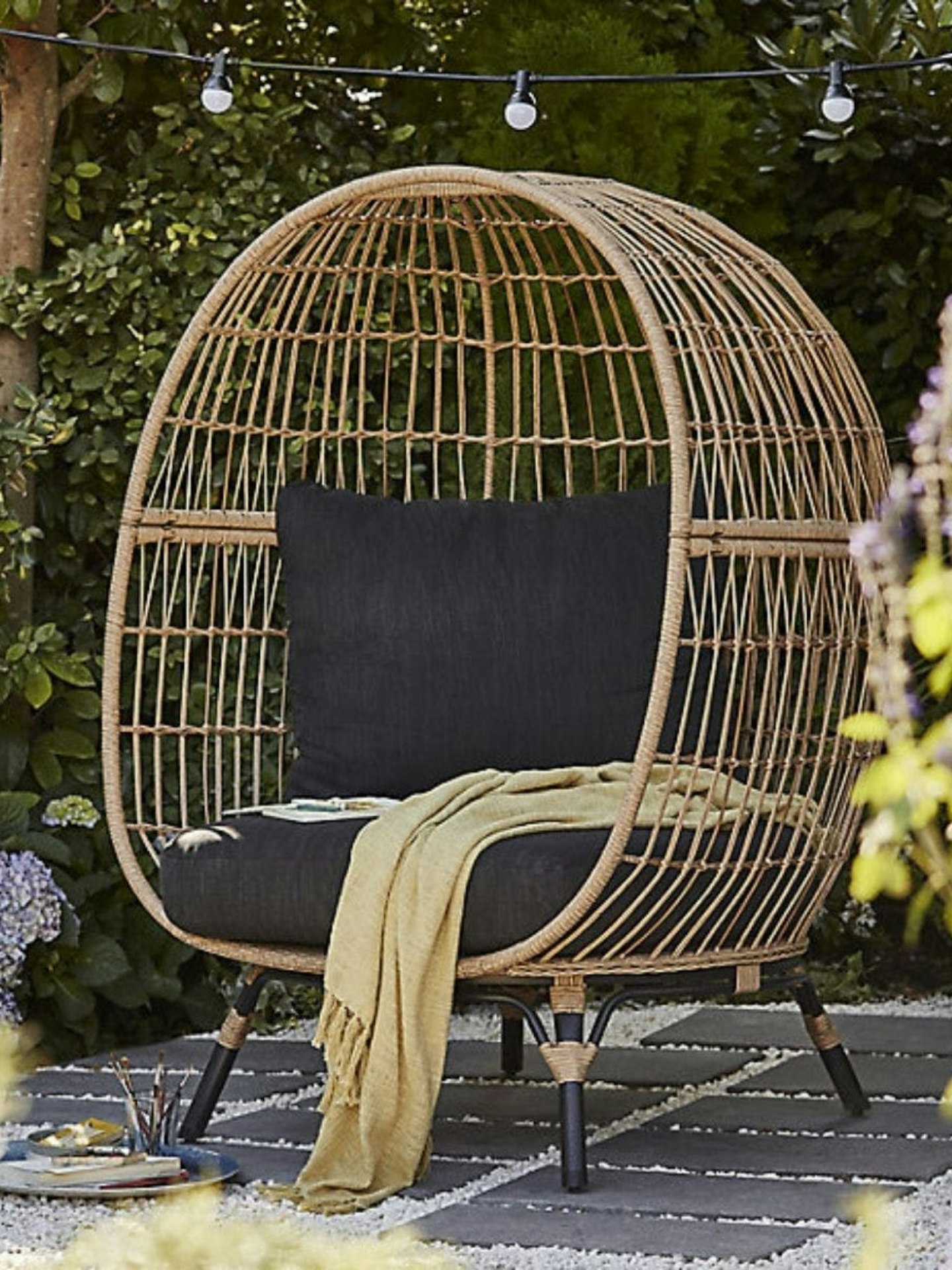 6 of 11
GoodHome Apolima Brown Rattan Effect Egg Chair
The round lines and shape of this Apolima egg chair make it a cosy addition to any outdoor sanctuary, perfect for relaxing in the sunshine. It adds a contemporary style to any outdoor space, with subtle shades to match a multitude of garden themes.
Set includes: One egg chair.
Material: Steel and rattan.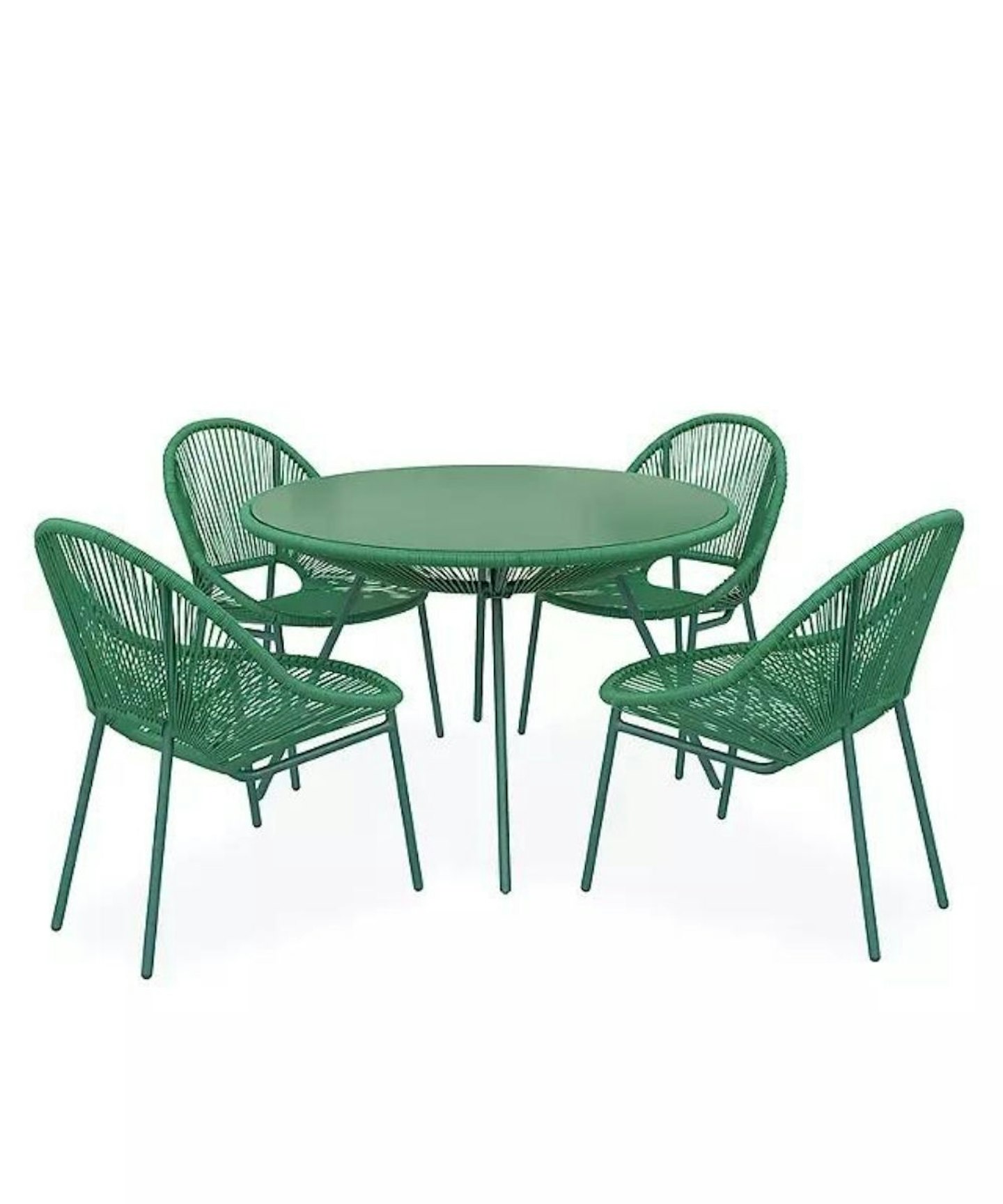 7 of 11
John Lewis & Partners Salsa Four-Seater Round Garden Dining Table & Chairs Set
Bringing bold colours to outdoor spaces, the John Lewis Salsa range of garden furniture features an updated colourful rattan design. This Salsa four-seater dining table is perfect for livening up garden patios or conservatories. Thanks to its steel and polyweave construction, it's both durable and weather-resistant, so you can even leave it outside throughout the year.
Set includes: Four chairs and matching dining table.
Material: Steel frame, rattan weave.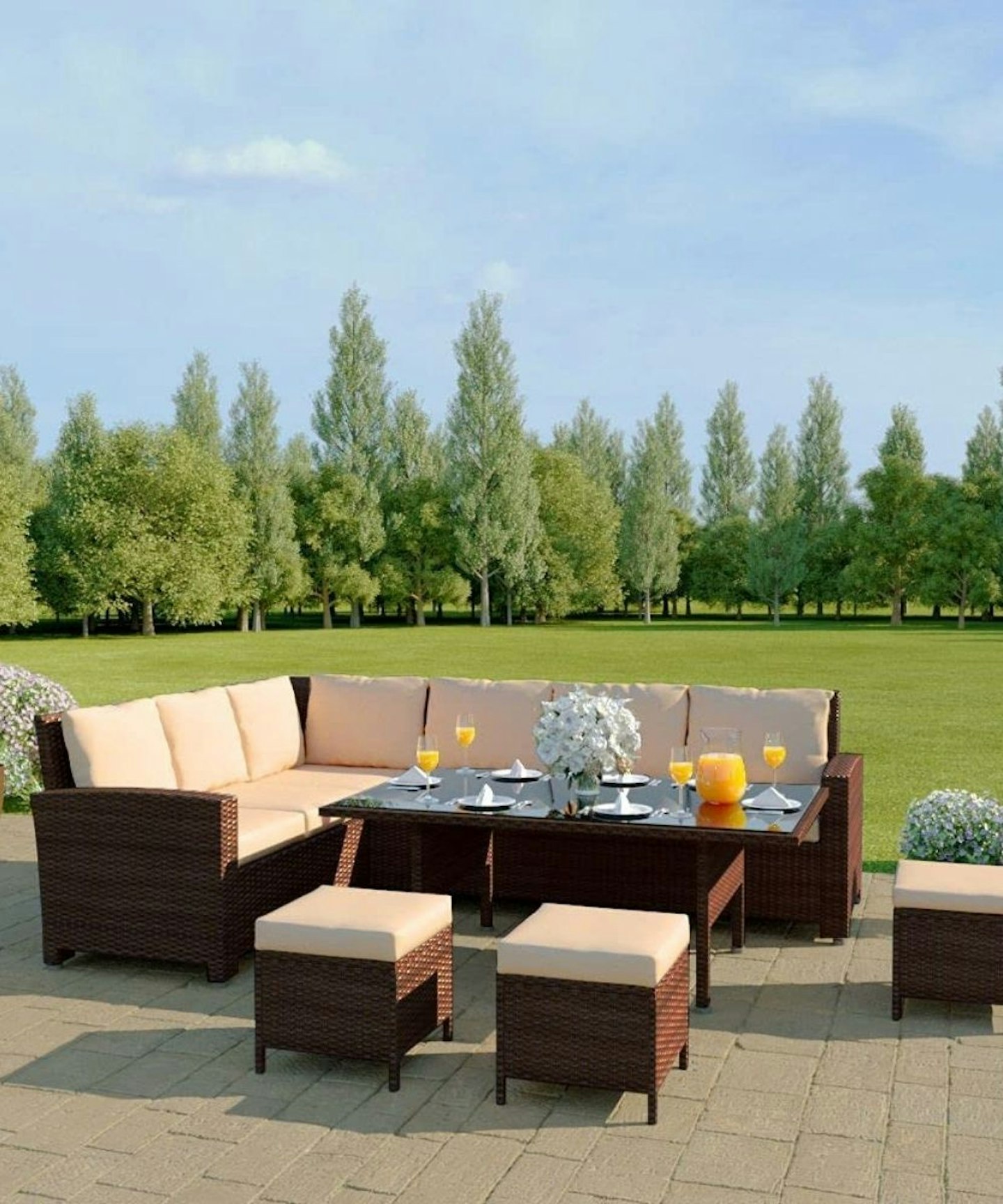 8 of 11
Abreo Rattan Dining Set
If you've got a large family or lots of friends you're looking forward to dining in the sunshine, this set will give you all the space to sit with room for nine. With a stunning high gloss tabletop, there's room to tuck your legs beneath and washable cushions will keep you comfy all day long.
Set includes: Three ottoman seats, a dining table and two sofas.
Material: High-quality PE rattan with high gloss glass on the dining table.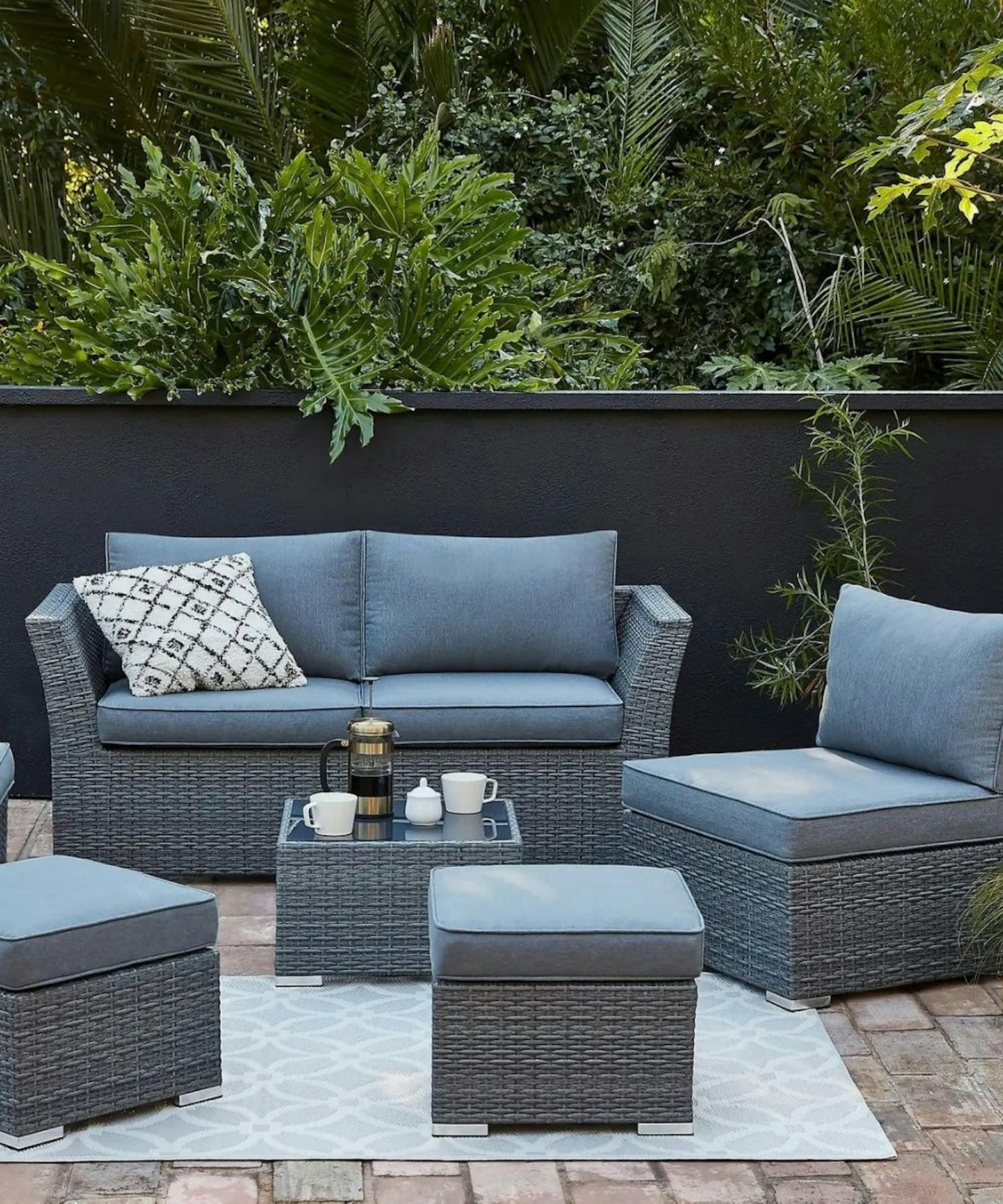 9 of 11
Bambrick Six Seater Grey Garden Sofa Set
This contemporary set will add a touch of style to a larger garden. Designed in a gorgeous grey rattan, this garden set features six areas of seating for all your outdoor hosting needs. The cushions are removable so you can keep your set safe from the elements.
Set includes: One sofa, one coffee table, two padded stools, two chairs.
Material: Steel frame and synthetic rattan.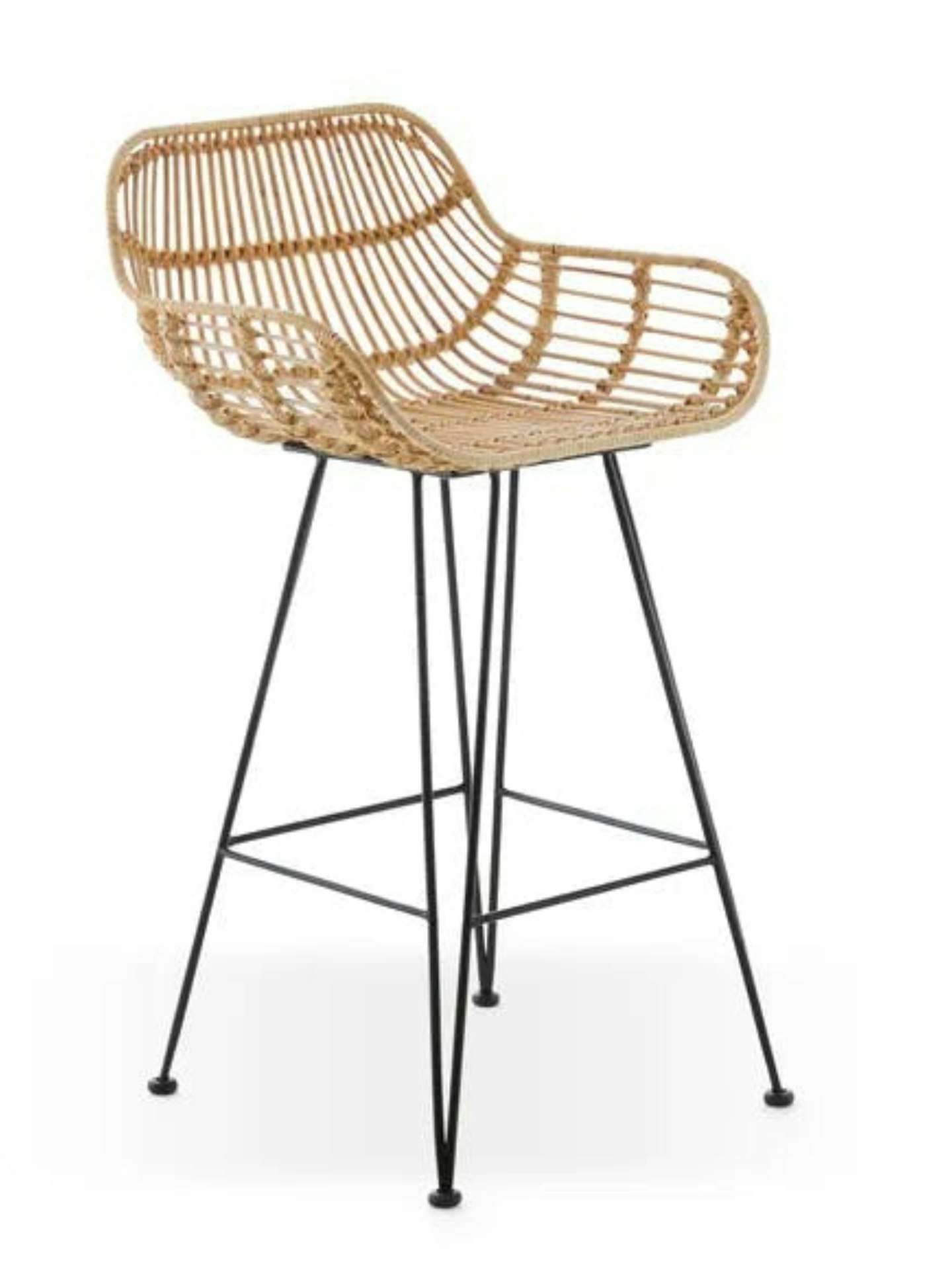 10 of 11
Nirvana Rattan Bar Stool
Add a stylish and contemporary touch to your home with the Nirvana Rattan Bar Stool, beautifully hand crafted from natural rattan with a choice of natural and black finishes.
Material: Rattan, Metal
Review: "The perfect height and size, fits a standard square cushion. The epitome of that elusive scandi style!"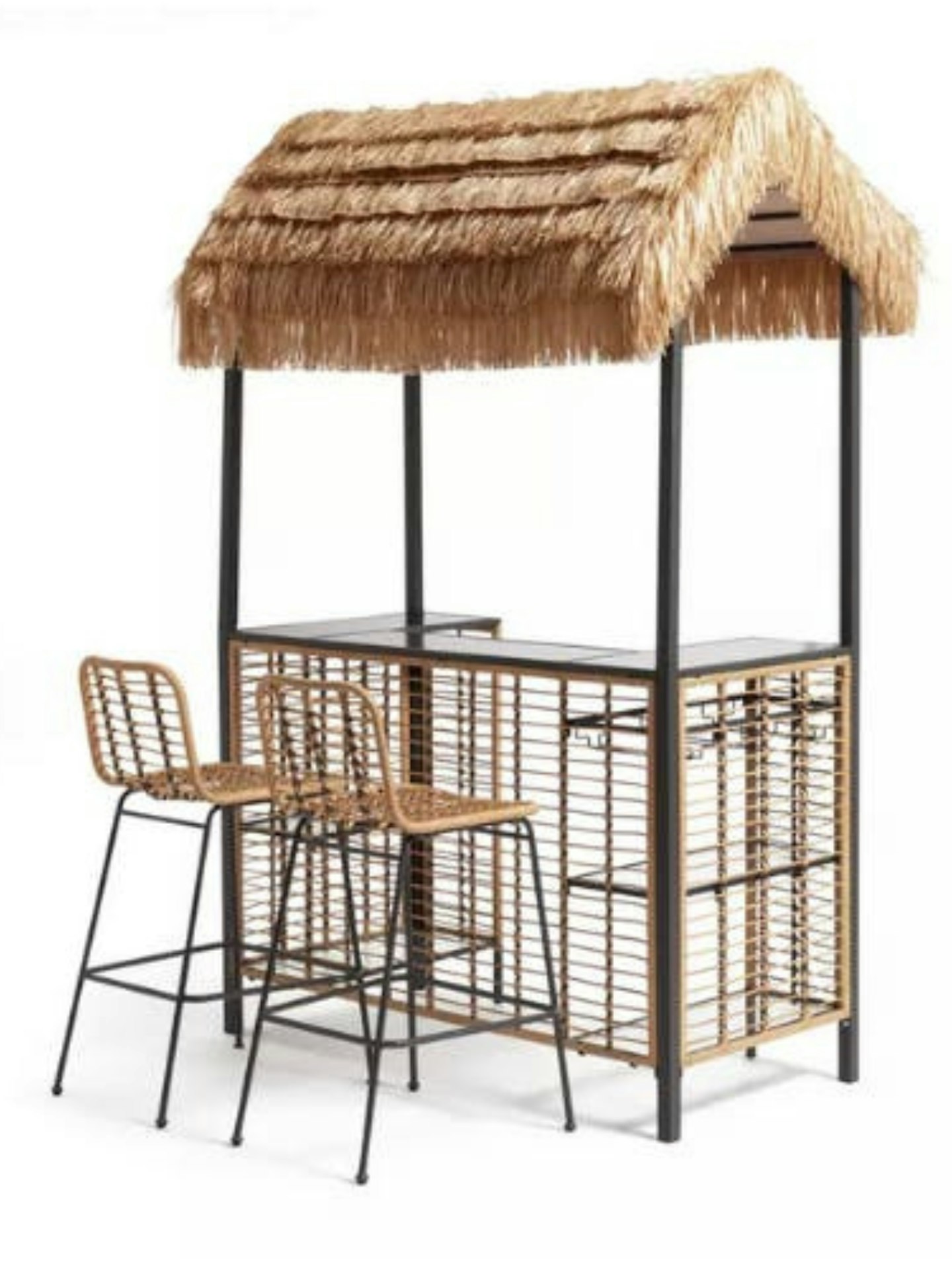 11 of 11
Habitat Beach Bar Gazebo with Stools
This rattan garden beach bar is perfect for bringing tropical holiday vibes into your backyard to party with family and friends. Serving us all the summer inspiration, you can perch at the bar with a Pina Colada in hand, or enjoy another drink from the available storage space.
Set includes: Two bar stools, steel straw roof garden bar and glass tabletop
Material: Rattan chairs with steel garden bar and glass tabletop
How to care for rattan garden furniture
There are two main types of rattan, the natural wooden cane of the polyethylene blend known as polyrattan.
Polyrattan is best for longevity – it's waterproof, UV-resistant (it won't fade in the sun) and rust-resistant, making it a great alternative to wooden or metal garden furniture. It can stay outside come rain or shine.
The natural wooden rattan is great for outdoor use too, however, you'll need to make sure it's covered and/or stored inside when wetter weather is forecast. This'll help keep it dry and make sure it remains as durable as possible.
Do I need a cover for my rattan furniture?
While polyrattan is designed to stand the elements, it is advisable to still use a cover over your rattan furniture to keep it in tip-top condition and stop your furniture from attracting mould or mildew in the winter months.
Where possible, natural rattan should be taken indoors in the wet seasons or stored under a shelter and covered to help it last as long as possible.
Before buying, make sure to make note of your furniture measurements so your cover will fit perfectly!