This year, yoga and wellness retreats are coming back in a big way – fitting because we all need more relaxation and restoration anyway. From somewhere tranquil and quiet where you can collect your thoughts and book in for the odd facial, to the sort of place where you can submit yourself to a personal trainer who's likely to scream 'burpies!' at you for an hour while you sweat your socks off pool-side, there are a countless luxurious destinations to choose from.
We have hunted down the best fitness and detox retreats around the world alongside a selection of top picks from The Spa Spy's Lisa Stokes and Amanda Byram.
Mauna Lani Auberge Resorts, Hawaii
Peace of mind is the ultimate form of wellness and at Mauna Lani, it's practically part of the furniture. Placed in the center of five major volcanoes on Hawaii's Big Island, the remarkable five-star Auberge Resort is exactly what you'd imagine paradise to be — and then some. Built on what was once a sacred land to Hawaiian kings, known locally as 'Kalahuipua'a', the resort goes beyond your standard dose of sun, sea and sand. Reopened in 2021 following a swanky £160 million refurb, Mauna Lani (meaning heavenly mountain) is a self-care sanctuary. Here's why…
The lowdown
There's something special in the air when I arrive at Mauna Lani: something beyond the breathtaking backdrop of volcanoes touching the clouds. It's mana, a spiritual energy defined by ancient Hawaiians as a healing power that exists in places and objects. It's the kind of feeling that immediately makes you drop your shoulders.
I was greeted by staff with a warm 'Aloha' and a cold pressed juice in the resort's lobby – an immaculately designed open-air space in calming earth tones. Mauna Lani's carefully curated interiors have thematic nods to Polynesian traditions with a modern twist, like displays of Hawaiian artifacts and a series of murals by local contemporary artists placed beside chic furniture.
The rooms follow a similar design style, with minimalist modern neutrals, wooden finishes and crisp white linen bedding. The main attraction? A large balcony with clear views of the beach and the resort's main pool. All the rooms come with this, giving guests a front row seat to sunset and sunrise.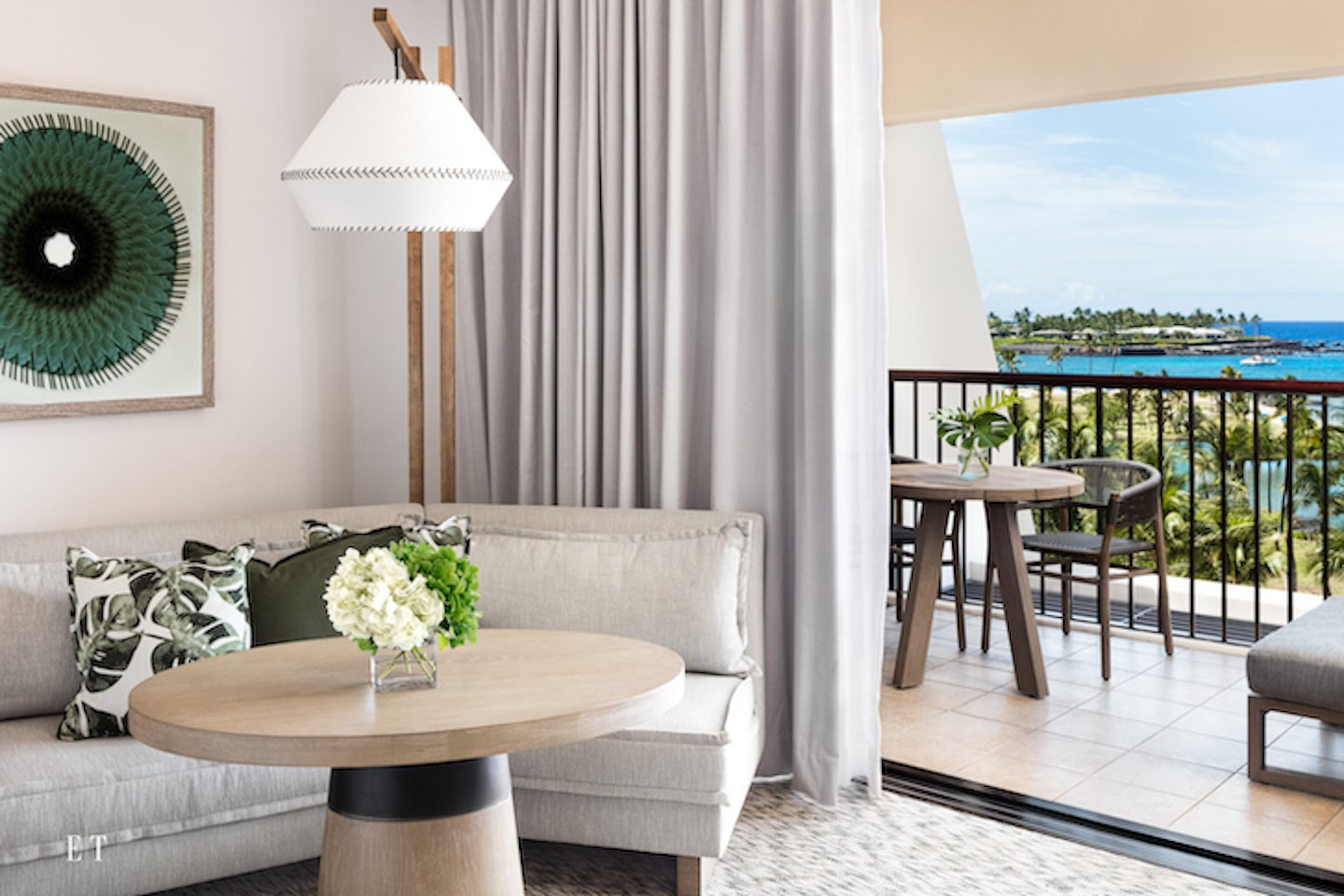 On some days, I enjoyed the latter from the comfort of my bed, placed to face the balcony's view of the Kohala Coast, though most mornings here are spent at sea. The hotel offers a meditative sunrise canoe experience that acts as the ultimate mindfulness practice. Before entering the water, an instructor from the hotel's Surf Shack gives me a lesson in Hawaiian etiquette as we pay our respects to the ocean and ask for permission to enter through a special ritual. The sun slowly rises as we set off into the sea, bringing with it a soothing sense of peace - if perspective and gratitude is the aim of your wellness trip, this is where you'll get it.
Surf lessons, yoga sessions, Ebike tours and waterfall hikes are also offered at the resort, which comes complete with a fully furnished gym, a tennis court and an Auberge spa offering bespoke treatments with local Hawaiian oils and flowers – not to mention a giant on-site Goop store catering to all your wellness needs: the spa also offers a rejuvenating Goop facial that I can confirm, leaves you with a Gwyneth level glow.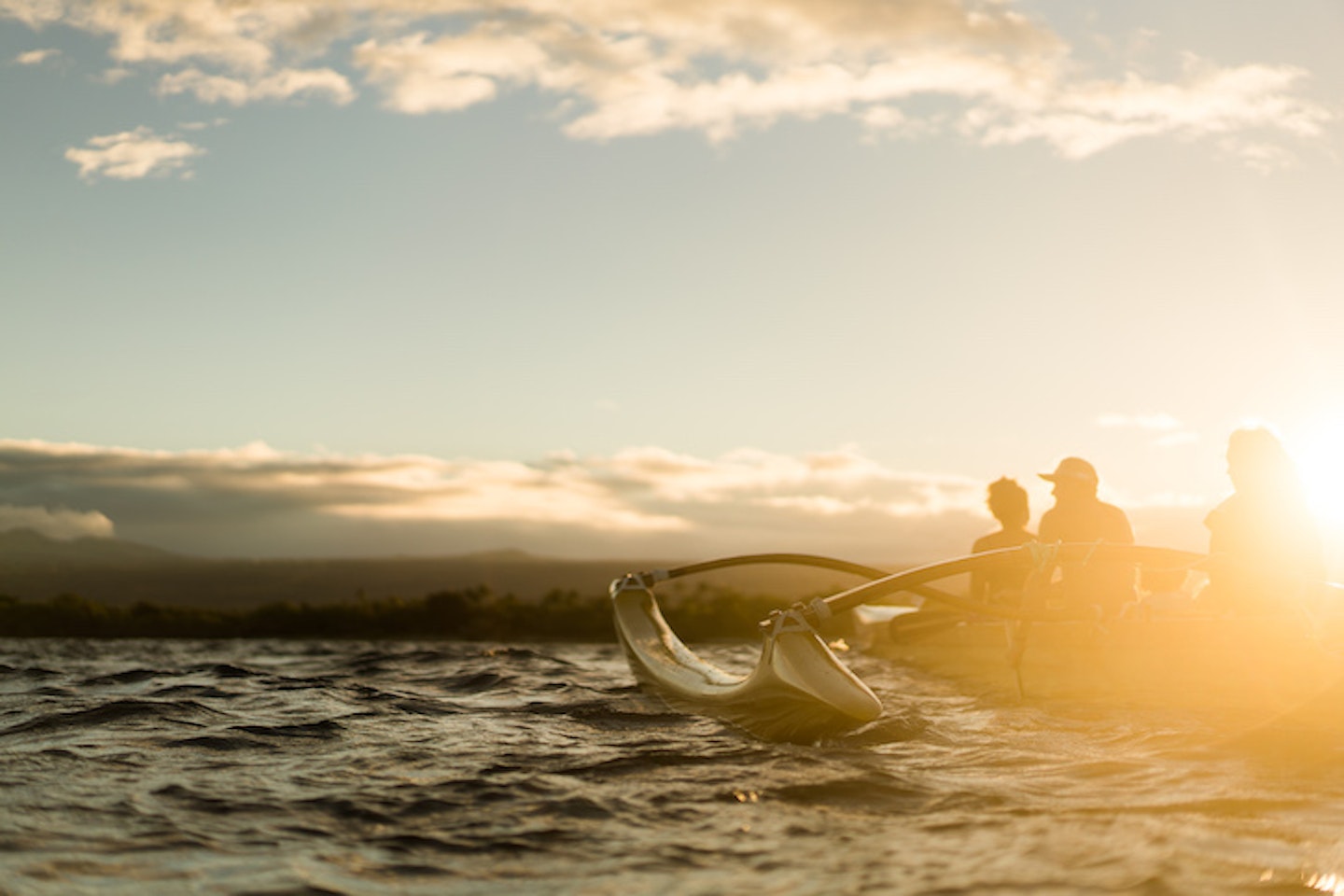 For casual dining, the resort's main restaurant Ha Lani is where you can indulge in an impressive breakfast spread, with the option of an A La Carte menu too (don't leave without trying the Ube pancakes), a laid-back lunch, dinner or chilled evening drinks overlooking one of the hotel's three pools. Hawaiian classics like poke bowls are also served throughout the day at The Surf Shack. Then there's the show-stopping Canoe House – the resort's oceanfront fine-dining option famed for its months-long wait list and celebrity regulars. Specialising in spectacular Japanese-inspired cuisine, the tasting menu – paired with wines handpicked by an in-house sommelier for each dish – makes the restaurant live up to its hype: I still dream of the Shokupan pull-apart bread!
Best known for…
Luxury aside, what really makes Mauna Lani stand out is the way in which it places Hawaiian culture and heritage at its forefront, much of which is thanks to Uncle Danny – the resort's resident tour guide. Danny Akaka Jr has been at Mauna Lani for 40 years and acts as Kahu Hanai, a knowledge keeper and excellent storyteller, teaching guests about Hawaiian history and folklore while leading cultural tours across the 32-acre site. Once a month, he hosts special twilight storytelling sessions, where guests and locals on the Big Island gather to hear Uncle Danny and his guests recite folk tales as the sun sets across the coast.
Ultimately, what makes this place so special is the deep connection Hawaiians have towards their land and the mindfulness teachings that come with those values. Mauna Lani gives you a taste of this, with a side of dreamy views, healing nature and pamper at its finest.
Mauna Lani, Auberge Resorts Collection.Ocean View Rooms start at $799 per night.
Heritage Le Telfair, Mauritius
There are few places I've travelled that feel as authentically idyllic as Mauritius. Even 18 months on from my experience at Heritage Le Telfair Golf & Wellness Resort – interrupted by the global pandemic that kept the resort from hosting their annual Wellness Festival – I can still remember the immediate calm that set upon me just travelling from the airport to hotel.
The lowdown:
Mauritius is predicted to be among the first destinations to recover post Covid as long-haul travel resumes, notably because it's incredible beaches, lagoons and reefs. Travelling there via Air Mauritius, the first-class experience is like none-other. And now, it gets even better. From October 2021 the hotel group Heritage Resorts will offset the CO2 emissions from all hotel stays through the purchase of carbon credits with the Aera Group, an environmental commodity trader, and through local carbon offset projects including the construction of a photovoltaic farm.
It's an extra reason to stay with Heritage Resorts when you arrive, not that you needed another with the incredible amenities the hotel provides. When I arrived at Heritage Le Telfair, the sound of the Indian Ocean the hotel is built on was music to my ears. From your room, you can choose a sea or garden view – both as bliss as each other. My deluxe suite – which features a King-sized bed, spacious lounge and luxurious bathroom, happened to have a sea view, but not before passing by the incredible pool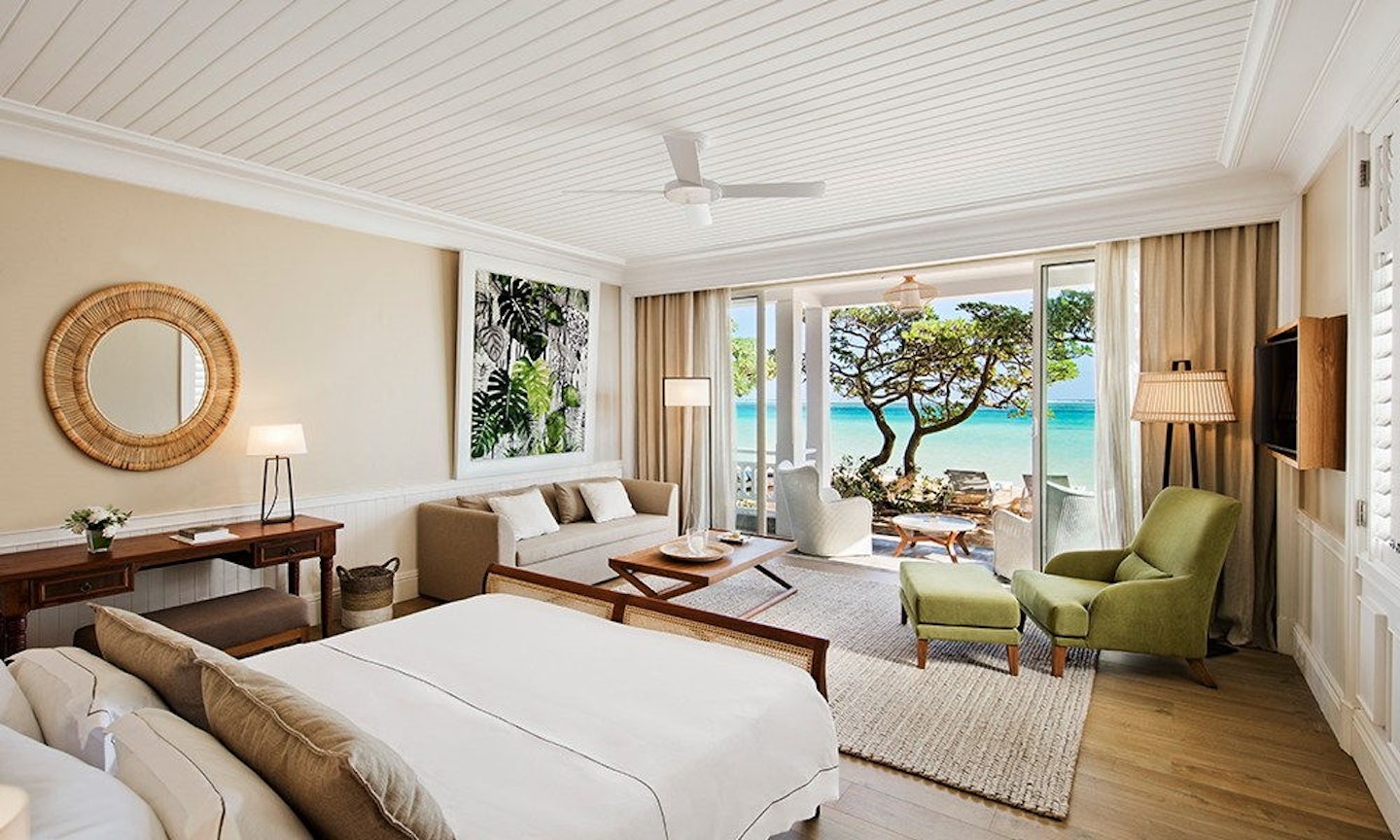 Best known for... limitless luxury experiences
When it comes to wellness, there's nothing like Heritage Le Telfair. During my stay, I was lucky enough to experience two spa treatments – both of which my body melted into existence during – as well as sunset Hatha Yoga with their resident Yogi, Rama. The view of the vast landscape, which features an idyllic golf course, was the perfect setting for yoga: grounding, peaceful, healing.
The following day, my group was taken to the Biosphere Nature Reserve (UNESCO) for 'forest bathing'. I'll admit, I chuckled at first – had I suddenly become a Gwynethite, Gooping my way through life one tree shower at a time? But actually, forest bathing is just about taking in nature. Walking through the woods, you are encouraged to fully experience the sights, sounds and senses such incredible natural environments have to offer – and it is strangely healing. With so much of our lives consumed by tech, living in cities caved in concrete, it was a rare reminder of how beautiful our planet is.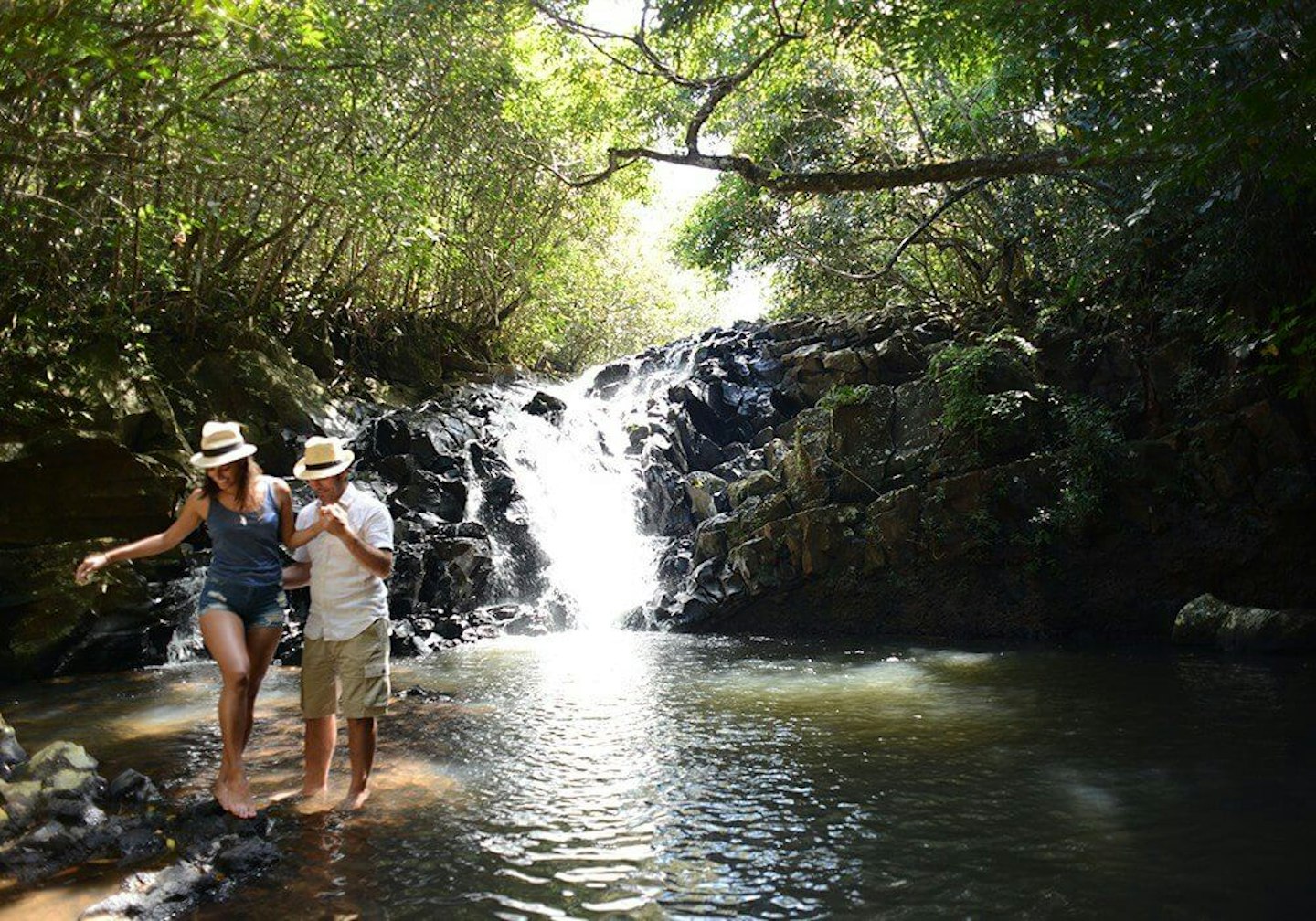 One highlight of the trip for me was trying out Tai-Chi, during which our lovely instructor told me I in fact have 'loads of Chi'. Did I not tell you I was Gwyneth Paltrow's kin? I mean, after that, I must be. But seriously, much like yoga, Tai-Chi was both strengthening and grounding, a practice in centering yourself and calming your mind – ultimately, to harvest your energy into self-defence, but we didn't quite get to the fighting part.
But the best part of visiting Mauritius had to be climbing Le Morne, a peninsula with a 556-meter summit, where we had panoramic views of the most beautiful blue sea I've ever witnessed. There, our host Ranvin took us through some breathing and mindfulness exercises – you'll be surprised how bad we all are at breathing properly – and among yet another idyllic location, I found myself completely immersed in how calming all of these wellness exercises really are.
I'm no sceptic, I appreciate the art of yoga and meditation, but I certainly didn't expect to feel as unburdened and stress-free as I did during my stay at Heritage Le Telfair. Perhaps it was also the delicious dining experiences, of which Le Telfair houses four incredible restaurants. In fact, scratch 'perhaps', I know for a fact the Mauritian bread I ate every day did wonders for my mind, body and soul. Other must-see experiences include an excursion to the Chamarel Seven Coloured Earth Geopark, Waterfall and nearby, rum tasting.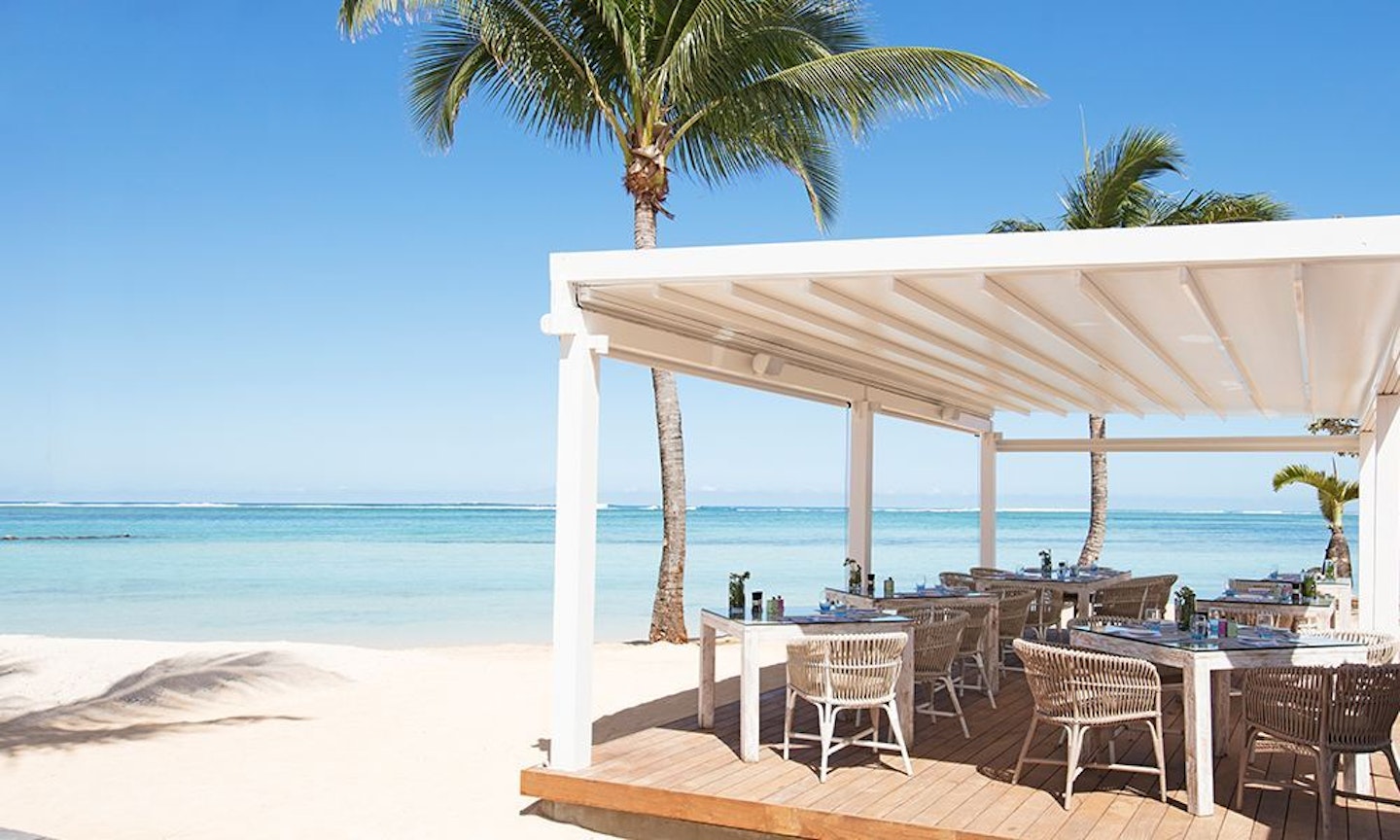 Ultimately, I left Heritage Le Telfair understanding why the wellness industry has boomed so much in the last decade. Far from a fad, my trip to Mauritius proved that wellness retreats can help you revisit parts of yourself we so often lose in work, family stress and social obligations. And guys, this was pre-pandemic… after the 18-months we've all had, there is no time to treat yourself to a trip to one of the words best wellness resorts like now.
Air Mauritius offer return direct flights from London Heathrow to Mauritius from £567.00. Air Mauritius is currently operating a once-a-week service direct from Heathrow on Sundays throughout the winter. Using the latest state-of-the-art aircraft, the A330-900 Neo offers unprecedented levels of comfort. Your holiday starts the minute you step onboard with Air Mauritius. Sit back and enjoy a film, drink and some Mauritian Hospitality where you will arrive in great shape to enjoy your holiday in Paradise.
Deluxe Suite at Heritage Le Telfair start from £275.00 per night including breakfast, based on two adults sharing a room. Price based on January 2022 travel. For reservations, please email: resa@heritageresorts.mu or visit www.heritageresorts.mu
La Reserve, Ramatuelle, France
The Low Down:
Perched on a cliff overlooking the Mediterranean Sea – set among rolling vineyards and pine forests near the picturesque village of Ramatuelle – La Reserve is a secluded haven of calm on the French Riviera. Sleek interiors, a state of the art spa and a Michelin-starred restaurant create a super-chic contemporary retreat. A favourite escape for the French elite - Karl Lagerfield was a regular. Wellbeing and relaxation outweighs the glamour and the vibe is positively horizontal.
Best Known For: Ultimate Luxury
Tried and Tested: The Nescens Bootcamp begins with a consultation and check-up covering everything from eating habits and nutrition to physical strength and joint health. A bespoke exercise regime and diet prescription is followed by a chat with celebrated chef Eric Canino to discuss any food allergies or preferences. He's clearly passionate about the Mediterranean diet and the local, healthy ingredients to hand. They're anti-detox here and although all the bootcamp menus are prepared without the use of dairy and refined sugar, they're all three course options so you definitely won't go hungry. Outdoor fitness is encouraged by the personal trainers - activities include cycling, aqua cycling, swimming, Nordic walking and - my favourite - coastal group hikes along the stunning nearby cliffs. Busy days begin with jet showers and muscular awakening sessions and wind down with relaxing treatments such as Balneotherapy, aromatic wraps and body massages and facials. A gentle and effective bootcamp, in luxurious sun-drenched surroundings.
Other programmes include The Nescens Better-Ageing Exclusive Experience - a complete synergy between spa treatments, physical activity and healthy balanced meals. Spa facilities include indoor and outdoor pools, gym, aroma steam room, sauna, hydrotherapy baths.
You can experience Nescens bootcamp for either three or five days, from £1300.
Monarch, the scheduled leisure airline, operates year round flights to Nice from Birmingham, London Gatwick, London Luton, Leeds Bradford and Manchester airports with fares, including taxes, starting from £29.99 one way (£59.98 return) For further information or to book please visit**** www.monarch.co.uk
Santa Marina, A Luxury Collection Resort, Mykonos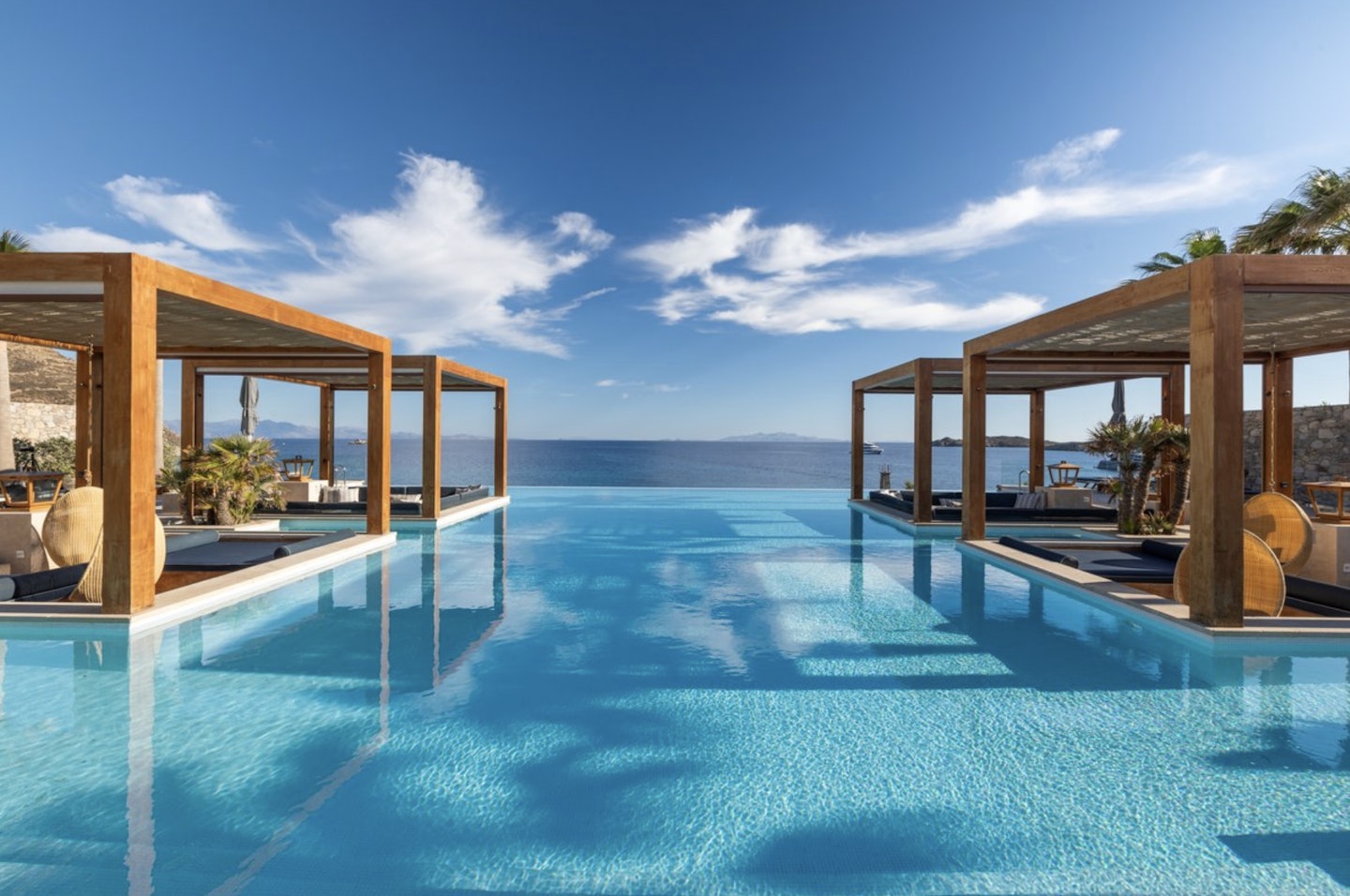 The lowdown:
Santa Marina manages to pull together all the best parts of that coveted Mykonos bubble and maintain an air of serenity - no mean feat. Just 10 minutes from the airport and bustling town, Santa Marina boasts the only private sandy beach on the island, the famed Buddha Bar Beach and a Michelin-starred restaurant - Mykonos Social, Jason Atherton's first restaurant in the Mediterranean. Views from the Mykonos Social veranda invariably feature yachts of the glitterati - it's even rumoured that Kendall Jenner's famous jet ski TikTok was filmed on the Santa Marina jetty.
Best known for... A-list-level pampering
Santa Marina's Ginko Spa serves up the perfect sanctuary for guests looking to rest, relax and refresh while in the Cyclades. It's a luxuriously spacious section of the resort that features five treatment rooms and that includes a couples' suite, a traditional Hammam sauna and a dedicated relaxation area. The cherry on top of this already pretty fabulous cake? Last year Santa Marina announced their partnership with 111Skin and opened the new 111Skin Spa Clinic, that many are hailing the island's most exclusive wellness concept.
If you're not in the know, 111Skin is a beauty brand beloved by the likes of Victoria Beckham - who regularly posts selfies wearing their iconic sheet masks to her Instagram grid -, Margot Robbie, Sienna Miller, Jennifer Aniston and Priyanka Chopra Jonas to name just a few. Founded by leading cosmetic surgeon Dr. Yannis Alexandrides and brand visionary Eva Alexandrides, 111Skin is famed for its ability to bring that in-clinic experience home. When it comes to the 111Skin Spa Clinic at Santa Marina, though, the focus is on providing the sort of treatments you'd normally associate with Harley Street, in a relaxing luxury destination environment.
'Our hotel guests are seeking ways to explore wellness with a renewed sense of luxury,' says Christiana Papageorgiou, owner of Santa Marina, Mykonos, 'we are thrilled to extend our experience with 111Skin, who share our passion.'
The spa treatment menu includes a must-try Rose Quartz Restorative Facial, during which your therapist uses rose quartz crystals alongside 111Skin's Rose Gold Brightening Facial Treatment Mask - a Margot Robbie favourite - to restore luminosity.
For more information visit www.santamarina.gr
LT & Co. Retreats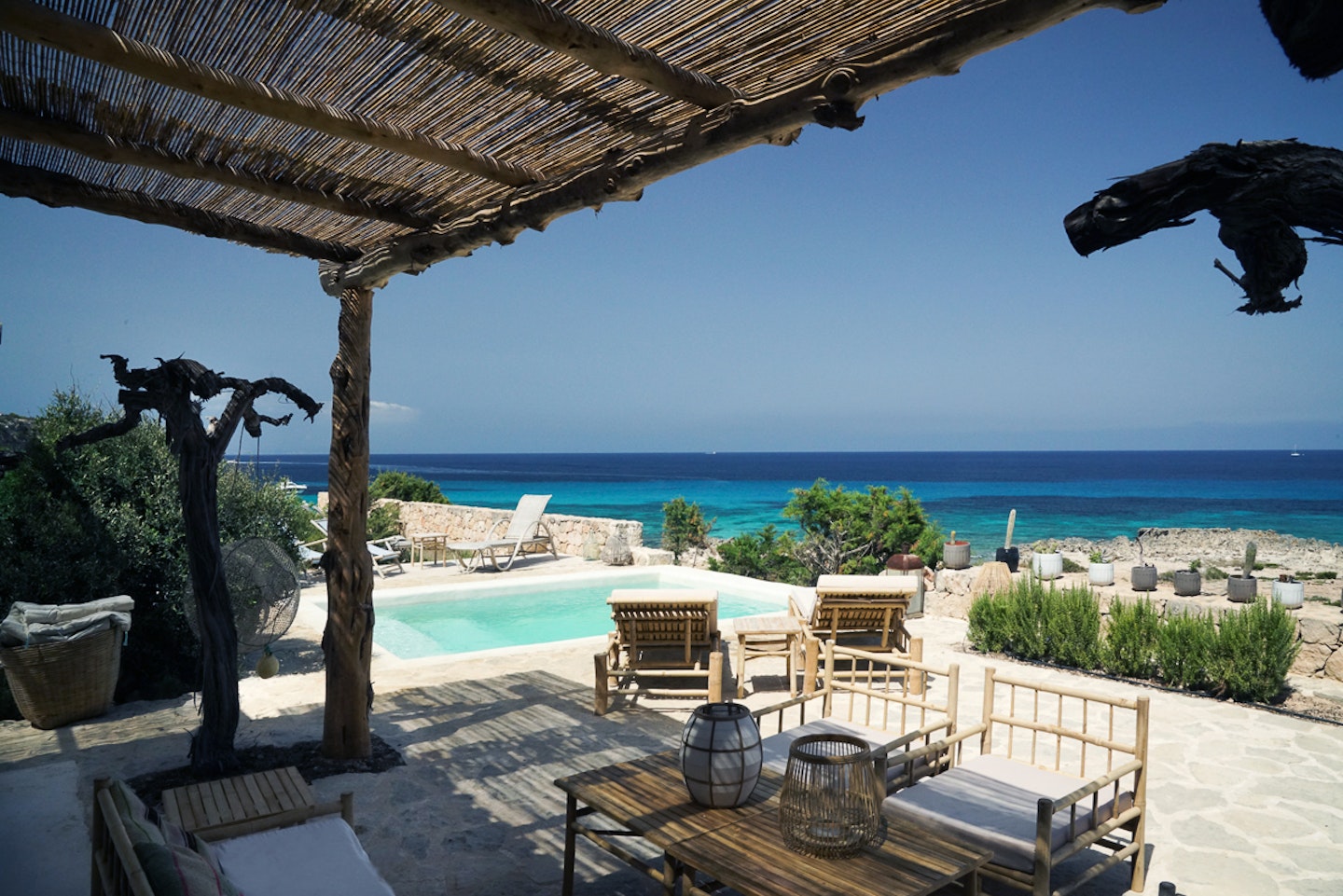 The lowdown:
Lizi is a Pilates teacher from London but lives and breathes the Mediterranean life, of which she brings to you through her wellness retreats. From agroturismos on the smallest of the Balearic Islands, to Mallorcan style fincas across Spain, to Moroccan riads, each location is handpicked, surrounded by nature, with inspiring interiors and its own story to explore.
The brand's most recent retreat, a wild paradise in Formentera, was especially for those looking to reconnect. Hosted at Etosoto, an eco-friendly aguroturismo situated on the beach front, you can always expect mindful movement at the heart of LT & Co. retreats. Pilates with Lizi, wild island hikes, meditation, in house facials and wellness workshops are just some of the activities that create a unique LT & Co. experience.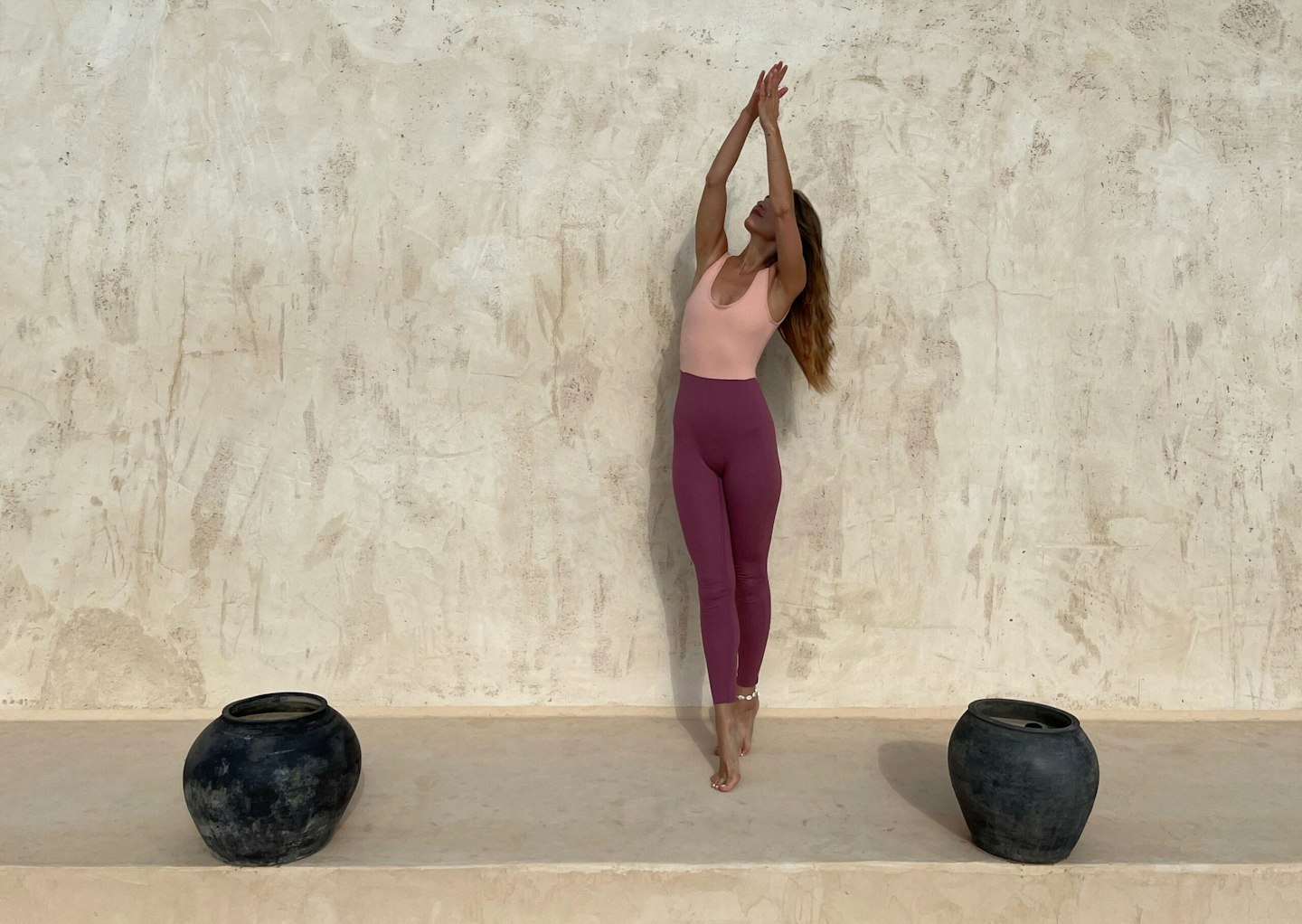 Best known for... eco-friendly retreats and pilates
Each retreat offers a mindfully-curated program, including daily movement of dynamic and classical Pilates with Lizi, along with yoga and meditation by our handpicked teachers, tailored workshops and masterclasses, suitable for all levels including optional spa treatments.
LT & Co. work with a variety of plant based and vegetarian chefs, offering a farm - to - table experience, using local, seasonal produce bringing you the taste of the Mediterranean.
Expect world-class teachers and wellness experts. Explore nature and wellness in a way you can connect and find selfcare on every step of your journey – which means avoiding screens throughout to deepen your focus to connect within. Bliss.
For more information visit https://ltmovement.com/ or follow @lt.and.co on Instagram
Hotel Tannenhof, St Anton am Arlberg, Austria

The lowdown:
Overlooking the powdery white slopes and picturesque village and ski resort ofSt Anton am Arlberg, Hotel Tannenhof is a chalet style boutique hotel and brand new state of the art spa with just seven uber-luxe suites – think muted tone linens, sumptuous rich silks, roaring log fires, multi-jet wet rooms, and balconies with panoramic mountain views. Alpine retreat feels like an opulent private residence and manager Judith welcomes you like a long lost friend.
Best known for... detoxing
It's clear as soon as I meet nutritionist and spa manager Amanda to talk through my detox plan for the next few days that she really knows her stuff. Based on The Alkaline Plan, the detox focuses on a gut-cleansing diet of light fruit and vegetable juices (the fennel and lemon juice was delicious), herbal teas, green vegetables, seeds and nuts, white fish, small amounts of 'good' oils and copious amounts of fresh mountain water. As with most detox plans, full-on exercise regimes are not recommended so I opt for the inclusive yoga and morning stretch classes. The plan is complemented with a range of detox treatments such as The Algae Scrub & Body Wrap using Himalayan salt and algae to stimulate lymphatic drainage, and a Silver Quartz Hot Stone Massage. The latter is Tannenhof's signature treatment which uses stones rich in silicon dioxide and essential minerals to tone the connective tissues and de-acidify the body. Each evening after dinner, a candlelit mineral salt detox bath is prepared for you complete with relaxing music and lemon mountain water to sip. A detox delight in the Austrian Alps.
Other activities Include skiing, mountain hikes and treks, mountain biking, yoga, personal training and organised snow walks Spa facilities Include an indoor swimming pool, gym, indoor and outdoor sauna, aromatic steam, ice plunge pool, hot tub with mountain views and relaxation cafe.
A five-night detox at Hotel Tannenhof (St. Anton am Arlberg, Austria; 0043 5446 30311), in a suite, costs from £3,080 per couple. The package includes two detox experience treatments, two detox body wrap treatments, a reflexology massage, two yoga sessions, and two guided hikes (plus ski passes in the winter season).
British Airways offers flights from Gatwick to Salzburg from £131 return, including taxes and charges. For further information or to book, visit**** www.ba.com
Bodyism at D-Hotel Maris, Turkey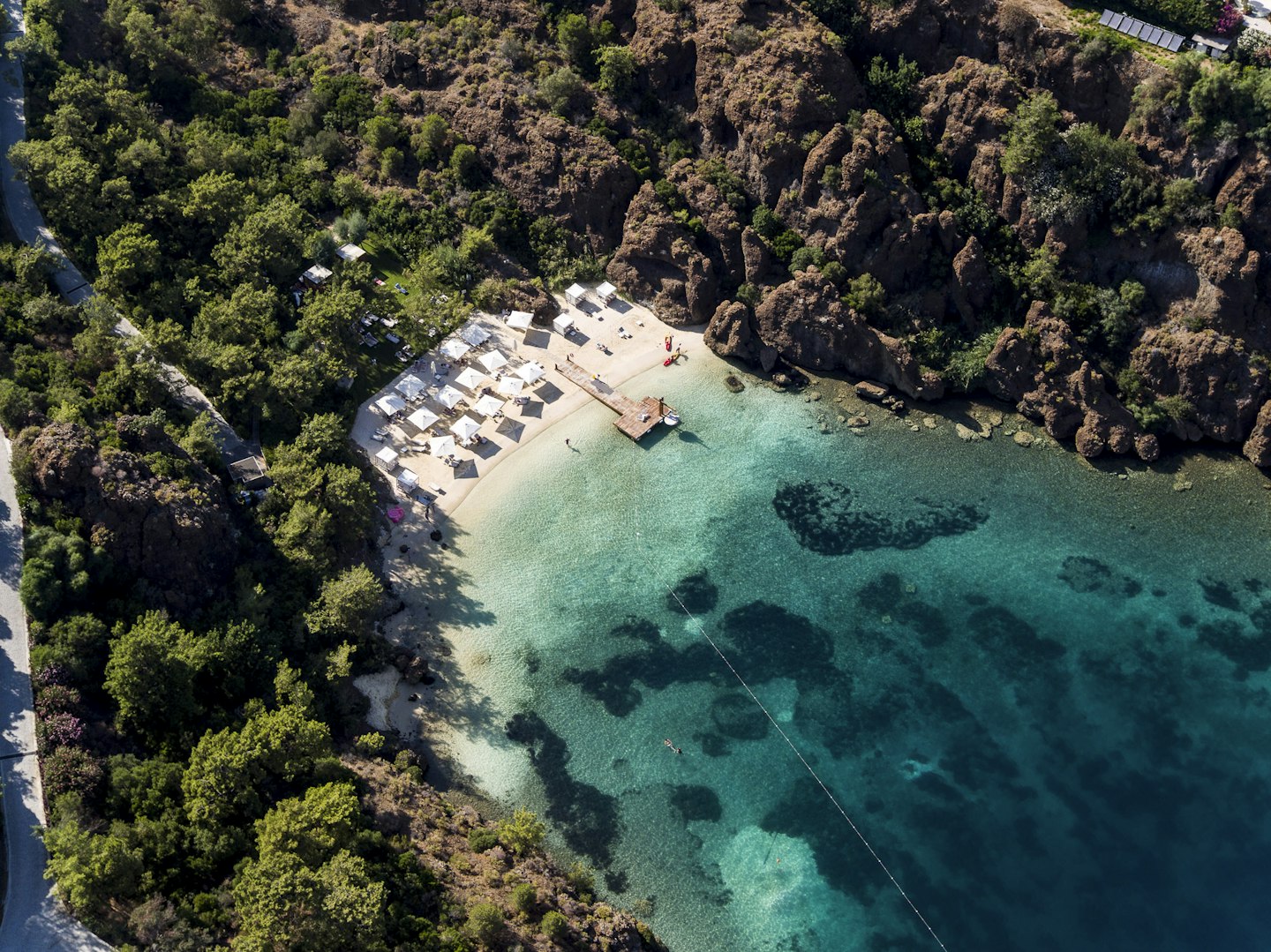 The lowdown:
High up on the hillside where the Aegean and Mediterranean Seas meet, lies the D-Maris hotel in a hidden enclave. This is where 'Clean and Lean' guru James Duigan - Elle McPherson's trainer, no less - chose to bring his famous BODYISM franchise.
D-Hotel is an exclusive resort with insane views, five different beaches, (a mere wave of the hand summons the boat to transfer you from one to the other) six amazing restaurants and water so clear you could read a book through it. The perfect spot to get fit, given that James ships his Bodyism team back and forth so you can work out while still being pampered.
Best known for... fitness combined with sheer luxury
Fitness is just as important as luxury here. The D-Gym is vast, with numerous high-tech machines. There is also an outdoor jogging path, mountain biking, beach volleyball, mini-football and basketball. Included in the packages, you will get your sessions with the Bodyism team, swim sessions and massages to make sure you don't get injured. A full diet plan can be incorporated into your programme. There are six amazing restaurants at D-Maris.
Other activities include stand up paddle boarding, kayaking, sailing and scuba diving. Spa facilities include a swimming pool, gym, vitality pool, thermal suite, steam room, ice fountain and Hammam.
The D-Hotel Maris offer a night B&B in a Deluxe Sea View room from £420 based on two sharing. For bespoke Bodyism programmes visit www.bodyism.com/d-hotel-maris-bodyism/
Monarch, the scheduled leisure airline, operates**** flights to Dalaman**** from Birmingham, London Gatwick, Leeds Bradford, Manchester and London Luton airports, with fares, including taxes, starting from £49.99 one way (£91.98 return) For further information or to book please visit**** www.monarch.co.uk
38 Degrees North at Aguas de Ibiza, Ibiza.
The lowdown:
The owners of 38 degrees North - James and Kelly - moved their UK bootcamp of the same name to the island few years back. It's set in the five star luxury boutique hotel Aguas De Ibiza, which is north of the island in Santa Eulalia, boasting incredible views over the Mediterannean, outdoor swimming pools, gardens and terraces. It's not a military bootcamp, but it IS run with military precision. The hotels 1500m2 Revival Spa, which offers an array of incredible Clarins treatments, is most welcome after a week at the camp.
Best known for... serious fitness in a fun environment
Tried and Tested: While you stay at the hotel, most of the activities are taken outside. I chose the optimal fitness week. The activities here are perfectly timed and paced out, so you have just enough time in between so as not to get bored. There are early morning runs, followed by sprints or TRX on the beach or circuits, as well as boxing, yoga, meditation and even self-defence classes. You don't HAVE to partake in all of the activities, but the team spirit and the trainers themselves really make you want to. Fitness levels vary here – I am pretty fit, and found it hard. But there were beginners there too, who all said they enjoyed the challenge.
Other programmes include: Optimal Fitness, Luxury Yoga and Stress Management Retreats, Detox and Deep Sleep Retreats.
Spa facilities Include: Swimming pool, gym, hydrotherapy pool, steam, sauna and relaxation rooms.
Go if : You want to up your fitness levels, increase your stamina, make new friends, and get yourself a tan while doing so.
A 6 night Optimal Fitness Retreat is available from April to October with prices starting from £1493 in low season up to £2571 in high season. Bespoke fitness and yoga retreats are also on offer, as is DNA Fitness, Europe's first DNA analysis focused retreat for the ultimate in personalised training and nutritio. easyJet flies to Ibiza from 6 UK airports with prices starting from £35.99 per person (one-way, including taxes and based on two people on the same booking). All flights can be booked at www.easyjet.com
Chiva Som, Hua Hin, Thailand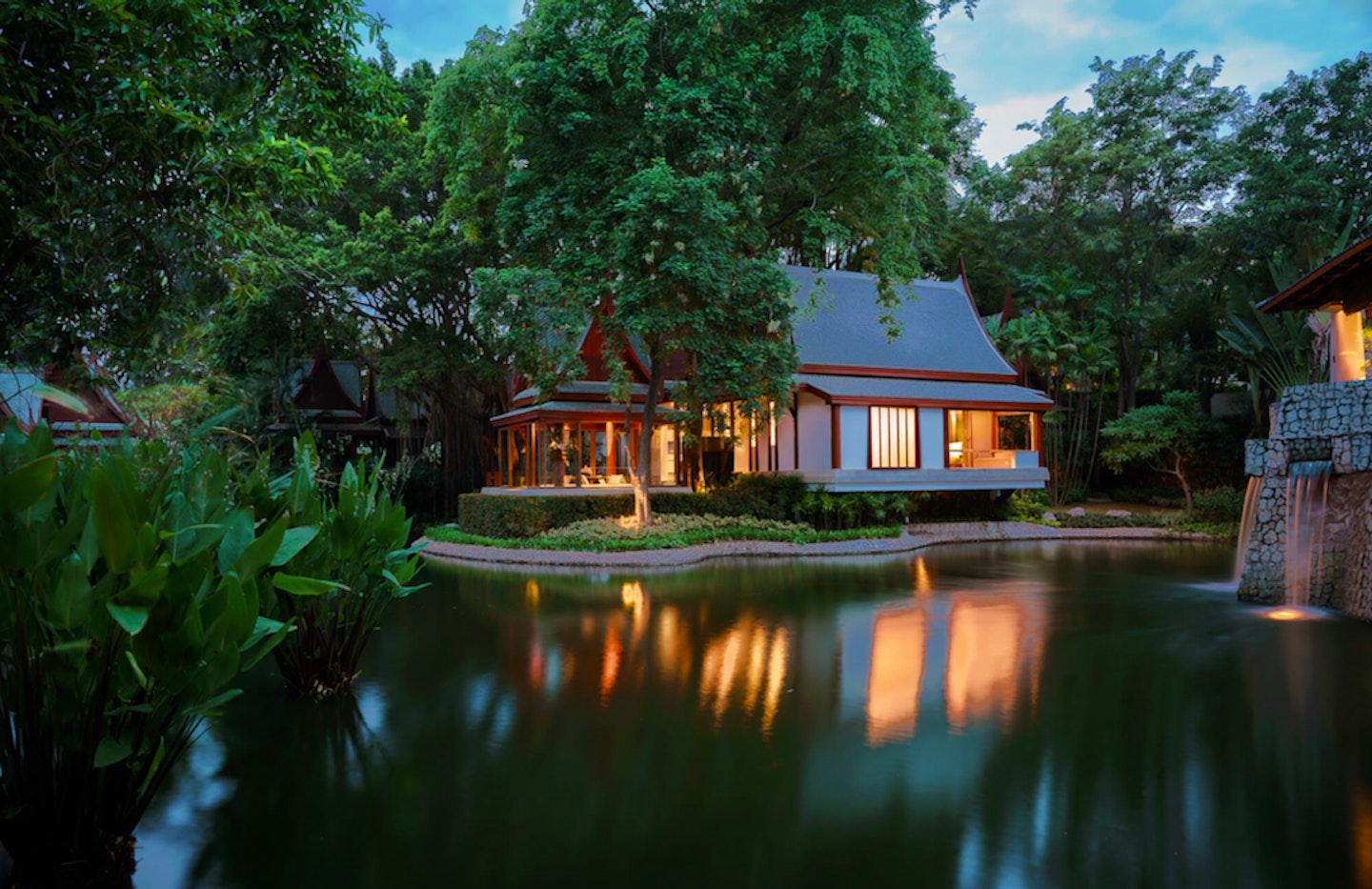 The lowdown:
Part holiday destination, part spa and part hospital, Chiva Som is cleverly disguised beneath a beautifully painted five star veil. No mobiles, laptops or cameras in communal areas means you have to unlatch from Instagram selfies for a week. It's a welcome escape. Set on a long beach on Hua Hin Thailand, this gem of a hotel offers a plethora of health, beauty and fitness programs. The food here is a reminder that your health and well-being are in good hands. Sleep in luxurious Thai Pavilions, Herbal Suites or Rainforest Suites with butler service throughout your stay - no matter which one you decide on, one thing is for sure – you sleep well here at Chiva, especially after a day at the gym.
Best known for...health and beauty
Tried and Tested: The fitness team here at Chiva are among the most enthusiastic, experienced personal trainers I have come across. This gym is state of the art, featuring over 30 different training regimes, like a Hypoxic room, GRAVITY 500 and EMS- electro-muscular stimulation, where you wear a body suit that is connected to electric current, and as you train your muscles are worked harder via the current.
Other programmes include: Detoxification, Optimal Fitness and Stress Reduction to Skin Rejuvenation. There are over 150 treatments and specialist practitioners that include doctors, nurses, dermatologists, plastic surgeons, naturopaths and therapists. Spa facilities include swimming pools, water-therapy pools, gym, thermal and hydro suites, relaxation rooms.
Three nights on any Chiva Detox Plan from £1364 based on two people sharing a twin room. Vietnam Airlines (www.vietnamairlines.com; 020 3263 2062) currently offers return fares from Heathrow to Bangkok from £488 return, with four flights per week via either Hanoi or Ho Chi Minh City
The LifeCo Antalya, Turkey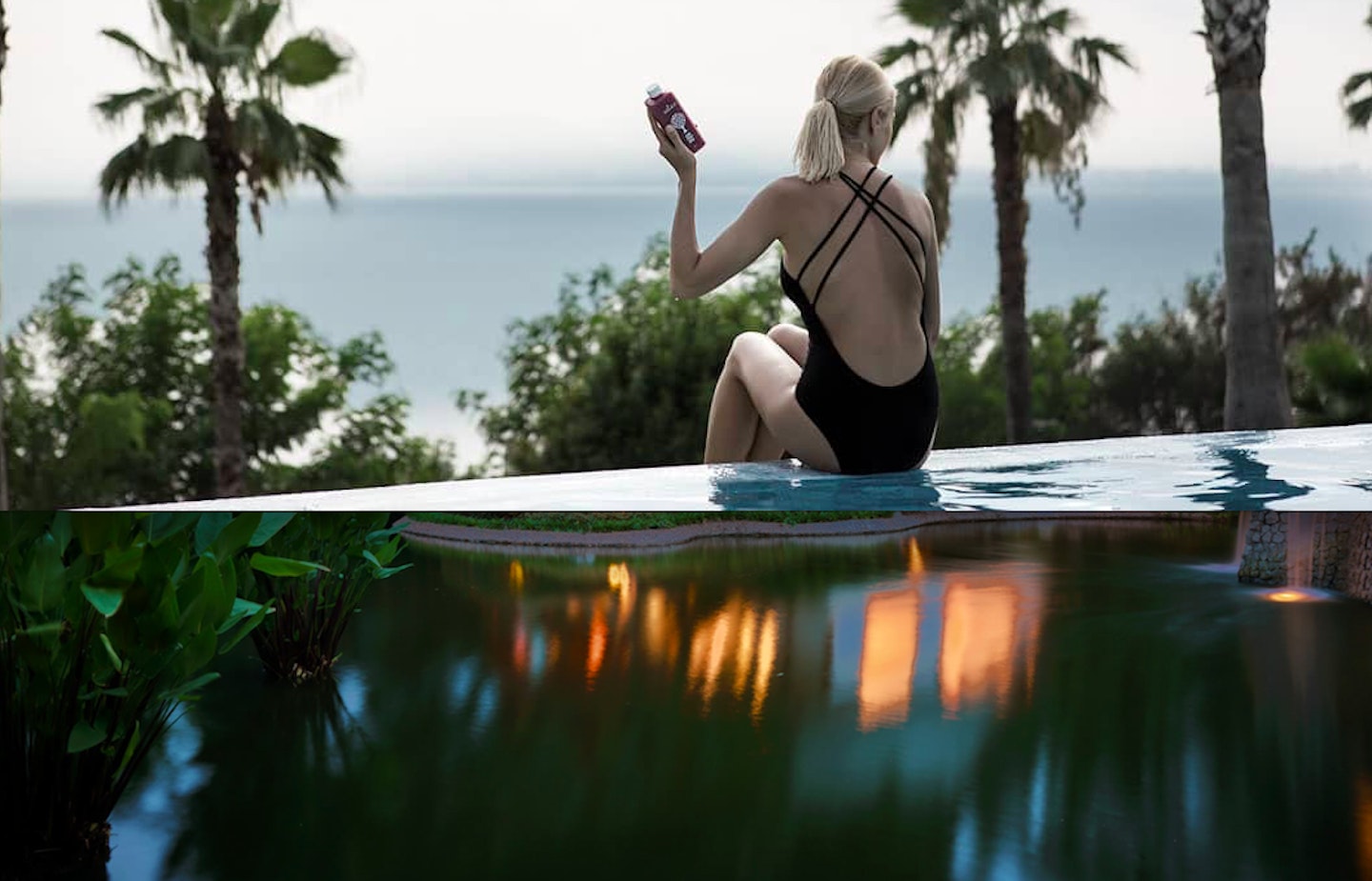 The lowdown:
Turkey seems to have its finger on the healthy pulse these days. LifeCo is just one of many emerging health spas in the country and, it seems, one of the most popular. TheAntalya branch located in Akra Barut, overlooks views of the Mediterranean or the Taurus Mountains and is quite new to the LifeCo family. If this is the baby of the group, its father and grandfather are homed in Istanbul and Bodrum (the original) respectively. They offer a healthier lifestyle through improved nutrition, managing your stress levels, a full MOT for your mind and body through detox programs, and therapies which are mostly natural healing protocols.
Best known for... being Kate Moss's favourite detox destination
Your health is of the utmost importance here. Blood samples and full body bio-analysis are taken upon arrival, which are retaken and compared the day you leave. It has a hint of a hospital, hidden under beautifully painted veil of a five star hotel and spa. I chose to opt out of the juice program, sticking to the amazing raw food menu from SAF restaurant - where they prepare unprocessed, healthy, plant-based dishes and meals. I am a big fan of raw food and of SAF. Think 'lasagna' made from courgettes, with rosemary ricotta cheese (made from cashew nuts), crushed avocado and flaxseed crackers, hummus and rice paper rolls.
Other programmes include: Daily Healthy Nutrition and Detox Programs, Detox & Cleansing Programs, Beauty Programs, Weight Control Programs, Stress-free Relaxation and Pampering Spa Programs, Energy and Immune System Program, Diabetes Control Program and Cardiovascular Program.
Spa facilities Include a swimming pool, gym, hydrotherapy and thermal suites, relaxation areas.
Seven nights on The Raw Food Detox from £1995 per person.