The number one accessory at Copenhagen Fashion Week? The thing everyone was carrying and coveting? A brolly. Lashing rain, combined with a roster of outdoor venues, meant that the street-style set had a decidedly soggy time. The Danish capital, however, is known for its chutzpah when it comes to getting dressed. Paris might be polished, Milan molto glamorous. But Copenhagen is in an entirely different league when it comes to personal style. These girls? They've got game.
Of course, the weather forecast (grey with a definite chance of showers) did mean that certain items were off limits. Those who'd chanced a pair of open-toed sandals - Loewe's monstera leaf and anthurium flower foam number, for example - quickly realised the error of their ways and replaced said shoes with a techy trainer or, whisper it, a zippered boot later in the day.
Practicality was high priority. This is the fashion capital where people frequently bike between shows, after all. At Samsøe Samsøe's 30th anniversary dinner, guests arrived wearing baggy cargo pants (perfect for keeping warm and looking cool). With an entire menu of red food - think tomato focaccia, garlicky gazpacho, seafood risotto and berry panna cotta - the camouflage was handy for stains as well as stylish.
Elsewhere, you had lots of leather, trenches and knee-high boots, with the show-goers delivering some flourishes of no-muss, no-fuss genius to keep things exciting. Interested? Keep scrolling to find out how you can copy their brand of zero-effort, high-impact dressing.
Slingbacks + Socks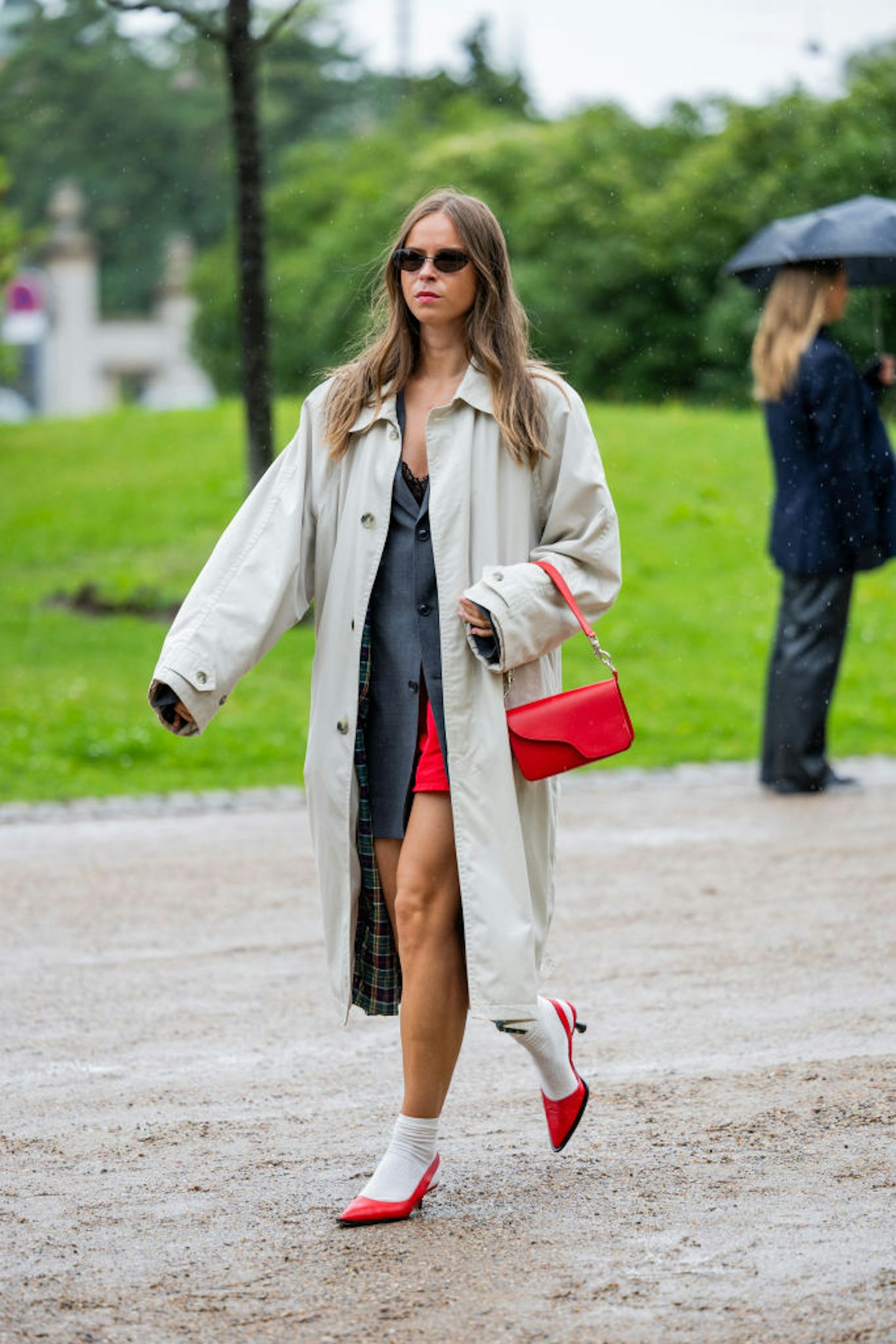 Seen on the catwalk as well as the streets outside, the street-style set didn't abandon summer slingbacks just because of a few showers. No, no. Instead, they slipped a little white sock on to keep the chills at bay. Cute, no?
Layers, Layers, Layers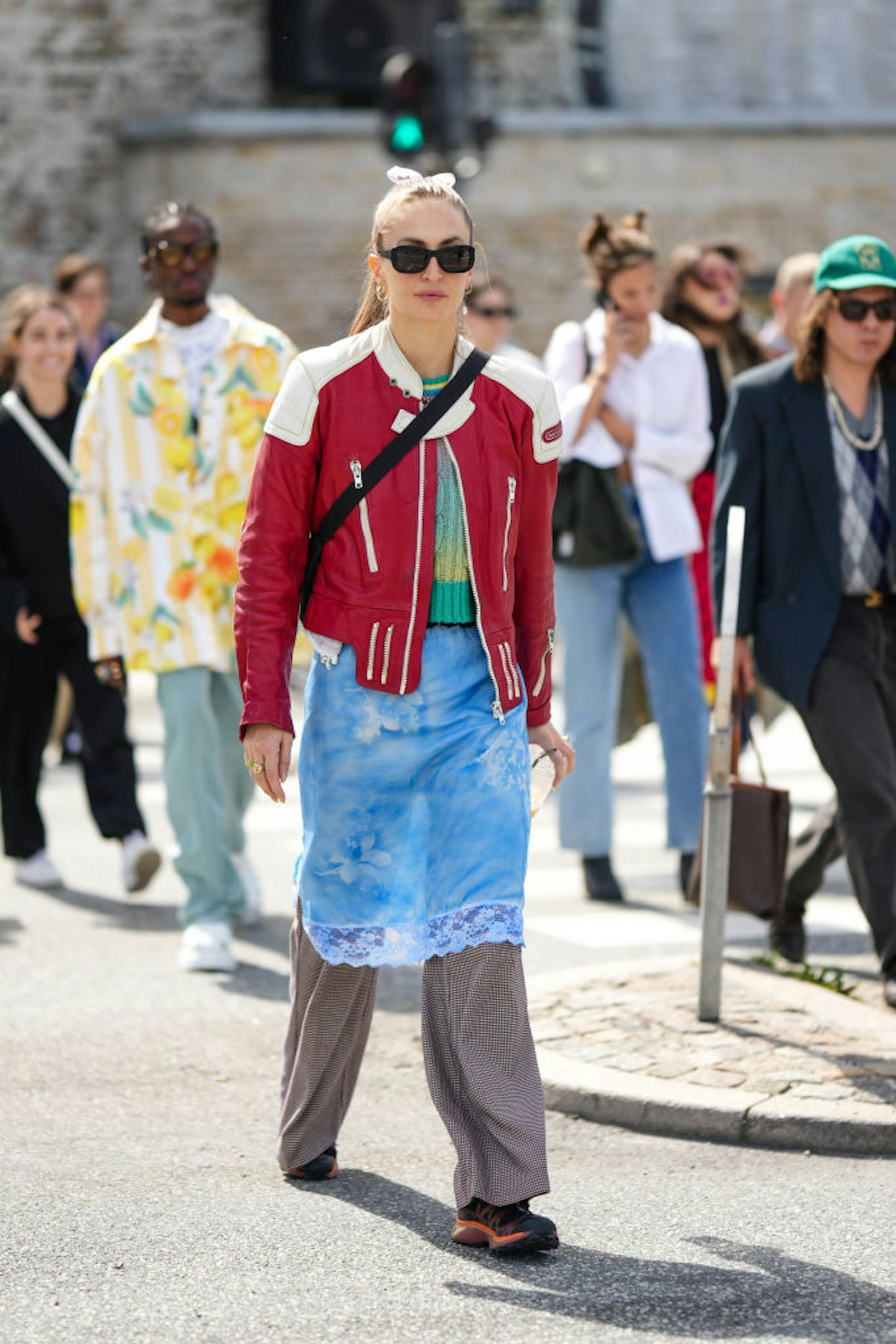 The best plan of action for rain one minute, sun the next is lots of layers that can be shed as necessary. This woman opted for 'work' trousers, a slip dress, a cable-knit jumper and a moto jacket, incorporating several of this season's biggest trends while delivering a nice note of nostalgia for the days when we all wore dresses over trousers. (Also note the pink bow on her ponytail. If that isn't the cutest way to pep an outfit, I don't know what is, frankly.) At Samsøe Samsøe's dinner, meanwhile, Olivia Pezzante wore a khaki boilersuit layered over a long-sleeved top that she'd unbuttoned and tied around her waist. The ideal arrangement if the weather's blowing hot and cold.
A Shoulder-Warmer + Shirt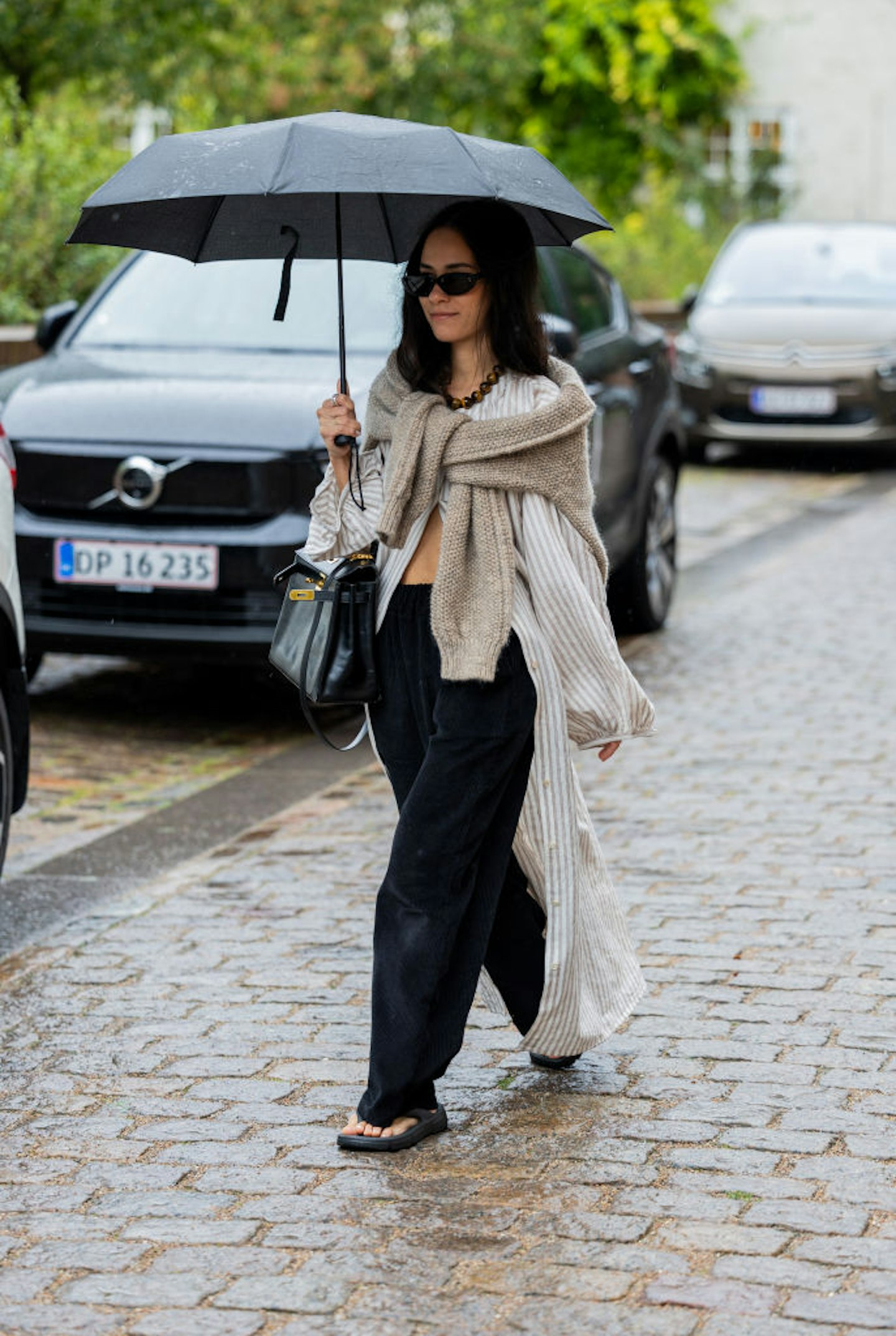 This woman has clearly heard of 'swinter', a strange seasonal phenomenon that results in summery/wintery conditions in the space of 24 hours. Notice how she's unbuttoned her shirt dress over trousers then looped a chunky shoulder-warmer around her body. Clever and easily copyable from your own wardrobe if swinter comes to the UK. Otherwise, bookmark the combo for autumn.
'Off' Colour Combinations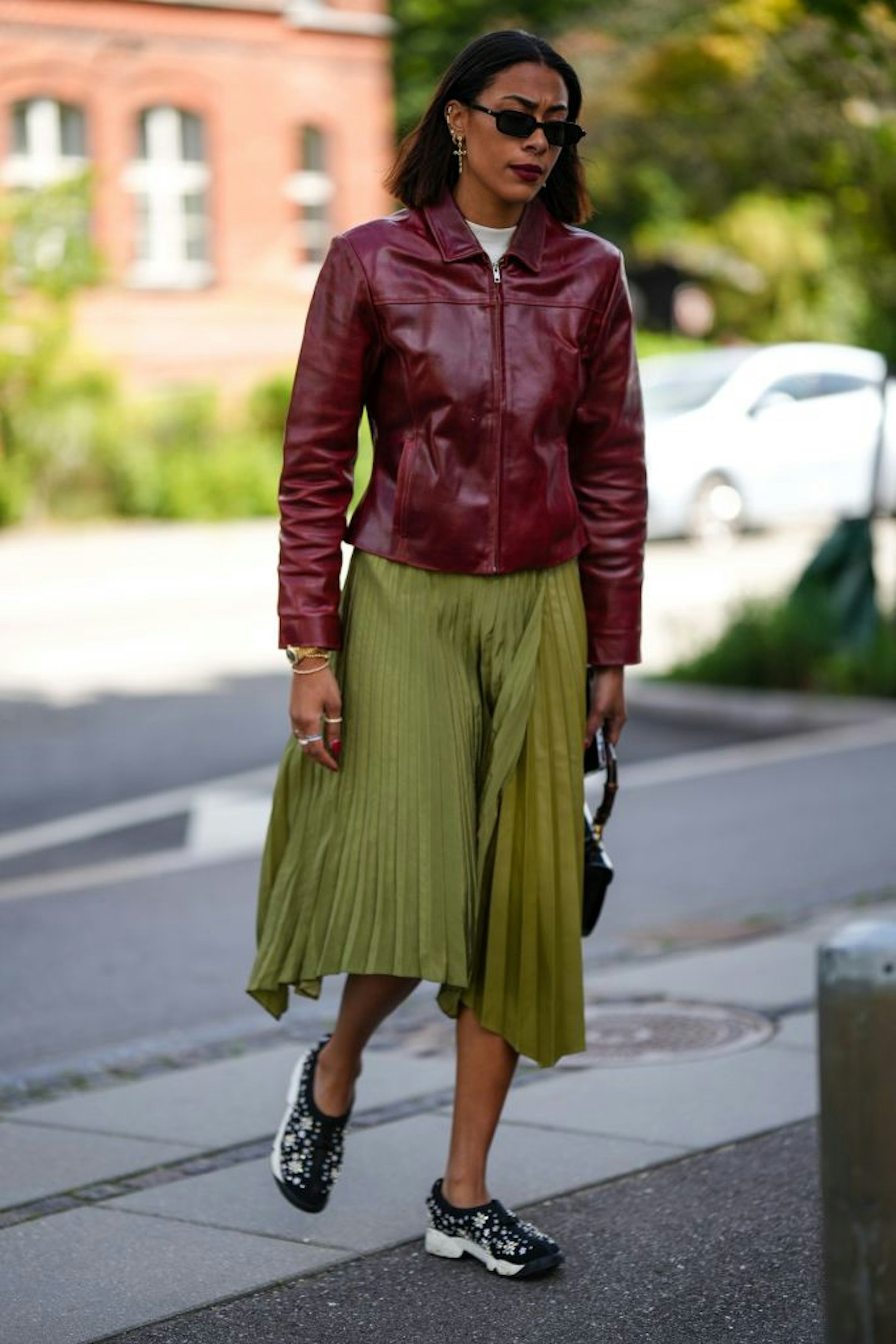 Red + green = Christmas. Right? Traditionally yes but here no. Somehow, this street-styler's burgundy leather jacket and chartreuse skirt looks just right, even though the colour combination should be slightly wrong (especially at this time of year). Other pairings to try include lilac and brown (spotted several times on the catwalk at Stine Goya).
Roll Up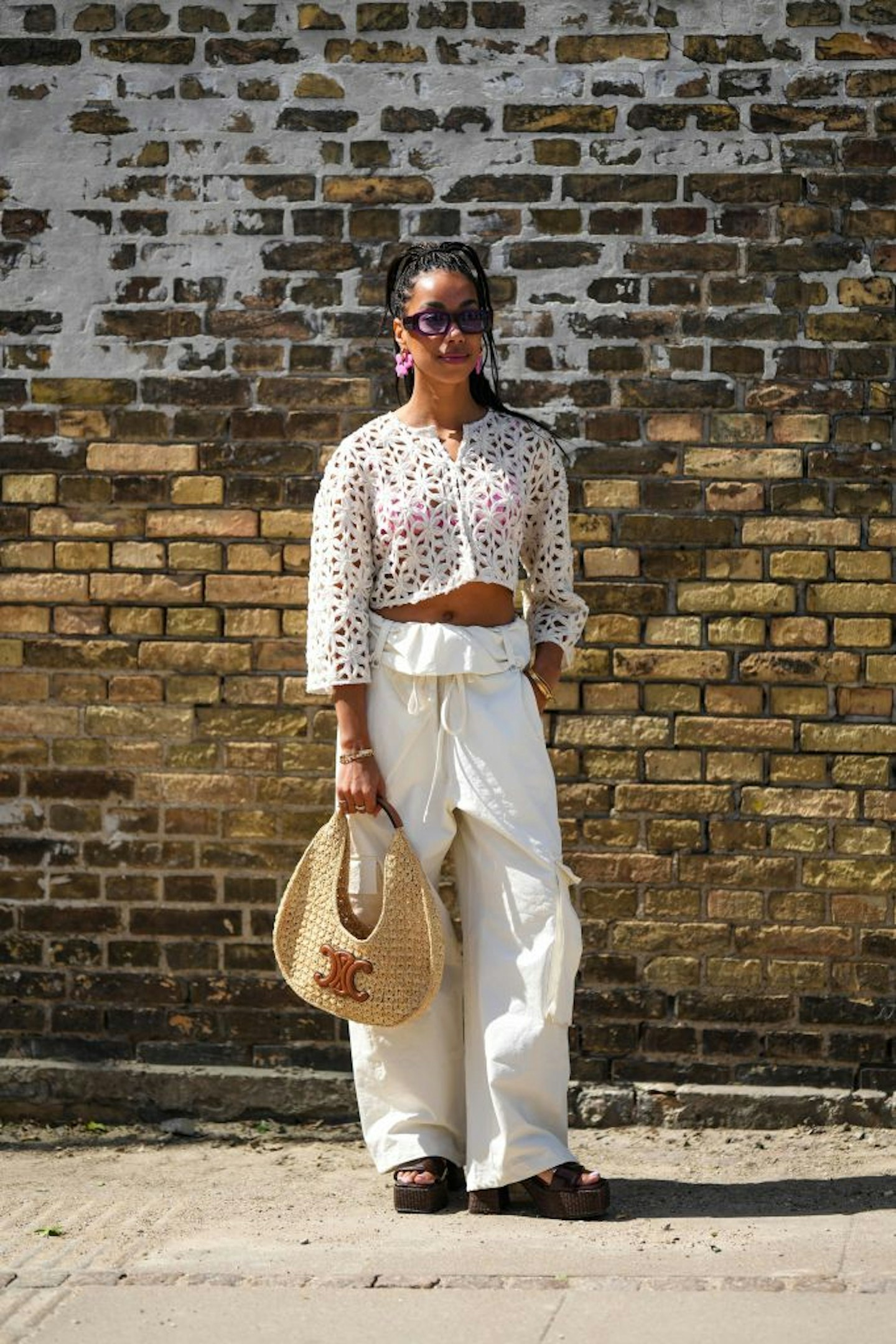 Trousers too long? Before you take them to the tailor, why not try rolling the waistband to achieve your desired length. Paired with a stacked sandals like Amaka Hamelijnck, it's a one-way-ticket to dry hems.
A Belter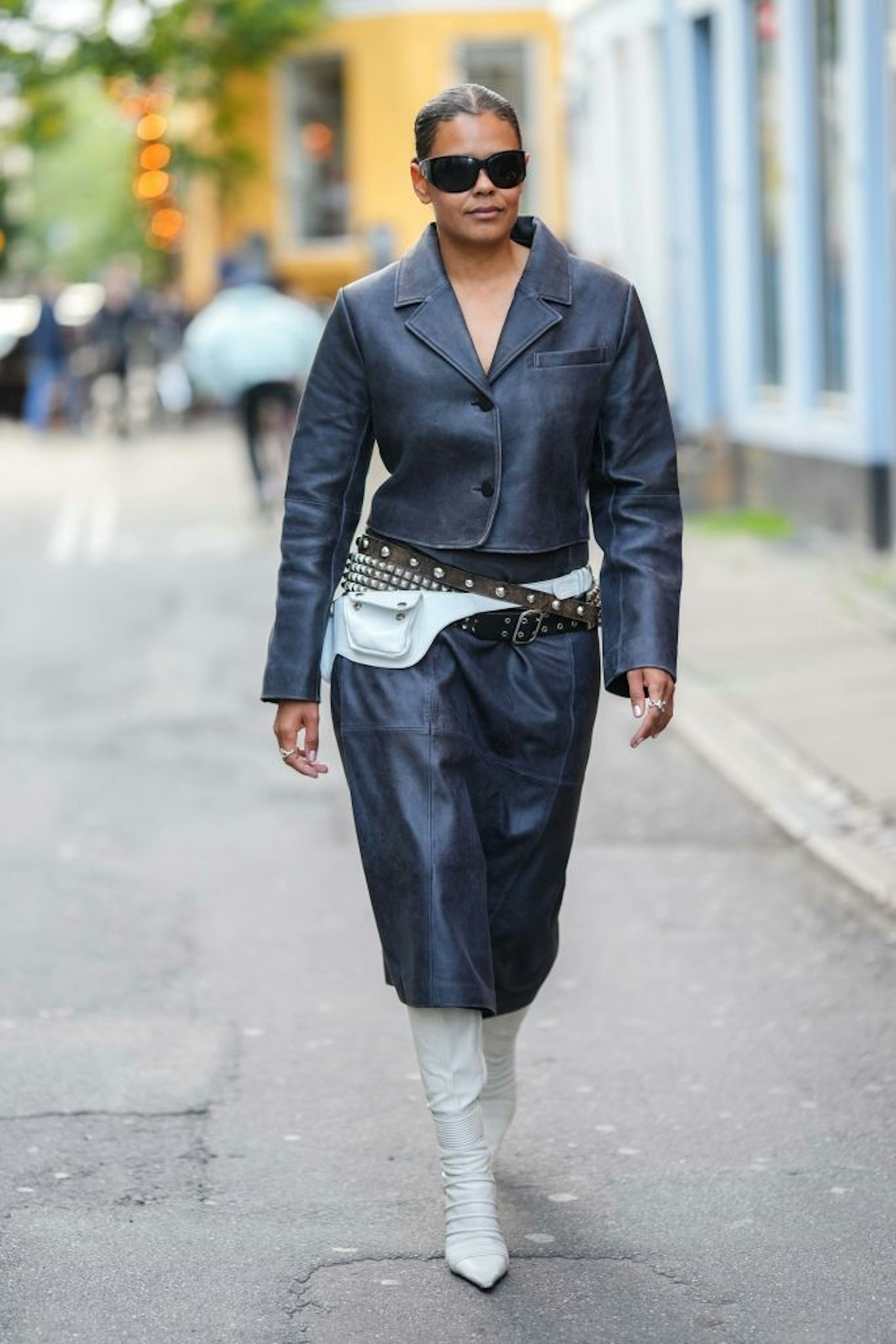 A belt doesn't usually get to play a staring role in an outfit. It's always the supporting act. But this street-styler decided to give the humble accessory its moment, wearing not one but two with this ladylike skirt suit and wrapping them over-and-under one another. Grab a couple of your own and give it a go.
Mix 'N' Match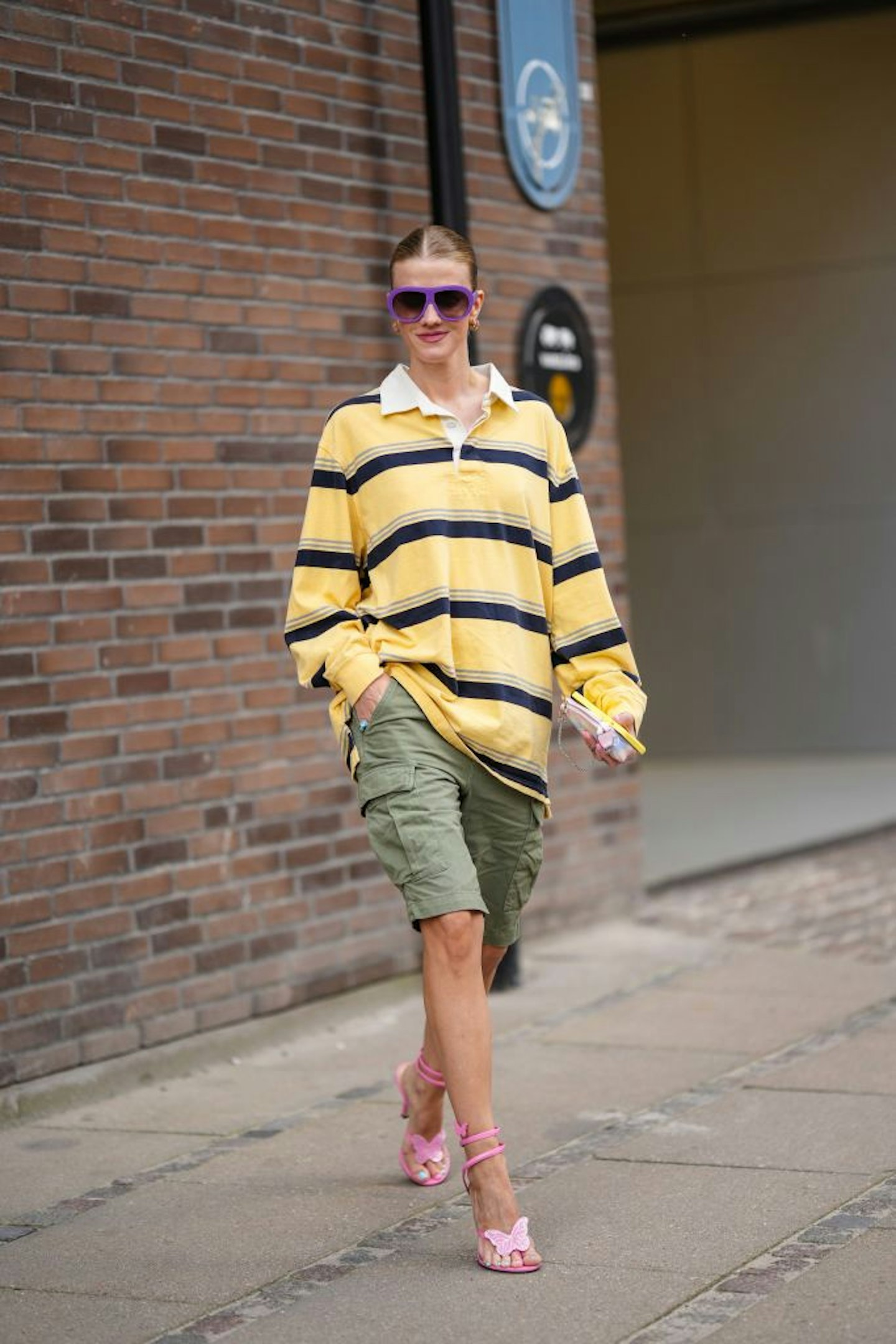 This isn't necessarily a combo that you could cobble together from your own wardrobe (unless you have a rugby shirt, cargo shorts or butterfly sandals lying around). But I'm more thinking about this outfit's essence. It's very Carrie Bradshaw, a high-low mix of sporty and sexy with a side order of practicality.