Any new parent will know leaving the house without a massive bag full of nappies, bottles, wipes, dummies, and spare clothes isn't an option - and sadly, your favourite tote just won't cut it. Instead, you need one of the best baby-changing bags money can buy.
The wonderful world of baby accessories can be a minefield when it comes to finding something that delivers on both practicality and style - because why should you have to compromise on coordination the minute you become a parent?
SHOP: The Best Baby Changing Bags To Buy Right Now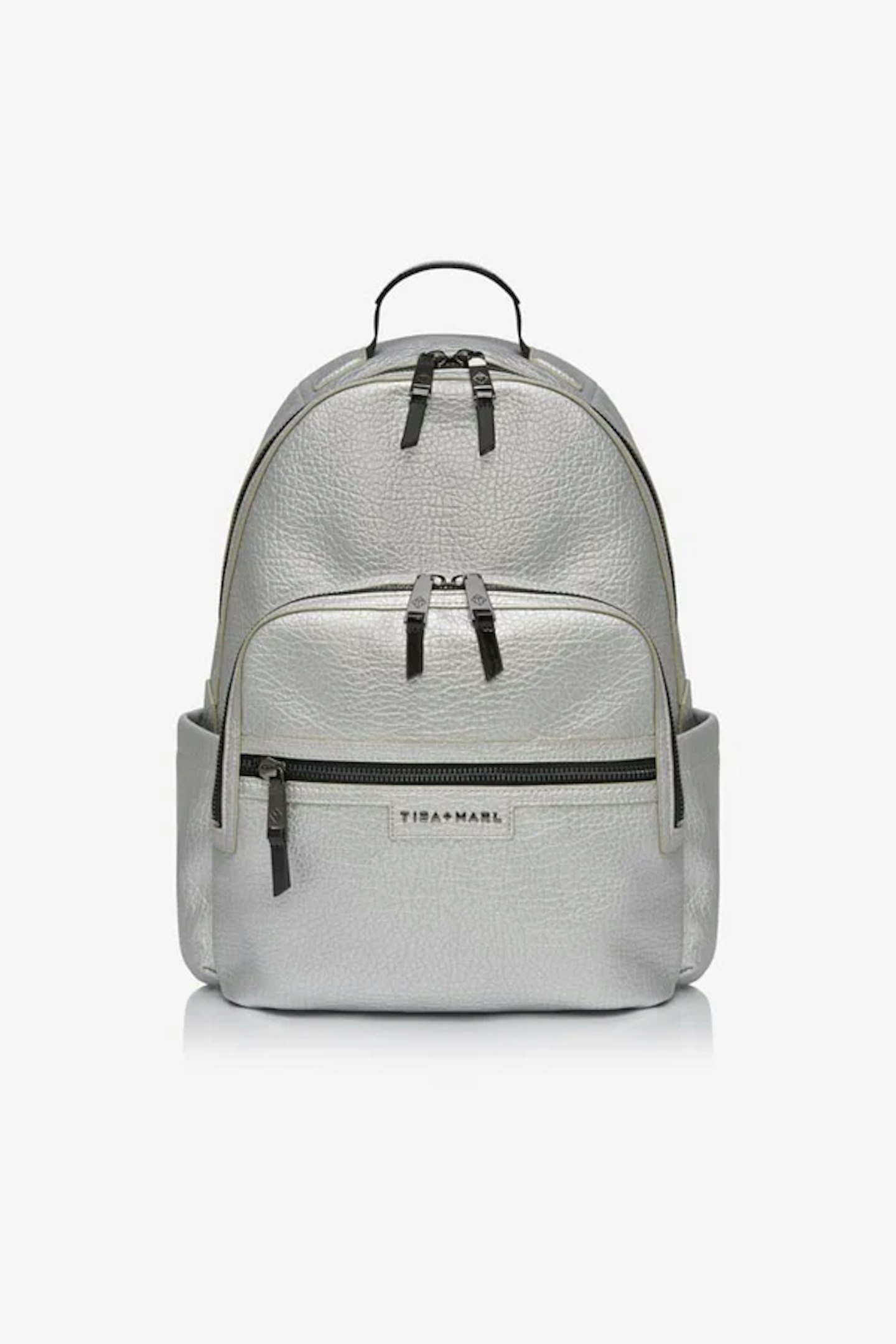 1 of 6
Elwood Twin Changing Backpack Silver
Unisex, modern and functional, the award-winning Elwood backpack lets you parent hands-free in style. Twin Elwood comes complete with 2 exterior side slip pockets and  features 2 insulated bottle sleeves in its front pocket that will keep your bottles cool or hot for up to 4 hours. Crafted from tumbled metallic silver vegan leather and set back to lux gunmetal bespoke hardware, this best-selling backpack is large enough to fit most laptops and its spacious, practical design works hard for you in any environment, be it playground, office or street.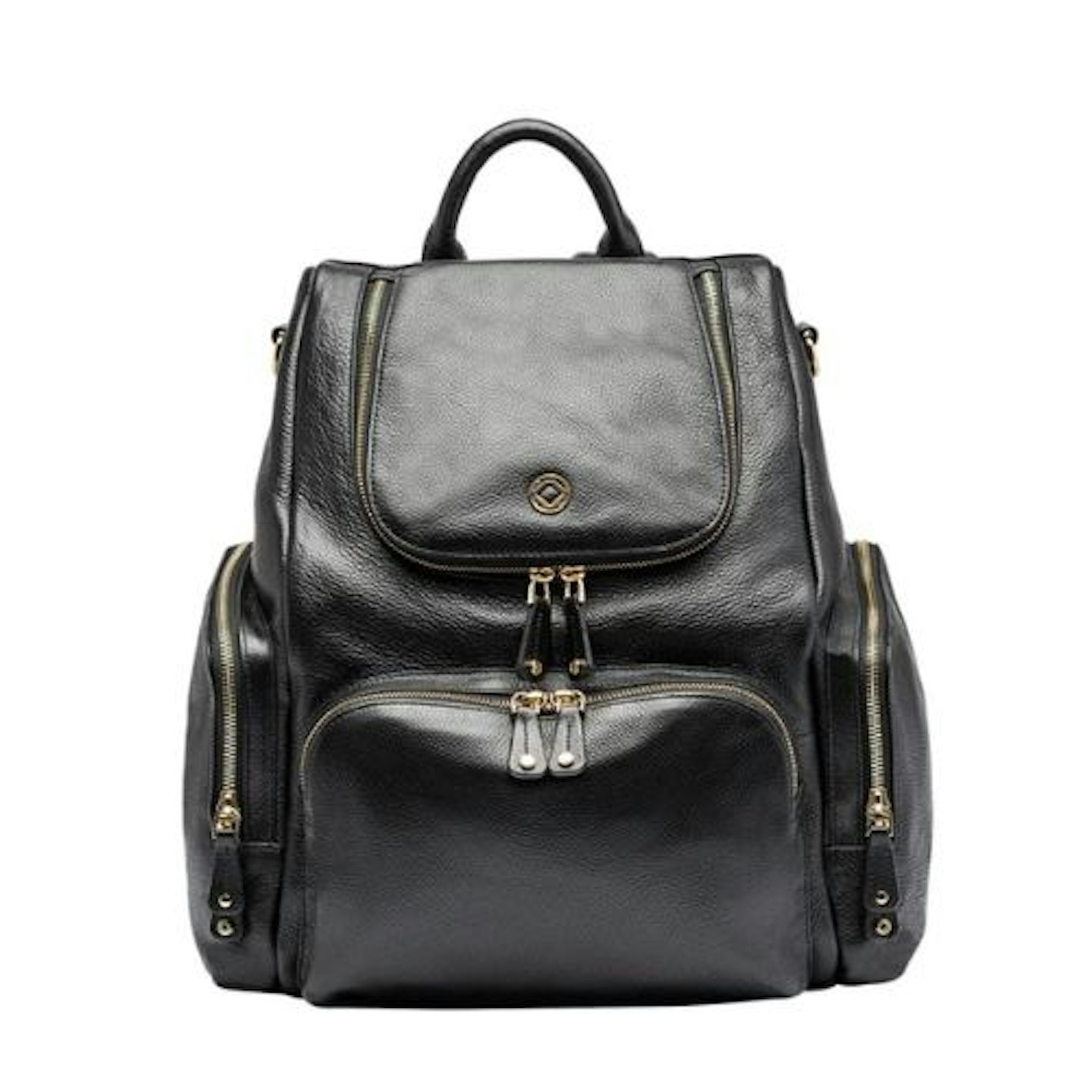 2 of 6
Amber Midi Pebble Black Leather Changing Backpack
This beautiful leather backpack is both stylish and practical. If you are looking for a changing bag that doesn't look like your traditional frumpy mum bag, then this is it. It is perfect for toddler mums who no longer have to carry all that comes with a newborn. The best feature of this bag is it has slide-over straps that can be attached to a trolley bag as well as pram straps. We love that this bag is luxurious and visually looks like a regular leather rucksack.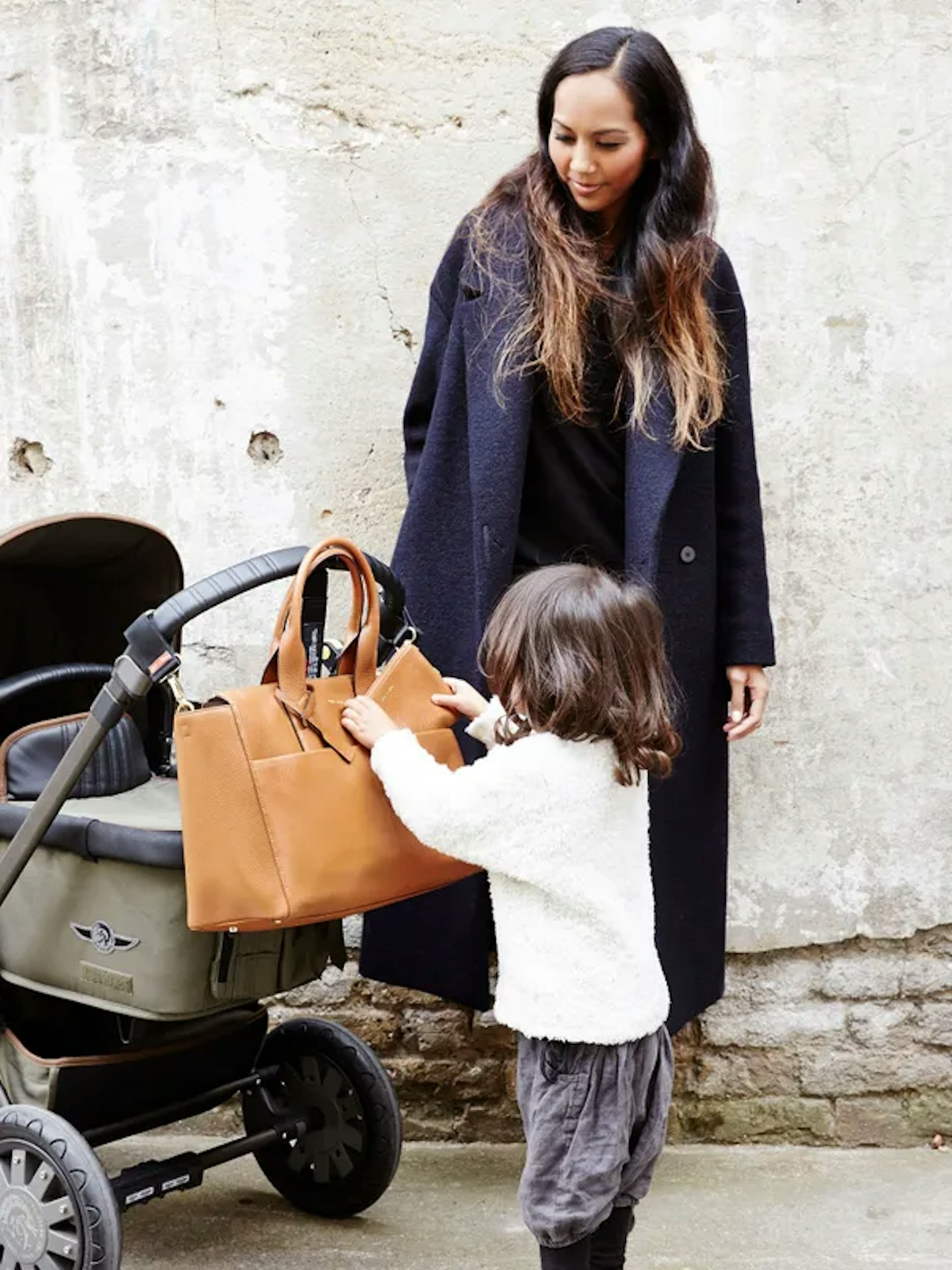 3 of 6
JEM + BEA Jemima Tan Changing Bag
This classic changing bag perfect for modern parents looks just like a regular handbag and can effortlessly switch from a baby bag to a work or day bag with multifunctional pockets.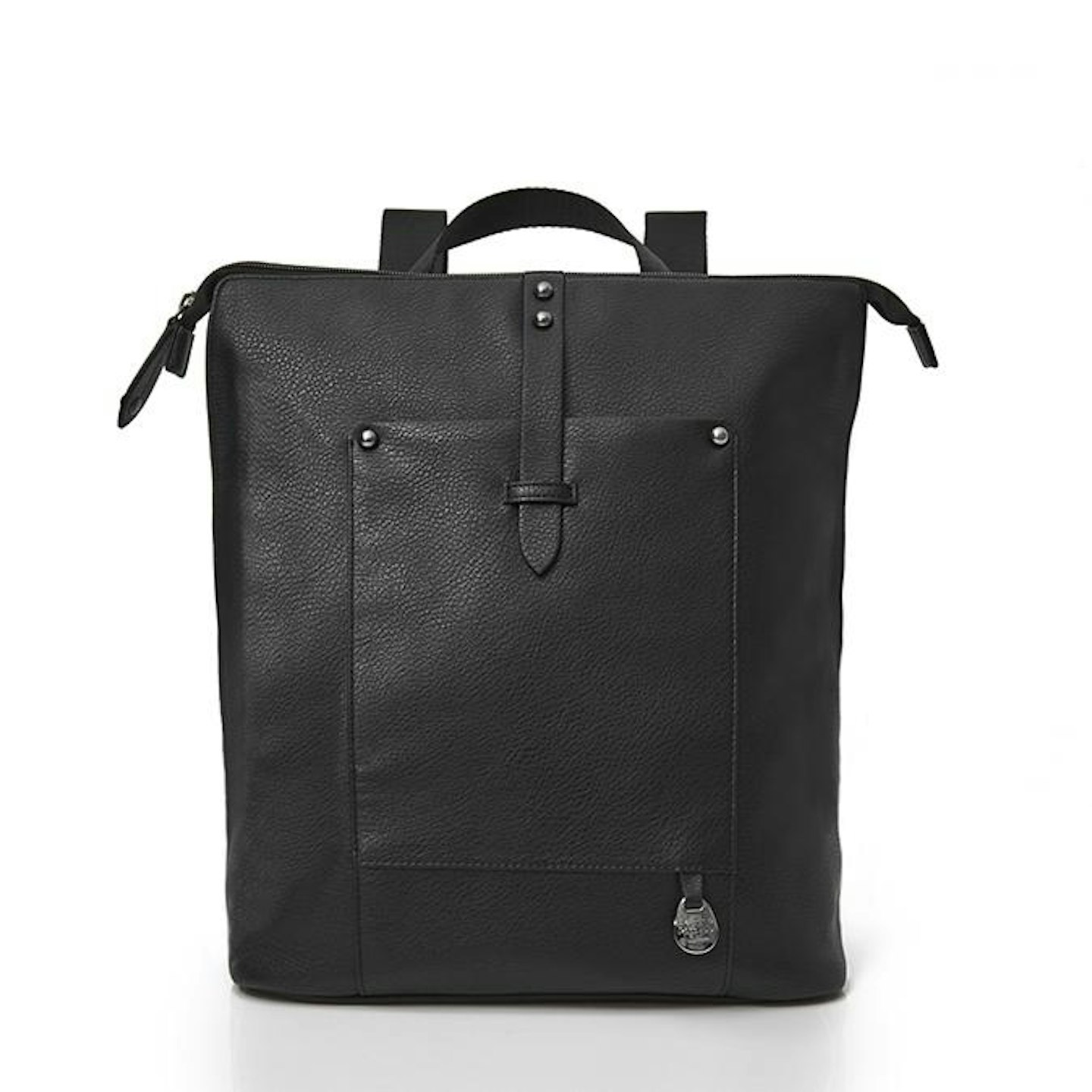 4 of 6
PacaPod Saunton Backpack
Styled like a modern satchel with a saddlebag feel, this will be a favourite with mums and dads. Made from soft vegan pebble leather with gunmetal hardware and trims, this bag has pockets galore and even labelling systems so that you are never caught out.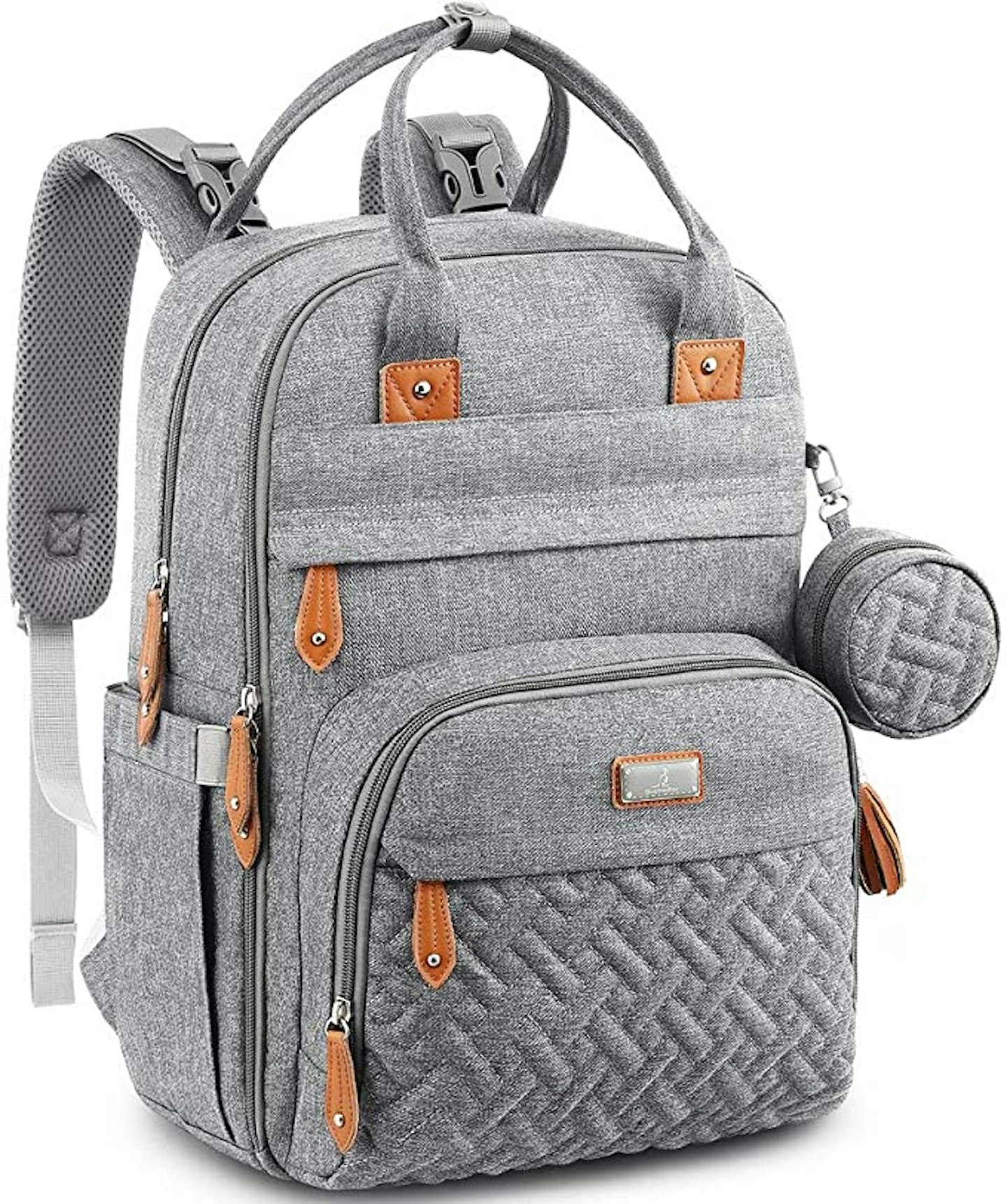 5 of 6
BabbleRoo Nappy Changing Back Pack
Available in grey, khaki, dark grey, black, and army green, this crowd-pleaser is super-spacious with pockets for organising nappies, keeping tissues and wipes, insulation, and more. We also love the reinforced cushioned shoulder straps that help even out the load.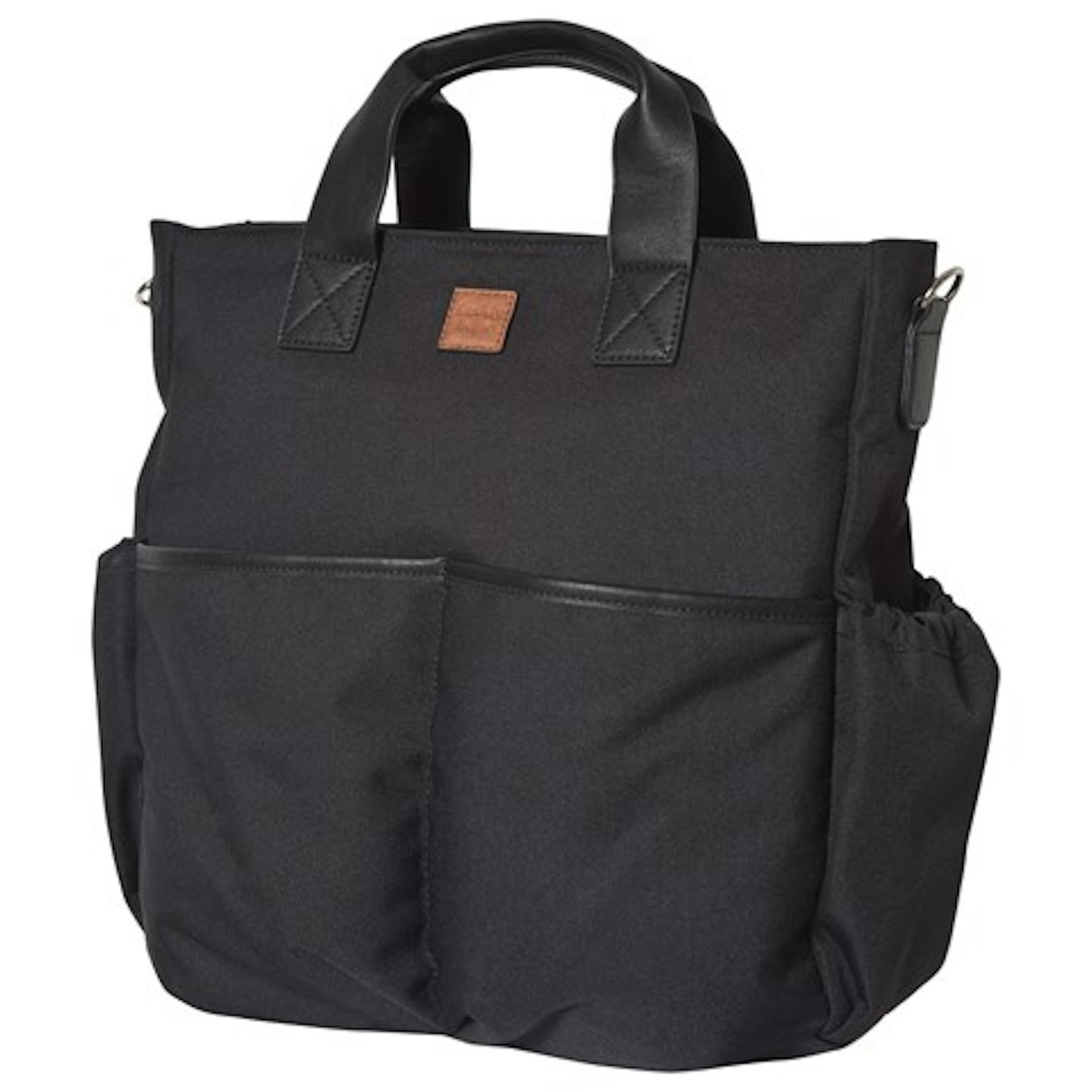 6 of 6
Buddy & Hope Black Polyester Changing Bag
The Black & Hope Polyester Changing Bag has a zipped main compartment, detachable shoulder strap, and has stroller straps included for easily attaching to the pram or buggy. There are several pockets for easy organising and a padded changing mat for easy changing on the go.
What should you look for in a baby changing bag?
• Ease of carrying - hands-free backpacks, cross-body and shoulder bags are best for busy mums
• Wipe-clean
• Durability
• Pram-friendly - look for styles with clips to attach onto your stroller
• Built-in changing mat and nappy compartment
Whether you're looking for yourself or to get as a gift for an expectant mother, we've done all the hard work for you and rounded up the best baby changing bags on the market that look good, too.
What should you pack in your baby changing bag?
You've got your bag, but what should you pack in it? The NCT recommends packing the following to make sure you're never caught at a loose end:
• A changing mat (that'll be built-in your bag) and alcohol-free and fragrance-free wipes
• Bags for dirty nappies or clothing should there be any nappy leaks
• Barrier cream (if you're using it) to protect your baby's skin
• Three to four clean disposable nappies, or liners and covers if you're using cloth nappies. How many you need depends on how long you'll be out for and how old your baby is
• A change of clothes for your baby in case of any accidents
• Portable toys to keep them entertained on the move
• Food for your baby. If you're breastfeeding, you may need to pack clean breast pads or a breastfeeding shawl, or if they're on formula, you may need to pack sterilised bottles and formula powder. If they're a little older, it would be worth having some purees or finger foods to hand.
And after all that, don't forget about yourself! As well as the essentials, it would be worth bringing your own snacks or something to keep you entertained when the baby is napping and you can grab some time to yourself while out and about.
For more parenting stories, (non-judgmental) advice, tips and memes, check out Grazia's parenting community on Instagram, @TheJuggleUK
Hannah Carroll is a Parenting, Lifestyle and Home Product writer for Grazia, specialising in product testing and reviews. With three children, Hannah loves testing the latest industry products on her own family.