Autumn is a season of change. The leaves get golden, everyone inexplicably starts banging on about pumpkin spiced lattes and all your outfit ideas start to feature knitwear, jackets and boots as the weather turns icier. There's something quite comforting about autumn outfits, which – if you choose wisely – can serve you well as we move into winter, too.
If you're at a loss with what to wear in this changeable season, here are some of our favourite autumn outfits to inspire you...
SHOP: The Best Autumn Outfits
Try A Leather Trench Coat
One of our favourite autumn pieces comes in the form of a trench coat, but not any old style. This season, opt for a leather version in autumnal tones of conker brown or tan for a 2023 take on a classic cut.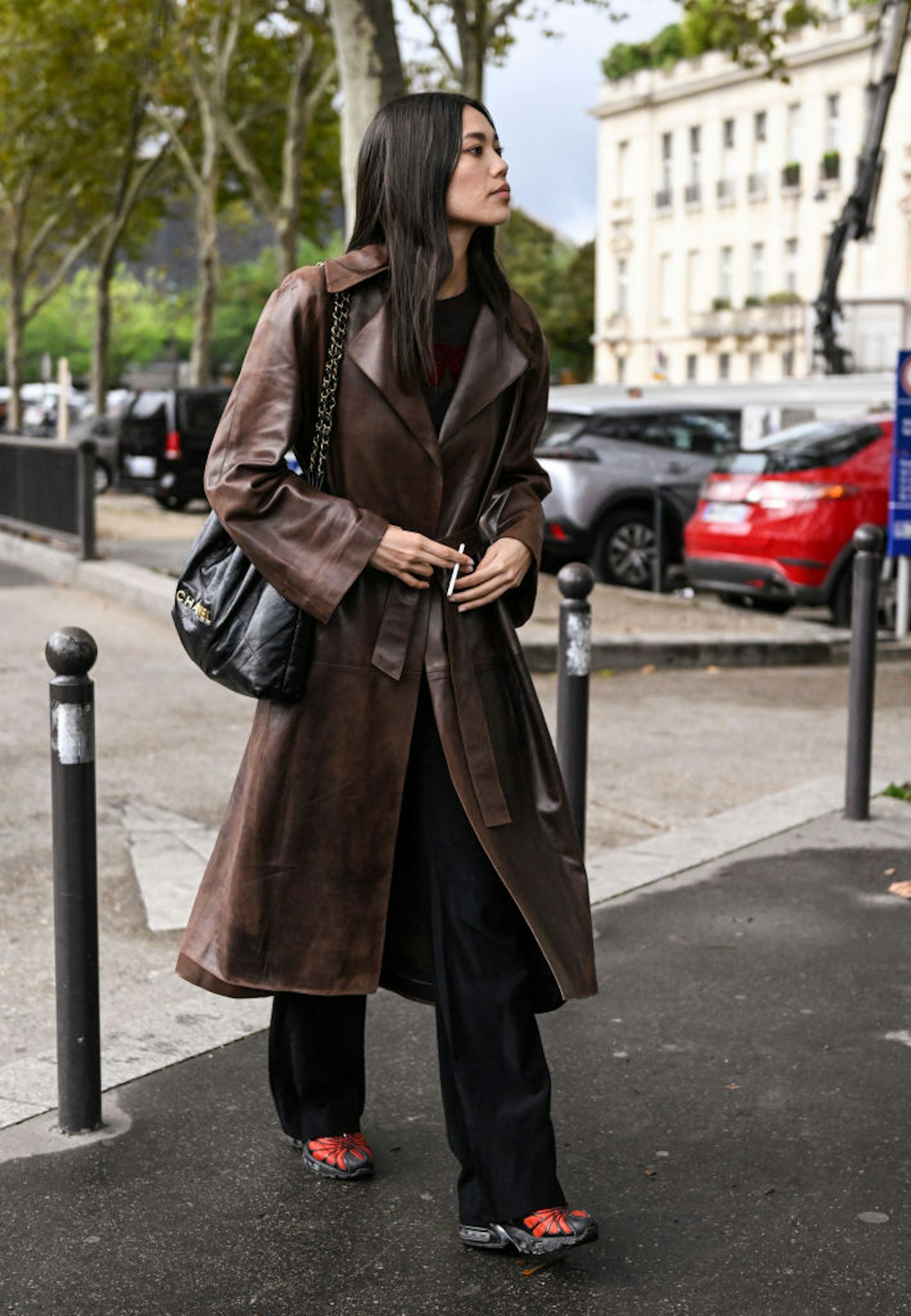 Description
Leather is a brilliant foundation for all your autumn outfits - and conker brown is the shade to
Pair Jeans With A Smart Jacket
Switch up your usual jeans and blazer combo with a boucle jacket, then pile on the accessories for an easy take on a perfect autumn outfit.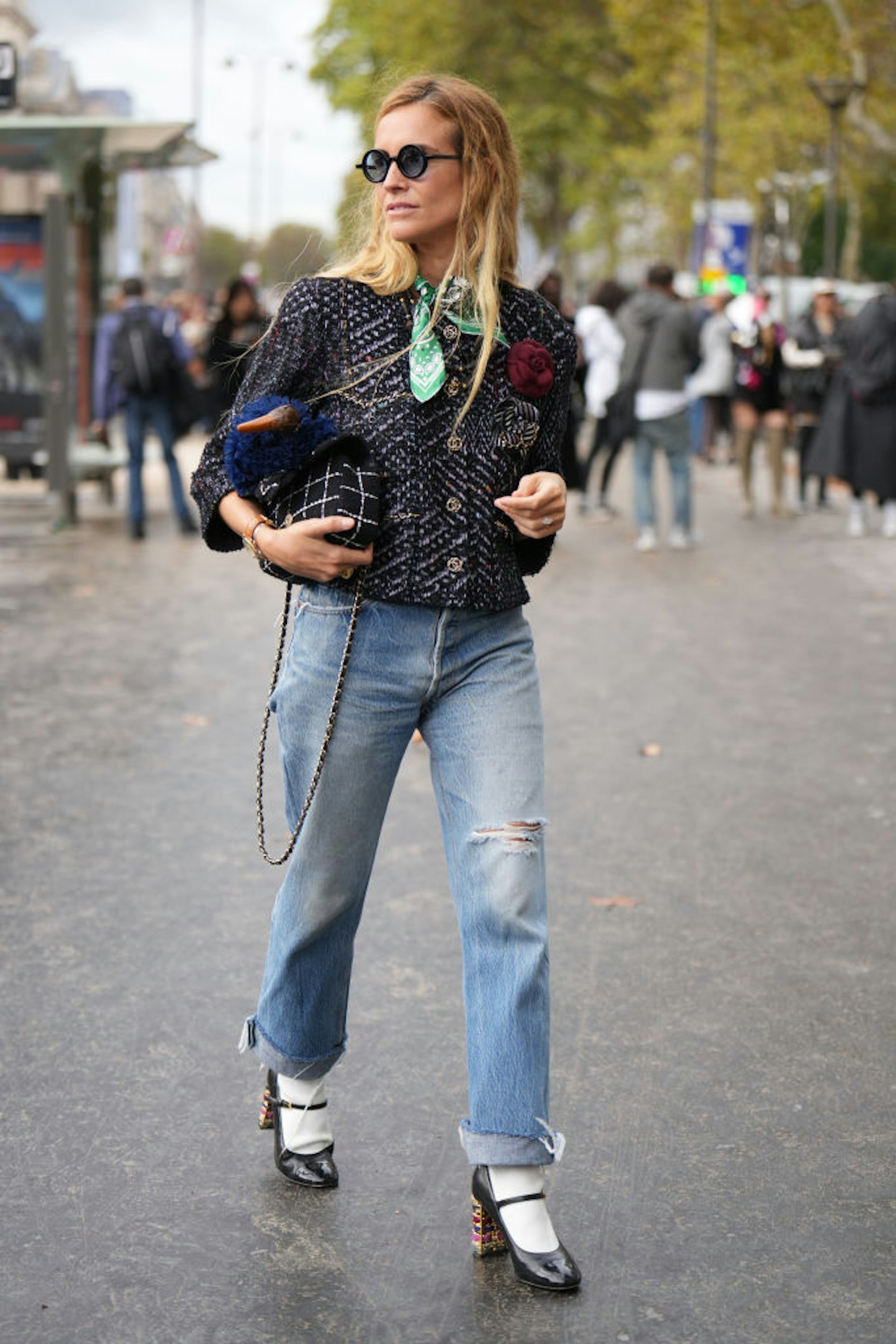 Description
This 'Chanelegant' jacket is one of the most popular styles of the season - and perfect for
Description
A pair of light-wash jeans will instantly make a smart jacket look more casual. Zara's
Description
A silk scarf is one of the easiest way to dress up more casual autumn outfits. Gant's
Go For A Sweater Vest
A sweater vest is your ideal transitional wardrobe staple, warmer than a tank top but not too hot and stuffy. Try pairing yours with a chic midi skirt and long boots for an outfit that's minimal effort but gives maximum impact.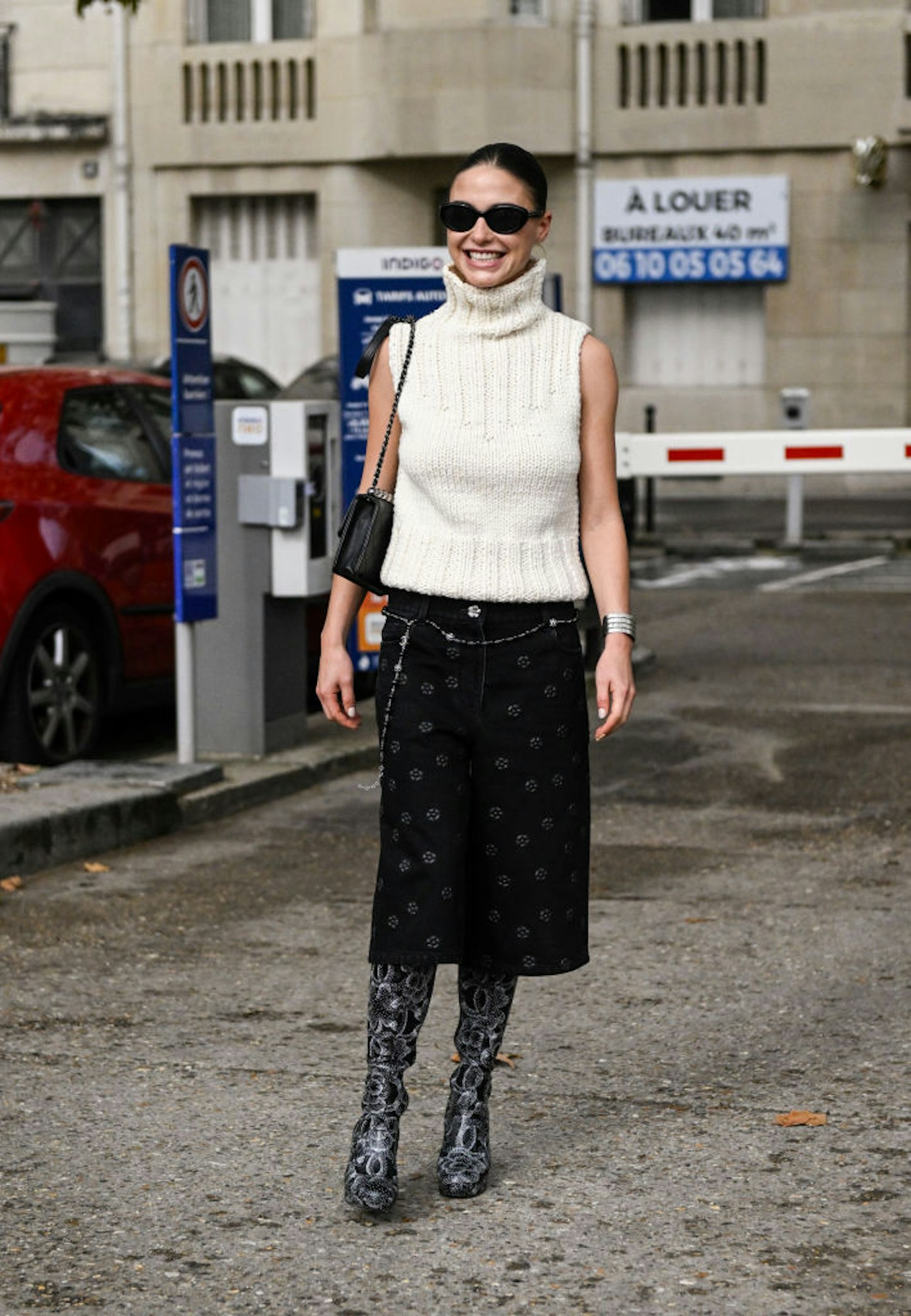 Description
A knitted sweater vest is the ultimate wardrobe staple for the seasonal switch up. Wear it by
Description
This elongated pencil skirt is easy to dress up or dress down - and it's in the shade of the season.
Description
A classic long black boot will be your new-season staple. M&S has some of the most reliable pairs
Matching Knitwear
We all love a good cosy knit, so why not take it one step further with a full woollen ensemble. Look for matching skirts and jumpers or mix 'n' match different shades for an outfit that is equal parts comfy and stylish.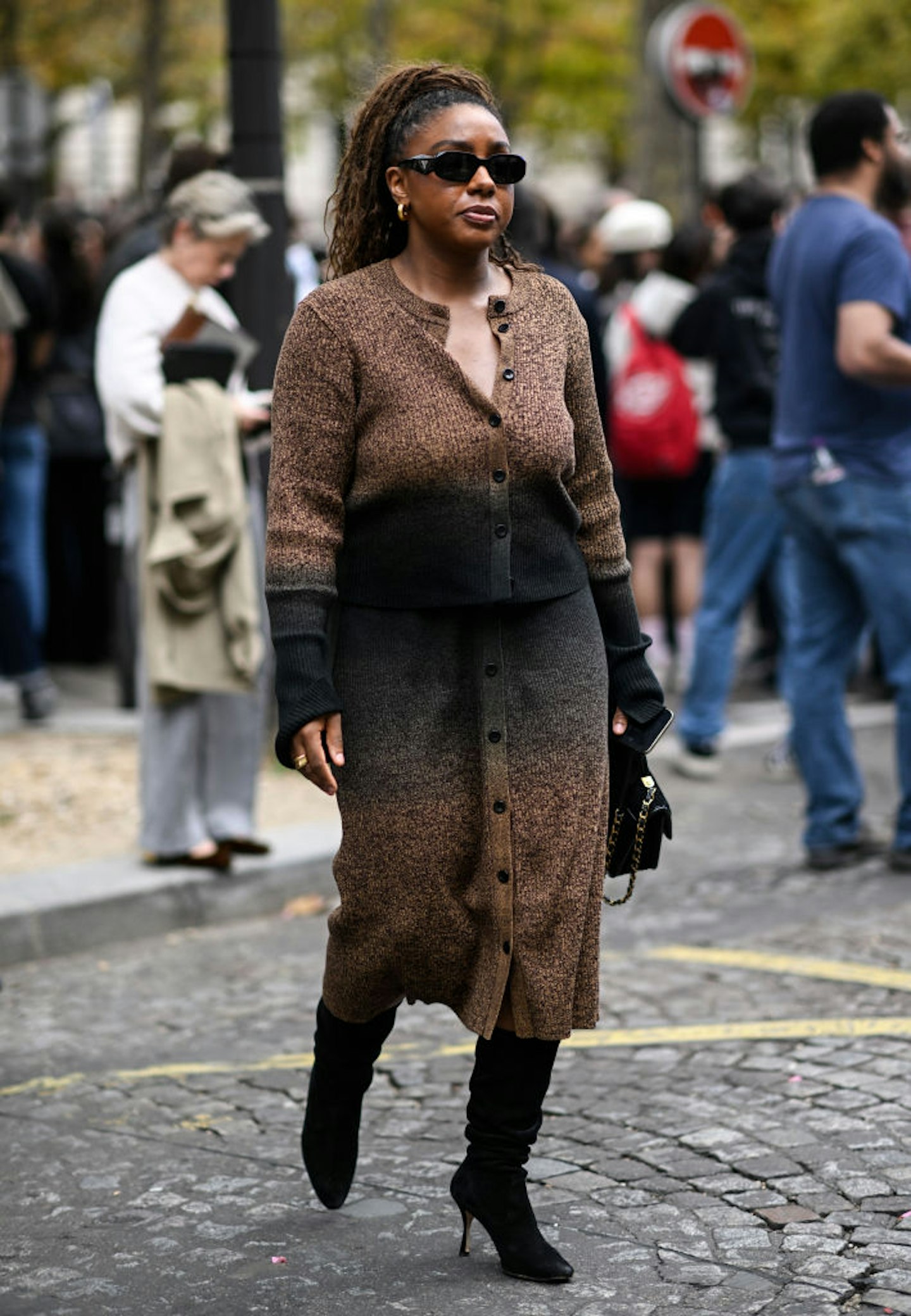 Description
For a ready-made outfit, opt for a knitted cardigan-skirt combo. Mango's quiet luxury take on the
Description
This knitted skirt is as chic as it is comfortable. Wear with the matching cardigan or something
Midi Skirt + Long Boots
This autumn/winter is the season of the skirt - look for a statement print or fabric that will add some interest to simple accessories. We love a snake-print midi finished off with an oversized biker and long black boots.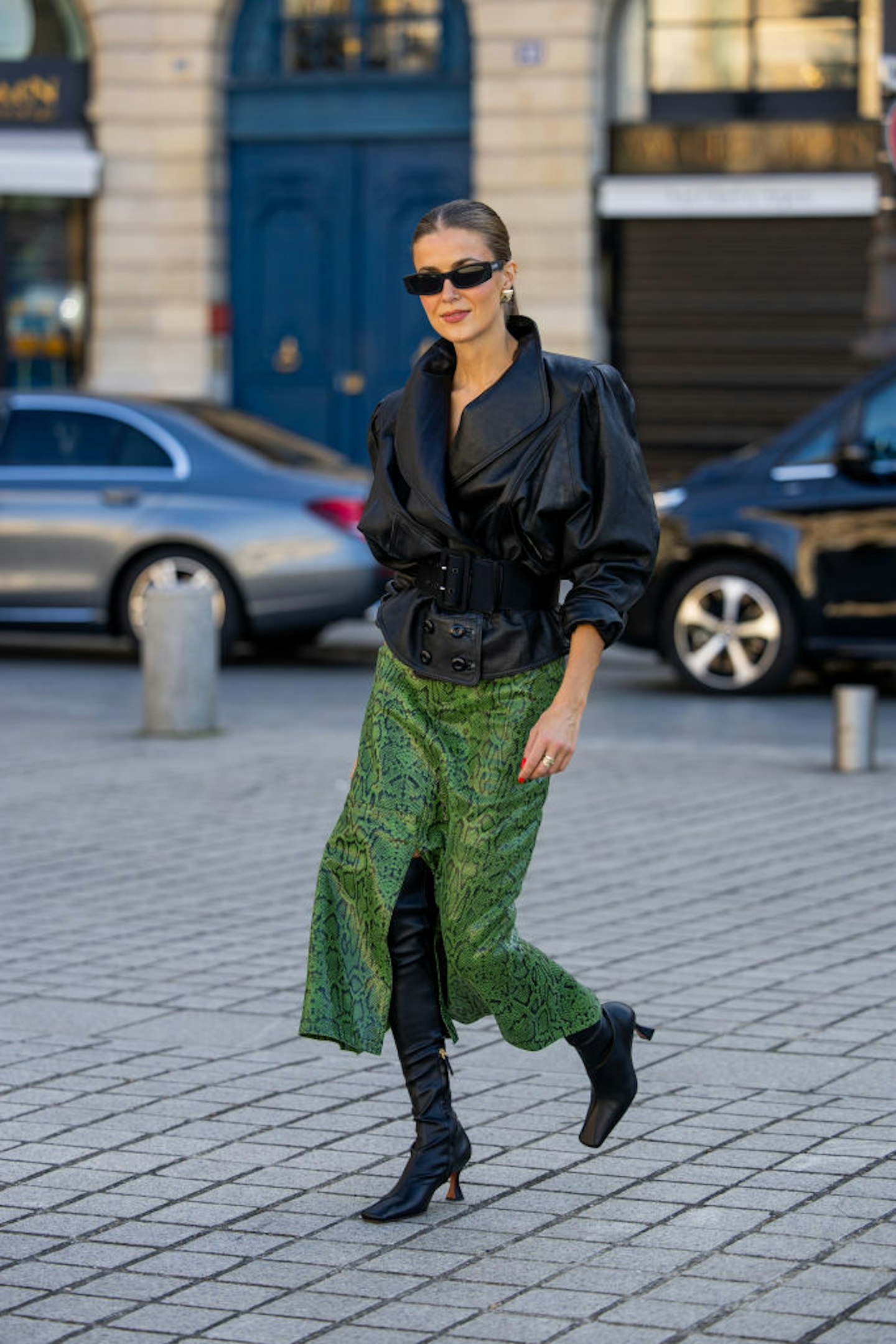 Description
Try a statement skirt with classic black leather boots. Ganni's snake-effect wrap skirt will be
Description
Look for an oversized fit to keep a leather jacket looking cool.
Description
Look for kitten-heel height boots for maximum wearability.
Hoodie + Coat
You don't have to save your favourite hoodie for a night spent on the sofa. No, no. As this woman proved in Paris, loungewear can look oh-so-luxe with the addition of an ankle-sweeping coat and scrunched leather gloves.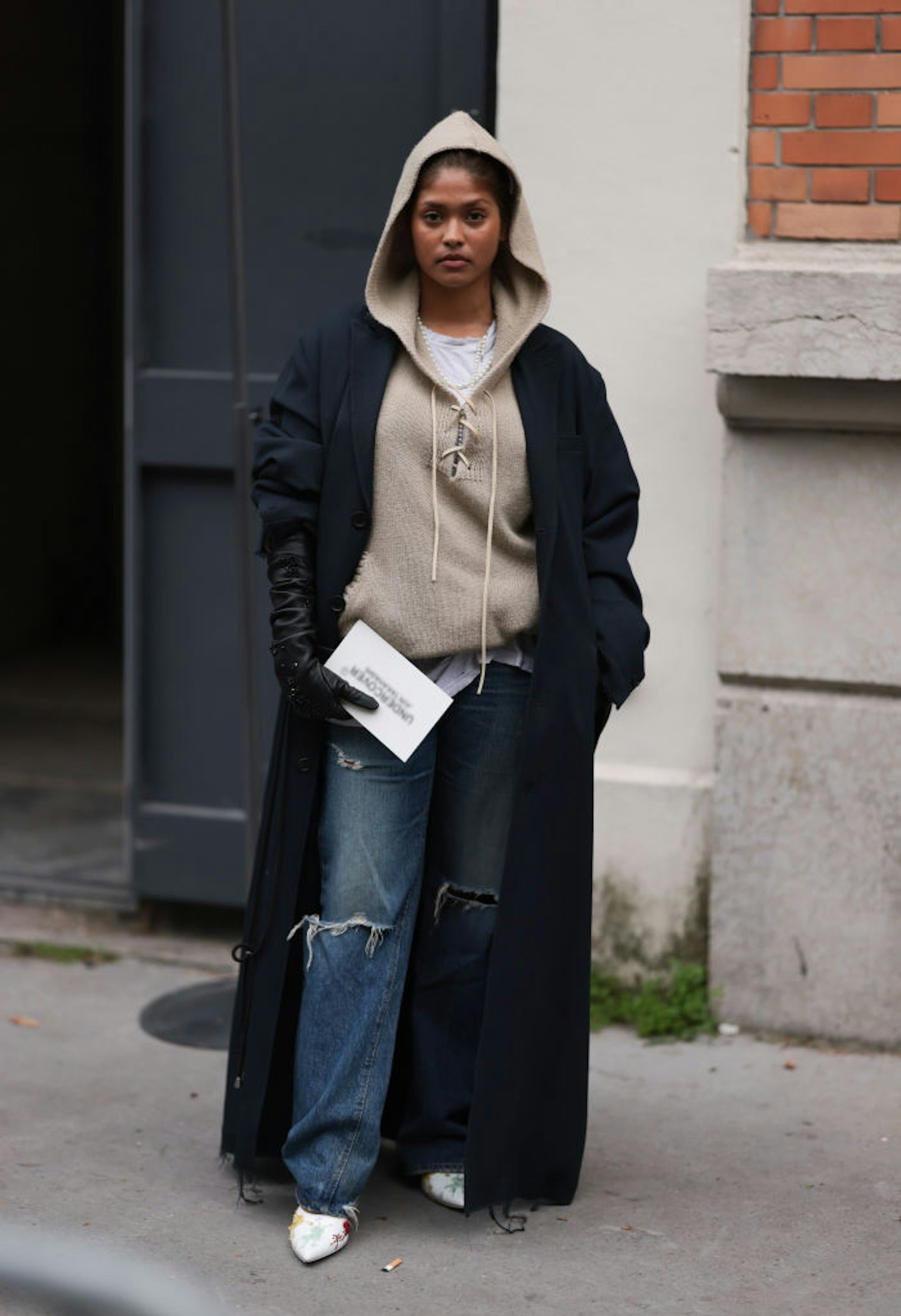 Description
Hush's wool-blend hoodie can easily be dressed with leather trousers and a smart pair of ankle
Description
Zara has a superlative collection of slouchy jeans that are a trending style for AW23.
Description
Weekday's oversized coat is made of a wool blend that means it's super warm.
Colour-Blocking
Caroline Issa certainly brightened up the grey skies of Paris. Her violet dress and khaki coat was an inspired colour combination that is almost guranteed to cheer you up when the weather forecast is decidedly gloomy.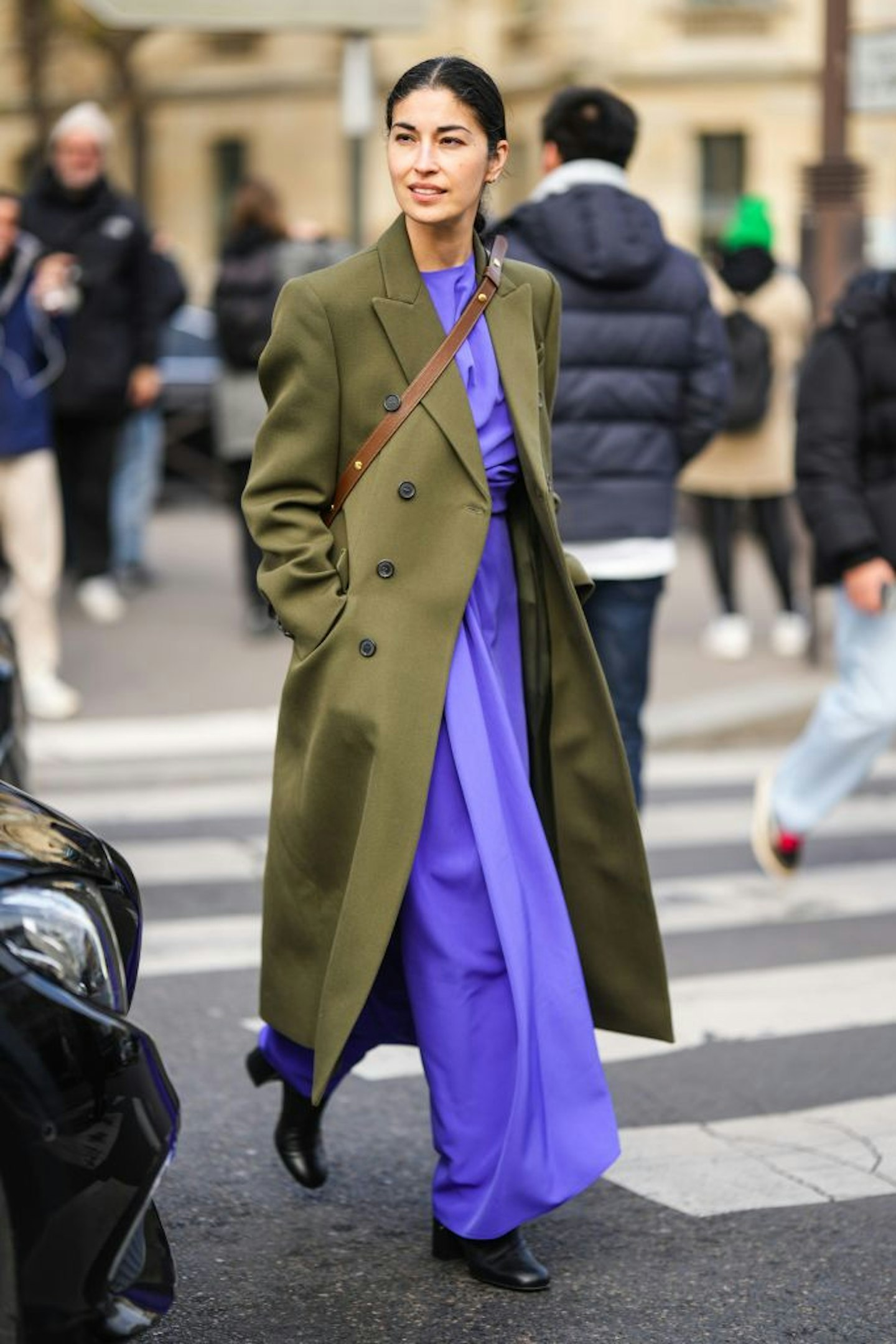 Description
This orchid purple dress isn't just a sensational colour - it's also sensationally comfortable
Description
This & Other Stories trench coat comes up on the small side so consider sizing up if you prefer a
Double Denim
You could easily wear this double denim outfit until winter as long as you've got a coat and a pair of opaques handy.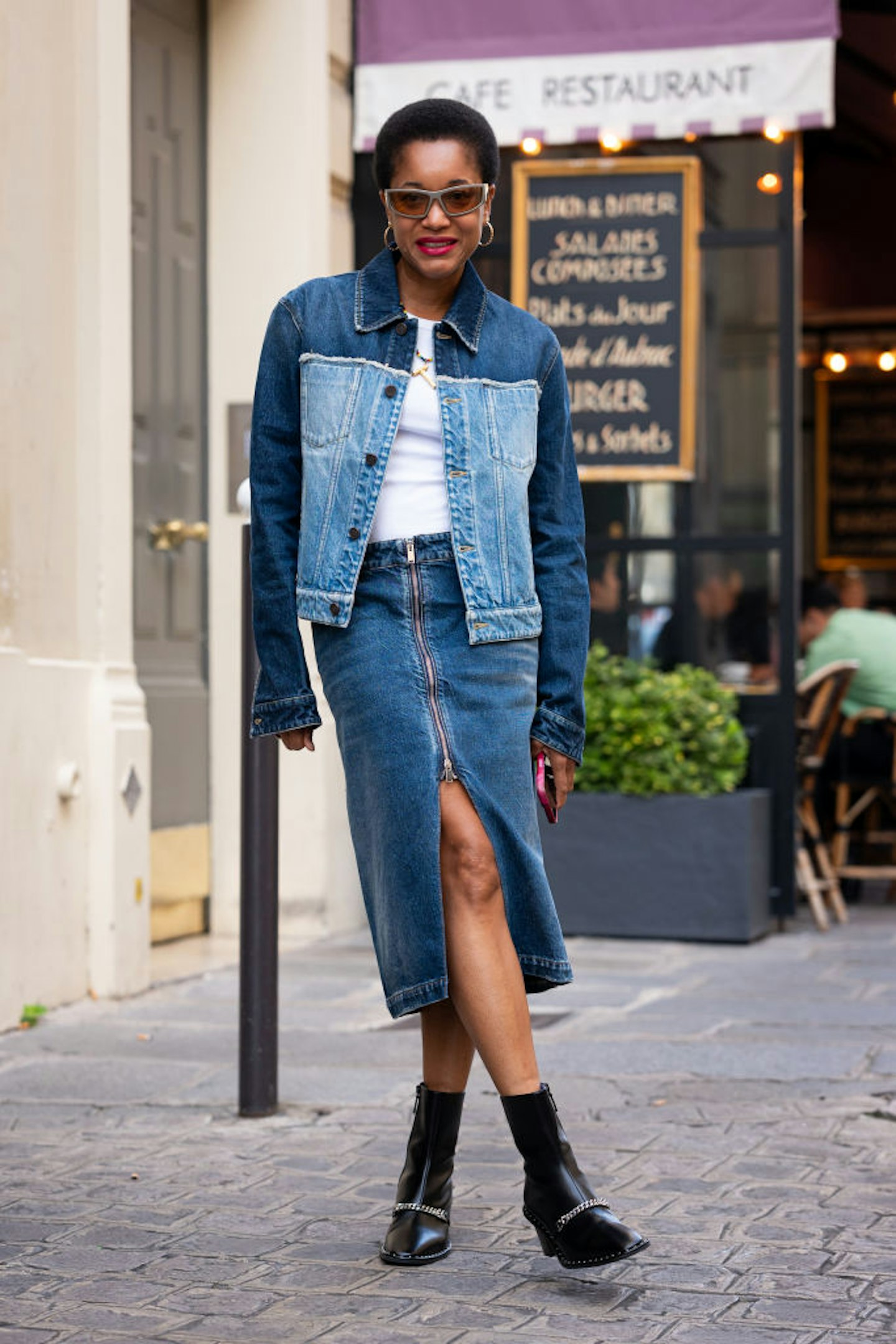 Description
A faux-sheepskin collar will make your denim jacket look suitably autumnal. Pair it with a maxi
Description
Aligne's denim maxi skirt is crafted from 100% organic cotton that uses 80% less water than