Last week, Carine Roitfeld posted a series of pictures of Princess Anne to her Instagram account. 'Underrated fashion icon,' wrote the former Paris Vogue editor and eternal style legend. 'Nobody does cool like Princess Anne'. It got over 16,000 likes.
With season four ofThe Crown now on Netflix (and, if you're anything like us, already done and dusted), Diana-fever is currently high. Obviously. Her peppy knits, pie-crust collars and high-waisted denim are Instagram catnip.
But Roitfeld is onto something. Princess Anne might well be the most fashion-forward member of the royal family. Just like Diana, many of Anne's sartorial choices making their way back into fashion right now – puff sleeve dresses and shots of primary colours, cardigans and sweater vests, headscarves and neckerchiefs.
A patchwork knitted waistcoat is a dead-ringer for the JW Anderson cardi Harry Styles wore that became a viral TikTok sensation. And what about her country pursuits get-up? Perfect timing in a year when many of us are getting acquainted with the joys - and outright necessity - of plodding around the park. You might not have a horse (or hound) of your own, but nobody needs to know that. Her outré hat collection, by the way, is the only reference you need on your mental moodboard next wedding season.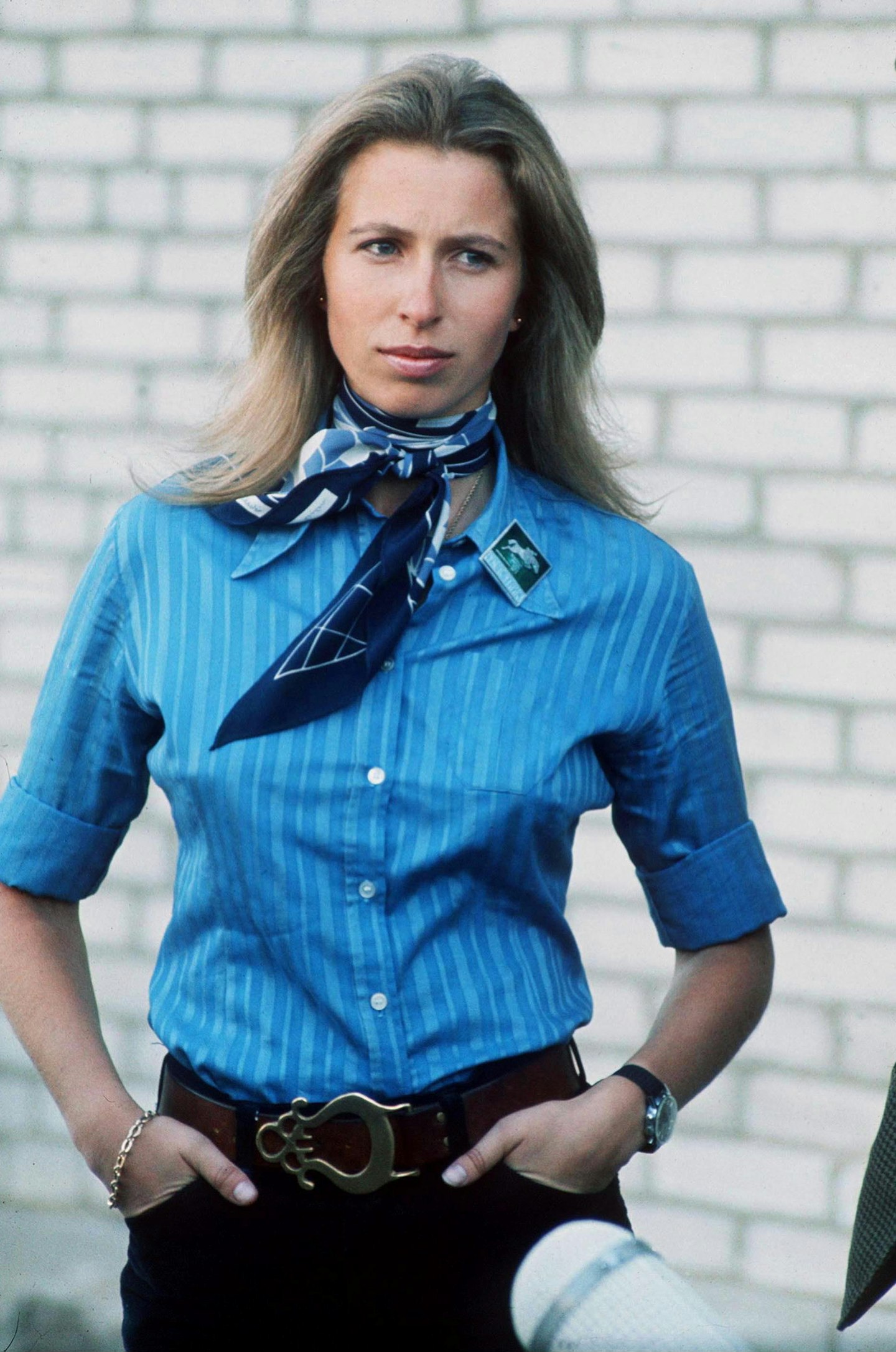 Anne rolls her eyes at the notion of playing it safe. She wore a printed silk Pucci dress with matching headscarf as maternity wear, for heaven's sake! That's nothing short of heroic. Famously outspoken, she has never been afraid to express personality through her clothes. Take, for example, Anne's choice of a yellow cardigan layered over a Pucci dress – something she wore 11 years later with an adjusted hemline. Or how about that white suit layered over a bright yellow shirt for a trip to the theatre? So sharp, so unabashedly 'groovy', it would have looked more at home in Studio 54than Buckingham Palace.
Forever a fan of colour, Anne has also worn many of the trends currently dominating Instagram, from balloon sleeves and hair accessories to canny layering. Remember the dress she wore for the wedding of the Duke and Duchess of Sussex? Rather than opting for something traditional, Anne wore a faux wrap dress that prompted comparisons to Hugh Hefner. She is, in many ways, the epitome of personal style: she wears what she wants, when she wants, how she wants. And if you don't like it, well, you know what she'd say? 'Naff orff'.
SEE: Why Princess Anne Is The Most Stylish Royal
Why Princess Anne Is The Most Stylish Royal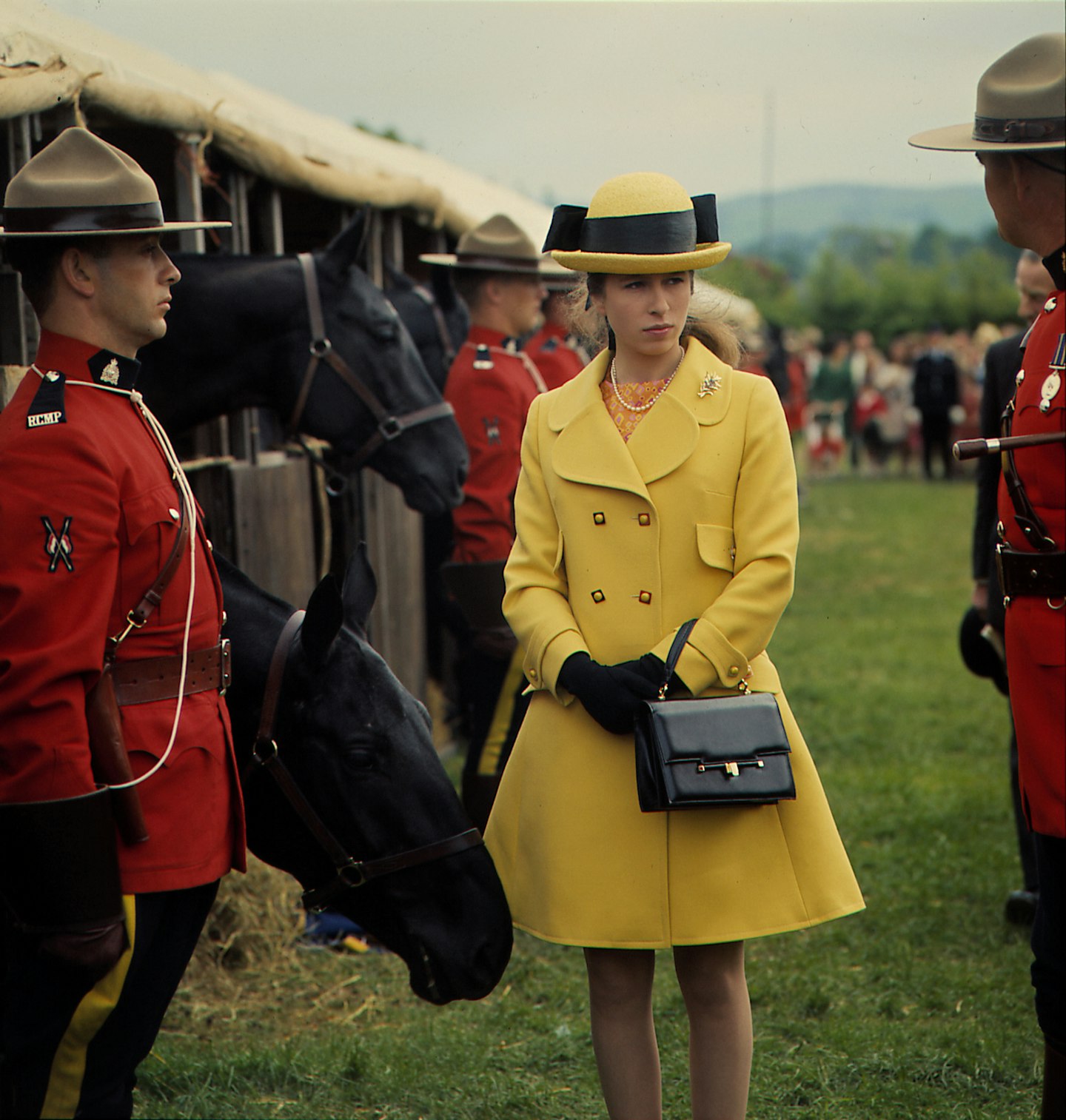 1 of 22
Canada, 1968
To attend a Horse Trials, where she met members of the Royal Canadian Mounted Police, Princess Anne chose a striking yellow coat with matching, oversized hat decorated with a black bow.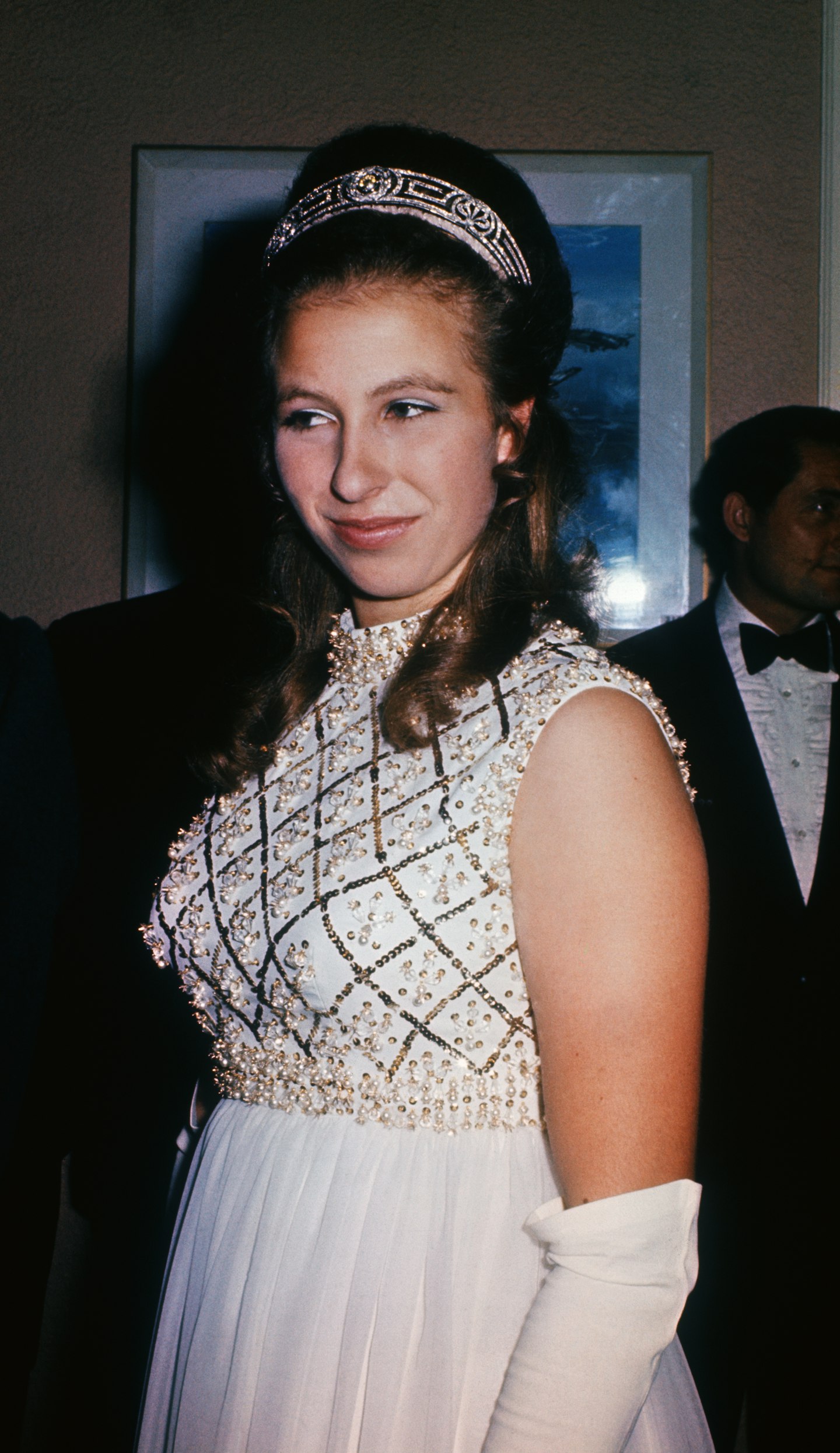 2 of 22
London, 1969
For a Royal performance of the film Battle of Britain, Anne wore an embellished, empire line dress.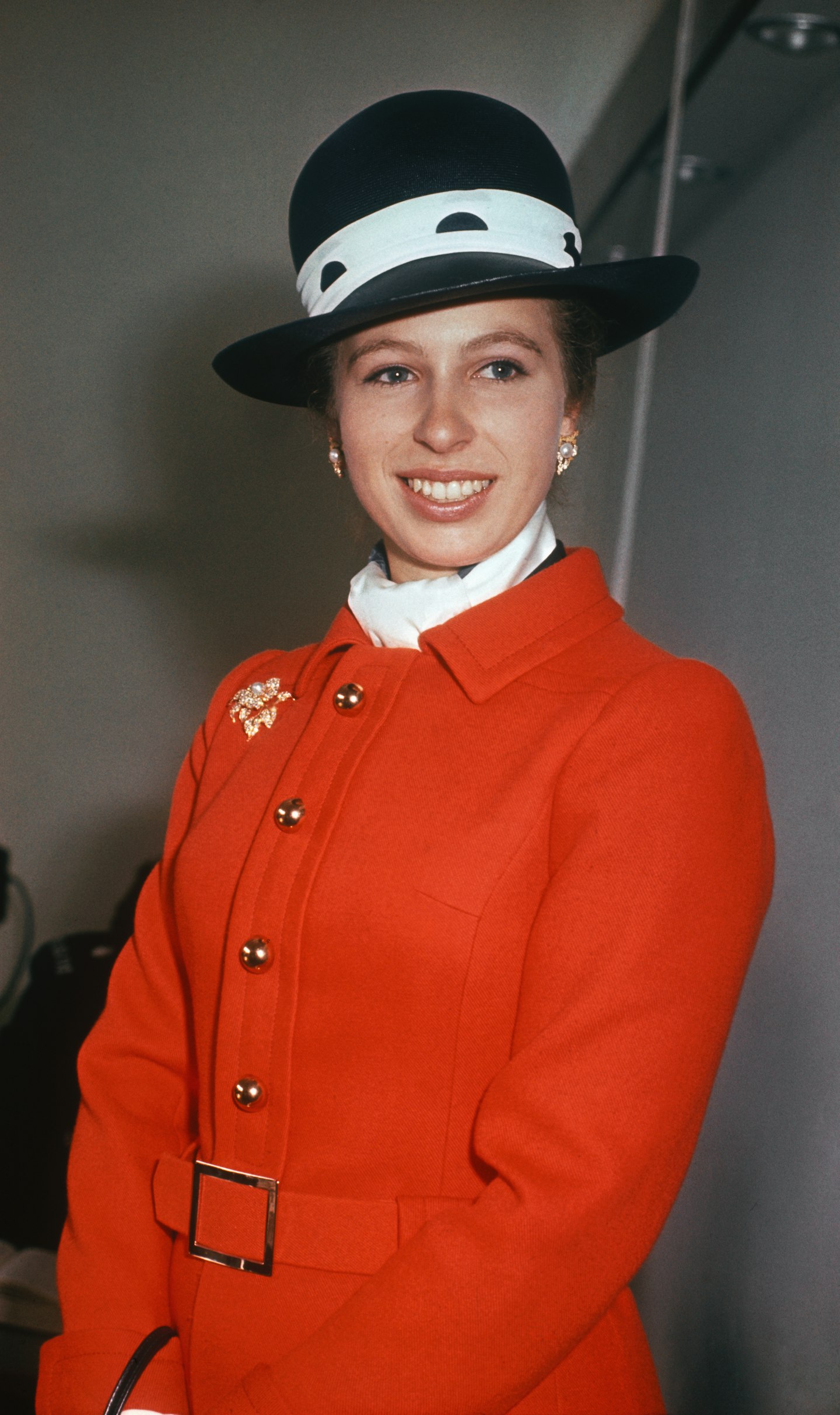 3 of 22
London, 1969
For the opening of a new Police Cadet Training Academy in London, Anne chose a bright red coat and truly excellent hat.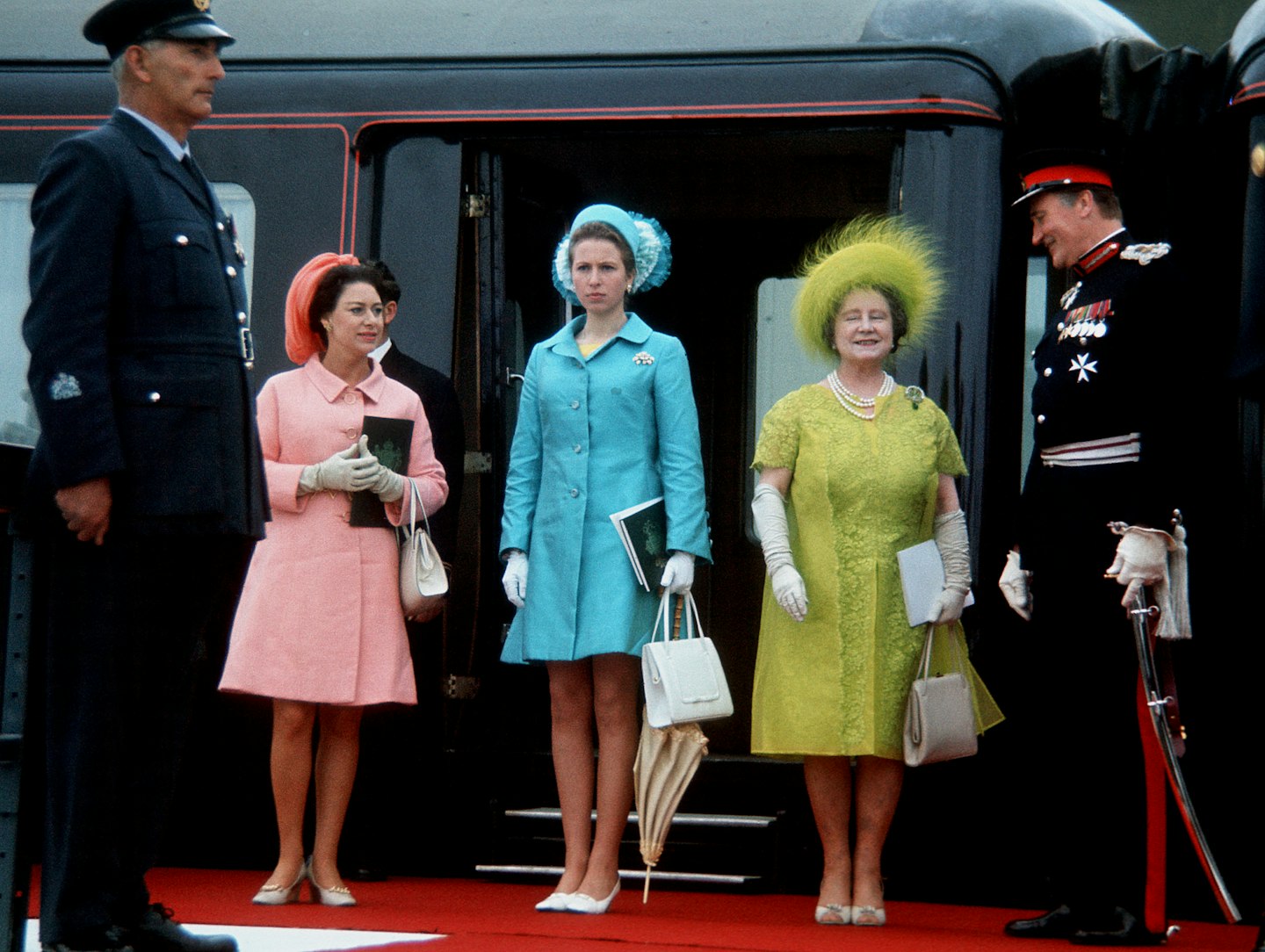 4 of 22
Wales, 1969
On arrival in Caernarvon, Wales, Anne wore a bright blue coat and hat to contrast with Princess Margaret, in pink and the Queen Mother in lime green.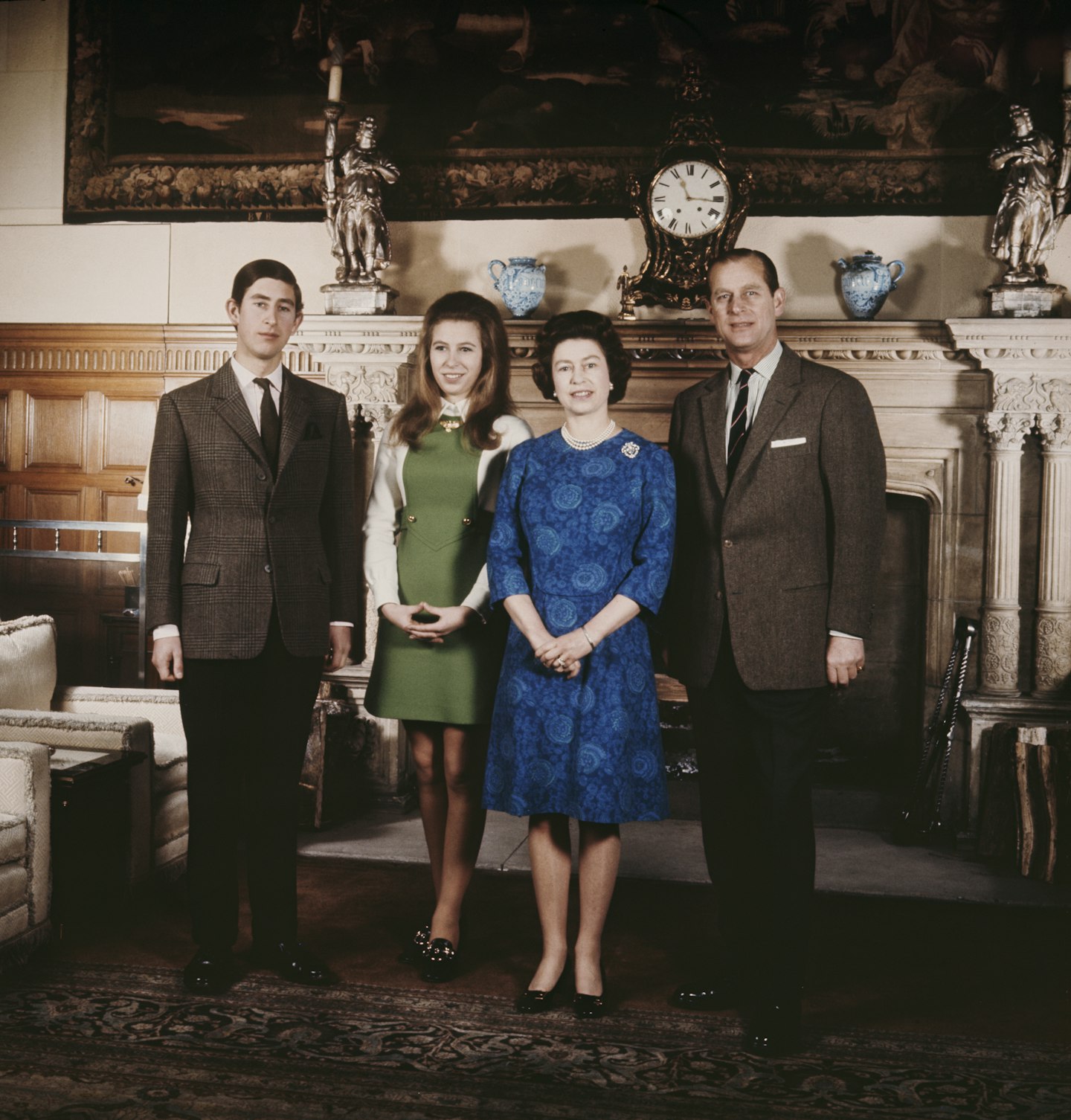 5 of 22
Sandringham, 1970
Posing for a photograph with her brother, Prince Charles and her parents, Queen Elizabeth II and Prince Philip, Anne wore a green pinafore dress with white shirt and embellished shoes.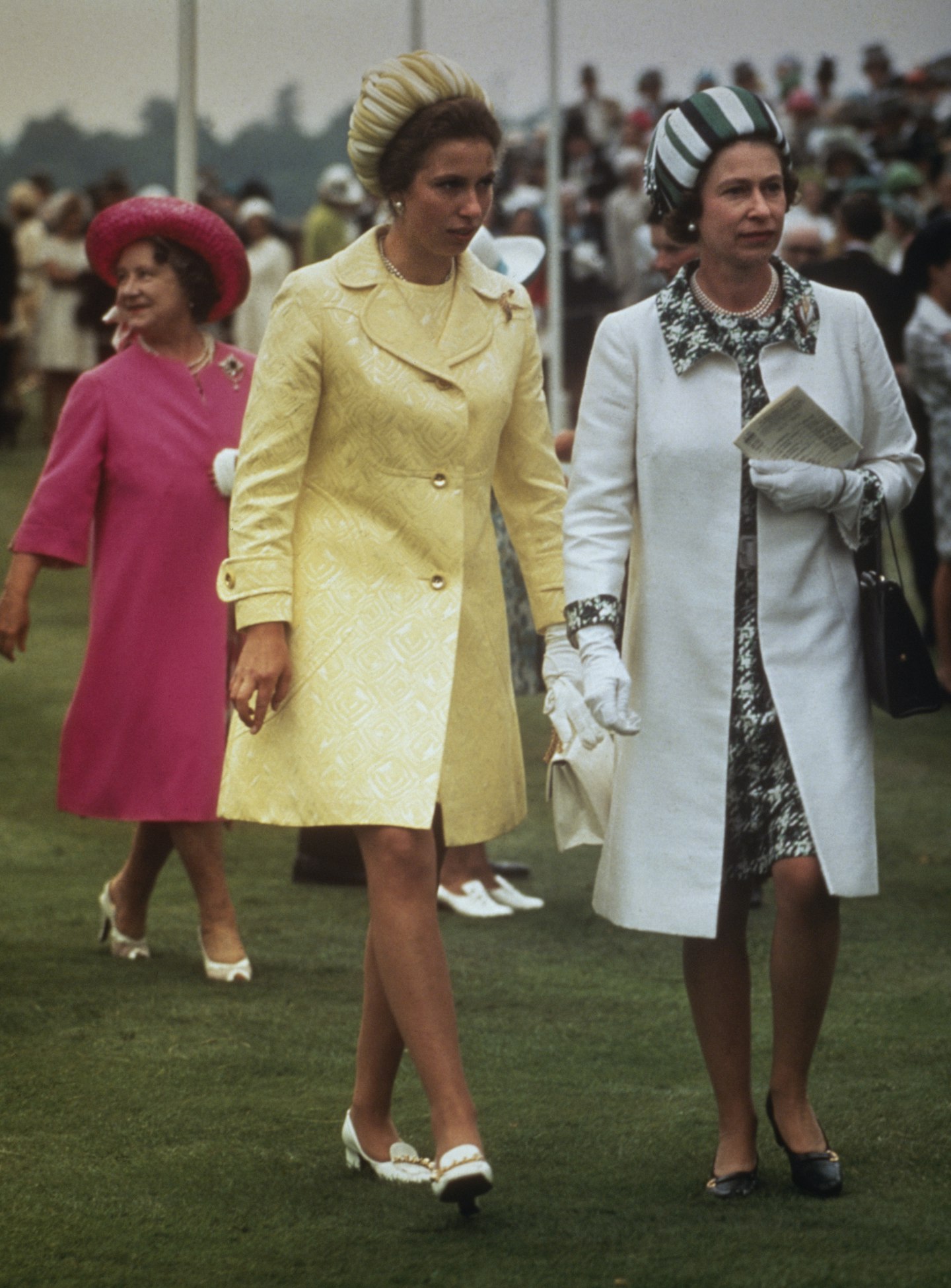 6 of 22
Royal Ascot, 1970
Arriving at Ascot with her mother, the Queen, Anne chose a yellow jacquard dress and matching coat with chain-detail white loafers.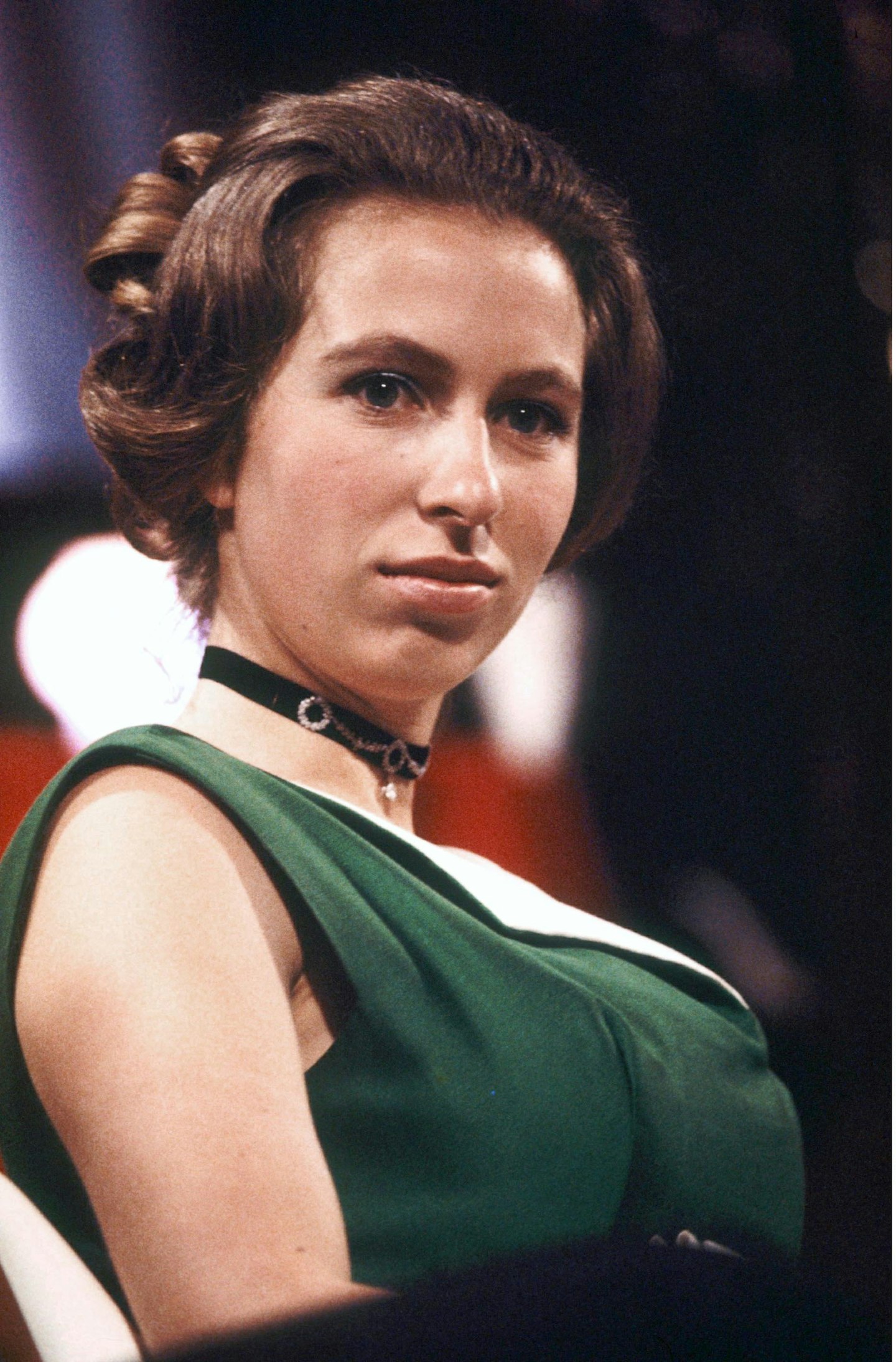 7 of 22
London, 1971
To attend the Society of Film and Television Awards (now known as BAFTA), Anne wore a green dress with a black choker necklace.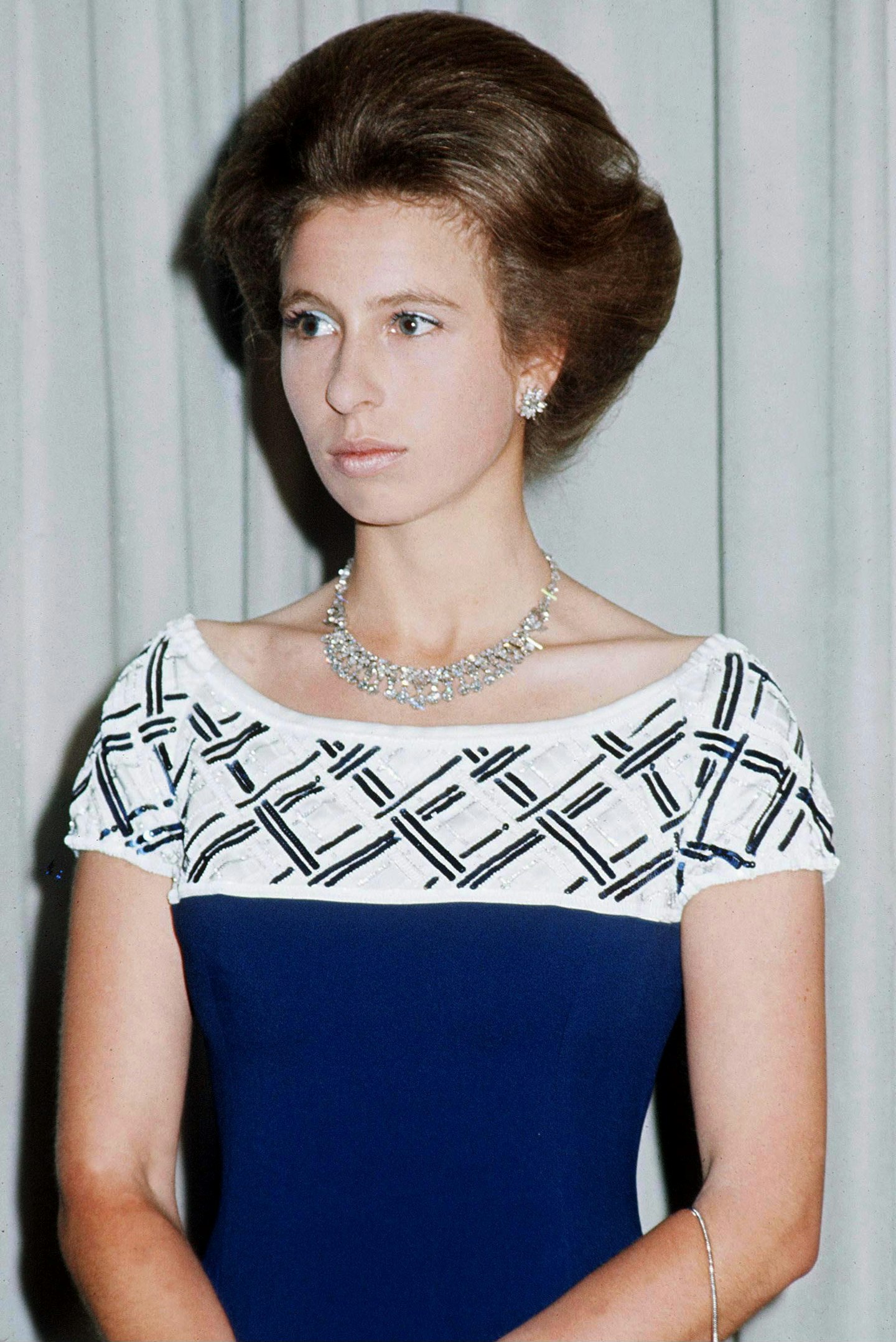 8 of 22
Berlin, 1973
Anne let her diamonds do the talking in Germany when she chose a simple, two-tone dress.
9 of 22
Sandhurst, 1973
For a Passing Out parade at Sandhurst, Anne wore a Pucci dress layered underneath a bright yellow cardigan (v.2019). She wore this dress 11 years later, adjusted so that the hemline was longer.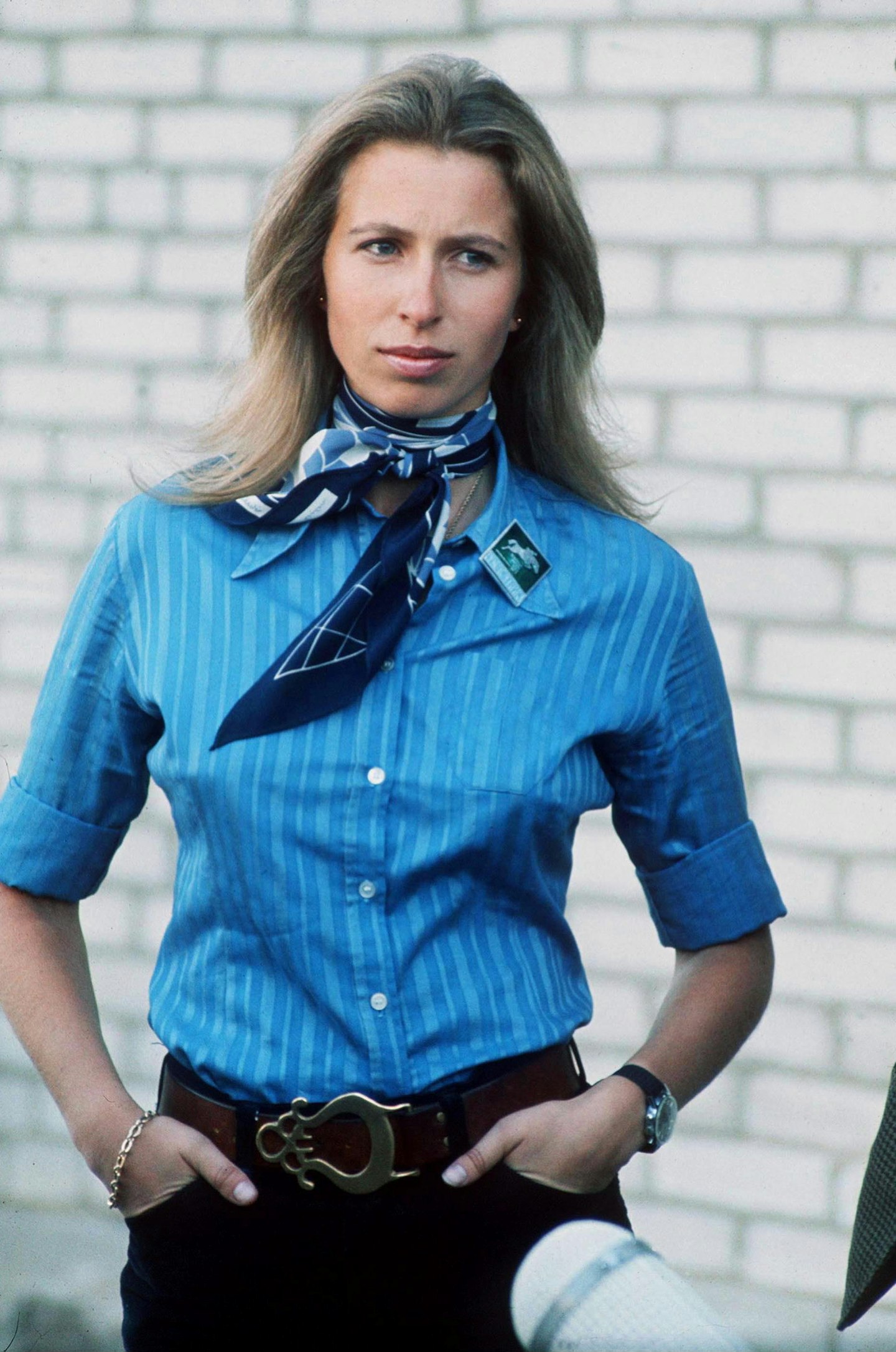 10 of 22
Kiev, 1973
Clearly, Anne understands the power of a great accessory if this scarf is anything to go by.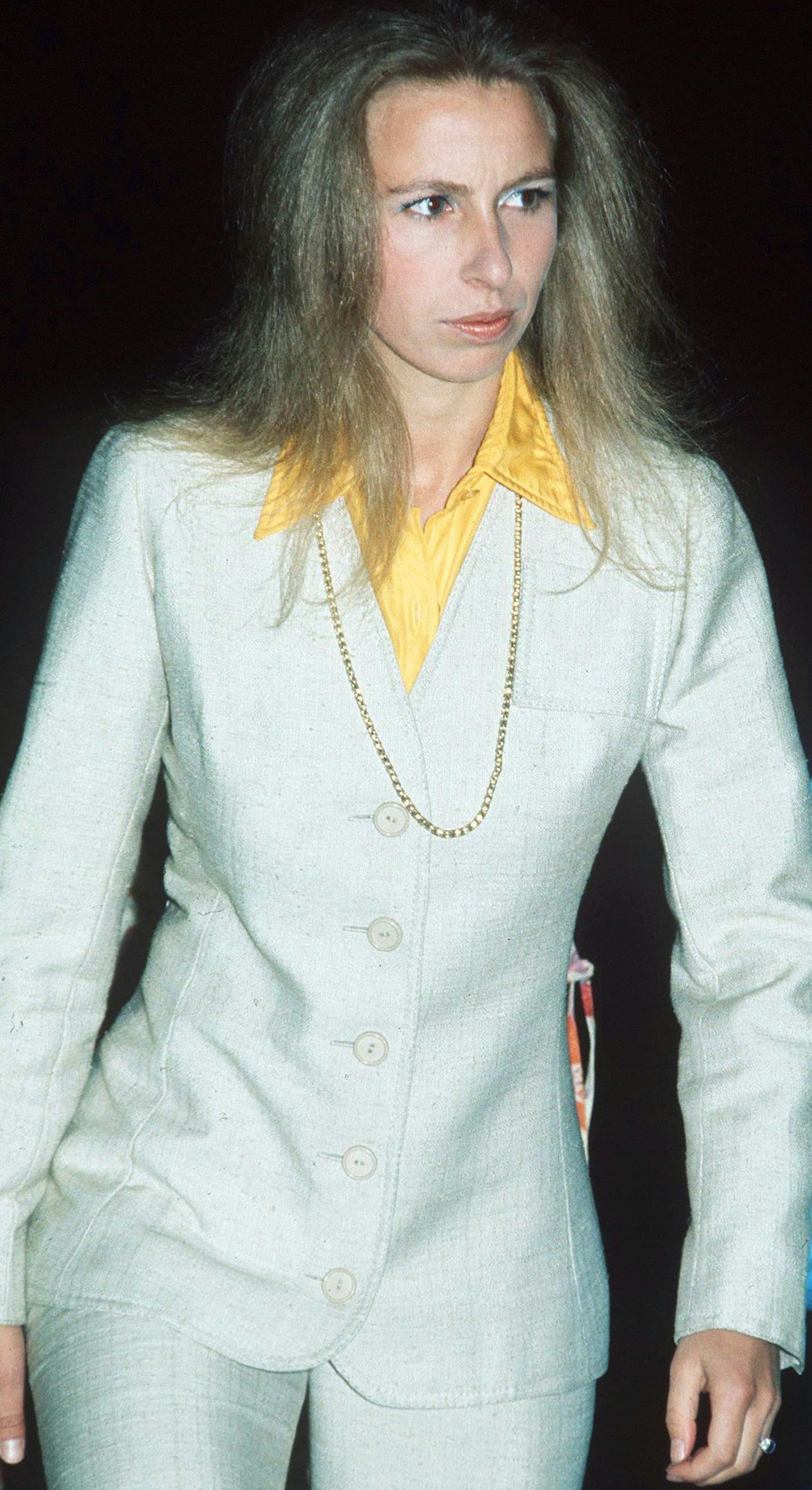 11 of 22
London, 1973
For a visit to the theatre, Anne seemingly watched Saturday Night Fever before getting dressed, when she opted for white suit and bright yellow shirt.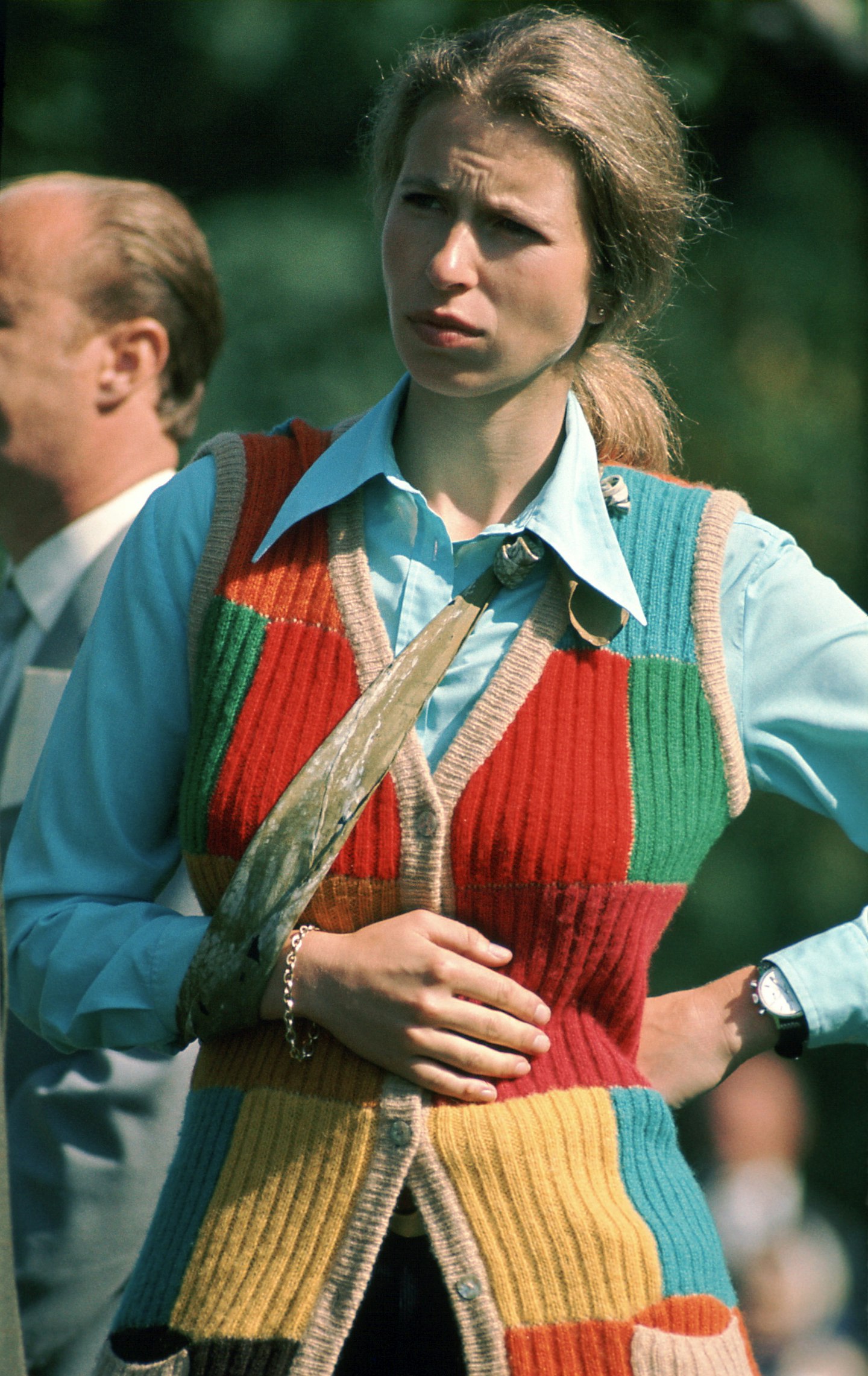 12 of 22
Kiev, 1973
Anne suffered a sprained wrist during an accident at a horse championship, but this did not deflect from the fact that she chose a patchwork, knitted waistcoat.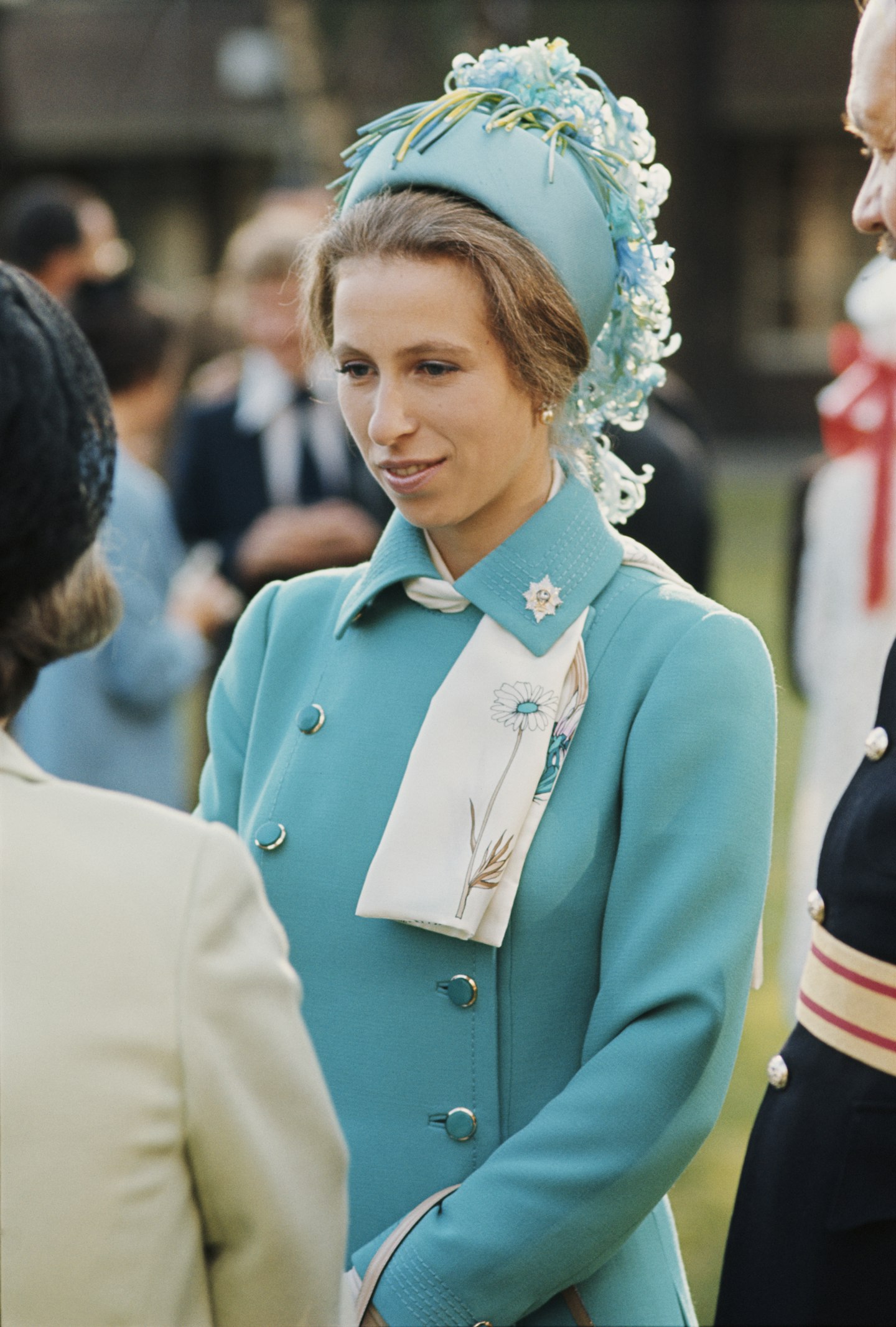 13 of 22
Berlin, 1973
For the Queen's birthday parade, Anne looked super-chic in a double breasted coat with matching hat.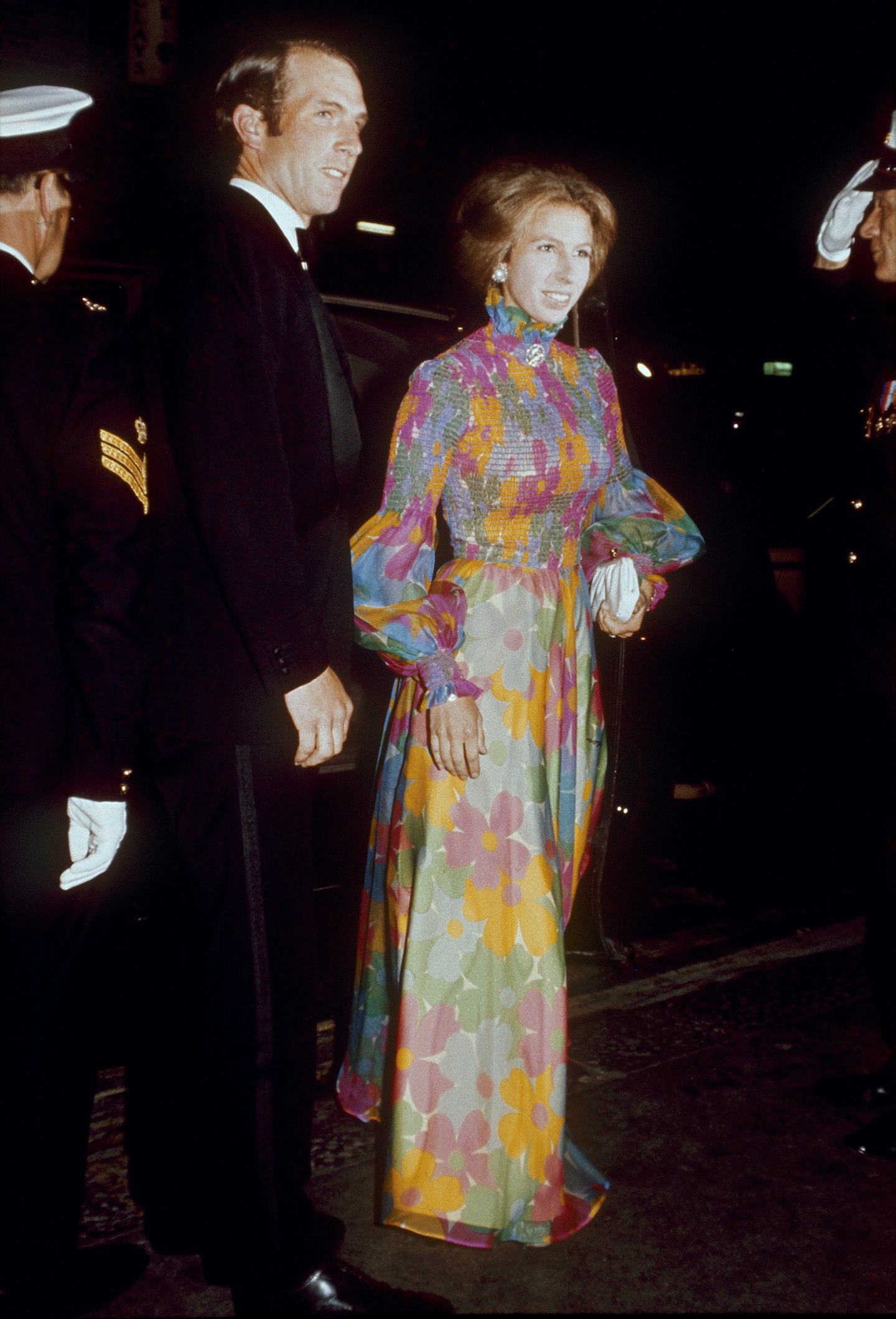 14 of 22
London, 1973
Arriving with Mark Philips for a film premiere in London, Anne wore a long, floral dress with balloon sleeves that would not look out of place on Instagram right now.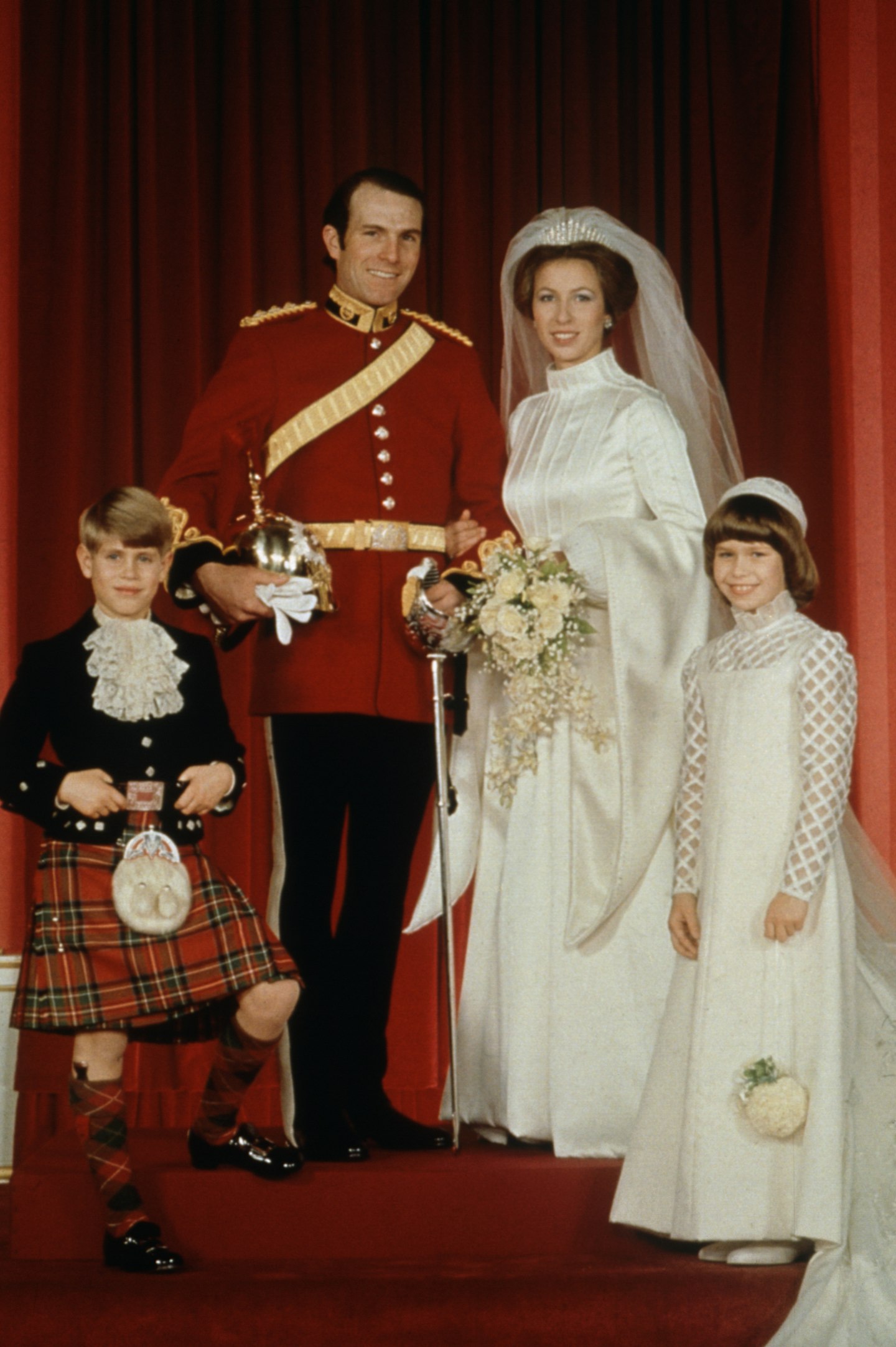 15 of 22
London, 1973
Anne married Captain Mark Philips at Westminster Abbey in November, 1973. Her dress was designed by Maureen Baker and was crafted from white silk with a high neck, fitted bodice and flared skirt that swept into a 7ft train. There was a fashion for Tudor-style dresses in the early 70s, which is why Anne opted for trumpet sleeves decorated with pearls.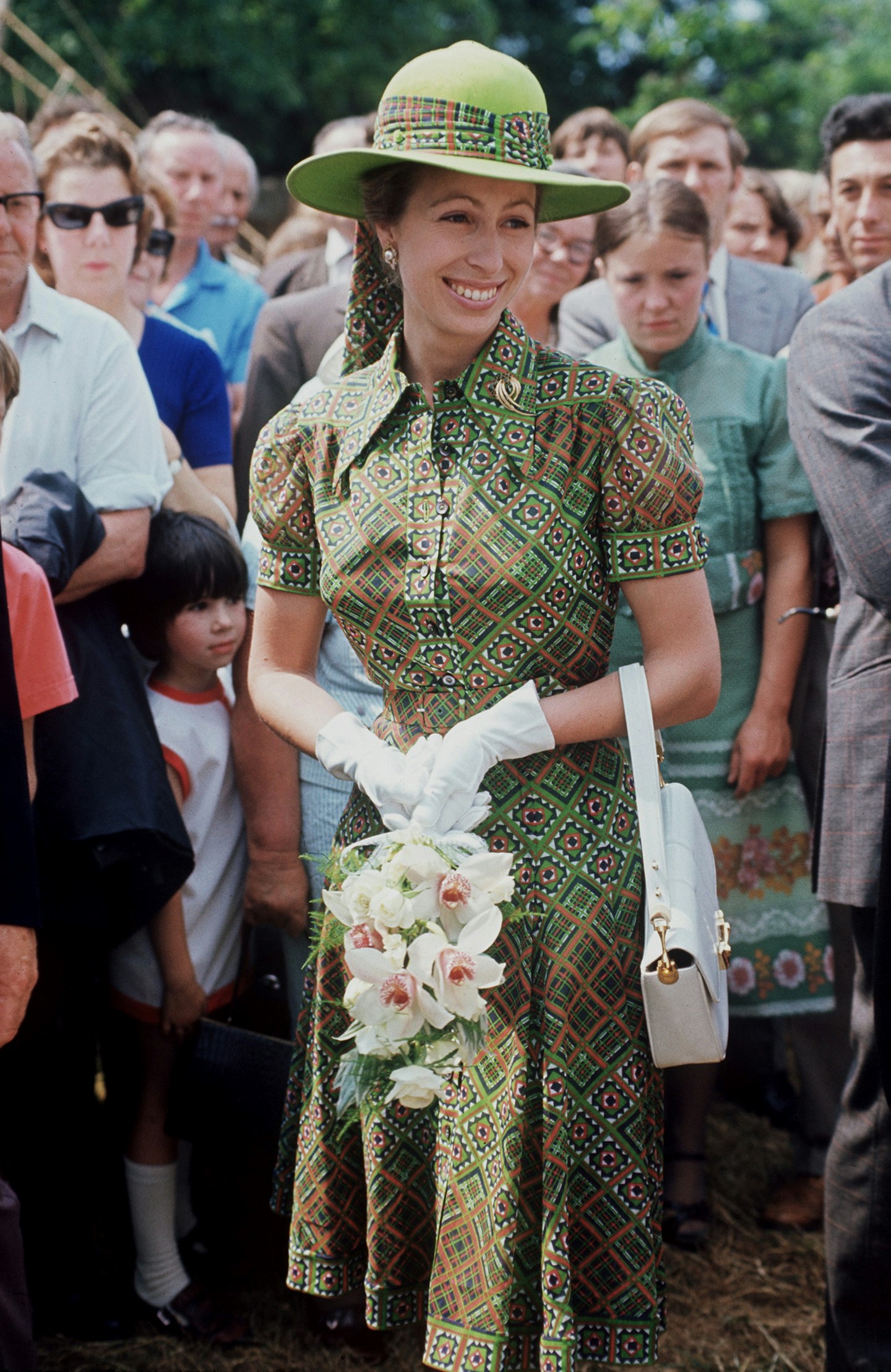 16 of 22
Wiltshire, 1975
Anne chose a printed shirt dress with oversized lapels, wrapping a piece of the matching fabric around her hat.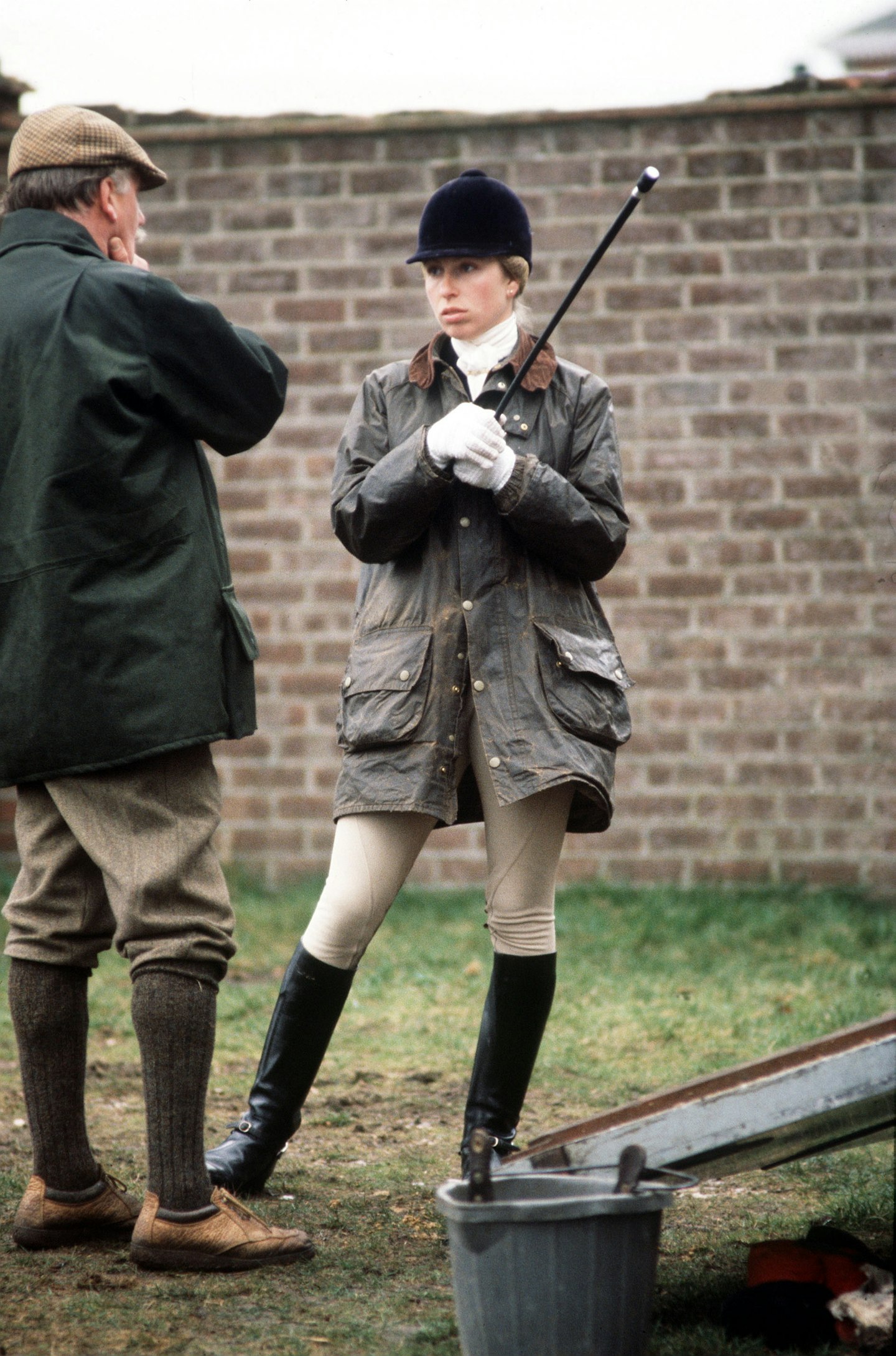 17 of 22
Crookham Horse Trials, 1978
Proving that the Barbour is, in fact, timeless, Anne wore hers during Crookham Horse Trials.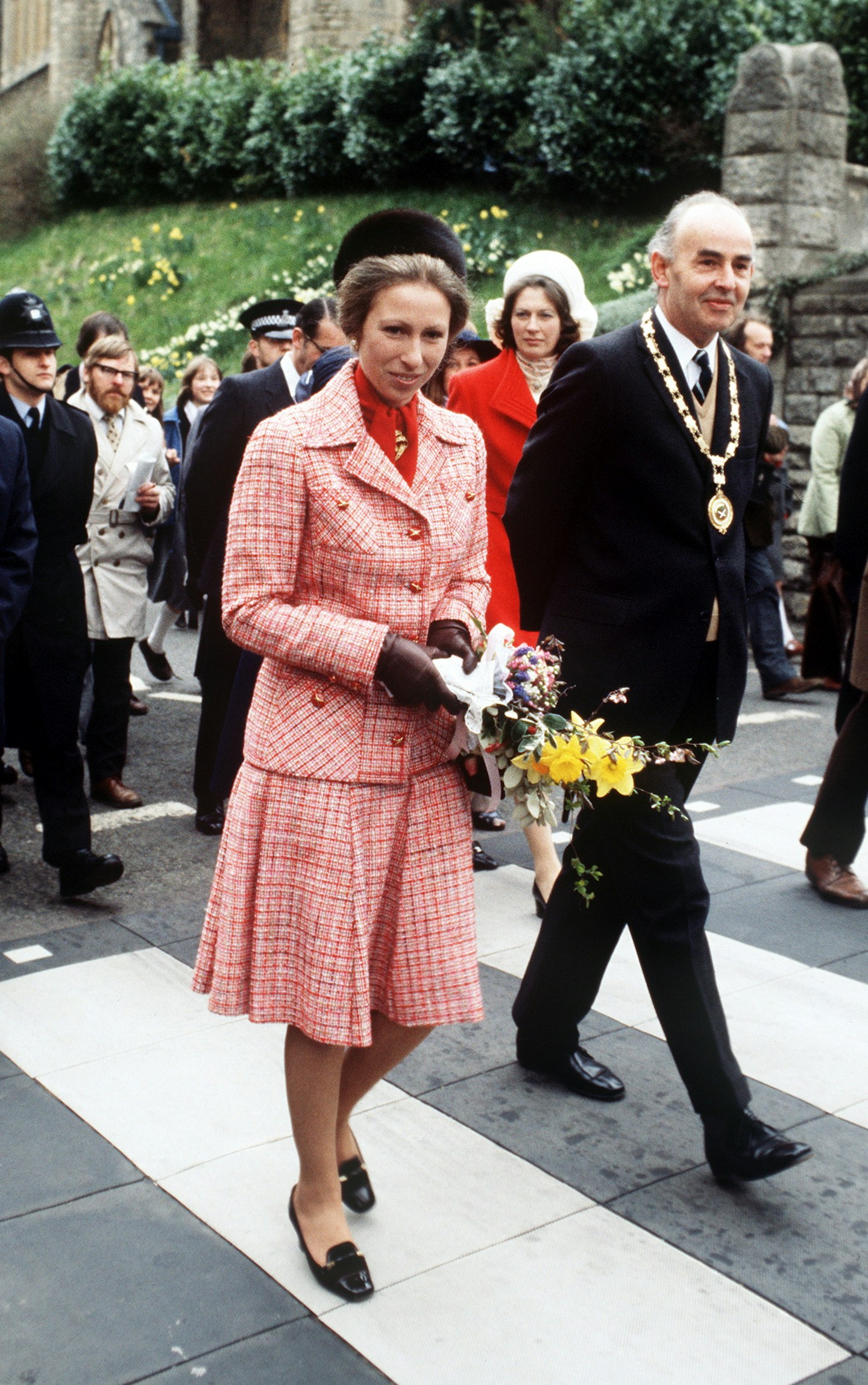 18 of 22
Nailsworth, 1978
Heeled loafers are currently experiencing a comeback, and back in 1978 Anne paired hers with a tweed skirt suit and pillbox hat.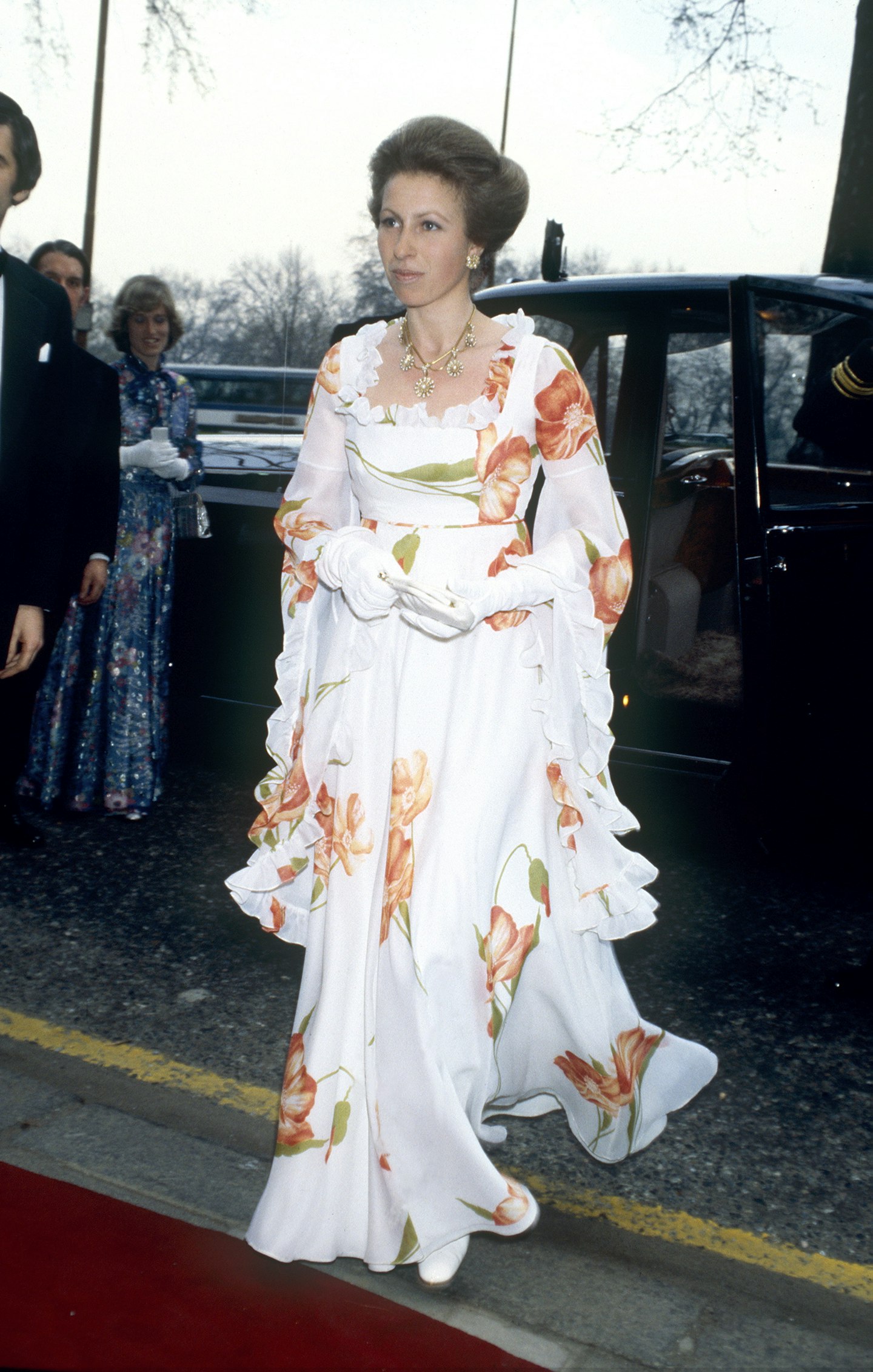 19 of 22
London, 1978
Anne arrived for an event at The Dorchester hotel in London wearing a floor-sweeping white gown adorned with blown-up blooms.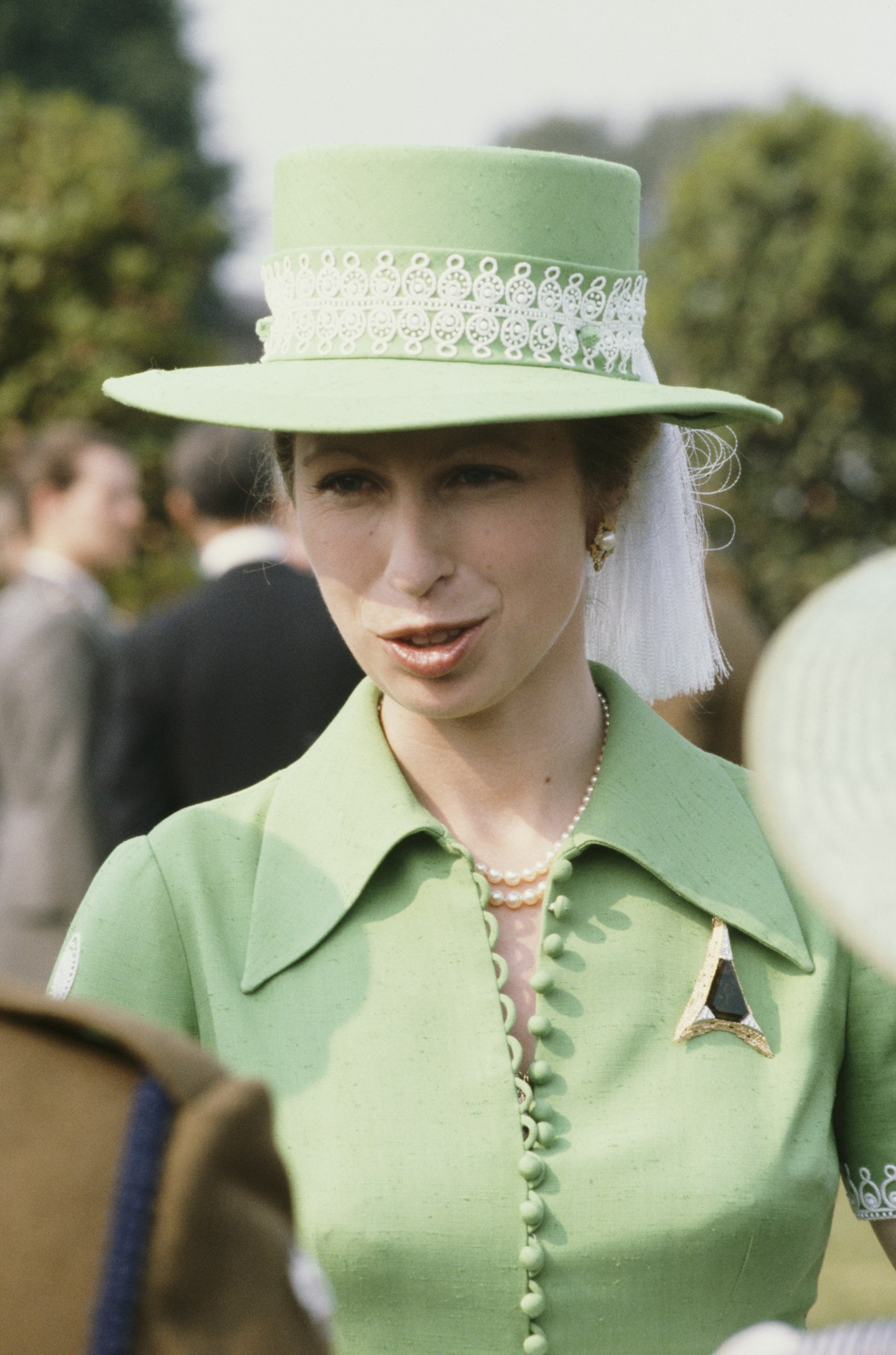 20 of 22
1978
During a public event, Anne wore button-up pistachio with a matching, wide-brim hat, complete with white tassel at the back.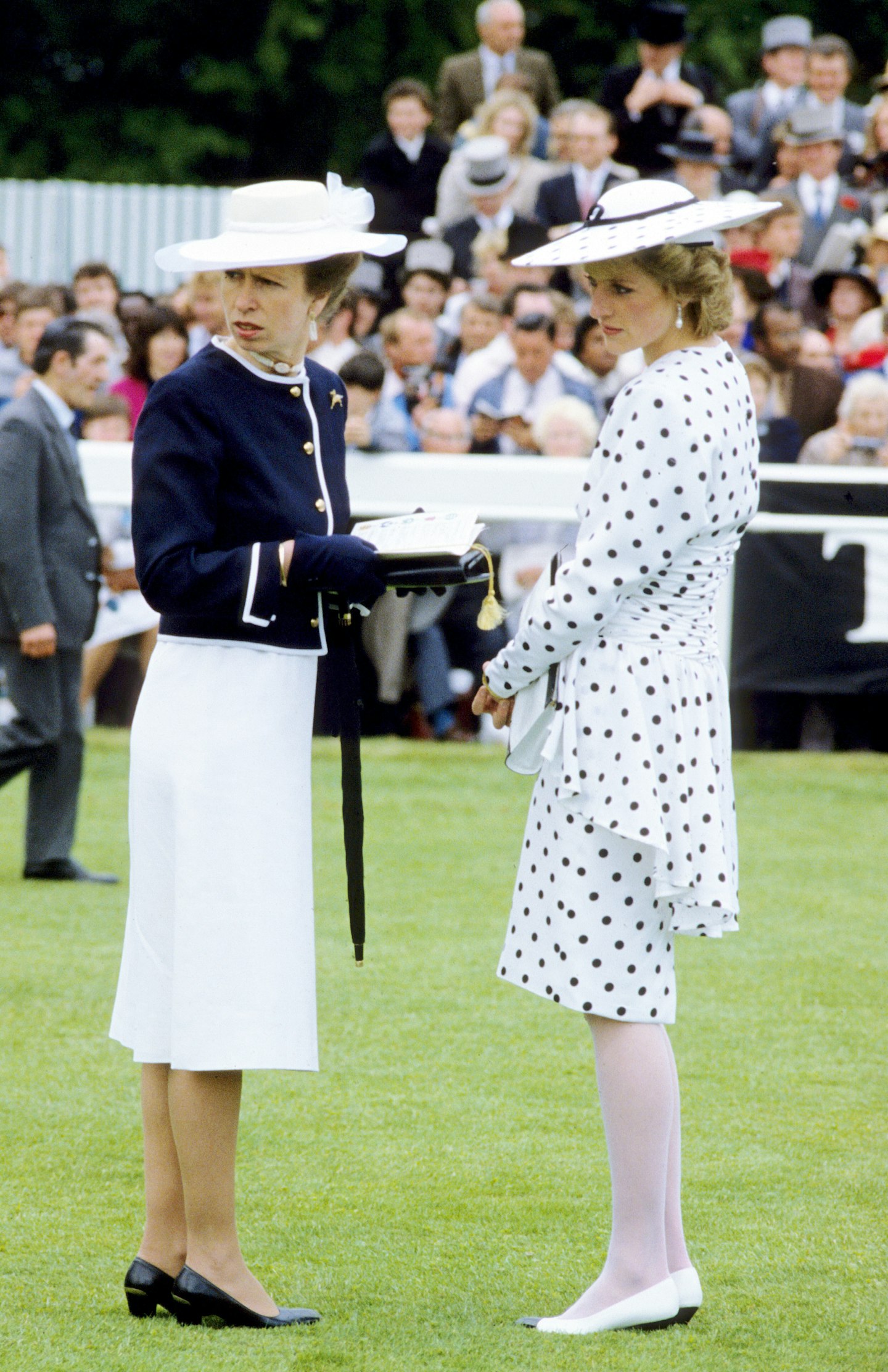 21 of 22
The Derby, 1986
Attending the Derby with Princess Diana, Anne wore a chic navy, cropped jacket with gold buttons.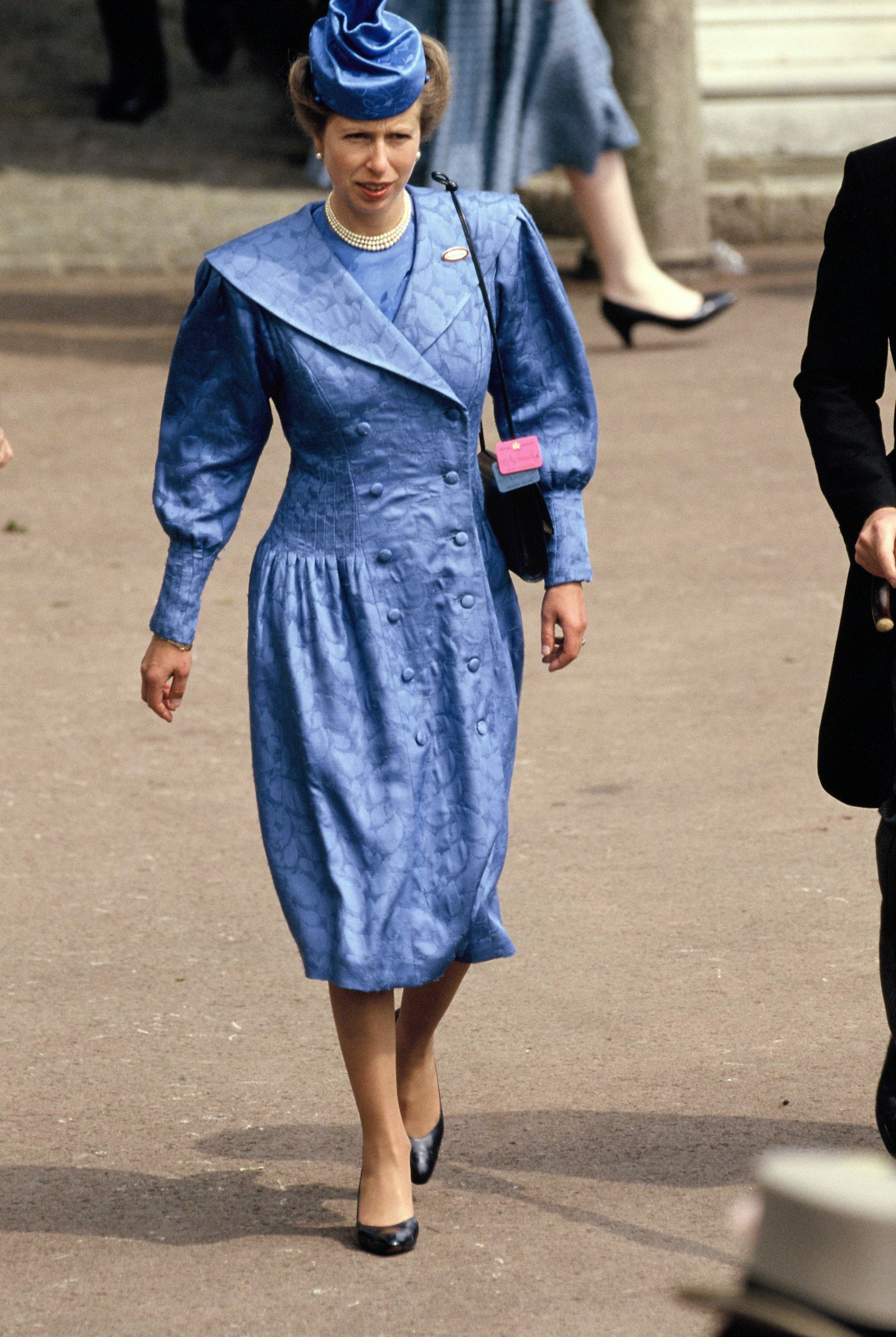 22 of 22
Royal Ascot, 1987
Anne's dramatic sleeves and ruched waist certainly wouldn't look out of place in 2019.