A major perk of being the Queen's granddaughter-in-law is that, since her wedding to Prince William 10 years ago, Kate Middleton has an unrivalled archive of jewellery from which to choose, including everything from iconic tiaras to priceless rings to gem-encrusted earrings. Her latest addition? A £9000 diamond necklace in the shape of a daisy, from Asprey, which may have been an anniversary gift from William. Ever since her wedding day, when she famously borrowed the Cartier Halo tiara from Her Majesty's enviable collection, the Duchess of Cambridge has loaned a number of striking pieces from the royal vault. Well, you would, wouldn't you?
When it comes to her rings however, the Duchess tends to keep things more low-key, sticking with a handful of pieces with sentimental value. First - and most famously - there's that Kate Middleton engagement ring: the 12-carat sapphire that was famously first given to Kate's late mother-in-law, Diana, upon her engagement to Prince Charles. Created by Garrard & Co back in 1981, it is thought to have cost around £28,000, and was initially referred to in the press as the 'commoner's sapphire,' a slightly barbed reference to the fact that the ring was not a bespoke design. Along with the new necklace, it featured in the pair's anniversary portraits.
The sapphire ring is one of a trio that Kate typically wears day to day, along with her wedding band, wrought from a special nugget of Welsh gold. As for the other pieces stashed in her jewellery box? From the gifts she received from Prince William in the early days of their relationship to the citrine gem that made an unexpected reappearance at Harry and Meghan's wedding, these appear to be the Duchess's favourites...
SEE: Kate Middleton's Rings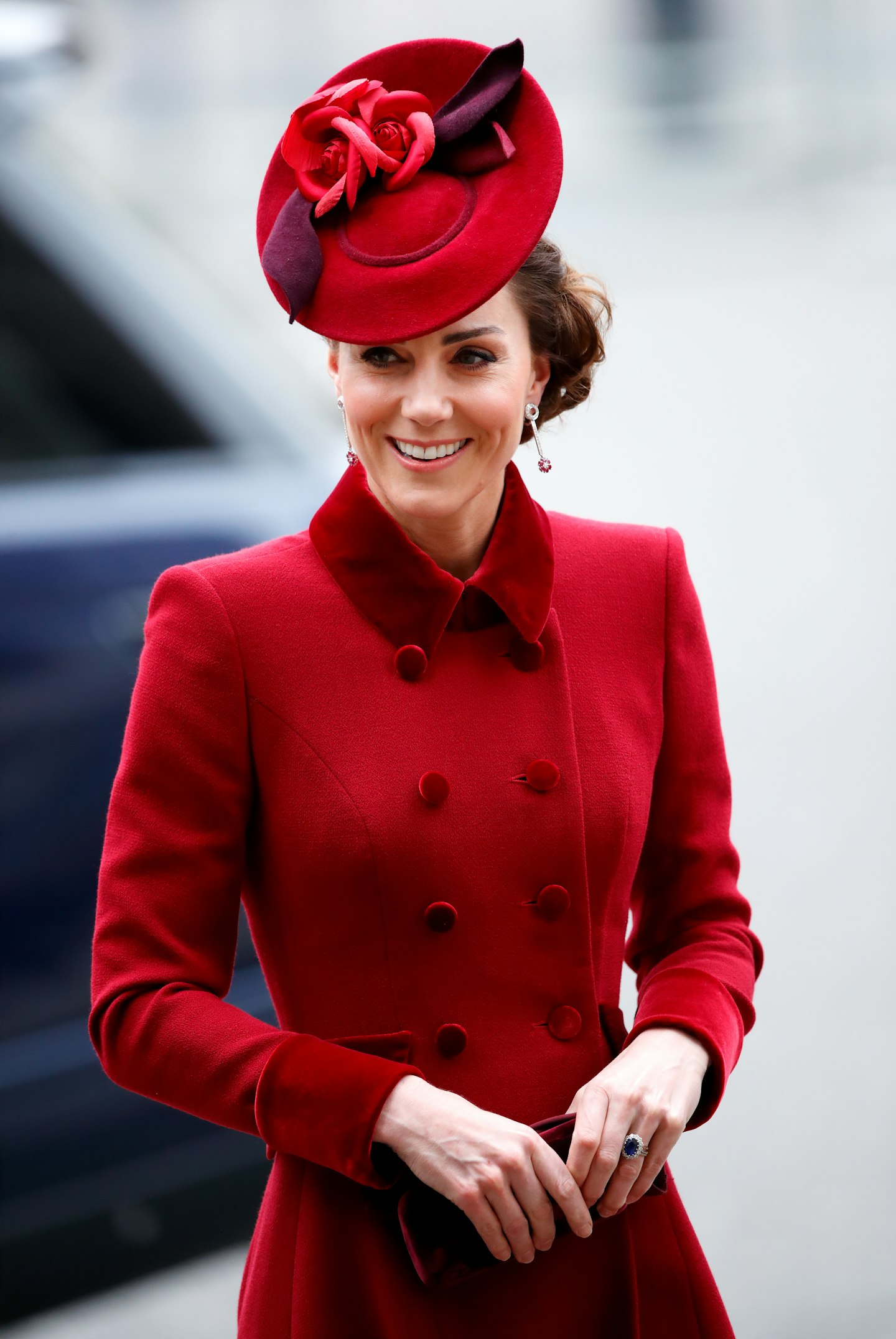 1 of 7
CREDIT: Getty
The sapphire engagement ring
The most recognisable piece in Kate Middleton's enviable jewellery collection has to be her engagement ring, which famously belonged to her late mother-in-law Diana, Princess of Wales. William proposed to Kate with the 12-carat sapphire ring set in 18 carat gold, encrusted with 14 solitaire diamonds, on a trip to Kenya, and later revealed that he carried the valuable heirloom around in a rucksack for three weeks beforehand. 'Obviously, [Diana]'s not going to be around to share in any of the fun and excitement of it all, so this is my way of keeping her close,' he explained after the engagement was announced.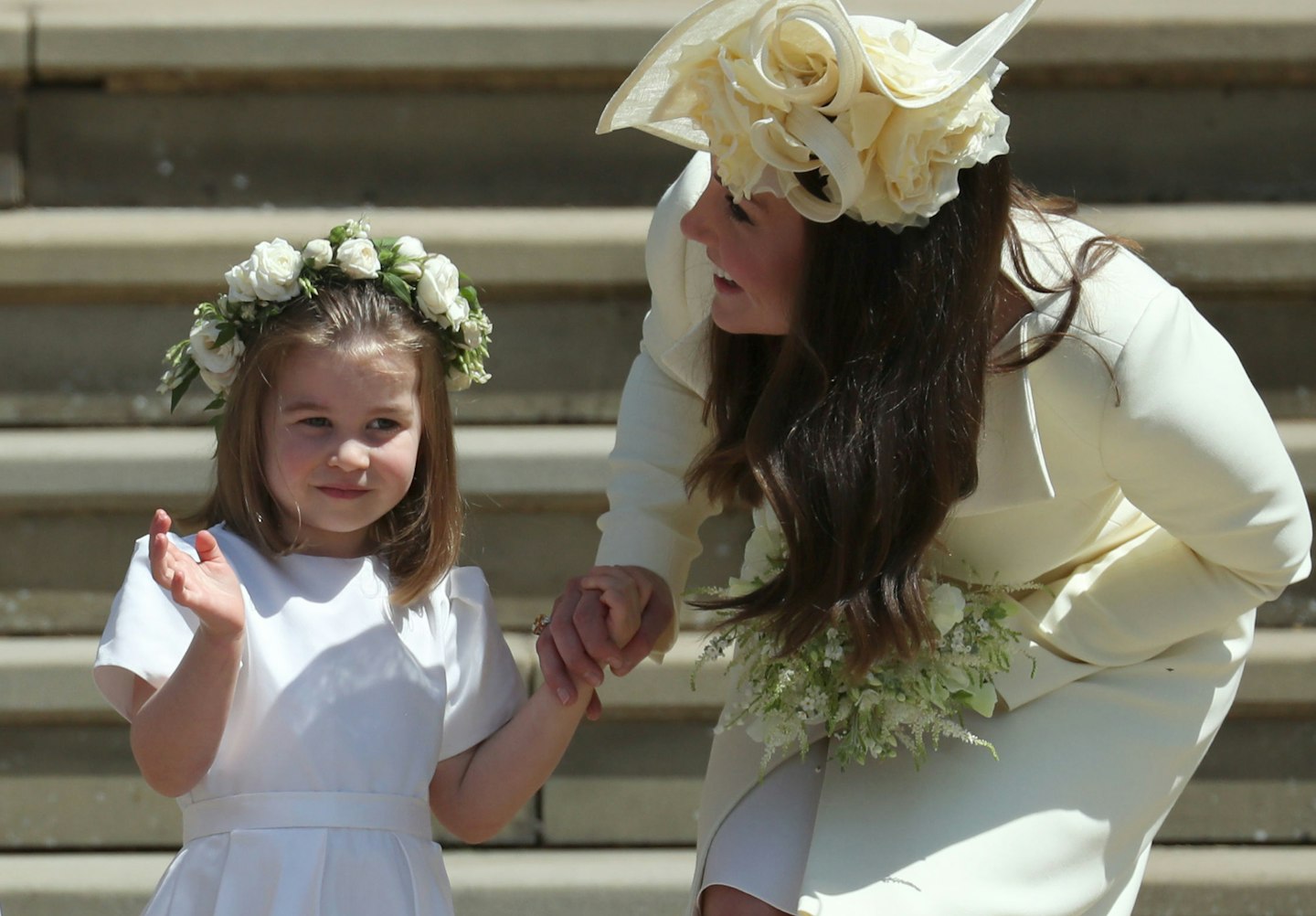 2 of 7
CREDIT: Getty
The citrine ring
Kate's yellow citrine ring caught our attention at Prince Harry and Meghan Markle's wedding. Though it appeared to be a new addition to the Duchess's collection, with many outlets speculating that the piece was a 'push present' following the birth of Prince Louis in April, it also bears more than a slight a resemblance to a similar style which Kate was last pictured wearing in 2009. Given Kate's fondness for recycling older pieces from her wardrobe, it makes sense that she'd adopt a similar approach with her jewellery box.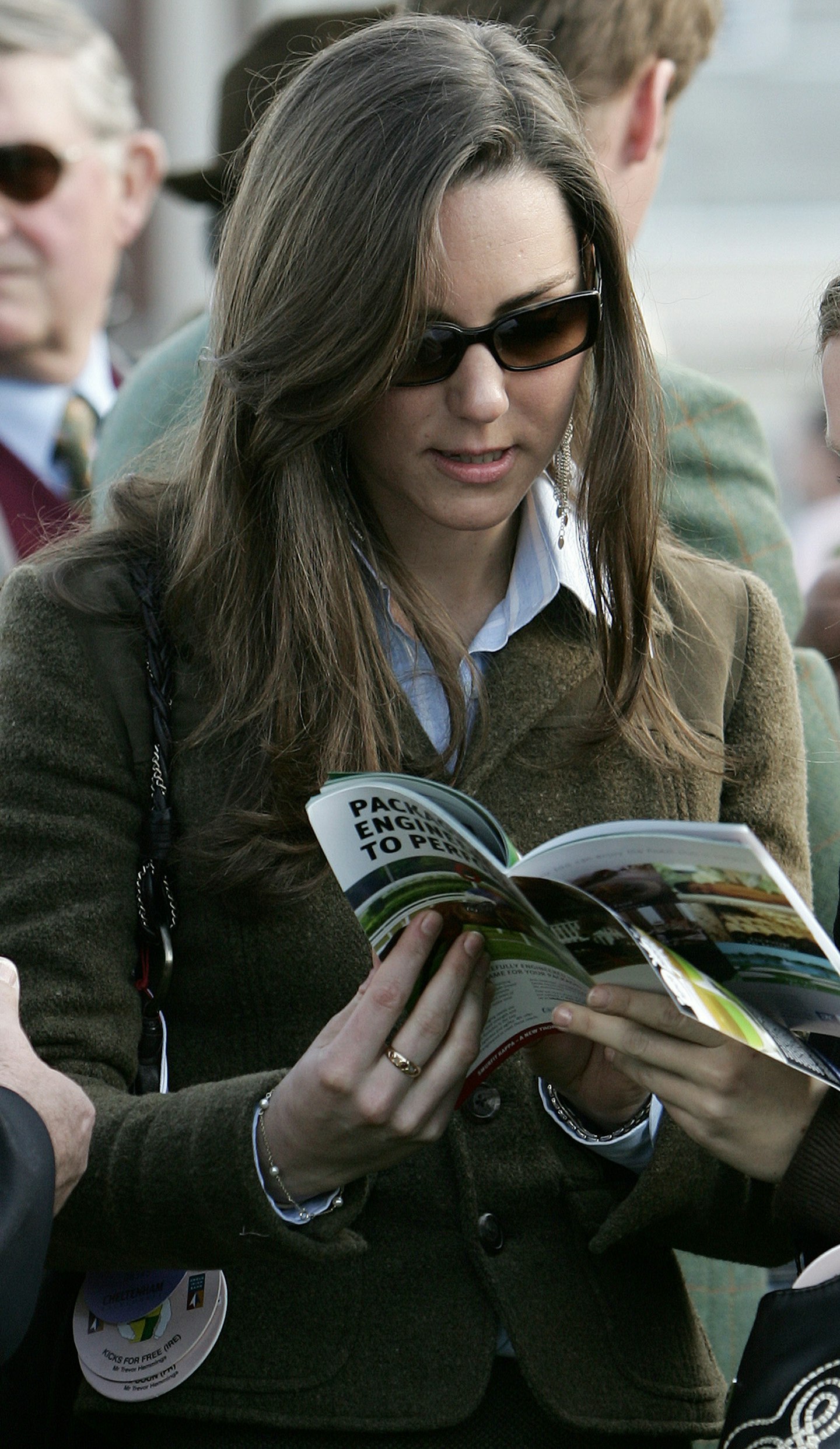 3 of 7
CREDIT: Getty
The rose gold band
Prince William gave Kate this understated Victorian rose gold band while they were studying at St Andrews, and she was photographed wearing it at her graduation ceremony in the summer of 2005. Thought to be the first piece of jewellery Kate received from her future husband, it carries a special significance, set with pearls (William's birthstone) and garnets (Kate's), though the Duchess hasn't been spotted wearing it since her engagement announcement.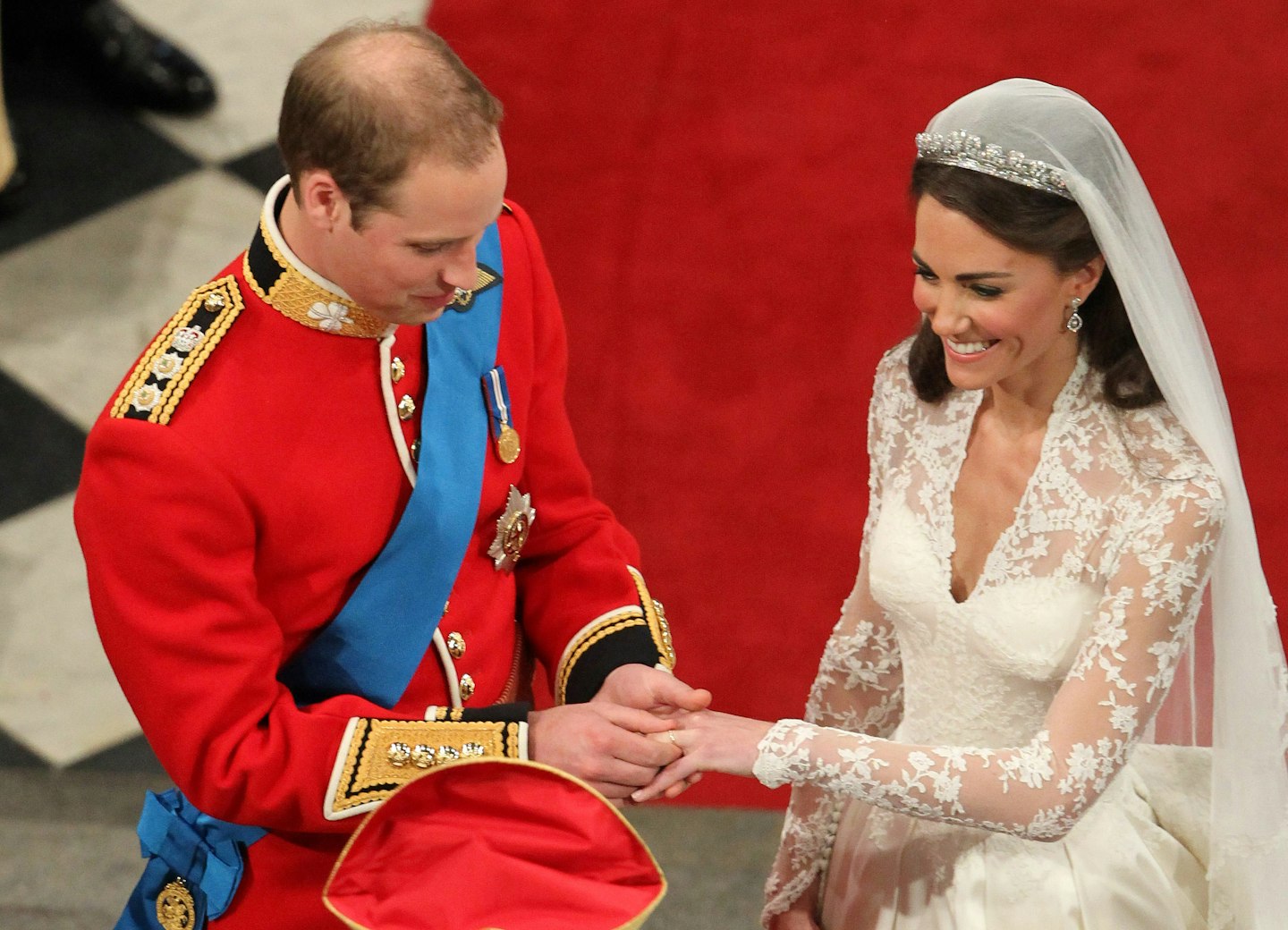 4 of 7
CREDIT: Getty
The gold wedding ring
In keeping with royal tradition dating back nearly a century, Kate's wedding ring was crafted from a chunk of Welsh gold by Mayfair-based jewellers Wartski, which was given to Prince William by the Queen following the announcement of his engagement. You might recall that the Prince had a little trouble fitting the ring onto his new wife's finger on his wedding day: worried that the ring might slip off due to her having lost some weight in the run-up, Kate asked the royal jeweller to make the band smaller, and it seems they did their job almost too well. It's a good thing that the ceremony wasn't broadcast to literally millions of people around the world – oh wait…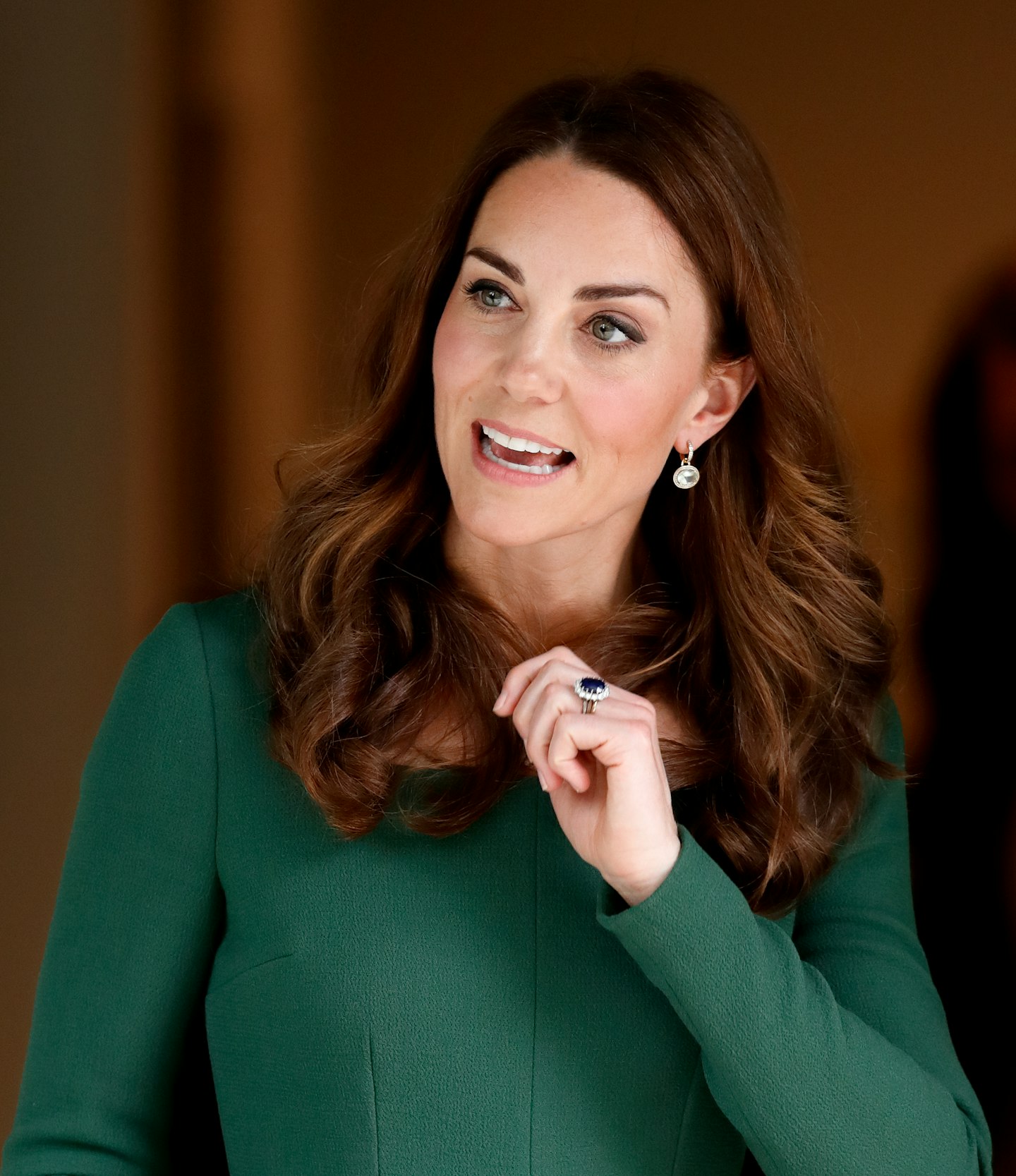 5 of 7
CREDIT: Getty
The white gold and diamond eternity ring
Eagle-eyed royal fans might have noticed that Kate typically layers not one but three rings on her wedding finger. In addition to the gold band and her engagement sapphire, the Duchess now wears an eternity ring, specifically the Eclipse diamond eternity ring, made from 18 carat white gold, by Annoushka. It's thought that the band was a gift from her husband, marking the birth of their first child Prince George.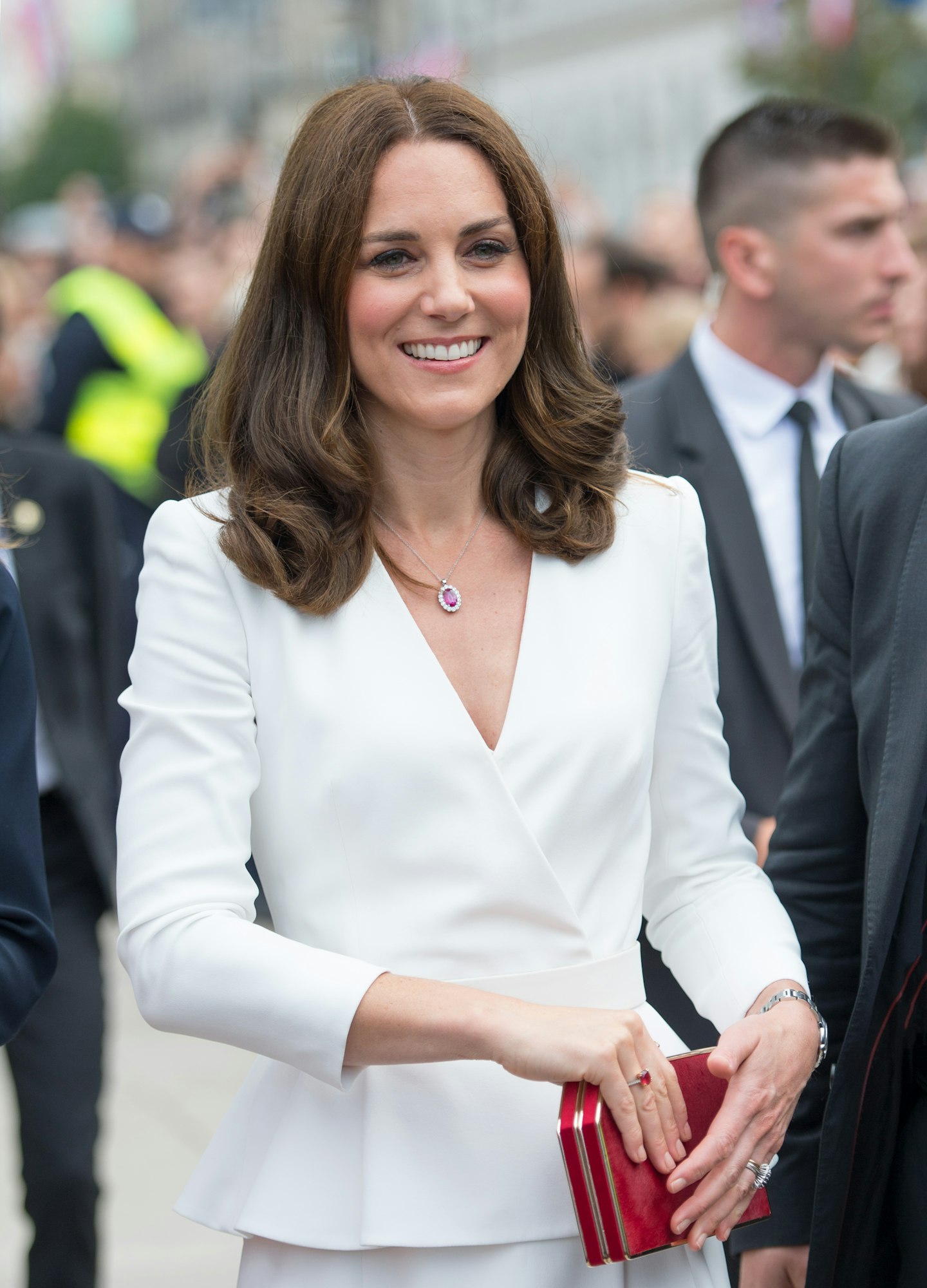 6 of 7
CREDIT: Getty
The ruby ring
The Duchess gave this striking ruby ring its first outing when she touched down in Warsaw as part of the royal tour of Poland. She paired it with a white peplum coat from go-to brand Alexander McQueen and matching ruby pendant and earrings, echoing the colours of the Polish flag. As yet, the ring has not been attributed to a specific jeweller, though perhaps if she gives the piece another outing, we'll be able to have a closer look…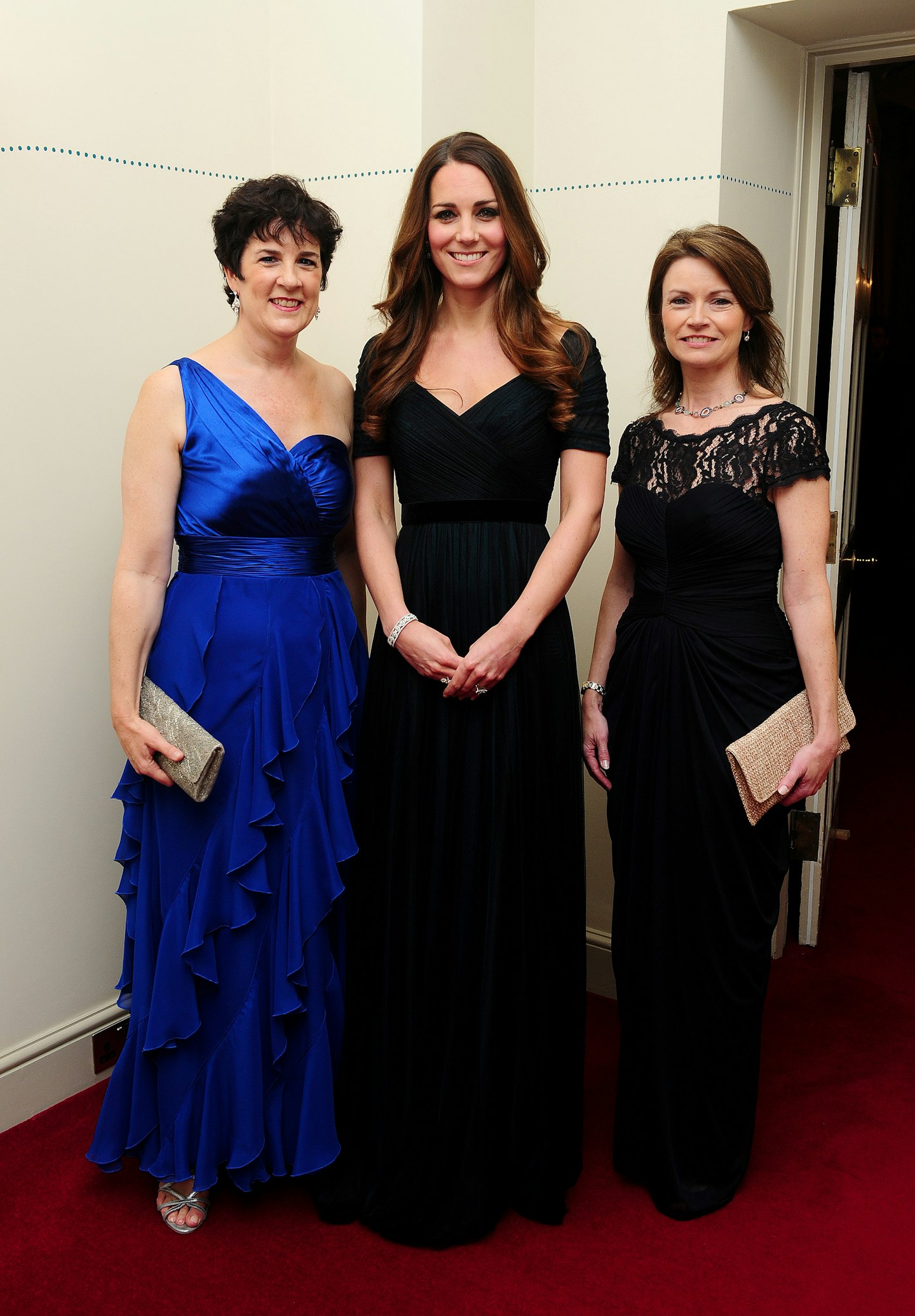 7 of 7
CREDIT: Getty
The bow-shaped ring
Take a (very) close look at this photo, taken at the 100 Women In Hedge Funds Gala back in 2013, and you might notice that Kate is wearing a different ring on her right hand (as well as her engagement sapphire on the left). Further inspection shows that the piece is an unusual bow shape; it's thought that it might be part of an art deco-style jewellery set (also comprising a cluster bracelet and some drop earrings) given to Kate by Prince Charles as a wedding gift. The Duchess doesn't seem to have given this ring a repeat outing since.
READ MORE: 37 Reasons Why There's Only One Kate Middleton{=nofollow}