As the great Taylor Swift once said, 'I want to wear his initial on a chain round my neck…not because he owns me, but 'cause he really knows me.' And it turns out that Taylor isn't the only one: the '90s nameplate necklace is officially A Thing once more.
While this has been gathering pace for a couple of years now, J.Lo keeps reminding us of the name necklace's appeal. She first wore her 'Ben' necklace to send a message to the world that she had reunited with her former love and, now that they're married, it can be regularly seen in her Instagram posts.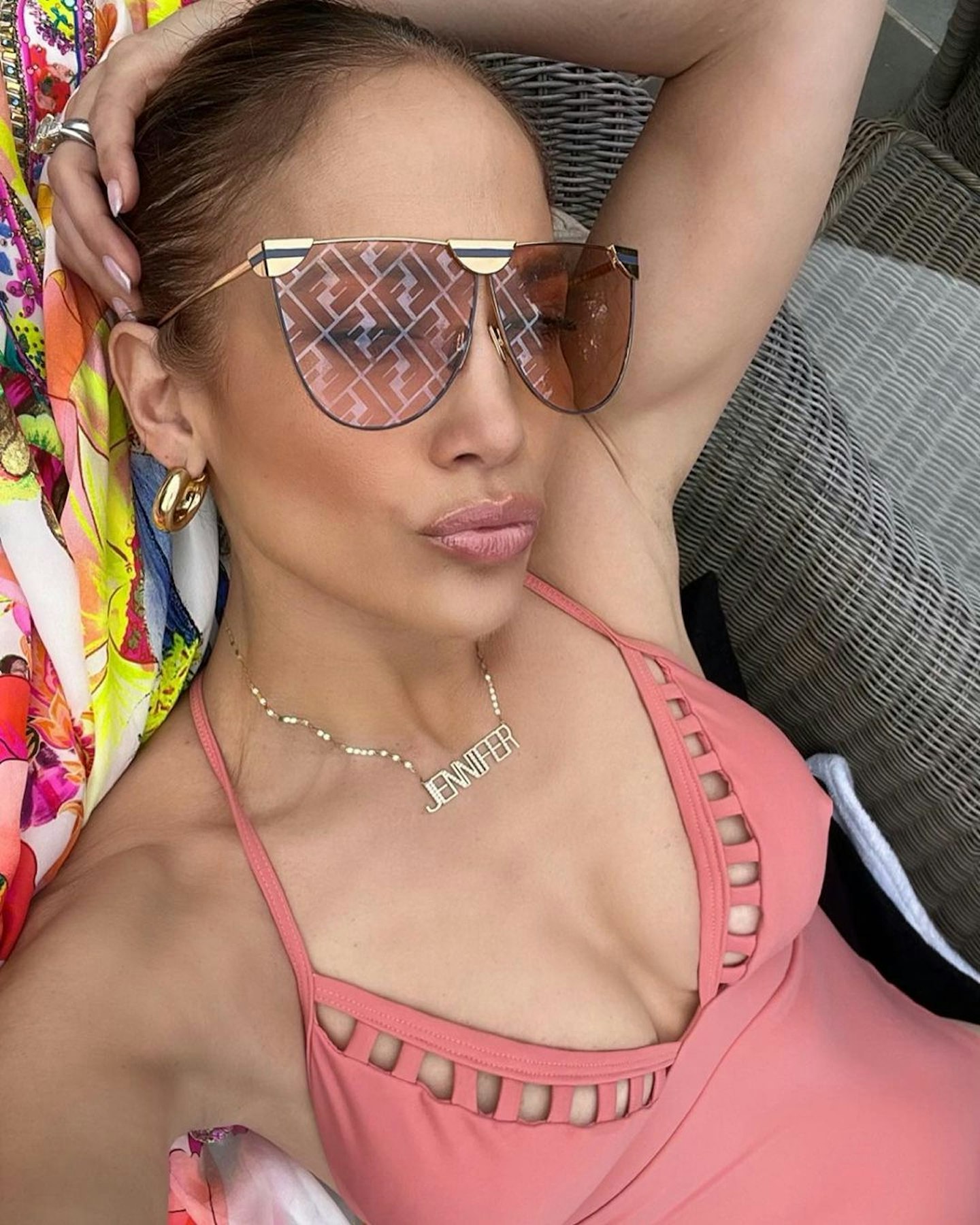 That's not the only nameplate necklace J.Lo has been wearing this summer, however. Back in July, one of her Instagram posts showed her to be sporting a Lana jewellery necklace bearing her own name.
But J.Lo is not the only one to choose her partner's name to hang round her neck. Love Island star Molly Mae Hague shared an image to her Instagram stories of some jewellery gifted to her by boyfriend Tommy Fury. The necklace is a simple gold chain spelling out Tommy's name in little diamonds. And since giving birth to daughter Bambi, Hague has also been wearing a gold 'B' necklace.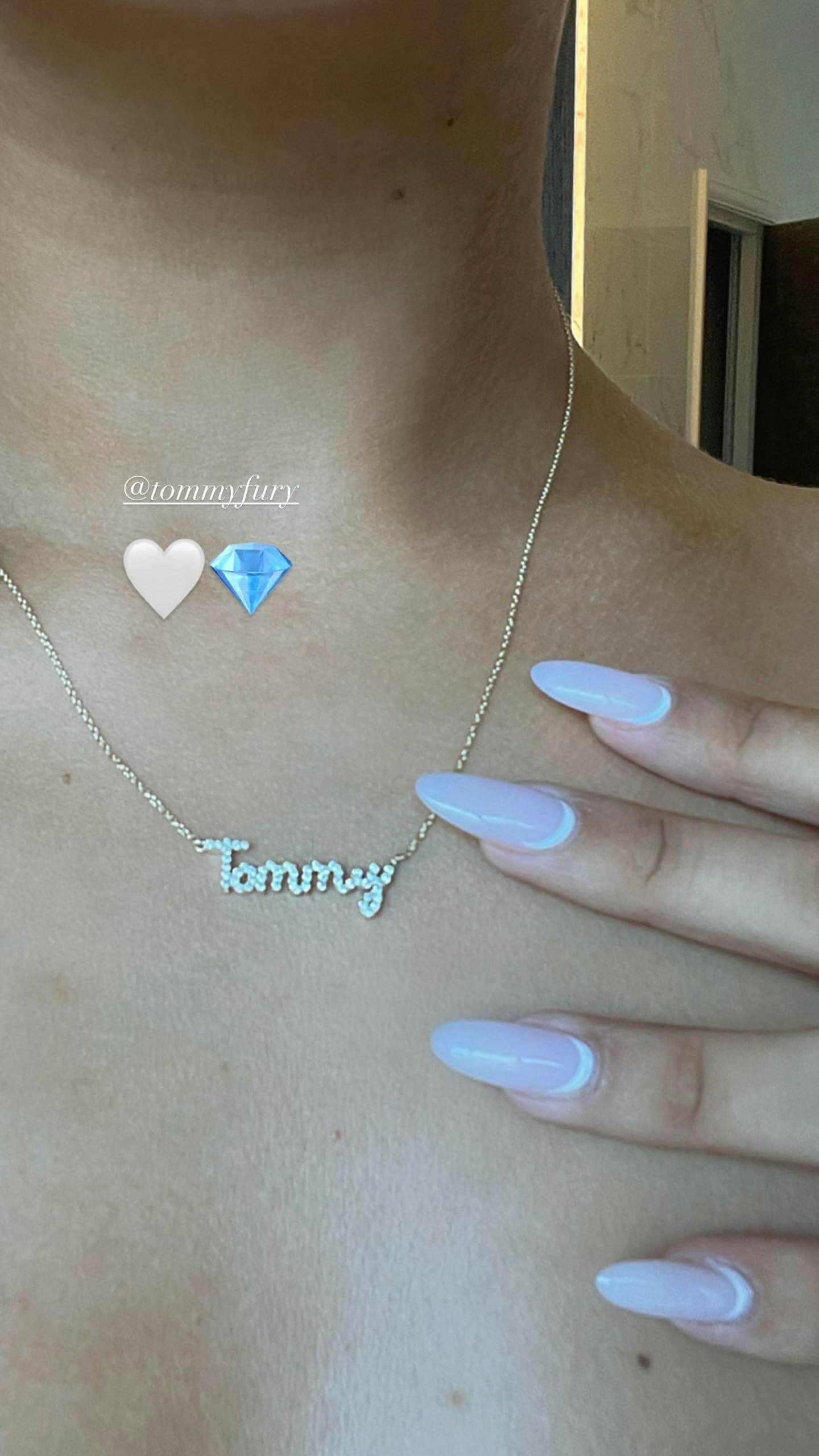 Another celeb giving a shout out to their beloved with a chain round their neck is Mrs Hailey Bieber, who has often sported a gold personalised Bieber necklace. More recently, she's been wearing a chunky 'B' pendant with a variety of outfits.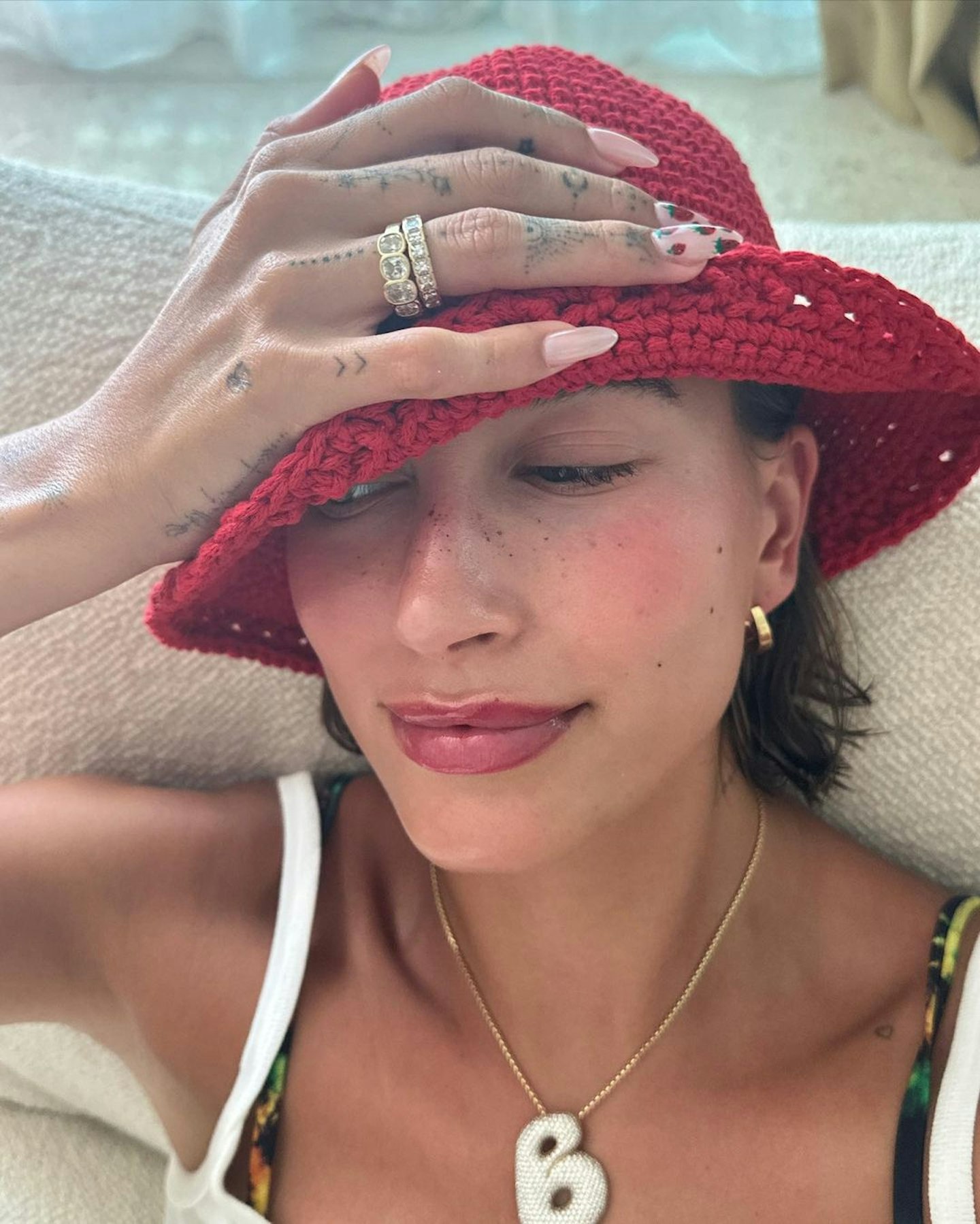 Celebrity mums are getting in on the trend, too, with Gigi Hadid and Emily Ratajkowski both wearing necklaces bedazzled with their baby's name. (Gigi's is from US brand The Sis Kiss.)
If a full name isn't your style, then look to the royals for inspiration. Kate Middleton is more-often-than-not seen wearing one of her two favourite necklaces: either a Daniella Draper pendant or an All The Falling Stars charm necklace, both of which are engraved with the initials G, C and L keeping the little princes and princess close to their mum's heart.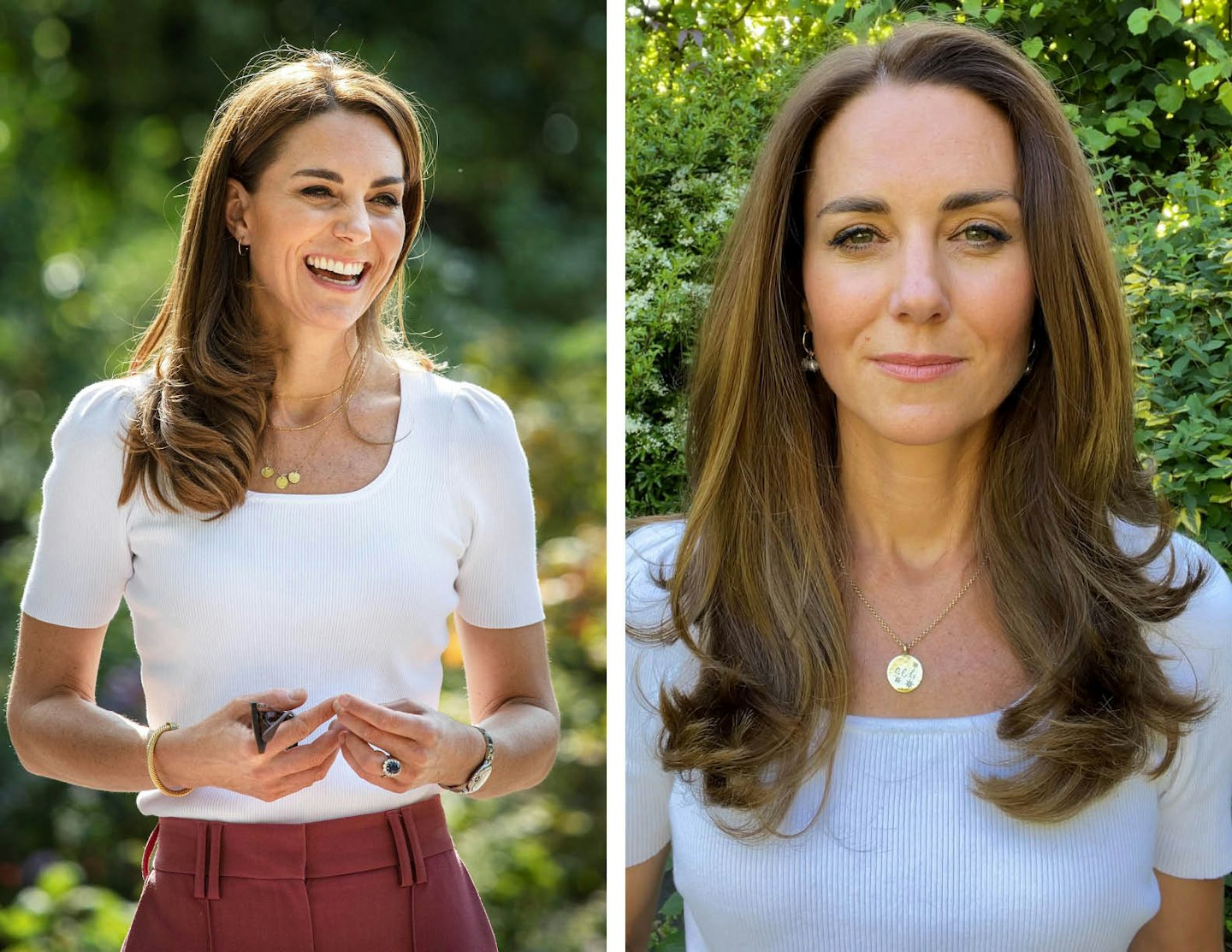 Sister-in-law Meghan Markle is no stranger to an initial necklace, either. At Wimbledon in 2019, she accessorised with a gold initial necklace in the letter A from Sydney-based Verse Fine Jewellery for little Archie. A few months later, at the US Open, Meghan wore a pair of pendant dog tag necklaces from US brand Mini Mini Jewels featuring the letters H and A.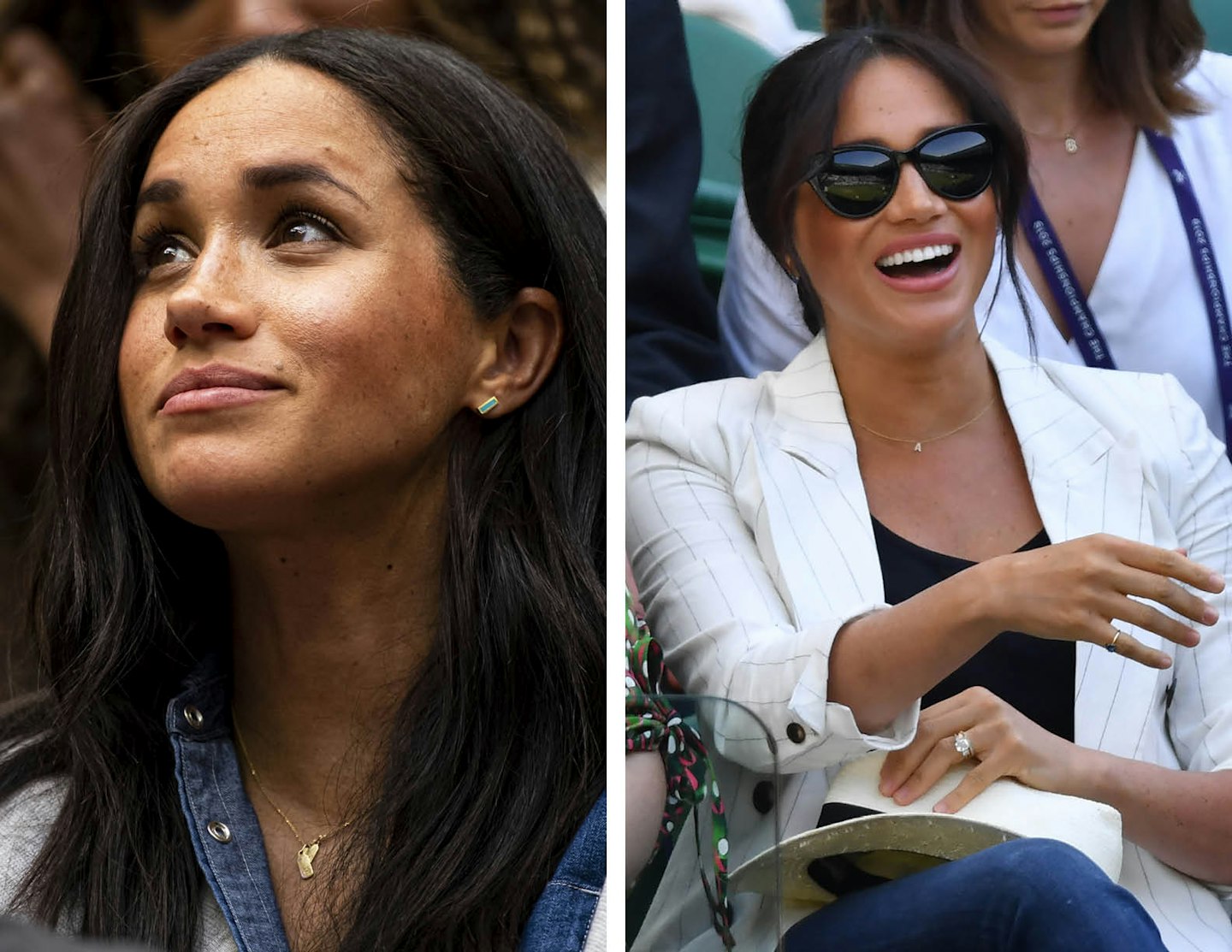 But then again, who's more important than you, right? Follow along in Beyoncé, J.Lo, Bella Hadid and Carrie Bradshaw's footsteps and get yourself a nameplate necklace spelling out your own name.
Whether it's your name, your baby's name or your partner's name, it's time to get that moniker put on a necklace and around your neck. To make it easy for you, here's our edit of the best personalised nameplate necklaces, as inspired by our favourite celebrities.
SHOP: The Best Nameplate and Initial Necklaces
Description
Meghan Markle has been seen in this exact necklace. Choose your own initial or that of your
Description
You can personalise this with up to 12 letters and choose from gold, silver or rose gold.
Description
In 18k gold plated sterling silver, this is a more affordable option that's no less special.
Description
Channel Hailey Bieber's chunky style in Missoma's gold pendant.
Description
Abbott Lyon has a brilliant range of personalised necklaces, all for affordable prices. This
Description
Annoushka's initial pendants make for an excellent fine jewellery option. Ideal for elevating your
Description
For a more statement piece, try Alex Monroe's pretty floral letters.
Description
You can engrave this locket with any text of your choosing, whether that's an initial, name or
Description
If you want an alternative to gold or silver, try Edge of Ember's rainbow gemstone necklaces.
Description
Simple and unfussy, Mejuri's initial necklaces 14k gold and feature an adjustable chain.
Description
Available in silver or gold, this is a fun twist on the classic name necklace.
Description
Etsy has a wealth of options in this category. This particular necklace lets you choose the
Description
You can engrave this locket with anything you like and even include a photo inside, so it's one of
READ MORE: Kate Middleton's Jewellery Has Lots Of Secret Significance – From Her Charm Necklace To Her Pearl Earrings
READ MORE: Wait – What Do Meghan Markle And Love Island's Millie Court Have In Common?
READ MORE: The Most Nostalgic '90s Fashion Trends That Are Probably In Your Wardrobe Right Now