If you lie in bed swarmed by thoughts from the past day, or you're simply a light sleeper in general, a sleep spray could be the answer. There are myriad ways to create an atmosphere that helps you drift off to sleep, and many involve aromatherapy. Whether your go-to sleep aid is a pre-bedtime lavender-infused candle, a diffuseror sleep-friendly pillow spray – each one harnesses the power of scent and aromatherapy.
Sleep is one of the most natural things in the world. Like humans, nearly all animals need some form of rest or sleep. However, with hustle-culture, stressful schedules and the fear of not doing enough at an all time high, we often end up disregarding the importance of a good night's sleep - something that is pretty essential when it comes to maintaining our energy levels during the day.
Making the right choices for our health and wellbeing is often tricky when you consider how modern day life requires us to juggle. We read countless articles, self-help books and follow numerous wellness influencers online who extoll the values of meditation and daily mantras. The ways in which we can improve our sense of wellbeing are seemingly endless, but often it's the easiest tricks that make all the difference.
How do pillow sleep sprays work?
Grazia spoke to George Dyer, the co-founder of Echor, a company that designs products purely around improving our sleep. George and co-founder Ewan Jones have curated a brand backed by science and experiments with aromatherapy to help improve sleep hygiene and our bedroom environment.
So how do pillow sprays work you may ask? George told Grazia that when we smell things, it immediately triggers the limbic system, which is the part of the brain involved with emotion and behaviour: 'Different scents play different roles, and certain pure essential oils have even been scientifically shown to reduce heart rate and slow the body's stress response system (lowering stress and anxiety).'
'Pillow sprays help to tap into the limbic system, encouraging relaxation and, combined with a great evening routine, can help you get a longer, more restorative night's sleep.'
Creating habits and rituals help develop patterns in our mind; in this case, the aroma from the essential oils will tell your mind that it is time to unwind. But how do you apply the pillow spray for the full effect? George suggests: 'Spraying the bedsheets 5-10 minutes before going to bed. Sometimes the scent can initially be quite strong, so giving it those extra minutes allows it to become perfectly subtle. If you want a little extra zen, we recommend spritzing some mist onto your curtains or in the air around the bed to create the ultimate sleep bubble.'
Why is creating a bedtime routine important?
'When the body wants to sleep, it begins a physiological process of winding down,' George says. 'This lowers your heart rate, blood pressure, and body temperature, which helps to slow down your stress response system.'
'However, in this day and age, certain roadblocks prevent this process from the beginning. Bright screens, over-stimulation from blue light, late-night Netflix binge sessions (sorry), and, of course, stress and anxiety all negatively impact our natural cycle.'
It's not all bad news, though. George tells us, 'Creating a bedtime routine that incorporates behaviours conducive with stress-relief and relaxation will, over time, help our brains to associate a certain pattern of behaviours with winding down and sleep, thus mimicking what nature intended.'
We all have fast-paced lifestyles, so it is more important than ever to give our brains time to reset and recharge – a bedtime routine and pillow sleep sprays will do just that. So with that in mind, let's take a look at the best pillow sprays to send you into a deep and restorative sleep.
SHOP: The best sleep pillow sprays
The Best Sleep Pillow Sprays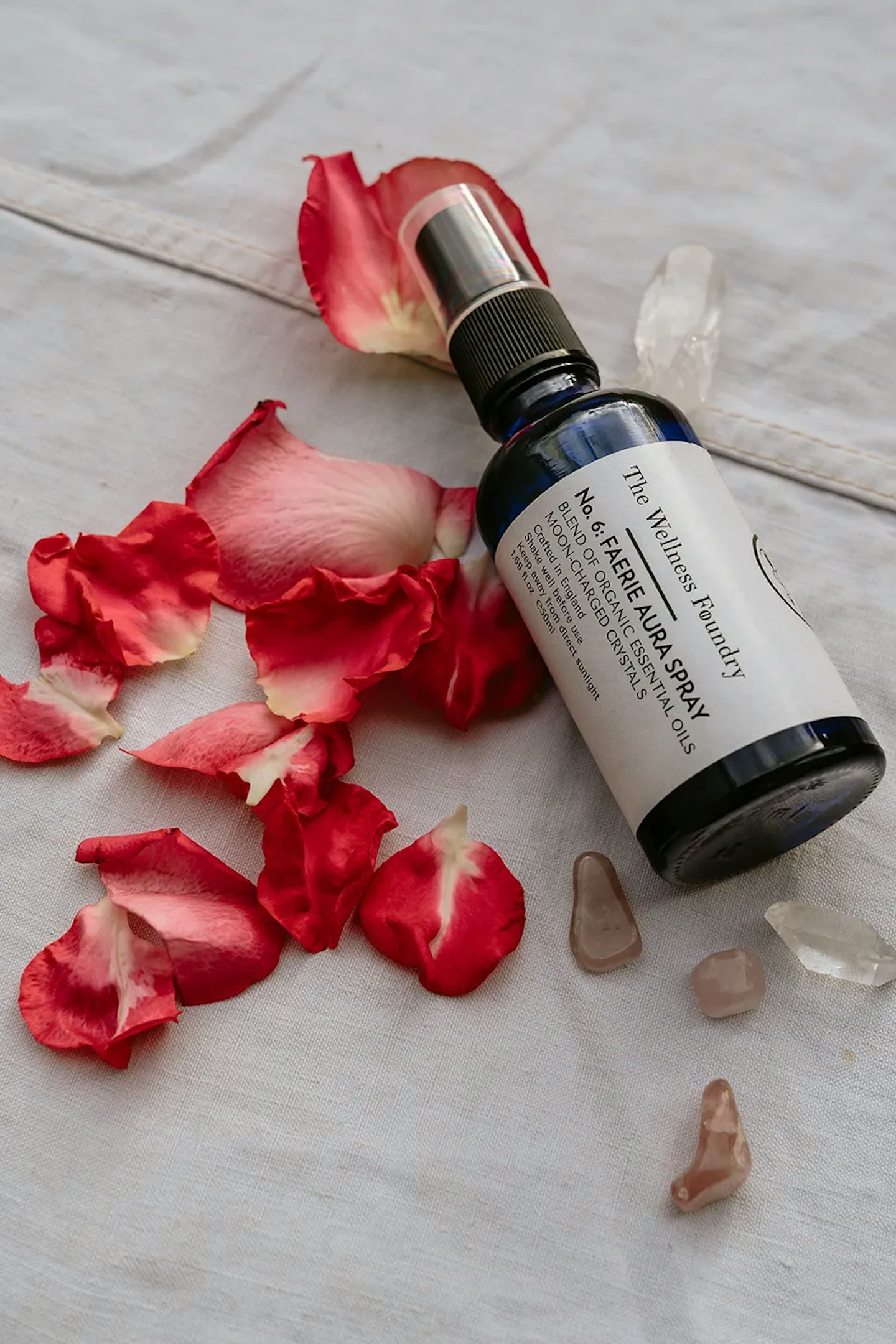 1 of 11
The Wellness Foundry, No. 6: Faerie Aura Spray, £36
Made from rose quartz moon-charged crystals with a bespoke blend of essential oils to cleanse your heart space. Use it in the morning to instantly lift your mood and brighten your energy, throughout the day, to purify the space, creating a calm sanctuary, and finally spray over the bed and pillows for a good night's sleep. Ten bottles are crafted each month, so get it while you can.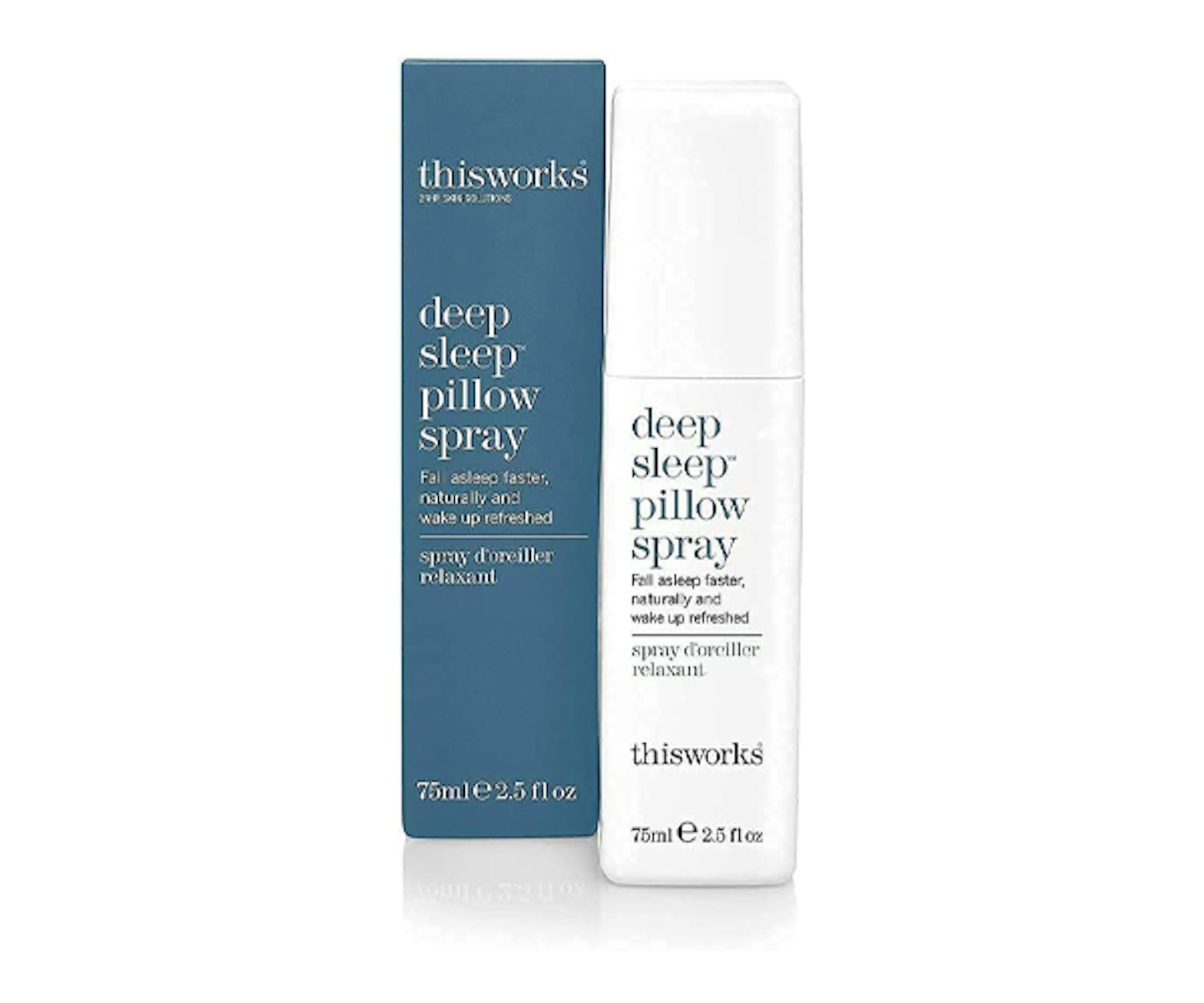 2 of 11
CREDIT: Amazon
This Works Deep Sleep Pillow Spray, £14.50
Descend into a deep sleep with this calming blend of lavender, vetivert and chamomile pillow spray. The award-winning sleeping mist will put your mind to rest and has proven results too. On Amazon, the pillow spray has received over 11,000 reviews, and in a study conducted by This Works, 97 per cent of participants slept better when using the Deep Sleep Pillow Spray.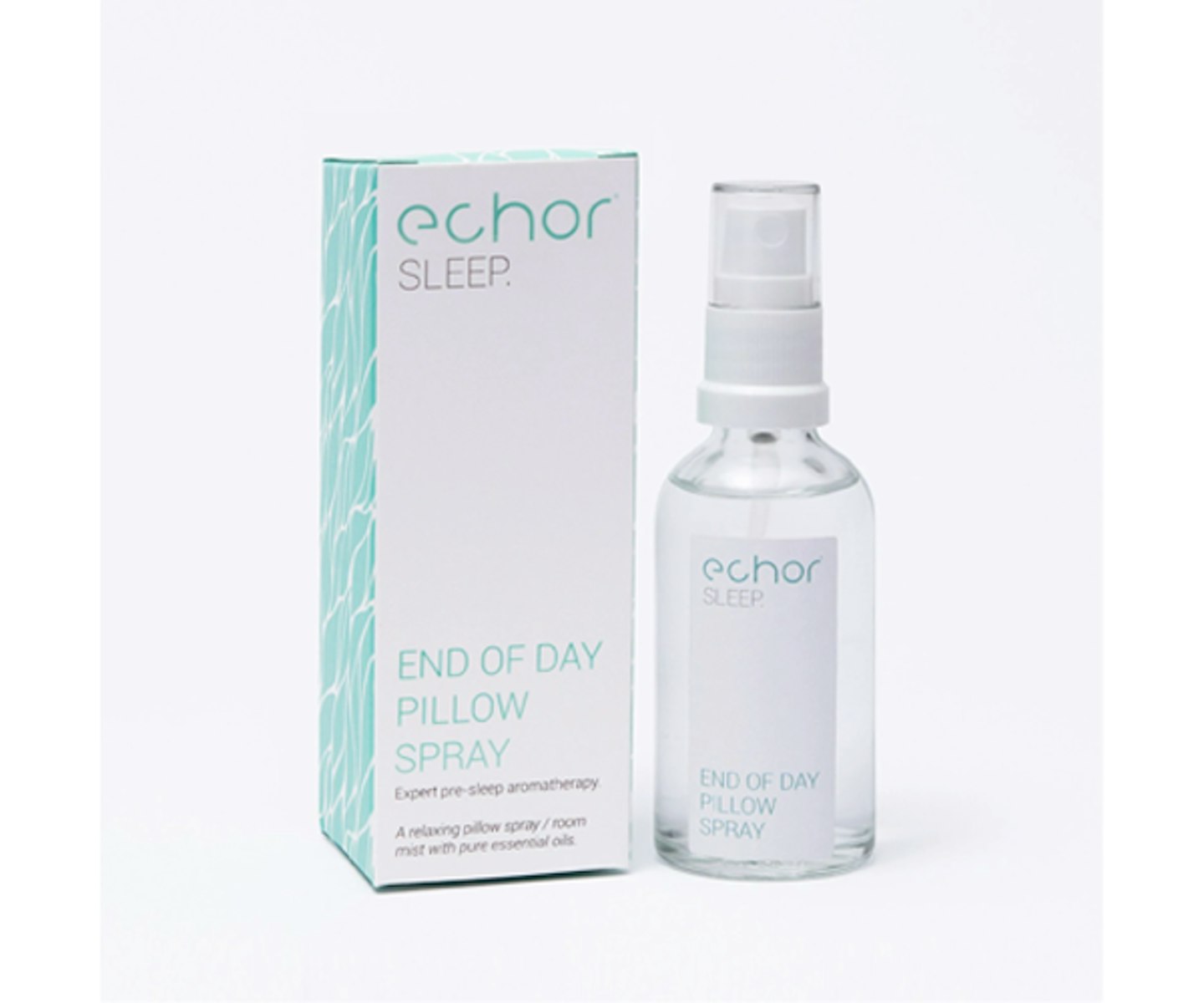 3 of 11
CREDIT: Echor
Echor Sleep Pillow Spray, £14.99
Echor's sole focus is to help people meet their true potential by facilitating a better night's sleep. Its pillow mist is formulated from pure essential oils, including sleep-inducing lavender, anti-inflammatory geranium, refreshing eucalyptus and sweet orange to help you drift into a deep restorative sleep.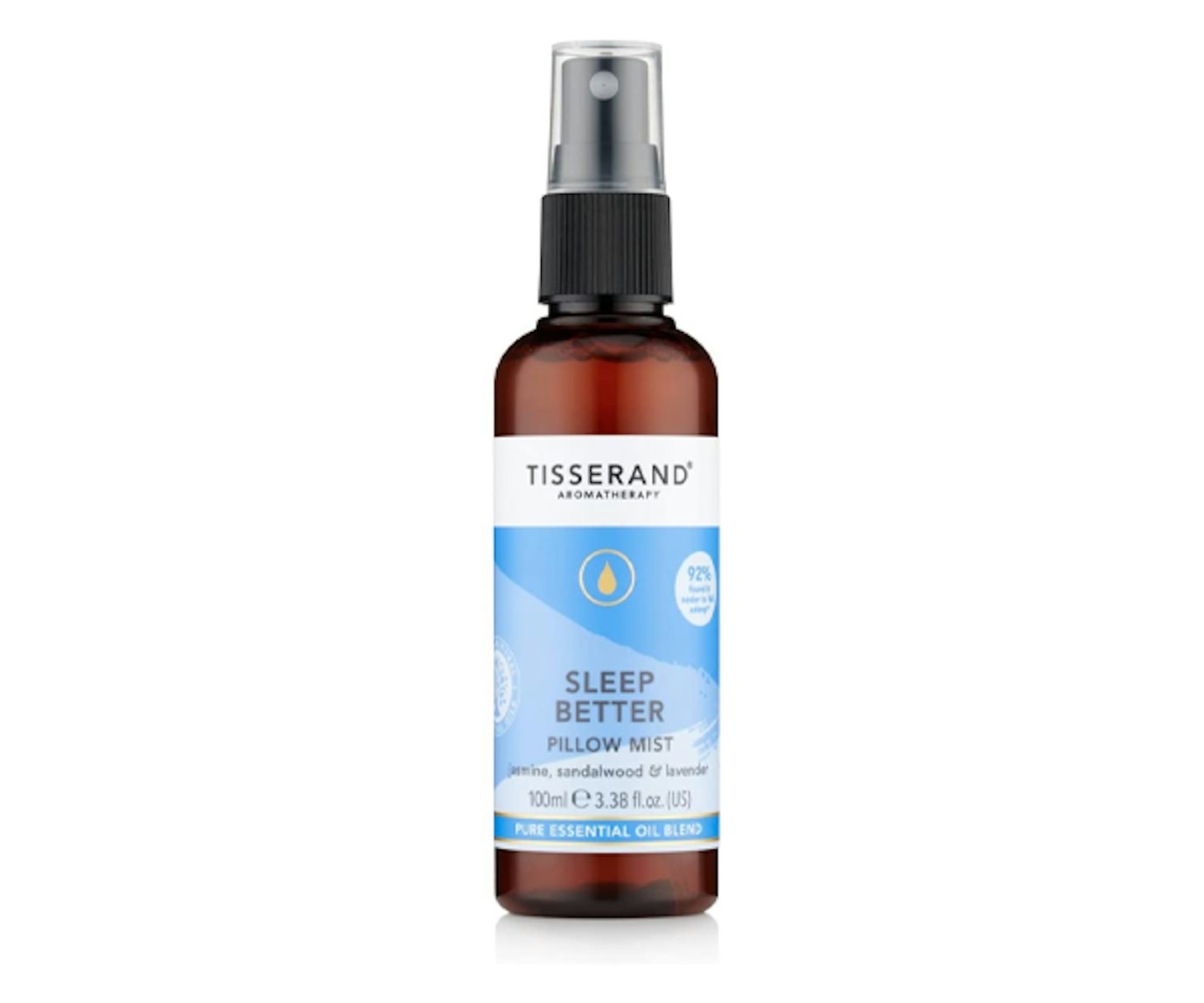 4 of 11
CREDIT: Amazon
Tisserand Aromatherapy Sleep Better Pillow Mist, £9.70
The Tisserand Aromatherapy sleeping mist is an award-winning product that is a soothing antidote to the stresses of daily life. Made from a pure blend of delicate jasmine, comforting sandalwood and relaxing lavender essential oils, you will wake from a quality night's sleep.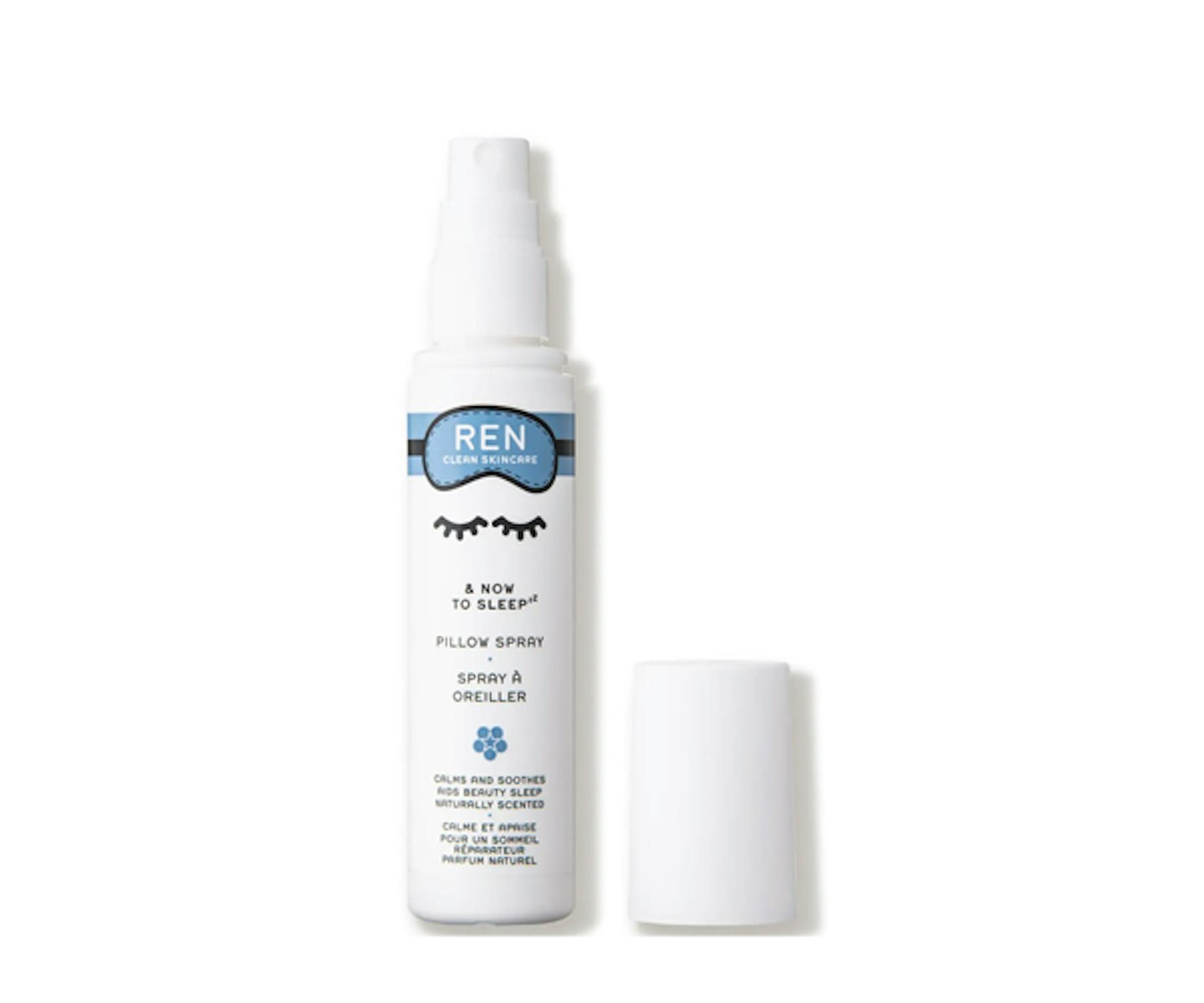 5 of 11
CREDIT: REN Skincare
REN Clean Skincare and Now to Sleep Pillow Spray, £19
Crafted from ingredients such as frankincense, hops, and lavender utilised since ancient times to relax and reduce anxiety will help you drift to sleep. This divine scent will calm your thoughts and soothe tension in the mind and body.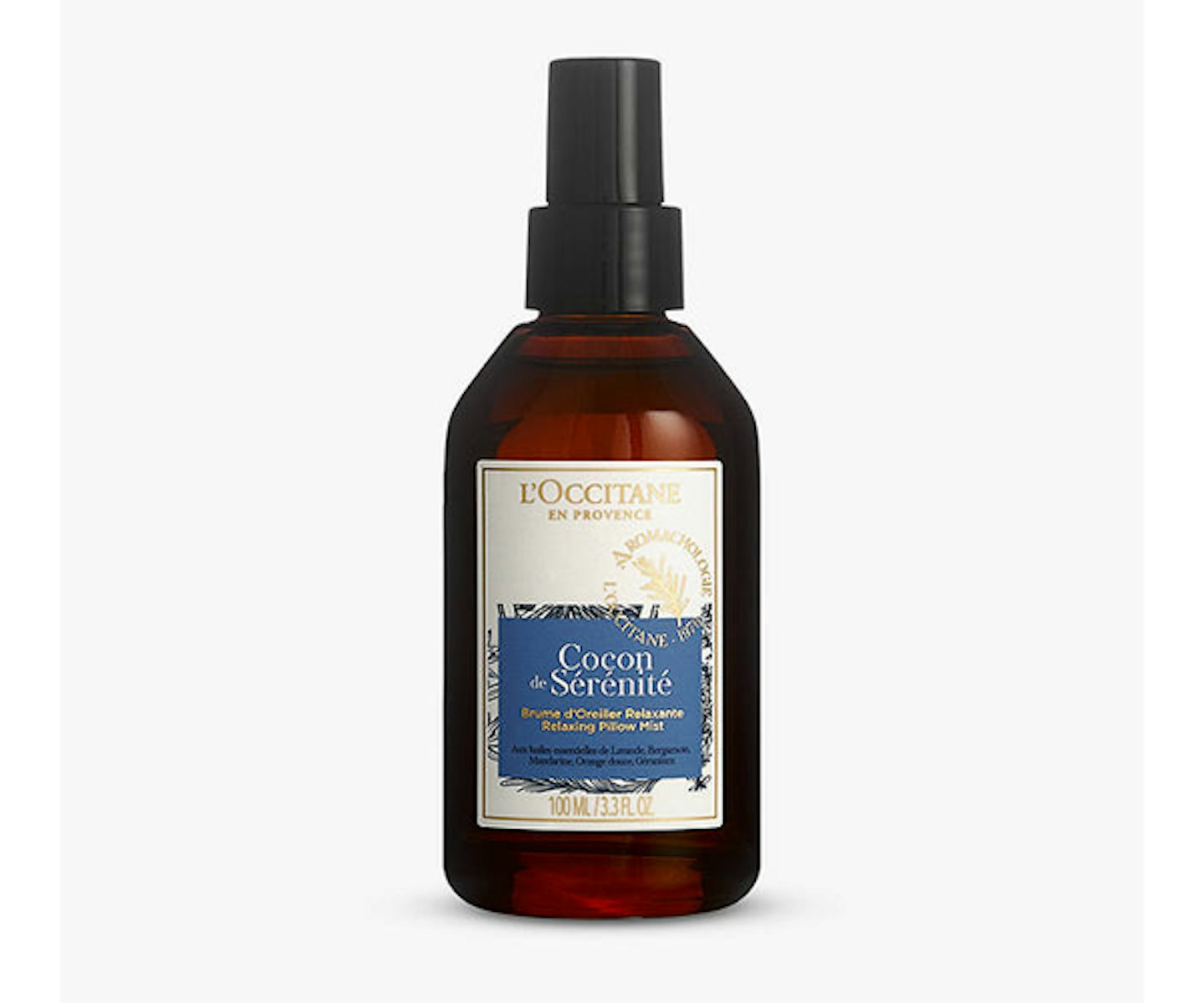 6 of 11
CREDIT: L'Occitane
L'OCCITANE Aromachologie Relaxing Pillow Mist, £19.50
Made from the dreamiest blend of lavender, bergamot, mandarin, sweet orange and geranium essential oils, L'Occitane's sleep spray will be an essential part of your bedtime ritual.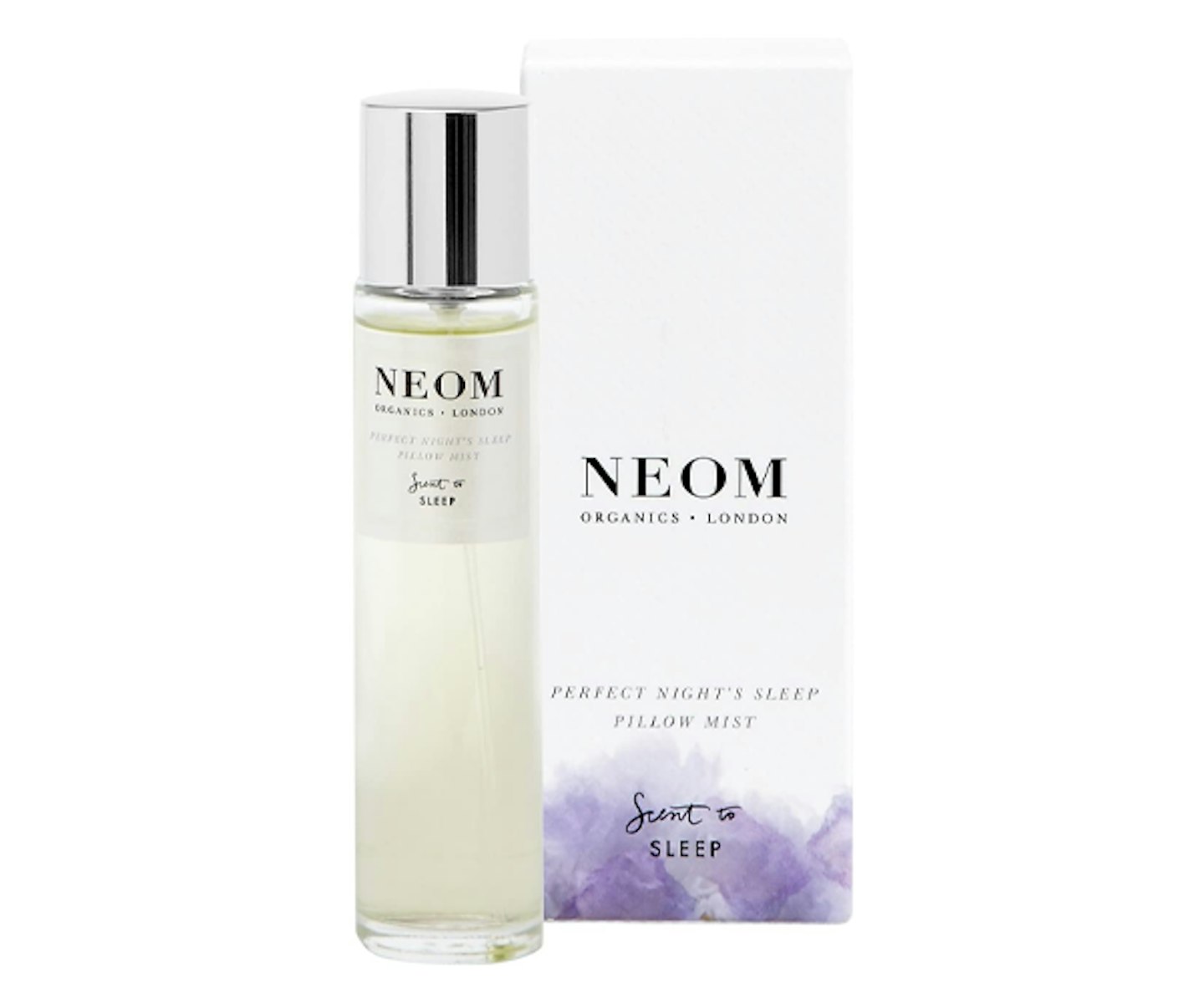 7 of 11
CREDIT: Amazon
NEOM Perfect Night's Sleep Pillow Mist Spray, £19.90
Neom Organics Pillow Mist is formulated from a blend of 19 organic essential oils from English lavender, sweet basil and jasmine. As you rest, the therapeutic oils will continue to release through the night, allowing you to sleep deeper and better.
8 of 11
Plantopia Lights Out Face & Space Mist, £18
Transform your bed into a peaceful refuge with Plantopia's Face & Space Mist. Spray your face, linen or pillow with the dreamy scent made from ashwagandhas and sandalwood. The sandalwood being sourced from a 50% Australian aboriginal owned venture, championing indigenous culture and people.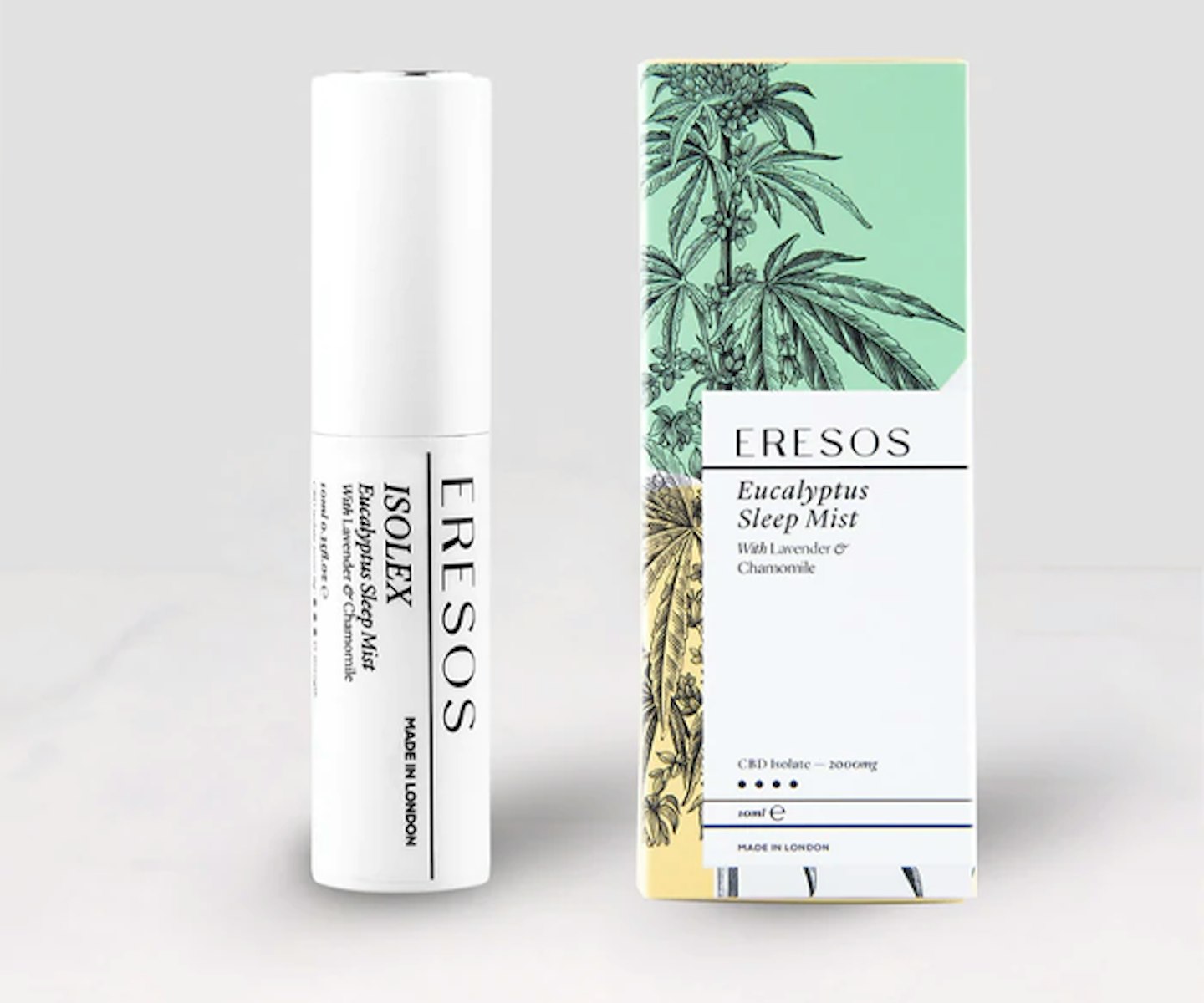 9 of 11
ERESOS CBD Eucalyptus Sleep Mist, £90
This gorgeous CBD Eucalyptus Sleep Mist contains a blend of lavender and chamomile that are formulated to enhance your sleep. The CBD is released from your pillow's fibres and will help promote relaxation through the night. The compact tube comes in a small canvas bag to take with you on your travels. Just twist the lid to spray.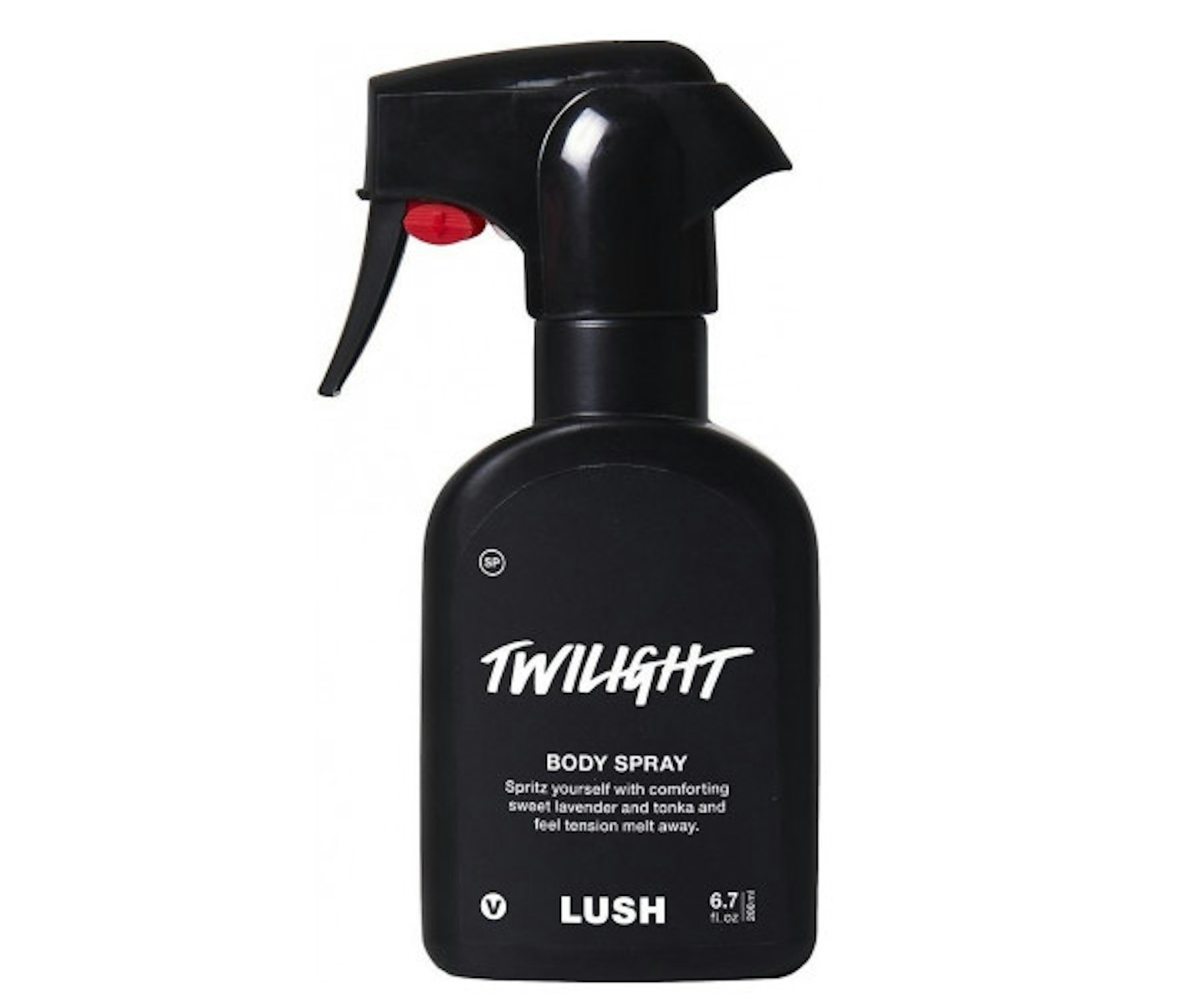 10 of 11
CREDIT: Lush
Lush Twilight Body Spray, £20
Lush is a leading cosmetic brand with ethical strengths in animal rights and sustainable products. The Twilight body spray went viral when it was first released, with customers praising its use as a pillow mist to help them fall asleep. It contains a concoction of calming lavender, sweet tonka, and Ylang Ylang.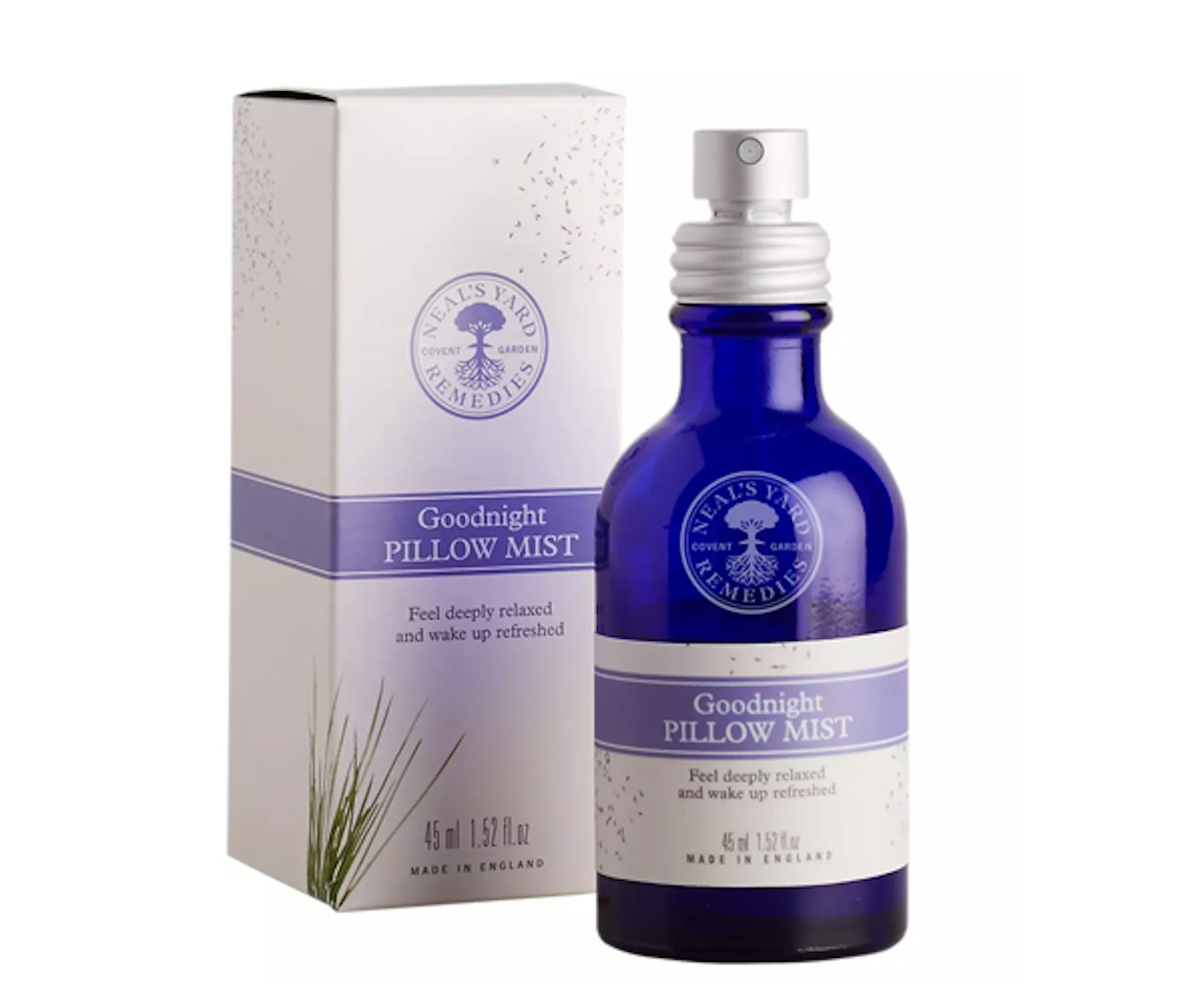 11 of 11
CREDIT: John Lewis
Neal's Yard Remedies Goodnight Pillow Mist, £15
This deeply relaxing sleep mist from Neal's Yard will ensure you wake up feeling rested and restored. Made from a blend of organic lavender, vetiver, and mandarin the scent will set the mood in the evening for a good night's sleep.
What ingredients to look for in a good quality pillow spray?
When looking for a pillow spray, always make sure to select one with the purest of ingredients. If you take into account the fact you're breathing in whatever is in the spray, you'll definitely want to ensure it is natural.
George from Echor suggests you look out for 100 per cent essential oils, which are natural compounds extracted from plants that carry the scent of the plant. He says, 'choose one with lavender, geranium, eucalyptus and sweet orange (just like ours!), each of which has its own unique properties and collectively help to reduce stress hormones (such as cortisol), reduce blood pressure and lower heart rate.'
Geranium also has anti-inflammatory properties which can help to open up the airways - snorers, we are looking at you, while lavender has been shown to increase slow-wave sleep allowing you to wake up with more energy the following morning.
When purchasing a pillow mist make sure the ingredients have science-backing (like the ones in our list) to ensure you are buying into an effective product, as opposed to a marketing gimmick. Also, products such as pillow mists have no need to be tested on animals so always make sure to check they're cruelty-free.
Tips on how to wind down in the evening for better sleep?
Finding habits that relax you before bed, such as reading a book, light-hearted conversation, listening to music and so on, are easy habits to try instead of watching TV before bed. Here are some other tips to help your mind and body unwind before hitting the pillow:
• Smell - Spritz your pillows with a pillow spray, put on your diffuser or light an essential oil candle to start unwinding for the evening.
• Journaling – if you find your mind racing with intrusive thoughts in the evening which prevent you from switching off and getting to sleep, journaling may be the answer. Writing down your thoughts before bed can be a great way to offload any worries you're carrying in your mind.
• Nostalgia and humour – Did you know both of these increase levels of serotonin and oxytocin? These help to relax your muscles and calm the body's stress systems. If you're avoiding blue light before bed, why not crack out your families old photo albums and have a good laugh at your mum's terrible perm! This double whammy will prepare your body for bed and leave you smiling all night long.
READ MORE: We Spoke To Trichologists And Here's Their Scalp Advice For Your Healthiest Hair Ever
READ MORE: 9 Of The Best Pregnancy Supplements And The Ingredients To Look Out For
READ MORE: Celebrities Are Obsessed With Healing Crystals, Here's Why