Dark, puffy eyes have become one of my biggest skincare complaints this winter. No matter how much I sleep, I never quite seem to master the art of looking refreshed and well rested – even with a hefty application of my favourite concealer (which does go some way help the situation). Truly? I'm fully aware that the best way to tackle dark, puffy eyes starts from within. It's boring, I know, but drinking more water, staying out of the sun, minimising salt intake and wearing a silk sleep mask can all contribute to more wide-awake looking eyes in the long run. But it's easier said than done. Creams? Some are worth it. But it's important to note that a miracle cure they are not. For so many of us, eye bags and dark circles are caused by genetics coupled with ageing, hormonal fluxes and, of course, stress. In saying that, after an impressively long hunt - 10 years, to be exact – I finally hit on an eye cream that has helped brighten and de-puff my eye area in a mere three weeks. Enter the Medik8 Crystal Retinal Ceramide Eye6, £42 (now £29.40 in the Black Friday sale) which, I can confirm, is worth the investment
SHOP: Medik8 Crystal Ceramide Eye 6
Discounted by 30%
Description
For a lightweight eye serum that makes light work of targeting fine lines, dullness and puffiness
Pros
Available in 3 different strengths
Cons
Will need a patch test prior to use
Made with retinal (a form of vitamin A and the gold-standard of skincare ingredients) it's a component clinically proven to improve cell turnover and smooth skin texture with consistent use. I'll admit it, I was initially sceptical about applying vitamin A to my delicate eye area – as ingredients go, it's amongst the most potent and can initially cause skin to become sensitive. But that's where Medik8 excel – the formula is bolstered with a hefty hit of ceramides – a type of fat that works to smooth, soothe and protect. Essentially? It allows the retinal to do its job while minimising the potential irritation that can sometimes go with it - all while boosting the skin barrier along the way.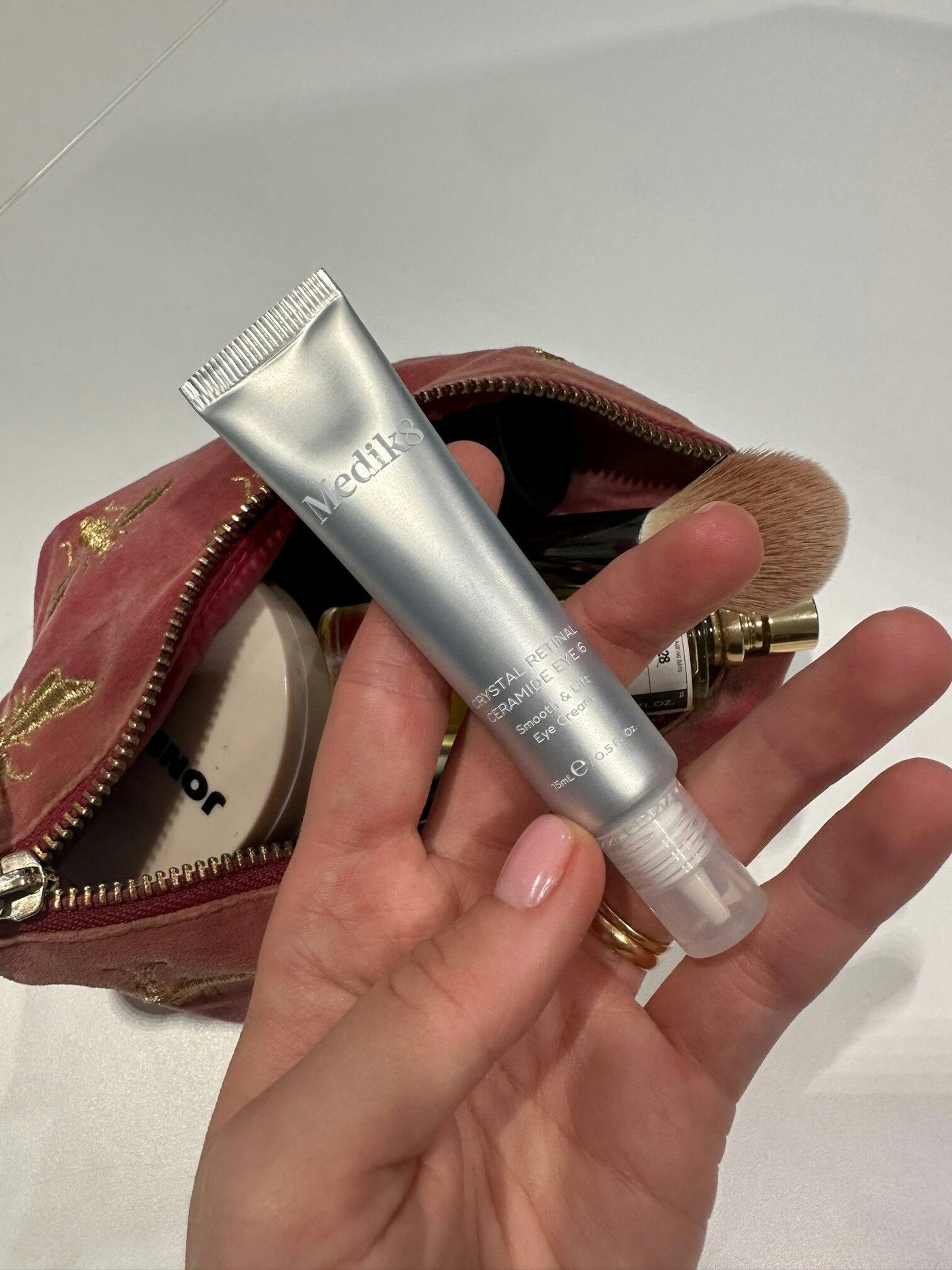 Where application is concerned, I stuck to using this eye serum at night – vitamin A can make the skin extra sensitive to the sun, so sunscreen was a necessity come morning. Before bed I took a pea sized amount and applied it in circular motions around the contour of my eye. I used my ring finger, and used light, dabbing motions with minimal pressure. The texture was light and silky and void of any stickiness. As eye creams go? A delight to apply. While the results weren't instant, I did begin to see a difference in the fine lines around my eyes within three weeks. Skin appeared less crepe-like and there was an undeniable hint of plumpness that wasn't there before. It was at the five weeks mark that I noticed my dark circles weren't as noticeable, too. They were still there, yes, but they appeared lighter and less pronounced. A small, but definite win.
How We Tested It
Rachael says: 'I've been testing the Medik8 Crystal Retinal Eye 6 for the last two months by applying a small amount to my eye contour each night and following with sunscreen come morning. While I wouldn't say it was a miracle worker (my dark under-eyes are likely genetic so won't ever truly budge) I would say that I've seen a decided improvement in the tone and texture of my delicate eye area with consistent daily use. Would recommend.'
Overall rating
It's a 4 out of 5. The results were impressive, but, when it comes to under-eyes, but it's important to be mindful that there's only so much an eye cream can achieve - no matter what the packaging would have you believe.