Ghd know a thing or two about revolutionary haircare, they're one of the most iconic hair styling brands and have some of the best hair straighteners around - now ghd is back with the most exciting launch yet: a two-in-one wet-to-dry styler called the ghd Duet. I got my hands on it and here are my thoughts.
Similar to hair straightening brushes, the ghd Duet combines a hairdryer and straightener in one, and houses both an airflow drying chamber together with their signature ceramic plates. It looks like a ghd hair straightener, it's designed to be used like a hair straightener, and yet it dries your hair at the same time. Genius.
Now, if you're anything like me the whole concept conjures up images of 90s tools that billed themselves as doing just that but posed a real hair-frying hazard. These vintage devices just didn't work. I can reveal though, that the ghd Duet does. It really, really works.
And according to the brand, there's no chance of frazzling. Ghd claims that the groundbreaking technology causes zero damage to your lengths. Tests showed that no thermal hair damage was detected after four passes through the hair. Pretty impressive, right?
The ghd Duet also uses 45% less energy than your standard hairdryer. Which is music to our ears right now when we're all concerned with rising energy prices.
ghd Duet Review: Does It Really Work?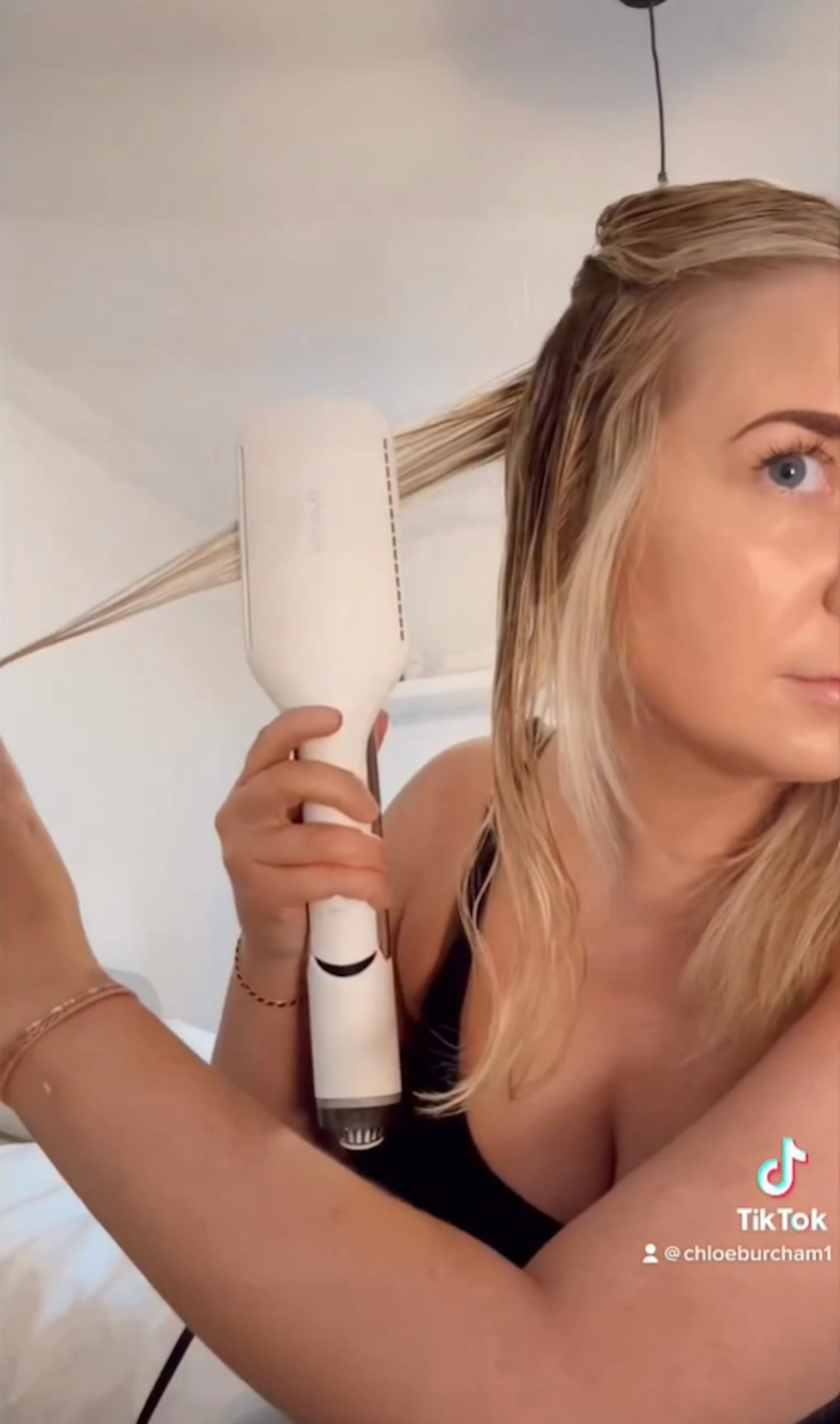 The first thing to note about the ghd Duet is that it's fairly chunky. It's slightly larger than the ghd Max Styler but is also surprisingly lightweight to use. You simply plug it in and switch it on, and the motor kicks in with a high-pitched (but quiet enough) whooshing sound – (to me, it sounds exactly how you'd imagine a spaceship to sound).
Now I have curly hair that's fine, but there's a lot of it. I usually blow-dry my hair and use my straighteners to style it afterwards. The thought of halving my styling time is decidedly enticing.
It does take a little while to familiarise yourself with the technique. You can't be lazy. You do have to take the time to section each piece of hair and pass the styler through from root to end. If you're like me and usually blast your hair upside down with your hairdryer and hope for the best this precision routine will take a bit of getting used to. That said, I was immediately impressed with how well the ghd Duet dried and styled my hair in one.
The whole process did take longer than my previous routine, but I'm cutting down on heat damage considerably, which will pay dividends when it comes to my hair health and condition in the long term.
Once my hair was dry, I used the Shine Shot button to smooth the top layer of hair. This button essentially turns off the drying motor and allows you to use the tool purely as a hair straightener. I've tried (and failed) to curl my hair with the Ghd Duet – something I do regularly with my usual Ghd Stylers – but if you're looking for a purely wet-to-straight hair tool, this gets top marks from me.
SHOP: The New Ghd Duet Wet-To-Dry Hair Styler
Description
The first 2-in-1 hot air styler that transforms hair from wet to dry and styled with zero damage
FAQs
Does the ghd wet to dry damage hair?
According to the ghd website, the ghd duet style has an airflow of 150ºC and a plate temperature of 120ºC to help transform your hair from wet to style with little damage. Having said that, we recommend using heat protectants as you normally would when styling your hair, to ensure your hair remains protected.