Ah, finding the best hair dryers is a task we're familiar with. There's not one brand we haven't got our claws into and with Dyson here to take over every hair product we have, it's no surprise that we've been hooked into the world of the Dyson Supersonic Hair Dryer. It's the gadget the internet won't stop raving about.
The Supersonic may have launched back in September 2016, but it still remains one of the most talked about hair tools out there. Hailed as one of the most revolutionary haircare electronic to ever grace the beauty scene, celebrities and A-listers alike have stamped their seal of approval on this hairdryer-to-beat-all-hairdryers. If you're trying to have a 'do that's enough to compete with Kate Middleton's blow dry, this might be the answer to your questions.
As a refurbished item, the price is already a bit lower, but with extra money off, you can snap up the Dyson for under £167.99. Shop the offer below.
But is the Dyson Supersonic Hair Dryer worth the hype? With Dyson hairdryer dupes coming out of the woodwork thick and fast, it might seem hard to tell. But, with its slick metallic design, and lightweight and minimal sound, it is quite simply one of the best hair dryers we've tried. Ever. If you're wondering why, keep reading for our breakdown of everything you need to know about the hair dryer, from noise control to motor power.
Will The Dyson Hair Dryer Be Cheaper On Black Friday?
In a word, yes! Dyson itself usually has a few offers during the Black Friday period, and most retailers will offer some sort of discount, too. This year, we've seen flash sales from Boots, 40% off Dyson refurbished tech from eBay and discounts on John Lewis and Very. We'll be keeping this piece updated with any deals, so keep your eyes peeled.
Is The Dyson Hair Dryer More Powerful?
Claiming to cut drying time in more than half, we were sceptical. We've seen dryers with engines formulated by the fastest cars in the world, and super-turbo tools offering over 1800 watts of power, but did the Dyson go one step further? One of our in-house Grazia writers, a beloved owner of a Supersonic, told us 'It beats them all. I usually leave my hair to air dry while I do my make-up, then blast it off before blow drying it with a round brush. The whole process, which usually takes me 12 minutes (yes, I've timed it) took a miraculous four. Pretty impressive, I know.'
But that's not the only benefit, hair was noticeably shinier too. 'After using the dryer for over a month, the quality of my (very bleached) ends actually felt like they had improved. I'm now less prone to split ends, which in hand means I can wait a little longer between haircuts.' The technology within the dryer is so high-tech that the distribution of heat is more controlled, which in turn will reduce damage and protect your hair's natural sheen.
Is The Dyson Hair Dryer Quiet?
When James Dyson developed the dryer he wanted to create something silent, or as close to that as possible. Having been frustrated that he couldn't speak to his wife while she blow-dried her hair, this was an important factor he wanted to include. So, is it really quiet? The short answer is no but it is noticeably less noisy. It's more 'loud fan' rather than a 'leaf-blowing vacuum sound', which is definitely more tolerable.
boots
Description
To put it simply, this is one hair dryer that is completely worth the money. With the powerful
Pros
High-velocity blade of air makes for efficient drying and styling
Various heats and speeds depending on your use
Powerful motor
Cons
Designed differently from regular hairdryers
Does The Dyson Hair Dryer Look Nicer?
The appearance of the dryer is pretty snazzy, to say the least. Slick, sliver (although there's a pink option and blue option too), and with a giant hole in the middle, much like the Dyson fans, it looks impressively chic in any bedroom and the dials on the handle are simple and easy to navigate. With four intelligent heat settings (from 28°C- 100°C) and three-speed controls, that can measure the warmth and pressure twenty times a second, you're not exposed to excessive temperatures, which can lead to hair damage.
Holding the dryer feels a lot more unique, too. The weight is significantly lighter thanks to the 103 engineers that helped input the engine in the handle, rather than the head (where it usually sits). The benefit is that it helps create the perfect balance and in turn, means you won't get hair dryer arm-ache. Thumbs up indeed.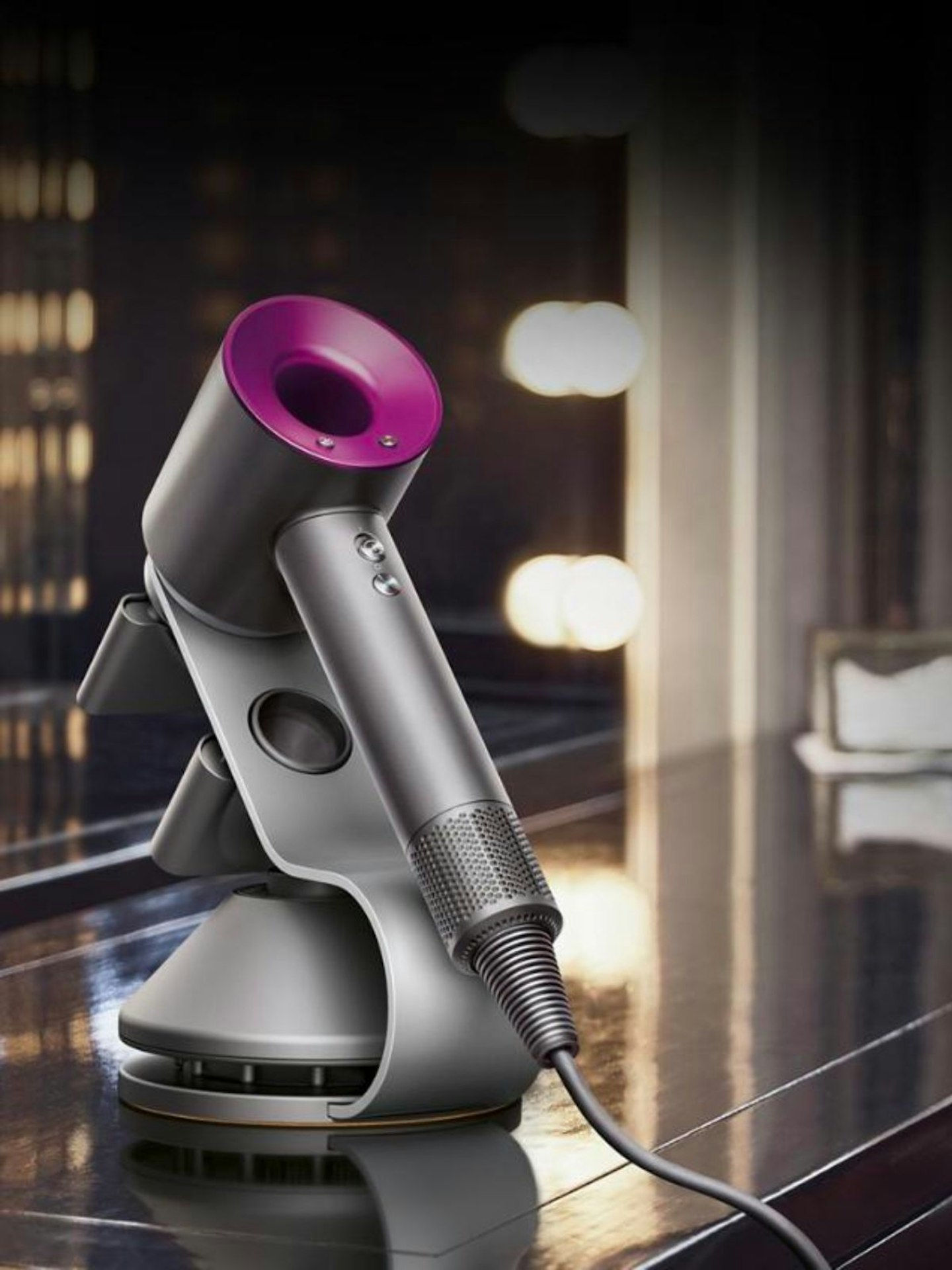 Can The Dyson Hair Dryer Be Used On Different Hair Types?
Dyson has recently re-engineered its styling attachments to include a smoothing nozzle, styling concentrator, diffuser, gentle air attachment and a wide-tooth comb. Designed for curly and texture hair, the wide-tooth comb helps to create definition and shape, whilst the gentle air attachment goes easy on fine and sensitive scalps.
Is The Dyson Hair Dryer Worth The Money?
£329.99 for a hair dryer isn't cheap. The only other dryer on the market coming in at this price is the Zuvi Halo Hair Dryer, and that's a top choice, too. With the average power dryer coming in at just over £100, these higher-ticket choices are significantly more expensive. But if you are due a work bonus, out of ideas for birthday presents, or you're fanatical about hair - this dryer really is worth it.
You can shop the Dyson Hair Dryer on Boots, John Lewis, Currys, Very, Argos, and Dyson.co.uk.