The Crown's creator Peter Morgan has a '20-year-rule' before he's willing to adapt modern events into an episode of the royal drama. 'That's enough distance to really understand something,' he told The Hollywood Reporter.
'[You need] to understand its role, to understand its position, to understand its relevance.'
And one modern historical event has gained just enough perspective to make it into the show's sixth and final season: Kate Middleton and Prince William's university romance at St Andrews in 2001.
But who will play Kate Middleton in The Crown?
The exciting news was announced last year: newcomer Meg Bellamy - as in so new she's never even been in a TV series before. She's set to star in the second instalment of the hit Netflix show, which comes out on 14 December.
Earlier this year we got the official first look at Meg Bellamy playing Kate Middleton and the resemblance to the Princess of Wales is uncanny. We also got a first look at her alongside Ed McVey who is set to play Prince William.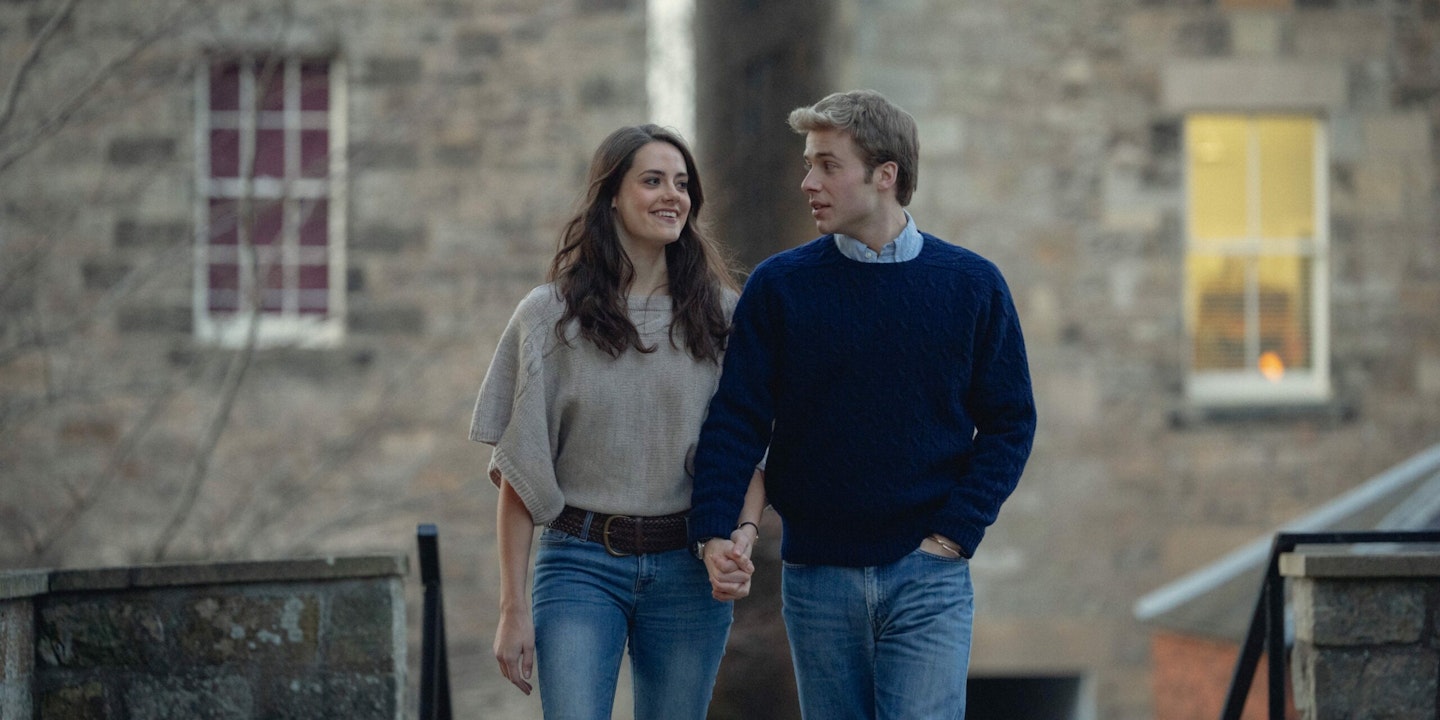 Who is Meg Bellamy?
According to Deadline, Meg Bellamy's 'career to date has involved amateur dramatics and film-making. She and Rufus Kampa were auditioned by casting directors upon submitting self-taped videos following a casting call on social media.'
The show has spent a long time searching for the right Kate Middleton, with Lady Alice St Clair-Erksine rumoured to be in the mix after playing a young Kate Middleton in the (questionable) TV film William & Catherine: A Royal Romance.
'They'll only cast someone if they can find the right candidate,' an source told The Sun, adding that Kate Middleton's presence on the show isn't 'necessarily a crucial part of the storyline' but that it would be 'a bonus' if she did feature.
With her shiny curls and well-groomed brows, it was also previously pointed out that Girls star Allison Williams channels some serious Kate Middleton energy. But, as we saw with Emma Corrin's transformation into Princess Diana, the aesthetic of the character can be handled by the wardrobe department—it's the aura and personality of the royal that are the essential ingredient.
'Kate's got a really naughty sense of humour, which helps me because I've got a really dry sense of humour,' Prince William previously told reporters when recounting their university days. 'We were both very young. We were both finding ourselves,' he added. 'We were growing up.'
How did Kate Middleton meet Prince William?
Kate Middleton and Prince William met in 2001 when they were both studying at St Andrews University, Scotland.
The legend is that Prince William fell for Kate Middleton after seeing her model a sheer top whilst walking the runway for a charity catwalk.
What did Kate Middleton study at St Andrews?
After initially opting for Psychology, Kate Middleton eventually earned a degree in Art History from St Andrews University.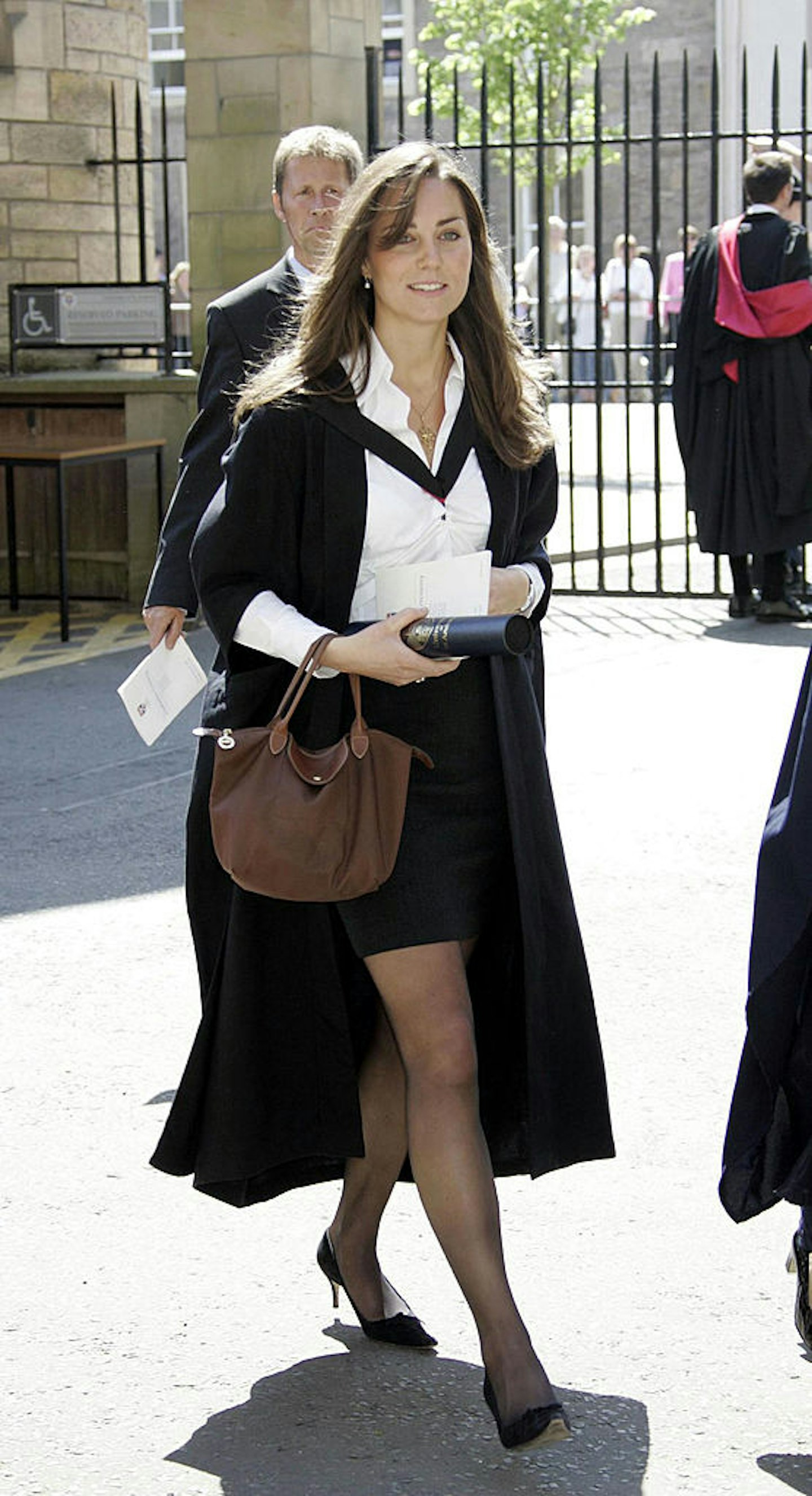 How long did Kate Middleton and Prince William date during university?
Despite meeting in 2001, Kate Middleton and Prince William's relationship didn't turn romantic until May 2002, with the pair going public the following year.
In April 2007 - after five years together - the pair briefly split, but were back together just a few months later.
Why did Kate Middleton and Prince William break up during university?
We already know that the Prince and Princess of Wales did briefly split in 2007, but Prince William also appears to reveal that they also briefly broke up at university, which they talked about in their their engagement interview.
'We did split up for a bit, but that was just, we were both very young, it was at university, and we were both sort of defining ourselves as such and being different characters and stuff. It was very much trying to find our own way and we were growing up.'
Kate added, 'At the time, I wasn't very happy about it, but it made me a stronger person. You find out things about yourself that maybe you hadn't realised. I think you can get quite consumed by a relationship when you're younger. I really valued that time for me as well, although I didn't think it at the time.'
Aside from Kate Middleton and Prince William's university romance, the sixth season of The Crown is thought to feature royal storylines including Charles and Camilla's marriage, the death of Princess Margaret, the Queen Mother and of course Prince Diana as well as Prince Harry's rebellious partying days. But don't expect to see Meghan Markle—that would really break Peter Morgan's 20 year rule.