Married at First Sight UK is drawing to a close after a drama-packed nine weeks. Series six has given us break-ups, make-ups, spouse-swapping, explosive fights and now, the long-awaited vow renewals.
Ever since the show started airing, fans have been dying to know where the couples are today. Did they go the long haul or call it quits at the last hurdle?
The vow renewals have given us a very good insight, but of course, they were filmed earlier this year, meaning things could well have changed. So, here is what we know about who is still together after those emotional final vows on Married at First Sight.
Erica Roberts and Jordan Gayle
Erica Roberts and Jordan Gayle, much like the other couples in the experiment, had a rocky ride at times. Many of their arguments centred on communication issues, with Erica voicing fears that her own needs were being disregarded when considering Jordan's.
But when it came to renewing their vows, both of them opted to stay.
'Coming out of the experiment now is scary as f**k,' Erica confessed. 'But I honestly feel on cloud nine right now. It's been the perfect end.'
Turning to his wife, Jordan said, 'I wouldn't swap you for anyone in the world. I look at you and I can see everything - a house together, a dog together, and one day, kids together.'
Going on social media alone, it would appear that Erica and Jordan are making their marriage work on the outside.
She wrote on Instagram, 'What an absolute rollercoaster [sic]. This has been one of the most challenging, incredible journey of my entire life and I wouldn't change any of it for the world!
'I'm so proud of us [sic]. Let's see what chapter 2 has in store.'
Charlene Douglas, one of the E4 show's experts, replied, 'So excited for you both! Gorgeous couple.'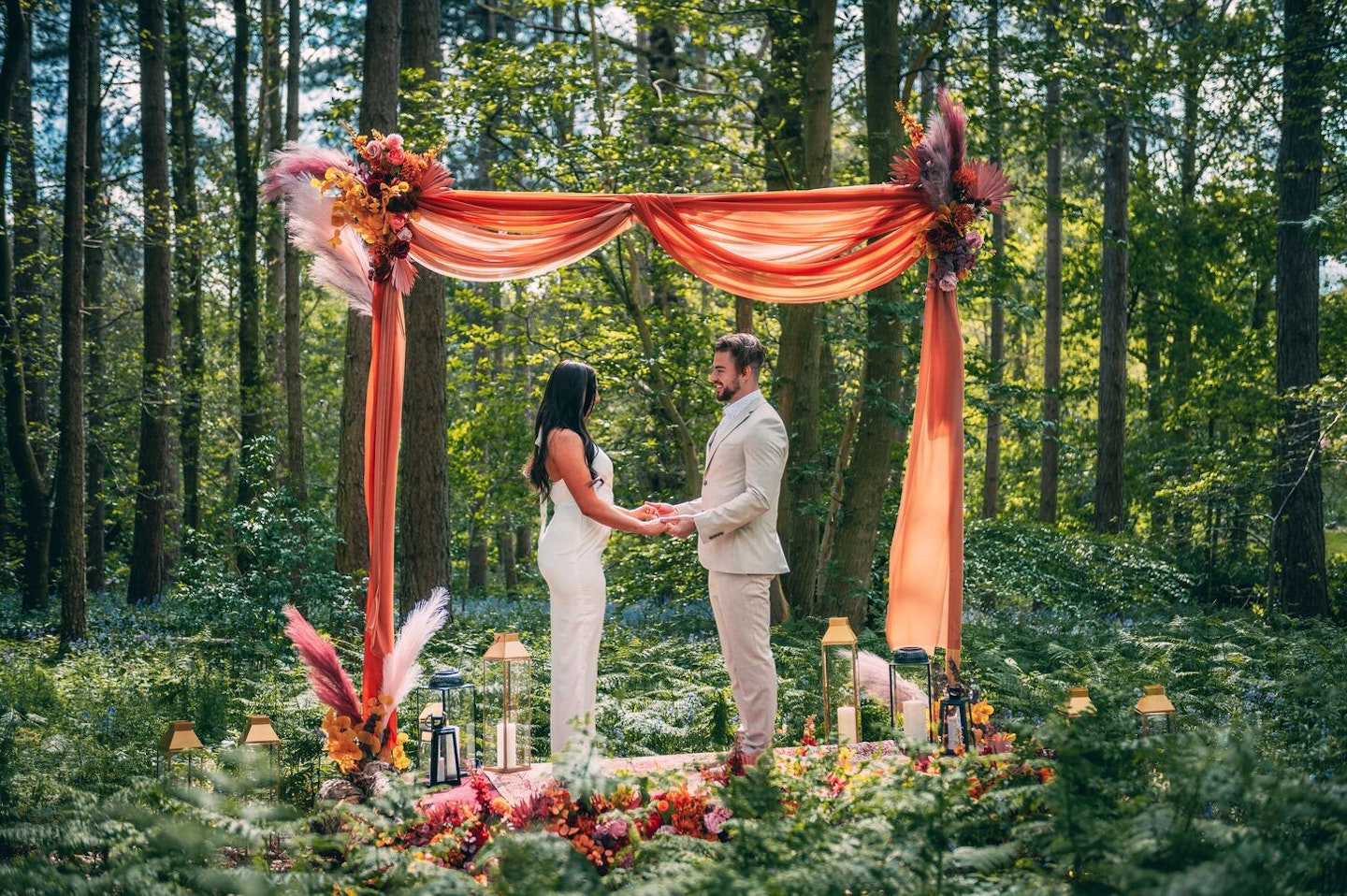 The past couple of weeks saw Laura Vaughan and Arthur Poremba struggle to overcome some obstacles. They included Arthur's falling out with Laura's friends, and her feeling as though she had lost herself trying to keep their relationship afloat.
Whilst Arthur wanted to keep trying, Laura decided to leave their marriage.
'Arthur's vows made it quite difficult for me,' Laura said, holding back tears. 'I came into this not really knowing what was going to be on the horizon for me. I took a chance and it didn't pay off. But it paid off in so many other ways, because I do love the person that I am and I'm moving forwards with a lot more confidence. That's actually pretty amazing.'
'I am going to miss Arthur,' she continued. 'But the ring's off. That's done.'
An emotional Arthur admitted, 'That made me feel like c**p. I didn't really see it coming. Ultimately, I was trying to make things work on the outside and I'm really gutted that she didn't feel the same way. We could have had something special. Her decision is her decision - I've got to respect it.'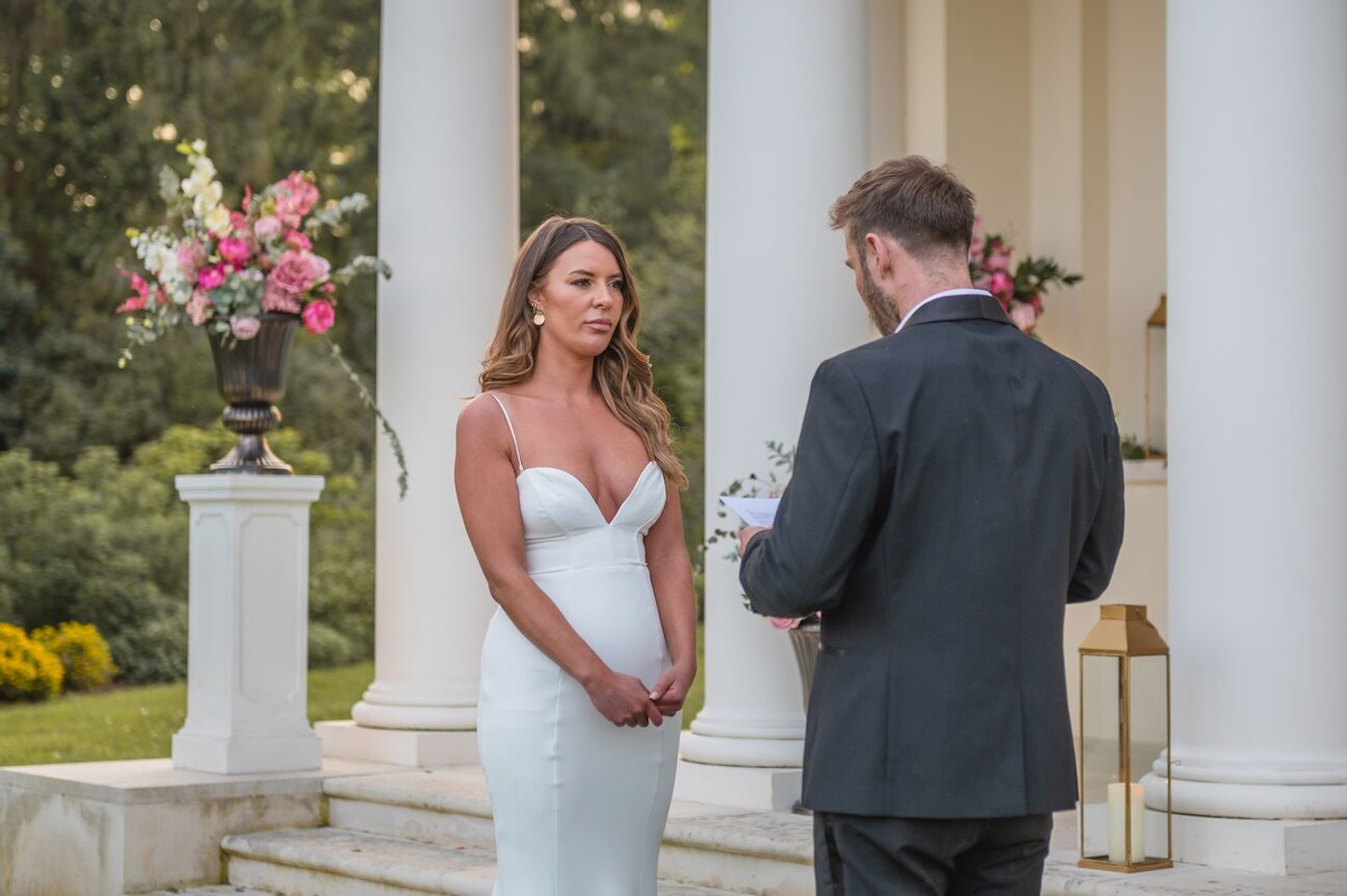 Taking to Instagram after the scenes aired, Laura penned a lengthy caption which read in full:
'By now hopefully you'll have all watched mine and Arthur's final vows. Watching it back brought back a tidal wave of emotions. There was so much riding on that day for both of us.
'I expect not everyone will like or even understand my decision. That's ok. You weren't there. You didn't feel what I felt. I meant what I said, I've always been a "fixer". Arthur and I had grown so much as people, but the more we grew as individuals, the further we grew apart from each other. When a relationship is no longer bringing the best out in each person and it becomes a struggle to stay on the same page, that's when decisions have to be made for the sake of both parties.
'I meant what I said, Arthur is perfect for someone. I say that with sincerity and all the love my little heart can muster. No one will know our relationship behind closed doors, but what I do know, is that life has taught me time and time again to always choose you, for you. There's no shame in that, it's not selfish, it's necessary.
'This process taught me endless lessons. I walk away from this experience as a fierce, determined and resilient woman. For every message in my inbox calling me a "role model", "inspiring", and a "powerhouse of strength" - I see you. Thank you. And for every message in my inbox calling me "cold" and "stuck up", I urge you to advocate for yourself the way I have, instead of hating on someone you've never met.
'I hope you'll look back with kinder eyes one day and see me as someone who was balanced and diplomatic in disagreements, someone who always backed the "underdog", the fourth expert whom other cast lent on when needed and the woman who helped save @shoniemandy from darkness and brought her back to the universe (!)
'To every single person [who] worked on @e4mafsuk behind the scenes, thank you for giving me this opportunity. I've made friends for life. And special thank you to @dannyedmondson, @sophia_burton and Harry who were amazing throughout and @kikiwright who cast me way back when and made this all possible.
'Lastly, thank you to everyone who watched, got behind us and enjoyed watching our journey unfold. Who knows what the future holds [sic] #mafs #marriedatfirstsight'.
Arthur replied, 'I'm not a saint everyone, even though they've made me look like one! Laura's decision was made based [on] my behaviour throughout the show, loads of it didn't even make the edit! Ultimately that was the right decision for both of us, I'm far from perfect but I'm trying [sic]'.
He also took to his grid with his own message. It read in full:
'Don't cry because it's over, smile because it happened [sic]. Thank you for what's probably going to be one of the best experiences of my humble life [sic].
'This journey has taught me a few things. I've learnt that it's ok not to be ok, you don't always have to pretend that you're the strongest person alive, it's ok to be vulnerable at times and show your feelings and emotions when needed. Lastly, that I'm fine just the way I am so no need to pretend/lie to be anyone else, I am who I am and I'm proud of it.
'I am super proud of myself for even taking part in this wild experiment called MAFS, for someone with severe anxiety I did well!!! Laura has been incredible throughout the whole experience and even though we've had our ups and downs I'll always be proud of her and respect her for the person she is, a strong independent woman who's not afraid to say how it is!
'I believe in how you do anything is how you do everything, throughout my life I've always done things half-hearted without real intention, here my intent was clear. I wanted to give this a chance and see where life takes us, I've always been one of those people [who] hasn't even given a relationship a chance so I thought why not!
'As much as it was a tough journey I wouldn't change it for the world, I've come out of my comfort zone and met so many wonderful people along the way and made friends for life [sic]. There's so much I still have to learn but I'm on the right track! I've left the experiment a better man and I couldn't have asked for more!'
Peggy Rose and Georges Berthonneau
Despite overcoming their disagreements, Peggy has continuously battled with her feelings versus how she thinks other people perceive her husband.
Georges made clear that he wanted a future with Peggy, saying in his vows that it 'didn't work without her'. He tearfully said, 'Being apart from you over the past few days has really made me realise I've got really strong feelings for you. The outside world is where our journey really begins, and we'll take it on together as a team.'
Things seemed slightly less clear for Peggy, who has admitted her family's approval is everything. 'This is by far the biggest decision of my life. I am an overthinker and I have thought over and over again over the last few days whether we could work, or whether this is game over for us. I'm sorry,' she said.
But the narrative soon shifted, with Peggy continuing, 'I don't trust easily, but I trust myself. And I trust that you will prove everyone who doubts you wrong. And my decision is to stay and continue our story together. Our fairytale might just have begun, but I'm certain it will end with a happy ever after and the greatest reward of all - love.'
'I'm absolutely besotted with you,' Georges tells his wife after the ceremony.
It seems as though the pair are still going from strength to strength, with Peggy writing a heartfelt message on Instagram.
'Who said "happy ever after" doesn't exist!! From our first wedding day to this moment, who would have thought!? Sharing our journey, the highs and lows, has been an absolute rollercoaster! It's a shame you never see the good times we had but there were probably too many that would've spoiled the ending for you all! [sic.]
'Watching it back, reliving every emotion was the hardest part but knowing the outcome was what kept us going. From our highs to the lows, our story is real, imperfect, but uniquely ours! [sic.]
Here's to embracing it all and following your heart [sic] ….I wouldn't have wanted to share this journey with anybody else and I'm so grateful and excited for our future together…So relieved that we can now publicly celebrate the imperfectly perfect us!
'Thank you to my Prince Charming @georgesbert for being patient and supportive and for never giving up on us and a massive thank you to the experts @charlenedouglasofficial @mel_schilling1 and @paulcbrunson for working your fairytale magic! [sic.] Thanks @indigo_wild_studio for making me and my whole family cry with these photos! [sic.]
'Thank you guys too for the support and kind messages I've received from everyone throughout the series! Believe it or not, it's these comments and kind words that have made the most difficult moments of the past 9 weeks so much easier and I am so grateful for each and every one of you [sic.]'
Meanwhile, Georges, referring to his 'baguette' gaming rewards, wrote, 'Unbageutteable! [sic].
'I've always found in life that nice good-hearted men never win, and I seriously mean that, I always found when I was too nice I lost myself however, this time I lost myself and managed to bounce back, bigger, better and happier!
'Life works in magical and mysterious ways, this must be the most mysterious of them. Today I give you me, my loud, confident, large personality & waistline. Thank you for everyone's love and support. Here's to you and our beautiful journey ahead. To be continued… Baguette ever after [sic].'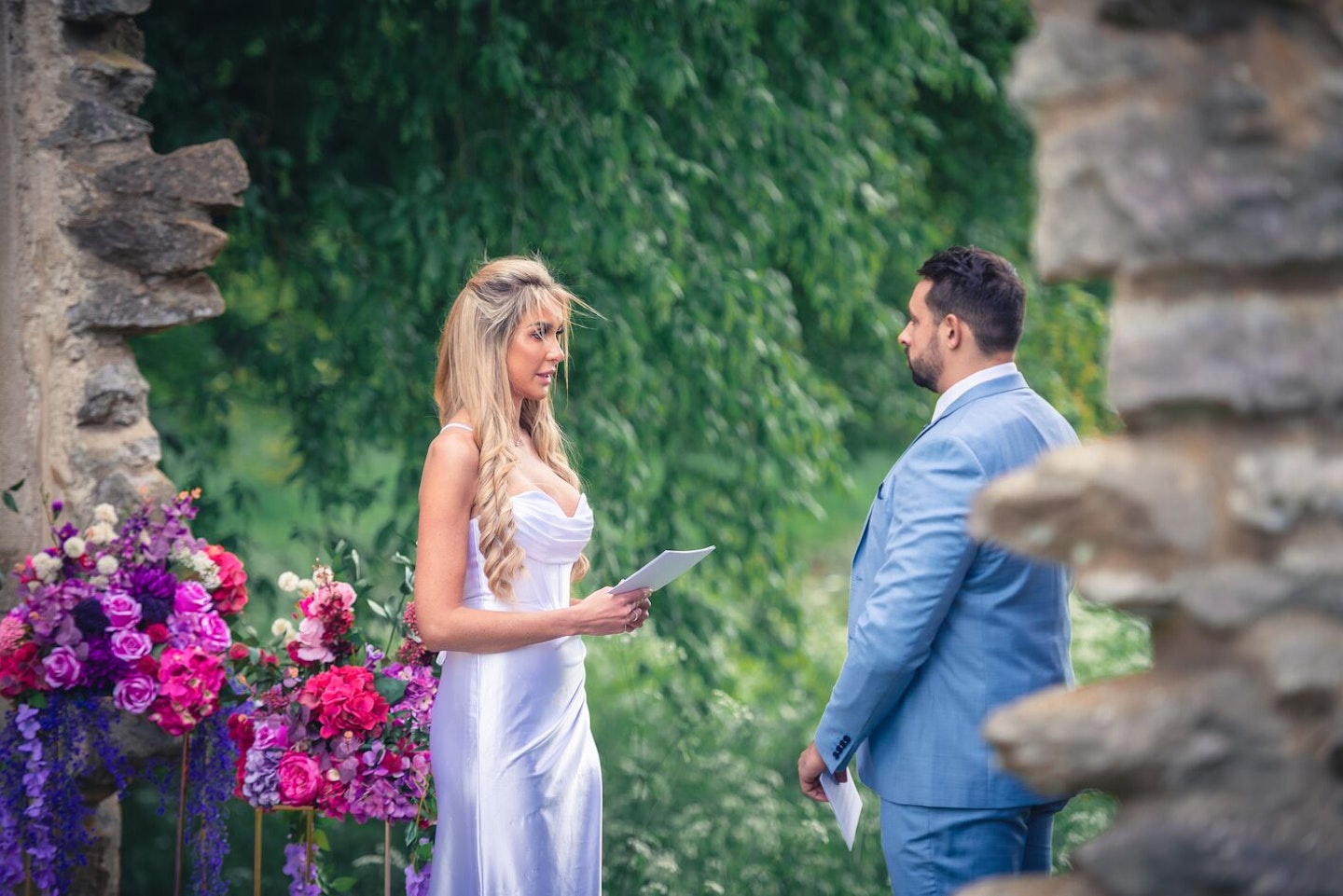 Adrienne Naylor and Matt Pilmoor
Adrienne Naylor and Matt Pilmoor discovered they had an instant connection when they married at first sight, but there were some concerns about their differing personalities.
More recently, they had some deep conversations about the fact having children wasn't part of Adrienne's plan, whereas Matt wanted to have a family.
But during their final vows, they put their connection above all else.
After admitting he had been thinking about what the future may look like, Matt professed, 'Hand on heart, I can't see anyone else in my life but you. Adrienne, you have brought a sparkle back into my life. I visualise a lot of things, and the biggest thing right now is creating the most amazing memories with you. You are my rock.'
Adrienne started her vows by reminiscing on their initial meeting, before delving into her fears. 'I worry that I am too overbearing for you,' she said. 'I thought I would be happy to have some time apart. I was nervous that I wouldn't miss you. However, it's true what they say, absence makes the heart grow fonder. This time apart has cemented that I am ready for a life together outside the experiment. Let's dream big, aspire to be great, and continue our adventure in the outside world, because I am falling for you.'
However, the couple appear to arrive at tonight's (Wednesday 15 November) reunion separately. Their Instagram grids also don't give much away about whether they are still together, choosing to keep their captions short and sweet.
Alongside images from the renewal, Adrienne wrote, 'What a journey! [sic.] We married a stranger and together formed incredible memories which will last a lifetime [sic]'.
And Matt penned, 'What an experience [sic]'.
Tasha Jay and Paul Liba
Tasha Jay and Paul Liba were hailed as one of the strongest couples from the off, but weren't without their hardships.
They fell out during the homestay and one of Paul's friends questioned whether their personalities clash too much.
But they both chose to stay in their marriage and have very much given the impression their marriage is still progressing today.
'The question I had to ask myself was: could I put my trust in you? Could I really see a life for us, together? Paul, you are one of the few people who have come into my life who I feel I can count on, who will never knowingly hurt me, and who will never betray my trust. You bring out the best in me - you help me be someone who isn't afraid to open up and express their emotions. Paul, I chose you now, tomorrow and forever.'
After the scene aired, Tasha shared a string of photos from their renewal with the same caption: 'I chose you now, tomorrow and forever.'
Paul's vows looked back on their wedding day and the laughs they have shared along the way. He also dwelled on the challenges they've faced and admitted he questioned whether they were a good pairing.
'However, you have taught me so much and given me so many opportunities to learn and grow,' he smiled. 'You have helped me become a better version of myself. I am so thankful for the life we have created together. On this day, I vow to always support and encourage you to grow and reach for your dreams. Tasha, I love you, and I can't wait to continue our journey together.'
'There's no turning back now,' Tasha replied.
On Instagram, Paul shared the same post as his wife, with the caption, 'I chose you now, tomorrow and forever.'
Ella Morgan and JJ Slater re-entered the experiment after discovering they had a connection among group settings. Prior to striking up a romance, they were married to Nathanial Valentino and Bianca Petronzi respectively.
They had unmistakable chemistry, but came to blows over Ella's drunken remarks, with her later admitting during a commitment ceremony that she required more reassurance.
It was an emotional vow renewal for the pair. Despite opting out of their relationship, it was evident there was a lot of love and support between them.
'You are kind, funny, handsome, and I've never met a guy like you. You're a special human being with a big heart and I admire how open-minded you are.'
Referring to experience being a trans-woman, Ella continued, 'You make me a better person because you inspire me to be proud of my past and not to see it as an issue or something I should be ashamed of.'
After exploring some of her concerns, she continued, 'You are so special to me. I wanted it to be you, but it isn't right now. I'll never forget you and what you've done for me, which will change my life forever. You've done so much for the little girls and boys like I once was. I may not have found the one, but I've found myself and my worth.'
She concluded, 'I'll always have so much love for you.'
A visibly choked-up JJ reflected on the experiment 'turning on its head' when he met Ella and listed some of the good times they shared.
'I think you're amazing. I've learned so much from you. But as things stand, I believe becoming friends is the healthiest thing for both of us. You are truly an inspirational person, you'll always, always hold a very special place in my heart.'
Before they hugged, he added, 'I hope we can remain in each other's lives today, and for many years to come.'
Taking to Instagram about her experience, Ella wrote in full:
'I made it to the final vows with @johnjoeslater [sic.] Tonight's @e4mafsuk is going to be an emotional one for sure. Writing the vows was incredibly difficult and one of the hardest decisions I've ever made, it shows just how much I have grown in this experiment which has been one hell of a rollercoaster from start to finish and now we have reached the end after all these weeks.
'It's been the best and hardest journeys I have ever experienced in life. I have grown and learnt so much during my time on MAFS, and getting to end the series with the most incredible man @johnjoeslater makes it so special and all worth the ups & downs.
'I am so proud of us both. You have grown so much and taught me loads about us, you and most surprisingly, myself. I couldn't have wished to end the series with anybody else. You may not be a stranger this time, I actually knew the person I was "marrying" unlike my wedding day, and I know I didn't end this with the person I married but I really am so happy to have made it to the end with such an incredible guy that I chose and who wasn't picked for me.
'Thank you to JJ, @cplproductions @e4grams @channel4 all the cast, crew, welfare for letting me live out this incredible life-changing journey. Thanks @mel_schilling1 @paulcbrunson and @charlenedouglasofficial for showing me the way and helping me grow and learn so much about myself and relationships. Thank you to everybody for your continued support and love. I am so overwhelmed and grateful every single day. I hope I continue to make you all proud [sic] TONIGHT AT 9PM ON E4 .. get your tissues ready!'