As a parent, I would wager that sleep and some time to yourself in the evenings is up there on a list of things for which you'd pay any sum of money. Well, for me, a Toniebox helped get me some of both - and this Black Friday 2023, there's been a massive 20% off a number of products. As it's Cyber Monday, you can still bag a Toniebox on sale, but the sale will end today, November 27.
This Black Friday season, there have been a number of 20% off deals available - including 20% off all Toniebox Starter Sets (available in a choice of six eye-catching colours), Toniebox Bundles(including the best-selling 'Build Your Own Bundle'), and Accessories, including matching headphones and a fun and versatile range of carry cases.
Are Toniebox and Tonies Worth The Cost?
Rhiannon Evans, senior editor and mum of two gives her honest verdict:
The Toniebox is a robust (mine have been thrown around the room and into various car boots many times) music and story box. The square Toniebox is an audio player that's really easy to operate (for tiny hands, too). You buy Tonies (there are over 200 available) which are really cute characters that the child then places on top of the Toniebox to start playing that particular story (musical Tonies are also available).
There are SO many options when it comes to Tonies and my son is now so obsessed that whenever he falls in love with a new book, film or TV show, straight away he asks me to see if it also exists in Tonie form.
There are nursery faves (songs and stories), Disney hits (which both tell stories and play songs), classic storytime tales, educational titles and more. The brand has just launched its new advent calendar Tonie - an adorable reindeer who will upload a new story via your WiFi every day - and there's a podcast Tonie, too.
Which Is The Best Tonie For Kids?
In our house, we particularly love the Sleepy Sheep Night Light which operates as a nightlight independent of the Toniebox (he's also VERY robust, trust me!) but can be put onto the Toniebox to play 90 minutes of calming melodies.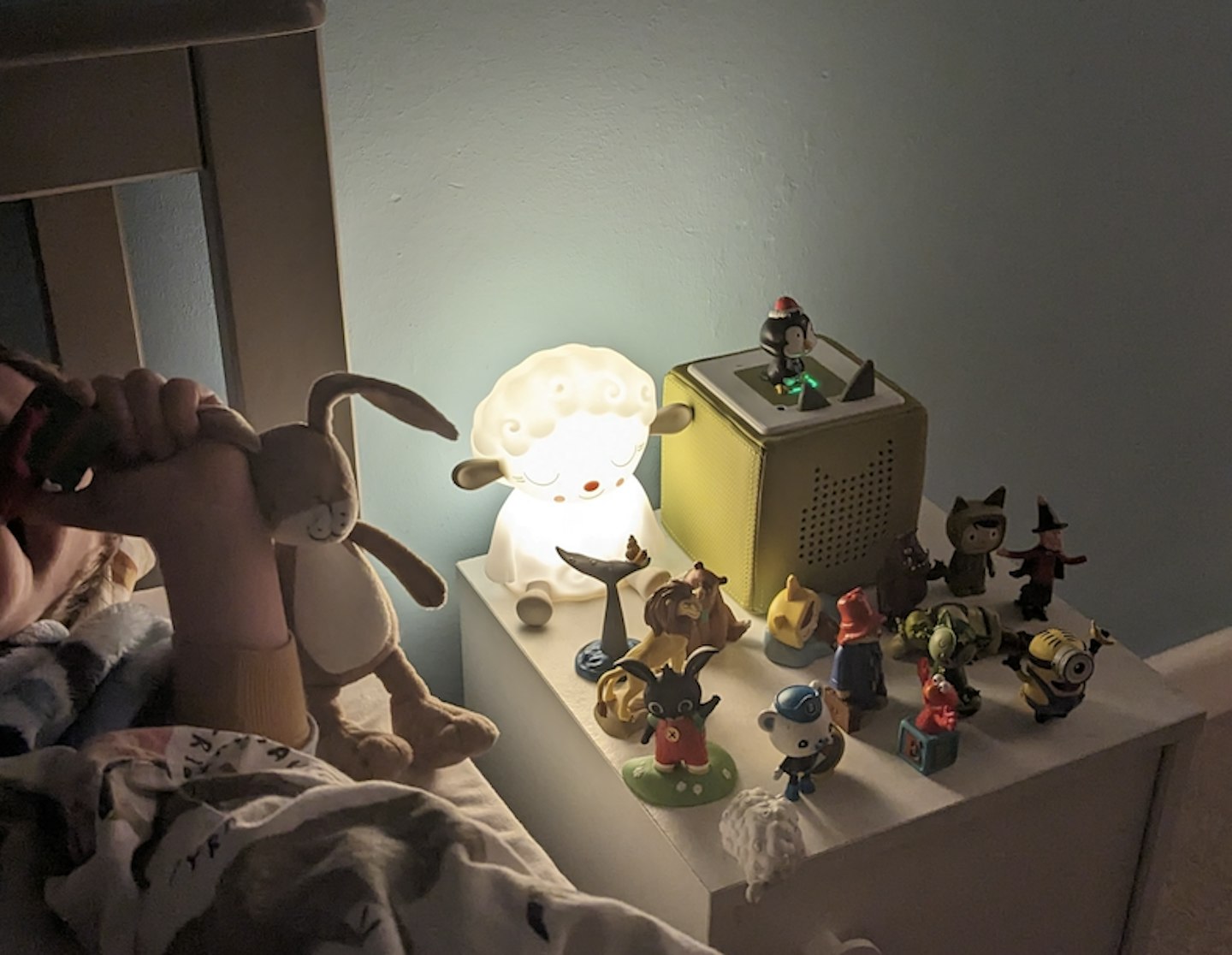 Many parents love that it's screen-free and, for my family, the Toniebox has really helped with bedtimes. Our five-year-old loves his Toniebox, which he's had for years now - it helps active minds stay still and listen and also is a good way to bring the books-reading part of bedtime to an end, providing you with a helpful exit strategy, allowing independent sleep to begin. It's also portable, so is a guaranteed way to keep some consistency in your bedtime routine. 87% of Tonies' customers say the Toniebox helps make bedtime routines easier.
We've found it so helpful, we bought our daughter one for her second birthday this year.
A perfect Christmas present (the type that works for them and you), entering into the world of Tonies is also brilliant for when you get the eternal question from relatives: 'What shall I get them for Christmas?'
SHOP: The Best Toniebox and Tonies Deals In The Black Friday and Cyber Monday Sale
Description
This Black Friday the Toniebox Build Your Own Bundle is 20% off. You can get a Toniebox, a
Pros
Portable and tough
Easy to use
Screen-free
Helps with bedtime
Educational
Seven tonies is the biggest saving
Cons
You do have to buy a new tonie every time they want a new story (but that does help with that 'what to buy?' question!)
Description
A Toniebox, a charger and a creative Tonie, this is the starter set for those dipping their toe
Pros
Entry-level cost
Nice gift for Christmas (let others buy the Tonies as gifts)
Everything you need to get started
Cons
Doesn't include any Tonies - the bundles (above) offer better value.
Description
This cute bag will transport all of your Tonies accessories in one place. It's super robust and
Pros
Makes space for your Toniebox, headphones, charging station and six (or more) Tonies
Nice to have kids get excited about the cute design on trips.
Keeps everything safe and together in packing chaos.
Cons
Takes up a bit of extra space
Description
This carry case can fit up to 20 Tonies (depending on size) so you can take plenty with you as you
Pros
Compact and cute
Keeps tonies safe and together
Nice for kids to have the responsibility of keeping their tonies together.
Cons
Zip might be tricky for youngest users.
Description
Perfect for plane journeys or those moments when you need to distract them from a public meltdown
Pros
Available in lots of lovely colours
Adapts in size to grow with the child.
Cushioned headband
Volume-limited.
Description
This is on our Black Friday shopping list - the adorable Tonies advent calendar is currently £5
Pros
On sale this Black Friday
Reusable so lasts and eco-friendly.
Will be cheaper in years to come - can be filled with your own inventions (cinema night at home?) if you're looking to keep things to a tighter budget.
Cons
Upfront cost is higher than a disposable calendar.
When Is The Toniebox Black Friday Sale?
There are deals on Tonieboxes, bundles and accessories from 17th November to 27th, with 20% off, so the sale finishes today.
When does Black Friday finish?
Black Friday deals tend to end on so-called Cyber Monday, so today, November 27. The tonies sale ends today.
How Do You Get Money Off Tonies This Black Friday
On the tonies website, pick up what you need and then when you get to the till, enter the code BF2023 and 20% will be taken off items.
What Age Is Appropriate For A Toniebox?
Tonieboxes are designed for children aged three years and up, although I'd say that they can be used by younger children, too. My children have used them from around the age of a year and a half, when they particularly enjoyed the musical Tonies and songs. Obviously, the older they get, the more engaged they will be with all the stories available.
What Is The Point Of A Toniebox?
Designed to help fuel children's imaginations without involving a screen of any kind, Tonieboxes offer the chance for you to have hundreds of stories at your fingertips to keep your little one entertained. There are so many different characters to choose from, too, so your child will never get bored.
Can You Record Your Own Tonie?
Yes! How adorable. The creative tonies allow you to record 90 minutes of your own content onto a tonie, giving it the ultimate personal touch as a Christmas present. Imagine Nana reading a book every night... ok, dry your eyes now.
Are Tonies Worth The Cost?
Some of the reservation around the Toniebox could be the cost of the tonies which tell the stories. There are a few things I'd say - firstly most of the tonies we've had have been bought as presents by us, or friends and family members. And they're the most-actually-used presents in our house. I'd also say prices vary - you can pick up bargains on Amazon sometimes with older Tonies, they regularly run offers like 4 for 3 - and there's also a good resale market on sites like Vinted and eBay for boxes and story tonies.
How Long Do Tonies Last?
In terms of battery life, the Toniebox is great - it can be used for around seven hours says the official website, but anecdotally, I've found it to be longer. Also, the charging pod is very easy to use, so if you have an older child who you trust, they can pop the Toniebox on the charging pad, and you can continue listening to stories. In terms of how long they last in general, just take it on trust that my boxes and characters have been put through the ringer (and more than once, even down the loo) and are still going strong...
Is Tonie or Yoto Better?
It's a topic that a LOT of parenting discussion forums have been dedicated to. But honestly, it goes down to personal choice and in some ways, even though they're always compared and you'd be unlikely to have both, they're quite different toys. It's fair to say that the Yoto has some more features, but for us the Toniebox's simplicity was key for younger children to understand and use. Tonies have also just brought out a podcast tonie, which brings it more in line with some of the functions of the Yoto too.
Rhiannon Evans is Senior Editor at Grazia - she launched and runs Grazia's parenting platform The Juggle. The unique community is a place for parenting advice, laughs and discussion - and constantly campaigns for working parents. Rhiannon led The Juggle's partnership with Pregnant Then Screwed, which called for Childcare Change Now - more than 100,000 parents signed a petition calling on the government to review childcare in the UK. She is the proud owner of two Tonieboxes and an unknown number of tonies...