The saying goes: 'When people show you who they are, believe them the first time.' It's a phrase (written by Maya Angelou) which sprang to mind this week, first when I saw a report which described accusations that Kanye Westhas been 'controlling' towards his wife Bianca Censori. The report claimed that he tried to influence who Bianca, married to West last year after his divorce from Kim Kardashian was finalised, spoke to and what she eats. It was a timely accusation, as just hours later West's ex-girlfriend Julia Fox made a startling revelation about her time as the rapper's 'muse' and romantic interest.
When Fox began dating West in early 2022 they caused a perfect social media storm with their daring outfits and PDAs. 'I really understood him on a visceral level,' the Uncut Gems actress Fox this week told the New York Times of that time with West, during an interview to promote her memoir Down The Drain.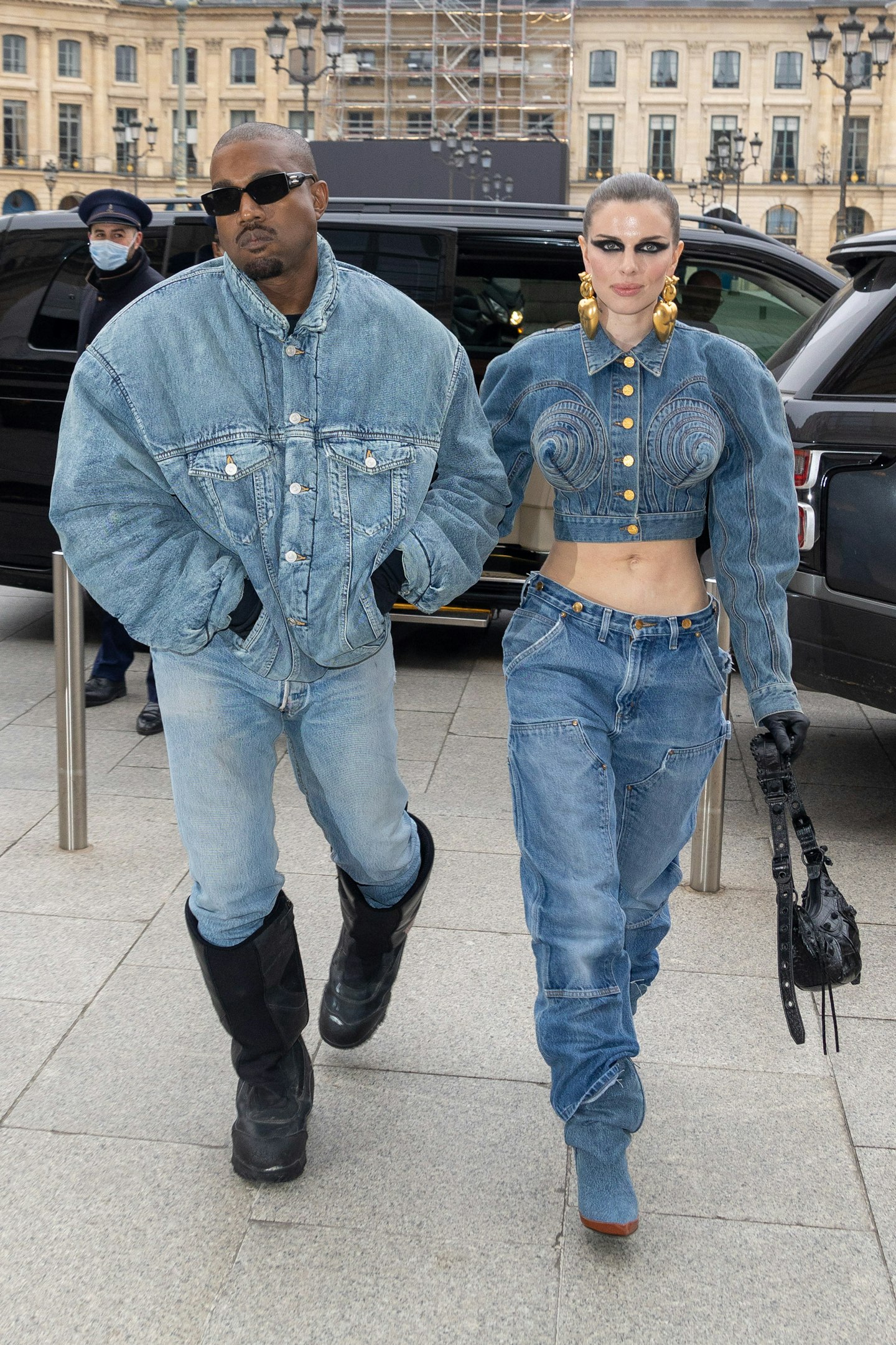 Fox admitted - perhaps strangely - that she believed her relationship with him would 'get him off [Kim Kardashian's] case' because he was in the process of divorcing the reality star, and was becoming increasingly hostile towards her and new partner Pete Davidson in a series of shocking social media posts and song lyrics.
'I thought ultimately I'd be helping a precarious situation,' she said. 'But I learned very quickly that I was being weaponized. I just felt like his little puppet.' During the start of their relationship, as part of an article written for Interview magazine, Fox described how West had 'transformed' her wardrobe just days after their first meeting. The rapper gifted her a 'hotel suite full of new clothes' following their second date, and soon after, he convinced her to get rid of almost all of her 'old clothes.'
This 'puppet-master' narrative has echoes of West's early relationship with Kim Kardashian, whose closet West was militant about controlling - as Fox experienced, delivering rails upon rails of designer clothes to Kardashian's house during one episode of Keeping Up The Kardashians, and changing her style drastically over the course of their relationship. The 42-year-old has since admitted that it destroyed her confidence, revealing:  'I got to a point where I would ask him for advice for everything - down to what I wear. Now I'm having panic attacks like, what do I wear? I think that fashion has always been something that I've always been really into, but I've never been the creative.'
Meanwhile Bianca, who is said to have met Kanye while working at his Yeezy brand, appears to be under a similar fashion influence. Dressed in the kinds of avant-garde, often revealing sheer bodysuits, often in androgynous neutrals  - the tones synonymous with Yeezy - which both Julia and Kim were seen in before her, it seems that West - who has been off social media since making highly offensive anti-Semitic remarks last year, which saw the termination of his relationship with Adidas - has focused his attention to turning his current relationship into a project. Commentators have pointed out that after meeting West, Censori chopped all of her hair off and changed her style - and there's something deeply unsettling about that: particularly as both Kim and Julia have spoken out about the damaging effect Kanye's obsessive influence had on them.
Bianca hasn't spoken publicly about her relationship with Kanye - and it could be that she enjoys dressing to Kanye's style -but some reports from their visit to Italy this summer left a nasty taste in the mouth: particularly criticism over her appearance walking through Florence with just a cushion to cover her modesty. It's unsettling to watch, particularly in light of Fox's 'puppet-master' comments. Kanye has repeatedly shown us red flags in the way he treats his partners, and ex partners – and has been repeatedly accused of misogyny in his lyrics and actions (particularly towards Kim and Taylor Swift, whom he has behaved appallingly towards since she was 19-years-old at the VMAs). We can't let those red flags go unnoticed.