When it comes to outdoor restaurants, we've learned a lot over recent years. It who shall not be named (hush, Covid, hush) forced us to spend season after season exploring the best outdoor restaurants in London, and after A LOT of wining and dining at the most instagrammable terraces and rooftops, we're pretty much experts in outdoor eating at this point.
As part of our exploration into the best restaurants in London for outdoor dining, we were particularly after those with outdoor heating. Because, while the weather is glorious right now, it's also unpredictable. Who wants to leave the house in their favourite summer dress, only to be left shivering on a cold terrace as the sun sets over London?
Seriously, at this point if you don't have heaters on your terrace we're calling the Food Standards Agency for violations against basics like us who refuse to dress appropriately for the weather. Frankly, as women, we simply cannot be expected to be glamorous, excellent company and cold – it's not scientifically possible.
So, enjoy this list of the best restaurants with outdoor seating and heating in London, so you can socialise and stay snuggly no matter if it's a heat wave or a rain storm.
The best restaurants with outdoor seating in London
Best Restaurants With Outdoor Seating in London - Grazia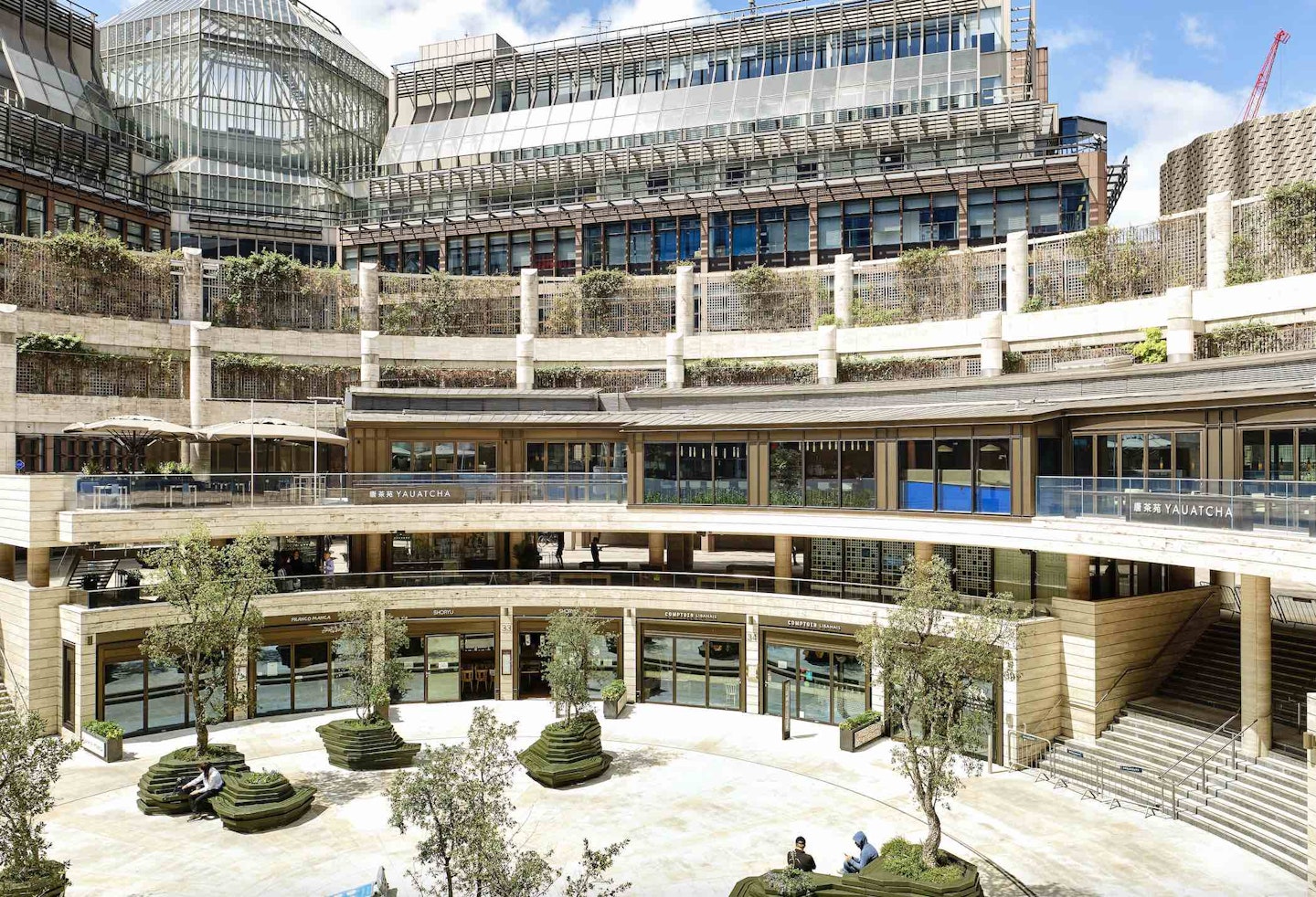 1 of 38
Yauatcha, Soho or City
This Chinese dim sum teahouse, with locations in the heart of Soho and in the City, offer an all-day dining experience like no other. Soak up the sun on their ever-chic terrace while enjoying Michelin star worthy food made up of authentic dim sum with contemporary influences. The renowned menu includes a wide selection of dim sum and a list of over 24 types of tea!
The original design concept by Christian Liaigre also ensures a full view of the kitchen, allowing passers-by to witness the preparation of the expertly made dishes - always a treat. And just like their sister restaurant Hakkasan, Yauatcha offers their signature cocktail menu alcohol-free too!
But the best thing about Yauatcha right now? It's Saturday brunch menu at their City location. Partnering with John Reed for the ultimate sweat-to-sip weekend, you can enjoy a morning fitness class at John Reed Fitness before heading over to neighbouring Yauatcha City where you'll be treated to a restorative three-course brunch menu, in partnership with Patrón Tequila.
Running every Saturday from the 3rd of June, the classes are helmed by expert trainers who offer both low and high intensity impact workouts. For the sipping portion of your Saturday, you'll enjoy a number of light and nutritious dishes alongside two signature Patrón cocktails on Yauatcha's sprawling terrace, with its beautiful views and Hacienda-inspired installation. A weekend treat of dreams! To book, click here.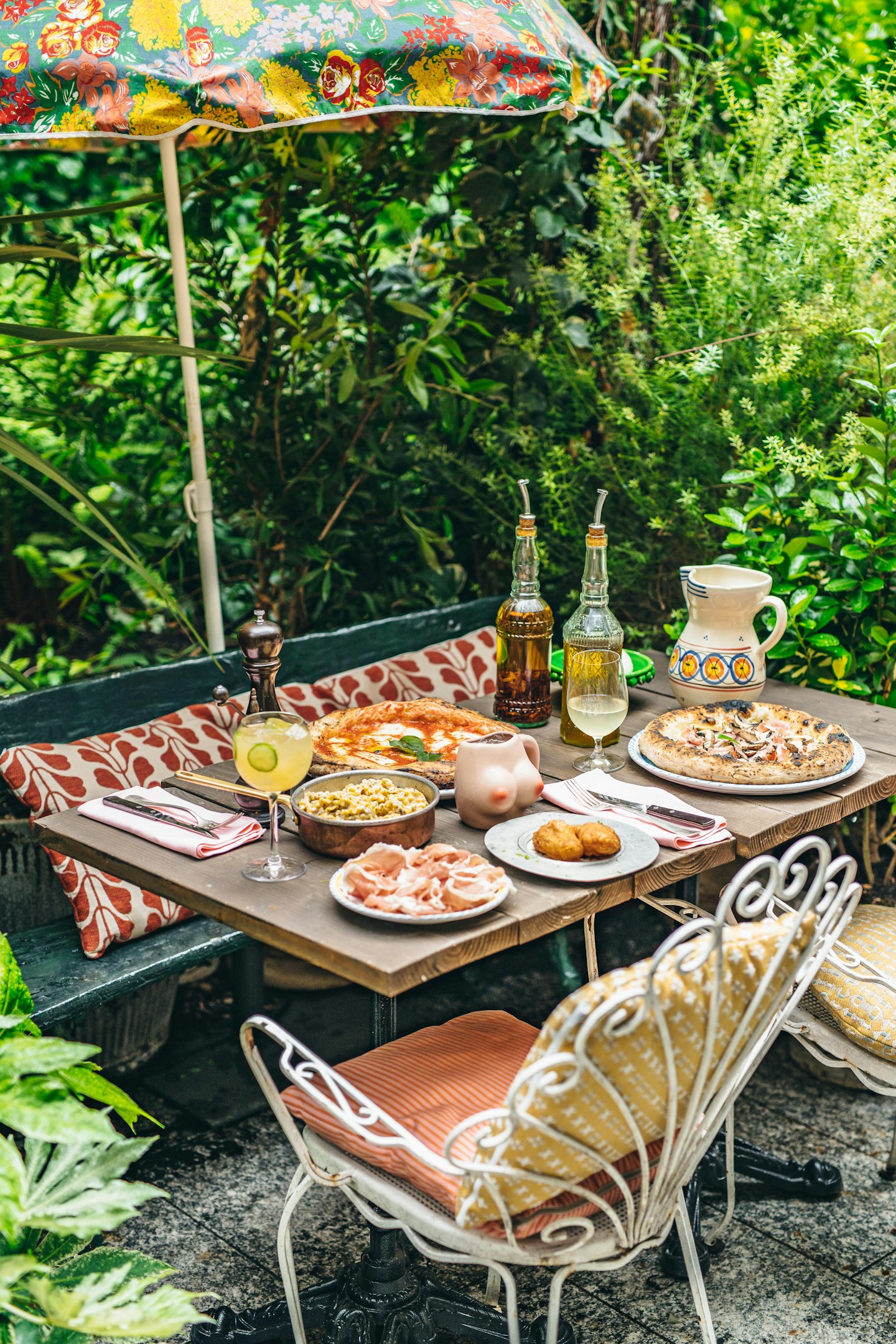 2 of 38
Circolo Popolare, Soho
There's a reason reservations are so coveted for Circolo Popolare, by far the best Italian restaurant in London. From food to service, Circolo is truly unmatched. When visiting Circolo, you must try the mafaldine al tartufo, a rich and delicious truffle pasta dish that you'll be dreaming of for weeks. Of course, it's also the carbonara pizza and octopus ragu people go crazy for, and for good reason.
When it comes to cocktails, summer is well underway at Circolo with its watermelon sugar mojito which blends white rum, lime juice and basil into the idyllic post-work, pre-summer drink. Not to mention the restaurant's altogether light and rich desserts: gelato al pistachio and their truly incomparable lemon pie. 
Honestly, I could live in this restaurant, the vibes indoor and outside are perfect for catching up with friends or special occasions. For ultimate Instagrammable vibes, request an indoor table and gaze upon their vintage alcohol-lined walls. For a cosy, romantic set-up, the outdoor terrace is ideal for dates or summer nights with friends. Drinking the house dry of wine and eating your weight in the most delicious italian food, what more could you ask for? To make the experience even more enjoyable, customers can also gain back time by settling their bill via a new innovative payment app, sunday, launched by Big Mamma co-founders. Allowing you to pay the bill in under 30 seconds via a QR code provided at your table, the new technology means no more time wasted waiting for the bill and more time to order one last cocktail!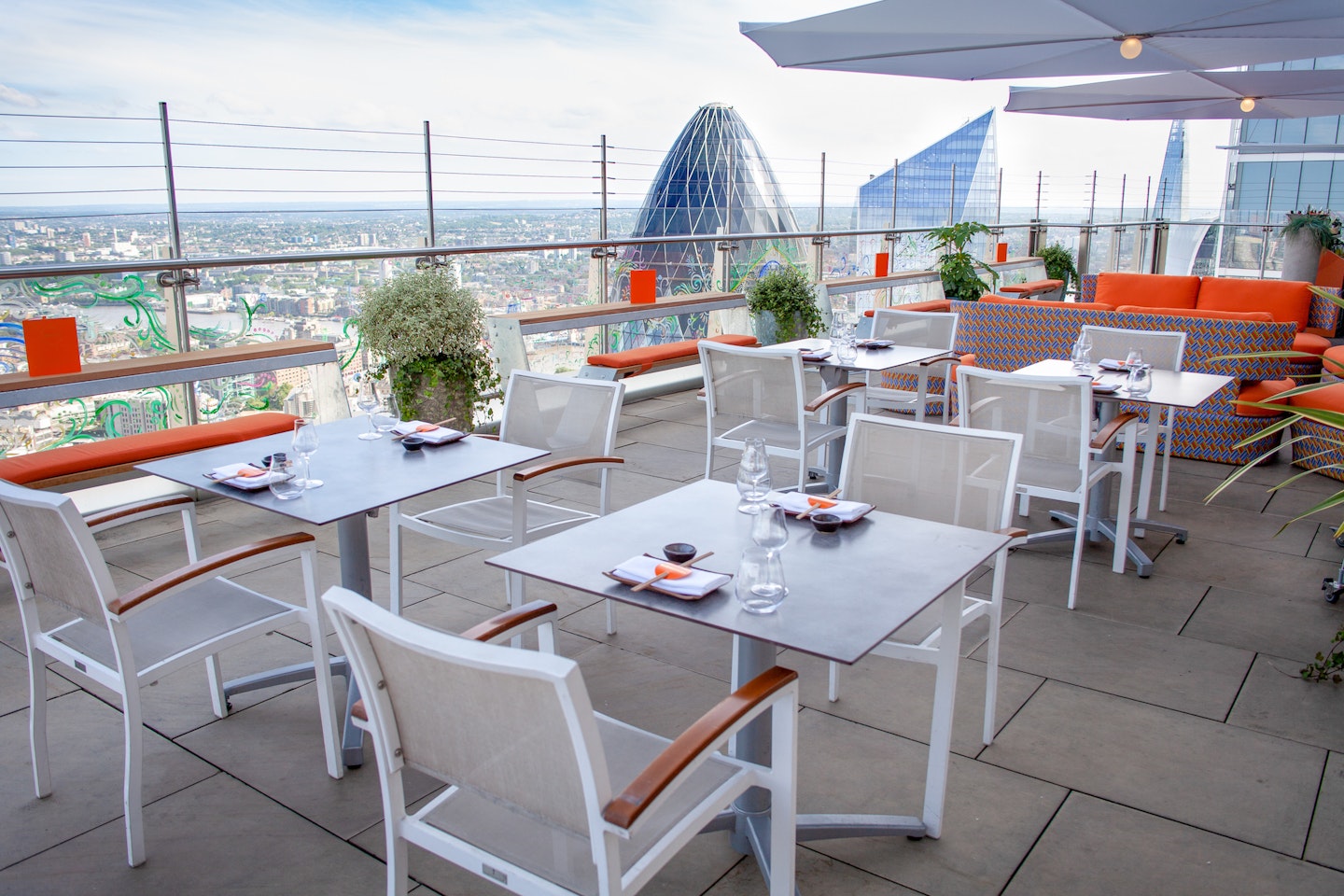 3 of 38
SUSHISAMBA London
Perched above the City, on the 38th and 39th floors of the Heron Tower at 110 Bishopsgate, SUSHISAMBA London features the highest outdoor dining terraces in Europe - two of them in fact - offering 360-degree views of the capital. The lift up alone is quite the thrill ride - look away if you don't like heights. Once up there, the main dining room also has floor-to-ceiling windows, so you can still enjoy the incredible view if you don't go for an outdoor spot. 
The menu fuses Peruvian, Brazilian and Japanese influences, inspired by the cuisine created when in the early 20th century thousands of Japanese emigrants traveled to South America to seek their fortune. Try the new Taste Of Samba tasting menu (we tried the £85 option, for two guests minimum) for dishes including moreish green been tempura with black truffle aioli, crispy lobster taquitos with avocado and pickled shallot, and tasty little wagyu (beef) gyoza dumplings.
Other highlights of the tasting menu include Chilean sea bass anticuchos (skewers) with miso and Peruvian corn; the chef selection of nigiri (can't go to Sushi Samba without some sushi); and mushroom tobanyaki, a hearty stew served with poached egg, assorted mushrooms, yuzu soy, garlic chips, and steamed rice. Finish with a grown-up chocolate banana cake with maple butter, plantain chip and vanilla rum ice cream. There is also an entirely vegan Taste of Samba tasting menu on offer.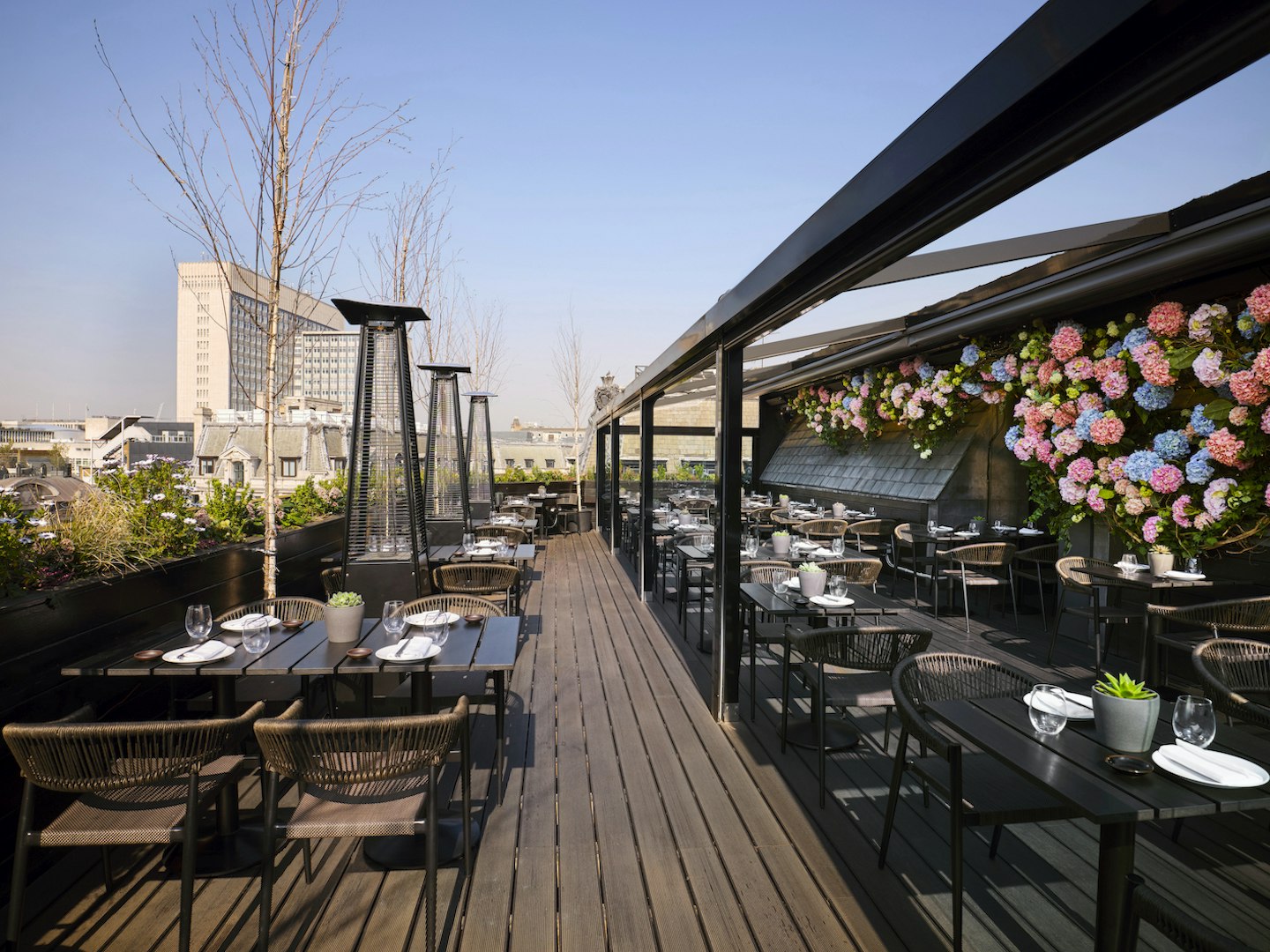 4 of 38
Aqua Kyoto, West End
This buzzy Japanese restaurant and bar in London's West End draws a crowd ready for a night out, with resident DJs at the weekend. But it has a softer side too. High above the Regent Street traffic - the restaurant is five floors up - the spacious terrace enjoys prime views of the London skyscape, and captures the weakest of rays (heaters help when the sun slips away).
This spring, the menu features specials inspired by Japan's most famous flower: sakura, or cherry blossom. The Sakura Roll is maki sushi featuring blue prawn, avocado, cucumber, Yukari - seasoning made from shiso leaves - and Morello cherry jelly. Follow with pan-fried duck breast in a sour cherry teriyaki sauce, truffle pak choi and sakura crisps. For pudding? Try a delicate yet flavoursome cherry blossom vermouth cake with mint crémeux and a tangy yuzu sorbet.
5 of 38
Bar Douro, London Bridge and City
This rustic revelation is a treasure trove of tantalising small plates, bringing the spirit of Lisbon to London with authentic Portuguese dishes. Masterminded by Max Graham, the quaint restaurant works with independent winemakers to make for a 100 strong cellar list of Portuguese wines.

The atmosphere inside Bar Douro is perfect for an intimate date night, romantic and chic with walls adorned in blue and white tiles, tables accompanied by ambient lamps – the brainchild of architectural designer Steph Gallia. With their outdoor terrace sprawling onto Flat Iron Square in London Bridge (or Finsbury Avenue in the City), it'll make for the ideal summer date spot, but there are heaters for those cooler nights.

Of course, it's the food you come to Bar Douro. Their small-plates menu runs from Petiscos (snacks) including Croquetes de alheira (croquettes with smoked sausage) and Pataniscas de Bacalhau (salt cod fritters) to small plates such as Grilled sardines & smoked tomato on sourdough, Sprouting broccoli, homemade requeijão and hazelnuts and Presa Iberica, broad beans and pata negra. Puddings include everyone's favourite custard tarts, Pastel de Nata, served with cinnamon ice cream.

Make sure to try their Gambas à la guilho (garlic prawns) and Arroz de pato malandrinho (duck rice with chouriço) though, they'll have you dreaming of Douro every day after.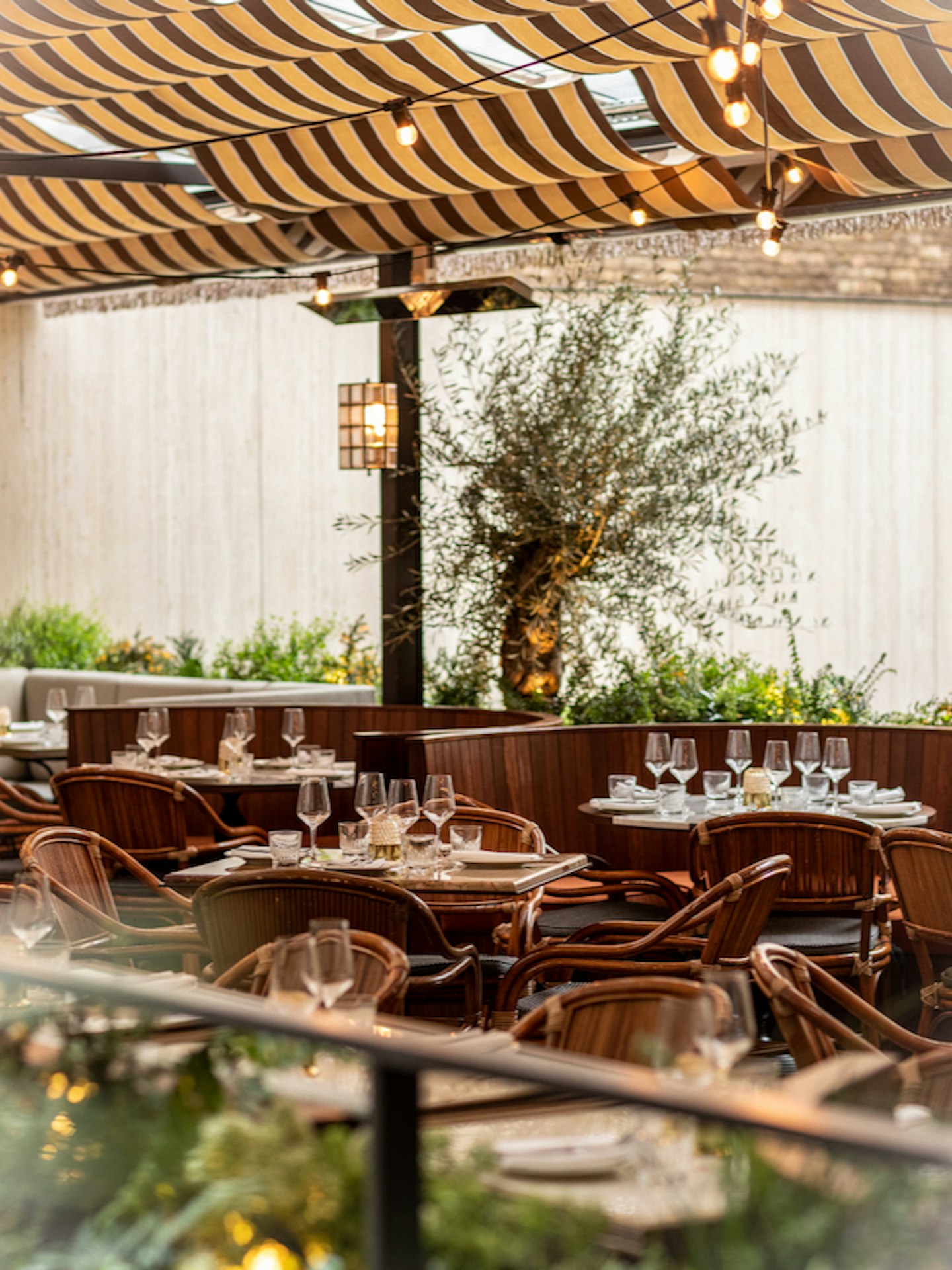 6 of 38
The Maine Mayfair
The MAINE Mayfair opened its private terrace this spring, a sun-soaked gem directly off Bond Street and overlooking Medici Courtyard. The Saturday brunch menu is enough to get anyone up early on a Saturday, think stacked buttermilk pancakes, lobster benedict and chicken and waffles! Our favourite on the a la carte menu has to be the Maine lobster and truffle mac & cheese, seriously delectable.
Don't forget to visit here in the evening too, when the lively atmosphere of the drawing room can be felt throughout this lavish yet understated treasure. With a heated terrace (that's also dog friendly!) there's no excuse not to visit the Maine Mayfair this winter.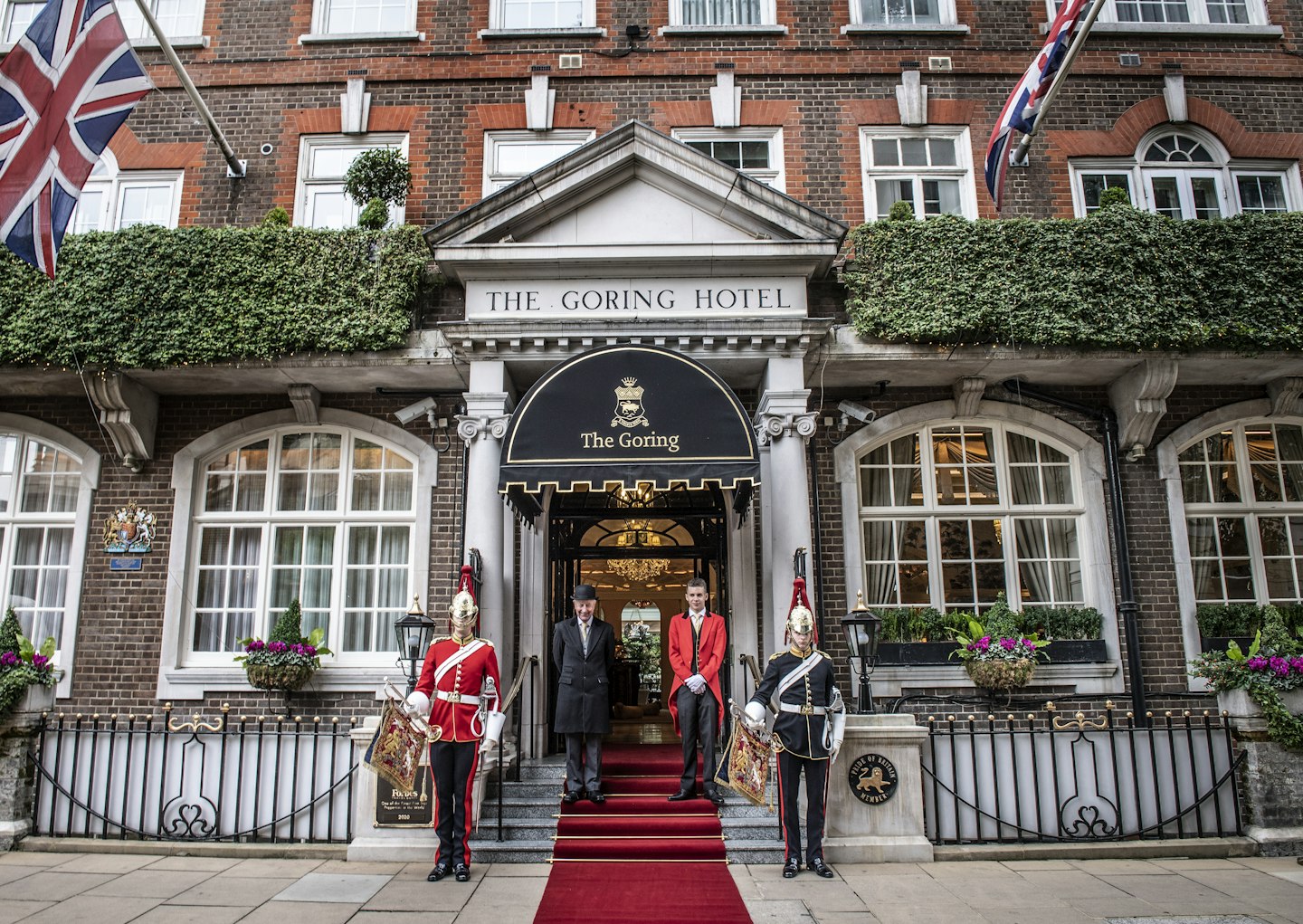 7 of 38
The Goring
The Goring is hosting a series of incredible events this summer, kicking off with a Rick Stein pop-up June 14-20 for a special week celebrating 'A Taste of Cornwall'. Rick and his team will unleash iconic Rick Stein dishes bursting with lobster, crab and the freshest fish imaginable for guests over a series of lunch and dinners in the sunny veranda overlooking The Goring's majestic secluded garden. As well as an utterly luxurious overnight stay(with a guaranteed upgrade), guests will choose a three-course lunch or dinner of exquisite fish and seafood, created by the supremely talented Stein family. A Rick Stein book will be included as a memento for guests to take home. The Goring's summer lineup also includes The Lobster and Fizz Garden from 17th May onwards, plus Britain's most popular little pony, Teddy the Shetland as 'pony in residence' from 16th - 31st August. Teddy will pack his saddle bags and live in The Goring Garden where guests will be able to enjoy a limited-edition Teddy the Shetland afternoon tea and a special Teddy overnight package.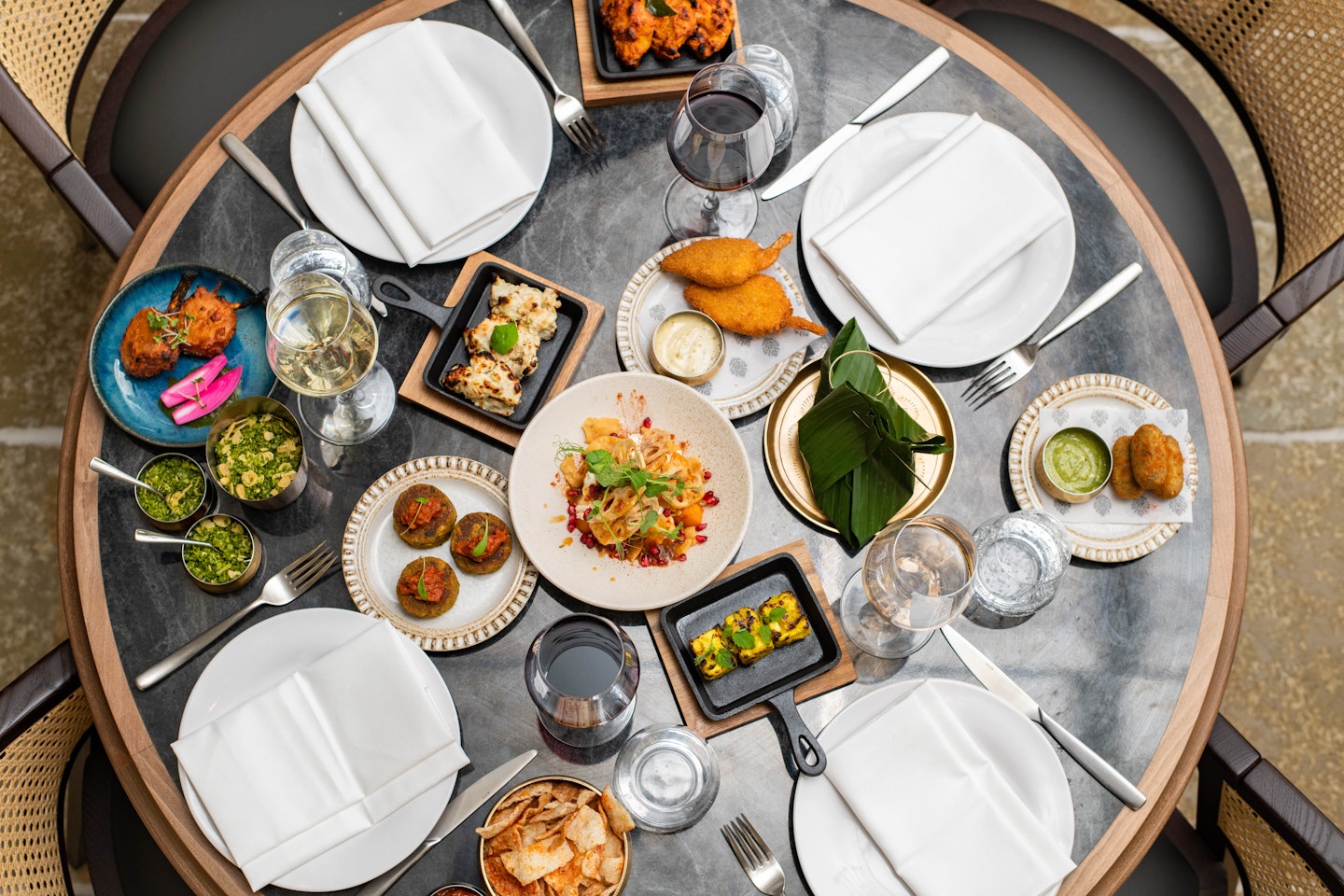 8 of 38
Chourangi, Marylebone
The latest addition to Marylebone's Old Quebec Street cove is Chourangi, taking its name from Chowringhee, the oldest and most vibrant quarter of Calcutta. Chourangi promises to bring the unexplored flavours of Calcutta cuisine, and boy does it deliver. The brainchild of chef-turned-leading Indian restaurateur Anjan Chatterjee and tech entrepreneur, Aditya Ghosh, Chourangi has a menu like no other. Hero dishes' include Prawn & Crab Parcels, Banana Flower Croquettes, Slow Roasted Kosha Lamb and Aam Aachar Hilsa. Our favourite? The Tiger Prawn Tandoori.Chourangi is the perfect place for an intimate yet luxurious dinner with friends, just as appropriate for celebrating as a romantic date with outdoor seating set among cosy heaters. Inside, the unique interior designed to reflect the soul and essence of Calcutta features neutral Indian limestone floors and rattan teak-stained furniture designed by Steve LaBouchardiere and Simon McCarthy's award-winning hospitality design studio, Design LSM. The service is impeccable too, but ultimately it's the incredible food that keeps you coming back for more.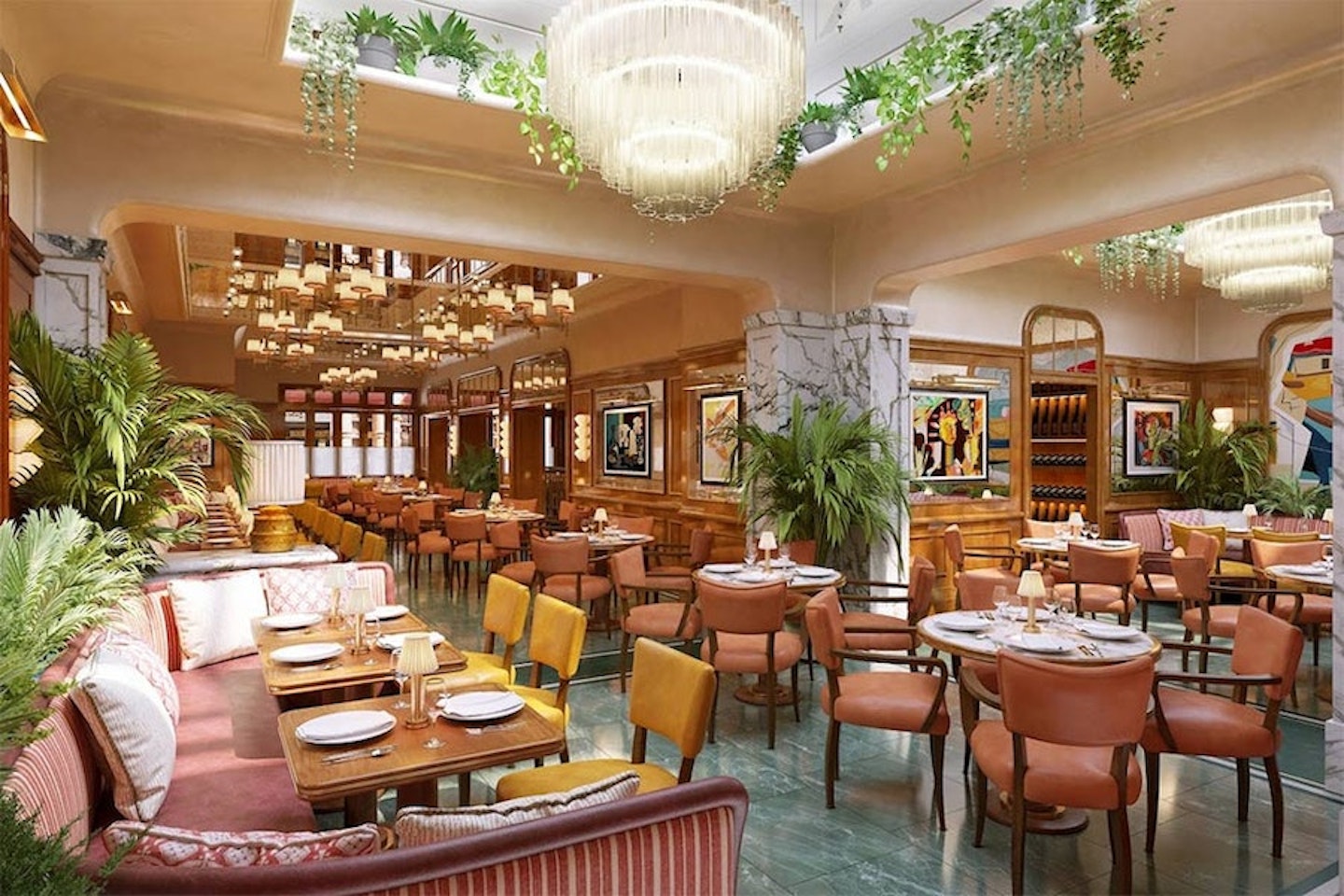 9 of 38
Cicchetti, Knightsbridge
The critically acclaimed brand that kickstarted the trend for cicchetti (small plates) is now open directly opposite Harrods on Hans Road. The newest restaurant from the multi-award winning San Carlo Group offers elevated authentic Italian dining with just a touch of Venetian bácaro culture – expect a kaleidoscope of colourful sharing plates, fabulous wines and cocktails served in a sophisticated and effortlessly elegant setting. Our favourites from the menu include the black truffle ravioli and tagliatelle bolognese. Head down for romantic dinner, or even try out the the private dining room (seating up to 18), a must for glamorous dinner parties!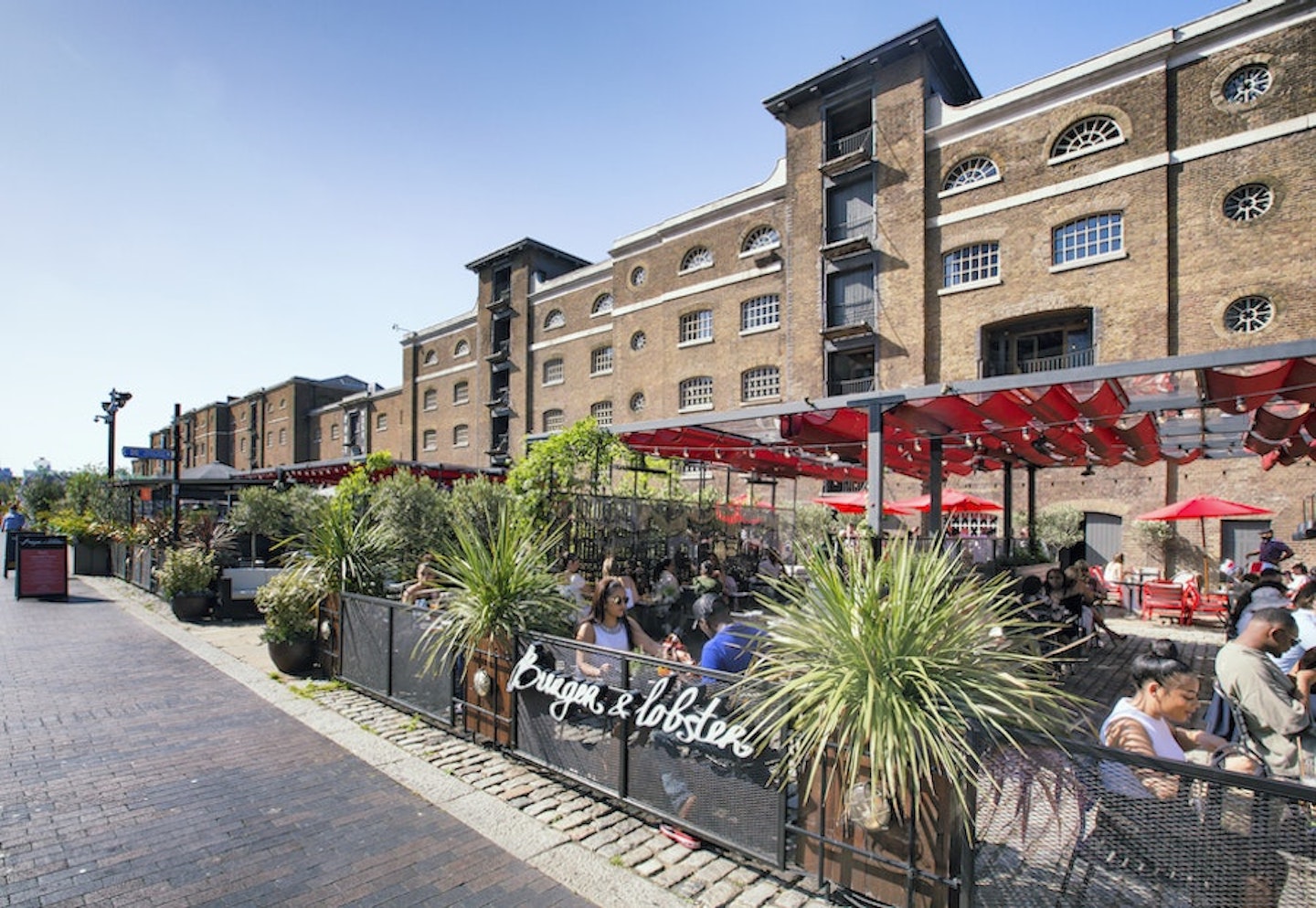 10 of 38
Burger & Lobster, West India Quay
Looking out over the boats and water, Burger & Lobster at West India Quay is the perfect alfresco spot to crack a claw. The restaurant is housed in the refurbished quayside warehouse with a newly launched Spring menu introducing a Chicken Burger which has undergone four years of testing and tasting to make it one of London's finest, featuring a Lake District roasted chicken breast topped with rich chicken mayo and crushed avocado. In true Burger & Lobster style, quality and indulgence are also at the heart of its newest take on the Wagyu Burger, oozing with caramelised onions, raclette cheese and truffle butter.

Those who can't get enough of London's freshest seafood will be tempted by the fan-favourite Lobster Pasta, having received an elevated upgrade, the dish will now feature clams, squid and mussels. Burger & Lobster's much-loved seafood menu continues to grow with Tempura Oysters, Prawns, Lobster Prawn Cocktail and the Caesar Salad, now also including lobster, leading the Spring menu.
And the innovation doesn't end there, Burger & Lobster have also just introduced The Shell & Spritz hour, which gives diners the chance to go to town on freshly shucked Oysters for just one British pound each, alongside a well-deserved afternoon tipple from a selection of B&L's expertly crafted cocktails, select beers and wines from just £5 each!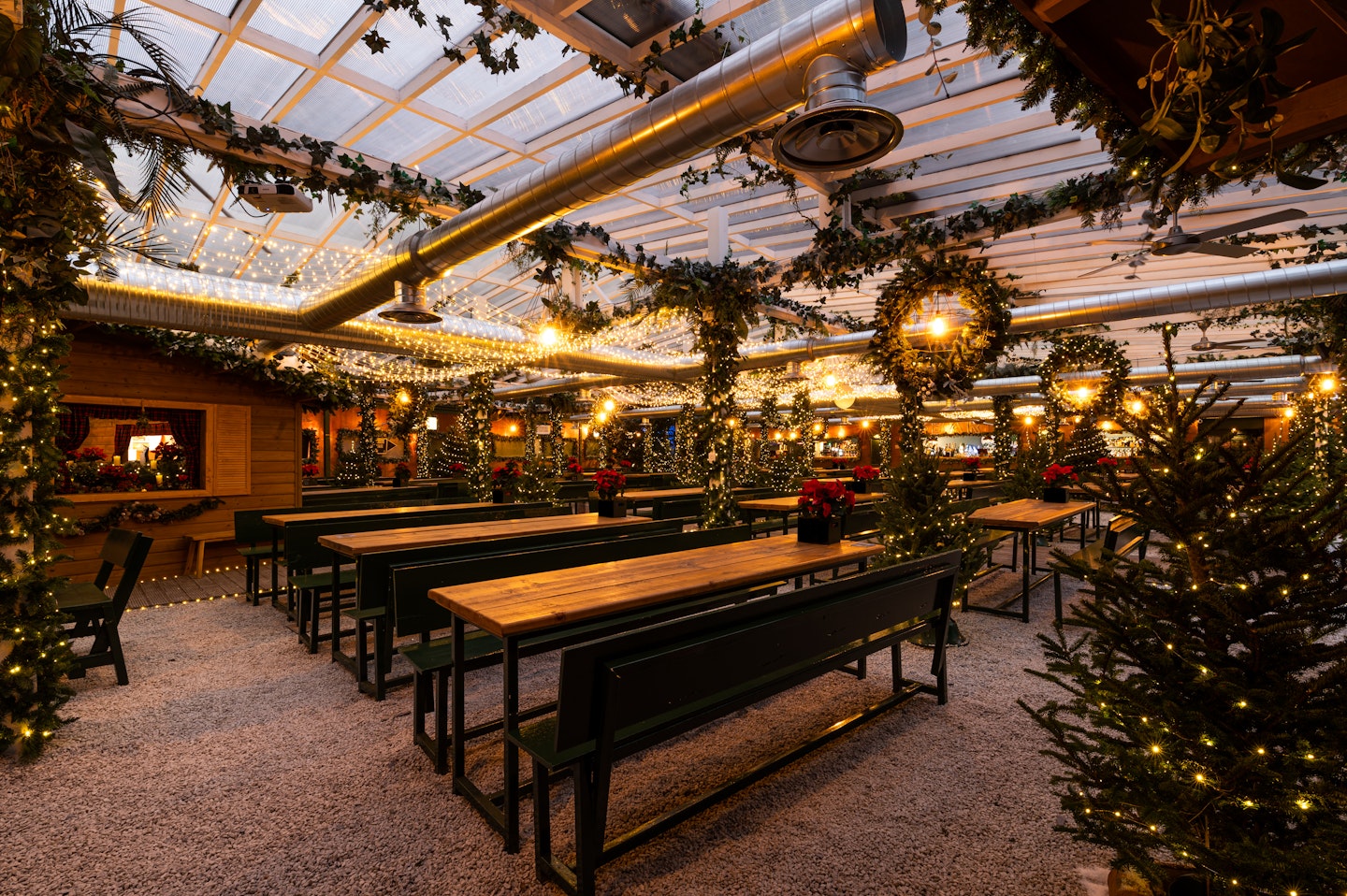 11 of 38
Pergola Paddington, Paddington
Pergola Paddington's 'Miracle on Kingdom Street' is a seasonal escape featuring a Winter Wonderland Forest and Alpine Winter Hall, decked out with lodges and igloos. With indoor and outdoor seating for groups of up to 6 people, you can enjoy this winter wonderland day and night, seven days a week!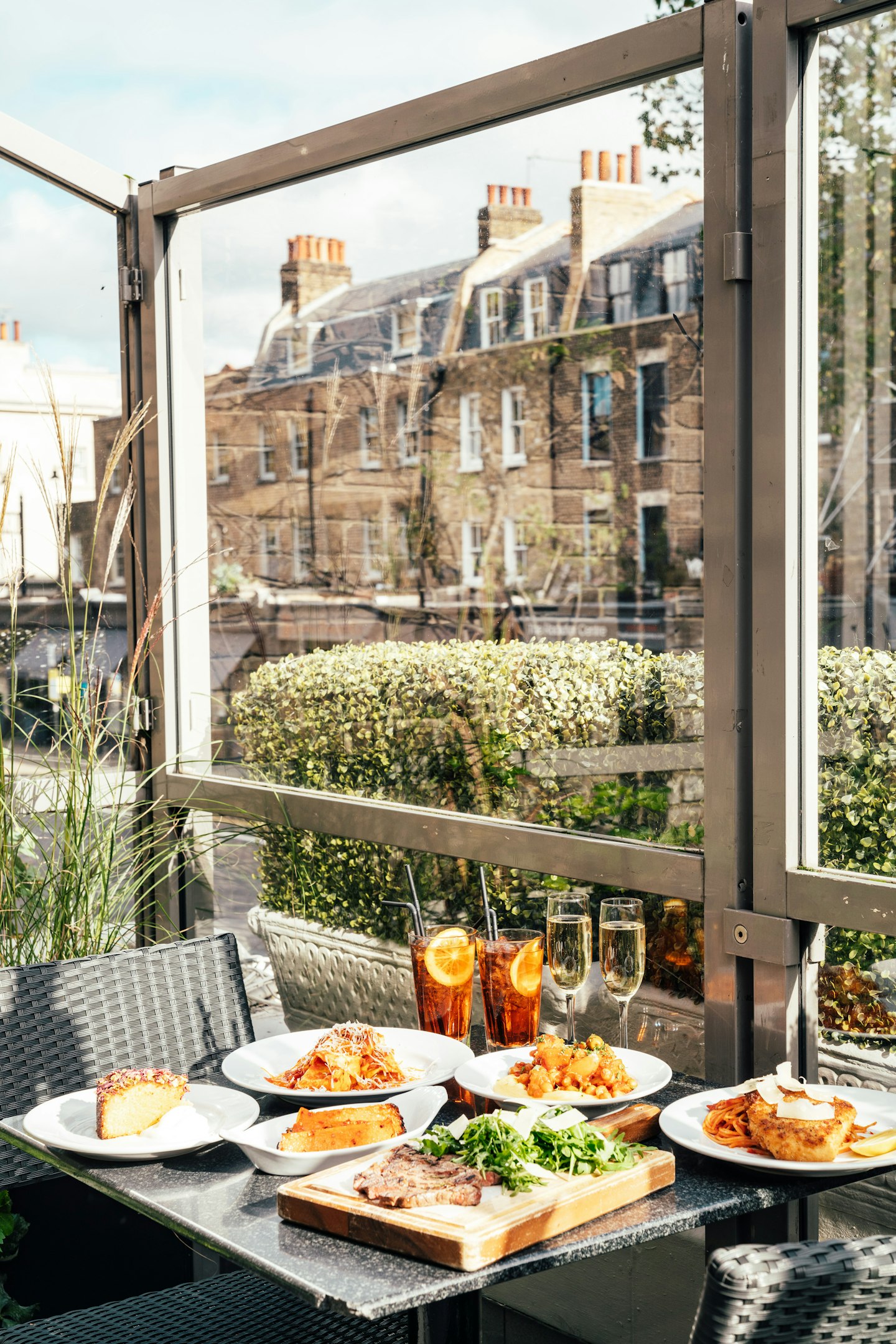 12 of 38
Arenella at The Chapel Bar
One of the most underrated spots in London, Arenella's rooftop is situated perfectly just outside the hustle and bustle of Angel. With incredible service staff and the friendliest chef, dining here is about more than just great food. We tried the hugely popular bottomless lunch and honestly, we've not stopped dreaming of the elderflower spritz, five-star calamari and delectable chicken milanese with mafalde pomodoro (don't let us forget about the mini chocolate hazelnut donuts!).A step up from bottomless brunch, Arenella's offer takes place from 12pm-9pm and includes a 2 -course meal comprising seasonal Southern Italian inspired fare and a choice of free-flowing spritzes or Prosecco, all for £35pp over the course of 2 hours. For £55pp, customers can be upgraded to a luxury Champagne lunch, with unlimited glasses of Autréau also on offer. Honestly, with food as good as this and staff as delightful to match, it's the re-entry afternoon you deserve!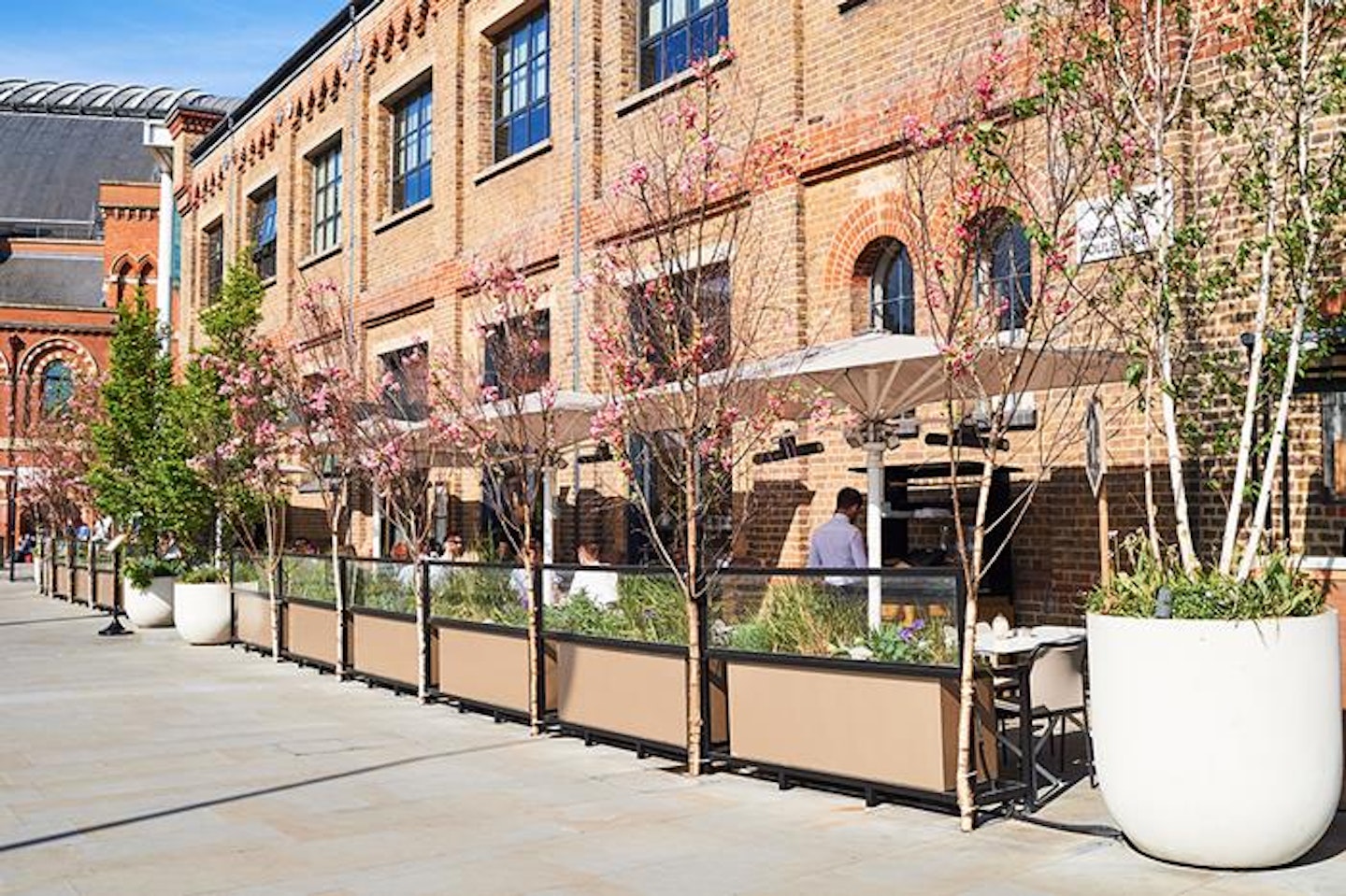 13 of 38
German Gymnasium, Kings Cross
An absolute must visit in London, German Gymnasium has indoor and outdoor seating to serve it's chic brasserie dining and premium cocktails. And this summer, the restaurant has just opened it's German Gin Garden, an alfresco terrace which is a must visit for gin fans, with mouth-watering cocktails featuring Monkey 47 Schwarzwald Dry Gin. (We really recommend the Bee's Knees Sour, btw.) The Mittel-European German Gymnasium Grand Café menu has made it a favourite for Londoners, with 4.4 stars on Google and thousands of glowing reviews. The chicken schnitzel is a fave.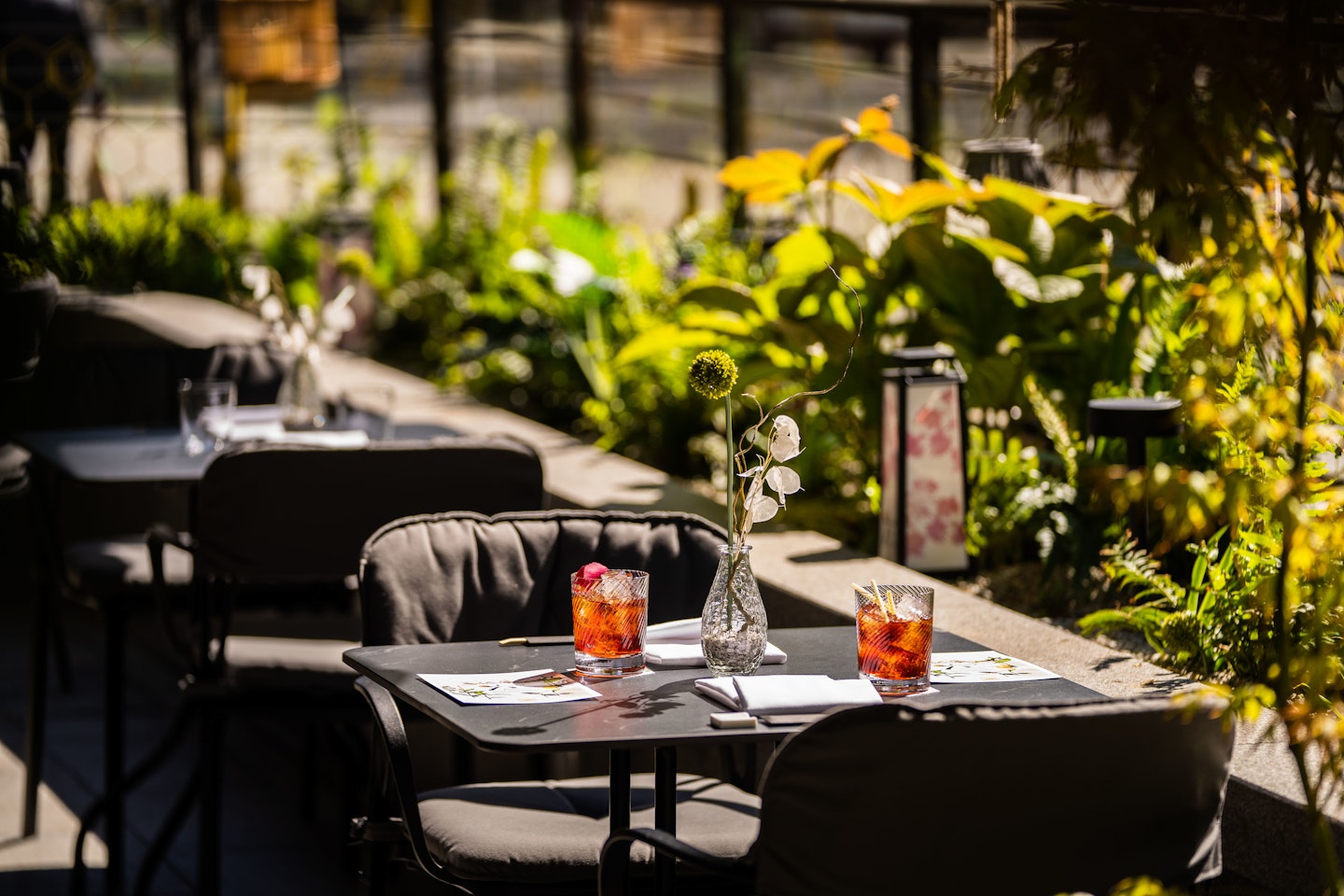 14 of 38
CREDIT: Nobu
Nobu, Portman Square
OK, so we can totally see why the A-list are obsessed with Nobu. And you won't need to jet off to LA to feel like a movie star (or honorary Kardashian), as Nobu have opened a Roku Japanese Gin Garden at their Portman Square branch. Try the build-your-own cocktails, but be prepared to be completely wowed by the food. The miso-marinated black cod is a must try, as well as the rock shrimp tempura. And of course, the hotel' chain's world-famous sushi. Bonus: the heating is 10/10 so you can wear whichever fancy outfit you want.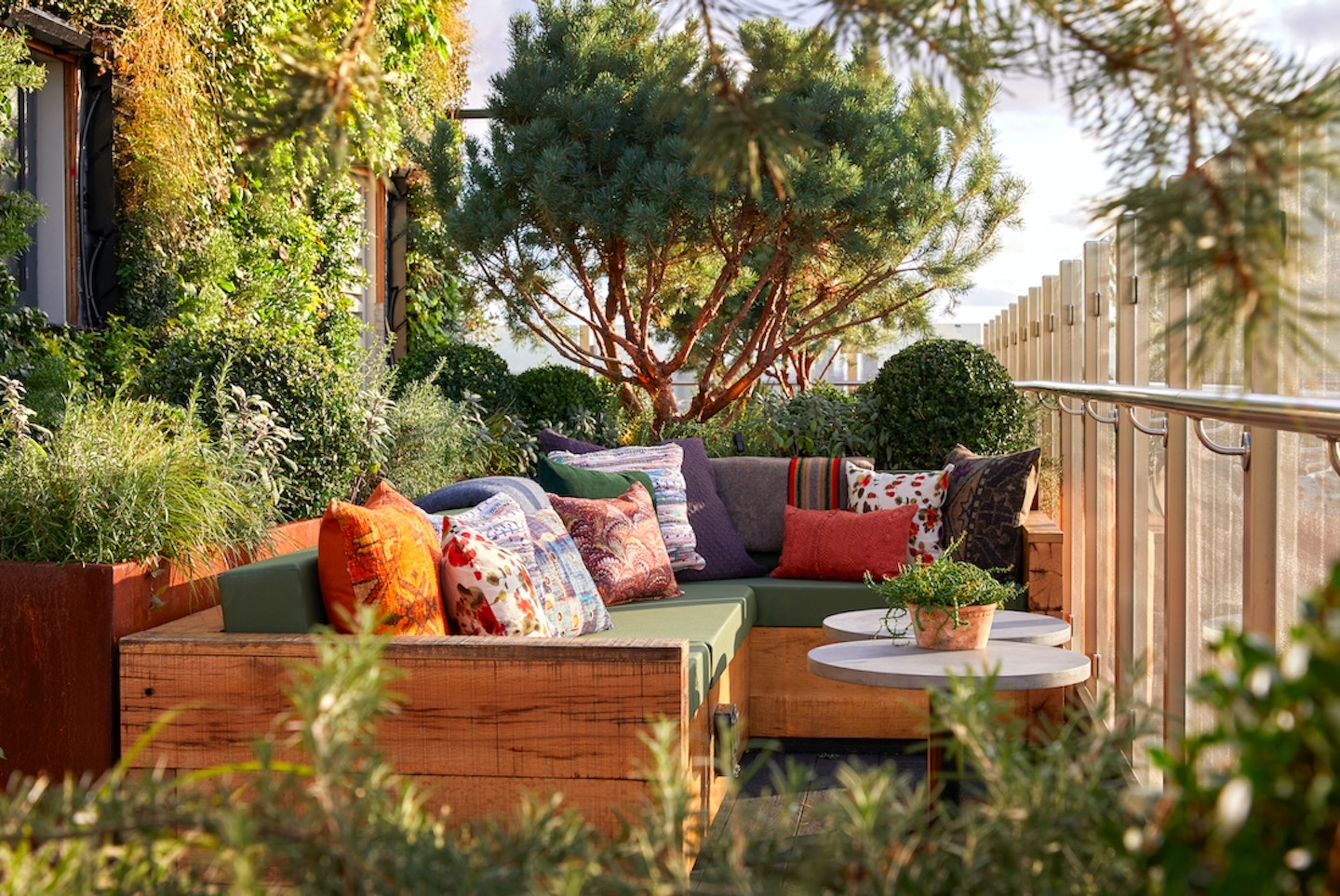 15 of 38
The Nest at Treehouse, Marylebone
One of the most chic rooftop bars in all of London, The Nest Rooftop Bar sits atop Treehouse Hotel London and has a uniquely decorated interior perfect for instagrammable moments - combined with cosy outdoor seating with glorious views over London. Their calamari is a particular favourite of ours, as well as the delectable cocktails.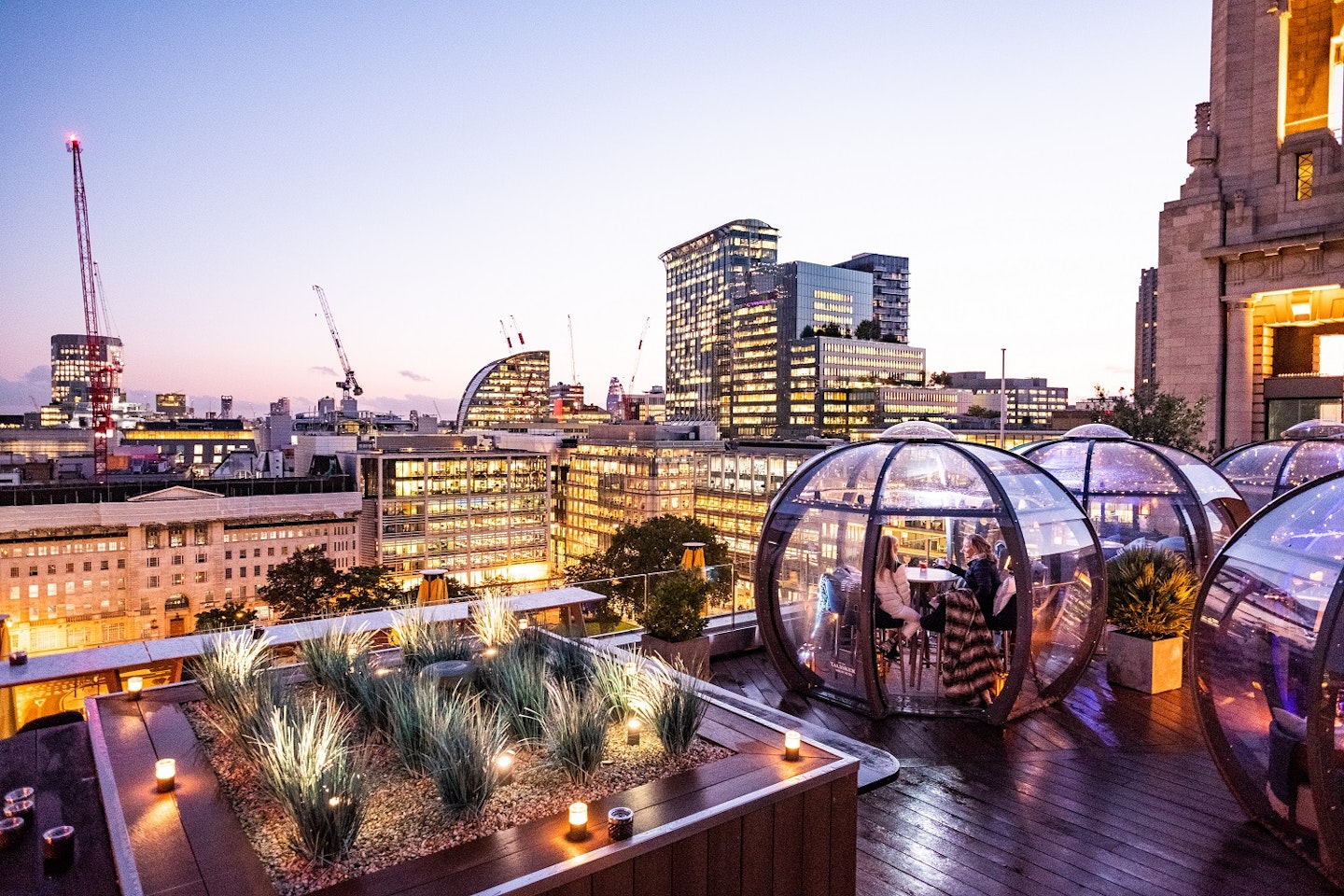 16 of 38
Aviary , Finsbury Square
Even when no one wanted to eat outdoors in the UK, Aviary's adorable winter igloos meant they were booked up the entire festive season. If you can squeeze a booking in this year, it's a must-visit purely for the festive feels alone.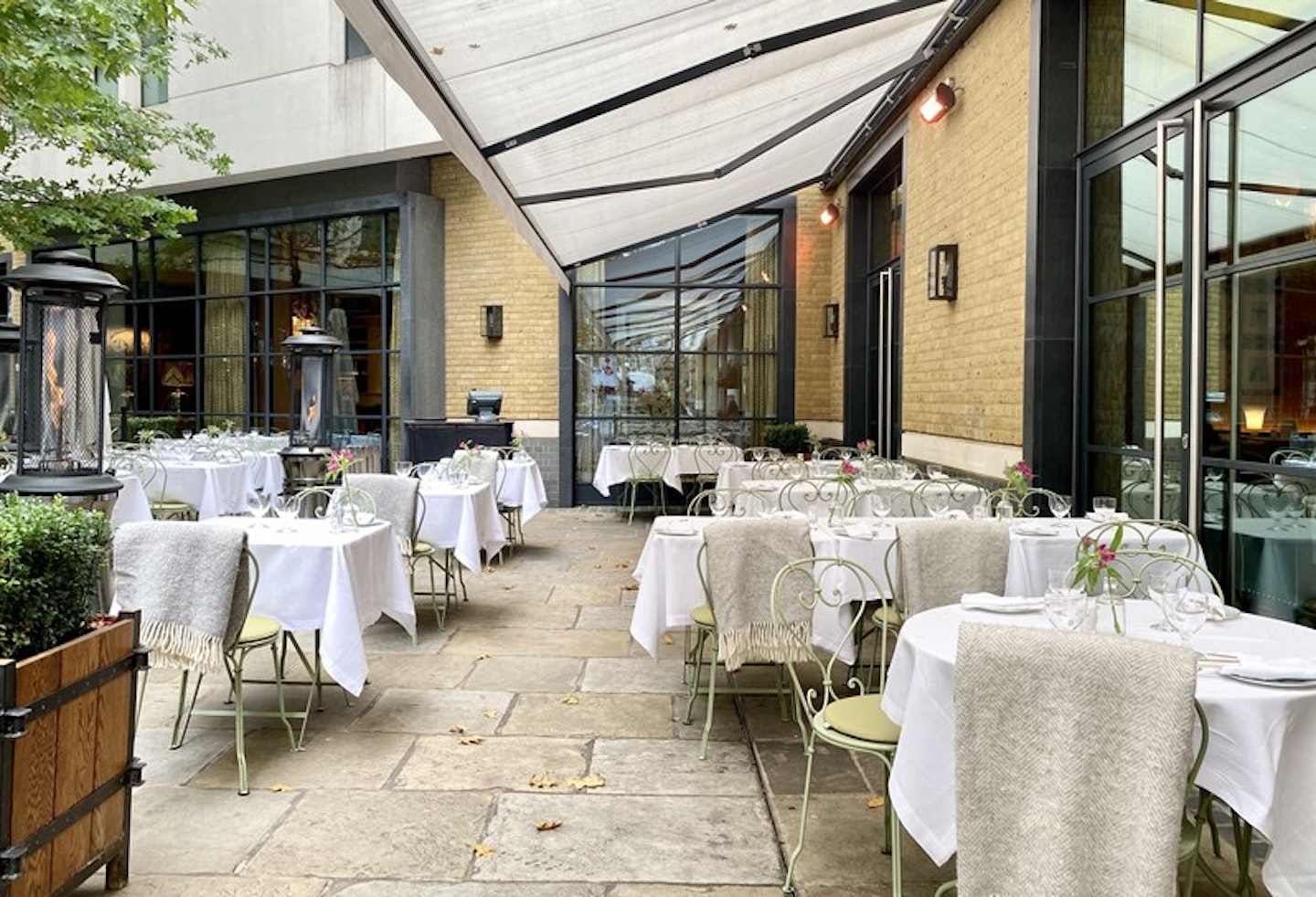 17 of 38
Ham Yard Hotel, Soho
Ham Yard Hotel's heated outdoor dining terrace is open for all day dining and afternoon tea. Keep warm whilst keeping in touch with friends and family, celebrate a special occasion or experience the hotel's very own Winter Roof Terrace Nights. Sip your way through a delicious menu of cocktails on the hotel's roof terrace with views overlooking Soho's rooftops and beyond.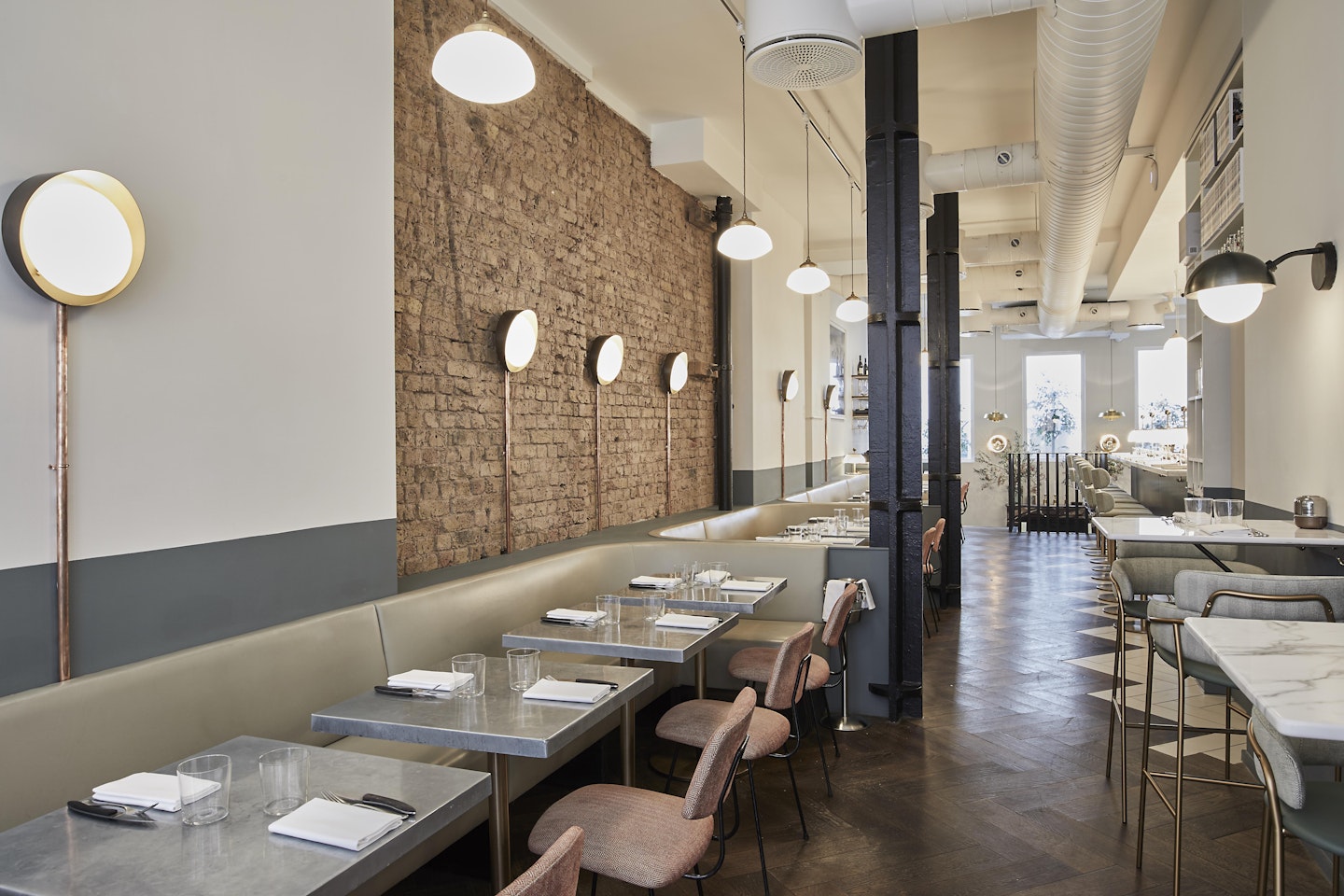 18 of 38
CREDIT: Nicolas Buisson
Frenchie
Enjoy the hustle and bustle with Frenchie's terrace dining slap bang in the thick of it all in Covent Garden. The food's pretty special too. Frenchie's Chef Patron Greg Marchand - famed for his use of traditional French techniques and international flavours - has cherry-picked five of Frenchie's classic dishes to create a Best of Frenchie 5-course tasting menu (£70). Try this for a monkfish that's off the scale and a banoffee dessert which will leave you speechless.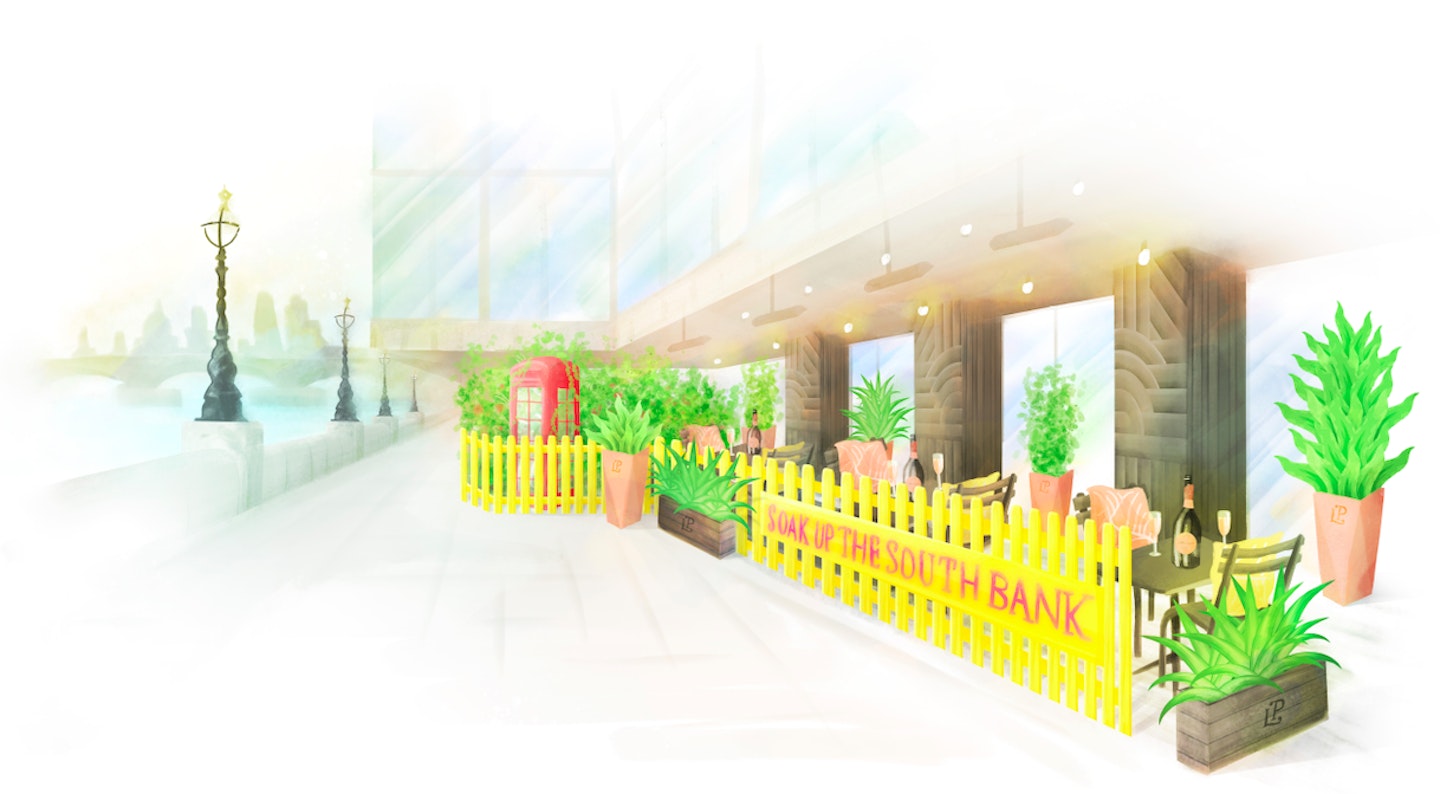 19 of 38
Sea Containers
Located right on South Bank, with gorgeous views over the Thames, Sea Containers is a perfect choice for a summer evening or a relaxed afternoon. This summer, the restaurant has opened their Laurent-Perrier Summer Terrace, so you can soak up the view while enjoying champagne and gorgeous seasonal food - with a choice of large or small plates. We really recommend the Fruits de Mer seafood platter - including octopus, prawns, dressed crab and oysters. The cocktails and the key lime pie are also to die for. The terrace is on a first come, first served basis - so we'd definitely recommend you check it out if you happen to be strolling along South Bank.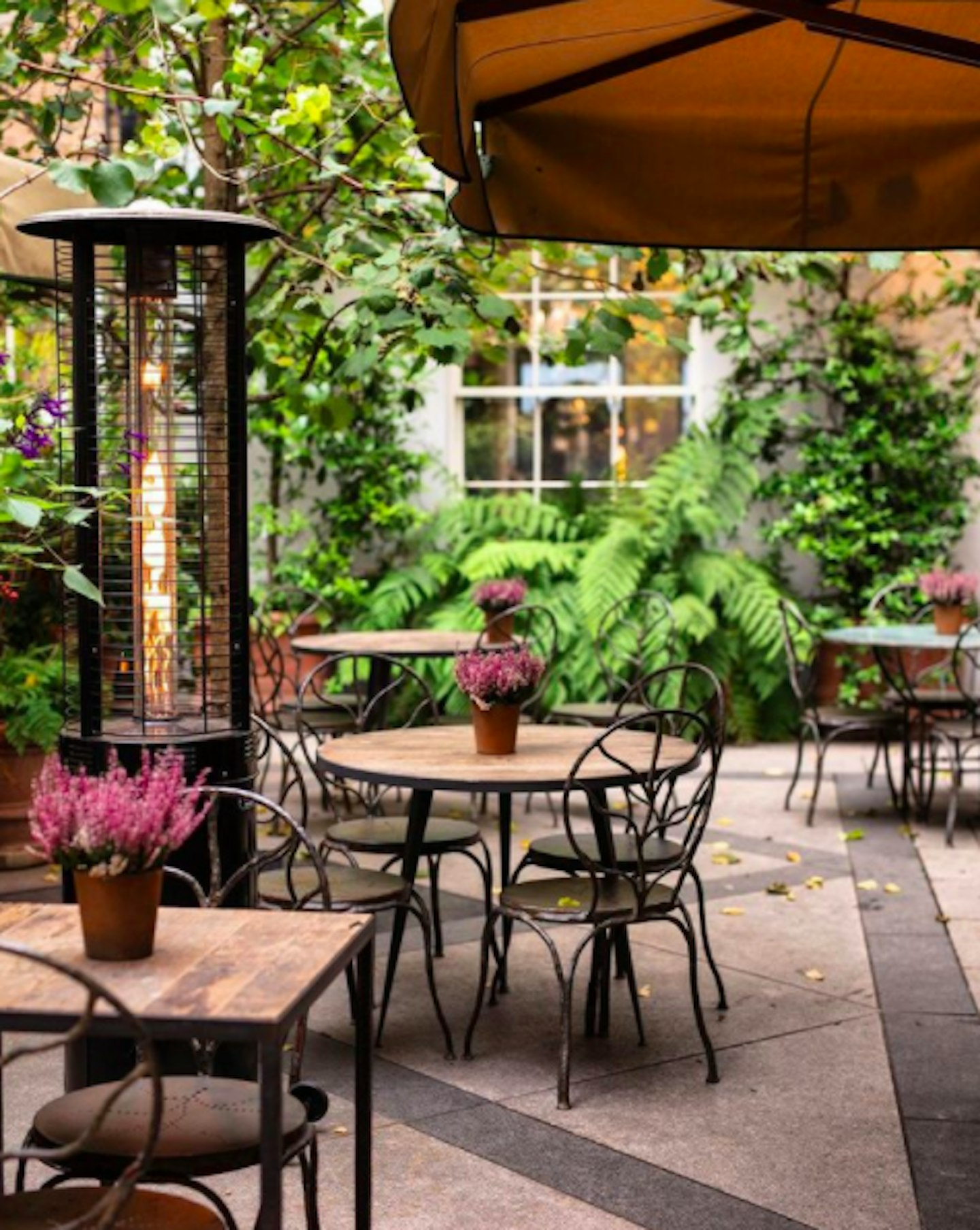 20 of 38
La Goccia, Covent Garden
A beautiful and casual restaurant serving Italian ciccetti with a heated terrace. What more do you need?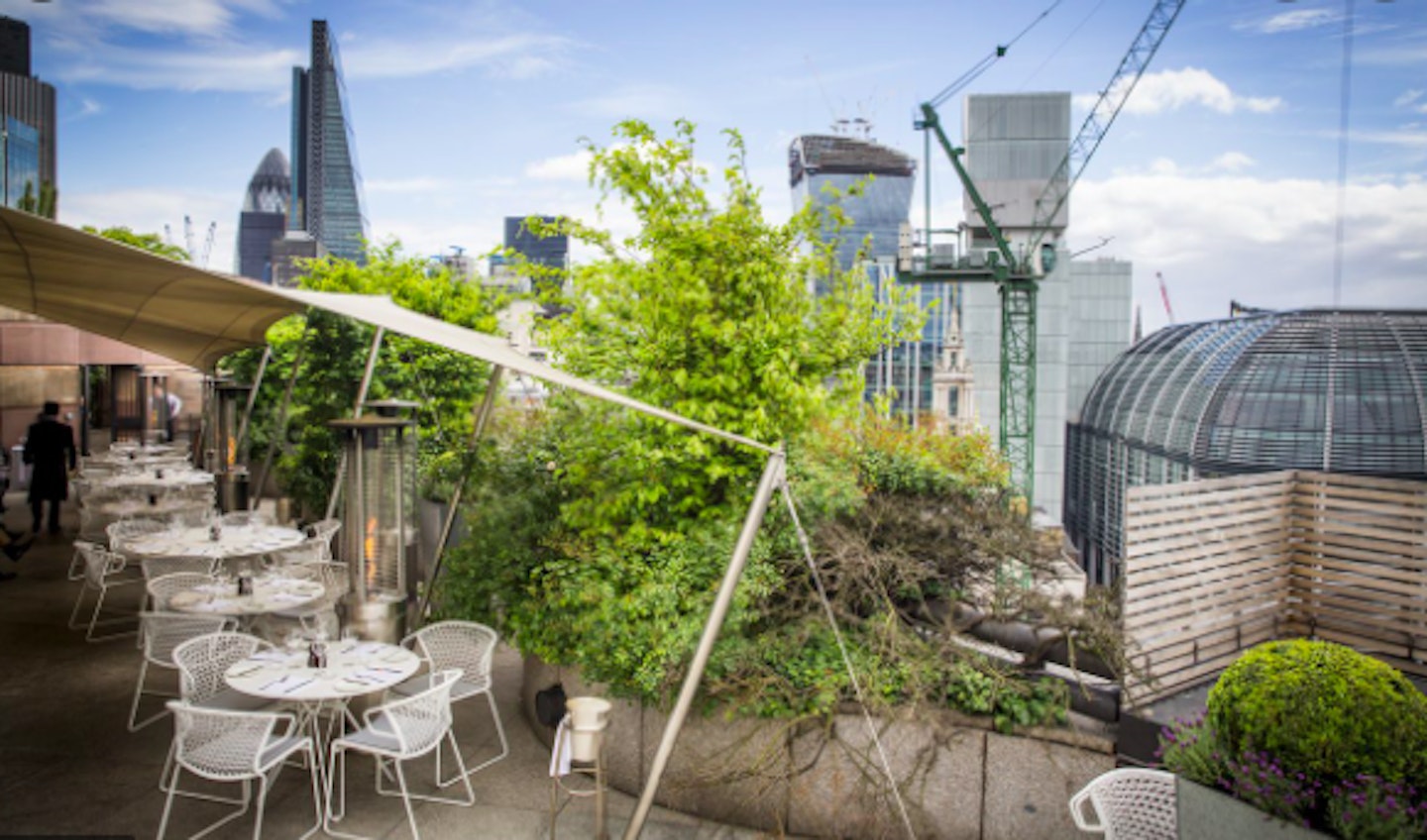 21 of 38
Coq d'Argent, Bank
There are numerous outdoor options at Coq d'Argent, with beautiful rooftop views of the city from their dining area and glorious gardens to roam around on the other side of the roof. Basically, Coq d'Argent is a must-visit!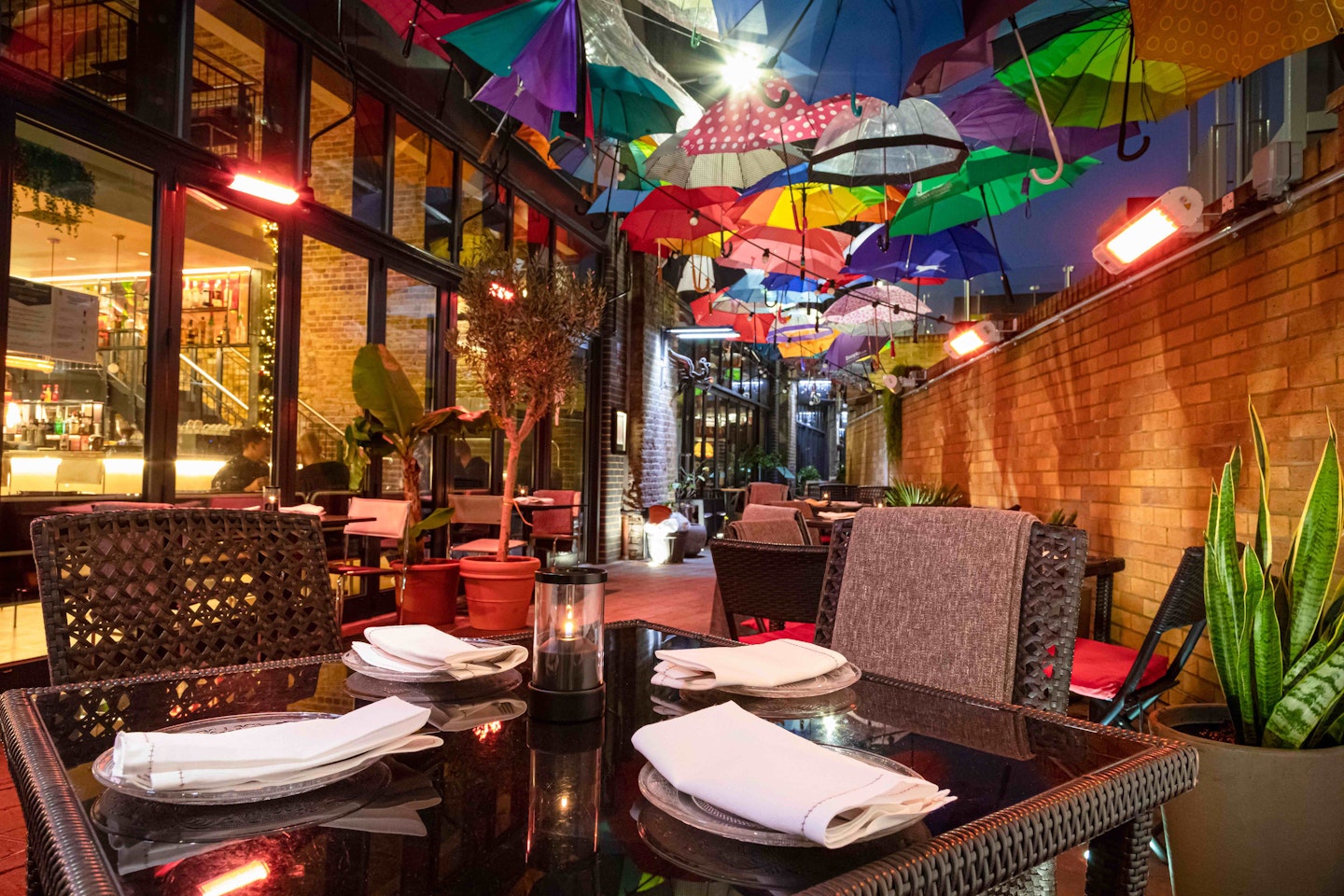 22 of 38
Bala Baya, Southwark
Bala Baya, the acclaimed Southwark restaurant inspired by the sites and sounds of Tel Aviv, will launch the Discarded Umbrella Winter Garden this December. The show-stopping installation will transform lost and found umbrellas from TFL during lockdown into a sustainable, colourful winter canopy - a must-see!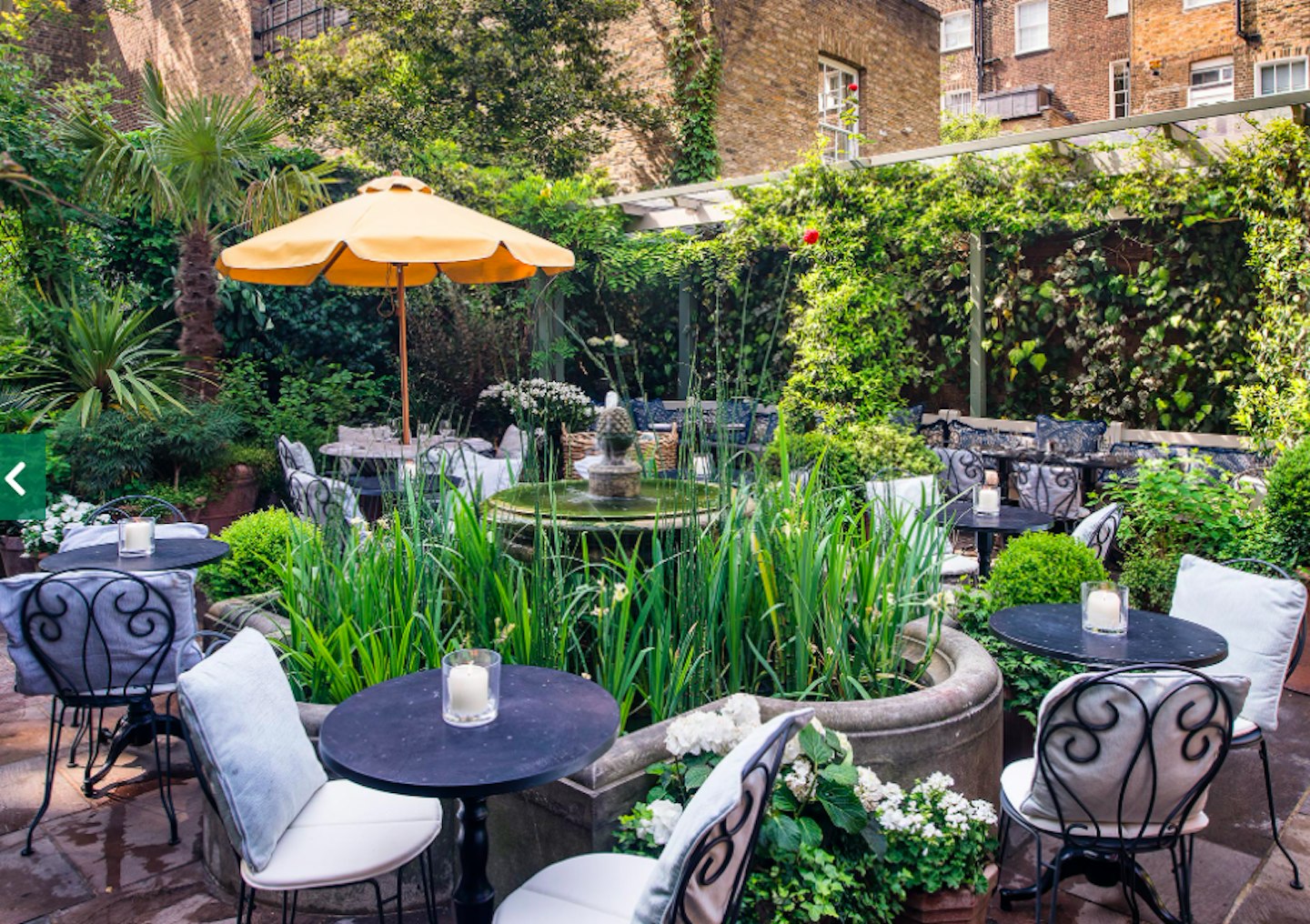 23 of 38
The Ivy Chelsea Garden, Chelsea
Beloved by the Made in Chelsea cast, The Ivy Chelsea Garden hosts one of the cutest outdoor seating areas in London. Plus, with a menu like theirs you'll be thankful for the substantial meal requirement…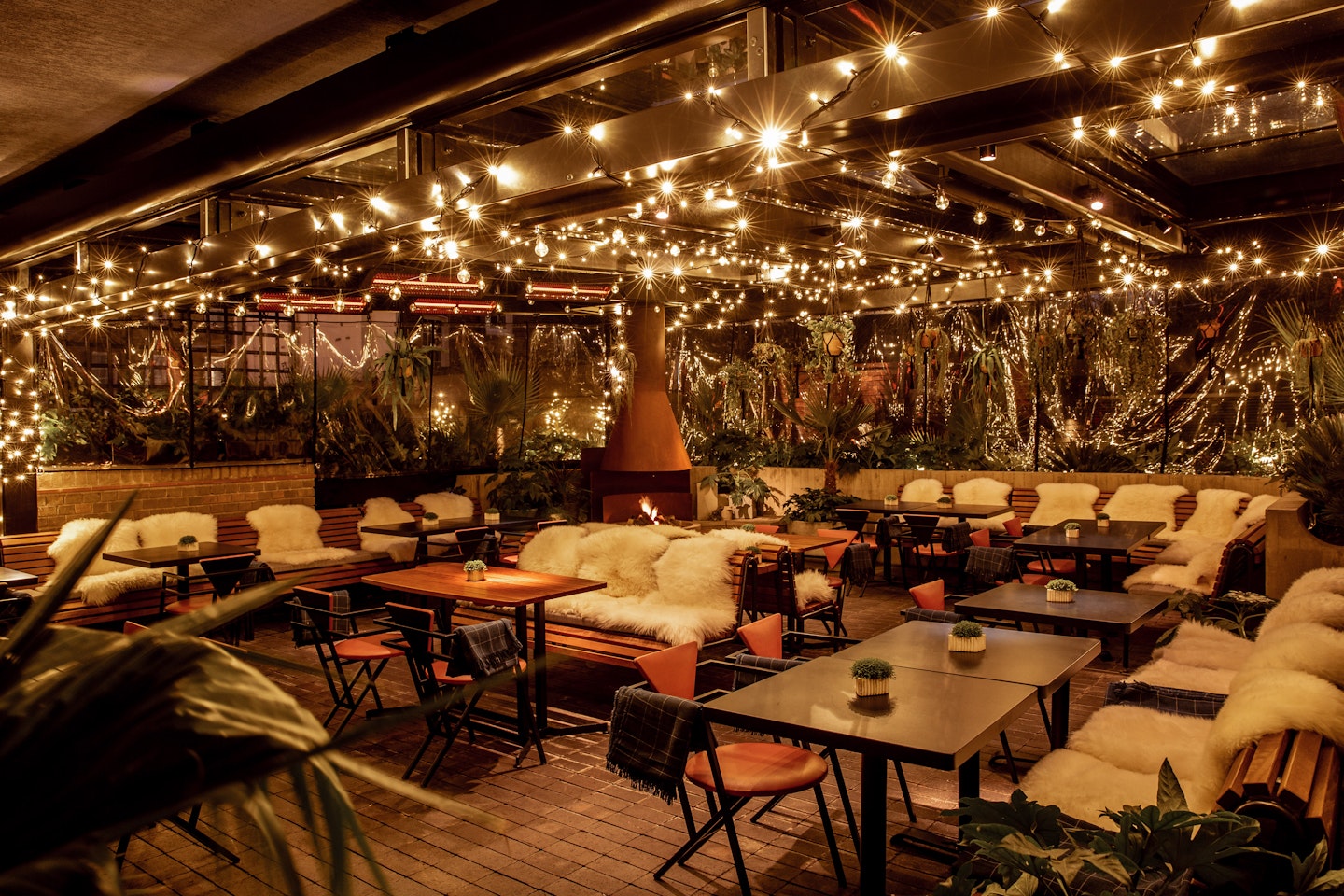 24 of 38
The Standard, Kings Cross
Turning their summer terrace into a warm and cosy winter terrace, complete with a crackling fire pit and festoon lighting, The Standard terrace is set to be one of the city's cosiest spots to curl up in with friends this winter.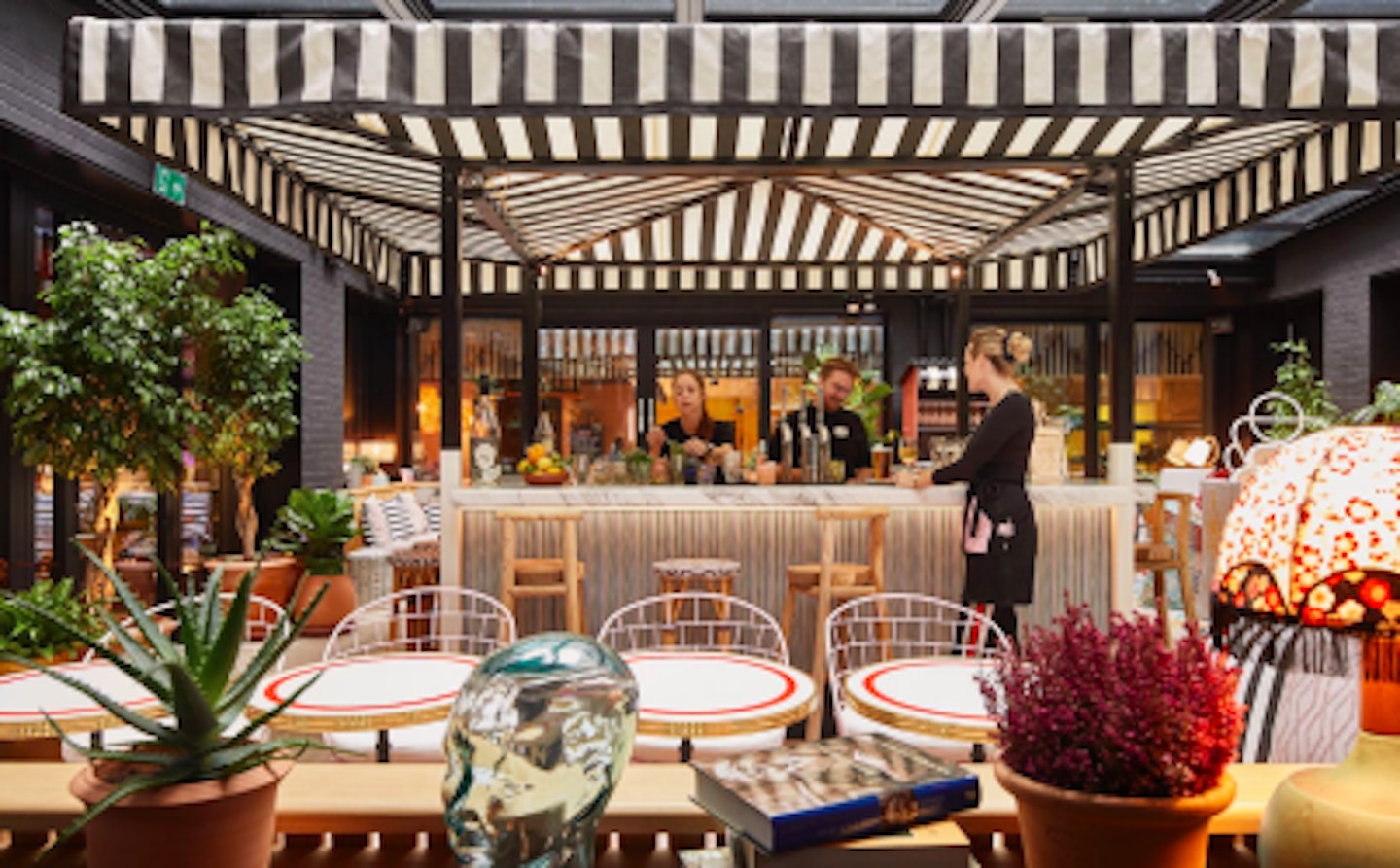 25 of 38
Mama Shelter, Shoreditch
This open roof and terrace-style space is ideal for sipping on tempting cocktails and dining on Mama's refreshed menu which includes a selection of delicious kebabs.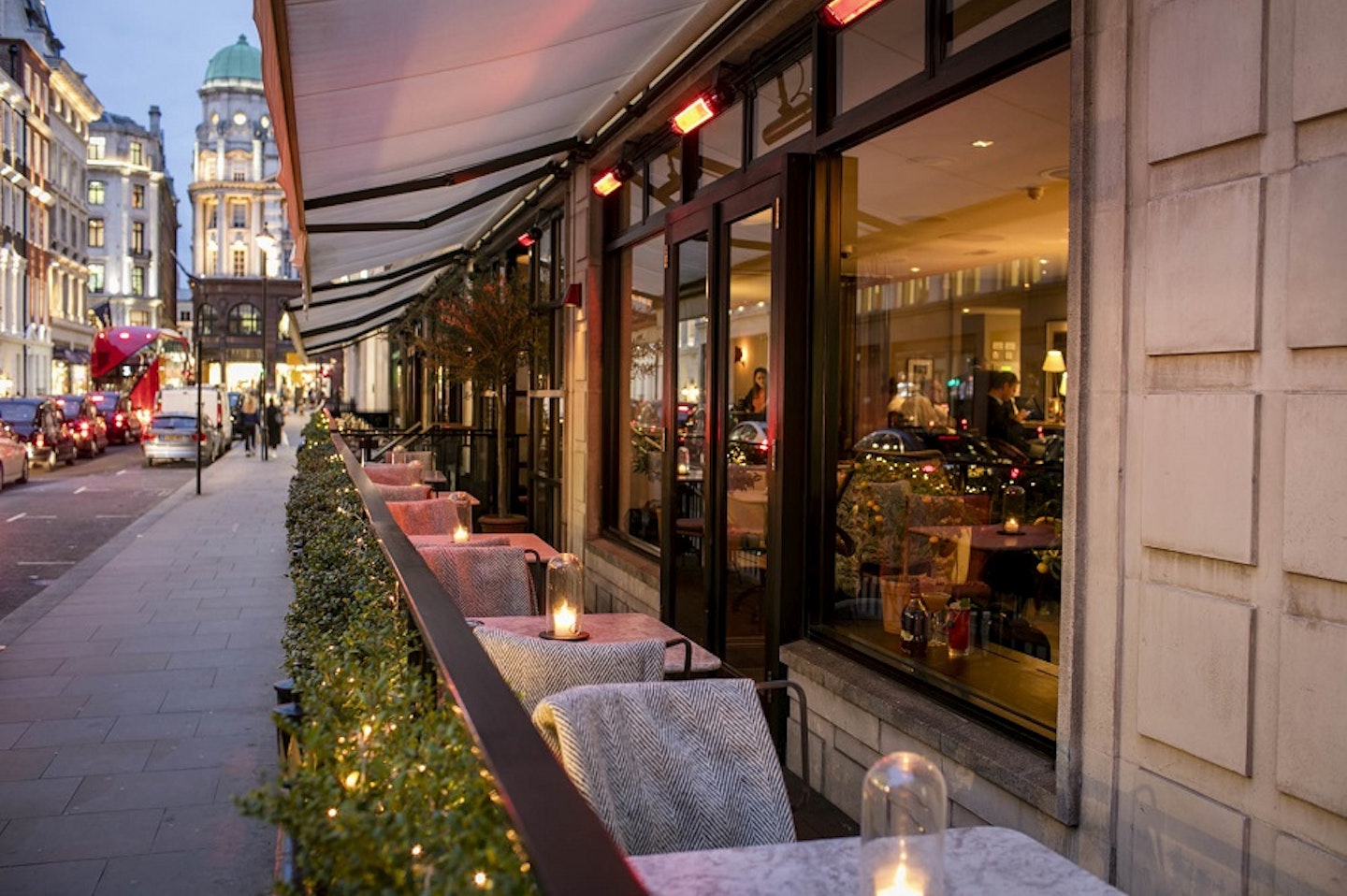 26 of 38
Sartoria, Mayfair
Find us a more sophisticated spot for outdoor dining than a heated terrace on the streets of Savile Row in Mayfair. Sartoria is the place to take that friend/date you really want to impress. With renowned Italian chef Francesco Mazzei at the helm, you're in extremely safe hands. Think sublime carbonara and extra special risotto, followed by a home cured black cod to make you immediately rebook your next meal here.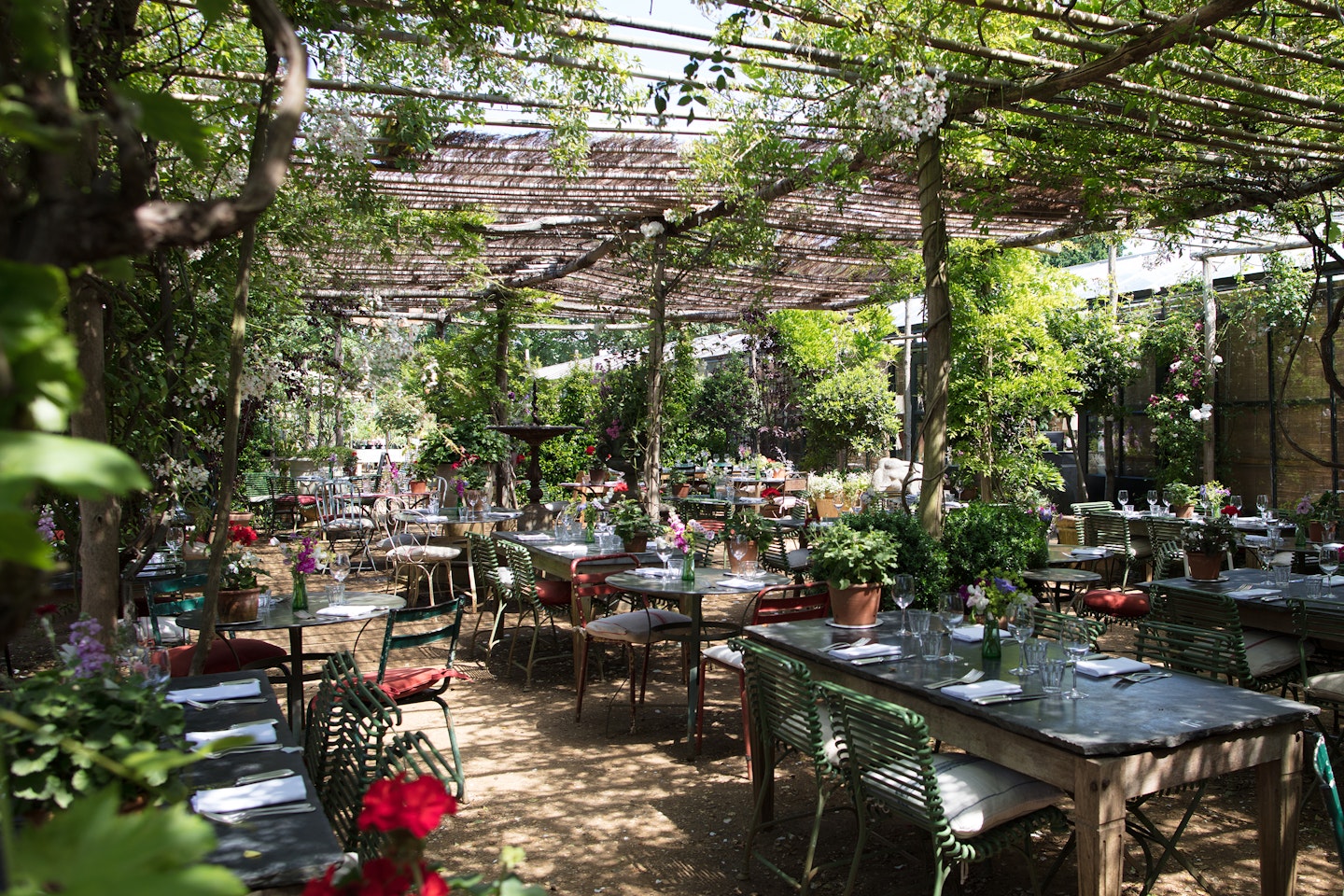 27 of 38
Petersham Nurseries Cafe, Richmond
From the 12th April, Petersham Nurseries will throw open their doors and welcome guests back to their Richmond and Covent Garden homes for alfresco dining.Petersham Nurseries Café in Richmond will be re-opening throughout the week with evening service on Thursday, Friday and Saturday. Located a stone's throw away from Richmond Park and set within the nurseries' abundant gardens, tables and chairs scatter the courtyard and guests are invited to dine alfresco beneath the pergola.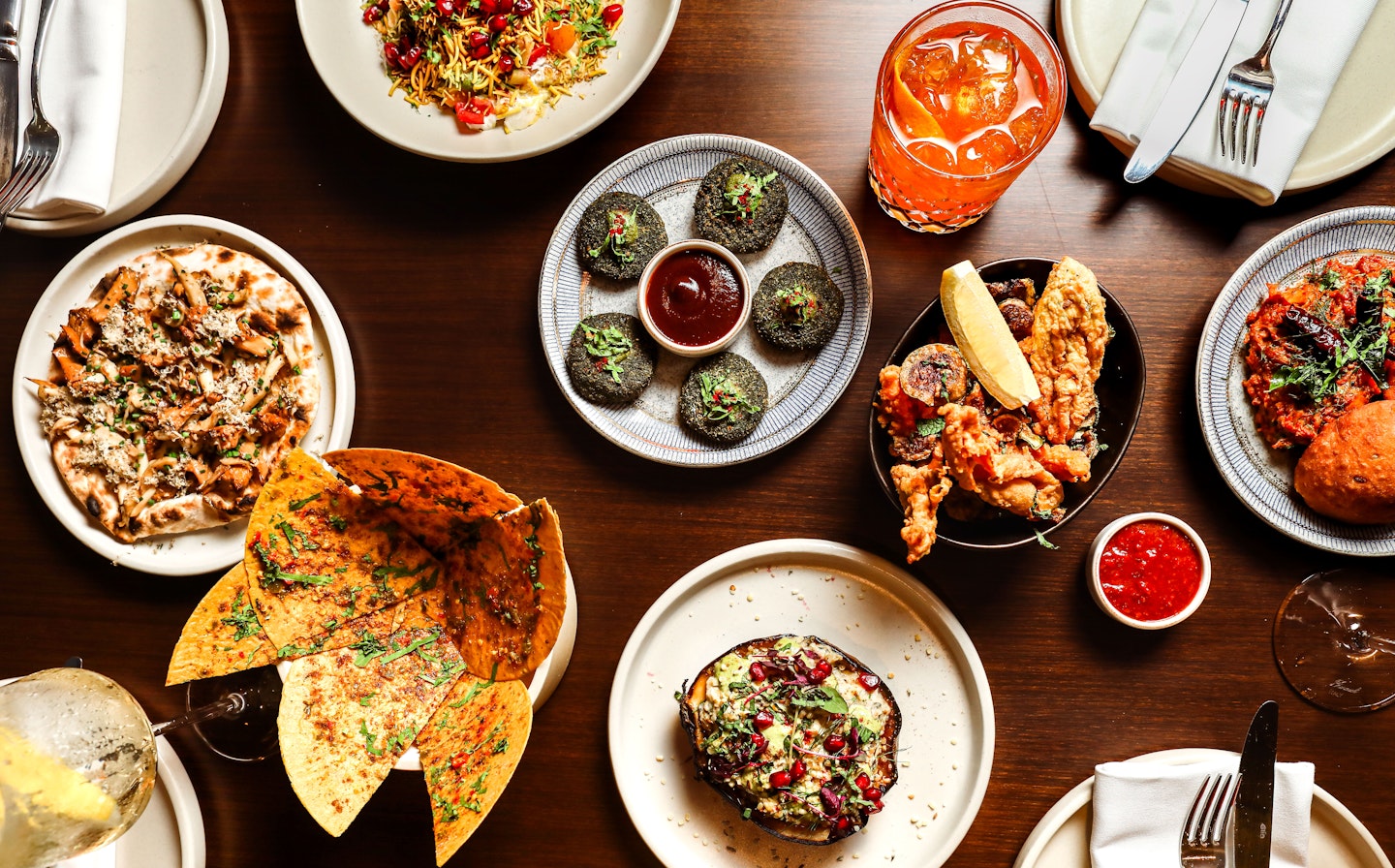 28 of 38
Pali Hill, Fitzrovia
If it's real deal Indian you're after, head straight to Pali Hill for regional Indian small plates at their best, right in the heart of Fitzrovia. Derived from home recipes and traditional techniques, the restaurant serves up wow factor with every dish - but it's the lamb chops in particular you'll be writing home about.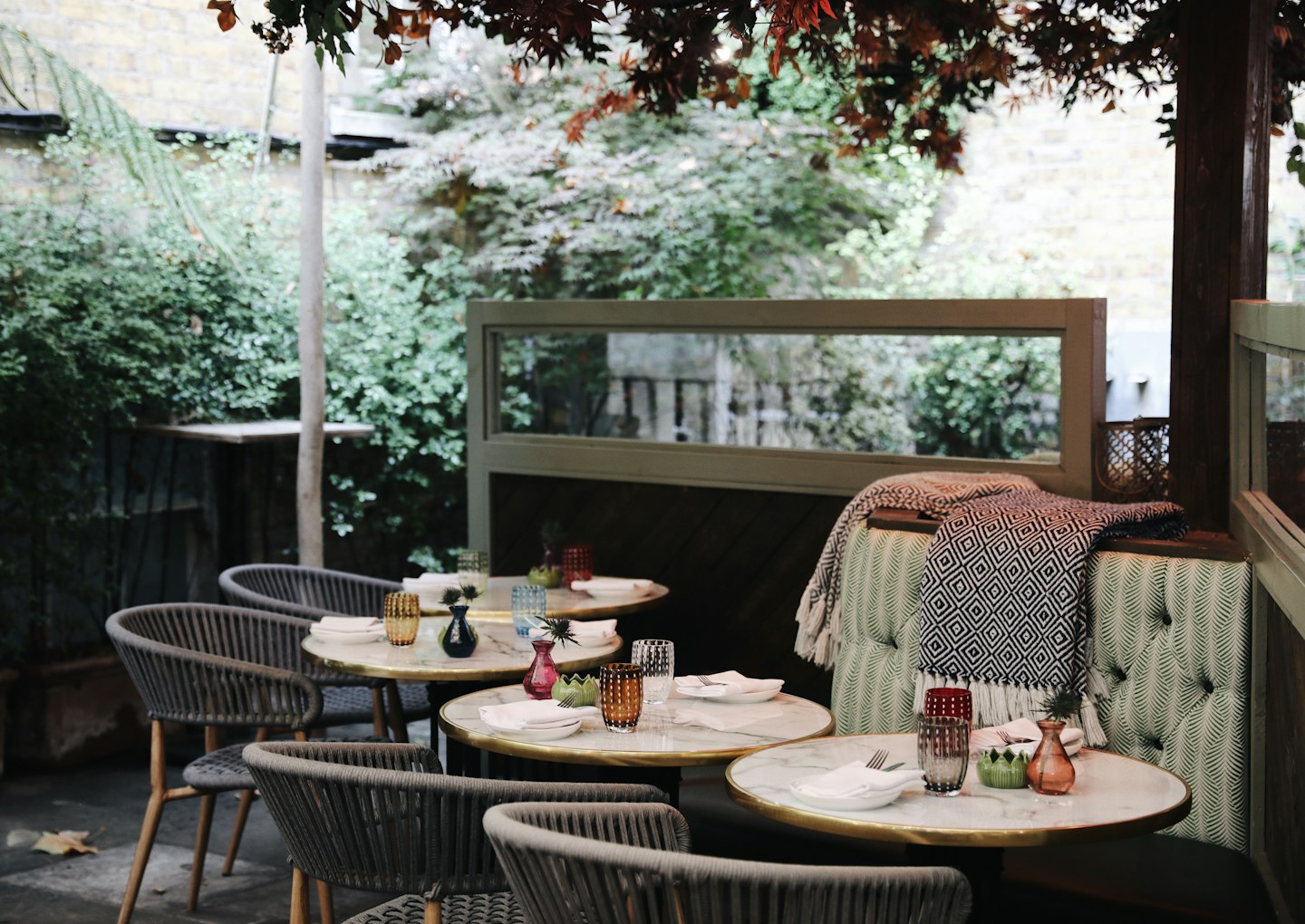 29 of 38
Stanley's, Chelsea
Stanley's outdoor dining area feels like a secret garden hidden in the middle of Chelsea. Inspired by the countryside, the tables are surrounded by trees and pink blossoms with heaters and blankets dotted around the patio to keep you warm as the night gets cooler. The espresso martinis are particularly good - and you have to try the truffle gnocchi.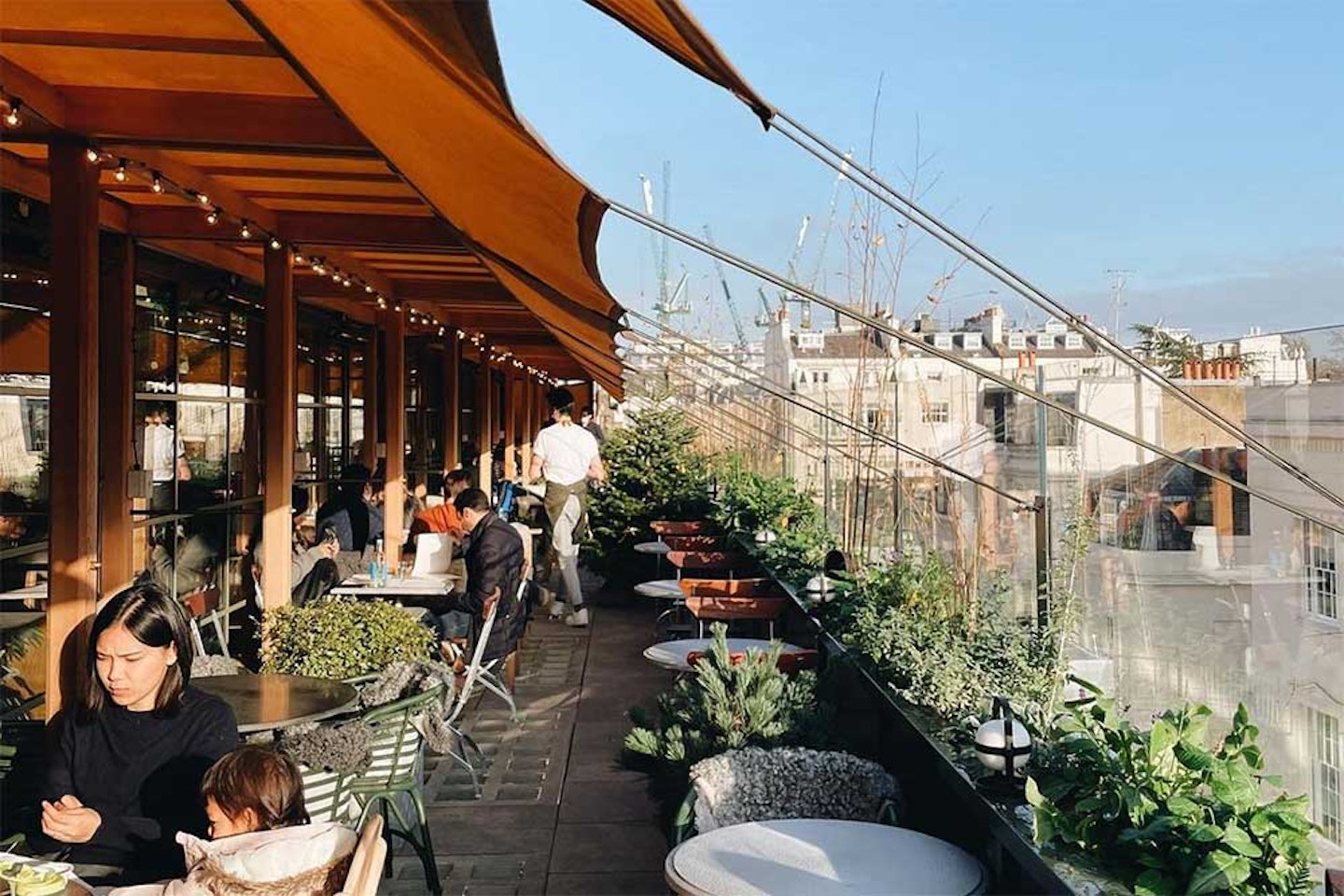 30 of 38
Roof Garden at Pantechnicon, Belgravia
Pantechnicon is a six story concept store with a gorgeous rooftop that's perfect for drinks or dinner. Combining Japanese and Nordic cuisine, the flavour combinations in the Mentaiko spaghetti have got us hooked.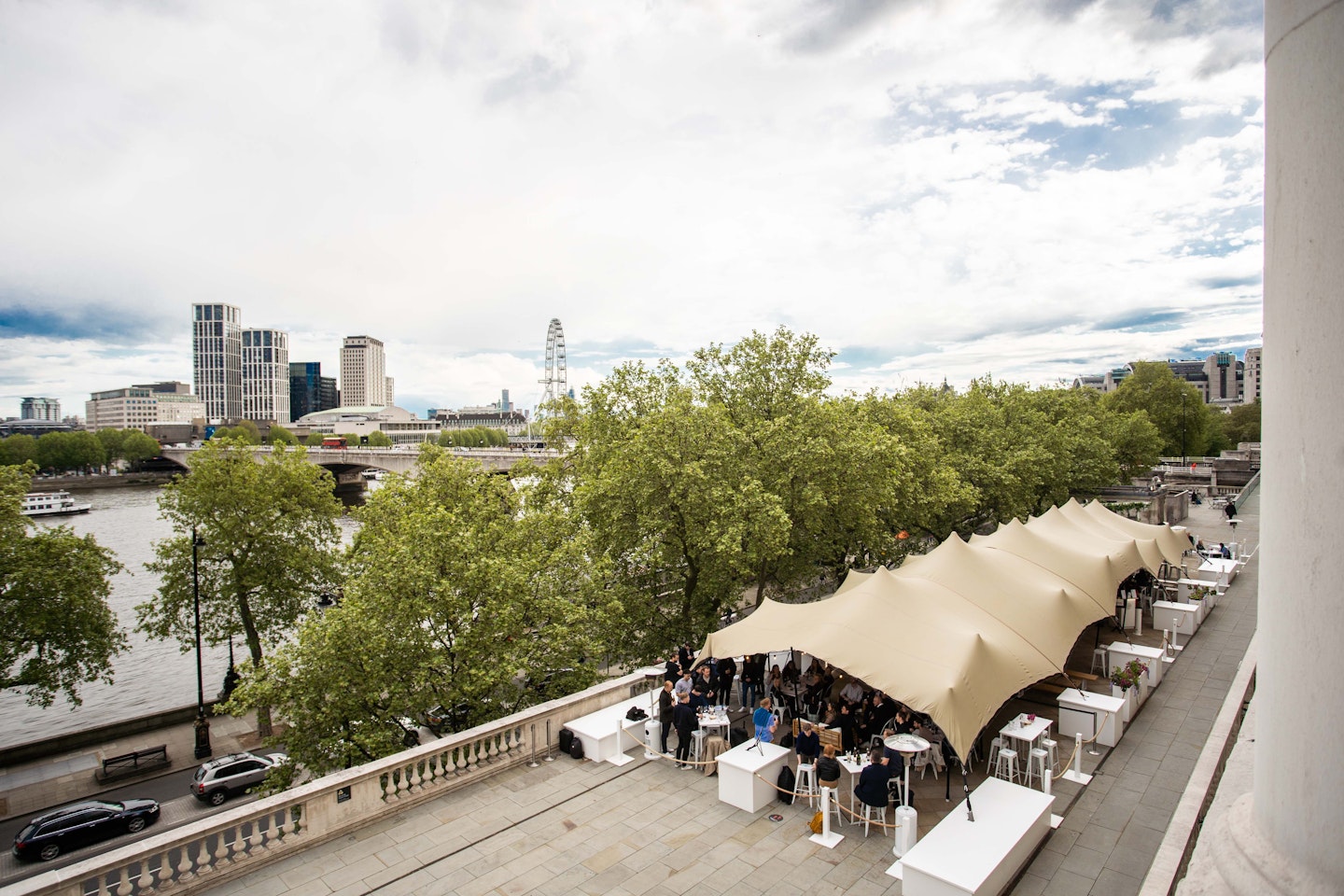 31 of 38
Somerset House Terrace Bar, Strand
Cold beer, great tapas and a beaut view of the Thames - this place is perfect for after work drinks. Somerset House has partnered with San Miguel for the third season of their summer terrace (with heaters, obv) and is open from lunch till late.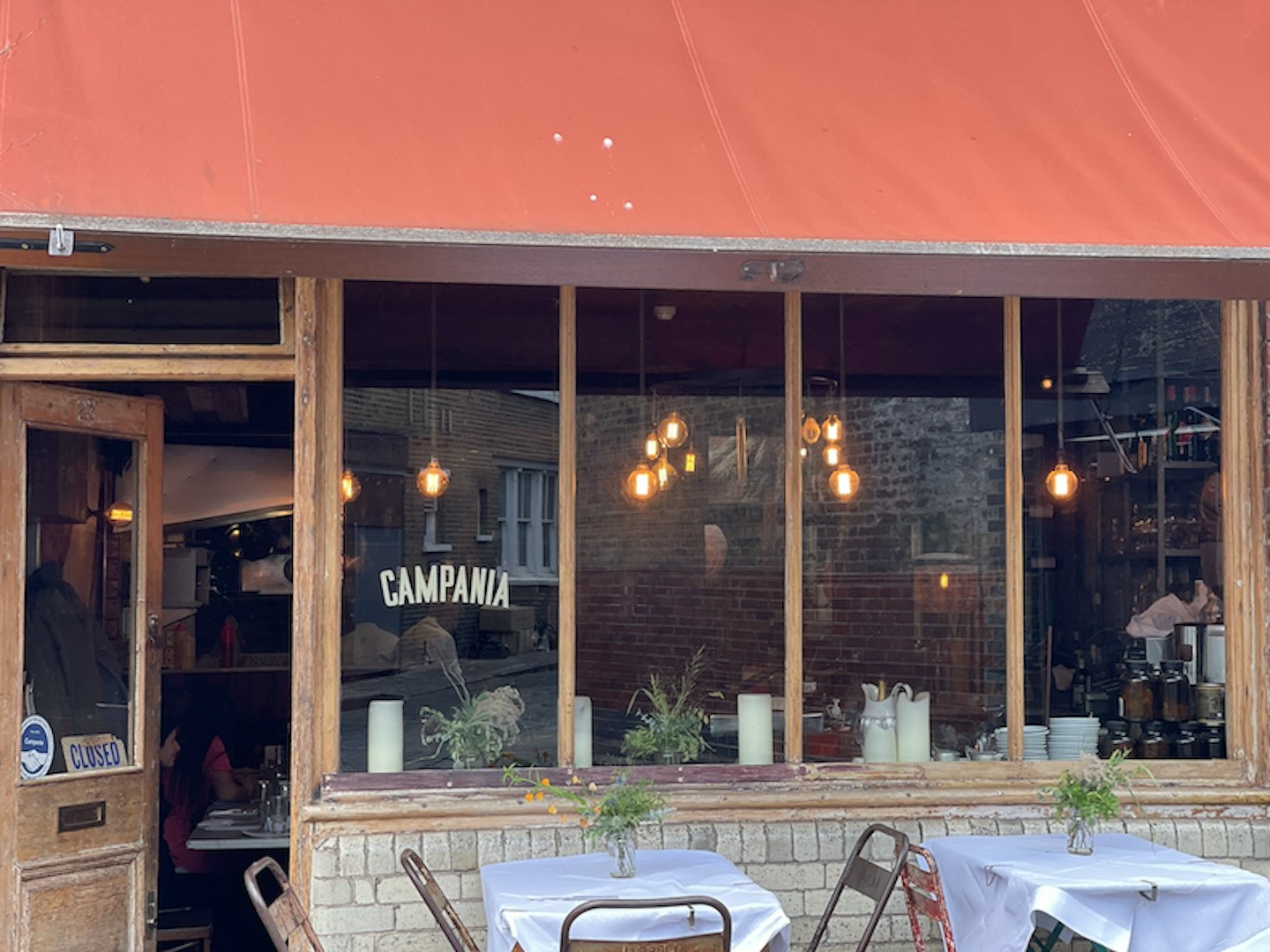 32 of 38
Campania, Bethnal Green
Hidden next to Colombia Road Flower Market, Campania is a homely Southern Italian restaurant serving traditional dishes from the region. With an indoor-outdoor feel throughout the whole restaurant this is the best stop to spend a summer evening with a Poretti in hand. And don't even get us started on the raviolo zucca delica.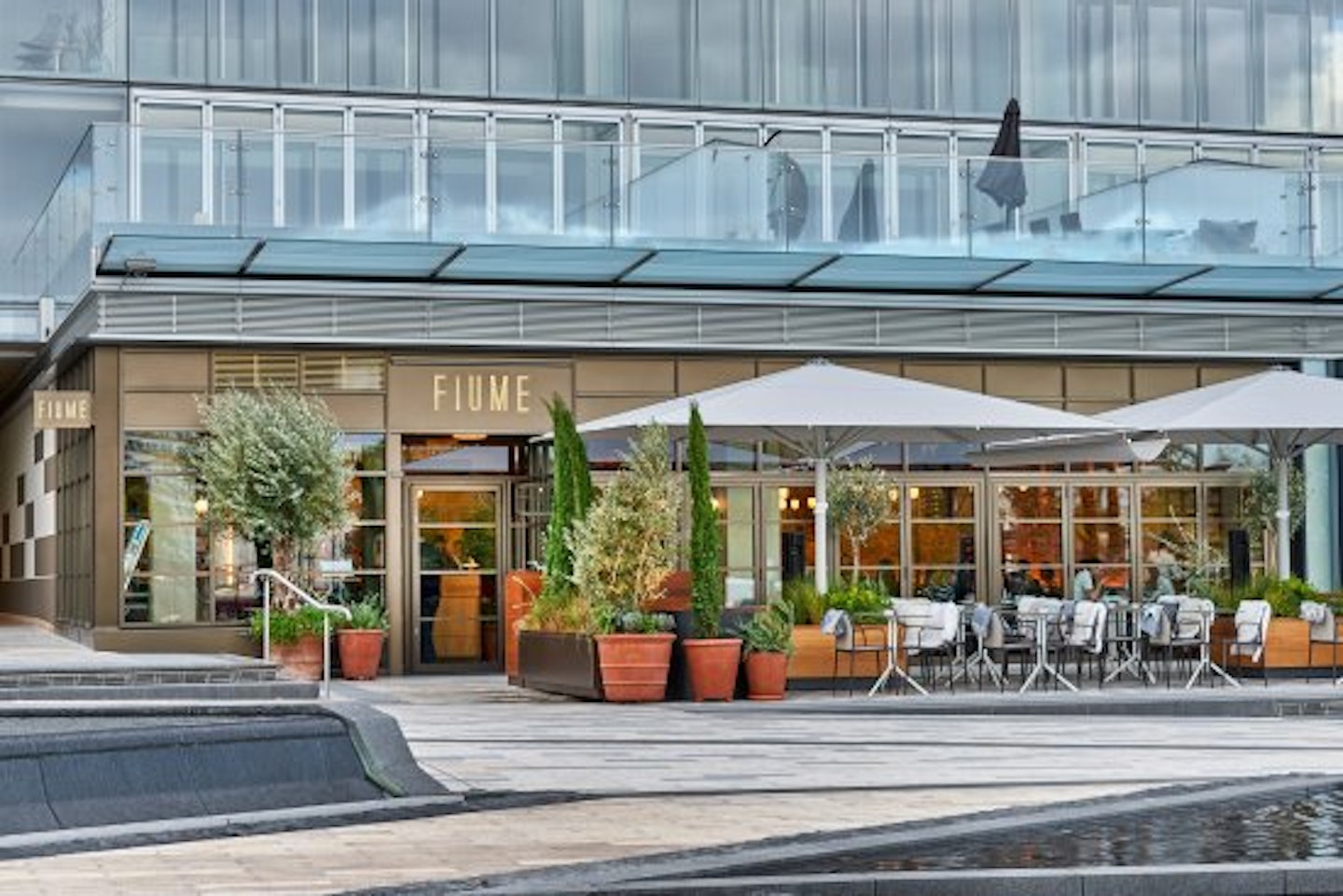 33 of 38
Fiume, Battersea
Fiume is the brain child of Francesco Mazzei and the perfect place to enjoy an aperol and an antipasti after work - right next to the Thames and Battersea Power Station. Inspired by a traditional terazza, the summer terrace menu is in partnership with the delicious Malfy Gin and features everything from prawn carpaccio to grilled calamari.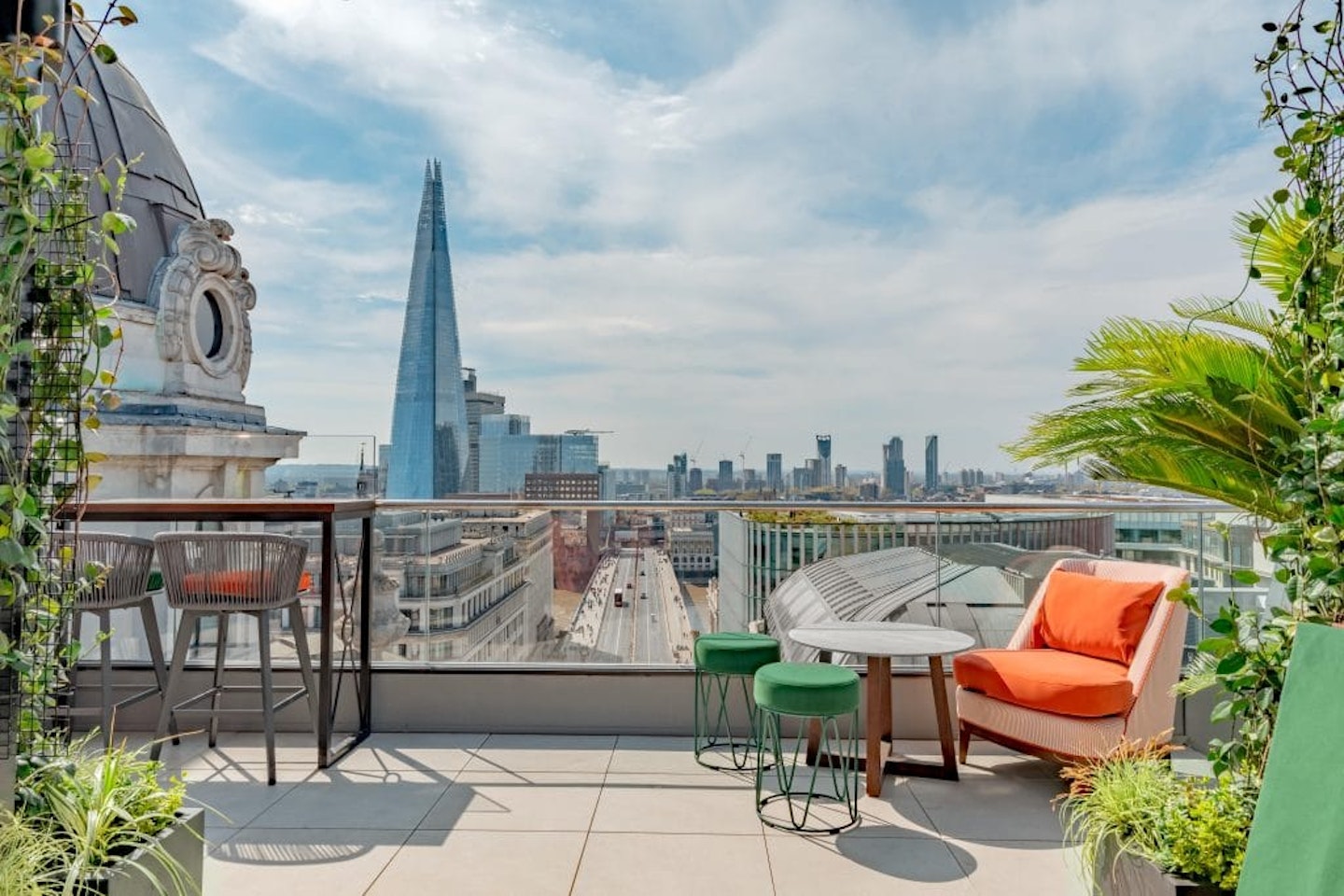 34 of 38
Wagtail, City of London
360 degree views of London's skyline, luxury cocktails and fine dining. Are you sold? Because we definitely are. Trust us, they do an incredible negroni. Get yourself settled in here this summer.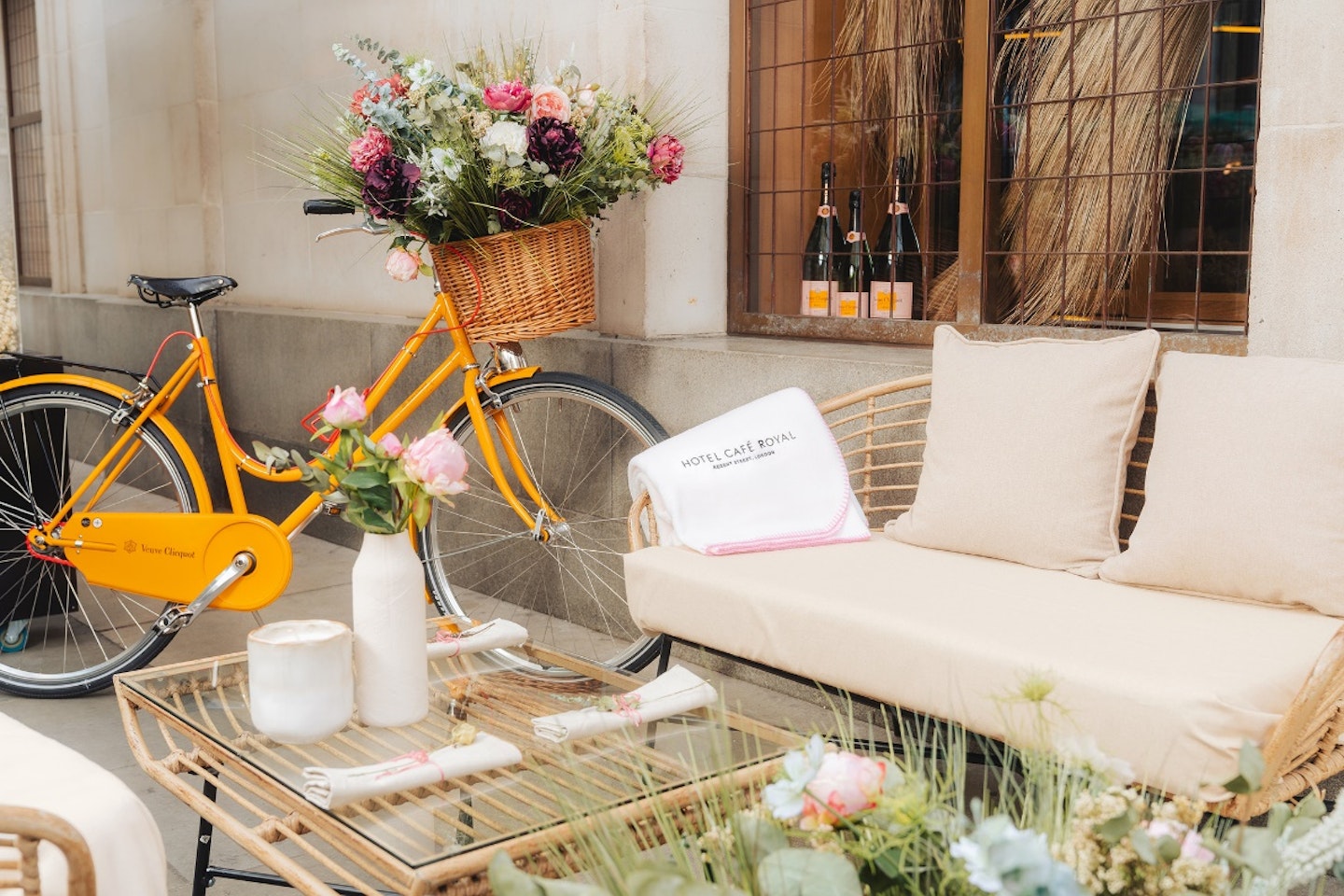 35 of 38
Hotel Cafe Royal, Regent Street
Hotel Cafe Royal's elegant terrace has launched a collaboration with our favourite champagne brand Veuve Clicquot. Designed with South of France vibes in mind, the terrace is open from Tuesday to Friday from 4:00PM to 10:00PM and Saturdays from 12:00PM to 10:00PM with a menu that covers everything from cocktails to sparkling vintage rosé.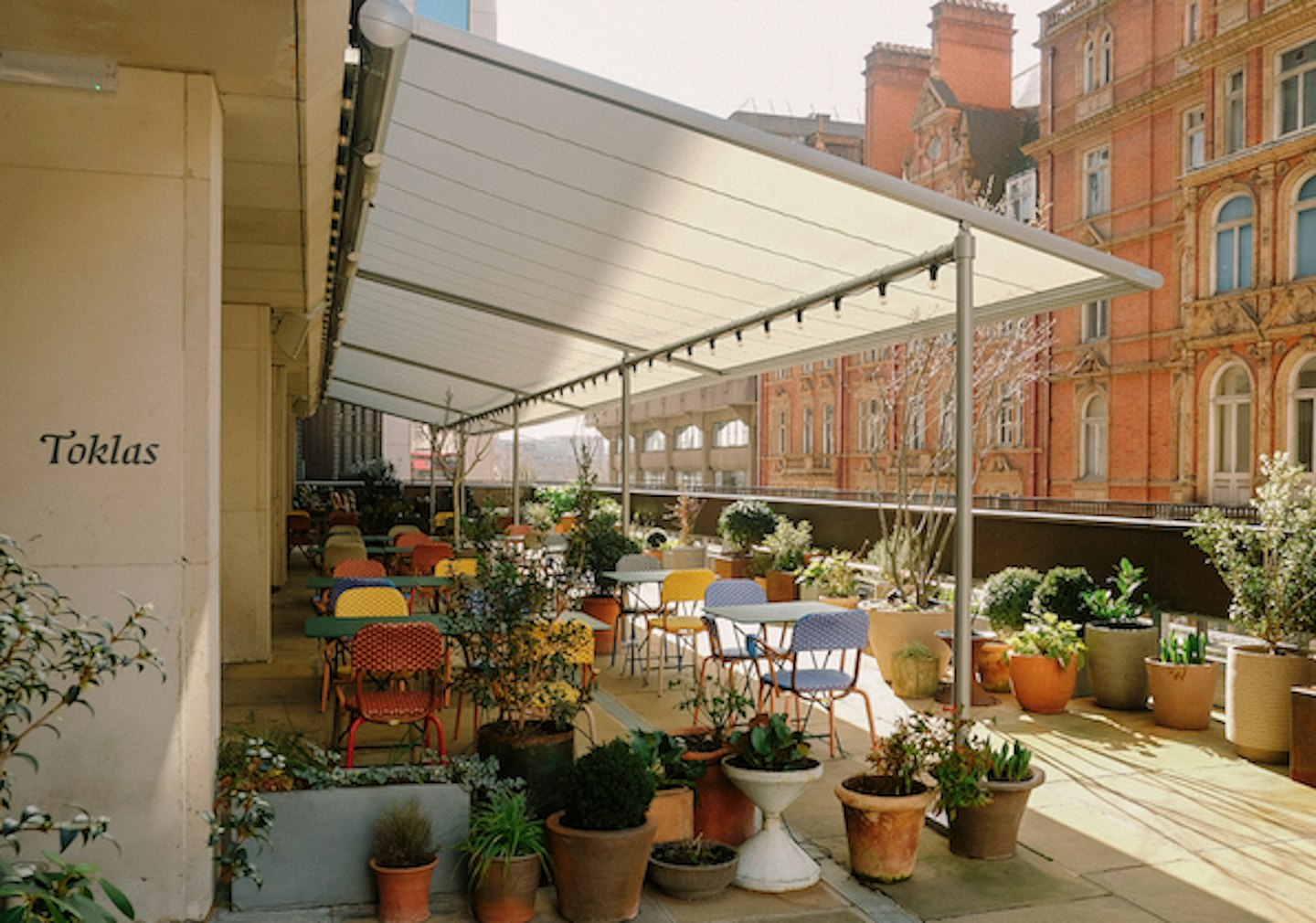 36 of 38
Toklas Restaurant, Covent Garden
Toklas restaurant has a super zen terrace garden a short walk away from Covent Garden that's the perfect respite from the chaos of central London. Their cocktail menu puts twists on your classic favourites while the food menu, which changes daily depending on the fresh produce, includes everything from octopus to clam risotto.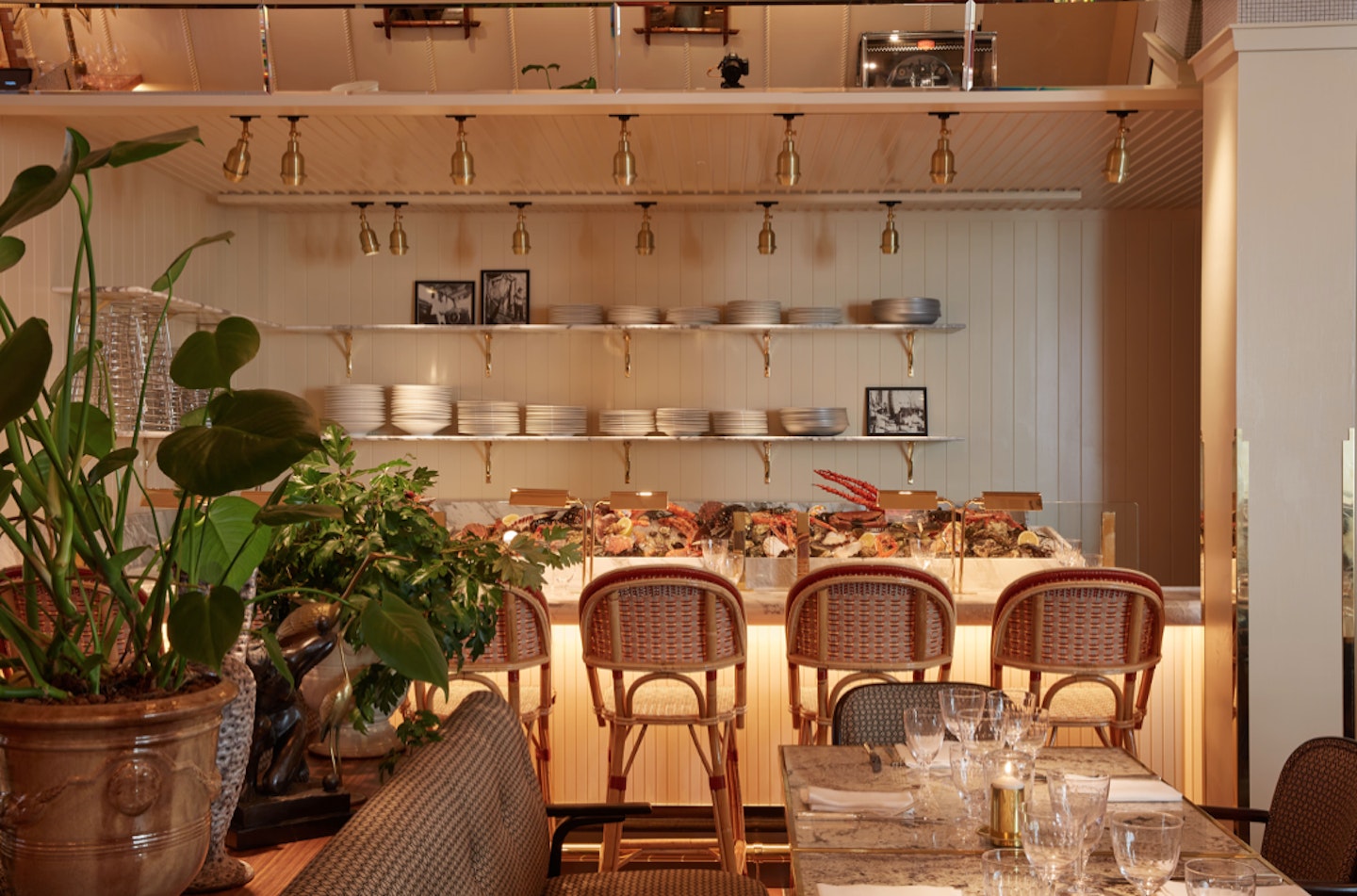 37 of 38
Louie, Covent Garden
This seriously might be one of our favourite restaurants in London. Launched by the masterminds behind Chiltern Firehouse, Louie (positioned just off of Covent Garden) is a chic but homely restaurant spread throughout a huge town house with a gorgeous terrace at the top. Inspired by the parties of Paris and the jazz of New Orleans expect lobster, caviar, lamb chops, and oysters on the menu. Plus, the cocktails are like rocket fuel. Book a table now, you won't regret it.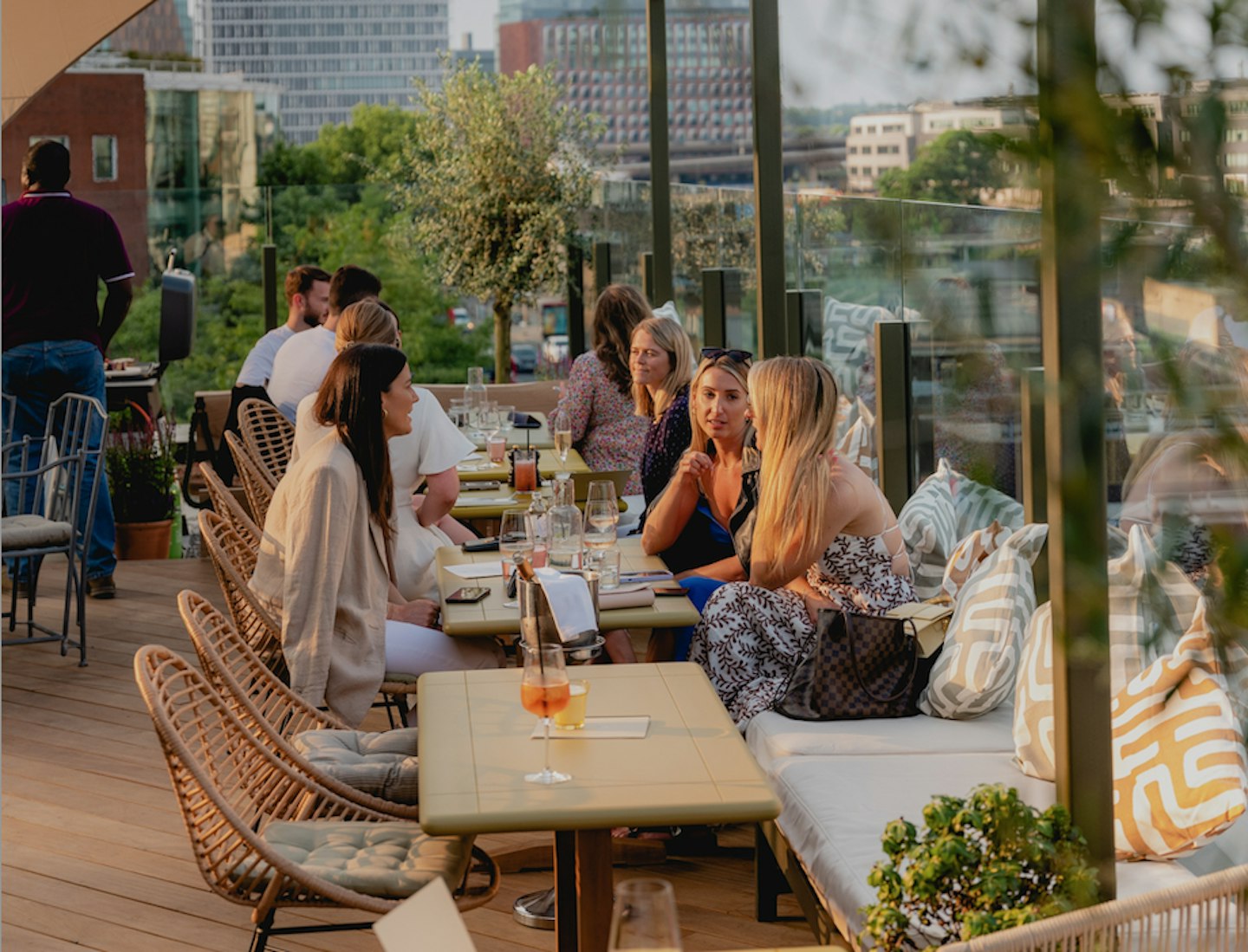 38 of 38
Aerial Rooftop At The Broadcaster
Need to relax and unwind after a few hours traipsing around Westfield? Aerial Rooftop at The Broadcaster is West London's new rooftop destination in White City offering great lounging sofas to chill and have a cocktail on while overlooking the city. With light nibbles, sharing platters and rooftop BBQ classics all on the menu this is the perfect place to soak up the summer on a sunny evening.
Read More:
Cold Weather Clothes: It's Time To Prep Your Wardrobe For The Great Outdoors
Due To Lockdown Restrictions, Sales Of These Thermal Jeans Are Up By 2,400%
The Olsen Twins Will Be Your Guide To Dressing For Outdoor Socialising In A Pandemic – Here's Proof