If you haven't already heard, Aldi's Specialbuy rattan hanging egg chair, sold out in a matter of hours this year and every other year and you'll have to wait until 2023 to grab the deal next year.
The affordable garden chair is always in high demand, so if you want to get your hands on it this time around, you'd better be swift. With our favourite #taptotidy queen Stacey Solomon and cleaning sensation Mrs Hinch having similar egg-style chairs in their homes, interest in these hammock-chair hybrids is at an all-time high.
If you were one of the unfortunate shoppers stuck in a virtual queue of 40,000 people for hours on end and didn't manage to get through, then you'll be glad to know that there is a huge selection of similar egg-style chairs that you can get your hands on for a range of prices.
We've put together a selection of stylish alternatives to lay back and hang around in. The great thing about these chairs is that they work for outdoor or inside spaces. OK, traditionally, they might belong in the garden or on your patio, but these egg-style chairs could be the feature piece of furniture you've been looking for. A modern armchair, if you will.
Shop our gallery below to find the hanging chair best suited to your home...
SHOP: Hanging Egg-Style Chairs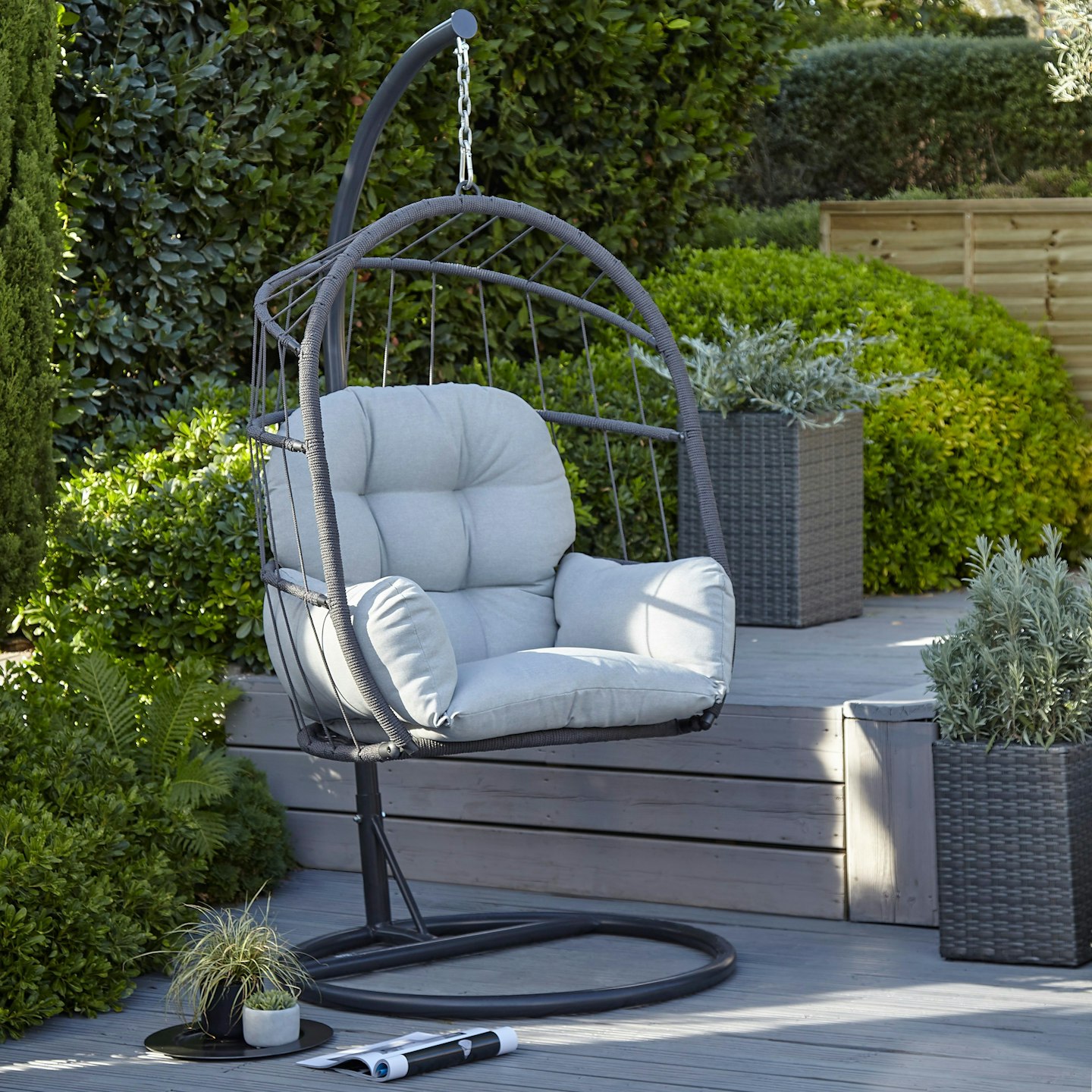 1 of 10
B&Q, Cannock Plastic Egg ChairCannock Plastic Egg Chair
This Cannock metal egg chair is perfect for relaxing outside in the garden. It will no doubt be the best seat in the house.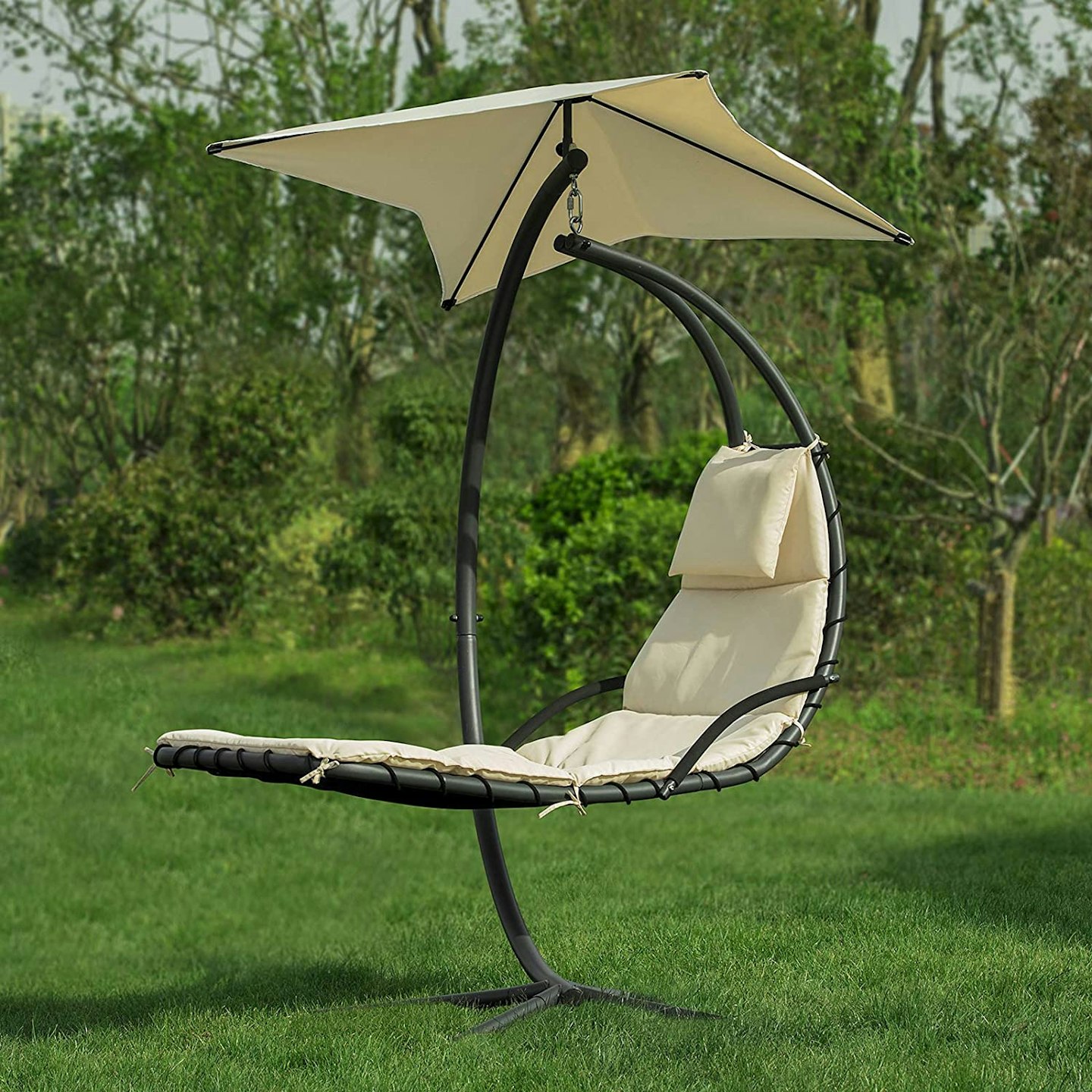 2 of 10
SoBuy® OGS39-MI, Garden Patio Hammock Swing,
Part sun lounger part hanging chair, if you are looking to catch some rays and read a book, it doesn't get much better than this.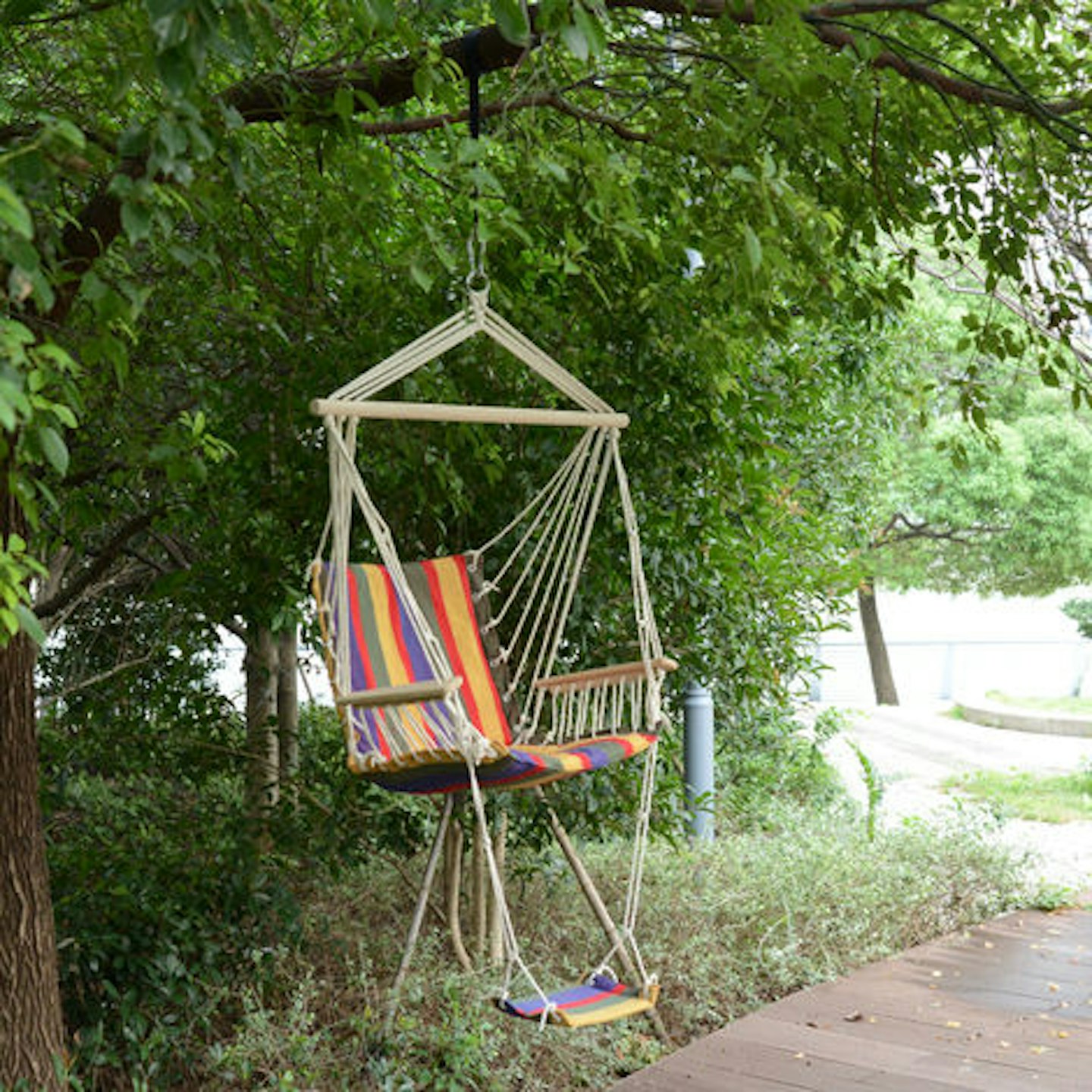 3 of 10
Outsunny Hammock Rope Swing Seat
This hanging swing is so cottage chic you will feel like the main character of a summer romance novel With a cute rainbow design on the swat and a footrest, you will not want to leave your reading corner.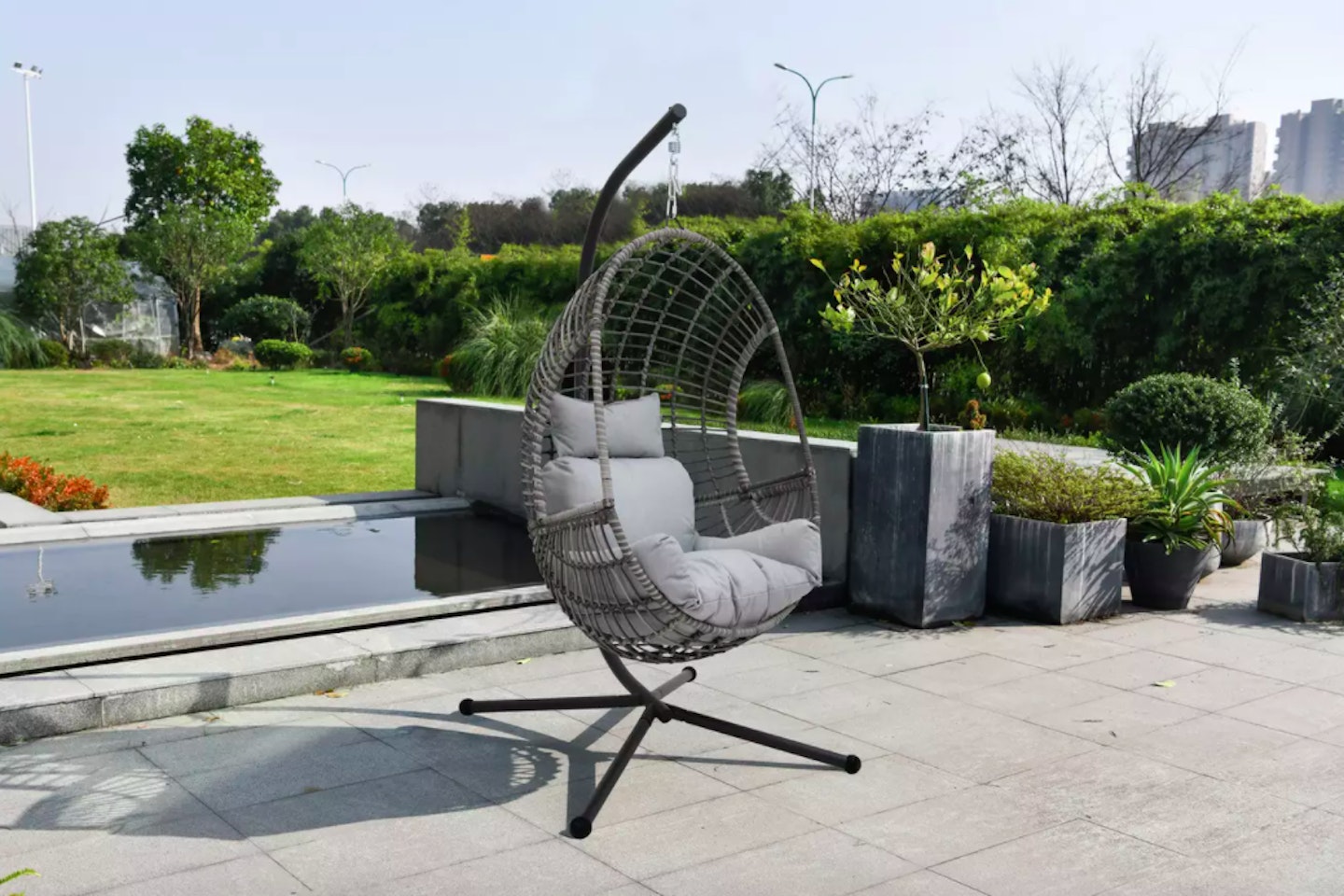 4 of 10
Argos, Rattan Effect Hanging Egg Chair
Sophisticated and classic, this egg chair is elegant and comfortable. Designed with a neutral grey you can soak up the last bit of sun while kicking back in this chair.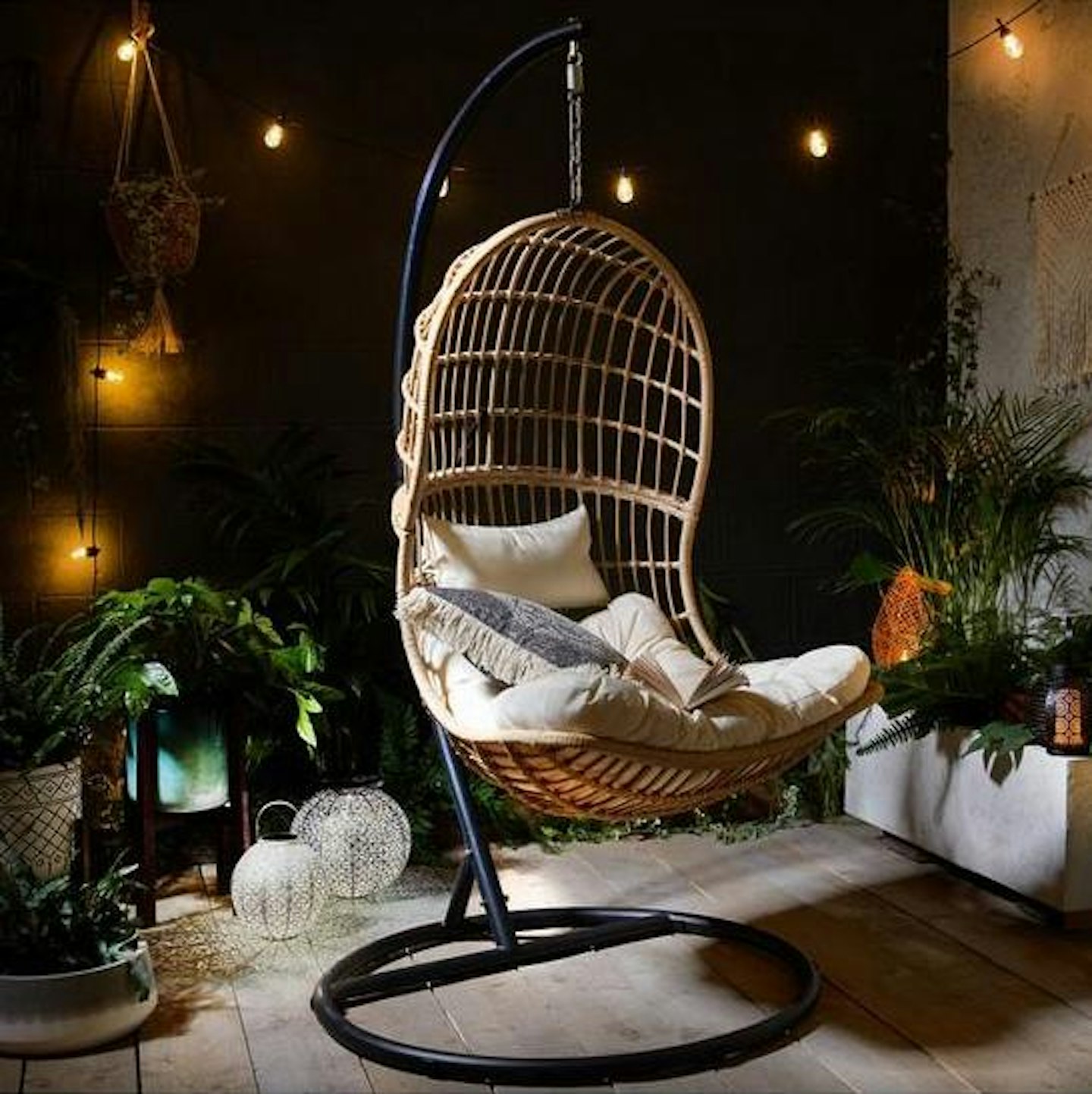 5 of 10
Very, Cane Hanging Chair,
This egg chair is the ultimate statement piece for any modern garden. It also comes with a cosy seat cushion and pillow, making it the perfect escape to relax.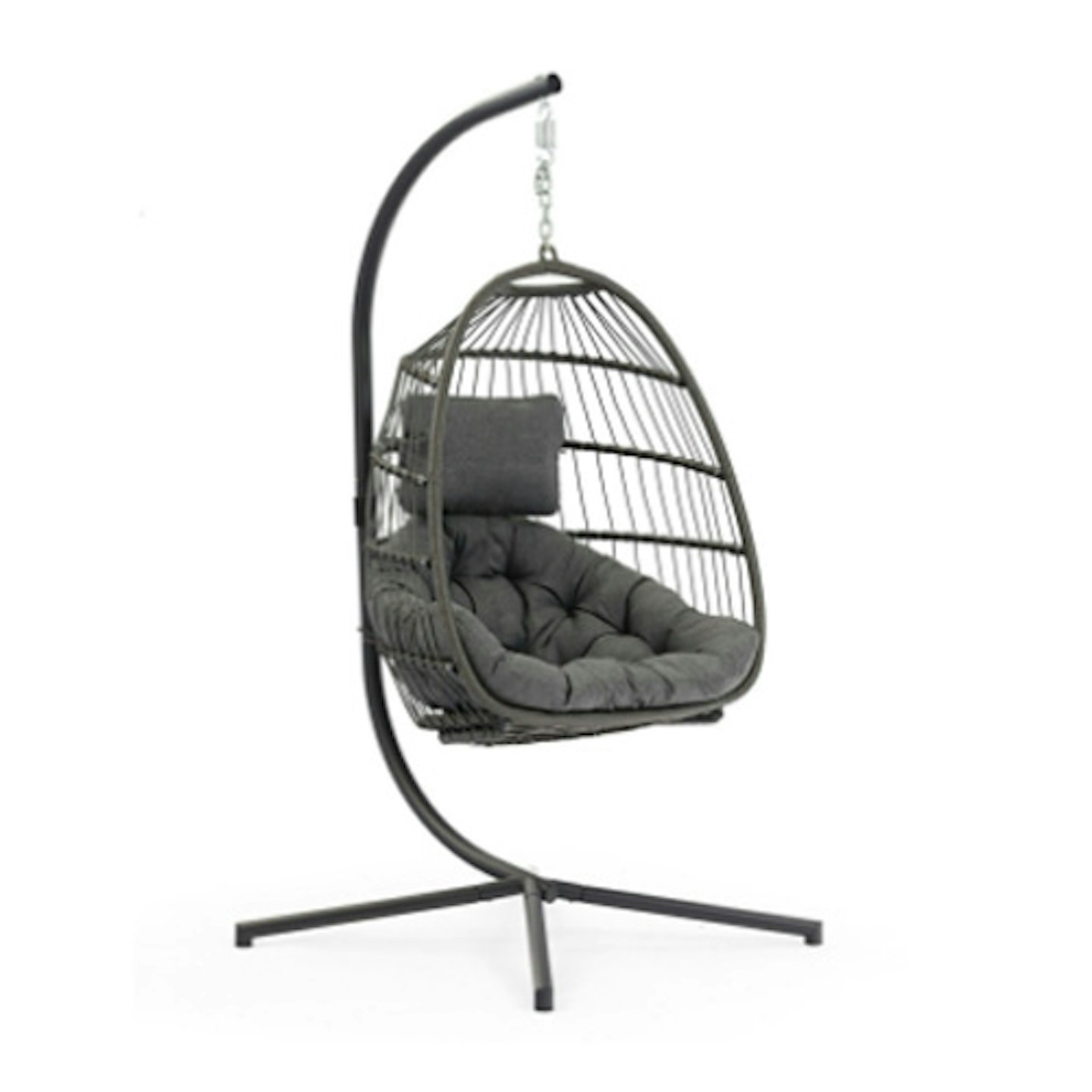 6 of 10
New Hampshire Foldable Hanging Chair
This affordable alternative to the Aldi special buy egg chair is super plush, cute and cosy. It is available in a double or single size or dark grey or light grey. Add a pop of colour with some bright colour cushions to liven it up.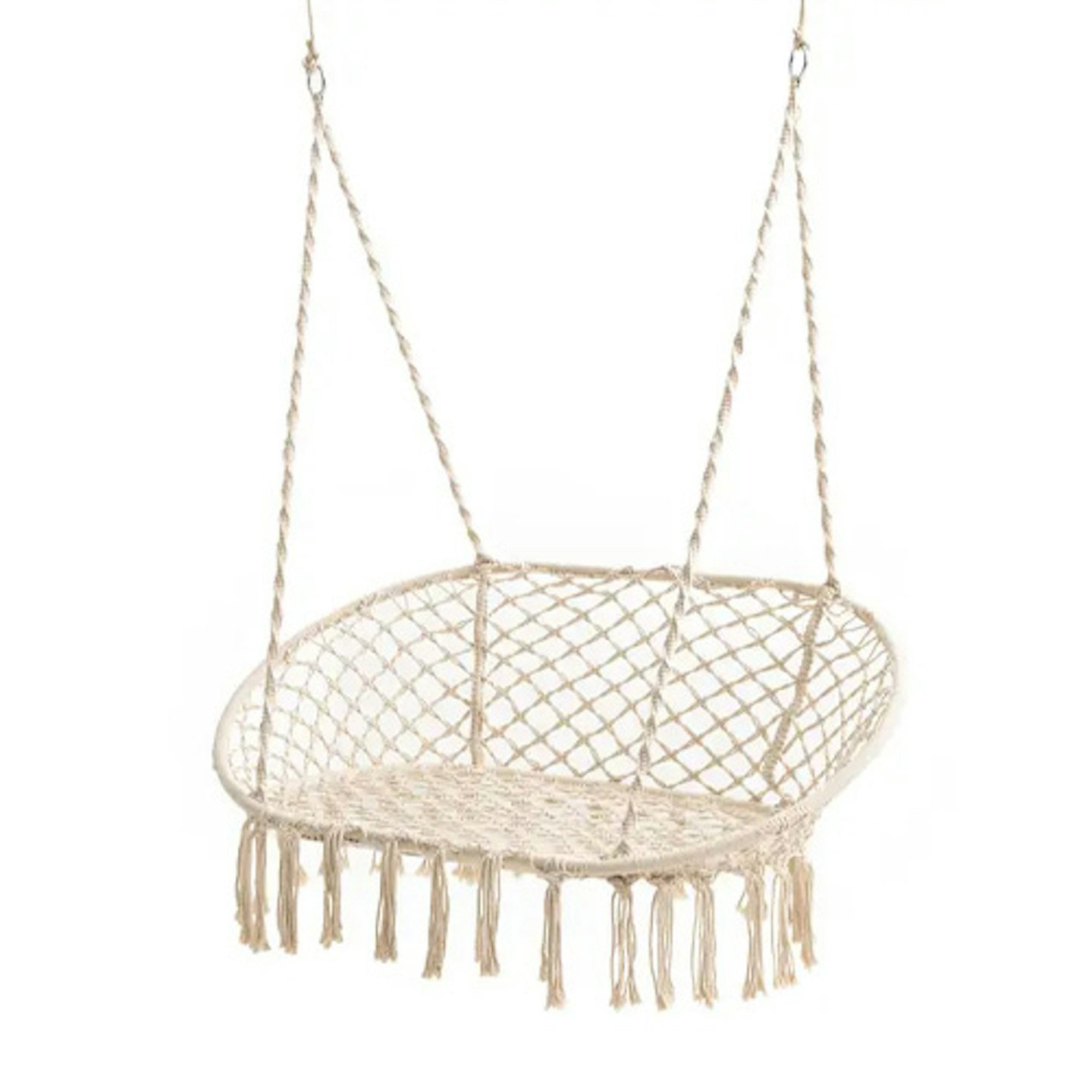 7 of 10
Reelak Double Swing Seat
This romantic two-seater hanging chair is a beautiful addition to your garden. It's comfortable and sturdy, with a double chair for sharing or laying back on. It also comes in black too.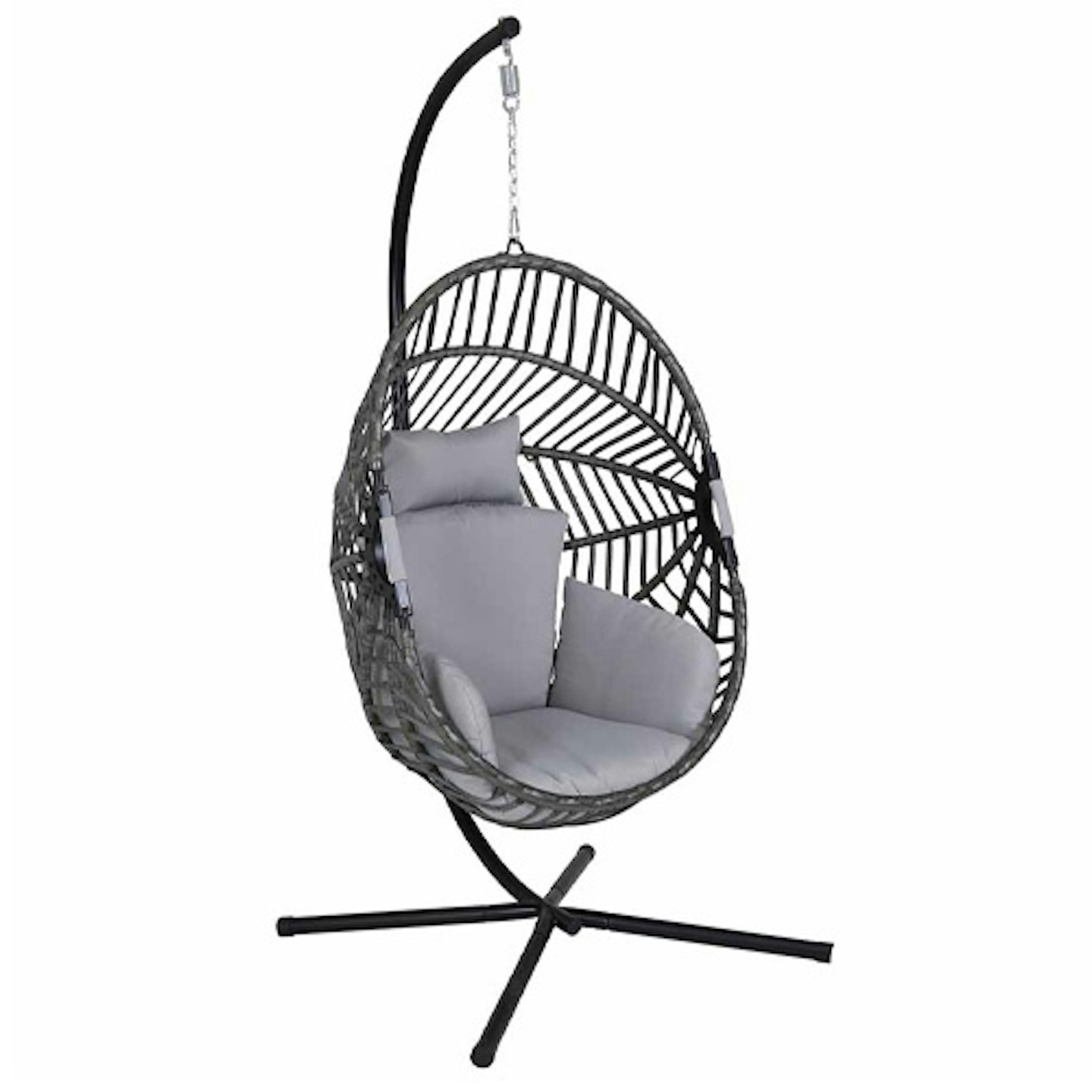 8 of 10
Charles Bentley Rattan Egg Chair Grey
Unwind in style with this egg-shaped hanging swing chair by Charles Bentley. Designed in a dark grey rope and rattan pattern with luxurious cushioned seating. This chair will become the focal point of your outdoor space.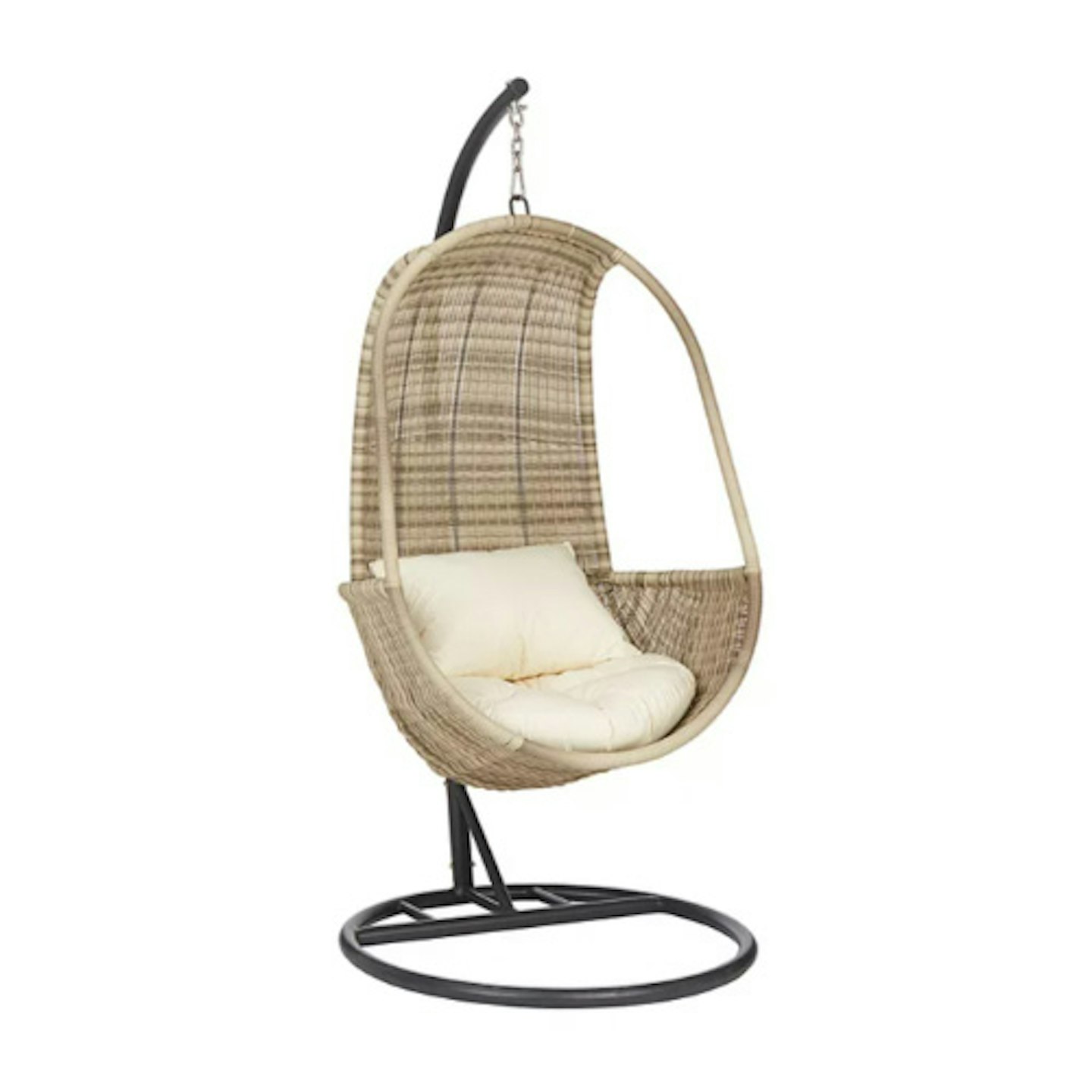 9 of 10
Dante Garden Hanging Pod Chair, Natural
Perfect for the garden or conservatory, this handwoven hanging pod chair comes with a soft, cosy cushion for hours of laying back and chilling.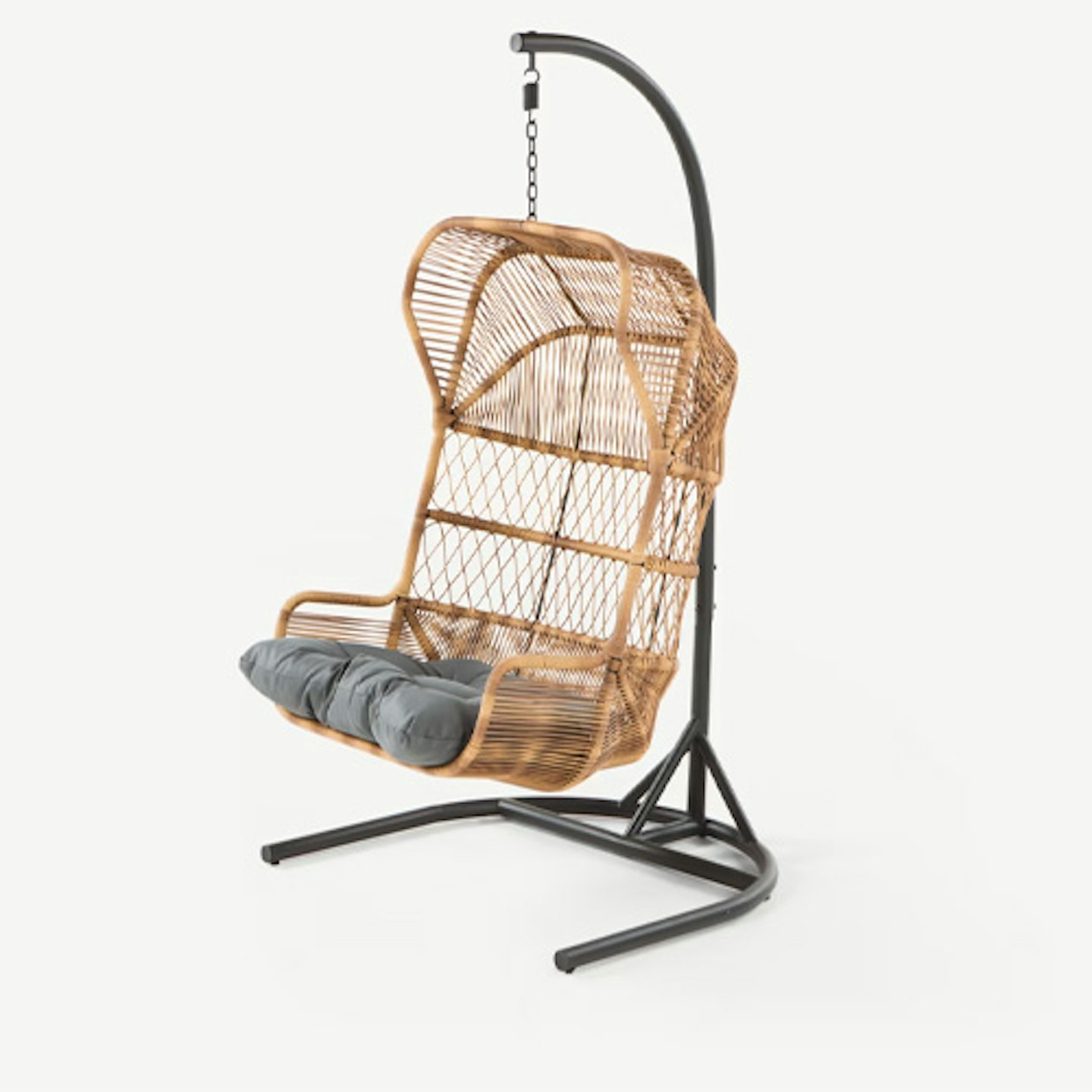 10 of 10
Made Garden Hanging Chair
There is no doubt that this hanging chair from Made is an absolute statement piece. Retro yet contemporary, this chair will be the spot that you're going to get through your summer reading list. Don't forget the playlist and a cold drink.