Since her run on Love Island in 2019, the interest in Molly-Mae's life has only grown. From her favourite £18 beauty product to the £1500 bassinet she bought for her newborn daughter, it seems everyone wants to know where to buy a slice of Molly-Mae's lifestyle, particularly since she bought her new home and has been documenting her choice of interiors ever since.
Following the furore she caused with her light-up mirror, the latest trend that Molly-Mae has started is yet another form of lighting: bubble lights.
Since revealing the newest addition to her home to over 1.2 million followers, the demand for bubble lighting has surged. In fact, Festive Lights reports that searches have increased by 317%, and 'bubblecore' is on course to be the 'newest emerging trend for 2023' for home décor.
It's a pretty punchy statement for any home. But bubble lighting can transform any living space into something bold and whimsical – while keeping that contemporary feel. It's certainly a way to inject some drama into our homes, so it's no surprise that it already has hundreds of thousands of views on TikTok.
With searches for 'bubble lighting' going through the roof, Paul Boston, visual merchandiser from Festive Lights, says: 'As we move into the new year, we are seeing people introduce more playful designs into their homes, thanks to the influence of TikTok.'
So, how do you achieve the dreamy bubblecore lighting look?
To truly elevate a space with a bubble chandelier, you need… well, space. Boston refers to bubble lighting as a 'modern take on a chandelier'. If you know anything about a chandelier, it's that it can overwhelm a room – especially when the ceiling is too low. So, give your new chandelier some breathing room. We also suggest pairing perfectly with a chic boucle sofa to make your space truly worthy of Instagram (or TikTok).
Boston recommends choosing the 'right number of bulbs to complement the space you have available'. Here, you can definitely play with bulbs to fit your personal style and aesthetic. If you're considering bubble lighting for your bedroom, your choice can be warm to create the perfect ambience, complement the room and give it a cosy feel.
We've listed our favourites here. Hopefully, they'll take your fancy.
SHOP: The Best Bubble Lighting To Elevate Your Home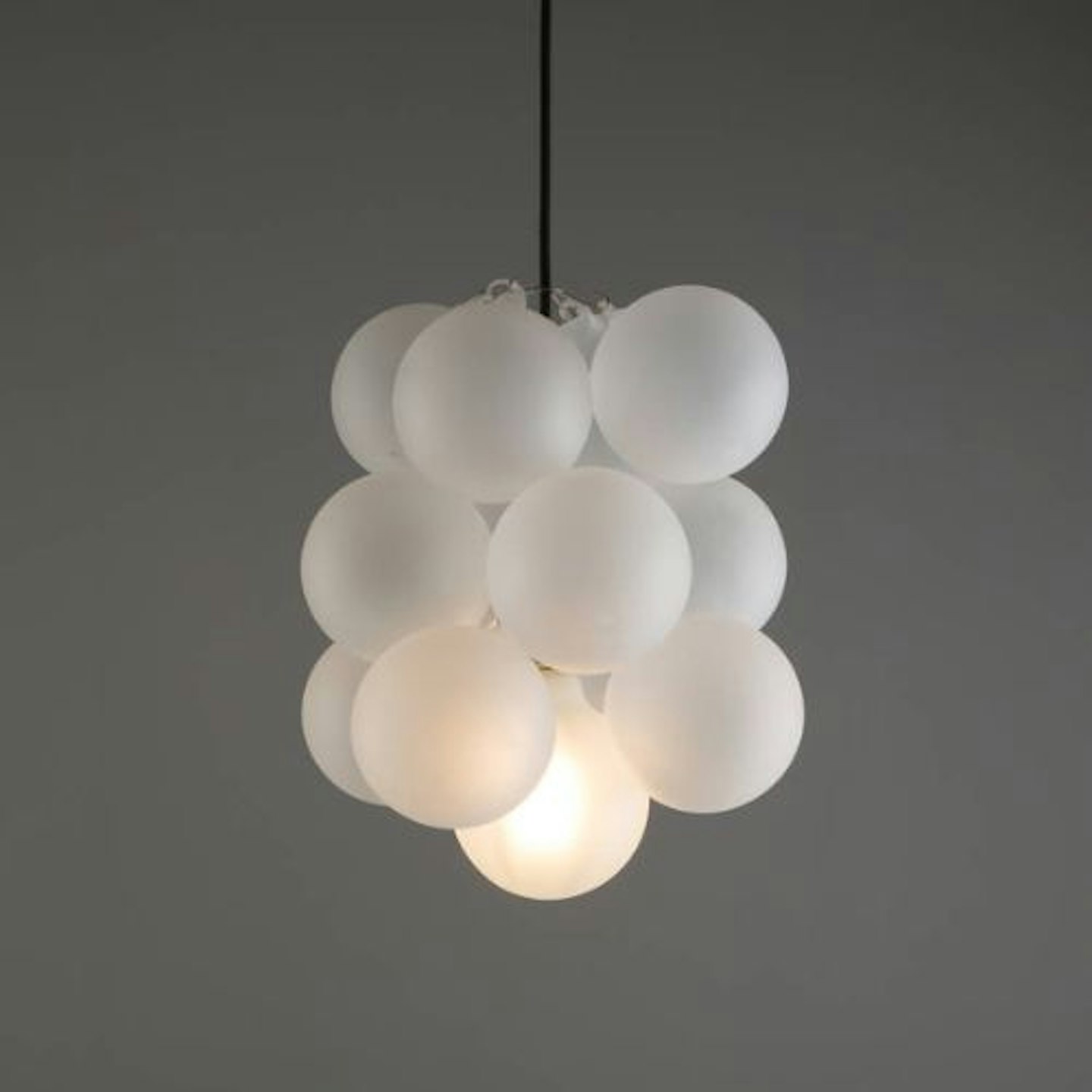 1 of 8
Bubble Chandelier Light
Add some drama to your space with this close-knit bunch. You can choose between eight, 12 and 16 bulbs, clear or frosted. This chandelier could fare well in smaller spaces.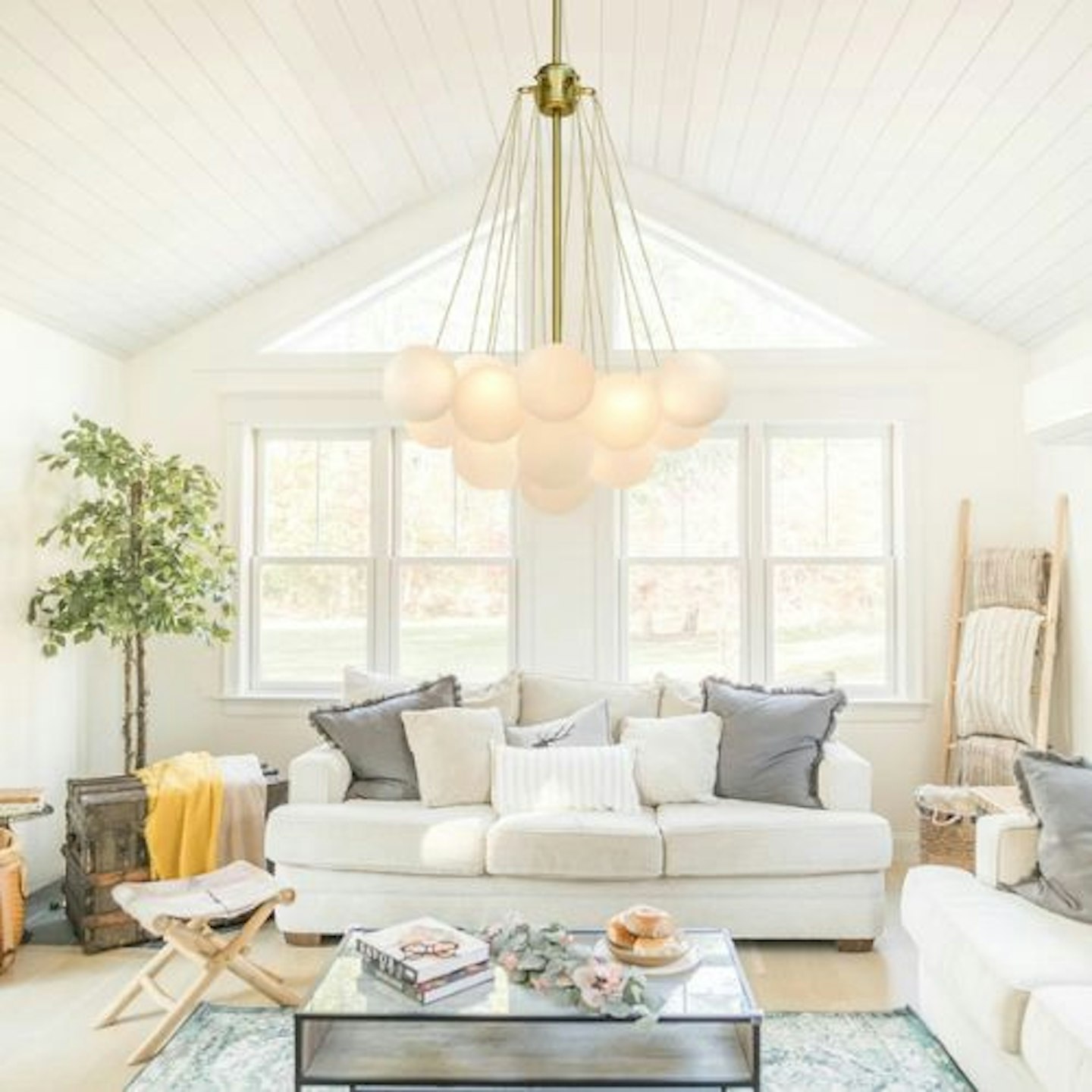 2 of 8
Canora Grey 3-Light Bubble Chandelier
Add a cloudy vibe to your home with this cluster. It's perfect for a kitchen island, dining table or living room.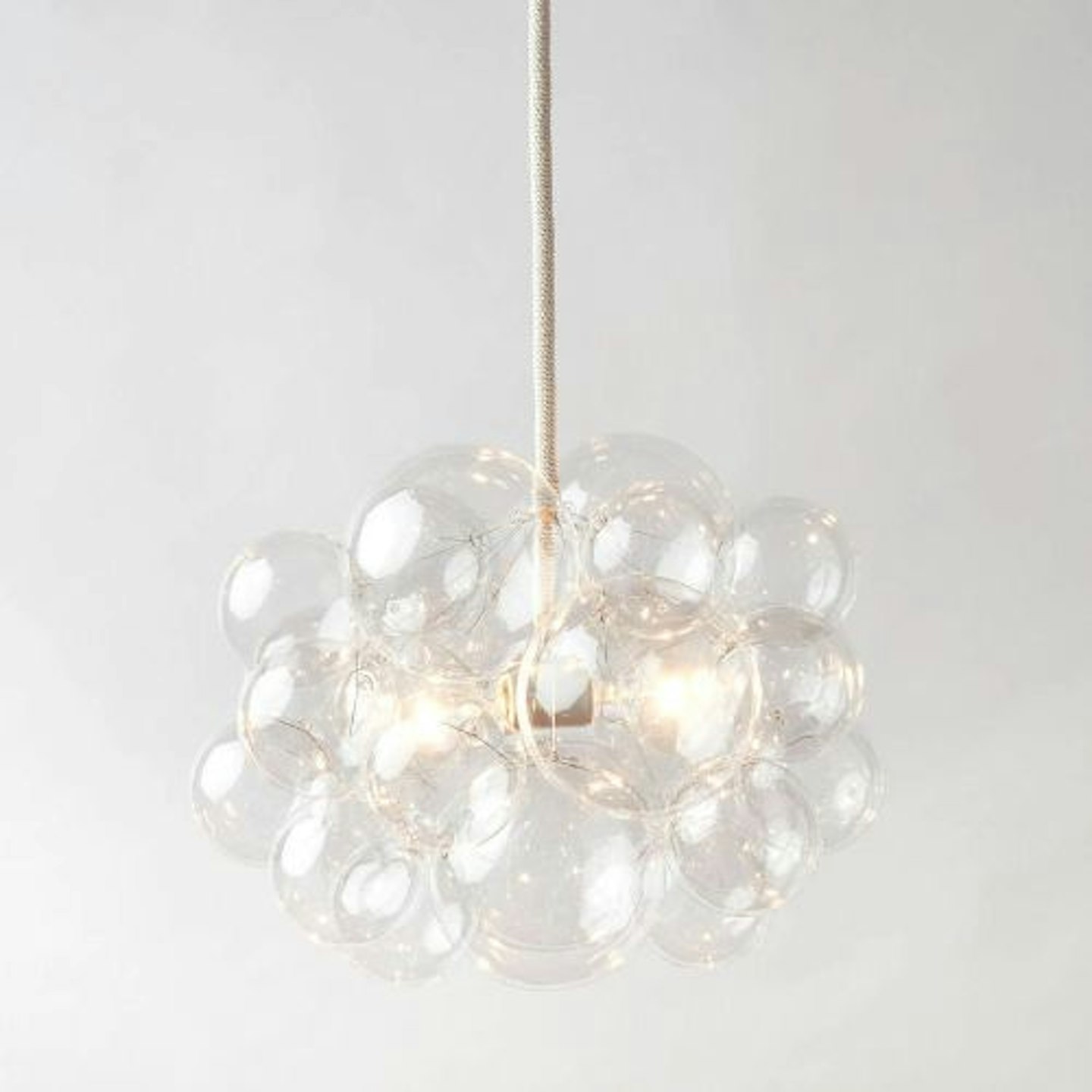 3 of 8
25 Bubble Chandelier
If you'd rather opt for clear bulbs rather than cloudy, this one's for you. With this light, you can choose the colour of your cord and the ceiling canopy so it feels personalised.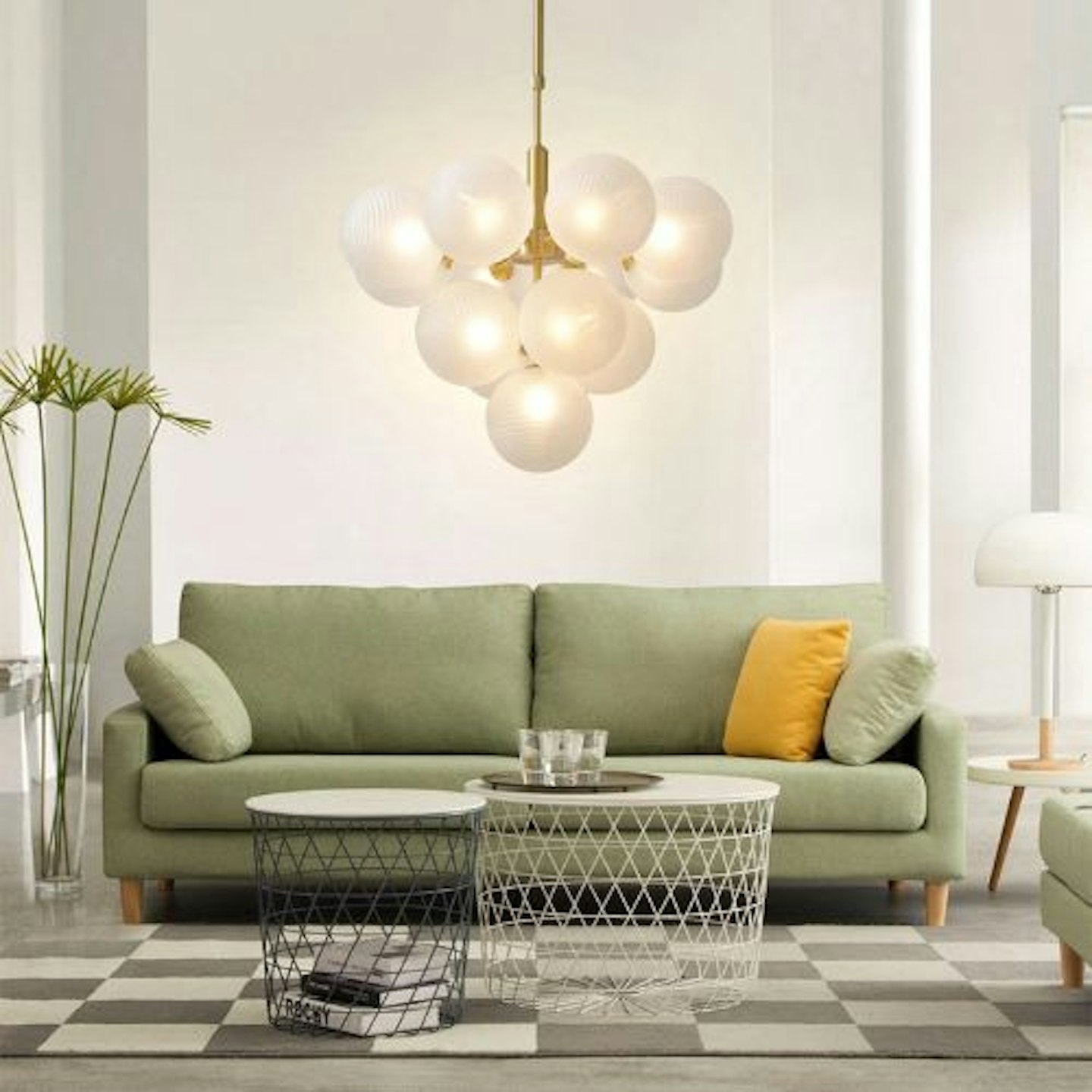 4 of 8
Water Ripples Chandelier
The bubbles are slightly textured here for a rippled effect. We love the gold accents which would go well in any living room.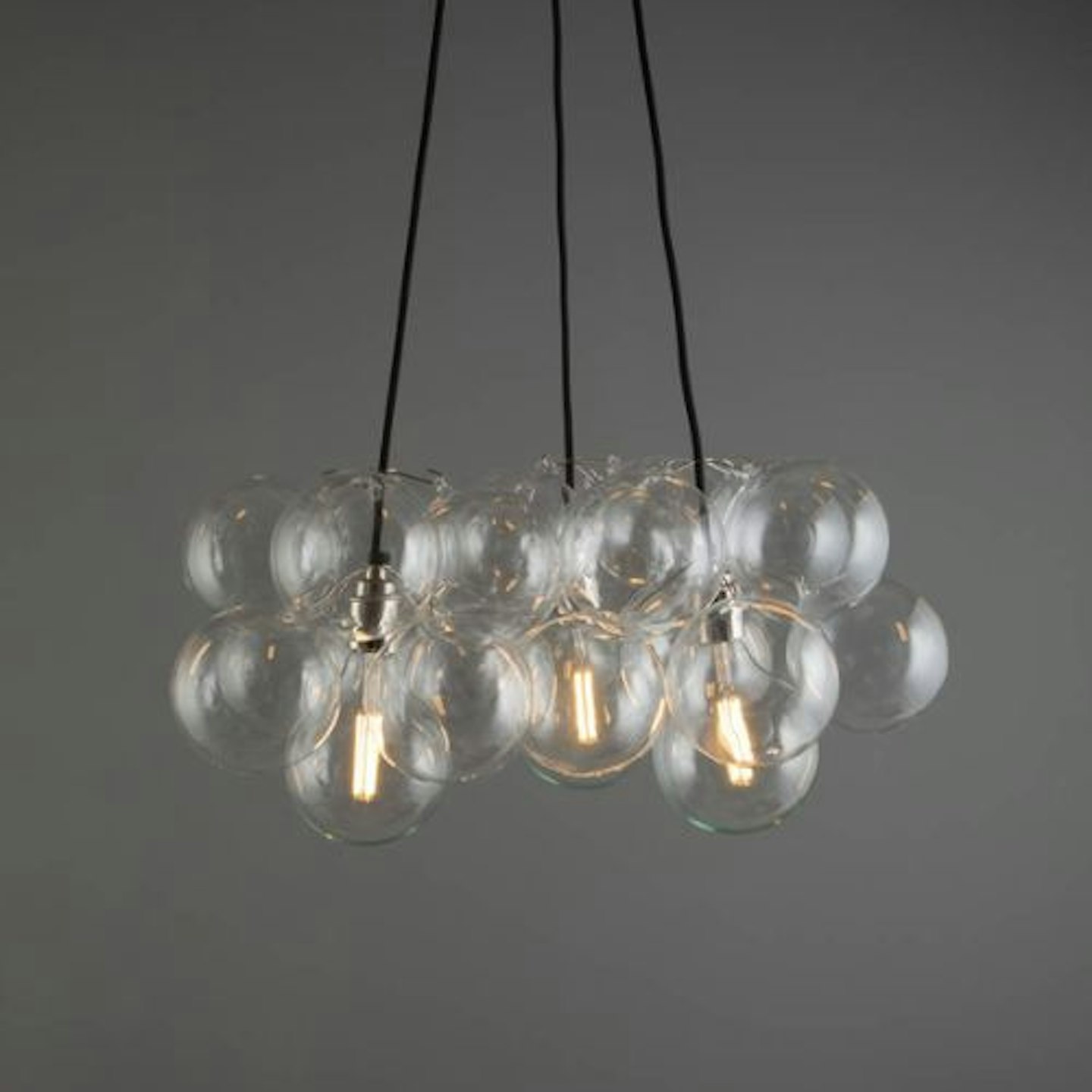 5 of 8
Bubble Chandelier Light Three-Point
Dramatic, decadent and downright dreamy, we love this beautiful bauble light from Dowsing and Reynolds. Featuring a silver three-point rose with black fabric cable and beautiful glass orbs, this statement piece is perfect to show off in a dining room.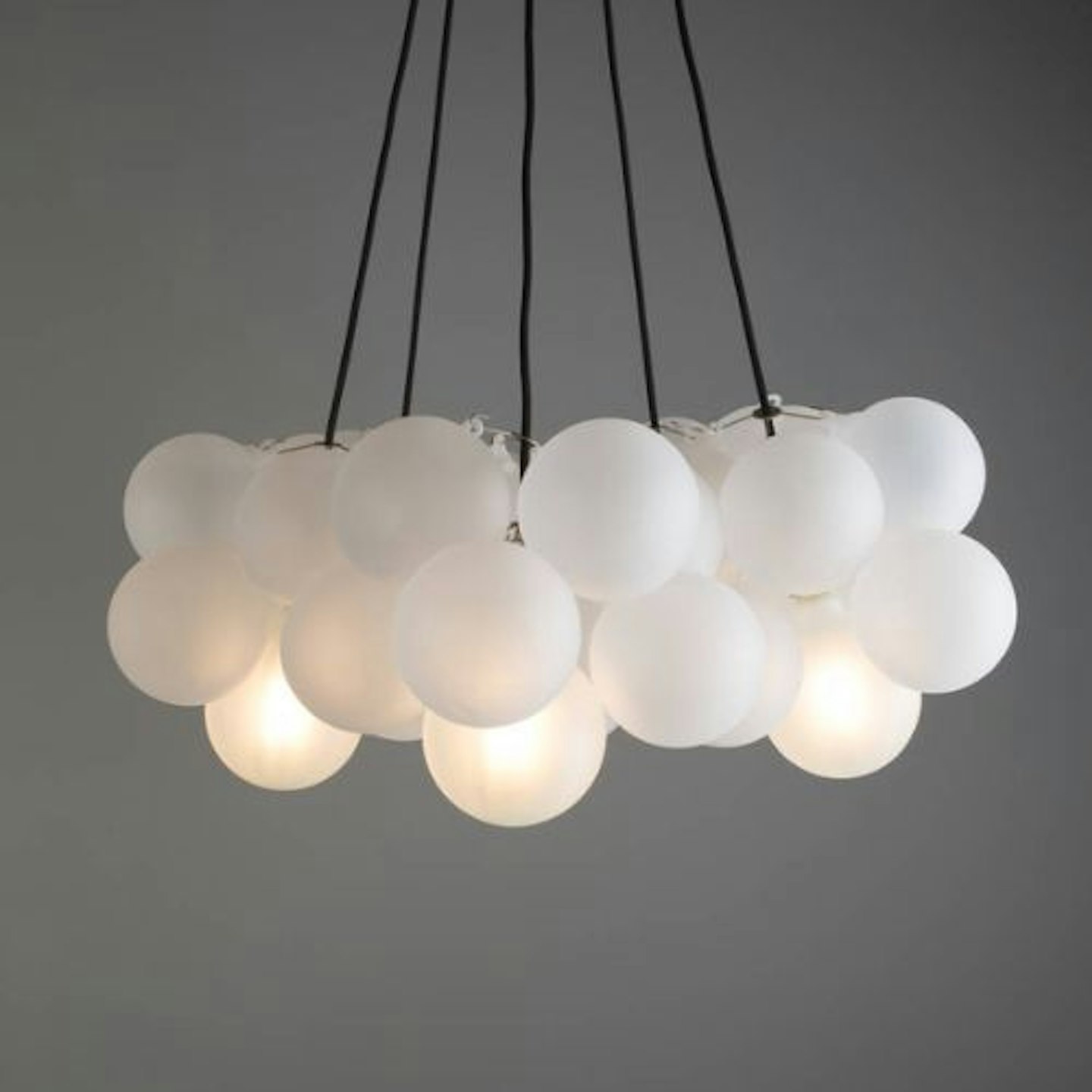 6 of 8
Frosted Bubble Chandelier Light Five Point
This chandelier is very similar to the style Molly-Mae showed off on Instagram. Arriving with 40 baubles, it will add an ambient glow wherever you place it.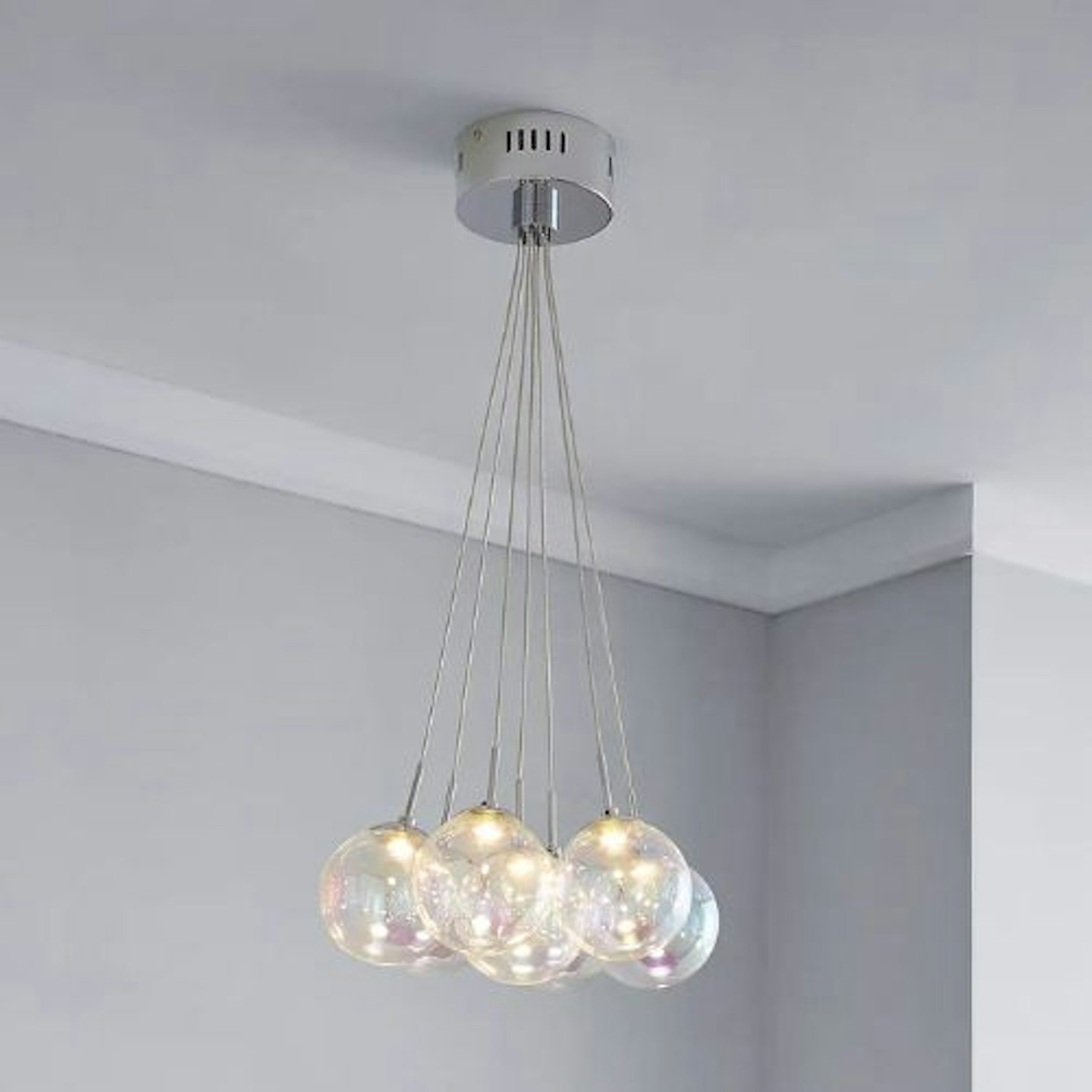 7 of 8
Elmira 7-Light Bubble Glass Ceiling Fitting
Ideal for a smaller space, we love this cute little cluster of bubbles. The iridescent bubbles are ideal for homes with a clean, modern vibe and they're LED and dimmable, so you can really set the mood.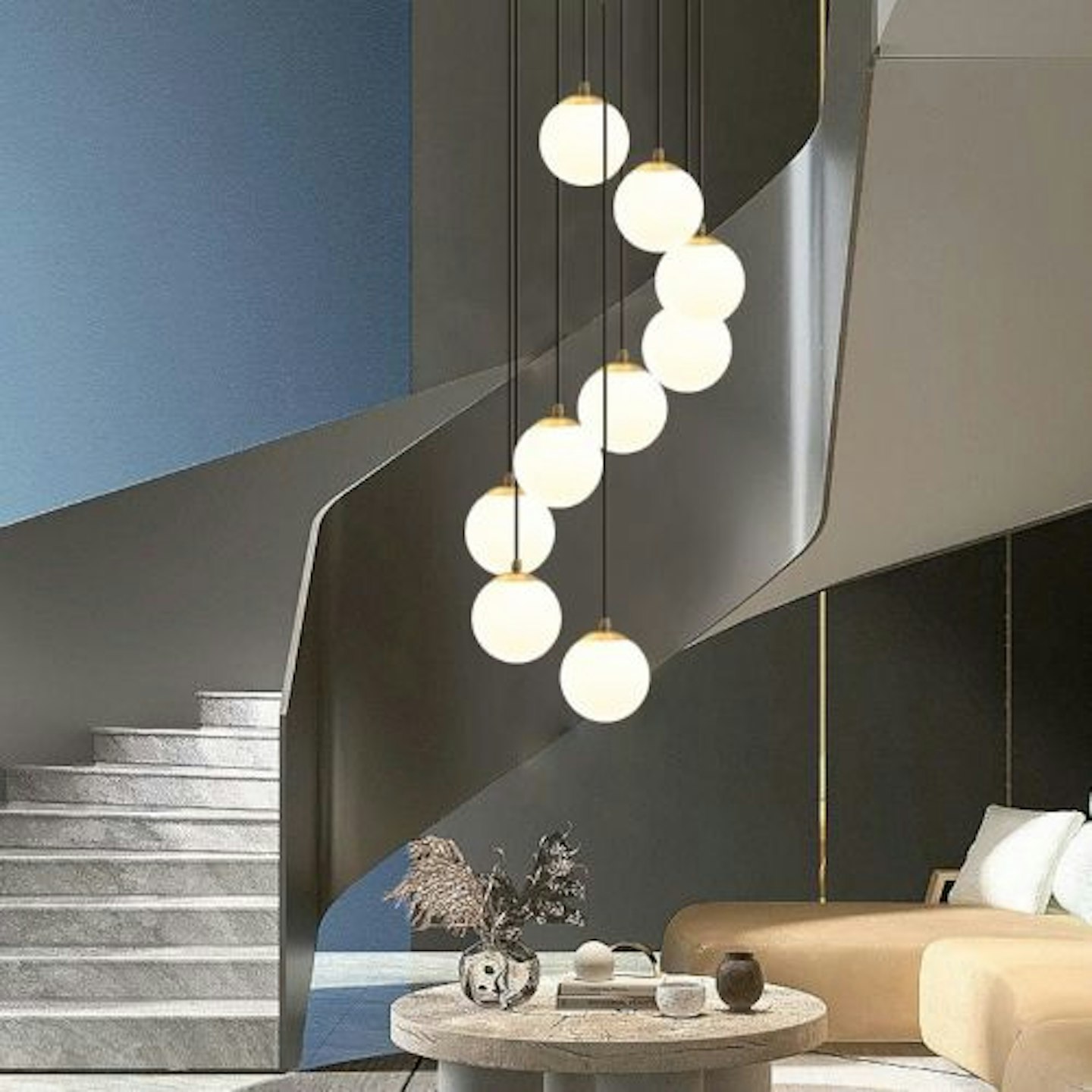 8 of 8
Bubble Staircase Chandelier
If you have a larger space to fill, this chandelier is pretty amazing. Whether it's positioned by a sweeping staircase or in a large hallway or landing, this is a truly statement piece that will add wow factor to your home.