Not since Sarah Lund's scandi-noir knitwear in The Killing or Betty Draper's cocktail dresses in Mad Men have we seen television exert such an irrefutable influence over our clothes. Whether you're aiming for the avant-garde glamour of Villanelle or the understated perfection of Shiv Roy, online streaming platforms may have changed the way in which we engage with TV but they certainly haven't lessened its influence. In fact, when it comes to our wardrobes, they've only served to strengthen it.
When you say the words 'Killing Eve', you conjure a vision of Villanelle navigating the streets of Paris in a bright pink, tulle dress. A dress which was designed by Molly Goddard, as part of her SS17 collection. 'The pink Jack dress was from our archive and not for sale when the show aired,' Goddard says. 'But it has since broadened our exposure to different audiences which has been very exciting to see!' Fashion search platform Lyst, in partnership with Pinterest, reports that Villanelle's wardrobe, in both the first and second series, sparked a 1,060% increase in online searches year on year. Net-a-Porter, meanwhile, says it bought an updated version of Molly Goddard's dress for AW19 and it performed so well that it became the best-selling dress in Molly Goddard's main collection for the season.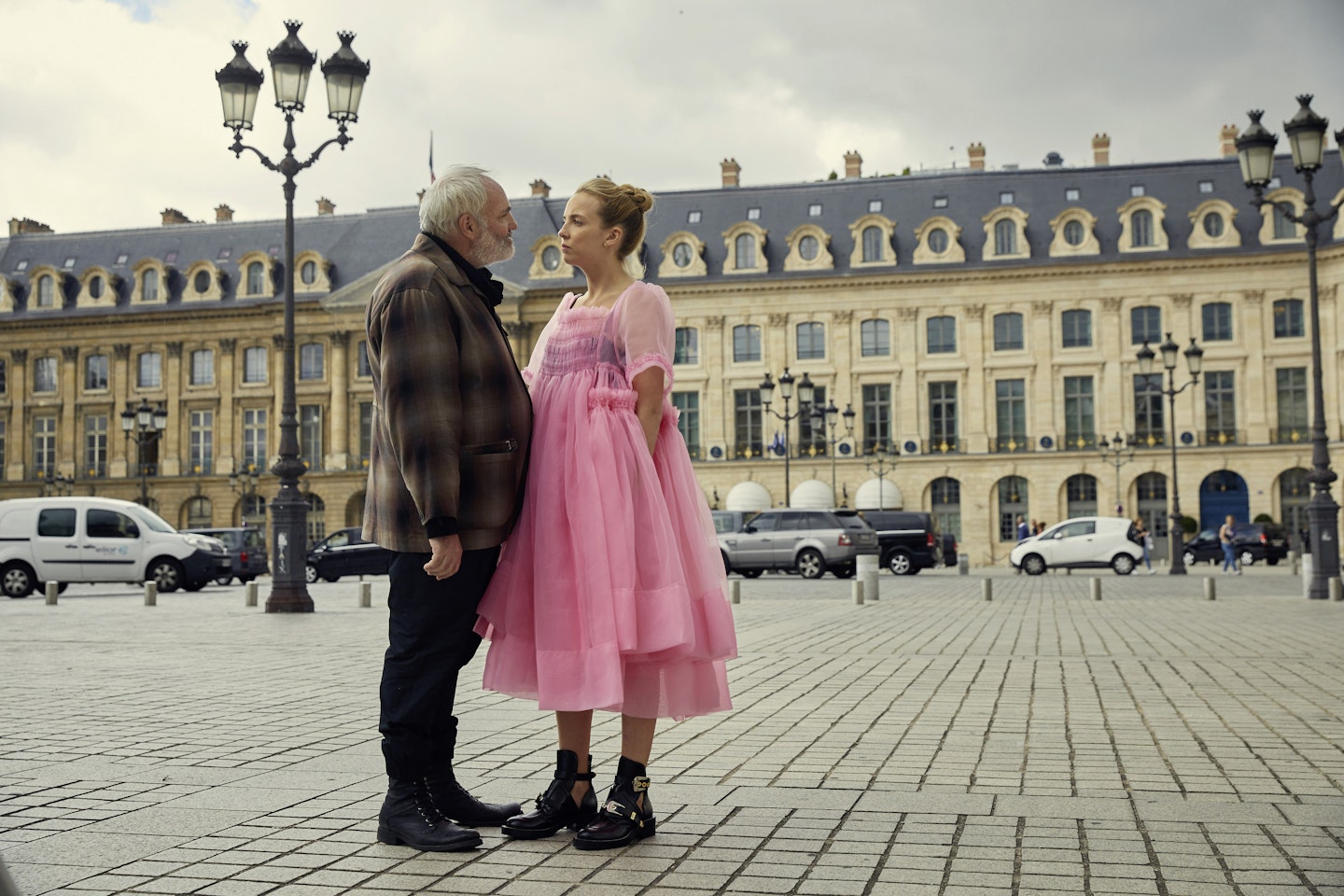 Alongside Molly Goddard, Villanelle had a wardrobe full of Dries van Noten, Alexander McQueen, Rosie Assoulin and Olivia von Halle, whose tiger print kimono was featured in season two. 'We saw a huge surge in traffic and, while the kimono that Villanelle wore had already sold out, it had a halo effect on sales and we had another slew of enquiries as soon as the new season was released in the UK,' says von Halle. Fleabag, too, saw similar success with a black jumpsuit that Phoebe Waller Bridge's character wore in the opening episode of season two. Ray Holman, the show's costume designer, had selected the £38 jumpsuit from Love, a label stocked in Topshop. It sold out within a day of the episode airing on TV.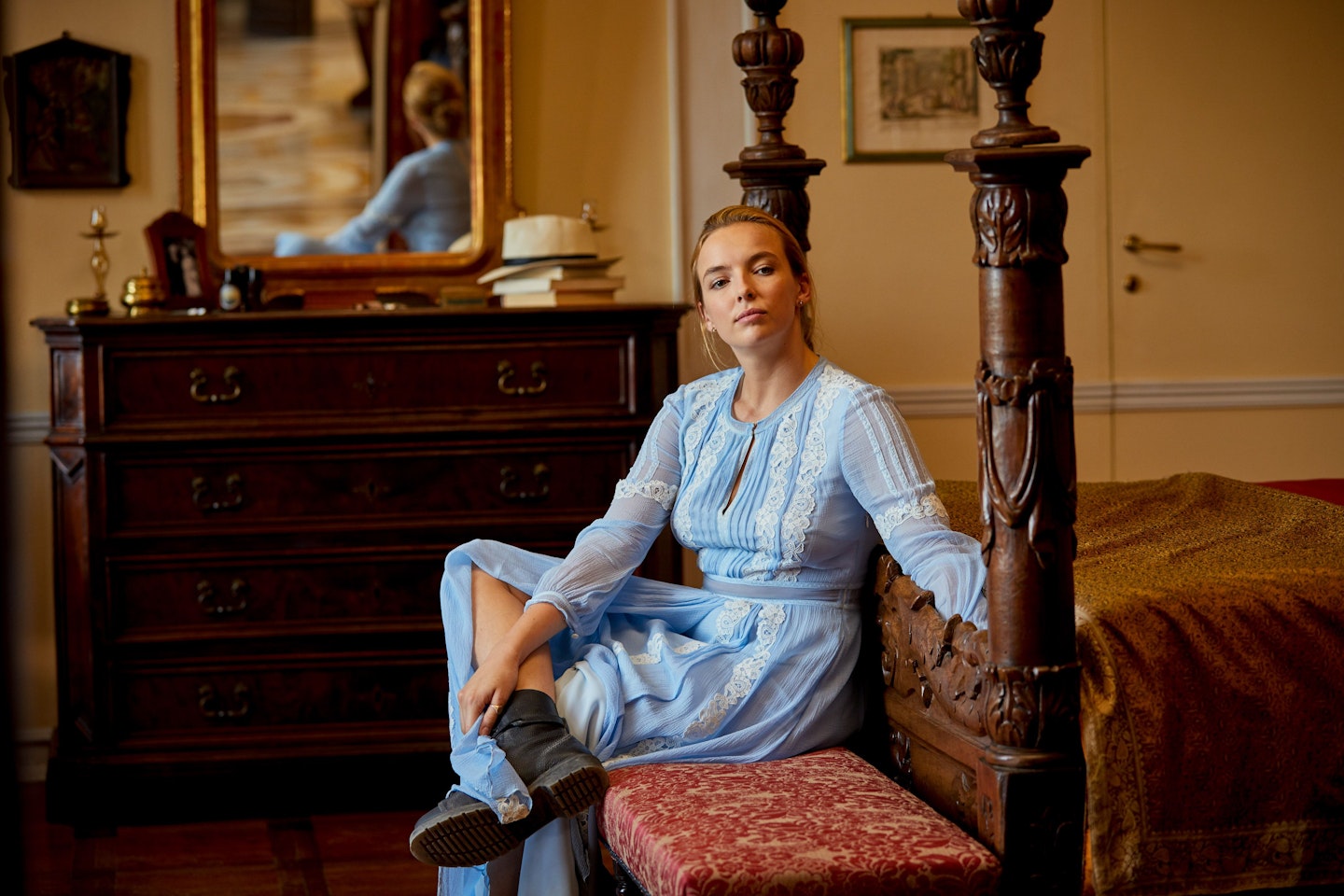 There have also been shows that have reignited trends and inspired feelings of sartorial nostalgia. Friends, which aired its last episode in 2004 but is available to watch in its entirety on Netflix, is still playing a part in what we wear. There are over 189,000,000 Google search results for Rachel Green's style, for example, including articles written just this year which dissect her every outfit. In fact, Ralph Lauren launched a whole Friends collection in September to celebrate the show's 25th anniversary, By Far has seen huge success with its 'Rachel' bag and Balenciaga, too, seemed to take inspiration from the sitcom with its Oversized Layered Parka Coat. A piece from its AW18 collection, it launched a thousand memes comparing it to the moment where Joey wears all of Chandler's clothes at once.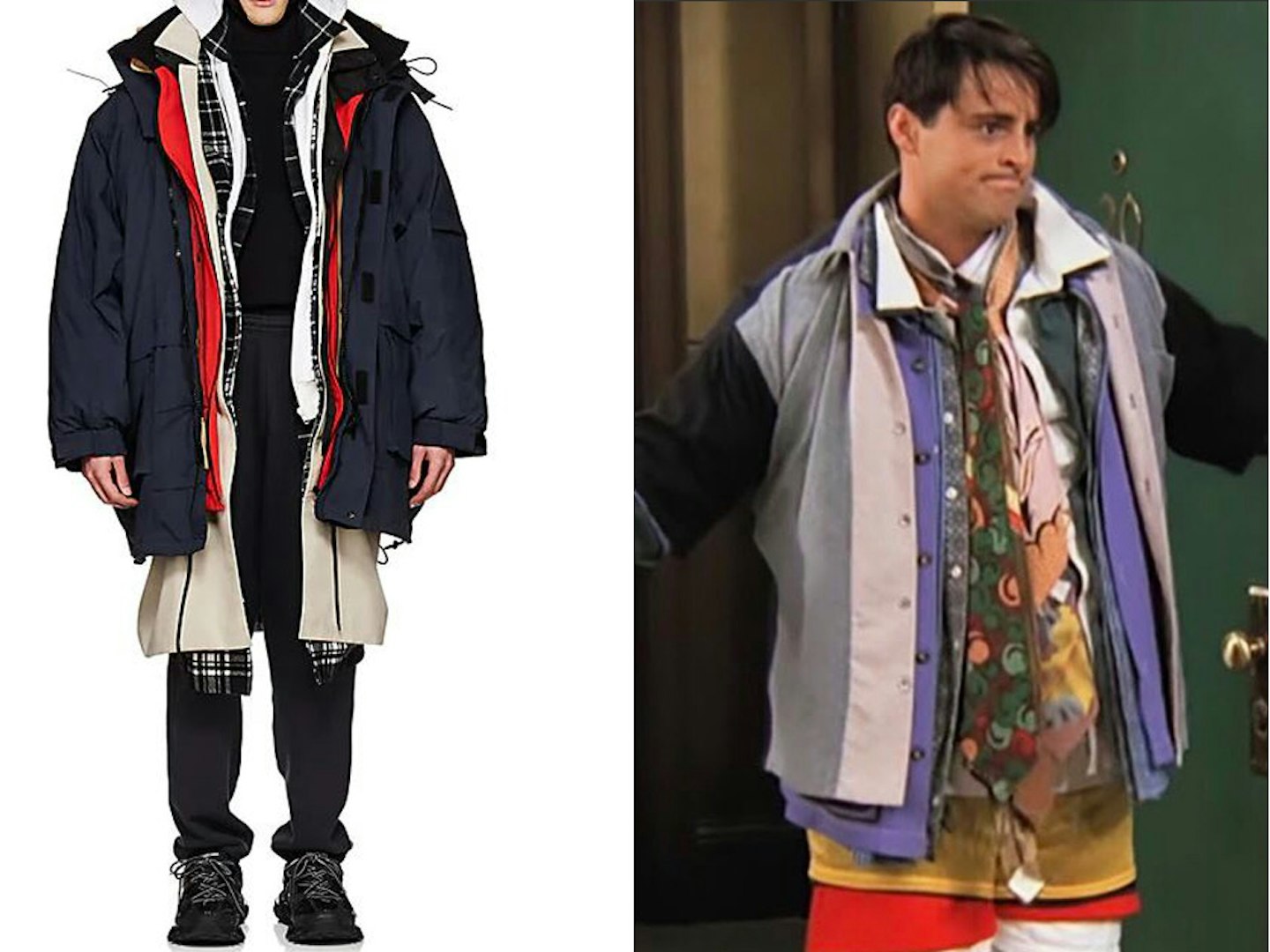 Or look at the latest series of Stranger Things, also on Netflix, set around a group of young teenagers in 1980s America. It's rife with plaid shirts, oversized silhouettes and big accessories. The clothes are used to reflect the narratives of the characters, to great effect. Eleven, for example, played by Millie Bobby Brown, swaps the men's shirts she lives in during the first two seasons for loud printed dresses, scrunchies and belts. She's growing up, finding her sense of self and choosing clothes to reflect that – a feeling to which we can all relate. So influential is the aesthetic of the show that Nicolas Ghesquiere, creative director of Louis Vuitton, even produced a Stranger Things T-shirt as part of his SS18 collection and online searches for Eleven's shirts continue to increase.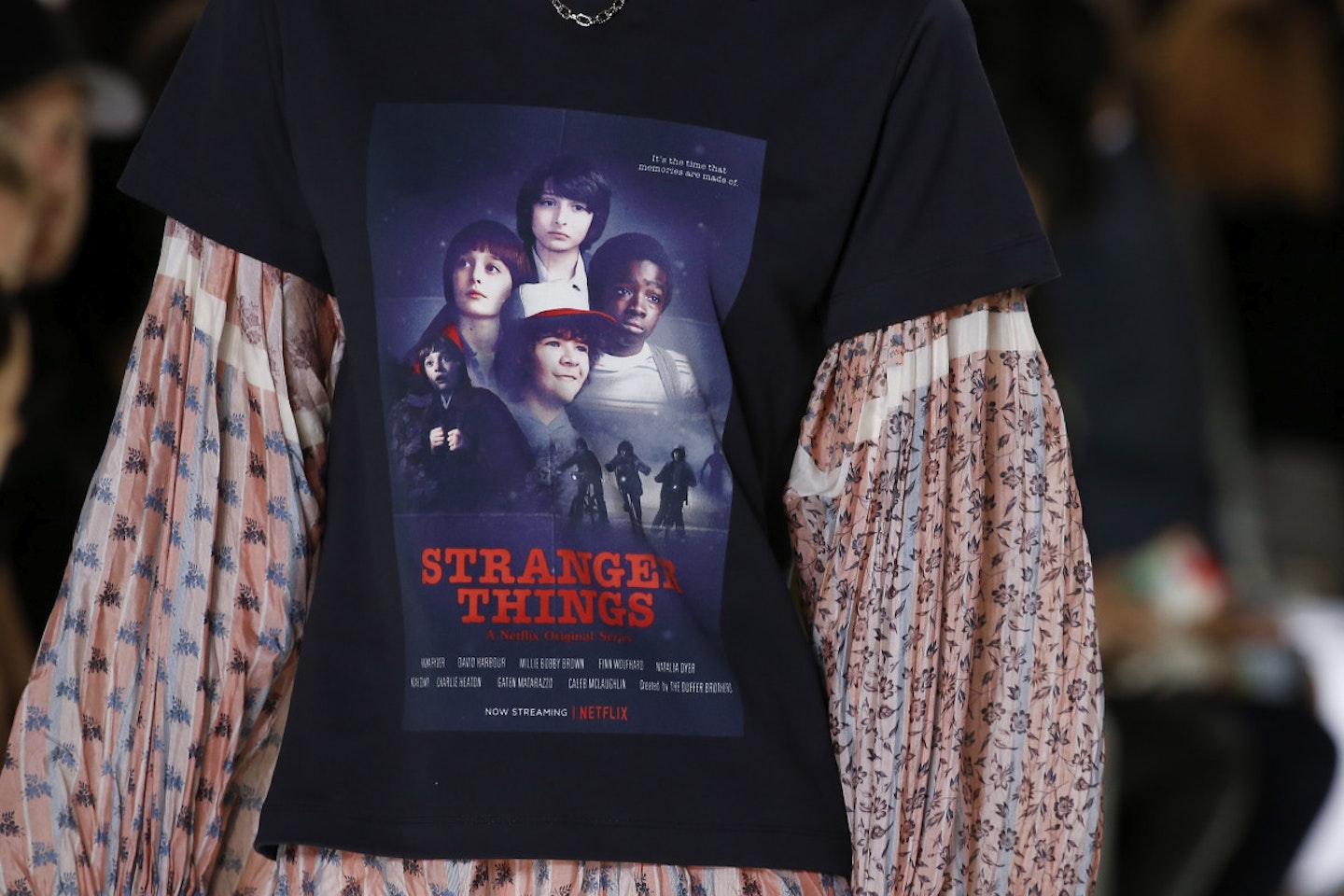 Another show inhabiting the world of fantasy is His Dark Materials, starring Ruth Wilson as the formidable Mrs. Coulter. Her costumes are imbued with the spirit of Old Hollywood – luxurious silk dresses and neat, tailored suits – echoing some of the AW19 collections such as Burberry and Longchamp, which were permeated by a prim-and-proper mood with undertones of old-fashioned glamour. Mrs. Coulter, much like the other sartorial heroines of Villanelle, Fleabag and even Eleven is confident and defiant – qualities expressed through her clothing. As Caroline McCall, the show's Costume Designer says, she is 'non- conformist, she abides by some of the rules but twists them. She's always defying conventions and bending the rules.'
Similarly, Succession's Shiv Roy has become something of a style pin-up in fashion circles. Michelle Matland, the show's costume designer, told the New Yorker that the sharp, tailored pieces for which Shiv is so recognised are her 'new armour' – armour that's courtesy of The Row, Stella McCartney, Max Mara and Armani. These clothes are instilled with their own quiet power; they denote an understanding of personal style and fashion credentials but they're not flashy. Lyst says it has seen a flurry of online searches directly relating to Shiv's wardrobe, too. When the second series began in August last year, fashion searches including the keyword 'tailored' increased by 22%; searches for 'wide-leg trousers' rose by 133% in October and searches for 'women suits' were up by 24%.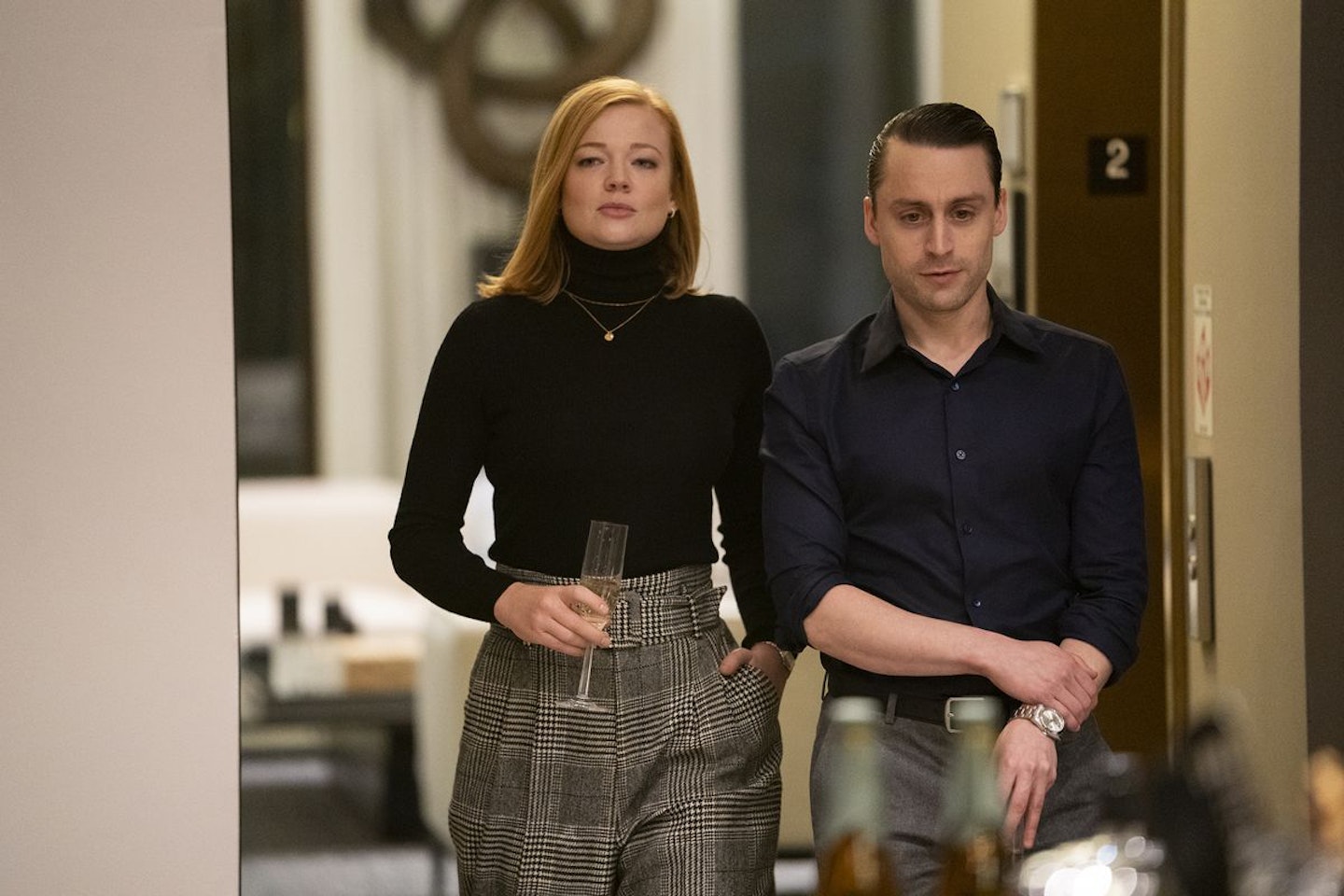 Could this be the future of fashion? Heather Gramston, Buying Manager at Browns, certainly thinks so. 'What is so good to see is stylists using designers' collections to dress the cast instead of making dedicated costumes – like it used to be – meaning the clothes are now available to everyone.' For Gramston, the accessibility of TV shows on various streaming platforms offers a new way to shop – and a way for young designers to gain some valuable exposure.
'Shows are exposing the audience to young and established designers through what the cast are wearing. Killing Eve and Molly Goddard is a great example – Jodie Comer wore Molly both on and off screen and everyone went crazy for it. Also, with social media and online we are able to understand what the piece is, creating a whole new way to shop.' Libby Page, Net-a-Porter's Senior Fashion Market Editor agrees that TV will continue to be a huge influence on fashion. 'As cult TV programmes continue to draw in a huge millennial crowd, designers are looking at ways to take inspiration from these to draw in that audience.'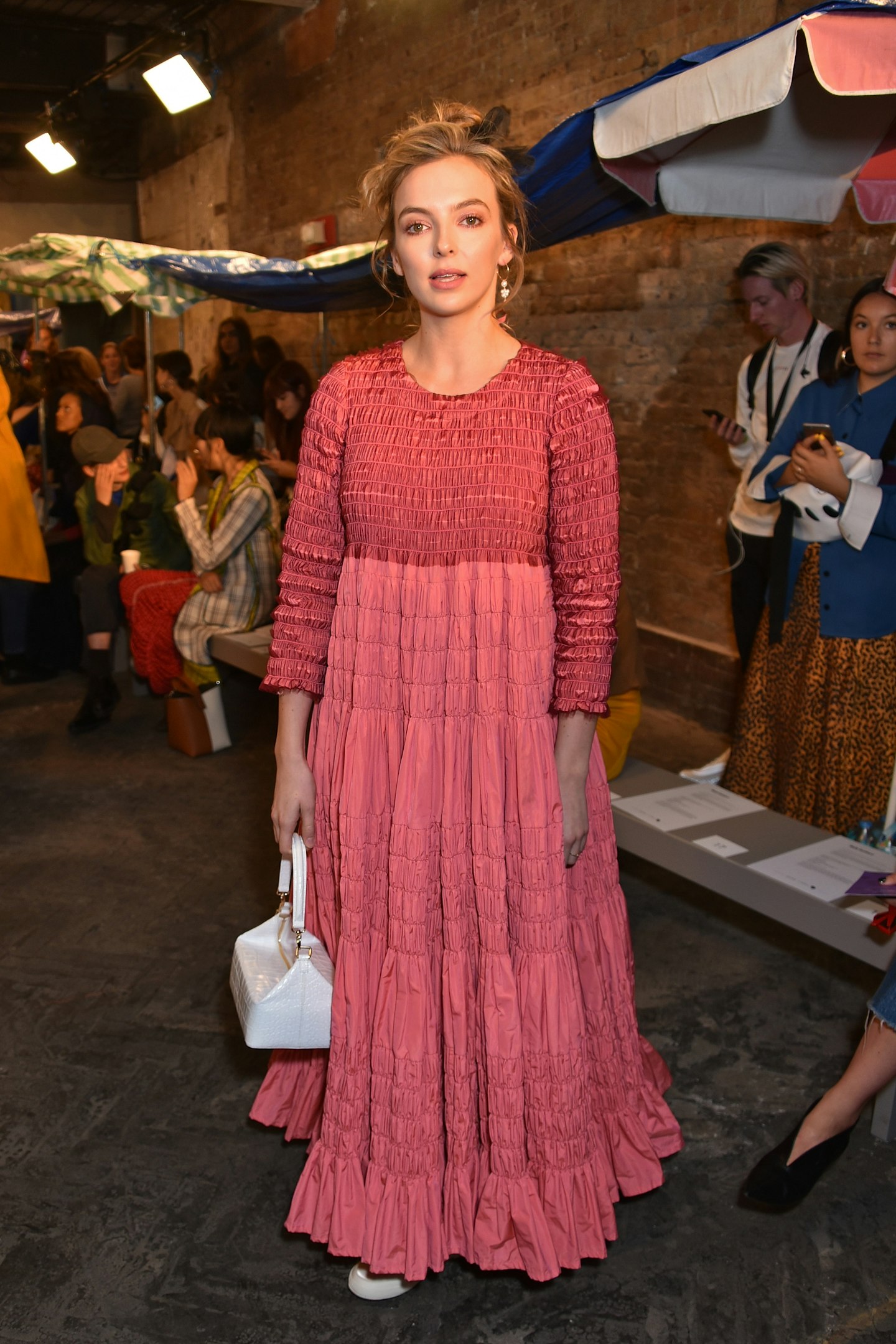 It's not necessarily that we want to be these characters – Villanelle, for one, is a psychopathic assassin – but we do want to dress up as them. 'Seeing women in positions of power and in whom we can recognise ourselves is important,' says Professor Carolyn Mair PhD, author of The Psychology of Fashion. 'We engage and identify with them, to the point where we want to dress like them and take on some of their characteristics.' So, as the new year begins, there's only one question to ask yourself: are you more of a Villanelle or a Shiv Roy?
READ MORE: Literally Just A List Of Fleabag And The Hot Priest's Best Moments