You've read the 'what's hot' lists, you've seen the fashion pages. They say full colour is in, they say everyone who's anyone is doing it. You nod, you find anything in your cupboard in the colour of the moment, as you want to be on trend, dressing for right now. So, yes to the fluoro orange sweater. Hooray, I kept those electric blue cords. Let's look like the girl on the cover of that magazine. All the colour, all the shades, I'll feel so Liechtenstein, so on-trend. Ladies and gents, I'm going to brighten up my life, you say.
Then you're out of the house and on the bus and it suddenly occurs to you: you're going to work dressed as Mr Tumble. Hello there, Madam, do you earn your living dressing up as a clown at kids' parties on the weekends? Do you have one of those fake carnations in your button hole that squirt actual water? I bet you're a right hoot once you've had a gin! Colour, in truth, screams, 'I'm fun, me!' and that, my friends, is how to feel spectacularly un-fun. It was a good idea at 8.50am and now it's 11am and you feel too loud, too much, too jolly.
Be funny, be amusing, have all the one-liners but please, do it in dark colours. Life is about lowering expectations, so let them think, 'This one in her big black coat and her black boots and black jeans will be a bit down, a bit dull,' and then, wallop – you can be light and airy and fizzy without the burden.
Colour is for the under-10s. If you're reading this and you're nine then, go ahead, match that shocking pink velour unicorn hoodie with yellow daisy jeans. But if you are older, then pack it in. Black, navy, heather grey are your friends. Let the world think you're quiet and slightly moody and a bit glum - and then be the life and soul.
If you glean anything from my witterings then please let it be this – wear black. Never feel like you need to 'jazz it up' (and let's never use that phrase out loud) with a bright belt or a colourful hat or an upbeat red bolero. Black is cool, black is hot (yes, at the same time – this colour literally breaks science). Even if you're not feeling up to dealing with the whole day – meetings, chats, people, traffic, smiling, lunch, the supermarket – if it's all a bit of a headache, everything will be easier if you're in black. You can handle it, you're winning, you've got everything under control. Because whatever happens, you look bloody brilliant.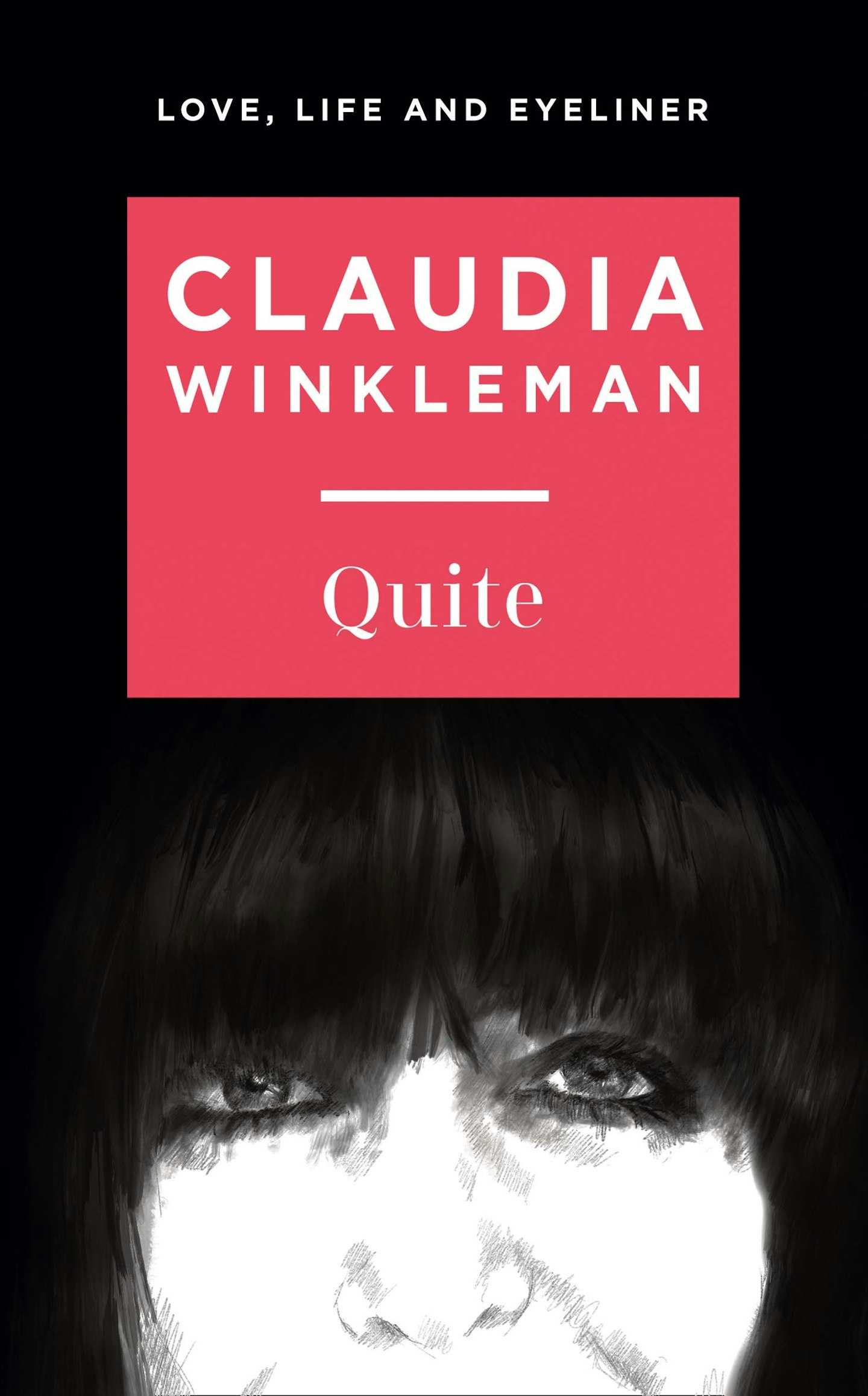 Black says 'yeah' without being offhand. It says 'I know what I'm doing' without being boastful. Black says chic without needing to be actually French and it says ageless without being boring. Black is the king of fall-backs too. Can't decide what to wear, what goes with what? Put on all black. Can't really handle pairing separates – argh, does this cream shirt work with this brown blazer? All-over black gets rid of all of that. Black is mysterious, it's deeply unflappable and effortless, even when you're making an effort. Be exactly who you already are, but do it in black.
Quite by Claudia Winkleman is published by HQ, HaperCollins in hardback, eBook and audiobook
Lunchtime Shop: What To Buy Today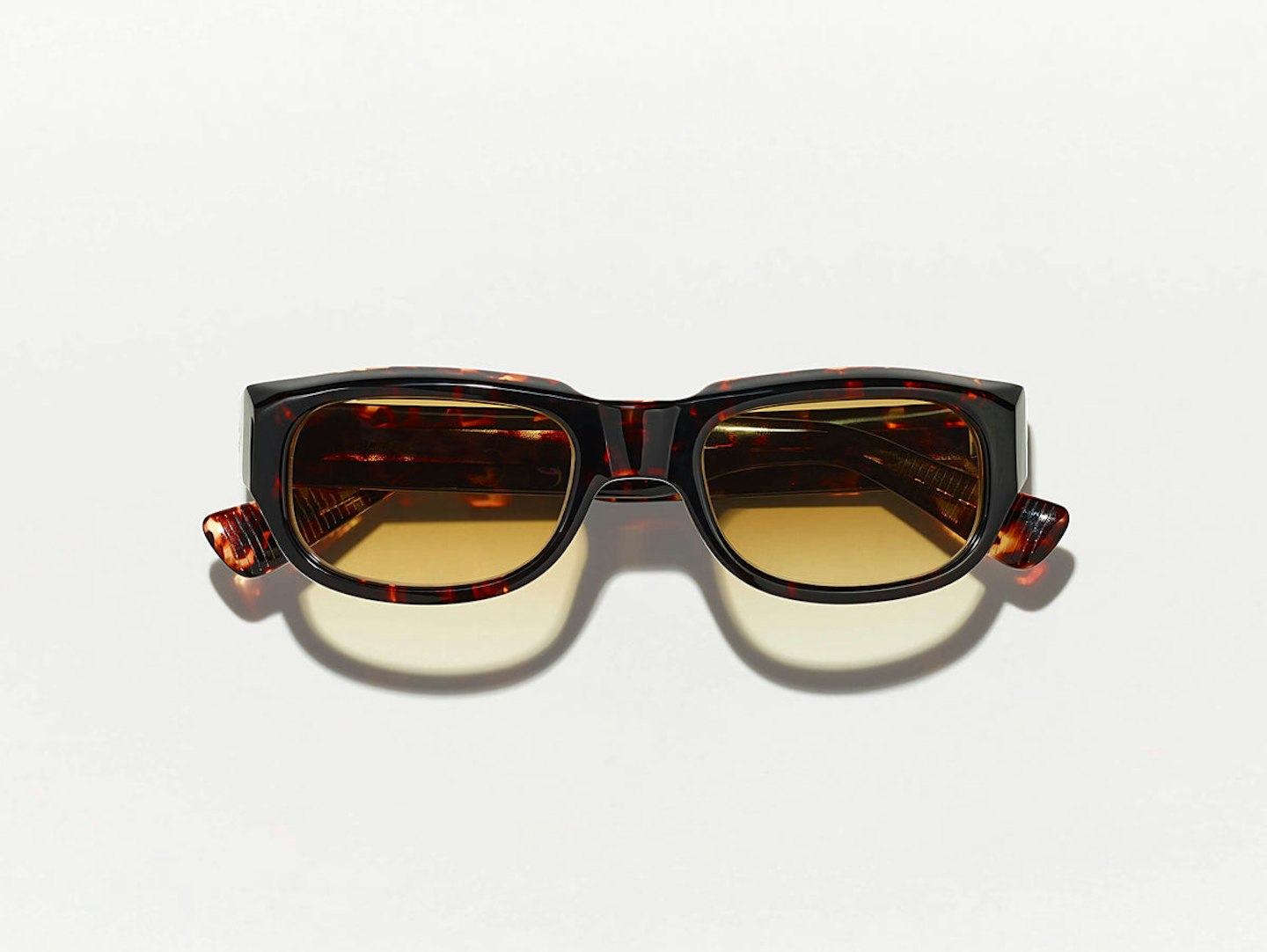 1 of 142
Tuesday - Moscot x Saturdays NYC, Tomo Limited Edition Sunglasses, £370
Launched as a limited collection, these Italian acetate sunglasses in dark havana brown come individually numbered so you know they're pretty special! Wear all year long.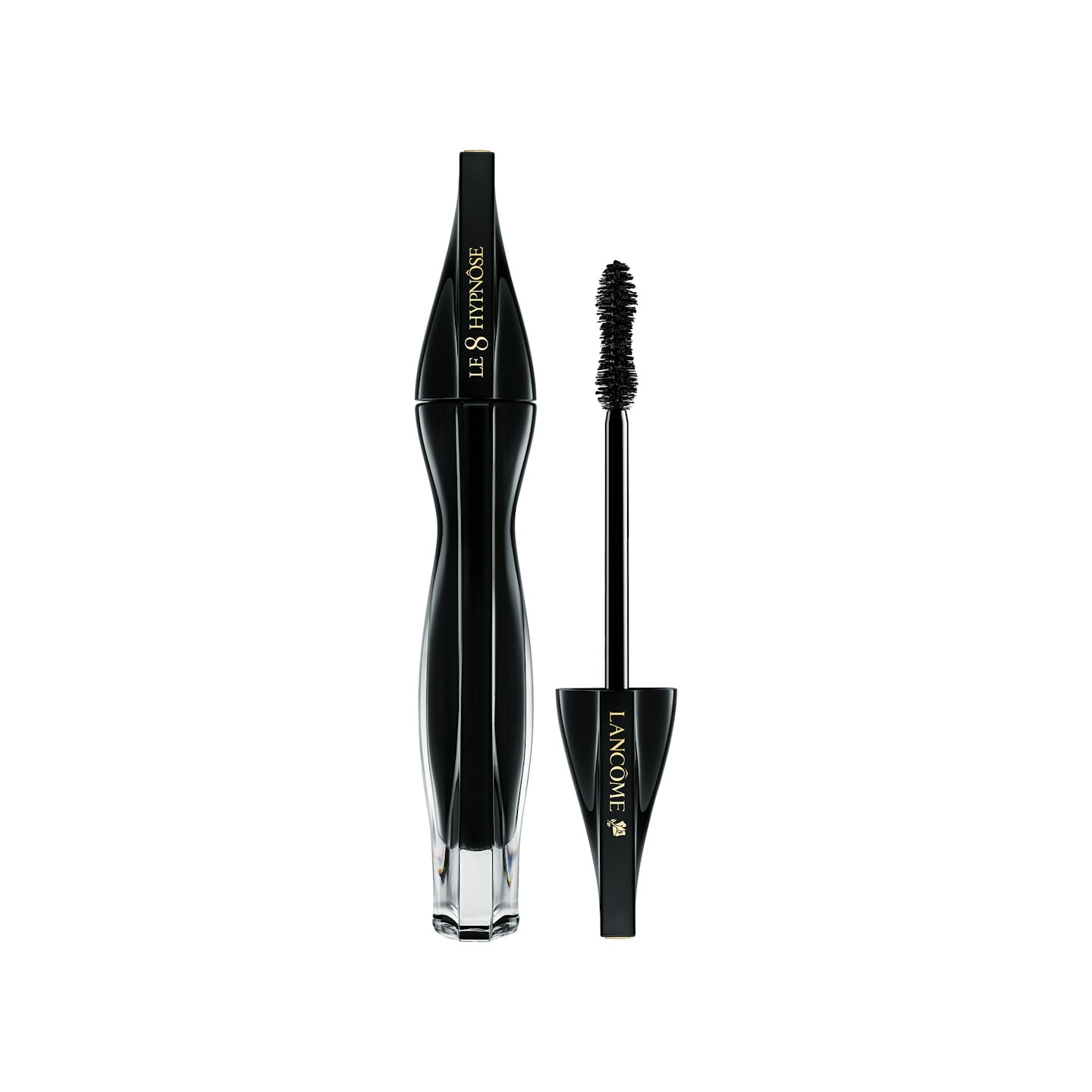 2 of 142
Monday - Lancôme Le 8 Hypnôse Mascara 01 Noir, £32.00
A best-seller! For a mascara that creates fuller, sculptured and conditioned lashes this serum-infused, volumising, mascara by Lancôme is the ultimate makeup go-to.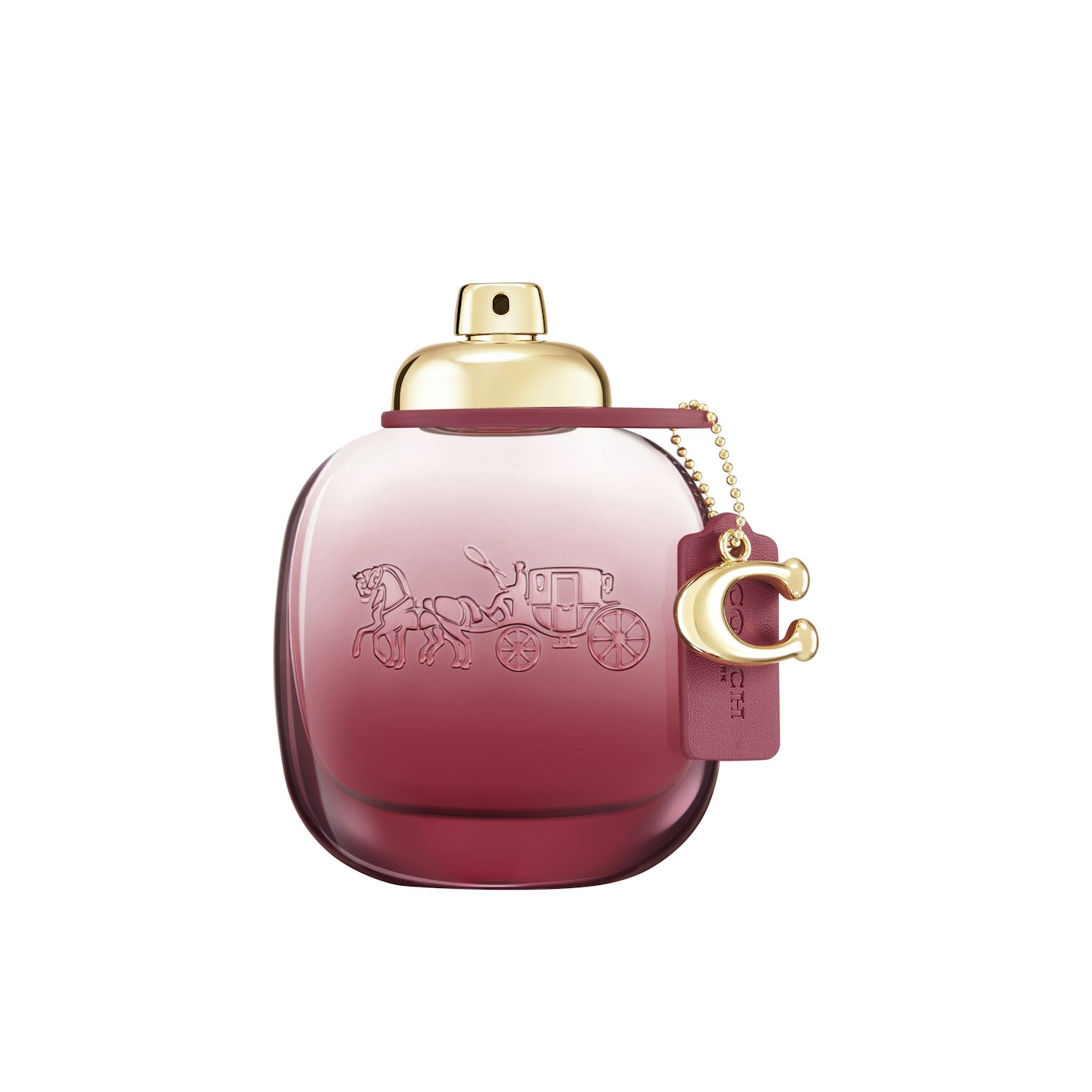 3 of 142
Wednesday - Coach, Wild Rose Eau de Parfum 30ml, £31.45
Your new signature summer scent. Coach's Wild Rose fragrance is a bold but delicate mix of juicy, sparkling redcurrant, spicy bergamot and undertones of rose, jasmine sambac and woodsy Ambroxan. The ultimate accessory!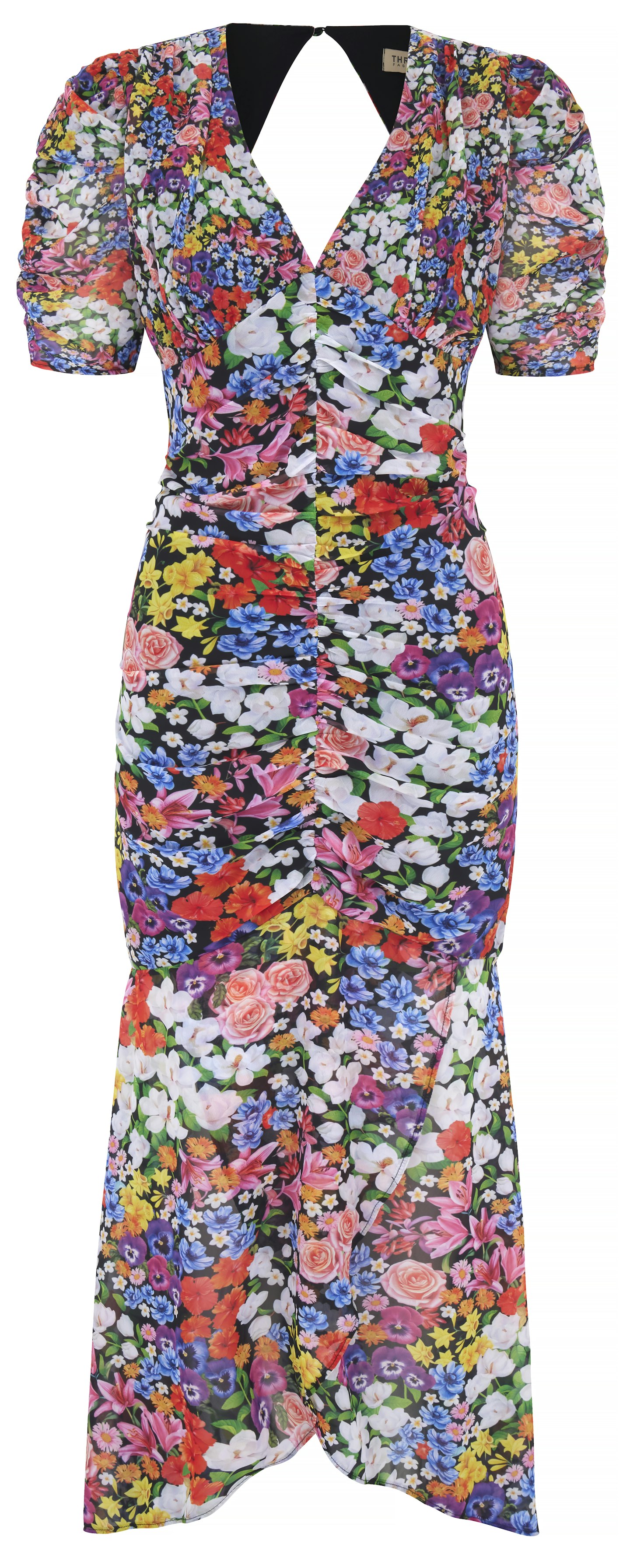 4 of 142
Tuesday - Mary Katrantzou x Lipsy London, Ruched Maxi Dress, £58
Lipsy London has joined forces with the queen of print, Mary Katrantzou, to create a capsule collection just in time for summer. We love this ruched floral number; wear with chunky sandals or strappy heels for the ultimate wedding guest outfit.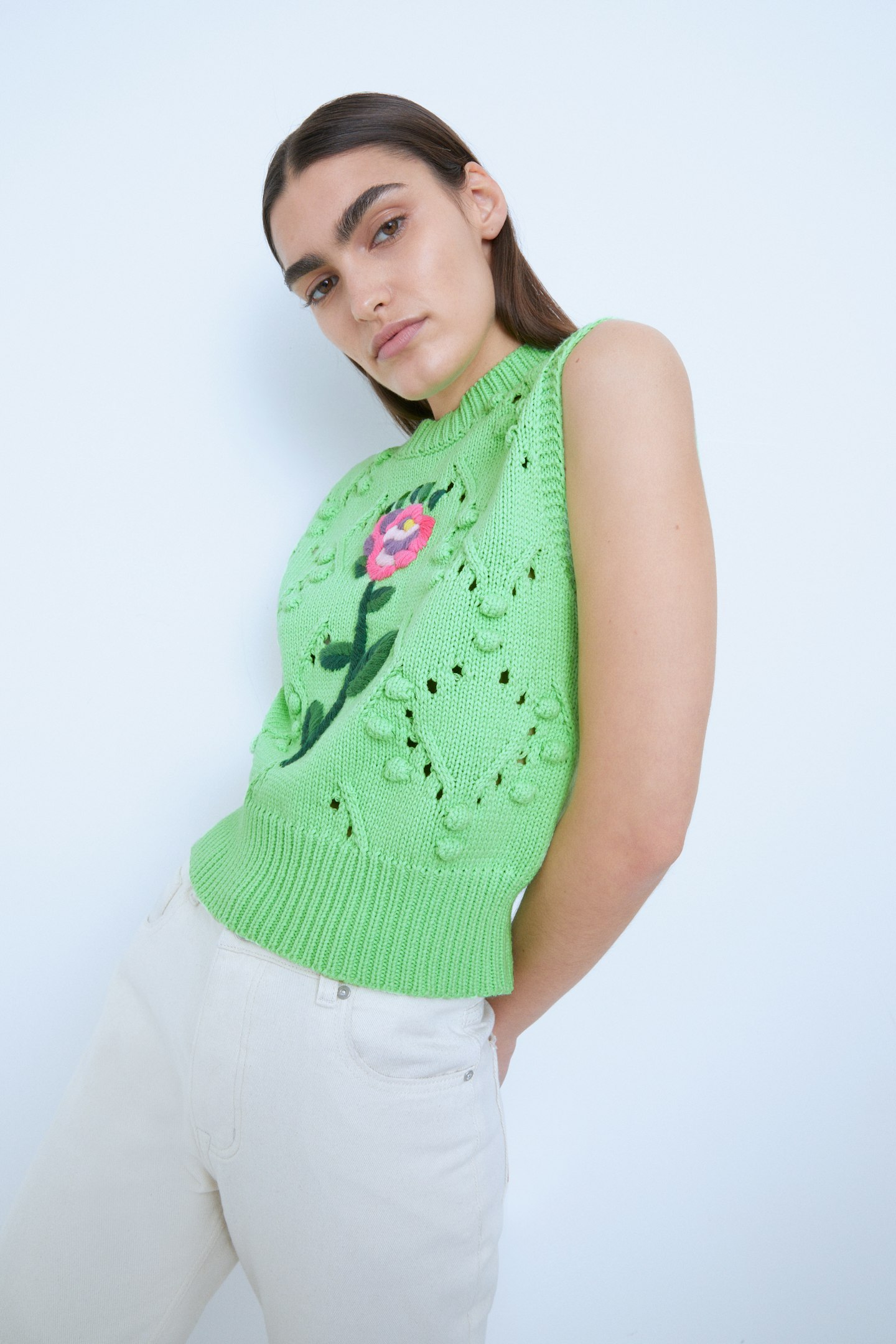 5 of 142
Monday - Warehouse x The British Museum Charles Rennie Mackintosh Knit Tank, WAS £59 NOW £41.30
The Warehouse x The British Museum Charles Rennie Mackintosh Collection drops today, bringing with it a whole host of floral beauties for your enjoyment. For a change from floral maxi dresses (although can you ever have too many?) we're loving this rose knitted tank top. We'll be wearing ours all summer long.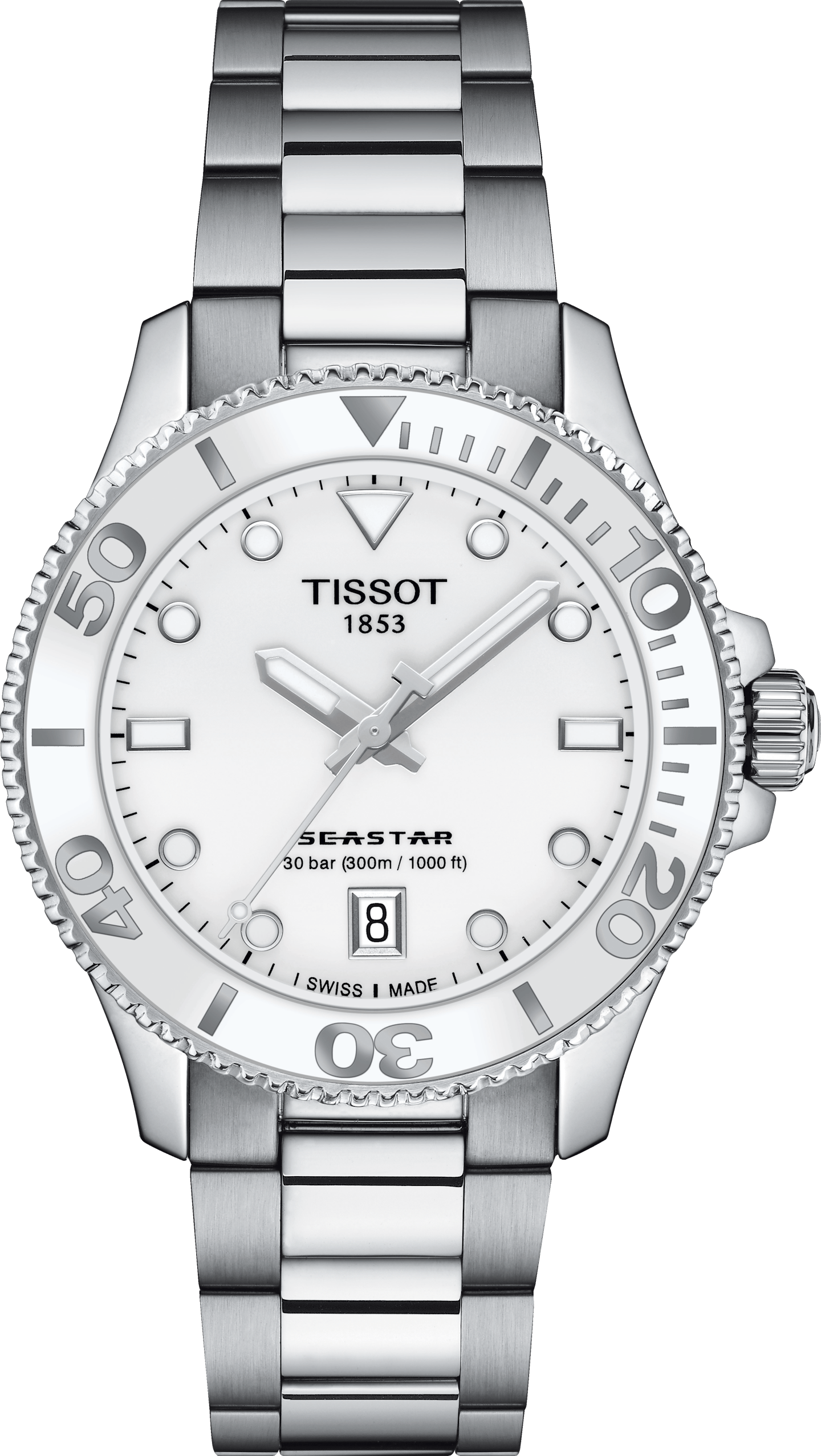 6 of 142
Friday - Tissot, Seastar Quartz Quartz 36mm, £360
Enter the women's Tissot Seastar 1000 Quartz watch in stainless steel, smaller than the regular Seastar but equally as beautiful. Quickly swap the straps to silicone orange, white, light blue or black, to suit your day.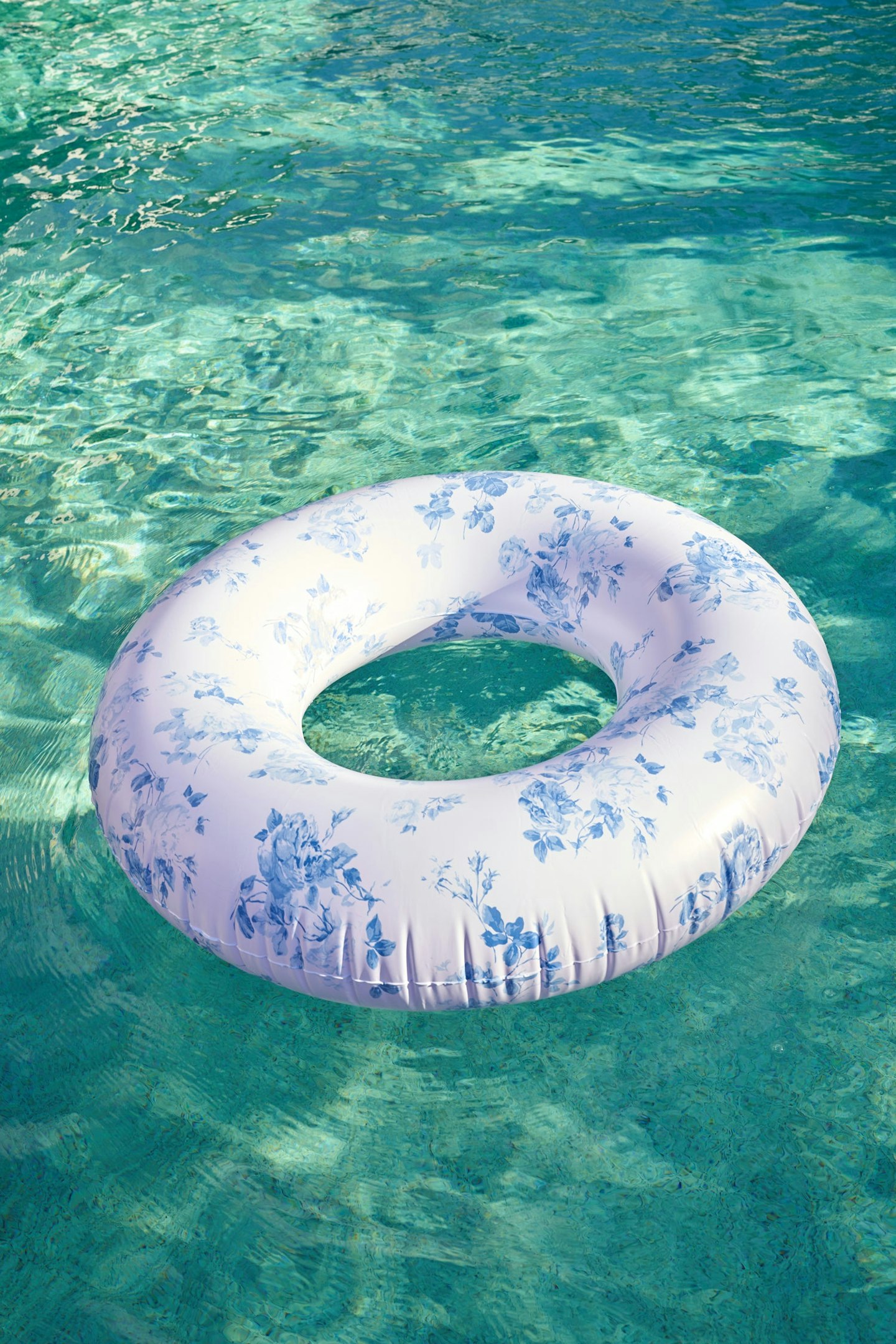 7 of 142
Thursday, LoveShackFancy, Everblooming Rosettes Pool Float, £99.10
Get pool party ready in the sweetest way possible (we're quite obsessed with how chic this floral rubber ring is). Shop the rest of the LoveShackFancy Home Refresh '22 collection here!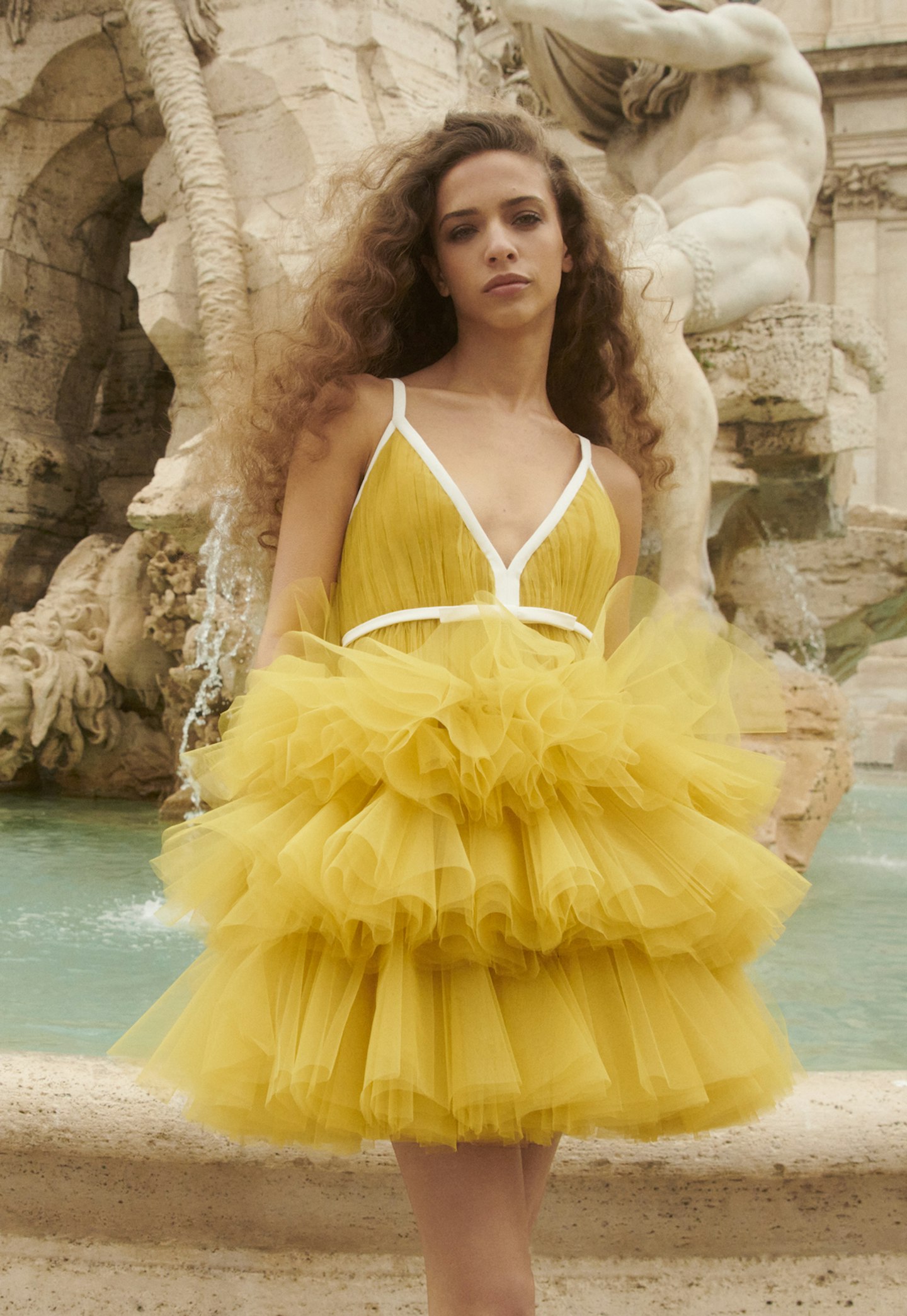 8 of 142
Wednesday - My Theresa x Giambattista Valli, V-neck Ruffled Tulle Minidress, £ 4,095
Channel your inner supermodel and make a showstopper of an entrance. Red carpet icon Giambattista Valli has just launched its exclusive collection with My Theresa today and it's everything we could dream of and more.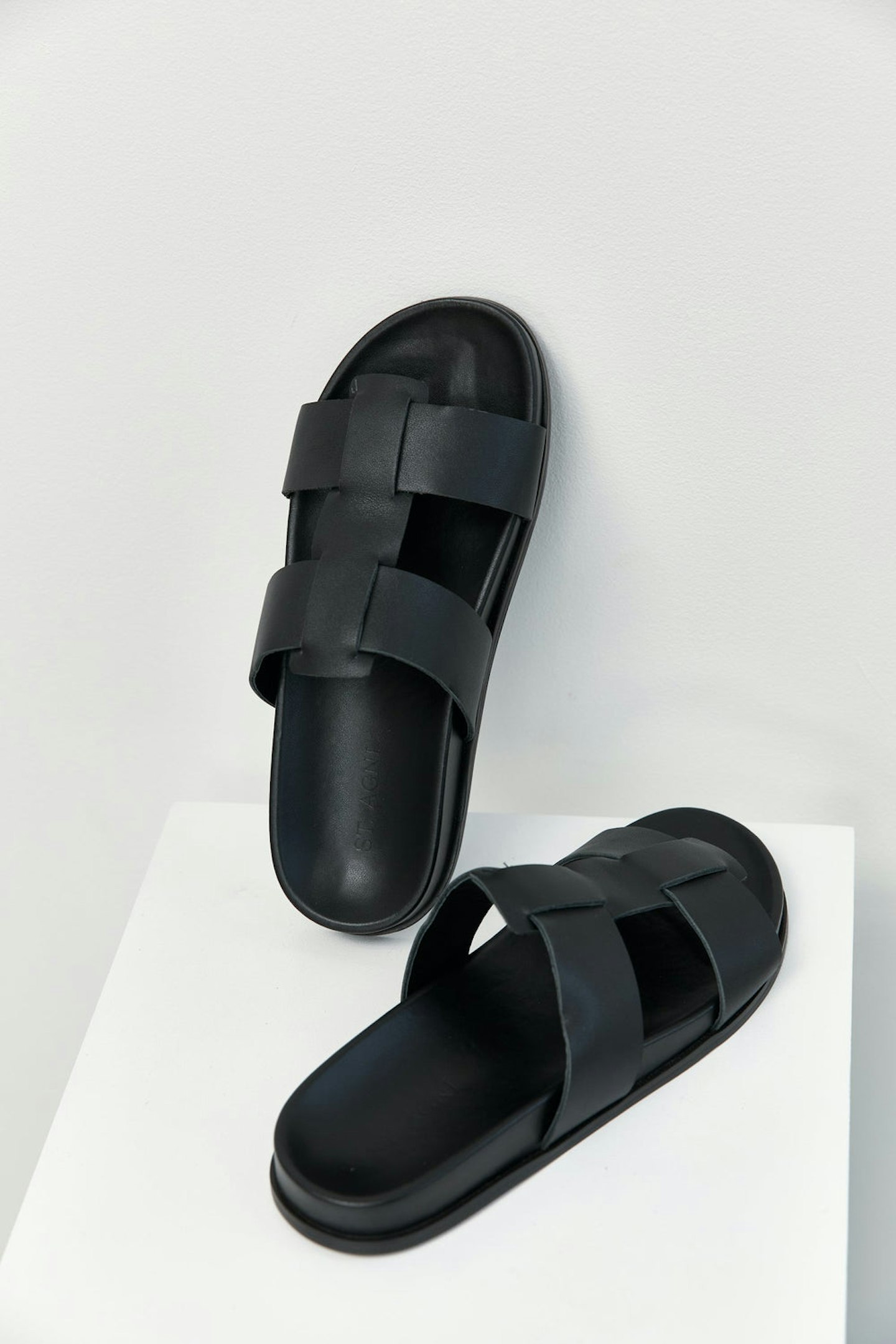 9 of 142
Tuesday - St. Agni, Black Axel Leather Sandals, £185
The only footwear you'll need for the summer, a great pair of sandals. We love St. Agni's leather simple strap slides, perfect for cosy breaks and strolls.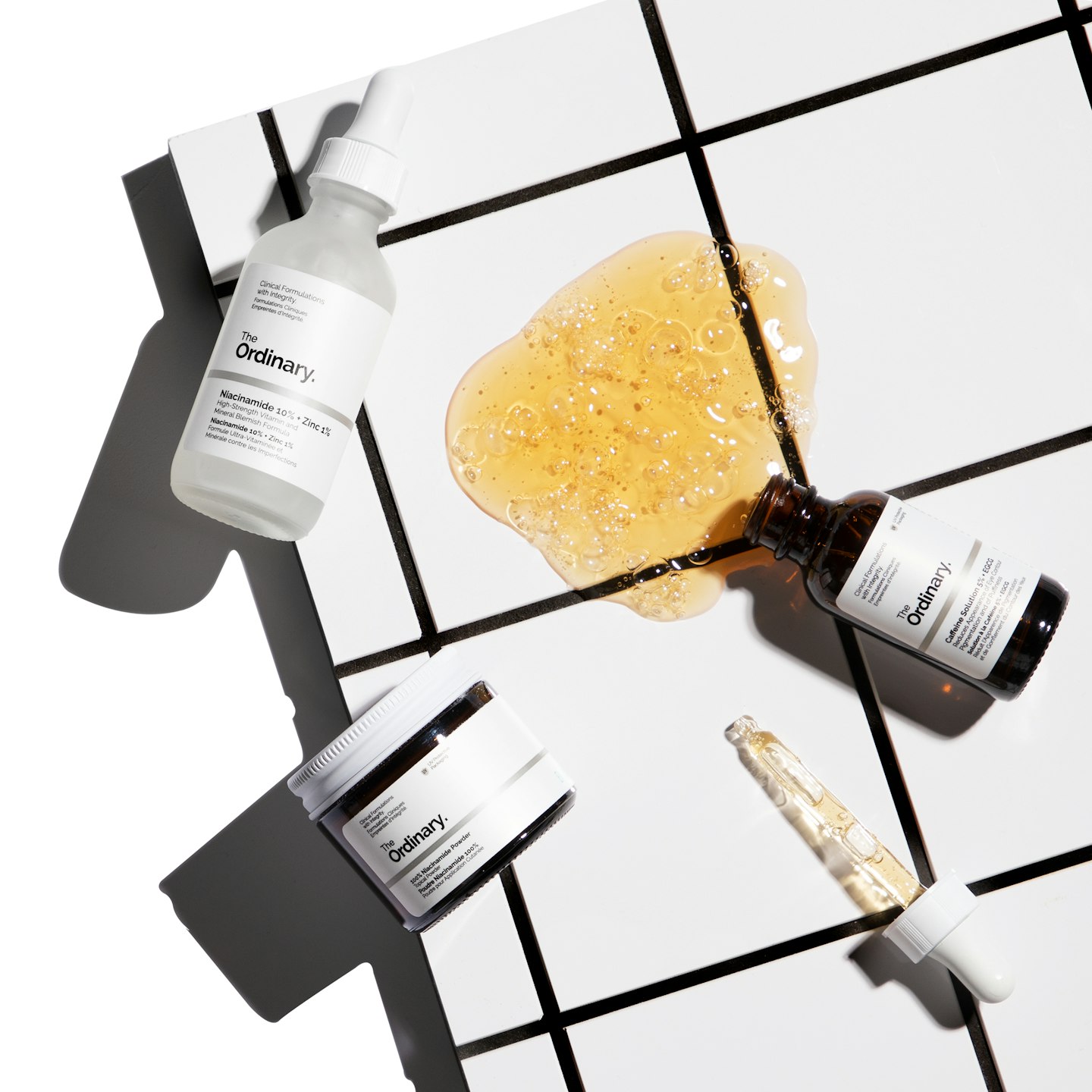 10 of 142
Monday - The Ordinary 'Buffet' Multi-Technology Peptide Serum, 30ml, £14.30
The Ordinary is known for its great skincare products, great pricing and very aesthetically pleasing packaging. Our favourite? The Ordindary's Buffet serum is enriched with plenty of peptide complexes, supported by probiotics and targets multiple signs of ageing, shop the whole range here!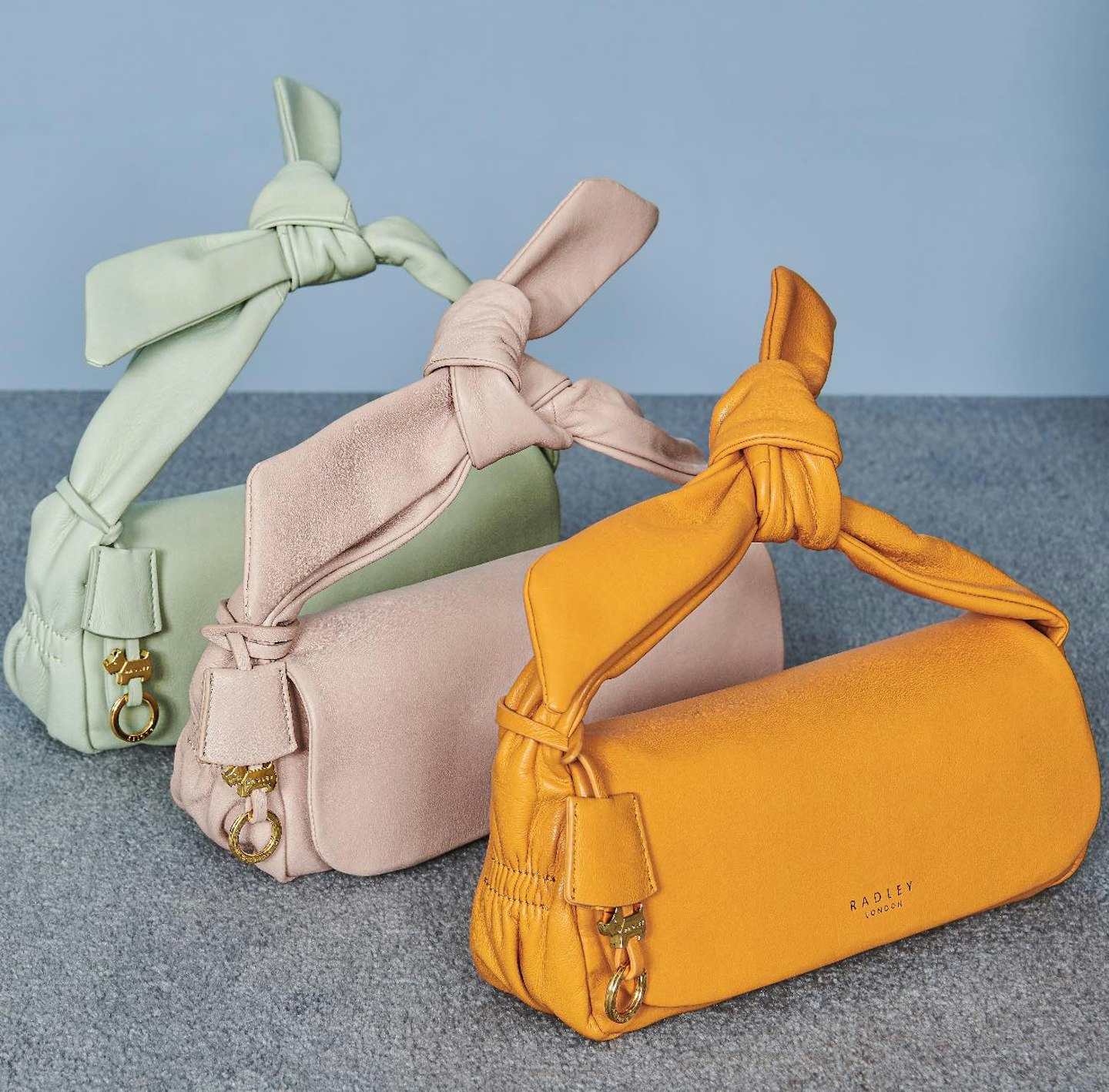 11 of 142
Friday - Radley, Cranwell Close Royal Ascot Small Bag, £129
Add a pop of springtime colour to your outfit with shades of zesty mango, powdery pink and cool mint green. Radley's diddy Cranwell Close bags make the perfect outfit accompaniment.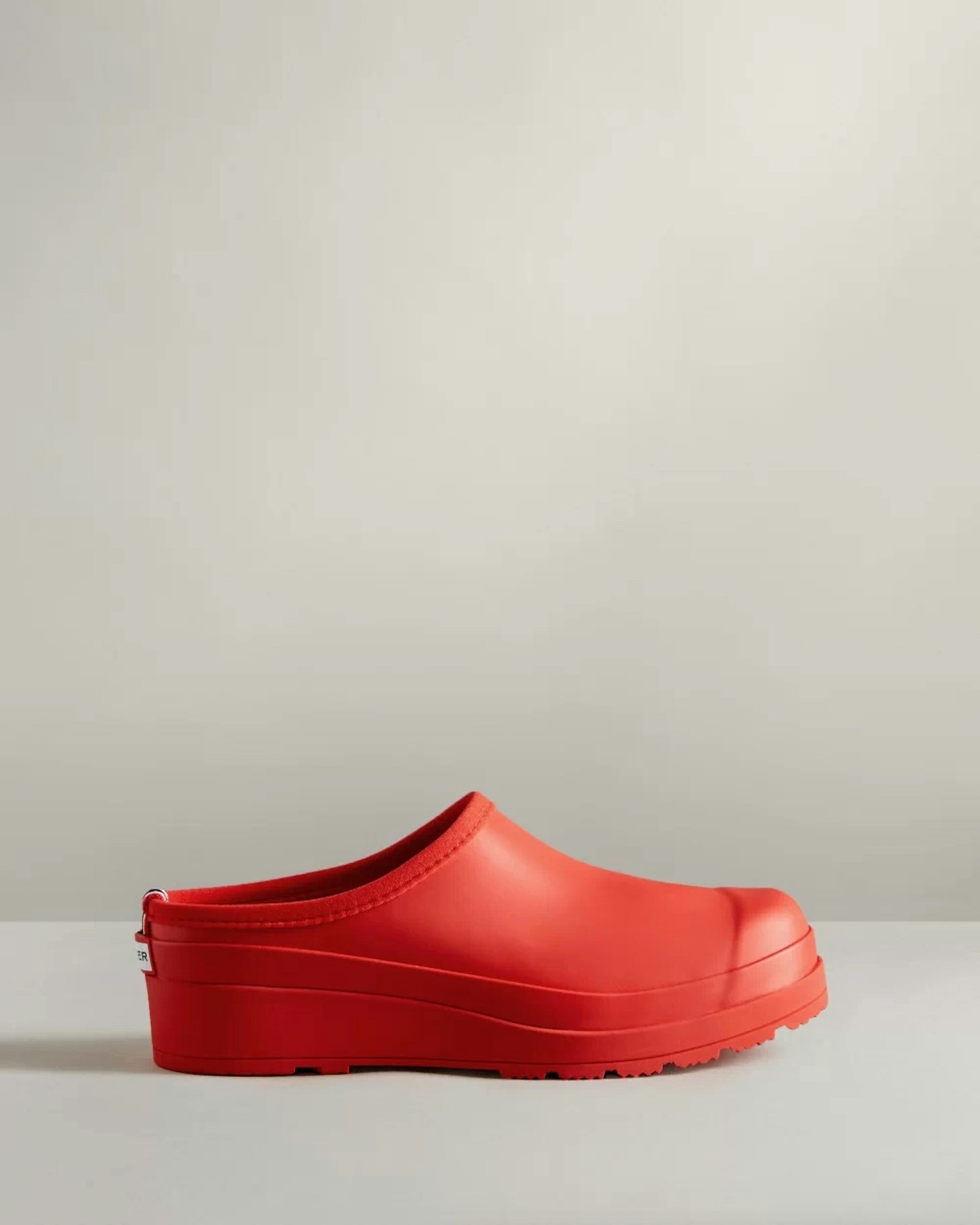 12 of 142
Thursday - Hunter, Women's Play Clogs, £55
The ideal shoe for camping, summer rain, festivals, popping out into the garden, walking the dog...need we go on? All the practicality of waterproof wellies in an easy slip-on clog style. What's not to like?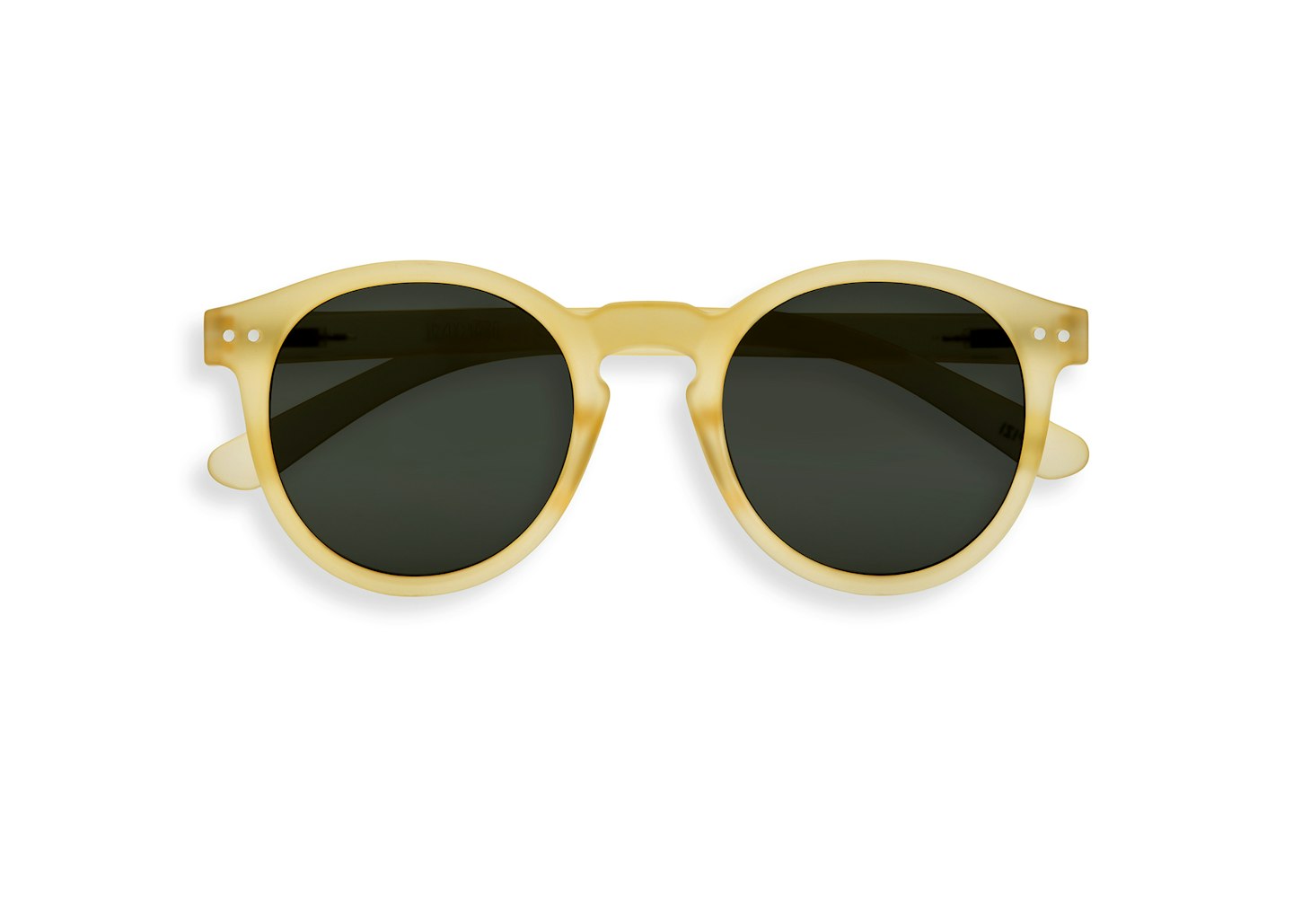 13 of 142
Wednesday - IZIPIZI, #M Yellow Honey Oversized Sunglasses, £50
For when the sun is out, a pair of great oversized shades (in an equally as sunny shade of yellow) should be your go-to. 100% UV lenses and super lightweight, we suggest you check out IZIPIZI's fabulous range of reading specs, too.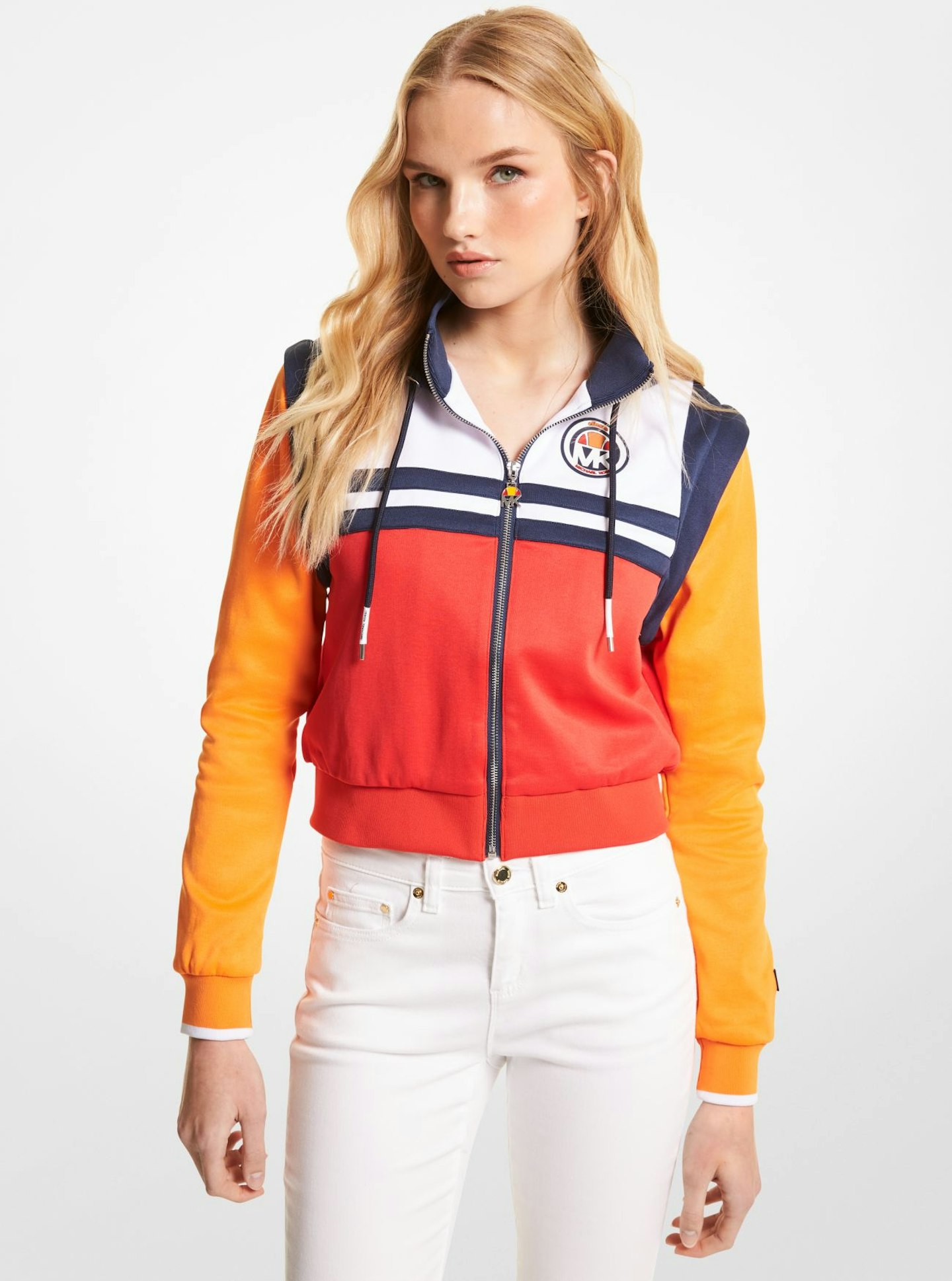 14 of 142
Tuesday - MMK x ellesse, Color-Block Cotton Blend Zip-Up Jacket, £210
MMK and ellesse, two icons in their own right, come together for another 'fashion house + sportswear label' meeting of minds. This zip-up gives us a strong retro sportswear vibe and we're here for it.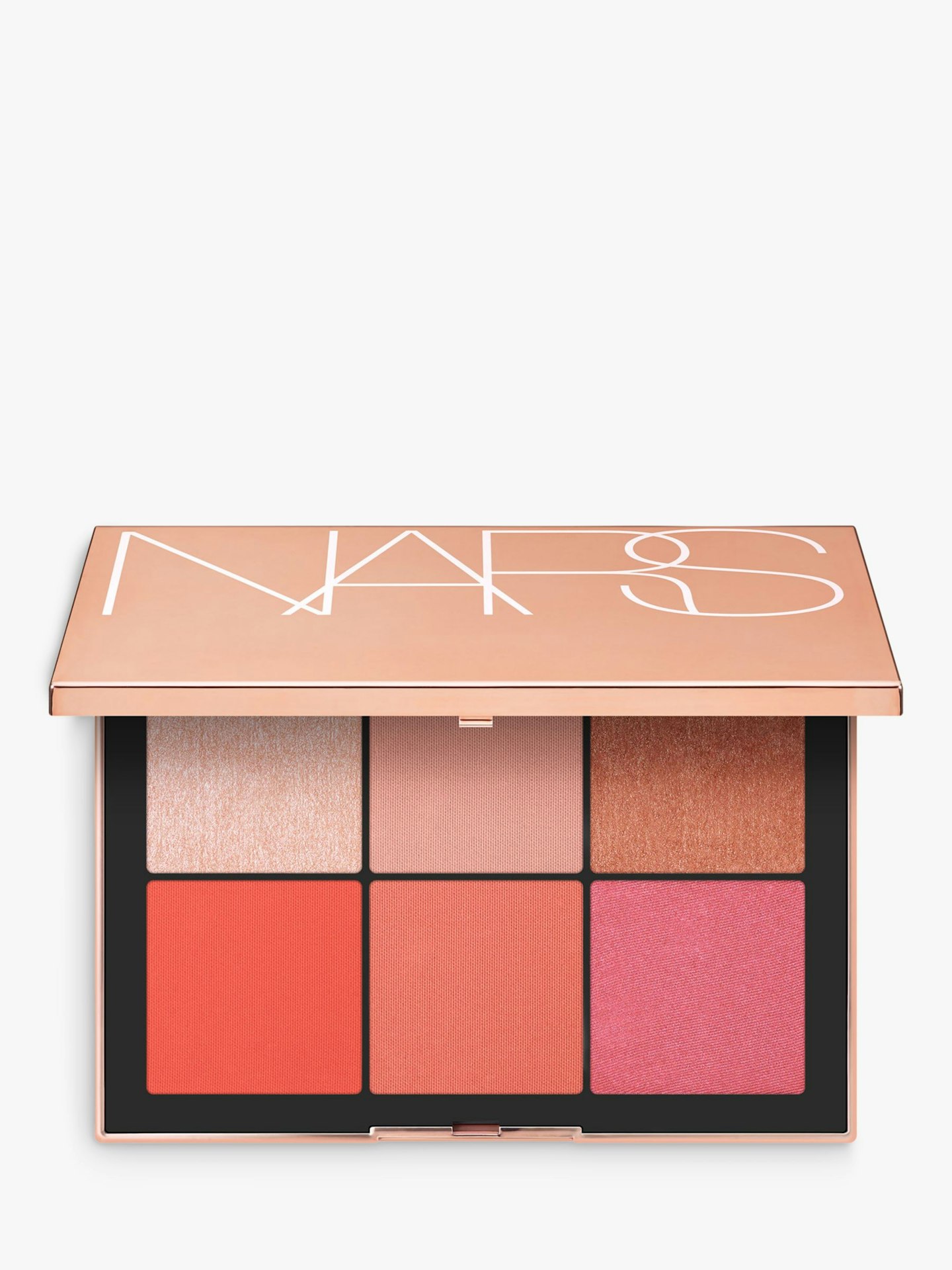 15 of 142
Monday - NARS, Afterglow Cheek Palette Multi, £46
Cult fave NARS brings you that sought after rosy glow in one neat palette. From pink pinched cheeks to shimmering peach highlights, build up your blush game and get glowing.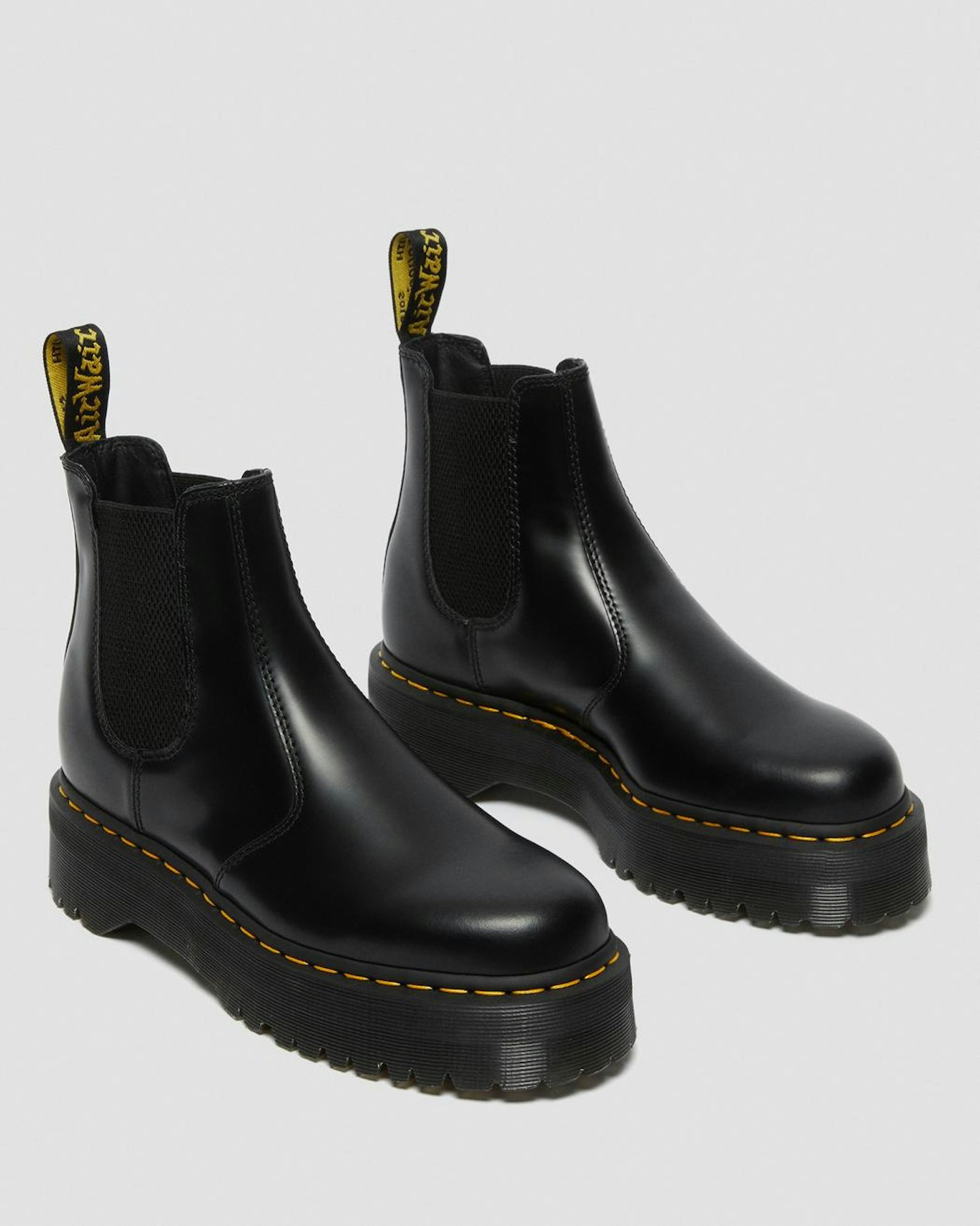 16 of 142
Friday - Dr. Martens, 2976 Bee Smooth Leather Chelsea Boots, £169
In anticipation of festival season, we're looking to Dr. Martens for footwear inspo. These chunky soled Chelsea boots in smooth black leather will see you through summer and beyond!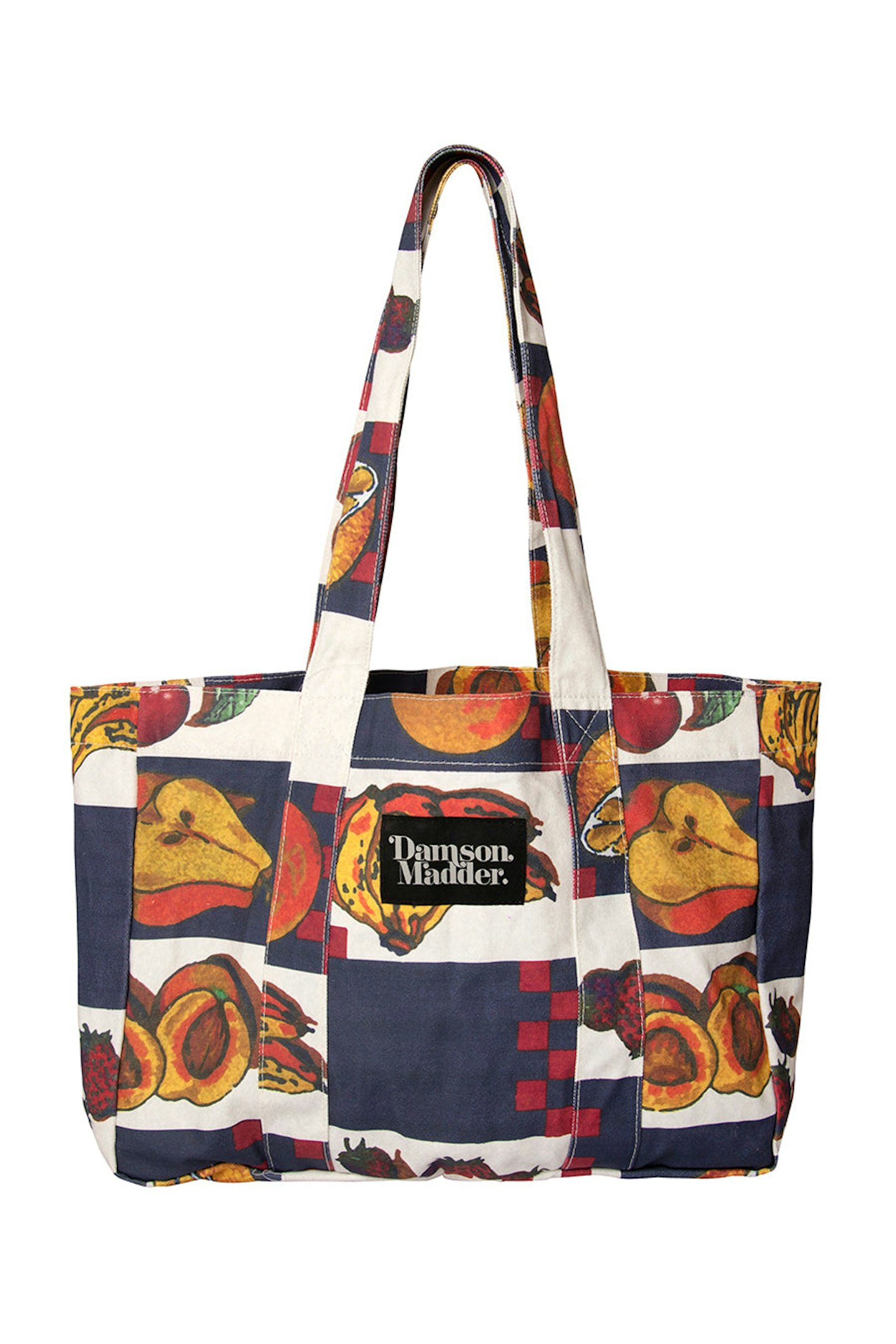 17 of 142
Thursday - Damson Madder, Oversized Fruit Tote Bag, £35
A fruity tote for the fruity individual. Carry everything you need and more, this checkerboard tote bag is made from 50% recycled cotton and matches perfectly to their tropical two piece.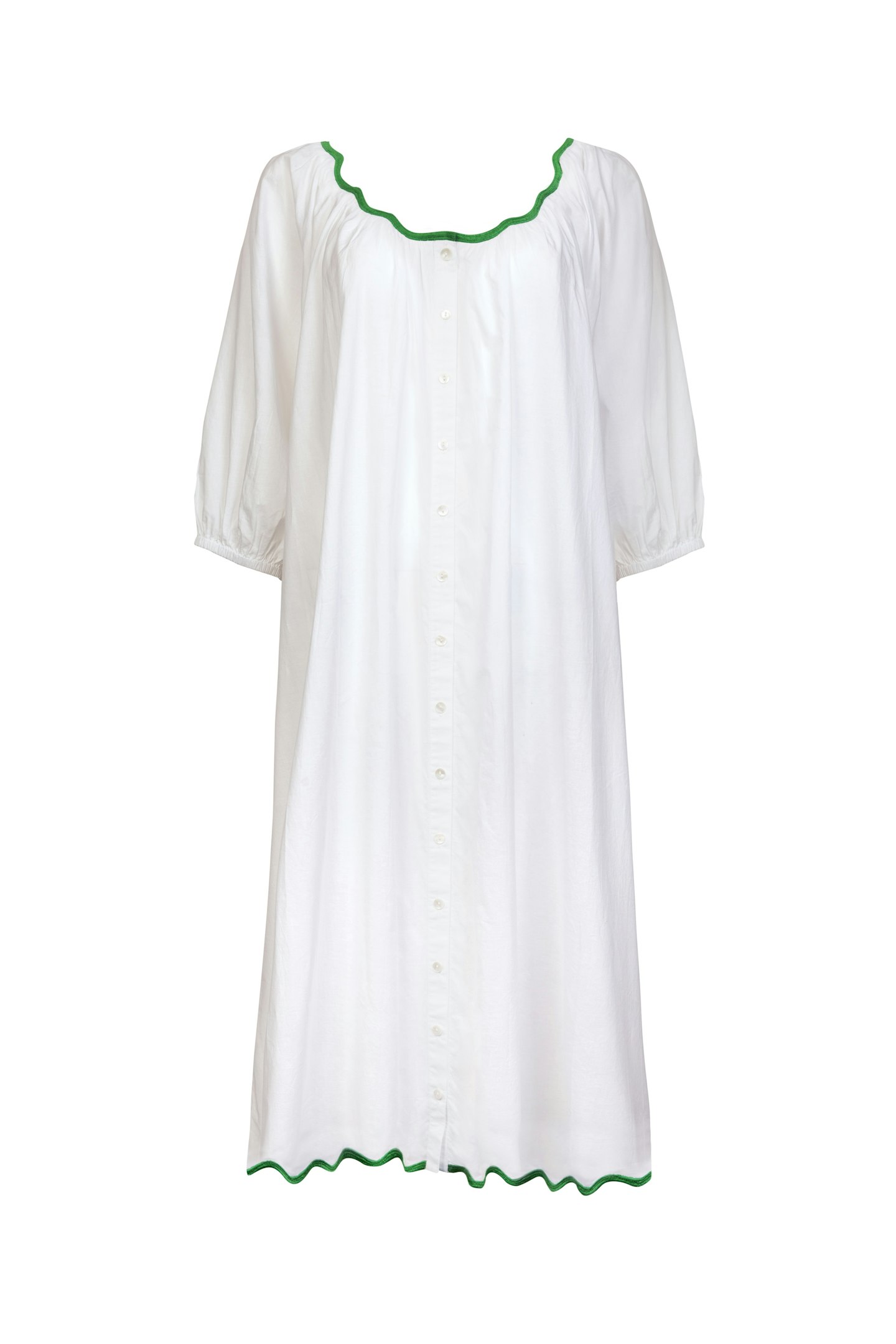 18 of 142
Wednesday - If Only If x VCH, Cotton Amanda Nightdress, £155
Yes it's called a nightdress but is it just for bed? Absolutely not, this organic cotton dress by If Only If x VCH is ideal for floating around the pool, city or beach.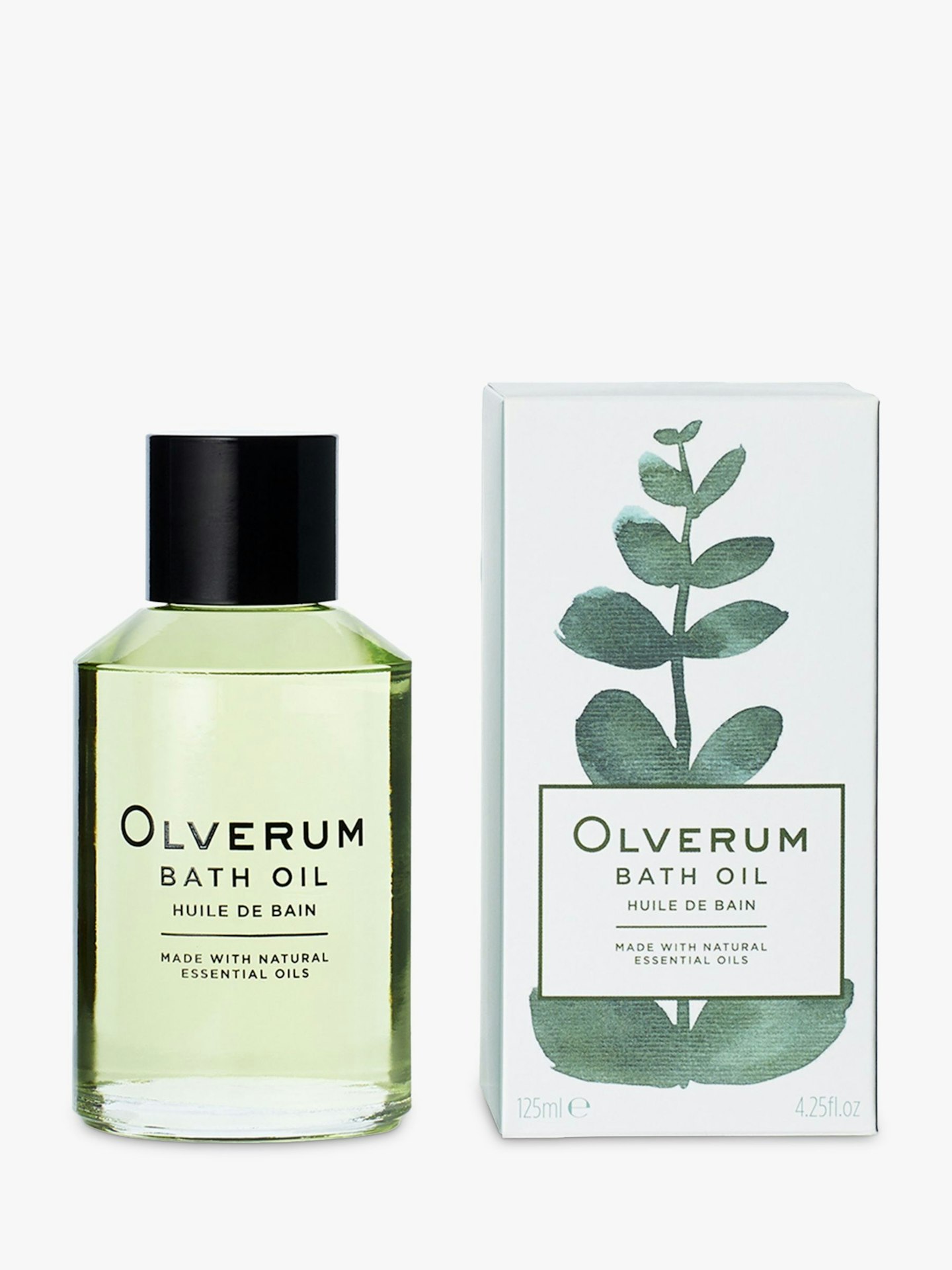 19 of 142
Olverum, Bath Oil 125ml, £36.50
New to John Lewis and Partners, this pioneering green beauty brand creates high-performance therapies to restore the essential you.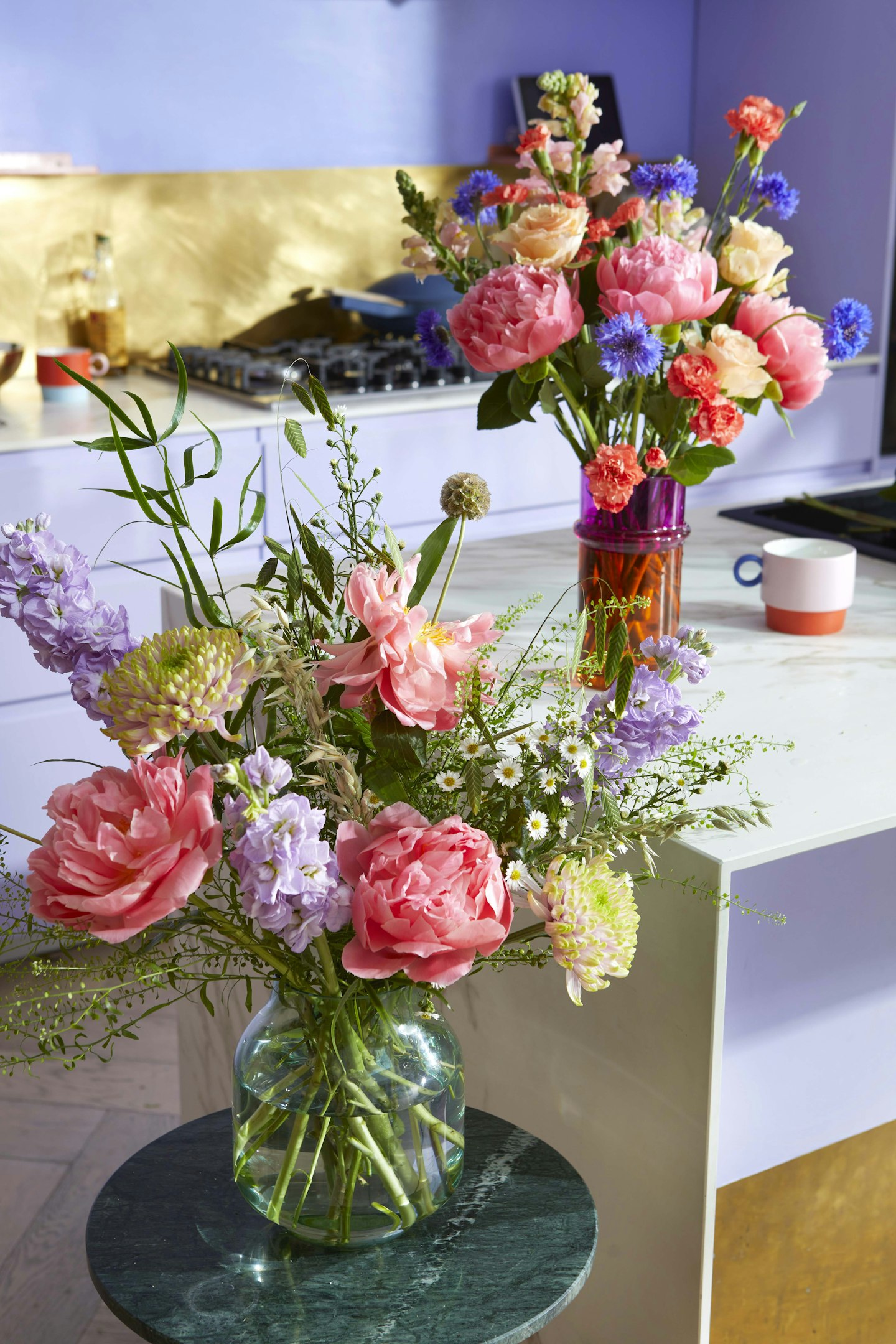 20 of 142
Monday - Bloom & Wild, Peony Season Letterbox Flowers, £35
It's peony season! Bloom & Wild have announced that they will be partnering with London-based Kelly Anna, who will be their artist in residence throughout peony season. Send these beautiful bouquets as either letterbox packages or hand tied bouquets from £35. Bloomin' lovely.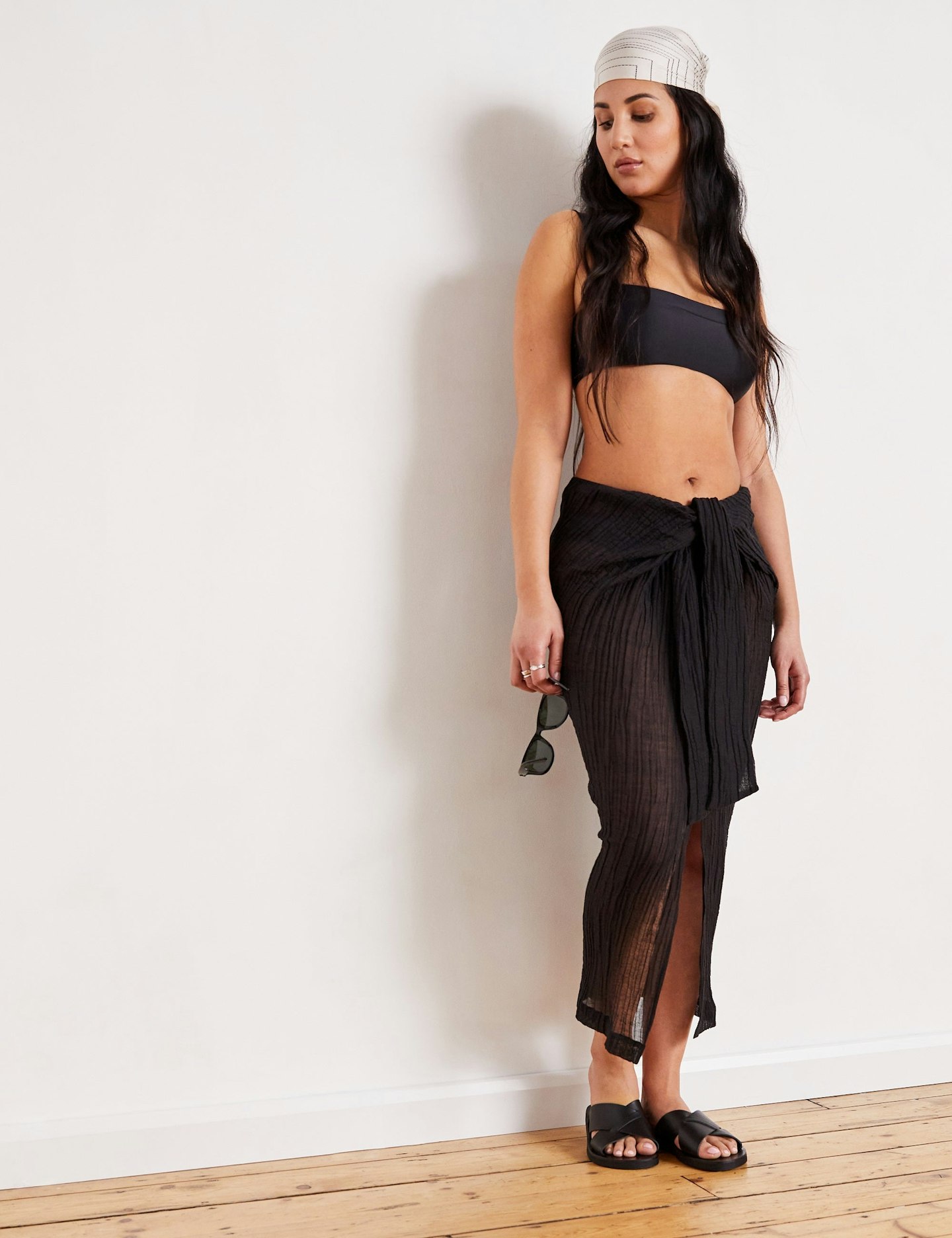 21 of 142
Friday - The Summer Edit, Amy Black Crinkle Linen Skirt, £85
The beach is calling! A wrap skirt or sarong will be one of the hardest working items in your wardrobe. If you're (at last) able to get a holiday on or perhaps you're just pleased to not have to wear a big coat, either way, a wrap skirt will be your go to warm weather outfit. Wear over swimwear on your hols or pair with a plain white T for an easy summer ensemble.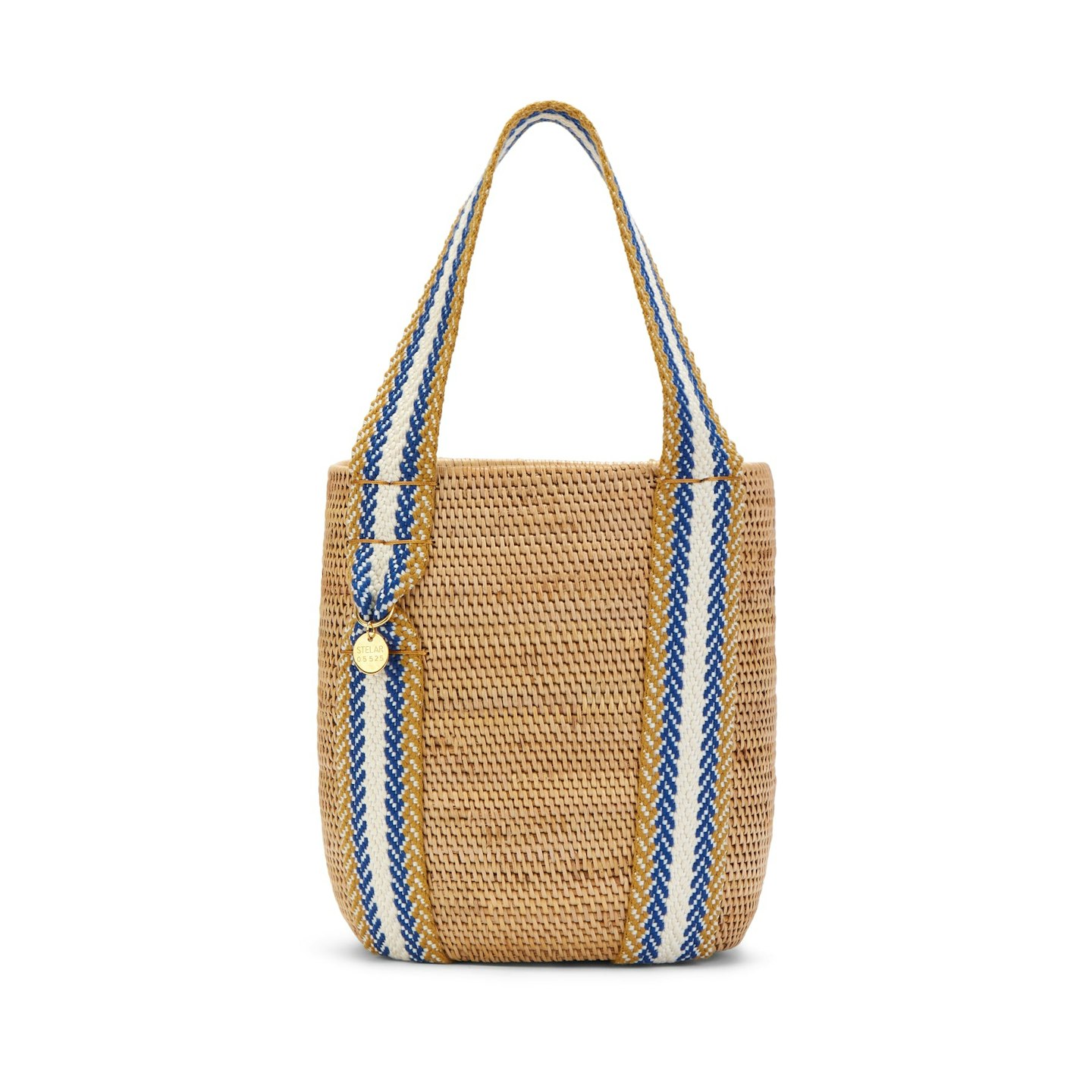 22 of 142
Thursday - Stelar, Sampela Handheld Natural Bucket Bag, £185
STELAR's handwoven bucket bag is crafted using organic, locally-grown, Balinese atta grass... fancy! Perfect if you're heading out and about on a sunny day-trip or an ideal holiday bag when all your need are shades and sunscreen.Each bag comes with a unique code which connects you to the artisan who crafted each piece!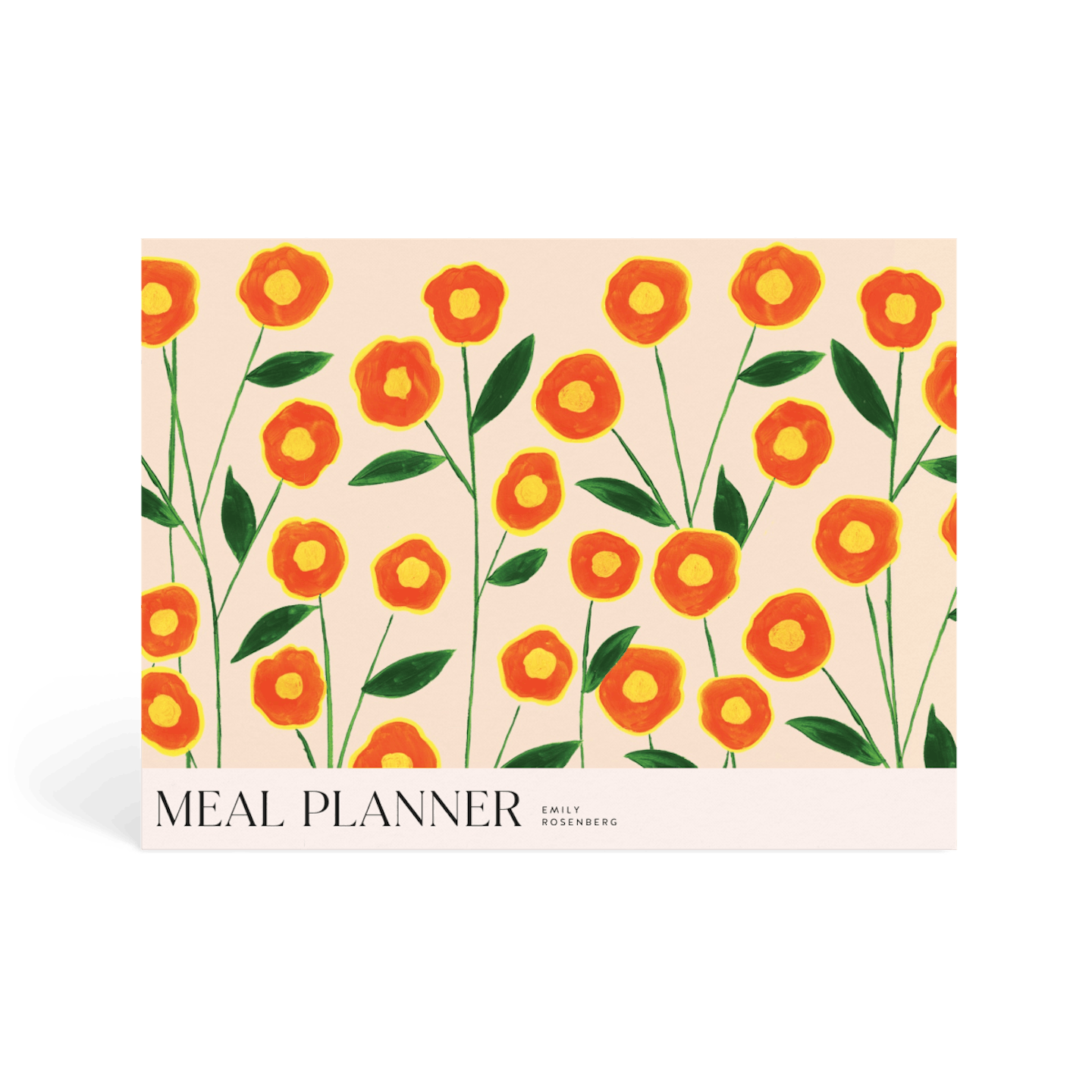 23 of 142
Wednesday - Papier, Meal Planner, £22
We're all guilty of talking about what we want to eat for dinner, but never actually getting round to buying the ingredients. Papier's Meal Planner - with its tear-off shopping lists - will have you organised (and maybe even throwing dinner parties) in no time.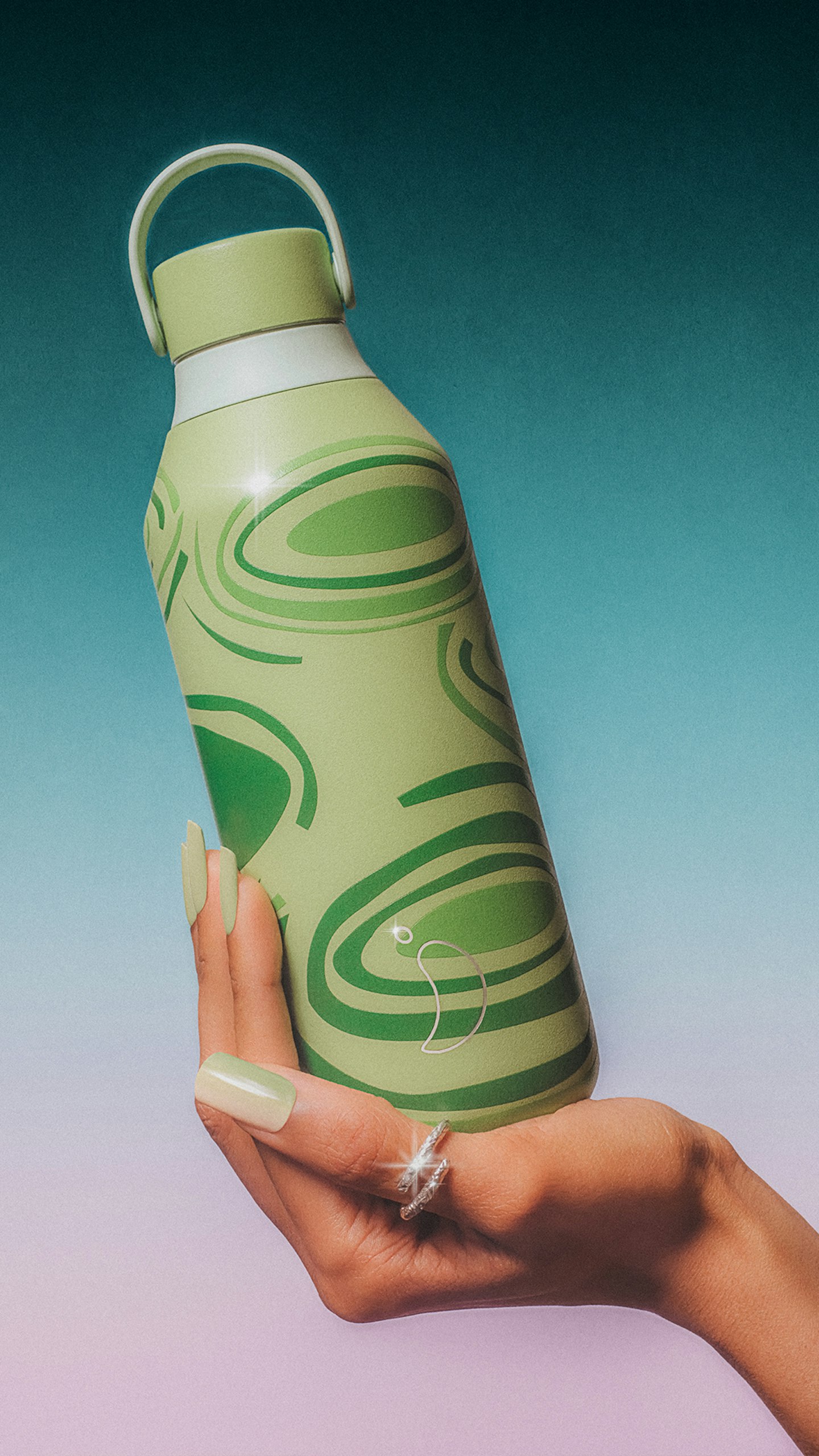 24 of 142
Tuesday - House of Sunny x Chilly's, Water Bottle, £36
Hot collab alert! And it's the perfect one for you if you're guilty of, whisper it, still buying bottles of water. House of Sunny has joined forces with Chilly's, our favourite bottle-maker, to produce a reusable style that's playfully printed and ideal for summer sipping.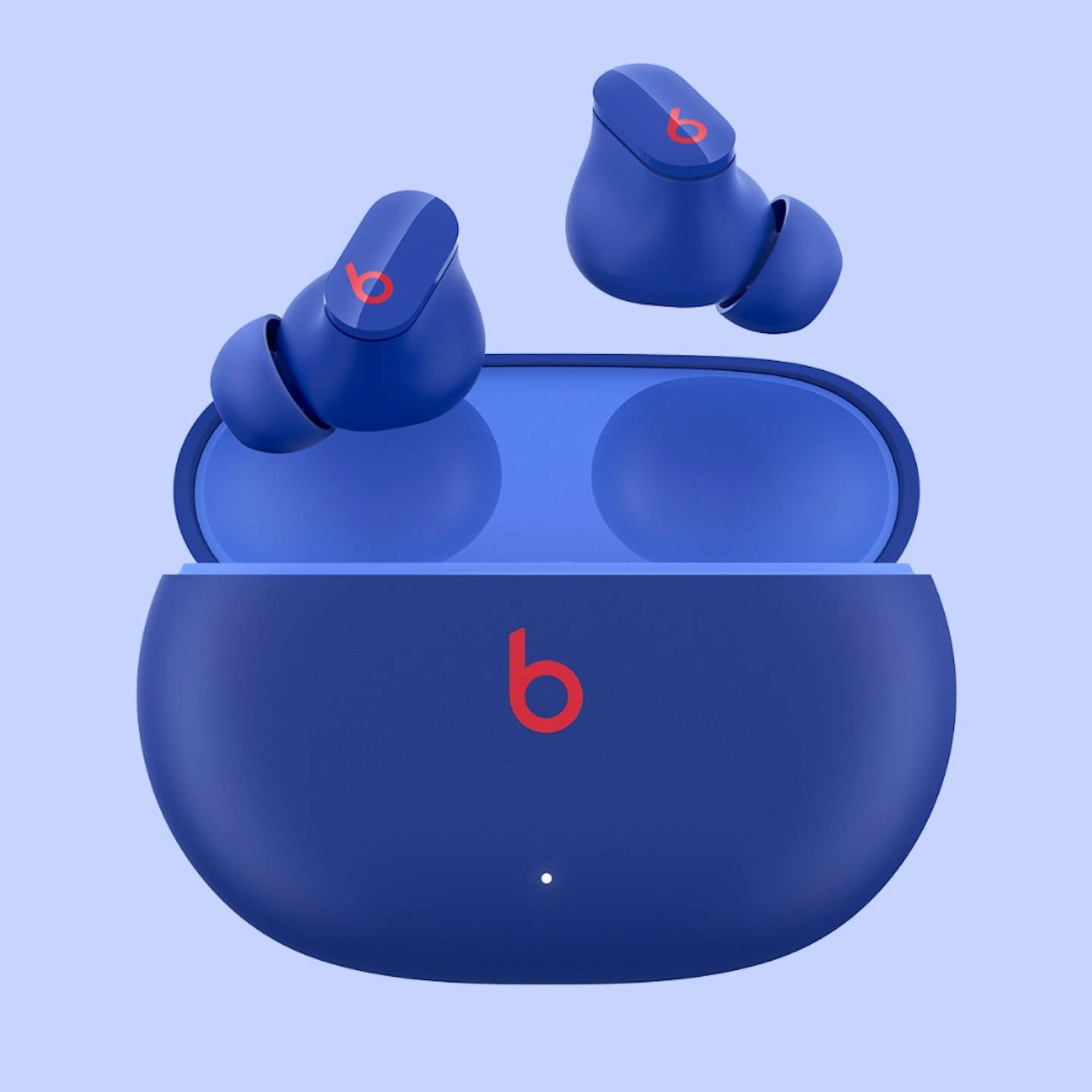 25 of 142
Friday - Beats By Dre, Beats Studio Buds, £129.99
True Wireless Noise Cancelling Earbuds from Beats by Dre are up there with some of the best. Available in six other colourways and ideal for working out or listening to your favourite albums. Read our edit of the best wireless headphones out there, here!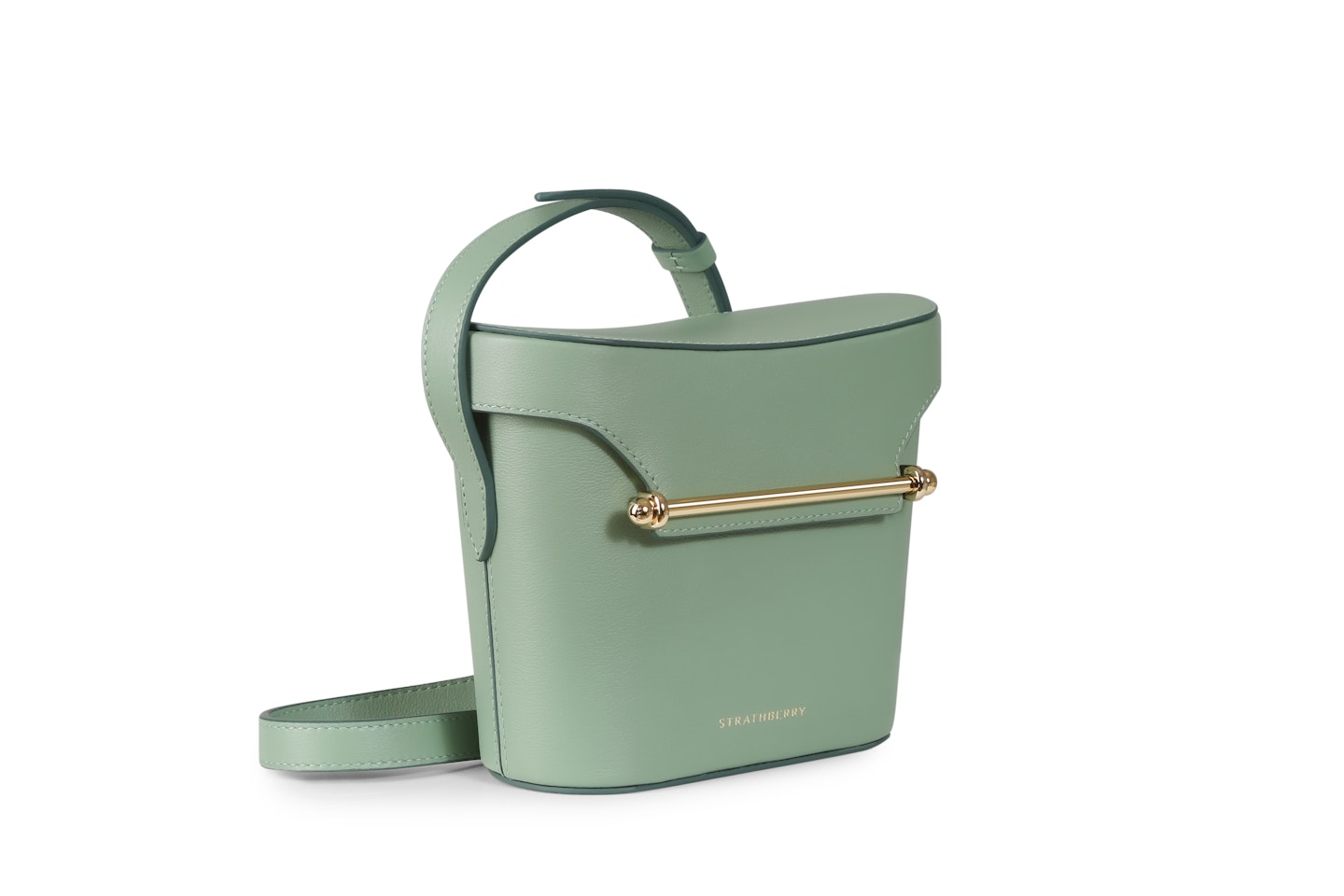 26 of 142
Thursday - Strathberry, The Safari Bag, £395
Introducing 'The Safari' Strathberry's brand new structured cross-body bag available in a smorgasbord of colours. We're into this minty green with bottle green edging in 100% leather. Super structured, boxy and surprisingly roomy for all your bits and bobs.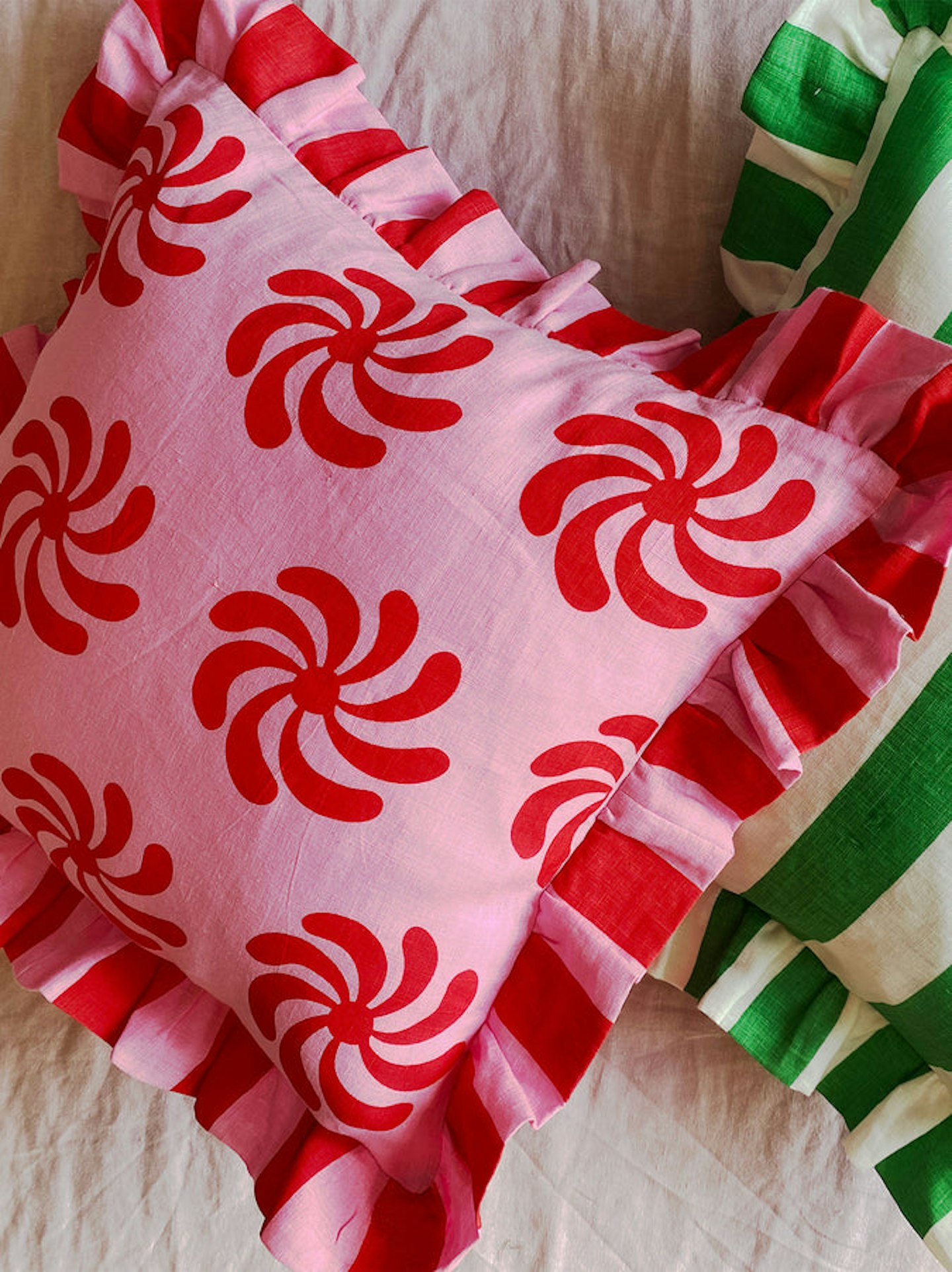 27 of 142
Wednesday - ALB x KITRI, Pink Geo Floral Cushion Cover, £65
Kitri has collaborated with ALB on some seriously good homeware, launching this week! Our favourites include this double-sided cushion in 100% linen. With a stripe on one side and a swirl the other, these are available in two gorge colourways, ready to spruce up our sofa or neatly arranged throw cushions.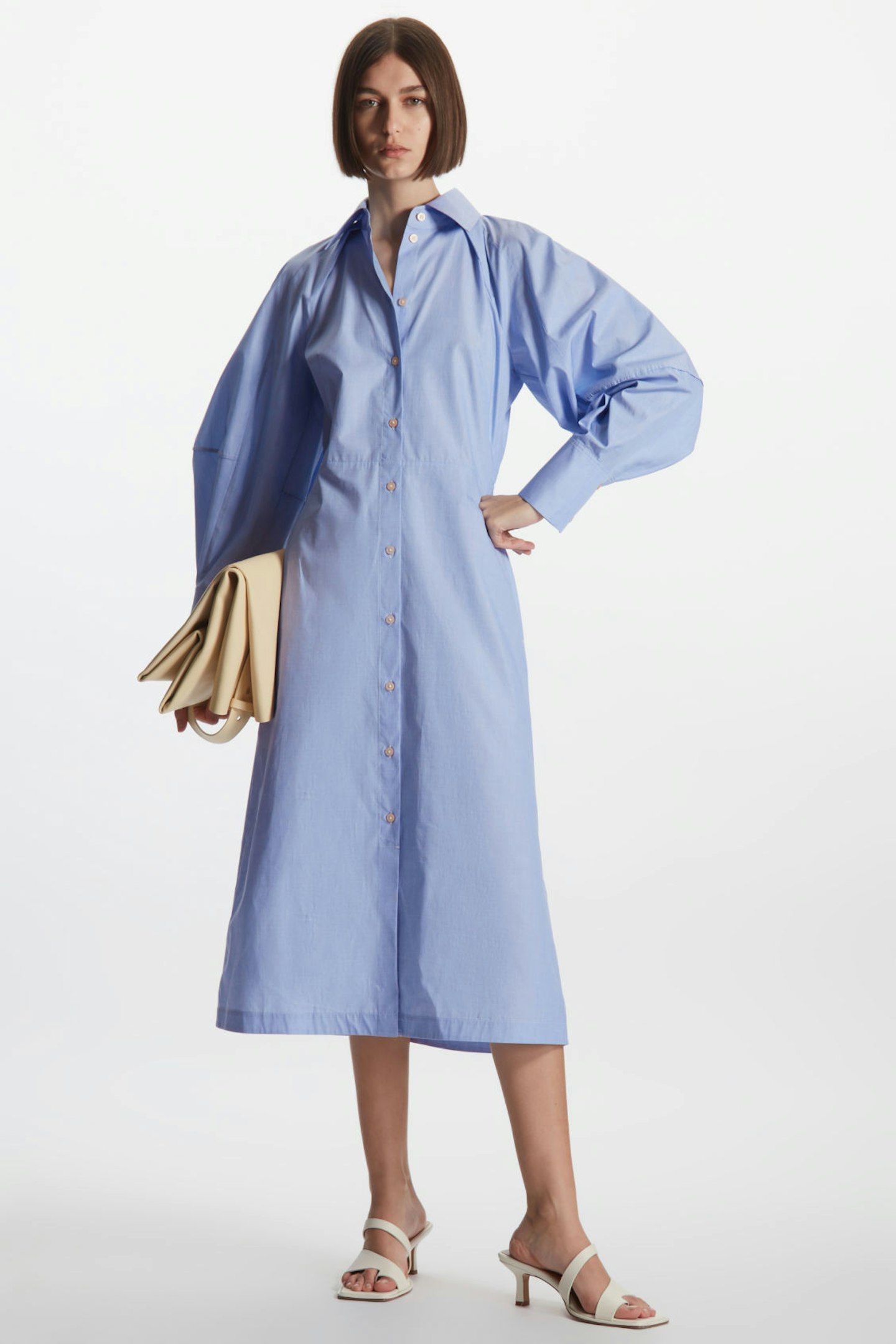 28 of 142
Tuesday - COS, Structured Shirt Dres, £89
Is there anything more useful (in the wardrobe department) than a shirt dress? A structured cotton shirt dress in powdery blue is the simplest of outfits for the office and OOO in equal measure. Simply swap your usual tote and loafers for some raffia slides and a basket bag and you're beach ready.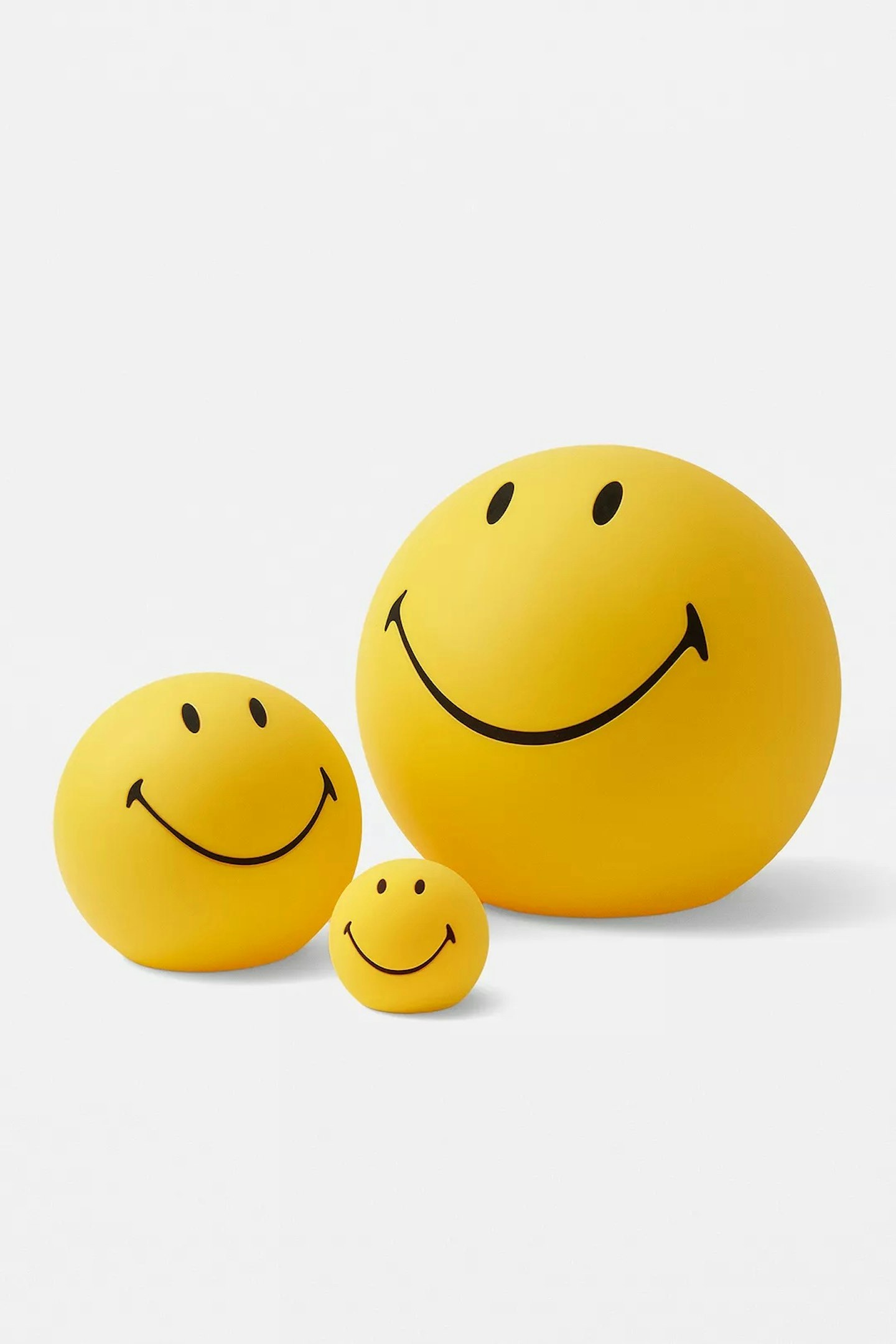 29 of 142
Monday - Mr Maria x Smiley, Bundle Of Light Table Lamp, from £20
Add a little light and good cheer to your Monday lunchtime. The iconic Smiley lamps have been downsized so are perfect for any desk and bedside table. You can't help but grin!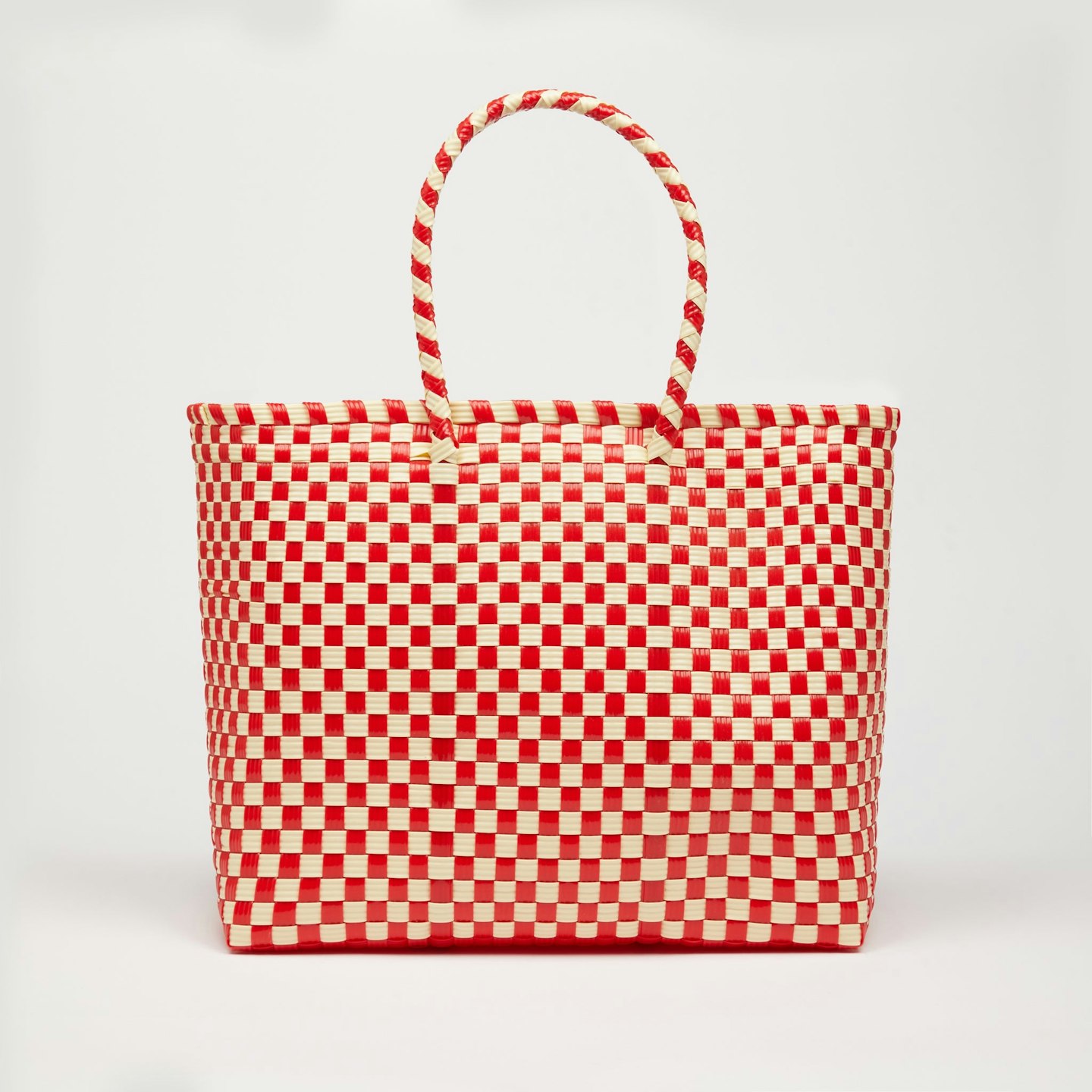 30 of 142
Friday - Lalo The Shop, Large Woven Bag, £72
Handwoven from recycled plastic and utterly fabulous. Ideal for taking to the supermarket, upgrading your usual 'bag for life', taking down to the beach and piling in all your work bits when heading to the office. Available in plenty of bright, bold colourways and three different sizes.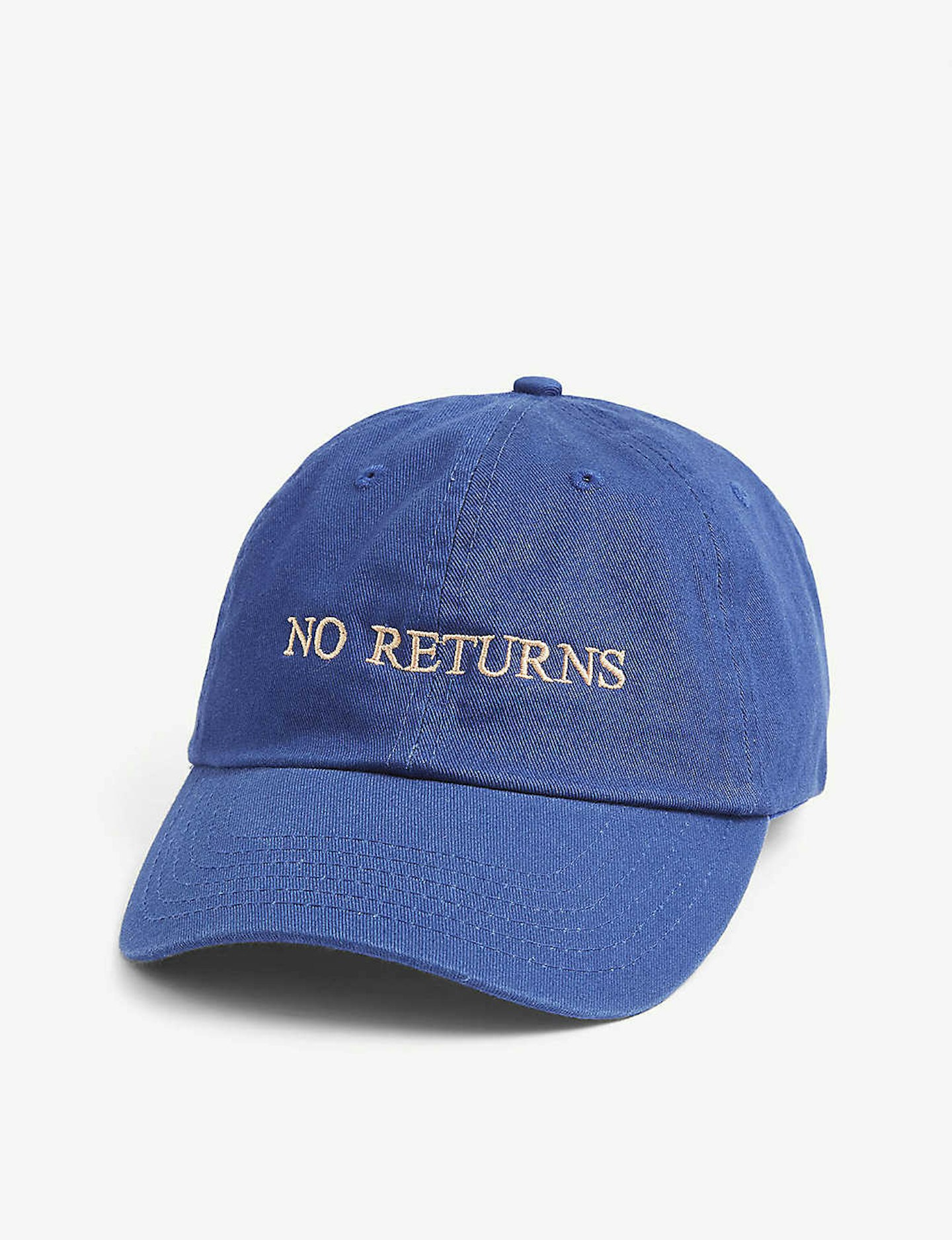 31 of 142
Thursday - Ho Ho Coco, Canvas No Returns Cap, £45
The sun is shining...for now! Shield from those rays and pop on a cheeky little slogan cap. Other favourites from Ho Ho Coco include 'The Plus One'.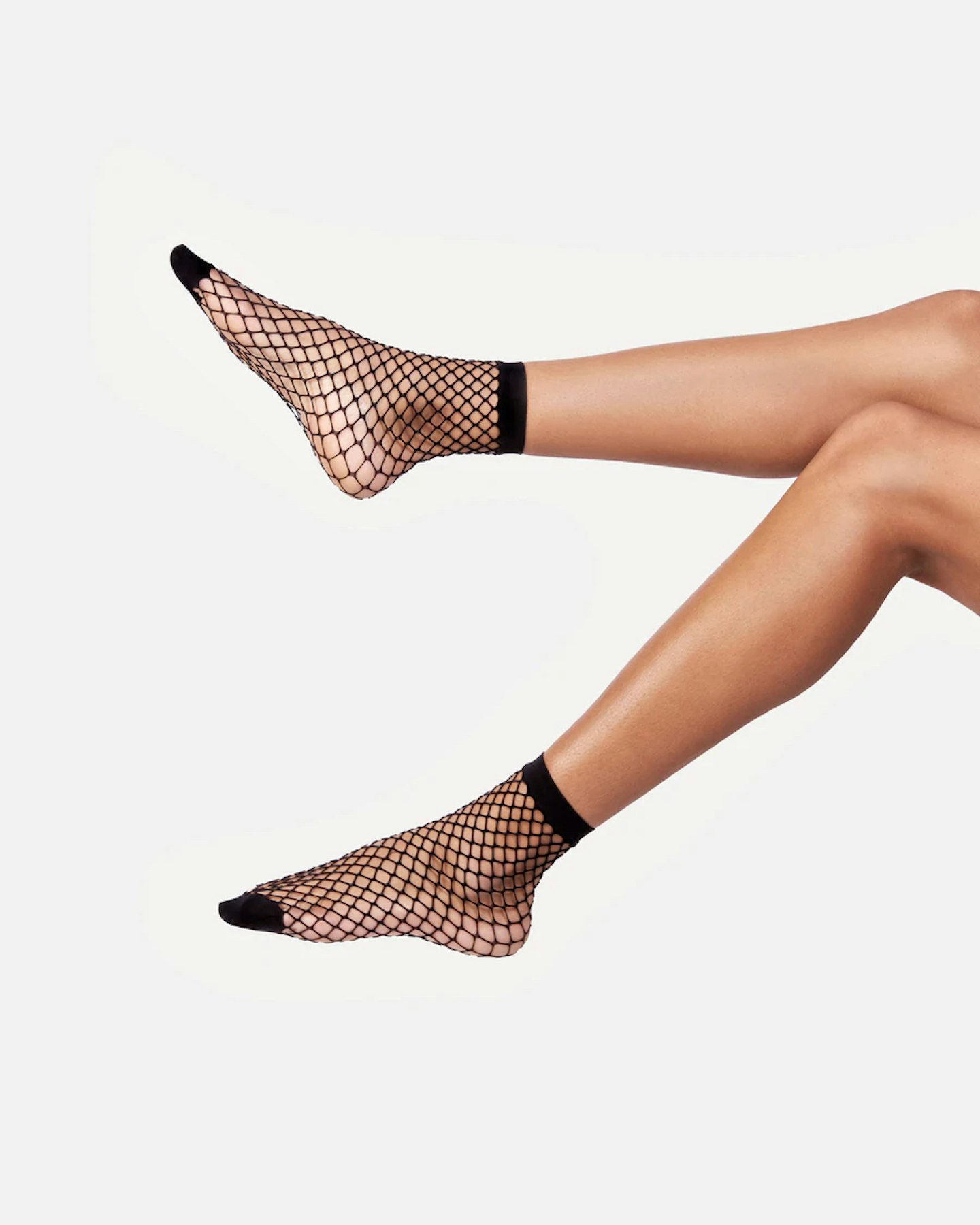 32 of 142
Hēdoïne, The Untamed Bio Fishnet Socks, £18 For Two Pairs
Lean into festival season and bring out the fishnets, in sock format for now at least. All Hēdoïne tights and socks are 85% biodegradable nylon and completely snag-proof - perhaps the perfect hosiery.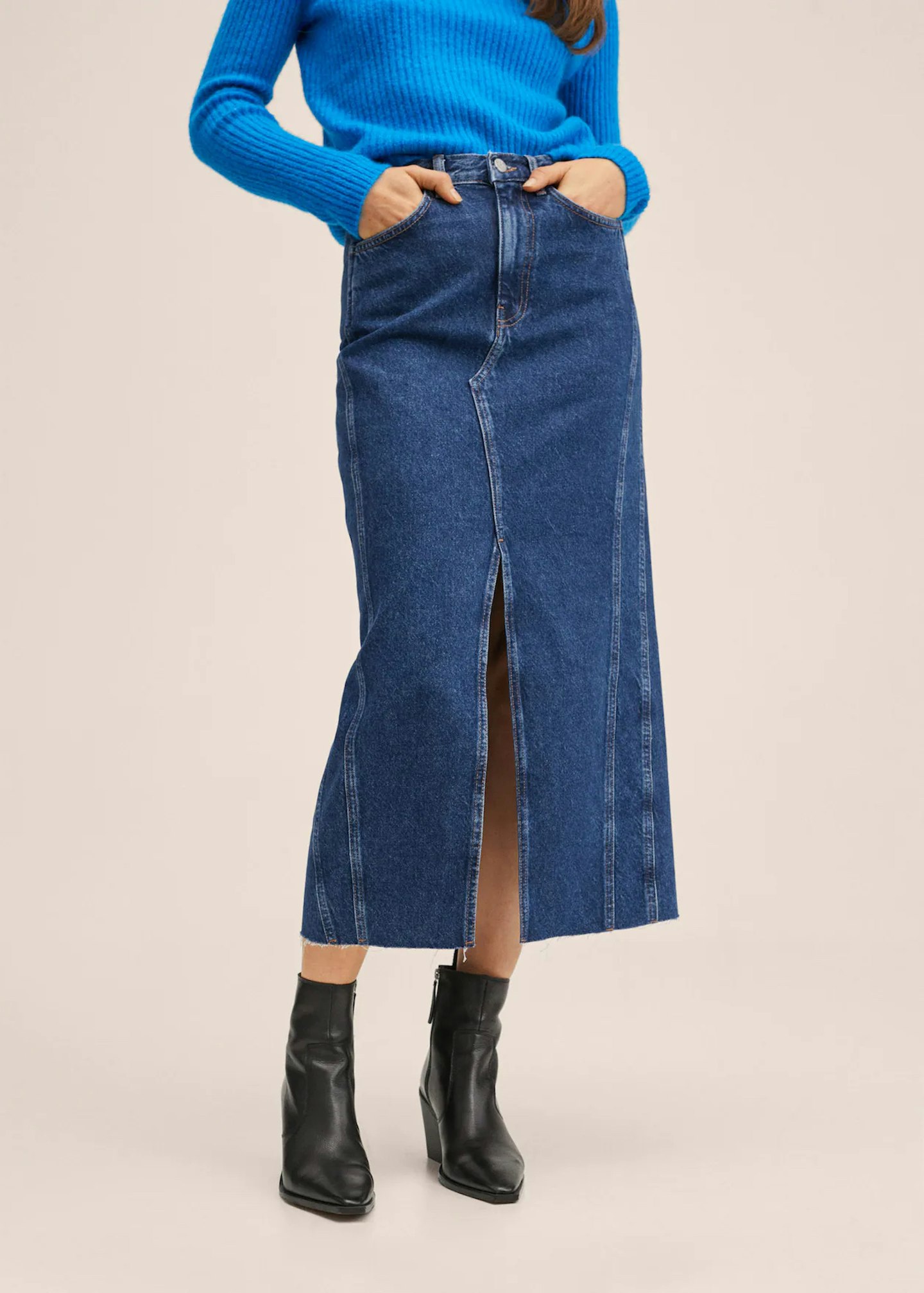 33 of 142
Tuesday - Mango, Slit Front Denim Skirt, £35.99
Midi skirts are a solid staple of any great wardrobe, a piece for the office, the pub, parties, the park, the list goes on! When it's raining, wear yours with stompy boots or trainers and leather slides for when the sun reappears.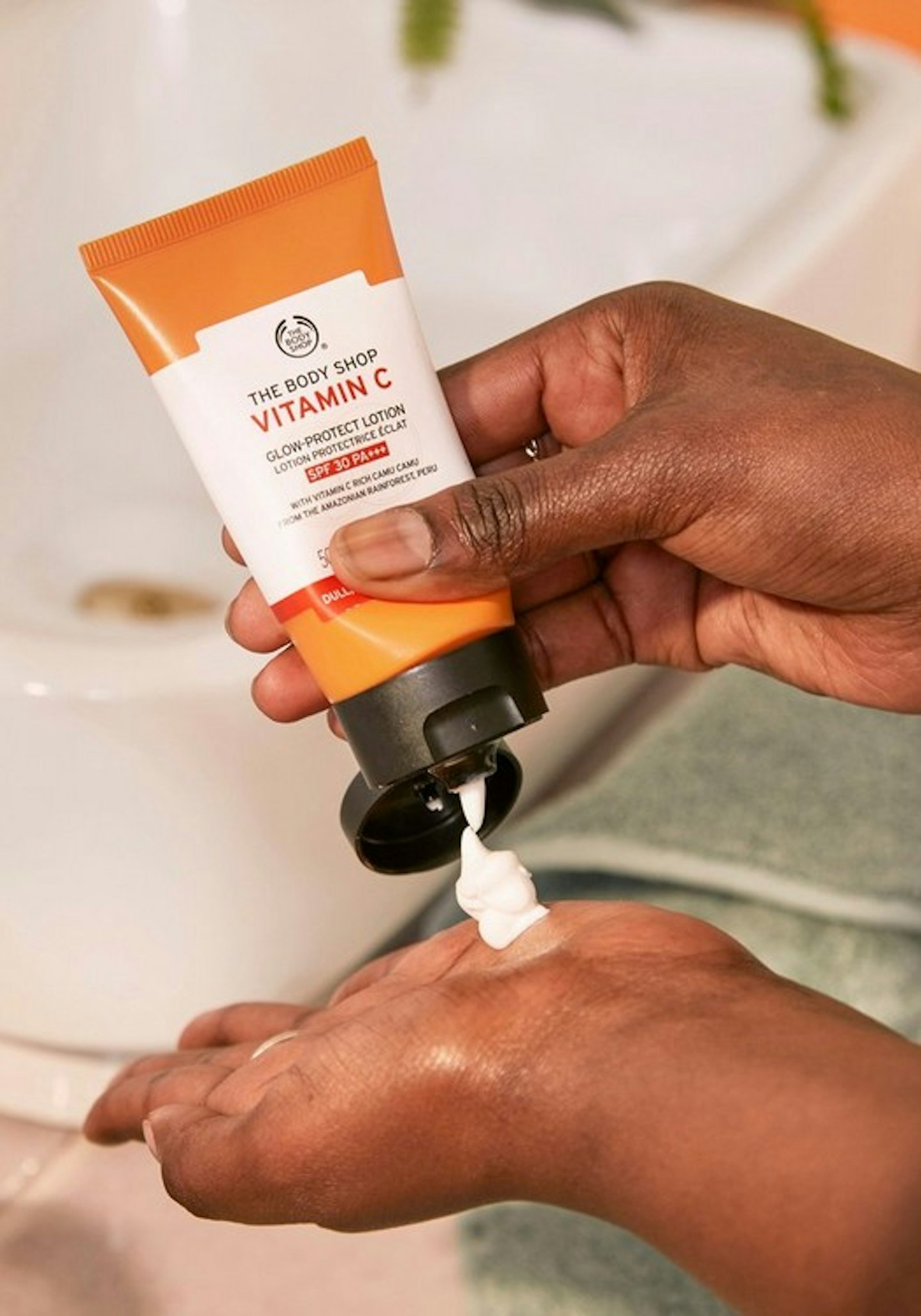 34 of 142
Thursday - The Body Shop, Vitamin C Glow-Protect Lotion SPF30, £15
The sun is shining, we're on the cusp of a long weekend, it's a good vibe, people! Be sure to protect that gorgeous skin of yours with SPF. The Body Shop has created the ultimate combo with a Vitamin C-enriched lotion to ensure you're a) glowing all day long and b) protected with SPF 30. Ready, steady, glow.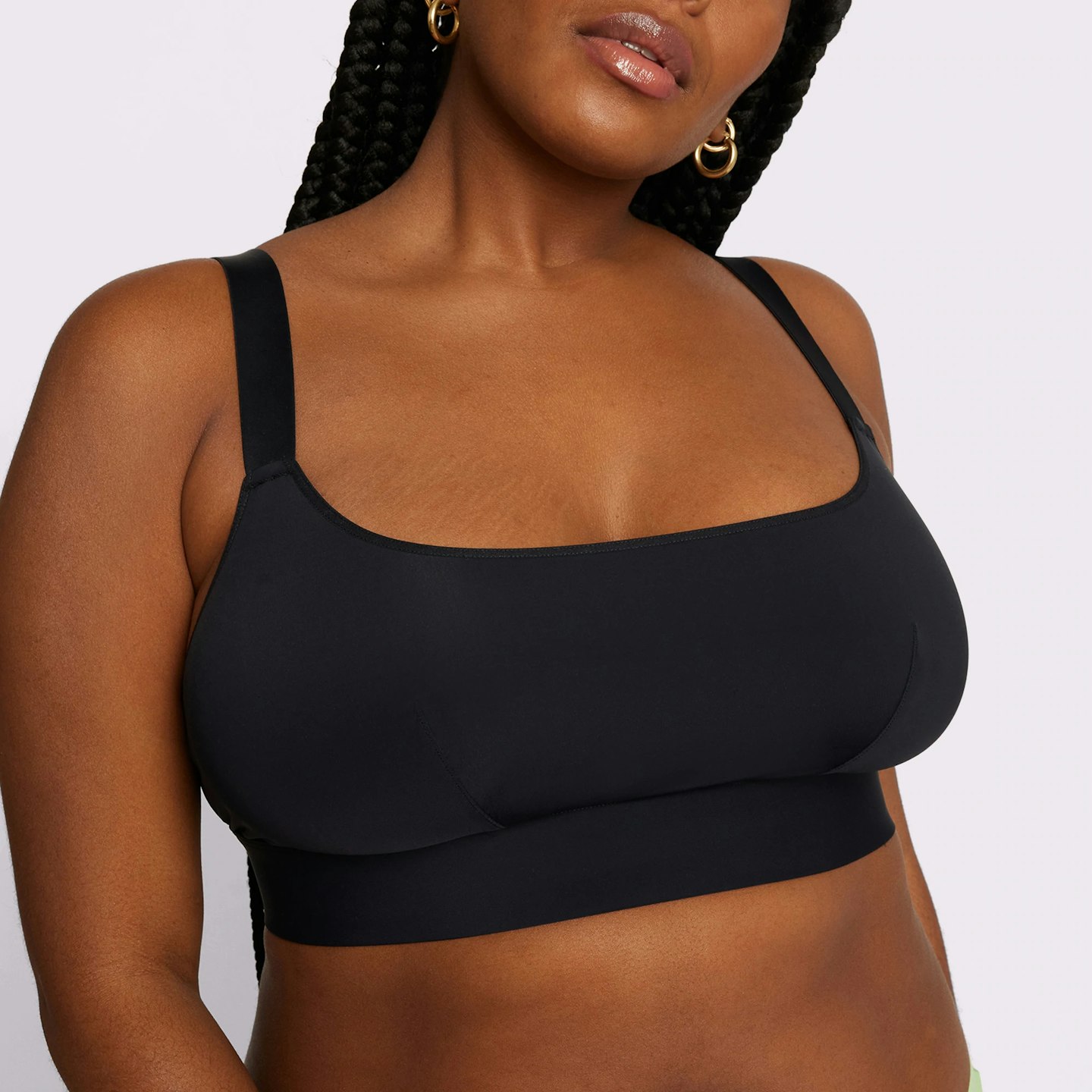 35 of 142
Wednesday - Parade, Scoop Bralette, £26
Trust me, this is potentially the comfiest bra you will ever wear. Super soft, super supportive and available in many a colour way. Parade are the new underwear brand on the block, with everything from bralettes, briefs and the ultimate comfies ready and waiting for you to lounge in.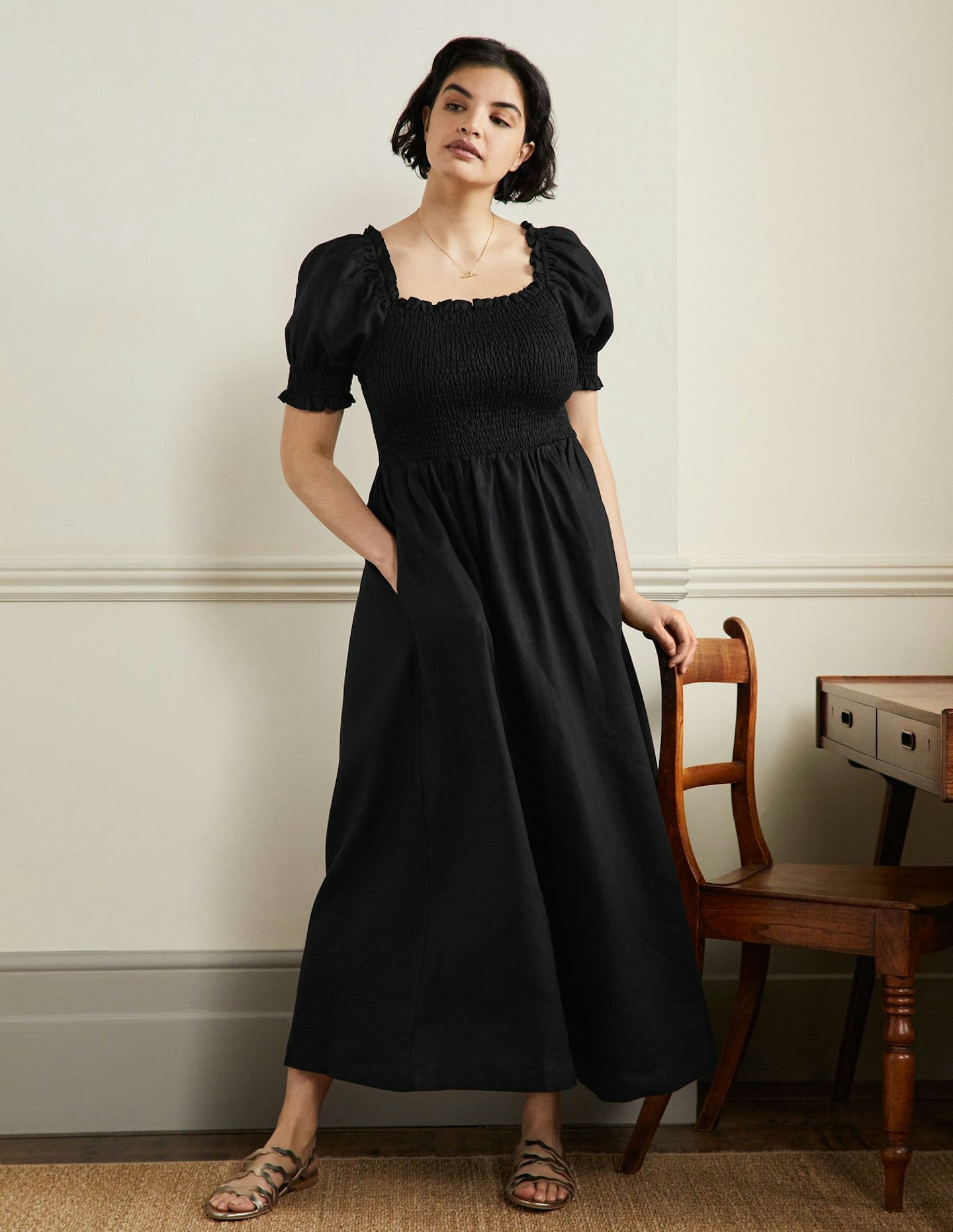 36 of 142
Tuesday - Boden, Smocked Bodice Midi Dress, £120
Not to alarm anyone but the weather for the Easter weekend actually looks amazing. Time for an update to your summer dress wardrobe (with a rain coat on hand just in case) this Boden shirred number will go just as well with chunky boots as it will with flip-flops.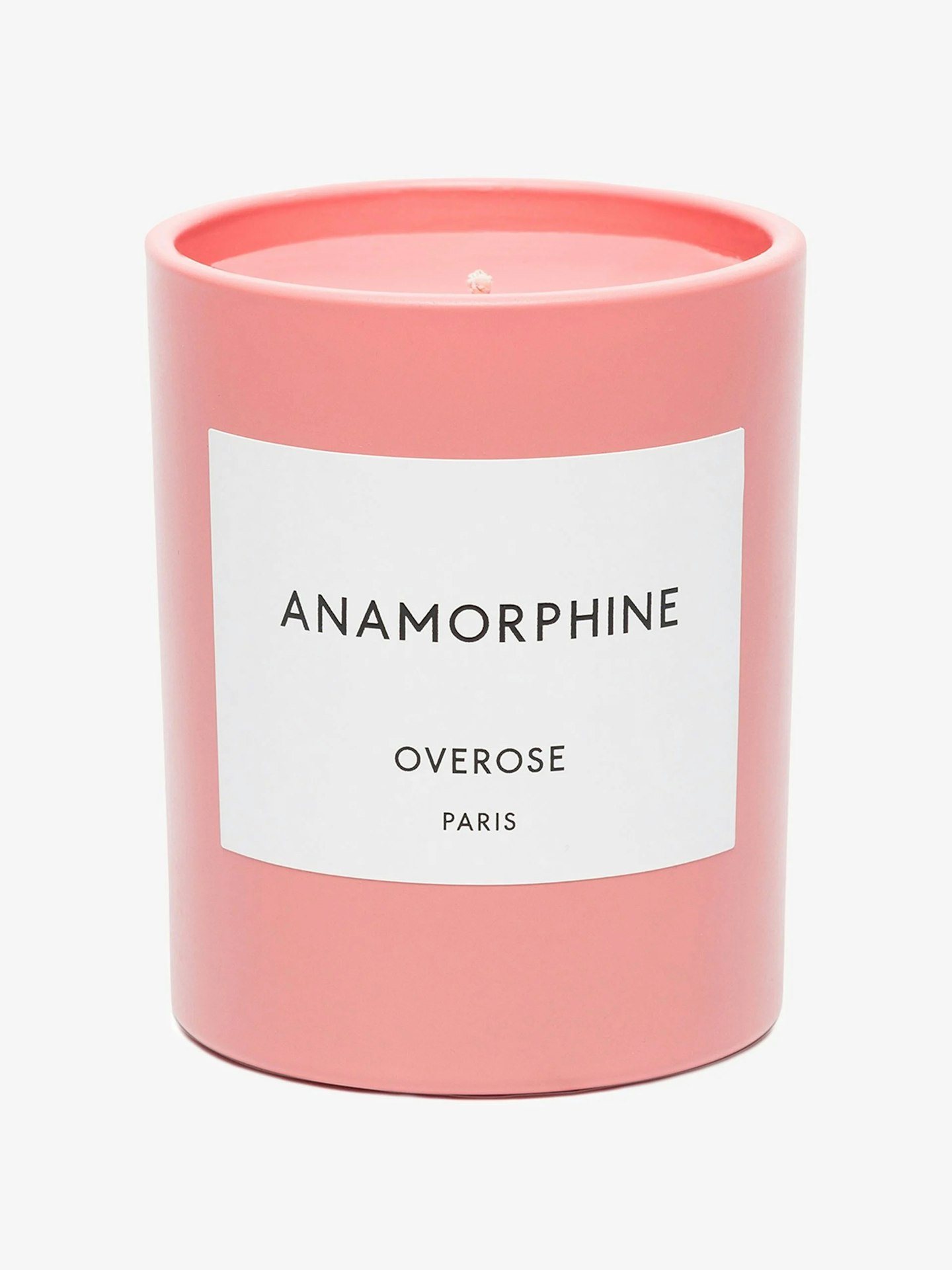 37 of 142
Monday - Overose Pink Anamorphine Candle, £45
Spring has sprung so why not brighten up any tired looking shelves. A cult favourite, smells just as good as it looks. A treat for all the senses.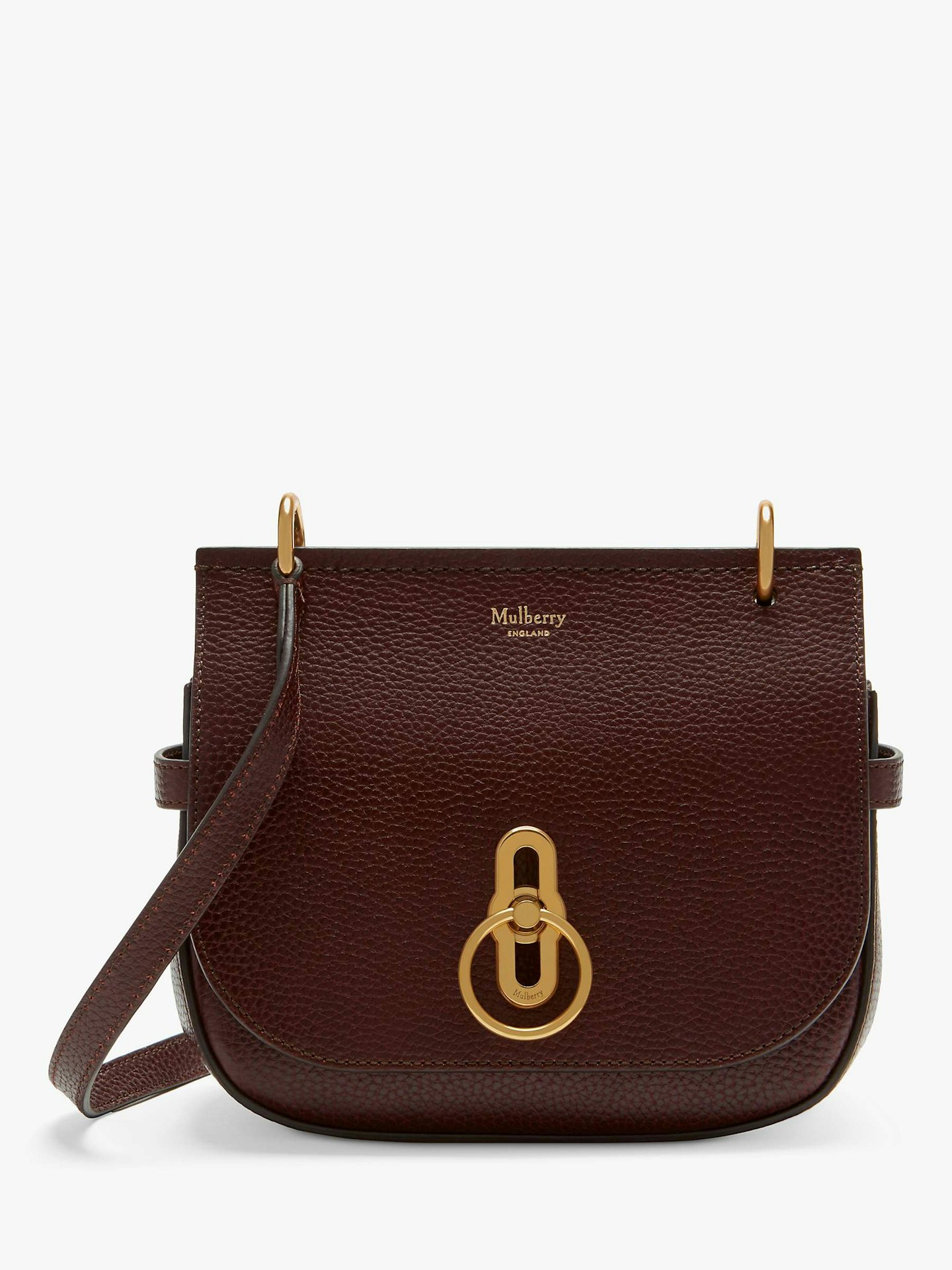 38 of 142
Friday - Mulberry, Small Amberley Classic Classic Grain Leather Satchel Bag, Oxblood, £750
As the saying goes; if it's good enough for Kate Middleton, it's good enough for us. Or something along those lines. The Mulberry Amberley is perfectly sized; an everyday cross-body bag to carry all the essentials. We're very into this oxblood colourway.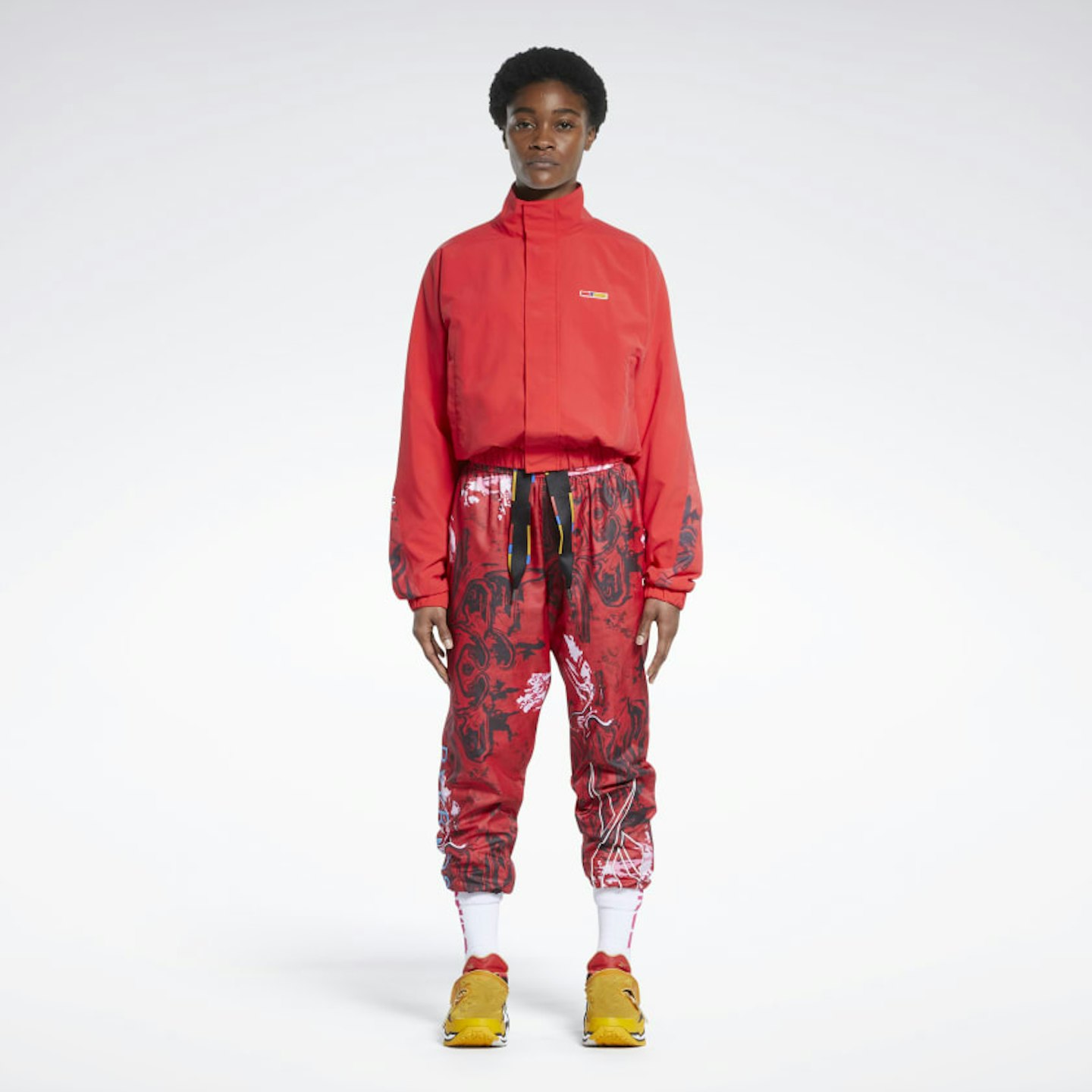 39 of 142
Thursday - Reebok by Pyer Moss Windbreaker, £230
The current weather situation requires us to be prepped and ready to deal with sun, rain, wind and everything in between. Step forward Reebok by Pyer Moss with a lightweight, nylon, windbreaker in bright, bold, red.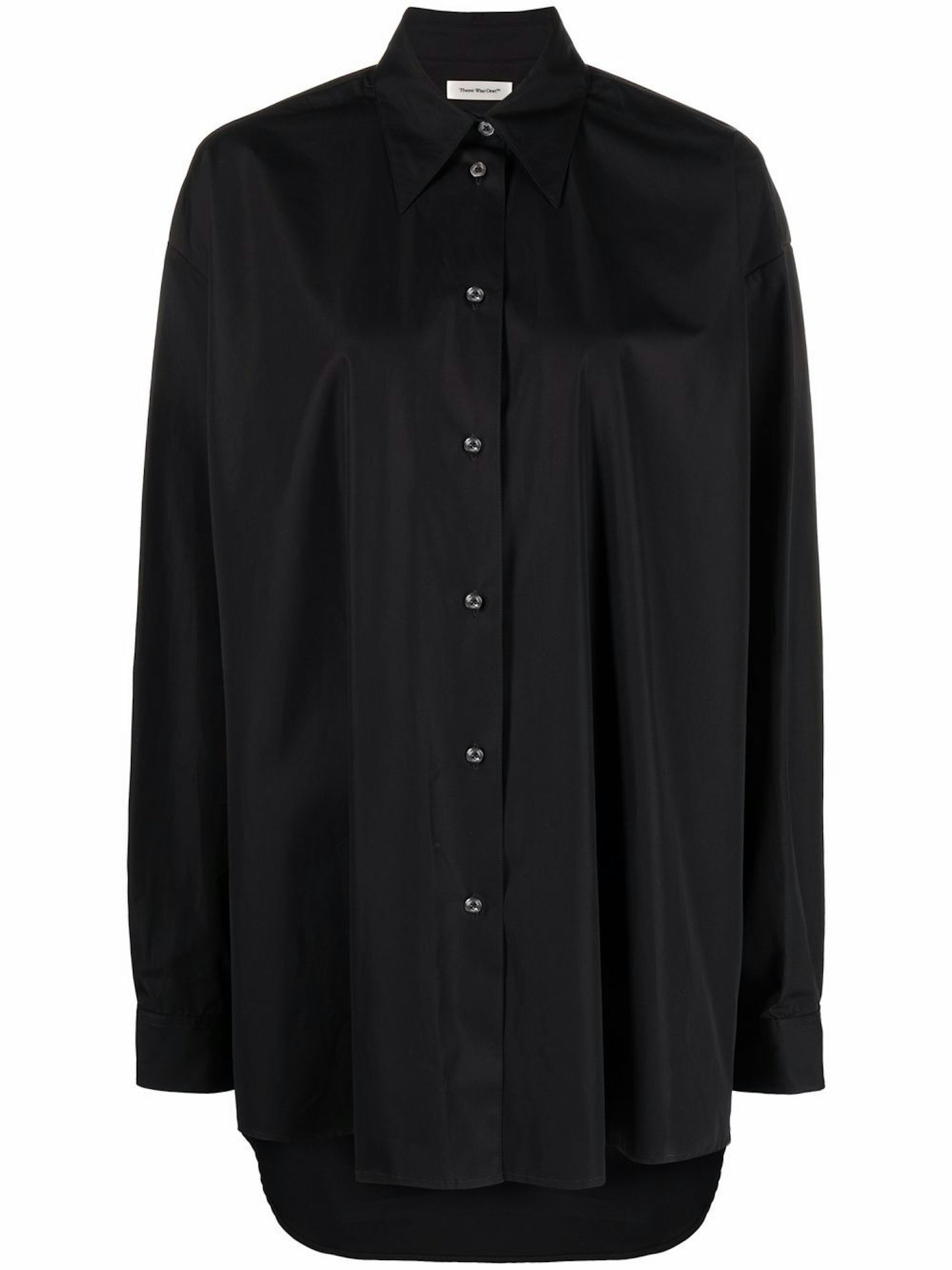 40 of 142
Wednesday - There Was One, Oversize-Fit Cotton Shirt, £230
If you fancy a change from the 'classic white shirt', an oversized plain black cotton shirt is a neat (and super chic) alternative. Wear unbuttoned over a white tank top for some simple, nonchalant style.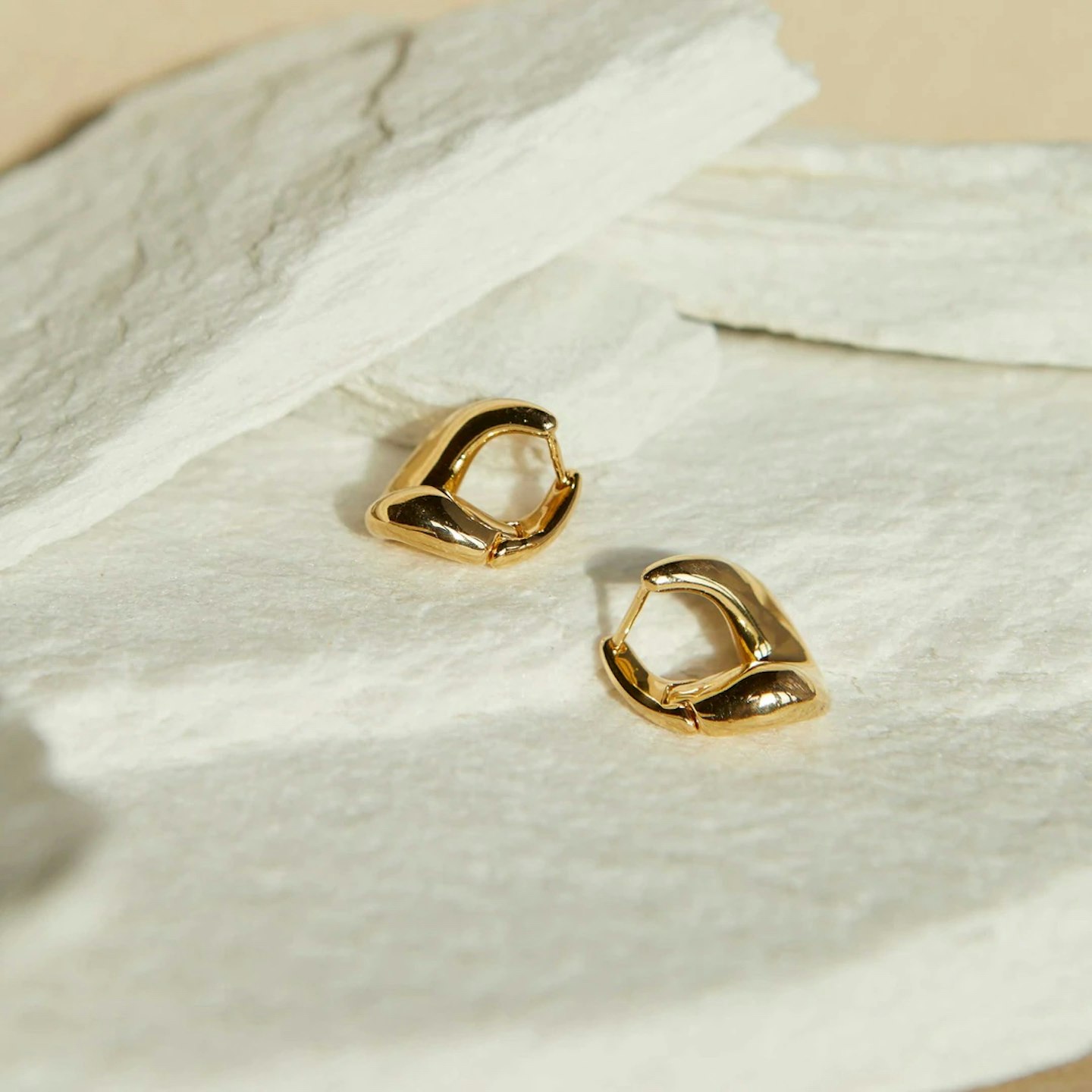 41 of 142
Tuesday - Astrid & Miyu, Molten Hoops in Gold, £69
Your everyday hoop has been given a spruce-up. Astrid & Miyu's gold-plated 'Molten' hoops are here to update your earrings collection. If gold isn't your thing, then never fear, these hoops come in silver, too.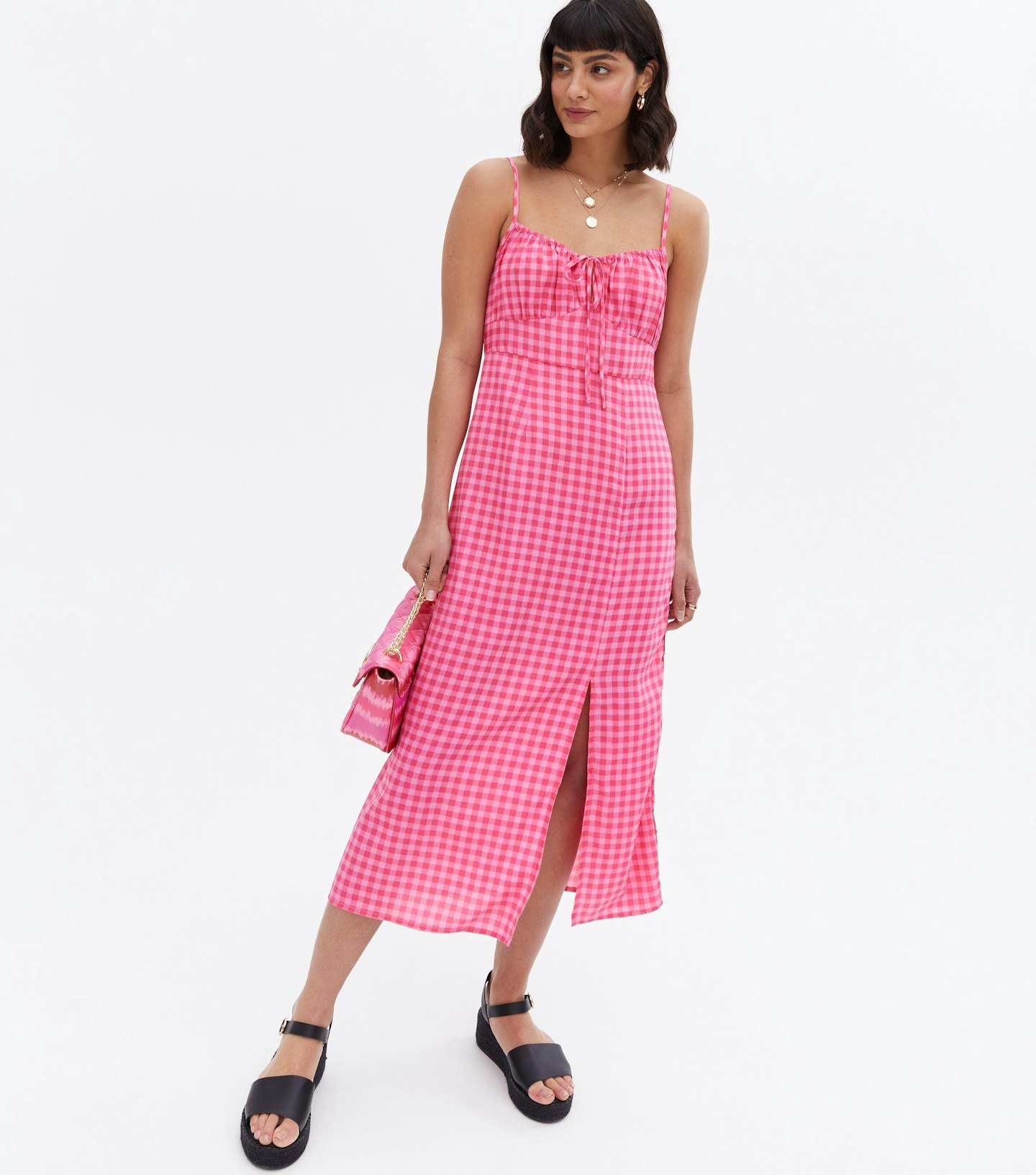 42 of 142
Monday - New Look, Pink Gingham Split Hem Bustier Midi Dress, £23.99
Dress for the weather you want. You might be starting to shop for holidays on the horizon or just fancy a Monday morning pick-me-up, whatever the reason this strappy little sun dress is the perfect addition to your warm weather wardrobe (for when it finally arrives).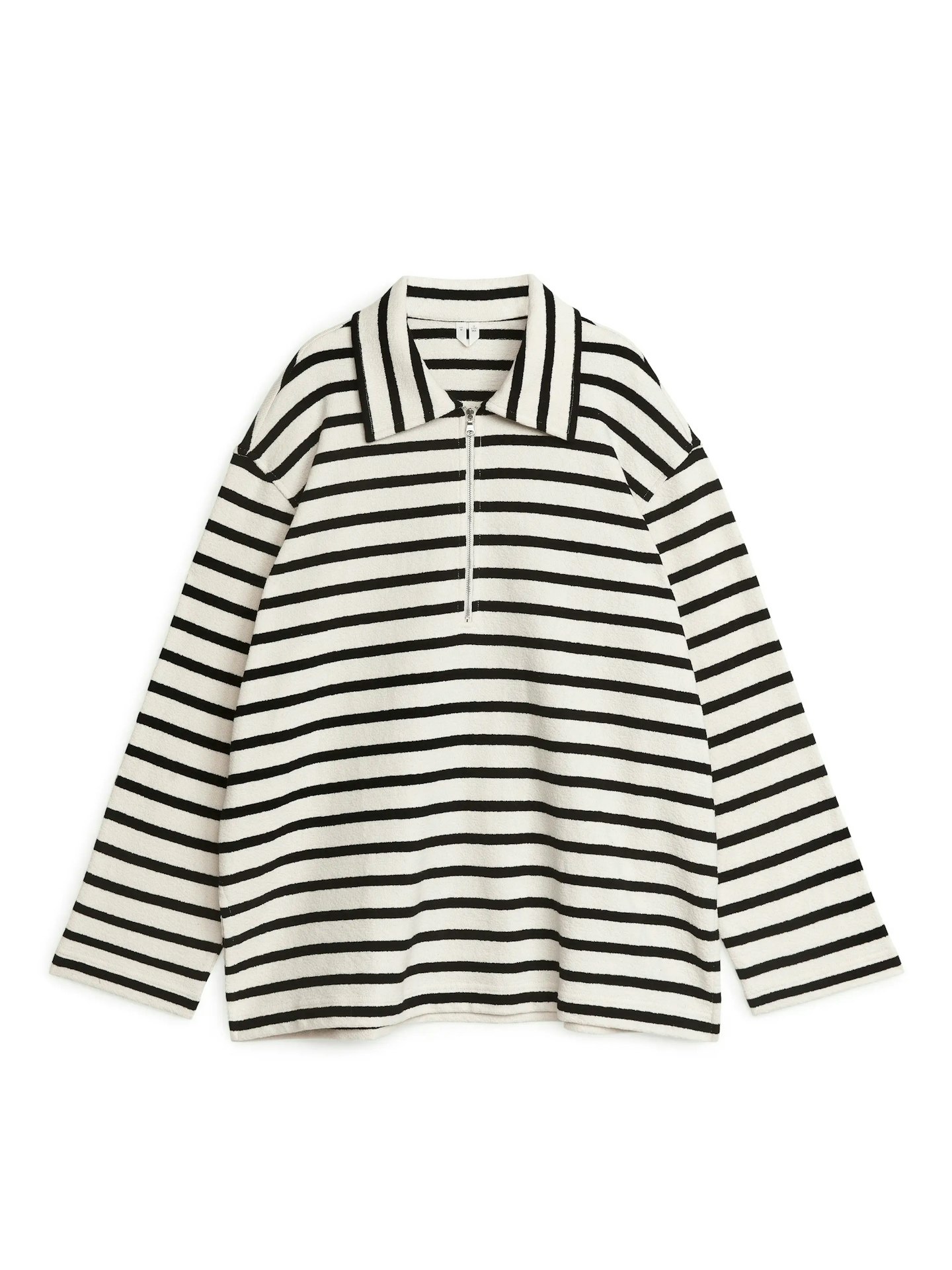 43 of 142
Friday - Arket, Jersey Polo Shirt, £59
A firm favourite in the style stakes, the 'dad jumper' or fisherman's knit is the 1/4 zip pullover that took Instagram by storm. This Arket number, previously sold out, is back and just as loved as before.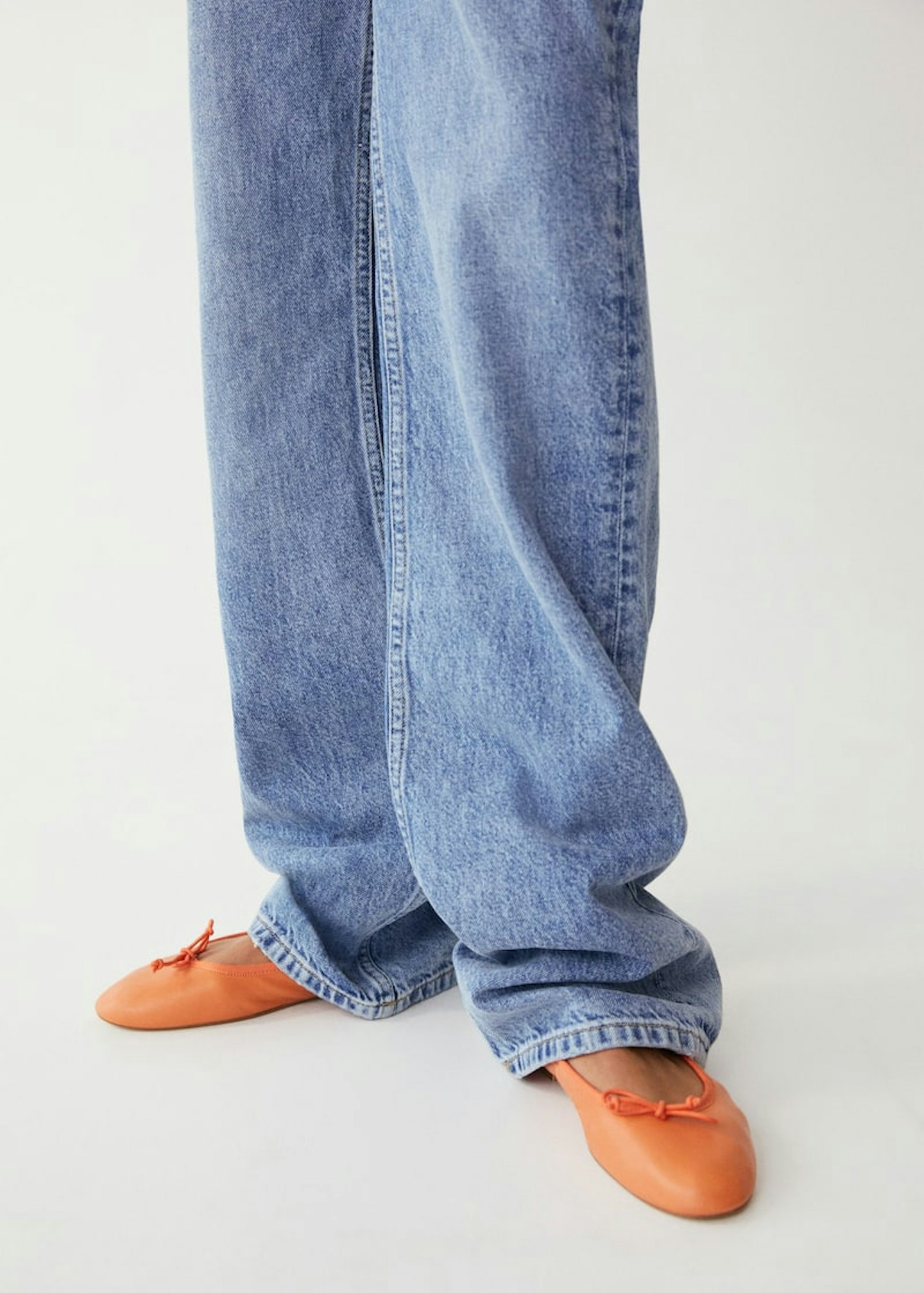 44 of 142
Thursday - Mango, Bow leather ballerina, £35.99
Ballet pumps are having a renaissance and our 2008 selves are thrilled. On the SS22 catwalks, ballet flats cropped up at the likes of Molly Goddard and Celine, how fancy. These soft leather Mango flats come in a rainbow of colours to suit whatever mood you're in.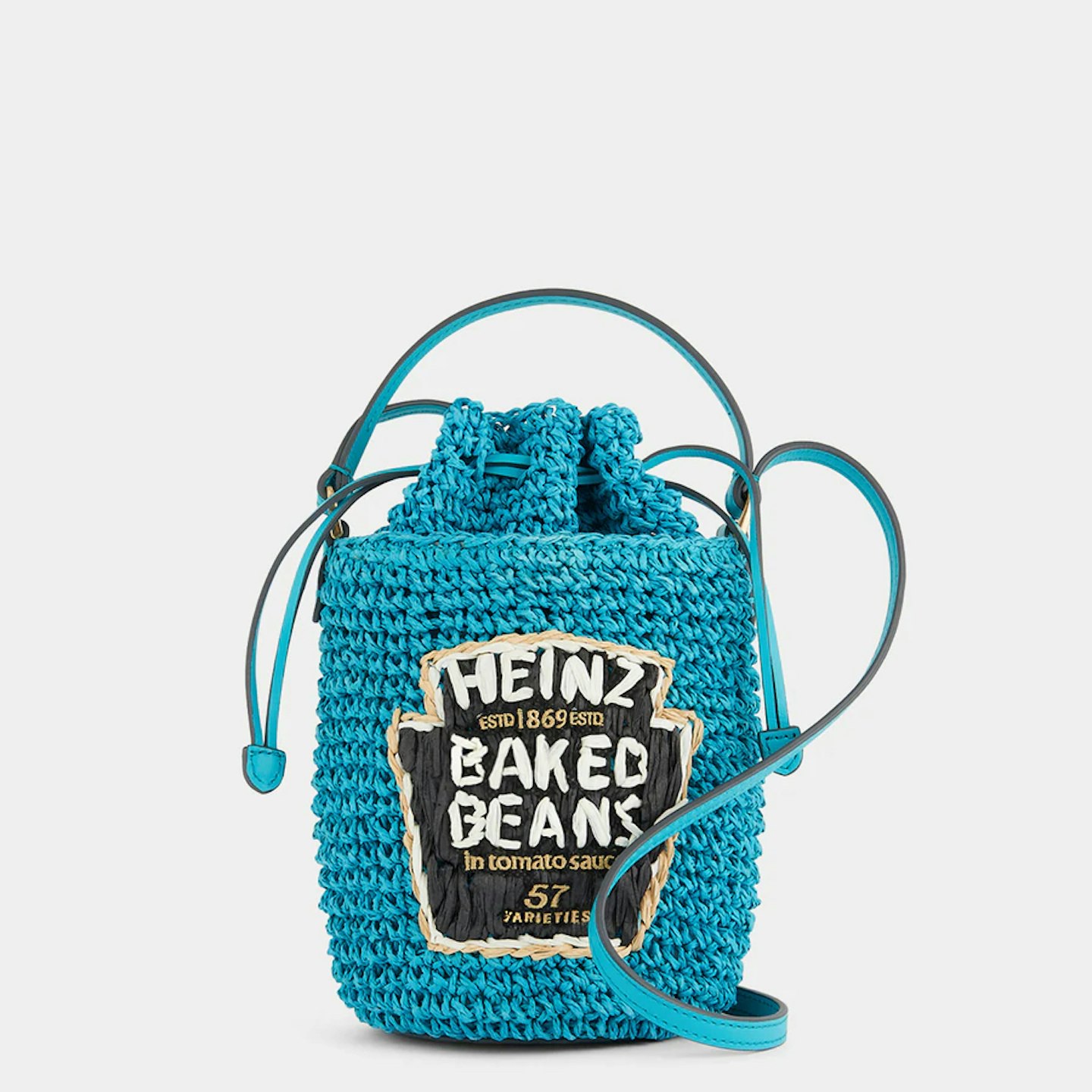 45 of 142
Wednesday - Anya Hindmarch, Heinz Baked Beans Crossbody, £325
Your weekly shop gets a sartorial make-over. We were all thinking it... when oh when would there be a Heinz Baked Beans bag? Well, Anya Hindmarch has answered our prayers. Along with the beans bag, Hindmarch has created a collection of other essentials including a Kellogg's Corn Flakes tote, Coke Zero, and Heinz Spaghetti Hoops cross-body bags - tasty.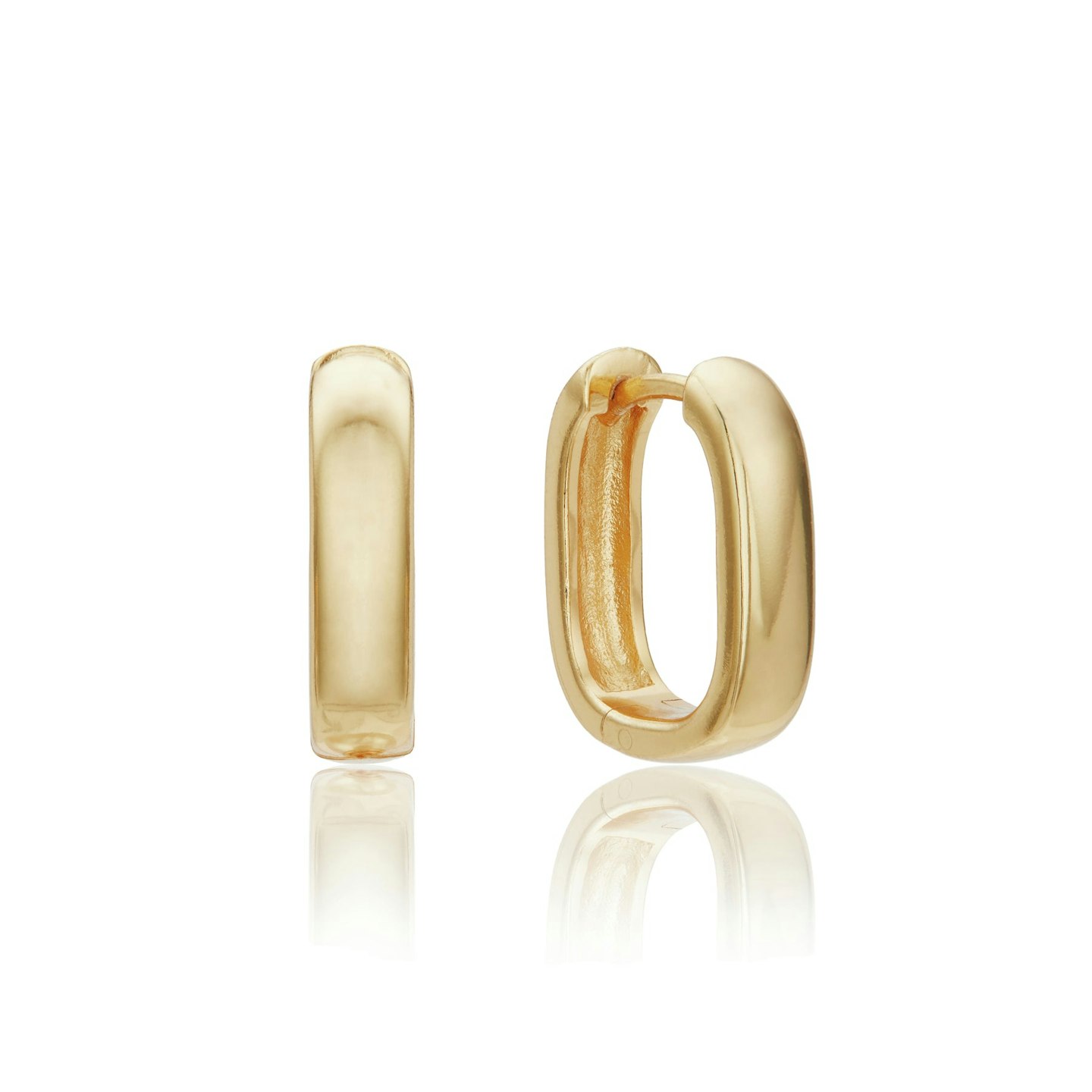 46 of 142
Tuesday - Lily & Roo, Gold Thick Squared Hoop Earrings, £90
Stack them up for perfectly curated lobes or simply wear on their own day in day out. The clasp make these earrings ideal to wear all day and night, no sharp earring backs poking us in the neck here. 18ct gold-plated and the perfect size for a pair of hoops, enjoy!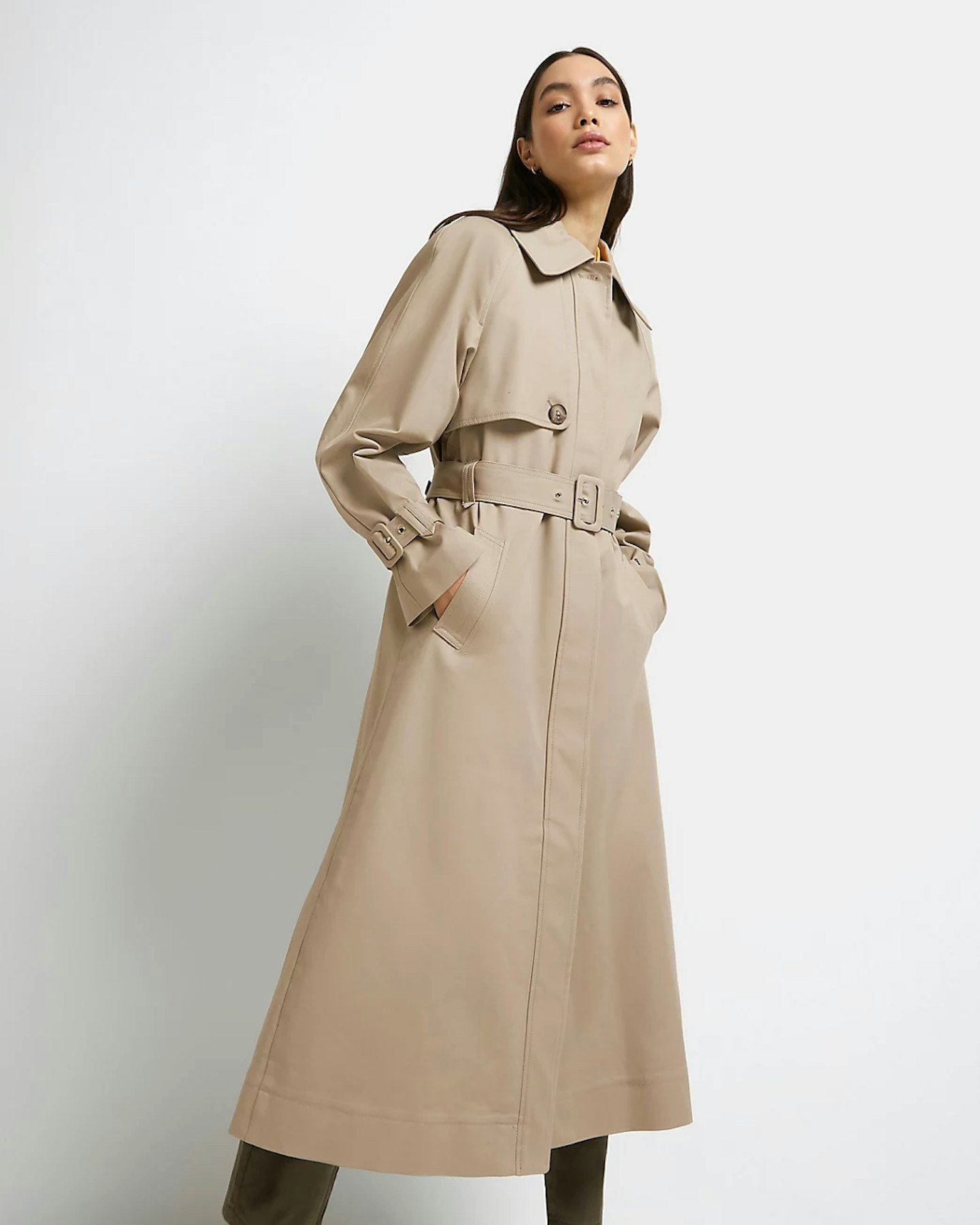 47 of 142
Monday - River Island, Beige Trench Coat, £130
Sorry to dampen the mood, but there appears to be rain on the horizon (pun not intended). We recommend a classic beige trench to tackle any sudden downpours and keep your outfit looking as good as can be.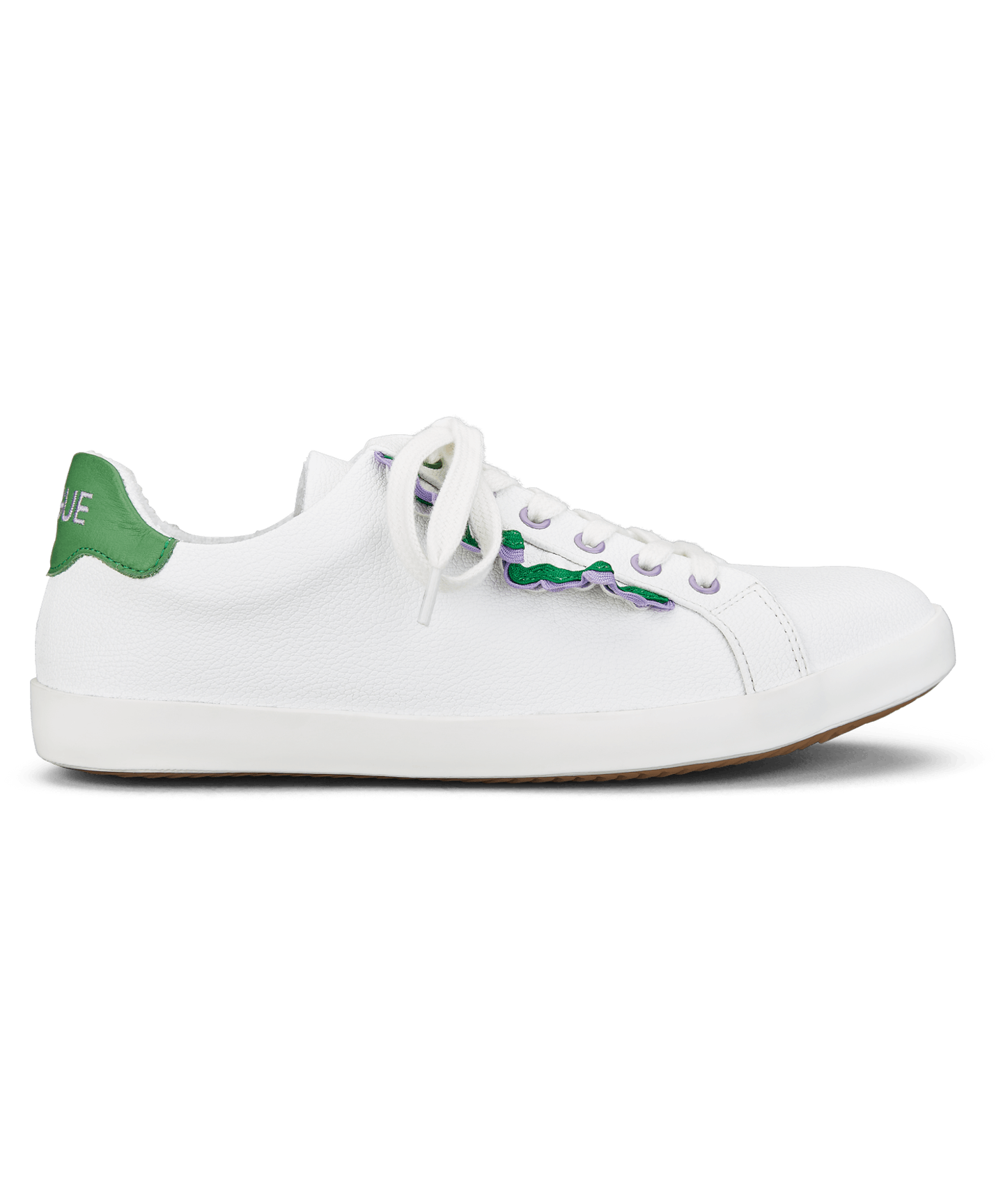 48 of 142
Friday – Rogue Matilda, Frill Detail Trainers, £179
Like your favourite pair of trainers but better, you won't want to take off these shoes. With their frill details, they're enough to perk up any outfit – without sacrificing the comfort you seek from your old sneakers. If you're not already familiar with Rogue Matilda, it's an independent British label that's favoured by the likes of Gigi Hadid – and it's not hard to see why. Keep your eyes peeled for some exciting collaborations coming up soon and, in the meantime, treat your feet to these gems.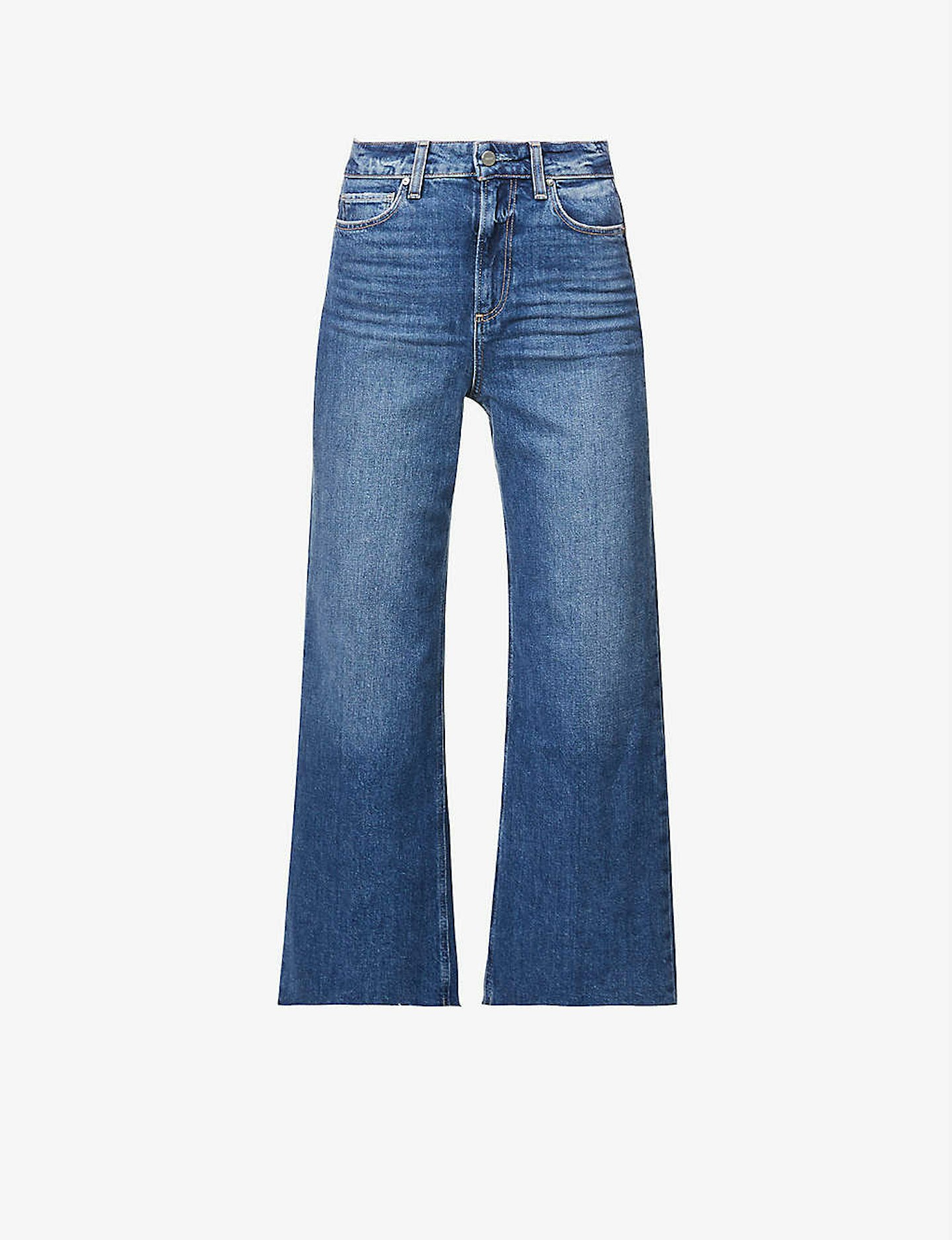 49 of 142
Thursday - PAIGE, High Rise Distressed Jeans, £260
The importance of a good pair of jeans is three-fold. Firstly, they will be your trusty best outfit friend whatever the occasion. Secondly, they will be comfy but still look smart; a wide-leg fit is ideal as they go with everything and suit all sizes. And lastly, investing in a good solid pair is key. Quality denim should last you a lifetime if looked after correctly. We don't want throwaway jeans, thank you very much.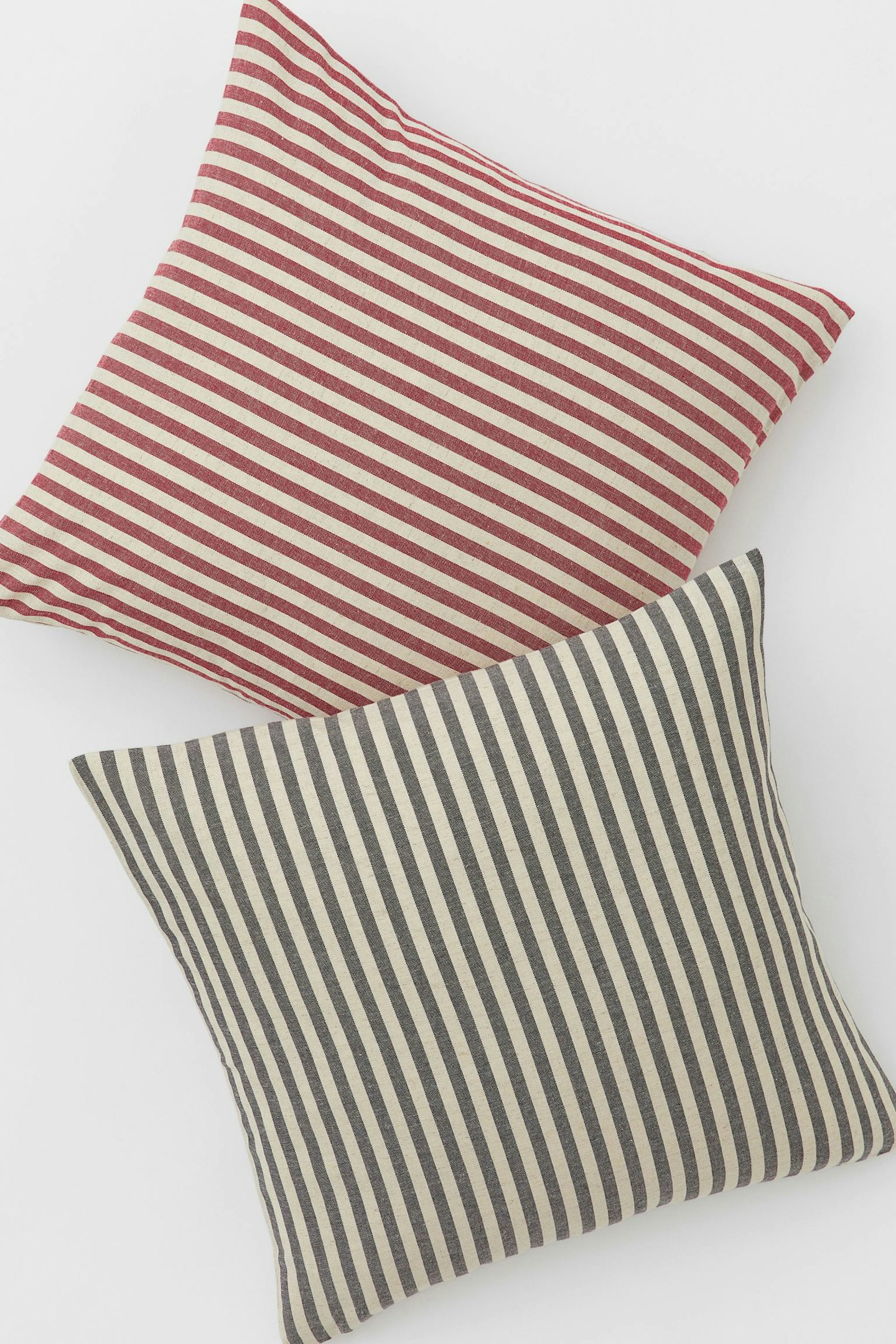 50 of 142
Wednesday - Wednesady - H&M Home Linen Blend Cushion Cover, £8.99
H&M Home really does come through when it comes to easy interiors updates. Spruce up your sofa with some lovely linen. Or give some love to your bedspread with a bit of stripy action.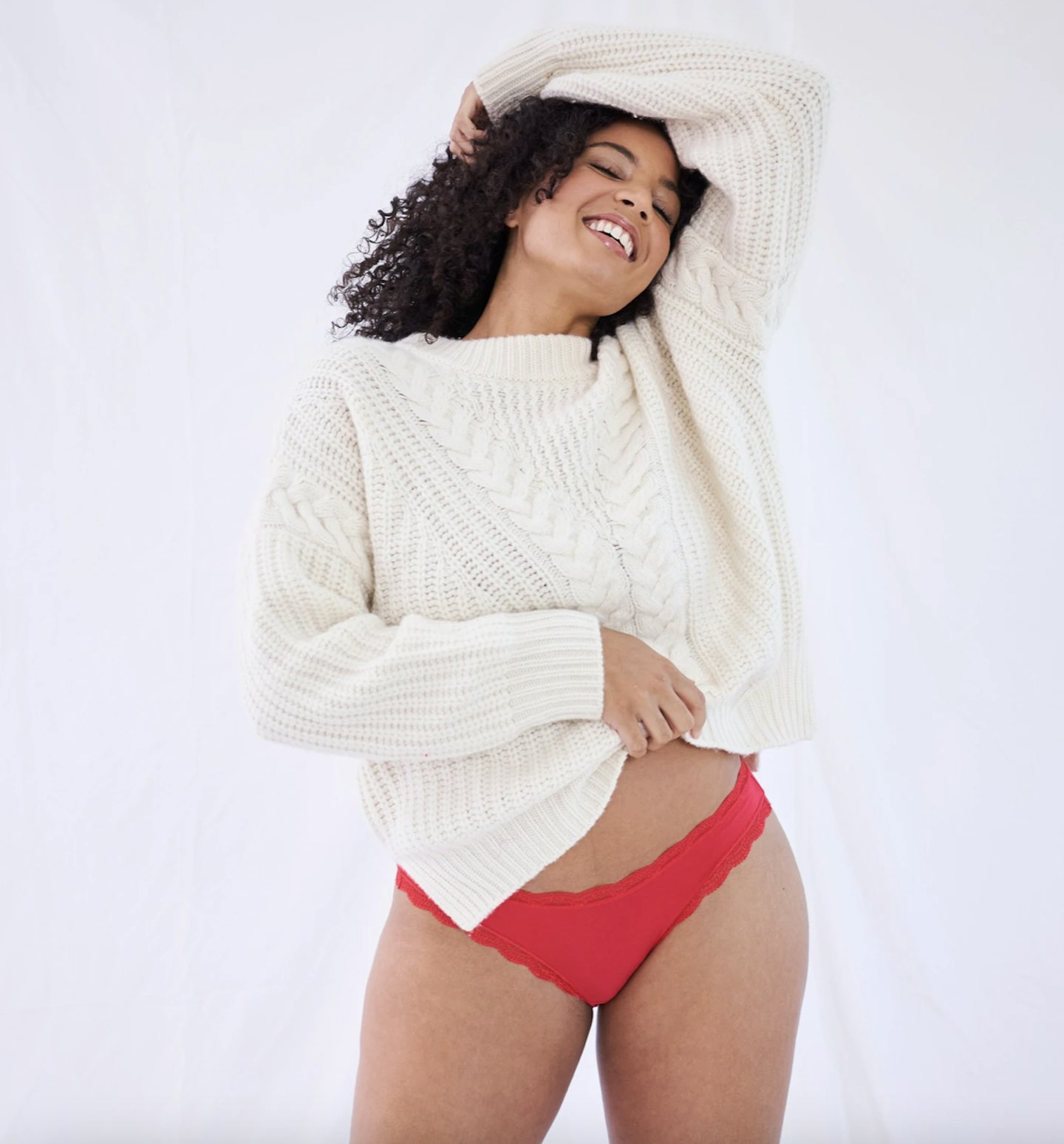 51 of 142
Tuesday - Stripe & Stare, Plain Red Knickers, £15
Famed for being the 'comfiest knickers around', Stripe & Stare's underwear comes in a rainbow of colours and prints available to buy on their own or as four for £40 - and they're sustainable. All fabric used is TENCEL™ Modal, made using wood pulp from sustainable tree farms. A pair in every colour, please.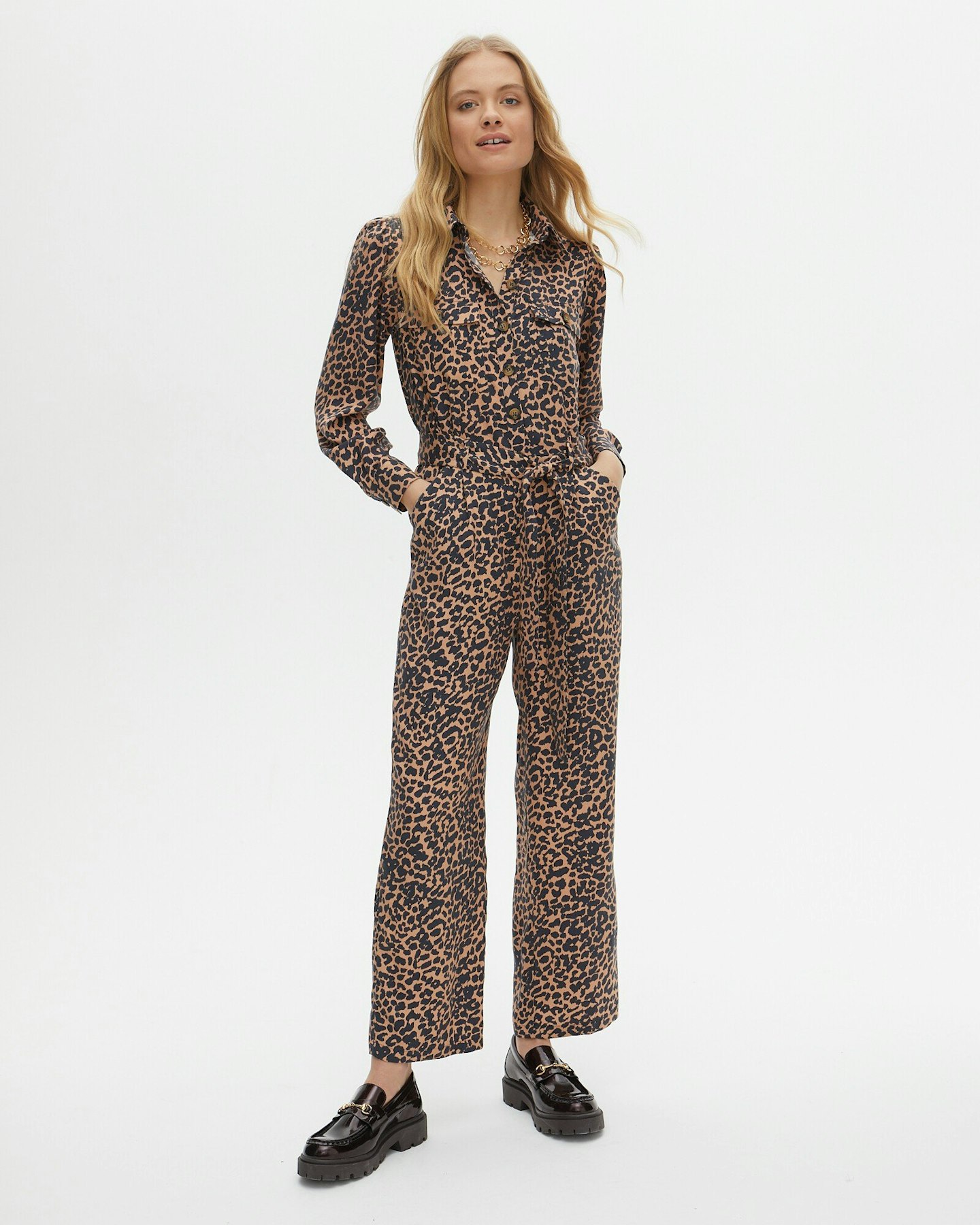 52 of 142
Monday - Oliver Bonas Leopard Print Jumpsuit, £85
Stuck with what to wear for this tricky transitional season? Being a ready-made outfit, the jumpsuit comes into its own for days when the weather can't make up its mind. Another transitional bonus is the move between WFH and going into the office. Smart enough for IRL meetings but comfy enough for days when you're glued to the home office set-up. It's also leopard print, which I think is an added plus that speaks for itself.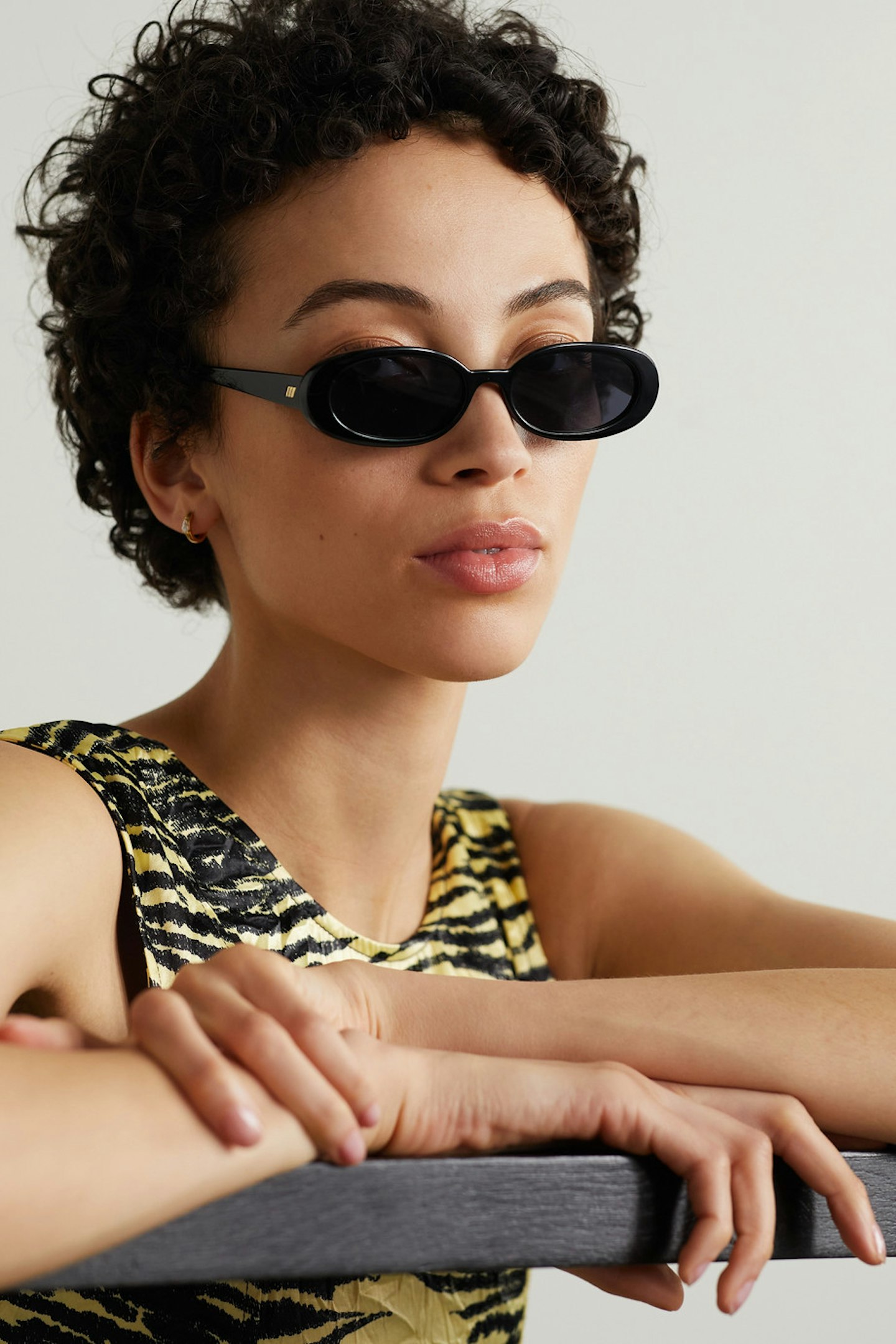 53 of 142
Friday - Le Specs, Oval Acetate Sunglasses, £45
The sun is shining and it's set to stay all weekend. In honour of blue skies, up your sunglasses game with a pair of narrow oval frames (Bella Hadid would approve). Softer than a rectangle frame, the oval shape suits pretty much all faces and is guaranteed to remain a classic that you can wear for many sunny seasons.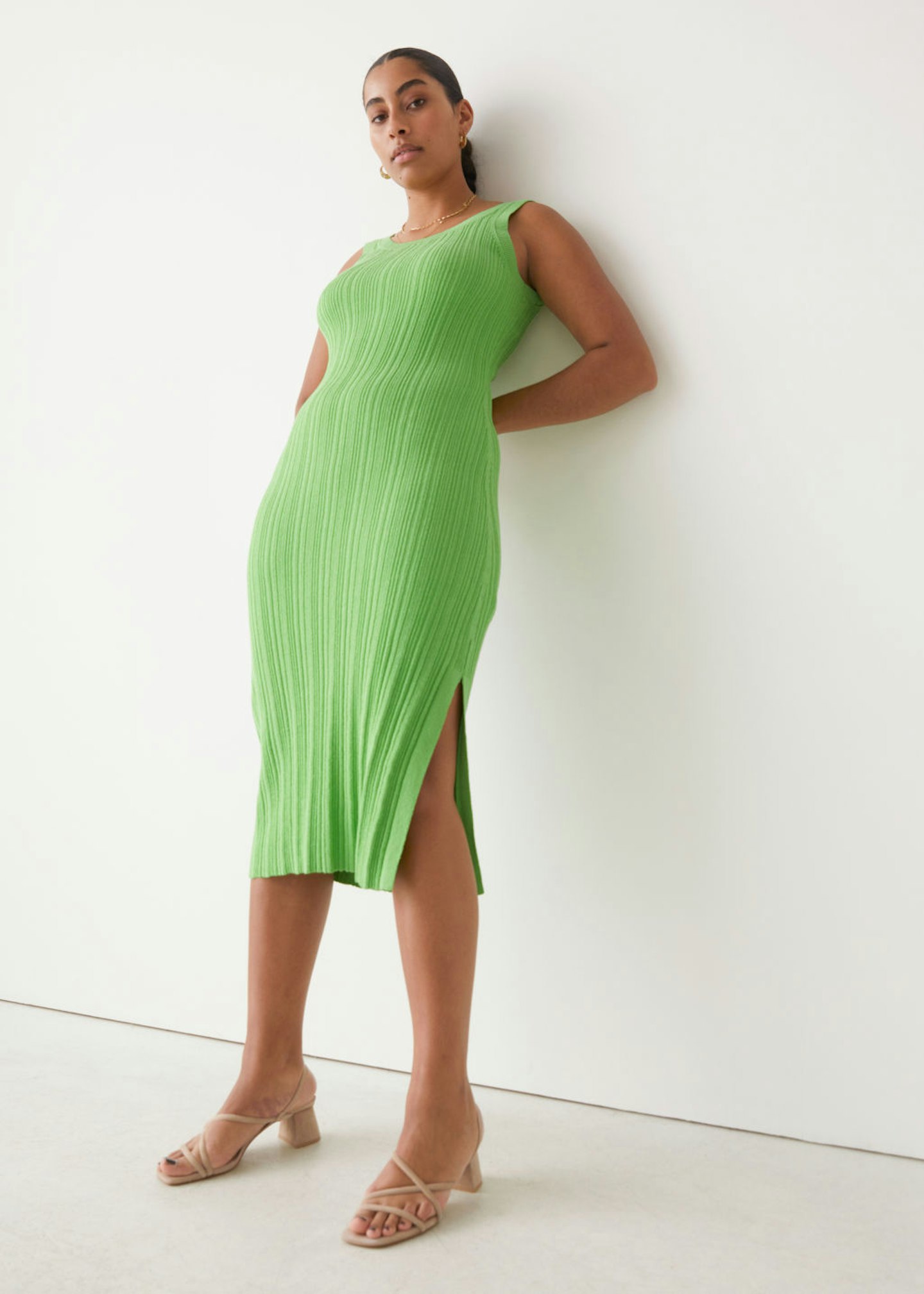 54 of 142
Thursday - & Other Stories, Sleeveless Rib Knit Midi Dress, £65
Green is the colour of the season and the brighter the better in our opinion. The sun is shining outside so now's the time to swap your cosy winter knits for a knitted dress that's spring-ready. Wear with knee-high boots when you're off out or keep it casual in sandals on warmer days.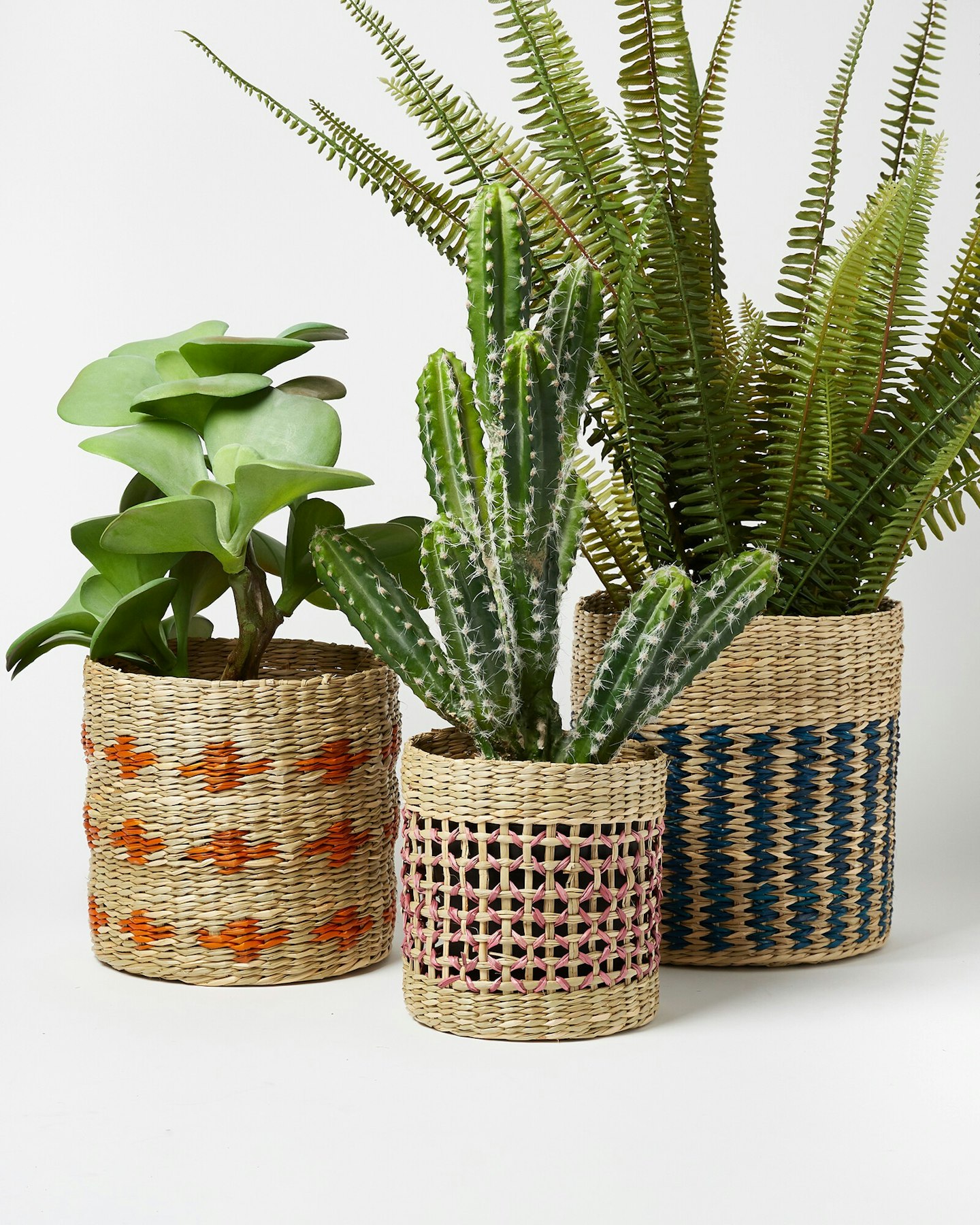 55 of 142
Wednesday - Oliver Bonas, Seagrass Plant Pot Covers Set of Three, £32.50
What better way to add a little something your home than some handwoven seagrass plant holders, fancy huh? If your perfectly pruned lockdown plant collection is looking a little worse for wear, provide some distraction from any wilting leaves with a little pop of pot decoration.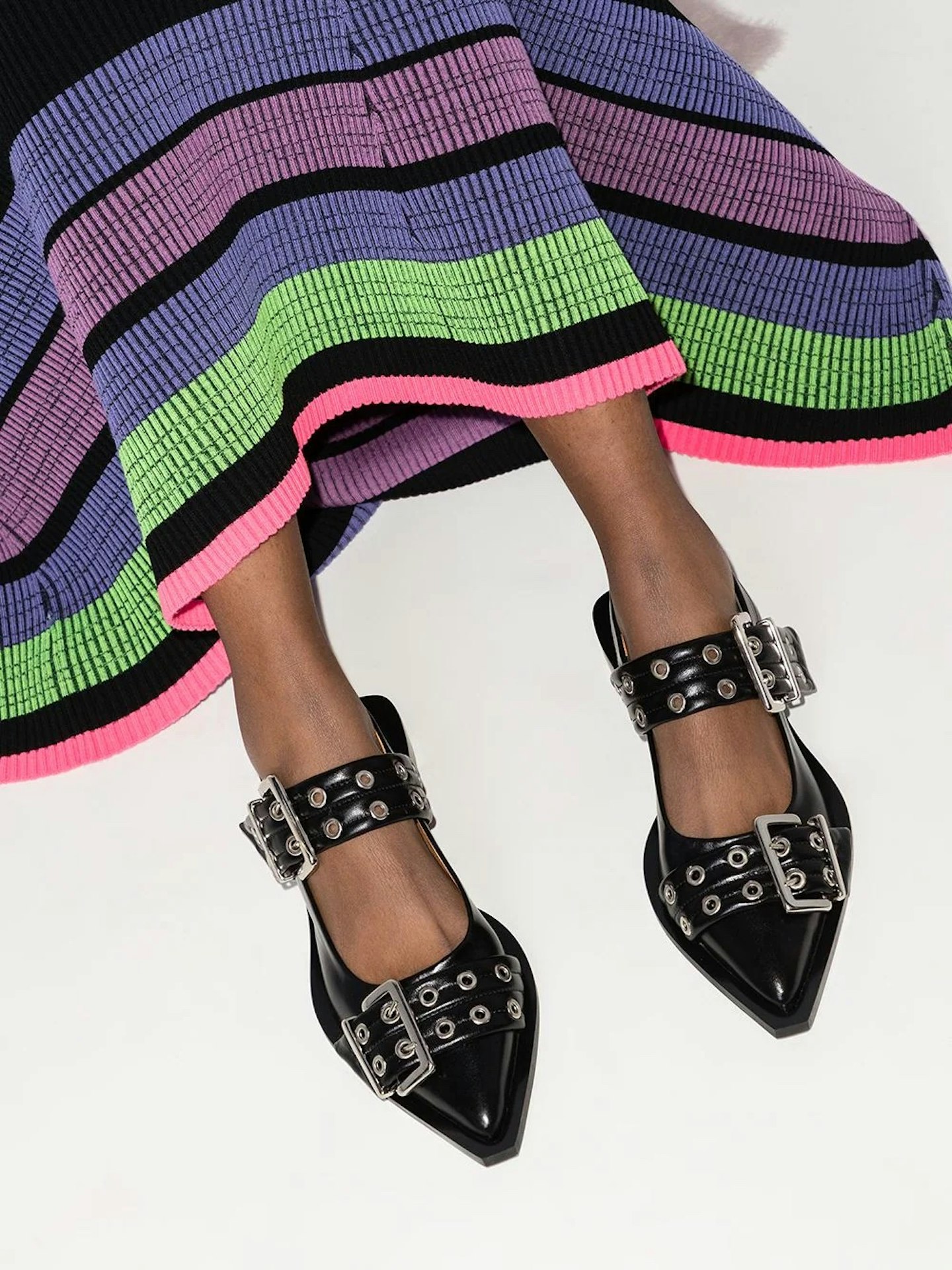 56 of 142
Tuesday - Ganni, Buckled Slingback Shoes, £242
Boot season is almost over (bar the odd soggy day) - rejoice! If, like me, it's either boots or slides in the shoe department then finding a smarter option, that aren't loafers or trainers, is a tricky business. These Ganni buckled sling-backs are the ultimate hybrid shoe. Smart enough for the office but cool enough to wear with scruffy jeans and your favourite 'well worn' T-shirt.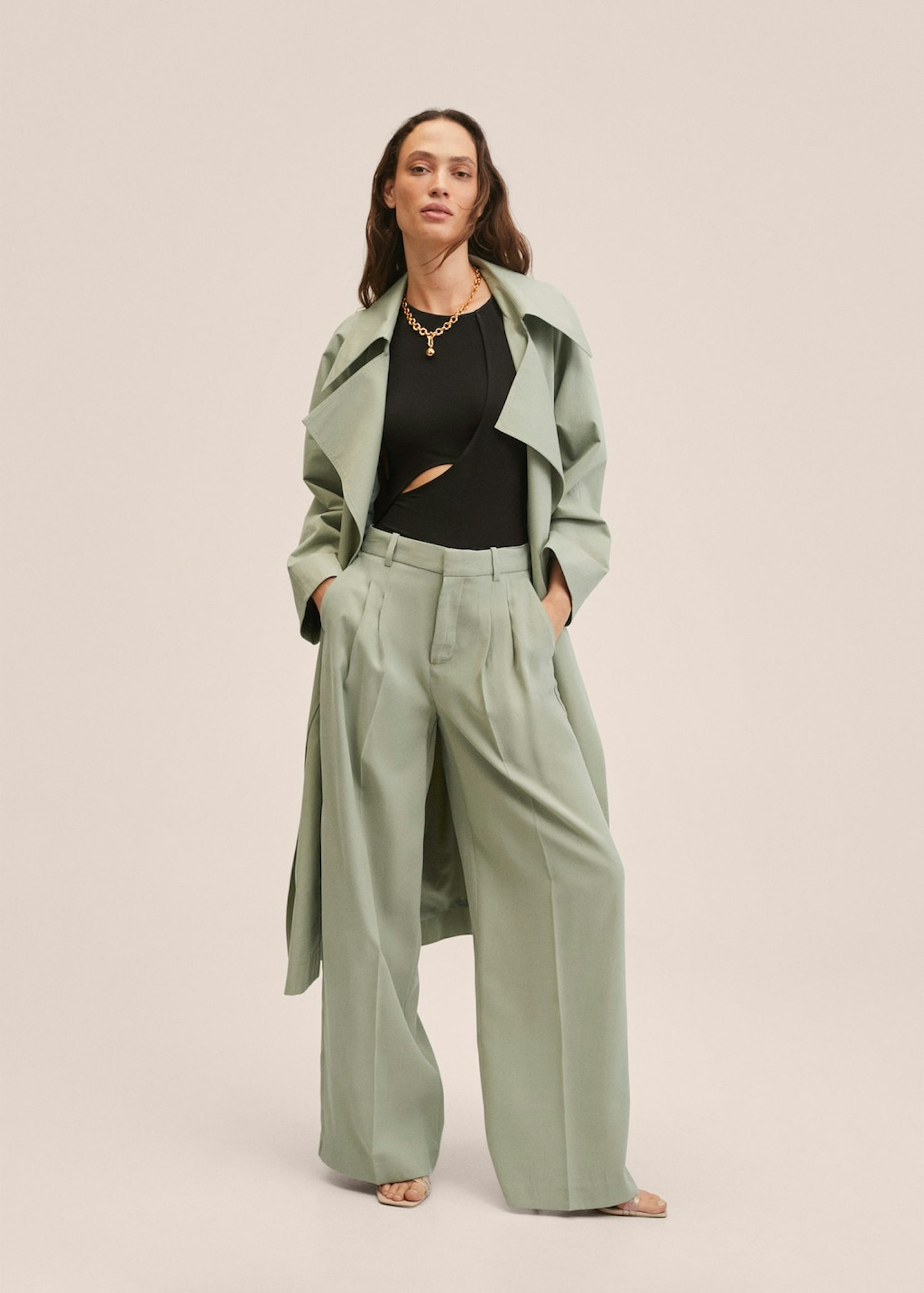 57 of 142
Monday – Mango, Wideleg Pleated Trousers, £49.99
As the days become warmer, at long last, it's time to begin the tricky transitional dressing period. A great go-to is a perfectly slouched wide-leg trouser, just as good with a pair of trainers for rainy days or sandals for rare sunshine appearances. This Mango pair, in the ideal shade of pastel green, will seamlessly switch from casual to glam in the blink of an eye (just add lipstick or heels).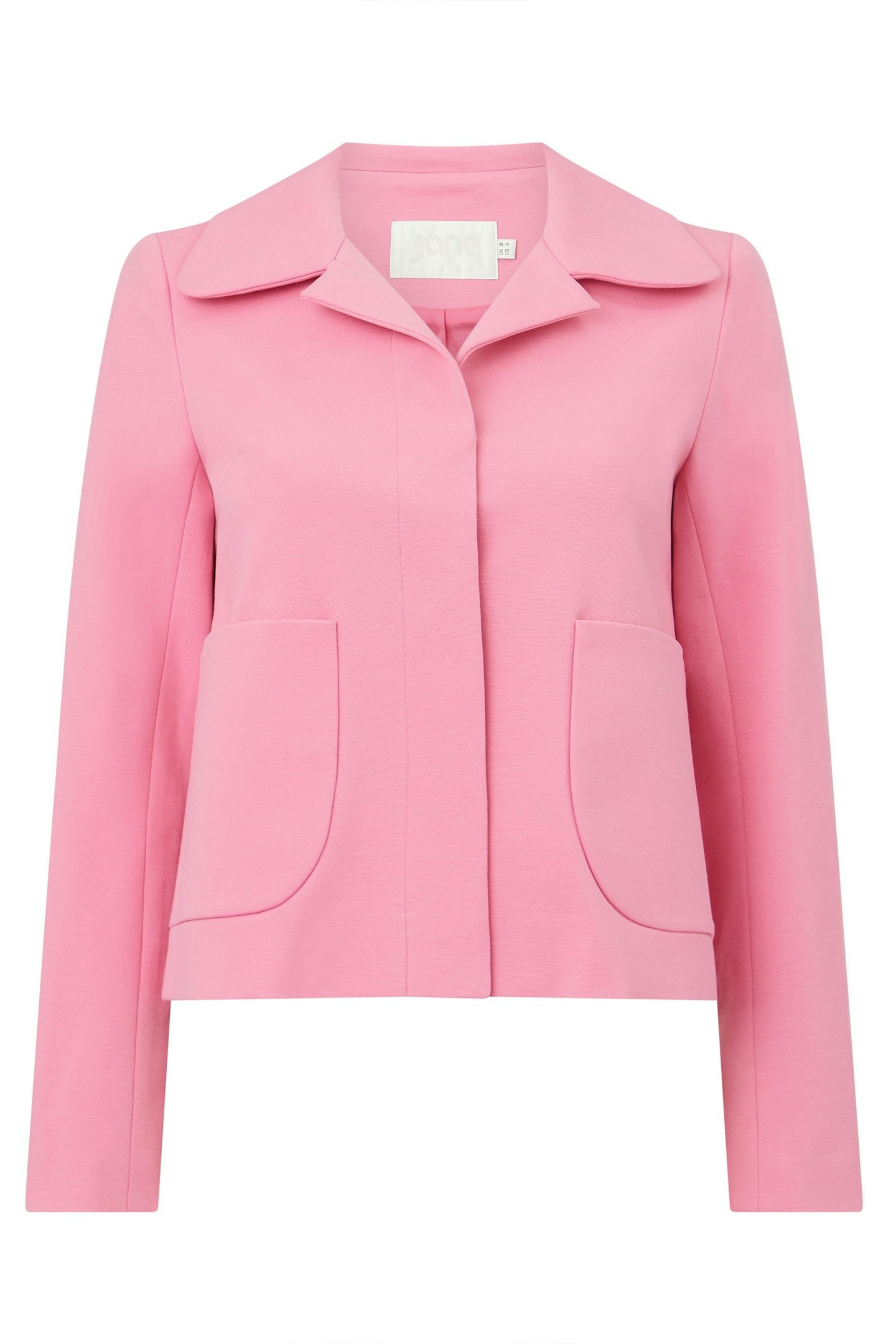 58 of 142
Thursday – Jane, Jersey Jacket, £440
I don't know if you saw the Valentino show last week during Paris Fashion Week, but it was a pink parade. Everything was pink – the set, the clothes, even Zendaya was wearing the colour head-to-toe. Thankfully, we don't have to wait until autumn/winter to start reaping the benefits of this rosy hue – Jane's jacket will be the perfect spring cover-up for when you need a lighter layer. Dress down with jeans and a tee or throw over your best dress for a wedding – it's versatile, flattering and will suit everyone.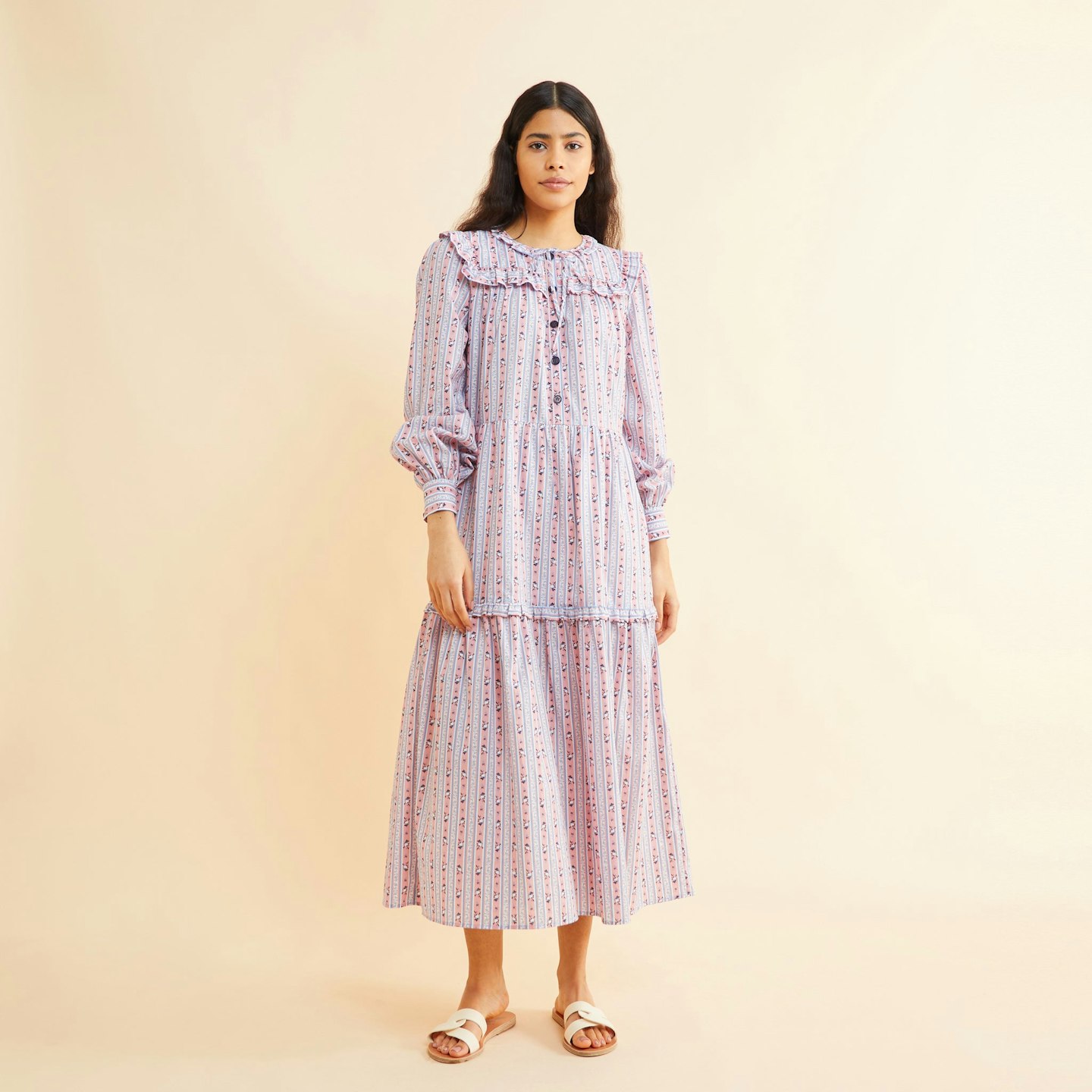 59 of 142
Wednesday – Albaray, Organic Cotton Midi Dress, £110
It's not too early to start thinking about your hot weather wardrobe, especially when it comes in the form of dresses you can start wearing right now. At the moment, you'll want to pair this pretty midi with tights, boots and possibly even a roll neck underneath but, come summer when we're all moaning about the heatwave and these freezing March temperatures are a distant memory, you'll be one step ahead.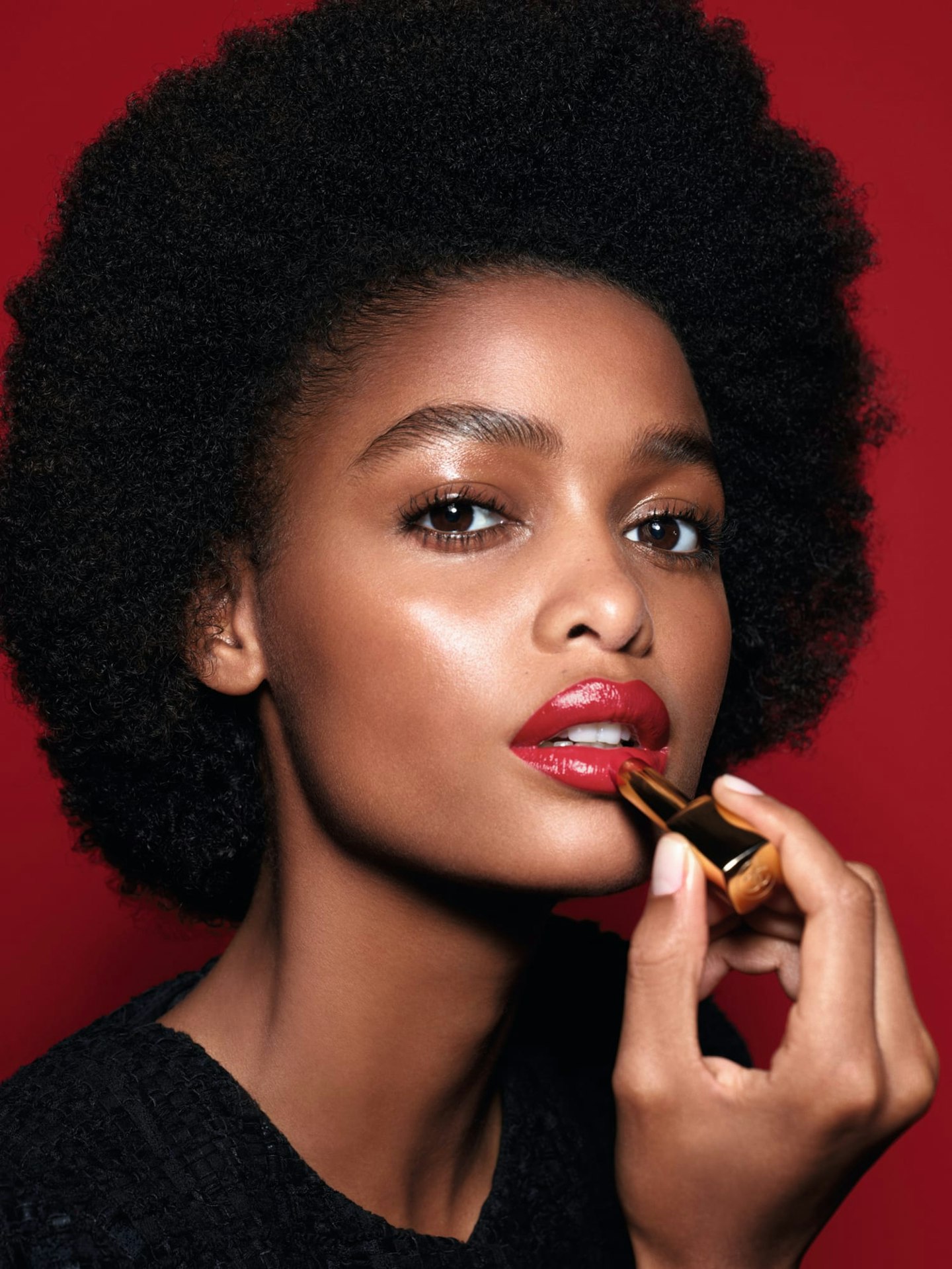 60 of 142
Tuesday – Chanel, Rogue Allure L'Extrait, £46
Lipsticks don't get much chicer than Chanel's Rogue Allure, which makes the house's latest launch very exciting indeed. Rogue Allure L'Extrait has an even slimmer case (with that iconic click) that has been redesigned to fit refill cartridges, meaning you can mix and match your favourite shades more easily than ever. It's also more sustainable, which is always good news. In terms of the colours, they're more intense than ever without sacrificing that beautiful, satin sheen that leaves your lips feeling hydrated, too. From beige to classic red and pretty pink shades, there are 20 colours to choose from, meaning there really is something to suit everyone. Merci, Chanel.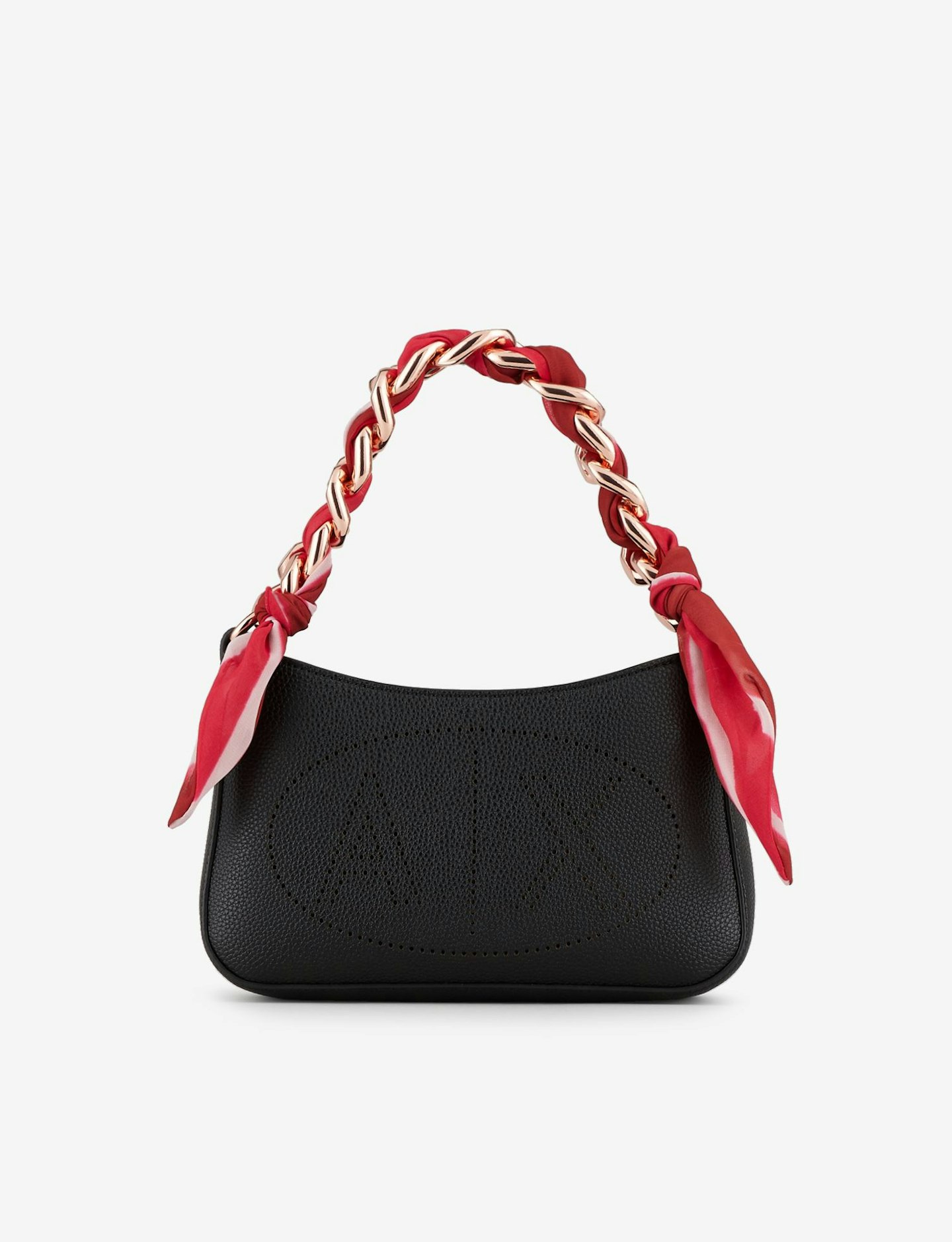 61 of 142
Monday – Armani Exchange, Satchel Bag, £110
This is the perfect bag for when you need to take more than just your phone with you but less than a tote's worth of items. The chain strap has been jazzed up with this pretty scarf, giving it spring vibes without compromising on practicality. Winner.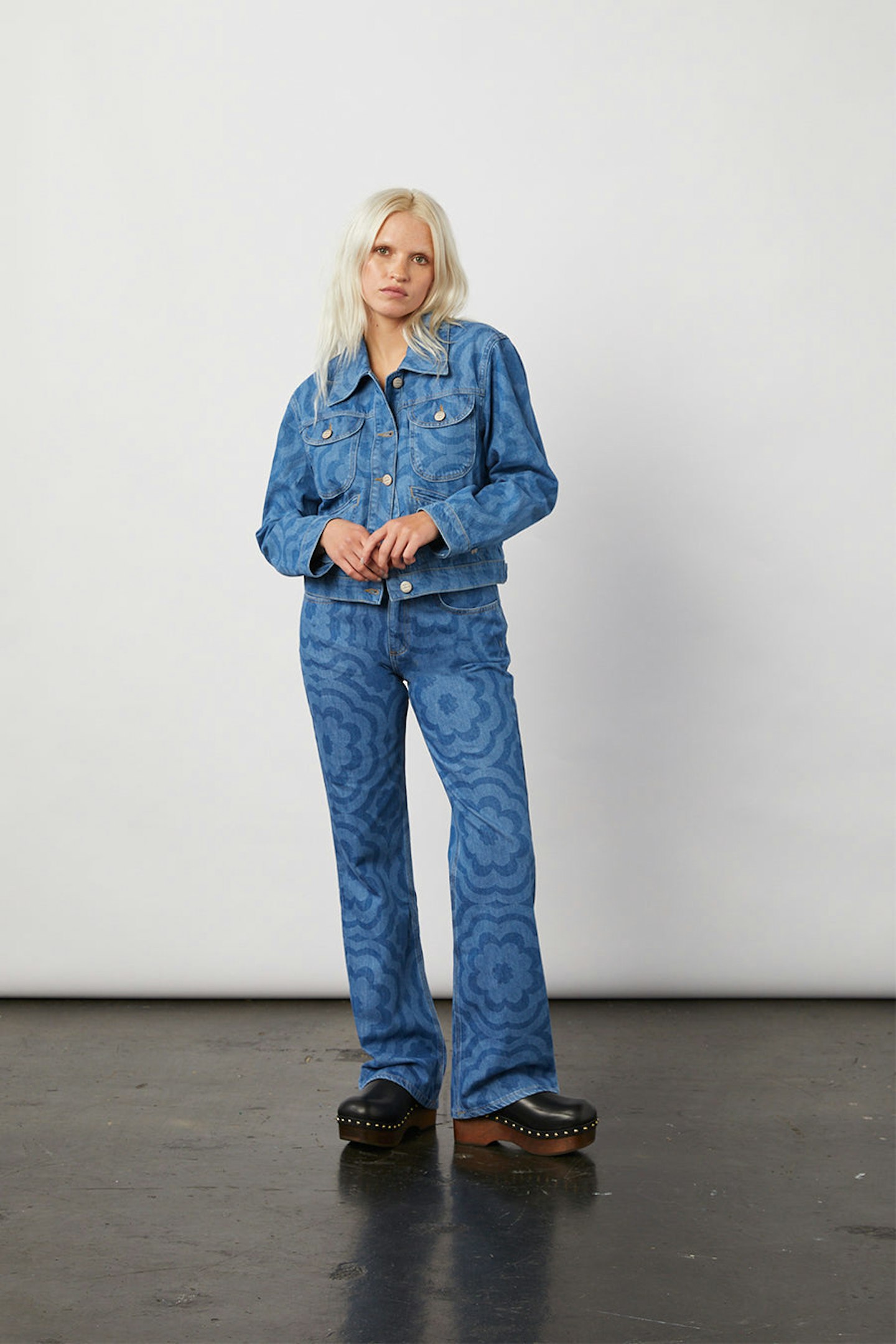 62 of 142
Friday – Damson Madder, Bronte Jeans, £75
Damson Madder has established its very own sustainable denim laundry, which uses just 20-35 litres of water per pair of jeans created, as opposed to the 100 litres used by conventional manufacturing methods. This has led to the production of a lovely collection of jeans, jackets, dungarees and dresses, all of which are free from harmful chemicals and 100% biodegradable. If you're not familiar with the brand, the jeans are a great place to start. Playful, fun but still easy to wear and stylish, too, they're kinder to the planet than your old pair of denims.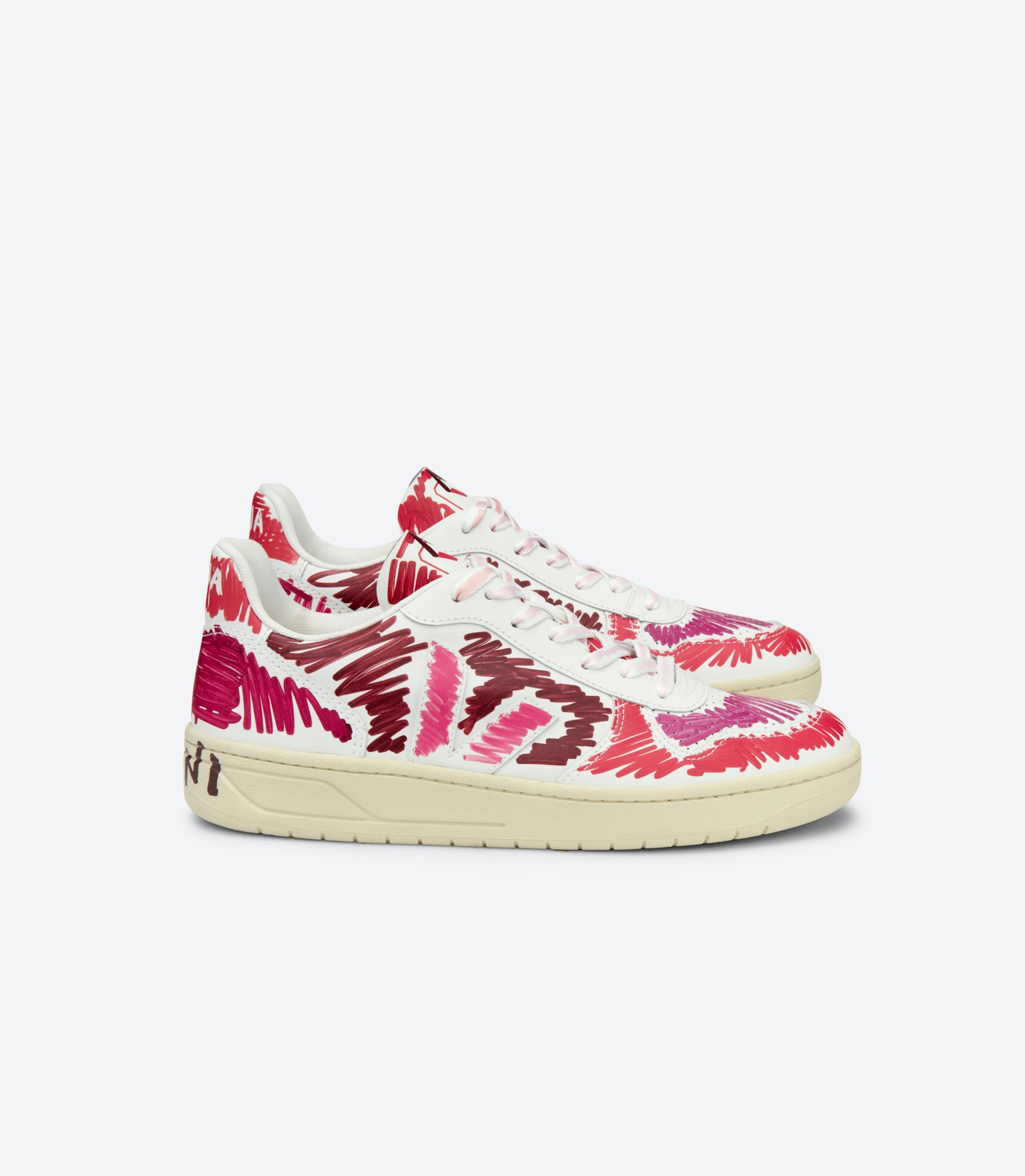 63 of 142
Thursday – Veja x Marni, Trainers, £265
Veja, the sustainable trainer brand loved by everyone from Kate Middleton to Emma Watson, has teamed up with Marni to create two limited edition new styles. Both trainers are unisex, featuring colourful prints and made from leather sourced from Uruguayan farms. The shoes boast all of Veja's usual sustainable credentials and are made in limited quantities, so you'll have to be fast.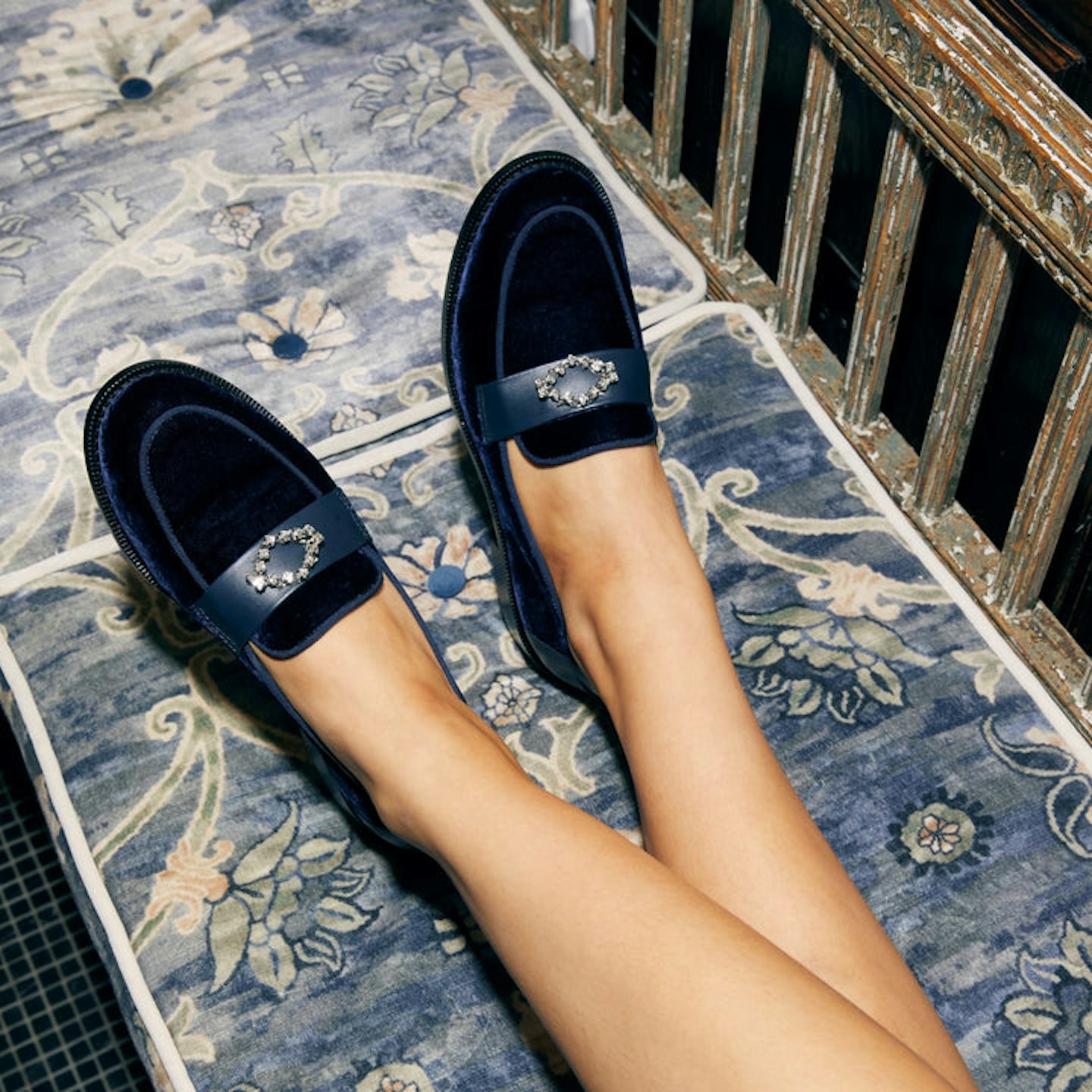 64 of 142
Wednesday – Aimee Ann Lou, Embellished Loafers, £500
Despite studying biochemical engineering at university and then becoming an investment banker, Aimée Ann Lou remained fascinated with fashion, particularly Italian craftsmanship. She travelled to Milan where she learned artisanal shoemaking techniques before building the team behind her eponymous brand. Now, she creates the most beautiful, practical shoes that you'll want to wear every day. These loafers are a prime example – they'll go with anything, plus will work for both day and night. Easy, stylish and timeless – you can't really argue with that.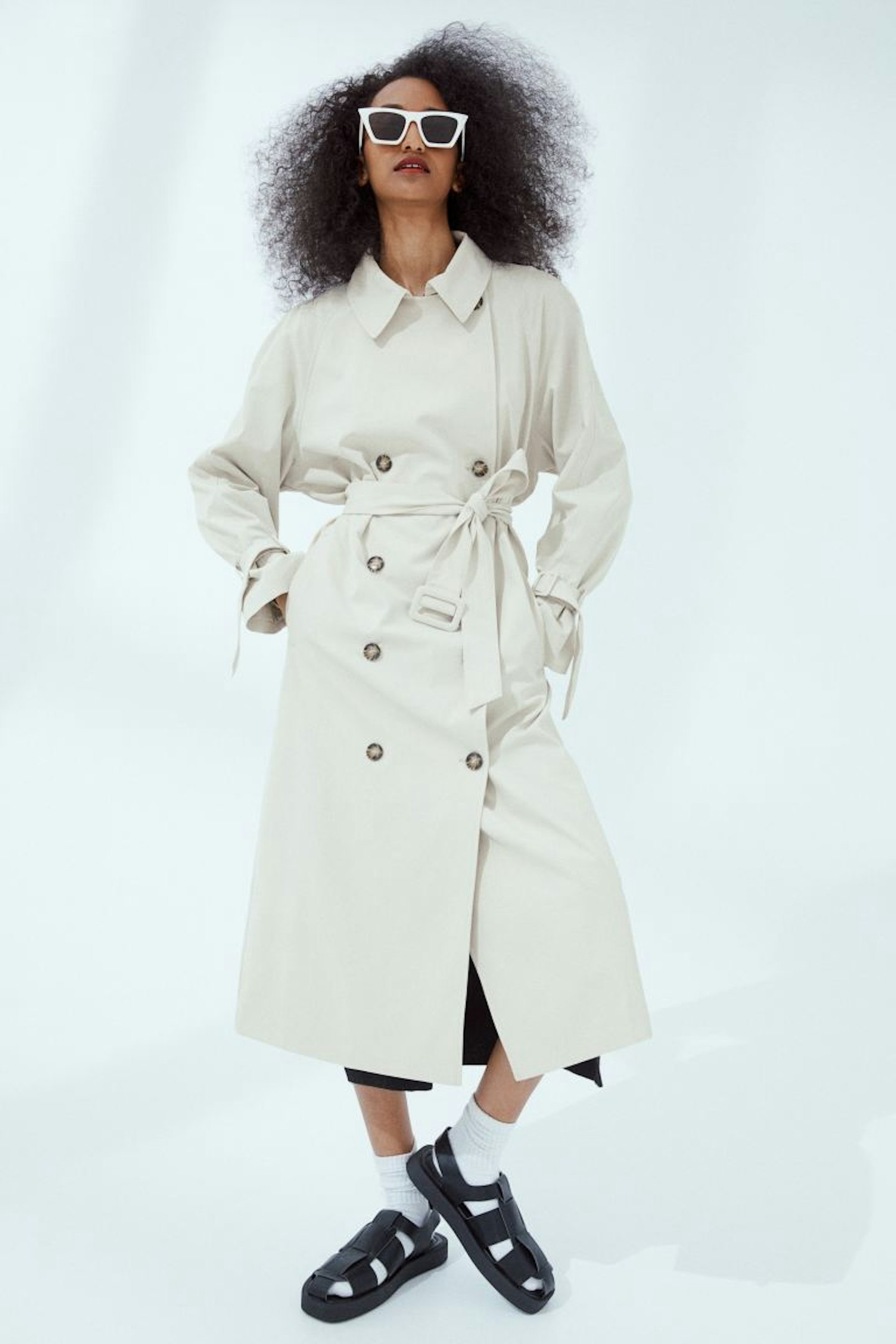 65 of 142
Tuesday – H&M, Trench Coat, £39.99
Now that it's March, spring is officially just around the corner. This means it's trench coat weather, and I've found the perfect new season style at H&M. Available in two different shades, it's just £39.99 and will make everything you own look chic. Trust me.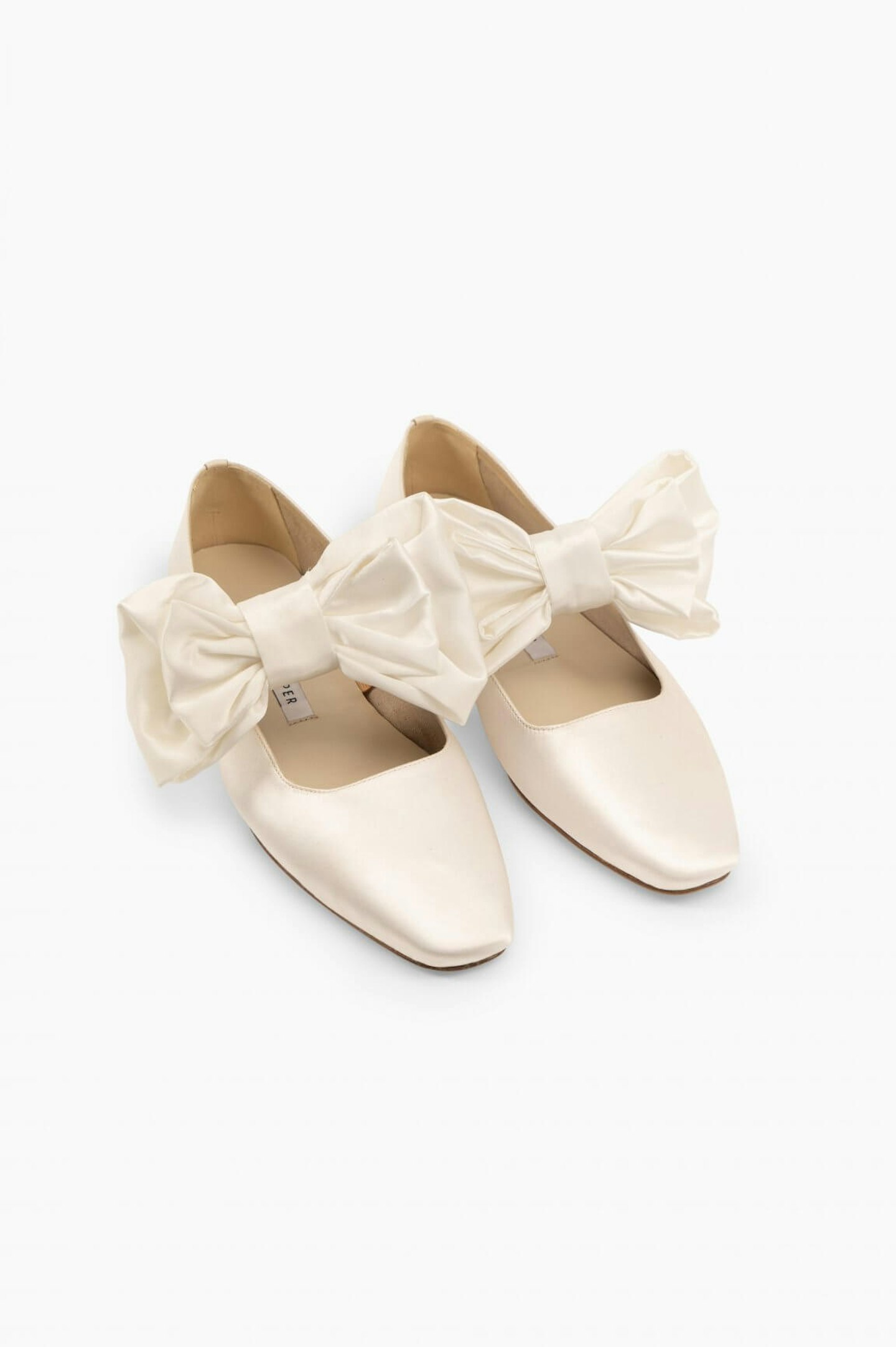 66 of 142
Monday – Sleeper, Satin Ballet Flats with Detachable Bows, £187
Sleeper was founded by Kate Zubarieva and Asya Varetsa during the Ukrainian Revolution eight years ago. The pair, who are both Ukrainians based in New York, work with an atelier in Kyiv to produce their glorious dresses, which have become a global sensation. Naturally, the brand is documenting ways in which we can all help the ongoing crisis in Ukraine in some small way, all of which can be found on their Instagram page.And if you want to support Sleeper and invest in two young Ukrainian talents, then have a look at the beautiful new ballet flats with their detachable bows. Available in black, fuchsia or bridal-friendly ivory, they'll be a truly special addition to any wardrobe.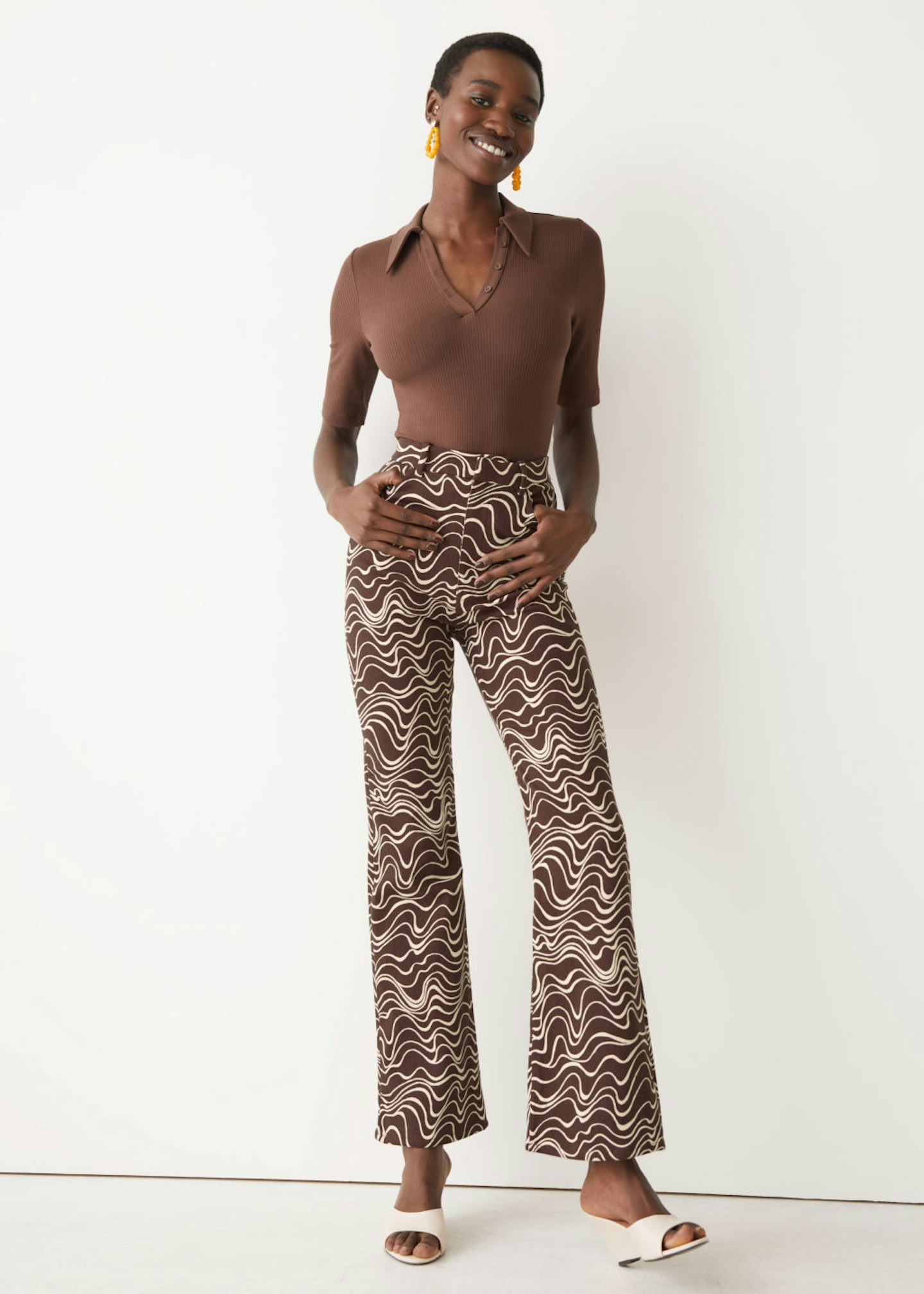 67 of 142
Thursday - & Other Stories, Printed Kick Flare Trousers, £75
You might be a black trousers kind of person but how about some fancy pants for the finish of February? & Other Stories' kick flares - chocolate brown and covered in squiggles - are just the ticket.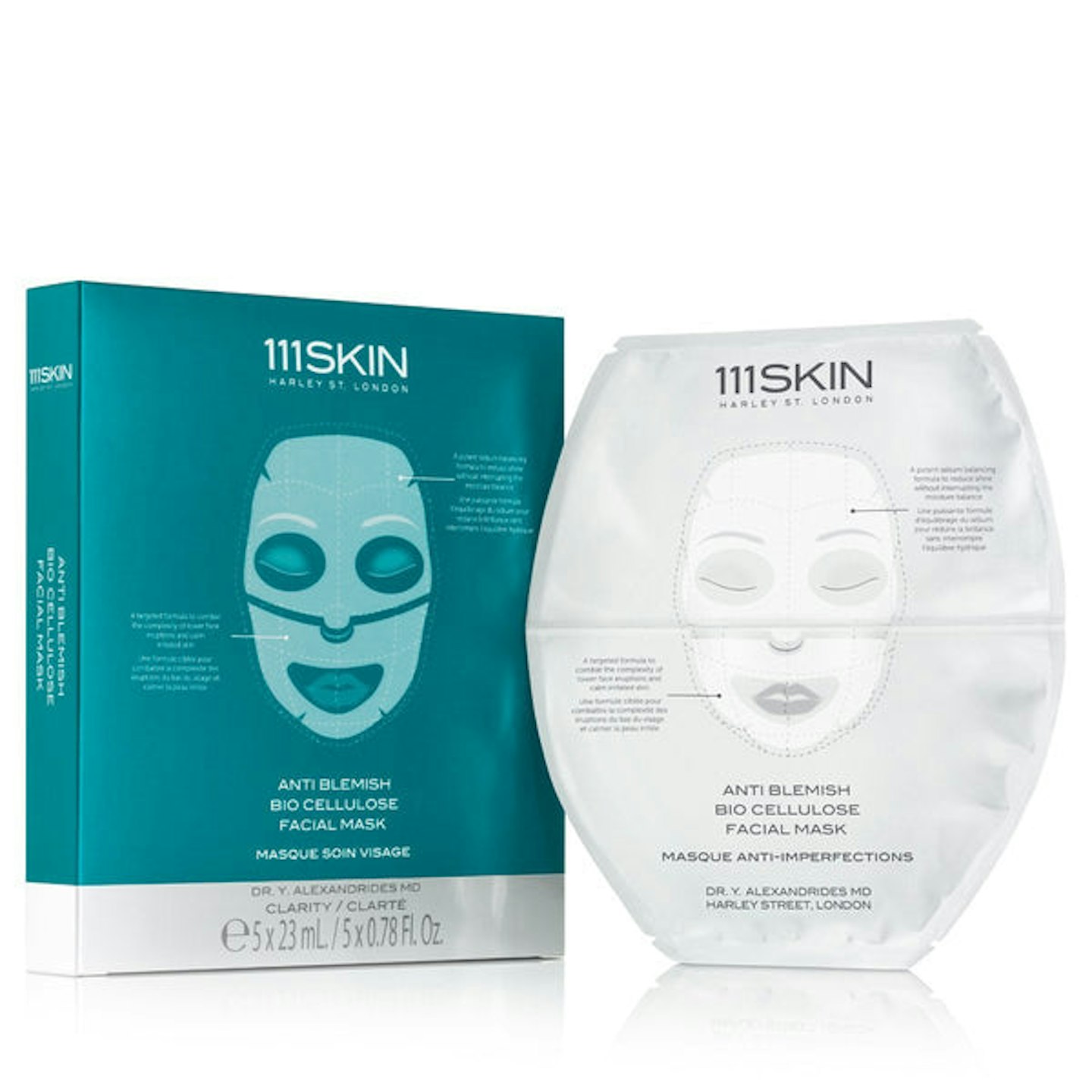 68 of 142
Wednesday – 111Skin, Anti-Blemish Bio Cellulose Face Mask, £20
Remember when Jennifer Aniston went to the Emmys in 2020? It was well documented that she used 111Skin sheet mask to prepare. Over the last few days, the skincare brand has been out in force at London Fashion Week, proving once and for all that it is the master of fresh, lovely skin that feels as good as it looks. I don't need any more encouragement to pick up some of these Anti-Blemish marks – endorsed by Jen An – which you can put on, relax for 20 minutes and then just feel 10 times better than you did before.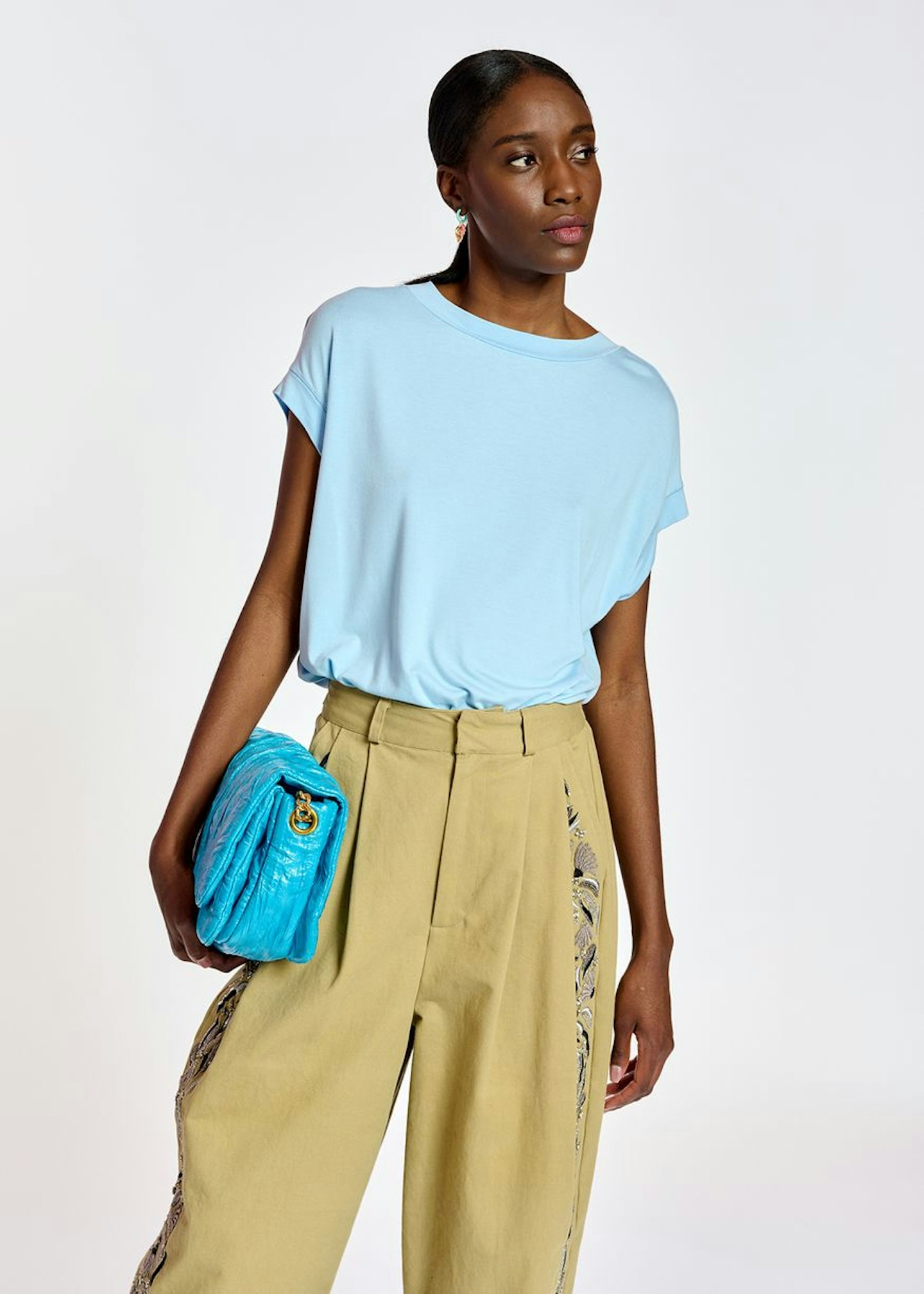 69 of 142
Tuesday – Essentiel Antwerp, Loose Fit T-Shirt, £65
Call off the search for the perfect T-shirt, I've found it. Available in three different colours, Essentiel Antwerp's Bejewel top has the ideal oversized fit, which will work with everything from high-waisted trousers to smart skirts or jeans. You could go for white or a pale pink but, given that this brand is so good at colour, I'd recommend the blue to give your everyday outfits some pep.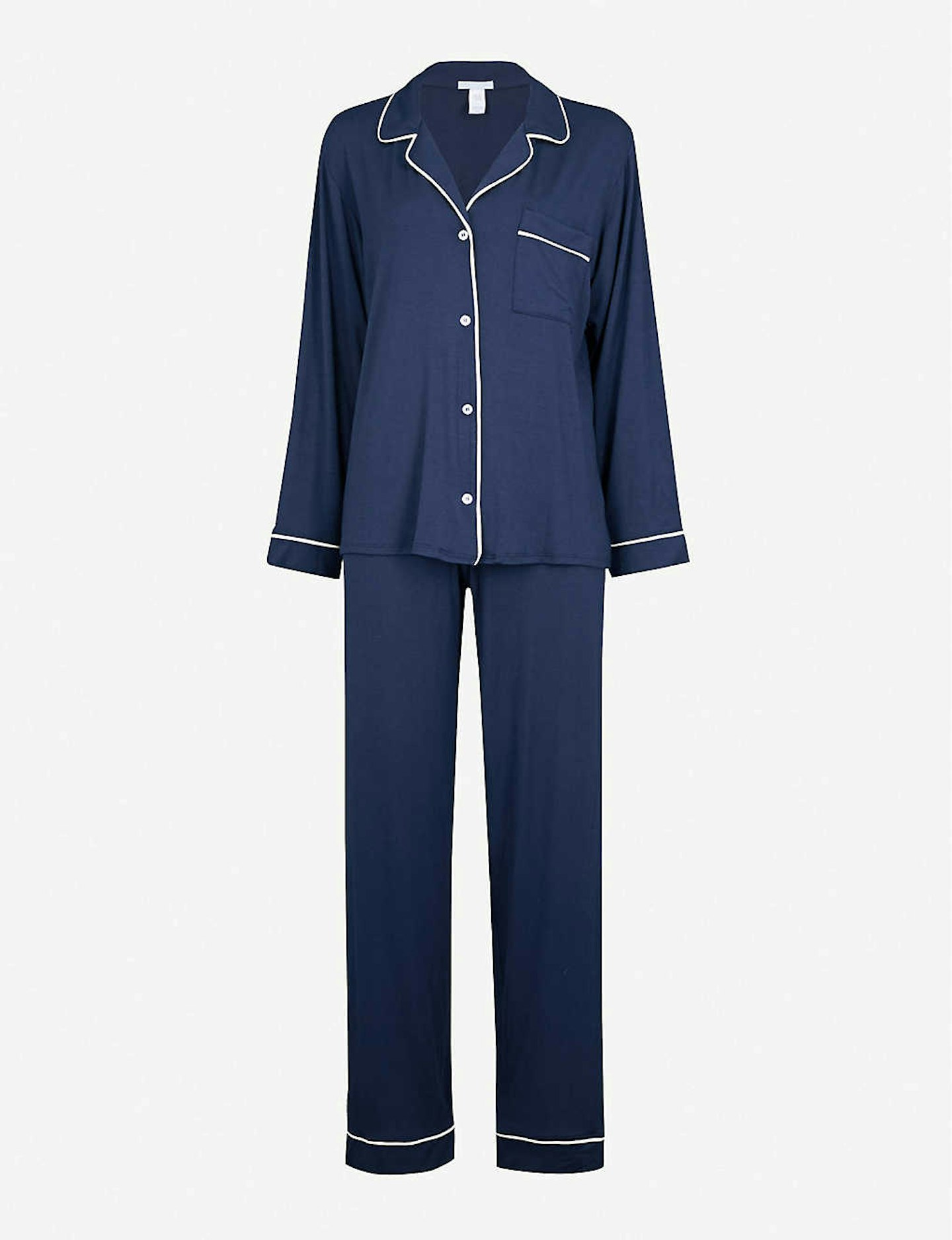 70 of 142
Monday – Eberjey, Pyjama Set, £125
It's still stormy outside and the weather forecast doesn't look great, I have to say. There's no better time, then, to treat yourself to a new pair of pyjamas to wear as you take shelter on your sofa and ignore all social plans. Eberjey's classic sets really are the softest PJs around, making for a super comfy, chic way to lounge around your house.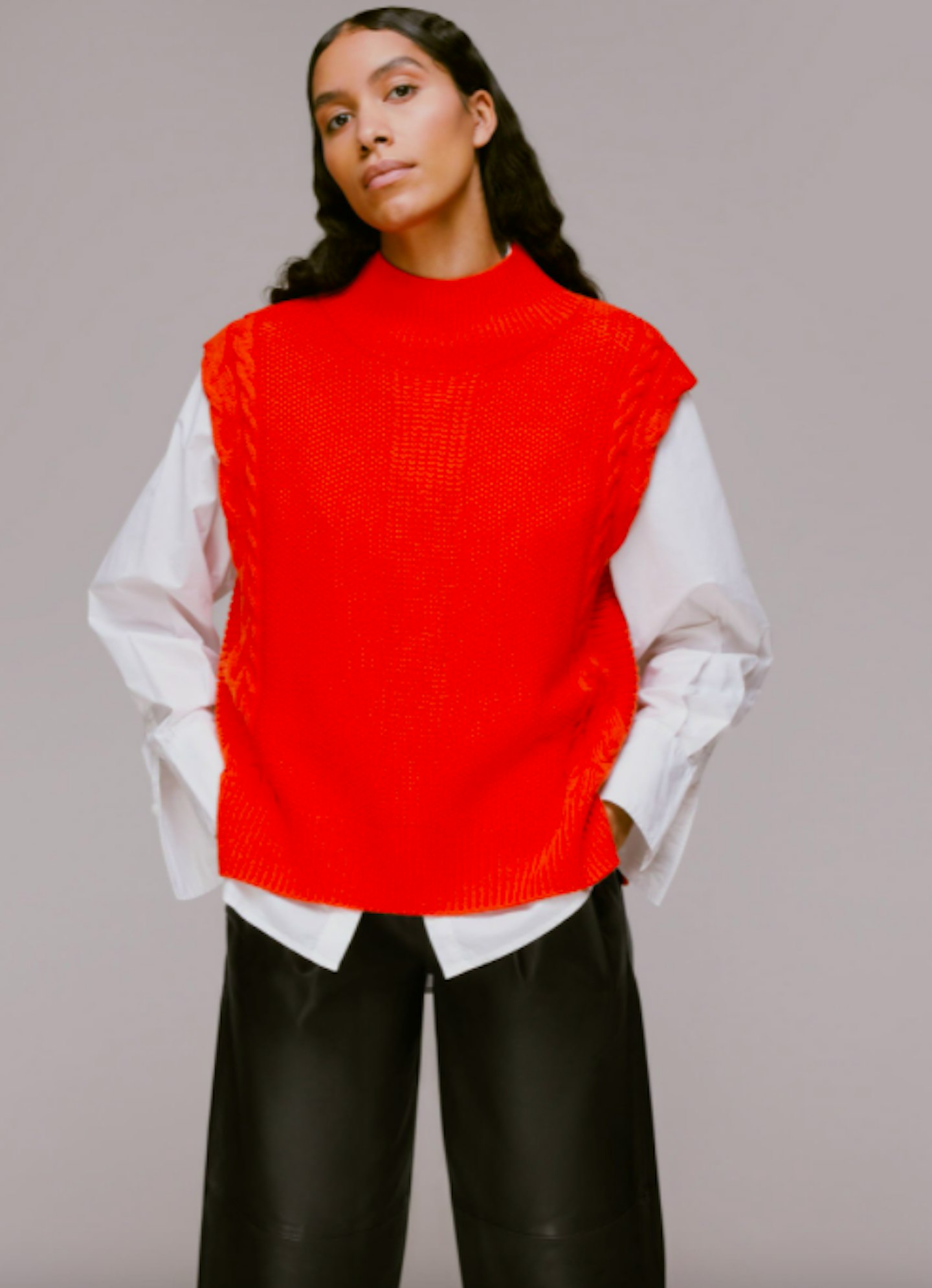 71 of 142
Friday – Whistles, Sleeveless Cable Tank, £119
If you've been seeing the sweater vest trend everywhere but haven't quite found the right style, enter Whistles' perfectly oversized cable tank top. Available in two different colours, this is the perfect way to transform a white shirt and trousers into something altogether more stylish.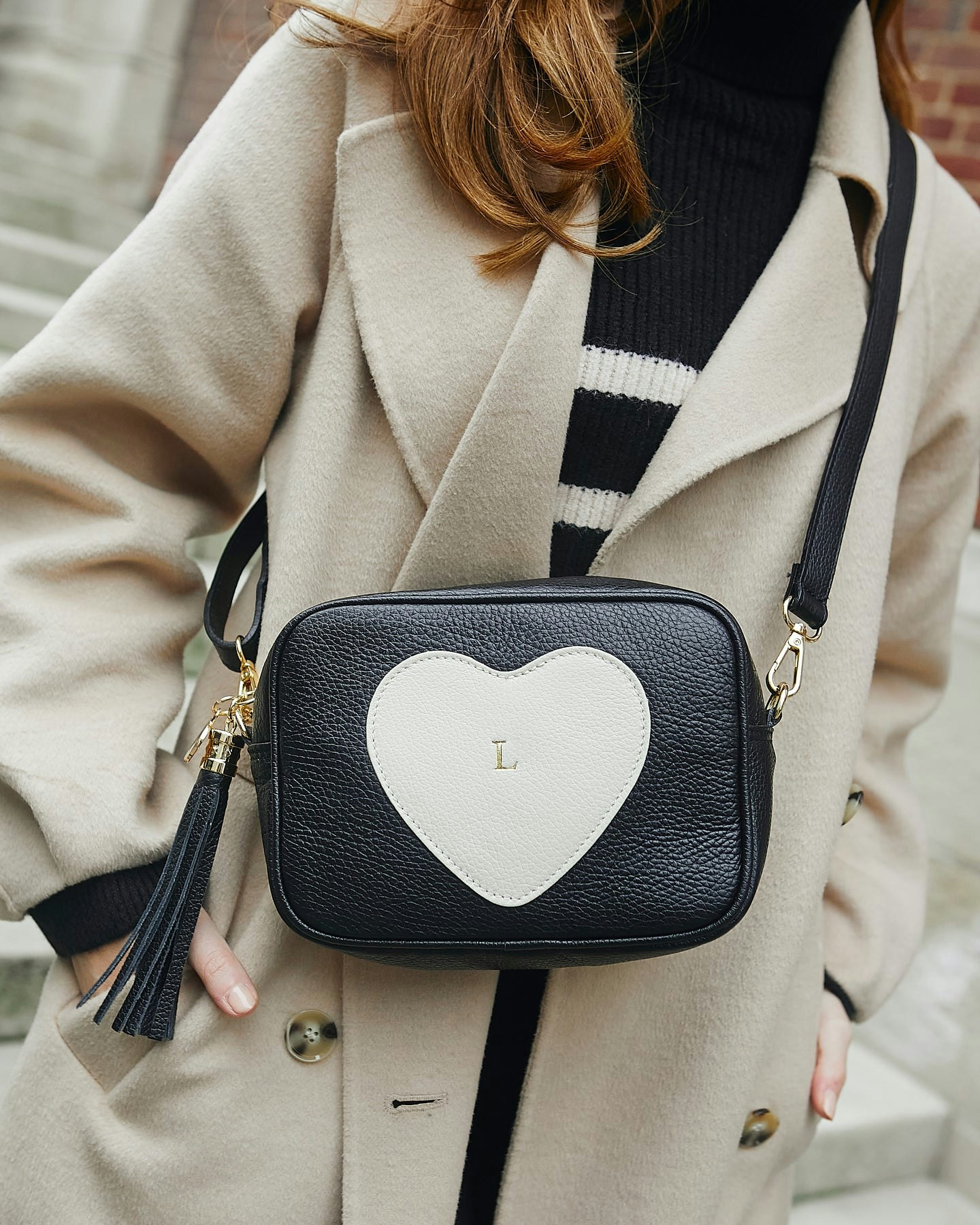 72 of 142
Thursday – LRM, Cross Body Bag, £70
Inspired by the new musical version of Pretty Woman, LRM has devised a Love collection, full of excellent accessories like these cross-body bags. You also have the chance to personalise them to make them completely unique to you, or treat your favourite people to an extra special gift.
73 of 142
Wednesday – Jasper Conran, Kimono Check Dress, £200
After launching a new range of highly practical and stylish bags, Jasper Conran has added a collection of dresses, all of which will make getting dressed a far easier process. I know people tend to bang on about pieces you can wear to work, on weekends and everything in between but that really does apply here – there are striped shirt dresses which will be a God send in summer when you want to look polished but it's too hot to think. Same goes for this brilliant checked midi, which also comes in green and will look lovely with flat sandals in the summer months. Now, try it with your favourite knee-high boots and a tailored coat over the top. You'll look super chic without even having to try.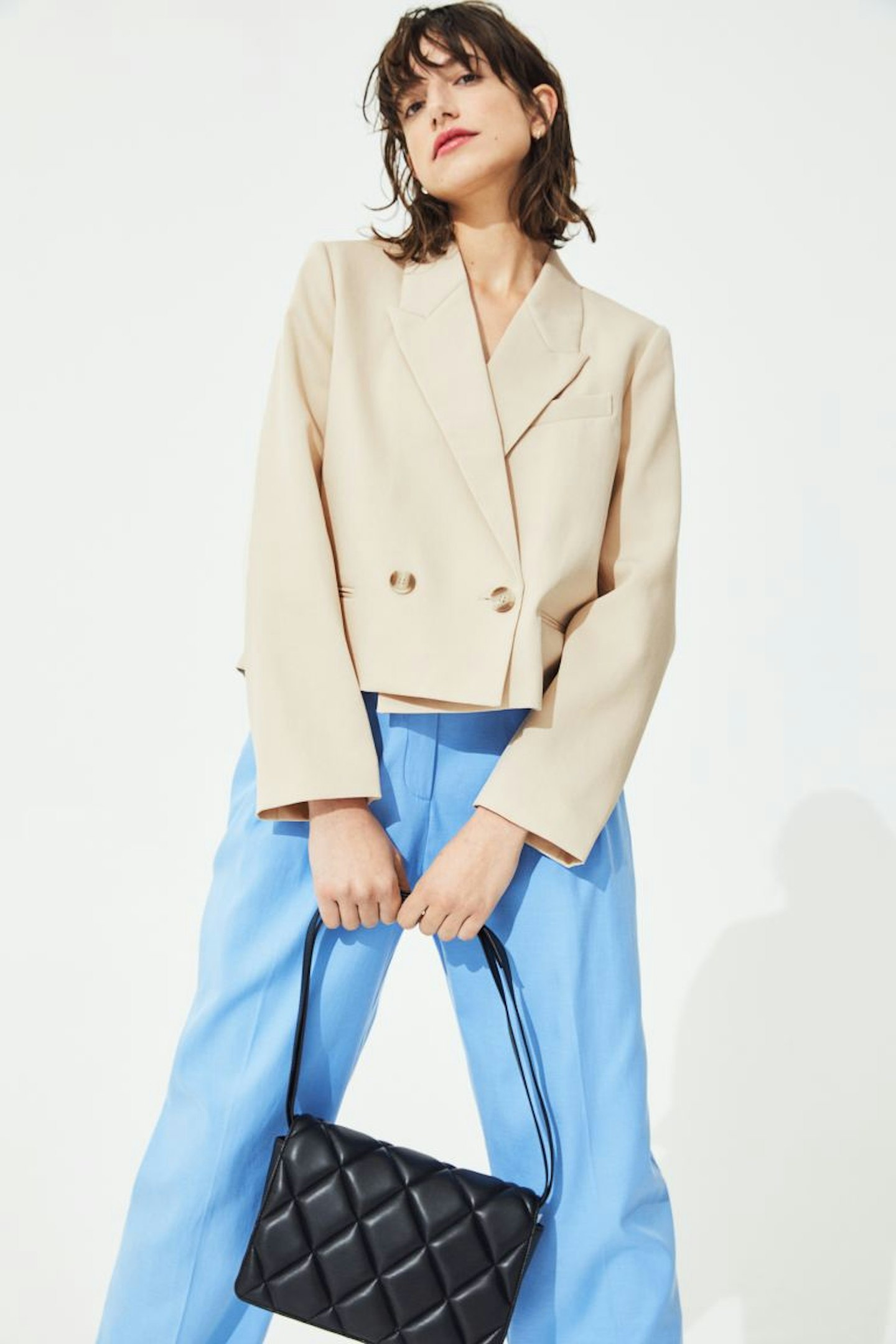 74 of 142
Tuesday – H&M, Cropped Jacket, £24.99
Looking ahead to a sunnier season is all we can do right now in the midst of this rain and fluctuating temperatures, so why not invest in pieces that will work now and well into spring? This jacket is the perfect cropped fit – it will look super sharp with high-waisted trousers and can be layered over thin layers when the weather isn't cooperating.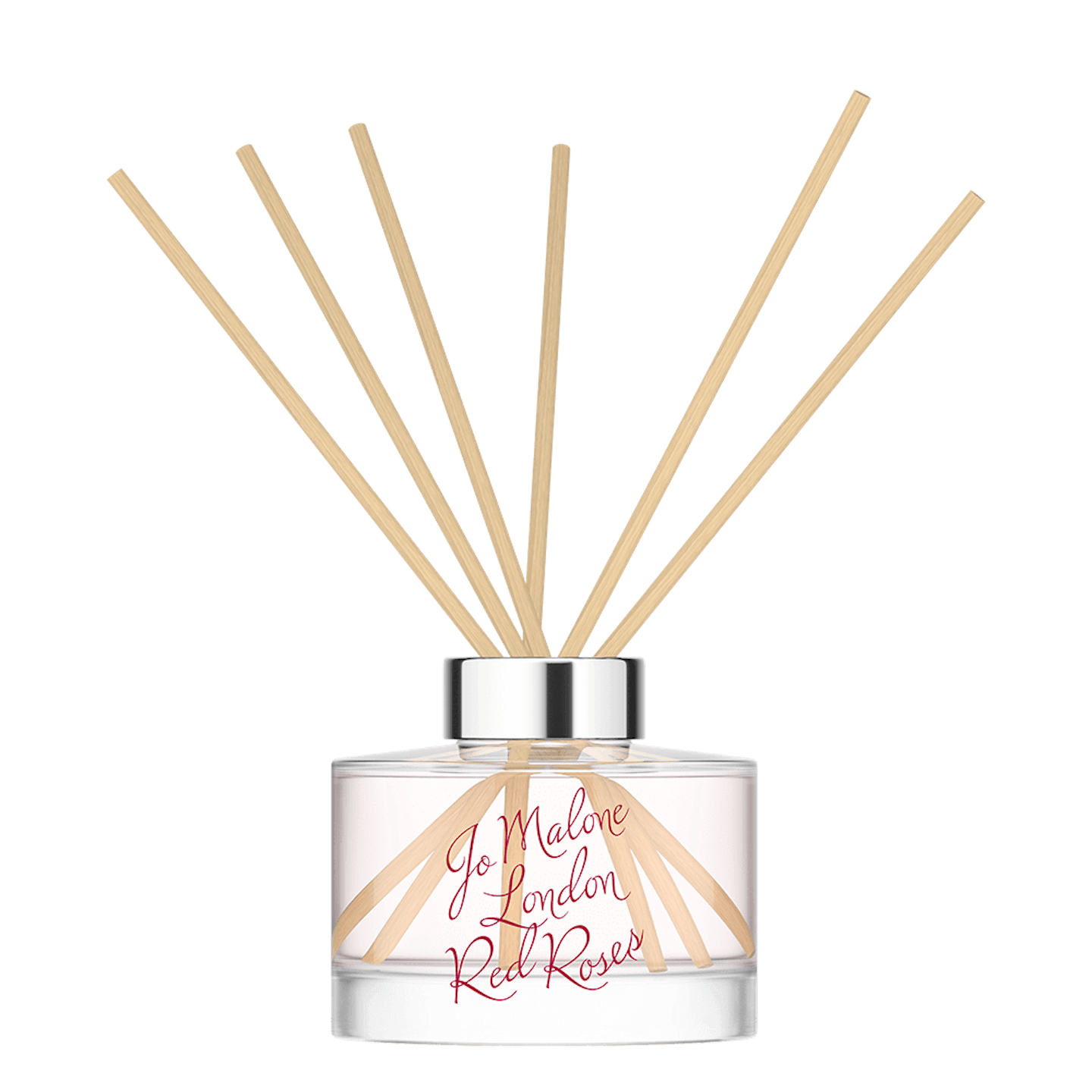 75 of 142
Monday – Jo Malone, Special Edition Rose Collection, From £16
What could be more fitting for Valentine's Day than a celebration of the rose? Jo Malone is doing just that with a special edition collection of its roses fragrances. From perfume to diffusers which promise to make your home smell utterly delicious, the brand has redesigned its famous packaging in honour of this very special flower. There are also all the old classics, though, including some very lovely hand soap for just £16.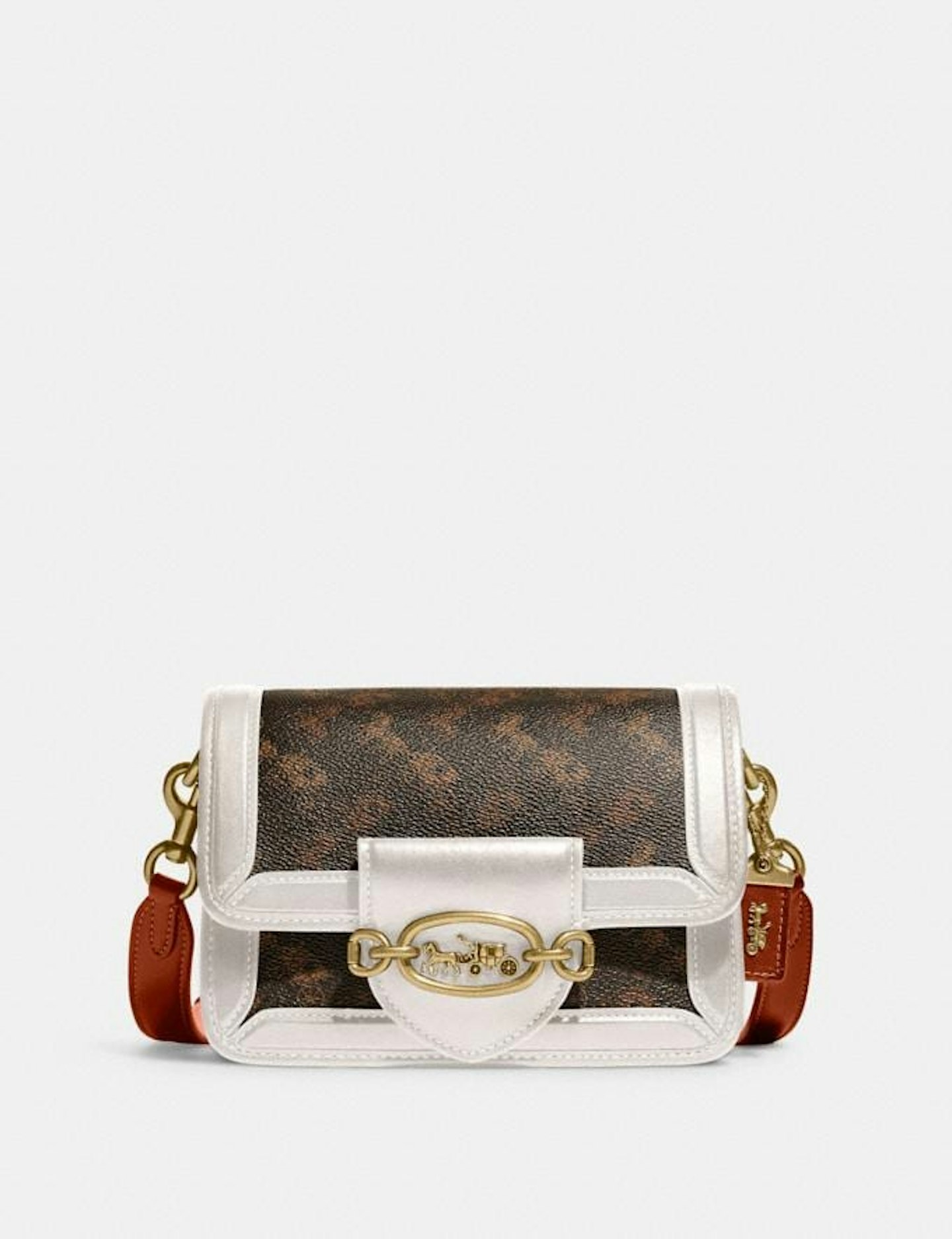 76 of 142
Friday – Coach, Hero Crossbody with Horse and Carriage Print, £395
At Coach, Stuart Vevers is on a mission to lend the American classics a cool, contemporary edge. For the new season ahead, this means that he has reinterpreted the brand's Horse and Carriage logo and applied it to timeless bags you'll want to add to your collection immediately. Just don't hang around, they're selling fast.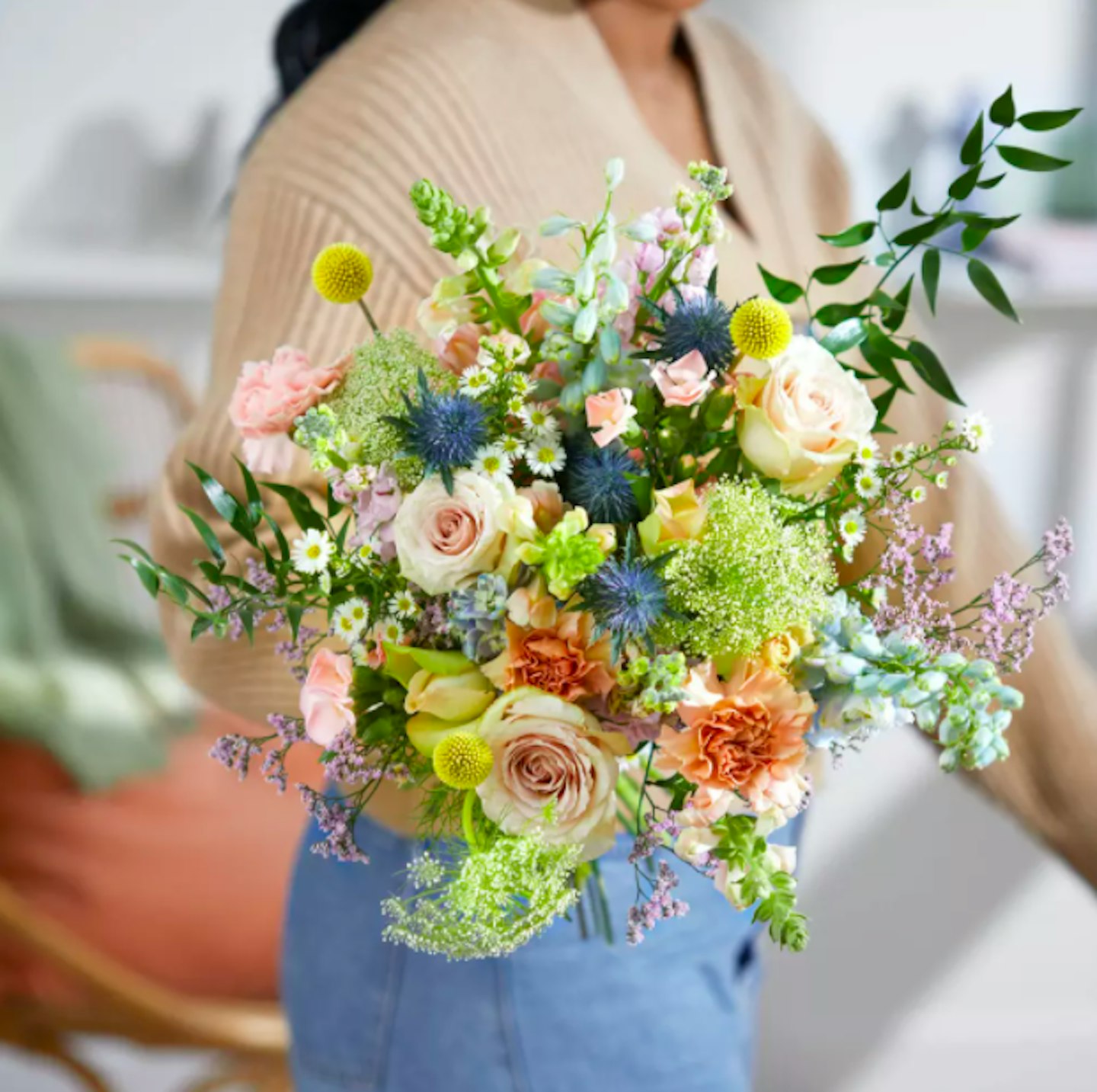 77 of 142
Thursday – Bloom & Wild, Valentine's Flowers, £22
You don't have to be celebrating Valentine's Day to find an excuse to treat yourself, or a loved one, to some beautiful flowers. Bloom & Wild's brand new collection of both letterbox and hand-tied bouquets are incredibly hard to resist – there are bunches for every budget and taste, whether you're nuts for anemones or wild for tulips. You could even add a bonus box of chocolates too, if you're feeling generous.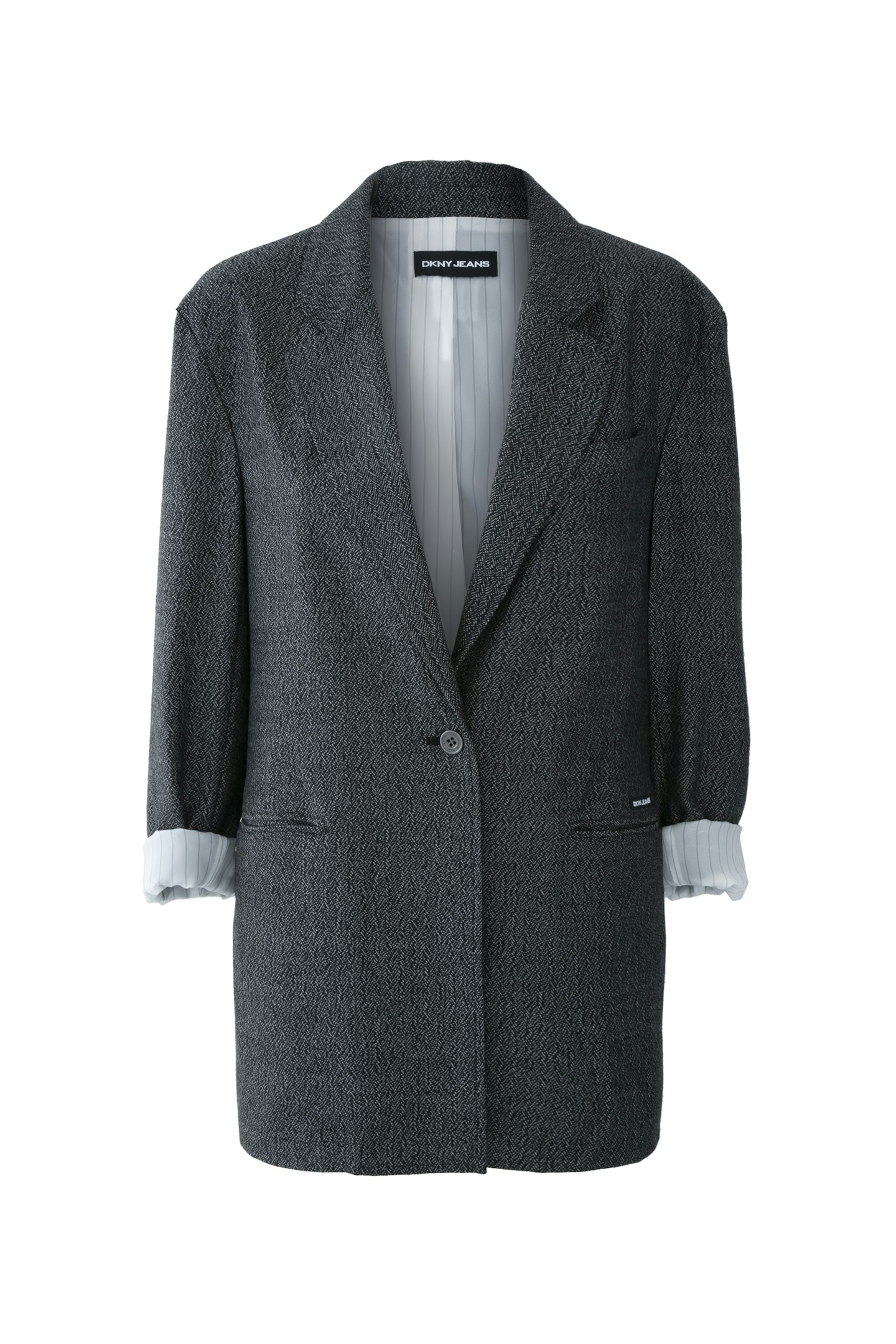 78 of 142
Wednesday – DKNY, Long Blazer, £48.70
DKNY's new 24/7 collection features a whole range of luxe staples designed to take you through all eventualities with ease (and style, obv). From buckle-detail leggings to great coats, one of my favourites is this longline blazer which, with its speckled grey finish and relaxed fit, is giving '90s vibes in all the right ways. Throwing this over your outfit will make you feel more pulled together in an instant.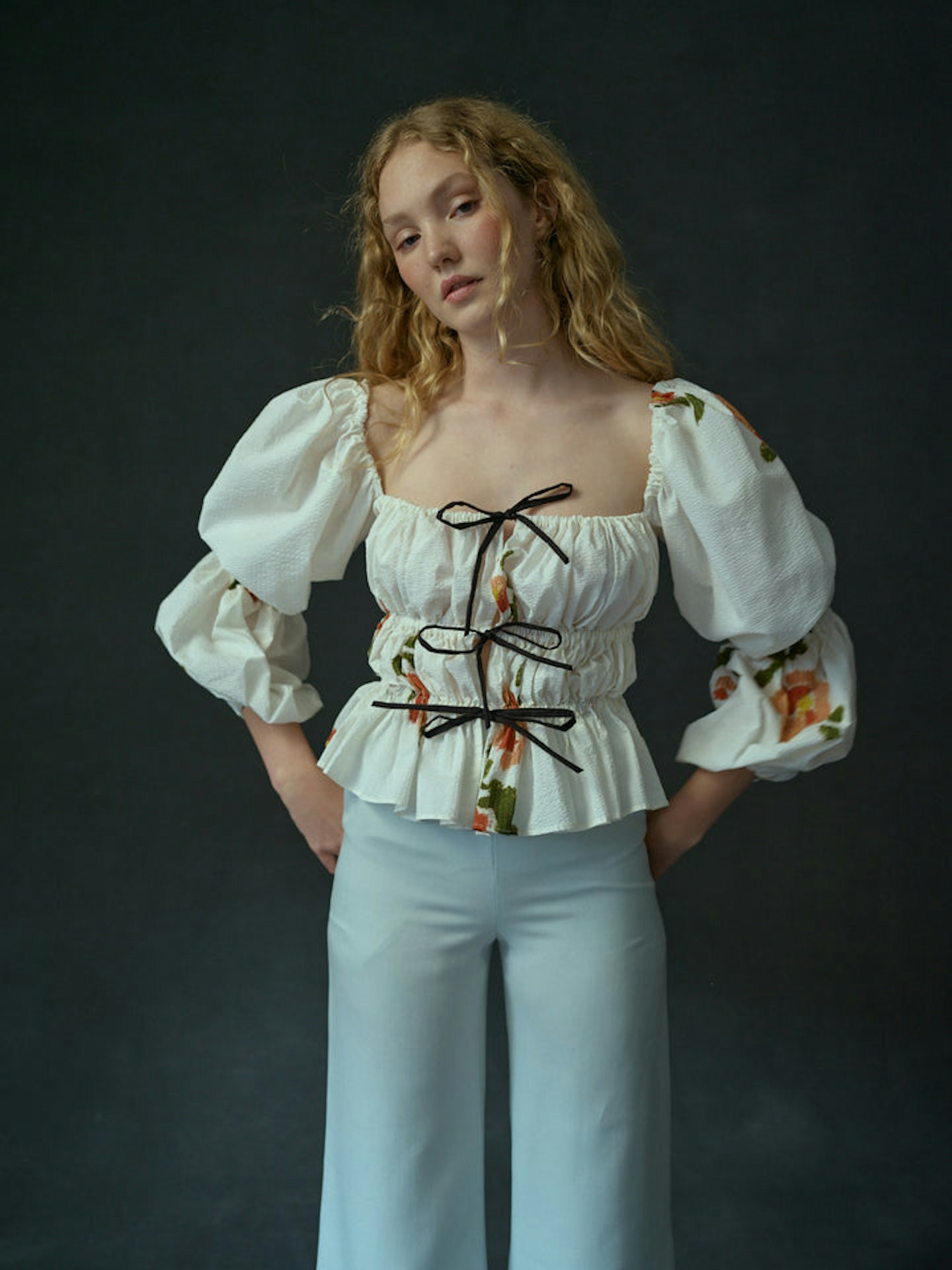 79 of 142
Tuesday – Naya Rea, Cotton Printed Top, £260
If you're just about ready to crawl into bed until it's officially spring, the new season collections which are gradually emerging might just have the medicinal impact you need. Naya Rea, a London-based, Siberian designer, is certainly making me look forward to warmer weather with an almost irresistibly romantic range of glorious dresses and pretty blouses. This cotton seersucker top is printed with hand drawn roses and will look fab over lightweight roll necks right now while it's still freezing.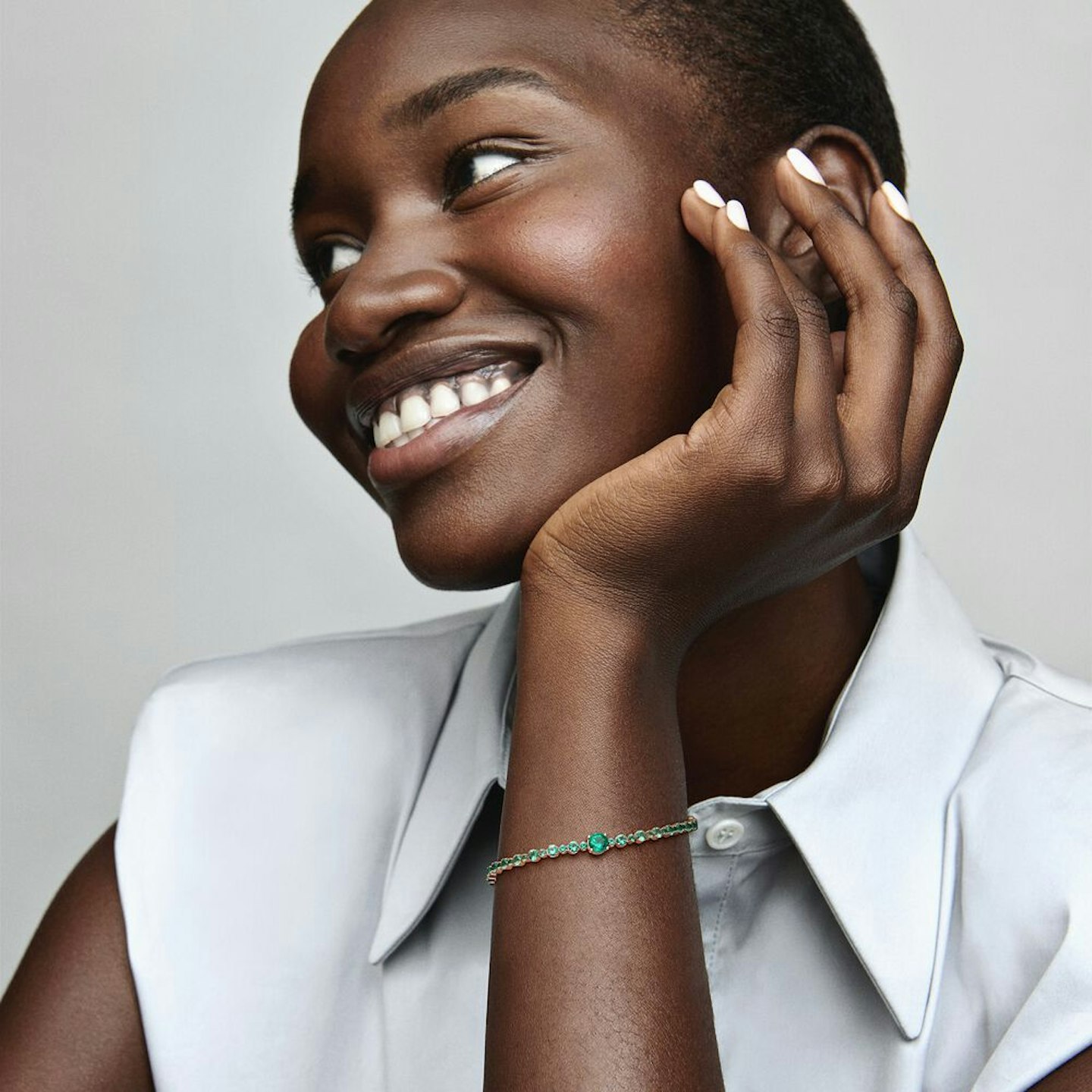 80 of 142
Monday – Pandora, Tennis Bracelet, £115
From Emma Raducanu winning the US Open in Tiffany & Co. to Billie Eilish in Cartier at last year's Met Gala, tennis bracelets are enjoying a renaissance. While this dazzling green style may look like a family heirloom, it is only just over £100, making it an affordable piece of luxury you can wear both casually and for special occasions. It is also nearly Valentine's Day, so why not just drop some less-than-subtle hints that this is what you really want?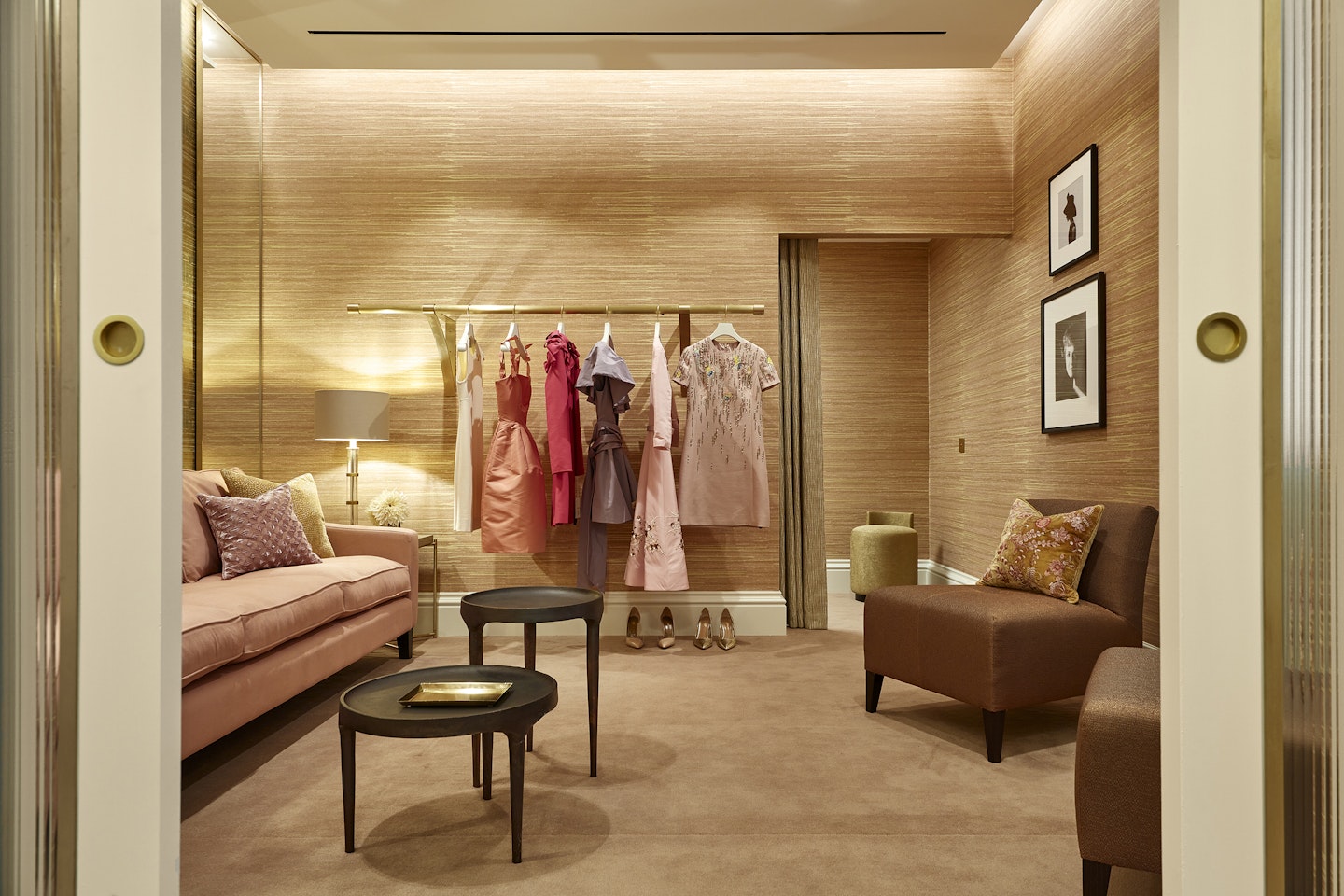 81 of 142
Friday – Bicester Village, Shop and Dine Package, £30
We've all done so much online shopping over the past 18 months, maybe it's time to get back to old fashioned methods. Not that there's anything old fashioned about Bicester Village, which offers your favourite fashion brands at more affordable prices. At the moment, you can even book a shop and dine experience which, for just £30, gives you reserved parking, hands-free shopping and a three-course set menu at Café Wolseley, farmshop restaurant & café, Shan Shui or La Tua Pasta. On top of that, Bicester currently has a range of Valentine's Day offers available, including up to 40% off certain labels. If ever there were a reason to go shopping...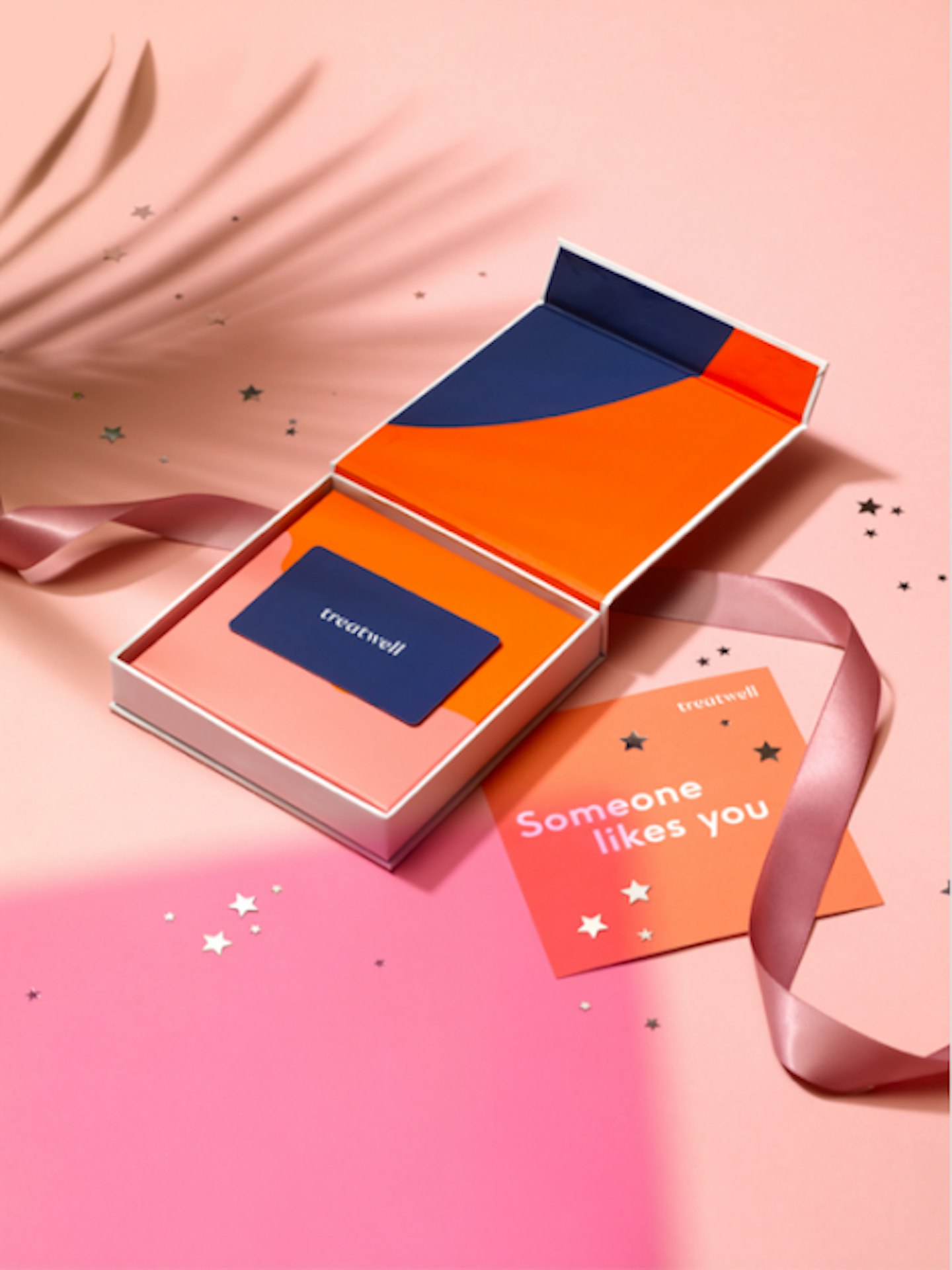 82 of 142
Thursday – Treatwell, Gift Voucher, From £10
January is always a fairly trying month and, while February offers slightly more hours of daylight as we inch towards spring, it is still winter. This is all the justification I need to tell you to treat yourself or even a loved one – it is nearly Valentine's Day, after all. A very easy (but lovely) way of doing this is with a Treatwell voucher, which will give the gift of beauty in just a click, giving you money to spend at thousands of salons across the country. Whether you want a glorious facial or relaxing massage, there are countless treatments to choose from. I'm buying them for all my friends and just hoping they return the favour....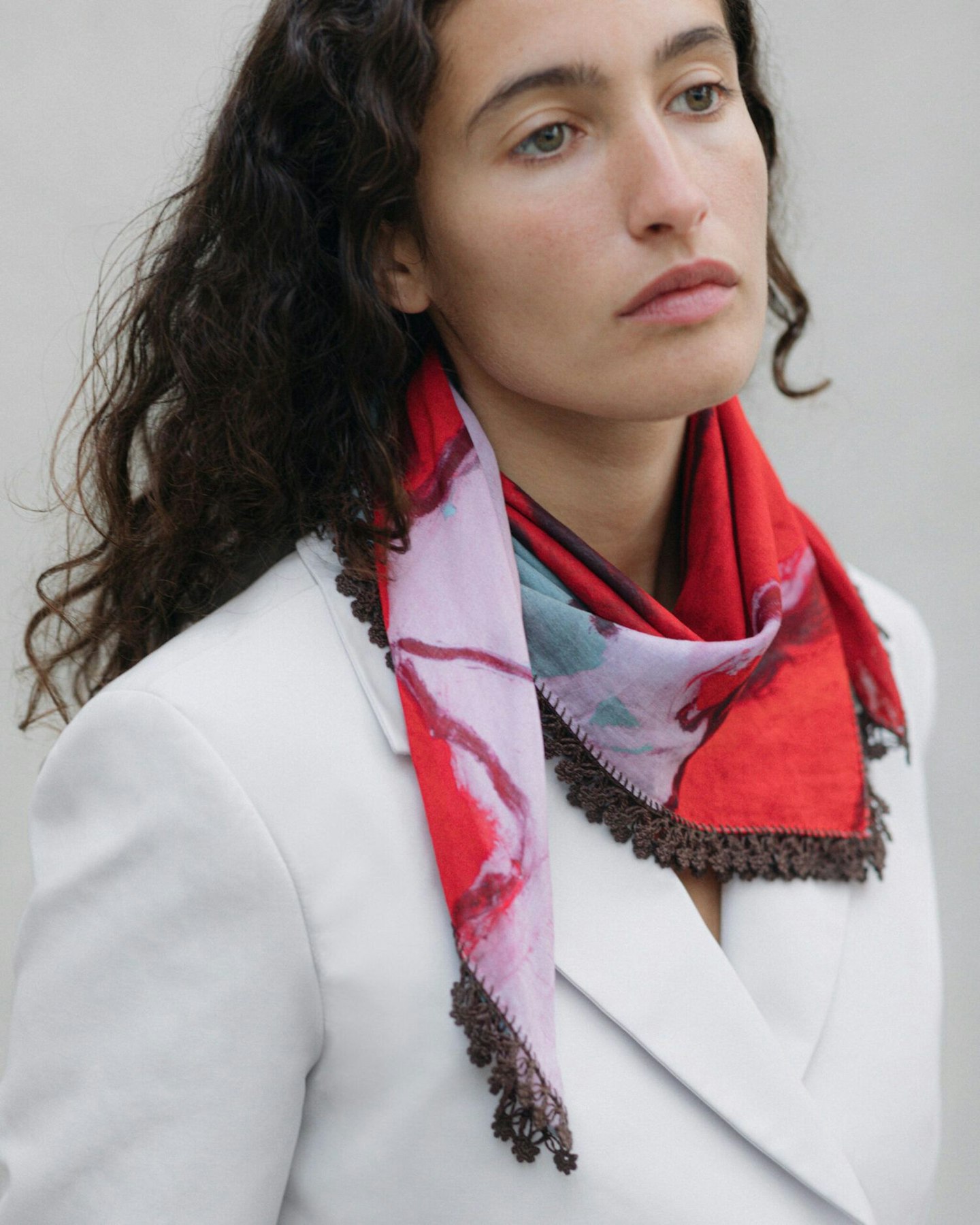 83 of 142
Wednesday – SERA, OYA Scarf, £250
I remember my grandmother once telling me that she had spent her adult years collecting beautiful scarves. At the time, frivolous and callow as I was, I couldn't quite understand the appeal. Looking at SERA's Oya scarves, however, I understand completely. Oya is an ancient form of embroidery which originated in Turkey and has been passed down between generations of (mostly) women. In SERA's case, this translates to beautiful patches of silk trimmed with the most delicate lace, as well as scarves printed with bold, abstract florals. They're something to keep forever which, in this increasingly digital world, is something special indeed.
84 of 142
Tuesday – Reebok x Victoria Beckham, Logo T-Shirt, £75
Reebok's 6th collection with Victoria Beckham has arrived, offering high-performance sportswear with that polished VB edge. While there are pieces to suit any activity you might be doing, there are also great staples like this logo tee, which will look great with jeans.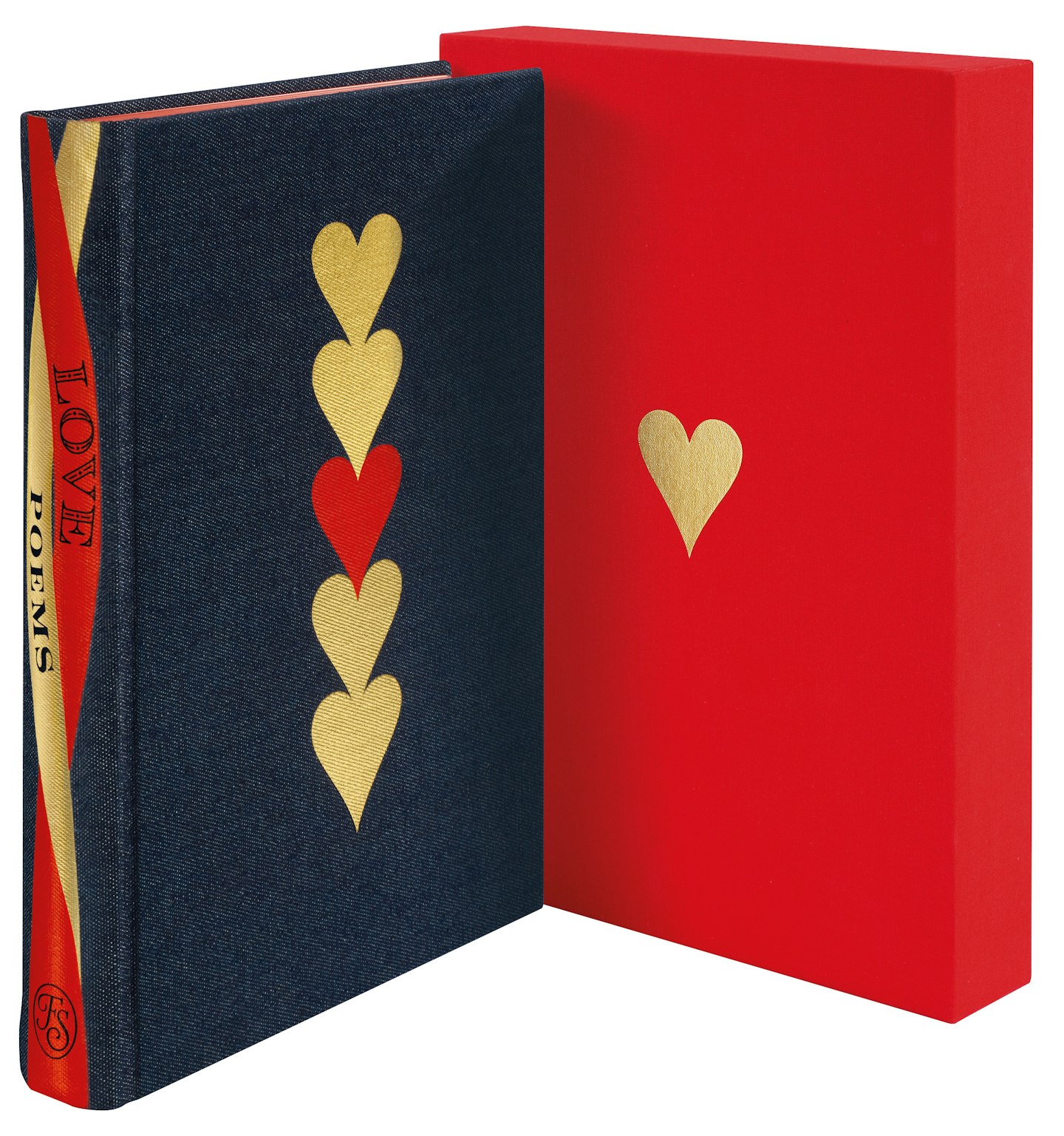 85 of 142
Monday – The Folio Society, Love Poems, £75
The Folio Society has just released this beautiful book of poetry, selected by Imtiaz Dharker. Including poems by Shakespeare, Rumi, Michael Ondaatje, Carol Ann Duffy and Christina Rosetti, all forms and expressions of love are explored in this book, giving it true universal appeal. A truly lovely addition to your bookcase.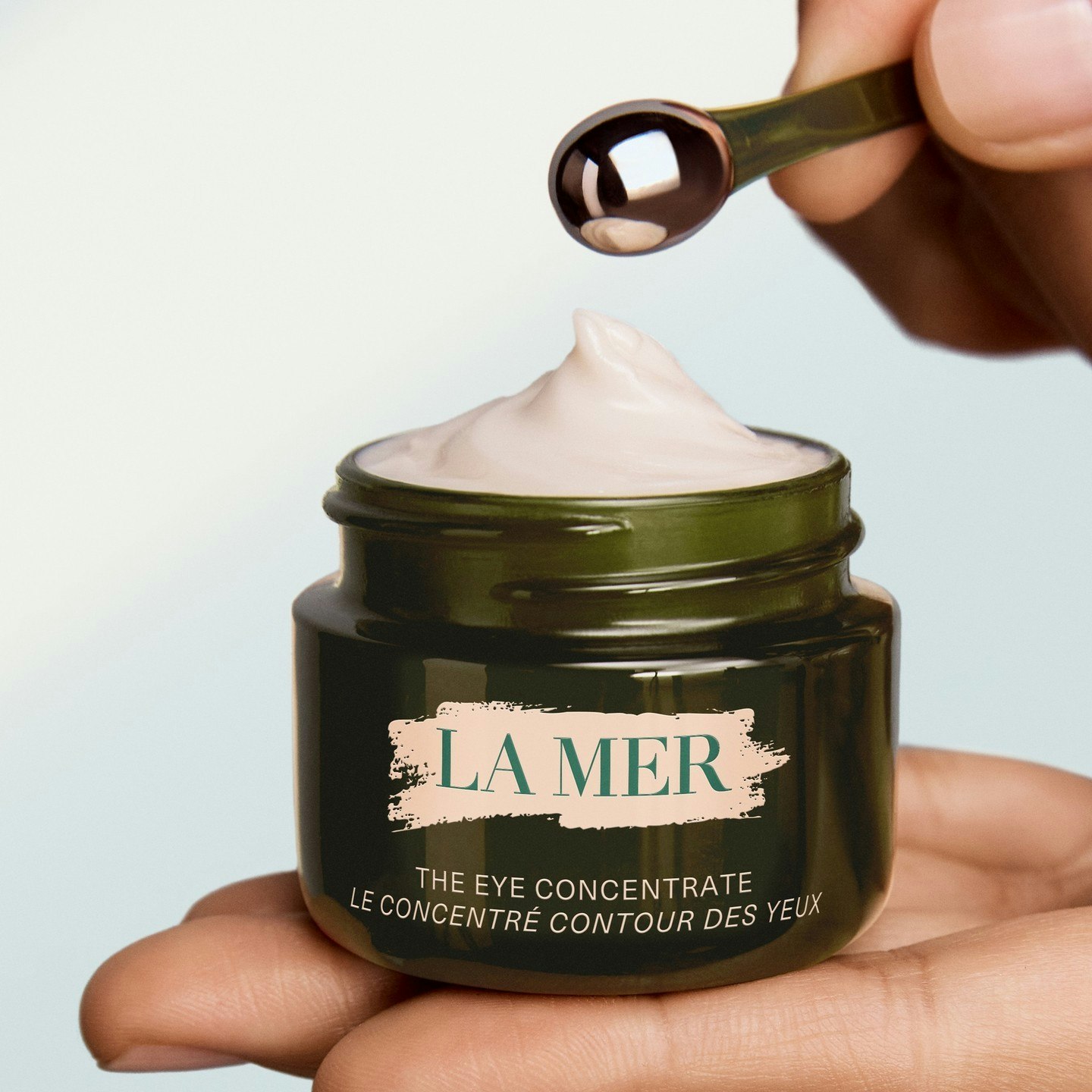 86 of 142
Friday – La Mer, The Eye Concentrate, £185
I know, I know, it's really expensive. But trust me when I say that La Mer's eye cream is truly phenomenal. You only need a tiny amount at a time (helpful, because this means it lasts much longer) for it to work its magic. I really have seen a difference since I started using it – my dark circles have all but disappeared and the skin under my eyes generally looks and feels much brighter and stronger.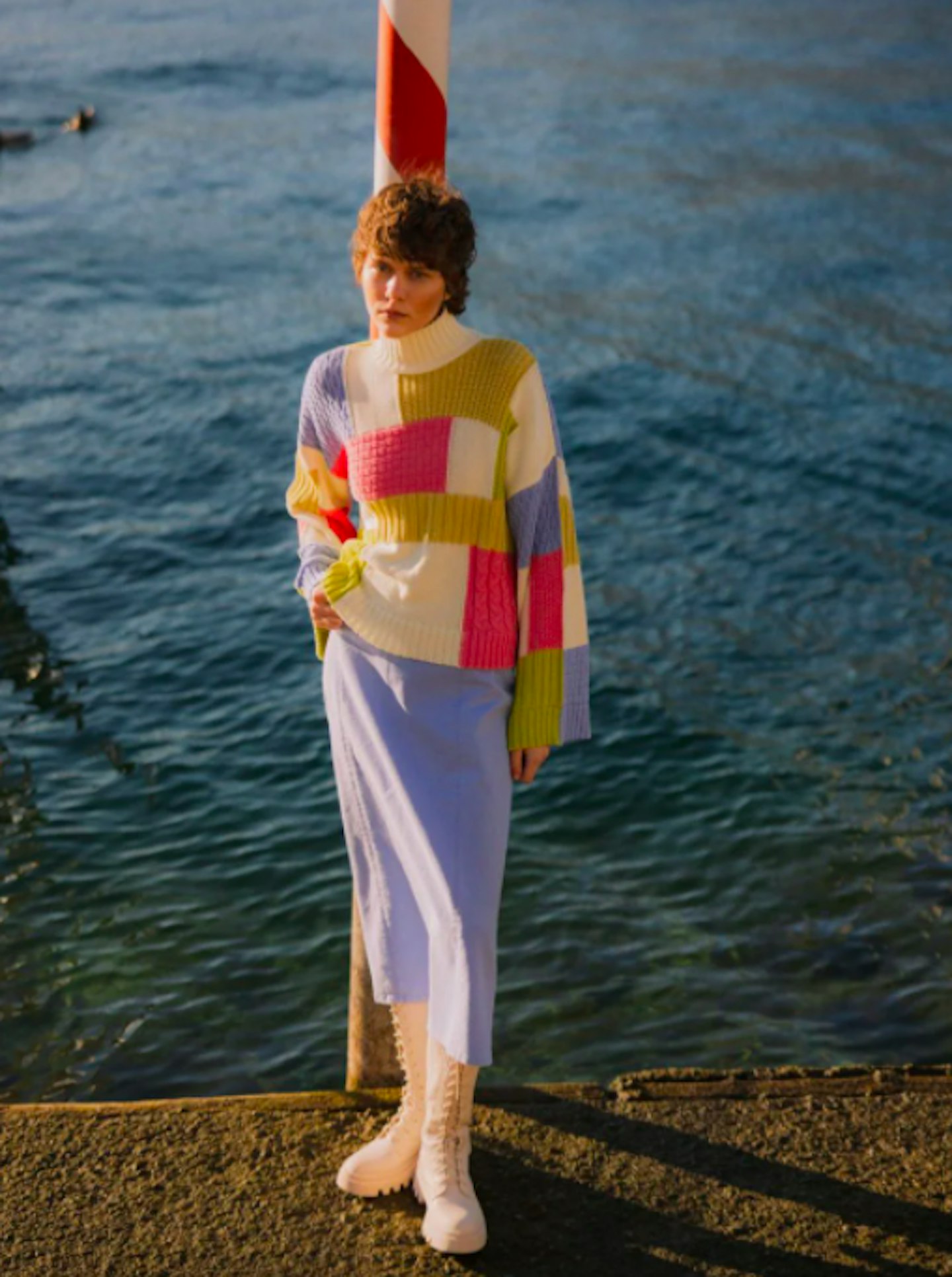 87 of 142
Thursday – Reserved, Patchwork Jumper, £45.99
Feast your eyes on Reserved's new collection, a treasure trove of sartorial delights that offer an affordable way to upgrade your wardrobe. Wear this patchwork knit with slinky midi skirts in similarly bright hues or simply throw over your favourite jeans.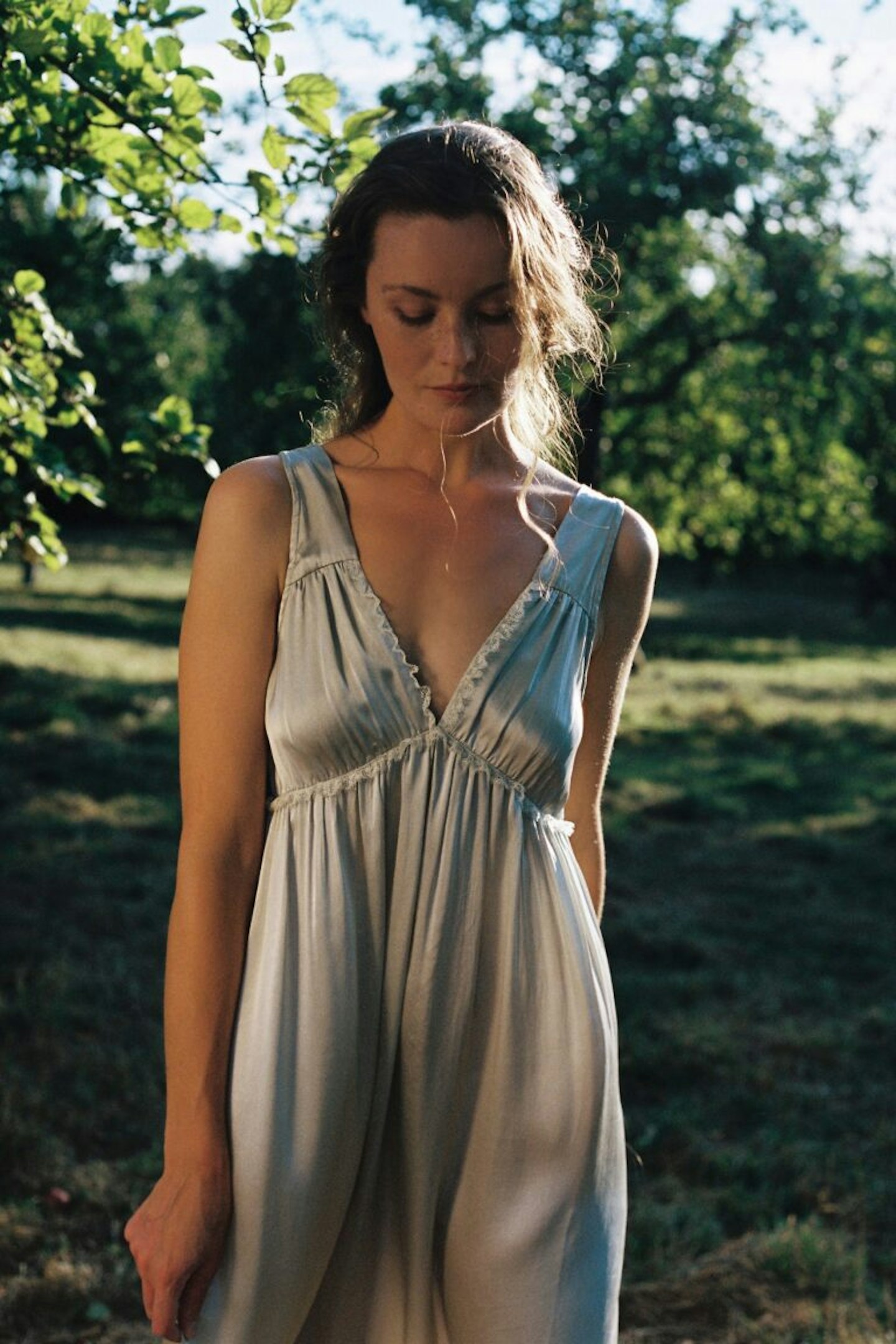 88 of 142
Wednesday – If Only If, Silk Nightdress, £199
I've been obsessed with If Only If's lovely cotton nightdresses since I discovered them and now the brand has created the most beautiful silk version that will make bedtime feel like a treat. Available in ivory, pearl grey or sunny yellow, this is the perfect new year present to yourself.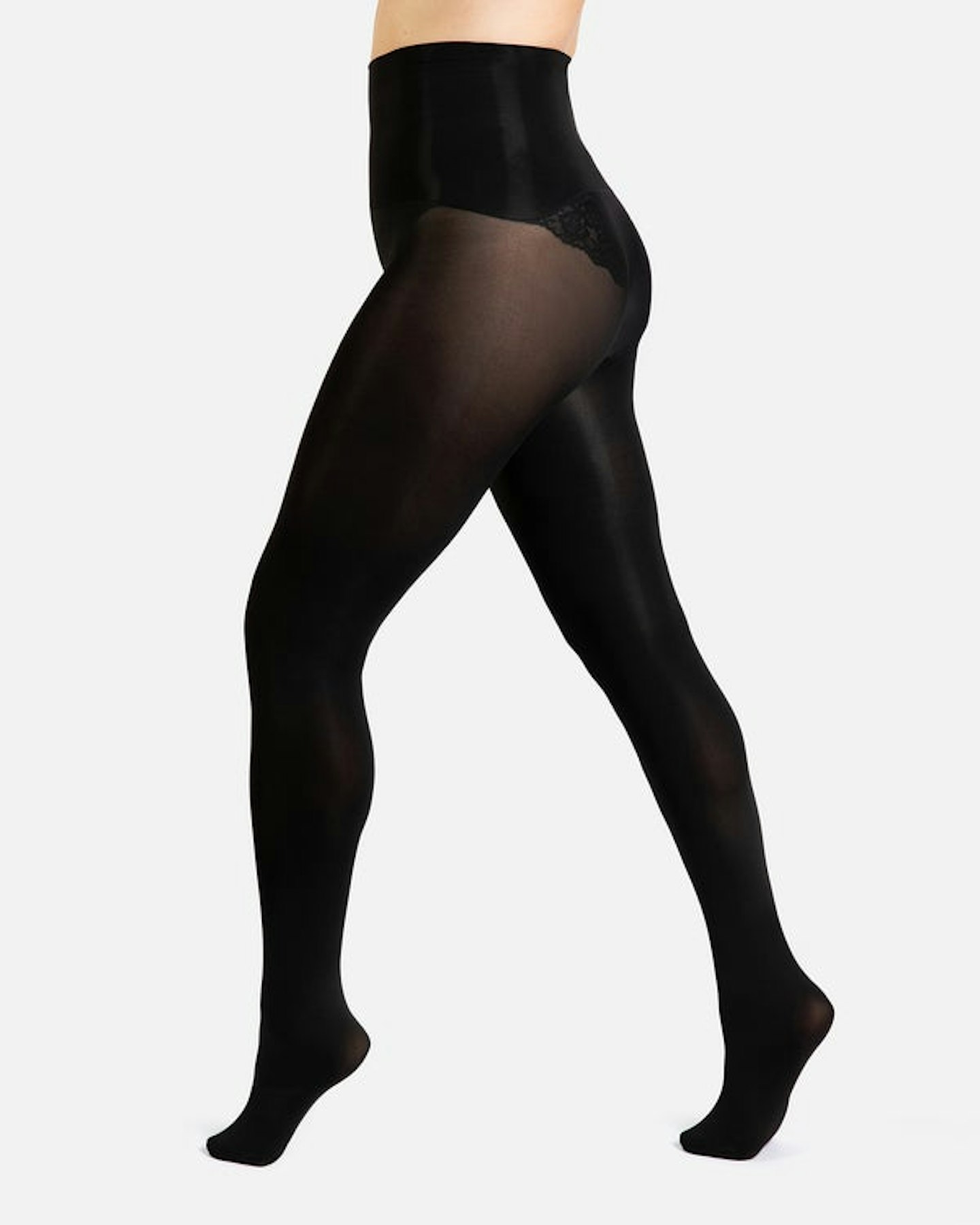 89 of 142
Tuesday – Hedoine, Biodegradable Tights, £30
Finding the perfect pair of tights is my version of the search for the Holy Grail, only quite a lot easier since I found Hedoine. Not only can you choose between a high and low waistband (high every time) as well as five different types of thickness, they're also biodegradable, making them kinder to the planet. They also really do last – no ladders here. There's even a tights subscription service, which sounds to me like a truly genius idea. Given the fact that I wear tights pretty much every day in winter, I'll be signing up. And fast.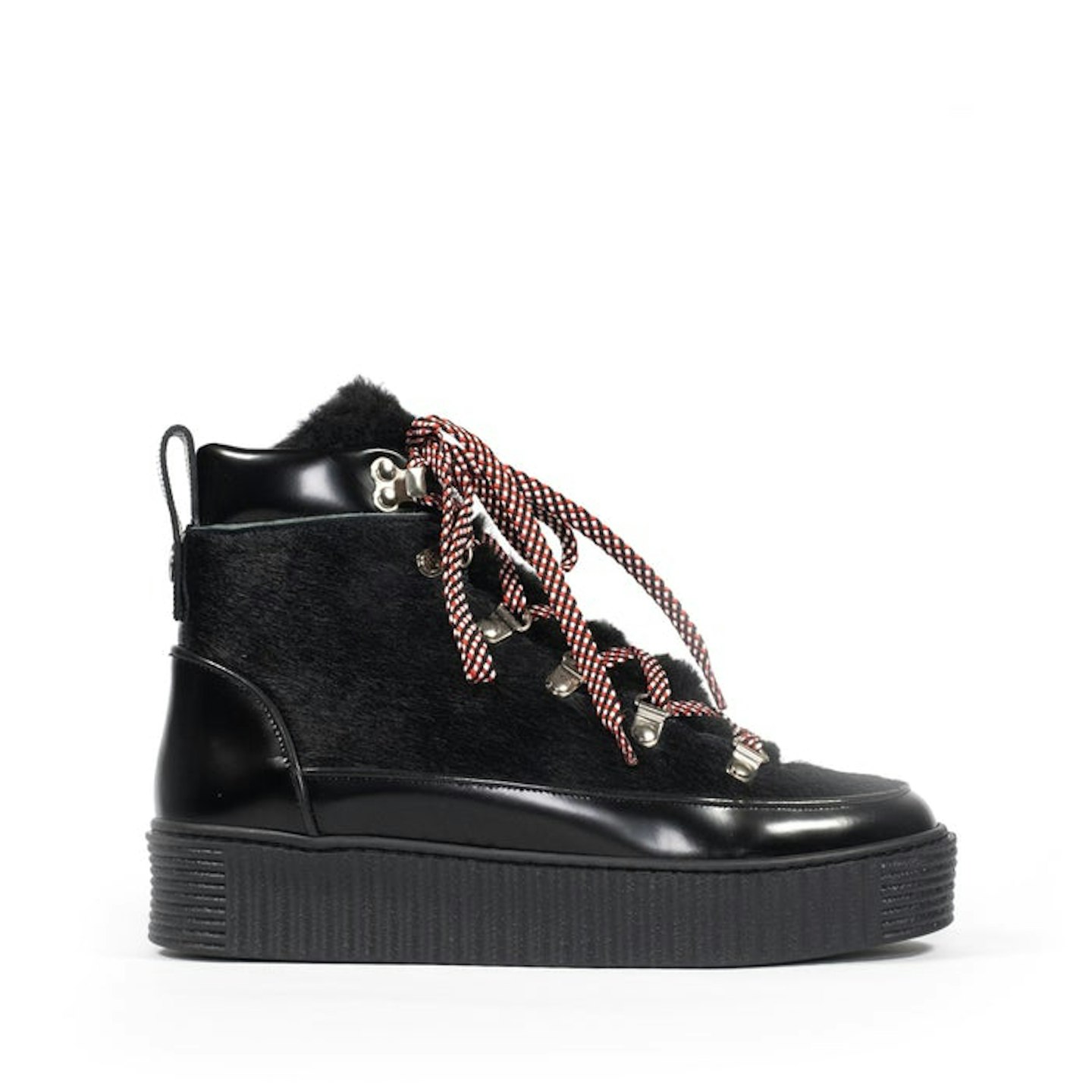 90 of 142
Monday – Camilla Elphick, Snow Boots, £275
It's cold and dreary and still January, which is a brilliant excuse to invest in practical footwear that also looks great. Camilla Elphick's Snow Boots are cosy and comfy but will give any outfit a bit of oomph, whether that's actual walking clothes or midi dresses and tights. New colours are now available, including the black pair, which has been the brand's most-requested shade of all time.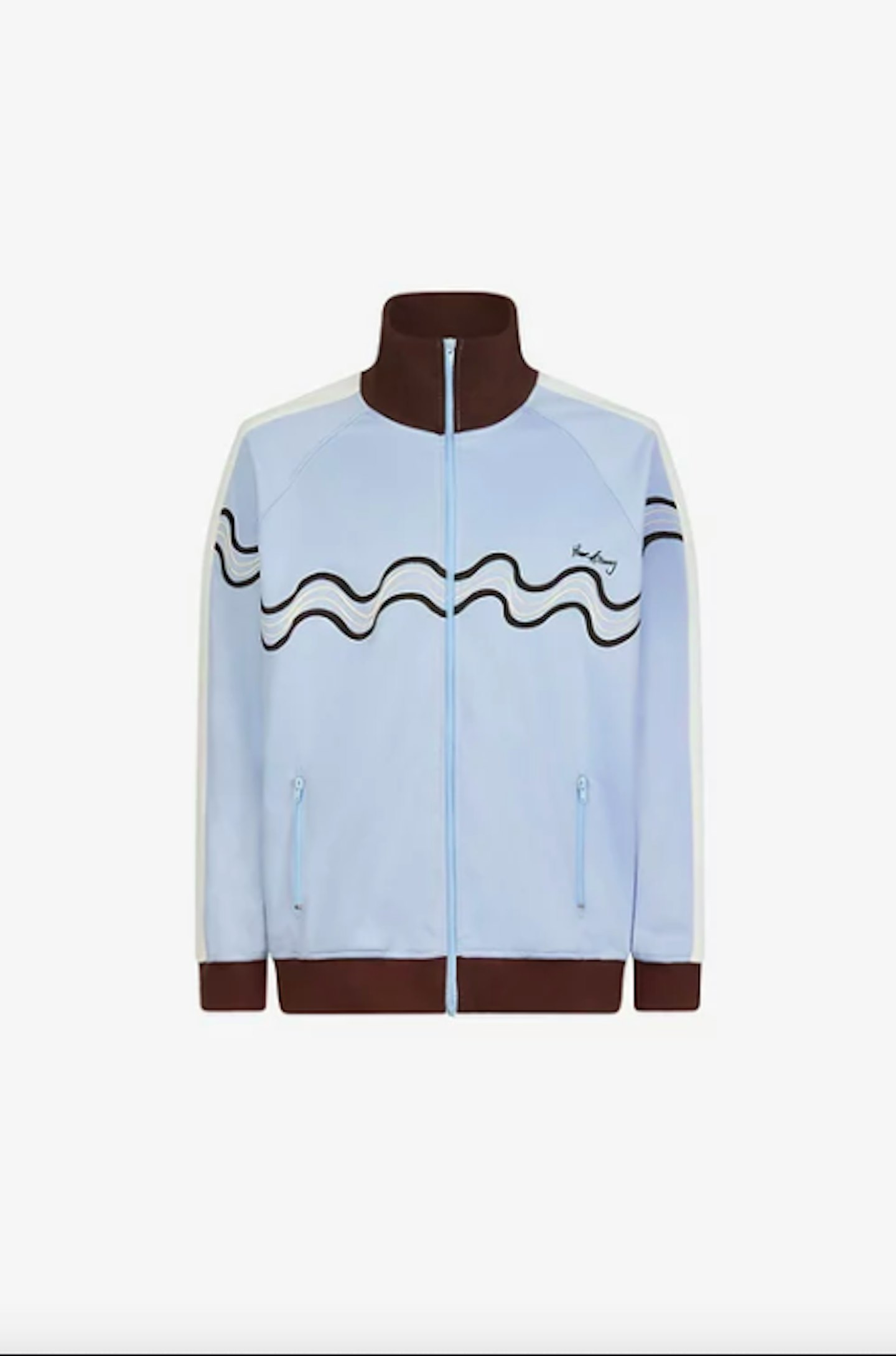 91 of 142
Friday – House of Sunny, All Star Tracksuit Top, £97
House of Sunny's Hockney dress was a sell-out success after Kendall Jenner wore hers all summer, so it's likely that the All Star Tracksuit Top will be just as popular now that Dua Lipa has been wearing hers on Instagram. The brand is quickly becoming one of the most popular young labels among the style set and, with playful, original designs and accessible prices, it's not hard to see why. Wear this over tees and jeans for your ode to the 90s.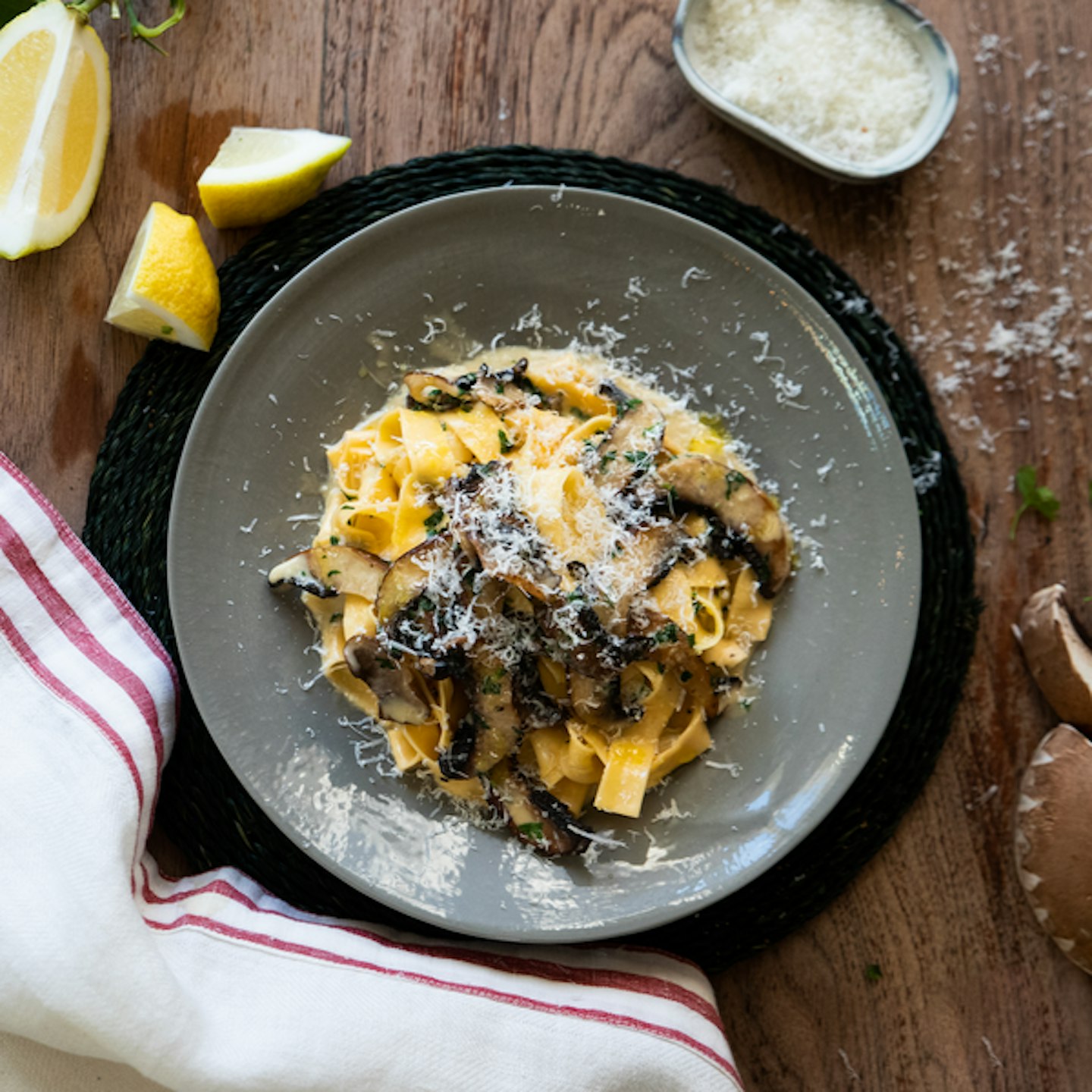 92 of 142
Thursday – Nonna Tonda, Pasta Subscription, From £14.50
Nonna Tonda founders, James and Rebecca, travelled the whole of Italy in order to learn the authentic way to make pasta. Now, they're offering it to the nation with their easy, fast meals that let you enjoy the most delicious fresh pasta without any effort. You can choose how often you'd like to have your delivered and there's options available for vegetarians and vegans alike. I can attest to the fact that they take about 10 minutes but taste like you're enjoying dinner in your favourite Italian restaurant (or maybe even better). This will make any night of the week more exciting, particularly in January.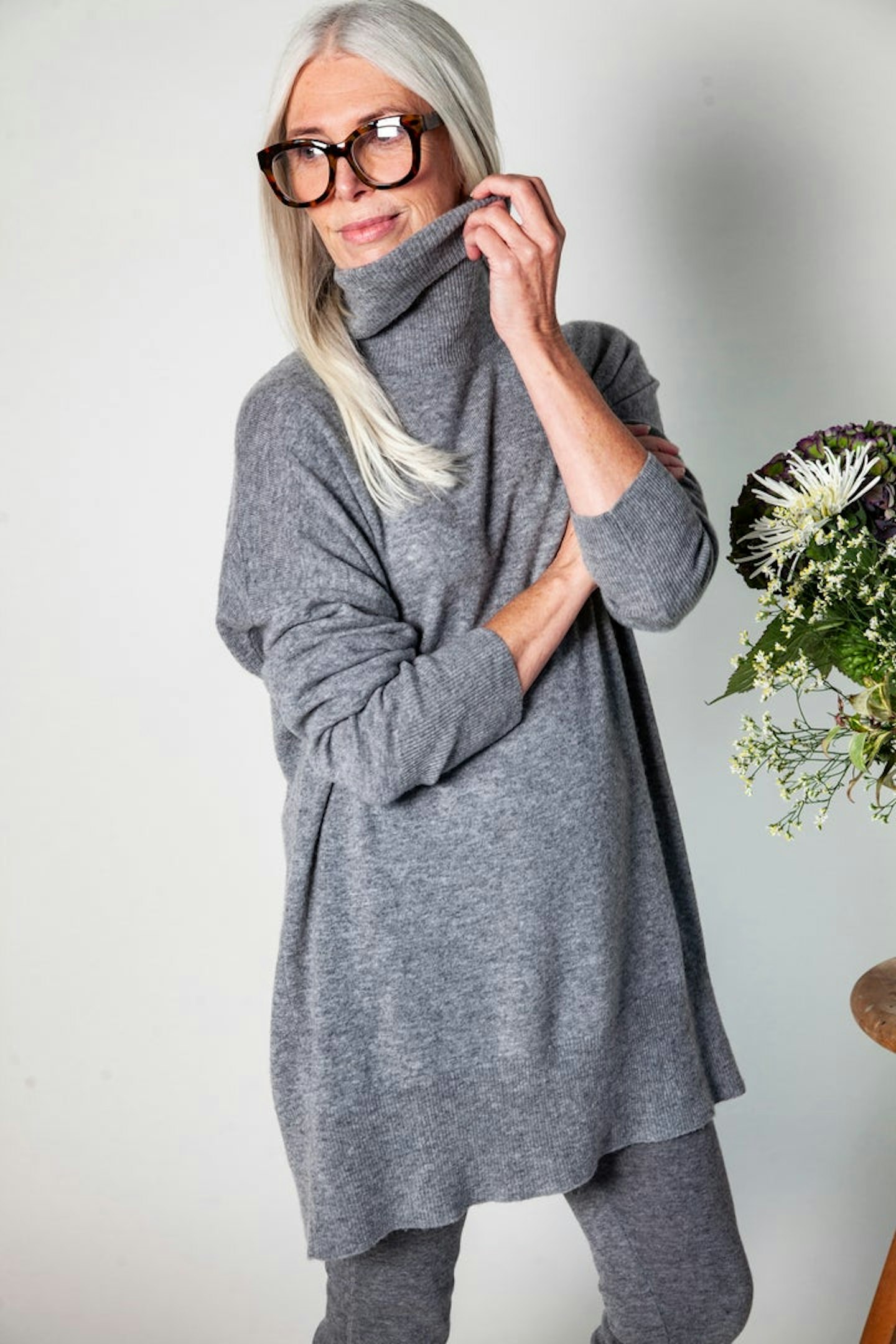 93 of 142
Wednesday – Scoop Studio, Grey Cashmere Jumper, £165
Founded in 2020 by Sarah Cooper, Scoop is a brand dedicated to sustainable values and inclusive style. Using the highest quality Merino wool and cashmere blend, Cooper has developed a timeless collection of sumptuous knitwear, ideal for the freezing cold temperatures of January. Each design is produced in a limited run to avoid waste and I think the long-line roll necks might be my favourites. There are also gorgeous jumpers with bow details and colour block cardigans, too.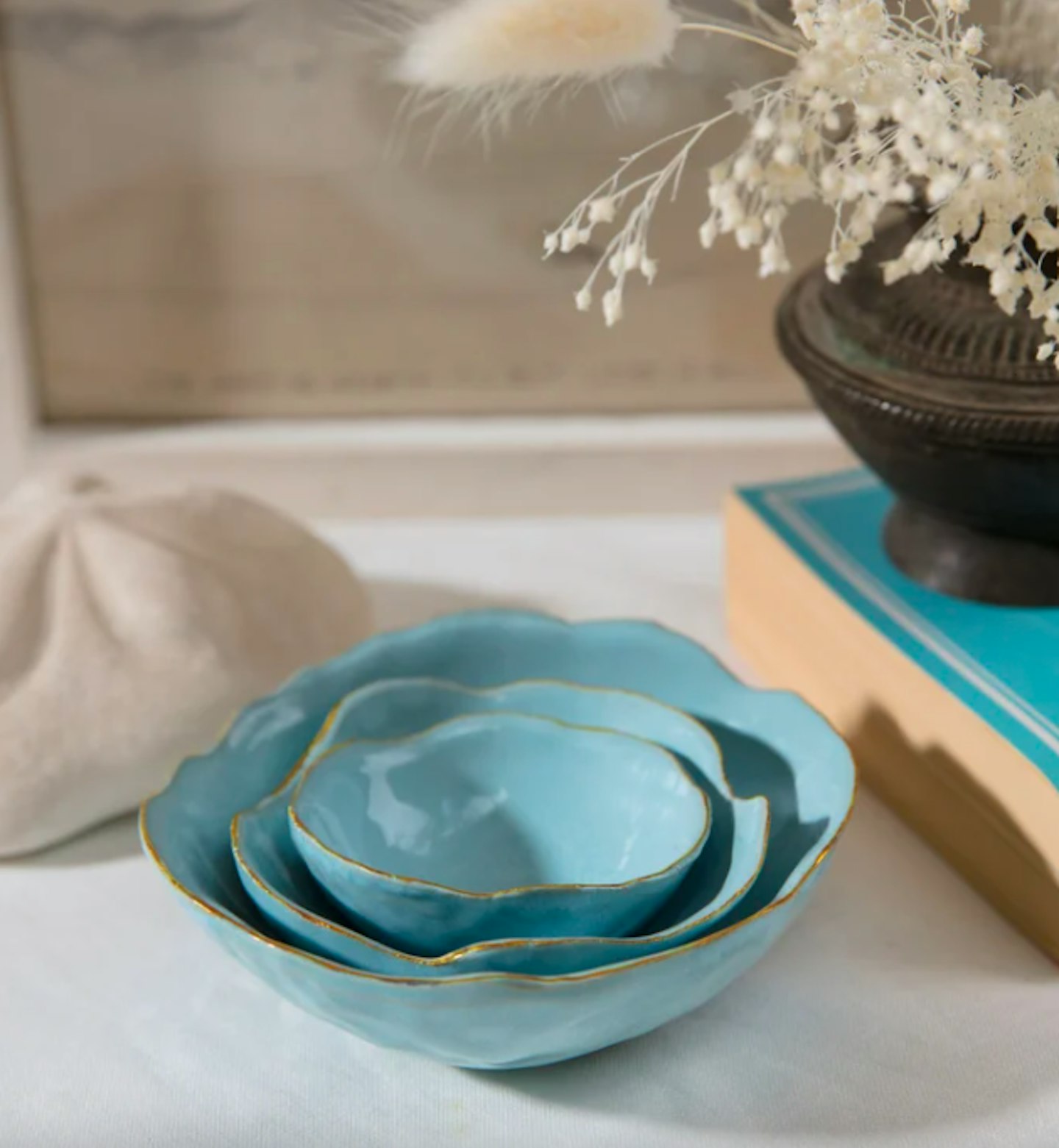 94 of 142
Tuesday – Monica Vinader, Nesting Dishes, £75
Monica Vinader, the jewellery brand loved by everyone from the Duchess of Cambridge to Hailey Bieber, has today launched homewares for the first time. A collaboration with ceramicist Florence St George, the collection is made up of four sets of nesting bowls inspired by the vibrant Bahamian coast. While you could use them to house your jewels, they'll also look great on any shelf, in the kitchen or even on a coffee table. Be quick – they're already selling fast.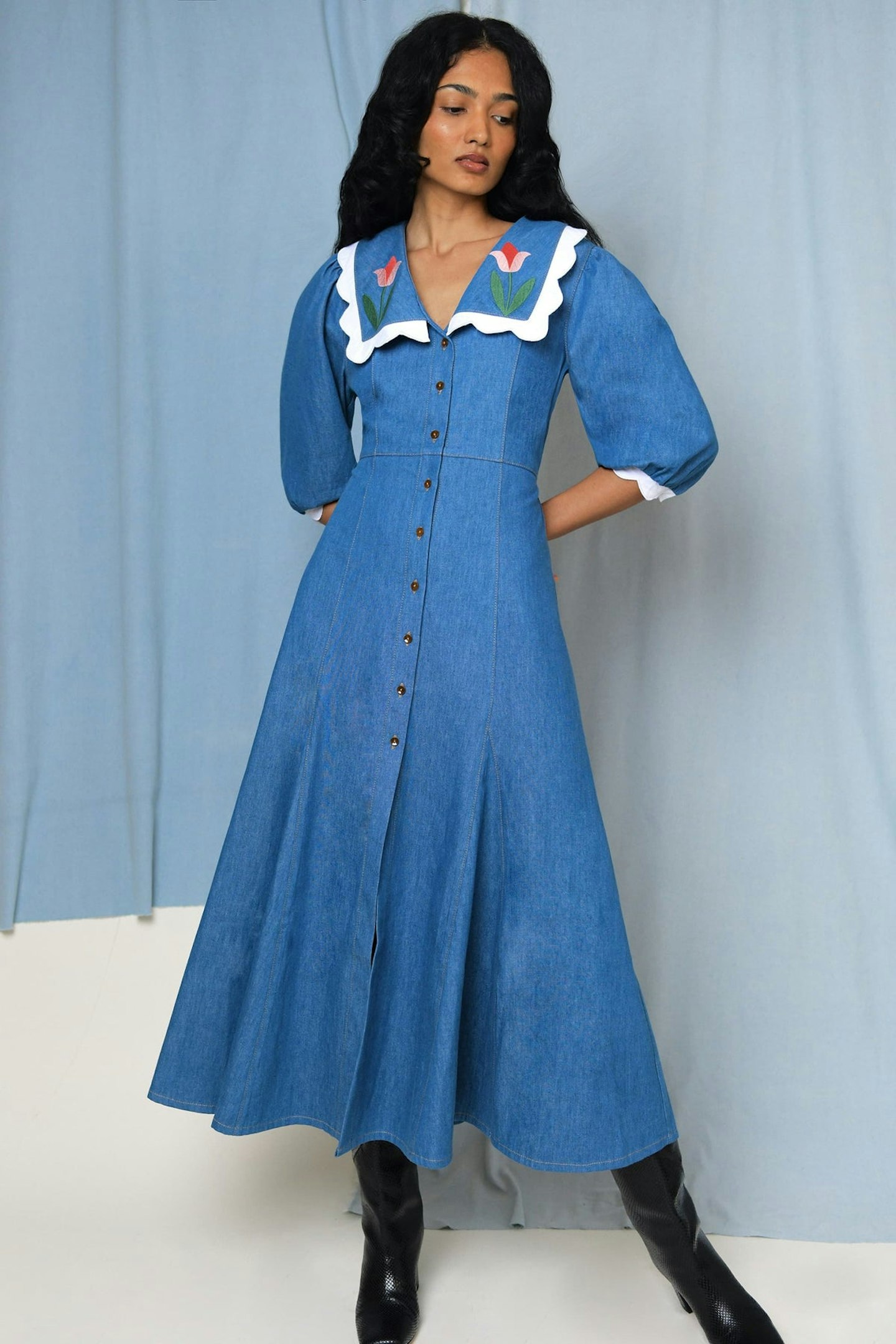 95 of 142
Monday – Rixo, Sustainable Denim Dress, £285
Rixo has launched a collection of sustainable denim, comprised of 13 different pieces you'll want to start wearing immediately. The brand has used the Environmental Impact Measurement scoring system software in order to assess the overall impact of each individual item across four categories: water consumption, energy consumption, effect on workers' health and chemical impact. This dress, with its embroidered collar, is one of the highlights – wear with knee high boots now and swap for sandals in the summer.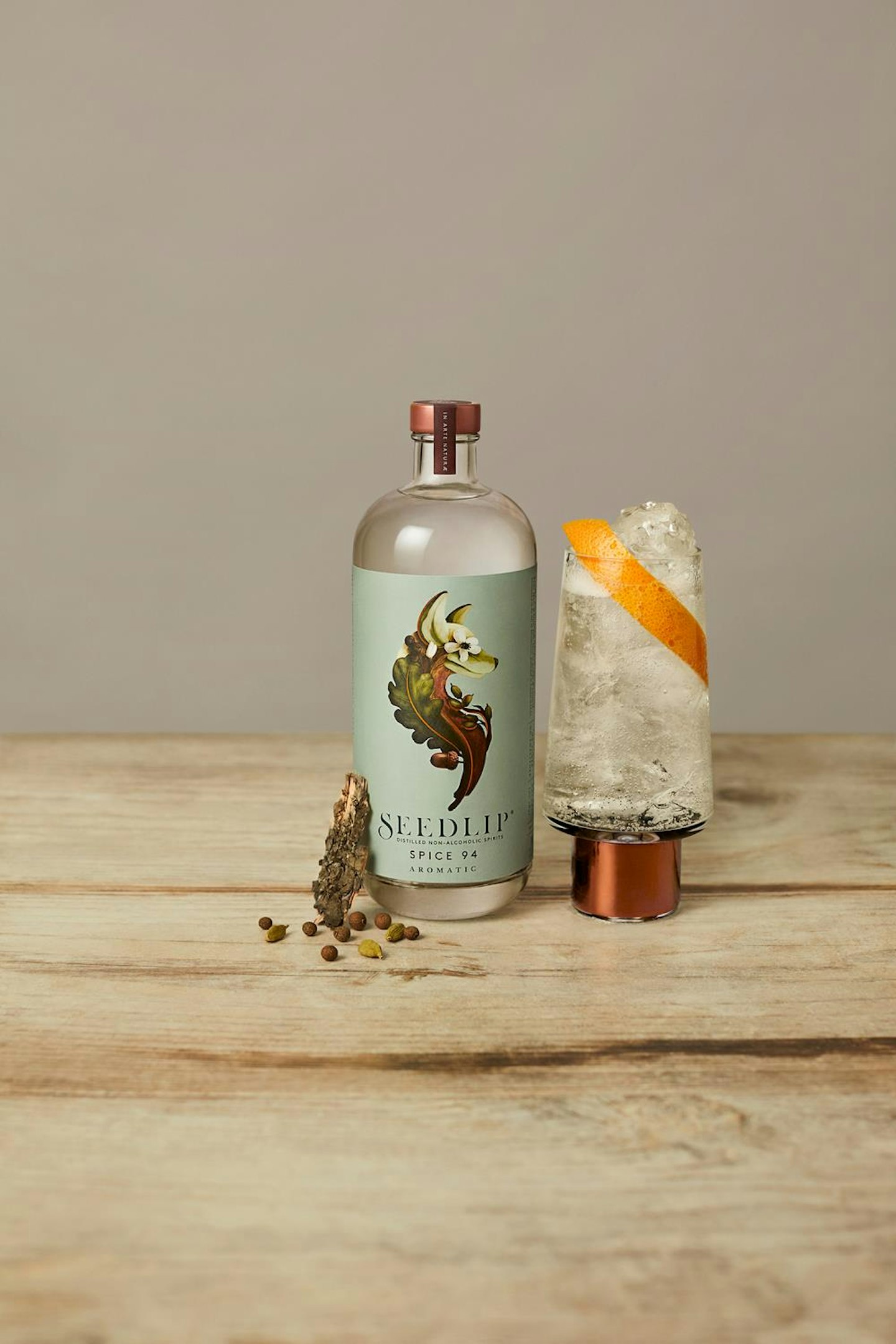 96 of 142
Friday – Seedlip, Spice 94 Non-Alcoholic Spirit, £18
Doing Dry January or simply trying to cut down after the excesses of December? You might want to make things slightly more exciting than tap water and Seedlip's non-alcoholic spirits are an excellent place to start. Spice 94 is a delicious blend of Allspice berries and cardamom, which can be paired with tonic as an alternative to your classic G&T. Or, try some of the recipes on the brand's website and create your own alcohol-free cocktails. Dry Jan never tasted so good.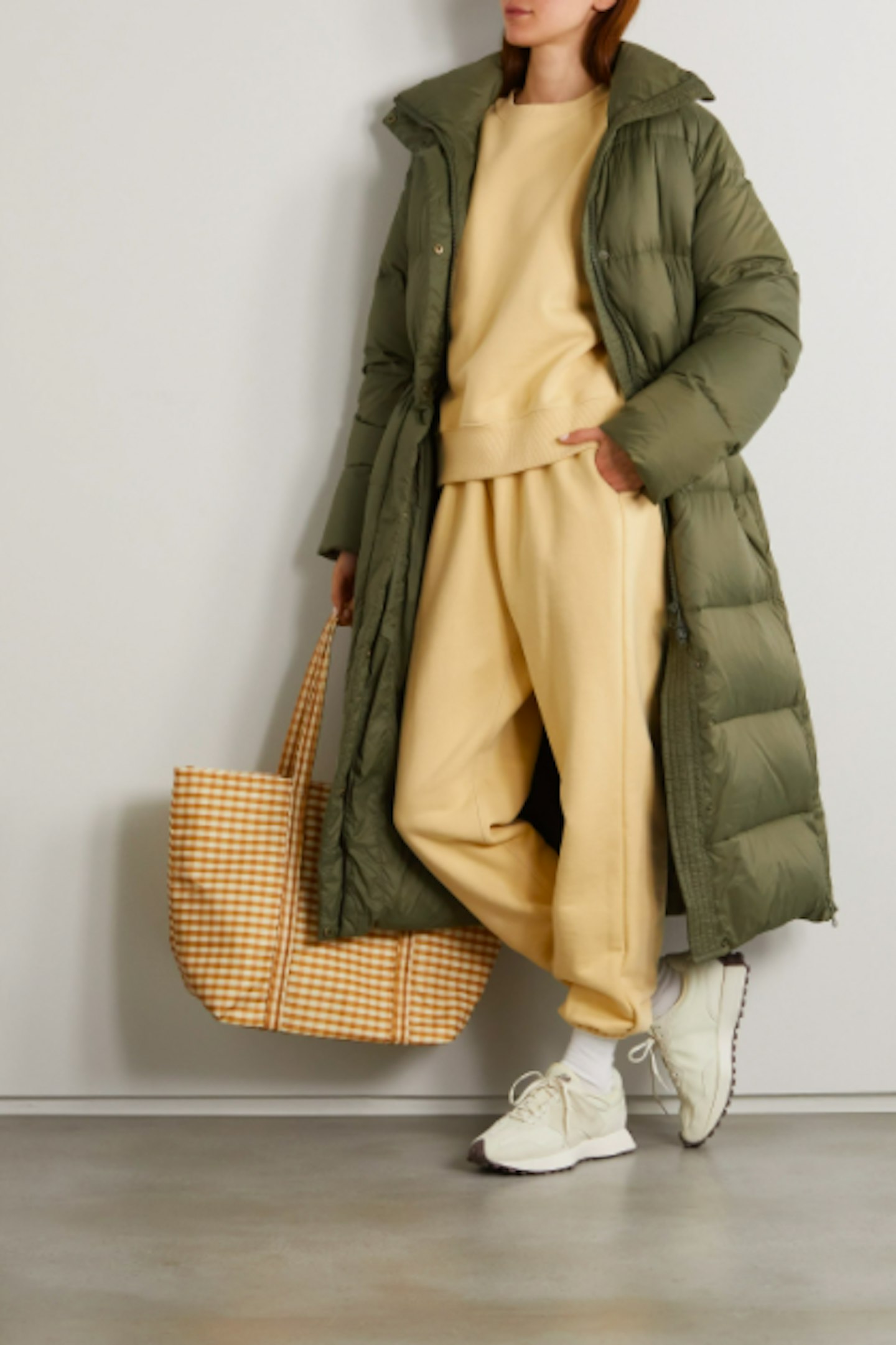 97 of 142
Thursday – Holzweiler, Quilted Recycled Shell Down Coat, £540
Already fed up of January and the fact that you can't just sit under a blanket all day? This is the next best thing. Nobody does winter coats quite like Holzweiler, possibly because being Norwegian, the brand knows a thing or two about battling cold climates. This quilted coat is made from recycled materials and will make you feel as snug as a bug as you tackle the elements.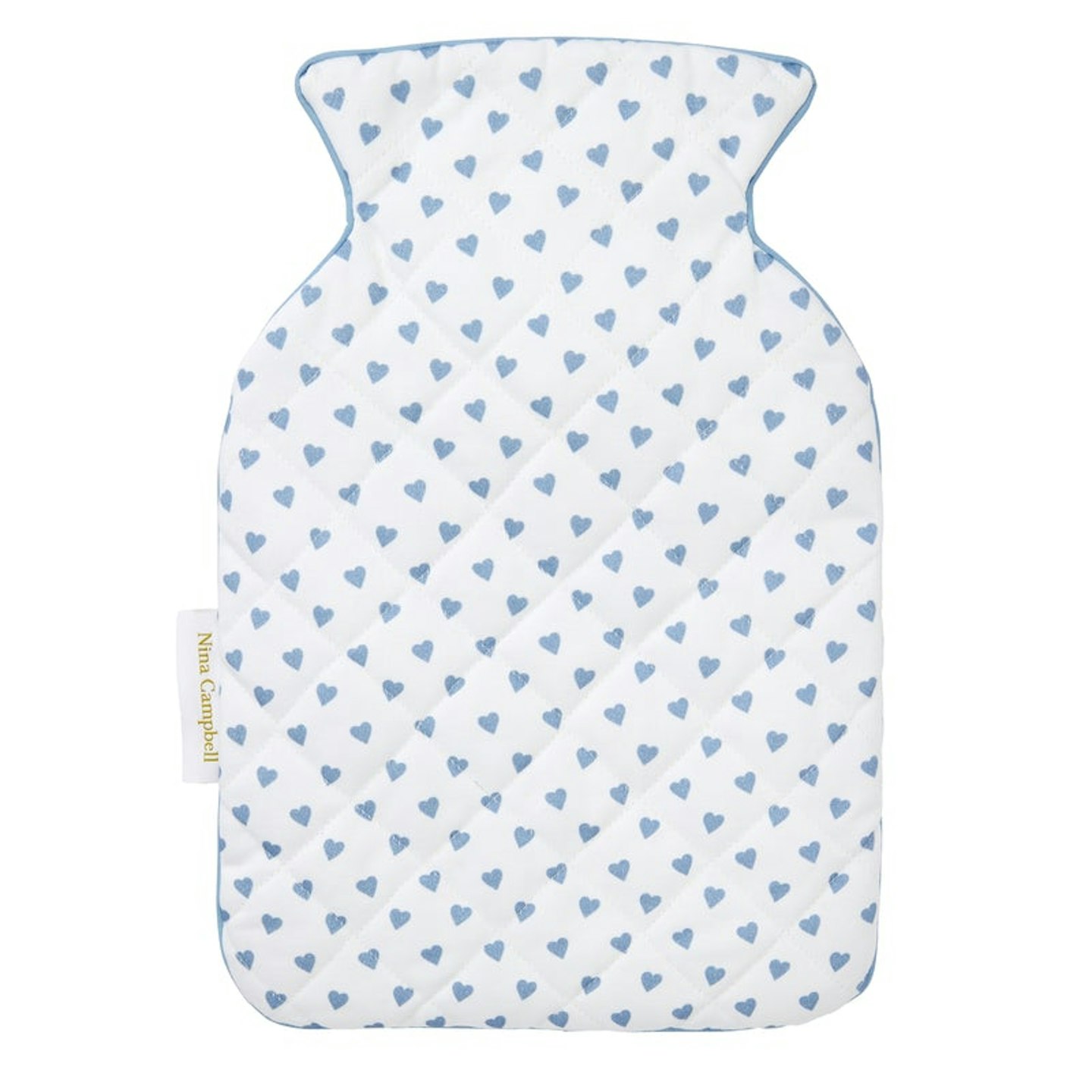 98 of 142
Wednesday – Nina Campbell, Hot Water Bottle Cover, £32
'Tis the season to fill up a hot water bottle cover and watch endless episodes of your favourite Netflix show on the sofa. Nina Campbell's pretty (and luxurious) covers will make your hot water bottle even more appealing, if that's even possible right now.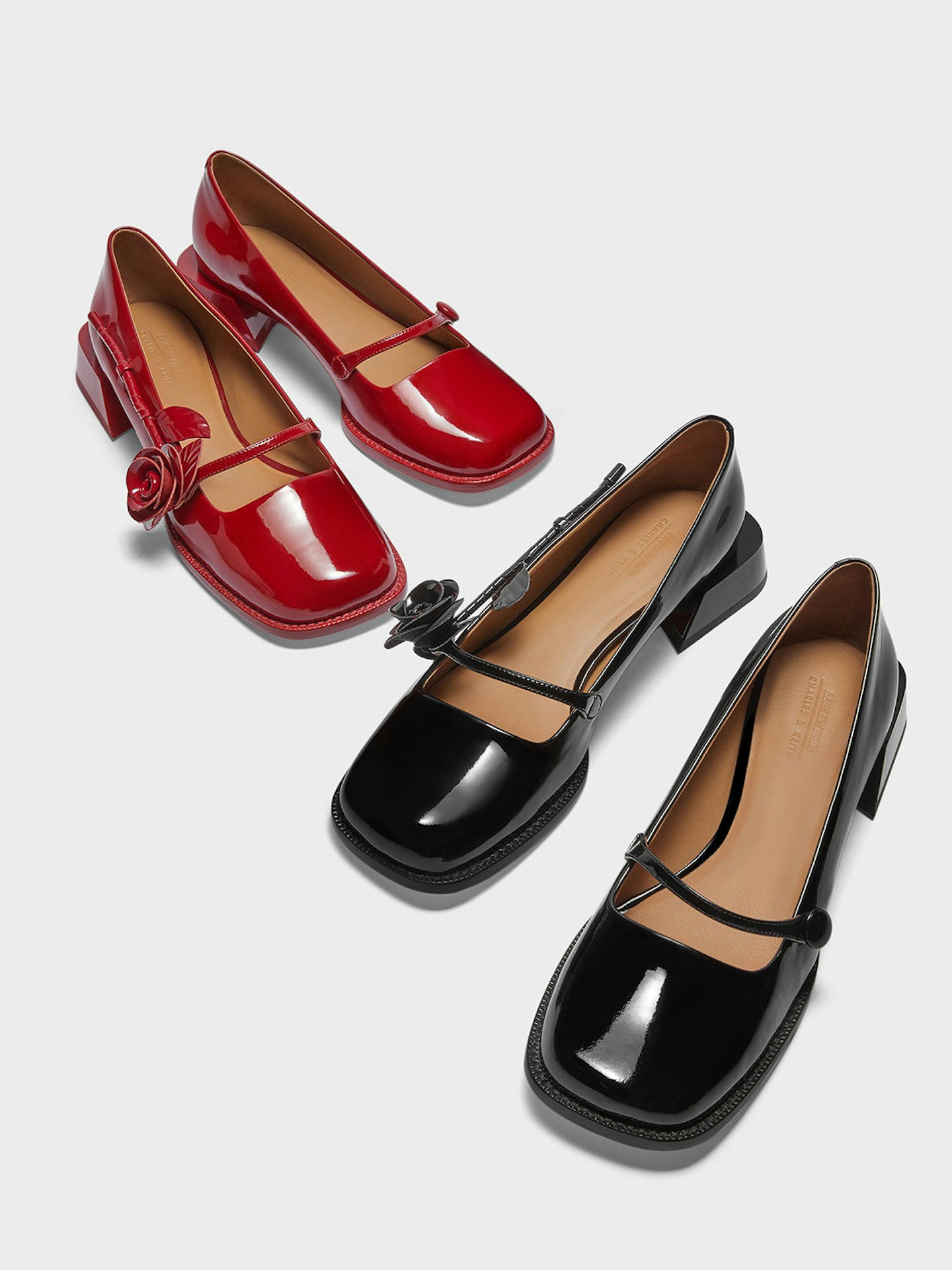 99 of 142
Tuesday – SHUSHU/TONG x Charles & Keith, Mary-Jane Pumps, £169
Charles & Keith has teamed up with Shanghai label Shushu/Tong to produce a very covetable collection of bags and shoes, perfect for starting the new year in style. Consisting of Mary-Jane pumps available in both black and red and two different bags, this capsule is a great way of getting your hands on one of fashion's next biggest names for a fraction of the normal price. With fans already including Alexa Chung and Emma Corrin, Shushu/Tong is quickly establishing itself as one to watch and these accessories prove why.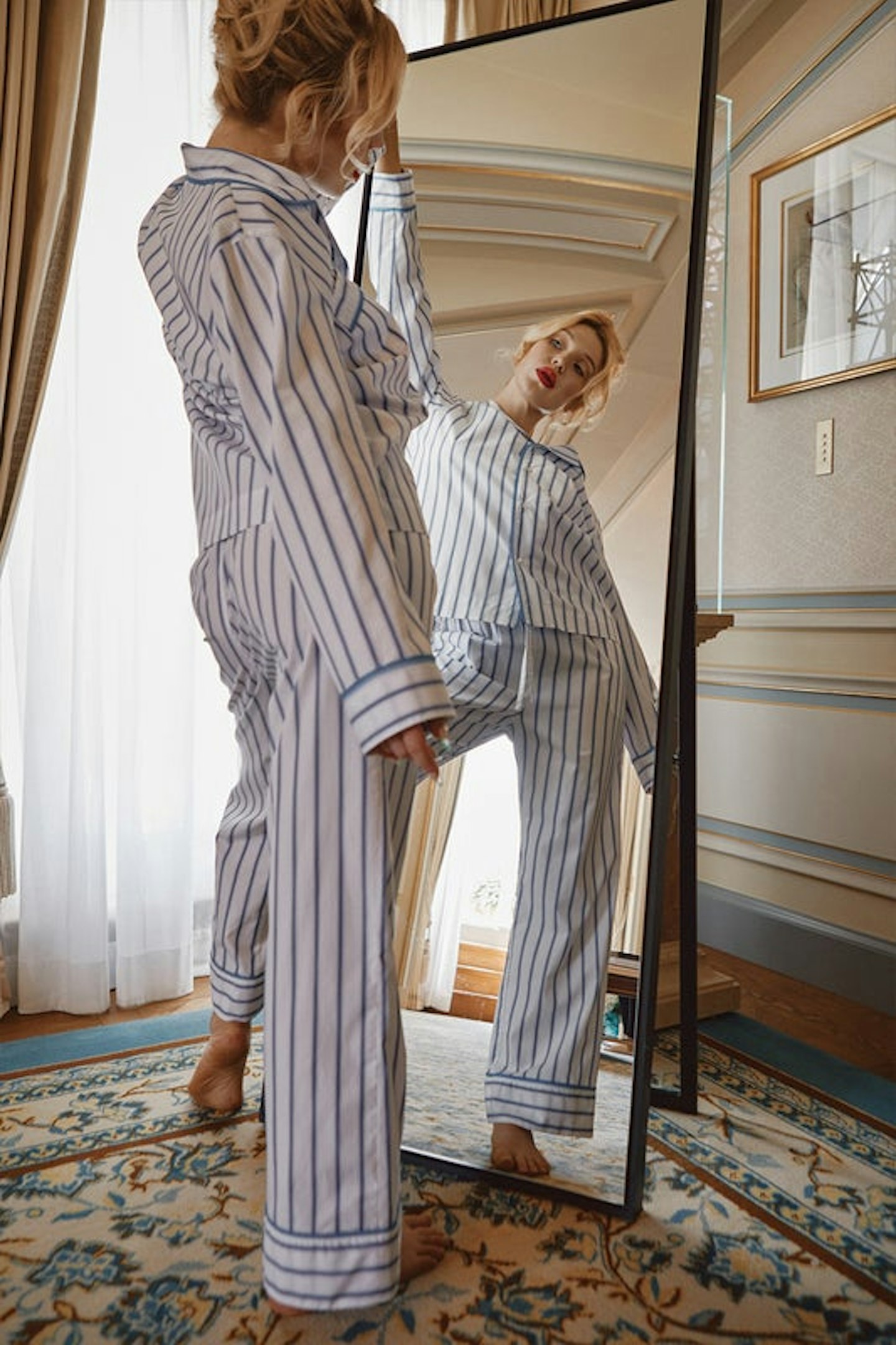 100 of 142
Monday – Paul & Joe, Cotton Striped Pyjamas, £196.10
It's January, it's cold and we're all trying to avoid Covid. Still. It's exactly the time to treat yourself to a new pair of pyjamas and few are quite as lovely as Paul & Joe's new range. With printed silk and cotton styles available, they'll make bedtime a whole lot more stylish.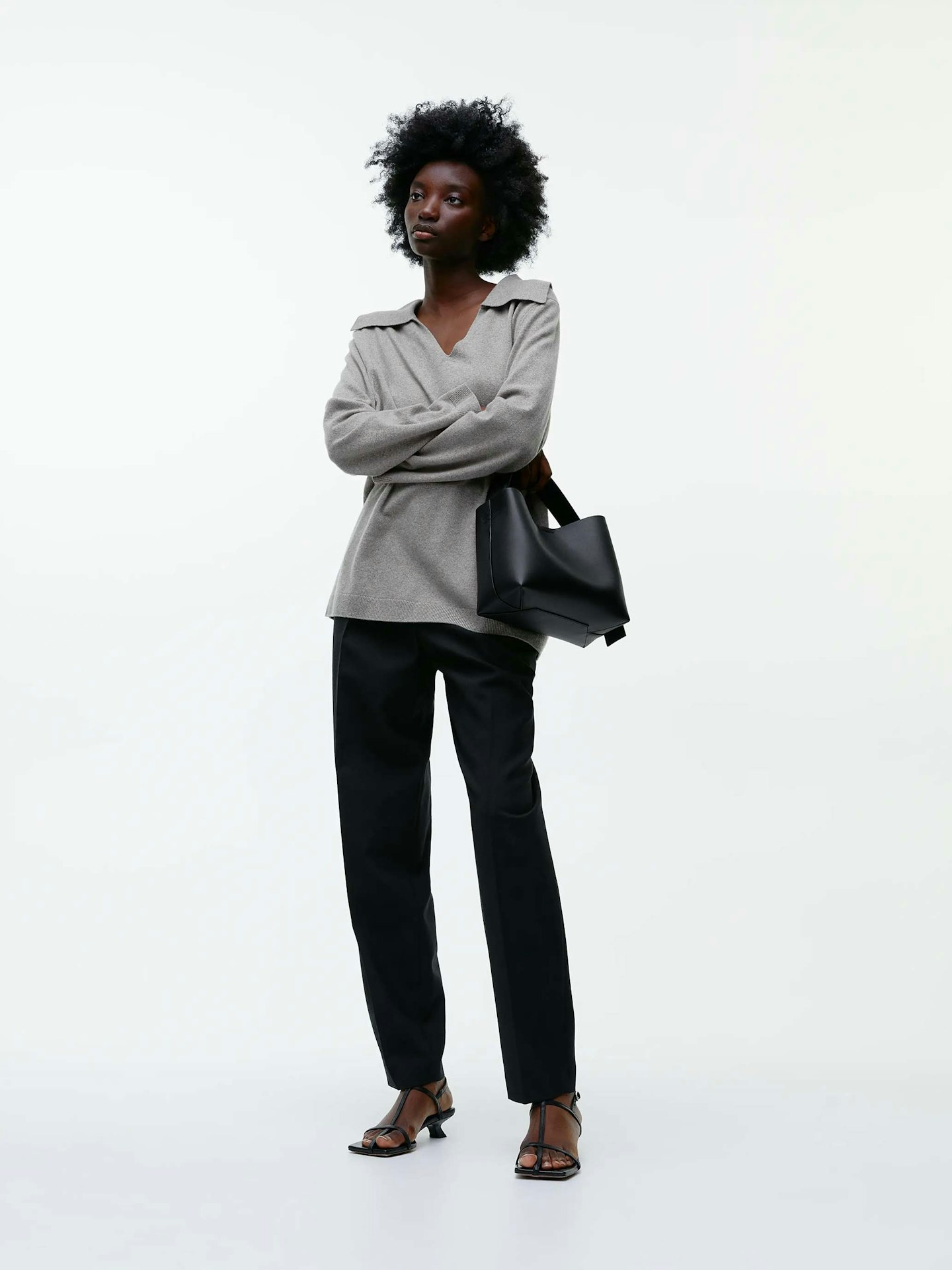 101 of 142
Friday – Arket, Polo Collar Cashmere Jumper, WAS £150 NOW £75
You've made it through the first full week of January, which is reason enough to celebrate. Another reason is the fact that this glorious cashmere knit is HALF PRICE in Arket's sale at the moment. It will look excellent tucked into jeans but also great over a satin midi skirt and heels if you feel like dressing up in January. It also looks good with joggers – just saying.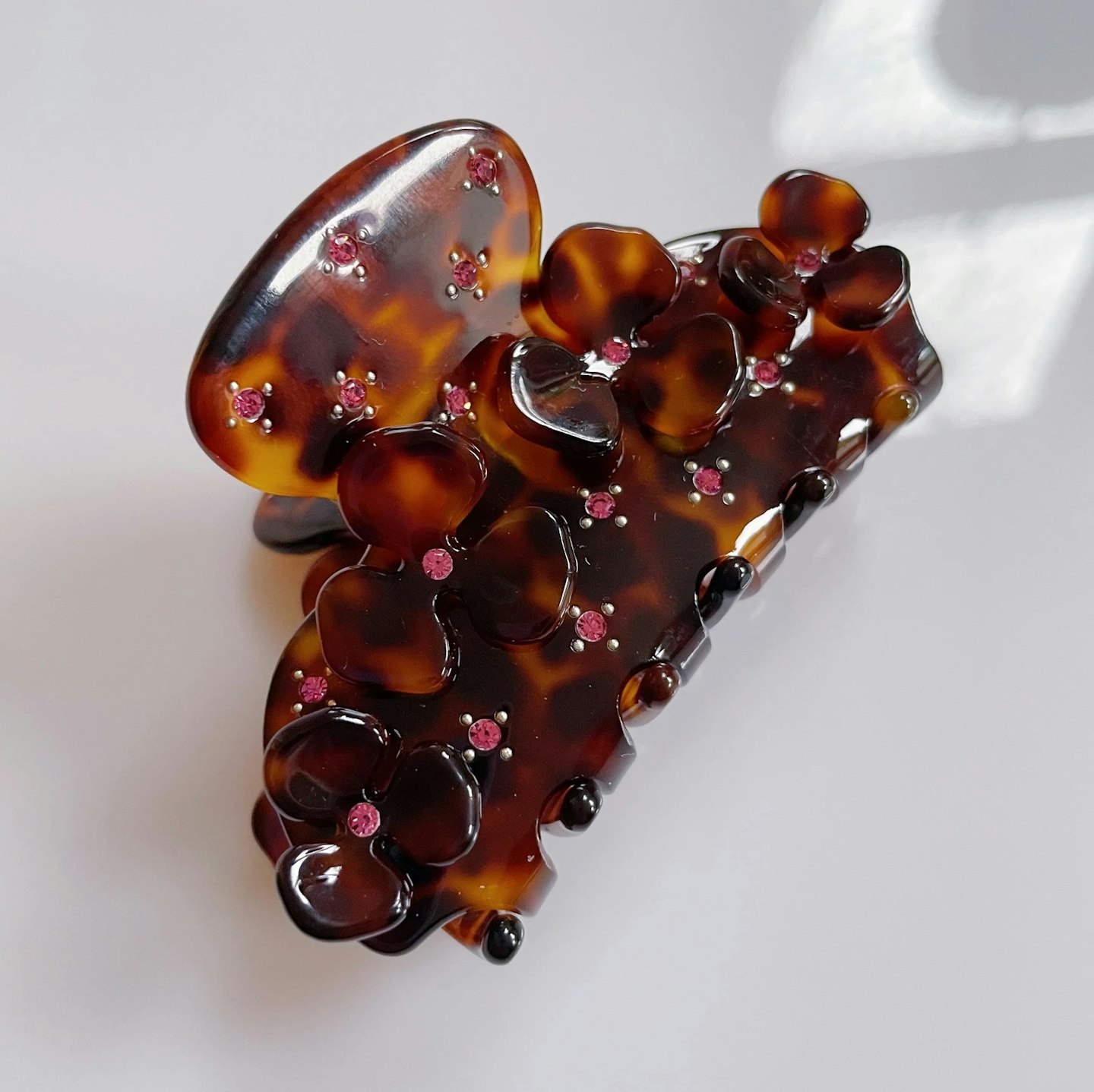 102 of 142
Thursday - Tort, Joanie Clip, £26
If your ears need a break from statement earrings, but you still want to 'bring it' on Zoom, why not invest in a crystal-embellished claw clip from Tort?

103 of 142
Wednesday - Pangaia, Jersey Slippers, £70
Pangaia's padded slippers will make you feel like you're waking up in a hotel every morning (almost).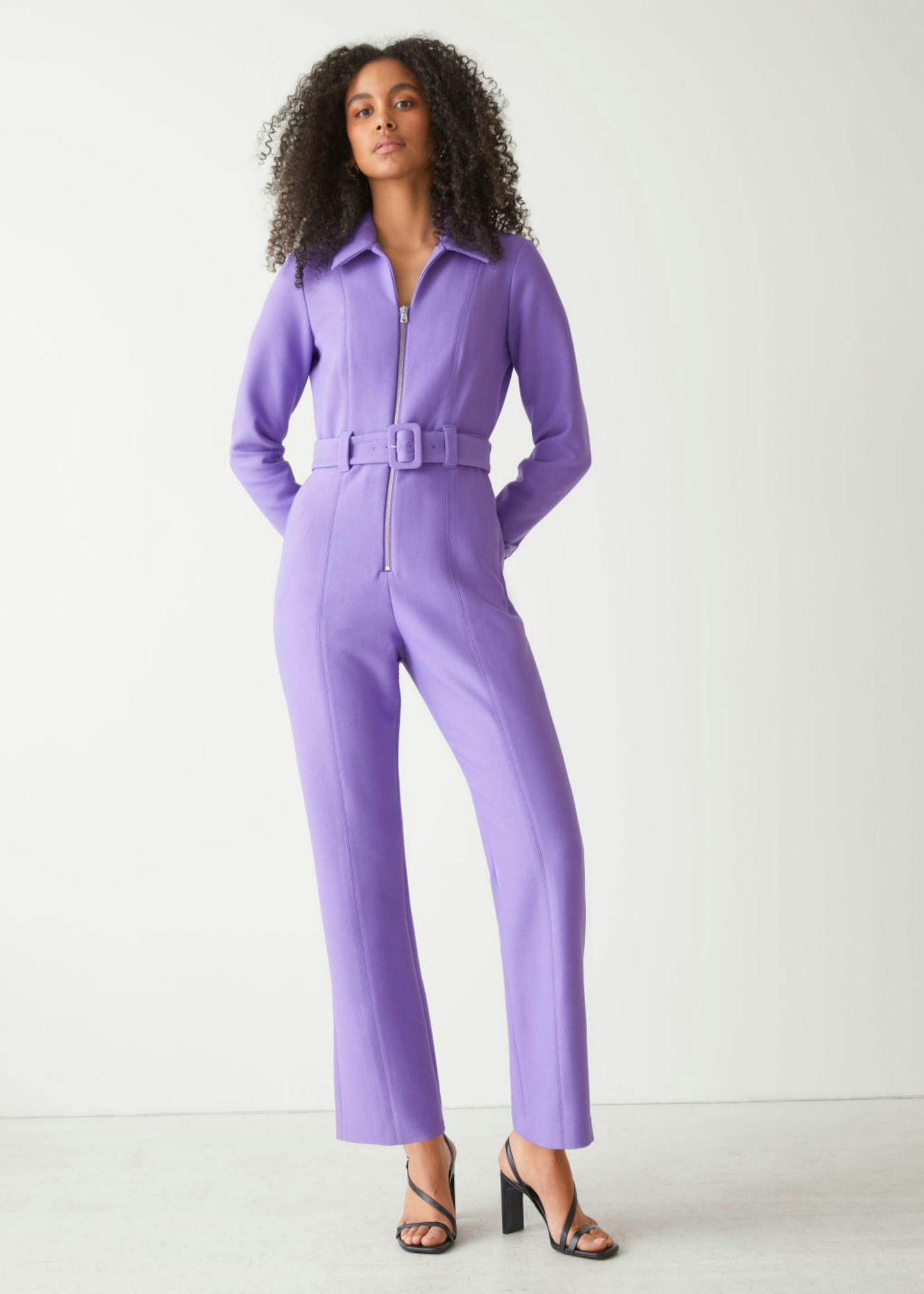 104 of 142
Tuesday - & Other Stories, Belted Collared Jumpsuit, £120
It's totally fine if you're planning to wear slippers for the foreseeable future, but why not pair them with something that will make you want to spring (well, almost) out of bed? This lilac jumpsuit, made from recycled polyester, has a super flattering flare to its legs and a zippered front for if you're feeling flirty.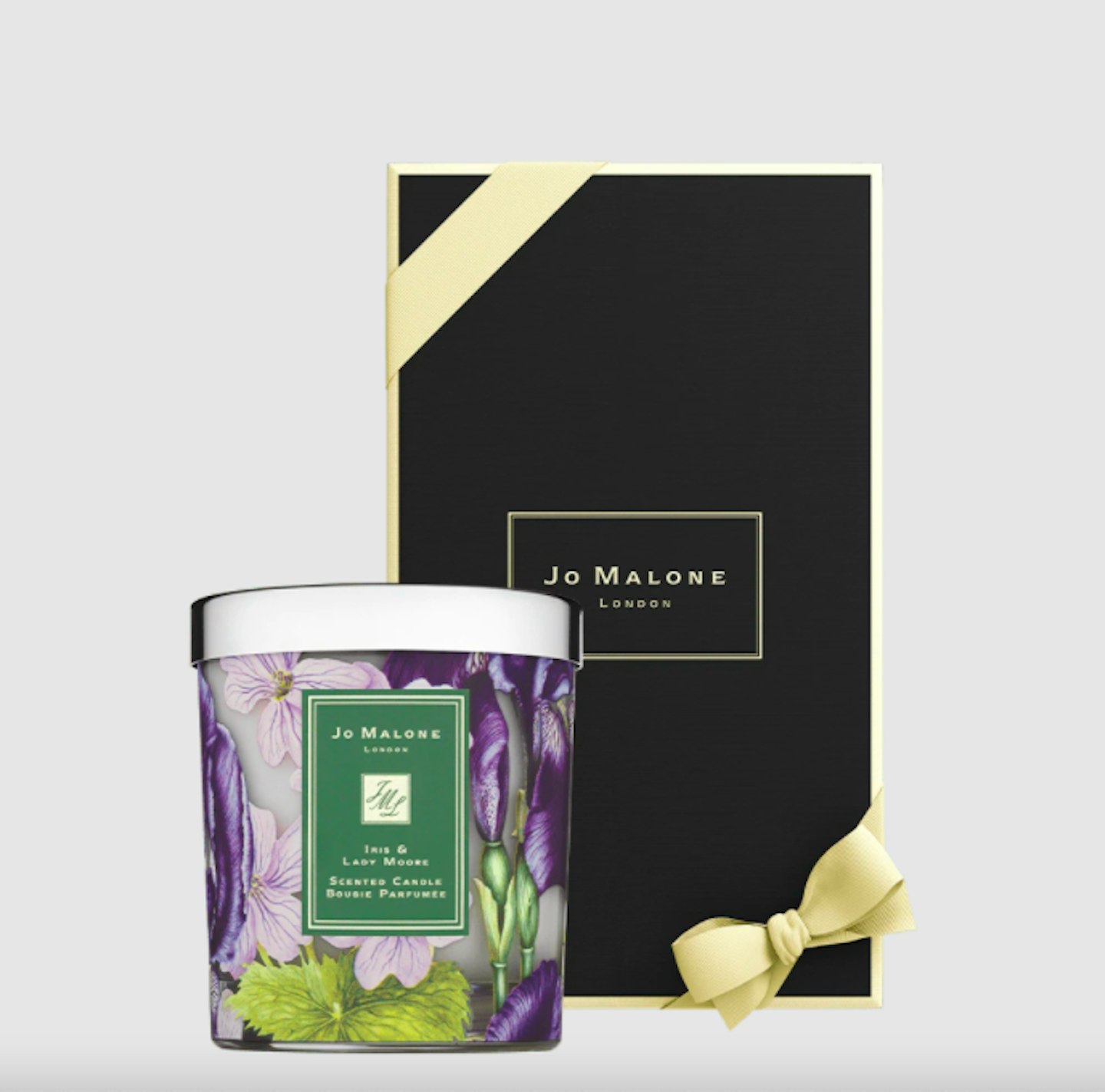 105 of 142
Thursday – Jo Malone, Charity Candles, £50
If you're in need of a super last minute present or just want something to cheer you up amidst the depressing headlines, why not treat yourself to a Jo Malone candle? Not only will it fill your home with the most delicious smell, these Charity Candles support individuals and families affected by mental health problems. For each one sold, 75% of the retail price will be donated to dedicated projects with various charities, making this a very good way to spend your money this Christmas.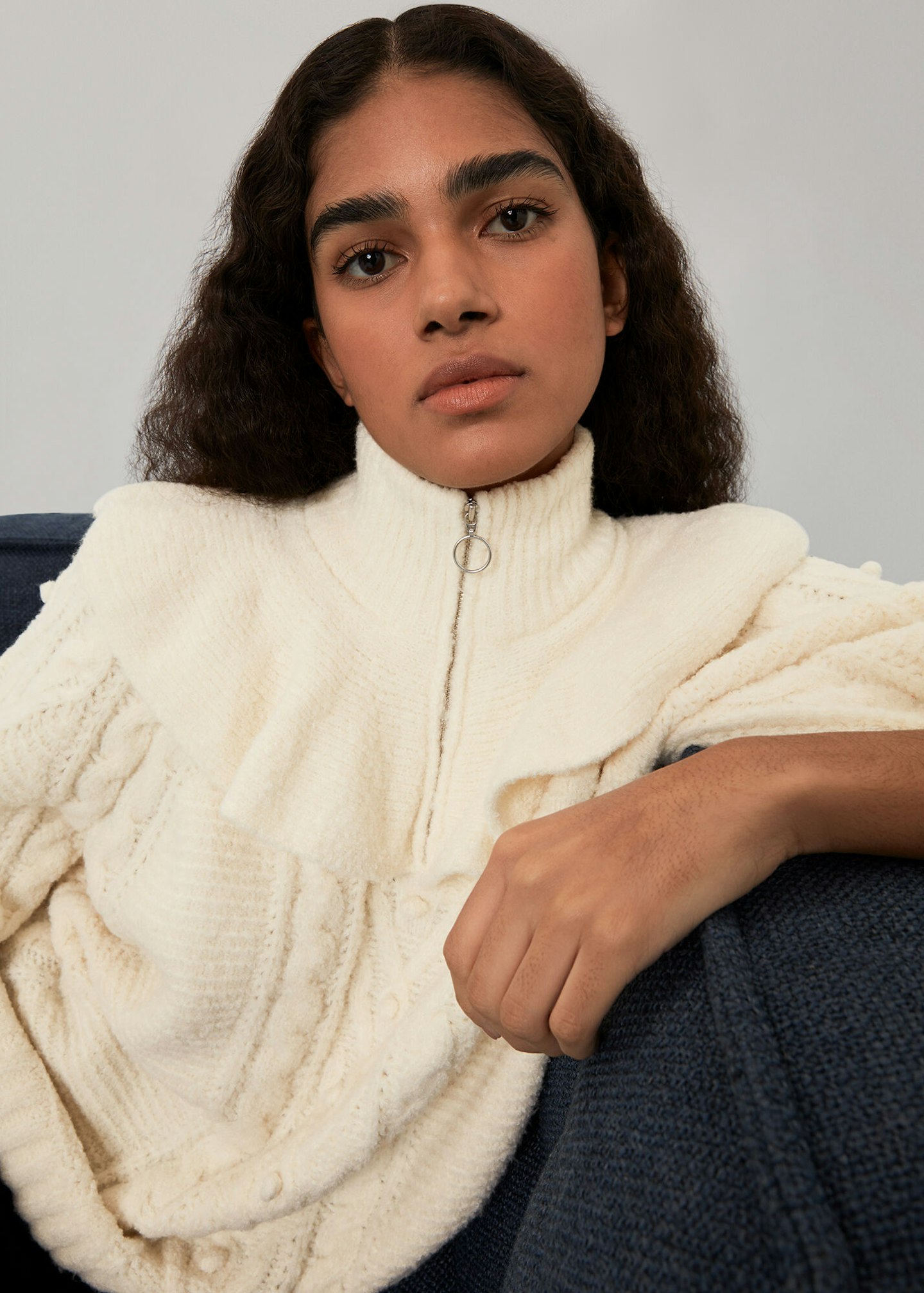 106 of 142
Wednesday - Whistles, Electra Zip Fill Cable Knit, £159
Whistles has a particularly good knitwear selection this winter and our favourite is this zippered style in a sumptuous shade of clotted cream. Delicious.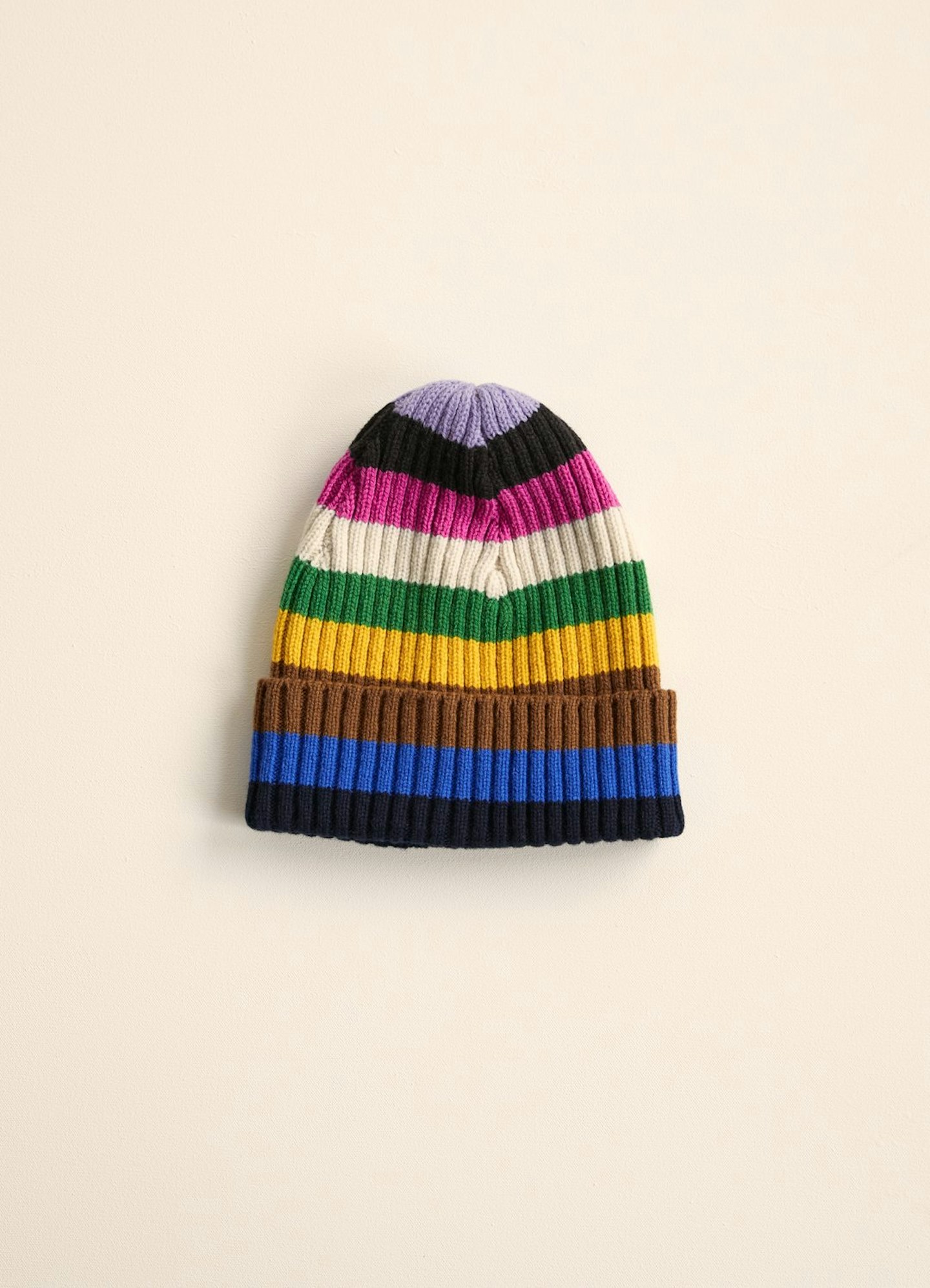 107 of 142
Tuesday - & Daughter, Winter Market Striped Beanie, £95
& Daughter's Winter Market - the brand's amazing knitwear collection where you'll find this beanie as well as rainbow-knitted jumpers, cardigans, gloves and scarves - will be donating 20% of profits to Refuge. Isn't this beanie the perfect finishing touch to all those festive walking outfits you have planned over Christmas?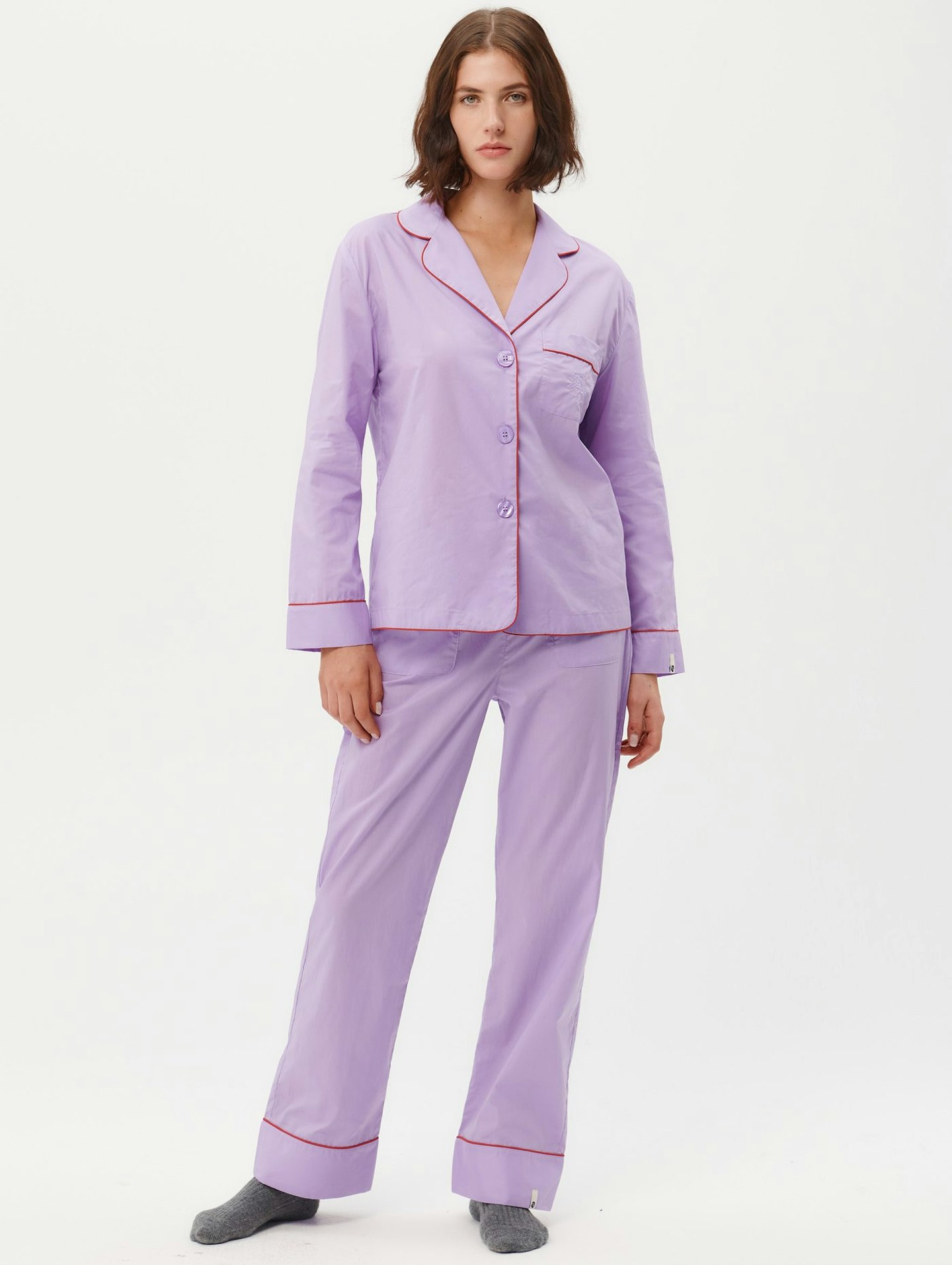 108 of 142
Monday - Alexachung, The Cat's Pyjamas, £145
For the countdown to Christmas, it will pay to have something sumptuous to fall asleep in. These 100% cotton pyjamas are the sweetest shade of lilac and will make festive lie-ins even more glorious.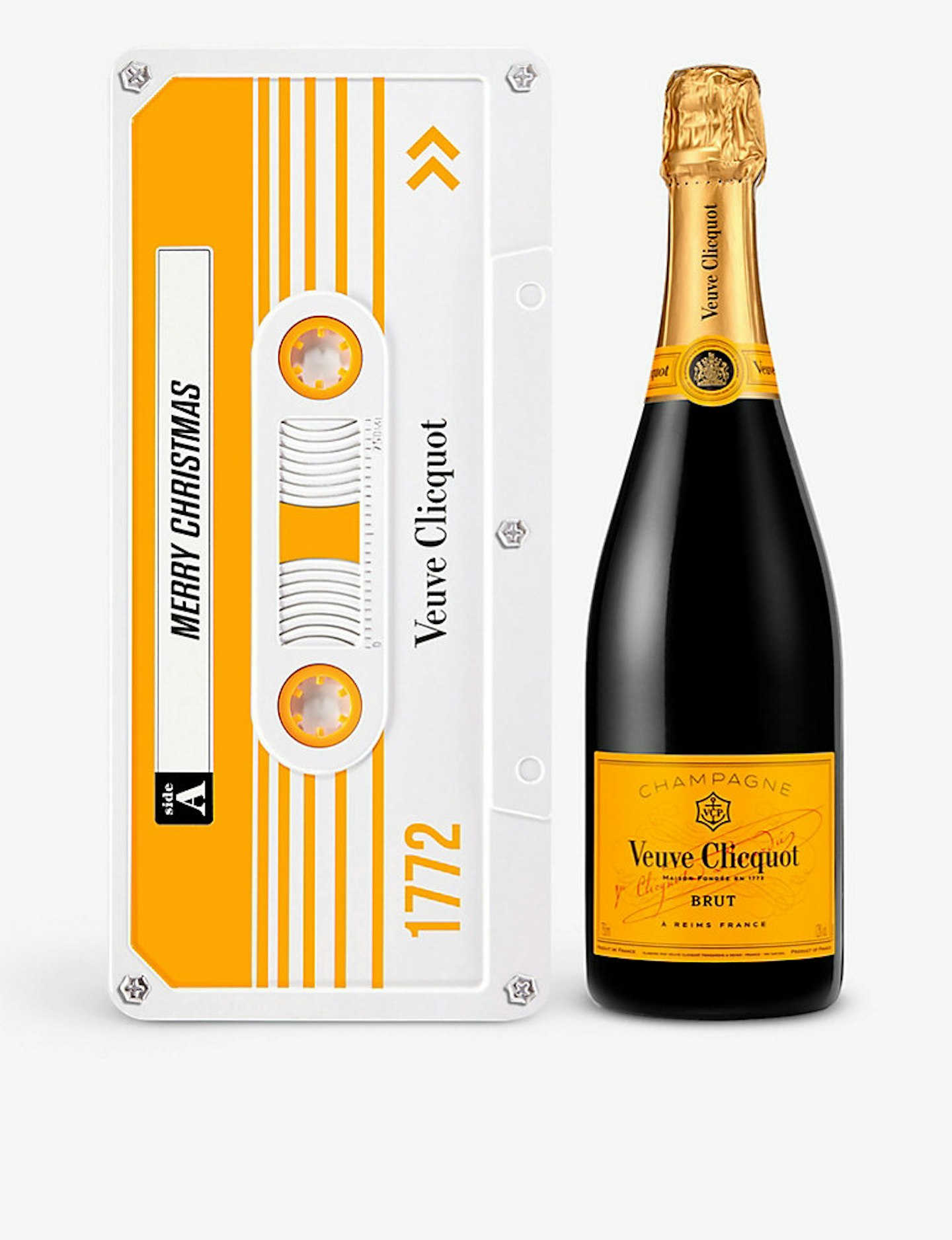 109 of 142
Friday – Veuve Clicquot, Personalised Limited Edition Tin, £59.99
We're now just a week from Christmas and you may be starting to panic about presents. Need something last minute that looks well thought-out? A personalised gift wins every time. And you can't really go wrong with personalised champagne, can you? This limited edition set will keep anyone happy.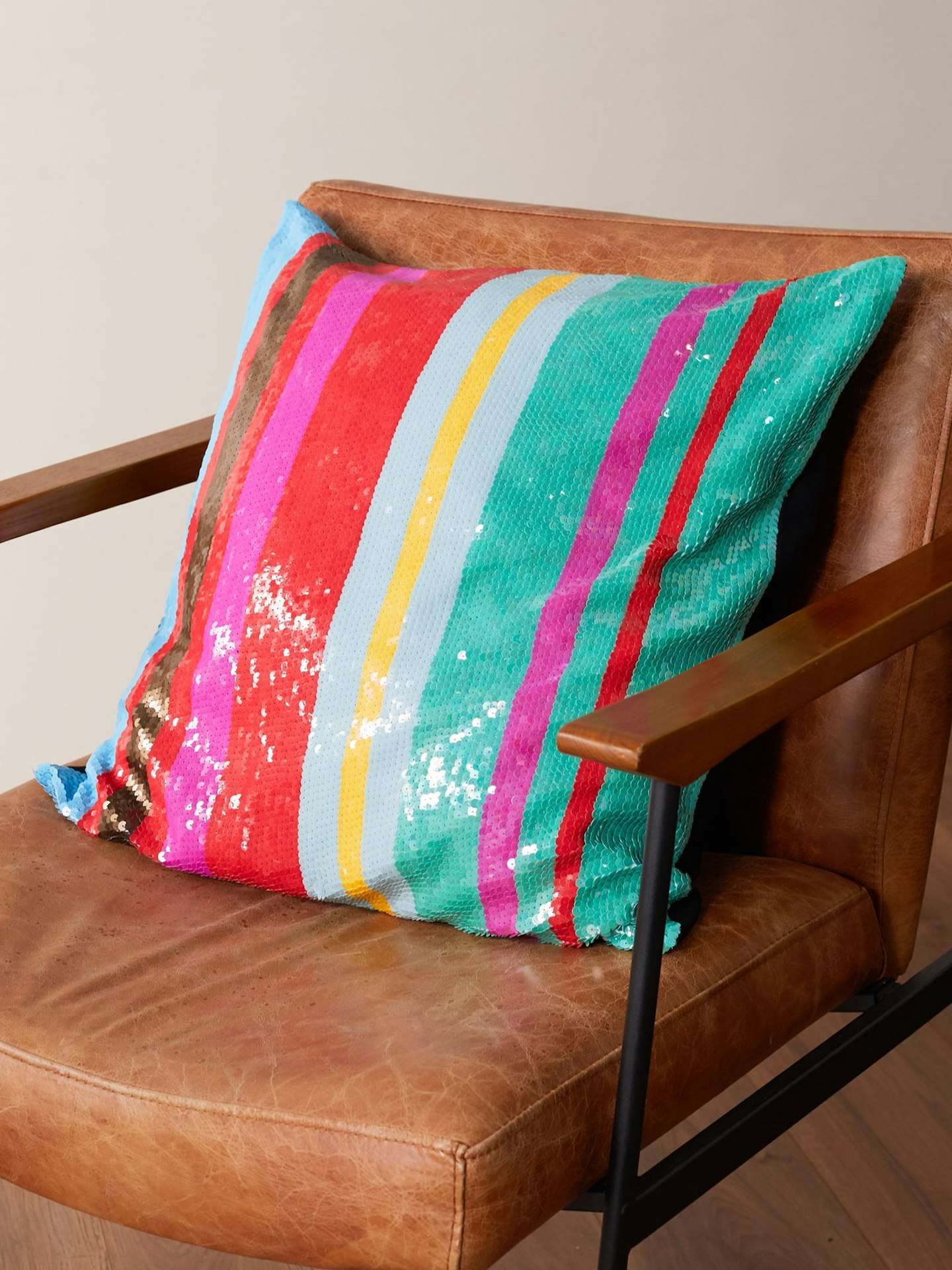 110 of 142
Thursday – Ashish, Sequin Striped Cushion, £295
The news isn't great at the moment, so really what better excuse do you need to buy a sequin cushion? This one comes from the master of sparkle, Ashish, and will bring joy to any room it occupies. It's also a lovely idea for a Christmas present for any homeware fanatics in your life.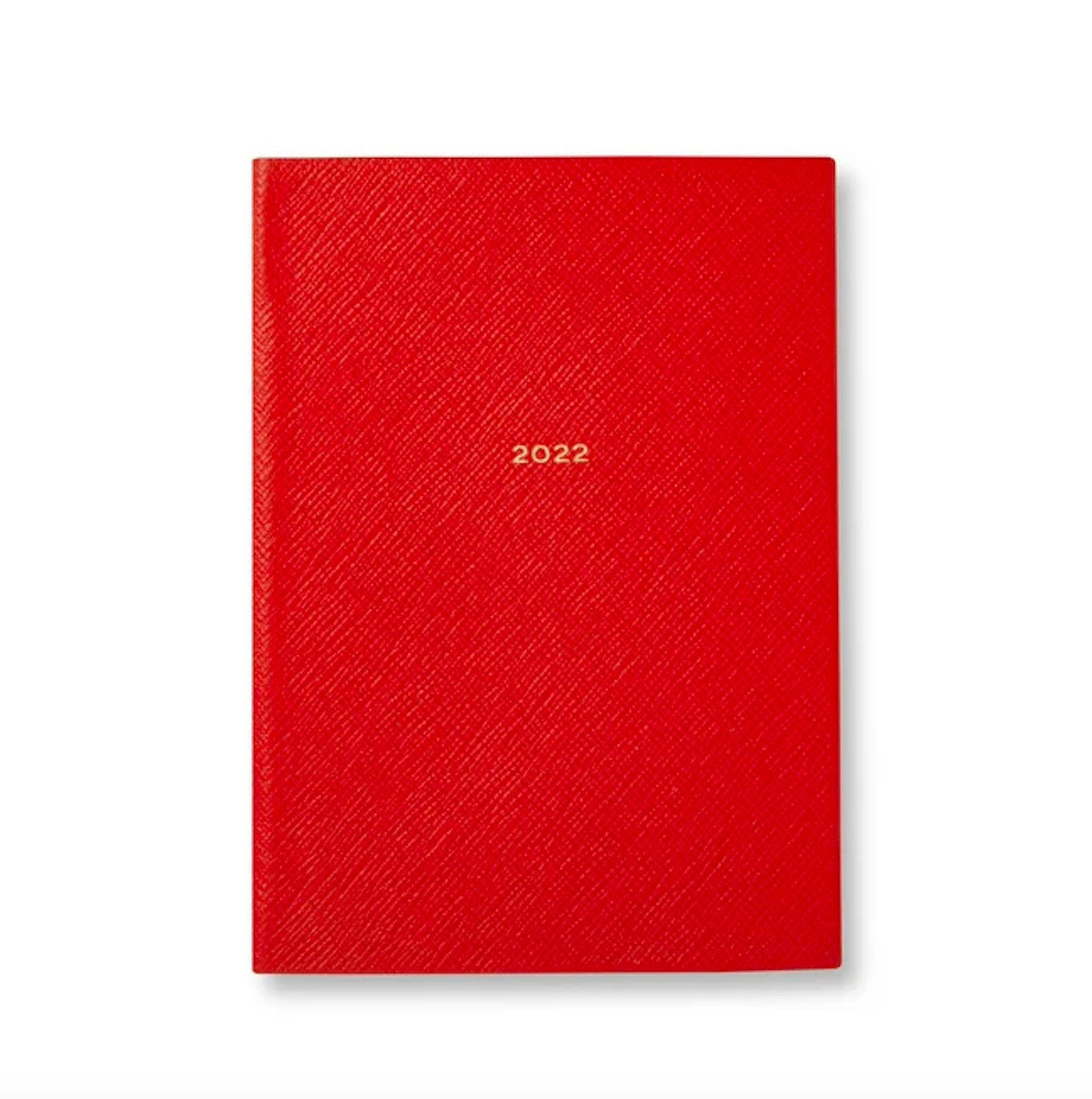 111 of 142
Wednesday – Smythson, 2022 Soho Diary, £175
A personalised diary makes for a wonderful Christmas gift and you can't beat Smythson. If you order now, it will still arrive in time for the big day and there's a host of colours and sizes to choose from. It could also be an excuse to treat yourself, though – look ahead to next year and get ready for what is hopefully the best one yet.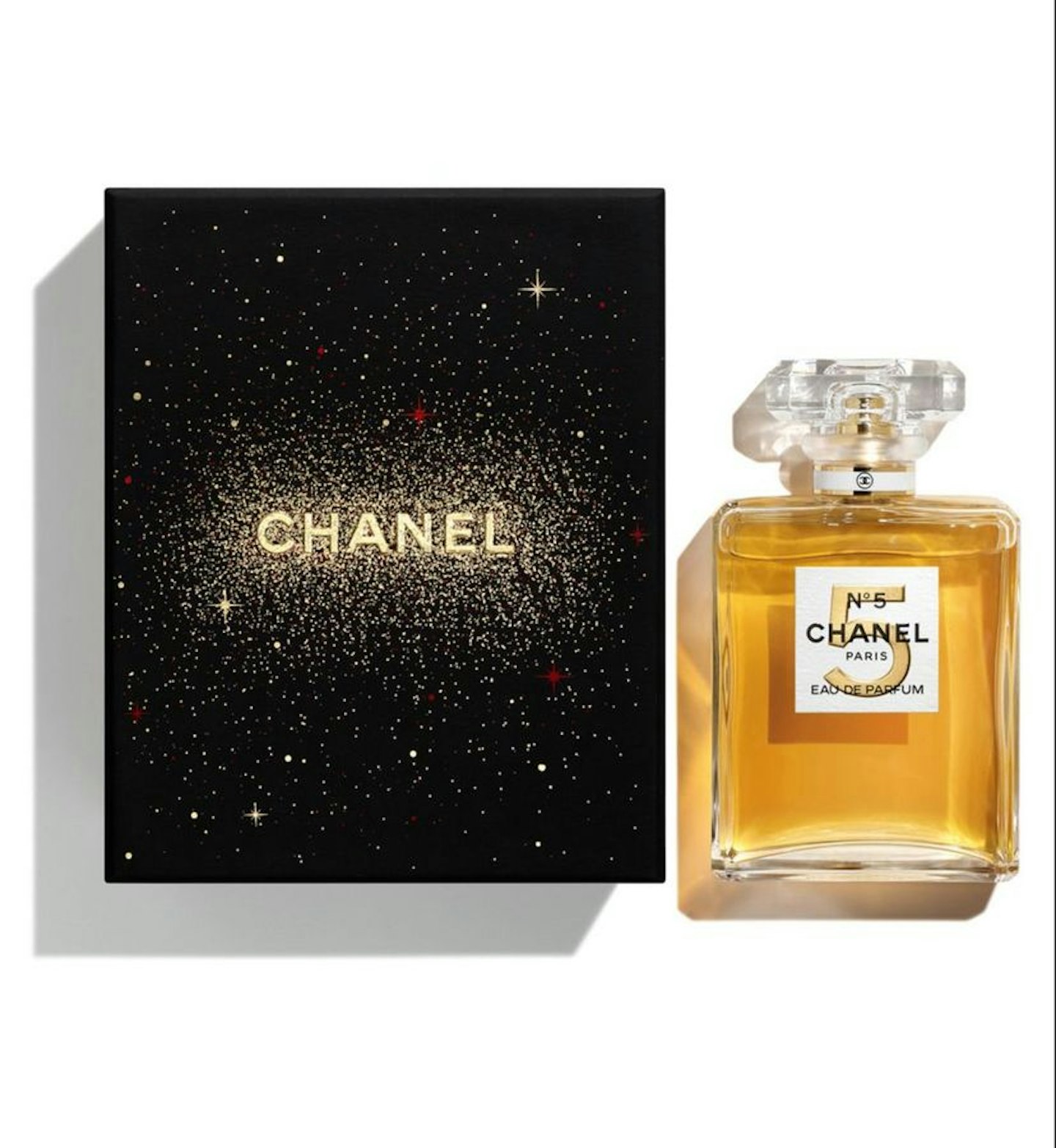 112 of 142
Tuesday – Chanel, No5 Limited Edition Eau de Parfum Gift Box, £130
You really can't go wrong with a Chanel gift set and, given that the fashion house's No5 perfume is such a classic, you'd struggle to find someone who wouldn't want to open this on Christmas Day. The best part? You'll earn points on your Advantage Card. Check out our other amazing beauty gifts for 2021while you're at it.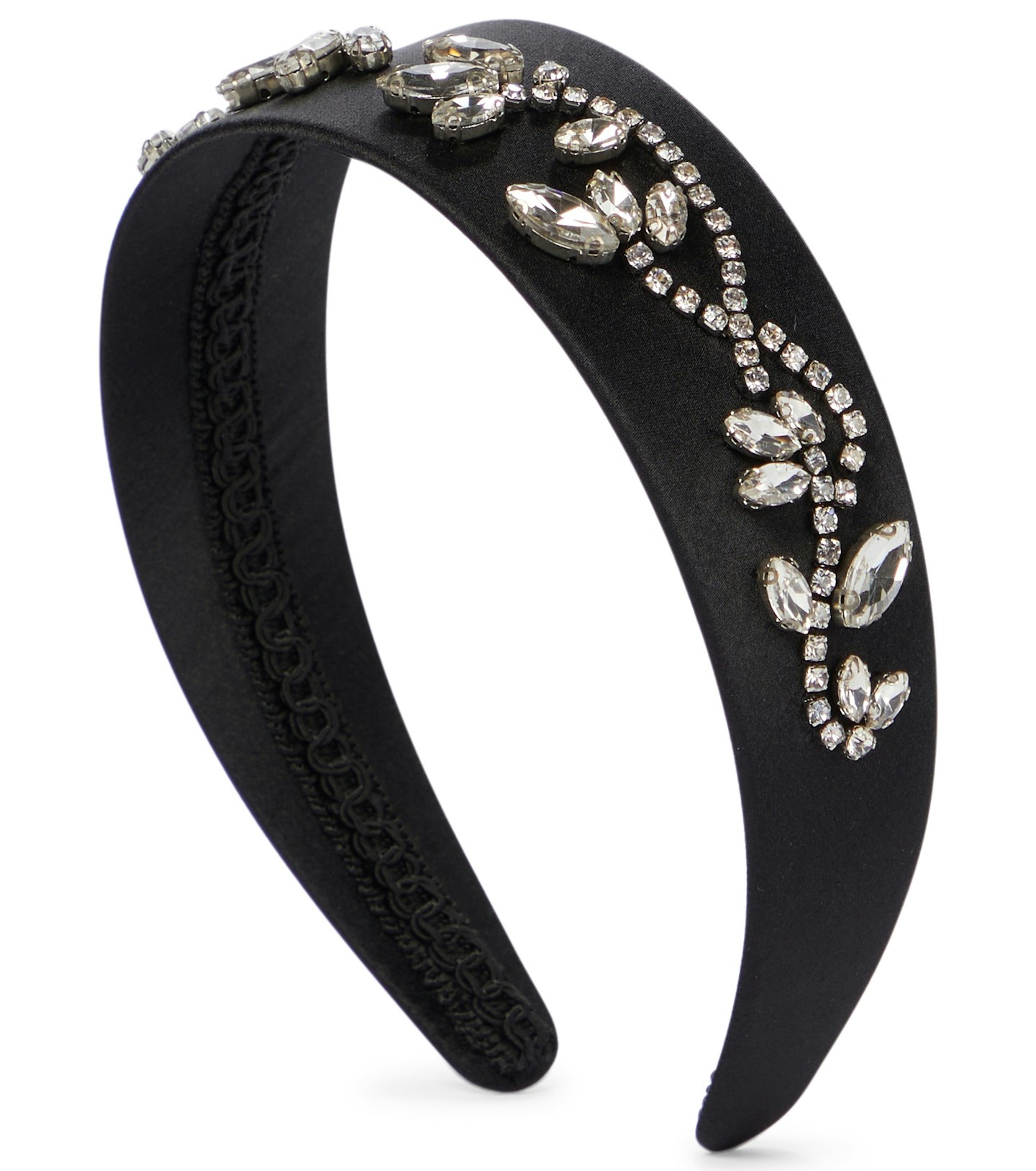 113 of 142
Monday – Erdem, Embellished Satin Headband, WAS £225 NOW £157
This week, I'm bringing you some of the highlights of our gift guides for 2021, just in case you're now panicking about Christmas shopping with just over a week to go. What better way to kick off the week than with Erdem's beautiful headband, which would possibly make you the most popular gift-giver of all time. Actually, the best person you could buy this for is yourself, especially as it's currently in the sale. Happy Christmas.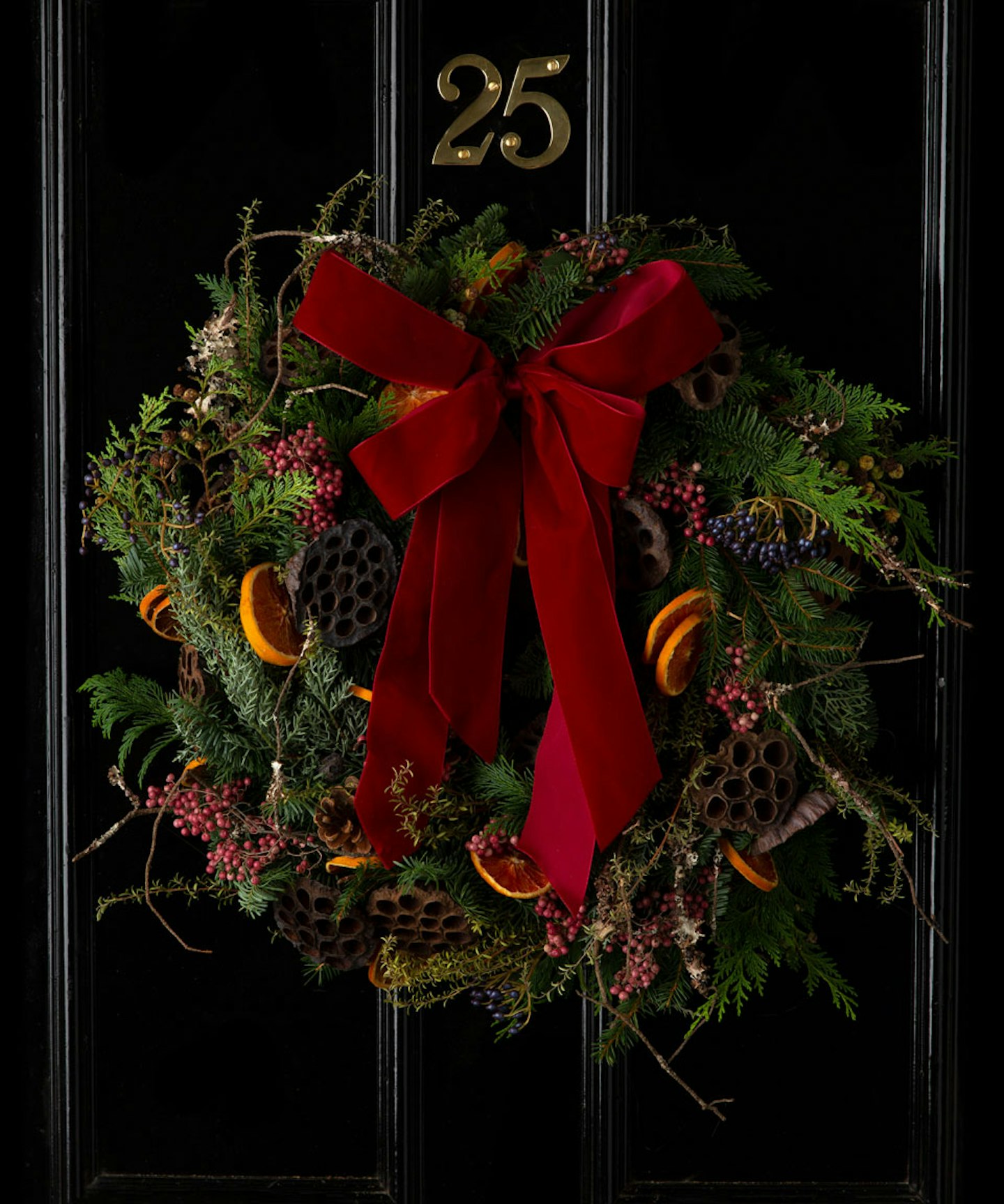 114 of 142
Friday – Ronny Colbie, Christmas Wreaths, £75
Ronny Colbie's Christmas wreaths are always nothing short of magnificent but this year, they might just be the best yet. Each wreath is inspired by a Christmas film, from Elf to Love Actually to The Holiday, with a wreath to suit everyone – whether you're a minimalist or a more-is-more kind of decorator. Order now to avoid disappointment – you've only got two weeks until the big day, after all.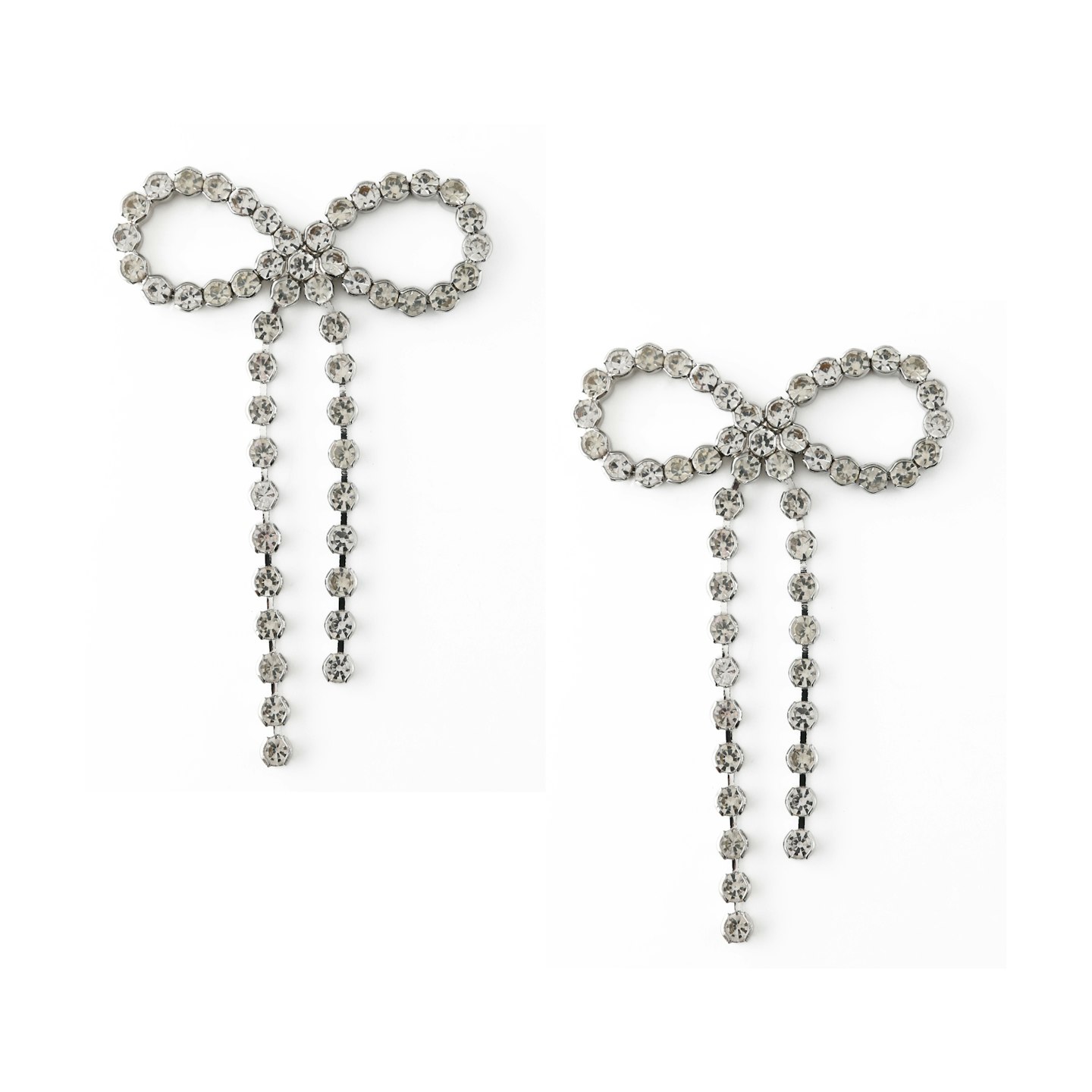 115 of 142
Thursday – Orelia, Bow Earrings, £28
News of Covid cases might be threatening your Christmas plans but that doesn't mean you can't still dress for a party. These bow earrings have already sold out but are now back in stock, just in time for you to wear them throughout the festive season and ensure the end of 2021 is way more fabulous than the beginning. And here's to a much brighter 2022.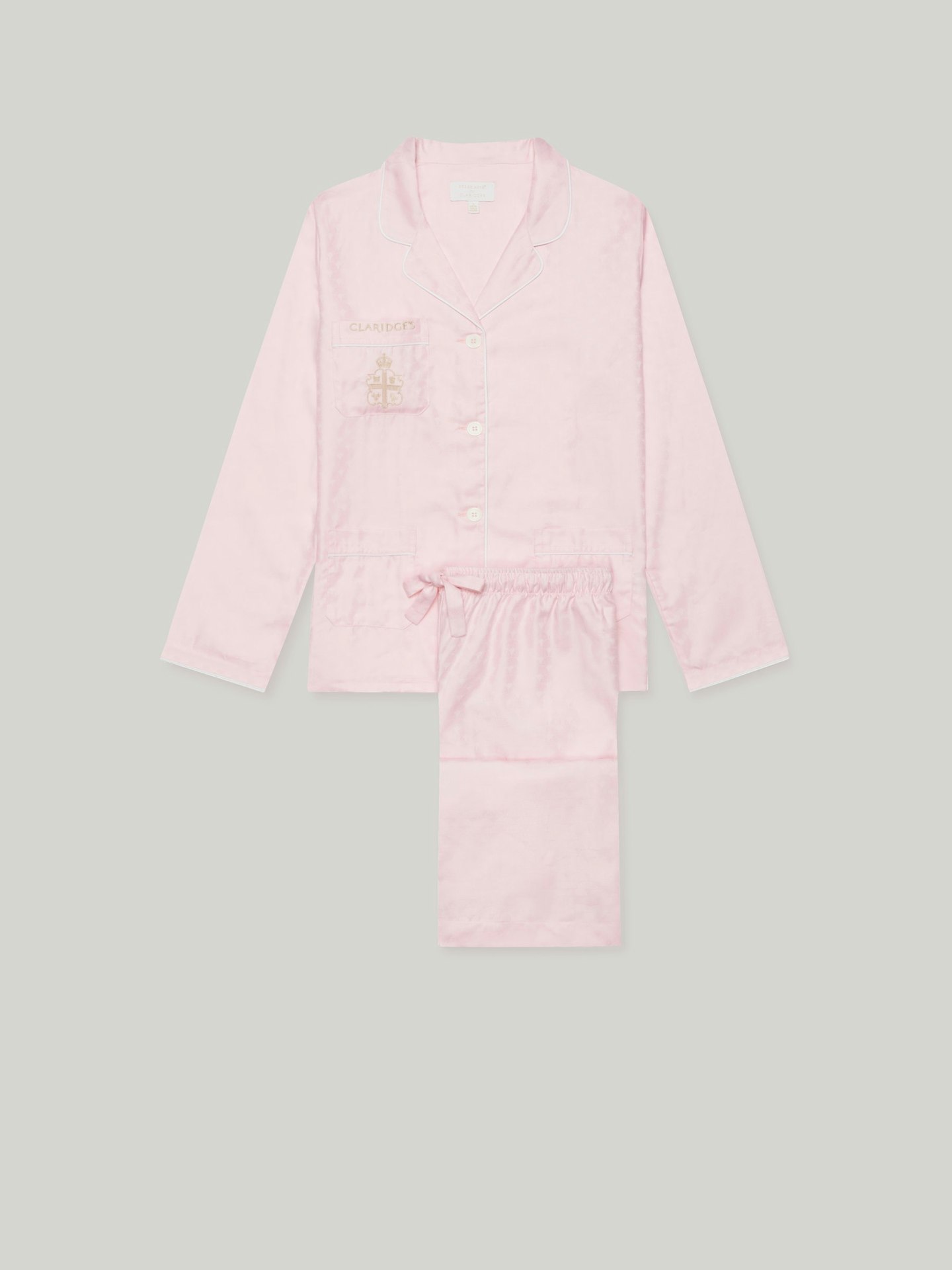 116 of 142
Wednesday – Claridge's, Women's Pyjamas, £225
What's more fabulous than a brand new pair of pyjamas? A pair of Claridge's pyjamas, obviously. Created for the iconic hotel by Rebecca Marks of Green Wolf Studio, she has taken the famous art deco fan print and applied it to soft pink cotton jacquard. There are also mother of pearl buttons and gold embroidery to make you really feel special. If you can't quite manage to stay in a Claridge's suite this Christmas, pulling on a pair of these luxurious PJs might just be the next best thing.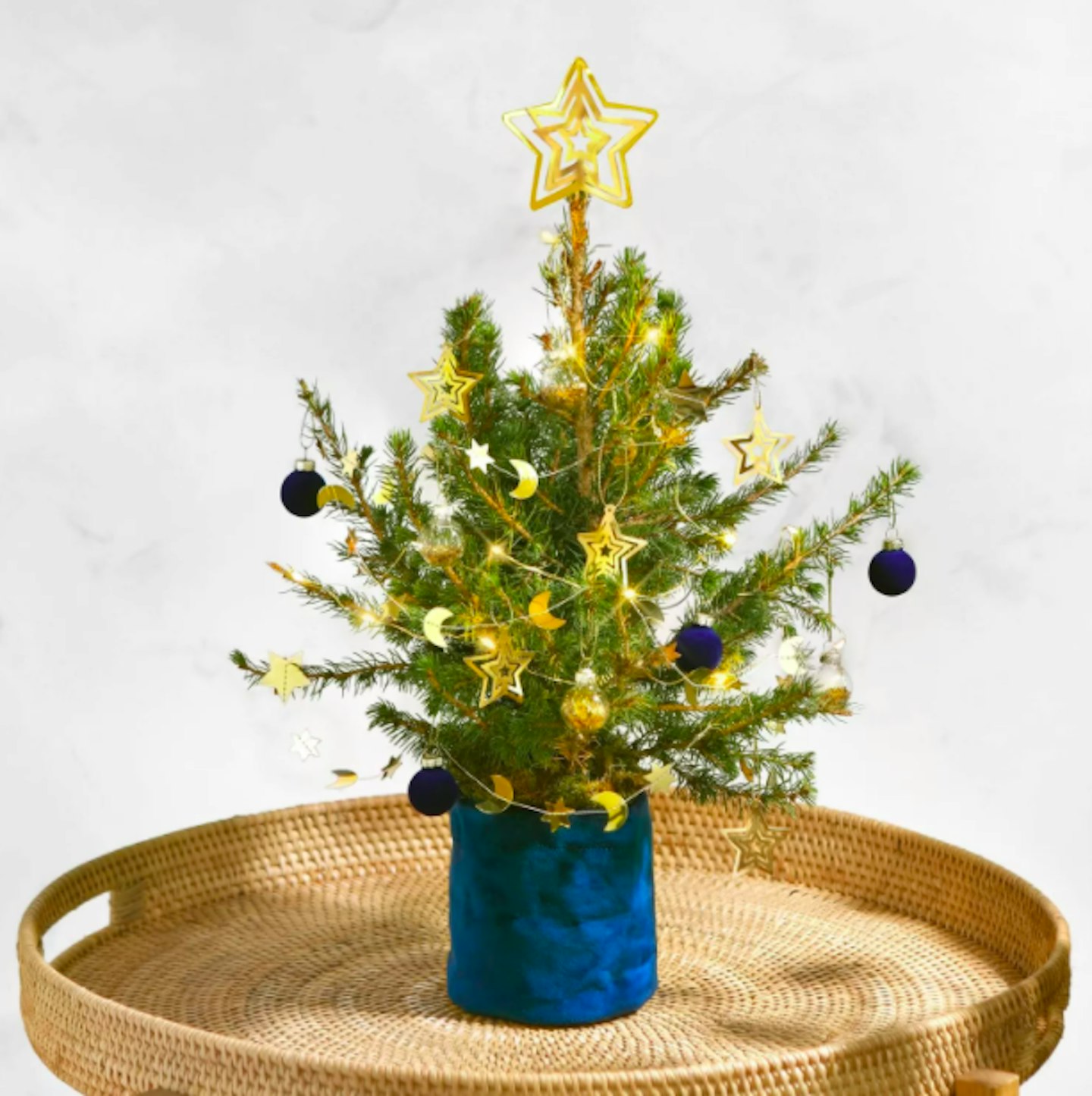 117 of 142
Tuesday – Bloom & Wild, Tiny Christmas Tree, From £25
Perhaps you already have a huge tree and just want to fill the house with more festive cheer or, like me, you live in a tiny flat that sadly just won't accomodate the 7ft Christmas tree of your dreams. Either way, Bloom & Wild's Tiny Trees are absolutely adorable and won't leave a wake of destruction when you attempt to take them through the house in January. Also, they can be posted through the letterbox and come with their own decorations, making them perfect presents for loved ones, too.
118 of 142
Monday – Celia B, Cotton Midi Dress, £283.57
If you're not familiar with Celia B but you're a fan of great dresses, you're in for a real treat. The Spanish label makes some of the most striking minis and midis you can buy which are also easy-to-wear and will last a lifetime. It's not just dresses, either, there are some truly wonderful coats and separates but it's these pretty midis that have really caught my eye.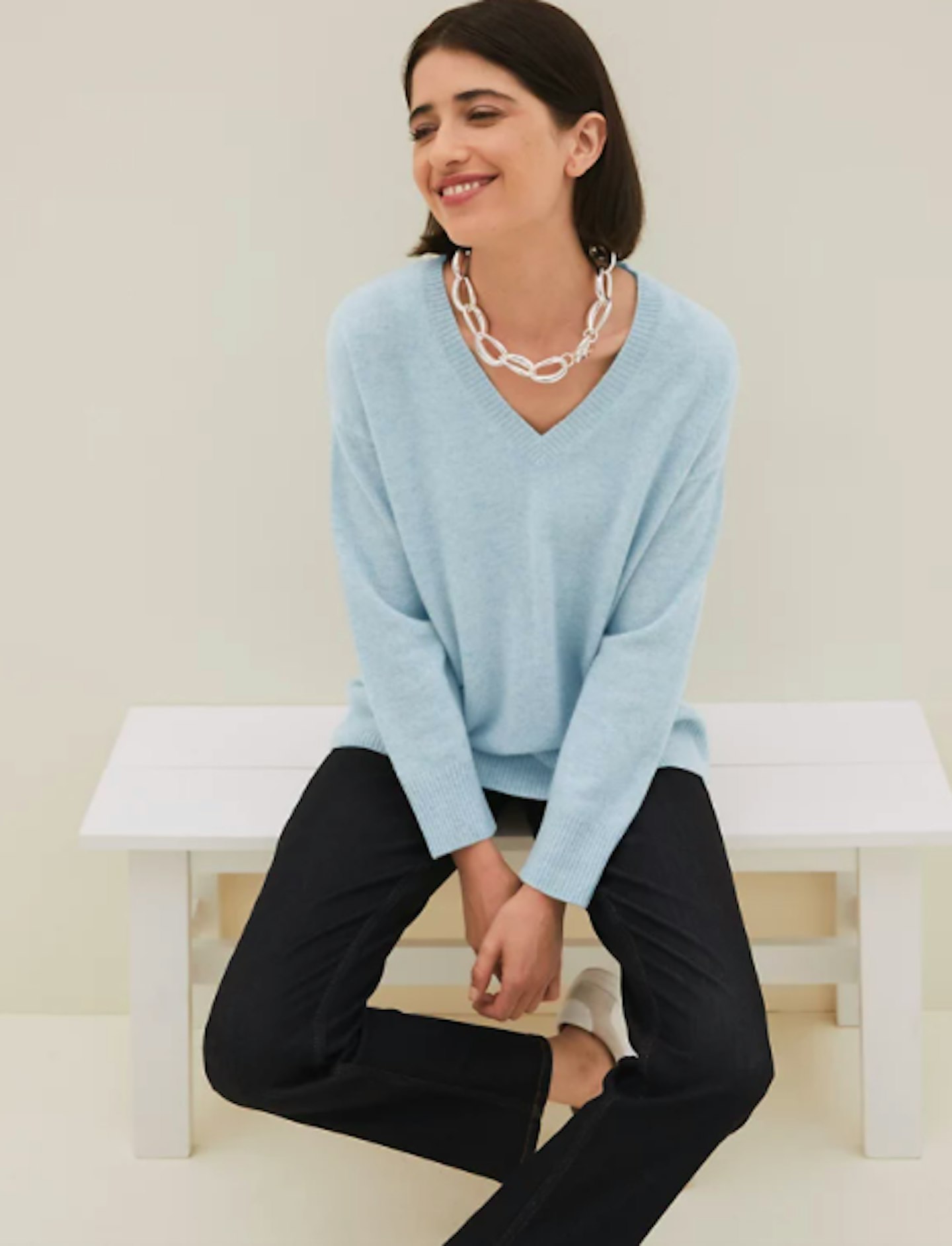 119 of 142
Friday – M&S, Pure Cashmere Jumper, £89
M&S' cashmere collection is a jewel of the high street. It's more affordable than most but still of a high quality and available in an array of lovely colours. This jumper will be great thrown over a fine knit roll neck and jeans to make sure you stay snuggly this winter.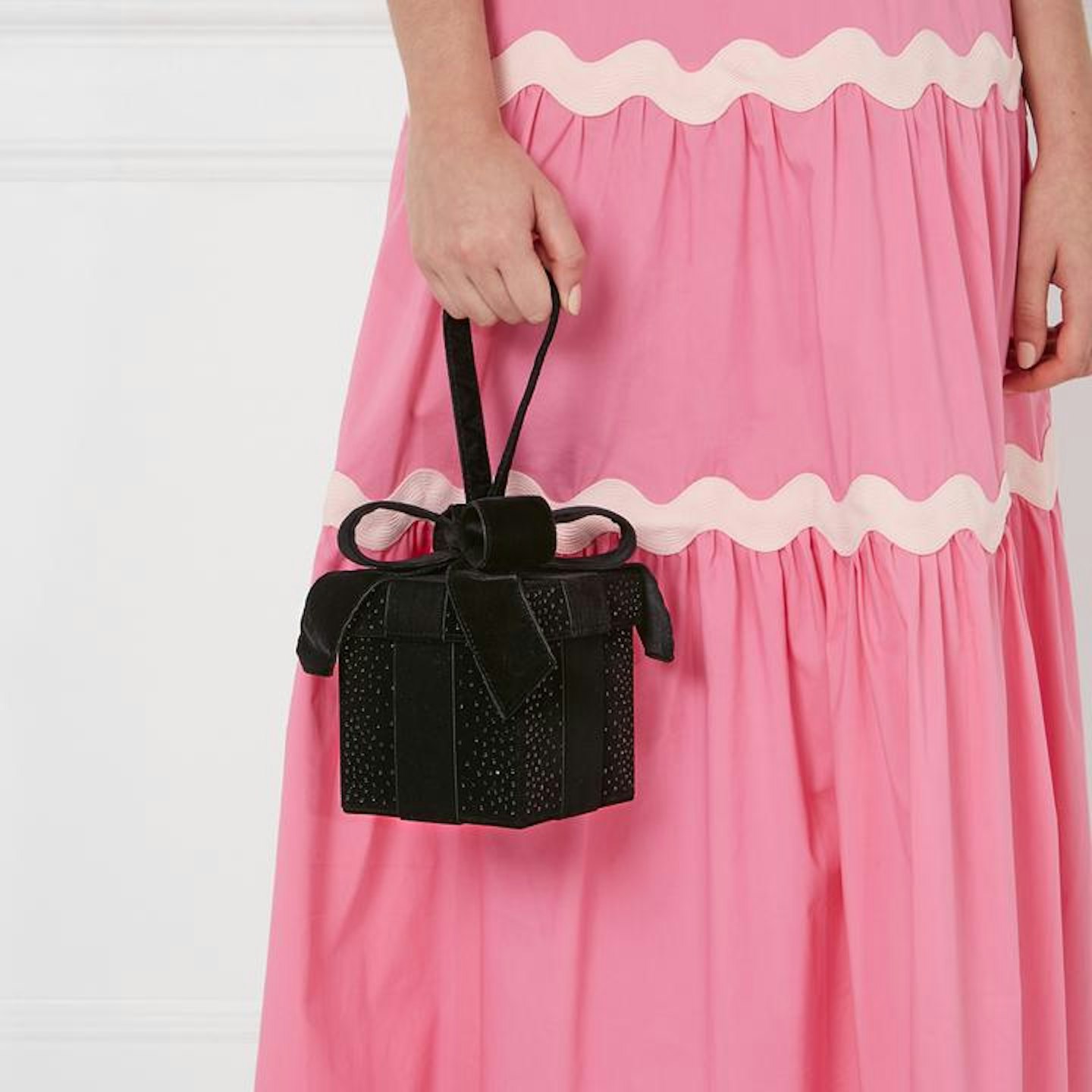 120 of 142
Thursday – Lulu Guinness, Red Velvet Present Clutch, £395
Have you ever seen anything more perfect for Christmas? Lulu Guinness' velvet present clutch bags have already been a sell-out hit but this Swarovski crystal-encrusted version is available in black or red and will be the perfect party accessory from now until, well, forever. It's also roomier than it looks, meaning you can stash all of your essentials, and then some, for a night out.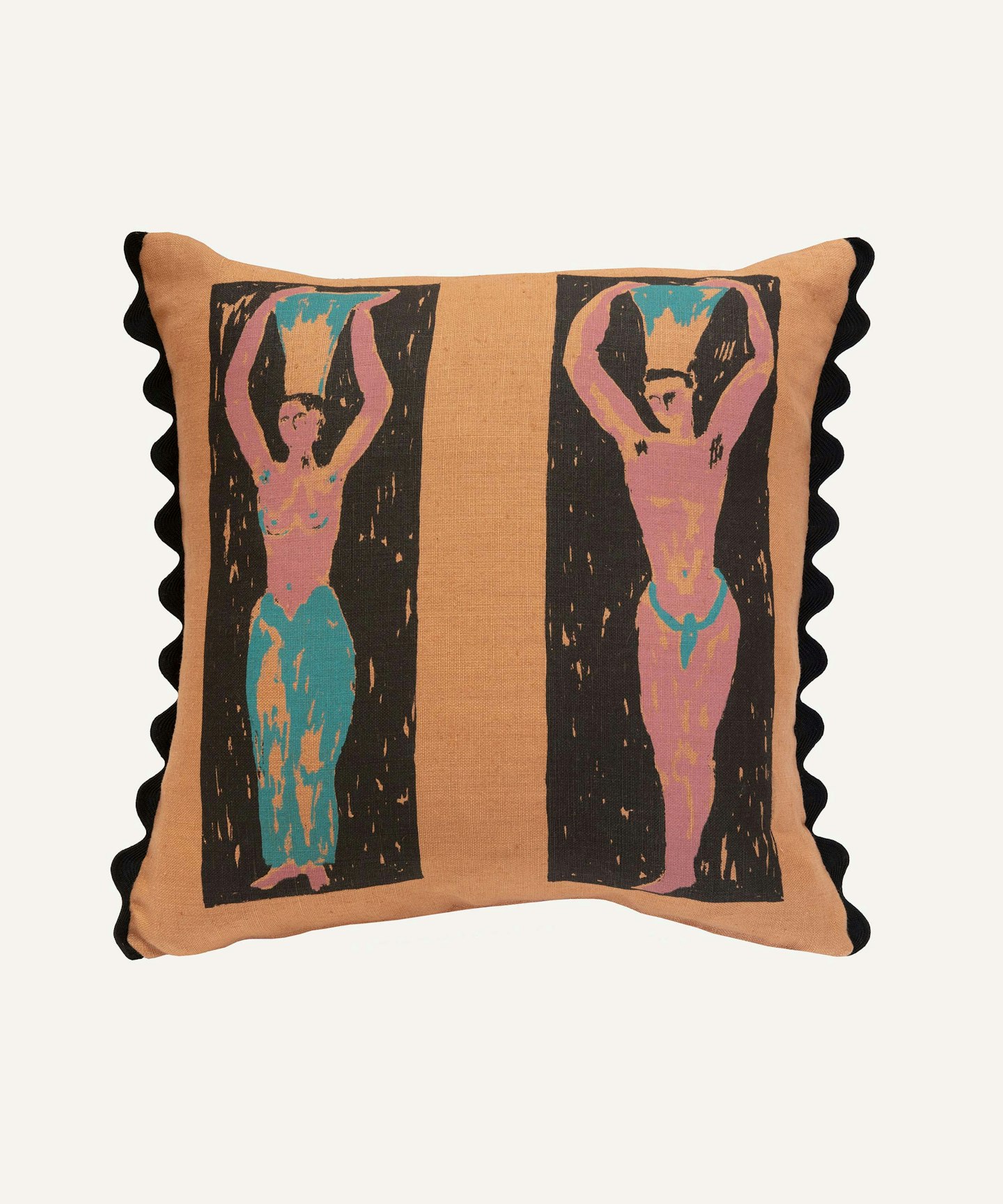 121 of 142
Wednesday – COMMONROOM, Support Cushions by Kate Hawkins, £135 at Glassette
If you haven't already checked out Laura Jackson's Glassette, your home is about to be in for a real treat. It's like stumbling upon the most incredible boutique without even leaving the house – the website is tocked with independent designers and sellers, all offering beautiful things with which to fill your home. These cushions have particularly caught my eye – they're screen-printed and inspired by all the new and wonderful ways people found to support each other during the pandemic.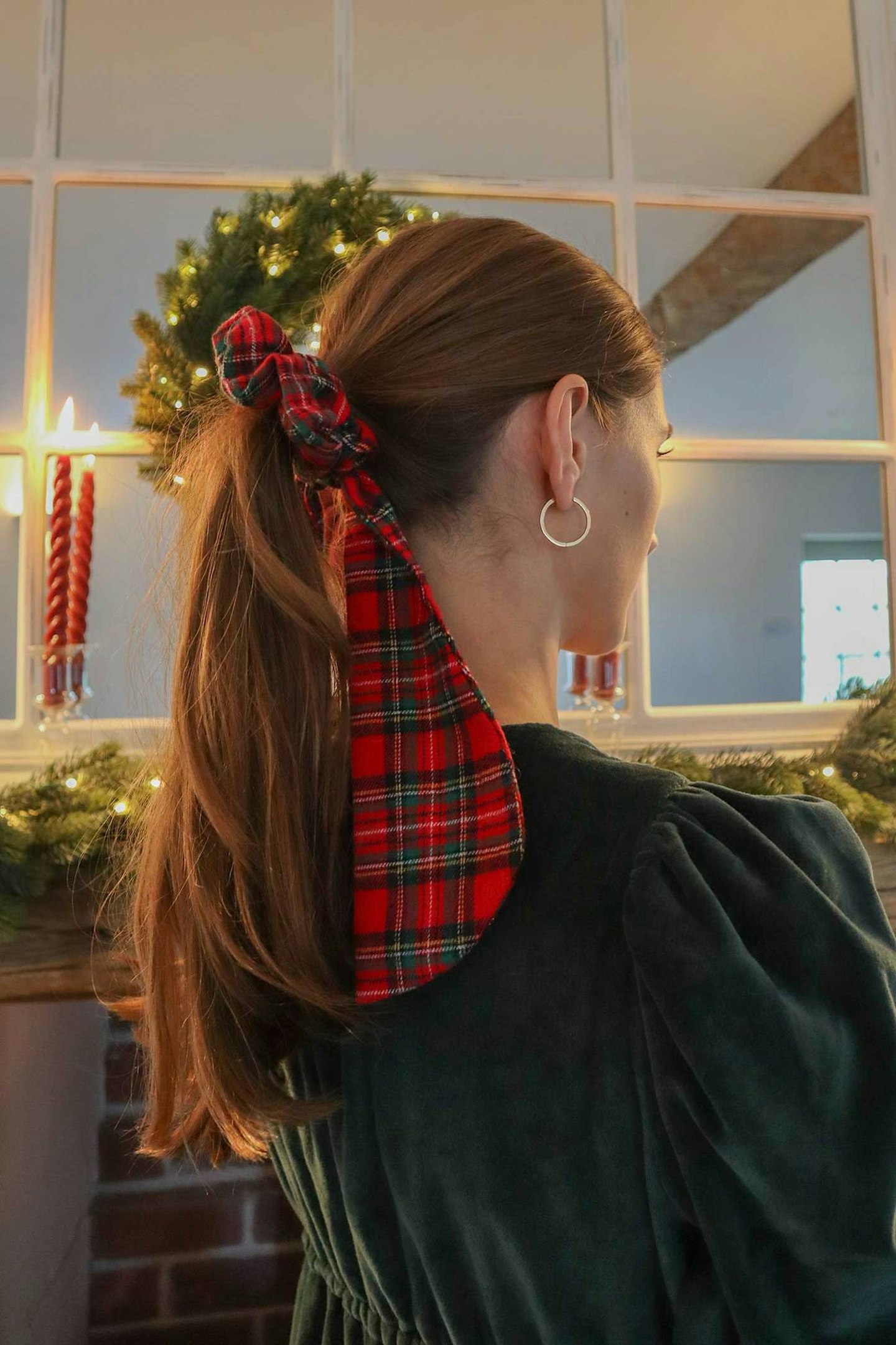 122 of 142
Tuesday – Clementine & Mint, Scrunchie with Tails, £22
Clementine & Mint is a small independent label founded by Clem Eyres when she was searching for the perfect accessories for her wedding. Now, she has launched some very Christmas-appropriate tartan prints and velvet scrunchies, designed to give you the best hair day of your life. The scrunchies are particularly great – just whack them in and look far more polished in an instant.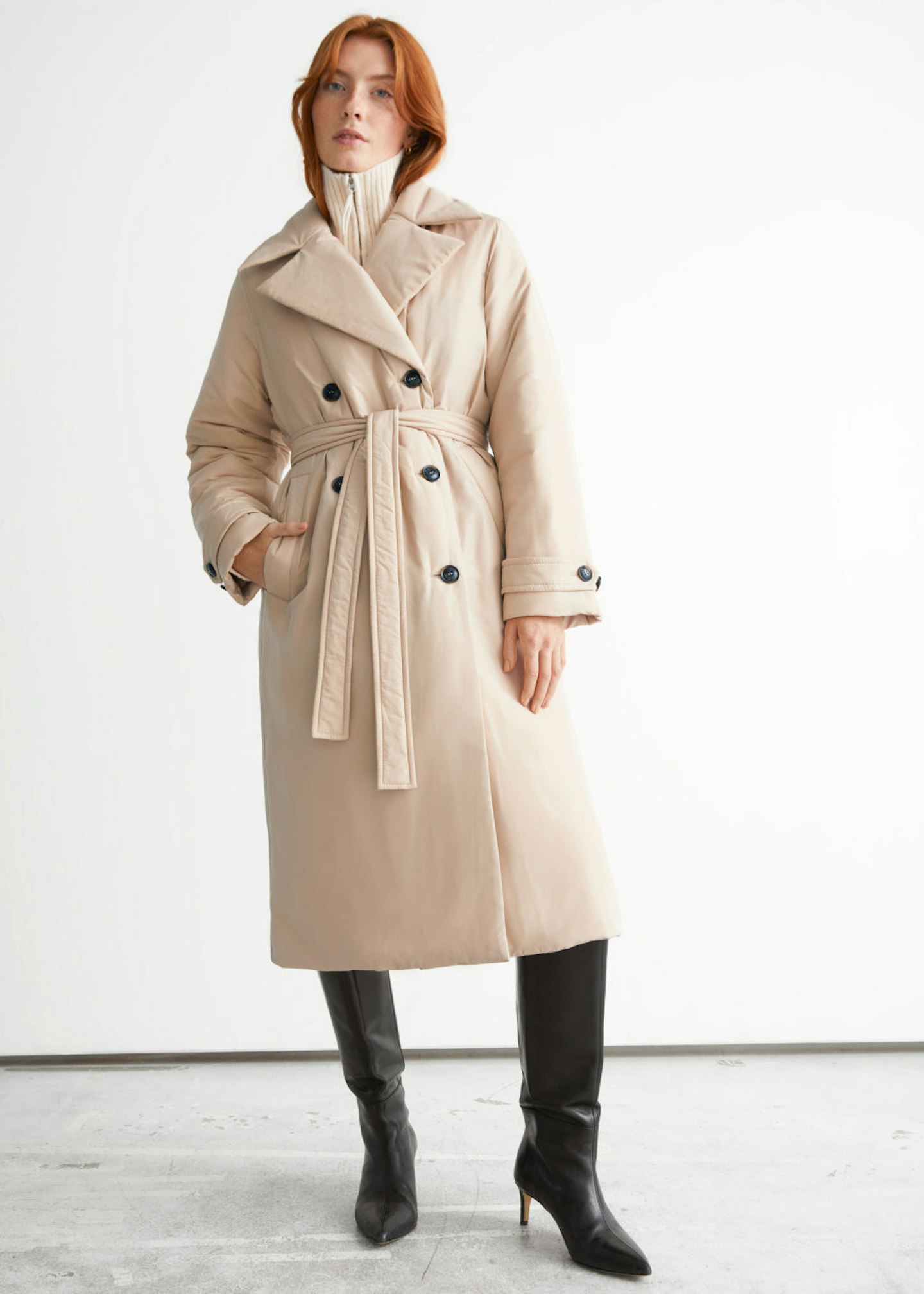 123 of 142
Monday – & Other Stories, Padded Trench Coat, WAS £135 NOW £81
There's no getting around it – it's absolutely freezing. It may even be snowing where you are. If you feel like this sudden dip in temperatures has taken you by surprise, you might be in the market for a coat that's really going to keep you warm. Or, chances are your trusty old cover-up just isn't feeling snuggly enough. Either way, & Other Stories currently has 40% off this padded trench, which is as practical as it is chic. Don't hang around – this deal won't last forever.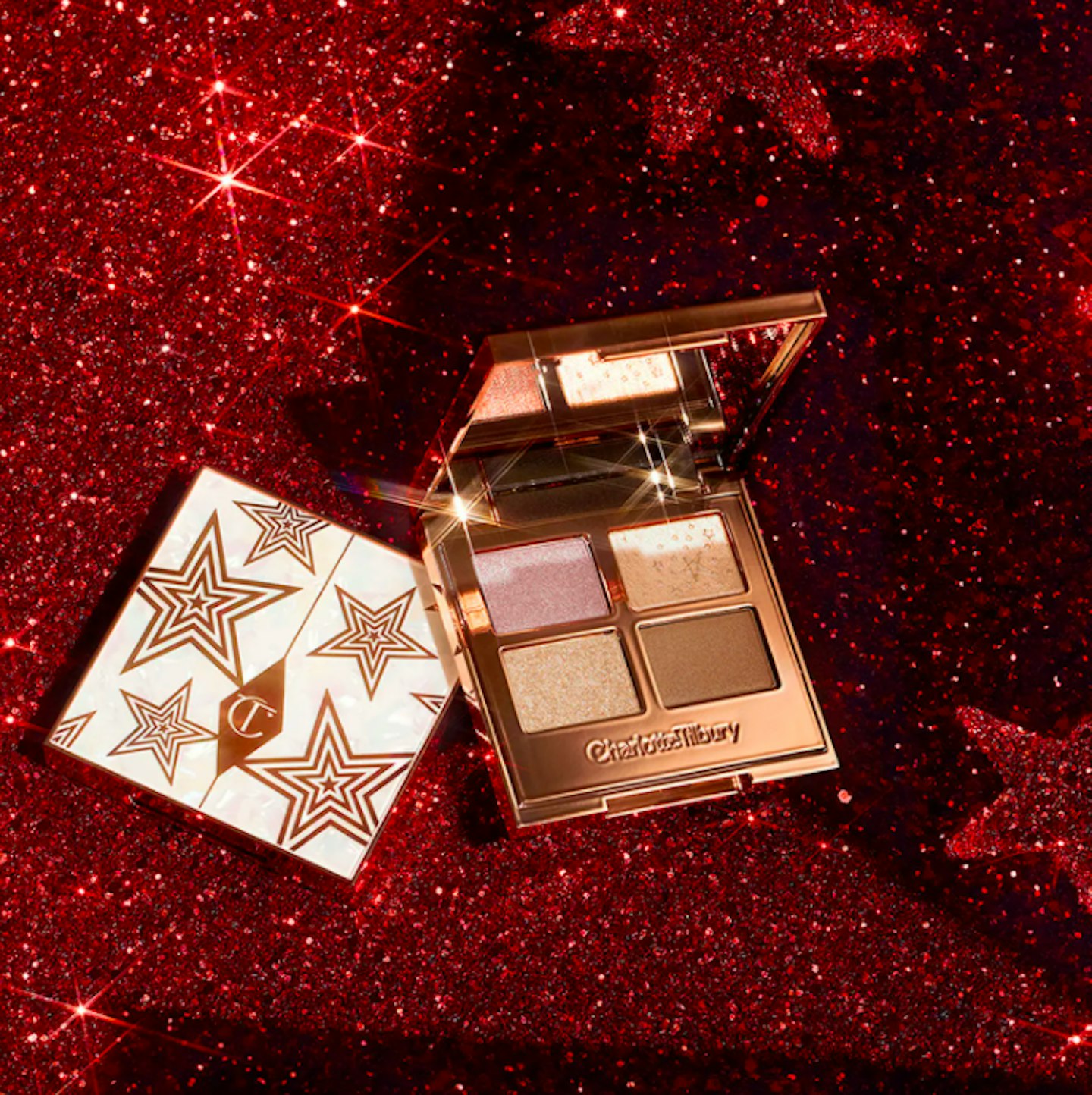 124 of 142
Friday – Charlotte Tilbury, Luxury Palette of Pearls, £42
For me, Charlotte Tilbury's amazing eye palettes really do provide an easy way to give yourself a flawless face. The carefully thought-out shade combinations, plus the simple instructions, mean you don't have to spend hours applying eyeshadow, only to end up looking like you've stuck your head in a glitterbomb. Instead, you can go as subtle or dramatic as you like – and you'll be ready in an instant. There's even 25% off when you enter code CBBF25 at checkout.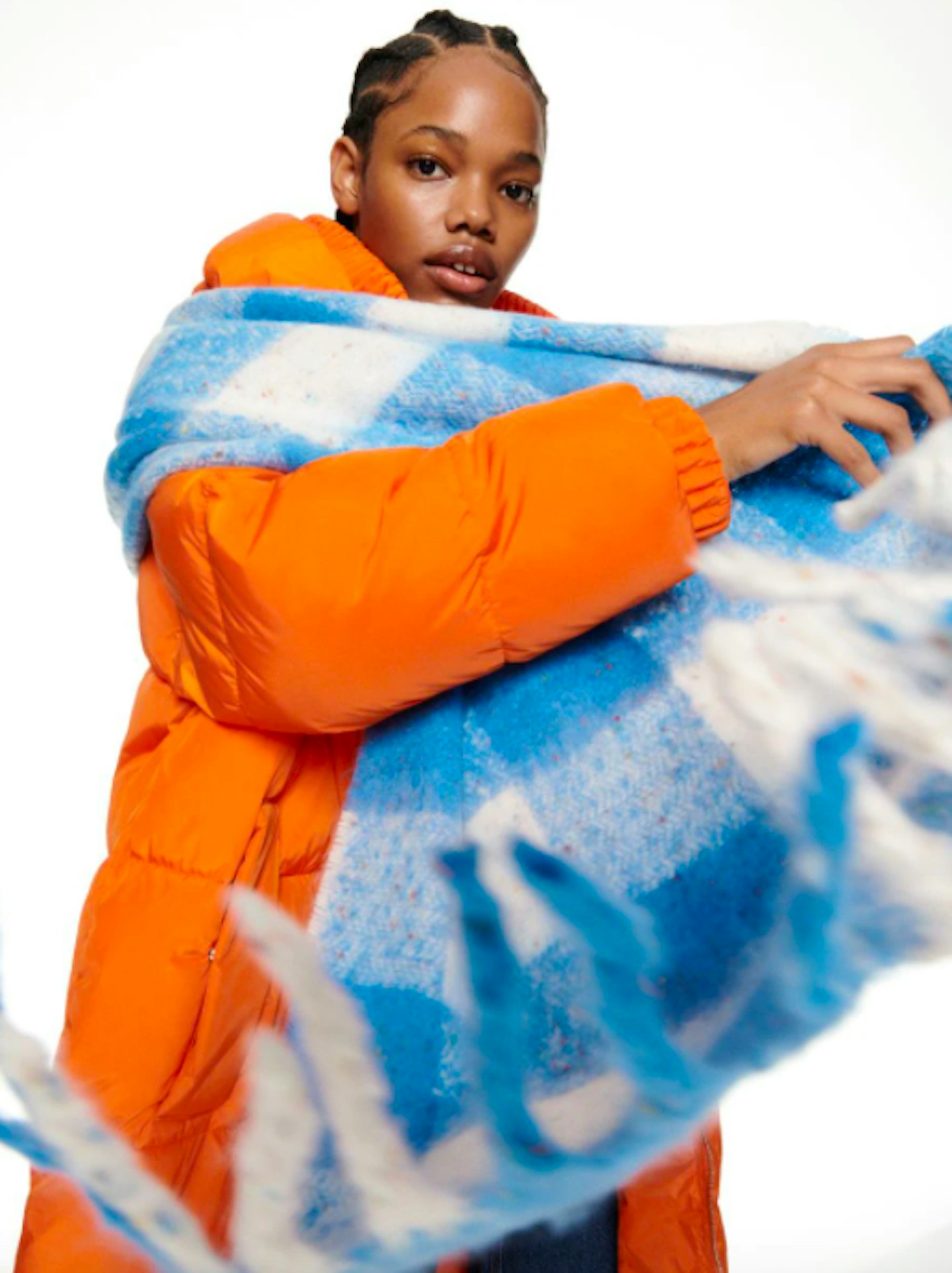 125 of 142
Thursday – Reserved, Plaid Scarf with Fringes, £17.99
Hello, it's freezing. I don't know why I'm surprised, it just feels like maybe it has crept up on us a bit this year and now, suddenly, everyone's talking about snow. All I want to do is wrap myself in layers of anything remotely warm , starting with this scarf. I'm wearing it as intended but also as a kind of shawl, considering the fact that I can't seem to get warm inside and, given the bleak news about energy bills, the prospect of keeping the heating on 24/7 is not particularly economical. Still, this scarf will cheer me up.
126 of 142
Wednesday – JW Pei, Super Mini Gabbi Bag, £45
It would be difficult to have missed JW Pei's Gabbi bag, seeing as it has already been carried by some of the world's most famous women including Hailey Bieber, Gigi Hadid, Irina Shayk and Emily Ratajkowski. Now, the brand has released an adorable mini version of the bag, available in eight glorious colours. While you won't be able to stash all of your belongings in it, you can fit your lipstick – handy as we roll into party season, no? There are also currently Black Friday deals across the brand's website, so be quick.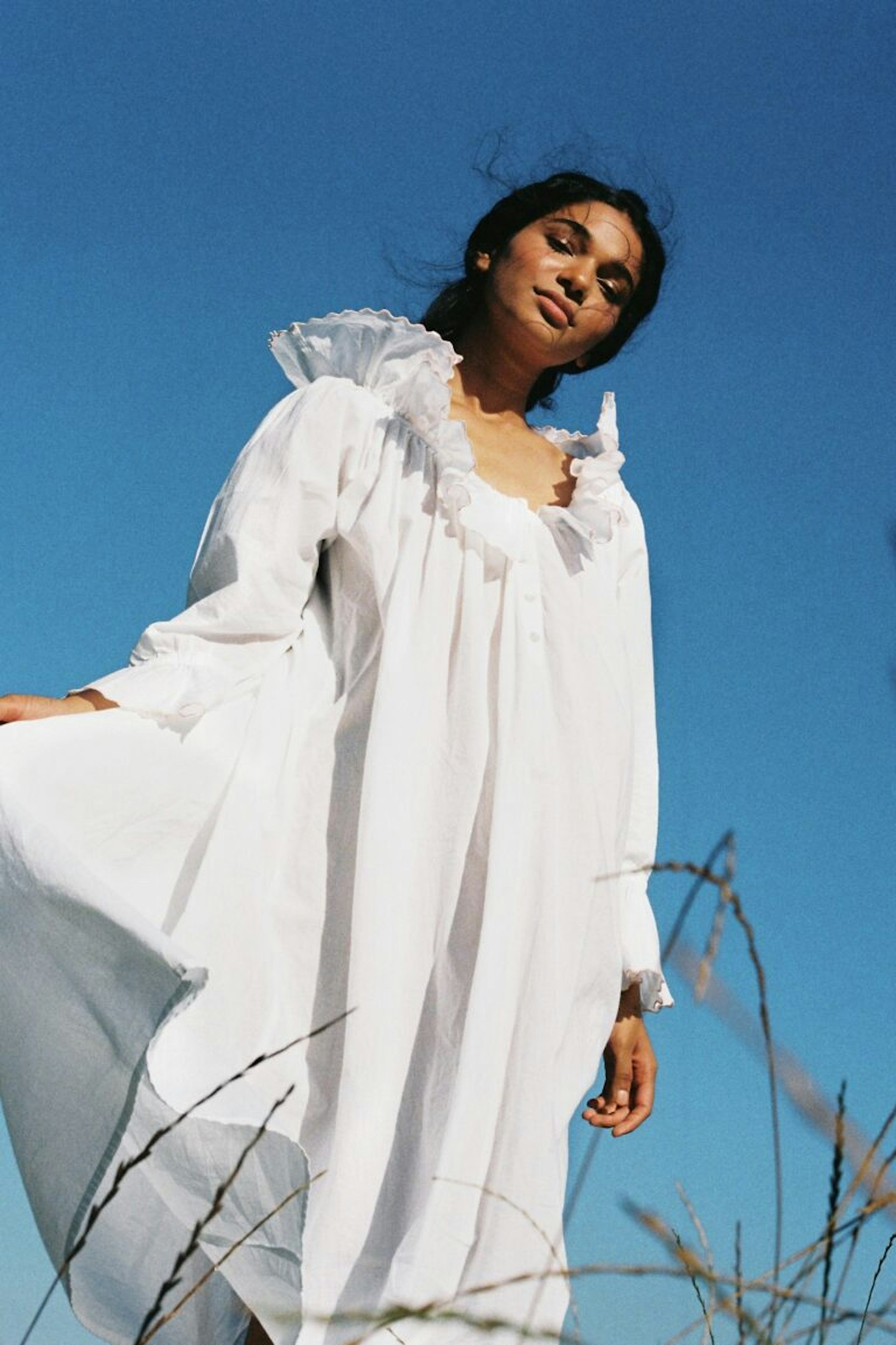 127 of 142
Tuesday – If Only If, Long Sleeved Cotton Nightdress, £130
I'm not sure if you've noticed but luxurious, pretty nightwear is enjoying its moment in the spotlight. Nightdresses, in particular, have made something of a comeback and none are more enjoyable than those made by British label If Only If. It makes romantic but comfortable pieces, including this full length style with delicate scallop edging on the frill neckline and matching cuffs. You can chuck it in the wash without worrying about ruining it and it's available in sizes 6-24. The dream.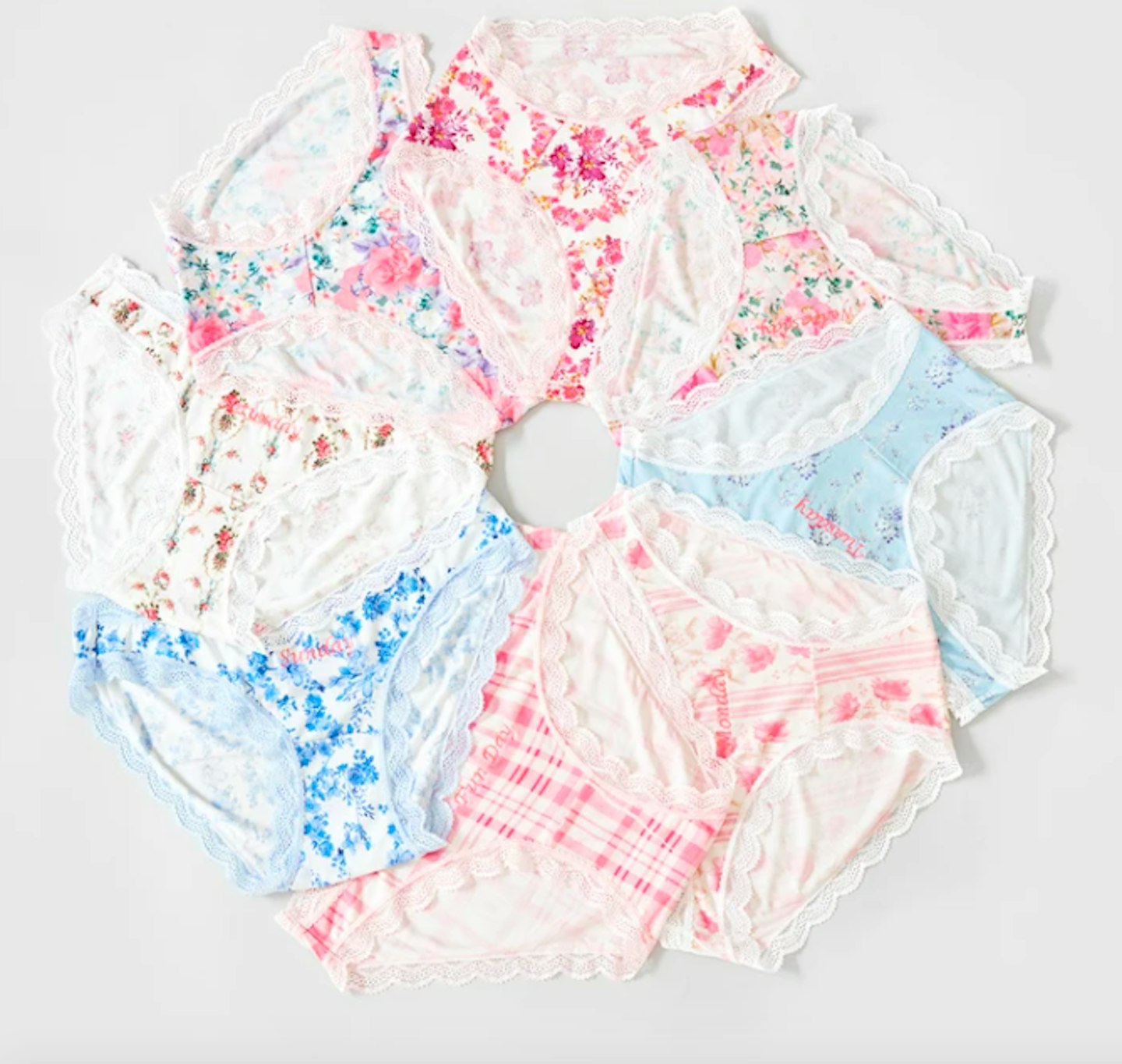 128 of 142
Monday – Stripe & Stare x LoveshackFancy, Days of the Week Knickers Set, £80
When Stripe & Stare collaborated with LoveShackFancy for the first time, many styles sold out in record timing. So it's no wonder that the two brands have launched a second collection, full of pretty loungewear and some of the most comfortable underwear you could ever hope to wear. These days of the week knickers come in a gift box, too, just in case you're stuck for gift ideas this Christmas.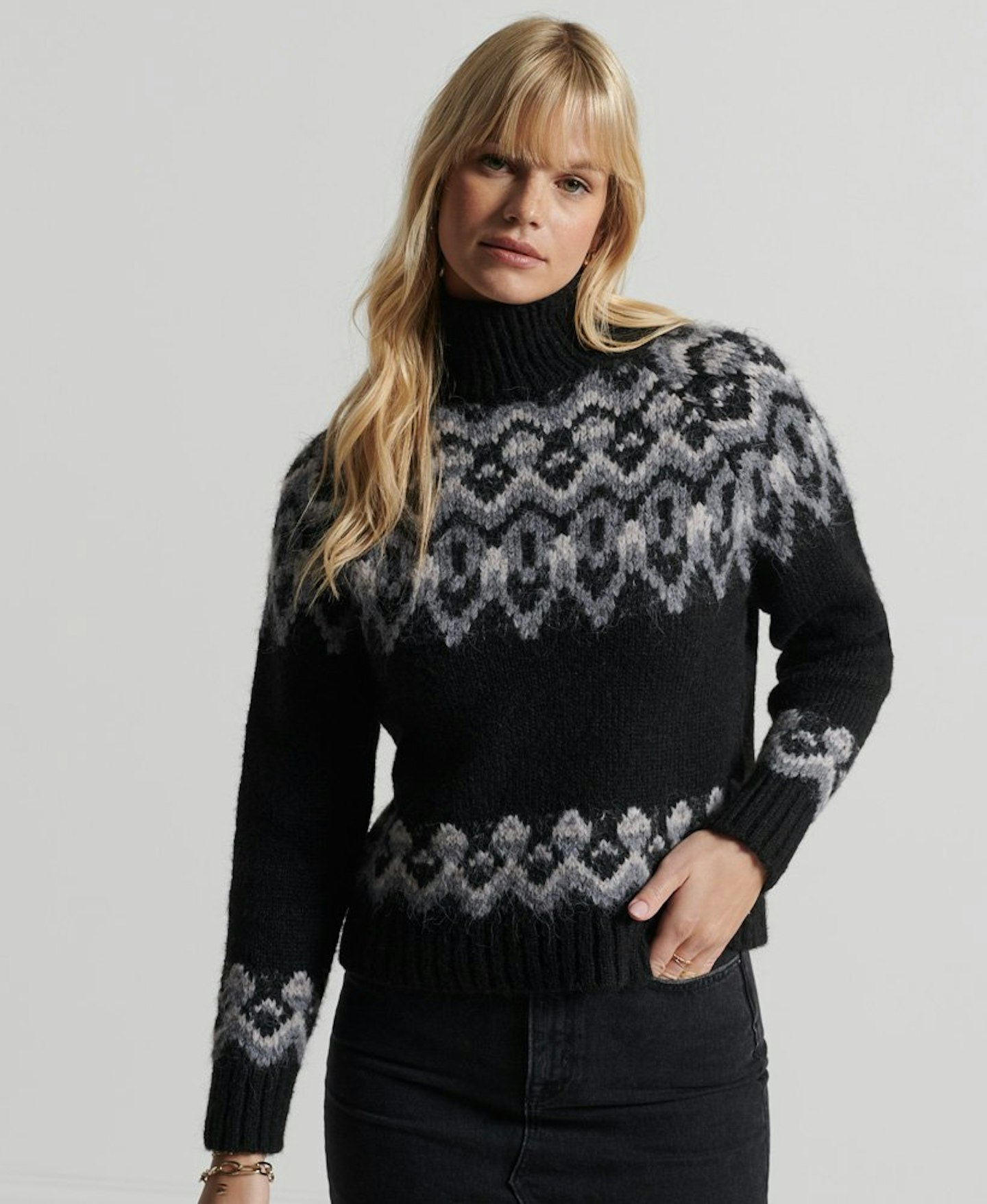 129 of 142
Friday – Superdry, Fair isle Jumper, £54.99
Jumper weather is well and truly upon us, so there's no better time than the present to invest in a new one. Designers went big on ski-themed pieces for autumn/winter this year and this is an easy way to channel that trend.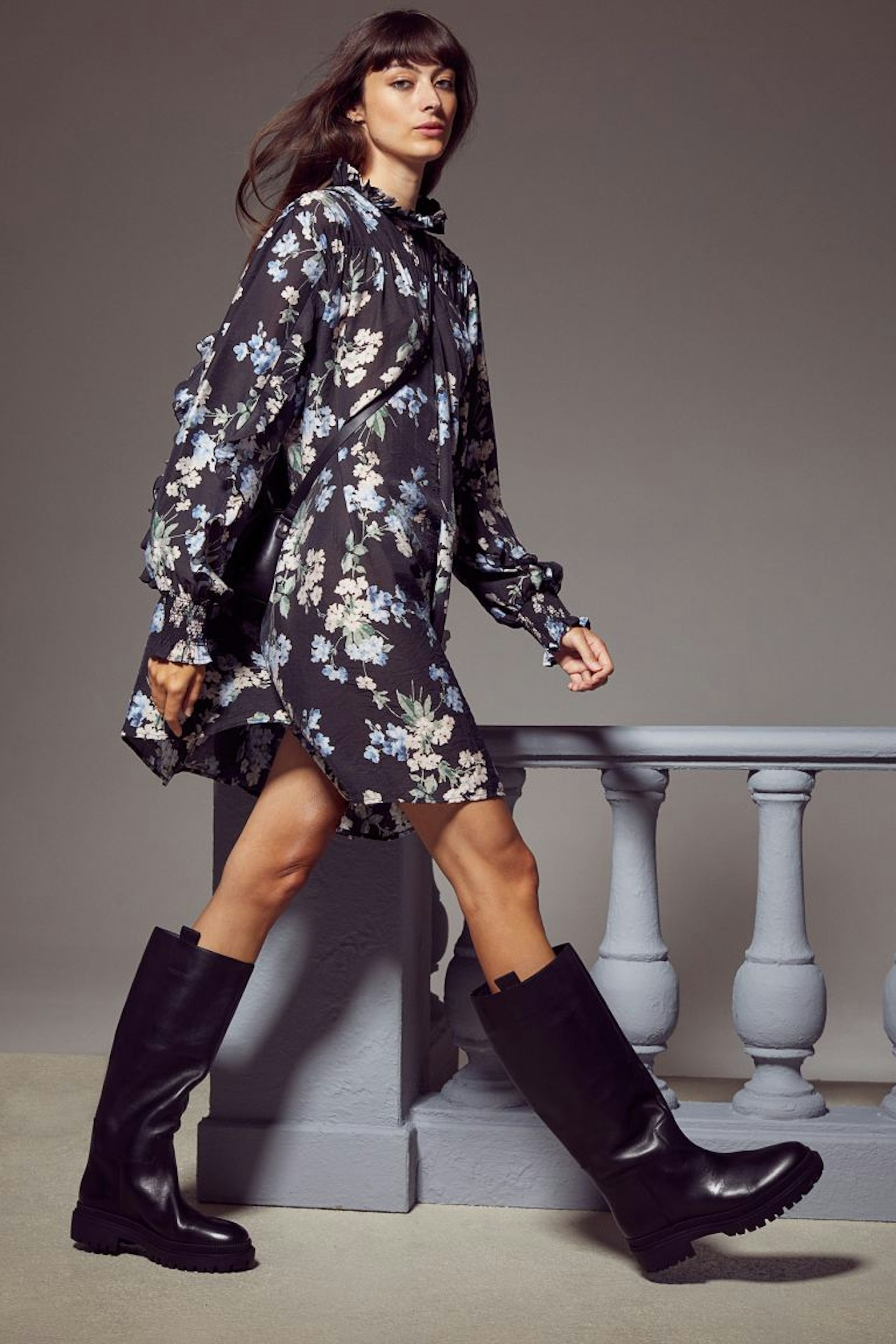 130 of 142
Thursday – H&M, A-Line Dress, £19.99
This could be the most sensible £20 you'll ever spend considering the fact that you will wear this dress forever. It's easy, comfy, stylish and will work in all seasons. Pick between two different colours and prints, pair with tights and flats, knee high boots or wear with trainers. Layer sweater vests on top or throw over swimwear on holiday (whenever that time comes again). It's versatile, pretty and will suit all body shapes and sizes.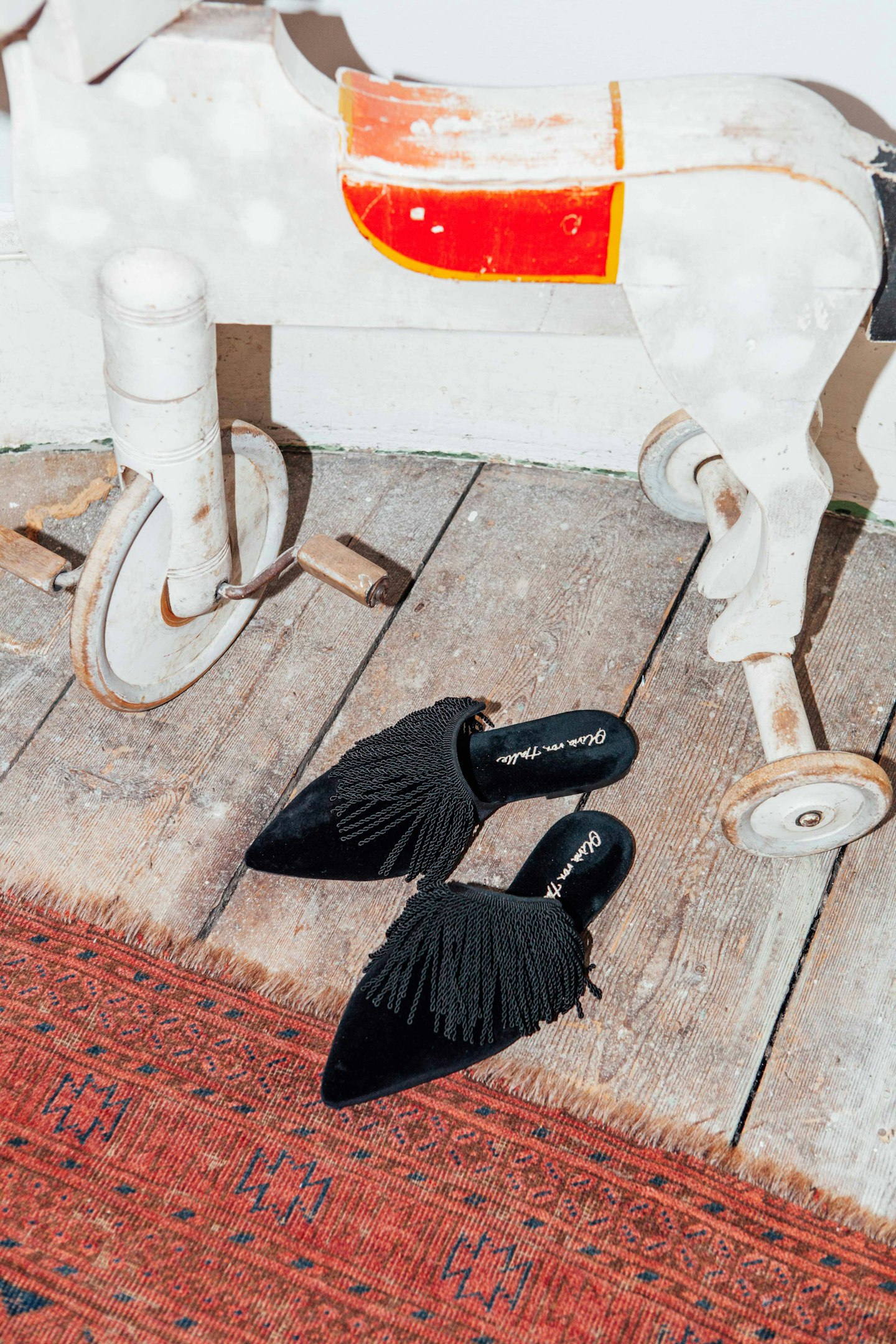 131 of 142
Wednesday – Olivia von Halle, Velvet Slippers, £495
You've never really known luxury until you've gone to bed in a pair of Olivia von Halle's silk pyjamas, or wafted round the house in one of her glorious robes. This is why I can only imagine how heavenly her new range of slippers must feel on your feet. These pointed mules in sumptuous velvet are almost too good to just be confined to the house – but possibly only wear them outside if you're in a taxi/being carried.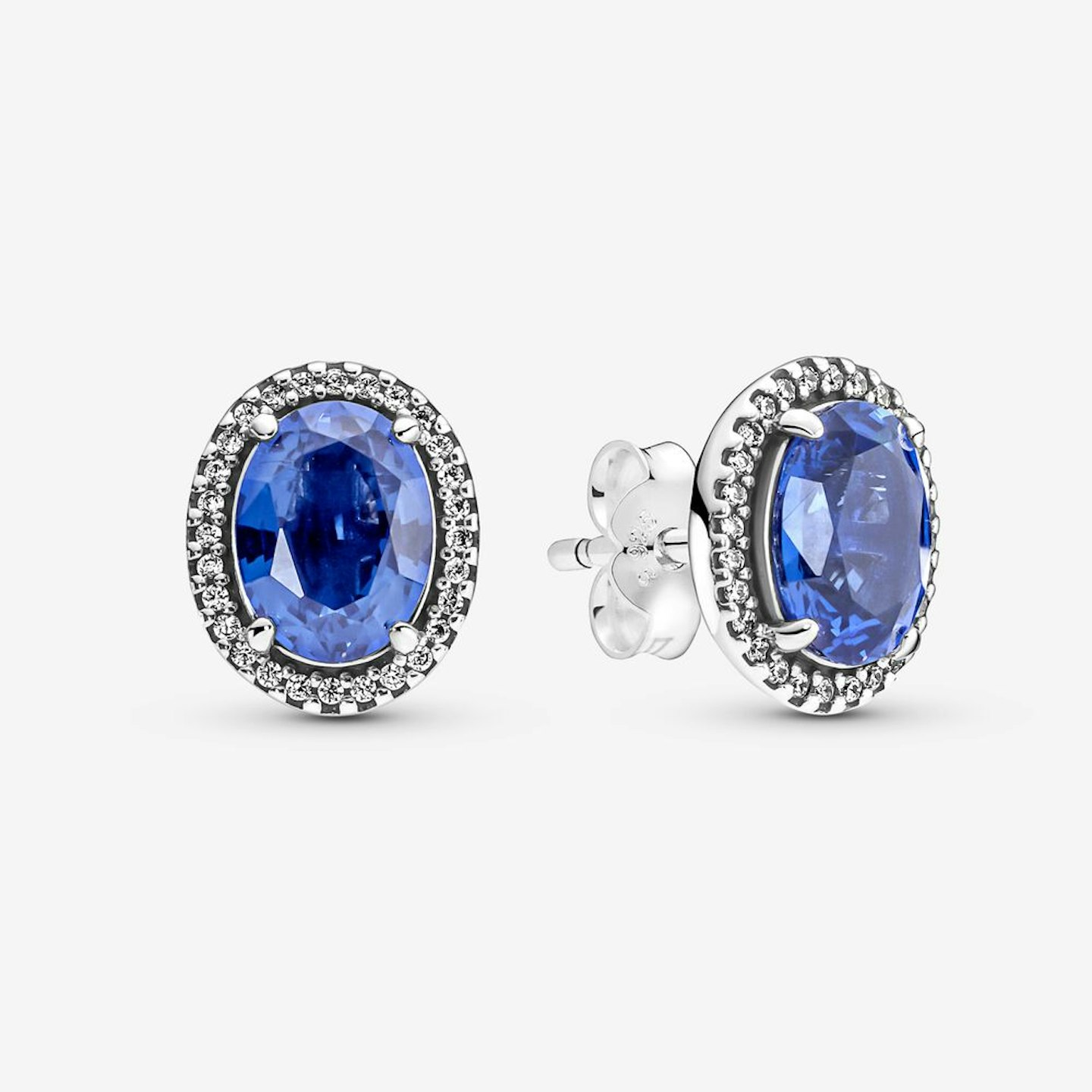 132 of 142
Tuesday – Pandora, Sparkling Stud Earrings, £80
On first look, you might think that these earrings are precious heirlooms of which your jewellery box can only dream. But what if I told you that, actually, they're less than £80 from Pandora? The brand's new collection might just be the best yet, with treasures like these which will add some sparkle to your outfits without fuss. Also, if you're struggling to come up with some Christmas present ideas this year, Pandora is an excellent place to start.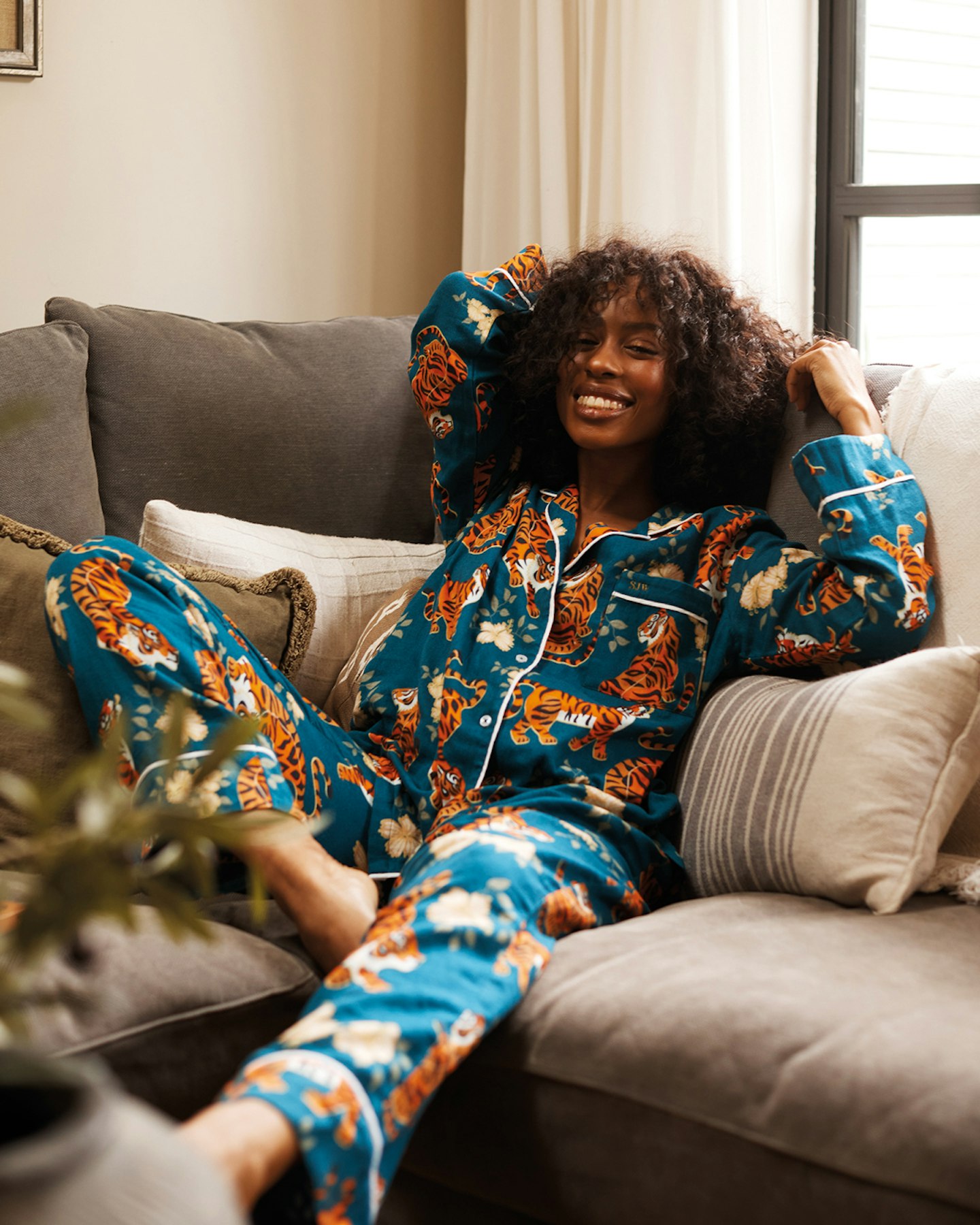 133 of 142
Monday – Elizabeth Scarlett, Personalised Pyjamas, £75
Elizabeth Scarlett has just launched pyjamas and they're every bit as luxurious as you might expect. In colourful, bold prints, each pair can be customised with a monogrammed pocket, making them an ideal Christmas gift (or just an extra special treat for yourself). Choose from tiger print, zebras and even festive stars.
134 of 142
Friday- Papier x Skye McAlpine, Recipe Journal, £24.99
Papier has teamed up with cookery writer Skye McAlpine to produce a lovely collection including notecards, menus, place cards and even a recipe journal, in which you can document all of your favourite recipes and dinner details. As we were starved of social interactions around this time last year, this is the perfect excuse to host a dinner party with your favourite people and really go all out with your table setting.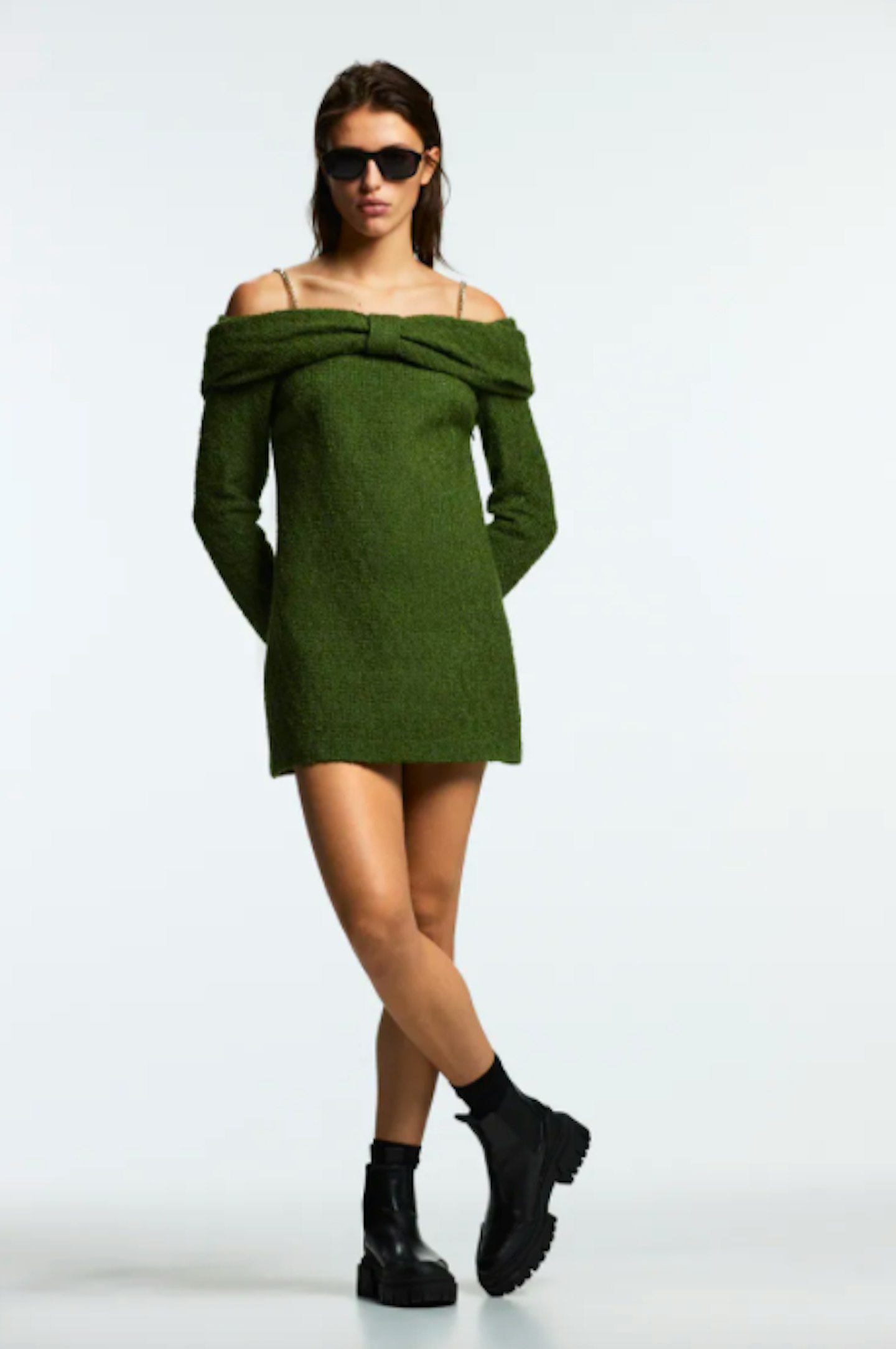 135 of 142
Thursday- Zara, Textured Dress with Chain Detail, £59.99
Just looking at this dress makes me want to go out. It will look excellent with black tights and pointed flats, whether you're heading out to a (whisper it) Christmas party or simply having dinner with friends. 'Tis already the season to dress up, so why not go all out?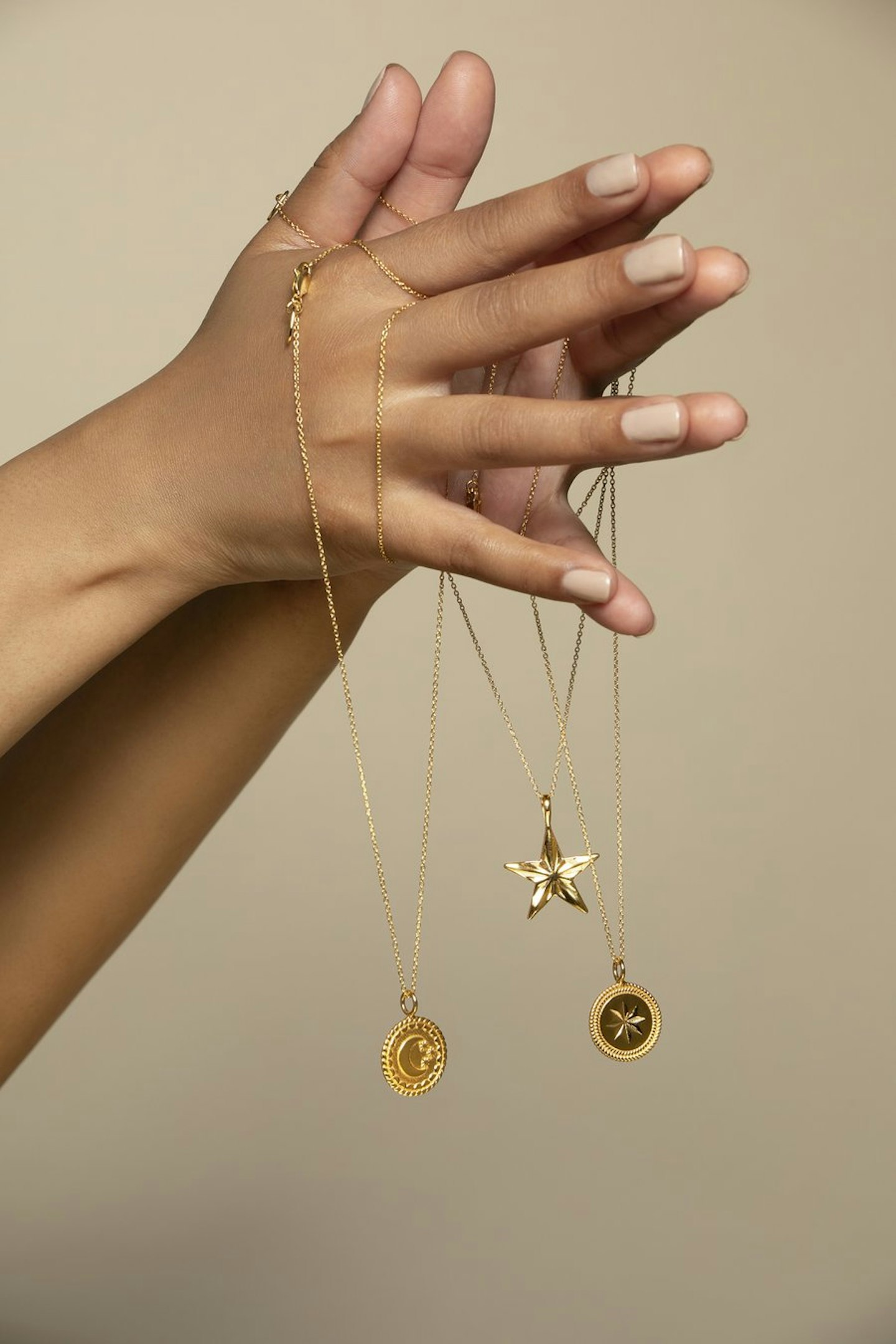 136 of 142
Wednesday- Stella 79, Star Necklace, £129
Drawing on their Trinidadian and Mauritian heritage, sisters Natasha and Sheena have created a jewellery brand that's full of lovely pieces you could wear every day. Your mind may have turned to Christmas already and, if so, you might be looking for great presents to give your favourite people. This necklace is a great place to start – or, just buy it for yourself as a treat. You got through the last year, after all.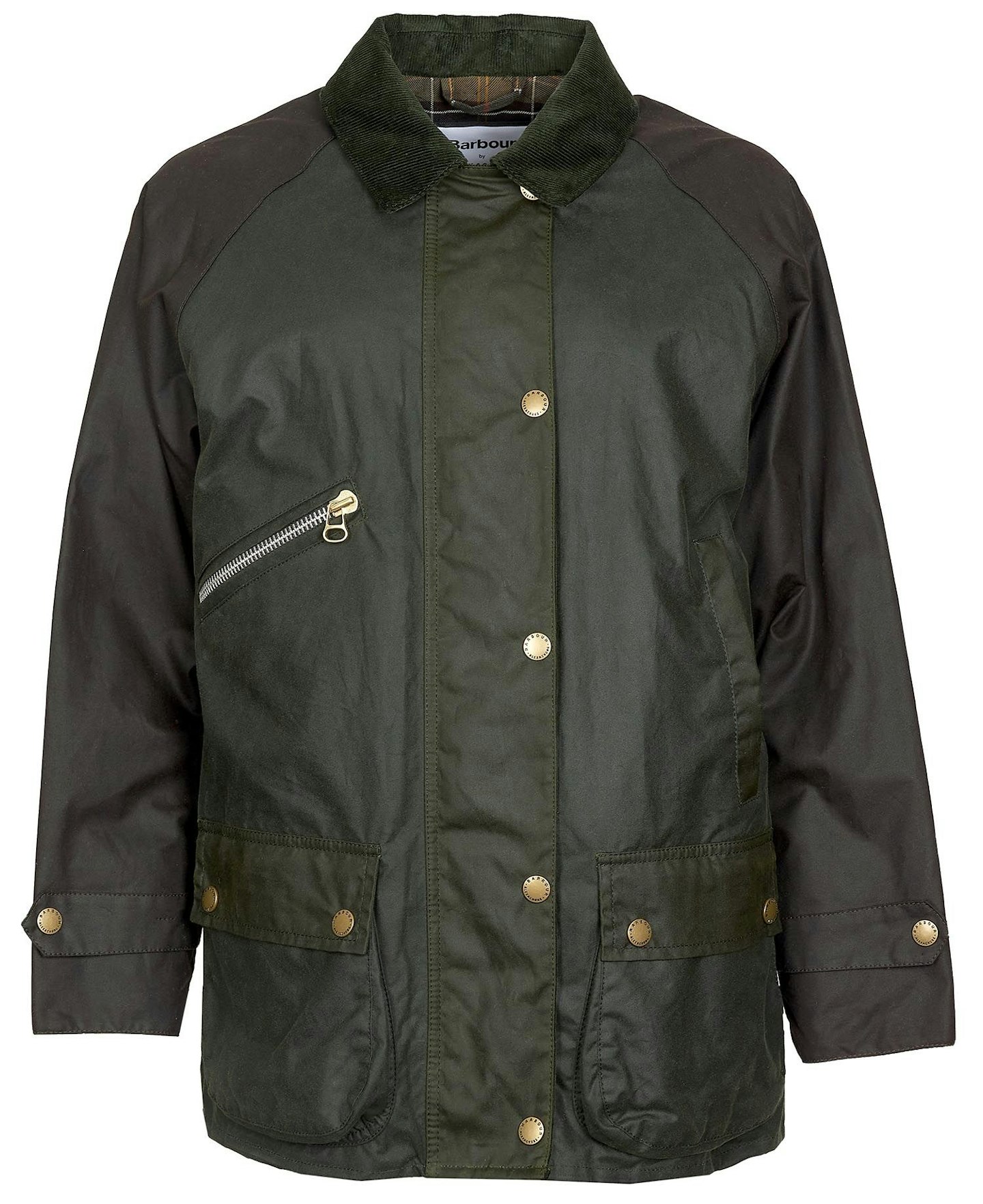 137 of 142
Tuesday- Barbour By ALEXACHUNG, Benedict Wax Jacket, £429
Barbour's re-waxing service means that if you buy one of the brand's famous wax jackets, you really are making a lifetime investment. It enables you to send any style of Barbour wax jacket to be repaired, re-waxed or even cleaned. If you haven't already acquainted yourself with the latest drop of ALEXACHUNG's collection for the British label, then feast your eyes on this jacket, which is infused with Chung's inimitable sense of cool. Buy now, wear forever.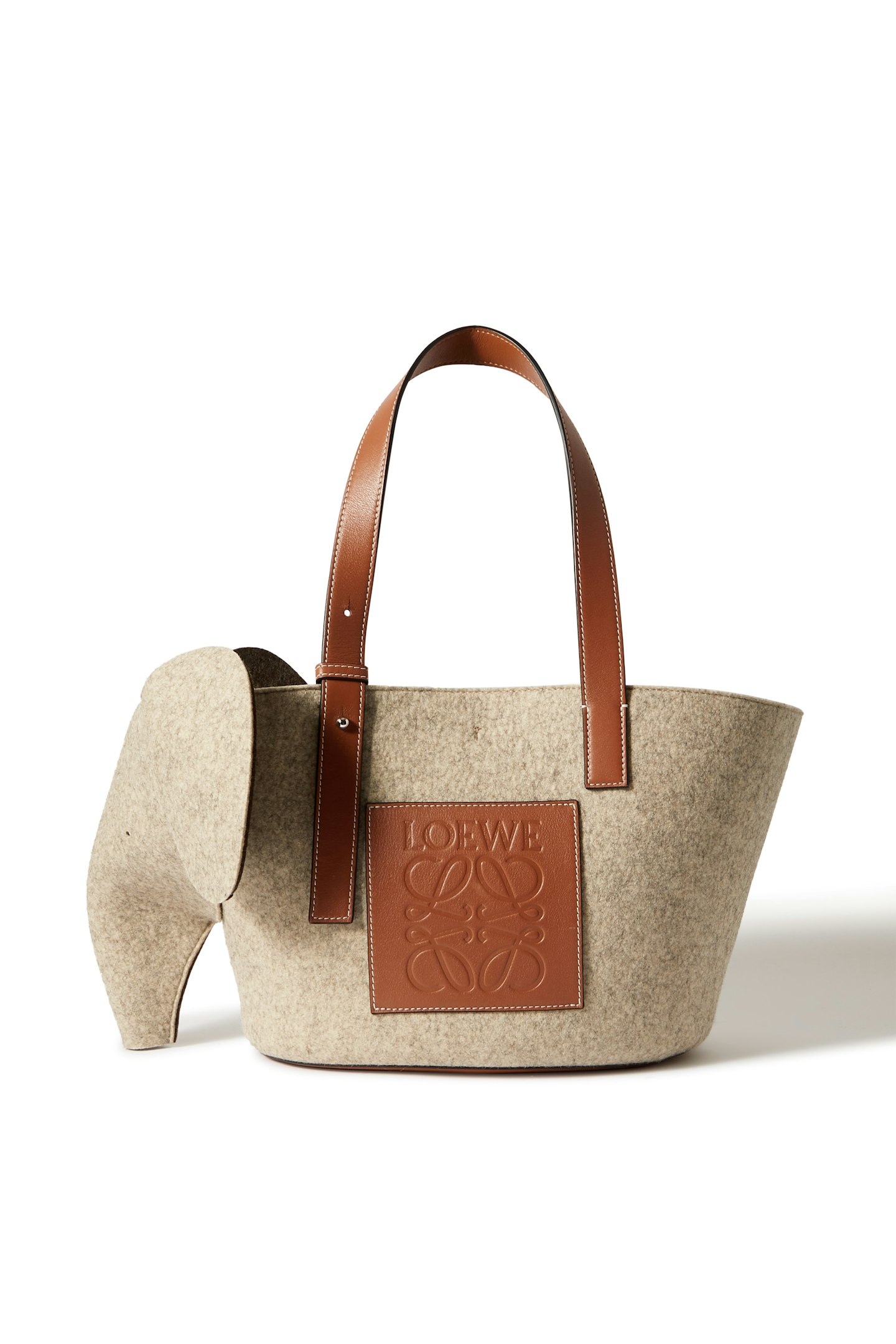 138 of 142
Monday – Loewe, Elephant Leather-Trimmed Felt Tote, £795 at Net-a-Porter
Loewe has, for the first time, created an exclusive capsule collection for Net-a-Porter, showcasing the incredible craftsmanship behind the brand. The Crafted Collection consists of 25 pieces, all made from sumptuous fabrics and stamped with Loewe's inimitable sense of flair. Jonathan Anderson, the label's creative director, said he wanted to 'capture a sense of cosiness and modern luxury', and boy has he delivered on both those fronts. This elephant tote isn't just lovely to look at – it's genuinely practical, too, thanks to the size and shape. A true collector's piece that you'll treasure for years to come.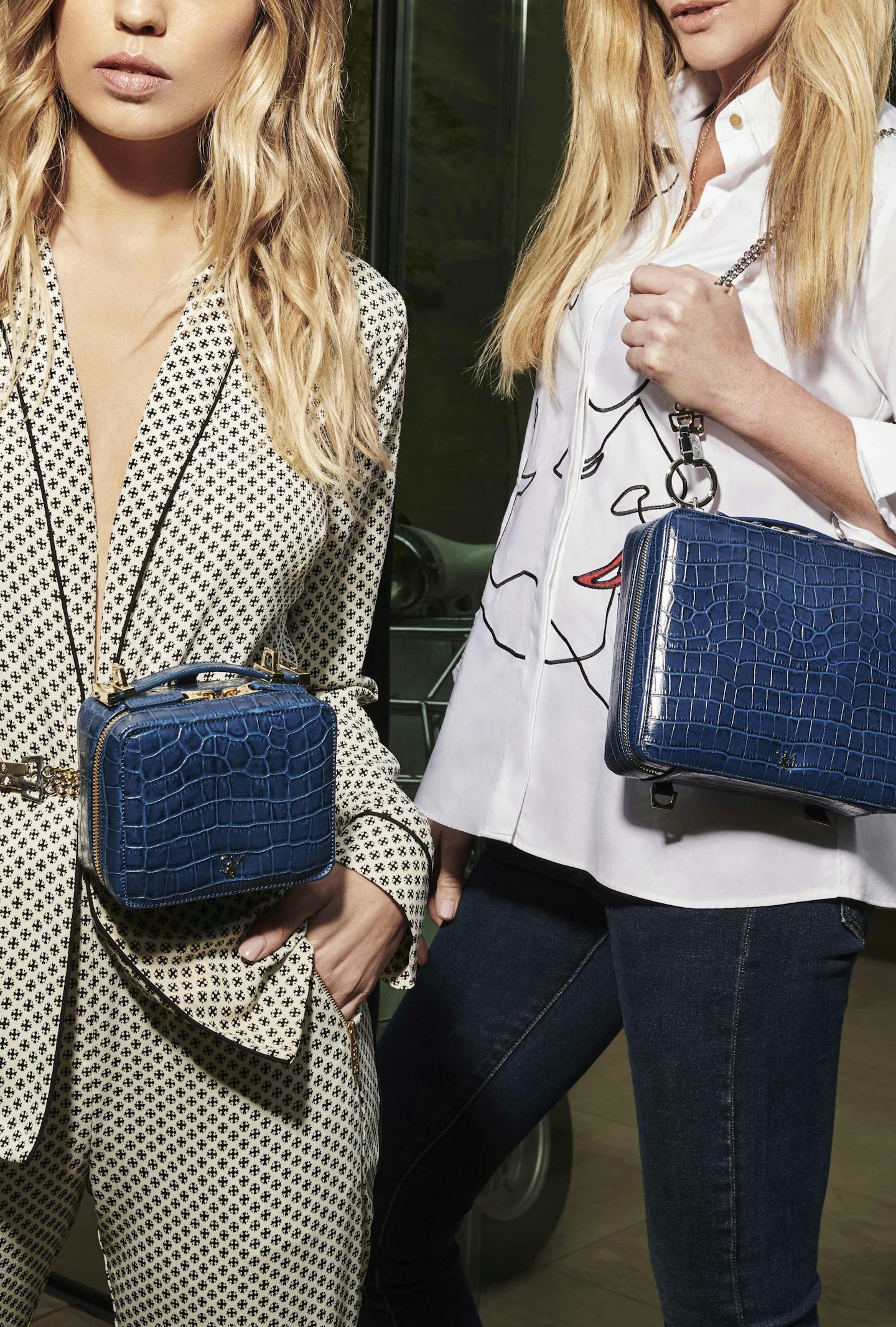 139 of 142
Friday – Stone & Mason, Leather Crossbody Bag, £275
Stone & Mason is a London-based label founded by mother-and-daughter duo Susan and Holly Stille. They provide ingenious solutions to all your on-the-go needs, filling their polished handbags with kits containing everything you could possibly ever need to avoid disaster. Think mini sewing kits, plasters, hair ties, nail files, mints, toothpicks, spare earring backs and even haircare. This is the perfect party bag to take out with you, safe in the knowledge that you have everything you could possibly need.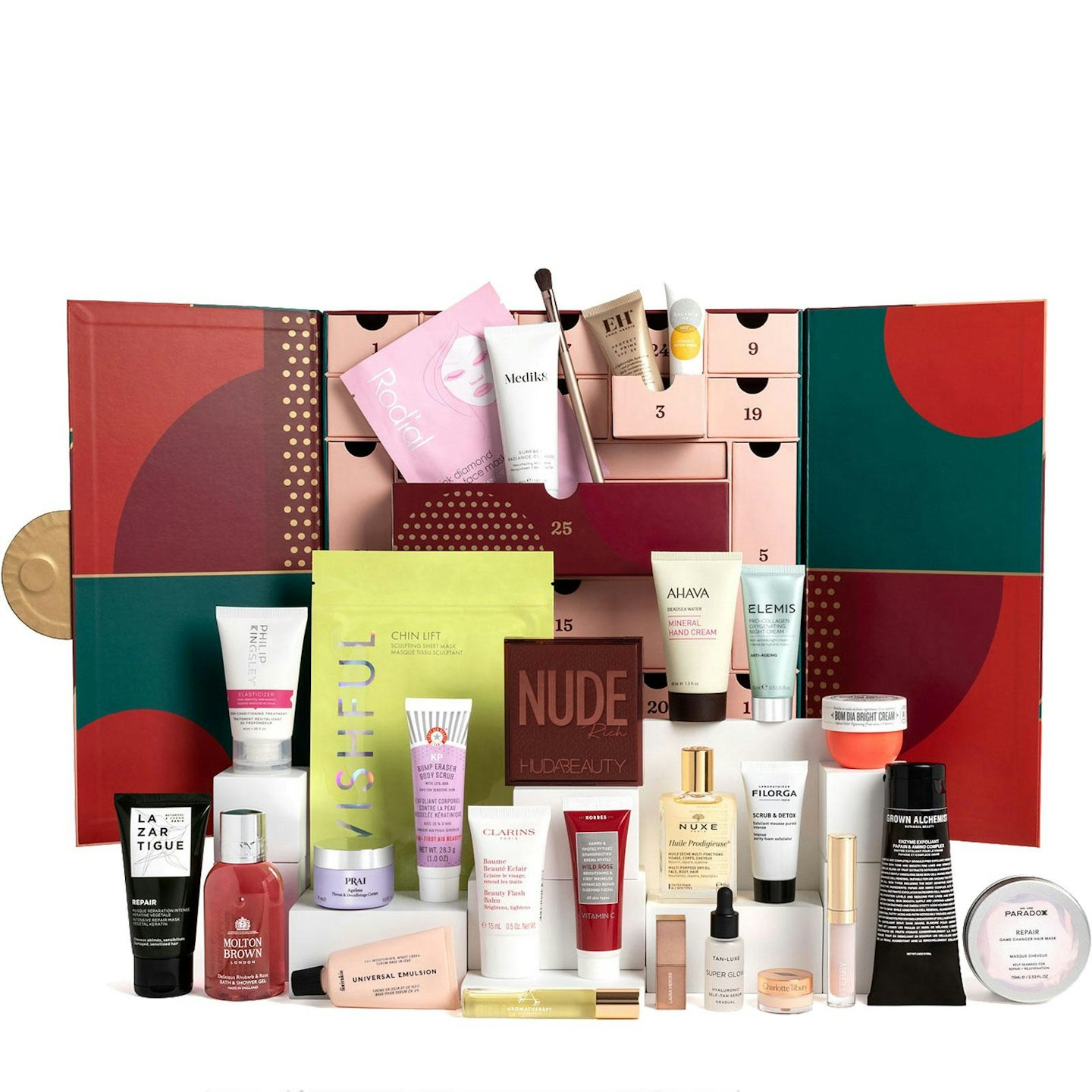 140 of 142
Thursday –Feelunique, Beauty Advent Calendar, £119
It really is almost that time of year again, so why not use that as an excuse to treat yourself to some incredible beauty treats, courtesy of Feelunique. This year, the brand's advent calendar is worth a whopping £385, which gives you a huge saving of £266 on your favourite products from Elemis, Charlotte Tilbury, Clarins, Laura Mercier, BY Terry, TAN-LUXE and many more. Whether you buy it as a gift for your favourite person or as a present to yourself, make sure you get in there before they all go.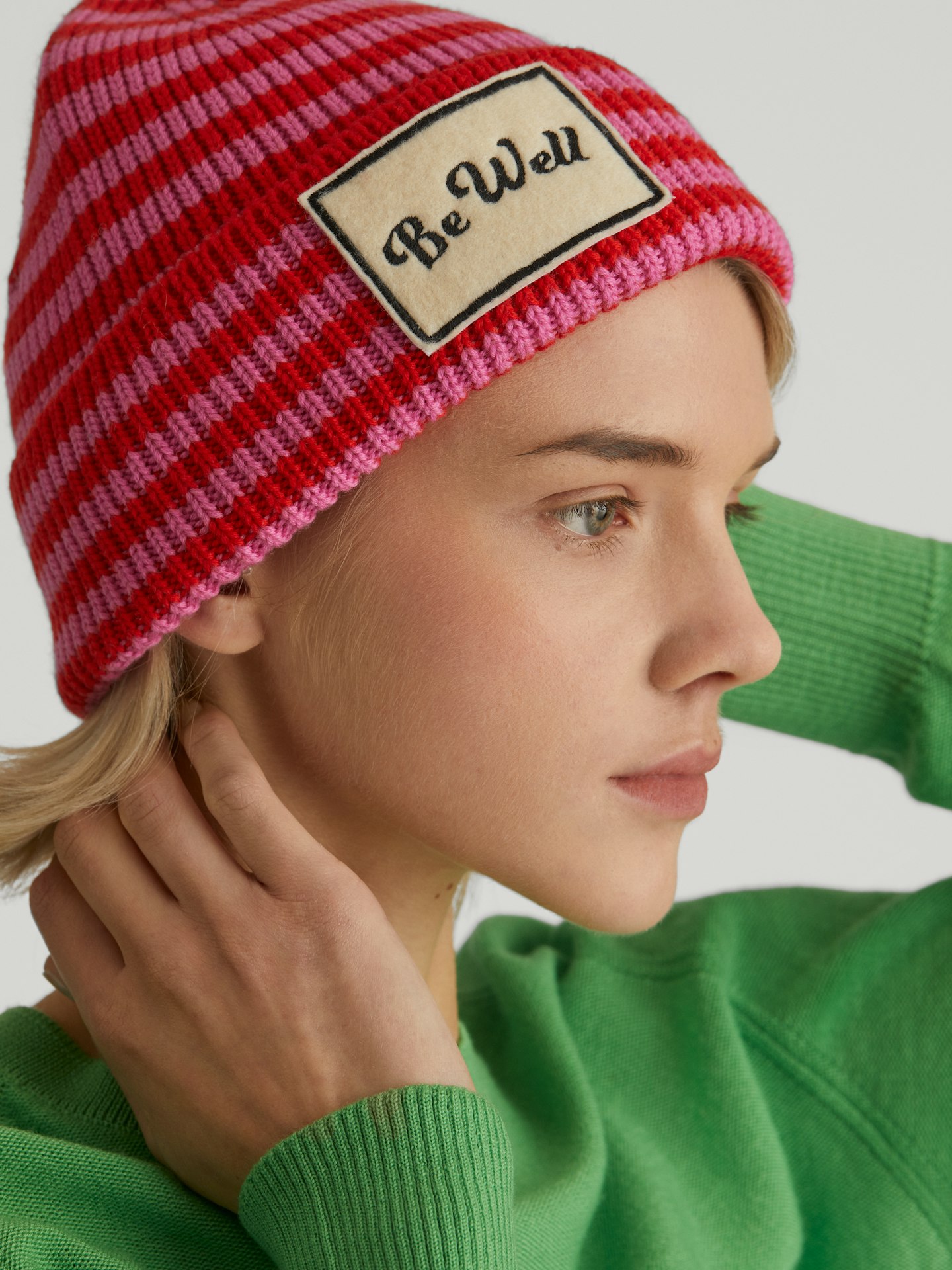 141 of 142
Wednesday – Daniel Fletcher x Sheep Inc, Beanie, £80
Sheep Inc. has collaborated with London-based designer Daniel Fletcher to create a limited edition beanie that's naturally carbon negative and 100% traceable. Only 250 are available, all bearing the positive slogan 'Be Well' and 100% of the profits will be donated to mental health charity, the Be Well Collective.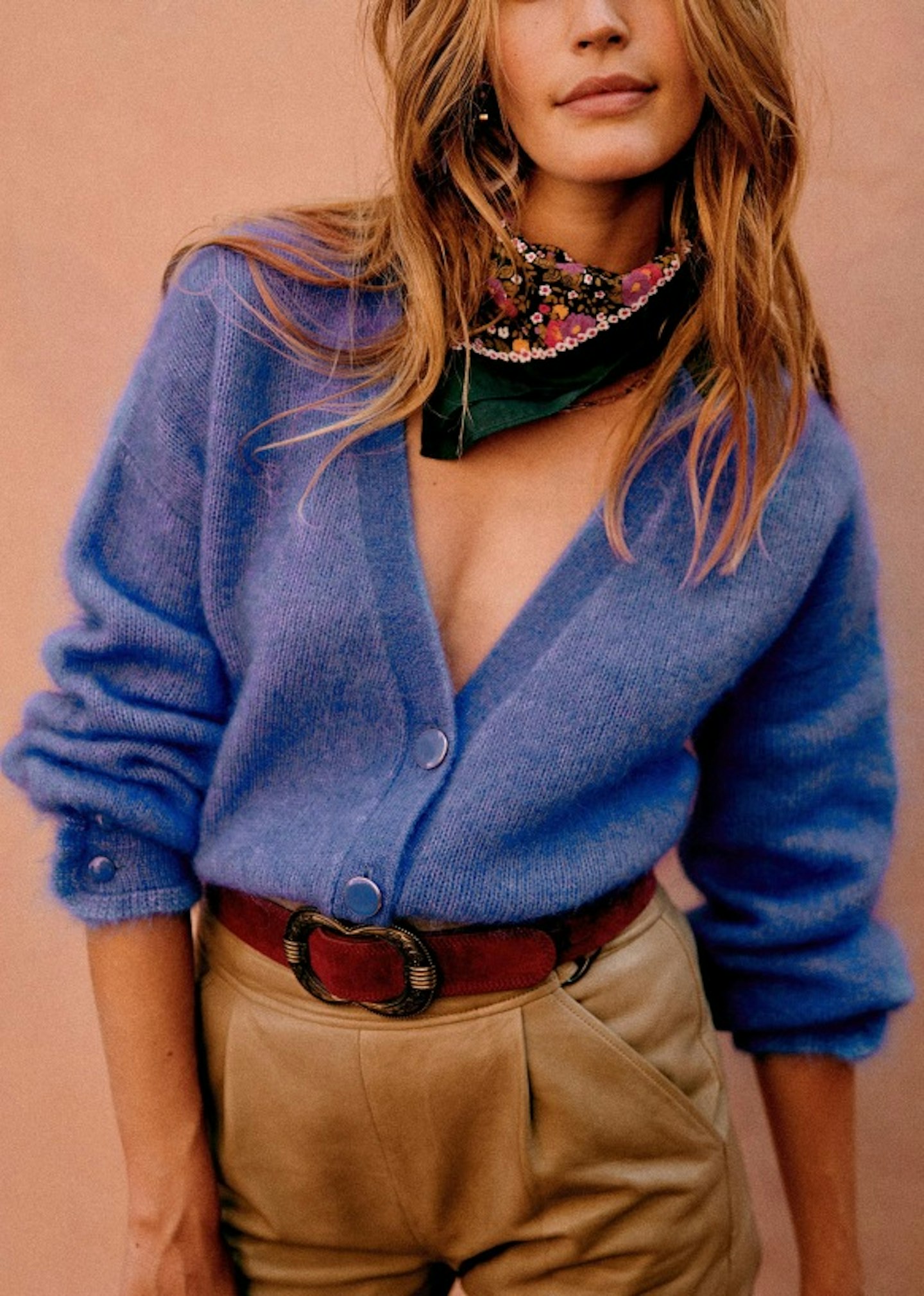 142 of 142
Tuesday – Sezane, Mia Jumper, £110
There's a reason Sezane's knitwear sells out so quickly – it's incredibly soft, comfy and the easy way to nail French girl chic. This cardigan is a prime example of that fact – available in six different colours, some have already started selling out, so it's best not to hang around. Wear on its own tucked into high-waisted trousers or layer over fine knits to be truly cosy.