Trust Hailey Bieber to tell us exactly what's 'in' for summer – she sure has form for sparking viral trends. Who could forget her gleaming glazed doughnut nails that took over every salon around the world or her recent approval of the latte make-up trend, a coffee-toned look featuring an abundance of nudes and browns. Now? The model and beauty brand founder has officially declared this season 'strawberry girl summer'.
Taking to her socials Hailey Bieber has sprinkled a little strawberry magic just about everywhere. The latest post to Rhode's Instagram account captures a solo Hailey adorned in what can only be described as a strawberries and cream aesthetic, fitting then that the caption reads '🍓 season. new treats are on the way 🚗' – confirmation of the new Rhode's strawberry-filled launches that have been teased since Hailey first declared a 'strawberry girl summer' on her Instagram account two weeks ago.
Strawberry Girl Make-up Tutorial: Grazia Tries Out The Trend
It was a carousel dump on her main account that sparked the rumours of Rhode's fruity new launches. Pictures included several pink-cheeked make-up looks but the stand out was a playful selfie involving a Rhode-branded strawberry sticker.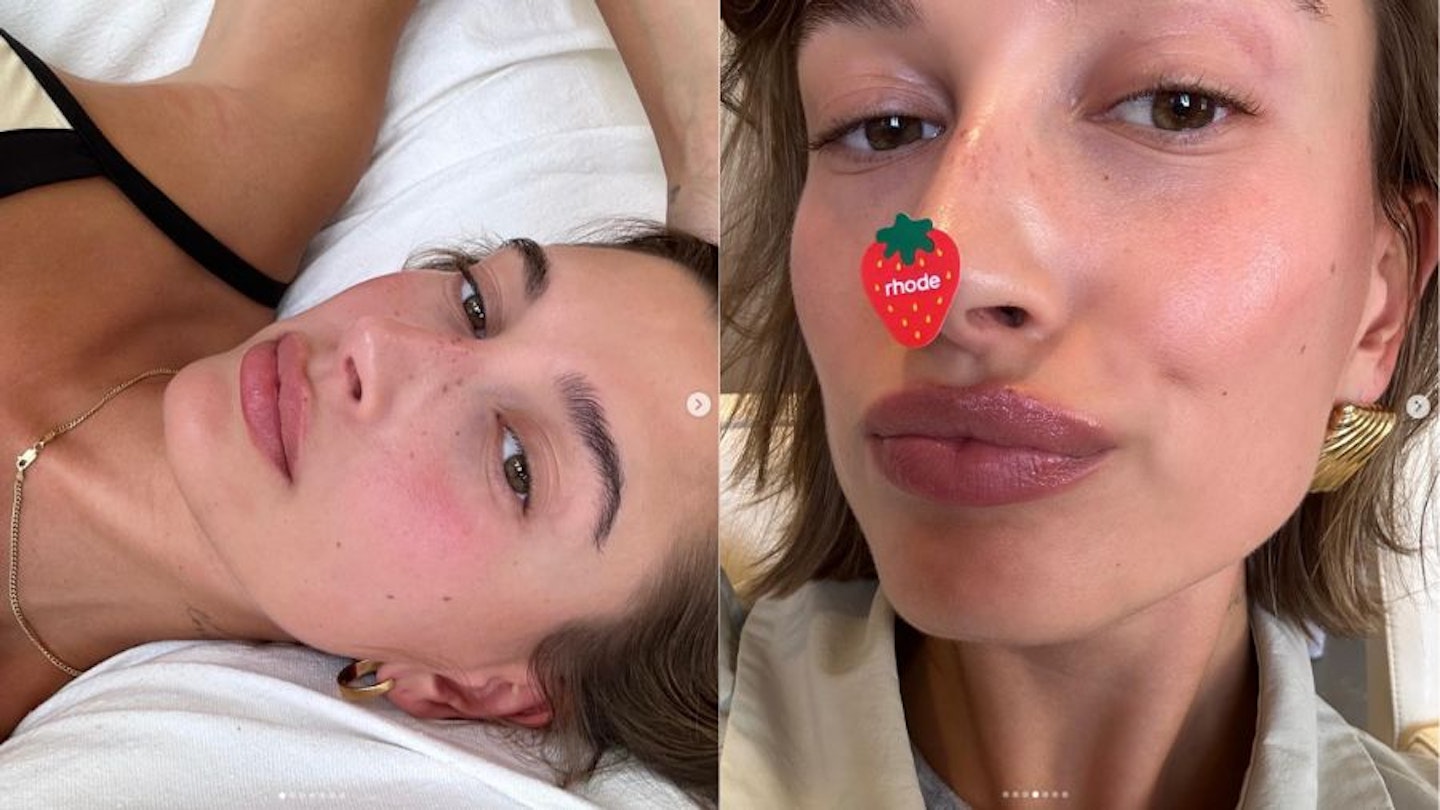 Naturally, fans speculated that the make-up maven may be hinting at a few new products from her eponymous beauty line. One user said, 'Does this mean we're getting a Strawberry Peptide Lip Treatment?' Well, thanks to her latest run of TikToks (and Rhode's confirmation post), fans of the brand will be pleased to know multiple strawberry-themed products are en route. Get ready for the new Strawberry Peptide Lip Treatment, £16, and some glossy, cream blushes, too.
Watch: Hailey Bieber's Strawberry Make-Up Tutorials
What is the 'Strawberry Girl Summer' trend?
So, what exactly is the strawberry girl summer trend taking TikTok by storm? With a whopping 149.3M views under the hashtag #strawberrymakeup, this trend follows in the footsteps of the vanilla girl and latte girl aesthetic while offering a broader range of creativity. Think whimsical Balletcore, European summer, and pops of pretty pinks. Where make-up is involved imagine delicate, creamy blushers, glowing lip tints and polished styles. Long story short? The strawberry girl summer trend embodies 'sweetness' and couldn't be prettier.
Fancy tapping into the Hailey-approved trend yourself? Shop the products below to get you started.
Description
This lip gloss is inspired by the iconic Krispy Kreme Strawberry Glazed Doughnuts and if it is
Description
Hailey kept her blush products hush but we recommend this smooth velvety powder. Just a light
Description
For fool-proof bronzing, try this. Hailey uses the shade: Intensity One.
Description
A lip liner loved by celebs and make-up artists alike. Hailey uses the shade '600 Anywhere
Description
This is what Hailey uses to create her freckles.
Description
The OG stain. This watery, delicate pop of colour imparts a soft flush that can be swept across
Description
This one's for Strawberry Girls on-the-go (or those who only have a quick five minutes every
Description
Arguably the single product that helped many of us transition from powder blush to liquid, this
Description
Key to the look is fresh, healthy-looking glossy skin. This concealer helps to cover and blur any
Description
Hailey has recently been reaching for a cream blush from her BFF Kylie Jenner's beauty range. With
Description
Strawberry girl make-up is all about letting your real skin shine through. Hailey foolproof's this
Description
Despite what you may think, Strawberry girl lips aren't necessarily berry-toned. In fact, Hailey
Main image credit: Instagram @HaileyBieber