The high-street is brimming with all sorts of beauty dupes right now. Whether it's Zara's perfume offerings, Primark's Olaplex inspired bond building treatment or the M&S scents that mimic some of the most iconic fragrances in the world, we're spoilt for choice when it comes to high-end beauty replicas. Needless to say, one supermarket really takes the crown for selling some of the most overt offerings out there, though. Whether it's their Sol De Janeiro inspired firming cream or their La Mer influenced facial moisturiser, it's fair to say that Aldi knows no bounds when it comes to their copycat takes, much to the delight of bargain hunting beauty lovers. If authenticity isn't your MO then consider this your cue to read on.
While most would argue that Aldi's budget buys can't outclass their luxury equivalents, we can't ignore the fact that they're often met with glowing reviews. Time and time again their dupes go viral and sell-out, shelves bare nationwide. Yesterday, however, the supermarket dropped what is perhaps their most brazen dupe yet. Enter their Flowers and Fruit Candles, £3.49, which are dead-ringers for Diptyque's cult classic candles.
Revealed: Aldi's New Diptyque Candle Dupes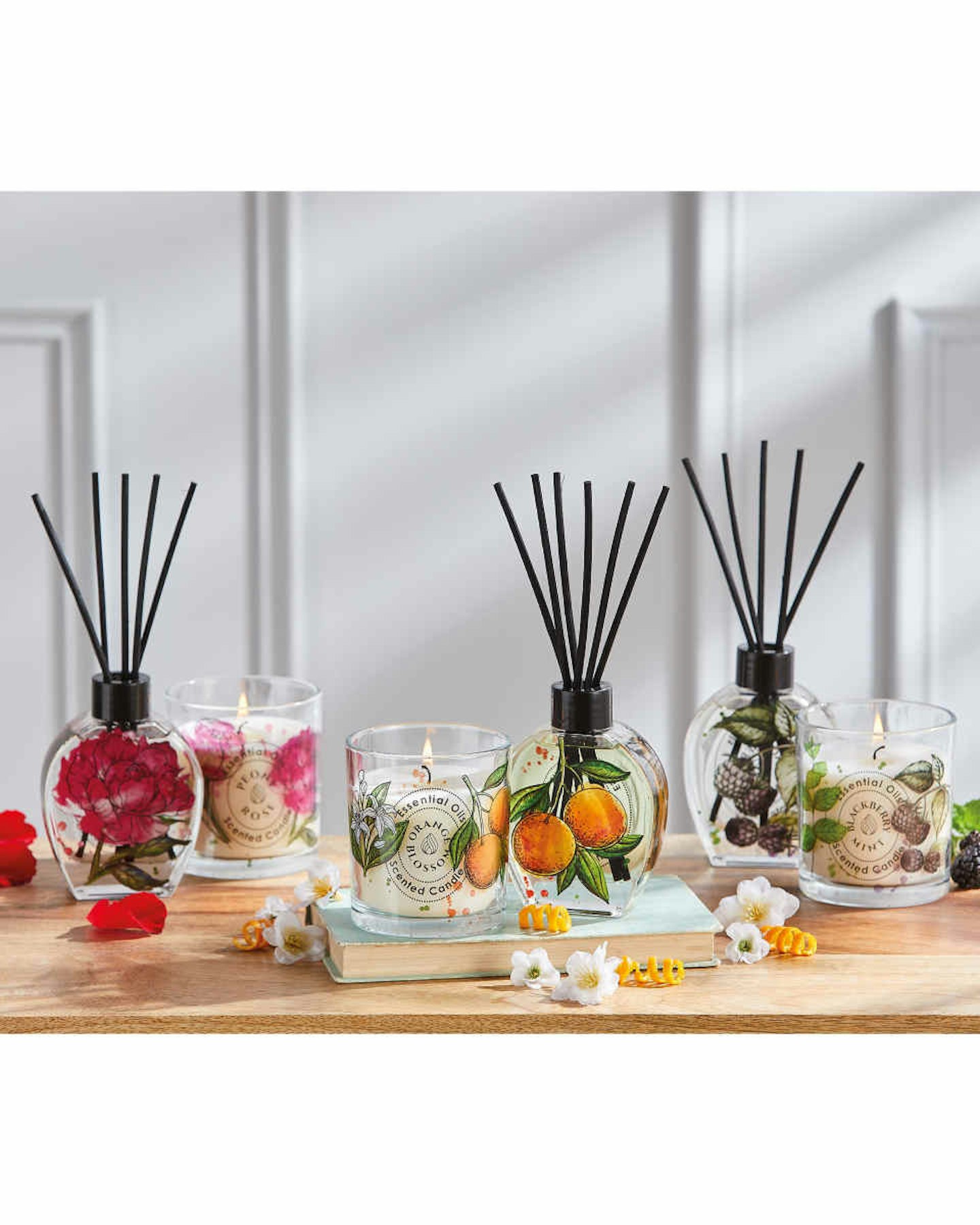 But this is where the world of Aldi beauty dupes gets confusing. While outwardly they look like Diptyque, the scents are actually more comparable to Jo Malone's classic candles. First, let's take Aldi's Blackberry Mint Flowers and Fruit Candle, £3.49. One sniff and you're hit with a heady offering of tart blackberries reminiscent of the cult classic Jo Malone London Blackberry and Bay Home Candle, £55. There's also Aldi's Orange Blossom Flowers and Fruit Candle, £3.49 which seems to be an effort to replicated Jo Malone London's Orange Blossom Home Candle, £55. And finally there's Aldi's Peony Rose Flowers and Fruit Candle, £3.40 which can be compared to the Jo Malone London Peony and Blush Suede Home Candle, £55. Diptyque dupes on the outside, Jo Malone London dupes on the inside - is Aldi trying out a new loophole?
For a mere £3.49, the Aldi Flowers and Fruit Candles are pretty good. While the fragrances certainly aren't as luxurious as either Jo Malone London's or Diptyque's classics (fans of the originals certainly won't be swayed) they do smell pleasant.
They're not to be sniffed at.
Shop: Aldi Flowers and Fruit Candles
Description
Aldi say: 'Experience the delicate beauty of peonies and roses with this signature scent. A soft,
Description
Aldi say: 'The sweet and juicy scent of ripe blackberries combines with the cool and invigorating
Description
Aldi say: 'Be transported to a fragrant oasis with the aroma of freshly bloomed orange blossoms. A