At face value, Apple TV's The Buccaneers isn't anything we haven't seen before. Based on the unfinished novel of the same name by Edith Wharton, it's a tale as old as time: a beautiful woman is forced to decide between two equally stunning gentlemen, only this time it's set in 1870s London and everyone's incredibly wealthy. Let's call it The Summer I Turned Pretty meets The Gilded Age.
One gentleman, Theo (Guy Remmers) is a Duke, the other – who naturally is his best friend – is called Guy (Matthew Broome). Both are fascinated by and immediately fall in love with straight-talking American Annabel St George aka Nan played by Kristine Froseth (The Society). From the outset it's pretty clear that the writers want you to root for Guy as Nan's potential partner, but in reality, the chemistry between actors Guy Remmers and Kristine Froseth is much stronger. Perhaps that's because the pair are now dating in real life, having met on the set of The Buccaneers.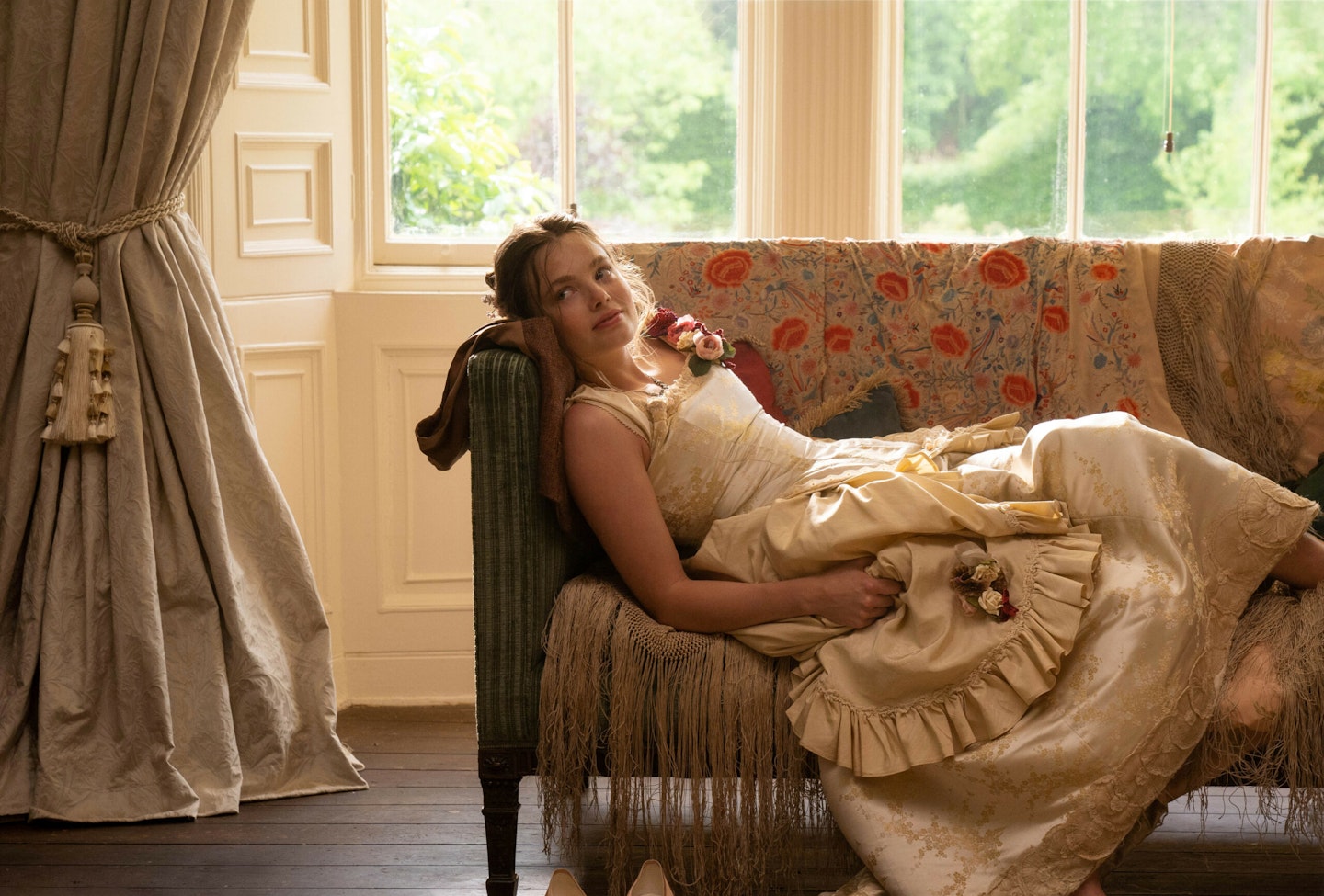 As well as The Summer I Turned Pretty, the comparisons with the wildly successful Netflix series Bridgerton are inevitable, and here sadly The Buccaneers may fall short. Why? The Buccaneers just isn't sexy enough.
We've come to expect a certain level of raunchiness from our period dramas these days, and whilst there's definitely an argument for the removal of gratuitous nudity and sex, The Buccaneers doesn't necessarily support it. Sex and intimacy are hinted at, but as soon as things really get going, viewers will be disappointed by an immediate cutaway.
Despite that, The Buccaneers still manages to maintain a kind of charm that makes it extremely watchable.
Yes, you'll be frustrated by the plot holes, random extra storylines - there's a subplot which hints that Lord Richard Marable (played by Josh Dylan best known for his role Mamma Mia Here We Go Again) was groomed as a child but isn't given the care or consideration that such a dramatic storyline deserves - and well-worn format at points, but it will never feel like a chore to watch the series.
And that's mainly down to Christina Hendricks (Mad Men) and a sadly underused Mia Threapleton (I Am Ruth). Unsurprisingly, Christina steals the show as Mrs St George - the mother of main character Nan. Mrs St George is witty and wonderful and you just can't help but fall in love with her as she navigates motherhood and a cheating husband (Adam James, Vigil) with an air of grace.
Then there's Mia, playing the straight-laced Honoria who begins to develop feelings for Josie Totah's Mabel. Her deadpan delivery is perfectly timed and there's no doubt – especially after her star turn in I Am Ruth - that Kate Winslet's daughter has a bright career ahead of her as an actor.
The greatest strength of The Buccaneers however lies in its conscious decision to modernise Edith Wharton's original plot. There's the addition of an LGBTQ+ storyline and, in contrast to the 1995 adaptation starring Carla Gugino and Mira Sorvino, a more diverse cast.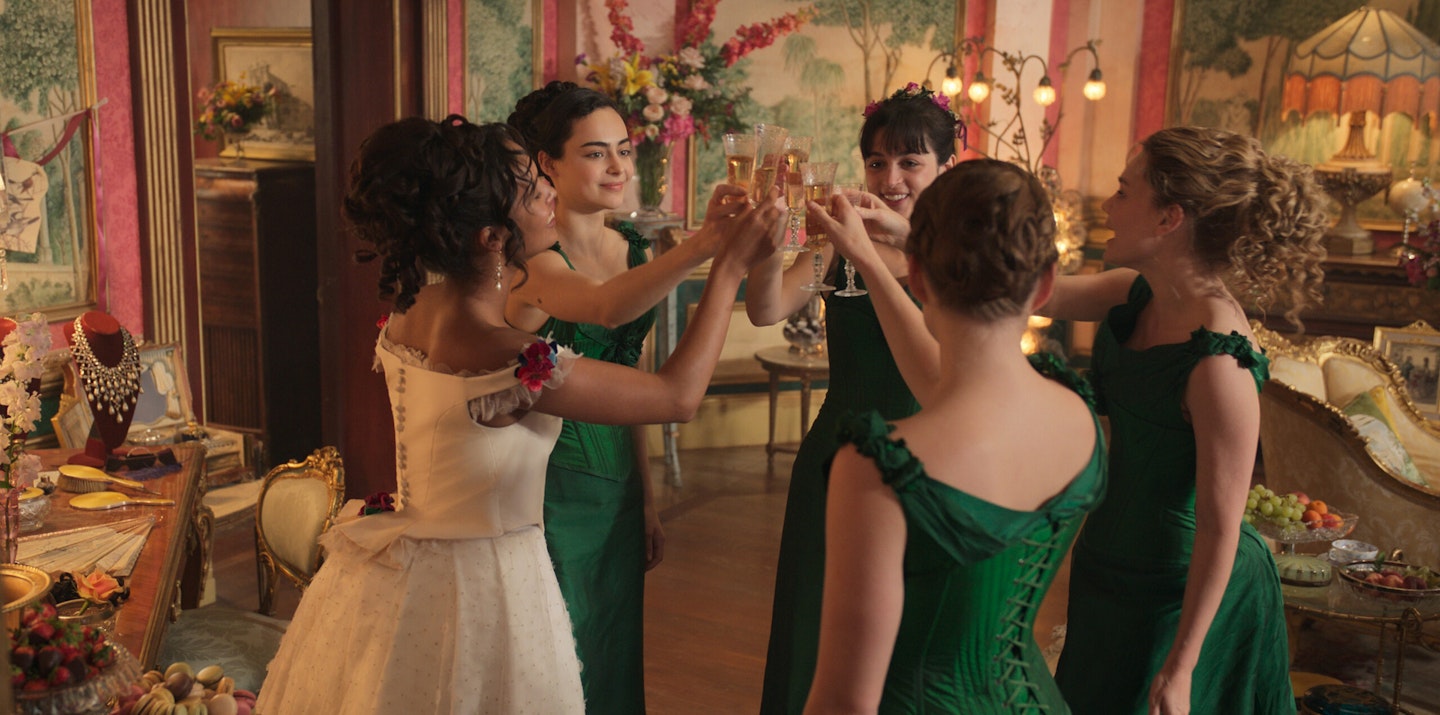 Plus, this adaptation is a tale of women. Strong-minded, strong-willed woman who will do anything for each other. This 2023 version of The Buccaneers isn't just about blossoming romances, the script consciously acknowledges that marriage was a conventional and desired route for women to take but still questions that tradition.
It's also refreshing to see the male characters relegated to secondary (but still essential) storylines while themes of sisterhood and female friendships are at The Buccaneers' core. Ultimately, despite a few bumps in the road, The Buccaneers always has its heart in the right place and the plot is really driven by the bonds between the female characters. Let's just say that when the inevitable and heavily hinted at second season comes along, we'll definitely be watching it.