Selling Sunset season seven has brought explosive confrontations in abundance, with old feuds dredged back up and new ones igniting.
As fans continue to binge-watch the new episodes, there has been a heightened 'mean girl' narrative on social media. Whilst some are driving it, others are condemning it, predominantly where Chrishell Stause is concerned.
Whilst some believe she has simply set boundaries with co-workers in the new season - and is well within her right to keep her ex's [now former] girlfriend at arm's length - others are claiming she is a 'mean girl in disguise'.
Is the term mean girl being thrown around meaninglessly, or is it justified? Well, we have broken down the key feuds that escalate in Selling Sunset for you to decide.
Chrishell Stause and Marie-Lou Nurk
At the time of filming, Jason Oppenheim was dating model Marie-Lou Nurk, who he struck up a romance with in July 2022 - six months after he and Chrishell called it quits.
In one scene in the new season, Marie-Lou and Chrishell went out for lunch which quickly went south. Marie-Lou claimed that there are 'feelings left' between Chrishell and Jason, later calling her boyfriend to say, 'Chrishell doesn't want to be friends with me and told me I was jealous, I was crying.'
Chrishell, who had heard the phone call, retorted, 'I never said you were jealous, those words never came out of my mouth.'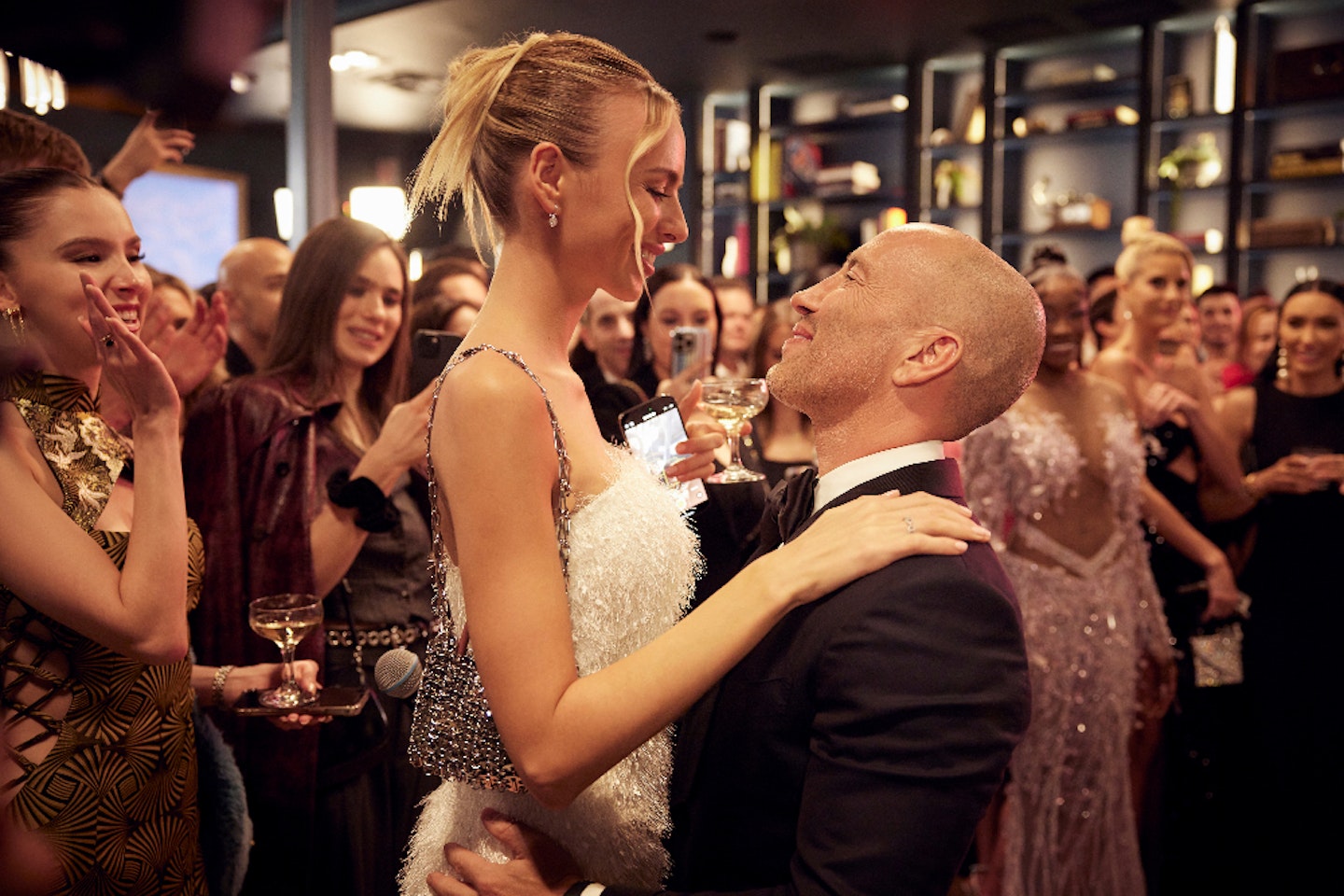 Things then went from bad to worse when Marie-Lou used the wrong pronouns when talking about Chrishell's partner, G Flip.
'My partner's non-binary, they use they/them pronouns,' Chrishell explained. 'This is a simple thing. And this is the depth of our relationship, where the most important person in my life, you don't know their pronouns, which is totally fine. But my point is that you also don't know me. I'm not gonna be your friend. I don't have anything in common with you. I feel like I'm losing brain cells in this conversation.'
Speaking to US Weekly, Jason - who dated Chrishell from July 2021 until December 2021 - opened up about how watching those encounters made him feel.
'I'd say the scenes with my girlfriend at the time, Marie Lou, and Chrishell were probably the most difficult [to watch] in real-time when they were happening, and then also difficult to watch, just kind of cringey. I just get anxious when I watch those scenes,' he said.
He added, 'My reaction to watching it was pretty similar to my reaction when it happened, it just made me so uncomfortable. I was reliving a traumatic experience.'
Alex Hall and Amanza Smith
There was a Selling The OC Selling Sunset crossover which saw Amanza Hall - in the words of one X user - 'drag' Alex Hall.
After Jason noted that the agents in the OC 'work their asses' off, Alex Hall confirmed that they have $400million in active listings, leading Amanza to comment, 'Then why are you wearing a Fashion Nova dress?'
She later added, 'I can't stand the woman in the orange dress right now.'
While one fan called it the 'best moment' this season, another said the 'snide comments' rubbed them the wrong way.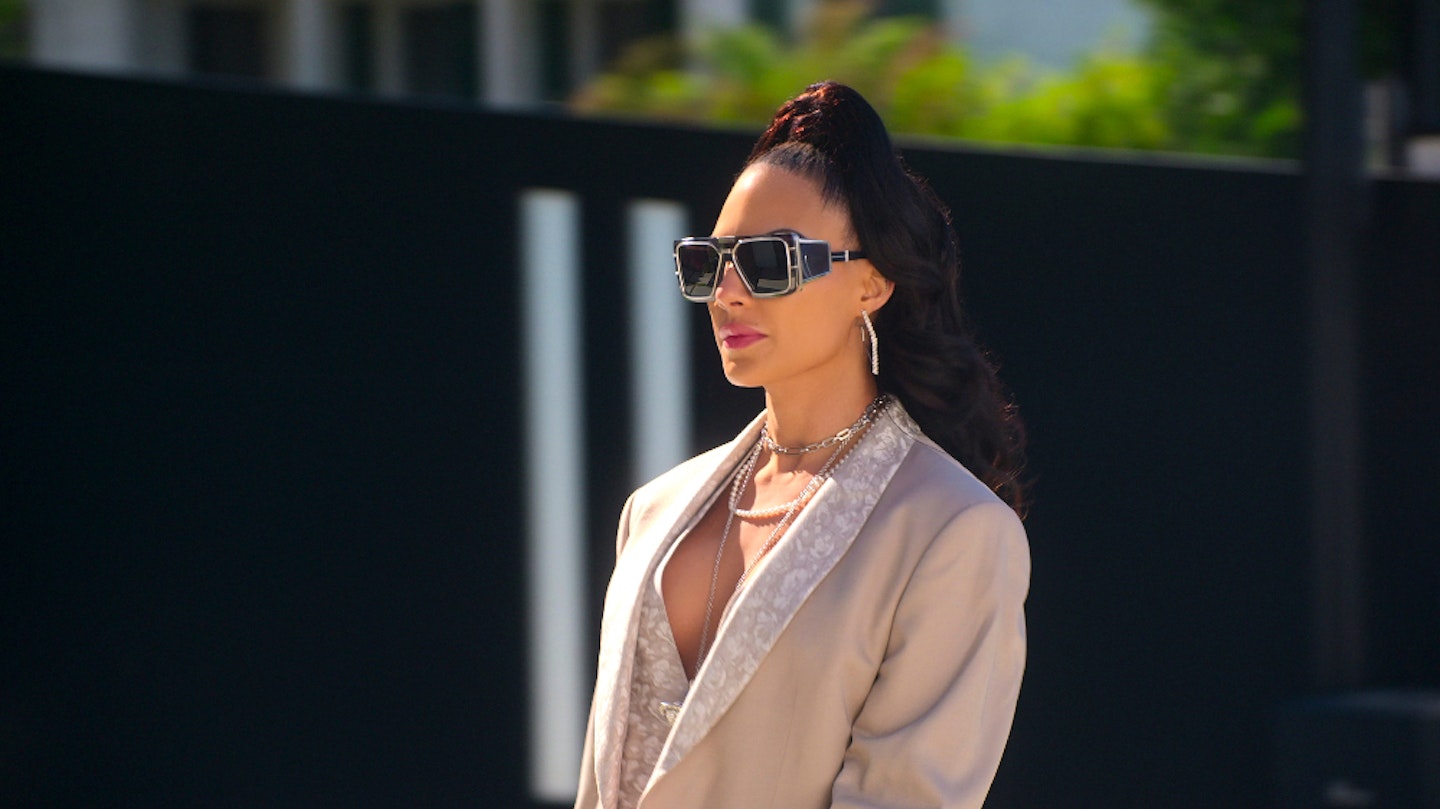 Chrishell Stause, Emma Hernan and Nicole Young
There has never been any love lost between Chrishell and Nicole Young. Their feuding began in season six, when Nicole - a long-time O Group agent who joined the show in August 2022 - claimed Chrishell was only getting real estate listings because Jason had a crush on her. Their falling out then went to new heights when Chrishell accused Nicole of being on drugs at a dinner party.
And relations did not improve. When Nicole called Emma Hernan a 'social climber', Chrishell stepped in to defend her.
Nicole accused the best friends of saying 'nothing but horrible things' about her which 'aren't true', to which Chrishell said, 'And I will continue to say [that] everything I say about you is true.'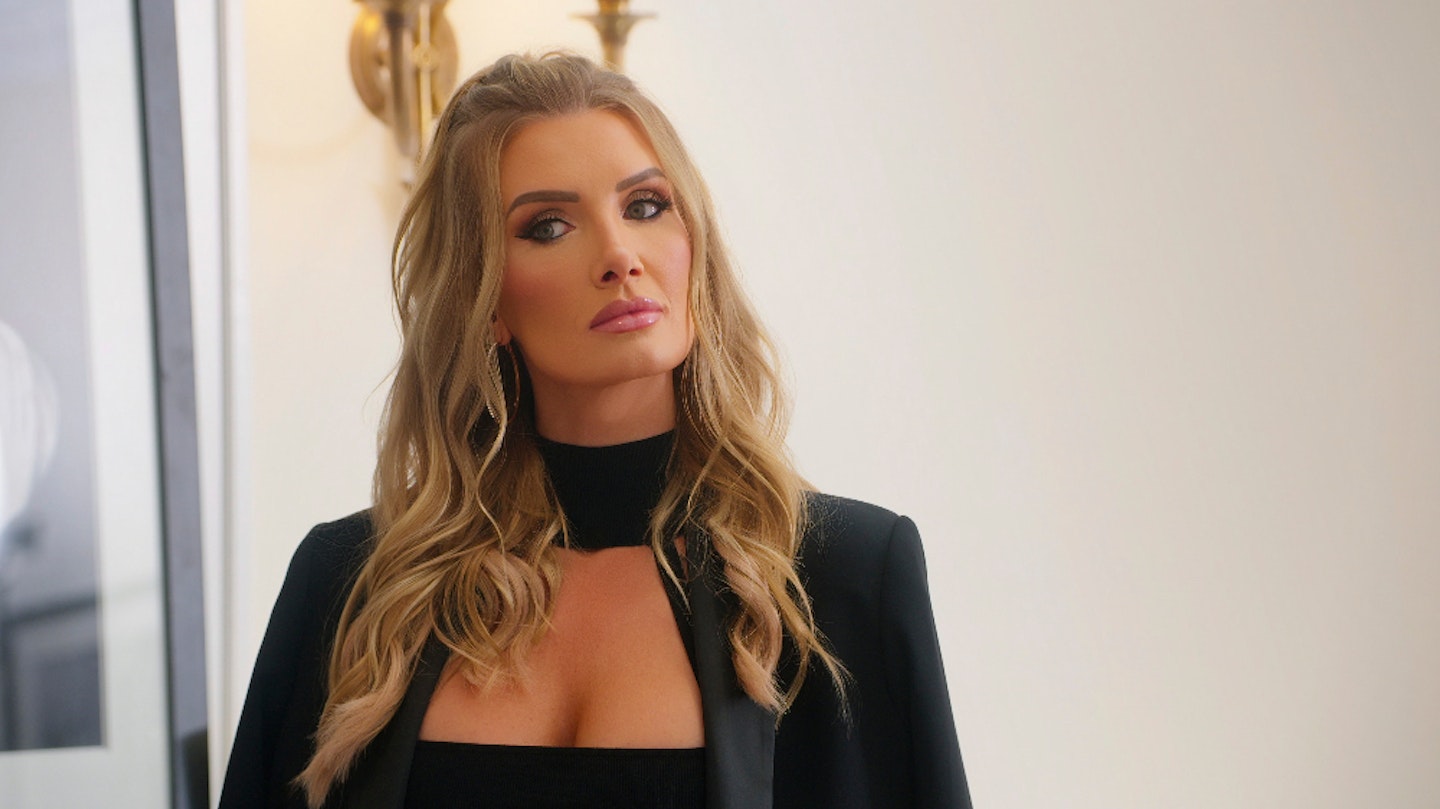 It escalated further when Chrishell continued, 'Nicole, I make more than you in five minutes than you could ever make in five years. You rearranged your whole face. You got everything done.'
Before walking away, Nicole - who also called her co-workers 'f*cking mean girls' - fired back, 'You're an awful person. An awful, awful person. You're an awful human being, truly.'
Their issues were not resolved throughout the season and they managed to keep their distance from one another. Chrishell did apologise for taking their war of words to a 'dirty place' but Nicole was reluctant to apologise, later admitting she hoped they could have the encounter again so she could.
The exchange also saw Emma defend herself over the social climber insult.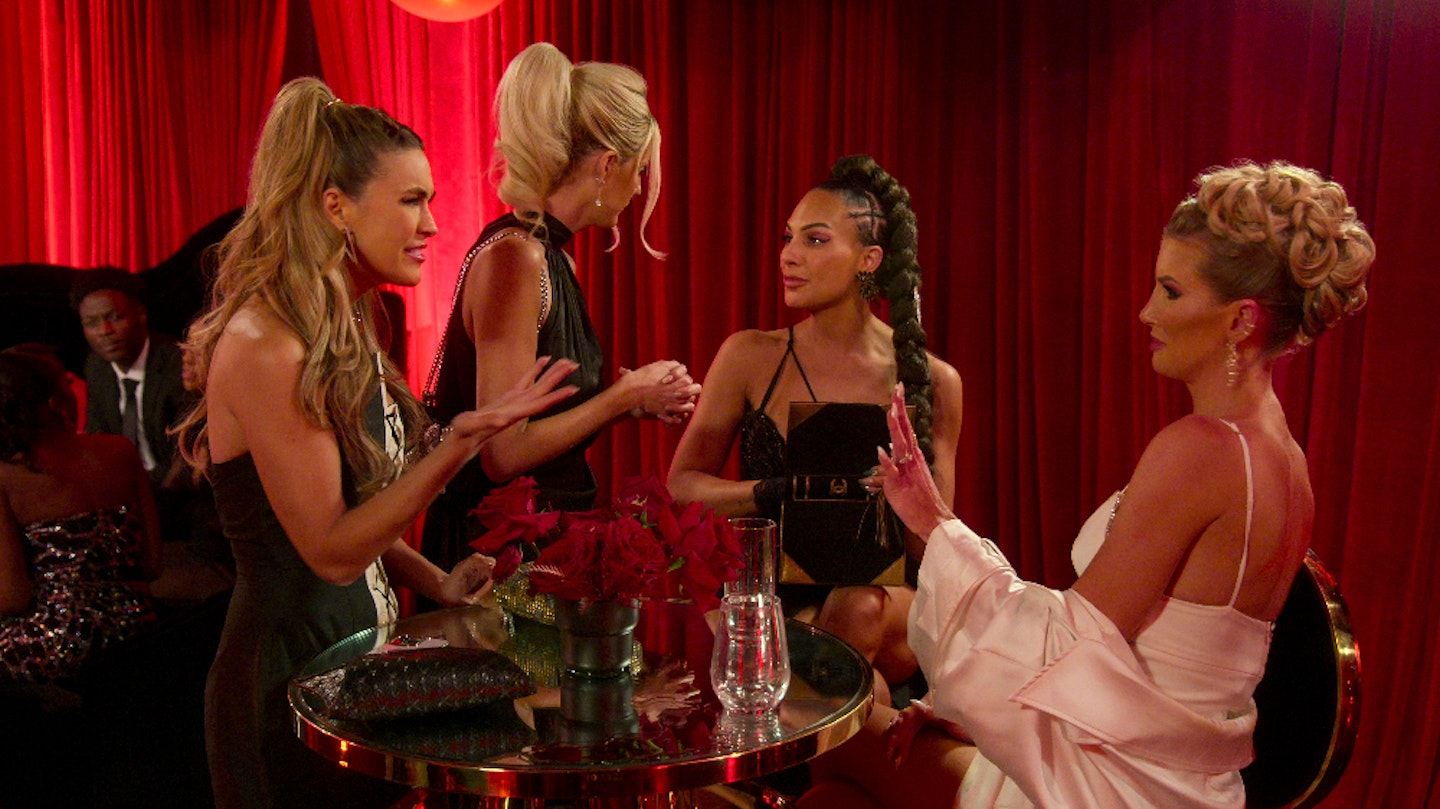 'Is that a joke? Of all the things you could call me… social climber? Tell me I dress like a hoe. I'll take it. But a social climber? I built my own stairs. Thank you, Nicole,' she said.
She later snapped after a back and forth, 'You're always pretty miserable. If there's a stick up your ass, you should switch it out. We're at a sex party. I'll donate my sex toy to you. You need it.'
Chrishell Stause and Amanza Smith
During a trip to Cabo San Lucas, Mexico, Chrishell and Emma opted out of a group dinner, suggesting it was because the former felt uncomfortable around Marie-Lou.
Amanza left Chrishell a vocal message calling their absence a 'little ridiculous', adding, 'If it's because of anything else other than maybe you had your leg severed off, I don't see an excuse.'
The following day, Amanza revealed to some of the cast that Chrishell was 'livid', so much so that she fired her from a project she was working on for G Flip - something she claimed to have put 'hours of creative energy' into.
In a confessional, Amanza opened up, 'I considered Chrishell one of my best friends, which equates to family in my opinion. I flew to Cabo on a private jet and I'm going home with one less family member and fired from a design job because of a video that I called somebody out on for some s*it, that she was doing that everybody saw and I'm the only one who spoke up.'
They later made up and hugged it out.
Bre Tiesi, Cassandra Dawn and Chelsea Lazkani
Cassandra Dawn, a realtor at Christie's International, introduced herself to the cast and claimed to know Bre Tiesi - something she denied, sparking a series of disagreements.
The tension spilt over at a party, where Cassandra said she didn't understand Bre's attitude.
Bre hit back with, 'I have an attitude. Why are you so pressed that we're friends? I don't need to be cool with you.'
Cassandra then claimed that people who have worked with Bre didn't have nice things to say about her, adding, 'It's called having manners b*tch.'
Bre's expletive reply was, 'I don't need f*cking manners, b*tch. I can do whatever the f*ck I want.'
When Chelsea Lazkani suggested that Bre change her attitude, all hell broke loose.
'I'm done,' Bre fumed. 'I'm sick of all this sh*t. I'm done with this sh*t. Are you f*cking kidding me? I'm done with this whole f*cking sh*t.
'F*ck this show, f*ck this f*cking office. Literally, I was gonna deck her ass. If she wants to attack me, I'm coming for f*cking everybody.'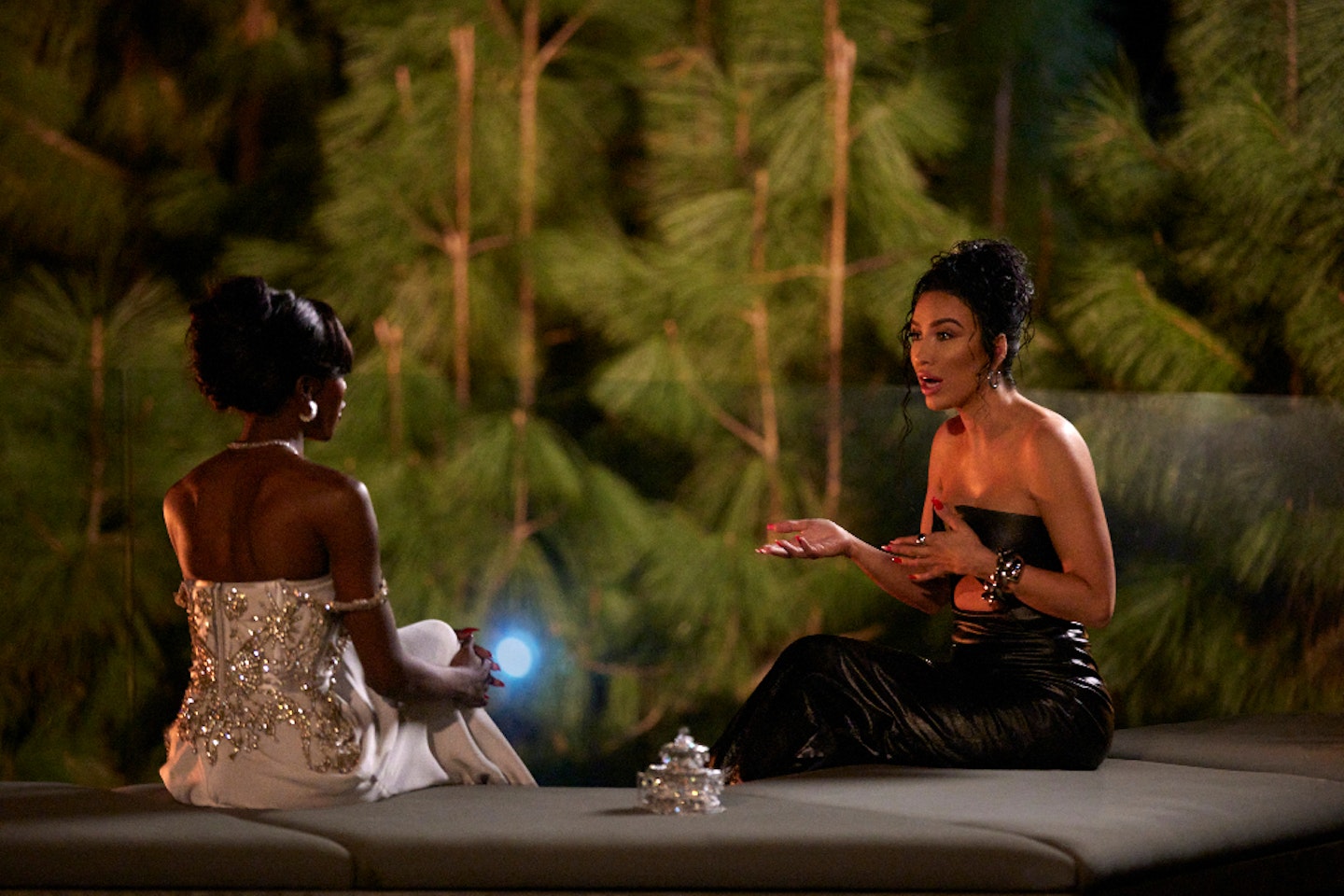 Elsewhere, Bre's future on the show has been left hanging in the balance after she expressed her frustration to Jason over how the commission is split at the office. While she got 90/10 at her old workplace, the Oppenheim Group take a 20 per cent cut.
Jason insisted she would be more successful there than at any other brokerage. Then, after Bre opened up about the colleague dynamic, Jason said, 'I didn't know the Chelsea situation was that bad. I certainly wouldn't want you leaving the brokerage because of the acts of one of the other agents, and I want you to stay, but the commission split is not negotiable.'
He asked her to consider the commission, explaining how she would be able to earn more in the long run.
'I don't know if I can accept that. I can't walk away from that much money. It's a lot of money. It's a huge difference in your commission,' Bre said, adding, 'I don't know if I'm going to come to grips with that, so I think, on that note, I'm going to head home. I'm not sure this is for me!'
Speaking to MailOnline, Jason said that he and Bre are on good terms, but was less clear on whether she would be returning to the O Group.
'You'd have to ask her,' he told the publication.