Strictly Come Dancing probably wouldn't be the humungous TV hit it is, if none of the celebrity contestants were good at dancing. But, as Layton Williams and Nikita Kuzmin have learnt the hard way, there's such a thing as too good at dancing – at least according to some viewers.
This series' only same sex couple has been dancing around the top of the leader board since week one, but seven weeks in and they're yet to receive four tens from the judges. They might be up there, but by no means is this a one-horse race.
While Layton Williams – best known for starring in Bad Education and performing in the West End – is an exceptional dancer and a natural performer, his Strictly experience has been somewhat tainted by incessant trolling and people taking issue with his past experience in musical theatre.
It's worth stating that if Layton were formally trained in latin and ballroom dancing, he wouldn't be eligible to take part on the show. 'There were a couple of times when I literally lay there and thought, I feel like the whole country hates me at this point,' Layton tells me over Zoom, in between rehearsals. 'But then I had a moment where I thought: in order to be what we want to be, you can't let those negative comments drown you out.'
At times that's proved incredibly difficult. People on X (Twitter) have gone so far as to suggest the competition is not a 'level playing field' because of his experience. He's also been accused of 'pretending to be struggling' and another person said 'it's sometimes hard to tell who's the pro and who's the celeb' – as if that's an insult.
These comments force Layton to plea for positivity on social media before every show. His pinned X post says, 'Instead of coming at me with hateful comments, use your energy to shower your fave celeb with love instead. Pretty sure it will make us all feel much better.' For such an inclusive and uplifting show, Layton and Nikita have certainly experienced its darker side.
'I had a moment the other day where I decided not to be too sad about it, because really people are mad because I'm doing okay. Not to brag! But I'm dancing well so at this point they're angry because I'm cute and not because I'm rolling around on the floor,' as Layton puts it. 'So that makes me feel a bit better about my life.'
Perhaps what's most strange about the trolling Layton has faced is that he's not the only contestant with previous dance experience. Every year there are celebrities with performance and dance training in the Strictly line-up – unsurprisingly, they are often the best dancers. In this series, Ellie Leach received tap, ballet and modern street dance training as a child, Angela Scanlon trained with the O'Shea Irish dance company and Angela Rippon trained as a classical ballet dancer until she was 17.
That's not to suggest any of those dancers are undeserving of their spot on the show – in fact they are the people that make it such a delight to watch.
Now that they've passed the halfway mark in the competition, Layton and Nikita have learnt to take criticism in their stride. 'People say, "It looks like a show dance!". Yeah, good! That's a compliment to us,' Layton jokes. 'It's so hard to make up a show dance, if you're saying it looks like a show dance, thank you,' adds Nikita.
Instead, the couple use negative comments as ammunition – especially when it's coming from the judges. 'I don't think we're being underscored,' Layton notes, 'I think we're being scored on our ability and what we can deliver. If I can work those things out and work on my technique a little bit more, those tens will hopefully fly.'
And they haven't been without their share of mistakes, either. Nikita reveals that just last week they had a disastrous dress rehearsal two hours before the live show. 'It looks perfect on the night, but sometimes we are five seconds before coming on the floor and I can tell the steps are not in his mind.
'If people actually saw what was happening in the training room!' the professional jokes. 'Maybe we should livestream it.'
As week eight approaches, the couple say they are working on their hardest routine yet. 'It's the most challenging choreography yet,' Nikita tells me, 'and it's the most different dance to anything we've done so far. It's very dramatic!'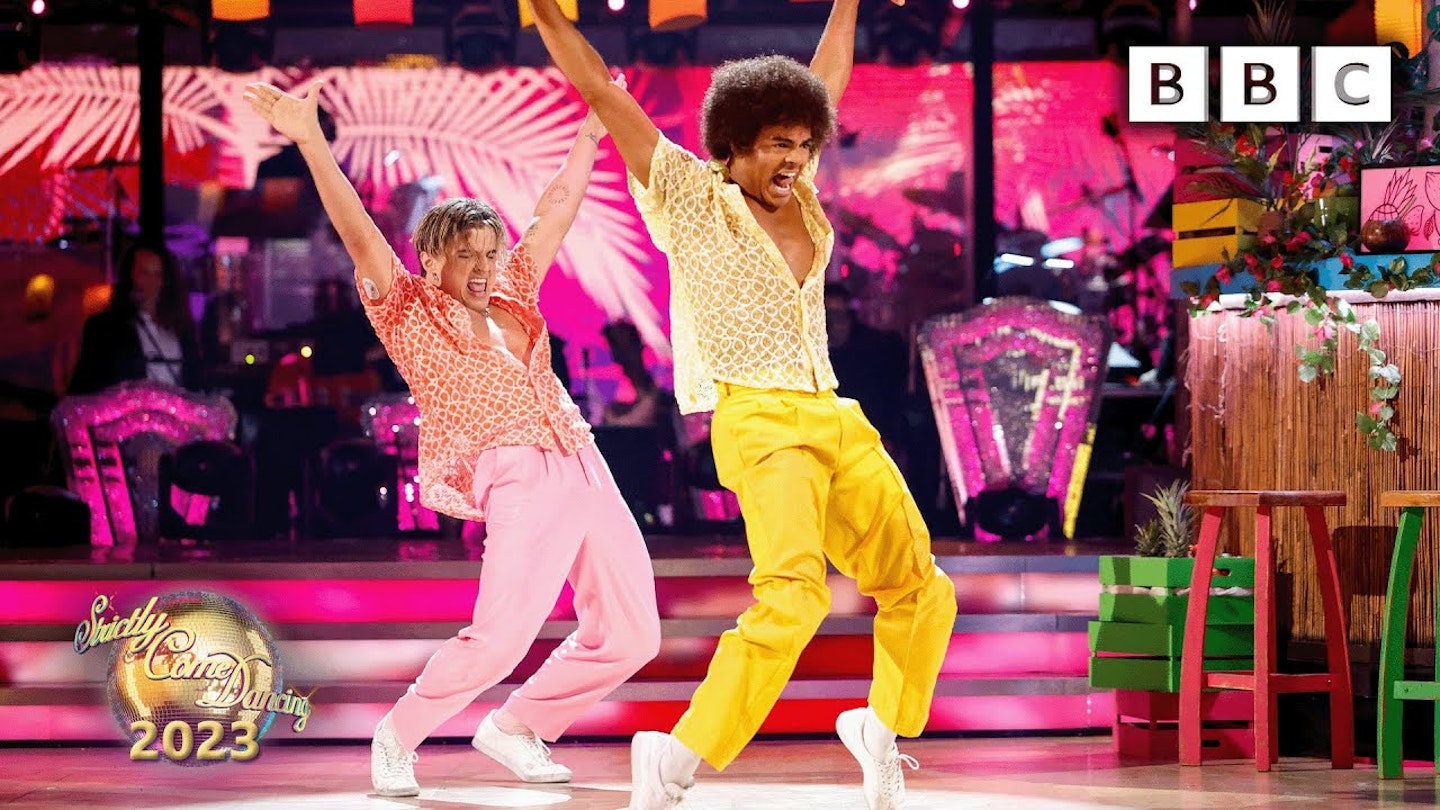 Speaking to Layton and Nikita, it's clear not just how seriously they take the competition, but how seriously they appreciate their place in it. When I asked if Layton always wanted to be in a same sex couple on the show, he was unequivocal. 'It kind of wasn't really an option because I wanted to twirl. I wanted to whip my non-existent hair. I wanted to be held by a gorgeous man and just live the fantasy.'
Growing up black and queer in Bury, Greater Manchester, he adds, 'Sometimes I felt as a teenager that I was pretending to be something else, but I feel comfortable being led. I feel comfortable in the costumes and the things that I wear. It's more fun for me to be doing it with a guy!'
And of course for many viewers, Layton and Nikita's partnership is important to them too. 'Friends send videos of their kids dancing away to us in the living room and I think that's really beautiful,' Layton says, 'because they just see me and Nikita dancing, there's no question of what and why. They're just like, "We love the boys!" It warms my heart.'
'It's very important for us to motivate people at home,' Nikita adds. 'We want to bring something to the show but we also want to bring positivity. Strictly is there to distract people from all the negative things that are happening in real life. It's an entertainment show – you want to see something that makes you happy.'