There's something about the prospect of summer that's inspiring. No, we're not talking about the start of Love Island (although we do love it.) For us, the thought of summer nights means one thing: holiday planning.
That's right, the constant confusing weather over the last few months has caused many among us to flee – or at least, prepare to flee as soon as possible. Where, you might ask? Well, according to Google Trends: Spain.
That's right, 'Holidays to Spain 2023' is a breakout search term right now – with everyone looking for the 'best hotels in Spain' in particular. Naturally, we thought it only necessary to answer those search queries ourselves, with the official Grazia guide to the best hotels in Spain.
Now, Spain is a big country with countless holiday options to choose from. You might fancy a long-weekend city break in Madrid, or perhaps 10 days on the beach in Mallorca. Either way, there are an abundance of incredible hotels across Spain that will suit any style of vacation you need.
So, take a scroll, have a click and get inspired: this is the ultimate guide to the best hotels and resorts in Spain.
The best hotels and resorts in Spain:
The Best Hotels In Spain - Grazia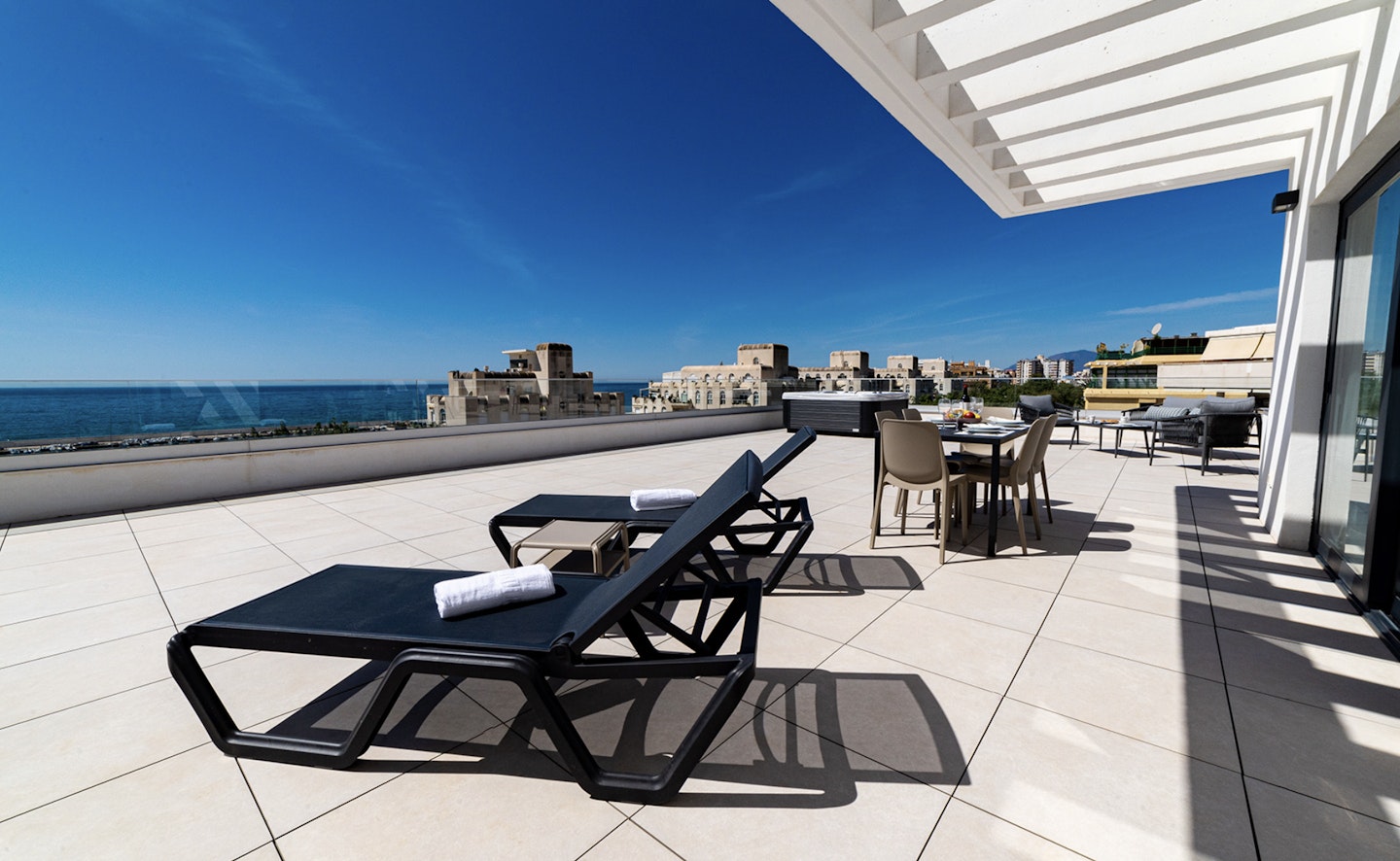 1 of 28
Aqua Apartments Bellamar, Marbella
Located just 400 metres from La Bajadilla Beach, Aqua Apartments Bellamar offer the ultimate home away from home with each suite fitted with a kitchen, dining area and private terrace offering city views. Perfect for couples, the complex has a swimming pool for laying out in the sun and they even offer discounted access to an independent gym nearby. We loved Aqua Apartments Bellarmar for it's unique promenade location that offers easy walking into the centre of Marbella, filled with romantic restaurants, chic bars and the best clubs the Island has to offer!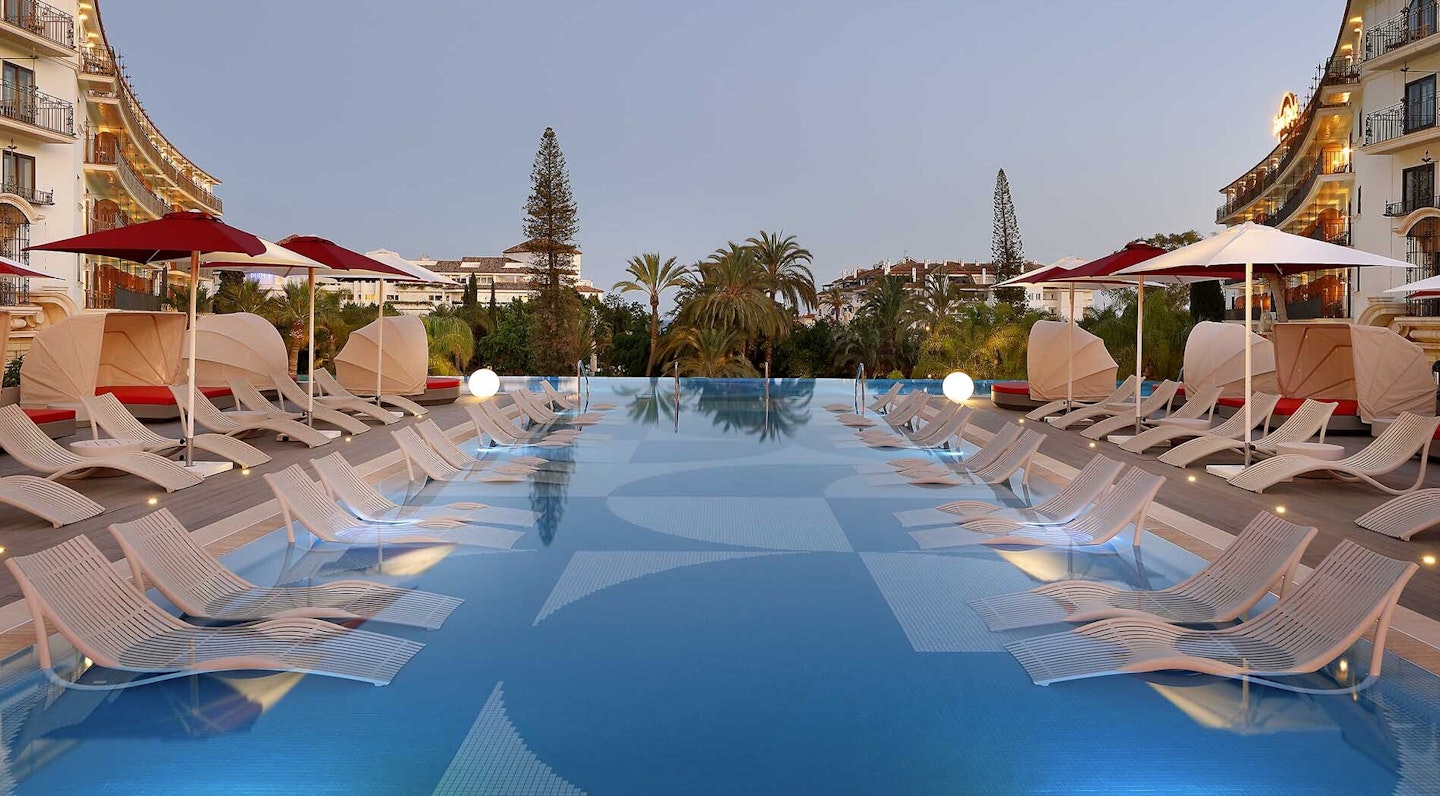 2 of 28
Hard Rock Hotel, Marbella
Located a few steps away of the renowned Nueva Andalucia Beach, Hard Rock Hotel Marbella represents the epitome of opulence. The Hard Rock brand is known for premium hospitality, providing distinctive musical experiences alongside luxury living, so it's perfect for groups looking to spend the days dancing round their rooftop infinity pool and nights dining out on their incredible culinary offerings. State of the art facilities run throughout the adults-only hotel, a true must-visit of Marbella.
And in exciting news, the hotel will open its new Oasis building in 2023, adding 174 rooms - including two new categories, the Rock Suite and Rock Star Suite - to the hotel, which opened in 2022. The property will also debut its Rock Spa® and over 900 m2 of meeting spaces. Plus, starting from this spring, Hard Rock Hotel Marbella will now be open year-round! Prices start from I185€ per night.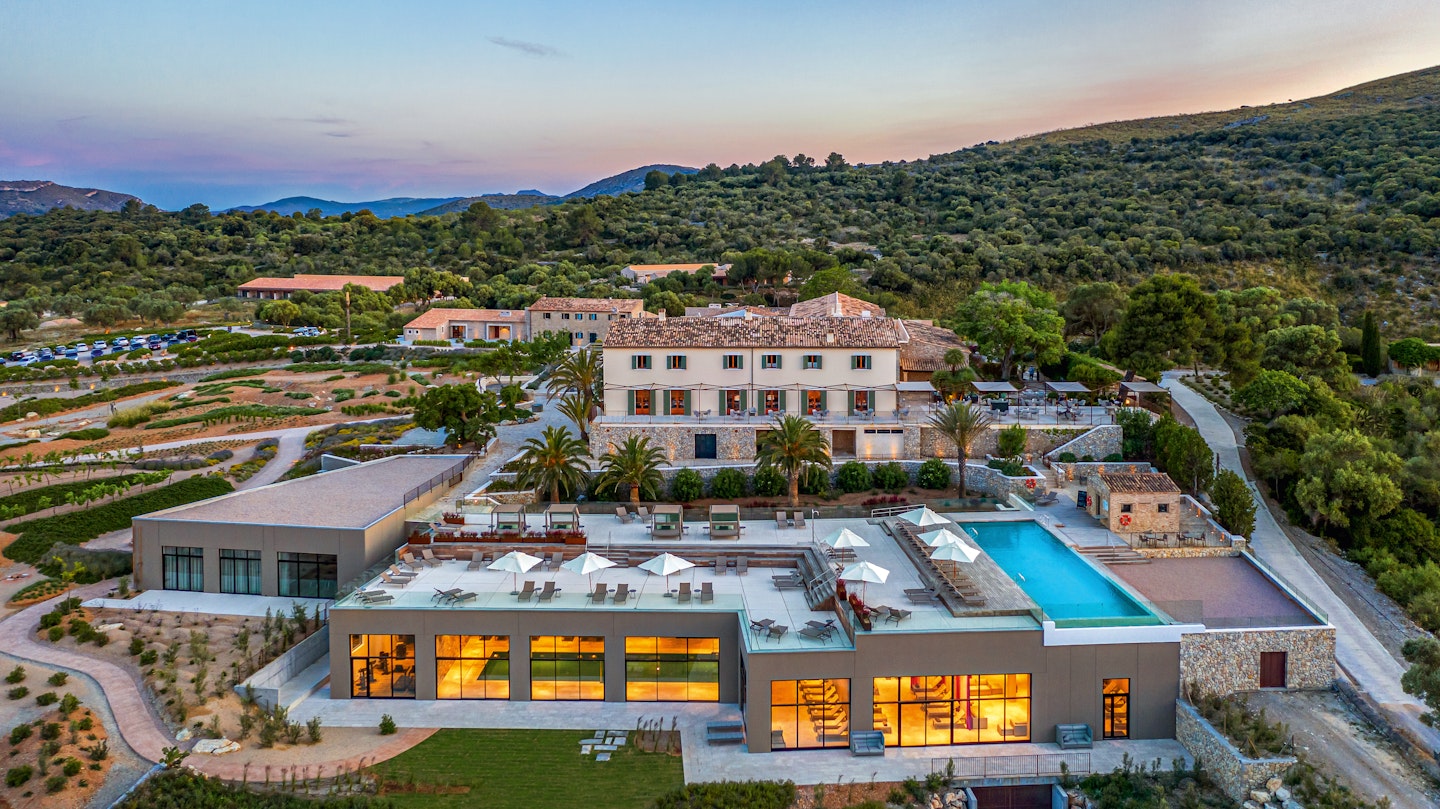 3 of 28
Hotel Carrossa, Mallorca
Up in the peaceful mountains of Mallorca sits Hotel Carrossa, a blissful escape for even the most stressed mind. With an amazing complex of five star suites, a stunning spa and an incredible infinity pool worthy of awards for the best views in Spain, there is nothing like Hotel Carrossa.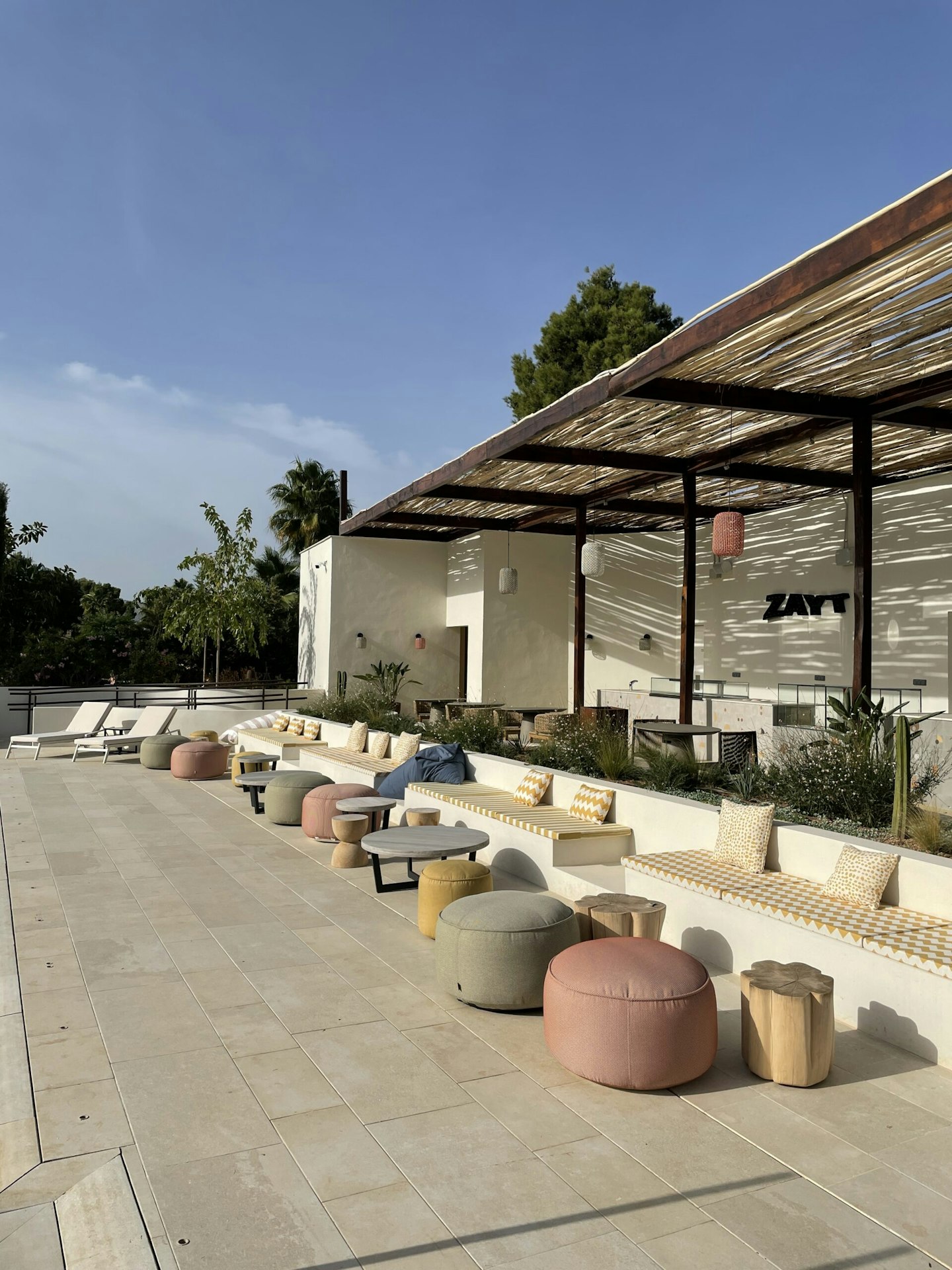 4 of 28
Kimpton Aysla Mallorca
Nestled among lush gardens with pomegranate trees and with a stunning mountain back drop, this newly opened hotel in Santa Ponsa (it opened in autumn 2022), is as luxurious as it is relaxed. Around 14km from Palma, the wellness offering is impressive with several pools, the adjacent Mallorca Country Club, morning workouts, yoga classes and guided meditation. Meanwhile, the extensive onsite spa, Maison CODAGE Paris, has a stunning indoor pool, mud baths, sauna, a salt cave, and seven treatment rooms.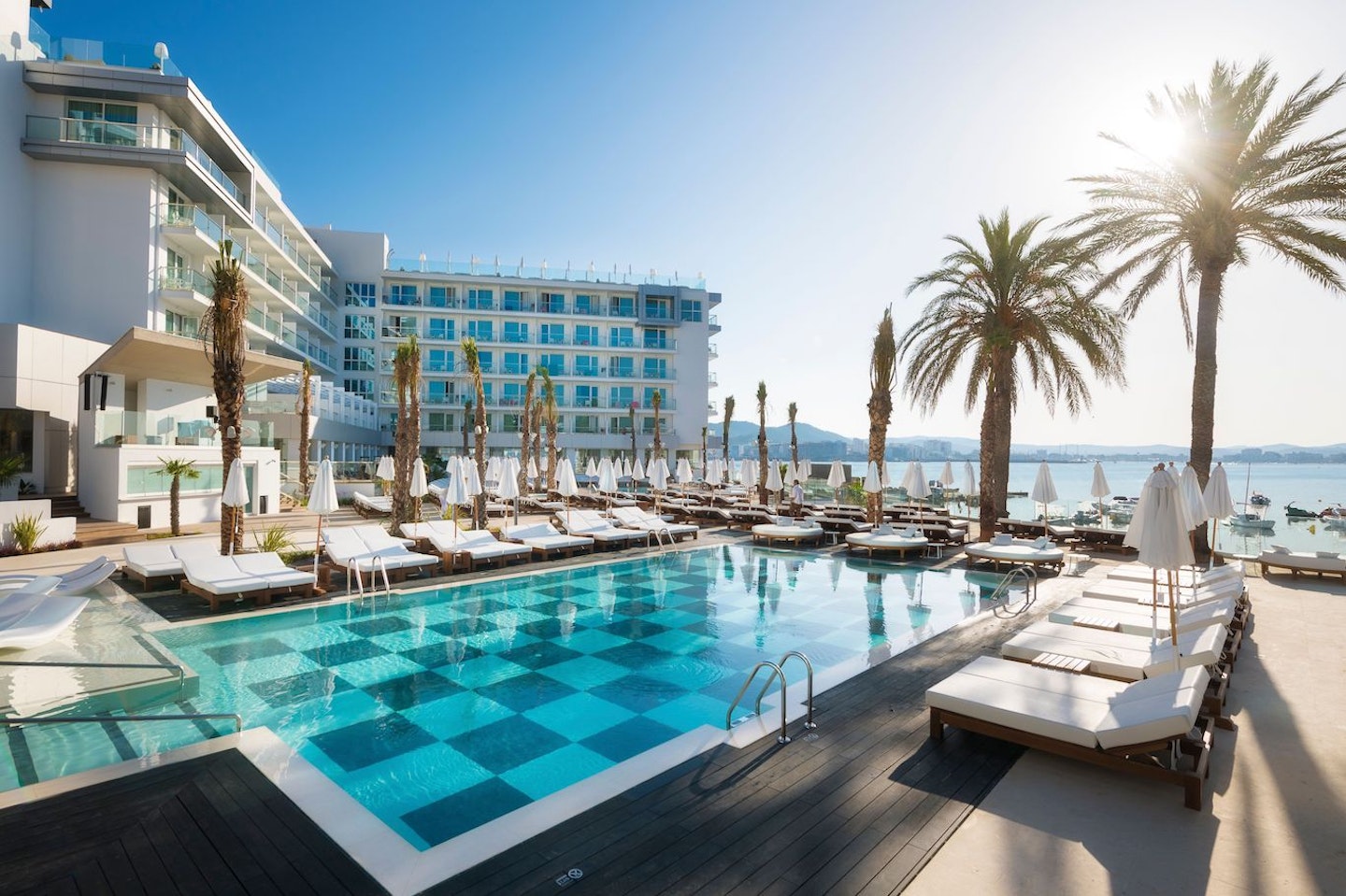 5 of 28
Amàre Beach Hotel Ibiza
Amàre Beach Hotel Ibiza is an adults only hotel that radiates luxury and chill vibes. From beach yoga to chilling by the pool and massages in the spa, you'll feel seriously mellow before indulging in tasty cocktails and dancing to DJ sets at the rooftop bar as the sun goes down. A perfect location to rediscover the White Isle, Amàre Ibiza has gorgeous views of Bou Cove in the heart of San Antonio Bay. Boasting six restaurants, treat yourself to everything from fresh sushi to South American cuisine by Michelin star chef Mauricio Giovanini.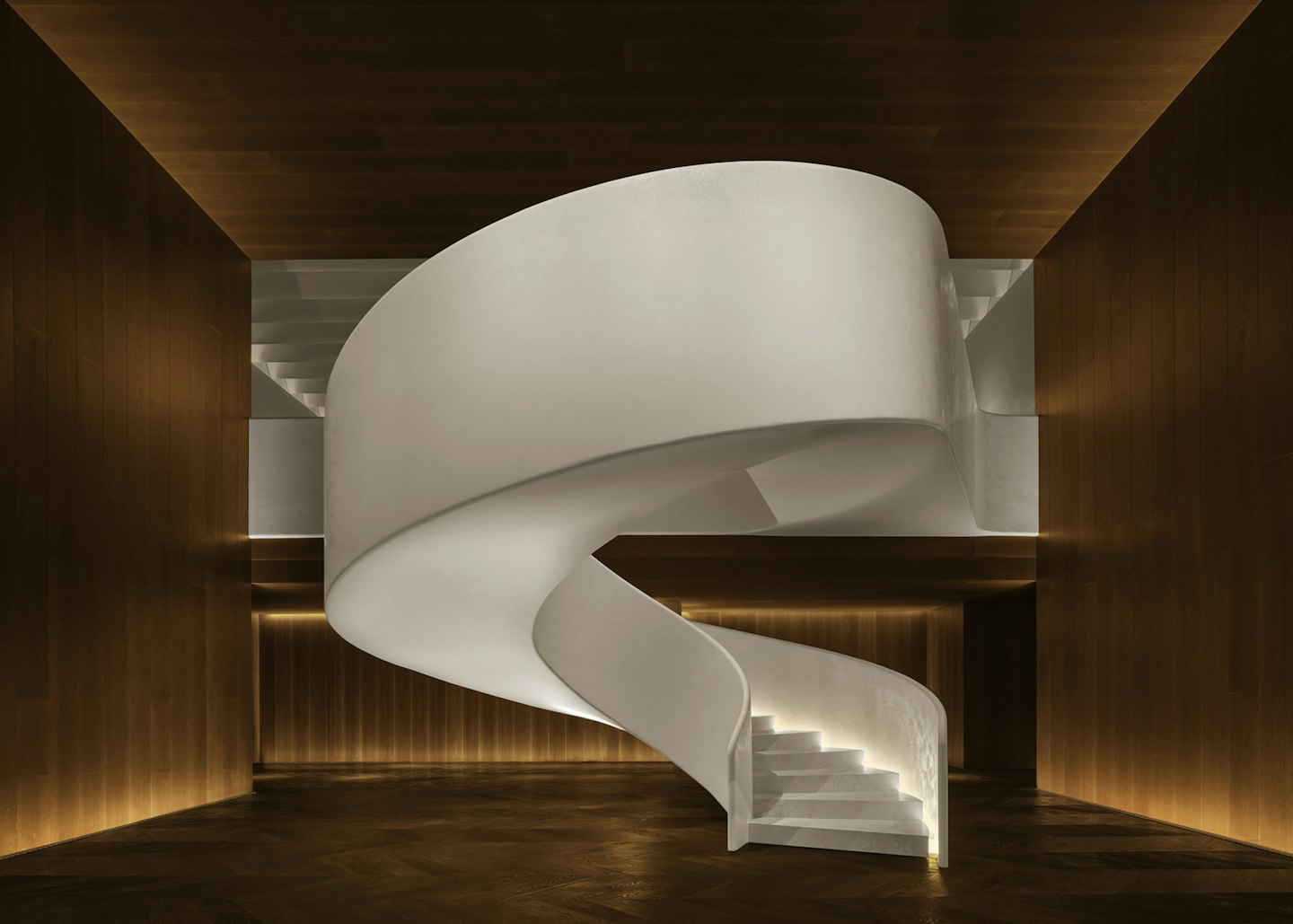 6 of 28
CREDIT: The Madrid EDITION
The Madrid EDITION
The Madrid EDITION opened its doors in April 2022, and who doesn't love an excuse to go to a brand new hotel? Set in a tranquil square Plaza de Celenque, it is surrounded by historic buildings (the hotel itself is in an old bank) and walking distance to the cities most cultural attractions. When the heat is too much you can go to the roof and sit by Madrid's largest rooftop pool, where sunset hits the perfect spot and the church opposite chime romantically in the background.
7 of 28
CREDIT: The Madrid EDITION
The Madrid EDITION
Boasting over 200 rooms and suites, the hotel is big but never feels crowded. There is two signature resturants Jerónimo by Enrique Olvera heavily influenced by Mexican cuisine, a must try is the huevos rancheros from the morning menu, as well as the infamous Concha (trust us). On the rooftop there is Oriya by Diego Munoz which is more tapa style with family-style sharing plates and killer cocktails. The spa includes a sauna, steam room as well as five treatment rooms and a gym. But what is an EDITION hotel if there isn't hidden gems? There is a two story ballroom, a secret hideaway Punch Bar in the lobby, as well as a downstairs entertainment venue that will host some of the biggest nights in Madrid.
The clean-lined modern take on a hotel is quite something else.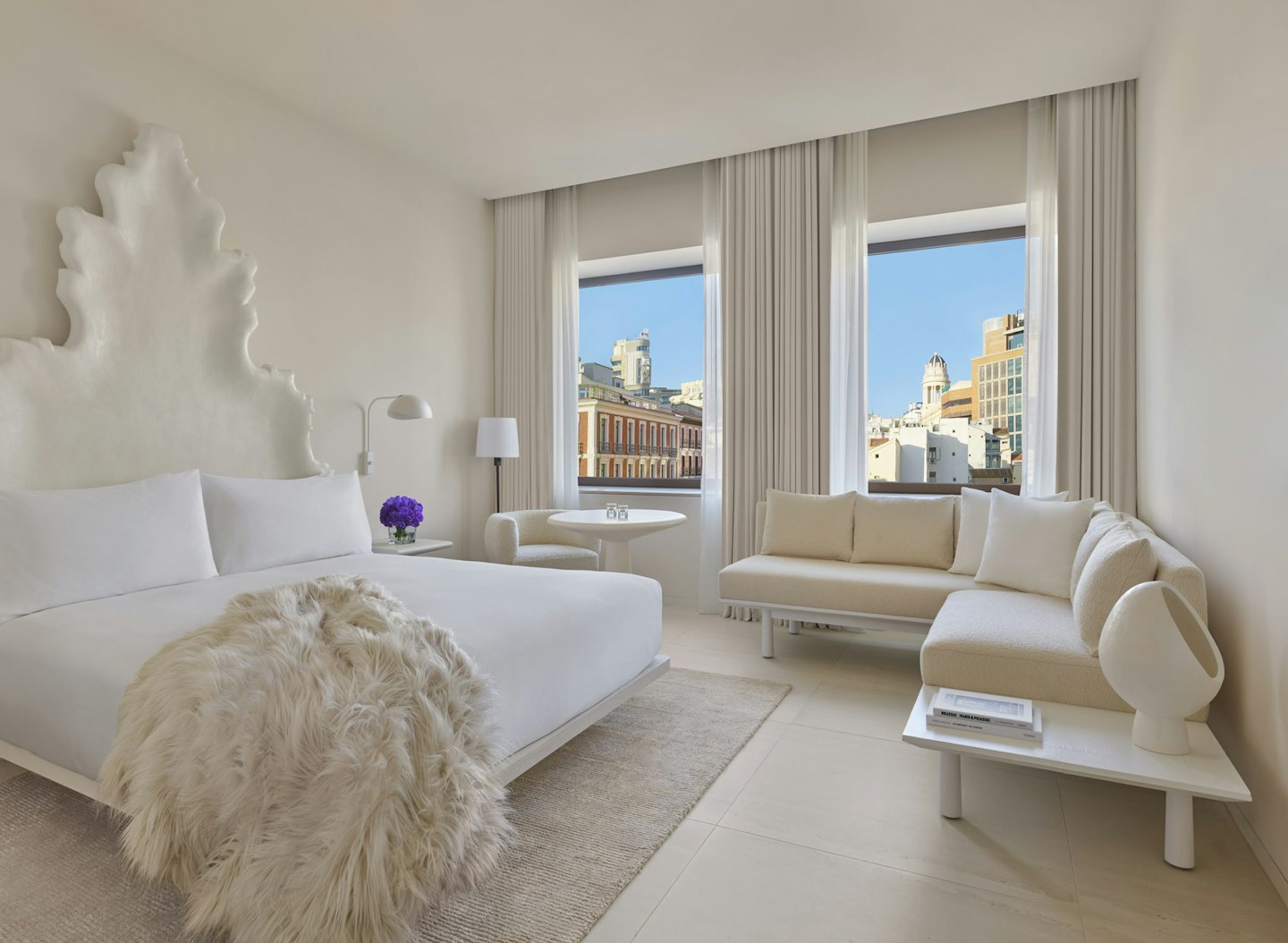 8 of 28
CREDIT: Premier King Room, The Madrid EDITION
Premier King Room, The Madrid EDITION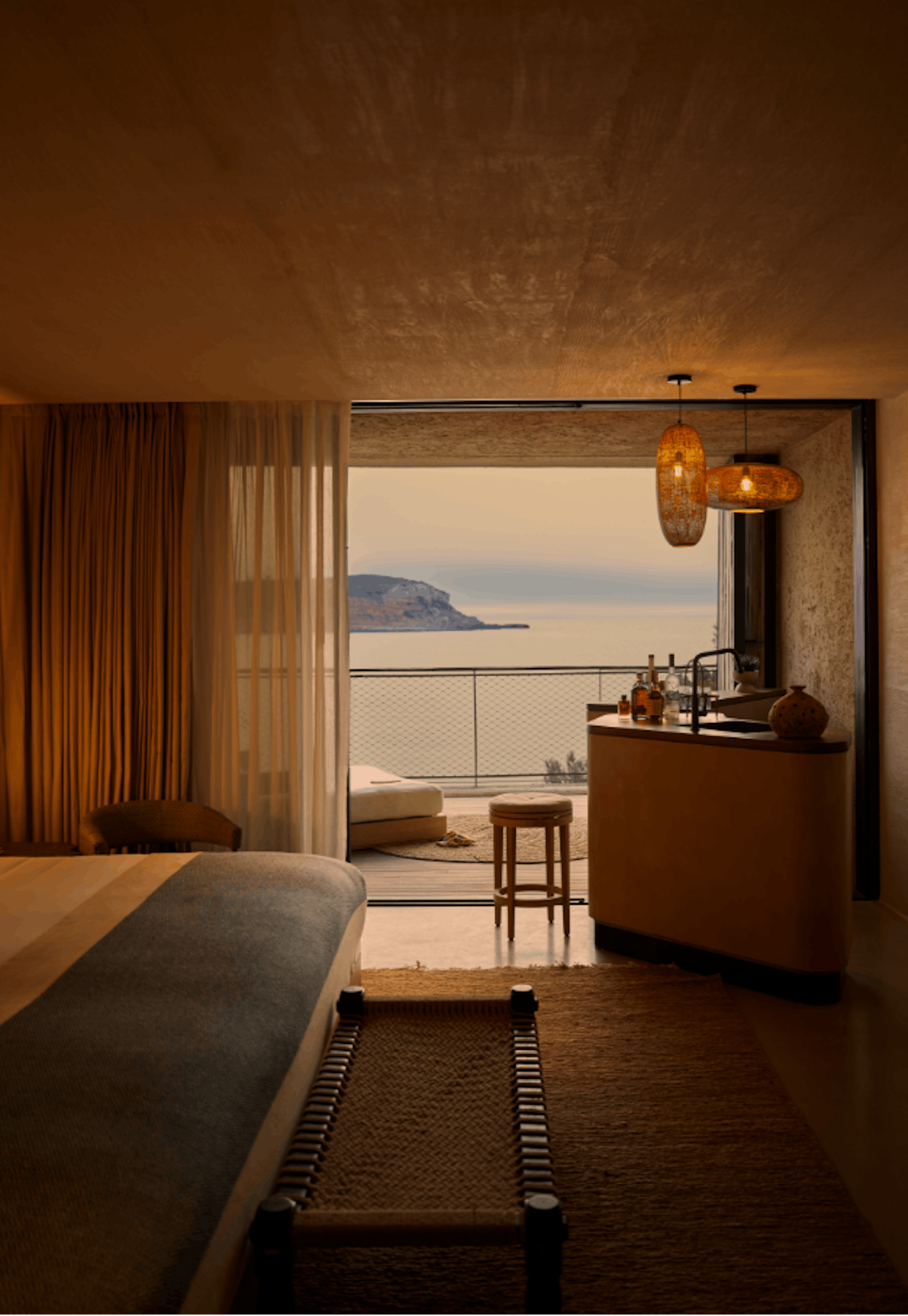 9 of 28
Beach Caves at Six Senses Ibiza
First opening in late 2021, The Six Senses Ibiza have expanded deeper underground.
Situated on the North side of the island, amongst cliffs of Cala Xarraca there is a new layer to the impressive property. Beach Caves at Six Senses Ibiza, launched in May 2022, is a secluded six-room hotel bringing a new twist to the resort. A new destination that brings a unique and fun stay and dinning experience.
Rooms and restaurant located oceanfront, overseeing the Xarraca Bay.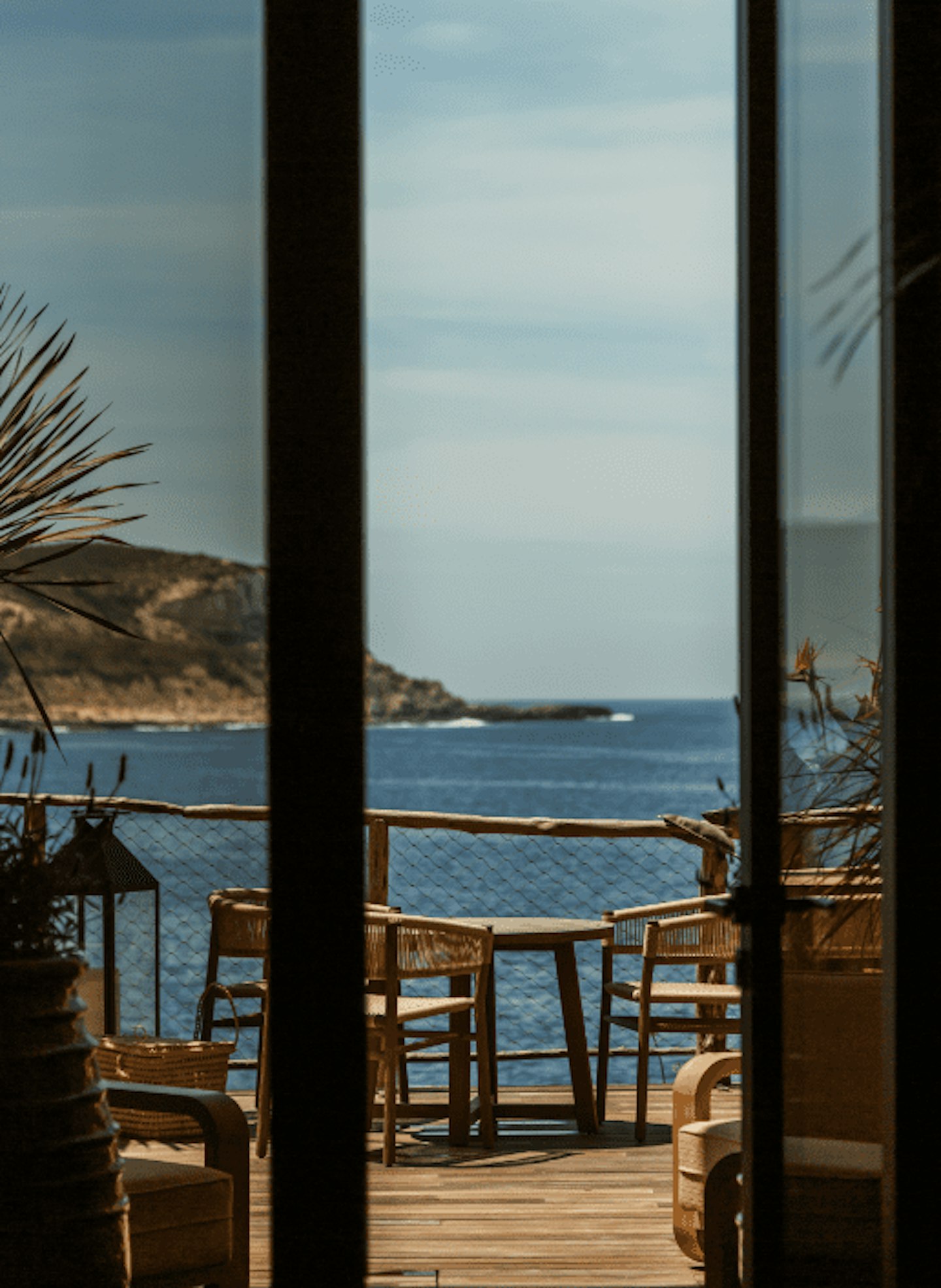 10 of 28
Beach-Caves-Outdoors-1
The Beach Cave, we found, was like no other destination in Ibiza. You can float from the restaurant- which focuses on produce from the Balearics and inspired by Peruvian and Mexican cuisine- to the Xarraca Room; a nightlife venue with a focus on art and music, as well a state-of-the-art recording studio for invited guests of the artists-in-residence program- to then one of the Cave Royale suites where you can quite literally do summersaults on the bed it's that big. It also makes perfect sense that one of the masterminds behind The Caves is Ben Pundole, formerly the Vice President of the EDITION hotels, who has been visiting the island since he was a child.
Through its unique design and extensive programming Ben and the team have created a destination for both hotel guests and the local community to eat, drink, dance, enjoy art and sleep.
Not only does the project have a commitment to remain free of single-use plastics, like the Six Senses, but a portion of revenue also goes to support organisations like the Lonely Whale Foundation and Project Zero, as well as local community programs like the Happy Hippie Cat sanctuary.
Six Senses Ibiza is a 35-minute private transfer from the airport.
Starting rates for the Beach Caves Suites begin at EUR 1,565 for the hot season and EUR 900 for the cool season.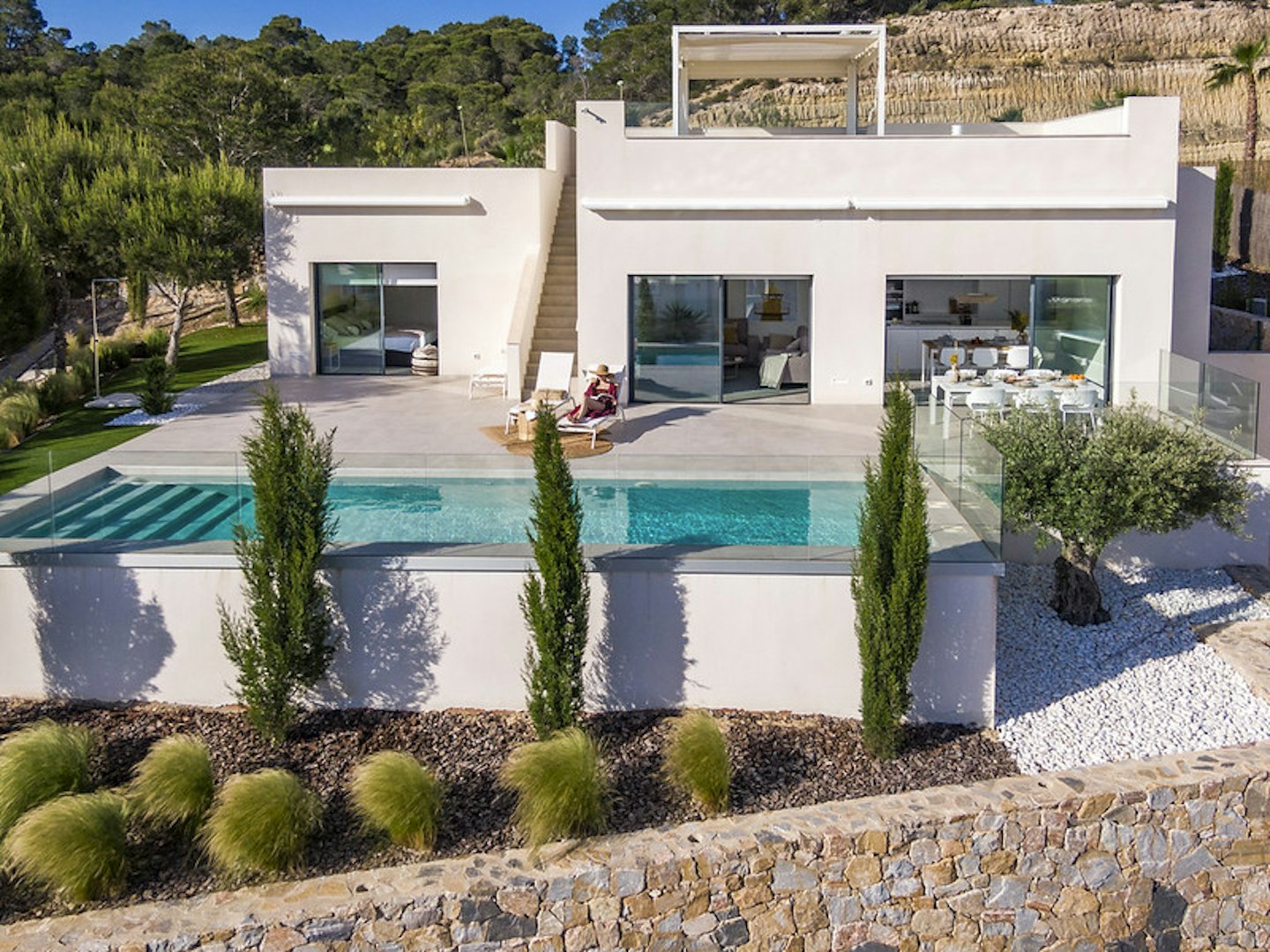 11 of 28
CREDIT: Las Colinas
Las Colinas Golf and Country Club
Nothing quite says luxury like Las Colinas Golf and Country Club, located on the Mediterranean coast, south of Alicante. Enjoy your vacation in one of their exclusive villas and apartments of Las Colinas Residences, on the Costa Blanca. Be sure to stay in one of the most exclusive properties - Villa Carabó, featuring a private swimming pool, stunning views and luxurious interiors. Staying in this villa was an incredible experience. I felt relaxed, safe and rejuvenated in this majestic space. Stand out features include the walk in shower, spacious living room and walk in closet.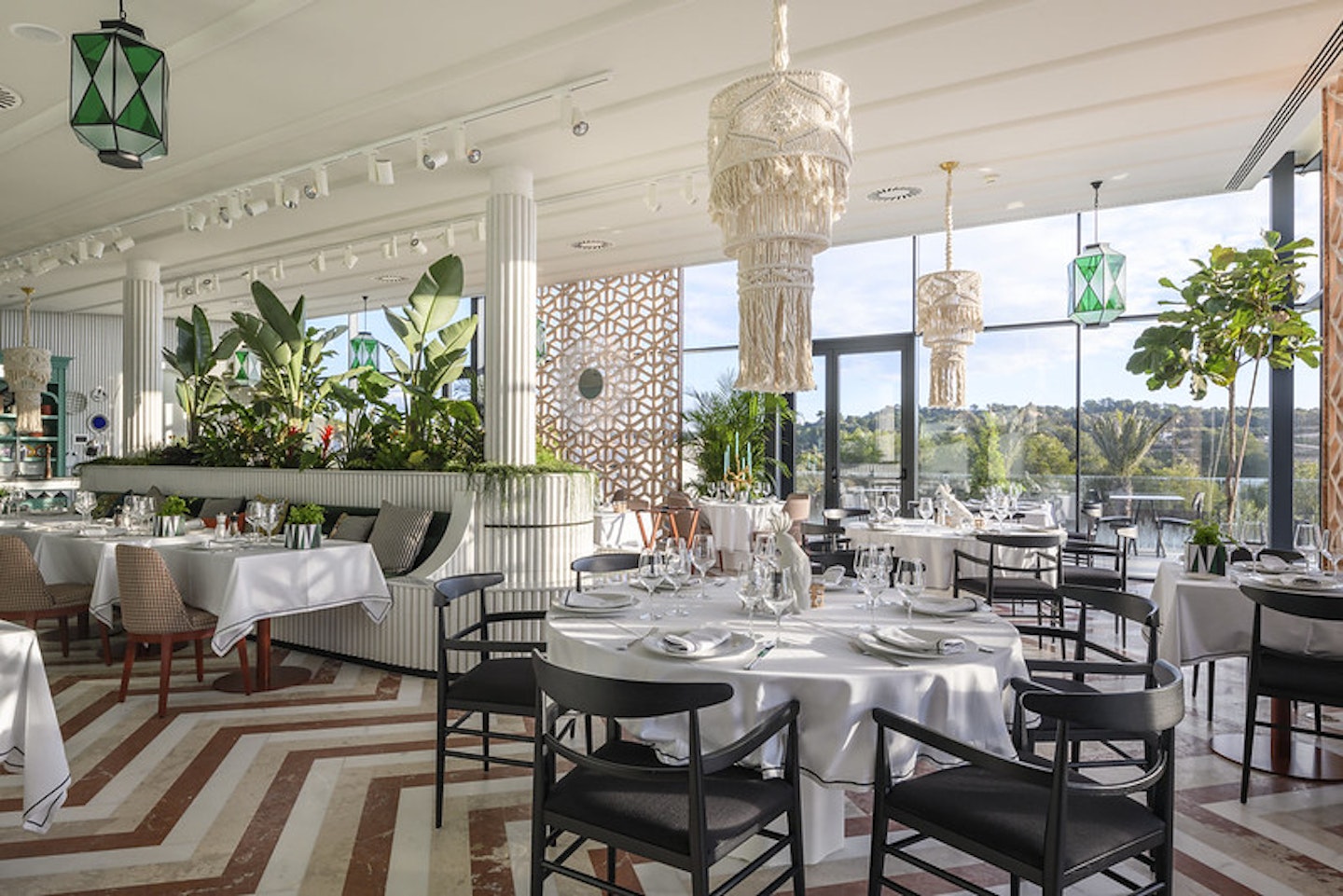 12 of 28
CREDIT: Las Colinas
il Palco Restaurant - Las Colinas
Indulge in traditional Italian cuisine at il Palco by Chef Fabio Morisi. The uniquely designed restaurant - designed by the genius Pepe Leal - is surrounded by a Mediterranean forest that envelops it, creating a relaxing ambiance for diners. Sitting down for a meal at il Paco was perhaps the most incredible experience I have had at a restaurant. The space itself is incredible designed and creates a warm ambiance. The menu was well thought out and each course was delectable.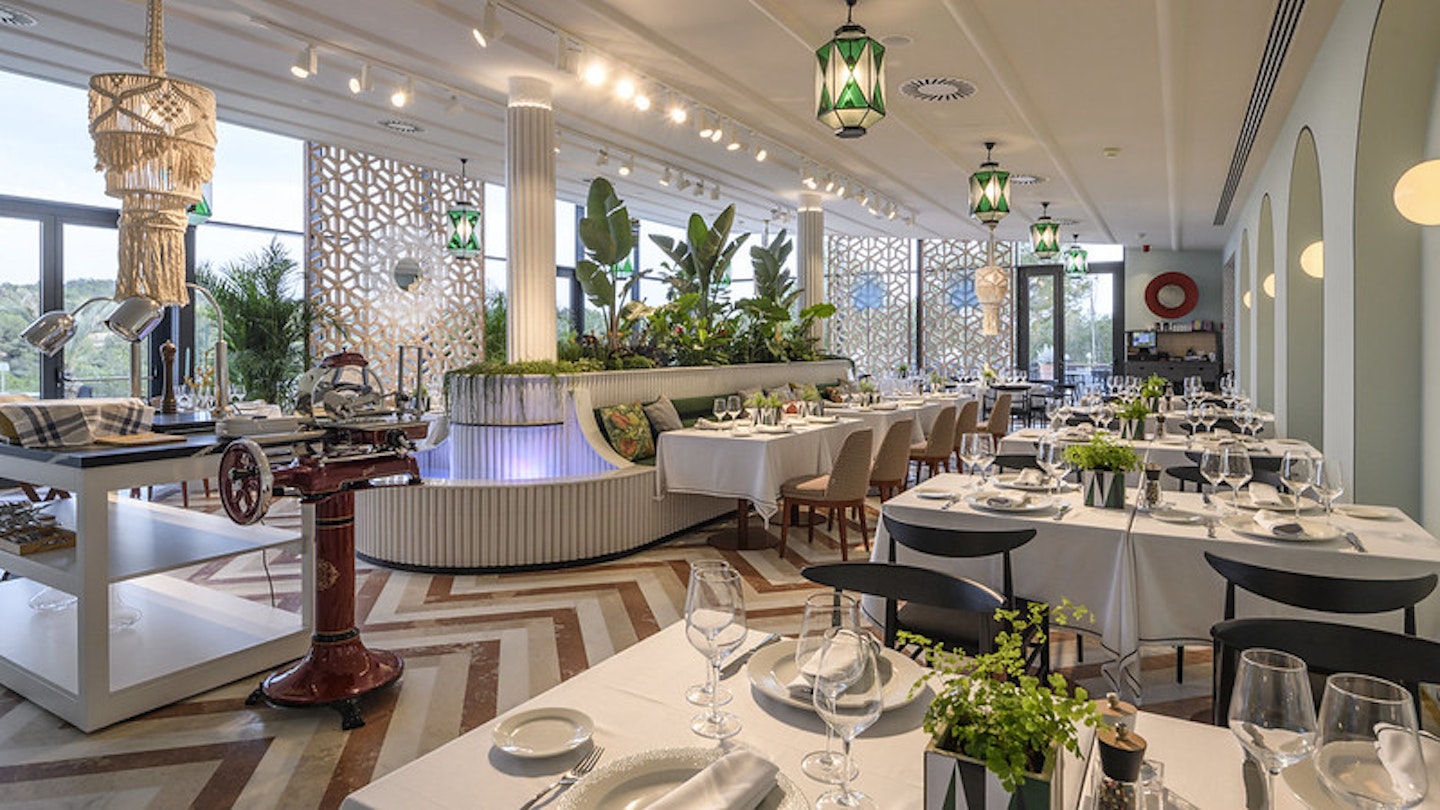 13 of 28
CREDIT: Las Colinas
il Paco - Las Colinas
A closer look at il Paco, exquisitely designed by Pepe Leal.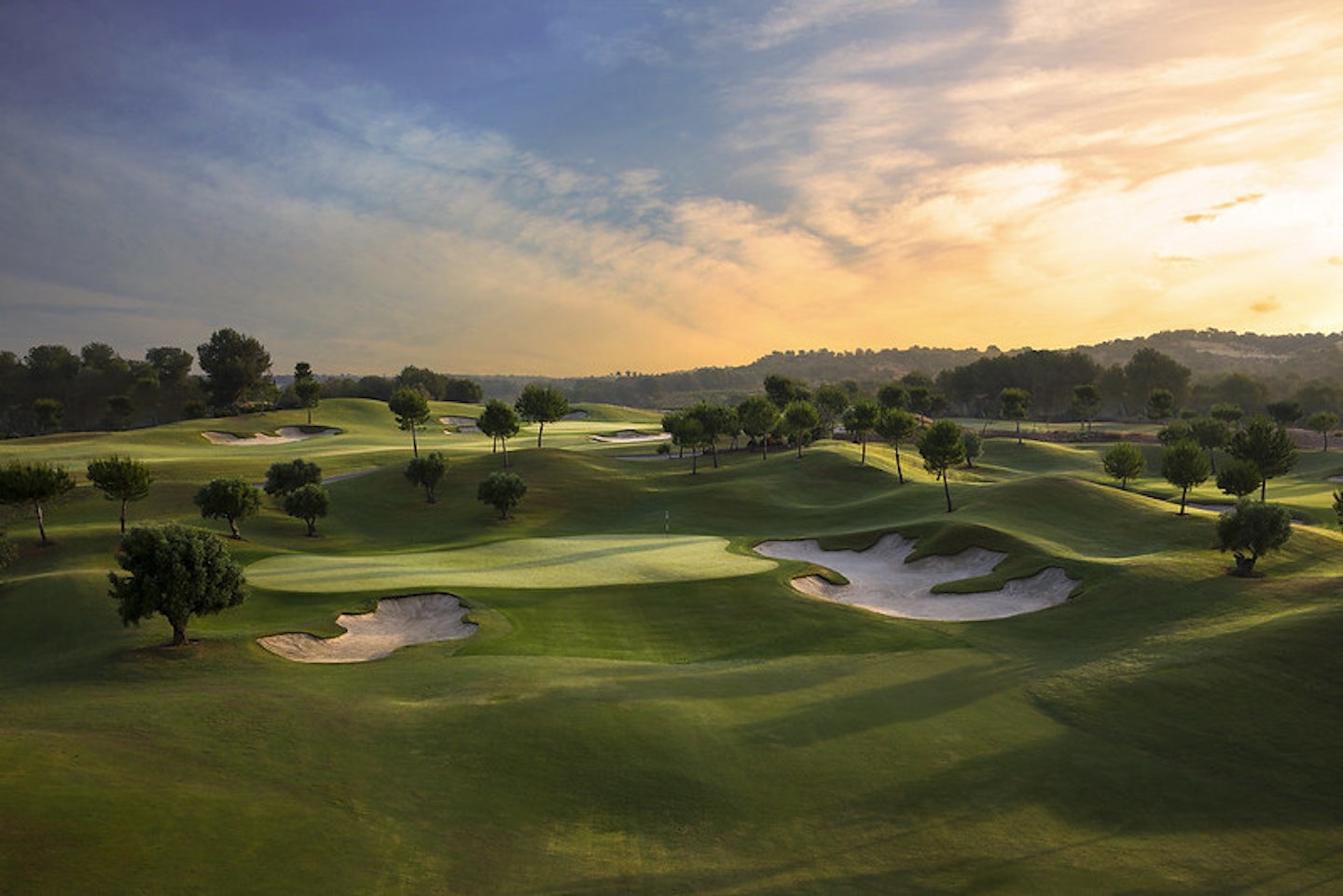 14 of 28
CREDIT: Las Colinas
Golf Course - Las Colinas
Designed by the American landscape architect Cabell B. Robinson, the magnificent par-71, 18-hole course also features a natural grass practice area and a large putting green. The stunning course is five time winner of 'Spain's Best Golf Course in 2021,' according to the prestigious World Golf Awards.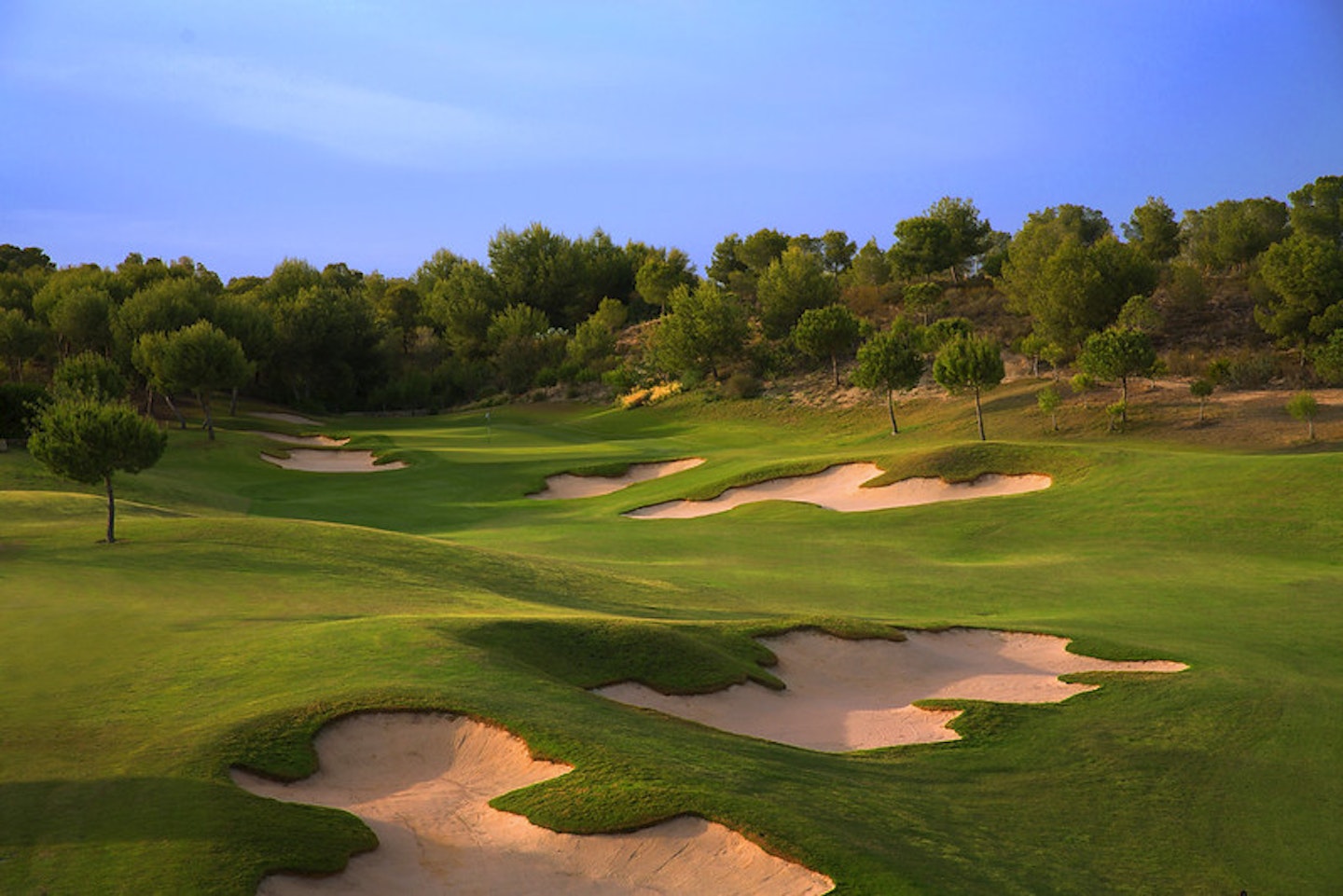 15 of 28
CREDIT: Las Colinas
Golf Course - Las Colinas Golf and Country Club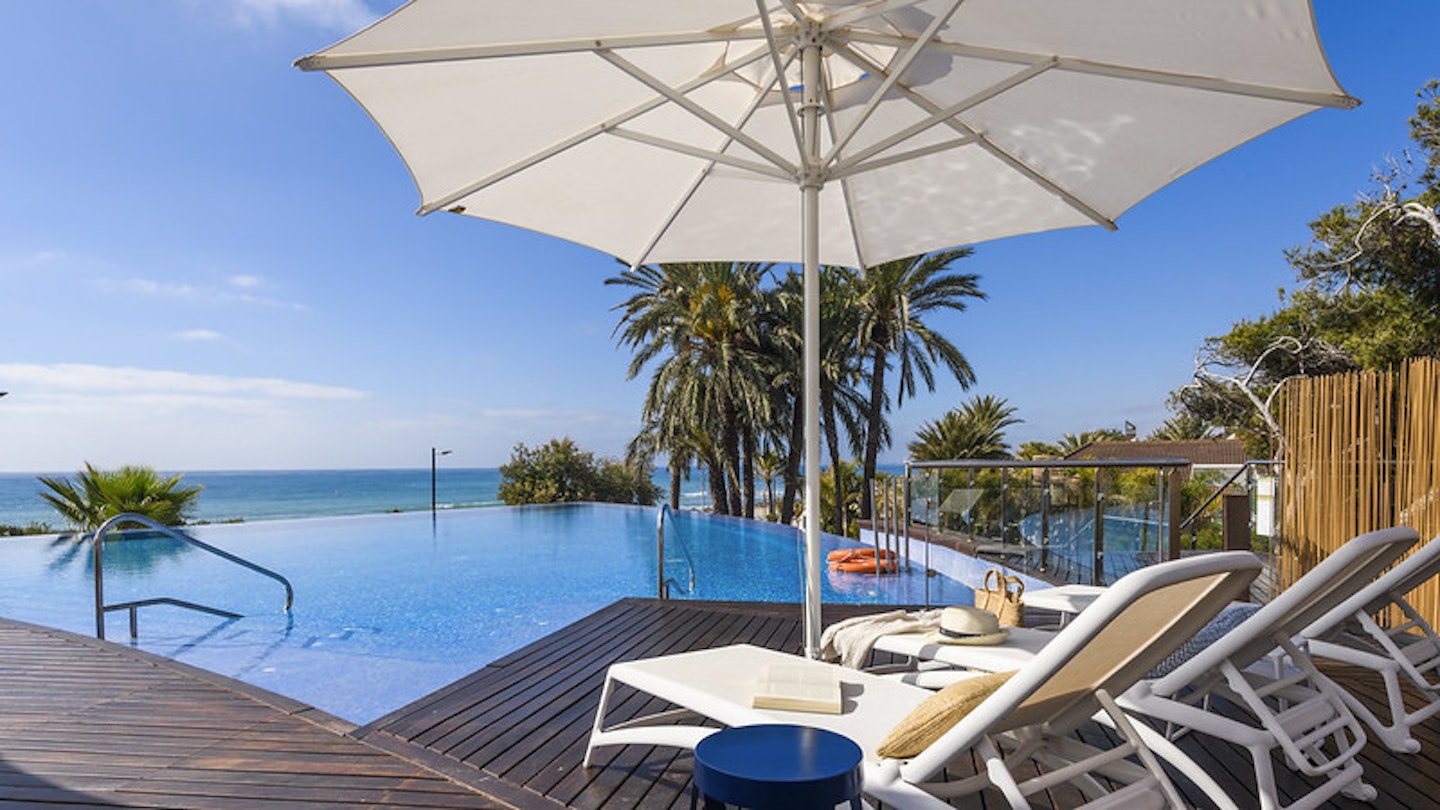 16 of 28
CREDIT: Las Colinas
WOW Beach
Located just a few minutes from Las Colinas Golf & Country Club, lies WOW Beach on the seafront of La Glea beach. Spend a day of fun in the sun and marvel over the gorgeous Mediterranean views from the infinity pool. Enjoy the array of services from the cocktail bar, Balinese beds, hammocks and personalised massage services.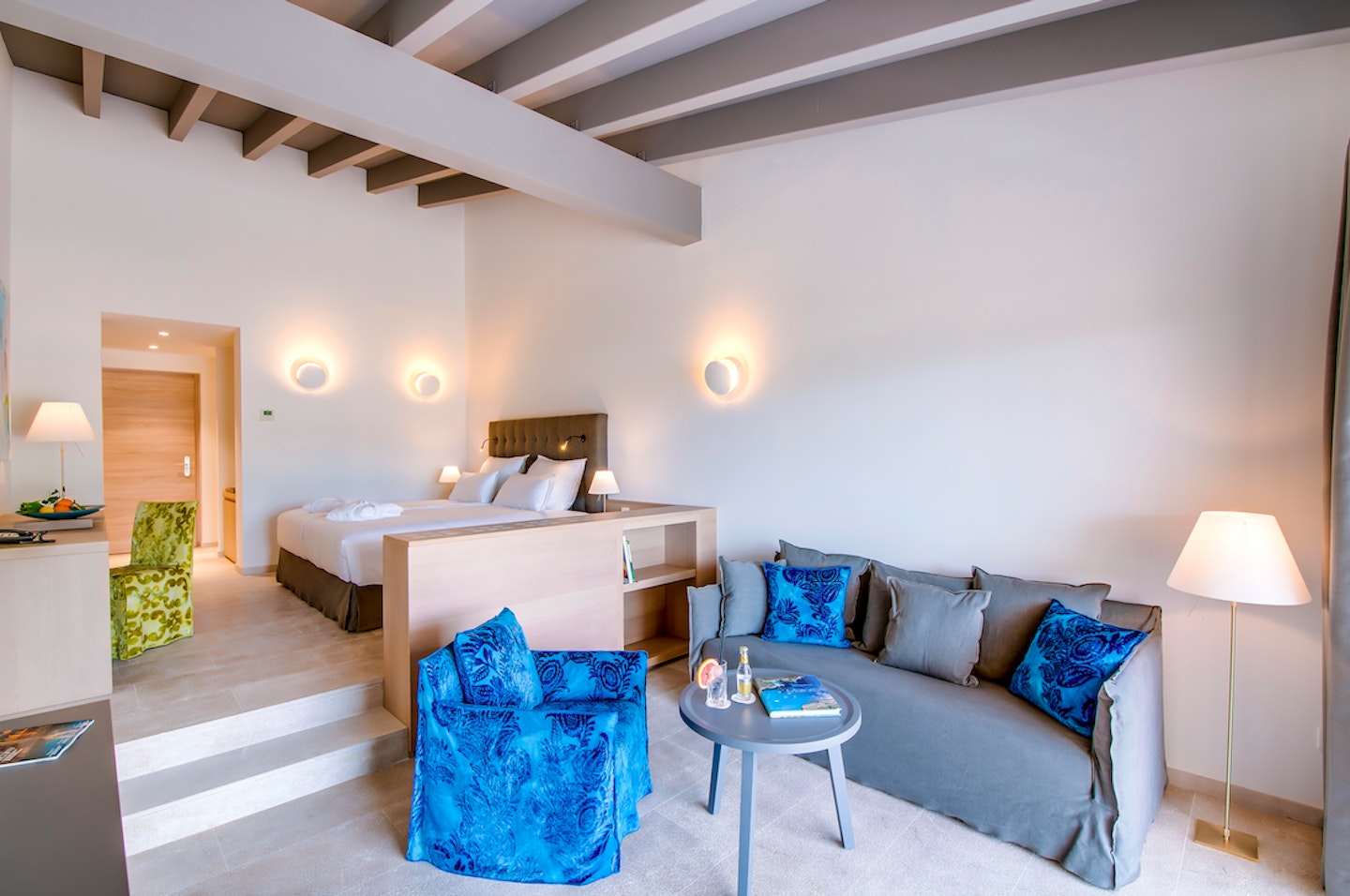 17 of 28
Junior Suite
Staying in the junior suites of this hotel, I managed to get away after a particularly overwhelming few weeks – hell, post-lockdown we can almost say years – and found an immediate quiet wash over me as I rested on the king-size bed. The modern decor is calming, with pops of colour that echo the themes of celebrity-adored Soho House. My favourite part? The walk-in shower, of course. With natural stone walls and intense pressure, it feels as though you're showering every trouble away - with luxury body care products, of course.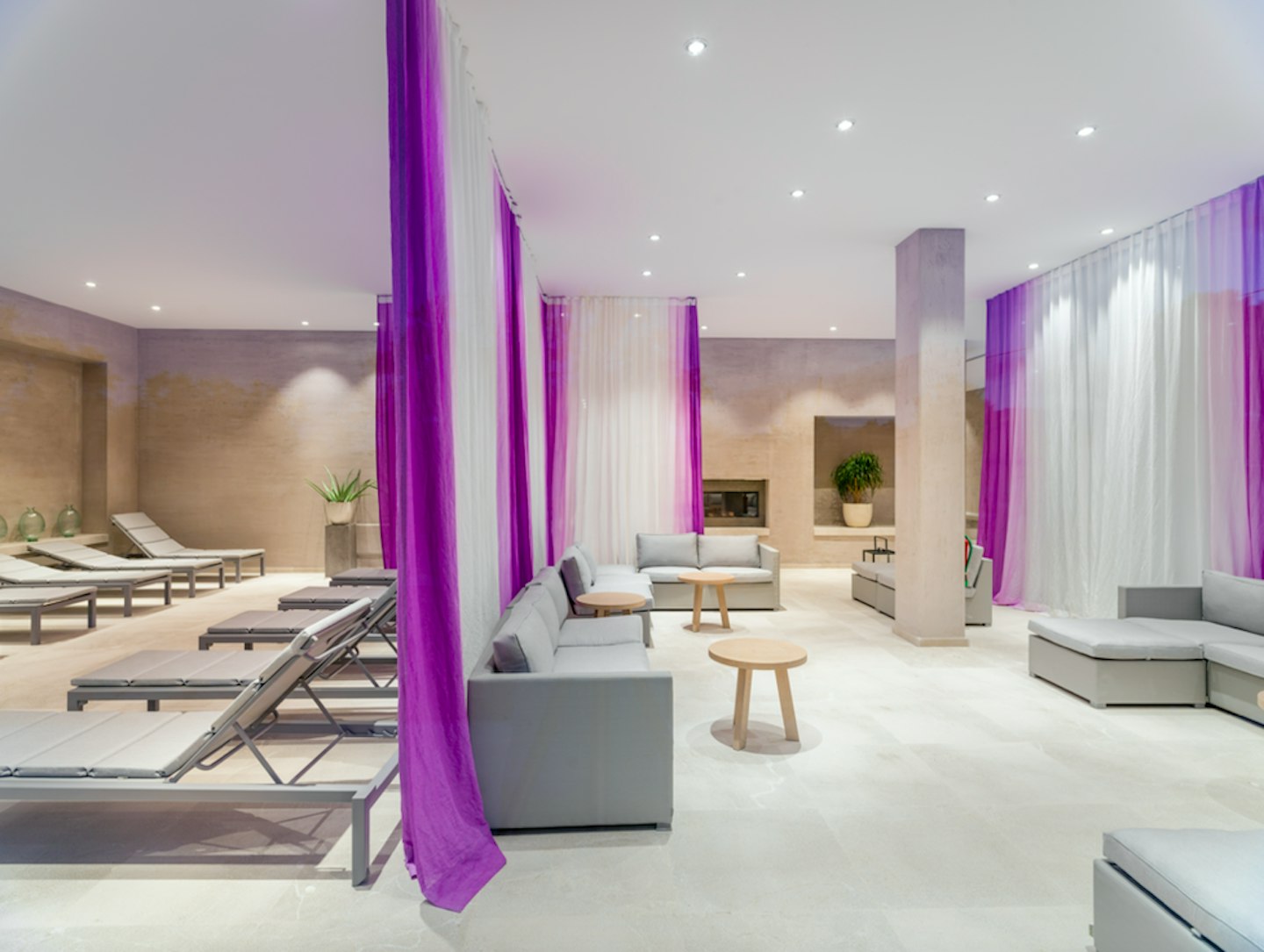 18 of 28
The Best Hotels In Spain - Grazia
Hotel Carrossa is all about relaxation and rejuvenation, with a world-class spa to help you get there. The Swedish full body massage was the highlight of my trip; Carmela the best masseuse I've ever had. Just under the massage rooms you'll find a fully equipped gym, indoor pool and the most incredible sauna and steam rooms.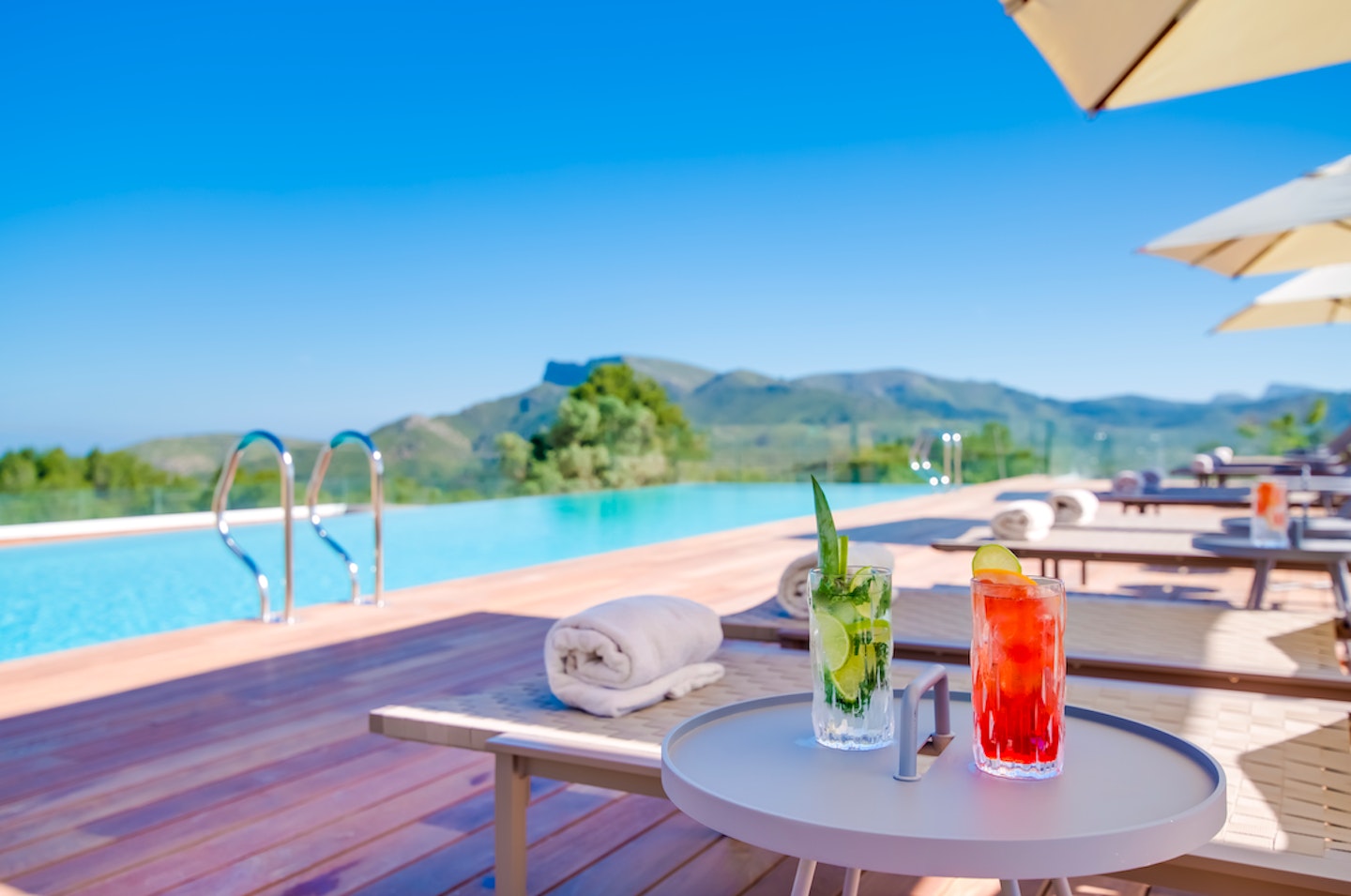 19 of 28
The Best Hotels In Spain - Grazia
The spa is opulent, and the outdoor pool just above it equally impressive - an infinity pool with views of the far-spanning mountains. Swimming there every morning will make you feel worlds from home – something we all desperately need after 18 months of being confined to one.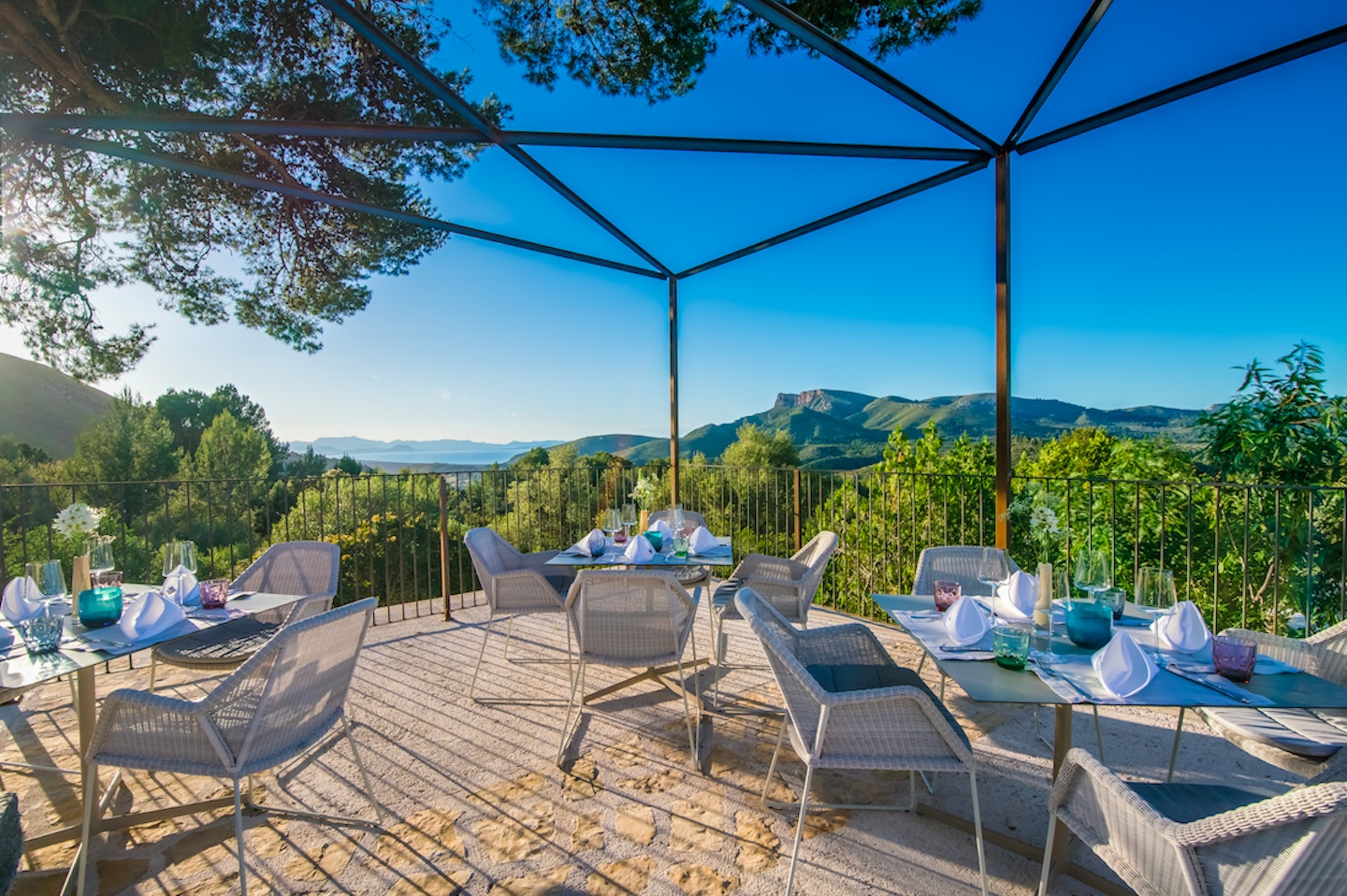 20 of 28
Badia Restaurant
The restaurants too will remind you how far from home you are, with the most delectable Spanish tapas on offer amongst various fine dining treats. In the Carrossa restaurant, you can enjoy four courses of the finest food each night, with a chic bar nestled behind it, with a Soho House feel. For food, I loved the Badia Bistro most – its chicken Caesar salad and fries a particular favourite. The panoramic terrace offers incredible views, with glorious sunsets to watch each night. Ultimately, Hotel Carrossa provides the escape you have likely been craving for over a year now. While family-friendly, it still manages to elicit an atmosphere of profound peace – and after the chaos we've all experienced recently, that will do your mind wonders.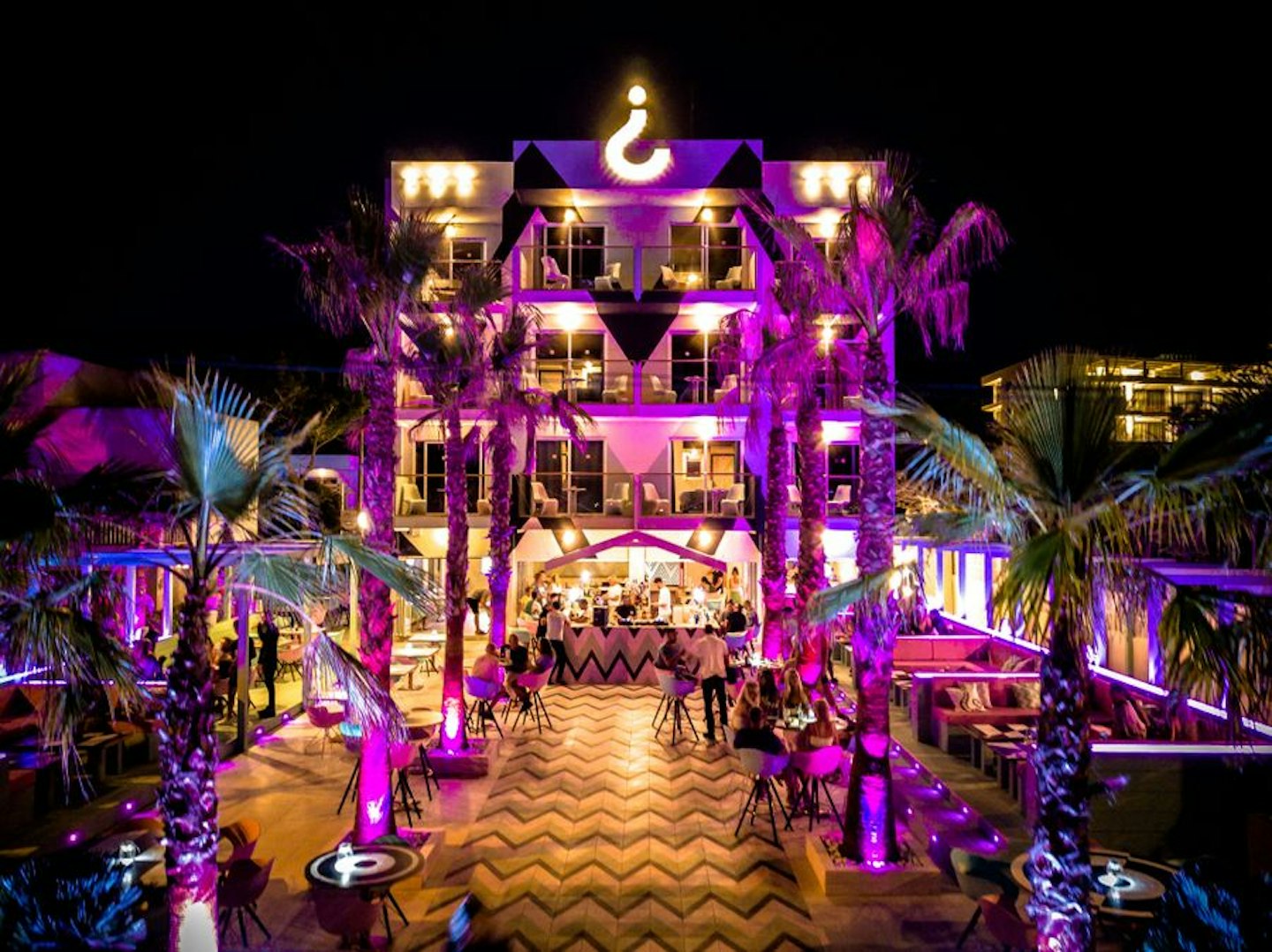 21 of 28
Wi-Ki Woo Hotel, Ibiza
Designed by Tony Truman based on Club Tropicana, Wi Ki Woo rooms are like no other. Colourful, spacious and of course, very Instagrammable, they're not just a place to rest your head between parties. In fact, you might struggle to leave the luxurious room, and not just because you've had a heavy night.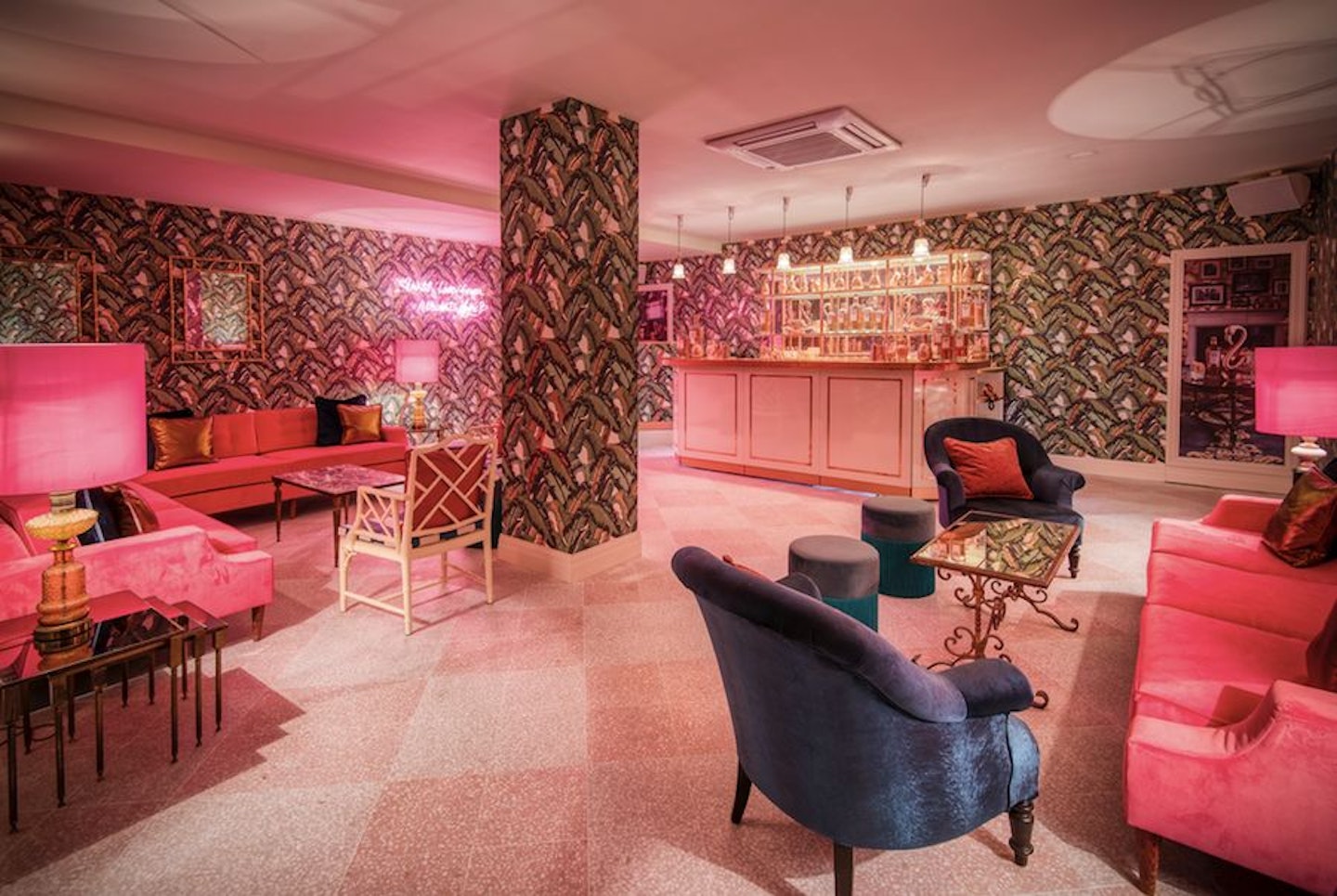 22 of 28
The Best Hotels In Spain - Grazia
Collaborating with luxury vodka brand Elyx, Wi Ki Woo took their hotel to new heights with the Elyx suite in 2019. The exclusive, hidden suite is available on an application basis only - designed to create something new for die-hard fans of the beloved hotel. Featuring two double bedrooms, a private lounge and bar, it's the perfect Ibiza escape. Because, who needs the party to end at the club? In this suite, you can use the DJ booth for private parties to keep the night going for as long as you can handle it..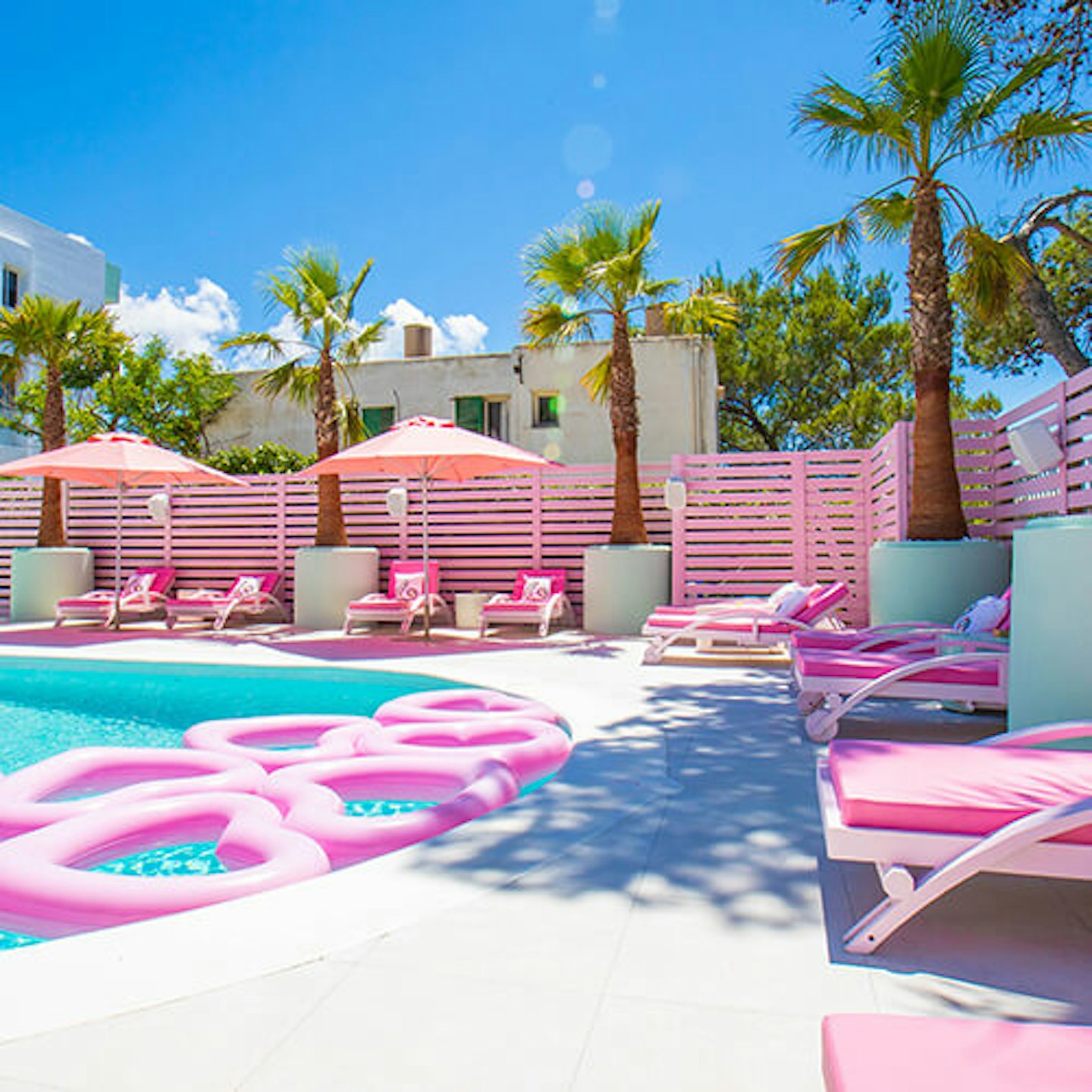 23 of 28
The Best Hotels In Spain - Grazia
If you manage to make it to breakfast, the restaurant at Wi Ki Woo is a delight for whatever cuisine you desire. From American to Asian to Greek cuisine, there's so much choice you can't possibly have an excuse not to line your stomach. But it's the cocktails we love most, the inspired menu enjoyed on a modern-meets-art deco seafront terrace. Make sure to check out the infamous pool, where celebrities and influencers alike have been captured lounging. Enjoy the restaurant's inspired menu as you lounge among ravers, listening to the best House hits as you sunbathe any stress away…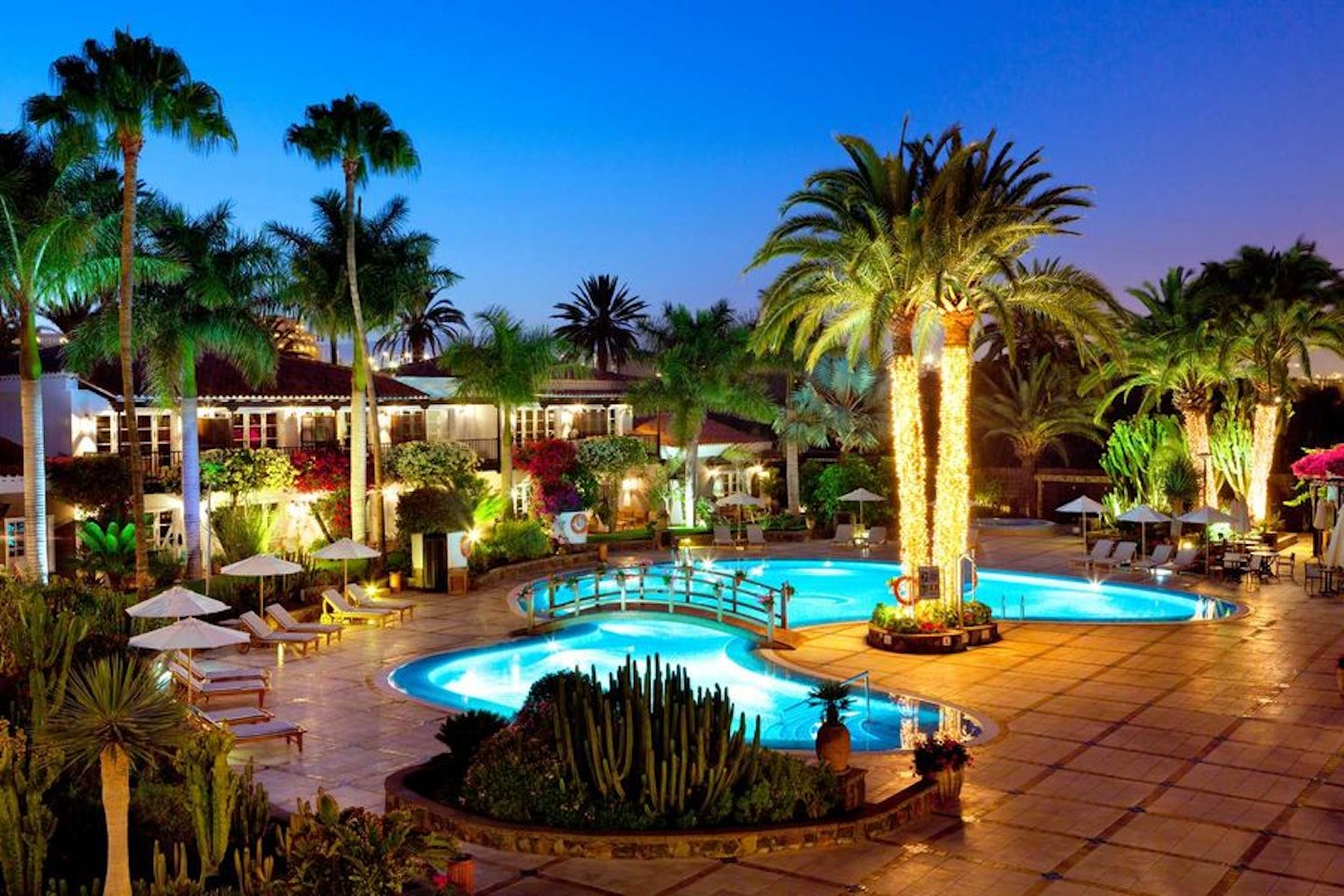 24 of 28
Grand Hotel Residencia, Gran Canaria
With less than 100 rooms and only two stories, Grand Hotel Residencia is the epitome of relaxation and luxury, and is frequented by celebrities from Bruce Springsteen to Mary Berry. Located just moments from the beach, you would be forgiven for thinking you're on your own private Island walking around this hotel. With a deluxe spa providing the perfect oasis, you can enjoy a traditional massage or state-of-the-art treatments like their Mindful Touch treatment– which incorporates VR to put you in the ultimate meditative state.Three restaurants span the premises, one for lunch, dinner and a piano bar. Plus, two pools - one saltwater and one thalasso - a gym, golf and various other sporting activities are at your fingertips.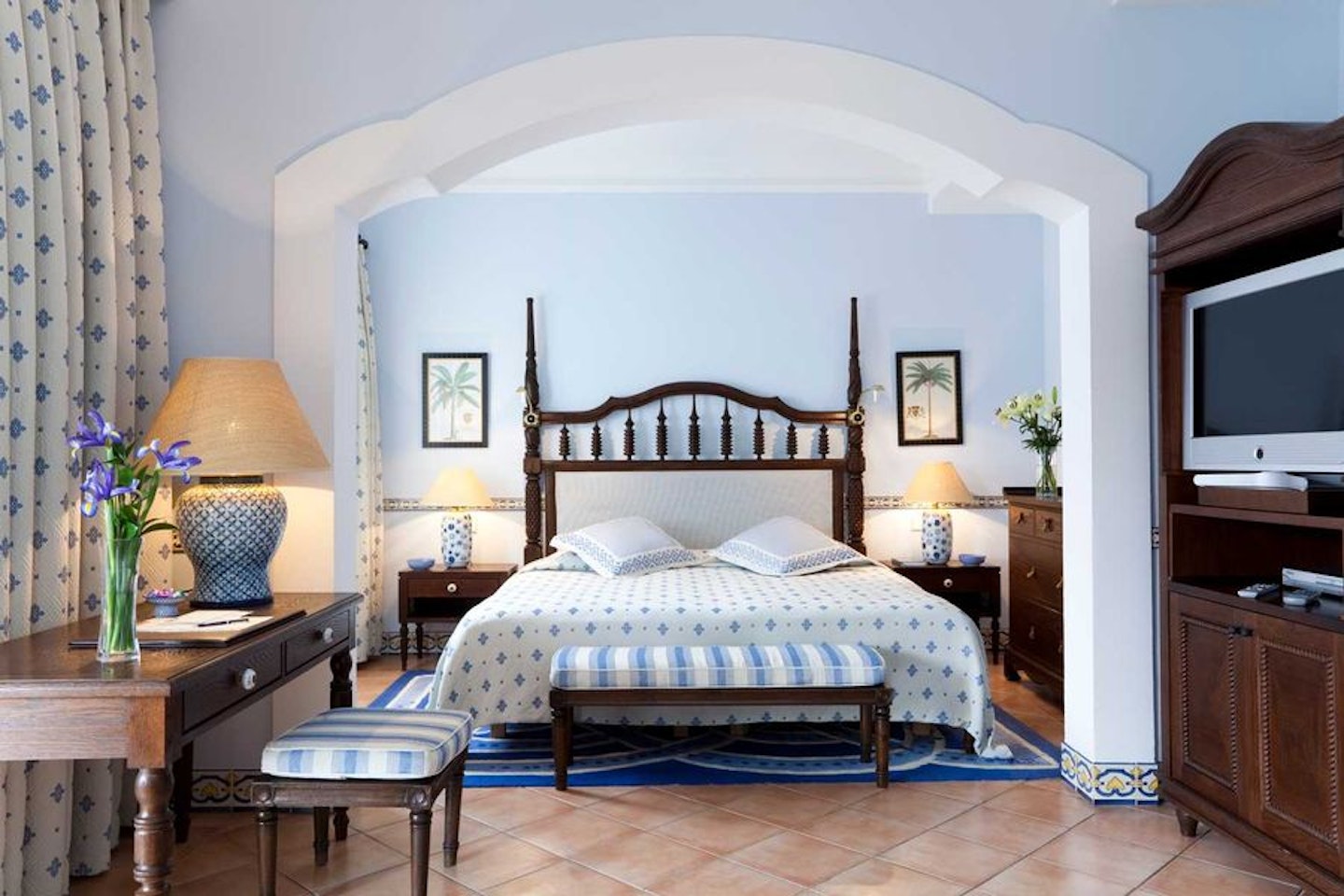 25 of 28
The Best Hotels In Spain - Grazia
With a home-away-from-home feel, the rooms come with more than you would ever expect. From Nespresso machines to Loewe TV's, even the bathrooms are filled with your must-have products, with standard rooms using L'Occitane products and suites filled with Bulgari. The upper-floor suits have perfect views of the mountains and vast sand dunes, with ground-floor rooms backing onto the perfectly manicured gardens. The décor was designed by Alberto Pinto, with Argentinian influences throughout the hotel. Double rooms are £355 year-round on a half-board basis.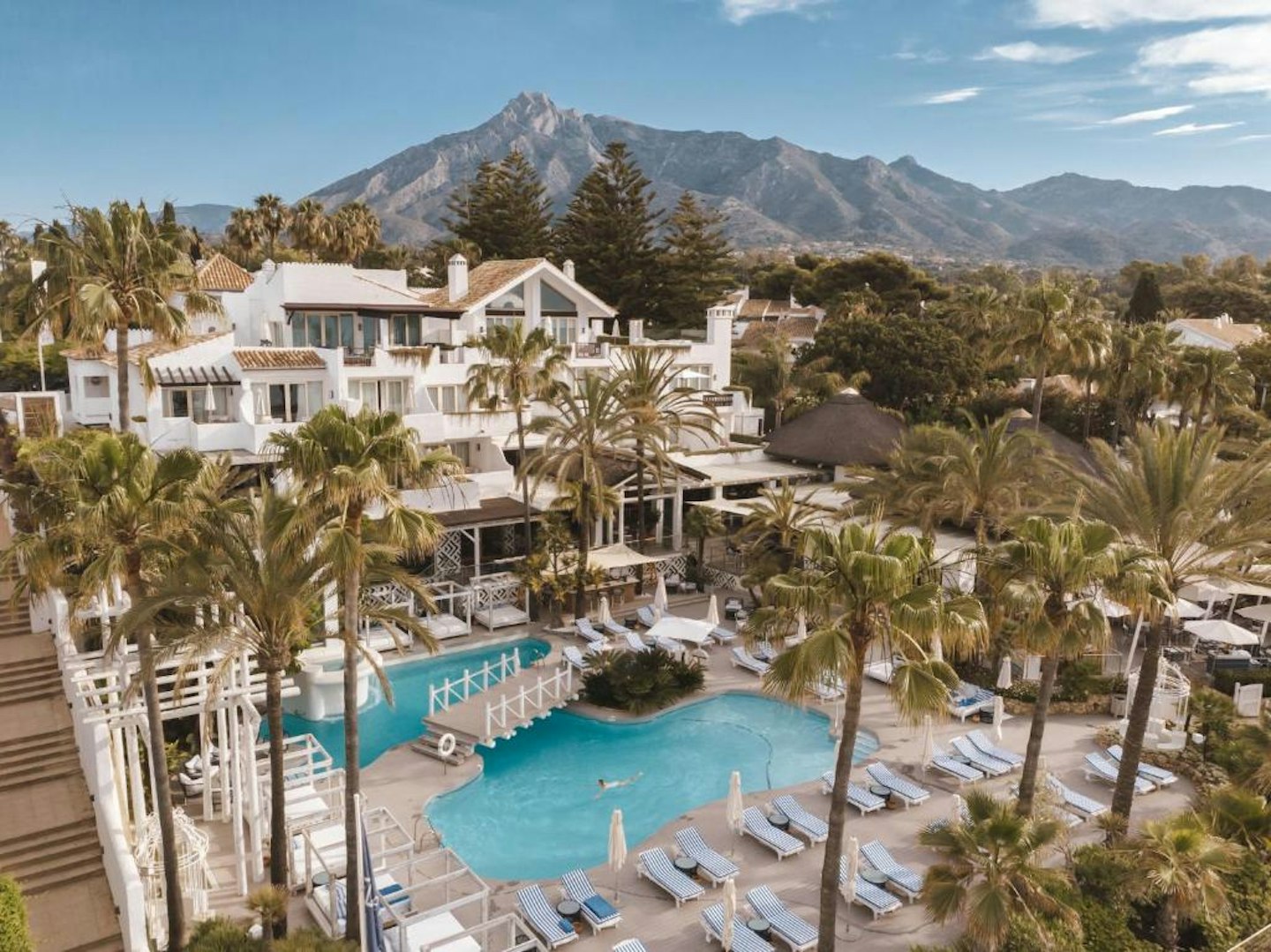 26 of 28
Puento Romano Beach Resort, Marbella
Ever wanted to feel like you're in the Caribbean without suffering the long-haul flight? Well, with its sub-tropical gardens, multiple picturesque pools, state of the art spa and elegant yet unostentatious vibe, Puente Romano Beach Resort can fulfil that fantasy. Yup, Marbella doesn't have to mean TOWIE-esque vibes. Puente Romano is a cycle away from Marbella's picturesque Old Town, has on site sushi from Nobu Marbella, a boho chic Chiringuito beach restaurant and multiple other eateries. Trust us, you'll never want to leave.
27 of 28
Nobu Hotel, Marbella
Nobu Matsuhisa's acclaimed restaurant, run by Nobu's first female Executive Chef, is located just steps away from the Nobu Hotel's adult-only rooms, offering signature dishes as well as special creations inspired by local flavours. We loved the black cod with miso so much we would honestly travel internationally to get another taste. Whether dining in Nobu or enjoying cocktails in the hotel's social epicentre, the Plaza— this is the place to be on the Costa del Sol.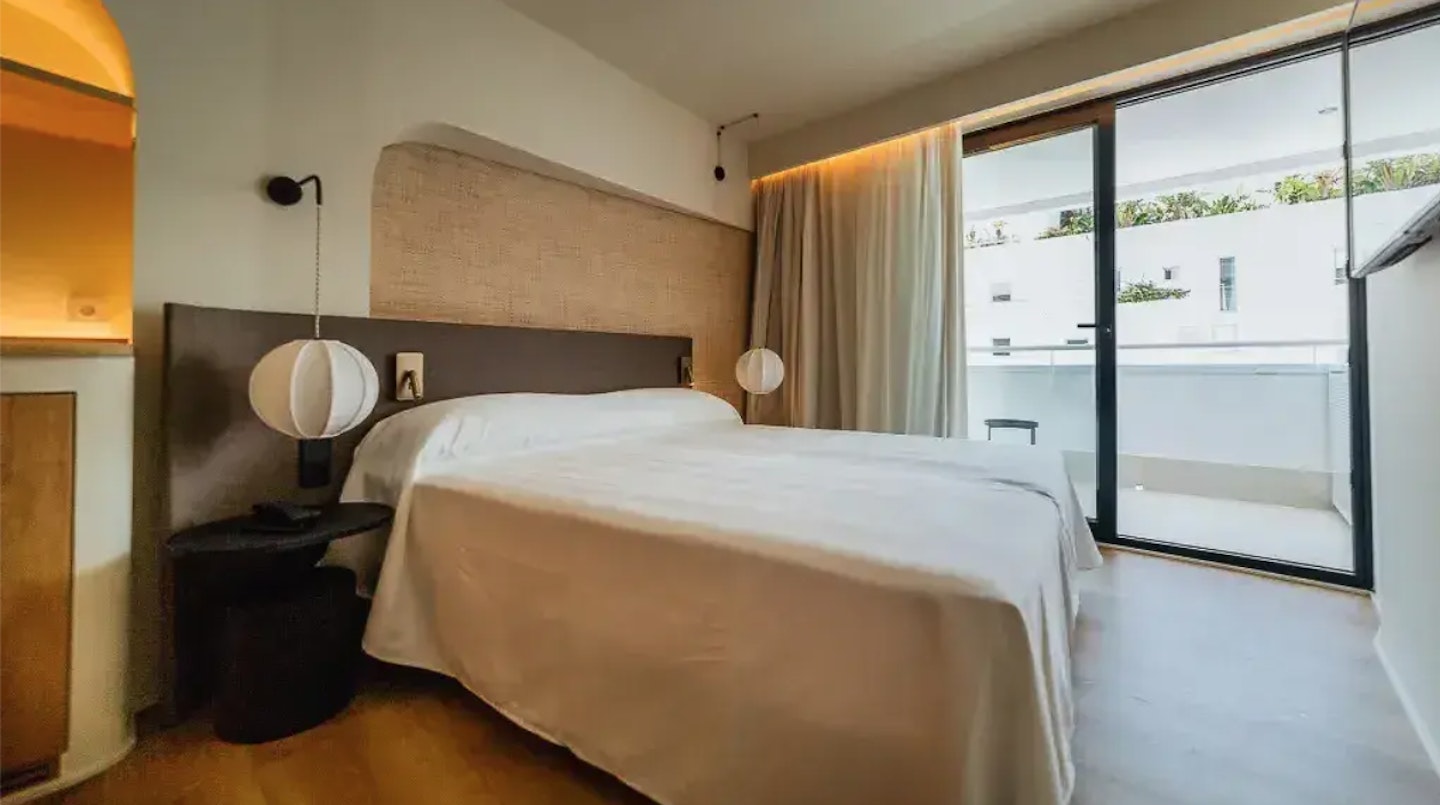 28 of 28
El Hotel Pacha, Ibiza
Located in one of Ibiza's most exclusive areas, just minutes from the White Isle's stunning port, Pacha has opened their latest sleek and sociable accommodation offering: El Hotel. The perfect blend of fun and comfort, El Hotel is perfect for anyone who enjoys the energy of DJs playing in the lobby as well as downtime in a luxurious waffle robe. Guests are gifted free entry into the famous Pacha Club as well as day passes to the pool at Pacha's luxury resort Destino.