You've seen it in magazines, you've seen it all over your social media feeds, but I can guarantee you this: holidaying in Dubai is like nothing you could ever imagine. The 'millionaires playground' as it is known, has a reputation for luxury that is absolutely true. But there's a lot more to the desert landscape than jet skis and skyscrapers. The culture for excellent food alone is enough to make me want to go back. With that in mind, we've rounded up the absolute best hotels in Dubai for your reading pleasure.
All tried and tested, these Dubai hotels represent the cream of the crop - no matter what type of holiday you want. From romantic getaways to easy business trips, family fun to a solo oasis - we have the hotel for you.
Grazia's guide to the best hotels in Dubai...
FIVE Palm Jumeirah
Embodying the vibrant luxury lifestyle of Dubai, FIVE is by far the best hotel to stay for those looking for glitz and glamour. With a myriad of musical offerings centered around 17 exceptional food and beverage venues, FIVE Palm Jumeirah offers an unrivalled experience with Michelin star restaurants like Cinque and Maiden Shanghai, as well as a world class beach club Beach by FIVE and chic nightclub The Penthouse.
If you're celebrating an occasion, rest assured FIVE will go above and beyond to ensure you have the best possible experience. The service is exceptional, for example on my birthday the hotel decorated my room with an incredibly Instagrammable balloon display, offered courtesy espresso martinis and even had a personalised silk robe laying on the bed. It was an unforgettable surprise, matched only by the wonderful service at The Penthouse where a surprise birthday dessert platter was brought out after an already unbelievable dinner offering, accompanied by a haram of cheering hostesses with sparklers. Truly, a birthday like no other.
It's hard to whittle down what the best part of staying at FIVE Palm is, the incredible view from the suite would be up there, as is the chic vibe curated by their poolside DJ. Of course, you must visit the spa. I'd recommend the ReFIVE Spa Experience, a massage then facial that will send you into another dimension of relaxation and leave your skin feeling plump and rejuvenated. Of course, it can't all be rest and recuperation, a visit to FIVE isn't complete without a day spent at beach club Beach by FIVE. Attracting international DJs, the beach club even has its own heated glass-lined pool (that's right, on the beach) which makes for the kind of pictures even the most well-travelled influencer would die for.
But it's the food I loved most. At The Penthouse, Dubai elites favoured rooftop destination, FIVE's Executive Chef Federick Faucheux has curated an award-winning dining experience
taking contemporary Japanese cuisine and fusing traditional flavours with French cooking methods, perfectly paired with creative artisan cocktails. It was, by no exaggeration, the best meal I've ever had. Maiden Shanghai, FIVE's Chinese hotspot cheffed by award-winning Luo Bing, was equally as impressive. Their outdoor terrace lounge is the perfect place to relax and indulge after a long day, with the attentive service second to none.
Frankly, if you don't visit FIVE Palm Jumeirah while out in Dubai, you're missing out on the experience of a lifetime.
Room rates for a Luxe Sea View start at £380 per night, book now here.
<meta charset="utf-8">FIVE Palm Jumeirah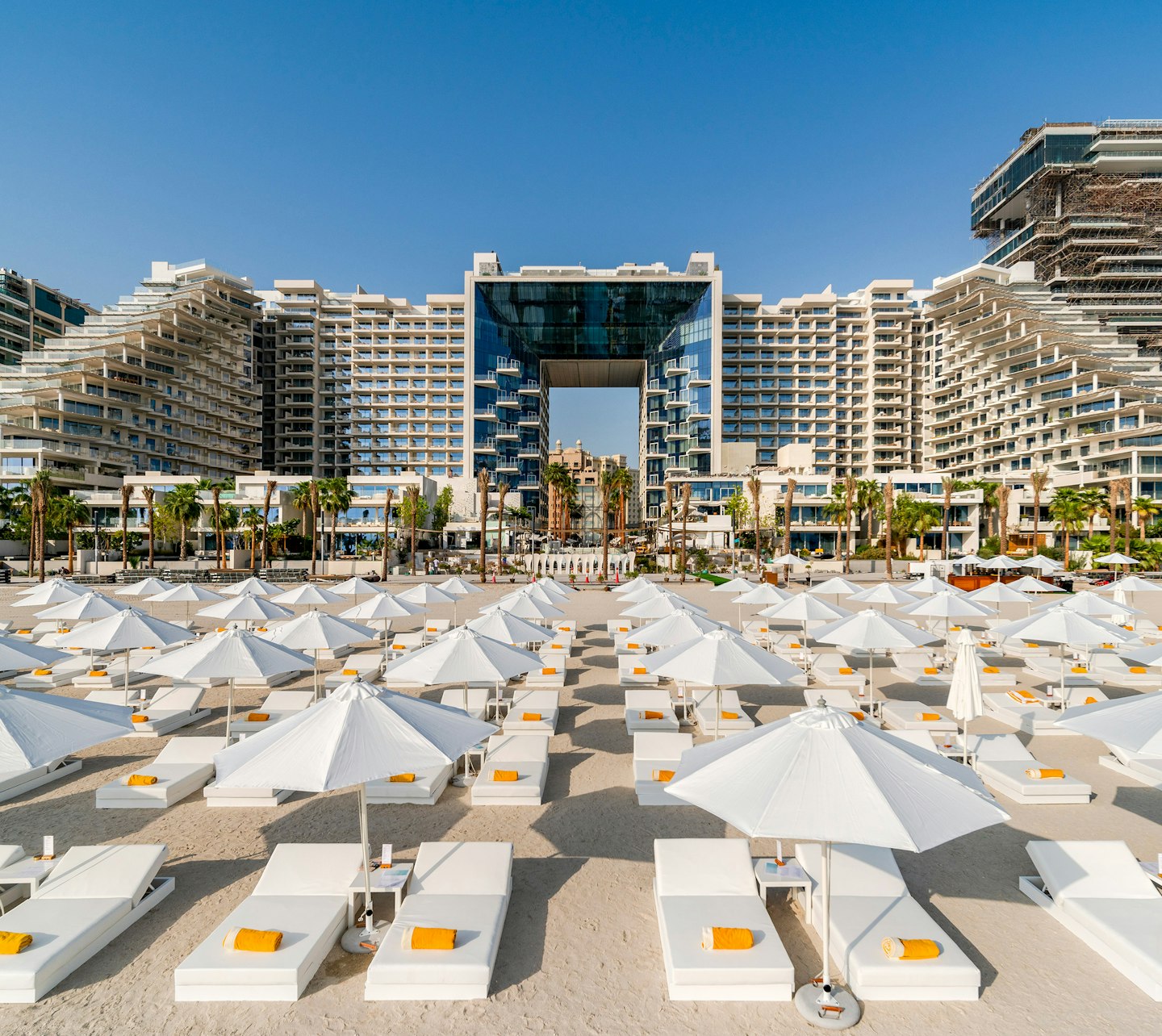 1 of 6
FIVE Palm Jumeirah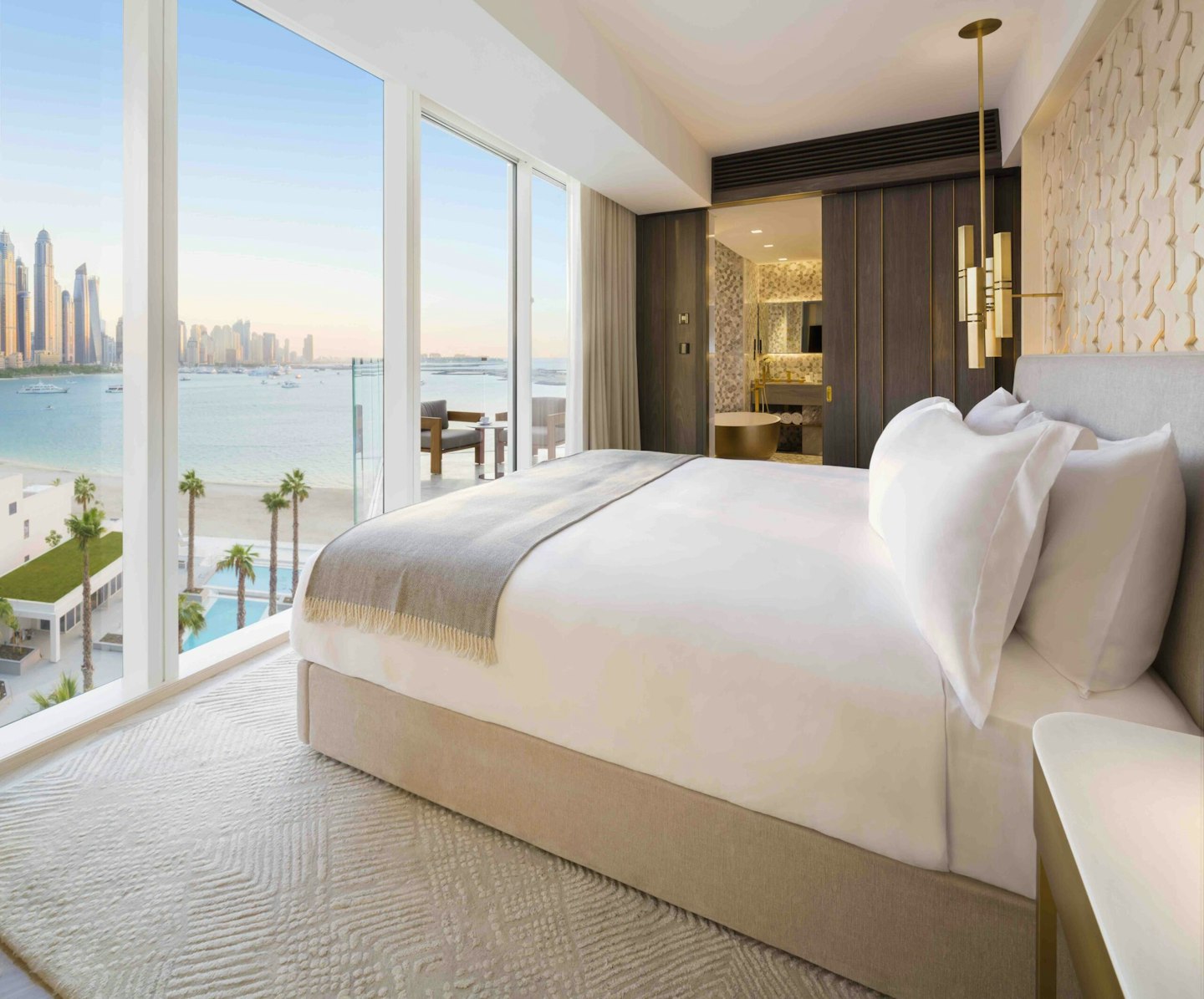 2 of 6
Junior Suite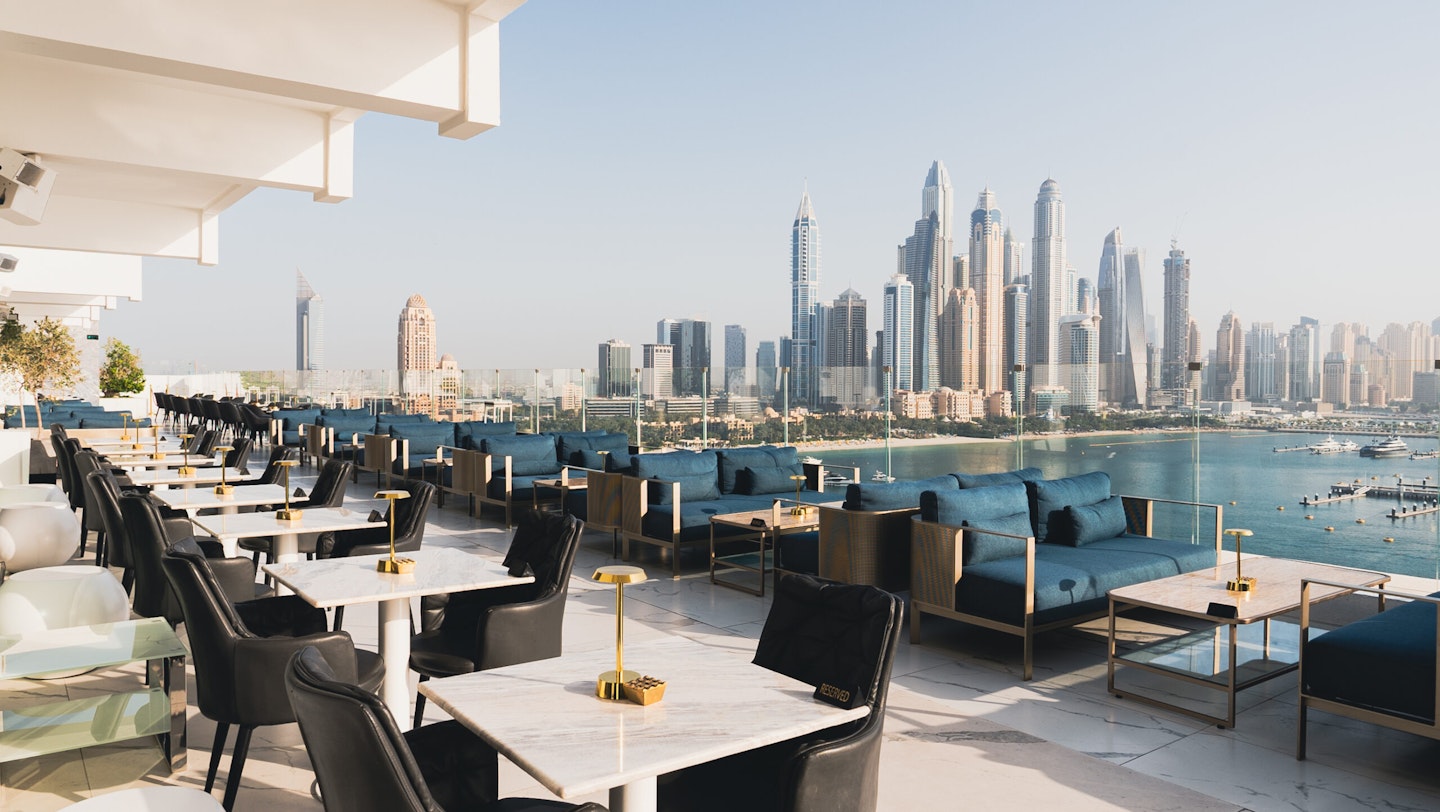 3 of 6
The Penthouse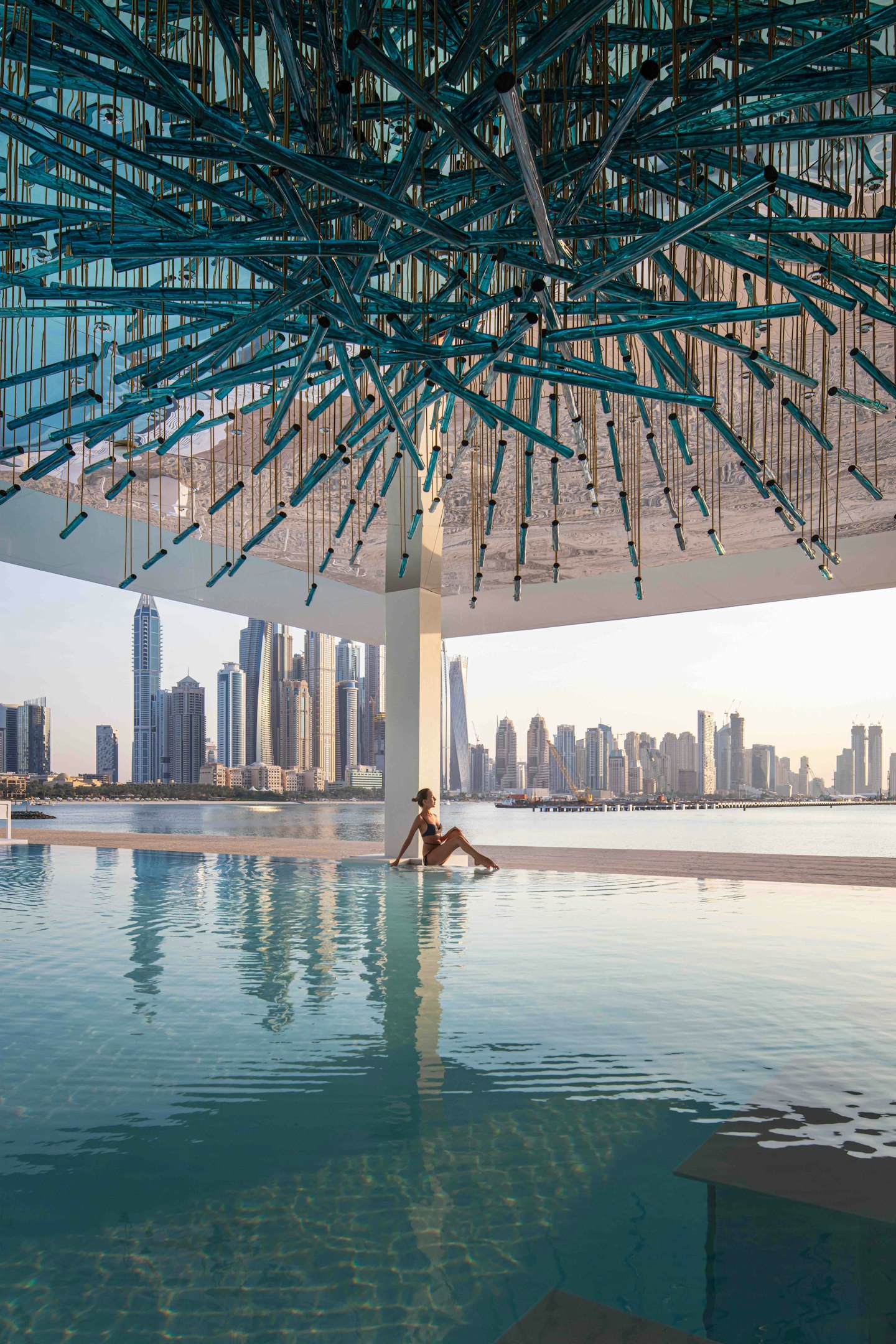 4 of 6
Beach By Five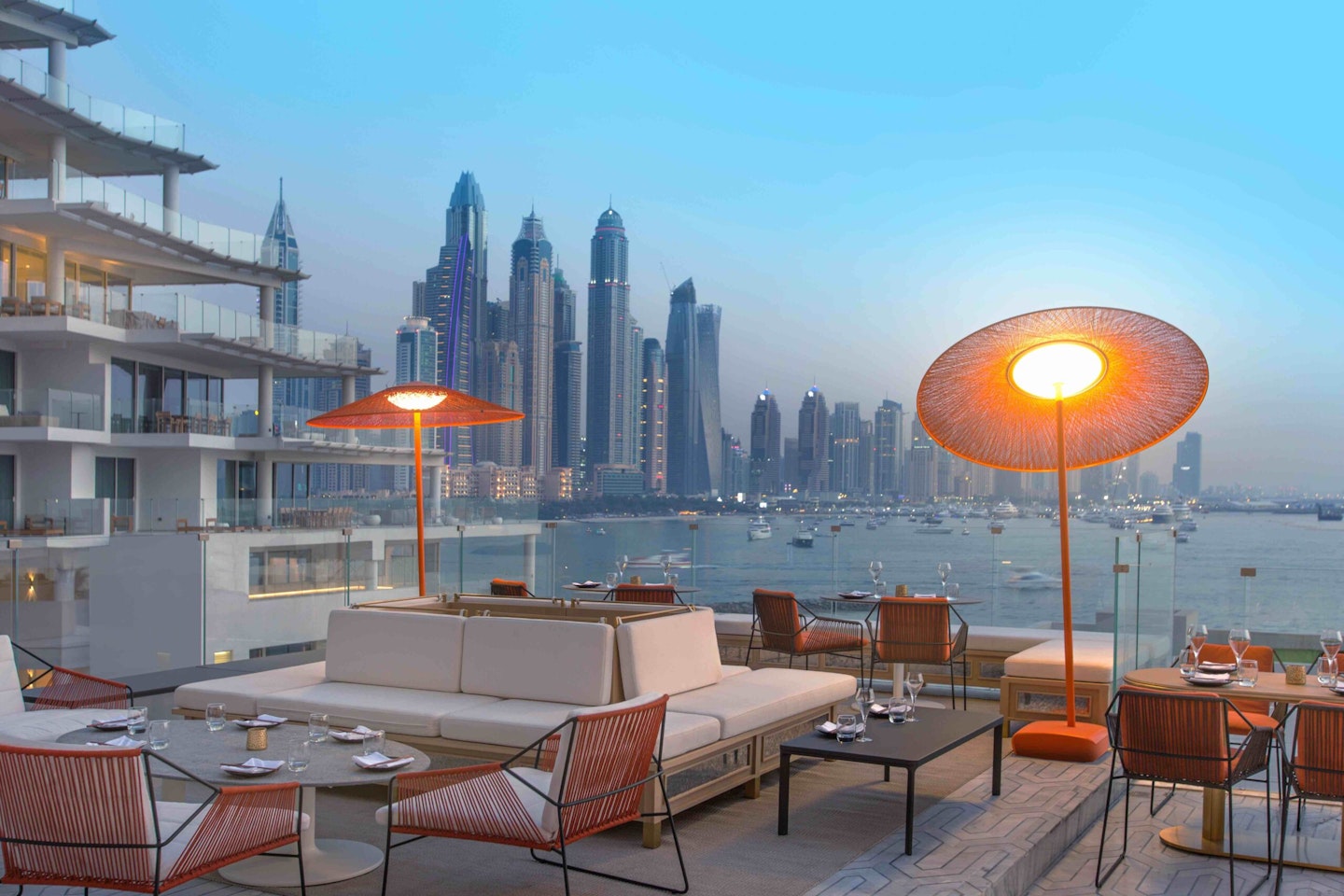 5 of 6
Maiden Shanghai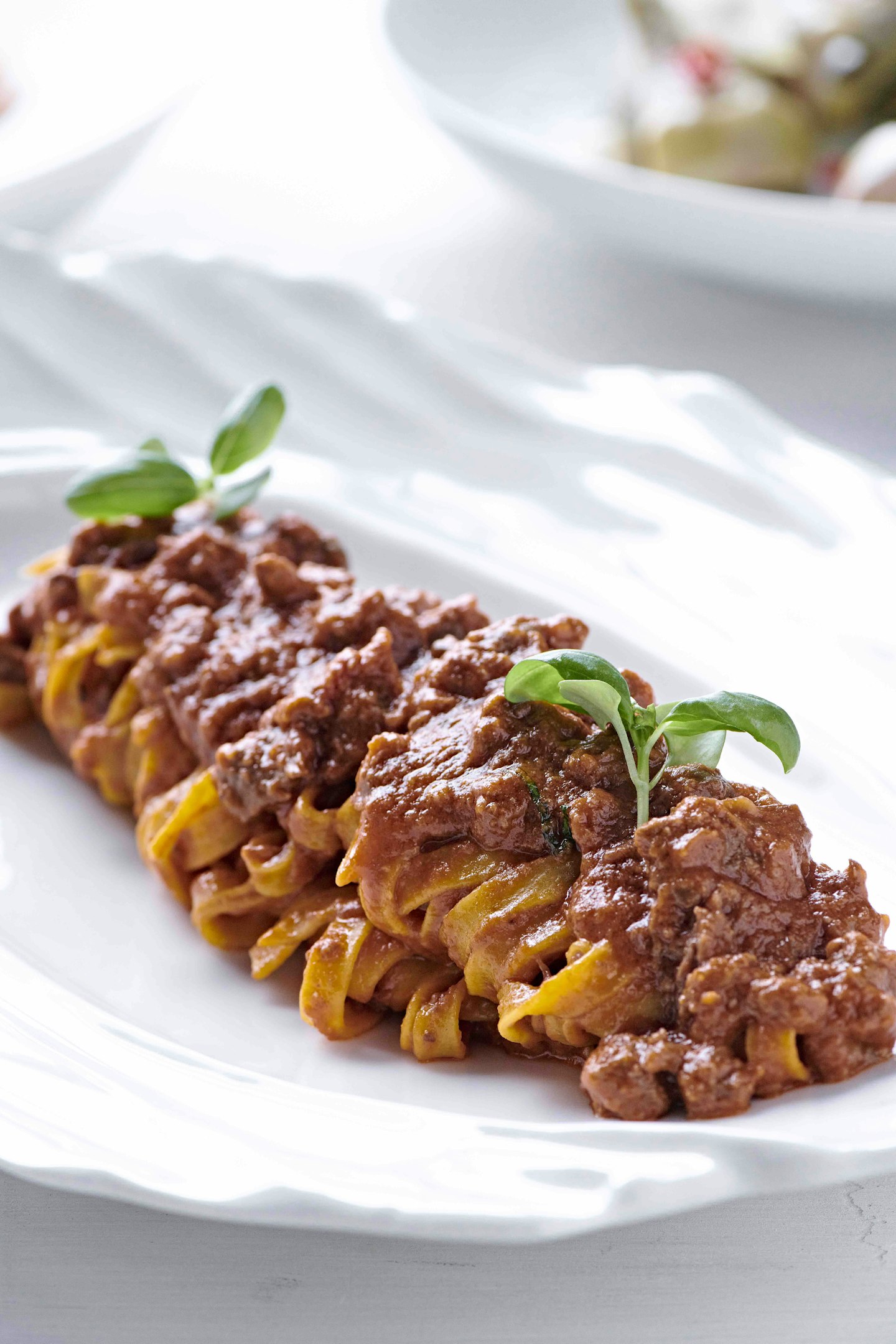 6 of 6
Cinque
Jumeirah Zabeel Saray
A luxurious beachside resort located on the West Crescent of the iconic Palm Jumeirah in Dubai, Jumeirah Zabeel Saray boasts 405 rooms and suites, 38 Royal Residences, Multi International award-winning Talise Ottoman Spa (one of the largest and most luxurious spas in the Middle East) AND a Sinbad Kids Club complete with splash-park! The epitome of everything you need under one roof, Jumeirah Zabeel Saray also houses eight diverse restaurants which offer a vibrant selection of culinary experiences. Indulge in fine dining in the evening, after a long day taking the jet ski's – or any of their other array of and non-motorised water sports!
My favourite thing about Jumeriah Zabeel Saray was the Ottoman-inspired suite, a monumental beauty with a hot tub jacuzzi bath in the luxurious bathroom with shutters opening out to the room for a beautiful view of the Dubai Palm. The service is impeccable, hotel staff keen to serve your every need – whether that's to your room, at their delicious breakfast buffet at Imperium, or over on the beach where sun loungers are prepared for you (you can even get one on the sea edge if you want).
Make sure to dine at Zenzi Beach Club while you're there, the hottest new spot in Dubai offering South American cuisine in a laid back yet glamorous atmosphere. The tantalising menu, curated by Chef Richard Glaze, offers a selection of mouth-watering flavours – do NOT miss out on the Calamari! Their brunch package is especially popular with the Dubai elite, bringing a sumptuous culinary spread of continental favourites and delicacies starting at AED350. Even if you're not staying at the hotel, you can visit Zenzi Beach and get pool and beach access included in your package for AED450.
But truly, you'll want to stay at Jumeirah Zabeel Saray while holidaying in Dubai. Its elegant atmosphere is perfect for a long, relaxing break with plenty of activities to keep kids occupied and the kind of culinary experiences you'll want to write home about. Don't miss out!
Jumeirah Zabeel Saray
1 of 5
Jumeirah Zabeel Saray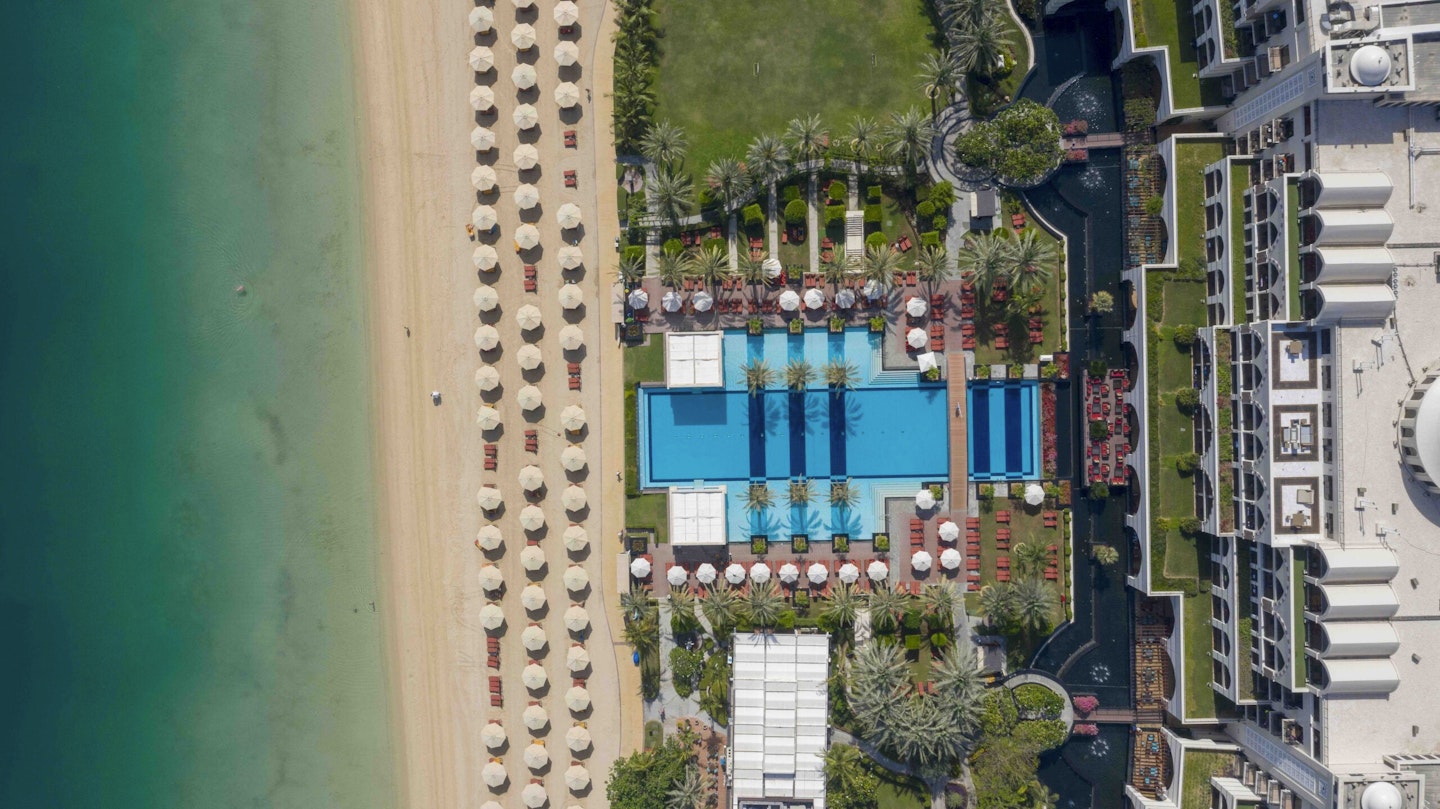 2 of 5
Jumeirah Zabeel Saray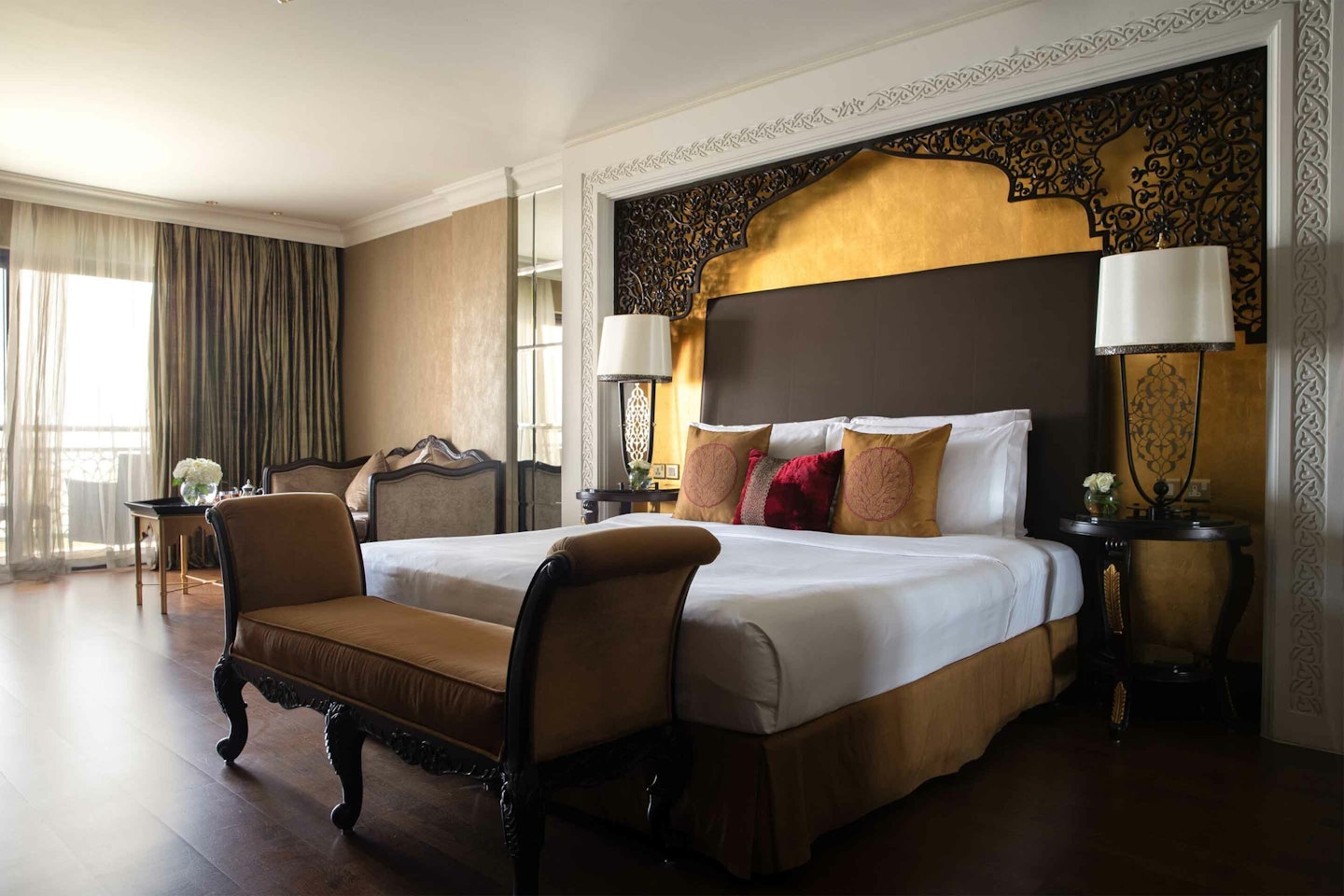 3 of 5
Jumeirah Zabeel Saray King Room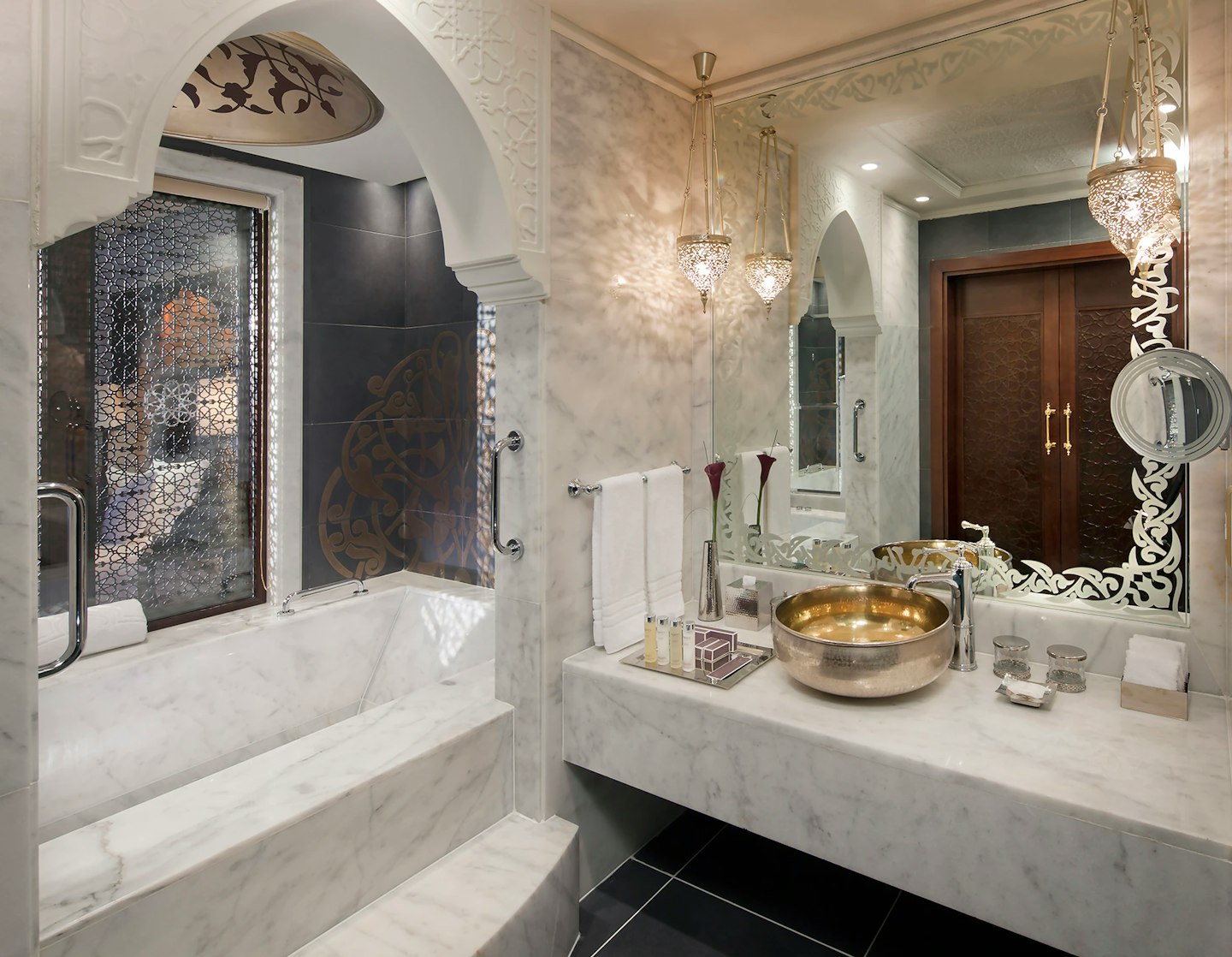 4 of 5
jumeirah-zabeel-saray-bathroom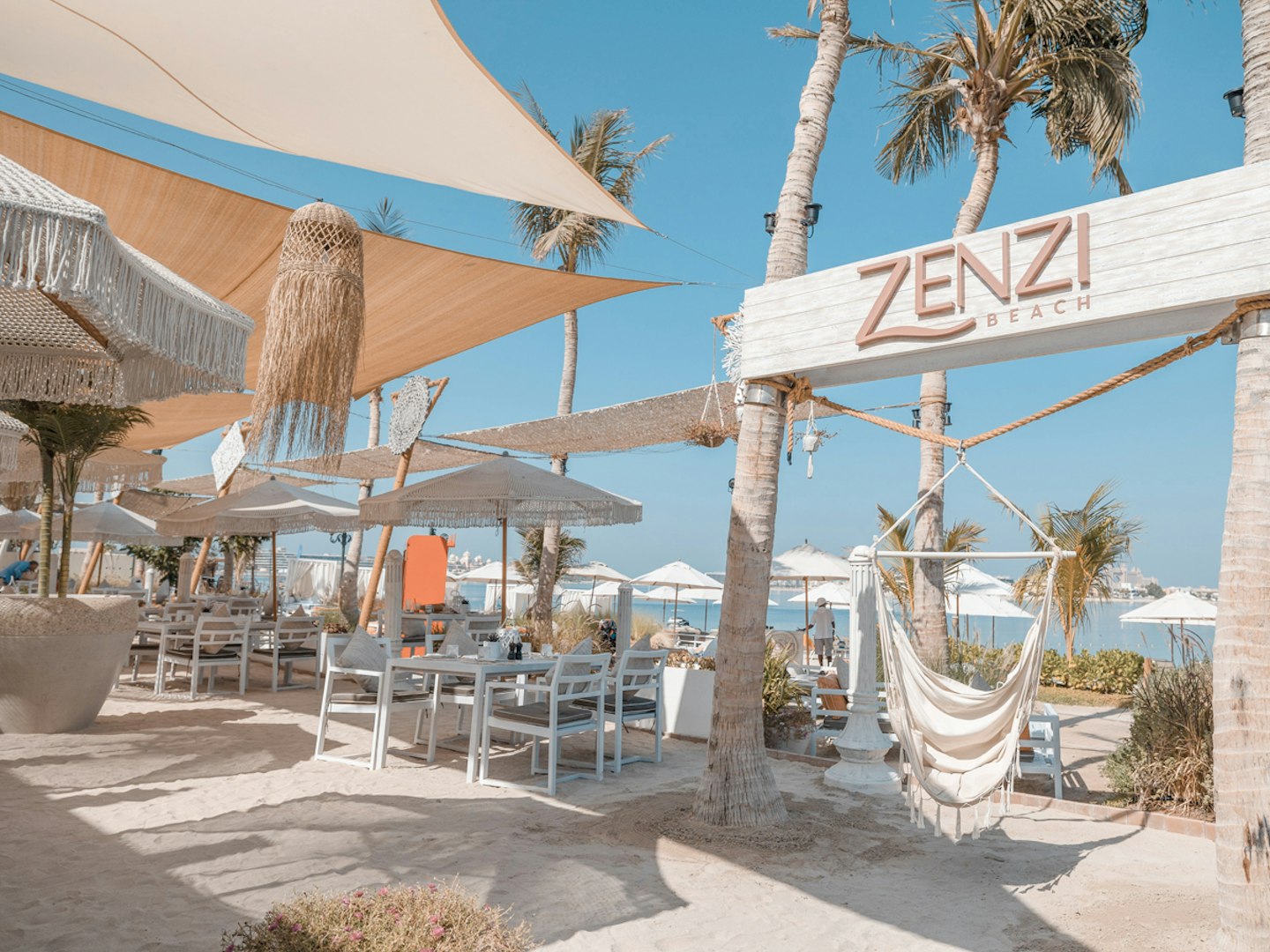 5 of 5
Zenzi Beach
Room rates at Jumeirah Zabeel Saray start from AED 765 (£184) for a superior king room. Book now here.
Caesar's Palace Bluewaters Dubai
Offering a fresh take on the Dubai experience, Caesars Palace Dubai is completely unique compared to other luxury hotels. Nested in the lively Bluewater's Island, the resort boasts 1.7km of pristine sandy shoreline with a 500m private beach that offers a panoramic view of the Arabian gulf. With 12 diverse dining destinations, helmed by celebrity chefs, and two chic beach clubs, Caesar's Palace Dubai shucks expectations.
The hotel is perfect for those hoping for more private escape, cool Japanese minimalist décor lining the dark halls to your expansive suite, all featuring private balconies with views of the azure sea, Ain Dubai, or the resort.
The highlight of my trip was, of course, the food. Demon Duck is up there with the most incredible restaurants I've ever visited, top notch service with food to match. Led by TV personality and Asia's most notorious chef, Alvin Leung, the menu is a creative twist on classic Chinese and Asian dishes. The 14-day-aged Slow Roasted Demon Duck is a must-have, accompanied by the bird street at yuen cocktail.
Gordon Ramsay Hell's Kitchen is a gourmet touch of home, the British-American menu featuring signature dishes like Beef Wellington with Potato Puree, another must-have. Guests can also enjoy Amalfi Coast-inspired cuisine at Venus Ristorante, a relaxed lunchtime haunt offering the best pasta in Dubai.
Don't miss out on the sun lounging options either, with a choice of the playfully sophisticated Neptune Pool & Beach or Venus Beach Club – which provides panoramic views of endless sky and sea while a DJ spins lively beats.
Beyond food and drink, a visit to Qua Spa will provide the necessary relaxation to return home from your holiday a new person. Notting Hill-based wellness brand, Young LDN effective skin, body, and nail aesthetic treatments while Beverly Hills Vitamin Therapy provides custom-blended in-room vitamin drips. You'd be forgiven for thinking your one of Hollywood's elites after a visit to this spa!
Rates start from £320 per night in low season/ £650 for high season. Click here to book.
Caesar's Palace Dubai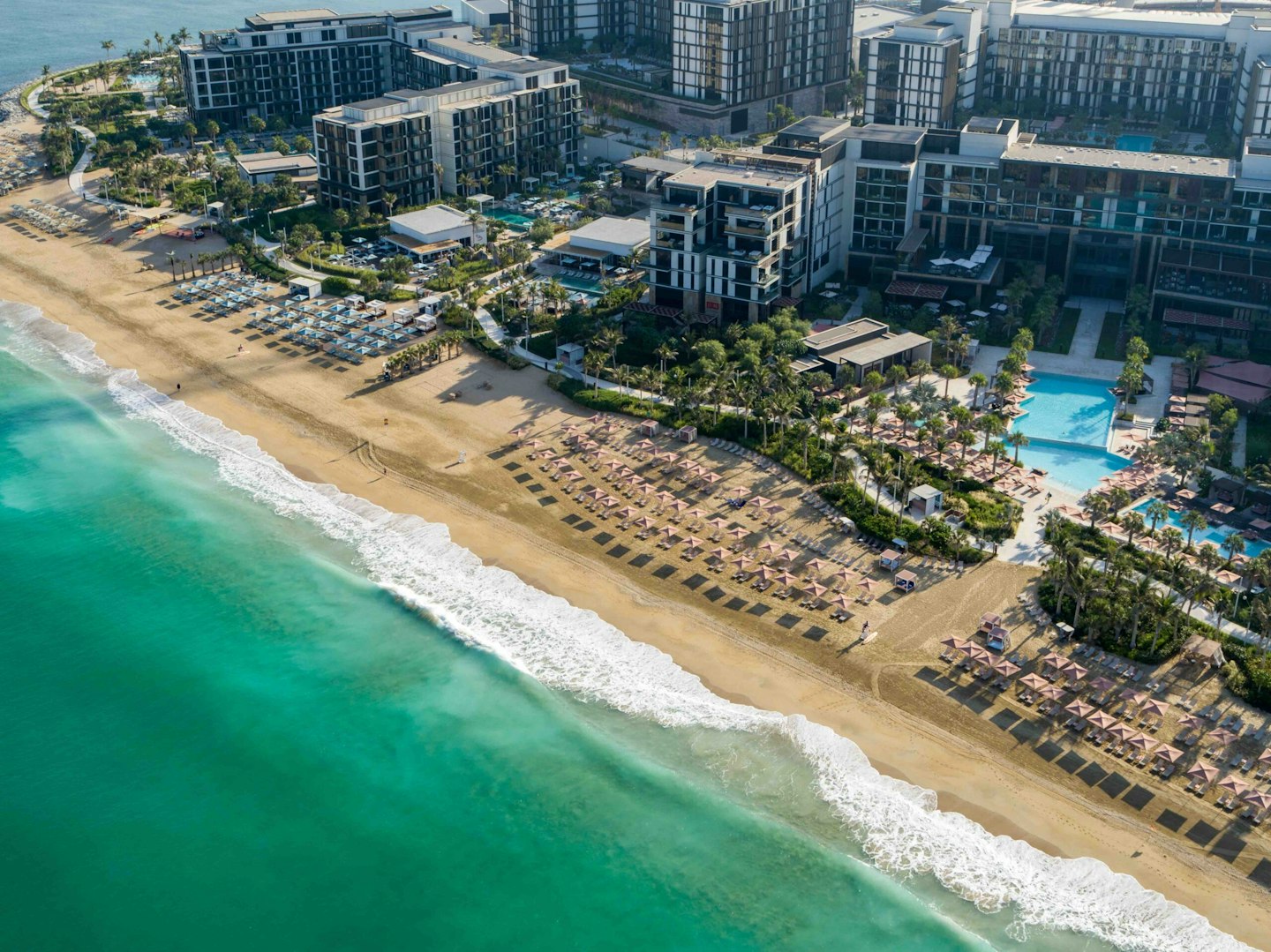 1 of 5
Caesar's Palace Dubai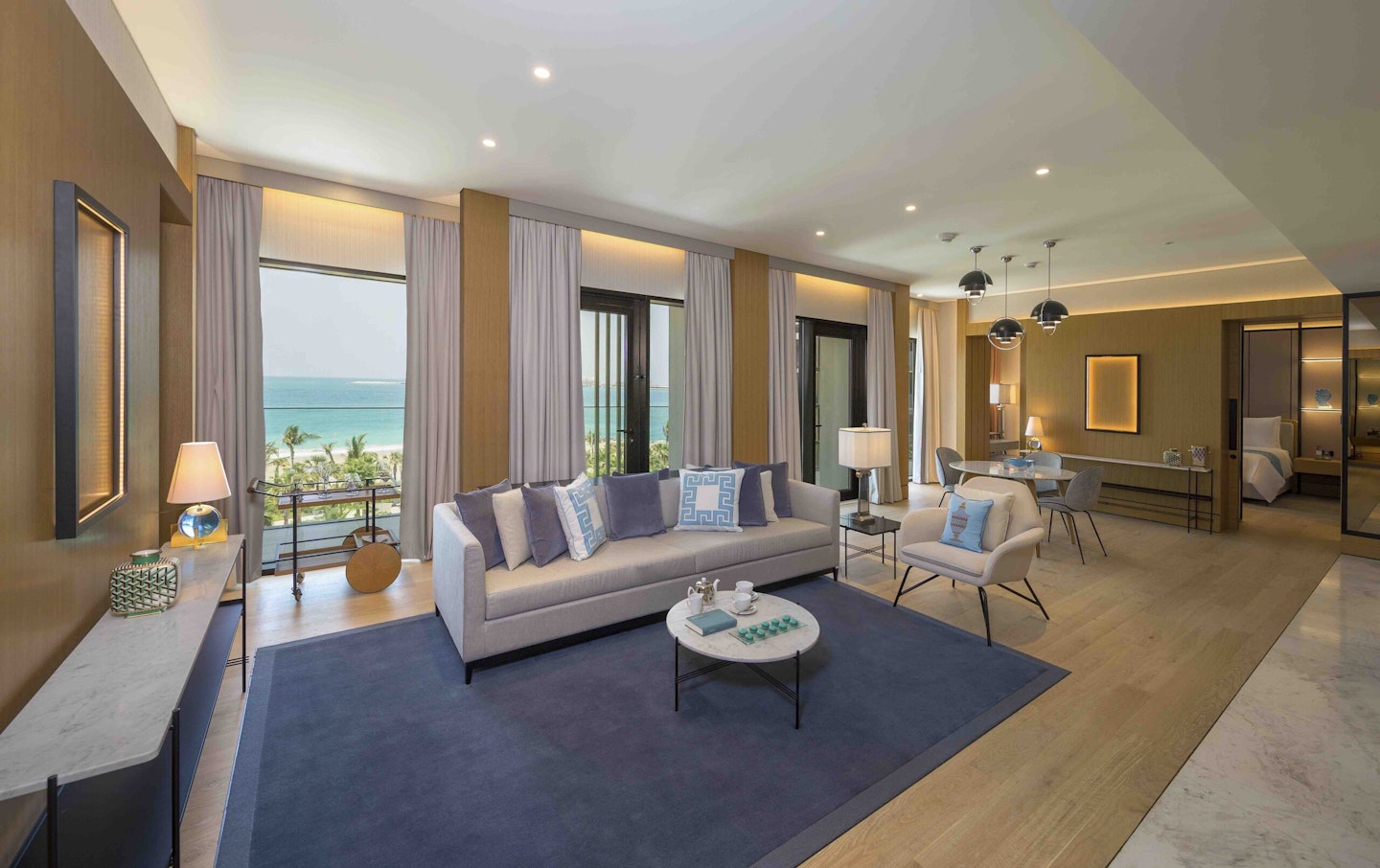 2 of 5
Caesar's Palace Dubai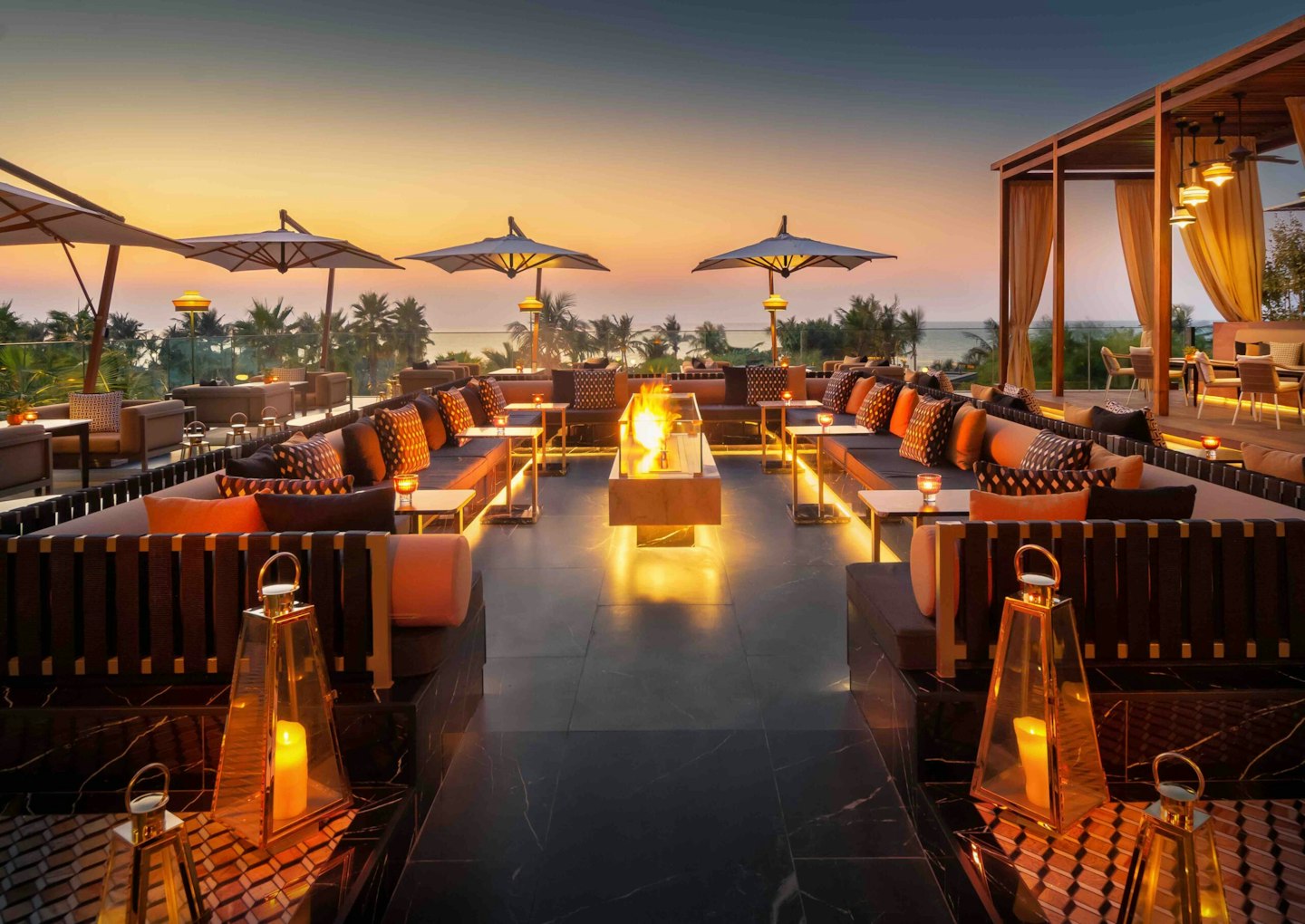 3 of 5
Caesar's Palace Dubai
4 of 5
Caesar's Palace Venus Beach Club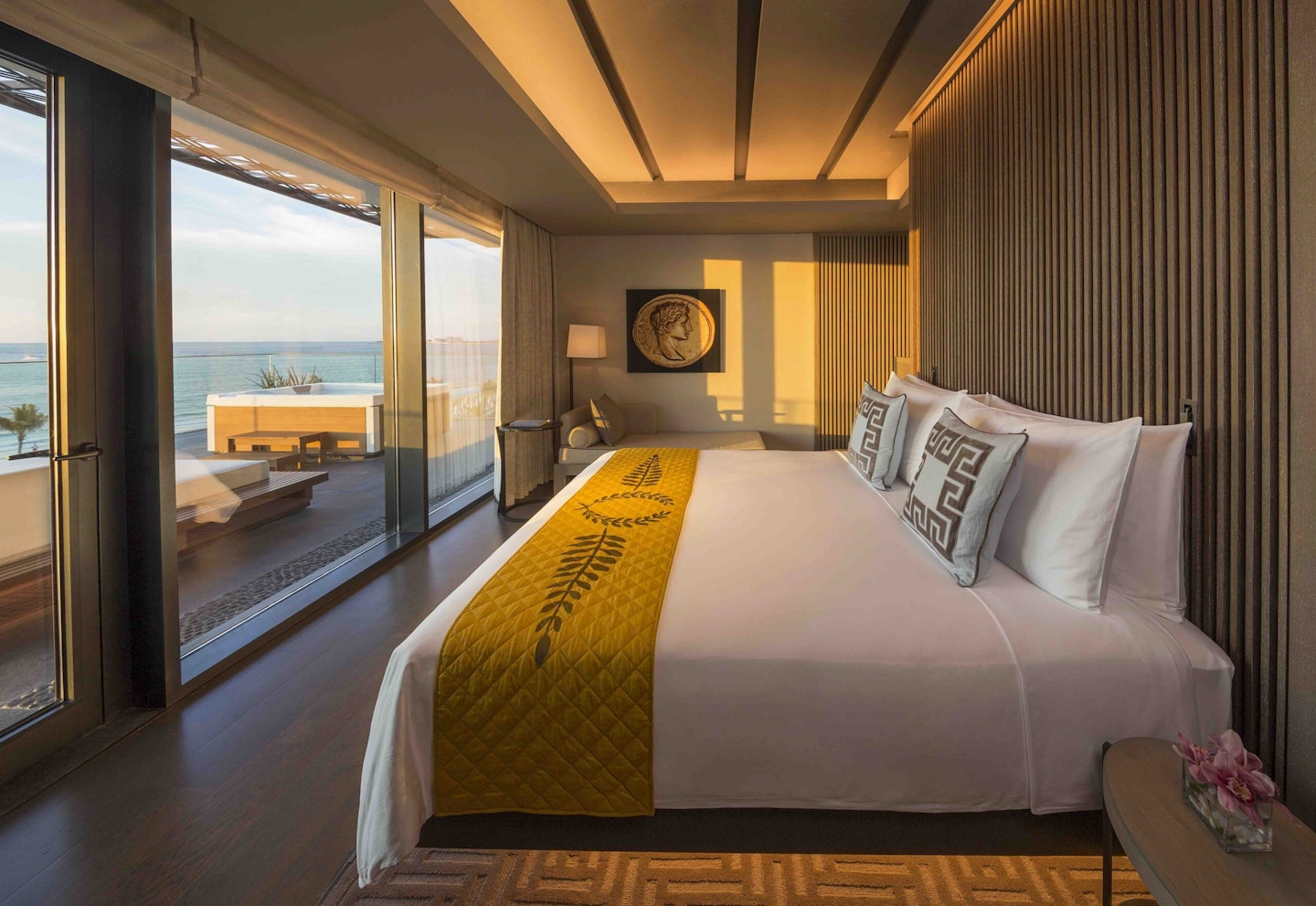 5 of 5
Caesar's Palace Dubai
The Burj al Arab
You heard about it being built on the news, you saw its grand opening in magazines, you've since seen it in every holiday backdrop on Instagram. It's the iconic hotel that everyone poses in front of, where celebrities spend weeks lounging and influencers sip 24 karat gold cappuccino's in. But, have you ever seen inside it? Unlikely.
The Burj Al Arab Jumeirah is the world's most luxurious hotel. Standing on an artificial island, the 1,053 ft architectural masterpiece is often dubbed the only existing seven-star hotel. Its royal suites are the most expensive hotel rooms in the world, at £13800 per night, and are frequented by the likes of Justin Bieber – with various other celebrities from Kendall Jenner to Selena Gomez known to stay at the incredulous establishment.
It's places like this that, for us laymans, typically only exist in pictures online. The #luxuryapartments that we stalk, which a quick search that will bring up over 250,000 results, and the YouTube accounts we follow dedicated purely to luxury housing tours. In a world where our social media feeds are filled with perfection, taking a peek inside the luxurious lives of others has become an addiction for many.
It's how YouTuber Erik Conover has amassed near 1million followers on the platform with the bulk of his content being tours around multi-million dollar apartments. His most popular video? A $28,500,000 apartment tour in New York City, which has near 7million views. And in fact, one video of a $1,700 apartment versus $40,000 apartment by BuzzFeed Multiplayer has over 12million views on YouTube.
Essentially, it seems that despite aspirational living online being one of the biggest bones of contention on Instagram - for the lack of authenticity, of course - we're still seeking out these insights into how the other half live. Why? Perhaps it gives us motivation, perhaps it just provides an escape from our largely mundane lives, or perhaps were just nosy. Either way, millions of us around the world are obsessed with deep-diving into the exclusive lives of others.
It's why, when we got the chance to check out the world's most luxurious hotel first hand, we jumped. And from our experience - plus these pictures - there's no surprise it's the most coveted hotel in the world...
Inside The Burj Al Arab - Grazia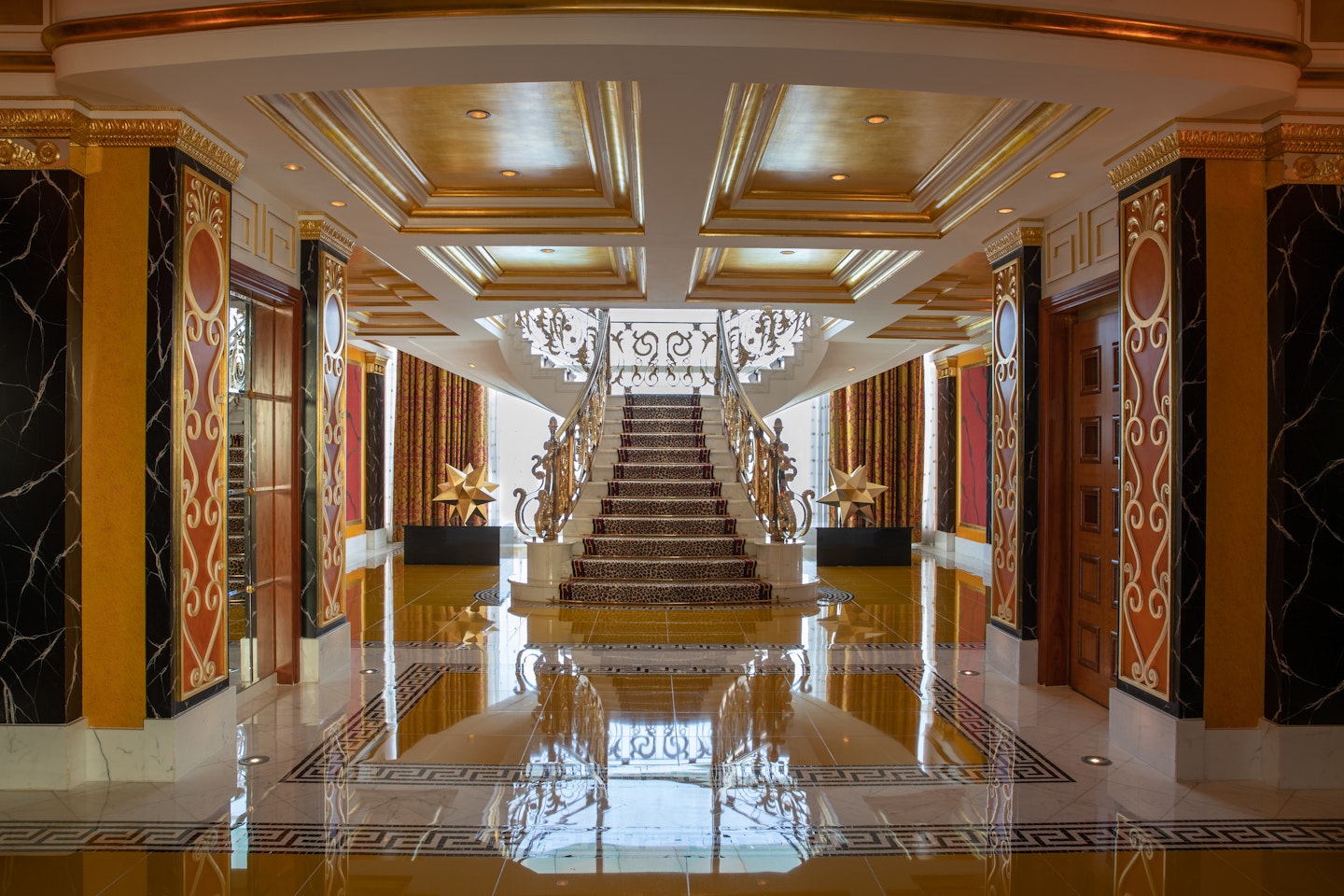 1 of 19
The Royal Suite
Entering the Burj Al Arab's royal suite, you are immediately greeted with a huge, gold staircase that ascends to your second floor.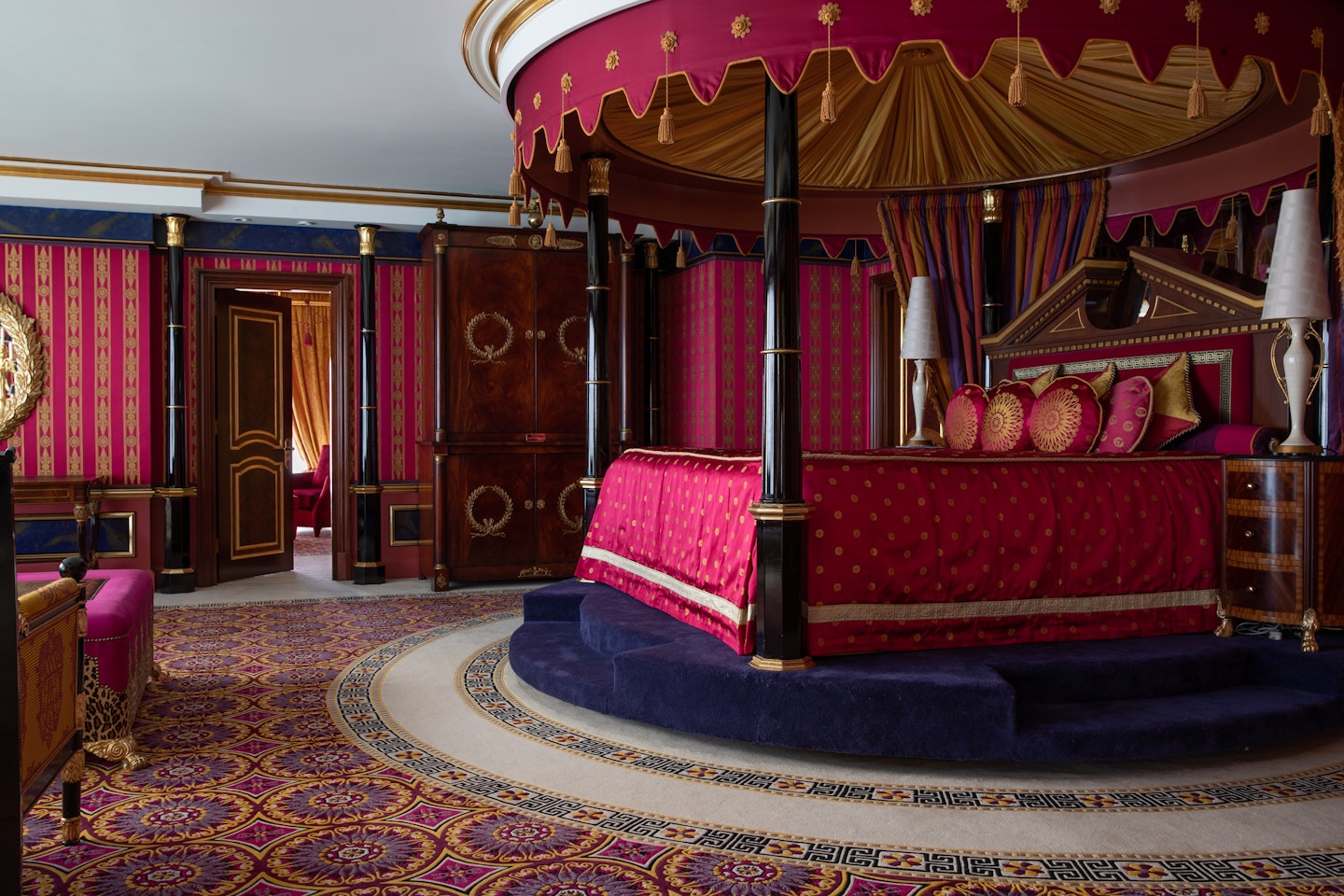 2 of 19
Inside The Burj Al Arab - Grazia
The lavish bedroom has been host to celebrities like Justin Bieber and Kendall Jenner.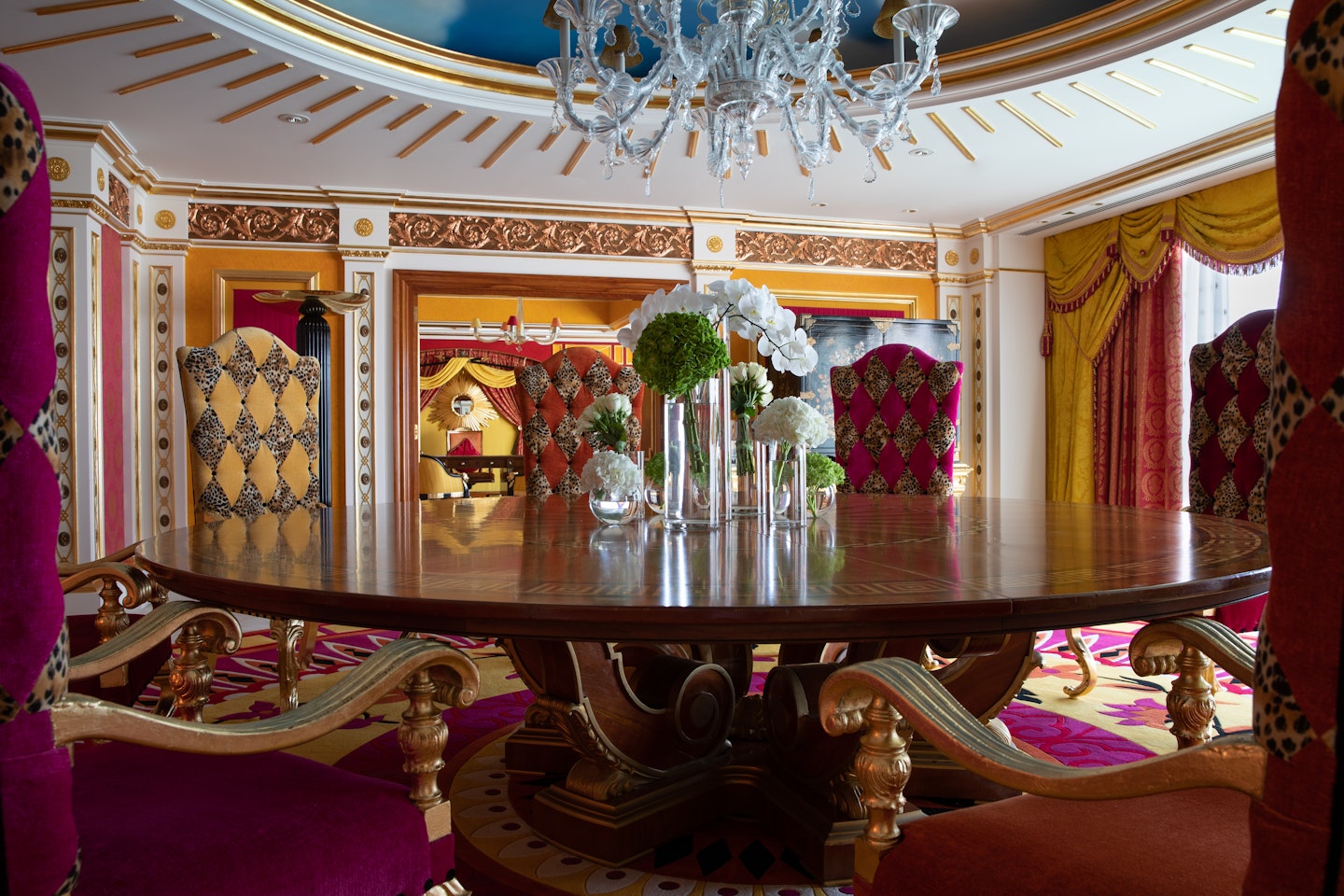 3 of 19
Inside The Burj Al Arab - Grazia
It features a private dining room for 12, a personal in-suit elevator and a lounge, library and cinema room.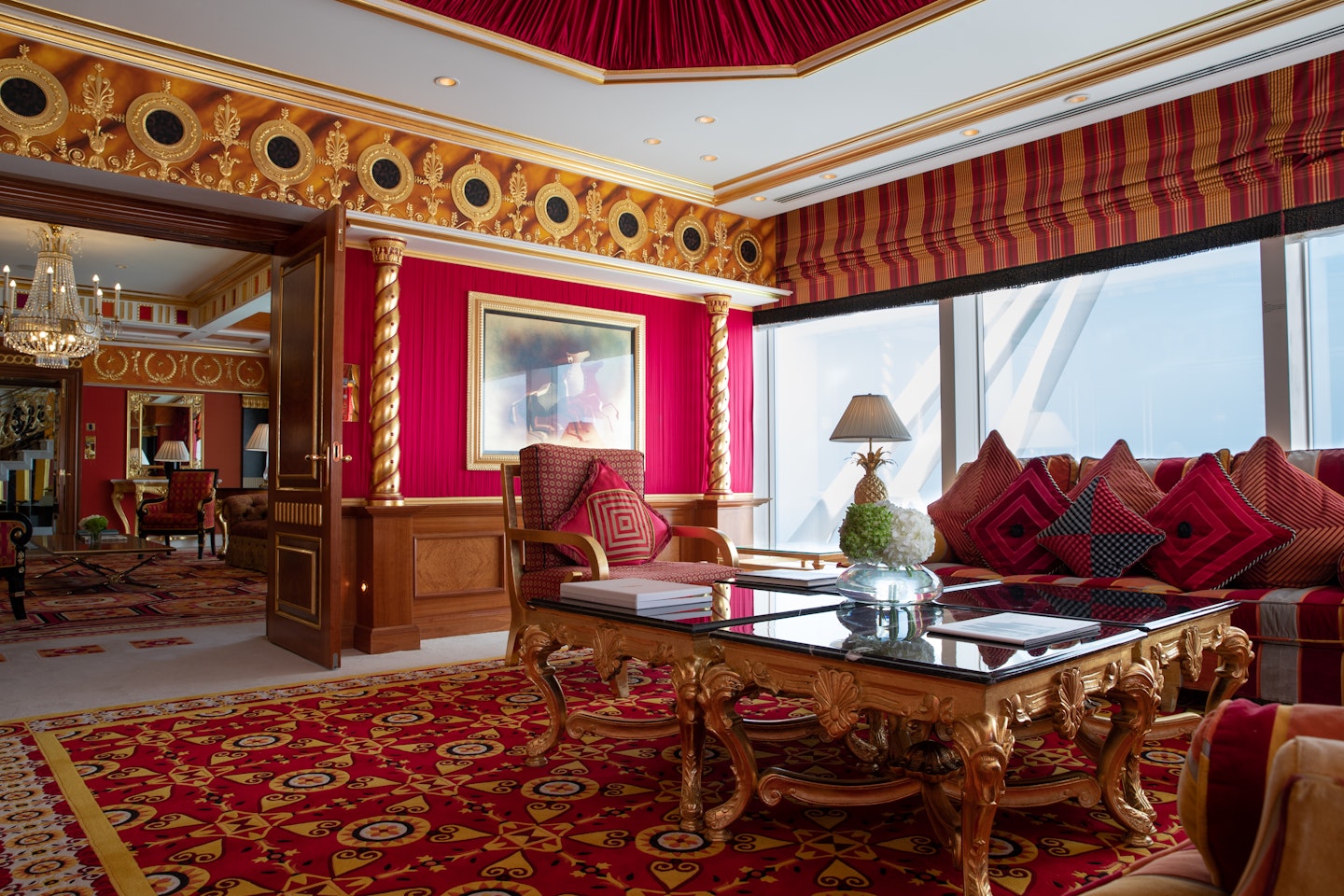 4 of 19
Inside The Burj Al Arab - Grazia
Two large dressing rooms amass the huge suite, with personalised private bars and two master bedrooms - each complete with a full-size jacuzzi and rain shower.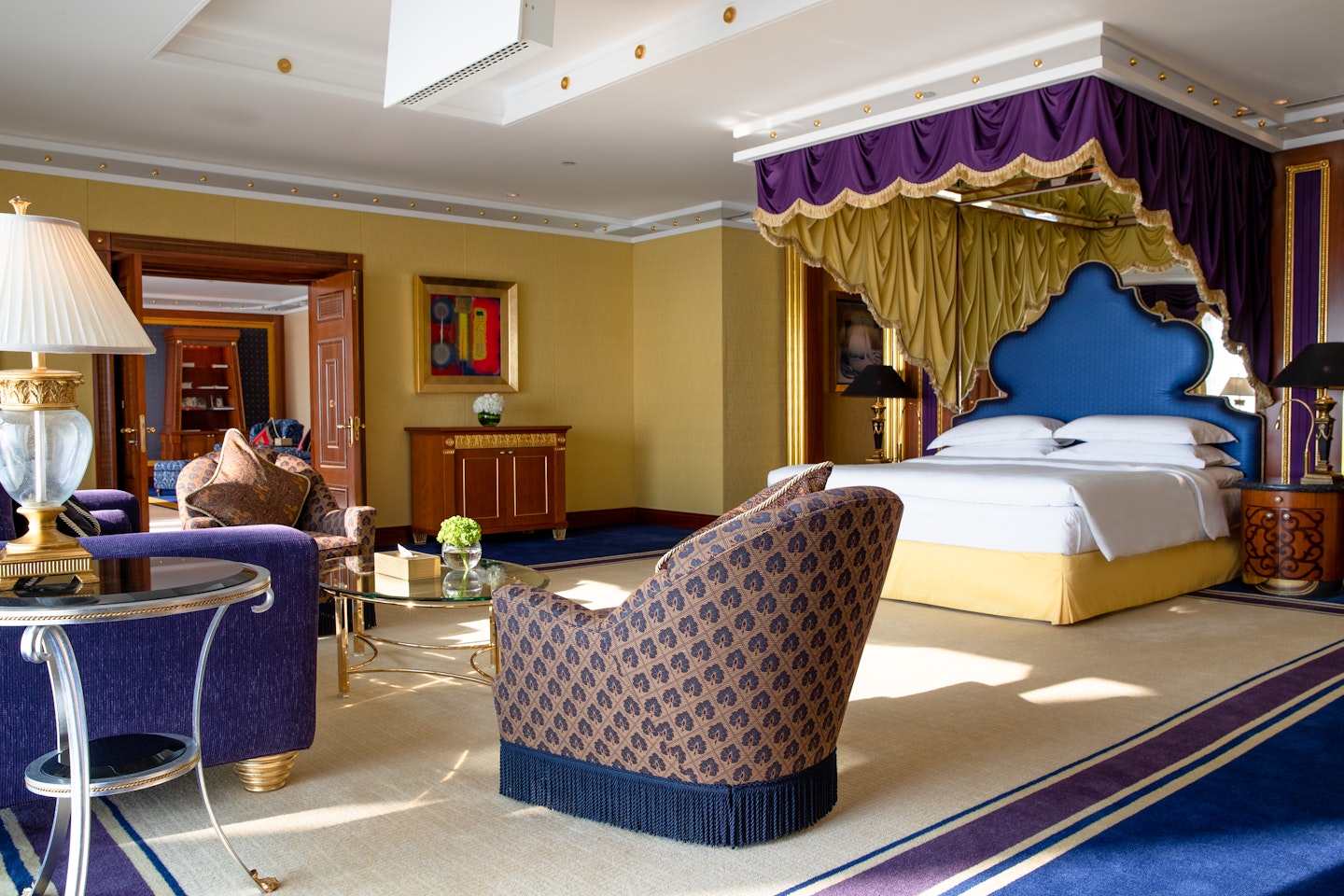 5 of 19
Inside The Burj Al Arab - Grazia
There is even a separate guest room on the lower level, all bedrooms are fitted with widescreen interactive TV's.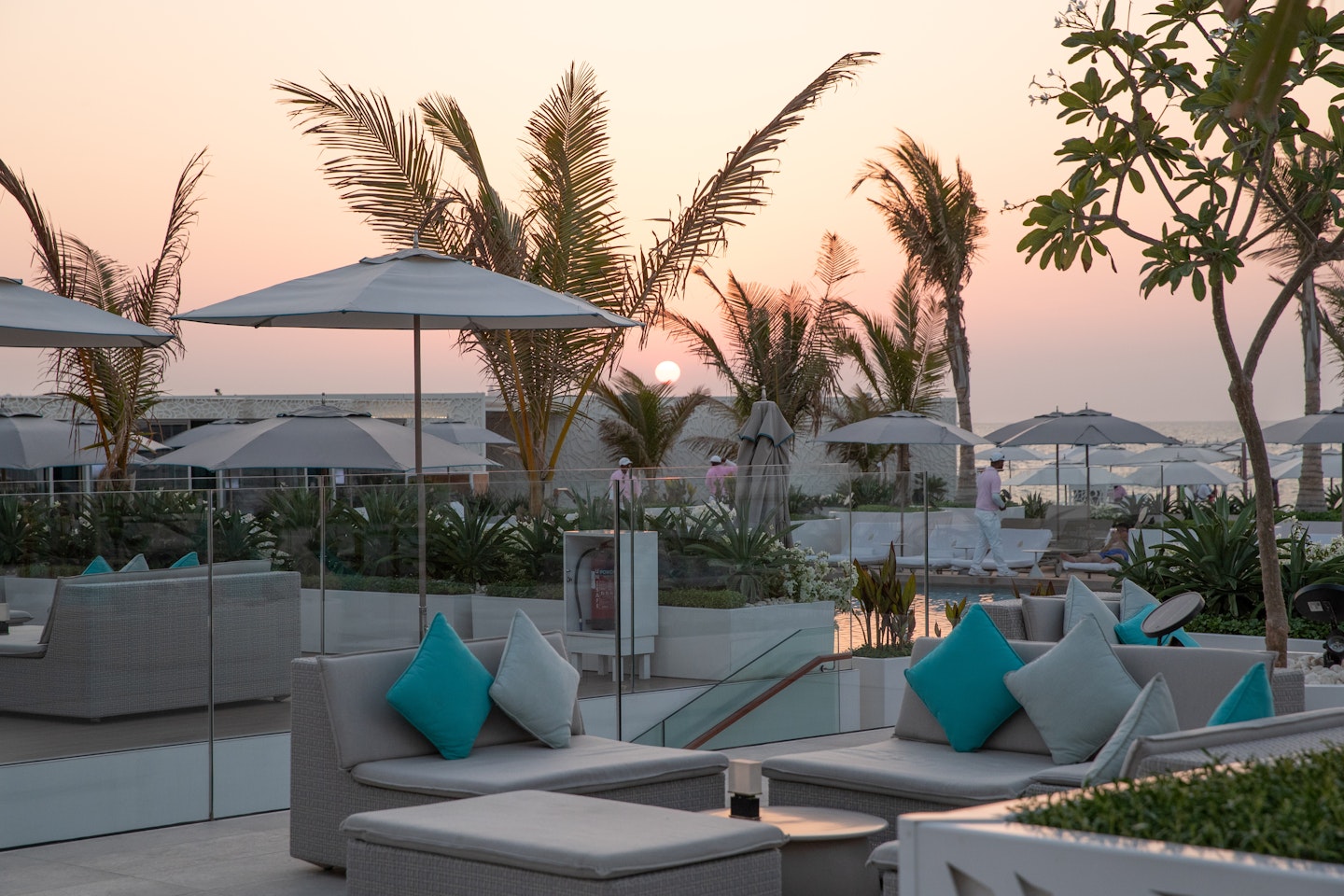 6 of 19
The luxury terrace
With idyllic views of the Arabian Gulf, the Burj Al Arab terrace is reknowned for it's one-of-a-kind restaurant and cabanas.
7 of 19
Inside The Burj Al Arab - Grazia
The infinity pool will leave you reaching for the sea, with the perfect opportunity to relax and lap up the endless sun of Dubai.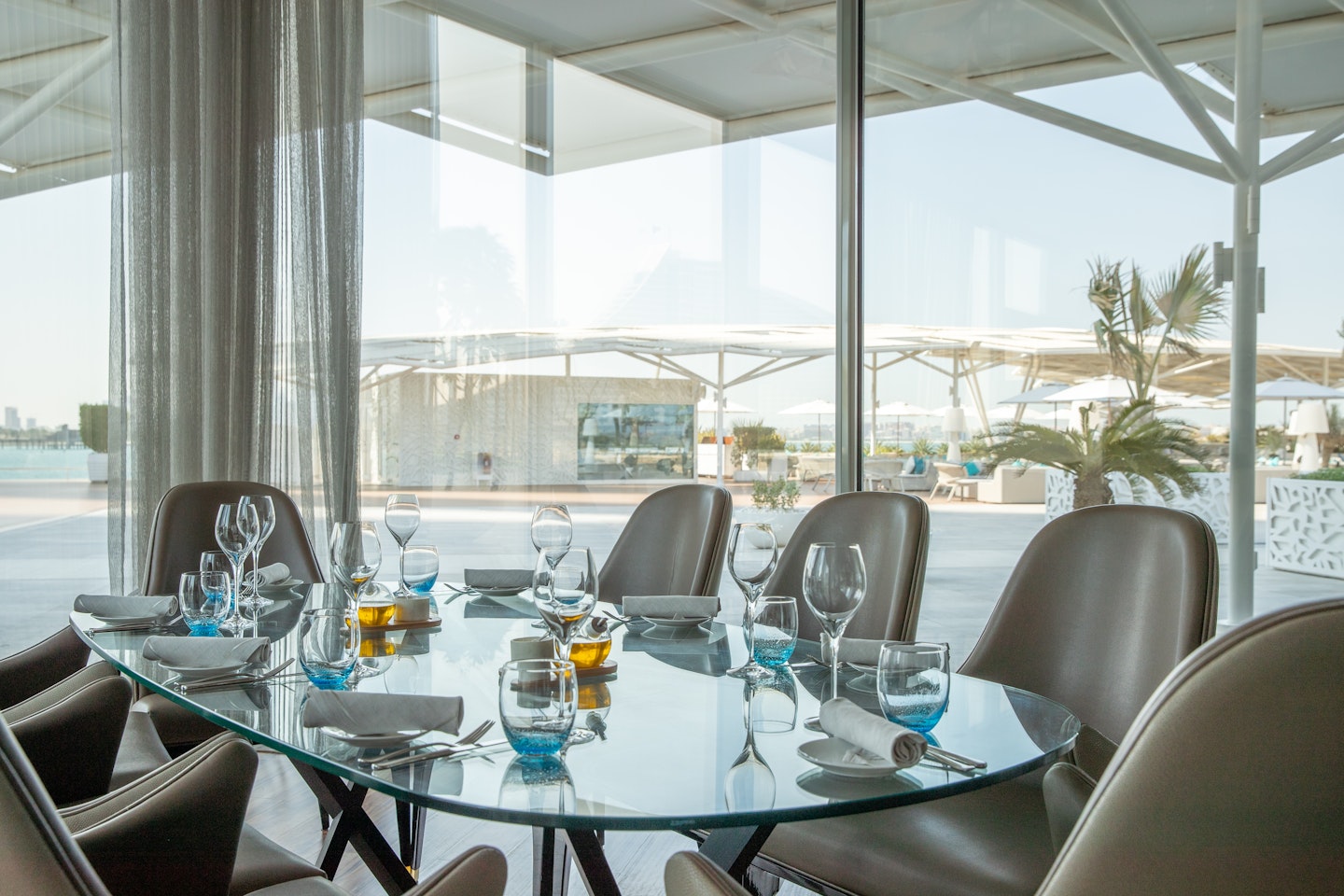 8 of 19
Inside The Burj Al Arab - Grazia
Before sunbathing on the luxury terrace, you can get a spot of lunch at Scape restaurant. Inspired by Côte d'Azur, its cuisine and the Mediterranean "art de vivre" it's chic decor is second-only to the delightful seafood served.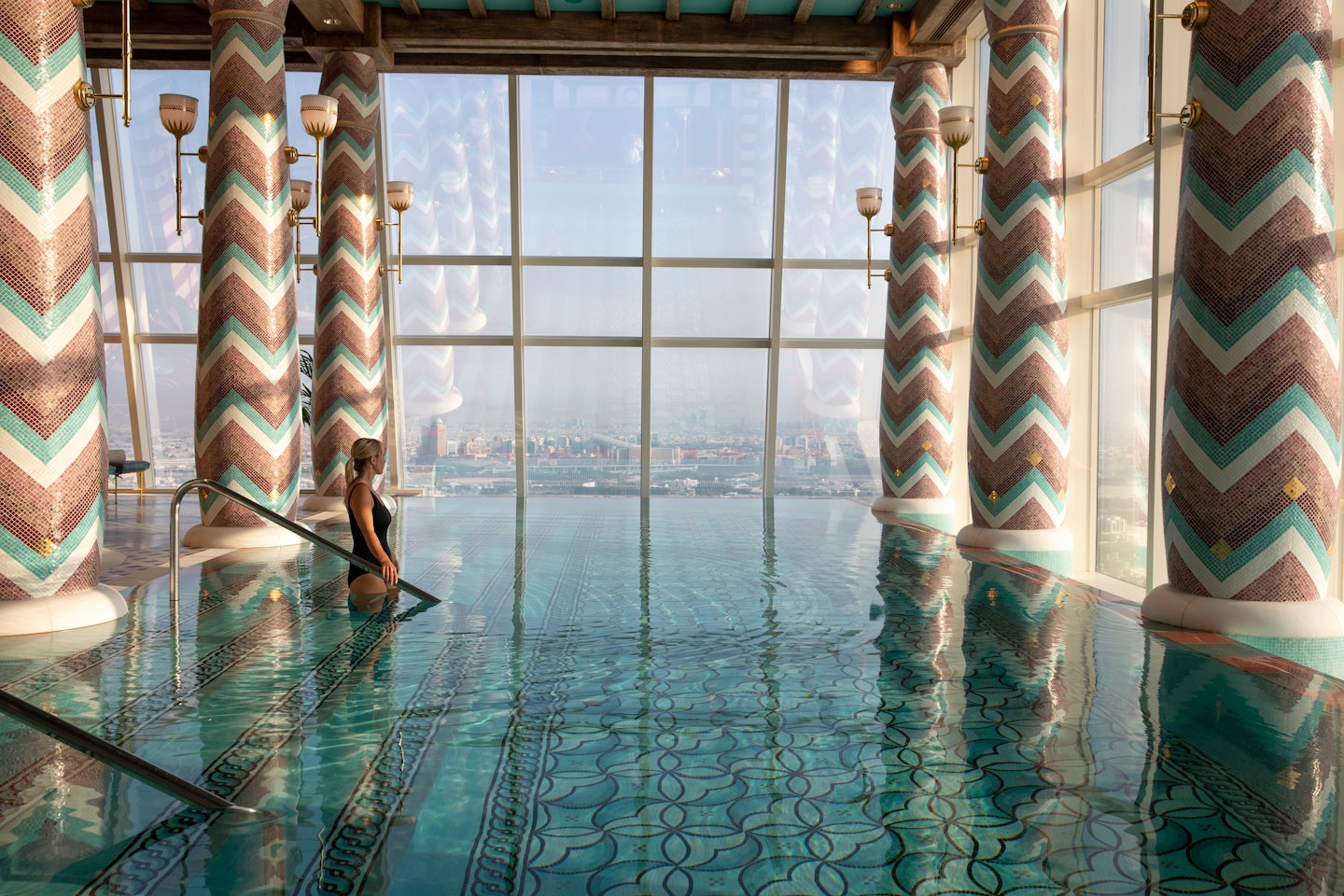 9 of 19
Talise spa
Another famous Instagram backdrop, the Talise spa sits 150m above the ground and offers remarkable views of Dubai. Swim in the infinity pool or lounge on the beds beside it, and you'll feel world's away from stress or worry.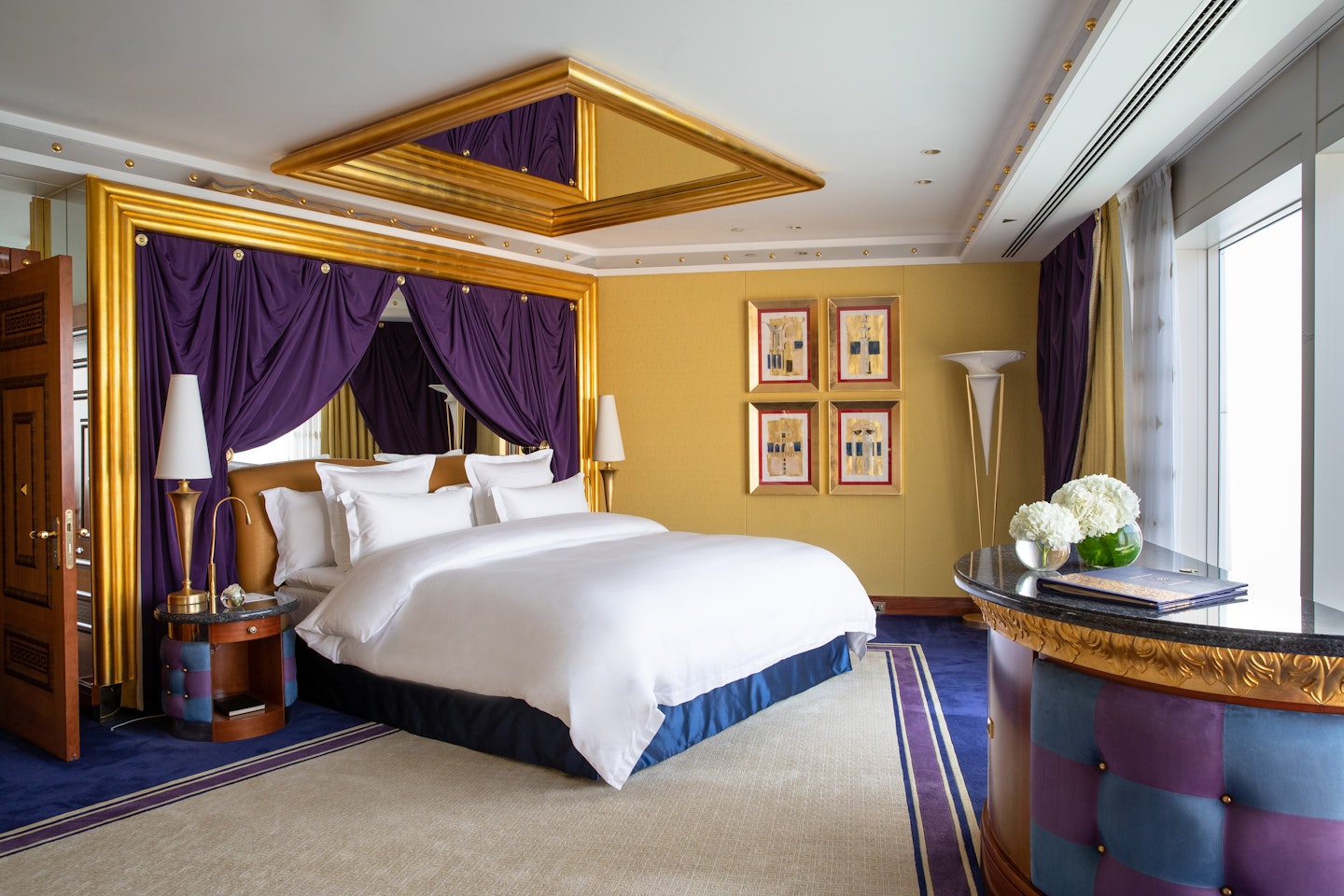 10 of 19
Deluxe one bedroom suite
Every one of their 201 duplex suites has two floors. Ascend the glorious marble staircase and come to this beautiful bedroom, a huge bathroom filled with Hermes products for your jacuzzi bath and rain shower, and your own separate dressing area.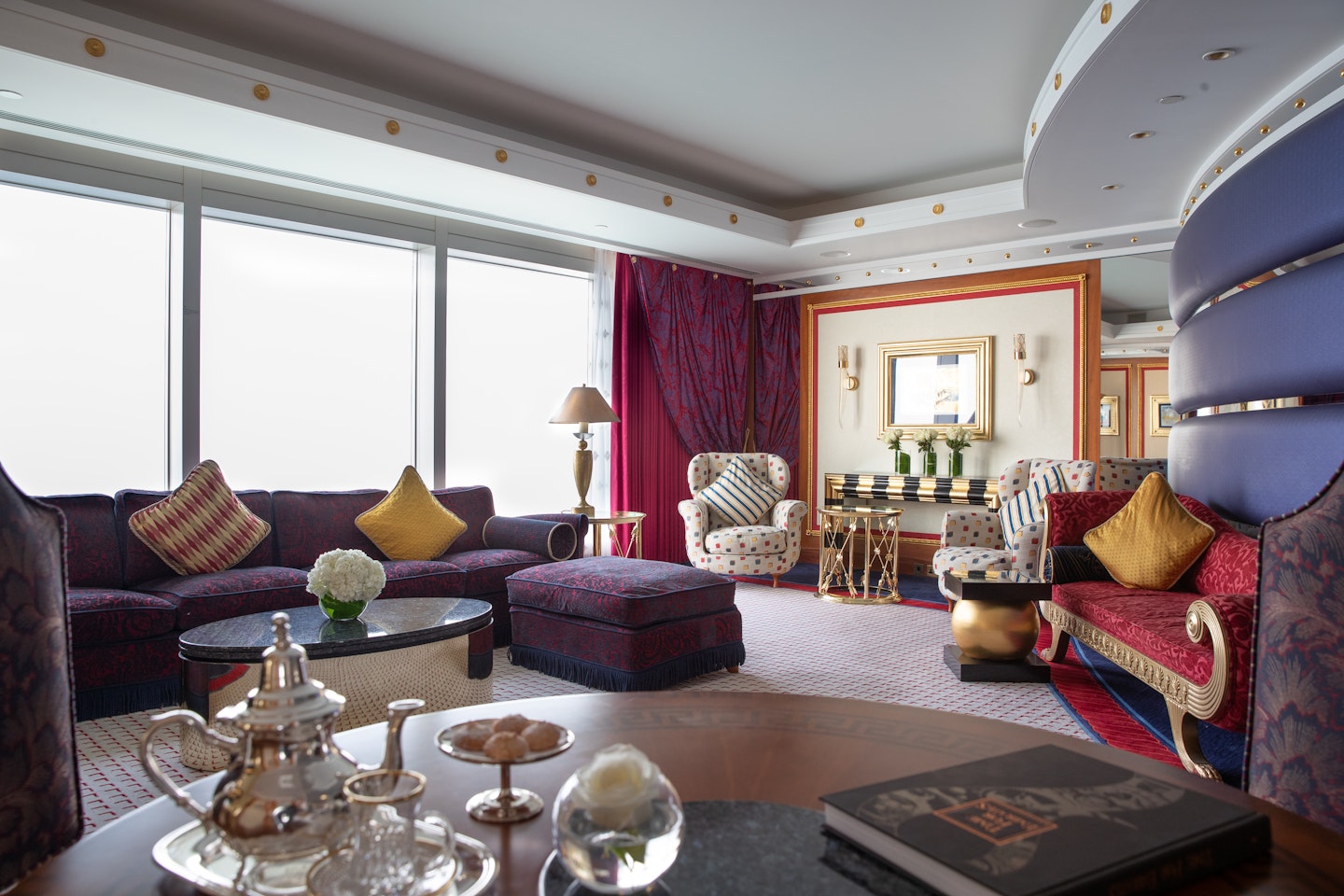 11 of 19
Inside The Burj Al Arab - Grazia
The lower ground of your suit includes a huge living space, dining table and state-of-the-art TV, as well as a second bathroom and desk space with a giant Mac PC. Of course, it's the view that will captivate you with floor to ceiling windows revealing the unbelievable Dubai scenery.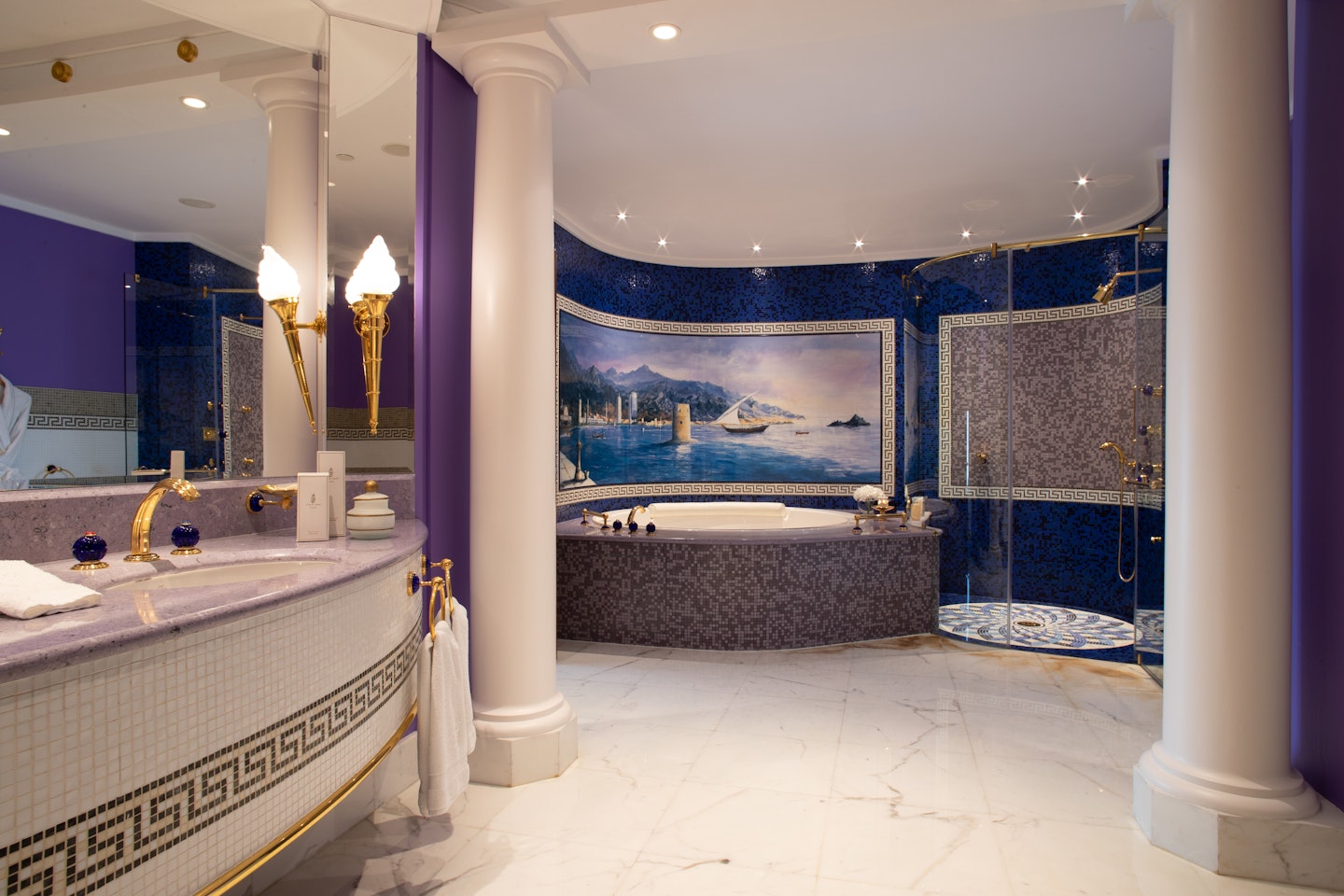 12 of 19
Inside The Burj Al Arab - Grazia
One of our favourite moments from staying in this hotel was relaxing in the huge jacuzzi bath, which can be drawn for you by your very own private butler - using the hoardes of Hermes products available in the lavish bathroom.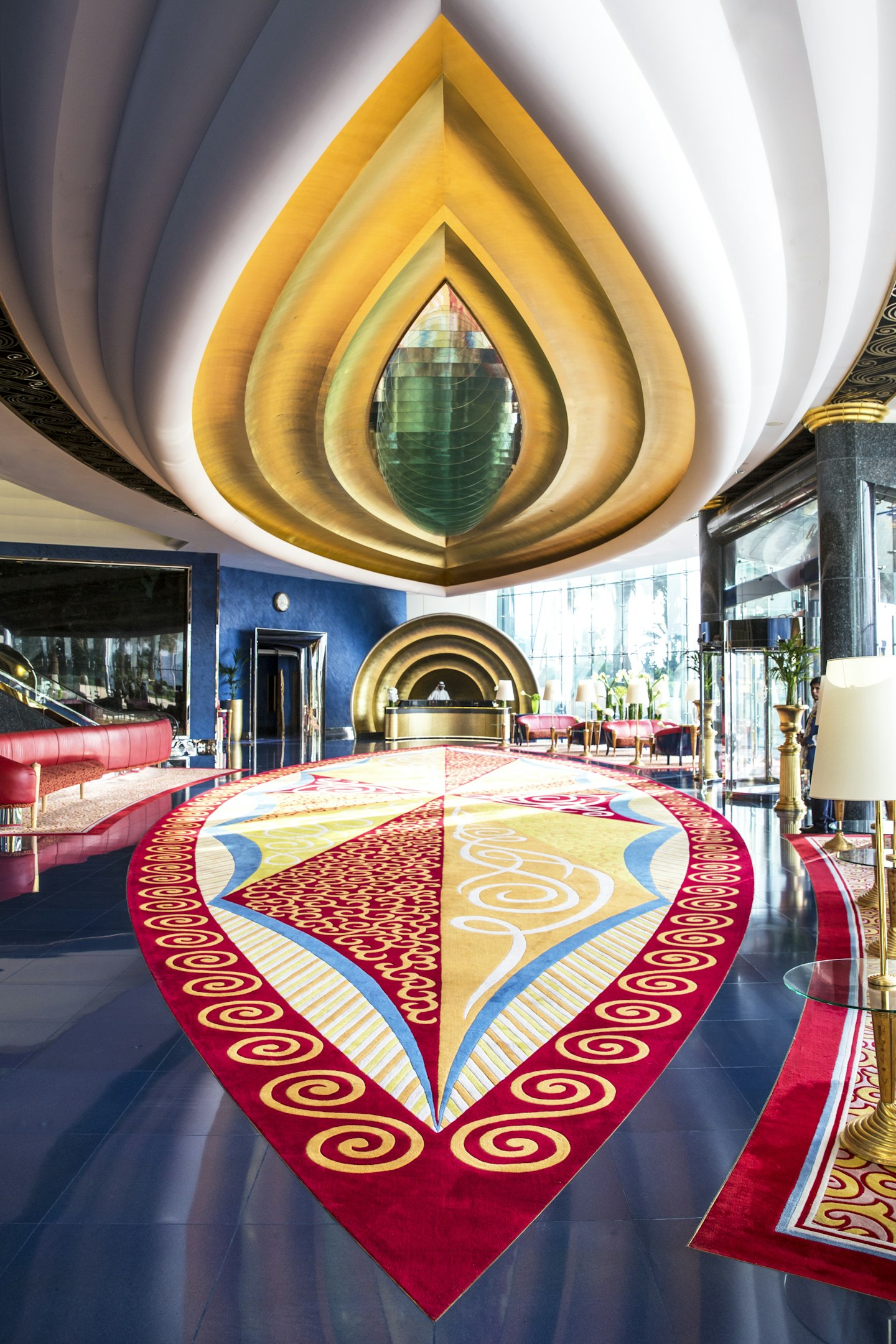 13 of 19
Reception
Walking into the Burj Al Arab is an experience like no other. Immediately, luxury and wealth washes over you as you can only gawk at the immense architectural beauty around you.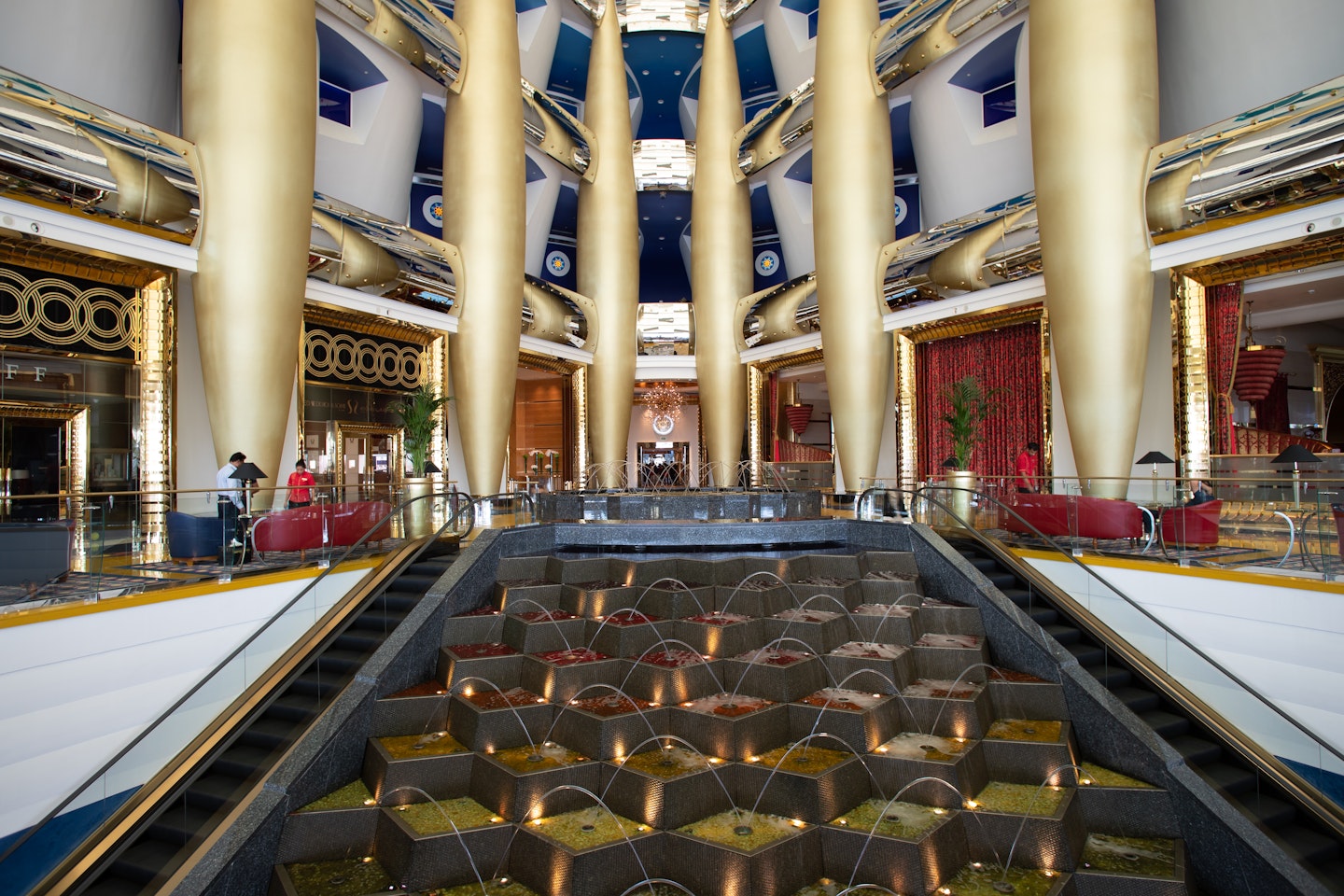 14 of 19
Inside The Burj Al Arab - Grazia
Ascend the escalators from reception and look up to see the true height of all 201 deluxe suites. To your side sits the infamous water fountain that blasts into the air from time to time.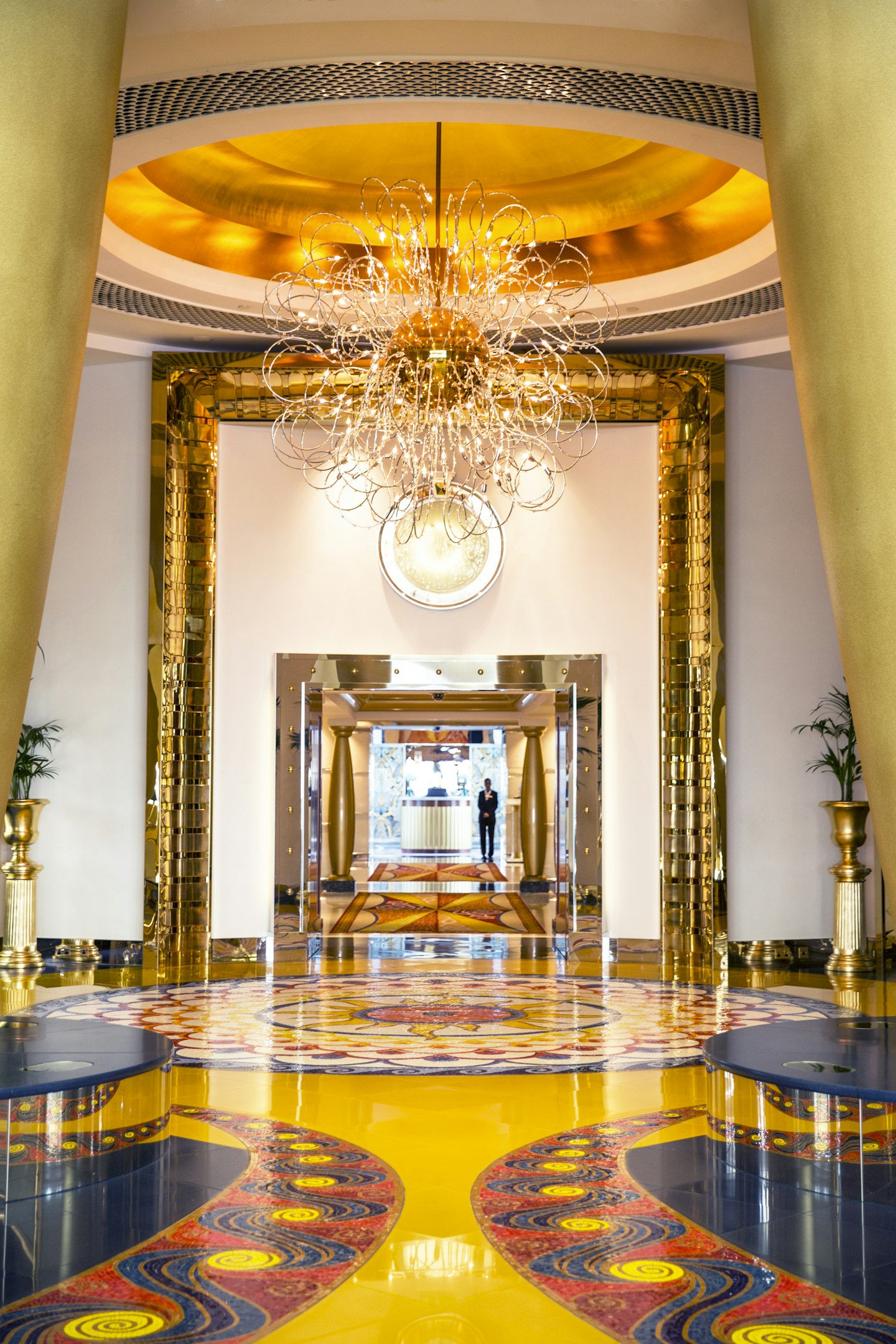 15 of 19
Inside The Burj Al Arab - Grazia
Walk through the halls and feel as sky high as the ceilings in this unbelievably lavish environment.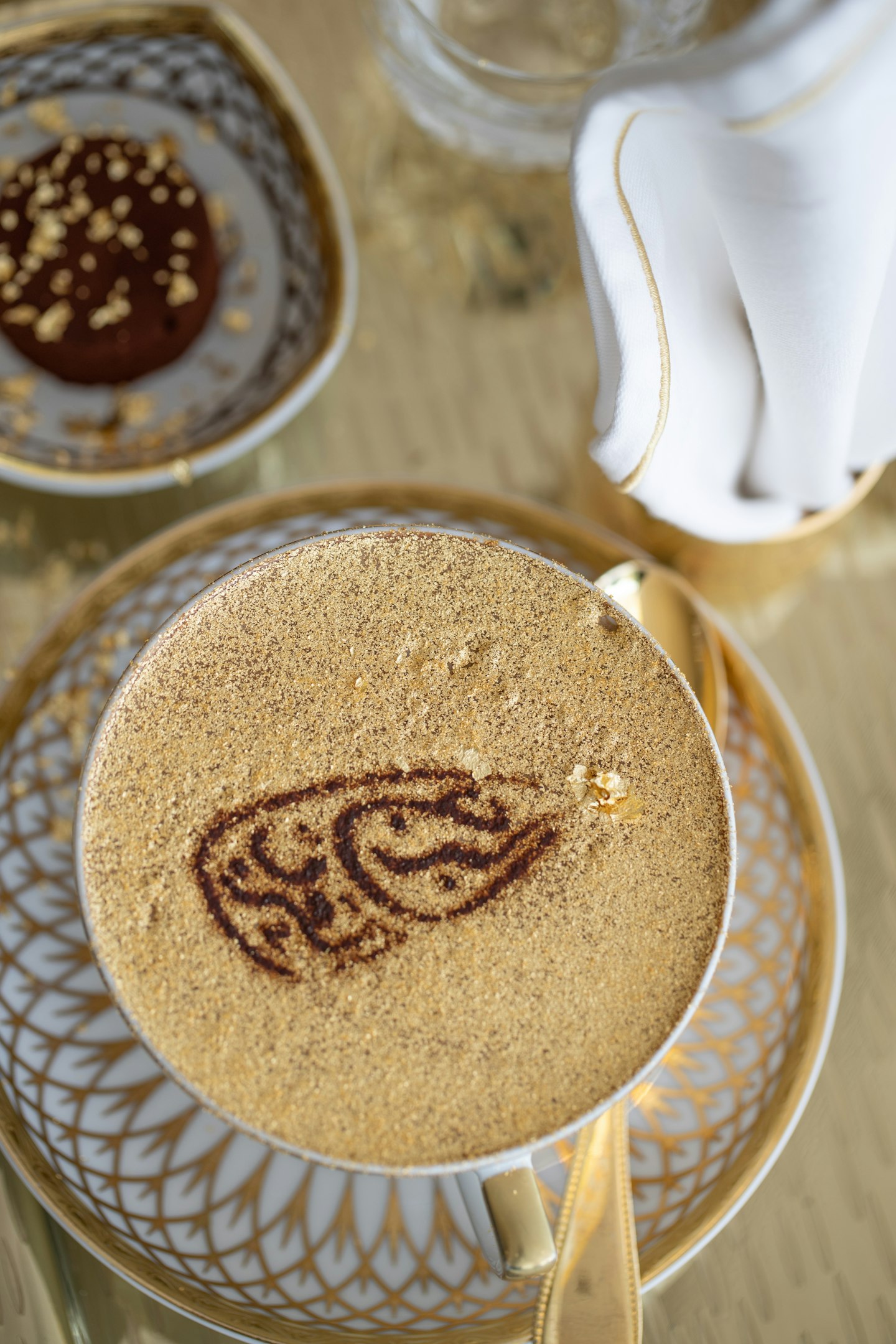 16 of 19
Inside The Burj Al Arab - Grazia
Try out a delicious 24 karat gold cappuccino.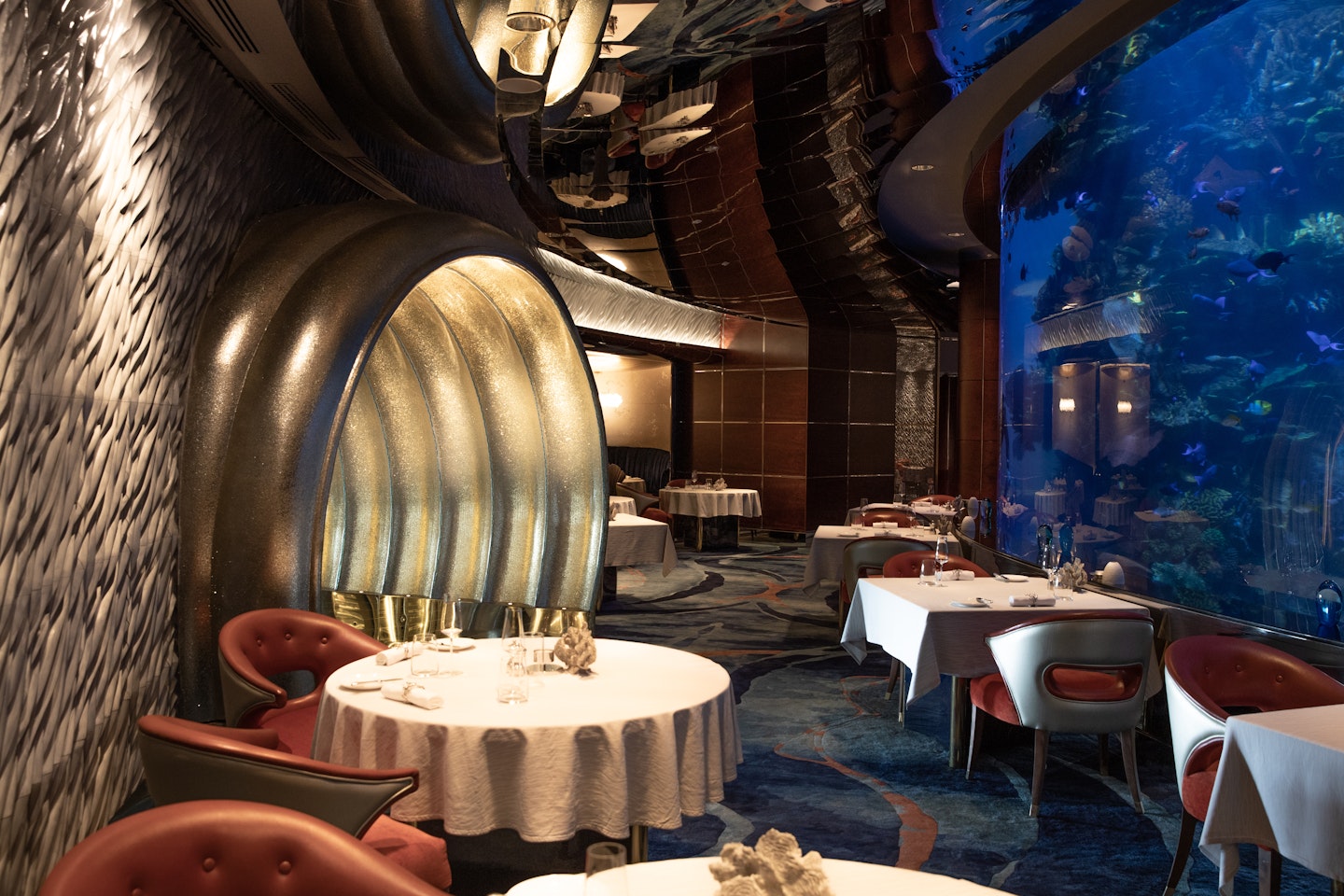 17 of 19
Al Mahara
Pop for an unbelievable experience of seafood while surrounded by a floor to ceiling aquarium. The northern European cuisine is curated by michelin-starred Chef Kasper whom presents the most mouth-watering dishes.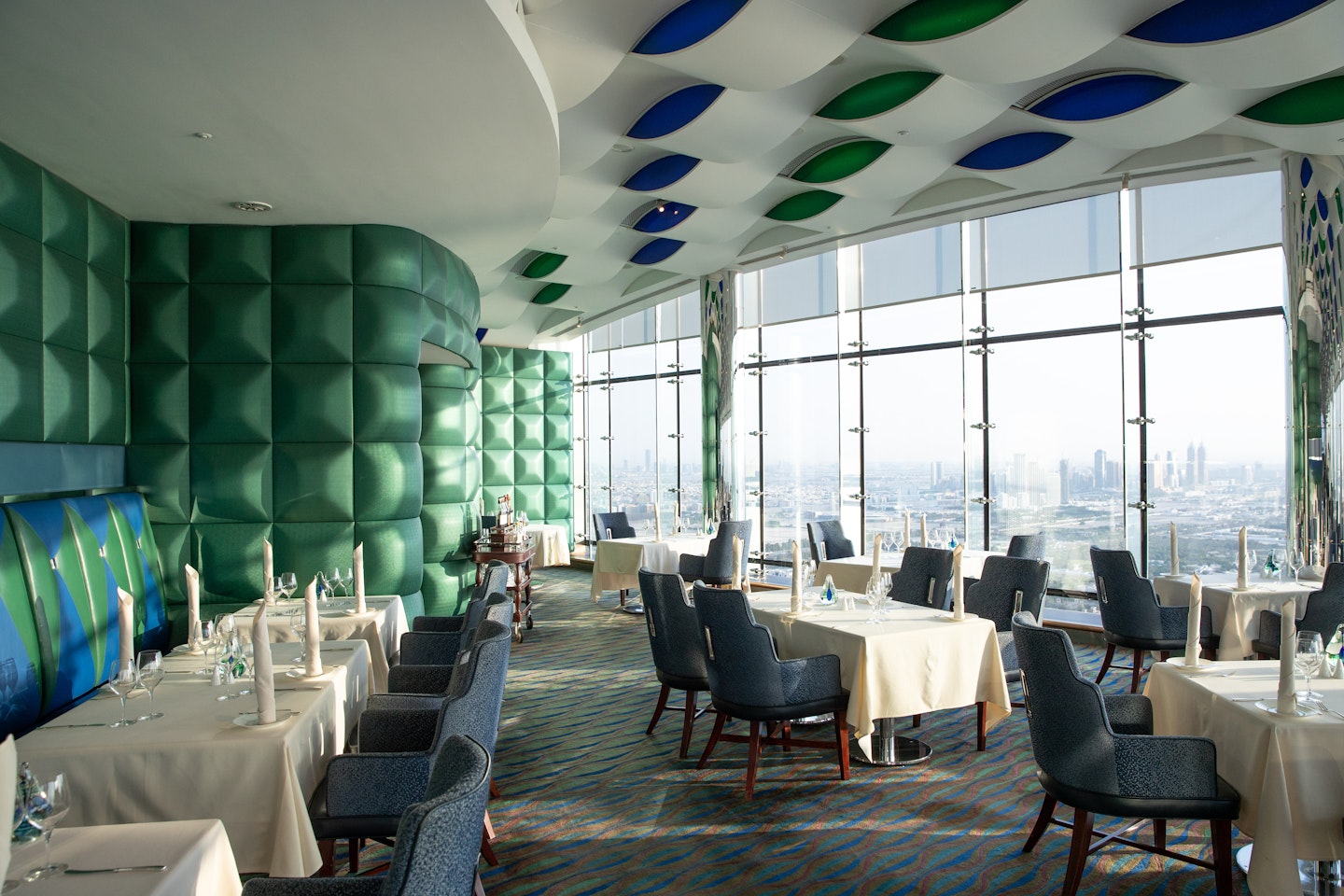 18 of 19
Al Muntaha
Sitting on the top floor of the hotel is Al Muntaha, where another michelin-starred chef, Chef Francky, will create fine french cuisine in his innovative and remarkable style.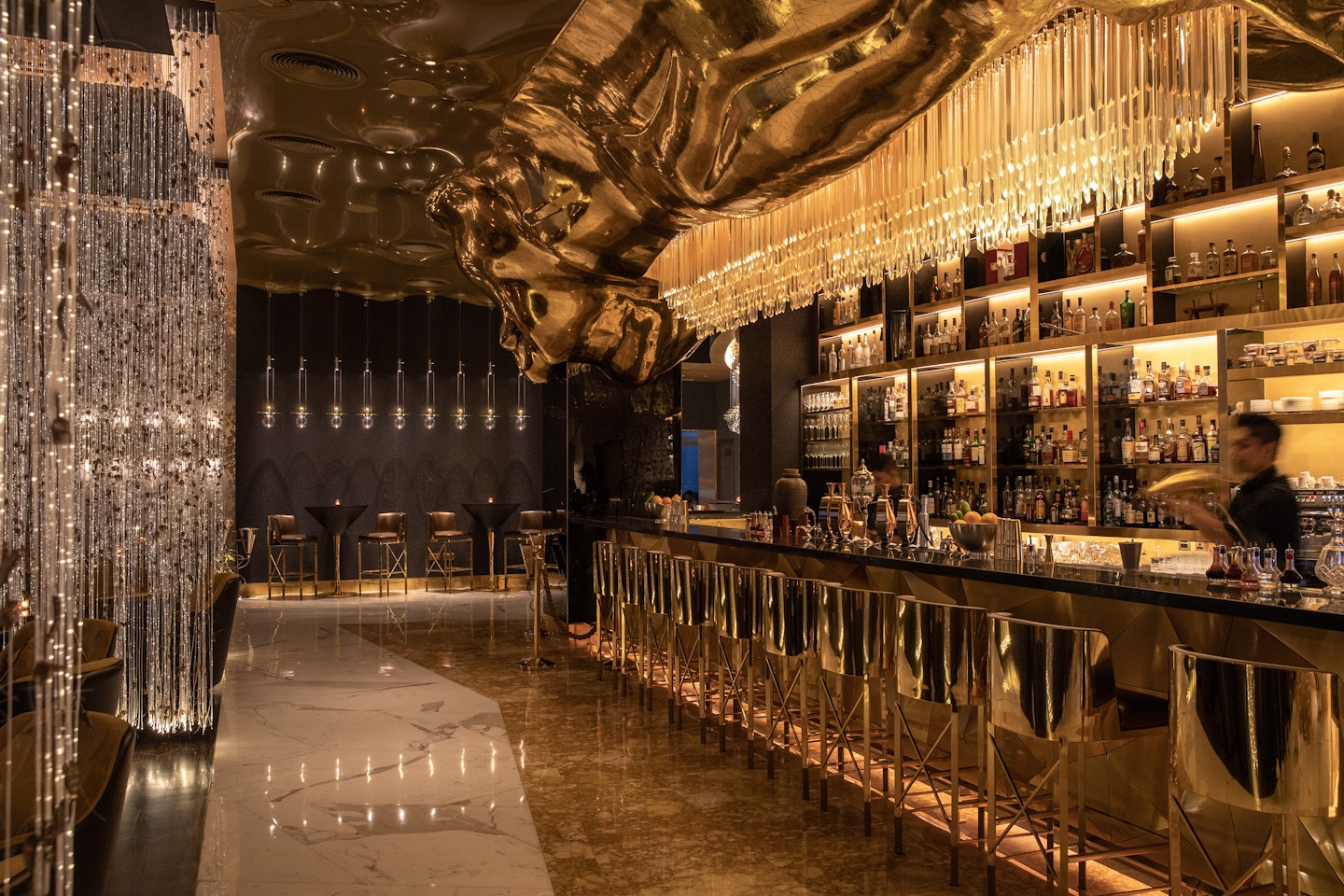 19 of 19
Gold on 27
Then, enjoy a fine drink or the flavoured shisha at Gold on 27. You will never enter a bar like this again, with every surface dripping in gold and a relaxing yet cool atmosphere sweeping the awe-inspiring bar.
To stay at the Burj Al Arab Jumeirah, rates start at AED 6,800++ (£1,345). Click here to find out more.
Jumeirah Beach Hotel
One of my absolute favourites in Dubai, the Jumeirah Beach Hotel is perfect for the entire family. On arrival into my room, I was greeted by the most incredible view of the Burj al Arab, with floor to ceiling windows ensuring the room was bathed in sunlight. It's all you can do not to run down to the beach, just a stones throw from the hotel, and take in the sight for yourself. Alas, the meltingly comfortable bed and jacuzzi bath got the best of me.
While you're staying at Jumeirah Beach, you have access to an incredible range of activities. As well as watersports at the beach, there's tennis courts and football pitches for you and the kinds. There's the luxurious Talise Spa, offering a wide range of treatments for those days you just need someone to rub all your stress away. There's even the Wild Wadi Waterpark™, free to enjoy throughout your entire stay.
The atmosphere at Jumeirah Beach is one of relaxed luxury with five swimming pools and an array of dining options. Their gym is pretty impressive too, although i'll admit I could hardly stay 30 minutes before the view of the beach called my name.
Jumeirah Beach Hotel - Grazia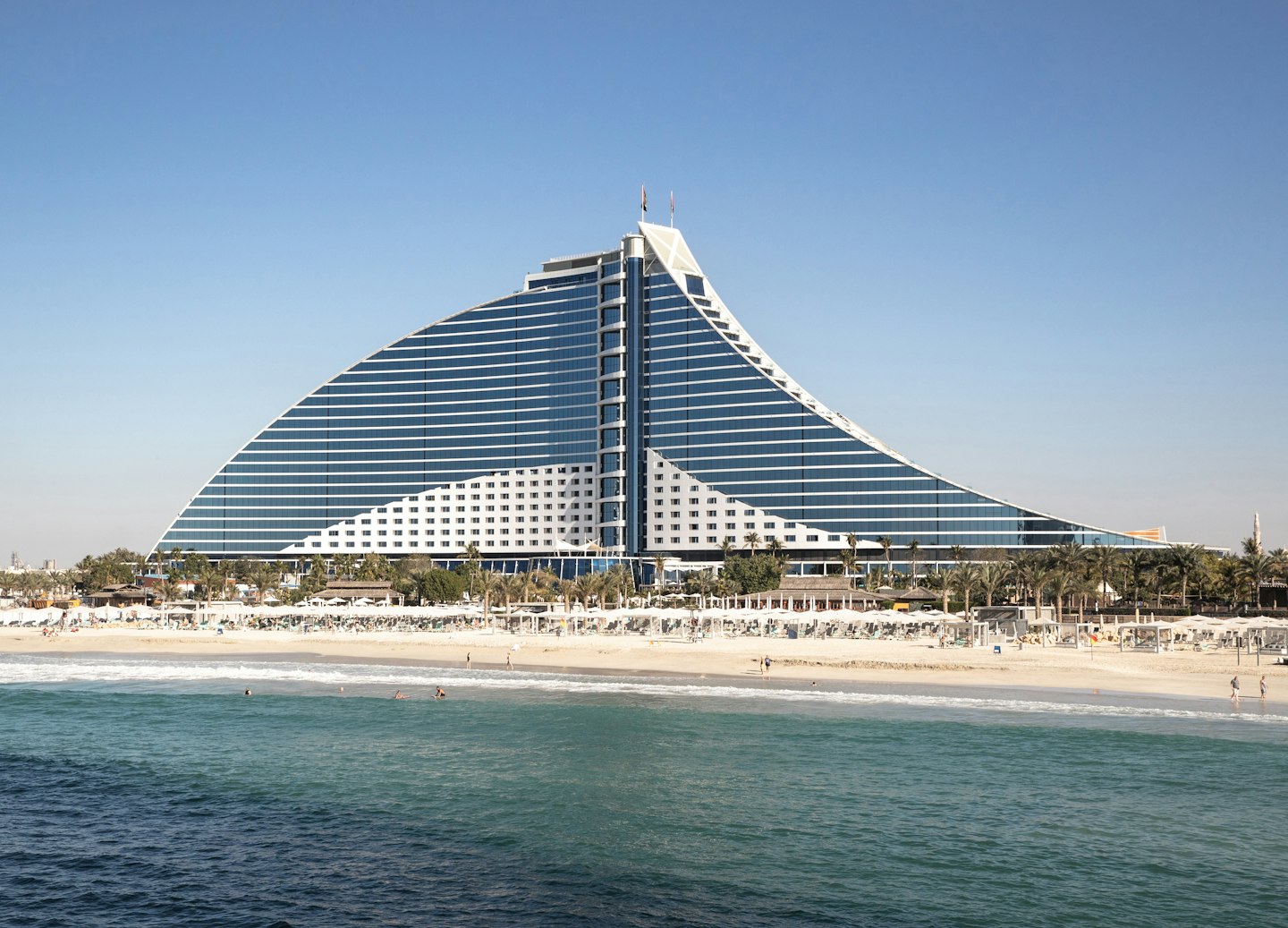 1 of 8
Jumeirah Beach Hotel - Grazia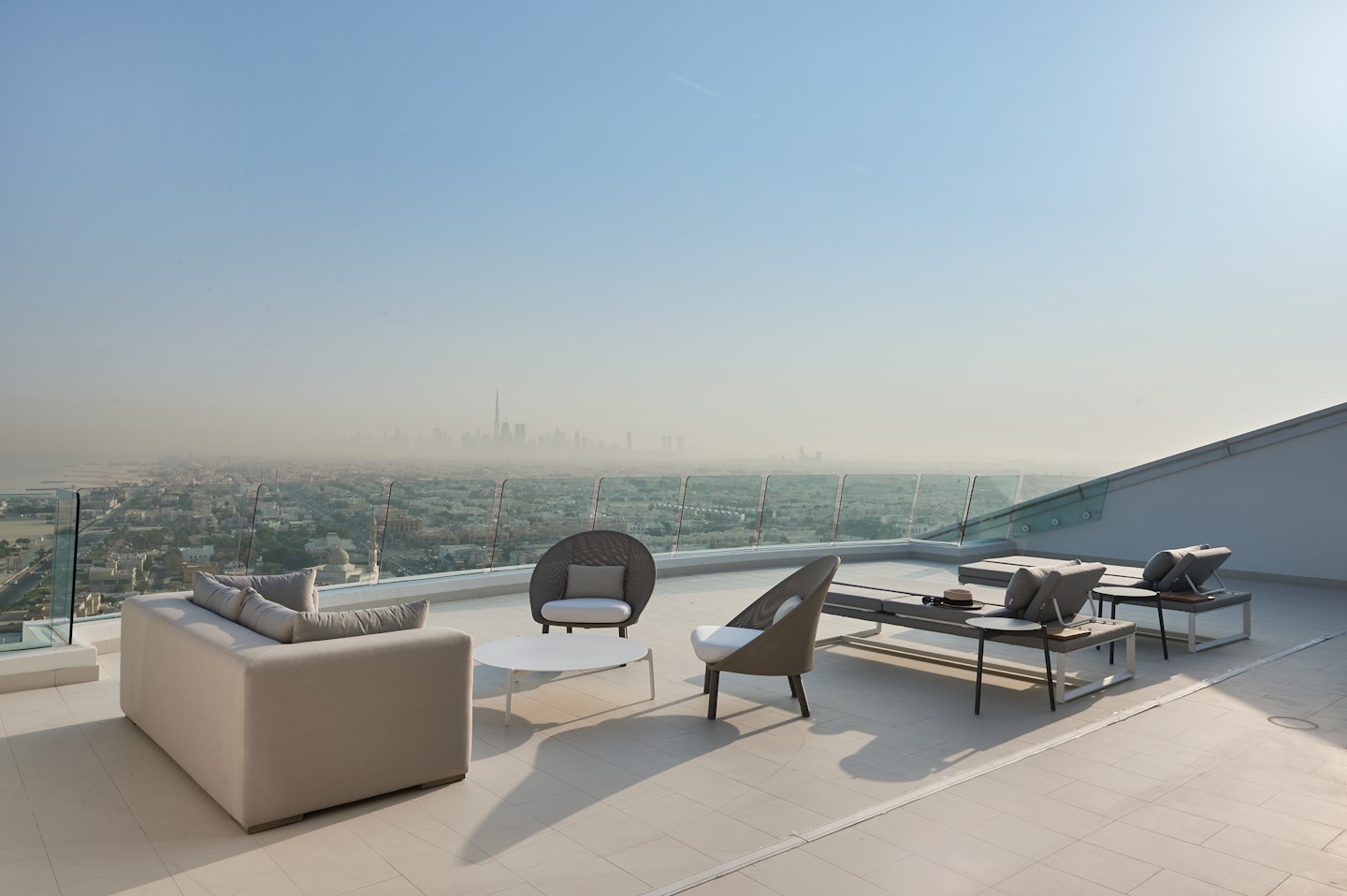 2 of 8
Jumeirah Beach Hotel - Grazia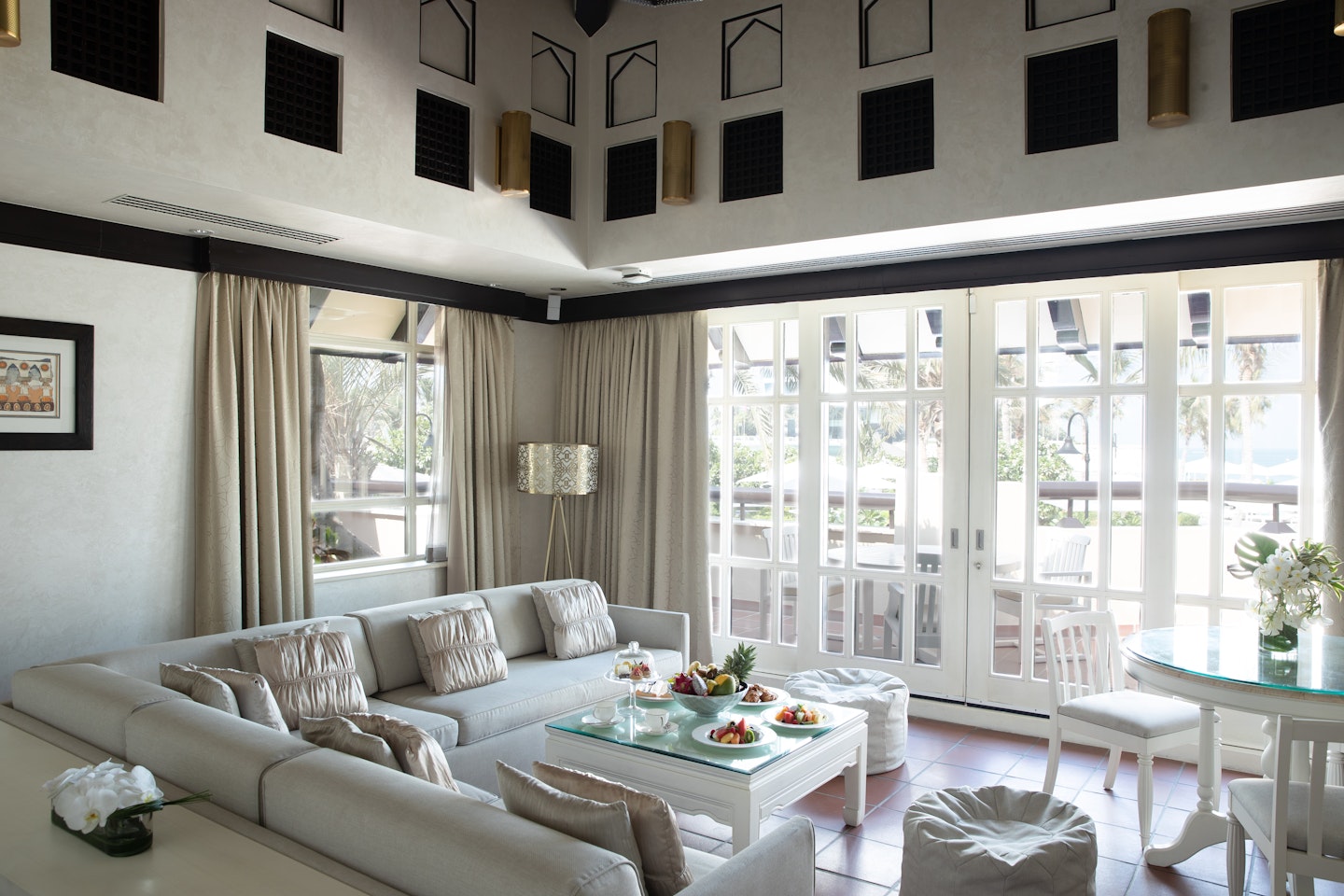 3 of 8
Jumeirah Beach Hotel - Grazia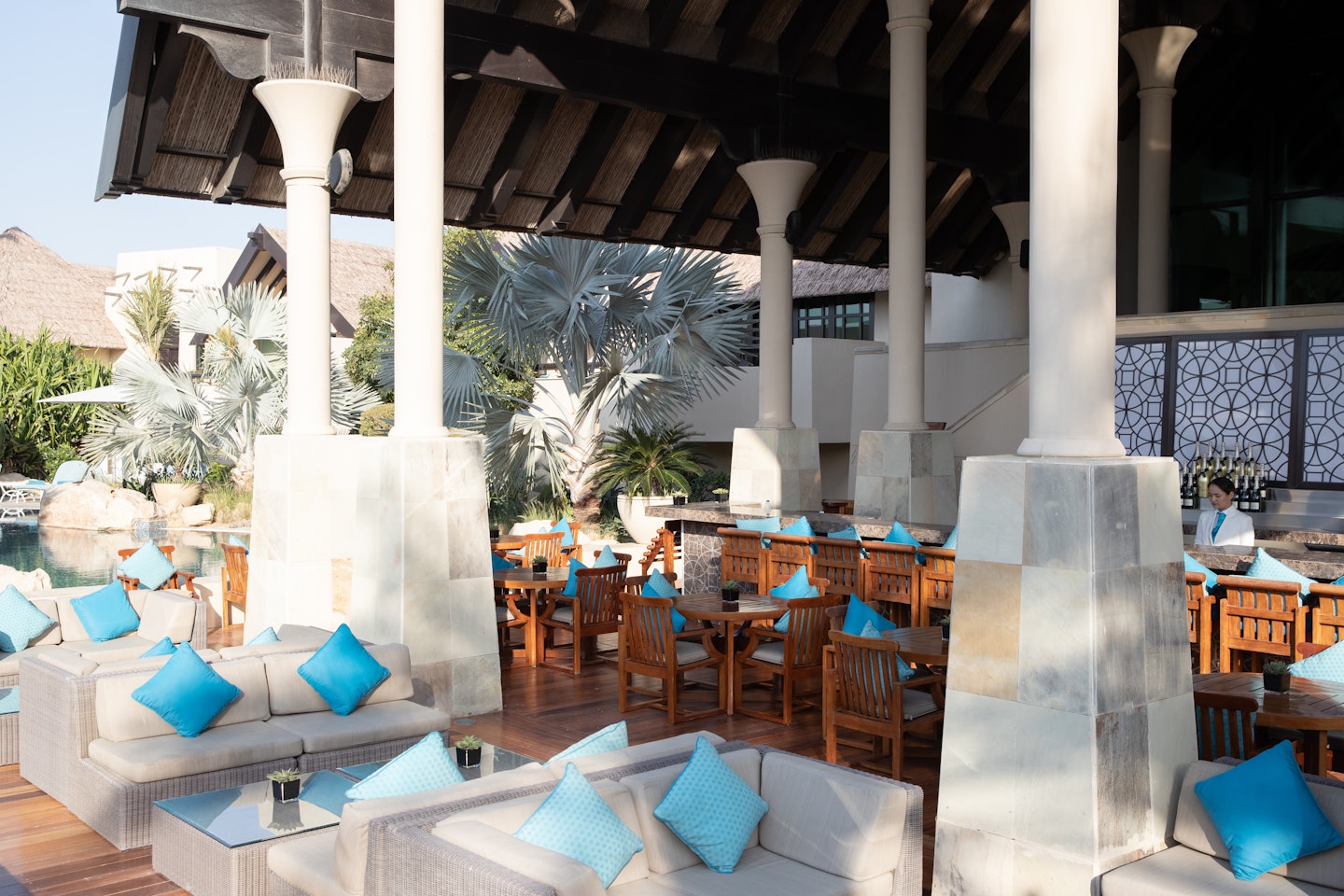 4 of 8
Jumeirah Beach Hotel - Grazia
5 of 8
Jumeirah Beach Hotel - Grazia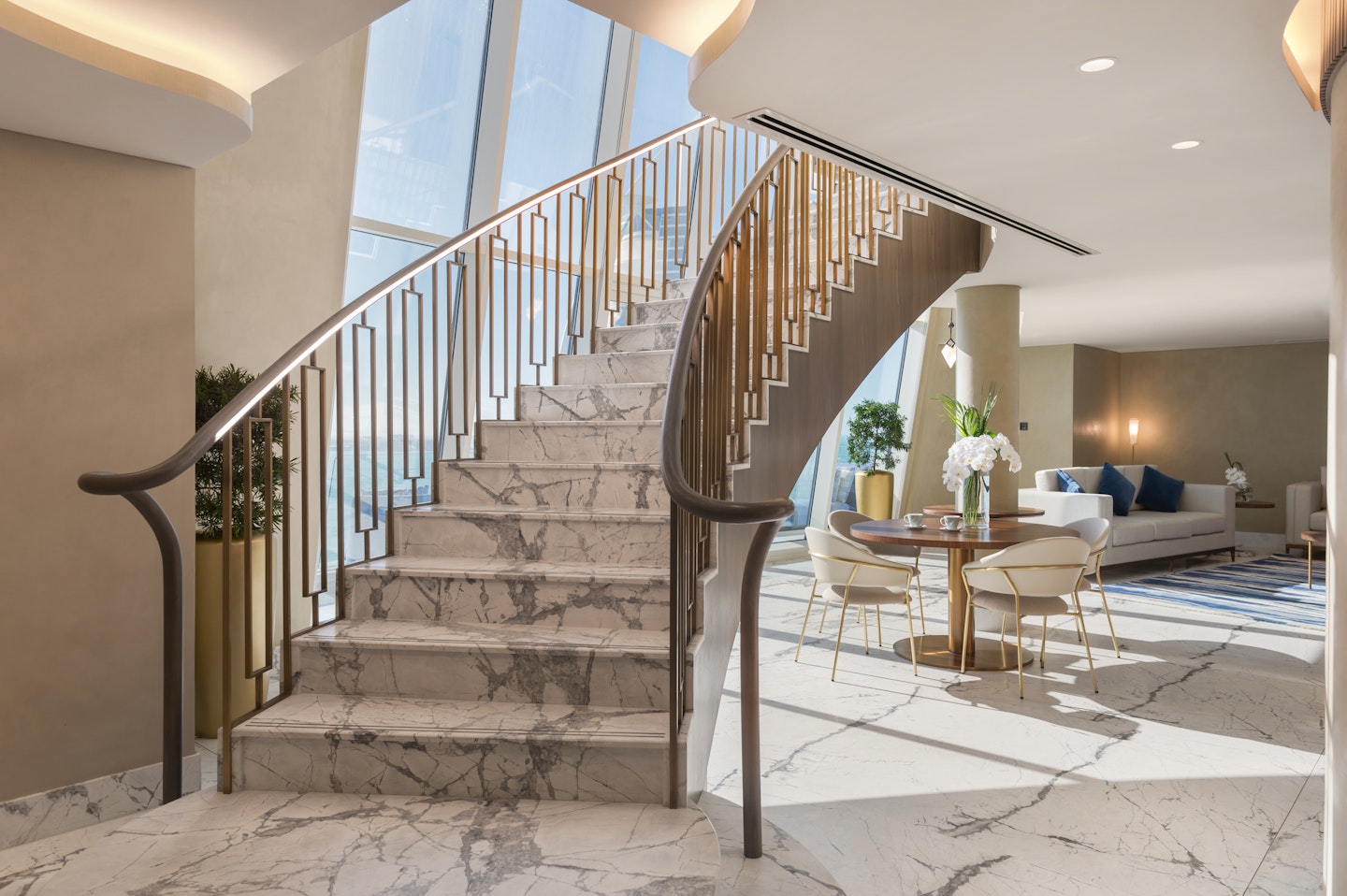 6 of 8
Jumeirah Beach Hotel - Grazia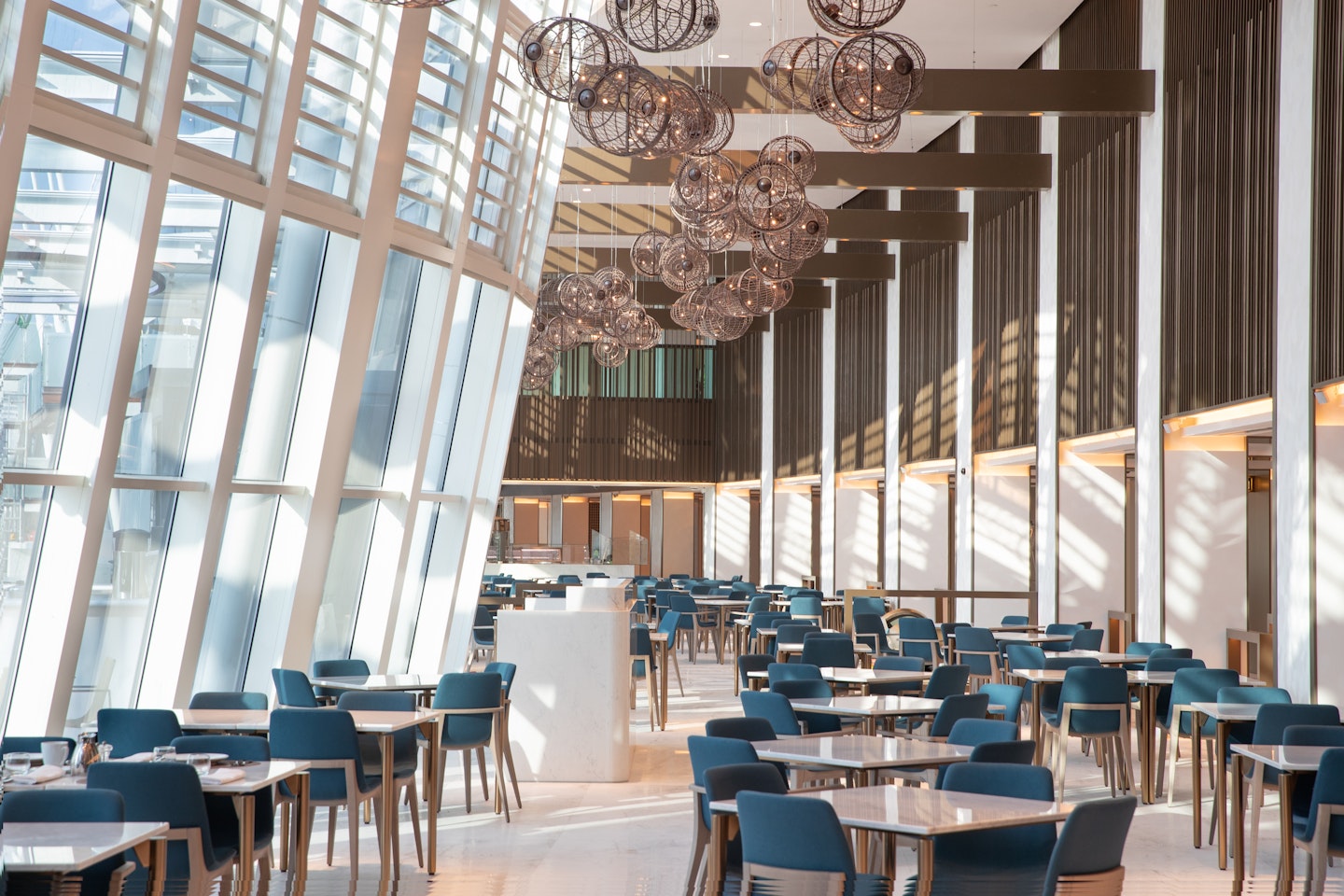 7 of 8
Jumeirah Beach Hotel - Grazia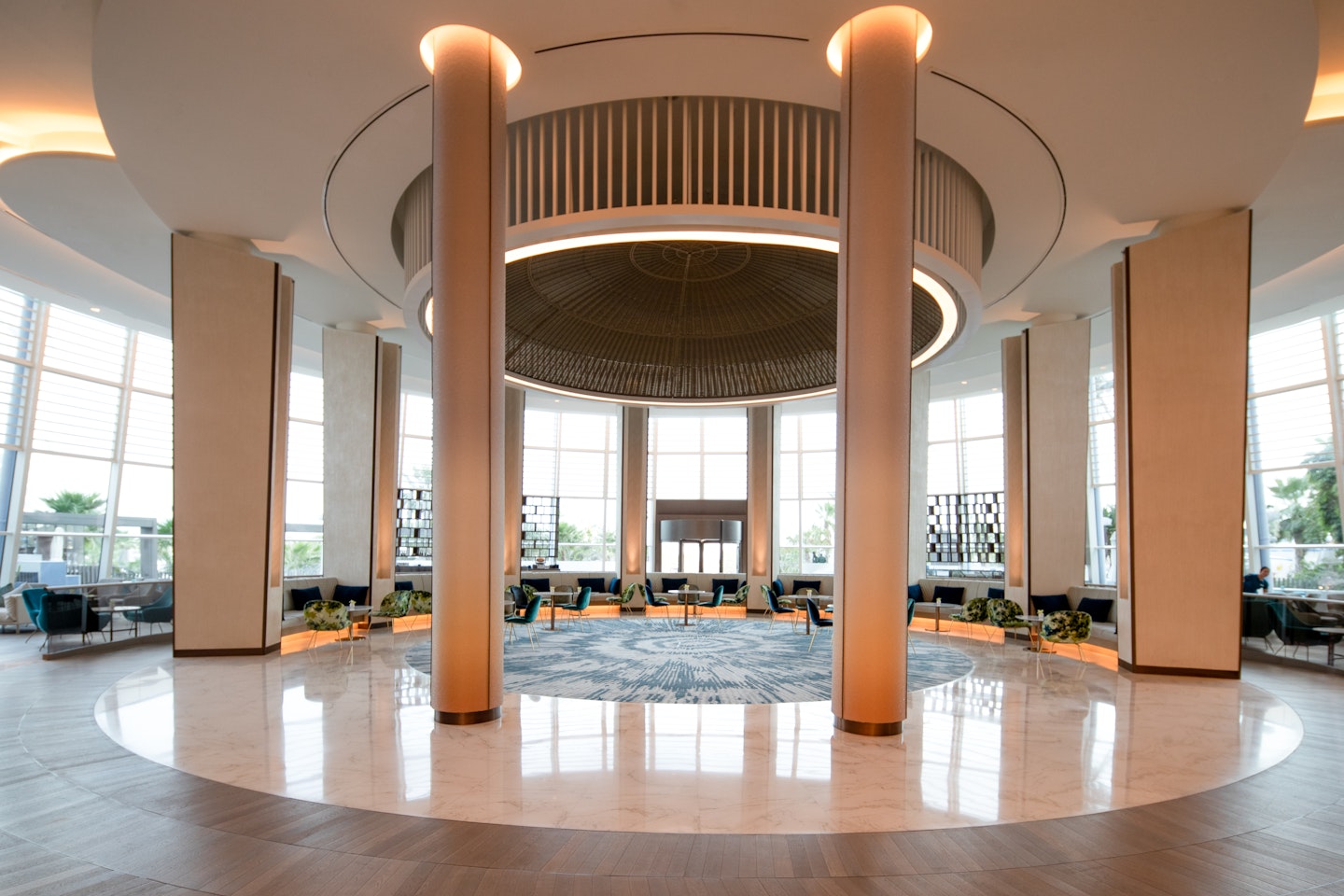 8 of 8
Jumeirah Beach Hotel - Grazia
Rates for the Jumeirah Beach Hotel start at AED 1,050++ (£207) for a room, and AED 3260++ (£643) for a suite. Click here to find out more.
Jumeirah Emirates Towers
A short drive into the city will take you to Jumeirah Emirates Tower, nestled among Dubai's financial district. Located conveniently just minutes from Dubai International Financial Centre (DIFC), Dubai World Trade Centre, The Dubai Mall, and Expo 2020, Jumeirah Emirates Towers is Dubai's premier city lifestyle destination and a place where guests can effortlessly switch between business and leisure.
Soaring incredibly high with 56 storeys, the views from your room here are like none other. Head downstairs to dine in La Cantine du Faubourg and consume the most delectable wagyu beef you can imagine, with the burrata pizza with fresh black truffle my personal favourite. Once you've had after work drinks here, you wont want to go back to your London office.
And on your time away from the desk? Take a dip in their luxurious pool or sunbathe under the bright Dubai sun. With unmatched service, this hotel really is the only option for business travellers.
Jumeirah Emirates Tower - Grazia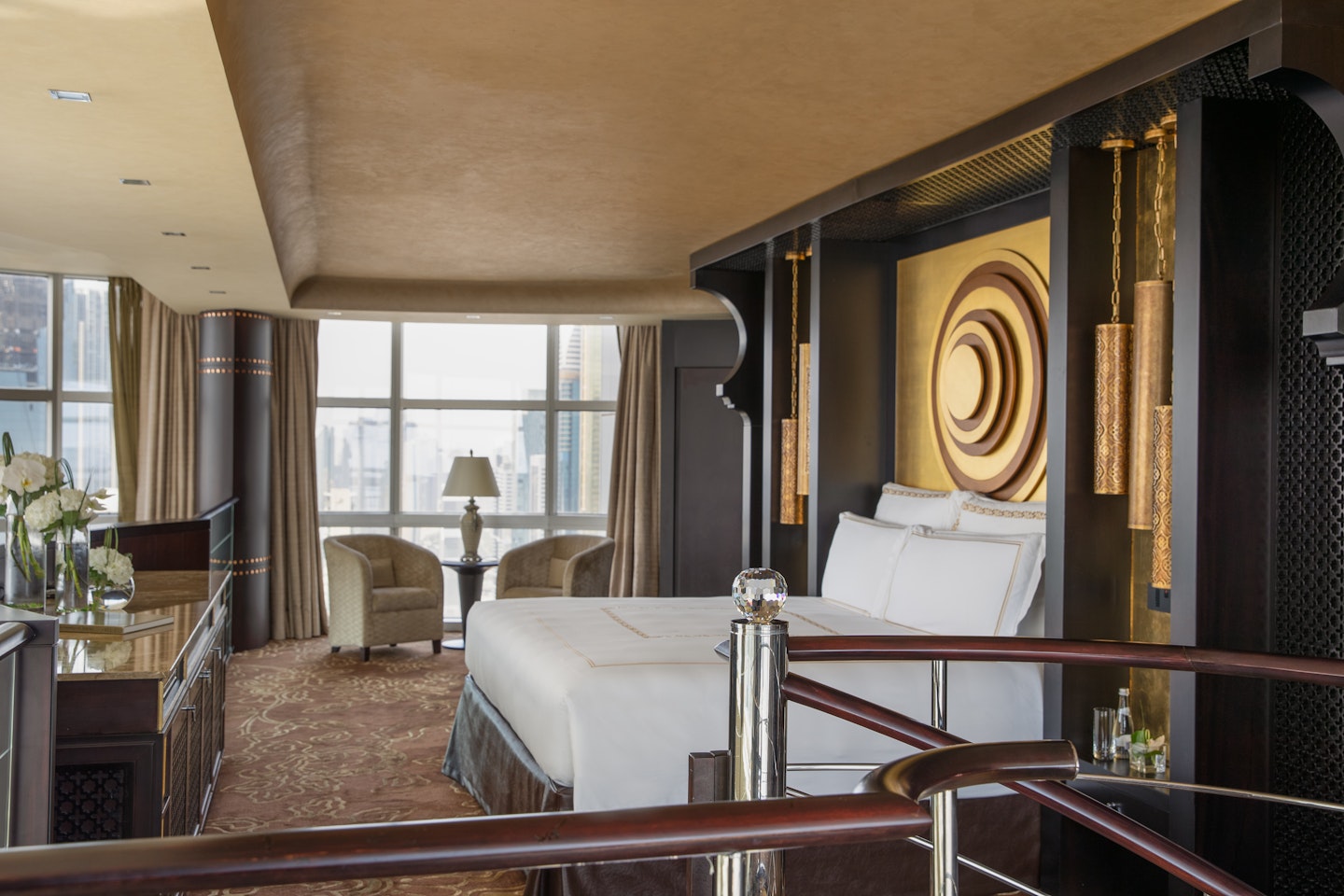 1 of 4
Jumeirah Emirates Tower - Grazia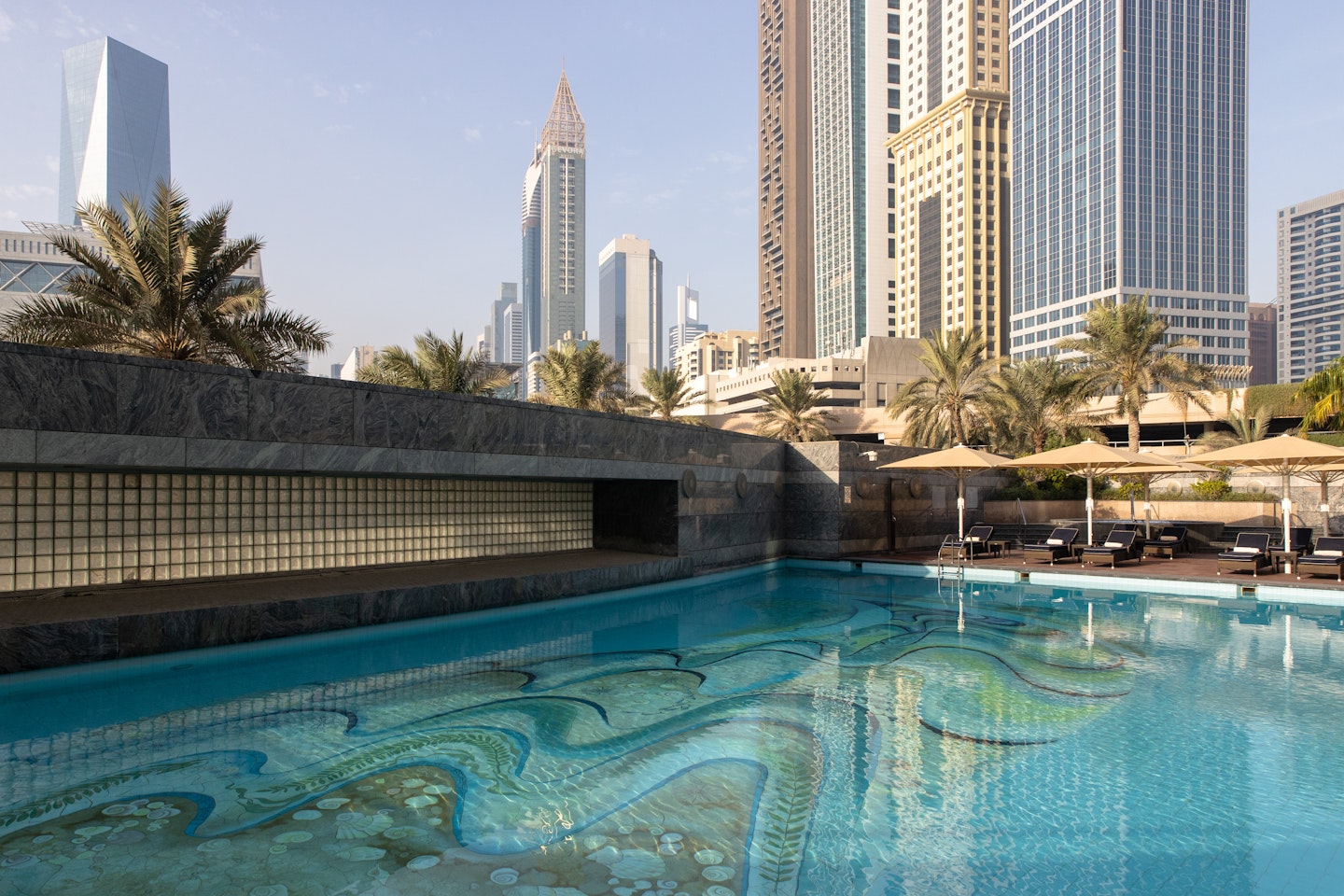 2 of 4
Jumeirah Emirates Tower - Grazia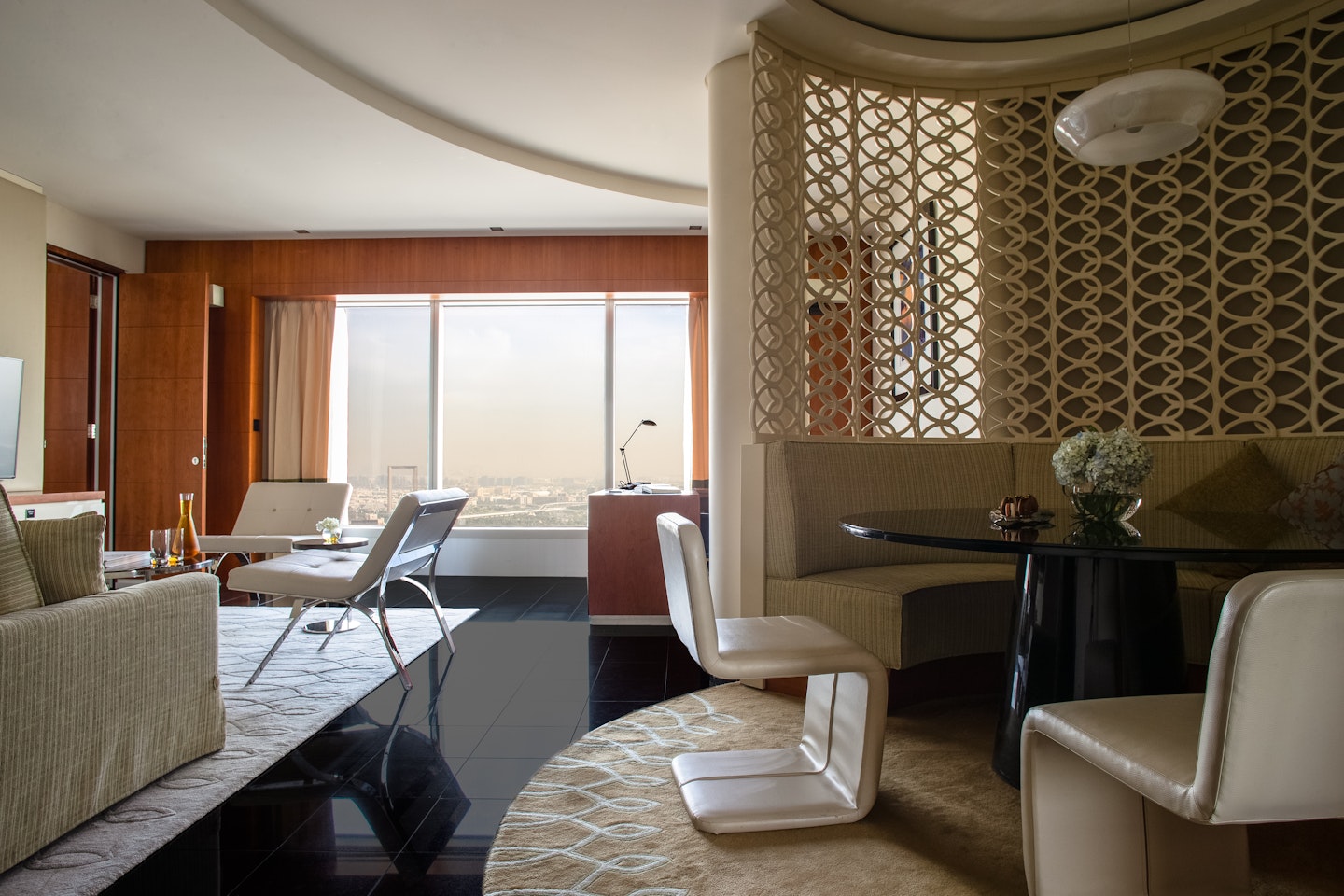 3 of 4
Jumeirah Emirates Tower - Grazia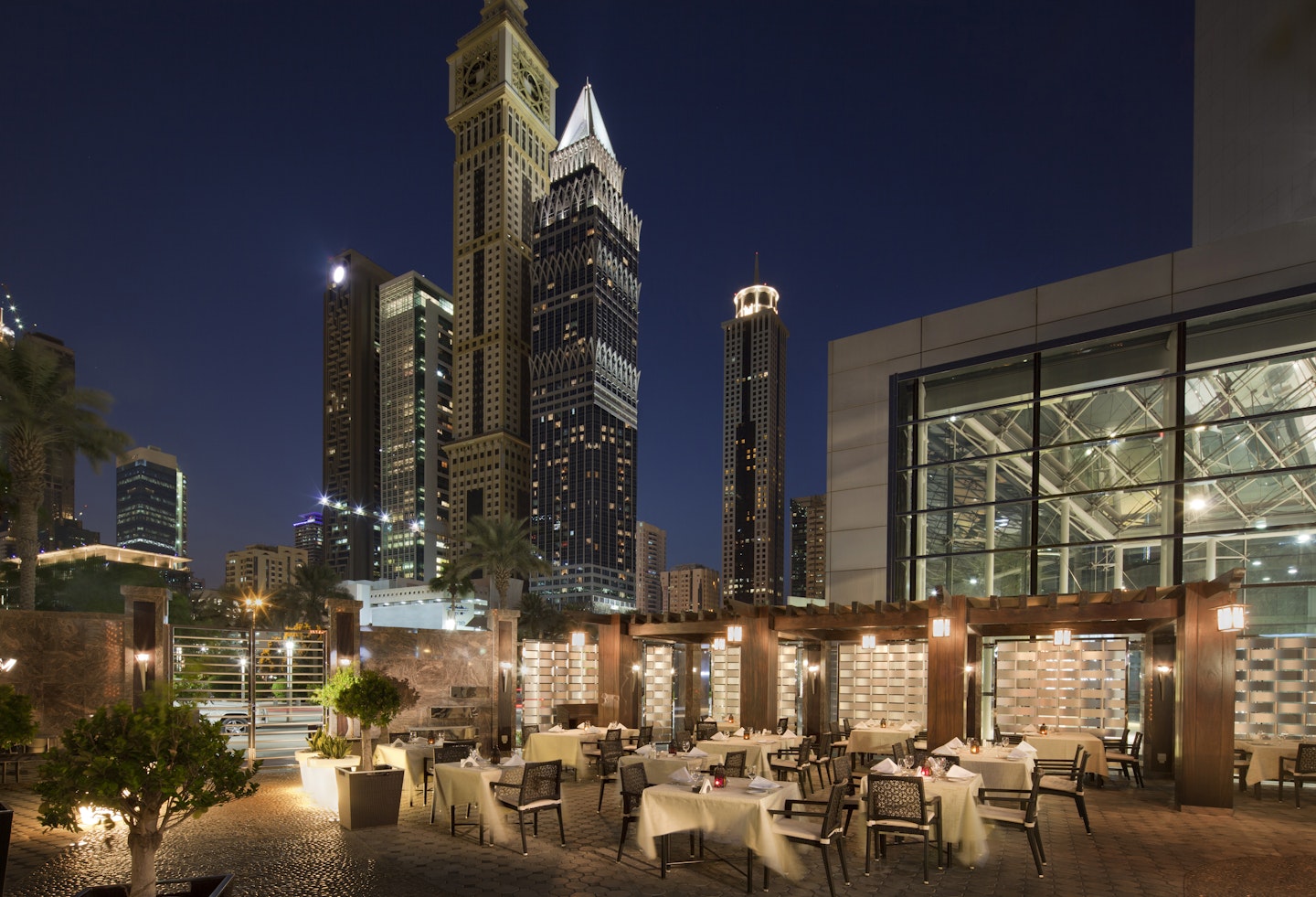 4 of 4
Jumeirah Emirates Tower - Grazia
To stay at Jumeirah Emirates Towers, rooms start at AED 600++ (£118) while the rate for suites is AED 1600++ (£316). Click here to find out more.
Jumeirah Al Qasr
A short buggy ride through Jumeirah's extensive complex sits Jumeirah Al Qasr. Extravagance is the only word that comes to mind entering this hotel. Lush gardens outside and Swarovski crystal chandelier inside, taking a peek inside the suites you will understand the meaning of royal luxury. Beds mass over 6ft in width and the bathrooms are filled with Amouage products. With an ocean-view room, you're treated not just to the Persian Gulf waters, but the man-made canal that connects the many different facets of this complex. Essentially, it's like a luxurious mini-Venice, where hopping on a canal boat is just as exciting as exploring the nearby Souk Madinat.
Inside Jumeirah Al Qasr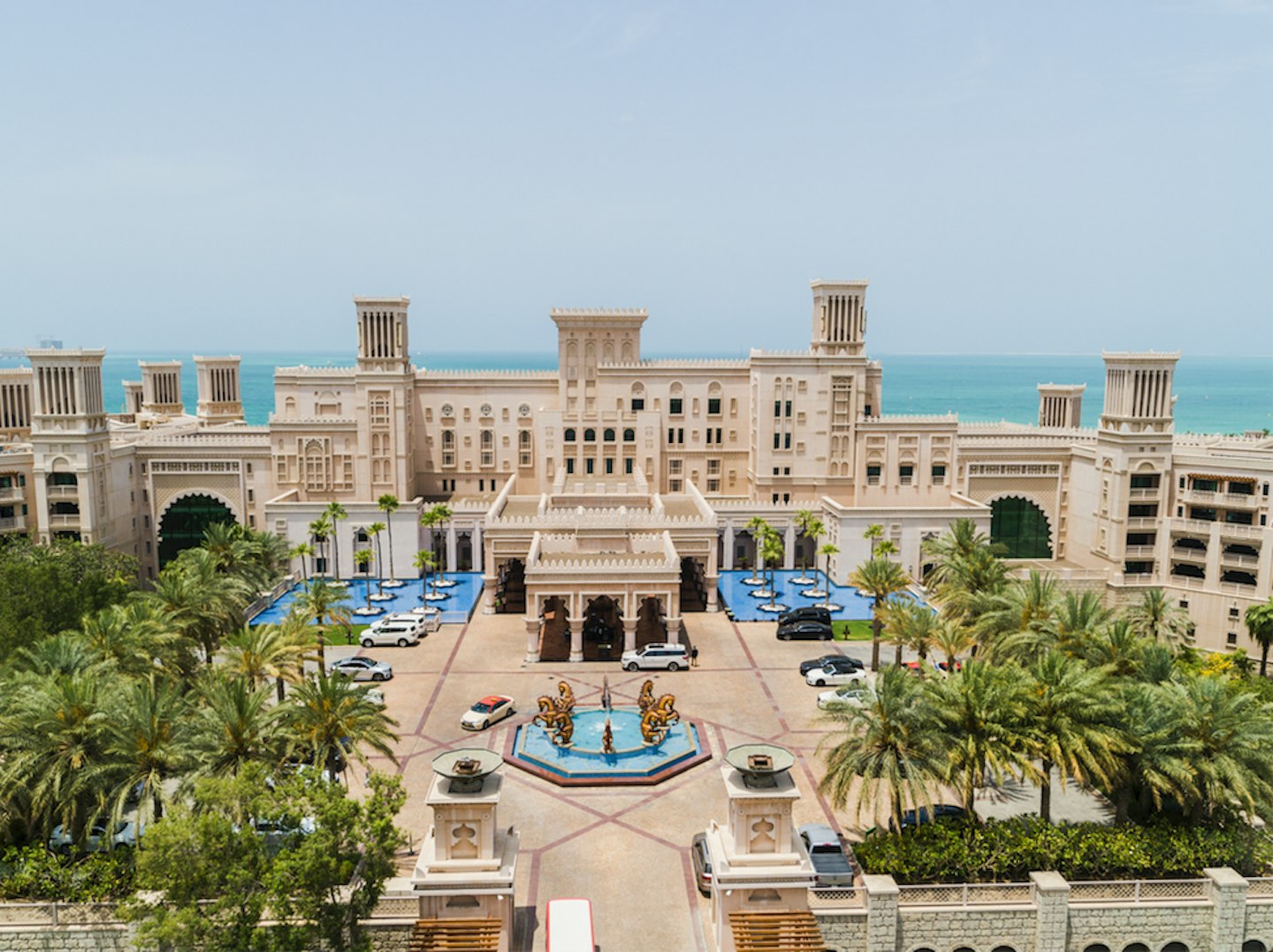 1 of 12
Inside Jumeirah Al Qasr
Arrive at Jumeirah Al Qasr like royalty, taking in the unbelievable surroundings.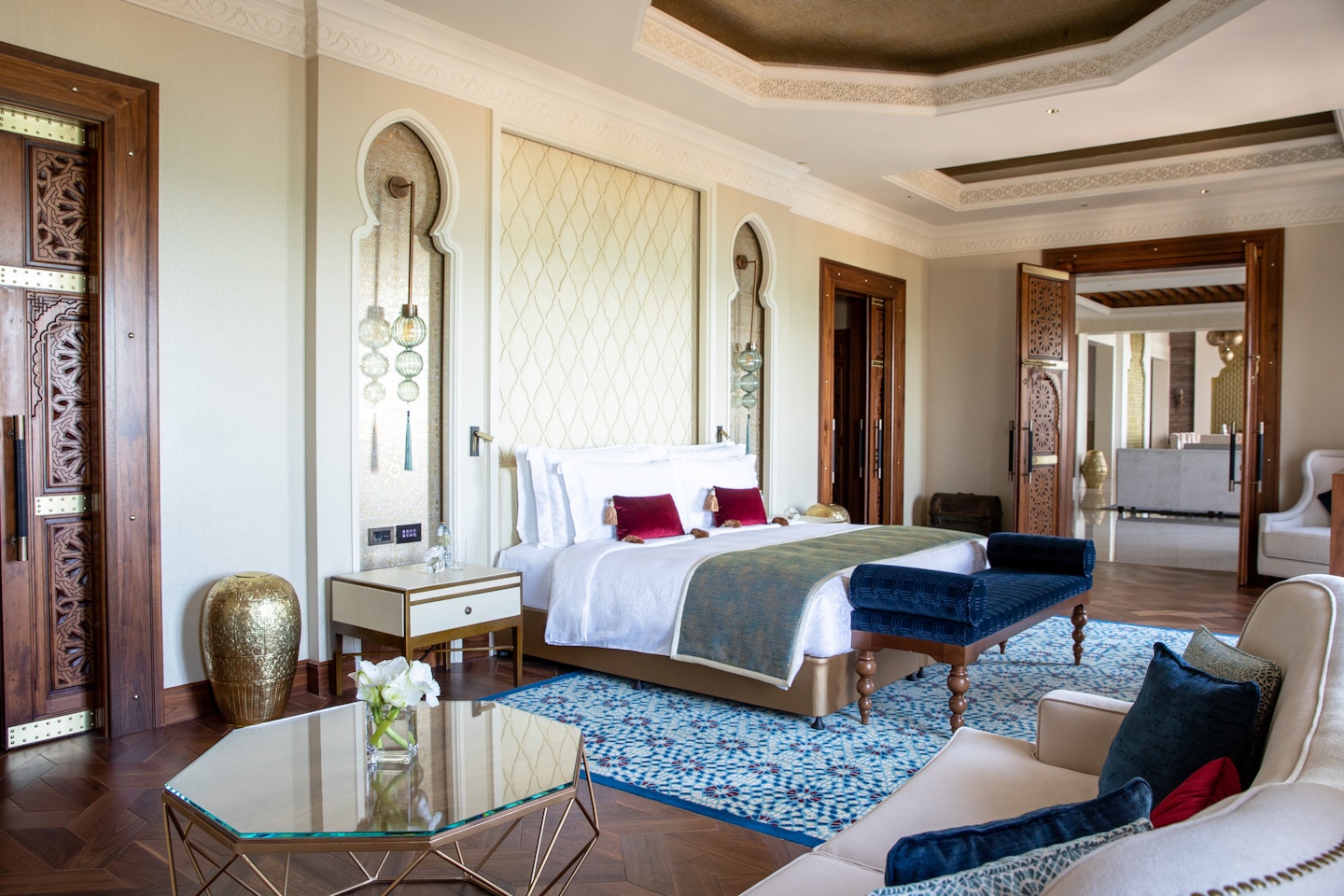 2 of 12
Inside Jumeirah Al Qasr
The Al Qasr royal suite is a massive 660 square meters and include three bedrooms.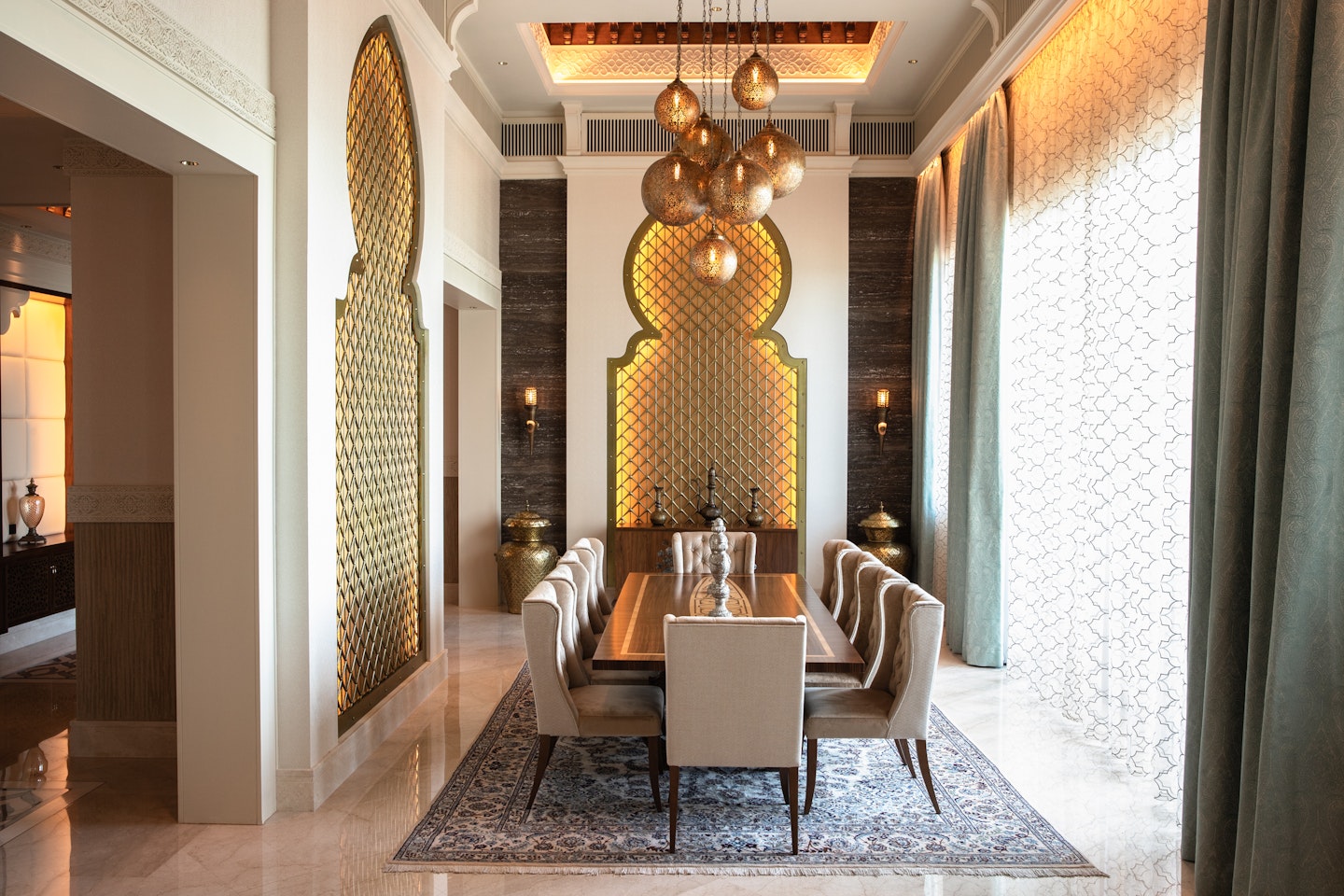 3 of 12
Inside Jumeirah Al Qasr
With a huge dining room, the lavish space is decorated in an Arabian style with a discrete butler service available.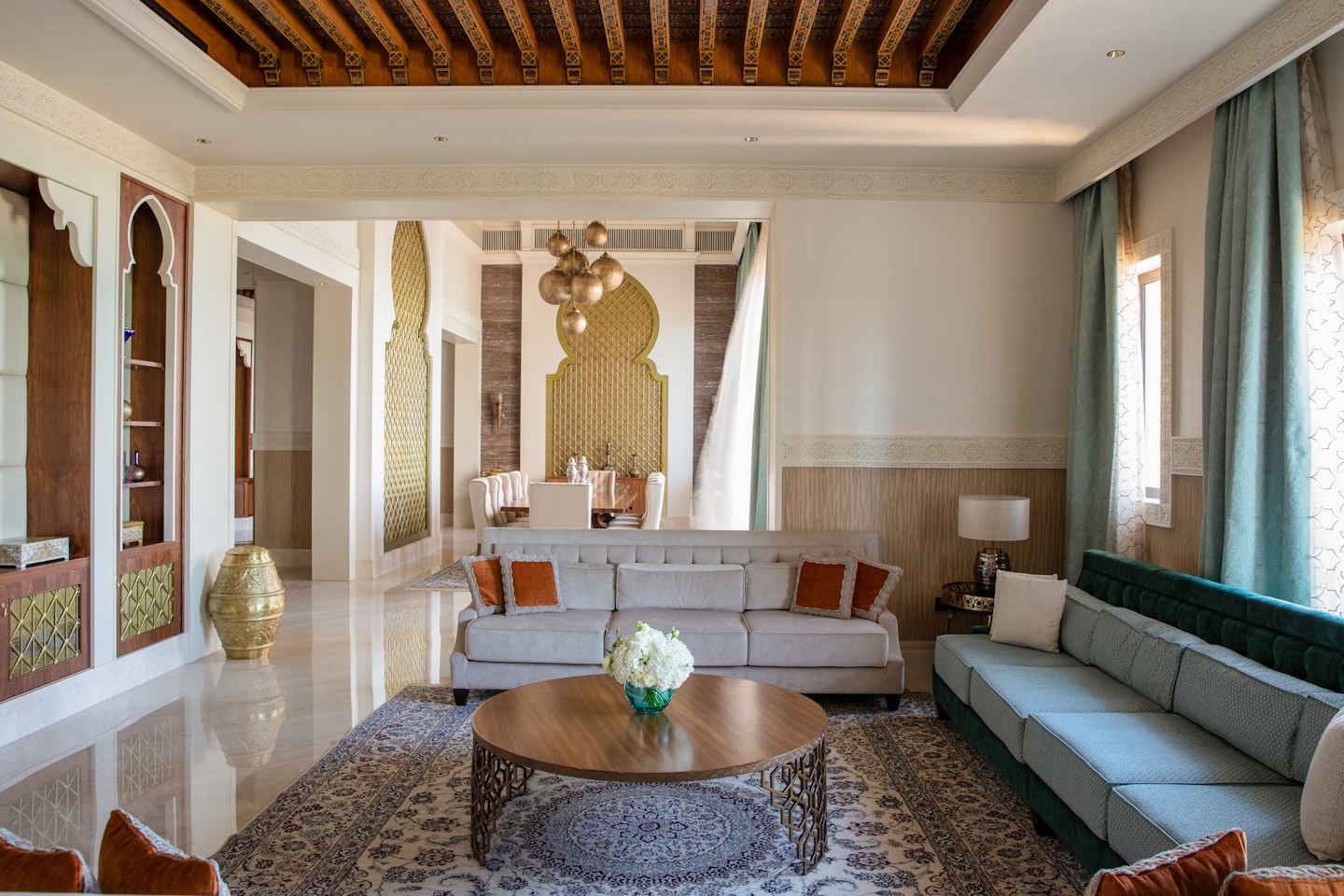 4 of 12
Inside Jumeirah Al Qasr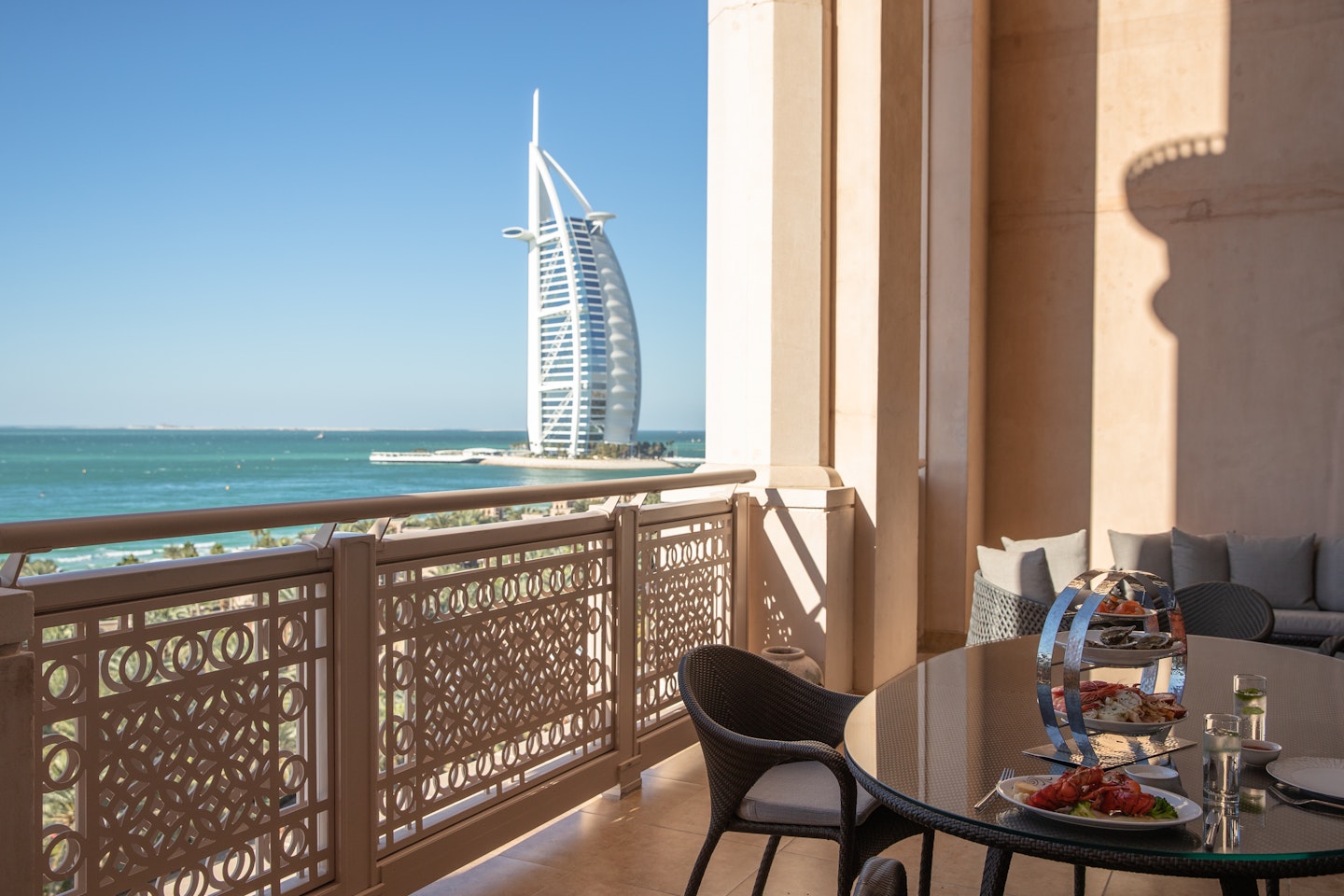 5 of 12
Inside Jumeirah Al Qasr
Plus, a private balcony with an ocean view that of course includes the legendary Burj Al Arab.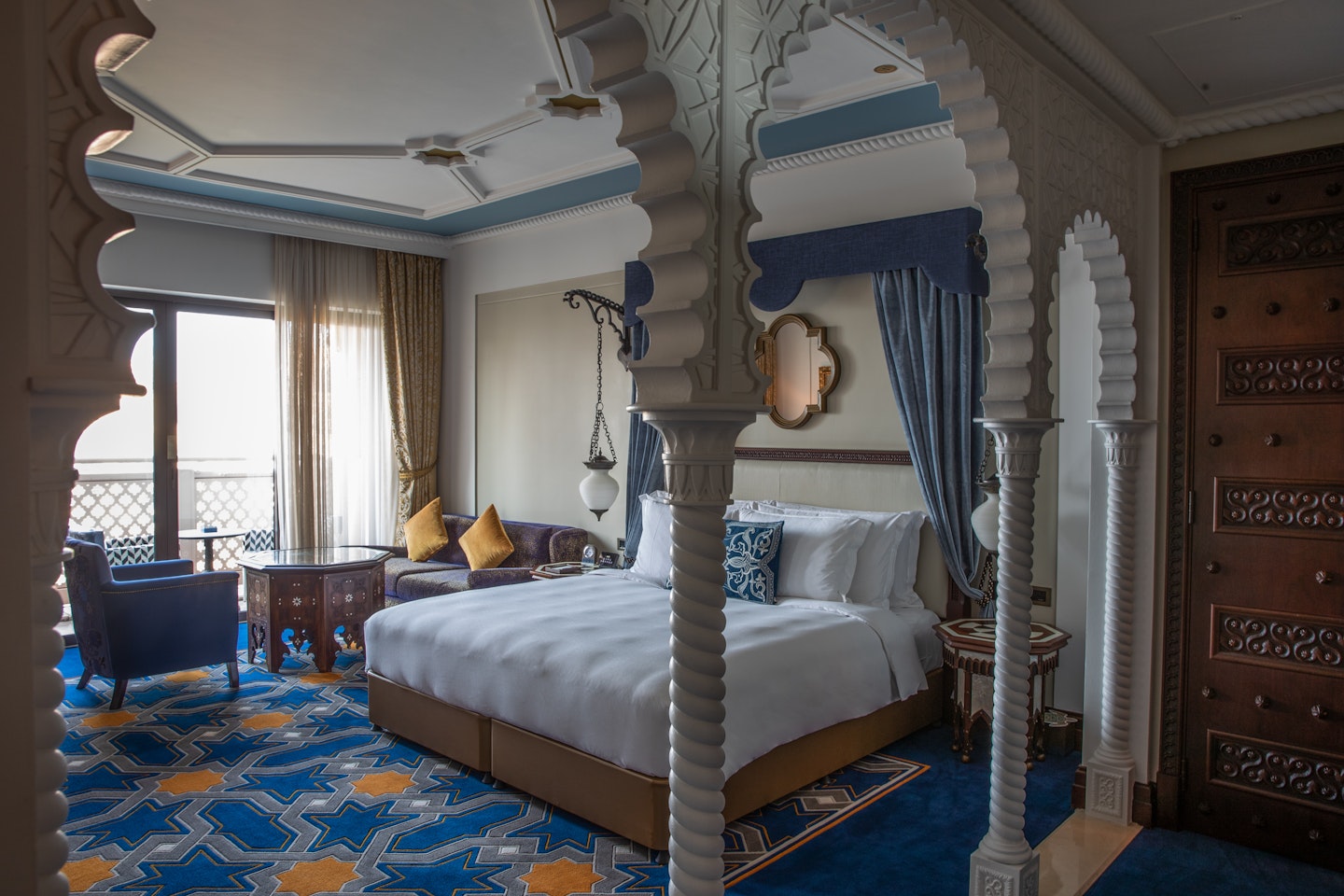 6 of 12
Inside Jumeirah Al Qasr
A executive ocean room at Al Qasr is also dripping in luxury, with a lounge next to the king size bed.
7 of 12
Inside Jumeirah Al Qasr
The beautiful marble bathroom is filled with Amouage products and features a huge tub and a glass-isolated shower.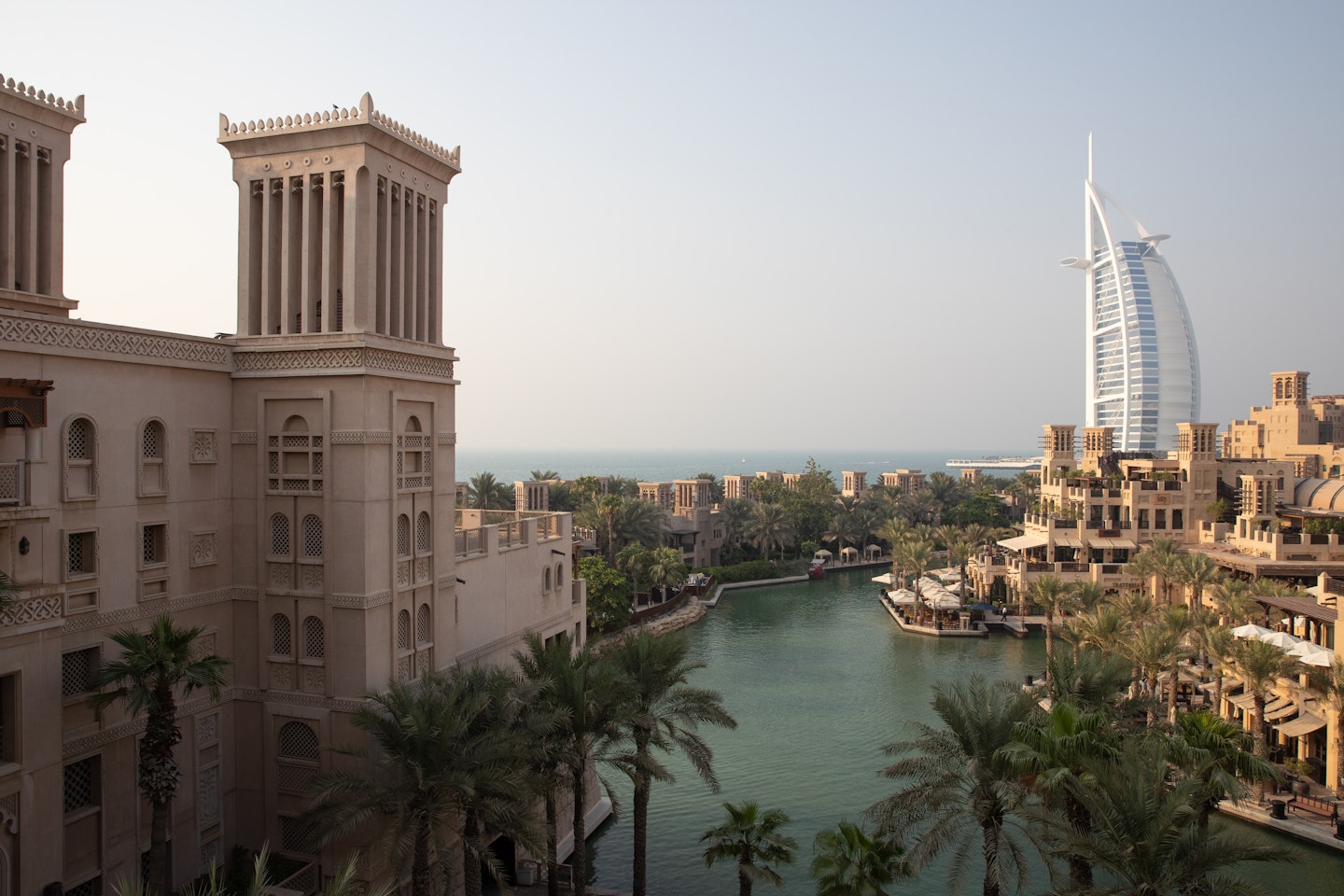 8 of 12
Inside Jumeirah Al Qasr
Gaze upon the impressive man-made canal system that connects you to different parts of the huge Jumeirah complex.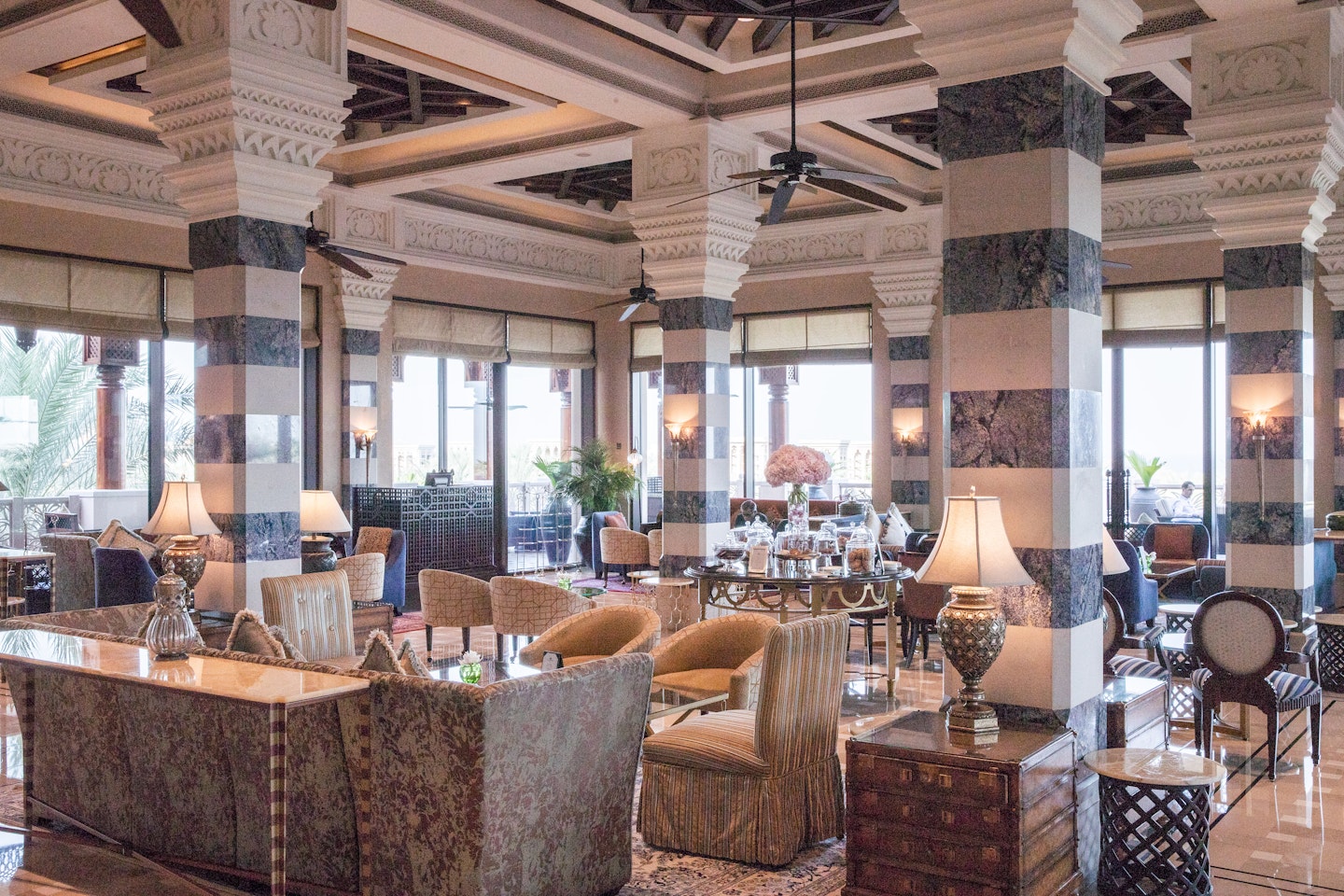 9 of 12
Inside Jumeirah Al Qasr
Enjoy the lavish lounge area as you walk around this ginormous and extravagant hotel.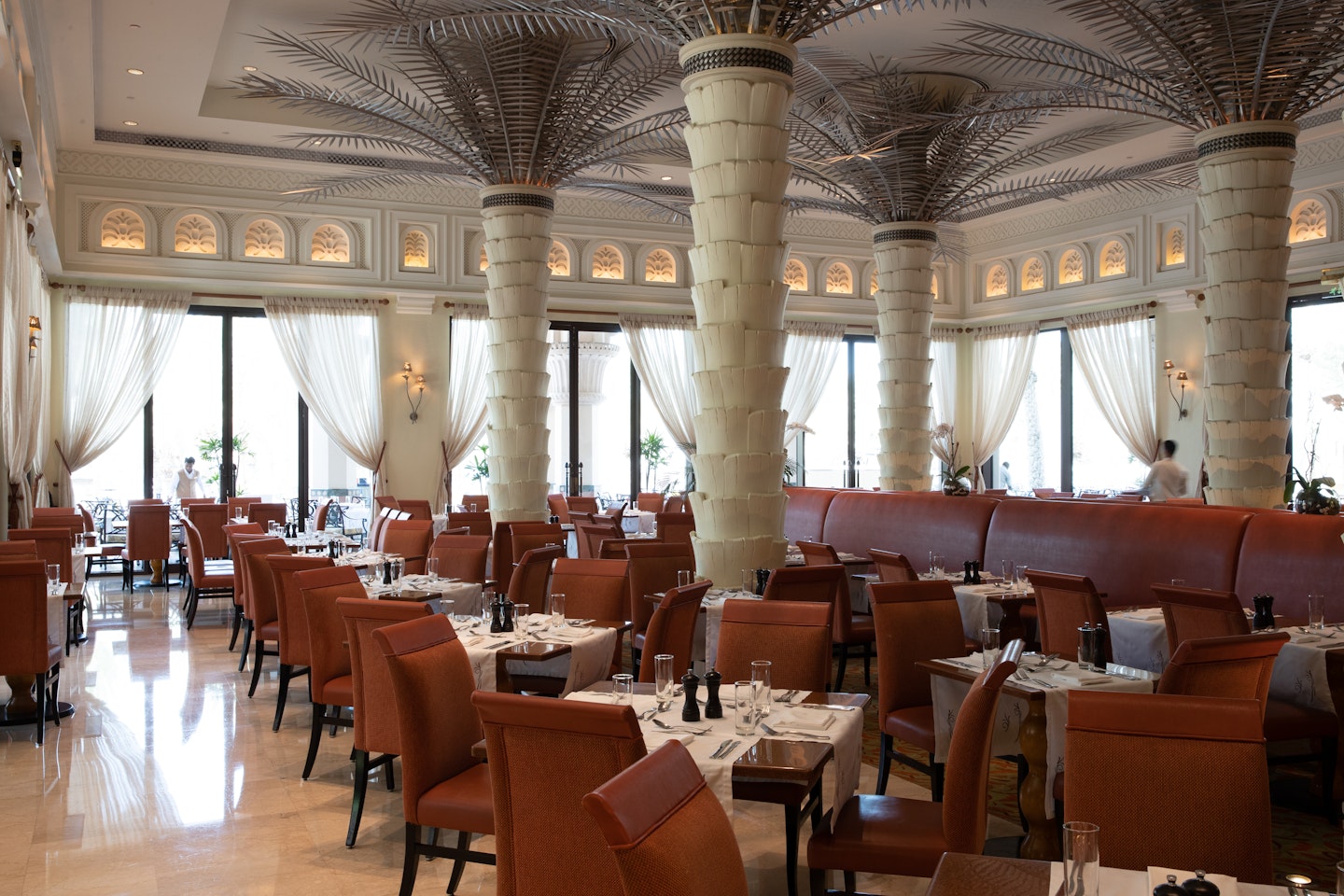 10 of 12
Inside Jumeirah Al Qasr
Dine at Arboretum, known for serving the finest Arabian and international cuisine.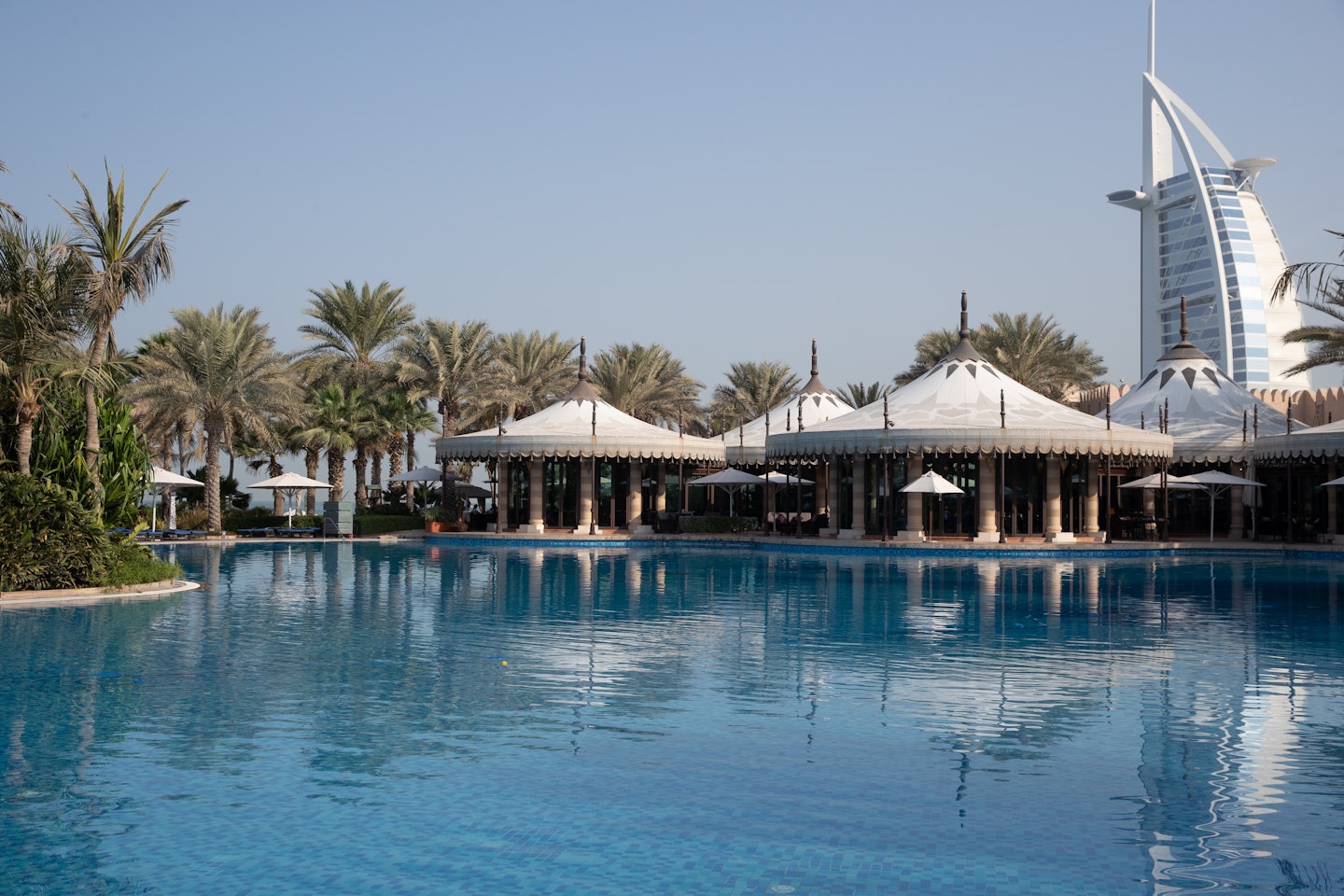 11 of 12
Inside Jumeirah Al Qasr
Take a dip in the huge pool.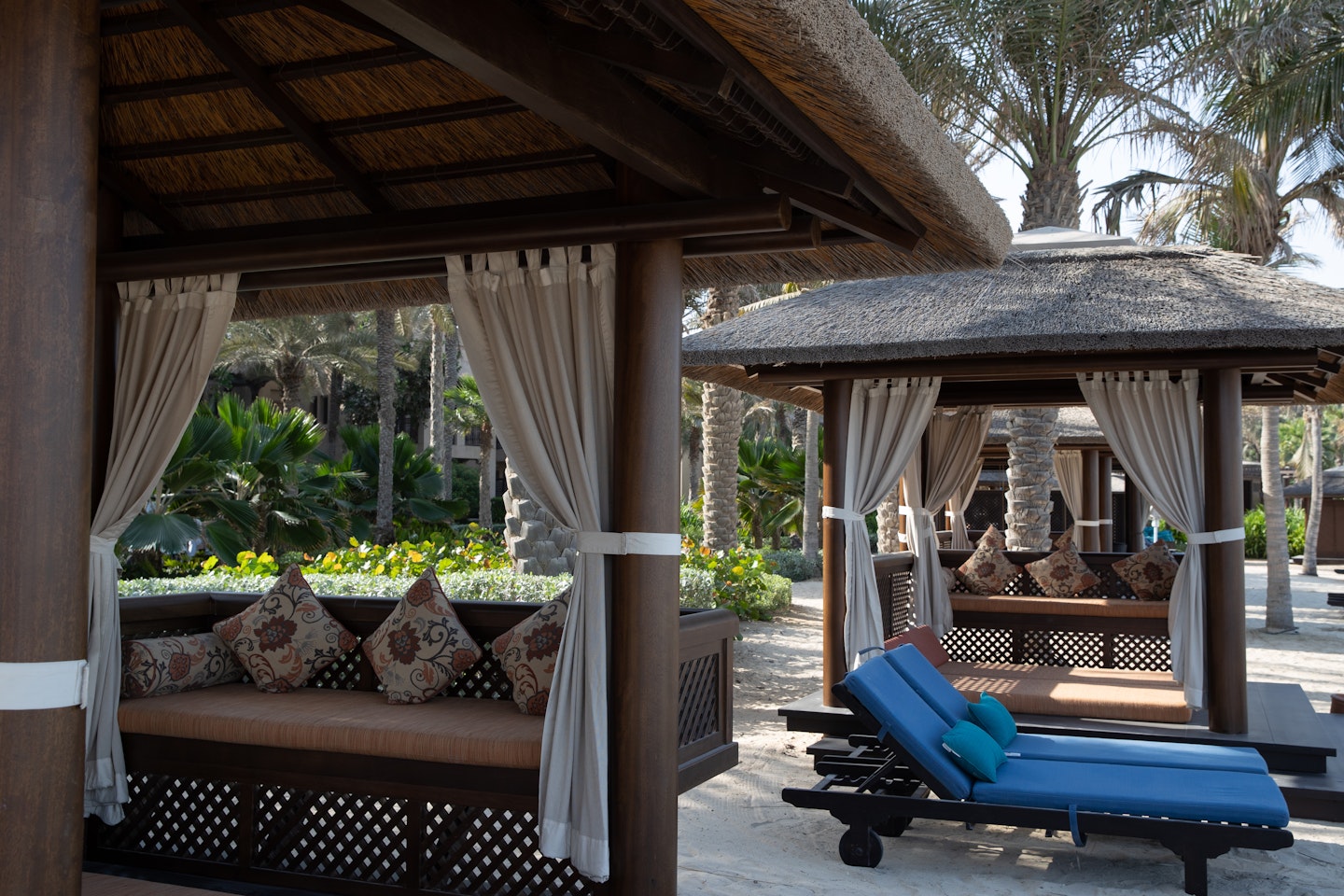 12 of 12
Inside Jumeirah Al Qasr
Or lounge on a beach-side cabana with five-star service available on demand.
Jumeirah Al Naseem
If you fancy staying in the beautiful hotel, ask for a desert experience – a must-see in Dubai – and you'll be recommended the Al Marmoom Bedouin Evening Experience, from £106 pp, which includes camel riding, a falcon show, a guide into the cultural history of Dubai an astronomy show with dinner and dancing.
The décor a mix between old and new Dubai, Jumeirah Al Naseem hosts a fresh interpretation of the Arabian style. The open plan rooms are easily made private by shuttered sliding doors, with suites consisting of pastel tones, warm woods and state-of-the-art bathrooms filled with a plush chairs and hanging circular mirrors.
Inside Jumeirah Al Naseem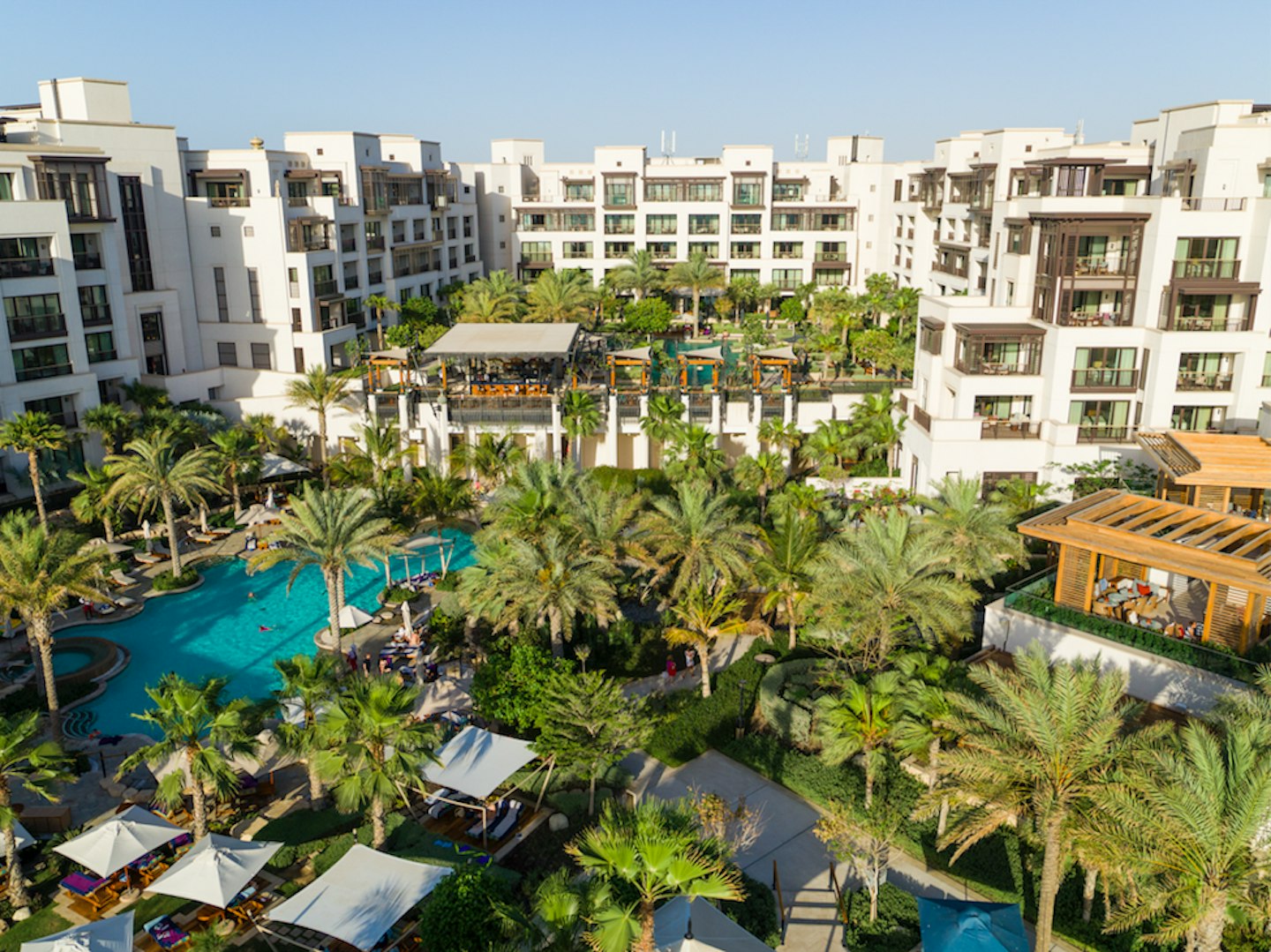 1 of 11
Jumeirah Al Naseem
The hotel has three pools, one central family pool, an adult-only pool and a third concealed within a beach club that emanates cool and sophisticated party vibes.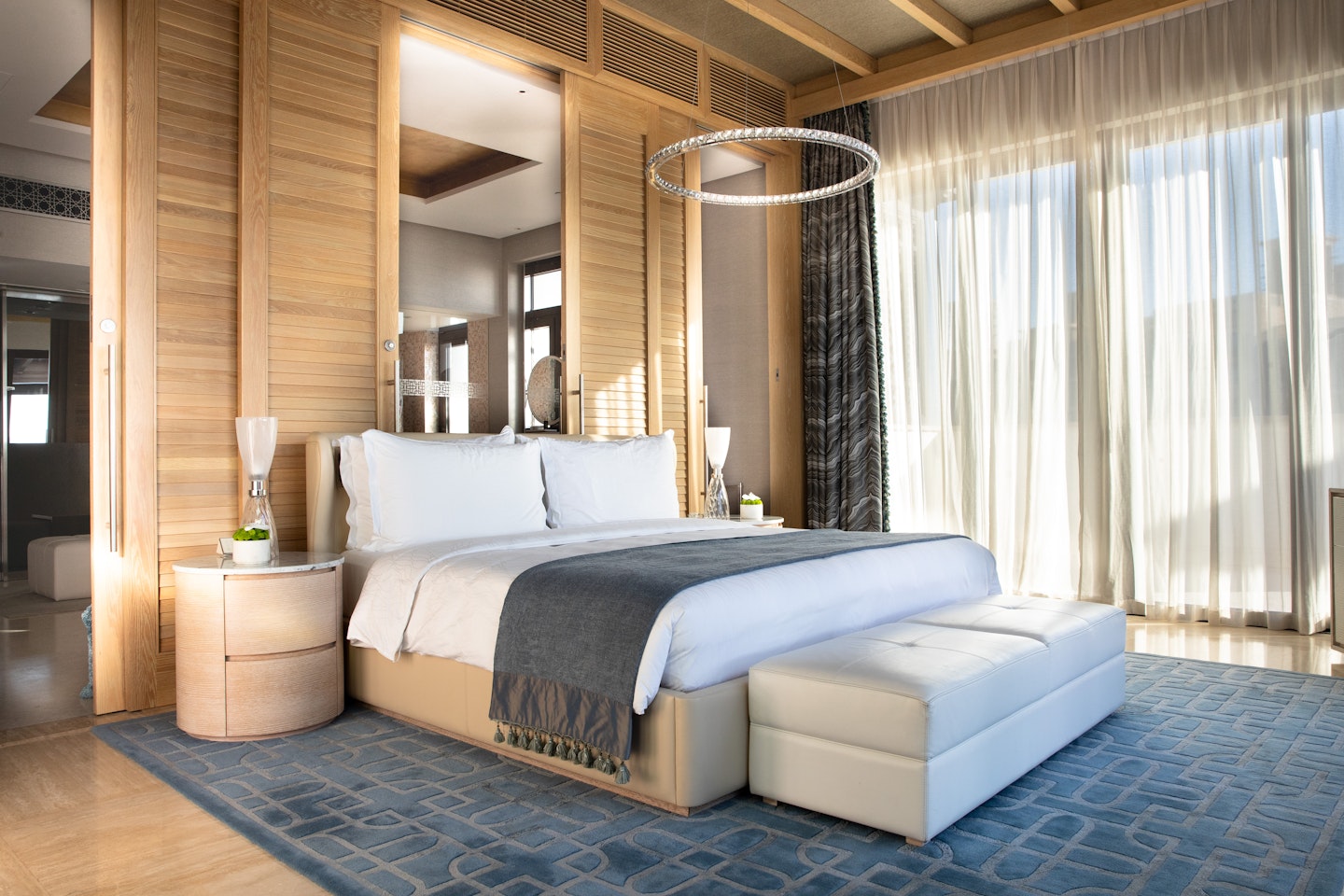 2 of 11
Presidential suite
The ultimate premium experience comes in booking the presidential suite with two spacious bedrooms and indoor and outdoor living spaces.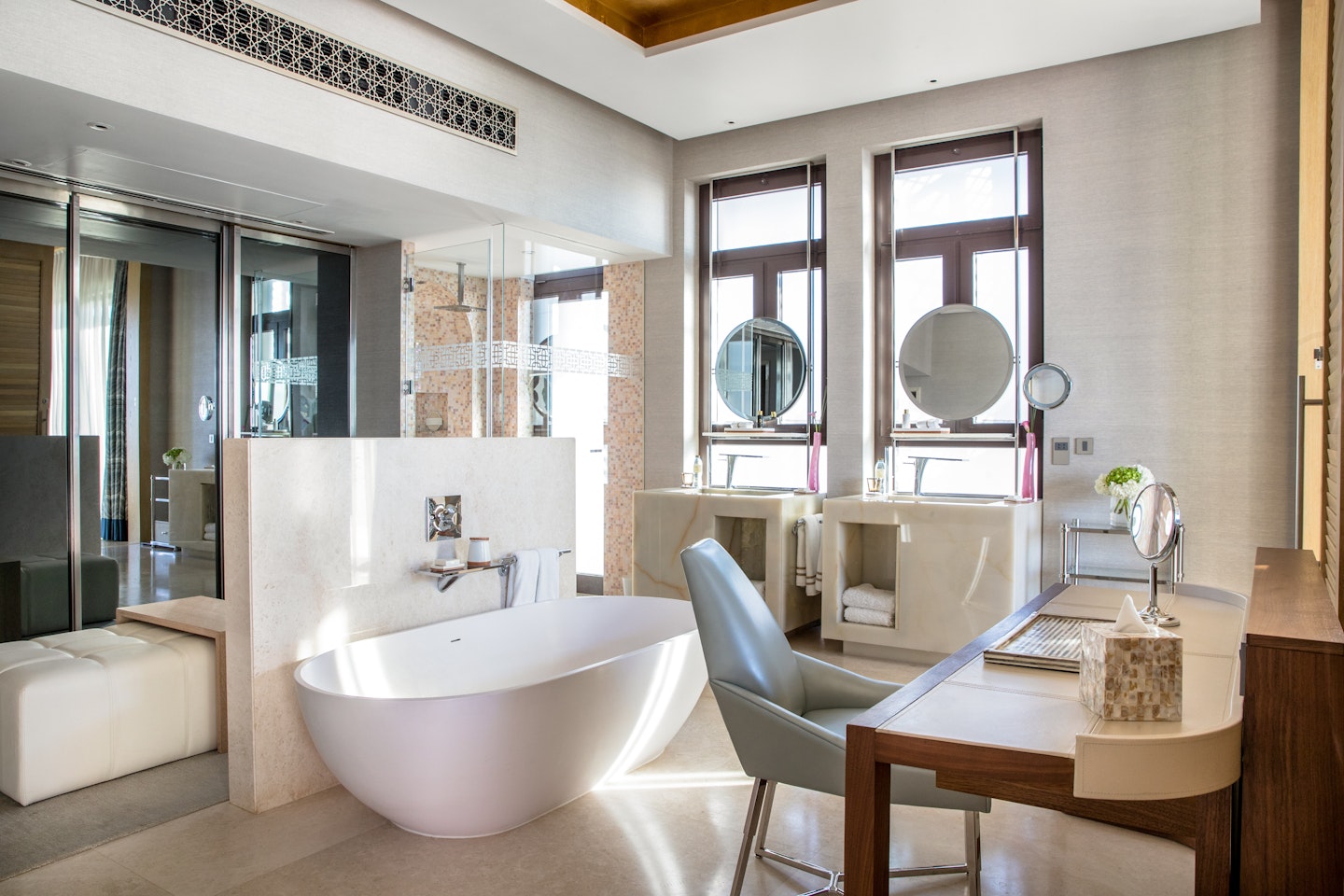 3 of 11
Inside Jumeirah Al Naseem
The suite features two luxurious bathrooms.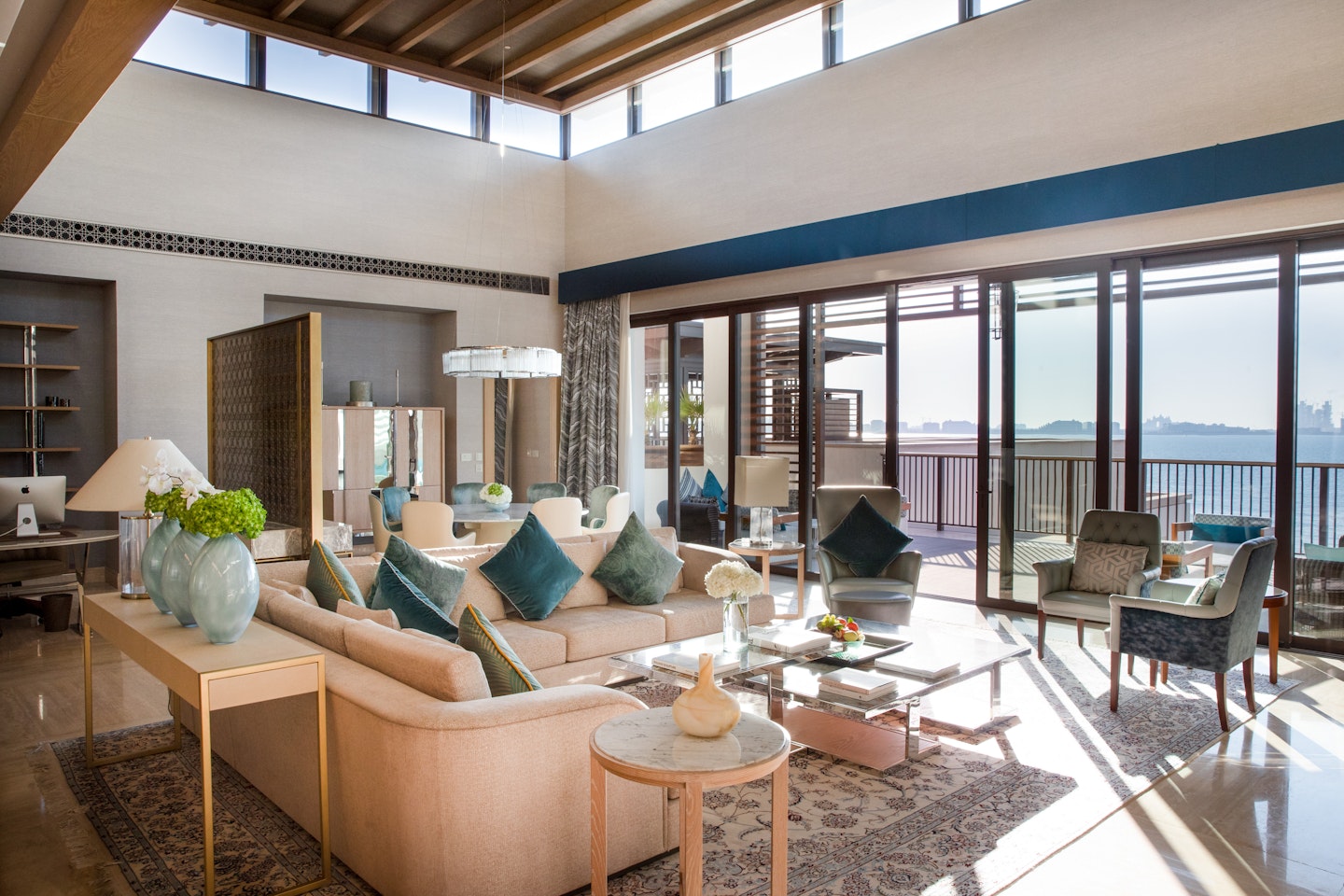 4 of 11
Inside Jumeirah Al Naseem
Plus, an impressive indoor lounge.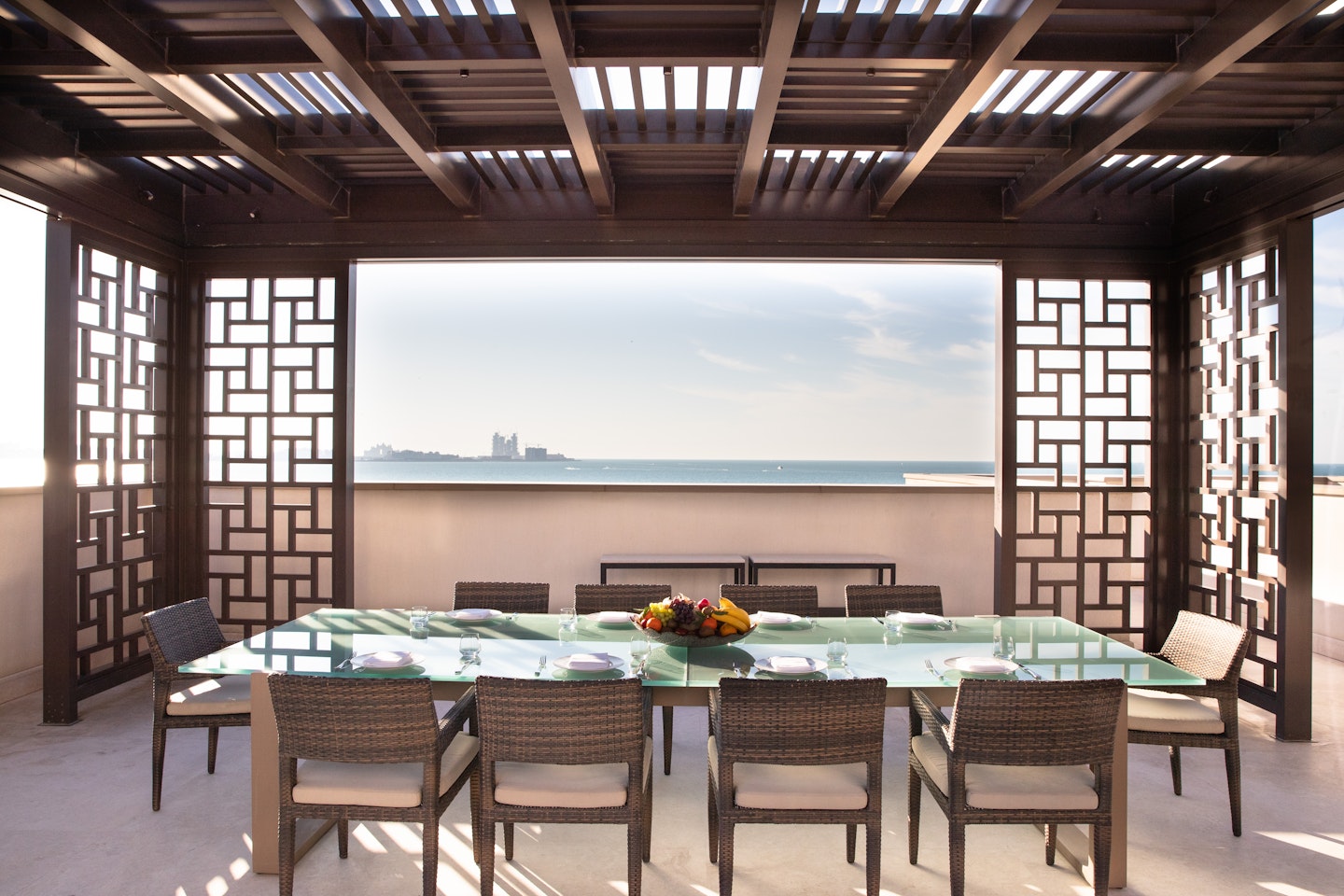 5 of 11
Inside Jumeirah Al Naseem
Your outdoor living area is great for entertaining - where guests also have access to the exclusive Summersalt Beach Club and free Wild Wadi Waterpark entry.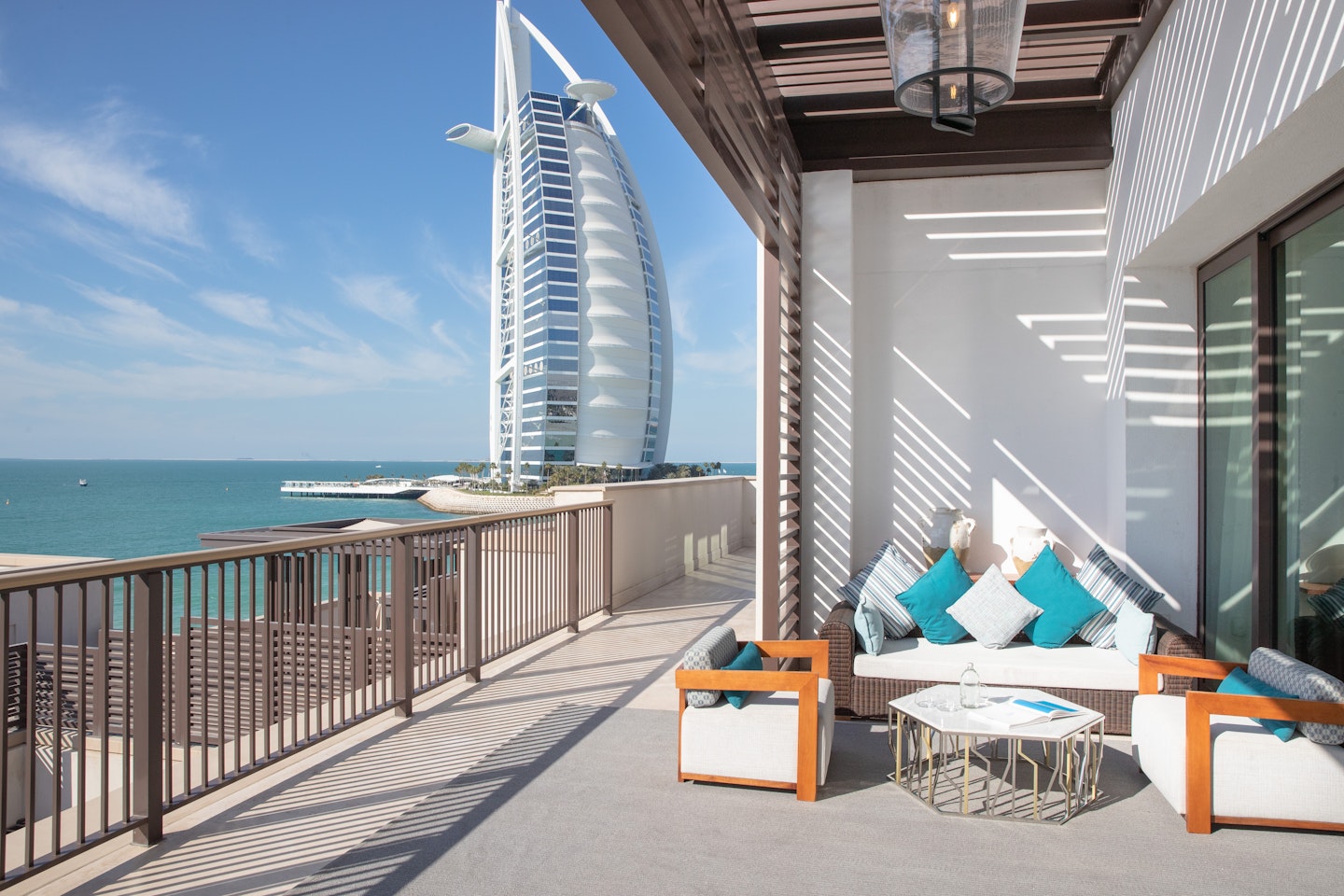 6 of 11
Inside Jumeirah Al Naseem
Of course, the ocean view is spectacular, with the Burj Al Arab sitting pretty in the distance.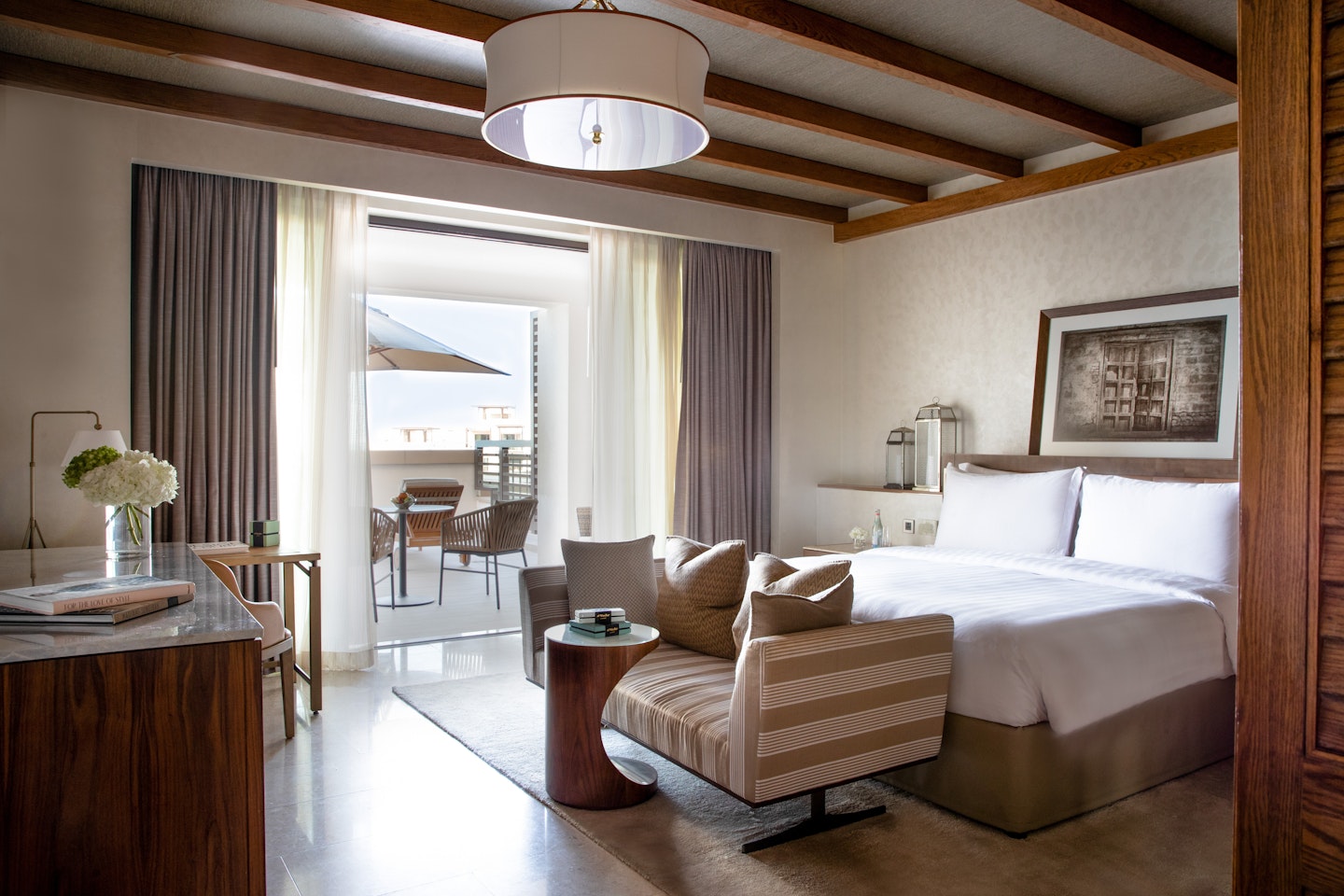 7 of 11
Ocean view suite
The ocean view suites are also wildly luxurious, with a modern and minimalist twist that gives a fresh, unique vibe to this Jumeirah hotel. An impressive King size bed sits in the centre of this huge open plan room.
8 of 11
Inside Jumeirah Al Naseem
The clean-cut mix of old and new Arabian design is beautifully demonstrated in this state of the art bathroom.
9 of 11
The Palmery
Celebrating Arabian influence on world cuisine, The Palmery is the perfect restaurant to dine in during your stay.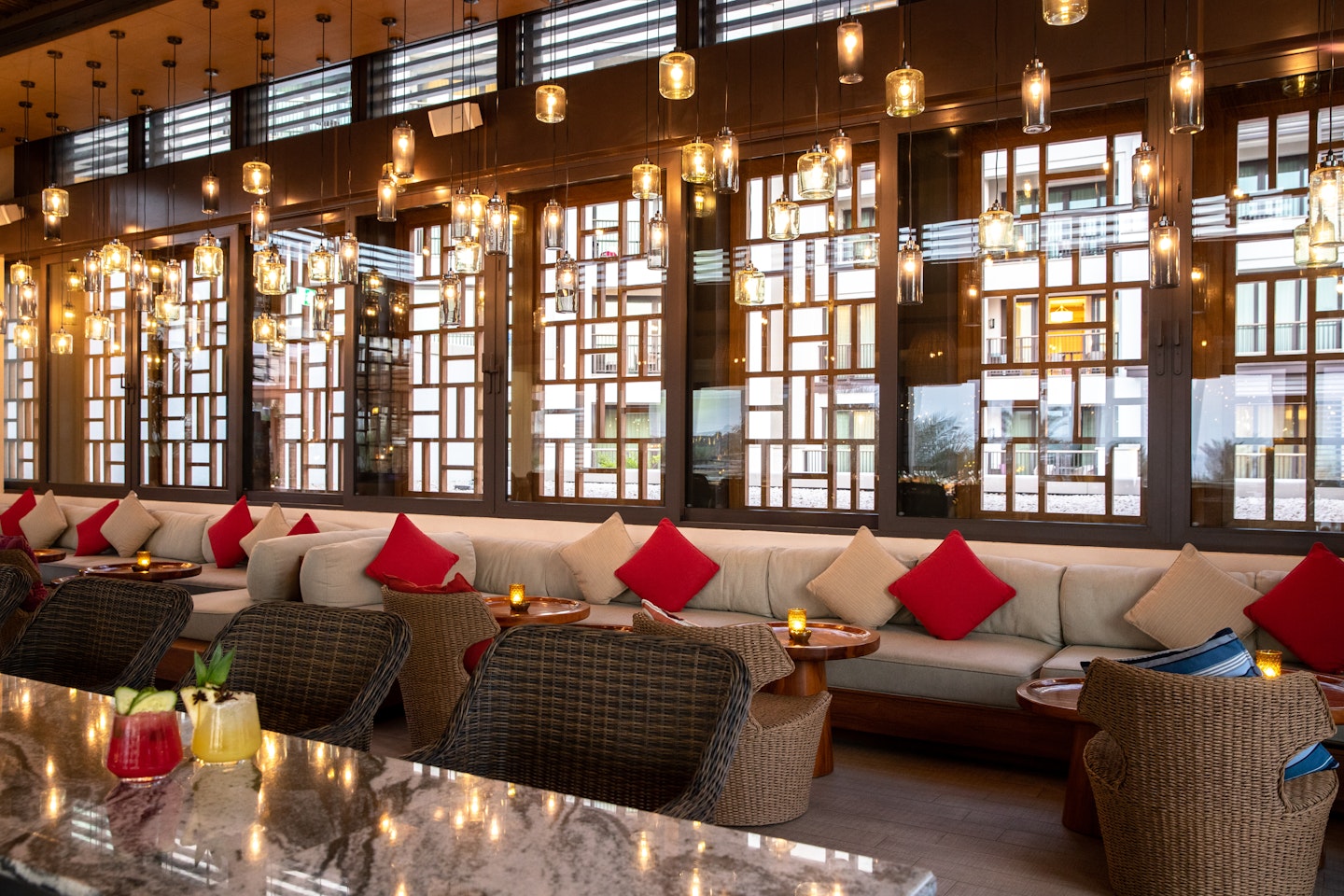 10 of 11
Ambar Lounge
Located on the rooftop of The Palmery, the Ambar lounge is the perfect place to relax with a few drinks.
11 of 11
Rockfish
Nothing beats Rockfish for atmosphere, exquisite cuisine and well, gin. The restaurant features their very own gin specialist -bartender RJ -an influencer in the gin-making world, who will concoct your very own personal gin-cocktail for the evening.
25hrs Hotel Dubai One Central
A new entrant to the Dubai hotel scene, 25hrs Hotel Dubai One Central opened in December 2021 and immediately offered something different. Part of the German hotel chain, this is the first to open outside Europe and the feel is warm and eclectic, with features like a tiered fountain stacked with thousands of books to borrow in the lobby, a podcast recording booth, and tons of original art.
The comfortable, well thought-out rooms have similarly fun, quirky touches, such as swinging chairs hanging from the ceiling and, for some, showers in the main room (don't worry: if you're sharing with a pal and aren't in exhibitionist mood, there's a curtain you can pull round the glass booth). Located centrally, you're a five-minute taxi ride away from the vast Dubai Mall, and have a neighbour's view of the city's new landmark, the fabulous-looking Museum of the Future.
Handily, the hotel boasts a rooftop outpost of the hot Berlin night spot Monkey Bar, which pulls people in from all over the city and makes it the perfect base for a trip with friends, or even a hen. For dinner options, there's the Tandoor Tinafor Indian food, or – for something completely different – the traditional Bavarian Ersnst Biergarten for beer and bratwurst. There is also a rooftop pool, perfect for enjoying a cocktail on your lounger amid the glittering city lights, and an appealing, airy gym, outdoor sauna (Dubai's first mixed one) and a spa. And it's relatively affordable, too.
25hrs Hotel Dubai One Central
The rooms and suites at the 25hrs Hotel Dubai One Central draw on local influences, with quirky design elements such as hammocks, double rainfall showers, Schindelhauer bicycles and analogue telephones.
25hrs Hotel Dubai One Central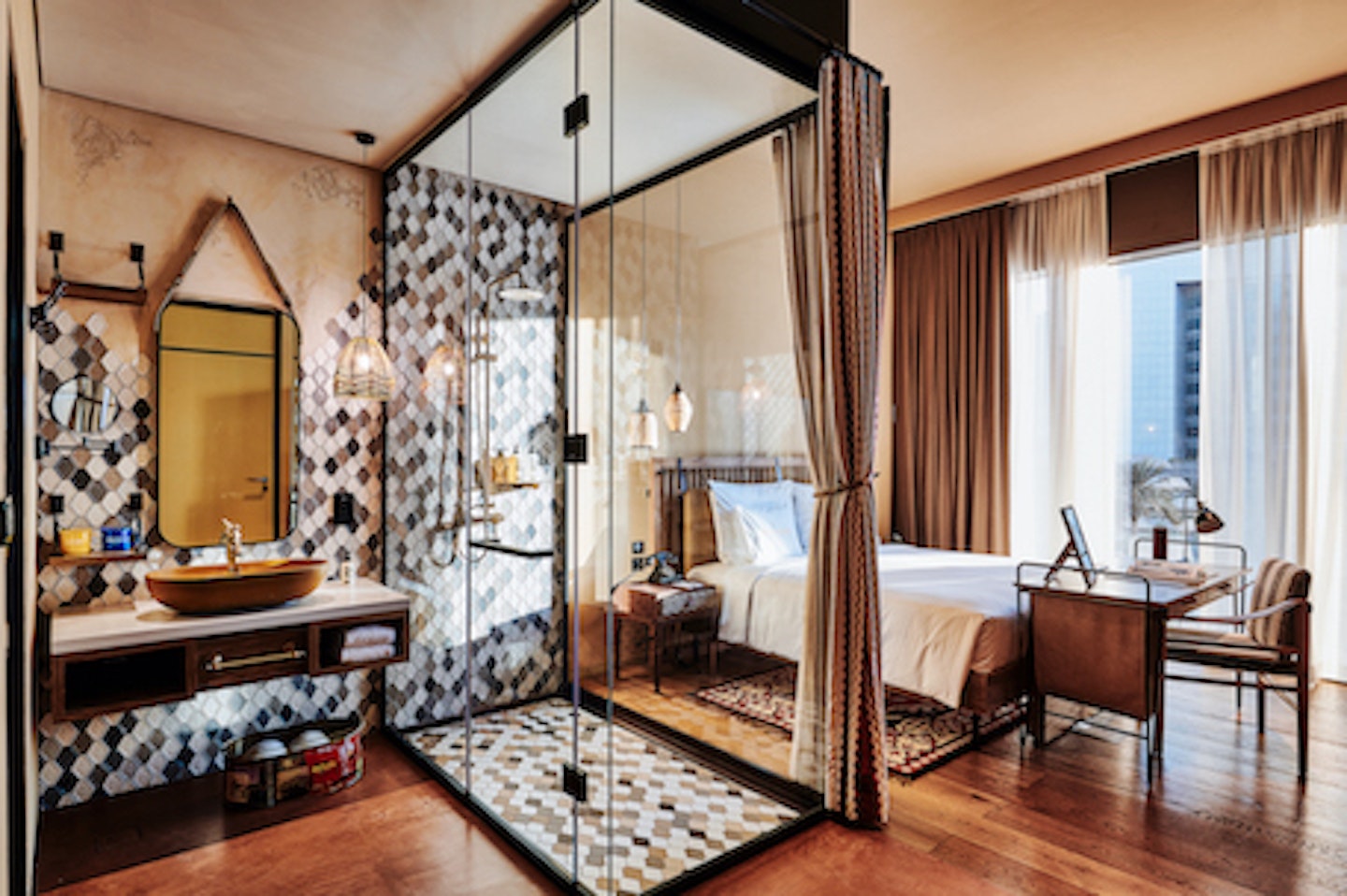 1 of 8
Inside a room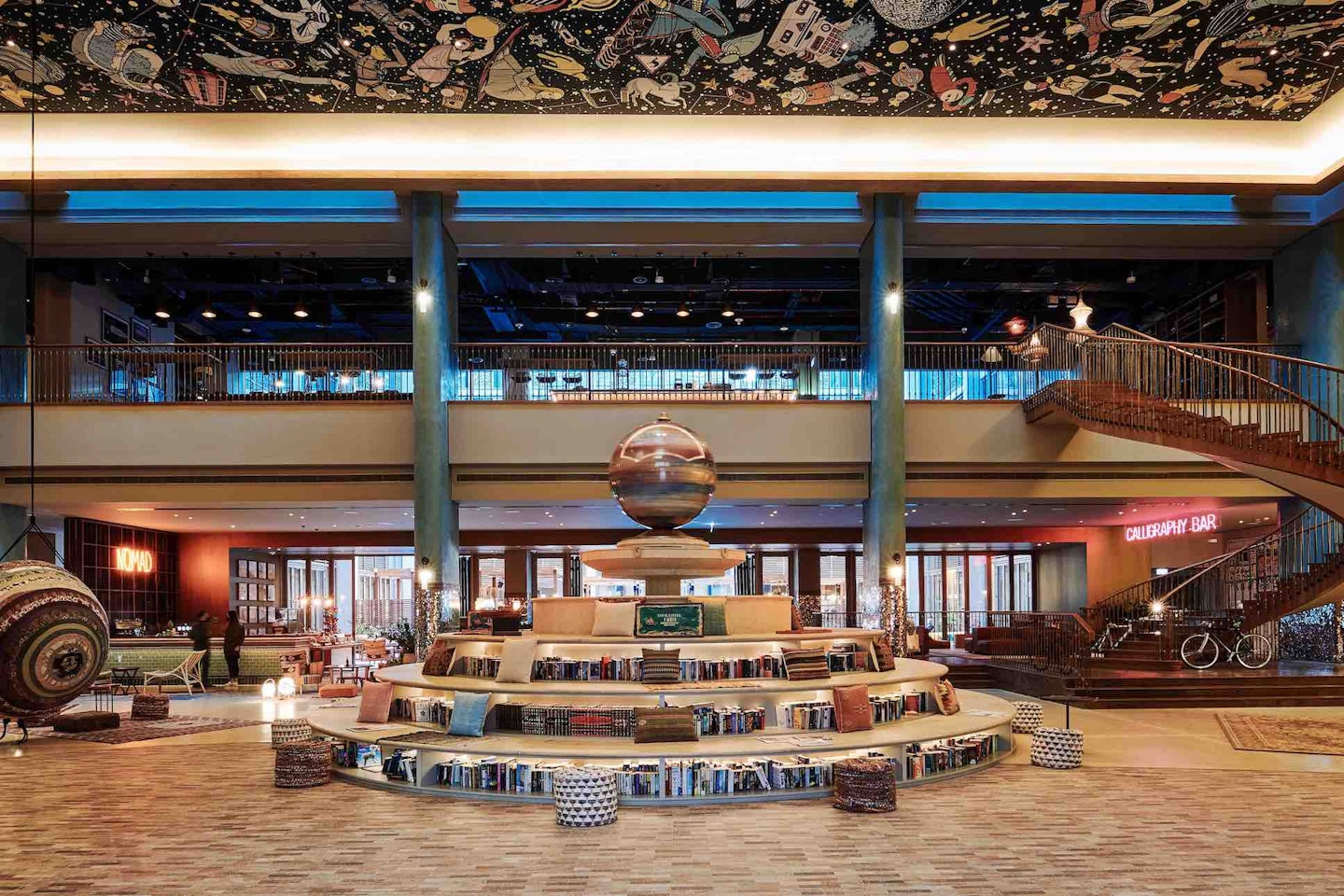 2 of 8
The fountain
The Fountain of Tales in 25hrs Hotel Dubai One Central lobby is stacked with thousands of books for guest to borrow.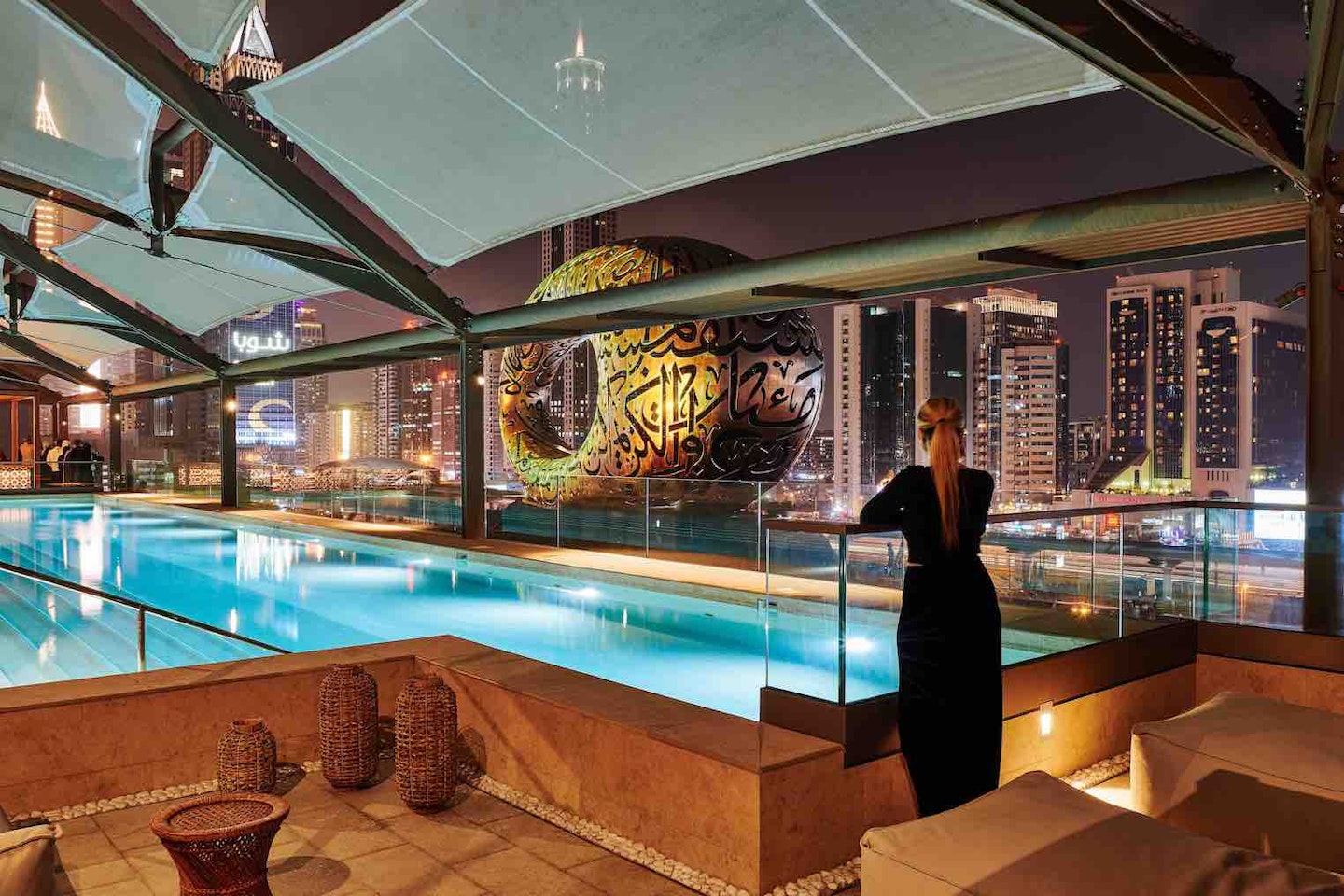 3 of 8
The rooftop pool
The rooftop pool at the 25hrs Hotel Dubai One Central overlooks the spectacular Museum of the Future.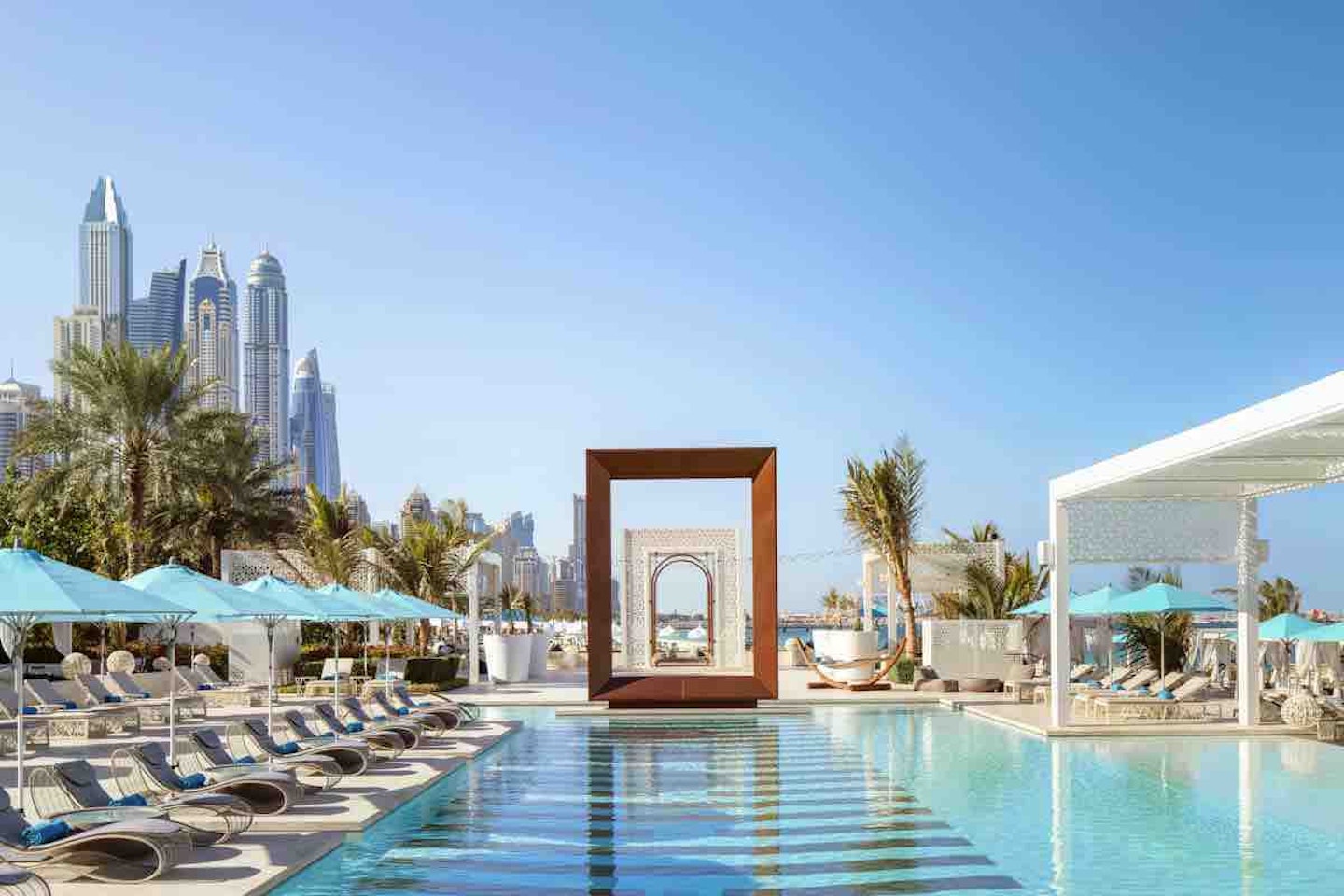 4 of 8
DRIFT beach club
Book a lounger at DRIFT Beach Club and you can relax by the infinity pool all day, enjoying waiter service, or wander down to the beach or dip a toe in the (warm) water. Bring something you're happy to throw over your bikini if you fancy lunch inside – like much of the city, the vibe is dressy rather than surfy. Sun loungers cost £49 per person Monday to Thursday, £61 per person Friday to Sunday, and include water and access to a locker.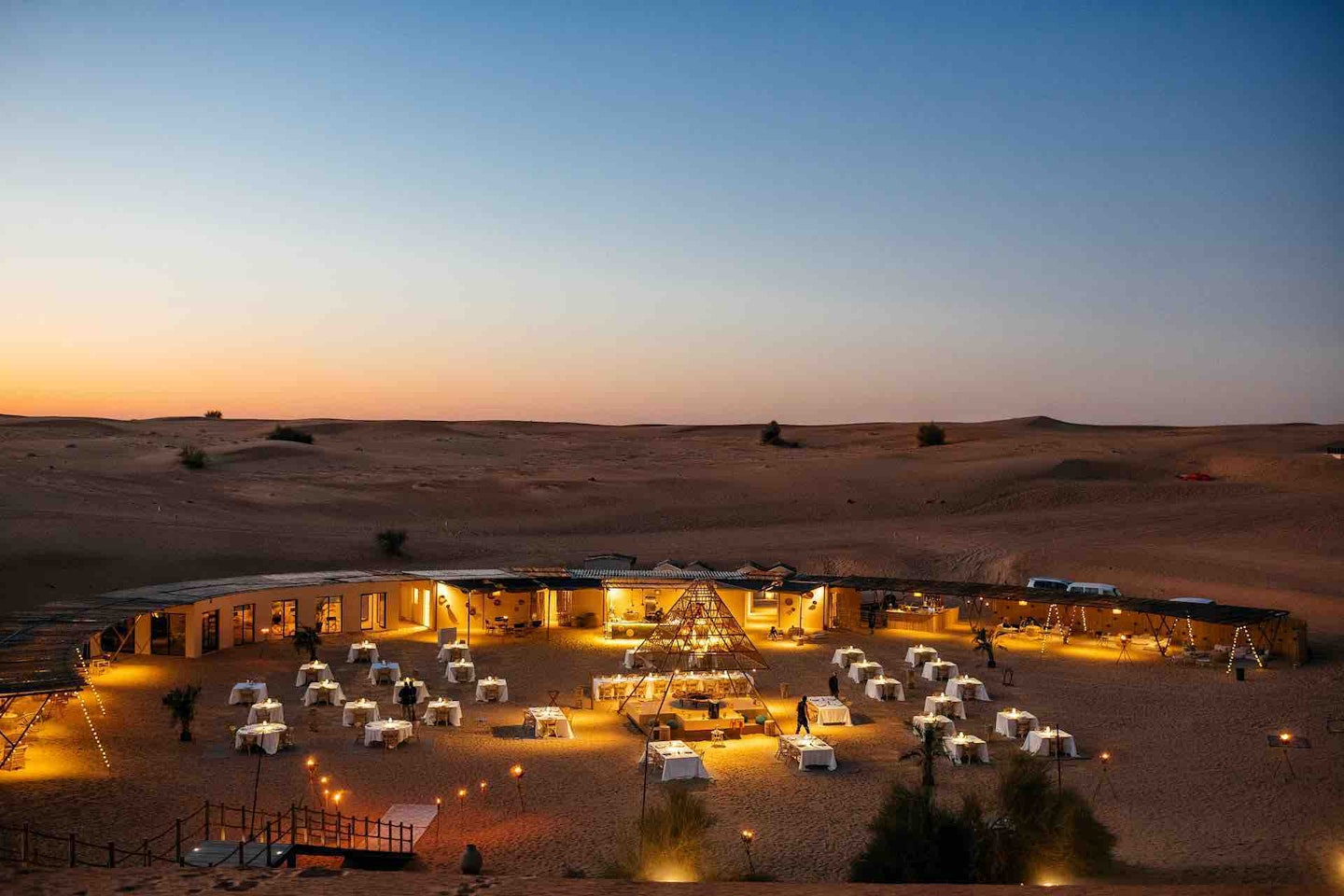 5 of 8
Sonara Camp
A trip to Dubai isn't really complete without a visit to the desert. After a roughly half hour drive out of the city, change cars to be driven into the dunes (they have a special licence to drive in the protected nature reserve) to reach the camp, a collection of low seating, fairy lights and, tucked away down a slope, the dining area. Ride a camel, meet a falcon and try some archery – or just enjoy some sundowners as the sun sets – then head down the stairs to be seated for dinner and a spectacular show of fire breathing, dancing and daredevil acrobatics. Costs £211 per person during high season (October – April) and includes dinner, activities, soft drinks and camel ride.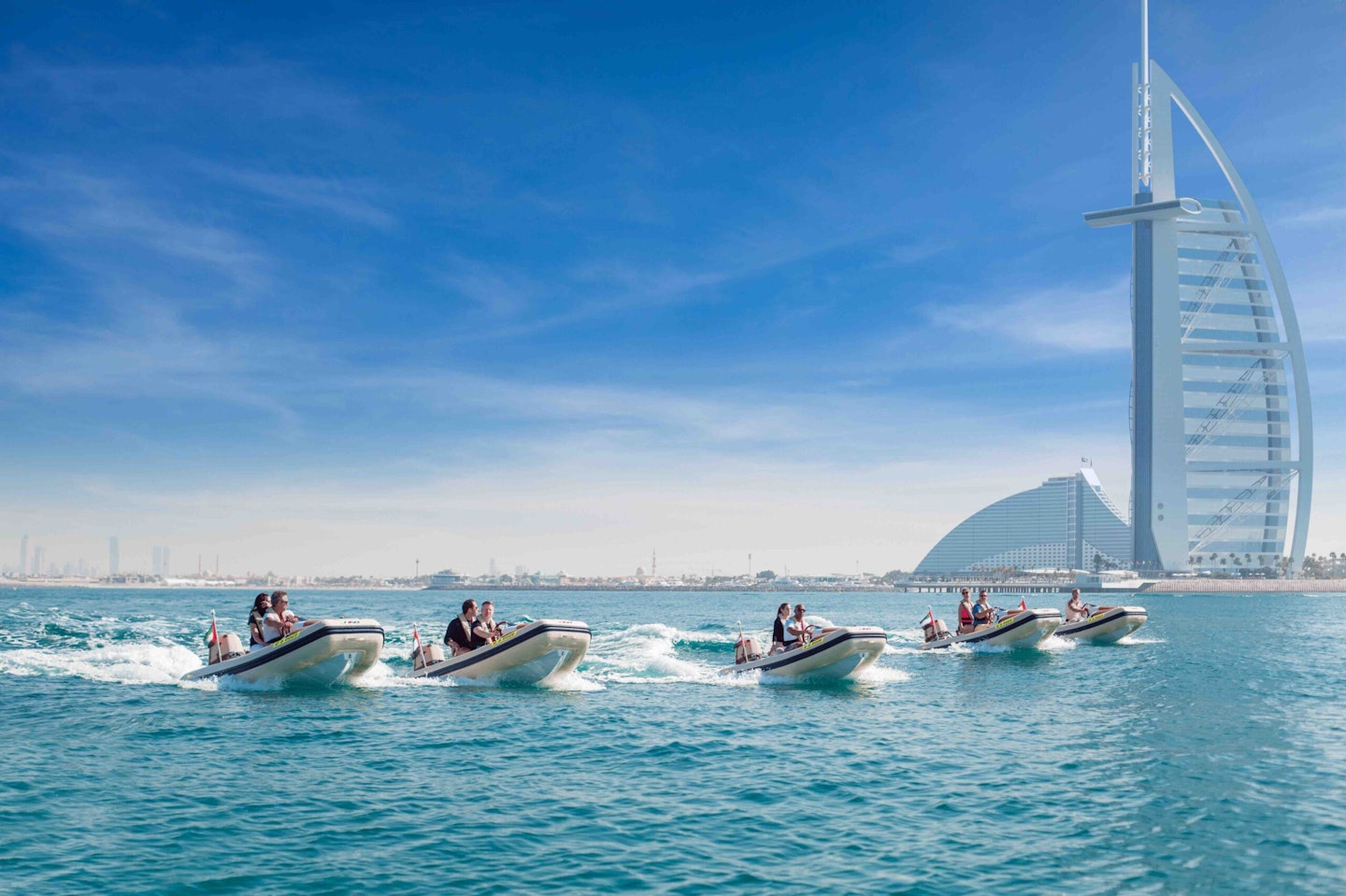 6 of 8
Hero Odysea Dubai signature boat tour
For a fun group outing, explore Dubai from its waterfront on these cute boats: think an extended jetski for two. You'll be taken by a guide out of the marina to zip along the coast line, past the Dubai sykline of skyscrapers and vast hotels. They provide life jackets and water (it's thirsty work). £169 for two people on a 60-minute signature tour.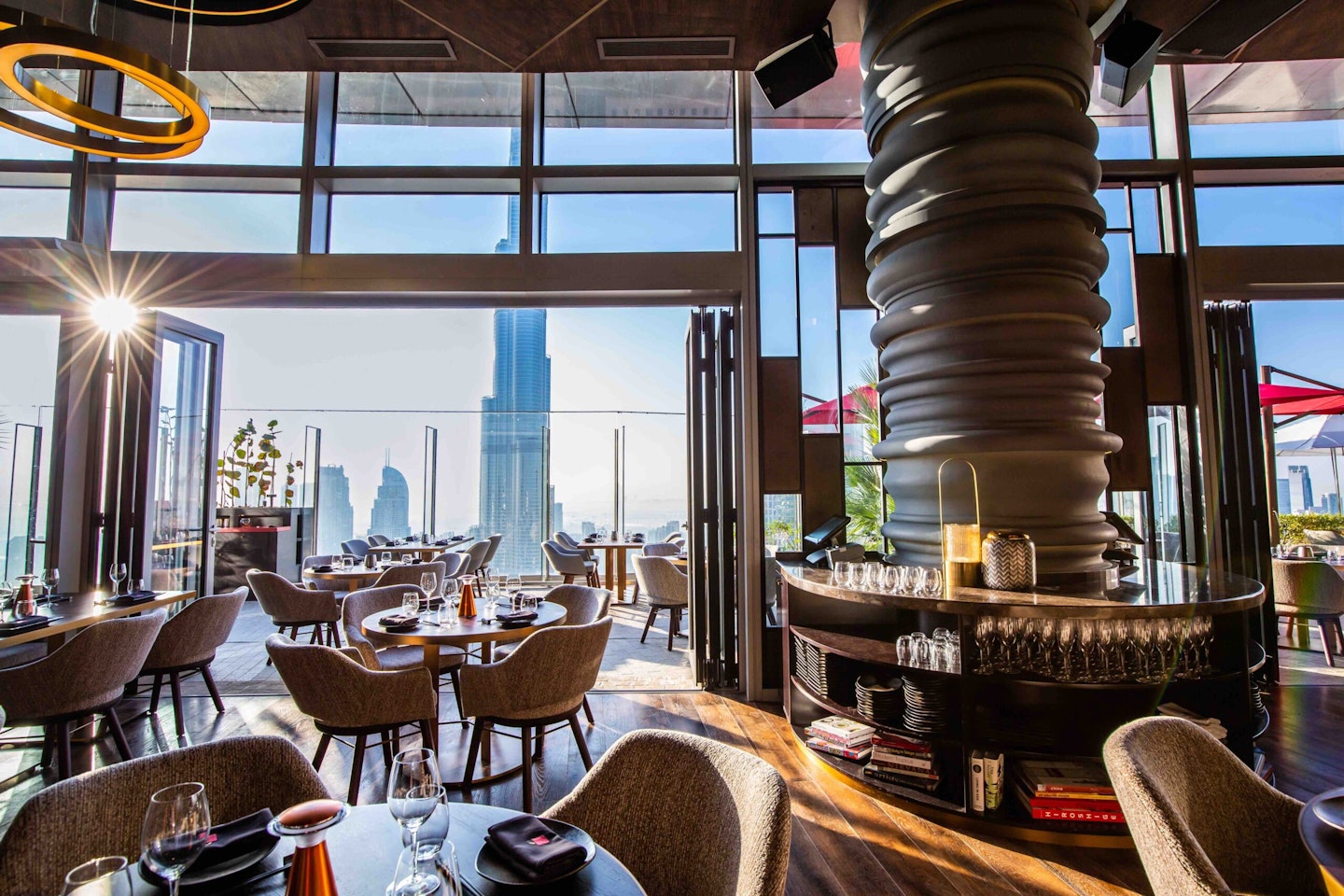 7 of 8
Ce La Vi Dubai Brunch on 54
Make like a Dubai local and brunch. With a DJ and drummer to accompany your food and drinks, Ce La Vi feels more like a nightclub than a restaurant, with guests dancing on tables. Brunch on 54 every Saturday from 12noon until 4pm costs £120 per person including all house drinks for the duration.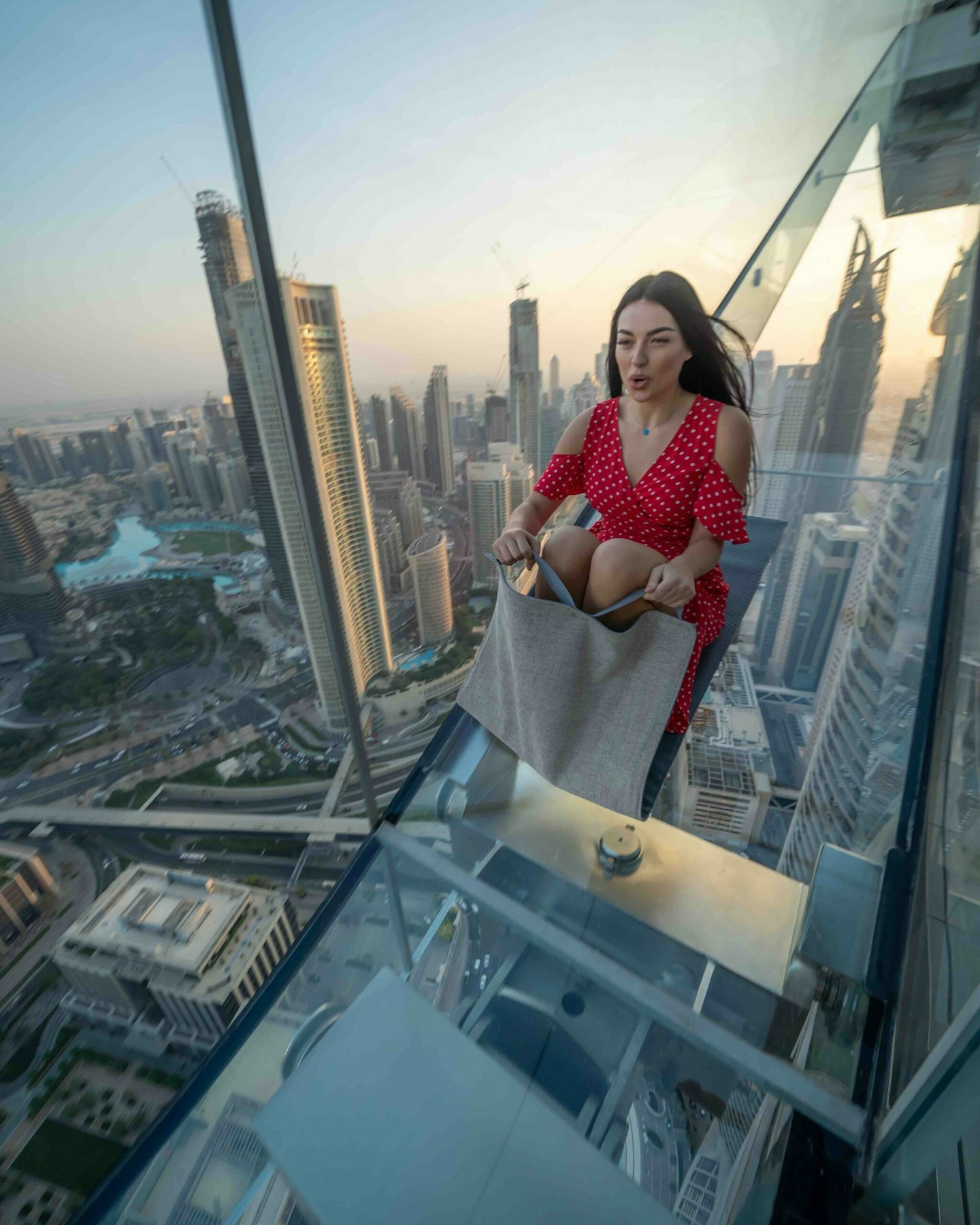 8 of 8
Sky Views Observatory
One for those who are fine with heights, the brand-new Sky Views on the 52nd level of Address Sky View Hotel offers a view and a challenge. Get strapped in to harnesses that clip on to a safety rail, then walk around enjoying the views of Sheikh Zayed Road, Downtown Dubai and the Burj Khalifa, the world's tallest building. Those with nerves of steel lean off the edge or even swing... Or, whizz down the see-through slide that wraps around the side of the building, hundreds of metres up. Sky Views Dubai including the observatory, slide and edge walk costs £122 per person.
Rooms at the 25hrs Hotel Dubai One Central cost from £170 per night. Click here to find out more.
Emirates flies from seven UK airports including London Heathrow, London Gatwick, London Stansted, Manchester, Glasgow, Birmingham and Newcastle Upon Tyne. Return economy flights cost from £559 per person www.emirates.com. For more information on Dubai visit www.visitdubai.com.
Marriott Resort Palm Jumeirah
Marriott Resort Palm is Dubai's most exciting five-star resort newcomer. Having opened to guests in December, the hotel is now fully operational with all 608 of its luxurious rooms and suites now available to book. With views over the stunning Arabian Gulf and a private beach, the hotel occupies a prime location in Palm West Beach. Access to the buzzing beachfront strip is available directly from the hotel, making it an ideal location for anyone that wants to feel as if they are part of the neighbourhood. There are also bikes available to rent for exploring the surrounds further. There's a host of restaurants, bars, salons, shops and more within walking distance, which makes it a prime location for those seeking a jam-packed but relaxed stay.
With 608 sophisticated guest rooms and suites, there are plenty of options. We're in an Executive Suite featuring panoramic palm sea views on the fifth floor. This room looks out over the resort and on to the majestic ocean - it just magnificent. From the marble bathroom which features a walk in shower and sprawling bathtub) to the plush King size bed, this suite is the perfect compliment to your stay. At any time you can call on staff who are quick and attentive with any queries you may have. There are also in-room dining services which is very convenient.
A highlight of any stay at this resort has to be the food. A huge buffet breakfast is served in Levantera where there are more fresh juice options than we can count and a fantastic selection of pastries, each tasting as good as they look. However, one of my favourite locations has to be a casual Mexican-style lunch at Senor Pico just a few steps from the hotel beside the resort's Bel Harbour Beach. From Tacos to Quesadillas after a full on day of fun - you will be satisfied. Other available options include Myami Pool Bar & Lounge, where the menu fuses American, Caribbean and Latino flavours. After a dip in the pool grab a light bite and enjoy the surroundings.
Marriott Resort Palm Jumeirah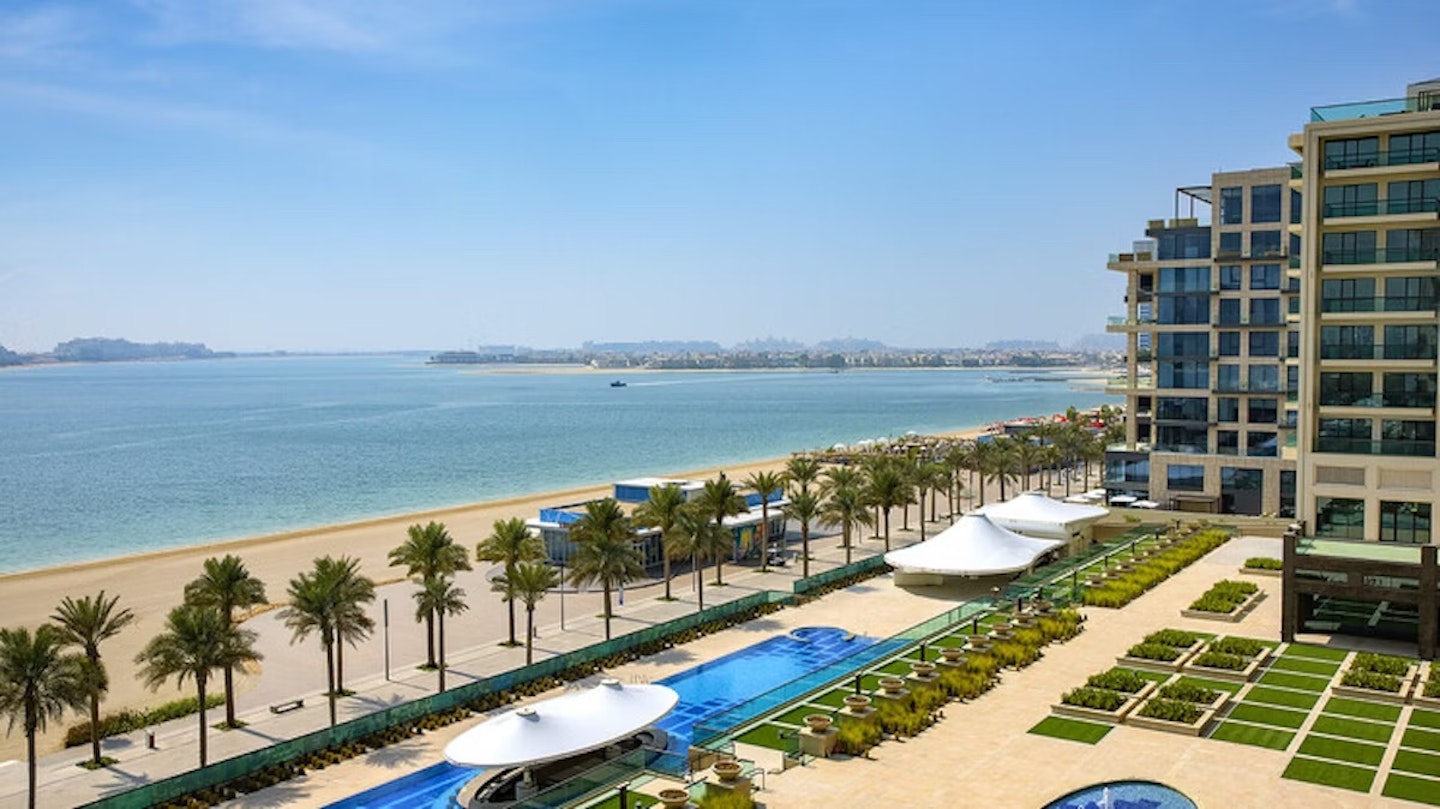 1 of 5
Marriott Resort Palm Jumeirah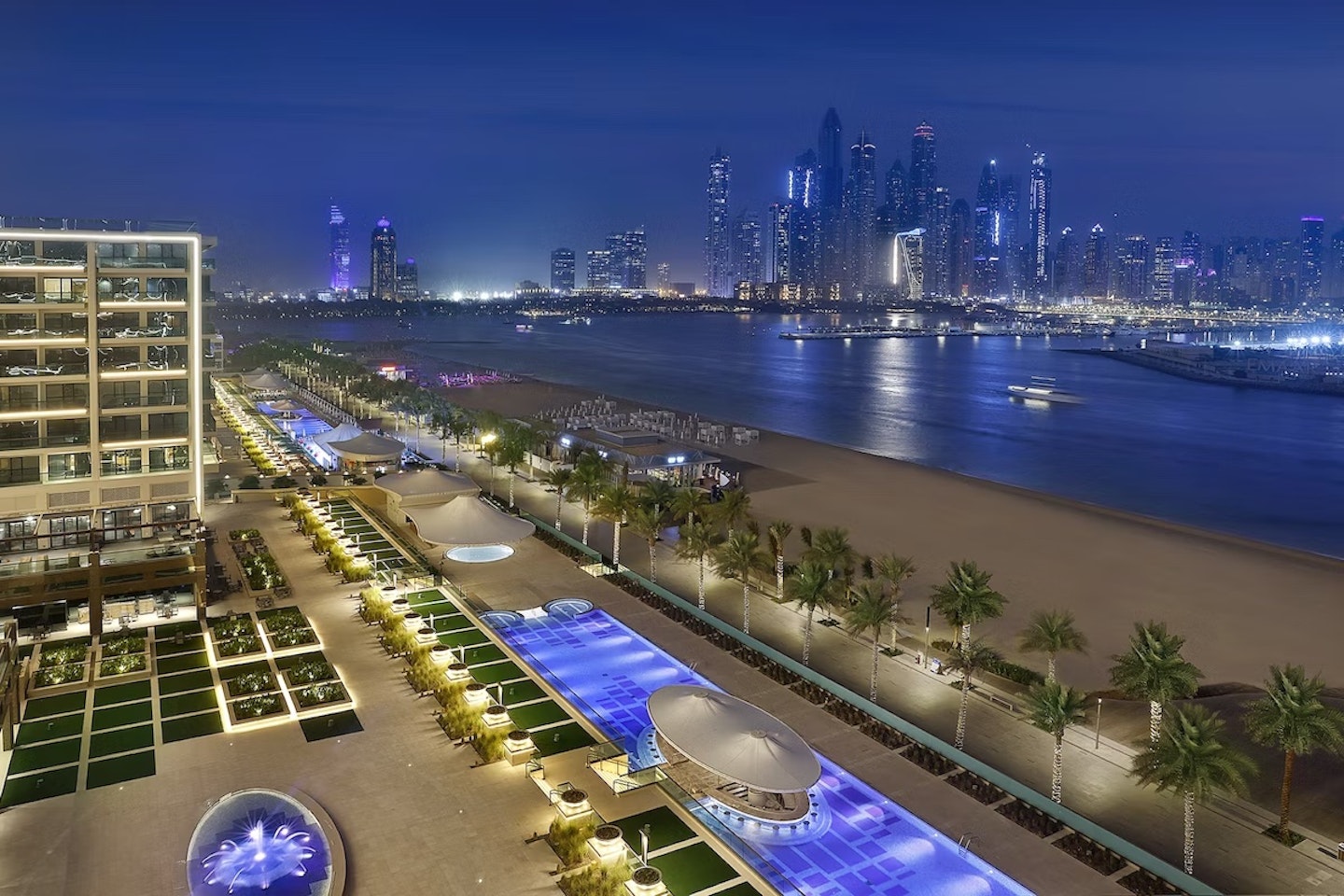 2 of 5
DXBPJ-Dubai-Marina-Dubai-Harbor-Views-Blue-Hour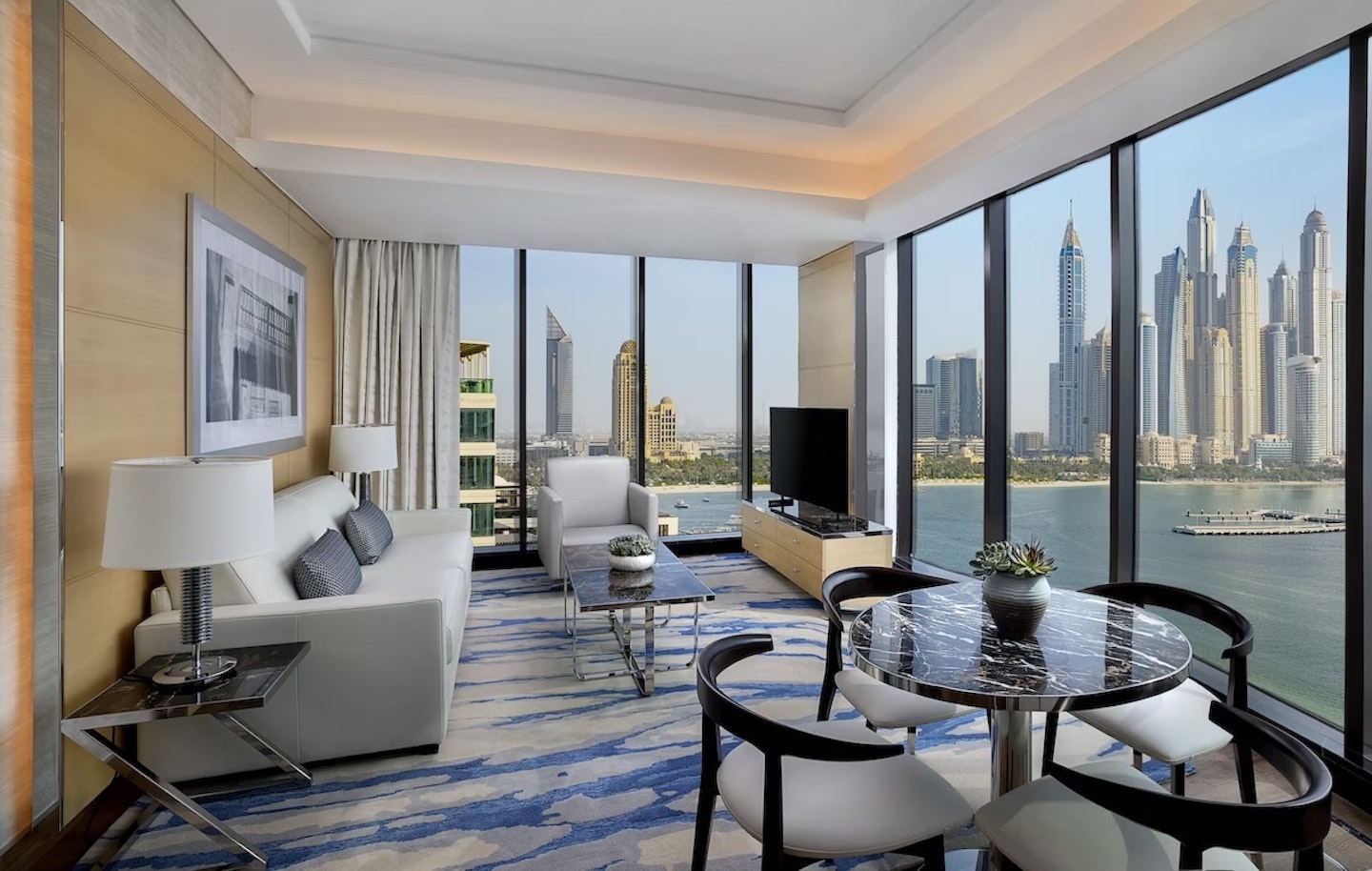 3 of 5
mhrsDXBPJst.1190955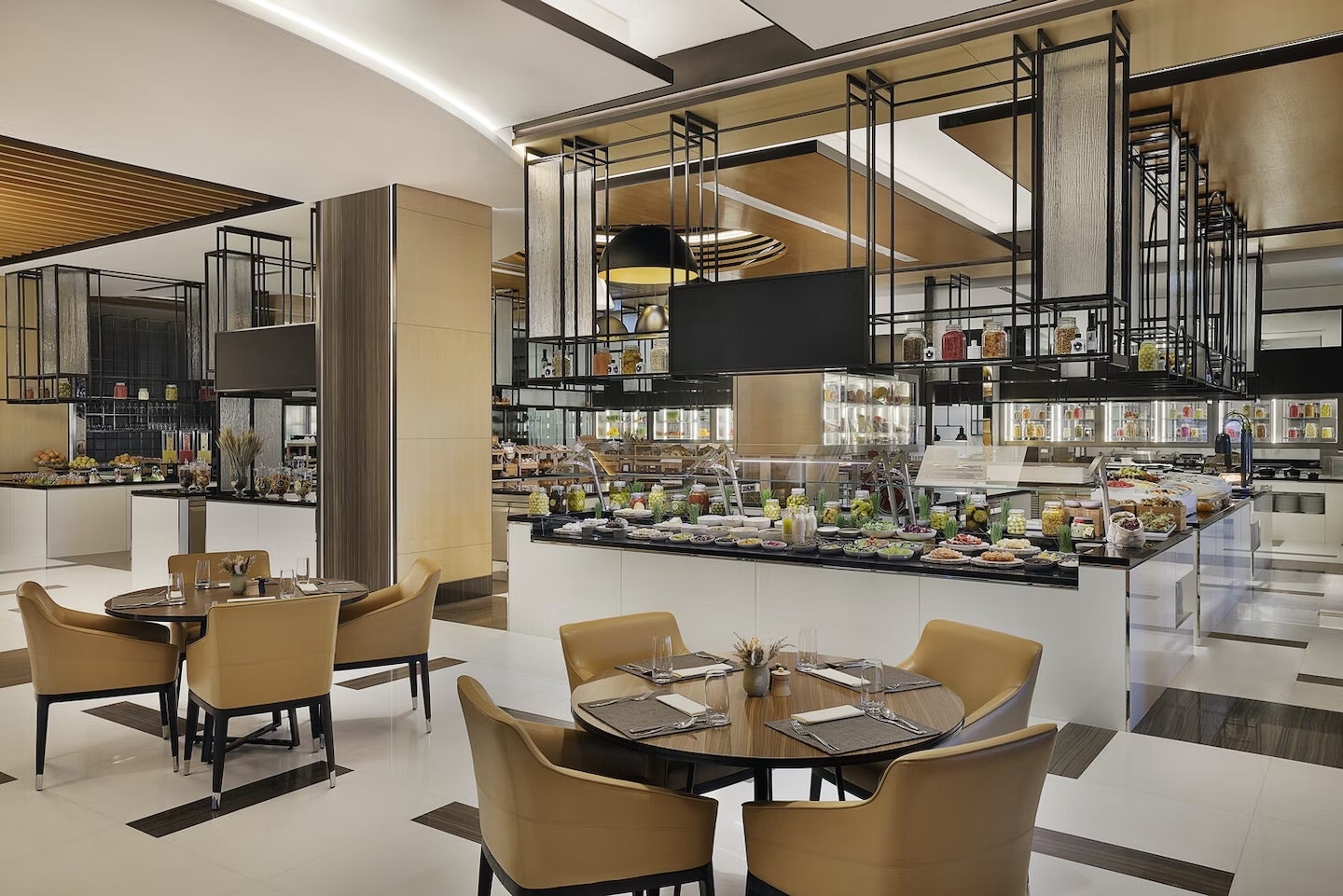 4 of 5
mhrsDXBPJ.1203142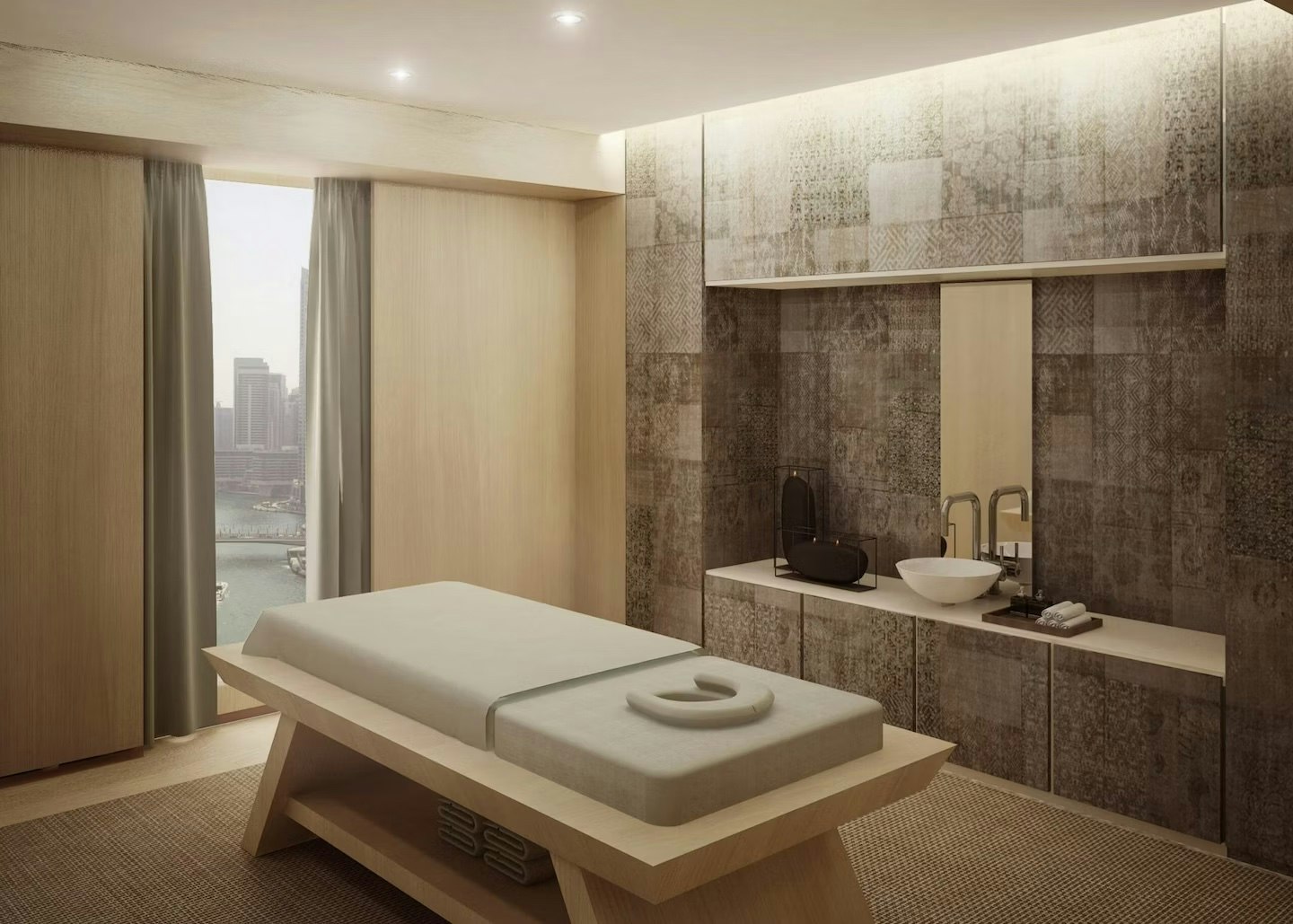 5 of 5
mhrsDXBPJsp.358713-scaled-1
The resort's opulent Middle Eastern-inspired Saray Spa is a must-visit for self-care, rejuvenation and relaxation within its stunning surroundings. The serene location offers timeless remedies alongside technologically advanced treatments, each designed to nourish, relax, and revive. The extensive facilities include dry saunas, steam rooms and Jacuzzis.
Or if you want a treatment, the spa menu has been expertly curated to encompass a selection of over 40 massages, rituals and holistic facials. This includes The Healthy Glow, HydraFacials, Agran Ageless as well as body treatments and hammam experiences. For a day of pure bliss and relaxation let your worries melt away at the Saray Spa.
If you don't want to lounge around by the pool all day ( which is also completely acceptable) there are a wealth of activities to do at the Marriott Resort Palm Jumeirah. If you're looking for a private way to explore Dubai's stunning Marina and landmarks, a Private Charter Yacht Touris the perfect option. This was a five star experience and one we would go to again and again. This is also an ideal choice if you're celebrating an intimate birthday other large special occasion. Or if you're looking for something more relaxed like painting whilst overlooking the incredible resort's skyline, book in with the We Love Art Experience.
Rates: High season: Palm Deluxe AED 1,300; Palm Suite AED 2,300. Low season: Palm Deluxe AED 1,000 (flexible rate**); Palm Suite AED 2,000**.
A__ll rates are ++ and starting from. Book direct for best rate guarantee.