Cast your mind back and picture the scene. It's 2002, you're 17, getting ready for a night out at that nightclub in town that accepts an inaccurate memorised birthdate as ID. You've got Garage anthems on your 4 disc CD player, your best baggy jeans and a boob tube on, Versace Red Jeans perfume spritzed… but your outfit isn't complete. It needs something else. That's it: a skirt - over the jeans. You pull on a sheer bejewelled asymmetric skirt from Morgan. You're ready. You smile in the mirror at the finished outfit, a true Gwen Stefani vibe, safe in the knowledge no one will ever have pictorial evidence of the night ahead. You go out and have the time of your life, downing white label vodka and smoking Lambert and Butlers. Life. Is. Good.
If you thought that's where we left skirts and dresses over jeans behind, you're very wrong because the trend - like so many from the Noughties -is back with a vengeance. The movement first came to the foreground when Katie Holmes, she of the Khaite cashmere bra and cardi moment of 2019, wore a distinctly triggering look for a pre-Christmas event last year - a long strapless Tove top, Reformation jeans and Margiela sneakers. Her stylist, Karla Welch, offered an explanation for the extremely Y2K look, telling the New York Times she and Katie thought the look offered a 'youthful feel'.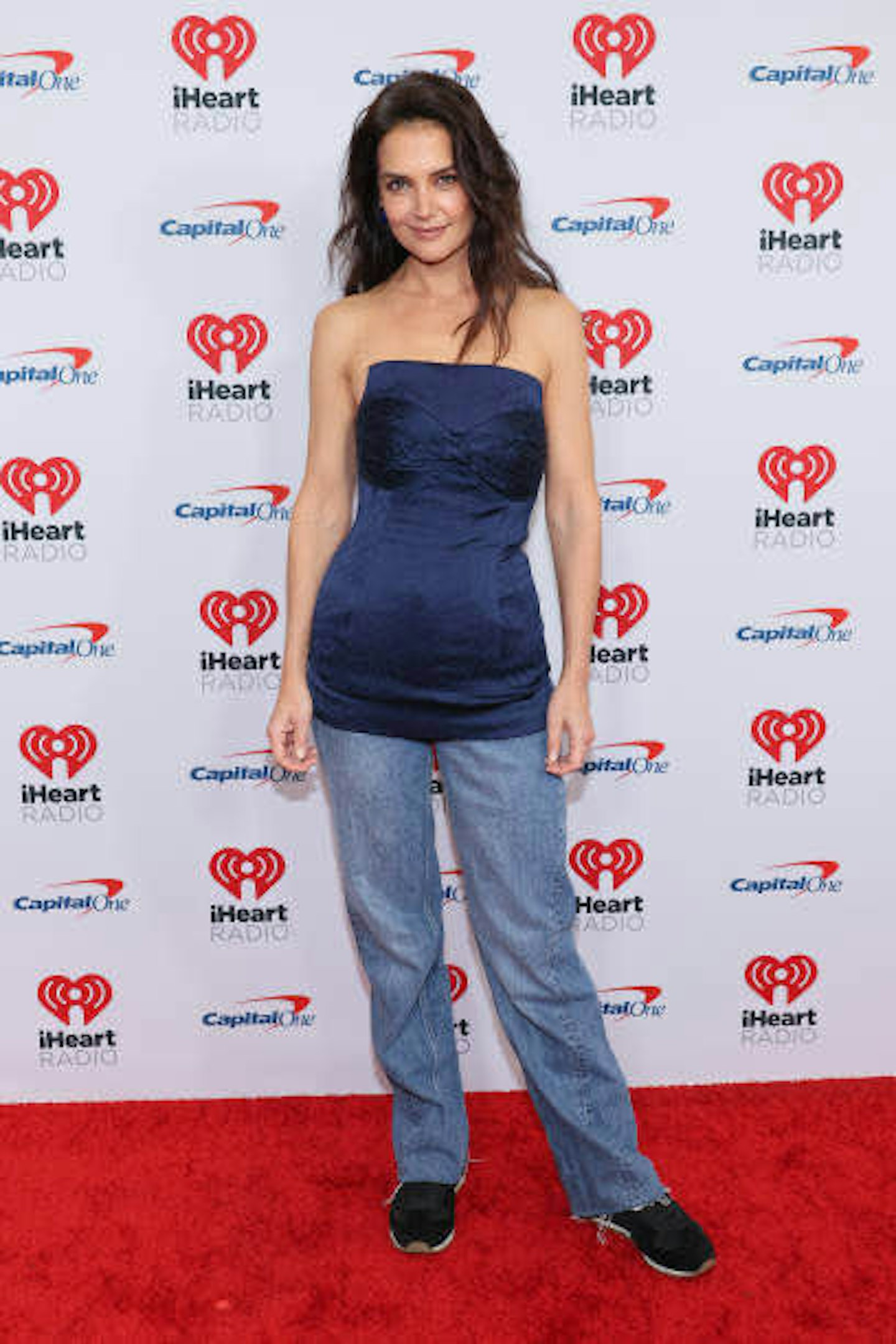 It has trickled down from there. The look was a key trend at the Autumn/Winter 2023 shows in February. At the Fendi show earlier this year Creative Director Kim Jones sent models down the catwalk in pleated leather skirts over trousers. Fashion East newcomer Johanna Parv included skirts over leggings, while fellow London-based designer Conner Ives paired jeans with a cowl-neck slip.
Now, dresses and skirts over jeans have officially hit the high street with Gen Z favourites like Urban Outfitters and Ragged Priest offering sheer dresses designed to be paired with jeans, and even jeans with an inbuilt skirt and belt (if you're brave enough to shop them, here's where you can buy the best trouser and skirt sets).
This is a minefield for us millennials, who remember it all too well from the first time round, with the look being a red carpet staple for the likes of Mischa Barton, Hilary Duff and Sienna Miller. Can you forgive us if we just aren't sure if we can do this again? Dresses over jeans is only the latest in a huge resurgence of Y2K trends in recent months, with low-rise jeans, Juicy Couture and butterfly tops all being revived by the TikTok generation. This one hits differently though. Not because skirts over jeans are a particularly bad look (it's way more forgiving than a lot of noughties trends - I would genuinely rather go out in a hospital gown than low rise jeans these days), I might even consider reliving the look myself. My issue is, with the return of coin belts and ballet flats, we've now reached peak Noughties trend revival. Everywhere I look, some Gen Z-er is dressed like Girls Aloud on a 2004 red carpet, or a boho Sienna Miller walking her dogs in 2005.
As an-about-to-turn-40-year-old I am already questioning my very existence and the passage of time: being presented with repeat trends which I see as fairly recent but are actually from 20 years ago is sending me into an existential spiral.
I would never want to deny anyone a look - and let's face it these girls look way better than we ever did in those trends because they are somehow all professional hair and make up artists these days. But please, can you spare a thought for us tired old millennials having to relive our youth quite so soon?
And, whatever you do: do not, I repeat not, bring back shrugs.