If you are one of the lucky few who managed to get a ticket to Glastonbury this year, you've still got decisions to make. You might have already sorted out just who you want to see this year - Lana Del Rey and Lizzo are amongst the 2023 headliners, and you might have decided what to pack to Glastonbury this year - but, perhaps most importantly, is the question of where you are sleeping. Because where you camp and affect your WHOLE weekend.
If you're new to Glastonbury then trust us on this: you've got absolutely no concept of how enormous the site actually is, so turning up without a plan is not to be advised, especially if you're meeting friends there.
Therefore, you need a Plan. A plan that ensures you a patch of land to call home for the weekend, hopefully with a bit of rain cover, and within walking distance of your favourite stage. At Glastonbury, showers are hard to come by. You have been warned...
Our Glastonbury Camping Map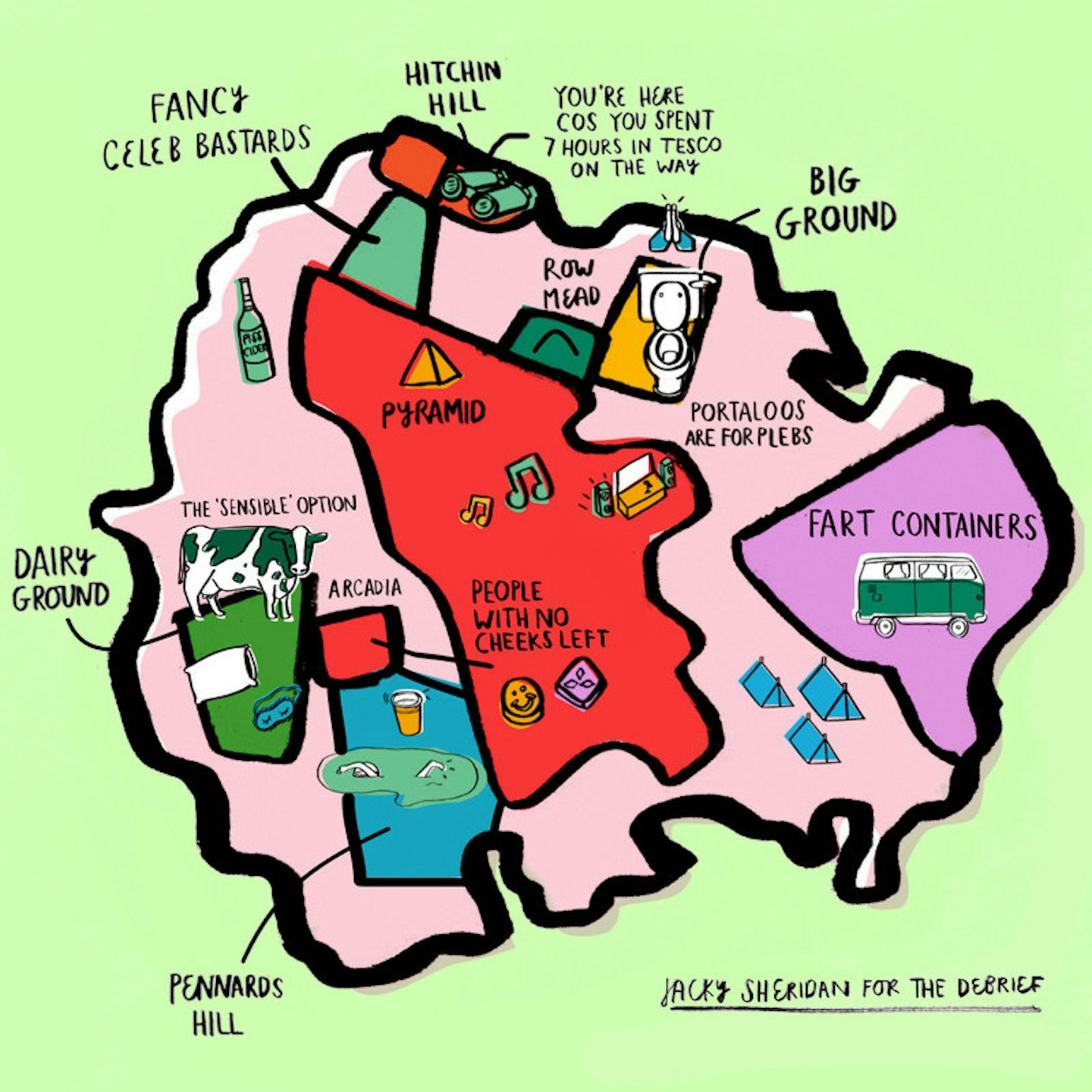 If you really can't handle the loos - Big Ground
Big Ground has the only flushing loos on site. Whether or not they're still flushing by Monday we can't confirm, but on Day One and Day Two, flushing loos might seem like a much more palatable option than composting loos and long drops (composting loos are actually excellent BTW, minimal smells). And by Day Three and Day Four, you'll have become fully immersed in the festival lifestyle and will be just as happy doing your business in a bucket* as you are in a real life flushing loo.
*Don't do this. That's not very nice.
If you're lazy as hell / prone to a bad hangover – Row Mead
This field is at the top of a hill (flood proof!) and, better yet, overlooks the Pyramid Stage. This means that the right spot means you can watch Kylie from your bed. Stake your claim early though… according to this guy it fills up fast.
Bonus: here's the view from high up in Row Mead. That's the Pyramid stage at 0:13
If you're in it for the party – Pennard's Hill
One of the most popular campsites, Pennard's Hill is loud, rowdy and close to all the late night fun of Shangri La, the Stone Circle and Arcadia. And there's really no putting a price on having a relatively short stumble home when it's 4AM and the mud's gone past the tops of your wellies. If it is rainy though beware, the bottom of this hill was one of the badly hit areas during the infamous 2005 floods. This place also fills up quickly. See also Park Home.
If you do fancy a bit of shut eye – Dairy Ground
Dairy Ground is massive and is kind of a long walk from a lot of the main areas. But, if you don't deal well when you're tired then it's worth looking at as a non-lame option (the real lame option is one of the family fields like Cockmill Meadow) for a quieter night's sleep.
If you are hoping to get your eight hours at Glastonbury (who are you?!) then you may want to take a leaf out of the celebrity handbook and stay off-site. Venues like Babbington House and Winding Lake have become hugely popular in recent years, but come at a cost.
If you're late – Hitchin Hill
Because by the end of Wednesday, most of the good places are going to have gone (although I did get a prime spot on Pennard's Hill one year after arriving on Thursday night). If you're struggling to find a place, blogger Tort recommends heading to the North for Hitchin Hill ground which she reckons is one of the last places to fill up. Plus, you're right next to hospitality camping, so on the off chance Kim and Kanye ARE camping, you might end up right next to them. Plus, it's quiet. See also the nearby Lime Kiln Ground.
Illustrated by Jacky Sheridan
This article originally appeared on The Debrief.