This article was originally written in 2020 and has been updated to reflect the latest news around Georgia Harrison's revenge porn case.
This week sees the release of former Love Island star Georgia Harrison's book, Taking Back My Power: Our Bodies, Our Consent, which details her experience of revenge porn and the length legal effort to seek justice. Earlier this year, fellow reality star and ex-boyfriend Stephen Bear was sentenced to 21 months in prison after being found guilty of voyeurism and two counts of revenge porn.
Bear shared explicit footage of Georgia on his OnlyFans without her consent in 2020 and after taking him to court, Georgia was granted record damages of £207,900 - the highest ever sum awarded in an image abuse case. In a statement, the reality star said she will be donating part of the damages to 'multiple charities that have helped support me and other victims of image-based sexual abuse.'
In an interview with The Sun, Harrison described the moment she discovered the video and 'almost died.' 'When it first happened, the physical effects on me were just horrific,' she said. 'I had acne come up all over my face. I ended up getting a cyst infection — the cyst eventually burst — and I was in hospital from stress. They said my kidneys, my pelvis, and multiple organs were infected, and I was going into septic shock.'
Recounting the moment she discovered that Bear had posted 'a screenshot of him on top of me in his garden' on a Celebrity Big Brother OnlyFans site, she said she felt 'violated'. 'He put the caption as something along the lines of: "Sign up now for 50 per cent off to see me f***ing this b**ch in my garden." It made me feel so violated. All I've ever done was be good to him as a friend and as more.'
Harrison opened up further about her revenge porn experience in an ITV documentary, Revenge Porn: Georgia vs Bear, earlier this year. The behind-the-scenes drama of the trial was captured for the documentary, and shows the nerve-racking years that Georgia spent fighting to get justice. And all the while she was subject to intense victim-blaming and character assassination by Bear. Bear has always denied all charges against him, but a jury found him guilty of voyeurism and two counts of disclosing private sexual photographs and films with intent to cause distress.
What did Stephen Bear do to Georgia Harrison?
Harrison first accused Bear of recording explicit videos of her without her consent in 2020 and showing them to multiple people, as well as posting it on OnlyFans for profit. Bear told jurors he had deleted the video in August 2020 and had not sent it to others. In court, jurors were told that Bear has earned £40,000 from OnlyFans and more than £2,000 from the video in question.
'Bear has CCTV around his house he purposely got me in a position where he knew it would be on CCTV quite a long time ago and after acted like he forgot the camera were there,' Georgia said in an emotional video on Instagram at the time. 'Since being away [on holiday] I have met two more people he has shown and even seen a screen recording so I have no other choice but to go public about this situation not just for me but for anyone that has been round there no knowing they are being filmed.
'I feel hurt, I feel violated, I feel embarrassed but I also feel like my friends and followers will support me through this and I can't stay silent on the matter any longer,' she concluded. Despite appearing strong as she condemned Bear's actions, she admitted how upset she was in a later video showing how she cried on the phone to her friend over the situation.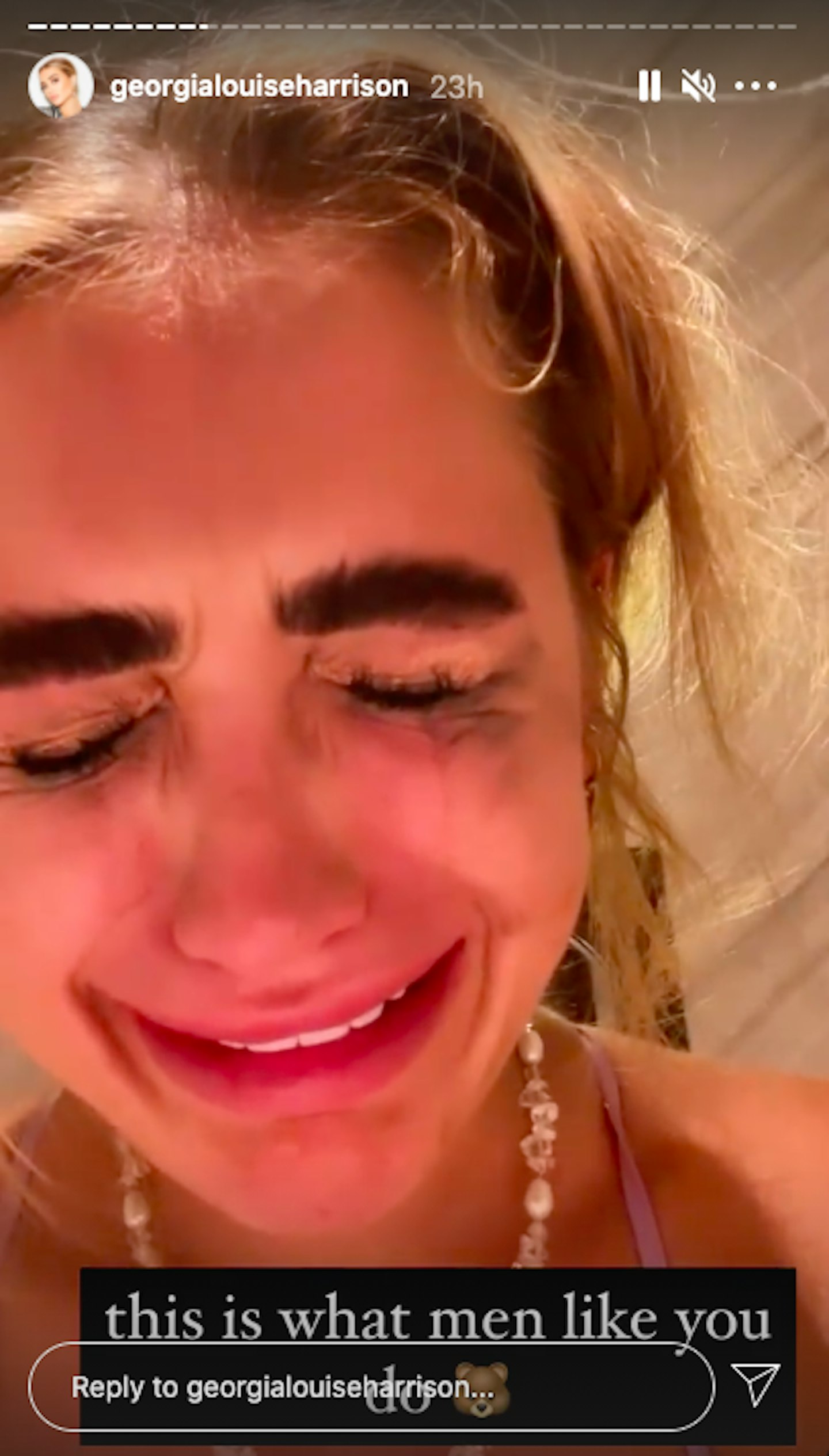 Bear denied the allegations, telling The Sun 'I don't even want to talk about it - it's so silly. I've spoken to the girl saying stop making up silly rumours. Everyone's just got to calm down. People saying someone's name for clout, it's just dumb.' Over two years later, Stephen Bear was given a guilty verdict.
Appearing in Chelmsford Crown Court in March, Judge Christopher Morgan ruled that Georgia Harrison had suffered 'extensive humiliation and embarrassment' and that her future employment has been 'seriously affected' by Bear's actions, adding that she had 'spoken with dignity and courage and it is hoped that through taking up the cause of others will bring some closure on these matters.'
But despite the guilty verdict at the end of 2022, despite the pain Georgia has shared online, people are still continuing to search, in droves, for the video to see for themselves. 'Bear and Georgia video' became a breakout search term on Google, as well as 'Stephen Bear CCTV' and 'Georgia Harrison leaked'. While some might have just been searching for latest updates on the story, the nature of the search terms say many were actually hoping to watch the video for themselves.
The same thing happened when Georgia first went on the record, waiving her legal right to anonymity, and was forced to tell her Instagram followers not to search for it themselves. According to OnlyFans, Stephen Bear's account was deactivated as soon as possible because they say it was a breach of their terms of service. A representative for the platform told Grazia they adopt a zero tolerance policy if they think there has been any violation of their terms.
Have some respect and stop sending it around WhatsApp groups.
'To anyone sending around the creepy video Bear filmed without my consent and sold online think about your sisters, mothers, daughters, girlfriends and take a second thought before you press send cause you're as bad as he is,' Georgia said. 'I've already had to get it removed from websites, have some respect and stop sending it around WhatsApp groups. Bear you are truly evil.'
Throughout the case, Bear continued to make a mockery of the situation - from turning up to court in a rented limozine to donning fur coats. As a society, we shouldn't allow that vile behaviour to be reinforced - and by continuing to share the video or search for it, you are doing just that. So, it's important to remember that regardless of who might send you this video, watching or continuing to share any explicit videos that a woman didn't consent to filming is abhorrent.
The past few years, millions of women watched their worst nightmare play out through Georgia Harrison's story. Seeing the video shared and commented upon, despite Georgia's pleas to stop, we witnessed the world turn her pain into tabloid gossip, perpetuating the culture of revenge porn by thriving off the drama of it all. Situations like this make all women feel unsafe. We should be able to feel comfortable having sex with our partners in the privacy of someone's home. We shouldn't fear that explicit videos of us will end up online - never mind the two years of agony rehashing the trauma again and again to achieve some kind of justice.
Only when we all work together to stop people spreading these videos and hold those responsible for leaking them to account can we avoid that. So stop searching for it, start supporting Georgia and never, ever share it.
Read More:
Amber Heard Has Opened Up About Being A Victim Of Revenge Porn